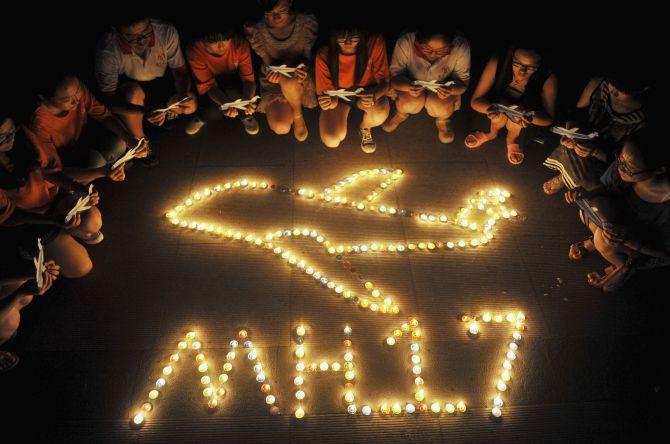 Ukrainian investigators have found 196 bodies at the crash site where a Malaysian passenger plane carrying 298 people was brought down by a missile in pro-Russia rebels-held eastern part of the country.
The Ukrainian State Emergency Service on Sunday said 380 staff members were taking part in the search that stretches across 34 square kilometre of eastern Ukraine. But the search was being complicated by separatists at the site who were hindering the work of SES units
Latest figures released by Malaysia Airlines show the plane was carrying 192 Dutch nationals, 44 Malaysians, including 15 crew, 27 Australians, 12 Indonesians and 10 Britons, 4 Germans, 4 Belgians, 3 from the Philippines, and 1 each from Canada and New Zealand.
The Ukrainian government and the pro-Russian separatists in the east of the country have blamed each other for the alleged shooting down of the plane.
Earlier, the Organisation for Security and Co-operation in Europe said it had doubts over the number of bodies recovered from the downed MH17 or where they were taken or who moved them.
Michael Bociurkiw, a spokesman for observers from of the OSCE said the group saw men moving an unknown number of body bags on Saturday, but that it wasn't clear who they were. "It's hard to get reliable information because several groups of pro-Russian rebels, some of them masked, control the area," he said, adding, "There doesn't seem to be one commander in charge."
As the blame game continued with Russia accusing the US and the West of pointing fingers at it to push their Ukraine agenda, a team of Malaysian investigators arrived in Kiev to try and get to the bottom of what happened to the aircraft.
German Chancellor Angela Merkel and Russian President Vladimir Putin agreed for an international probe. The two leaders, who spoke on the telephone, "agreed that an international, independent commission under the direction of the International Civil Aviation Organization should quickly have access to the site of the accident to shed light on the circumstances of the crash and move the victims," a German government statement said.
Meanwhile, Australian Prime Minister Tony Abbott on Sunday said the crash site was "absolutely chaotic" as he feared interference with the evidence. "The difficulty is that site is chaotic, it's absolutely chaotic. The kinds of things that would normally be happening in an air crash site are not happening," he said.
Abbott said several attempts to reach the wreckage, which is strewn across a large area, were hampered by the conflict. "This just makes it absolutely imperative, imperative, that Australia do everything we can to recover the bodies, to ensure that the site is secured, a proper investigation is done, and then justice is secured," he added.
Image: College students gather around candles forming the shape of an airplane, during a candlelight vigil for victims of the downed Malaysia Airlines Flight MH17, at a university in Yangzhou, Jiangsu. Photograph: Reuters