May 15, 2017
'Triple talaq is best and right way for divorce'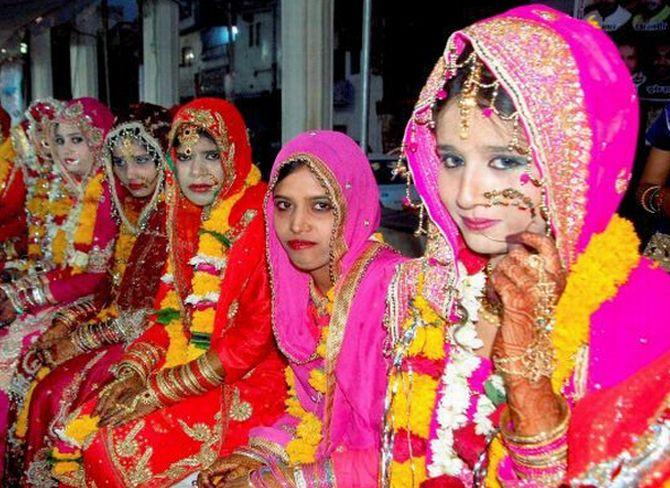 'We need to change the attitude of Muslims.'
May 12, 2017
'Many cancers are sheer accidents'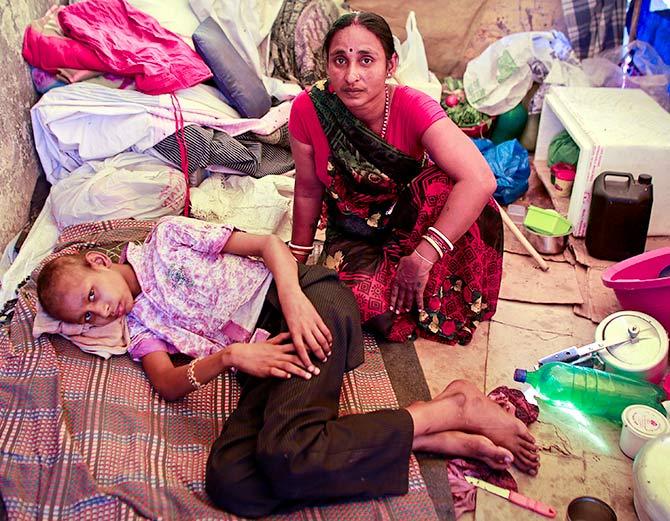 'The best way to face cancer is to get it diagnosed, staged and identify the best which line of management.'
'The longer people believe in Modi, greater will be their disappointment'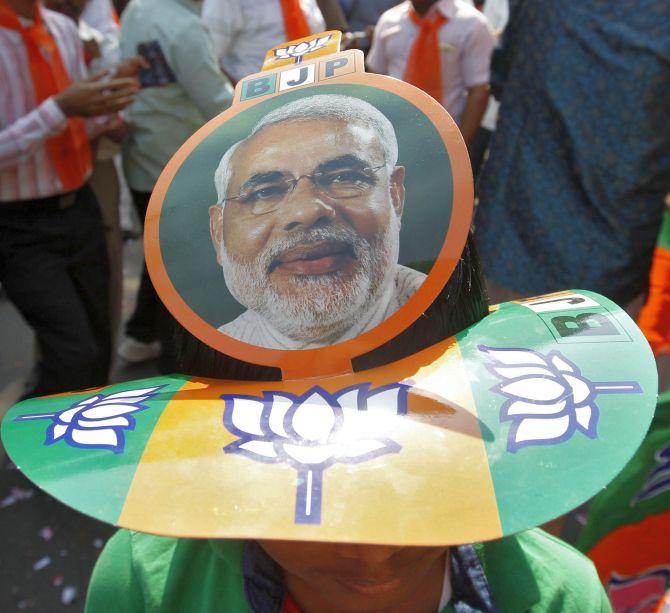 'India's nationalism has always been an exceptional and great experiment.'
May 11, 2017
A cancer interview we must all read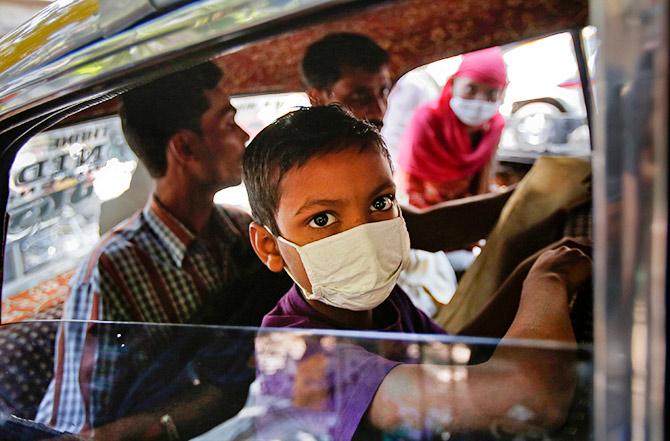 'Our body functions in a particular system. We pass urine. We pass motions. We swallow food. We drink water. We breathe properly.'
'A true cow lover will not lynch a man'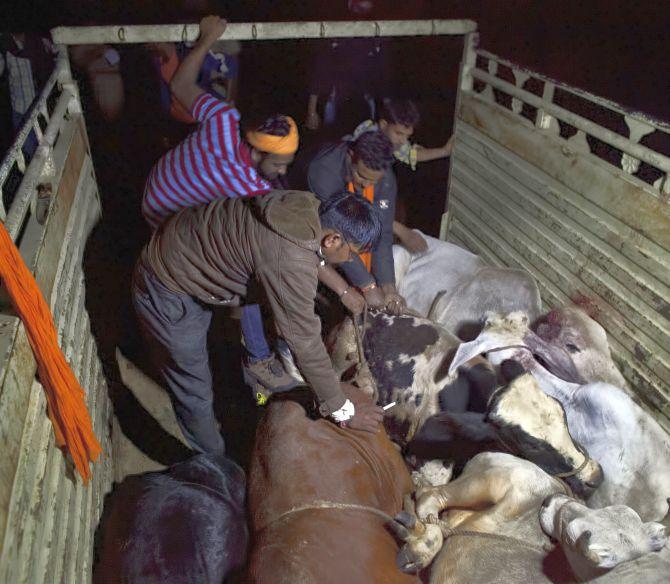 'These cow vigilantes would not even have touched a cow in their lives.'
May 10, 2017
'Cancer is not incurable'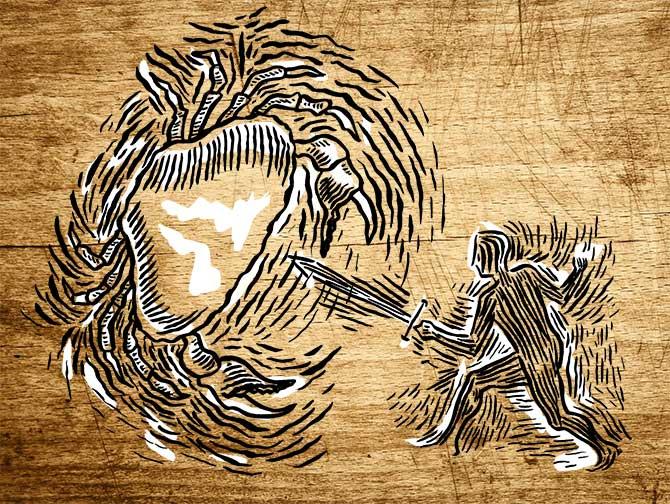 Cancer surgeon Dr Ramakant Deshpande answers the most crucial questions on the disease.
May 09, 2017
The Hindu seer who wants to take on Kashmiri stone-pelters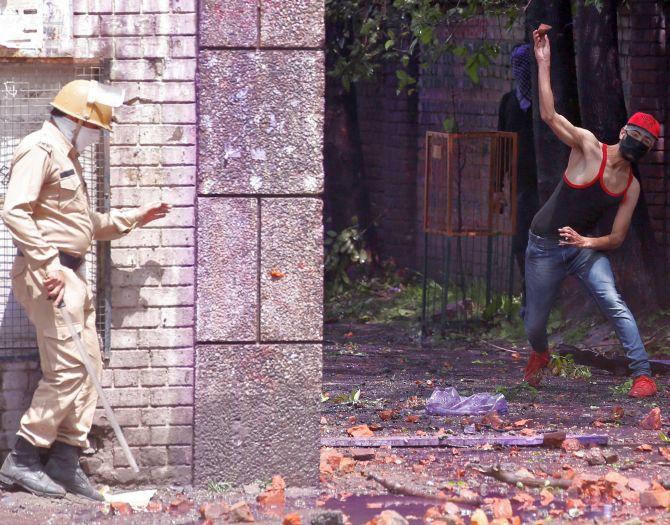 'Violence is the only answer to violence.'
May 08, 2017
'Army won't take over Pakistan'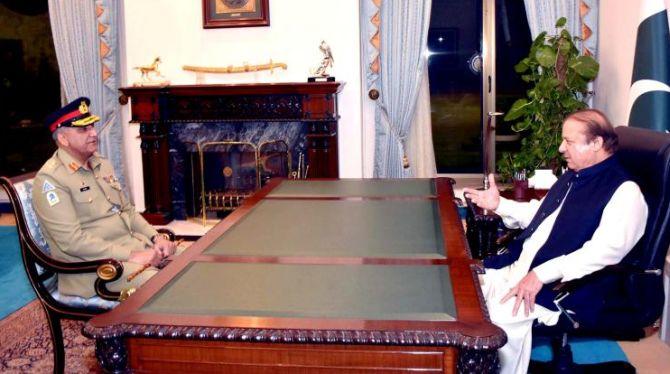 'The army has stopped short of exerting the sort of influence it may have done historically.'
'Rahul-ji is doing a lot more than what people know'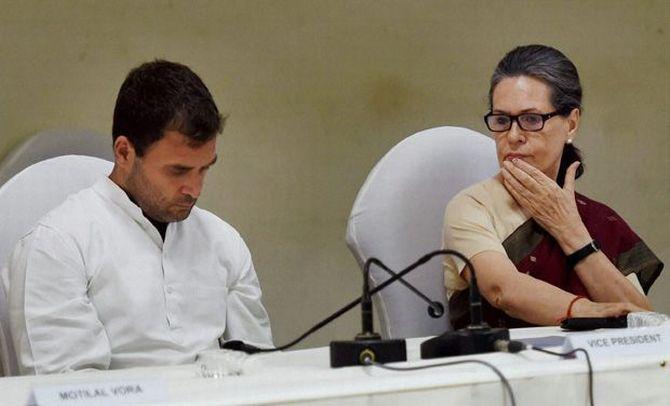 'Probably only Sonia-ji knows the extent of what he is doing.'
May 05, 2017
Why Kashmiri students are throwing stones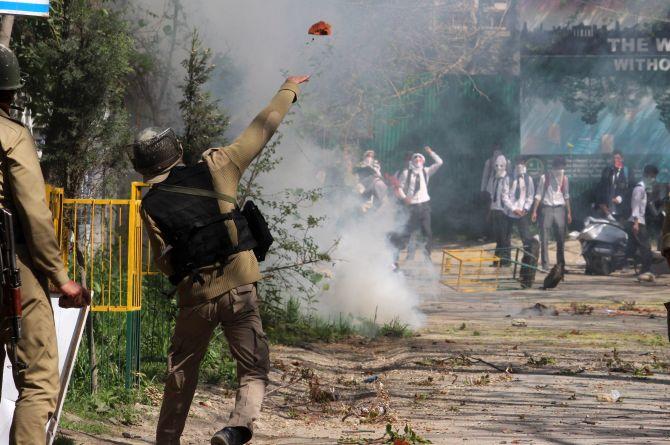 'As far as I know Burhan Wani did not kill anyone.'
May 04, 2017
'OPS does not have a direct line to Modi'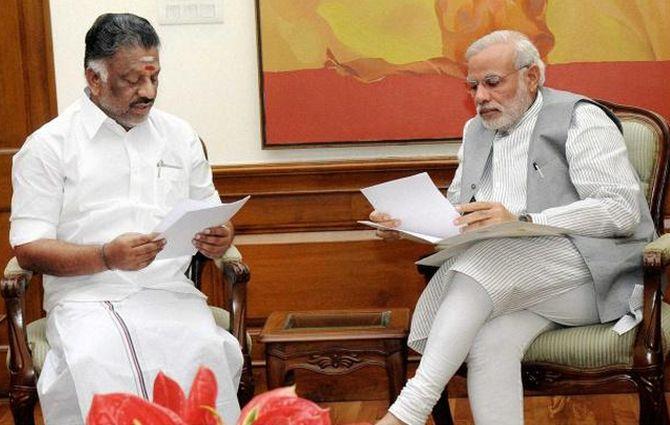 'Sasikala went to jail in a 19-year-old case.'
May 03, 2017
Ayodhya: 'I want to place rare evidence before SC'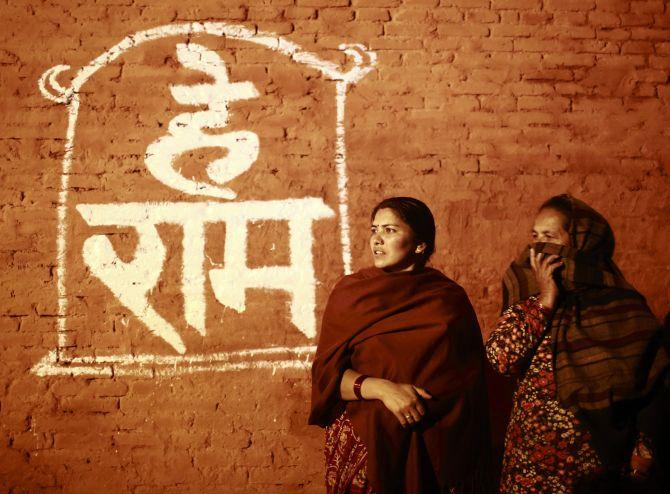 'This evidence is important to solve the dispute.'
May 02, 2017
'Gandhi would have had social media accounts'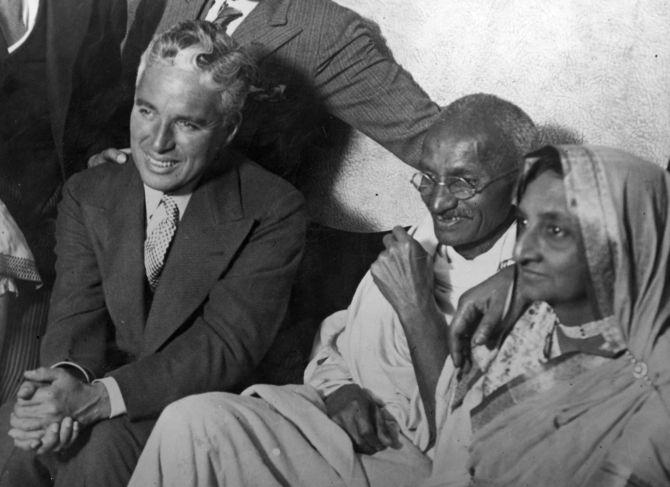 'Gandhi has not become out of date, we have.'
April 26, 2017
'We should be posing tough questions to Pakistan'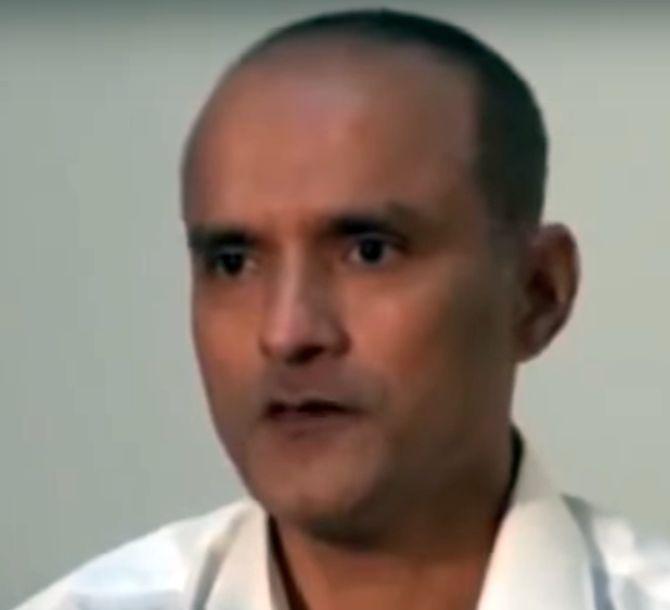 'They bluff and lie repeatedly and we swallow their lies.'
April 25, 2017
'Sadhvi Pragya has bad destiny'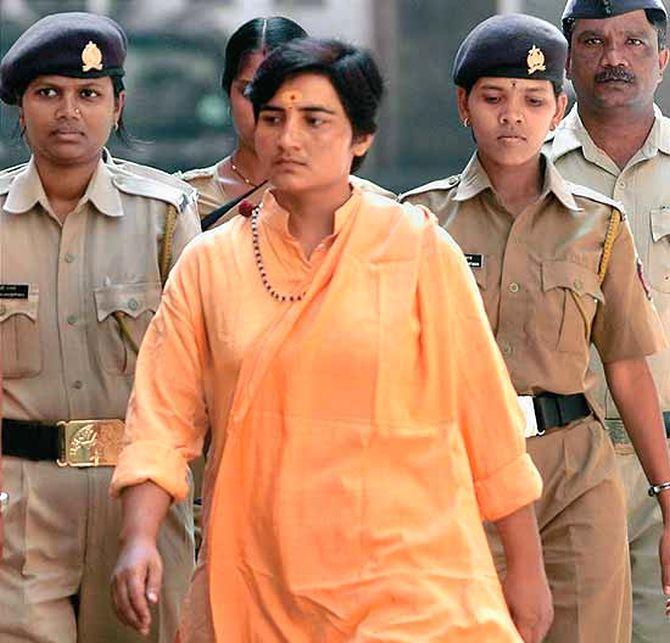 "Prima facie there is no case made out against Sadhvi Pragya," said Justice More while granting bail to Sadhvi Pragya Singh Thakur, accused of plotting the 2008 Malegaon blast on Tuesday.
'Reasonable to anticipate more Maoist attacks'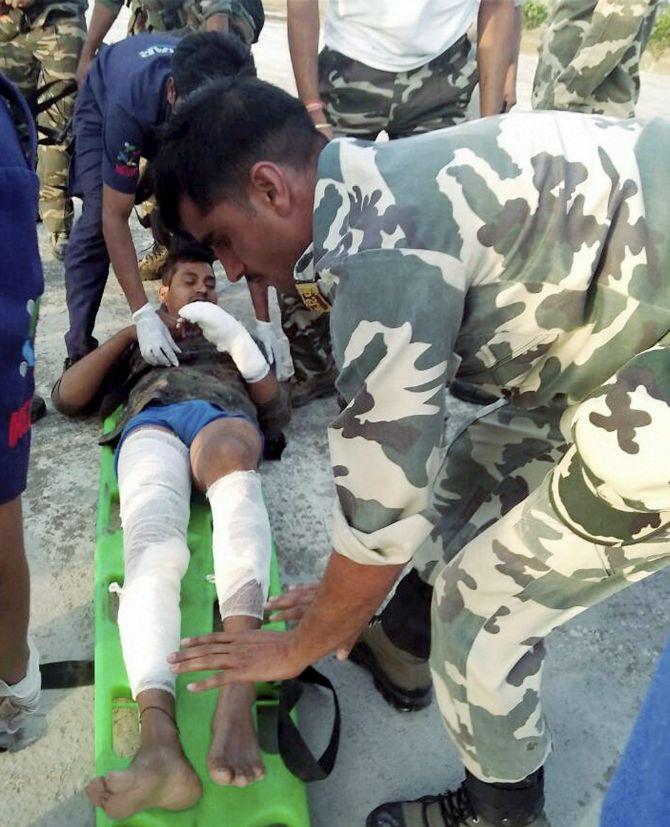 'It is an ambush, and no IEDs were used, which means it is more tactical, more technical and more intelligent.'
The man who took on Sri Sri Ravi Shankar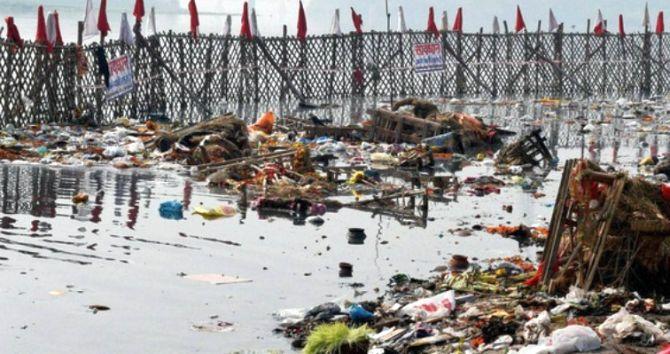 'The size or economic potential of no event can be a valid excuse to break the law of the land.'
'Aadhaar is very dangerous for the Indian nation'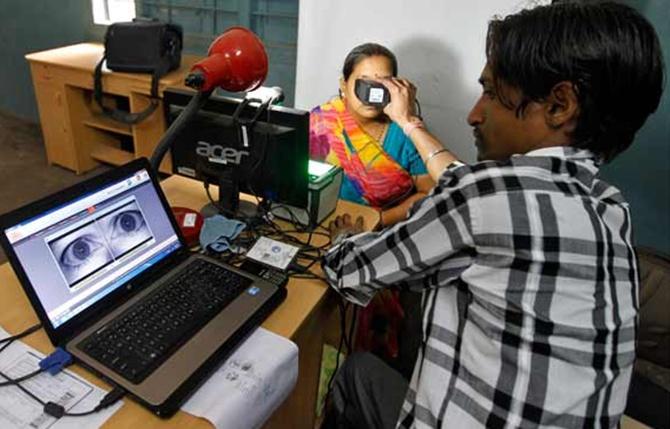 'By taking fingerprints, iris scans and other details of citizens, the State is becoming the custodian of its people.'
April 24, 2017
'Muslims have been made coolies of secularism'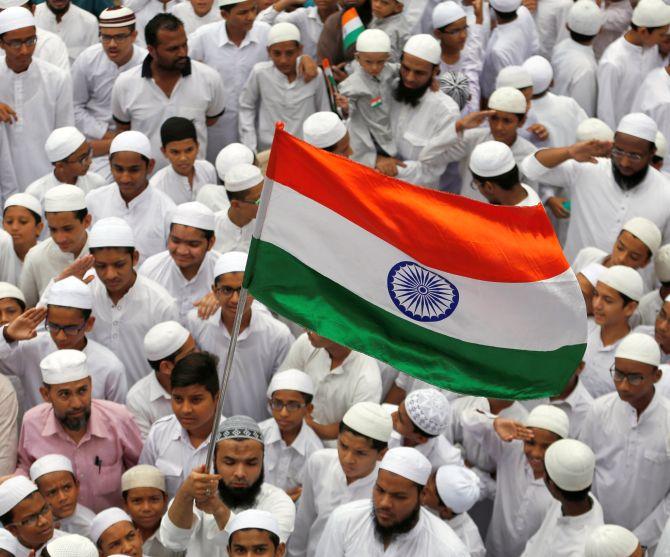 'This is India, bhai. This kind of country does not exist anywhere in the world.'
April 21, 2017
Are Adivasis being driven out to save the tiger?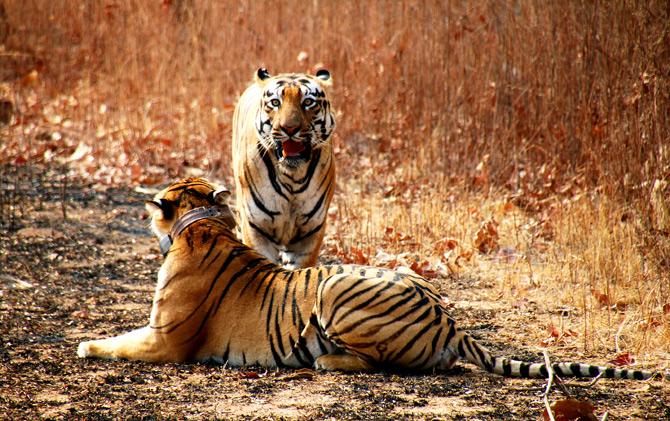 'Why do you want the tribal communities to come out of the jungles?'
April 20, 2017
'How can you believe Advani?'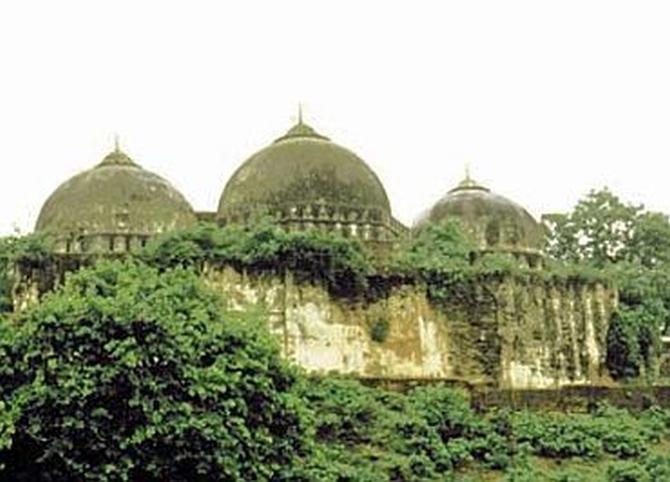 'The Babri Masjid demolition was a pre-planned conspiracy.'
April 19, 2017
'Kashmir is a battle of the mind'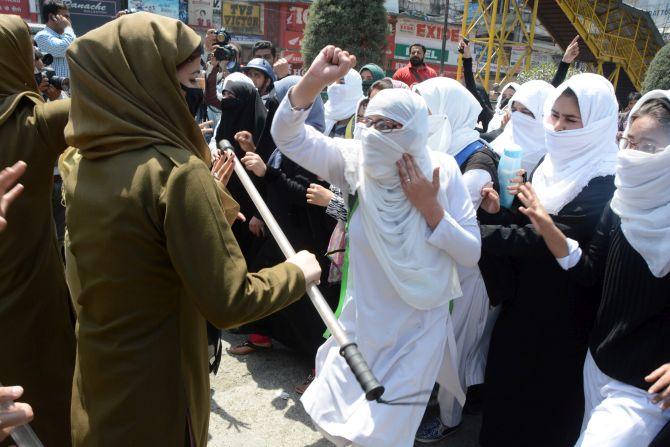 'Tying somebody to the jeep is not the military way, but the officer was able to come out of the situation without any bloodshed.'
April 17, 2017
'I fully support Sonu Nigam'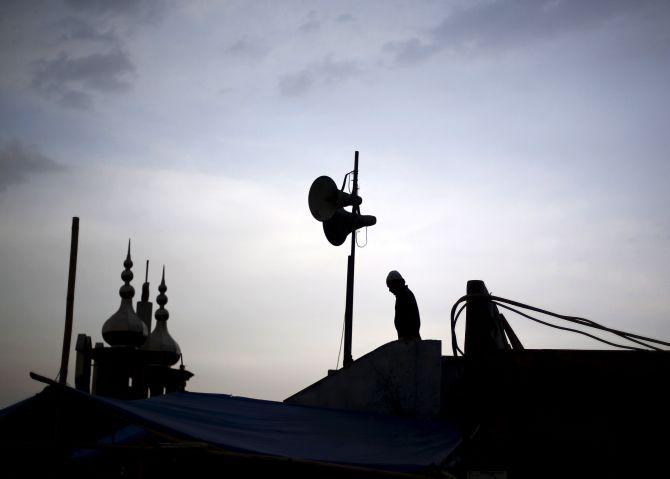 'Noise pollution is a health issue, it is not a religious issue.'
'In 2019, RSS will declare India a Hindu Rashtra'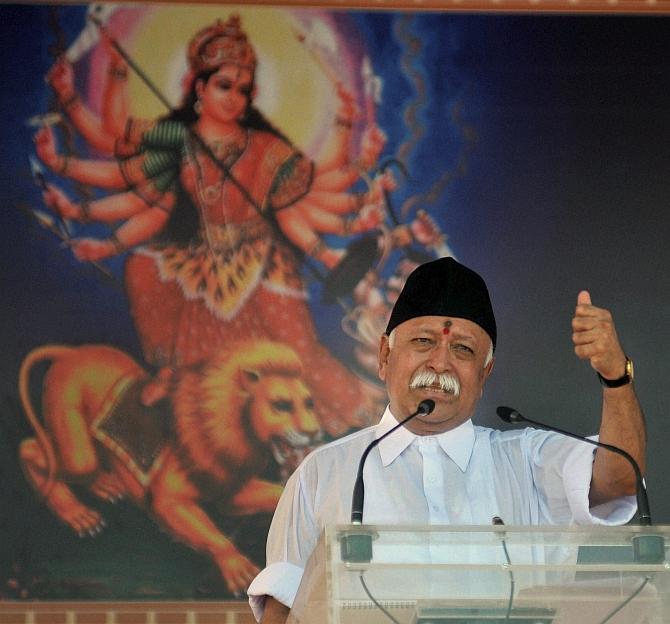 'Putting Yogi Adityanath in the CM's seat two years before the 2019 Lok Sabha polls is something to be read carefully.'
April 15, 2017
'In 2019, we will see how to defeat the BJP'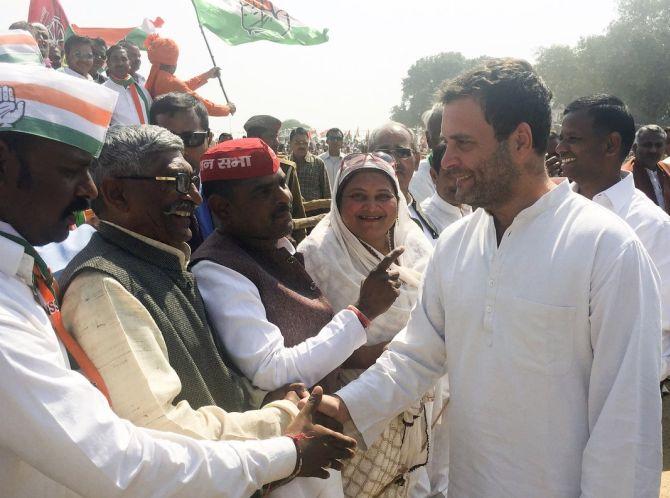 'The Congress will never change its ideology, but to fight this new kind of propaganda politics, we have to prepare ourselves.'
April 14, 2017
'Radicalisation of Maldives should raise alarm in India'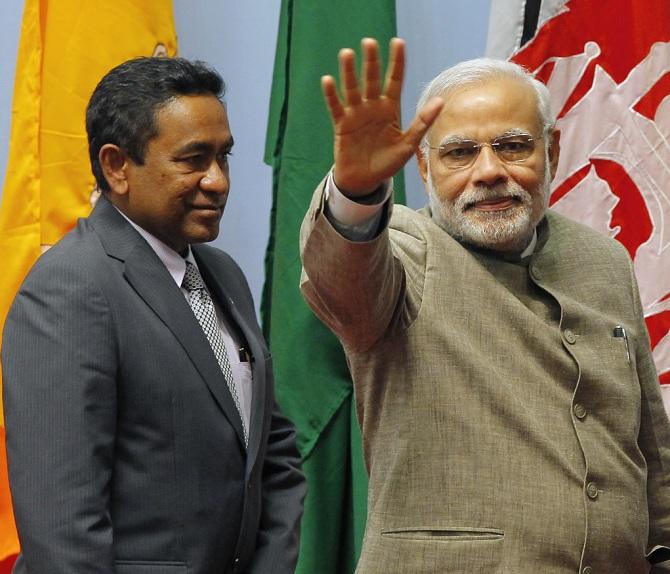 'Now is the time for India, our biggest neighbour and oldest friend, to bring the full array of international policy instruments to bear.'
April 12, 2017
'I'm certain Pak will not hang Jadhav'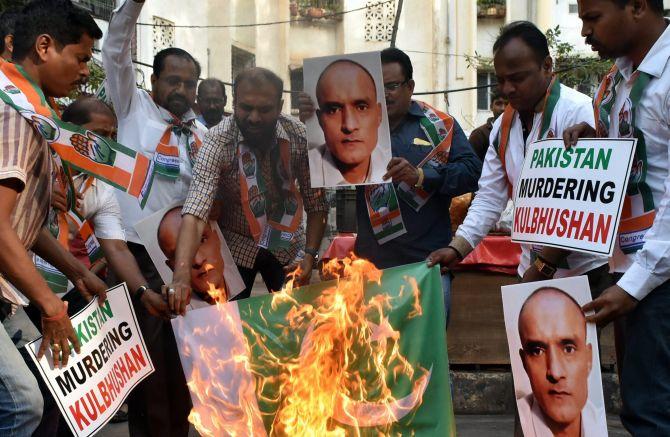 'At some stage they will convert it to life imprisonment or something else,' says Former R&AW officer and author of Mission R&AW R K Yadav.
April 11, 2017
'Kashmiri youth have become the face of violence'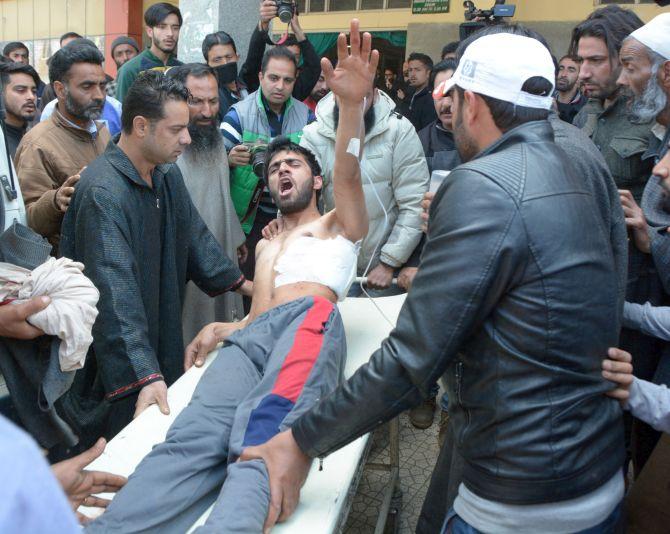 'This generation has seen no communication.'
'A cow's life is more precious than a human being's'
'The BJP has failed to protect cows.'
April 07, 2017
'US won't turn a blind eye anymore'
'I wear heels. It's not for a fashion statement.'
April 06, 2017
'When Modi-Shah lose, no one questions their failure'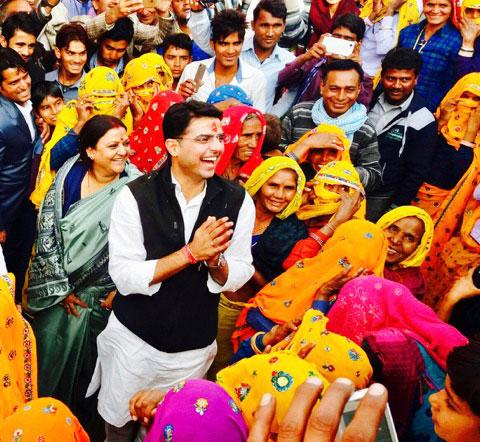 'Where they lose, you never ask why they failed there, like in Bihar and Punjab.'
'Kishori Amonkar made classical music accessible'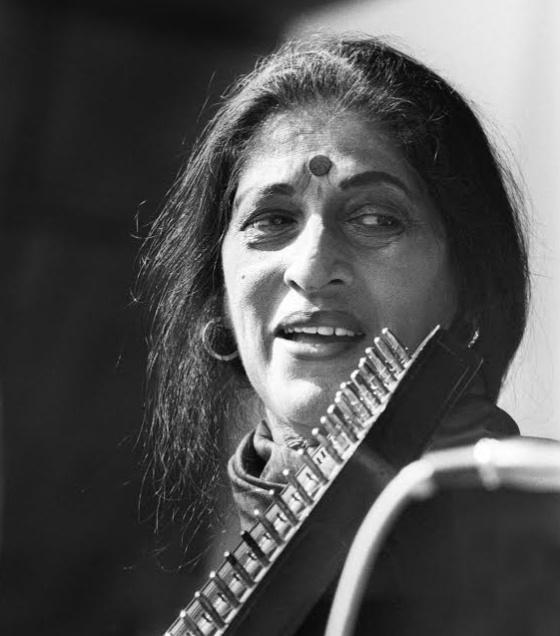 'Her ability and confidence to 'do her own thing,' both in her music and in her life -- and the great integrity with which she did it -- was amazing.'
'The farmer is dying and the country is rejoicing'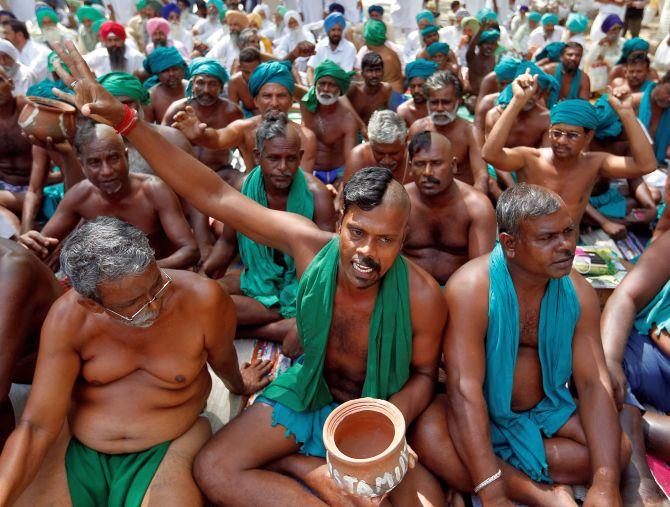 'The corporate sector says by 2022 they will create 300 million jobs.'
April 05, 2017
'I don't think a strike will sort doctors' problems'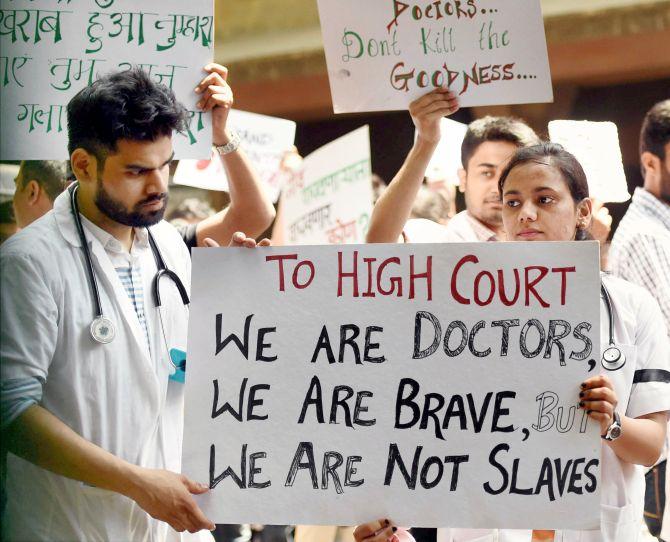 Former AIIMS director Dr S K Kacker discusses the doctors' agitation in Maharashtra and West Bengal's crackdown on private hospitals with Veenu Sandhu.
'If you sweat in peacetime, you don't bleed in wartime'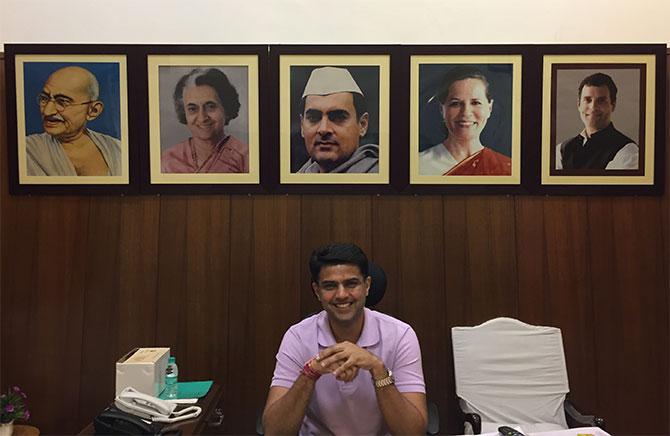 'We have to work for our victories.'
April 03, 2017
Why the earlier Ayodhya talks failed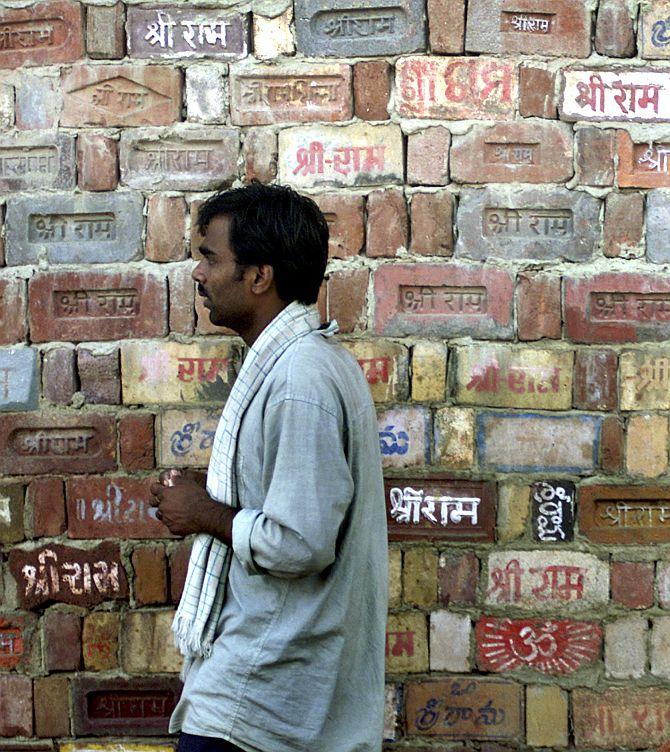 'This is an emotional issue and cannot be resolved by law alone.'
April 01, 2017
Why PM Modi and Sonia Gandhi send 'chaadar' to Ajmer dargah every year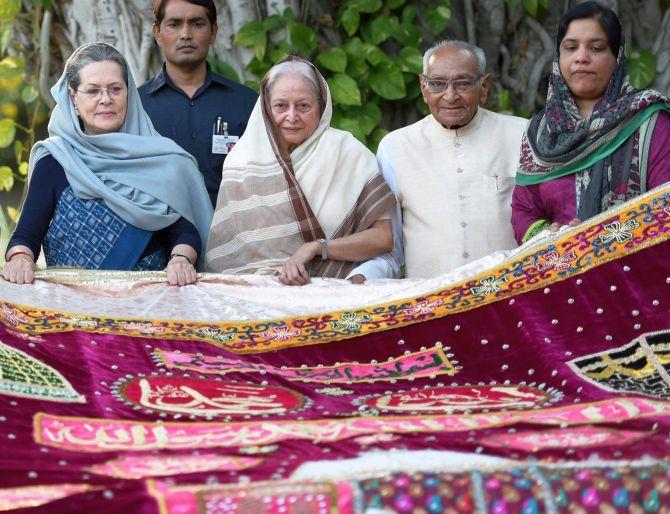 Syed Firdaus Ashraf speaks to Haji Syed Salman Chisti, Gaddi Nashi, Dargah Ajmer Sharif, the hereditary custodian of the dargah and the 26th generation descendant of Khwaja Garib Nawaz (as the Pir is known) to understand the meaning and significance of the gesture.
March 31, 2017
'Aadhar is a national security threat'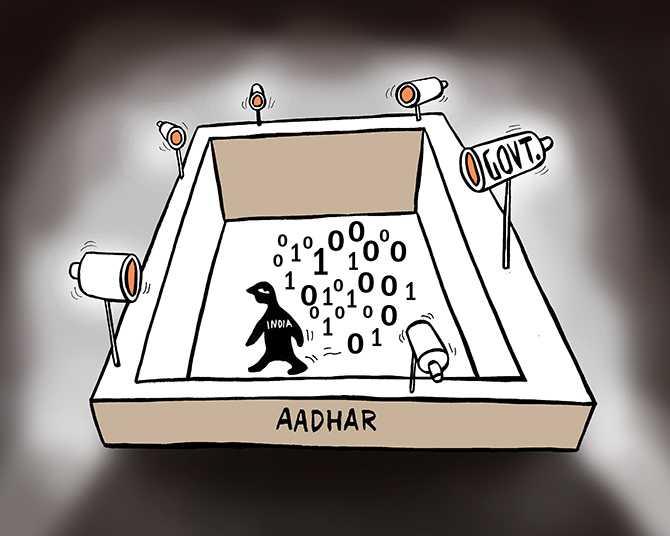 'The government that is talking all the time about national security and national interests should be concerned.'
March 30, 2017
'If the PM can't control the CM, the RSS will'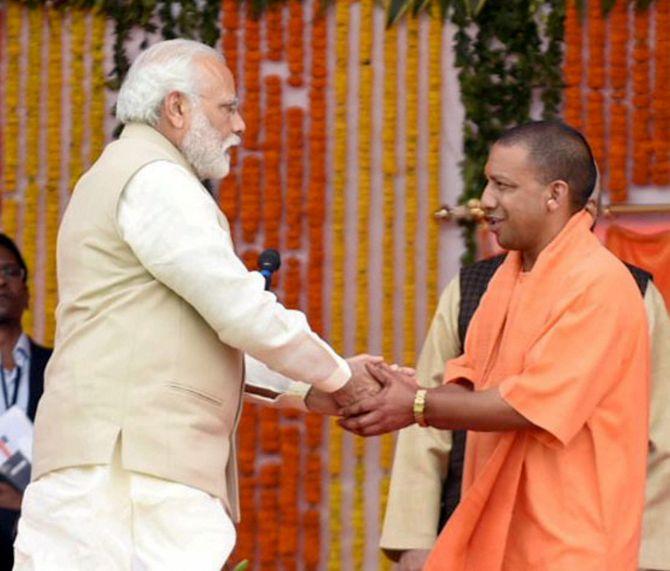 'The incidents that used to happen in our time, have they stopped now?'
March 29, 2017
'Gau rakshaks feel they have become emperors'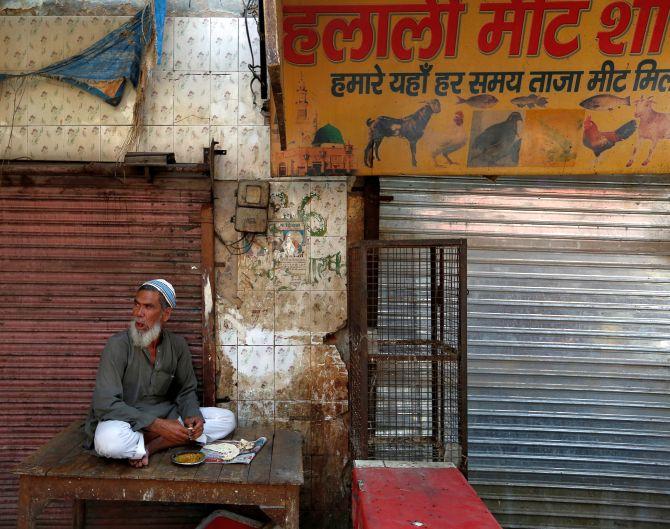 'Gau rakshaks portray themselves to be bigger than the chief minister and Prime Minister Modi.'
'RSS chief as President is Shiv Sena's cheap gimmick'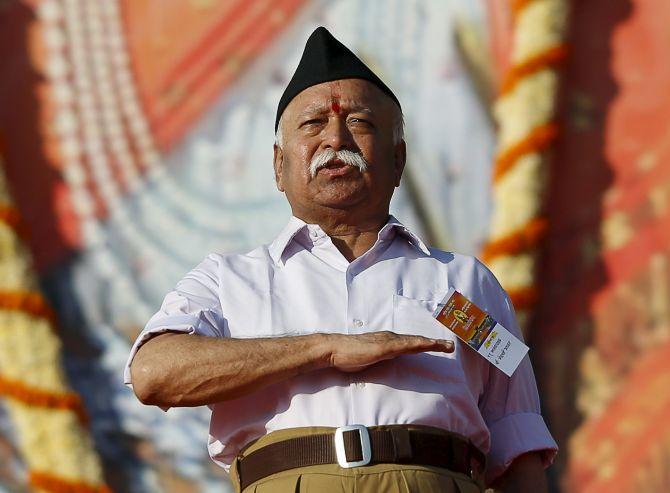 'A person of the stature of the RSS Sarsanghachalak would like to stick to changing social mores and social traditions and uniting society, which is much more important than politics.'
'After UP, I doubt if the Indian voter is smart'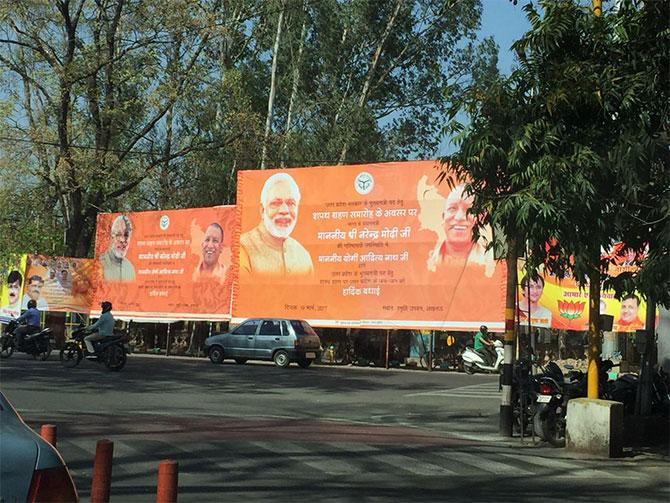 'We worked hard, brought a very positive manifesto saying this is what we have done and this is what we will do.'
'I hope Mr Modi will have good sense'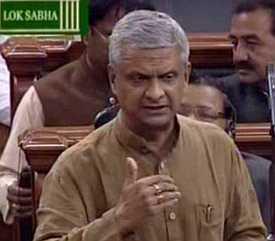 'Look at what happened to the BJP in that India Shining episode in 2004.'
'What's happening in the Maldives is not in India's interest'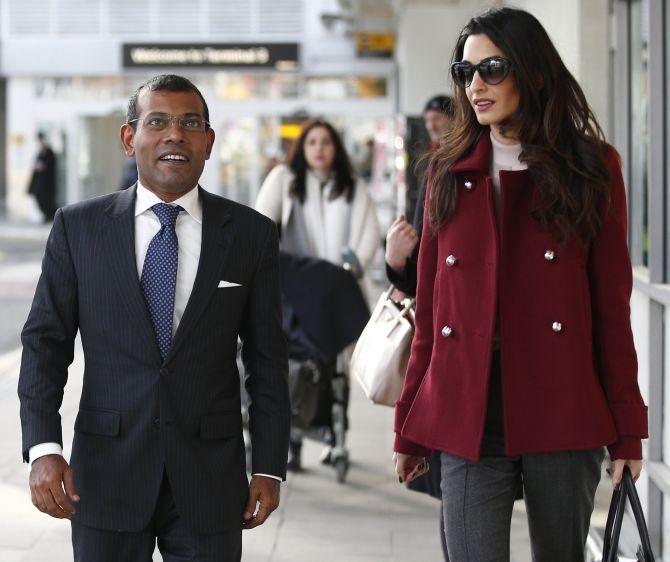 'I am also concerned over Chinese ambitions in the Maldives and wider Indian Ocean,' former Maldives president Mohamed Nasheed tells Rediff.com contributor Rajeev Sharma in an exclusive interview.
March 28, 2017
Exclusive! The Akhilesh Yadav interview!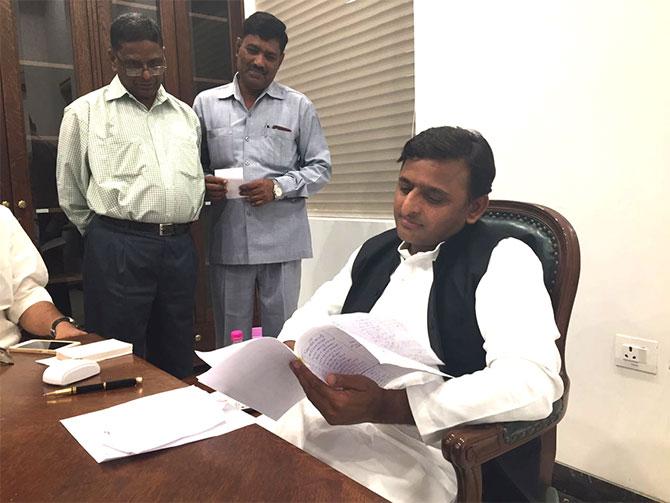 'These people are not concerned about Hindu, Muslim, Sikh or Christian -- they are only concerned about being in power,' Akhilesh Yadav tells Rediff.com's Archana Masih in his first interview after the election results.
'Many times we miss the cancer symptoms'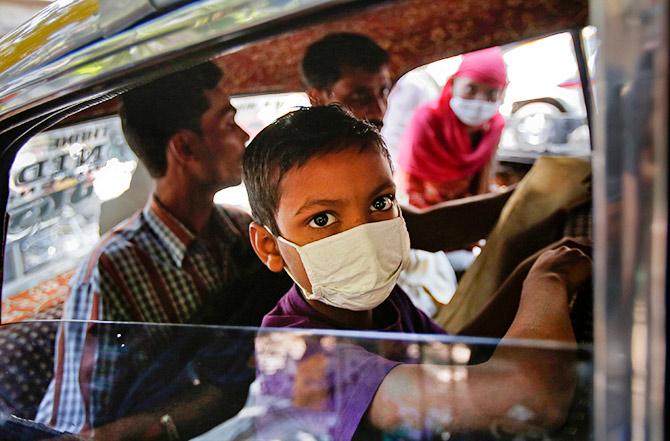 'Live a healthy lifestyle. Like what our parents taught us. Like our parents' parents taught them.'
March 27, 2017
'We expect some hiccups with Trump'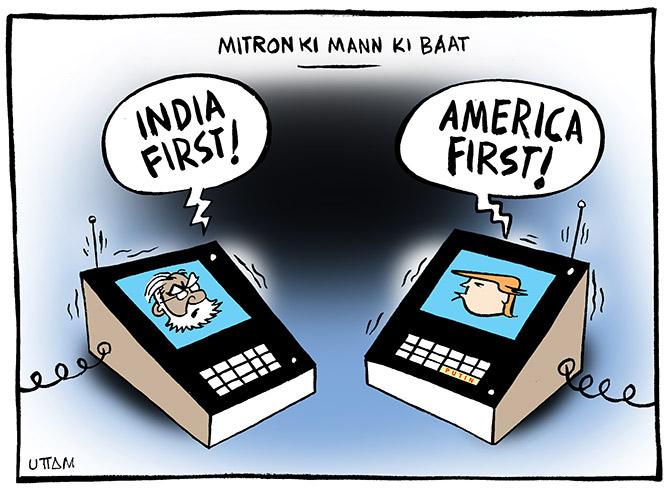 'There will be some issues of contention, especially on H1B visa and on trade policy.'
'Just because you didn't win, don't say EVMs were tampered'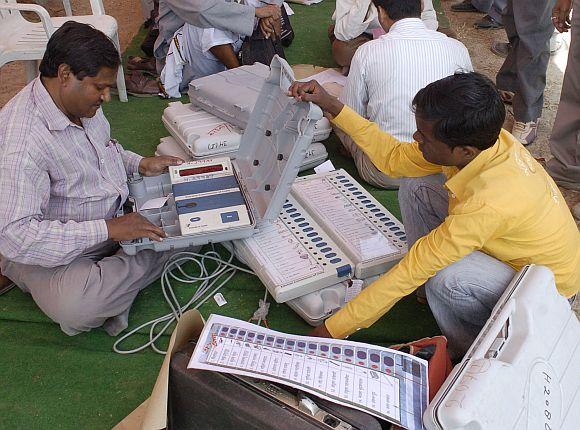 'They can't be tampered with because of the very nature of the machines -- they are standalone, and not networked.'
Exclusive! What the head of US Congress' India caucus wants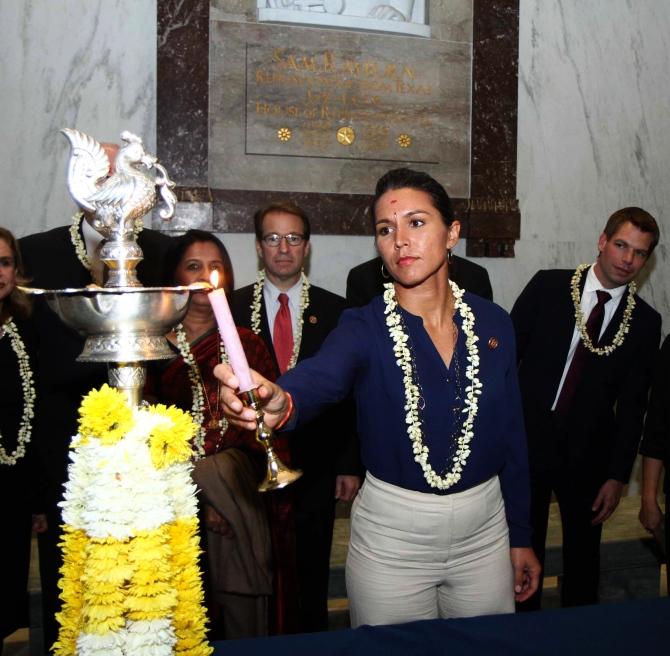 US Congresswoman Tulsi Gabbard, newly elected co-chair of the influential Congressional Caucus on India and Indian-Americans, discusses her vision for US-India ties with Rediff.com's Monali Sarkar.
March 23, 2017
NDA ally: BJP does not have political decency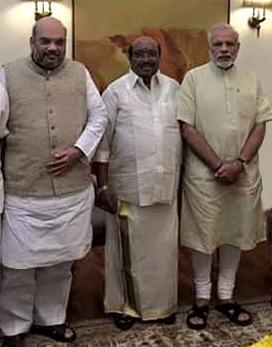 'The cadres who die for the party are from the backward and scheduled caste communities while the leaders and those who enjoy power are from the forward community.'
'Don't forget there are 180 mn Muslims in this country'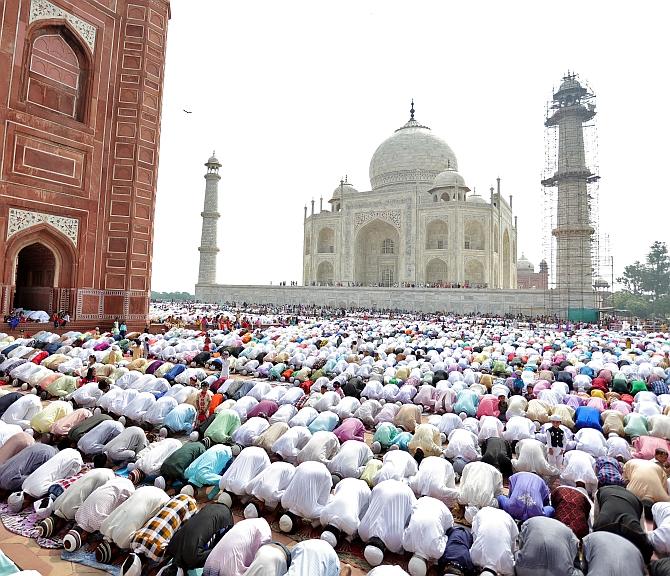 'Muslims are depressed and disillusioned.'
March 22, 2017
'What's more important? Feeding people or enriching 1 man?'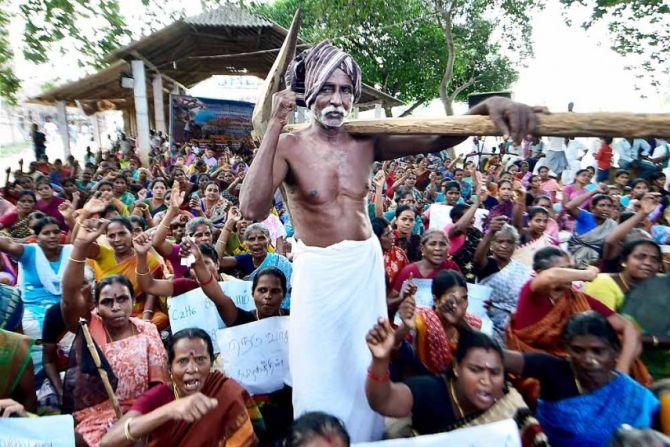 'Why should farmers who give us food be vacated to hand over their property to a private company held by one individual,' asks green activist S P Udaykumar.
'Babri Masjid is not an ego issue for Muslims'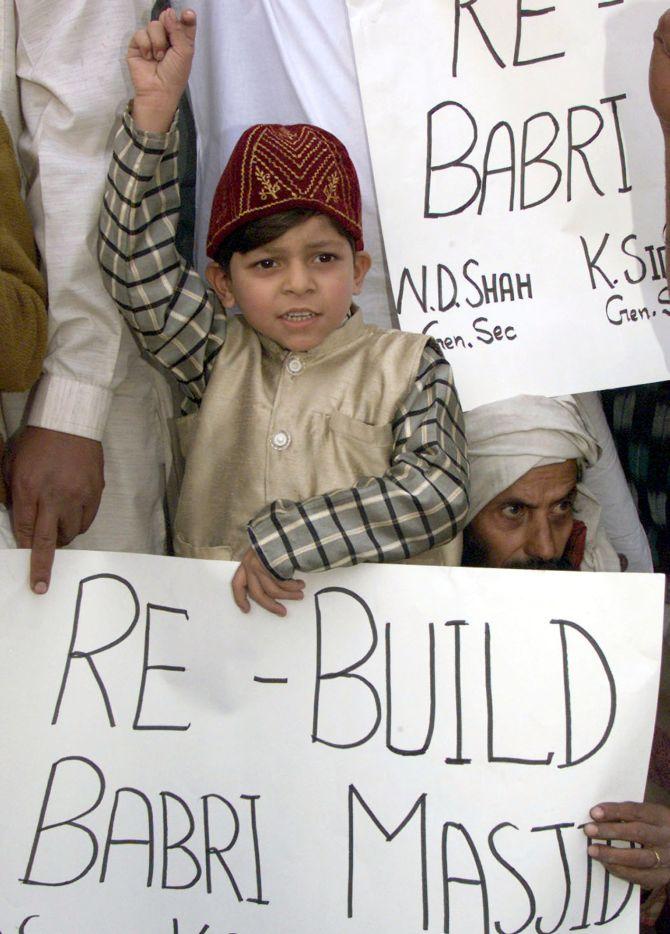 'If you prove that a mandir was demolished and a mosque was constructed there, we will leave the place.'
March 21, 2017
'Adityanath's selection is an RSS decision'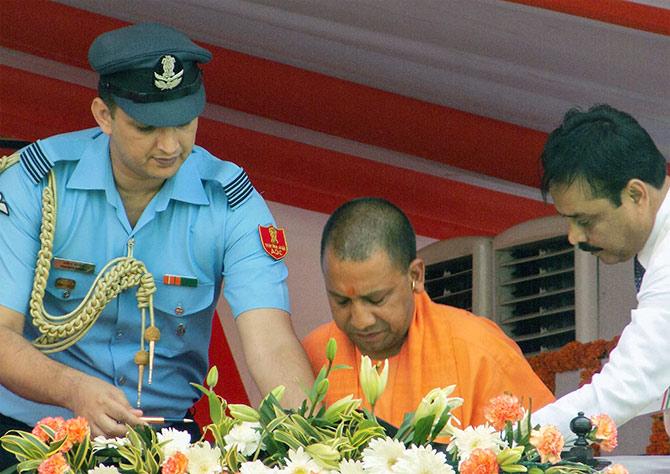 'He is a man whose utterances have been so virulent and communalistic.'
March 20, 2017
'Now that he is CM he will follow the party line'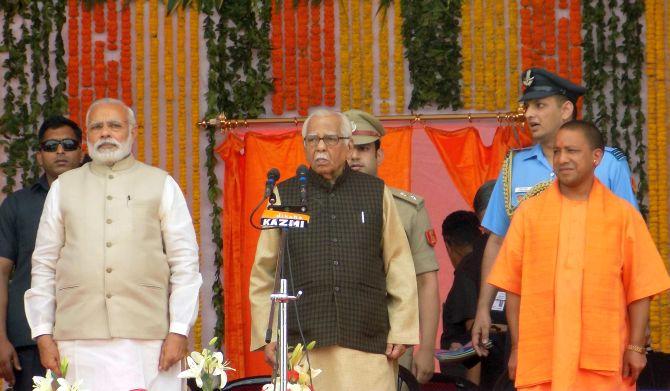 'Whenever Yogiji said something which was against the party line, we distanced ourselves from that.'
'Yogi played a bigger role than Modi in UP poll'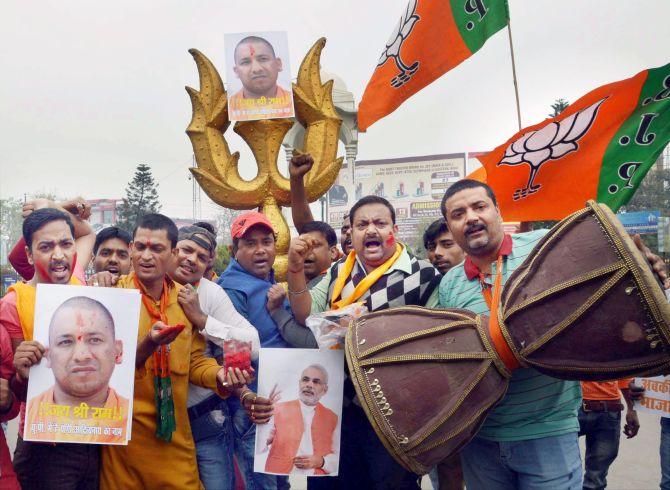 'His selection is to honour the sentiment of the communal majoritarianism, satisfy the upper caste and continue the process of Hindutva.'
March 17, 2017
Ayodhya MLA: 'Ram temple will be built'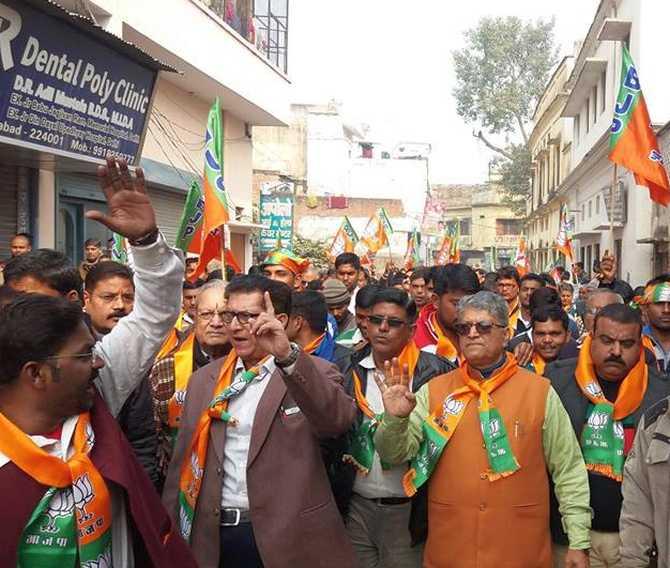 'We will do it either by removing all the Constitutional hurdles or by mutual consent.'
March 16, 2017
'Modi certainly doesn't exclude Muslims from governance'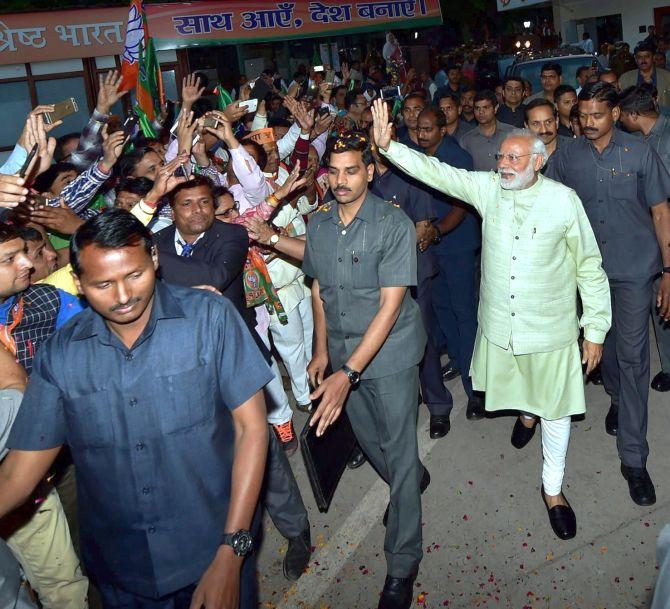 'How can the BJP give Muslim candidates tickets if they don't have any good Muslim candidates?'
March 15, 2017
'Unless Modi generates jobs there will be a backlash'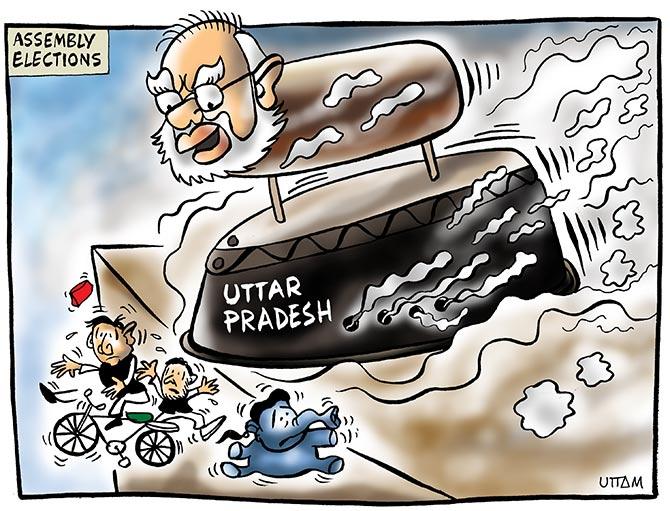 'At the end of the day, Modi needs to deliver.'
'This is the BJP's political mafia raj at work'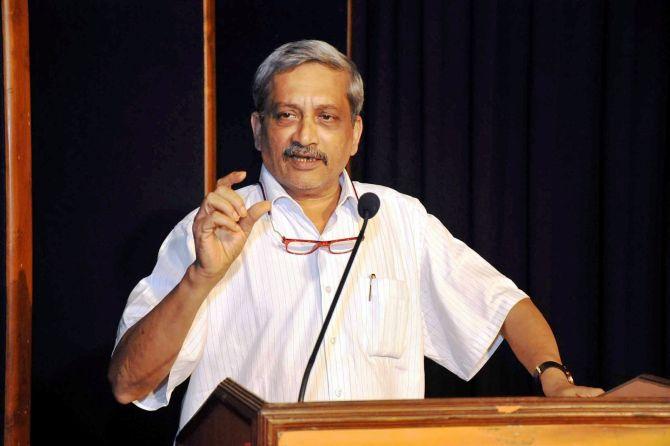 'What I mean by the BJP's political mafia raj is they descend in such a way that they want to form the government anyhow and murder democracy, no matter what.'
March 14, 2017
'BJP may become inclusive with Muslims after this mandate'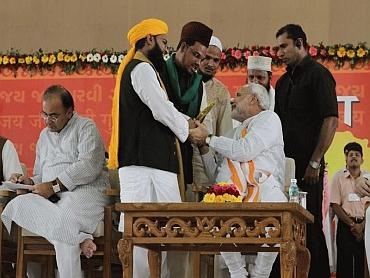 'Muslims may turn to the BJP or may not come out to vote in great numbers like they have in the past.'
'Even the RSS is following Modi's dictates'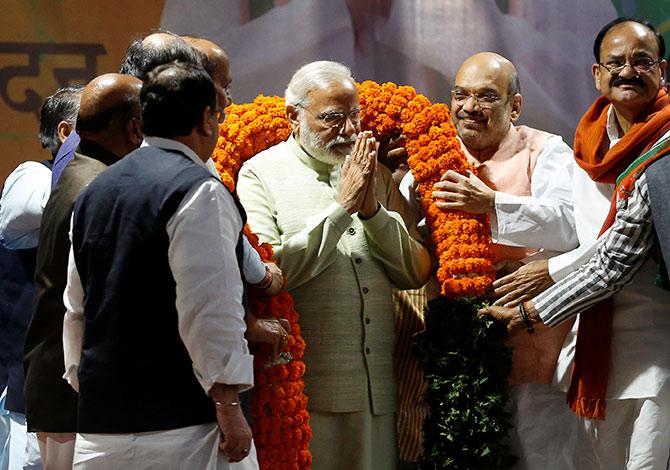 'The only narrative before India is what Modi and the BJP is presenting.'
Deoband MLA: How I won a 50% Muslim seat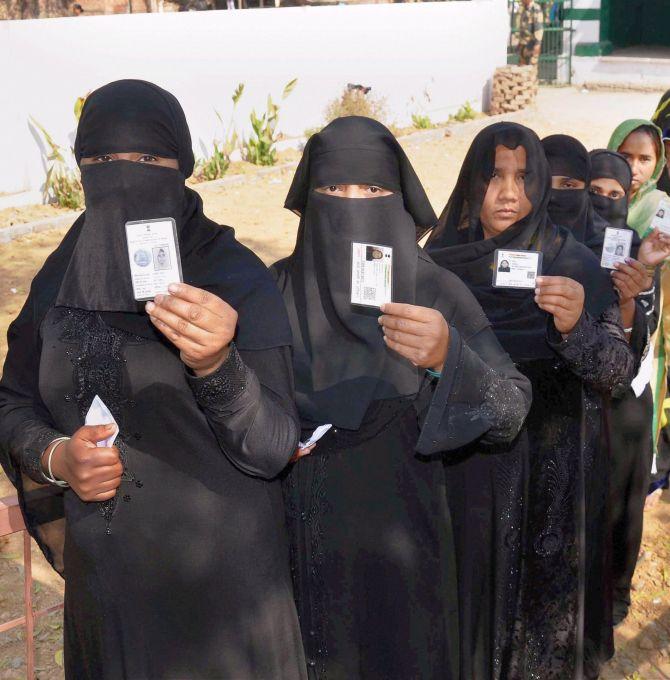 'Educated Muslim women overwhelmingly voted for me because of Modiji's stand on triple talaq.'
Digambar Kamat blames Digvijaya Singh for Goa fiasco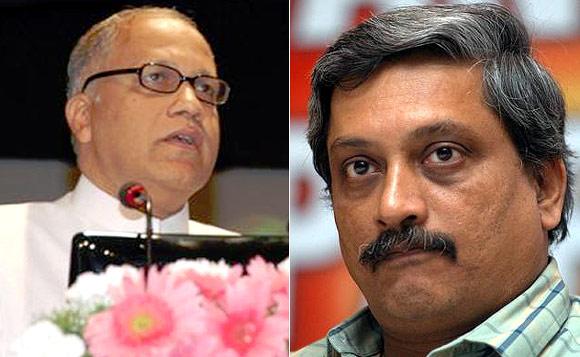 'The people of Goa have not given the BJP a mandate to form a government, but the fact is they are trying to form the government.'
March 13, 2017
'This is not the end of the story for Irom Sharmila'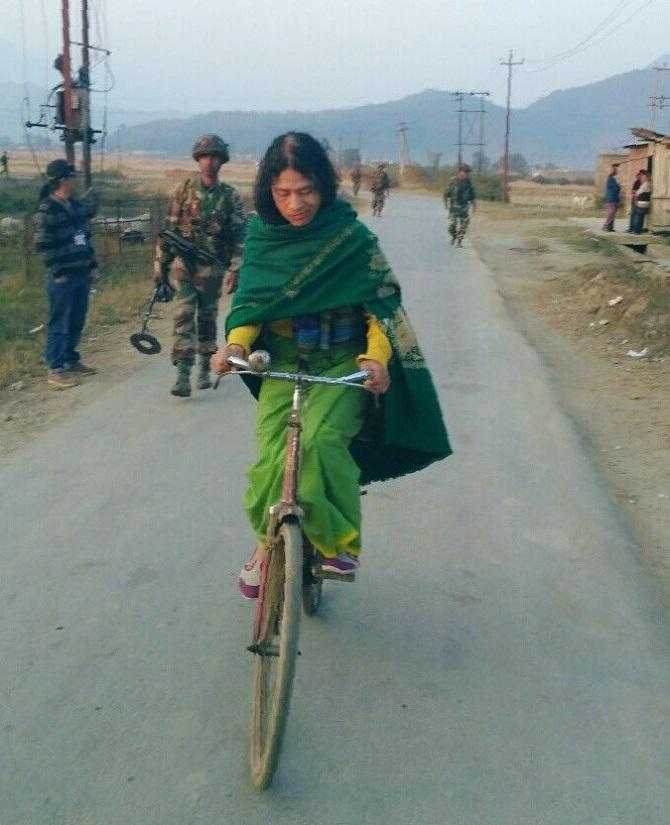 Deepti Priya Mehrotra, who documented Irom Sharmila's struggle for peace in Manipur in the book Burning Bright, puts the icon's electoral loss in perspective.
'This is not a BJP victory'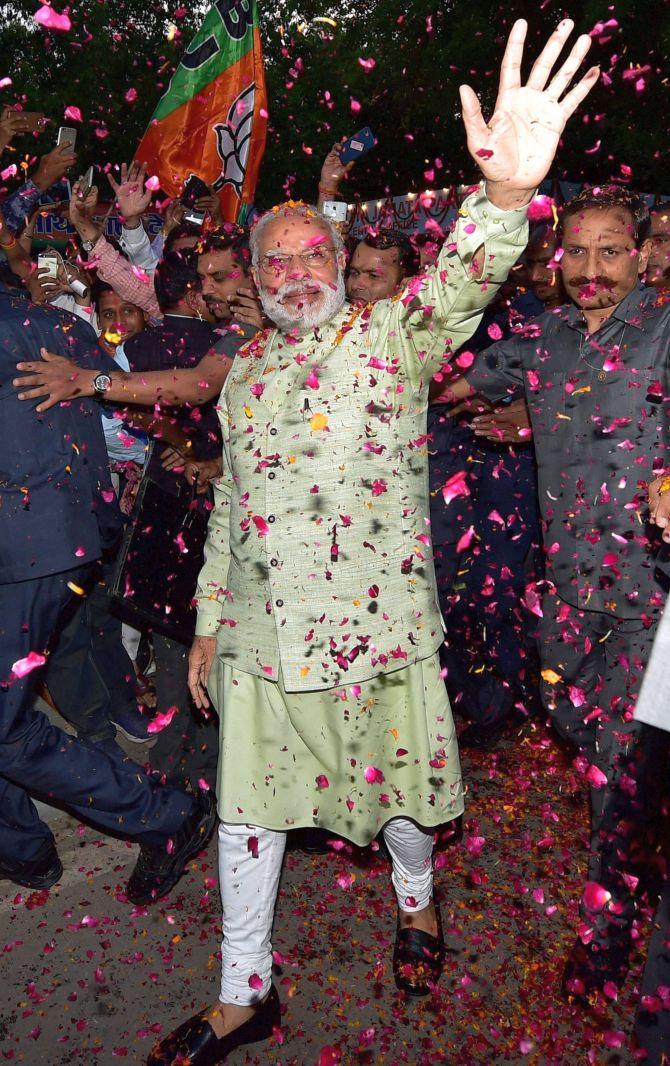 'Like 2014, 2017 was also Modi's election.'
March 12, 2017
Coconut trees, loud music, jobs: Why GFP will back BJP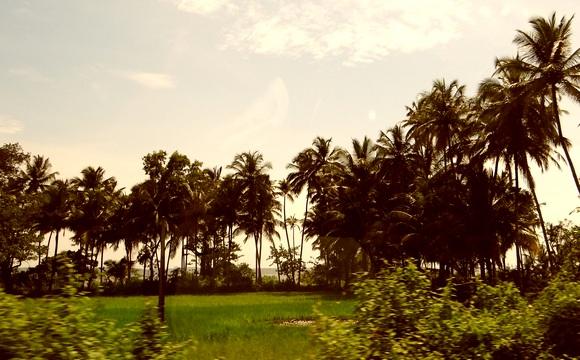 'We will fight for removing the de-classification of coconut trees.'
'India's youth want a different country'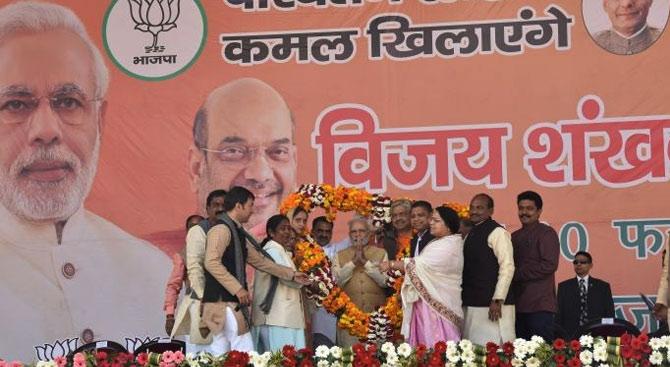 'This is a watershed election in Indian politics.'
'India can never be Congress-mukt'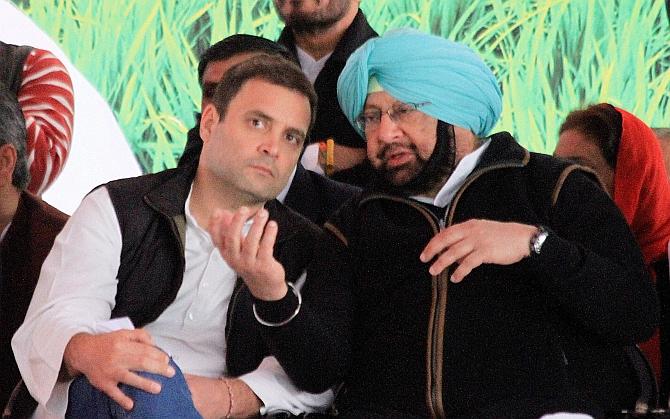 '...because the party is based on the Constitution.'
'Hindu middle class doesn't like anti-Muslim rhetoric'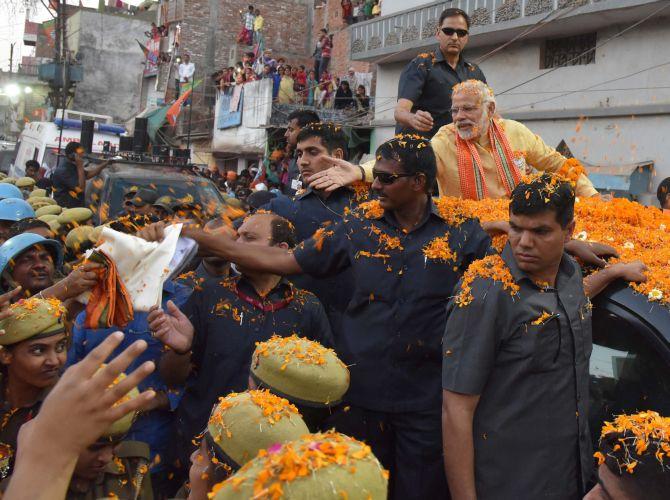 'Hindu middle class doesn't like anti-Muslim rhetoric'
March 11, 2017
'We have become bigger than the Congress in UP'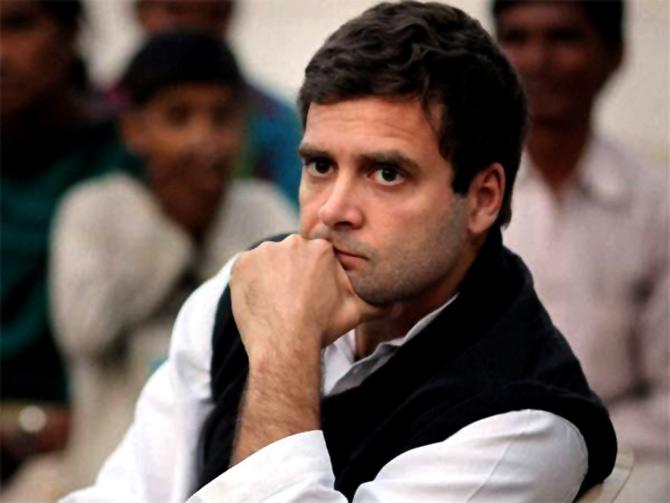 'My God, what do I say? It's shocking!'
'The Opposition is bankrupt'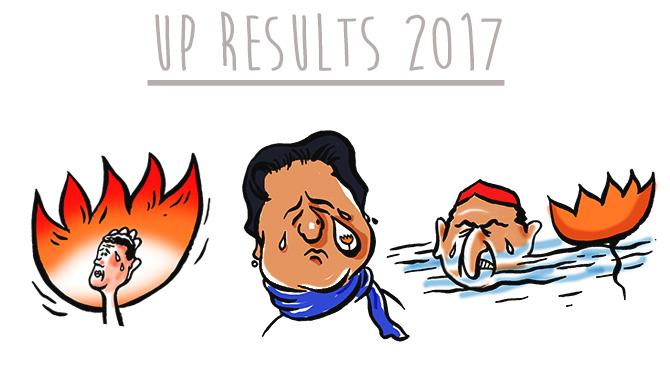 'When the campaign started the Congress said it had been miserable for the last 27 years for UP and that people should get rid of those who made it miserable, and that they should bring back the glorious years of the Congress.'
'Not many people talk of the BJP, they talk about Modi'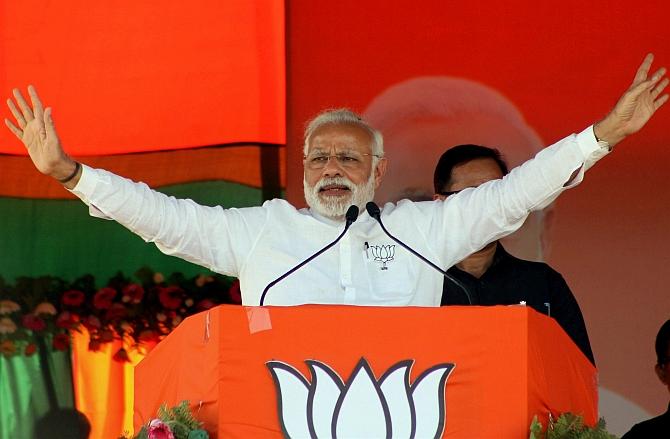 'In the next two years, we might see a new kind of realignment across India.'
'Modi will have more confidence in what he wants to do'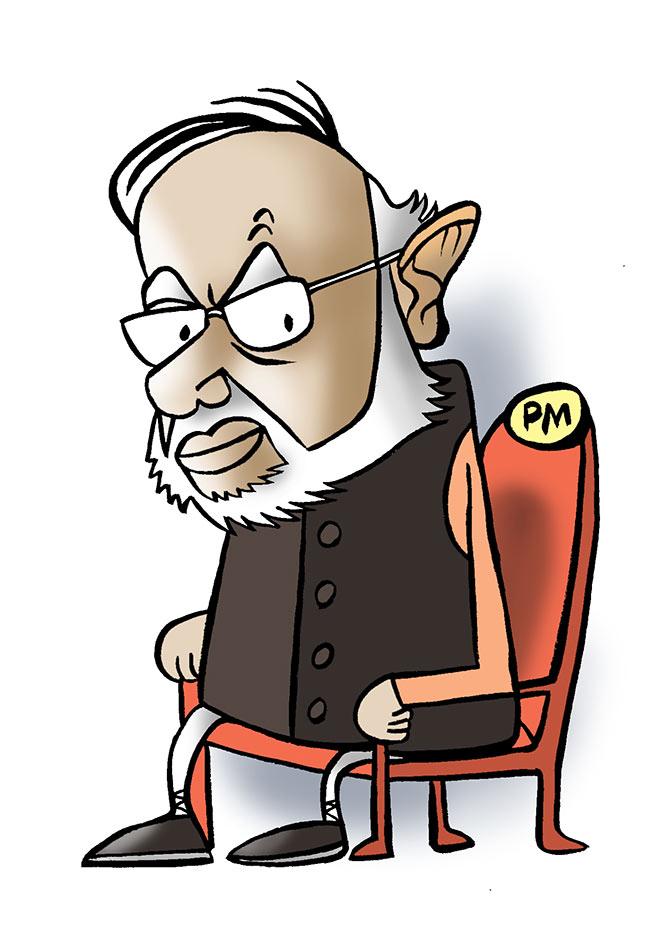 'The UP election results show that people voted not on caste and religion lines; they went above that and voted for development, honesty, pride in the country, etc.'
March 10, 2017
'Why are they so afraid of someone who is 90% disabled?'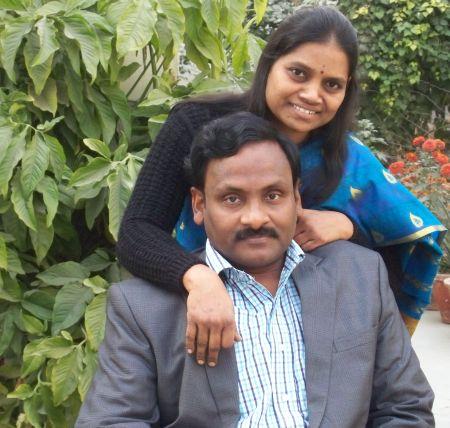 'He has not done any harm to anyone. Yet you give him life imprisonment.'
March 09, 2017
'Dear prime minister: Harvard is not just Amartya Sen'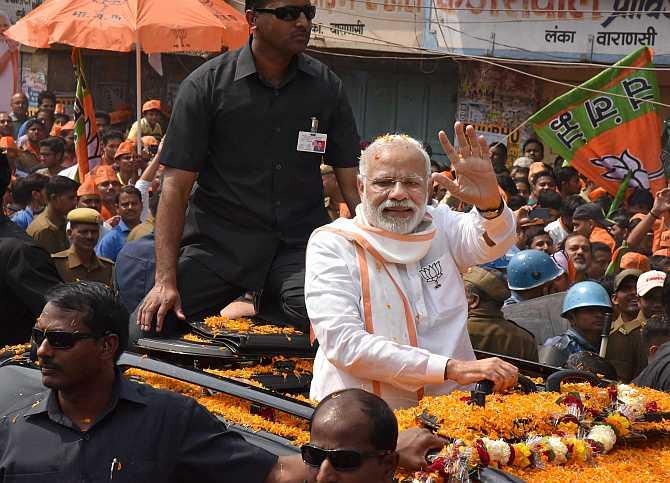 'Amartya Sen is a citizen of the country who has every right to criticise or give his opinion on a policy decision.'
March 08, 2017
'India has completely forgotten history'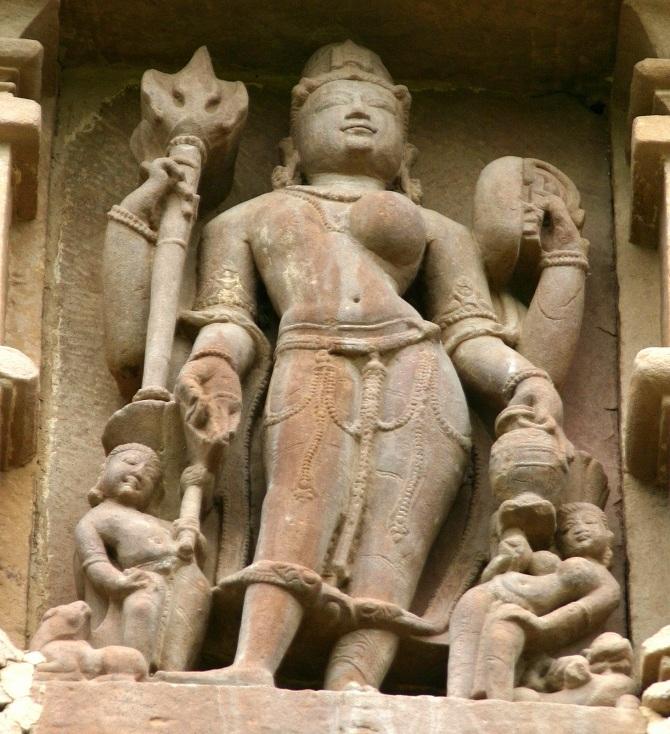 'Our religion had some important philosophies regarding trans people that cannot be ignored.'
A remarkable Indian you never heard of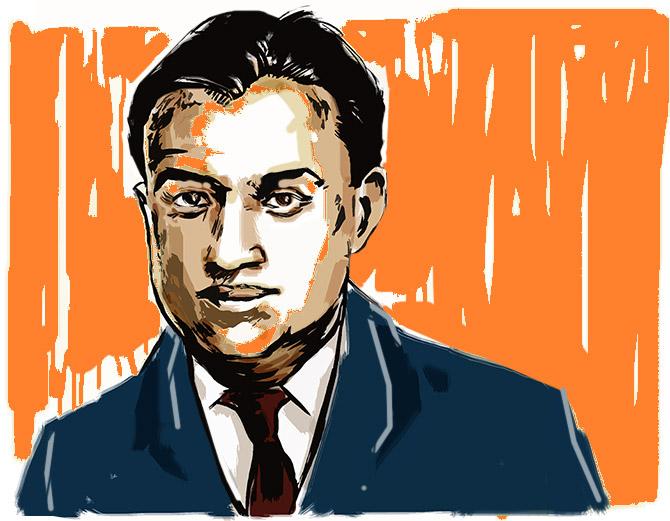 ACN Nambiar's life was extraordinary and intricately linked to momentous turns in history. Having lived in Europe for five decades, he was witness to and entangled with what we today -- with the benefit of hindsight -- call recent history.
March 07, 2017
'Modi may have lost confidence in Varanasi'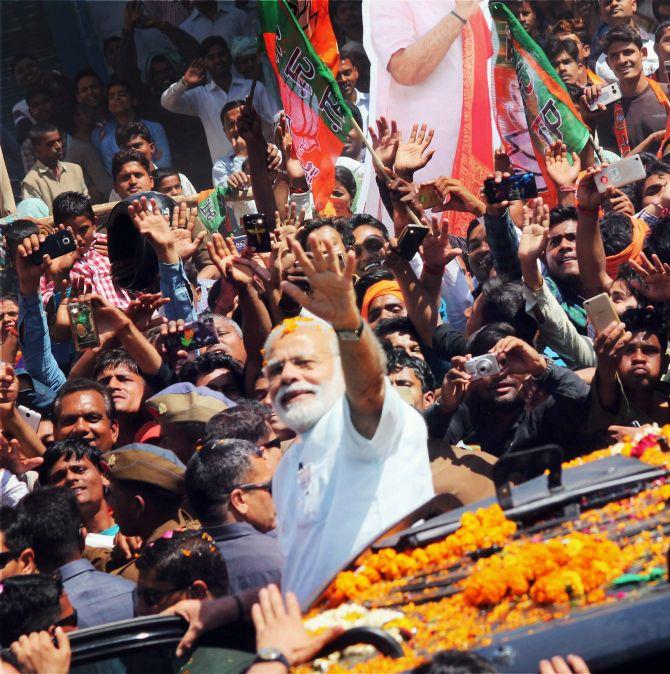 'After his road shows, the people of Varanasi are debating what forced the prime minister to move around in the narrow lanes of Varanasi.'
March 06, 2017
'Modi is hologramming himself into every state'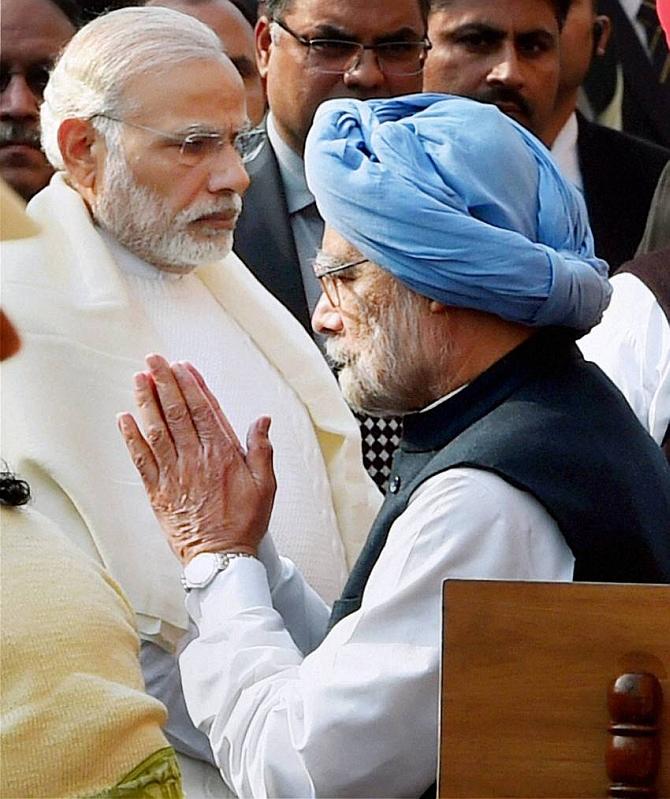 'If you are in Punjab, Modi is omnipresent as if he is going to be chief minister of Punjab.'
March 03, 2017
'If I live in constant fear of being arrested, I'll stop the work I do'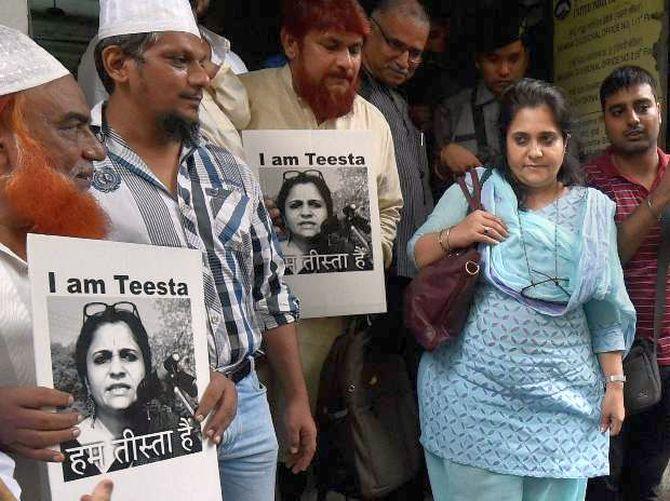 Journalist-turned-activist Teesta Setalvad in her new book 'Foot Soldier of the Constitution: A Memoir' has spoken of the rise of communalism and the aftermath of the '02 Godhra riots.
March 02, 2017
'Suu Kyi has moral authority & political clout to bring change for Rohingyas'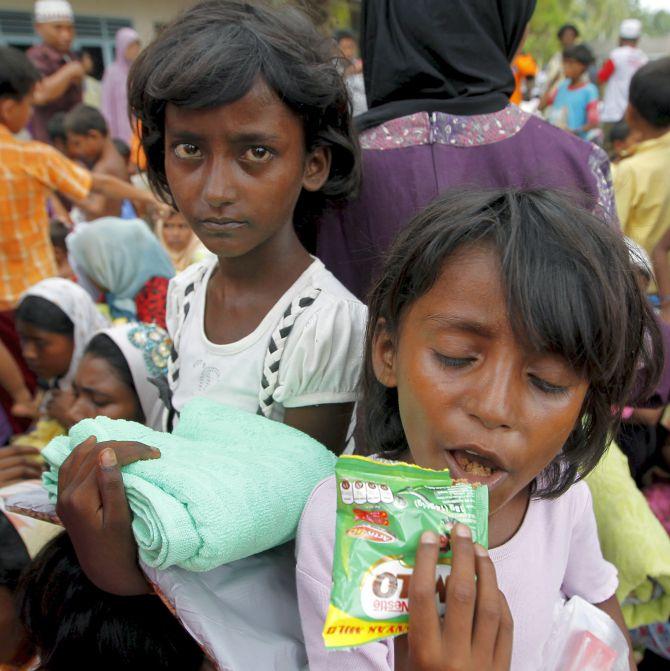 Imagine being a part of a country, but being discriminated against by the majority community and atrocities being committed against you by the state.
February 27, 2017
'I thank Sehwag for encouraging hate'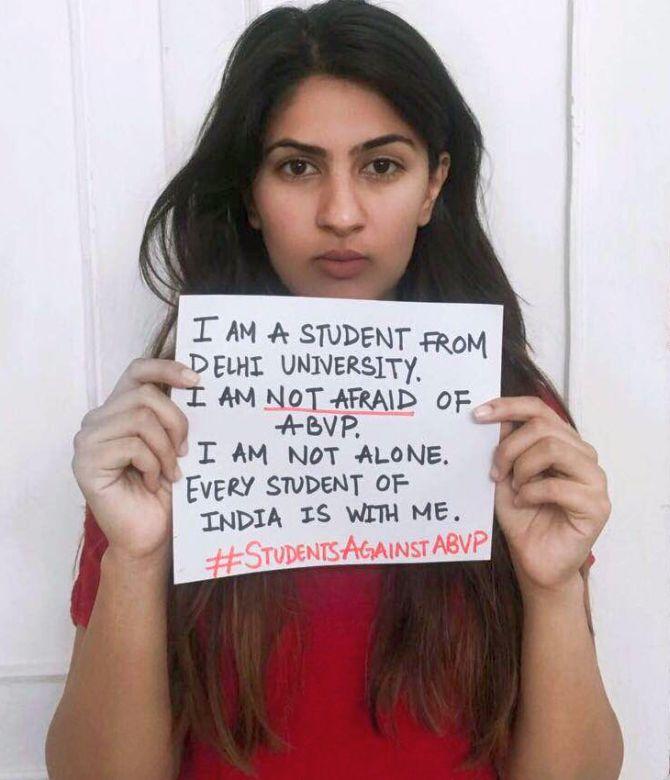 'Someone told me on Facebook that 2017 will be the last year of my life.'
February 24, 2017
'Azaadi is shrinking day by day'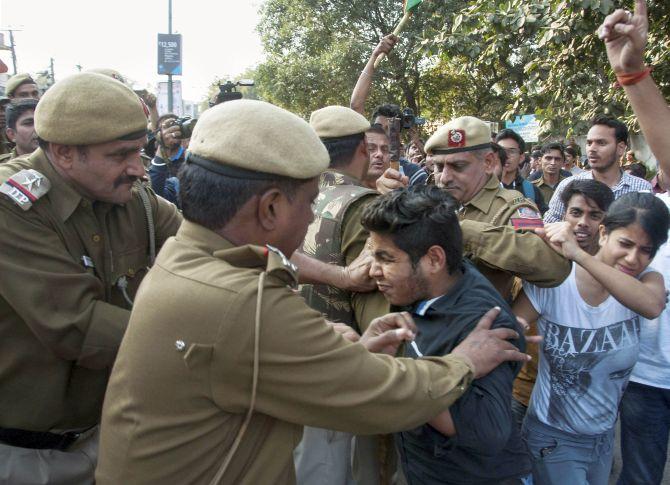 'The policy of Hindutva and neo-liberalism they want to impose on the country cannot happen by violently crushing all dissent.'
'BJP must become a more mainstream party'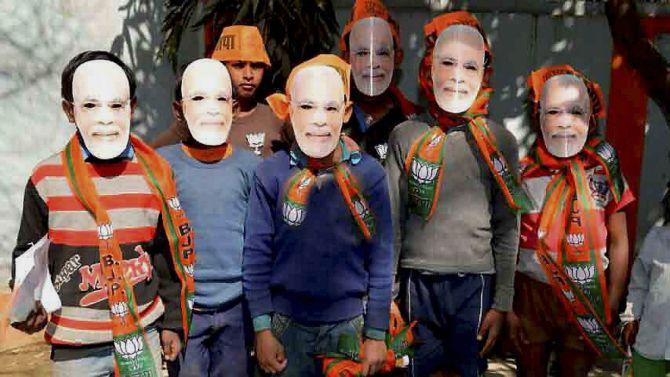 'If the BJP wins UP and one or two other states, it could get emboldened and press ahead with its reckless agenda, as well as its divisive agenda.'
February 23, 2017
Why Indians vote for dons and criminals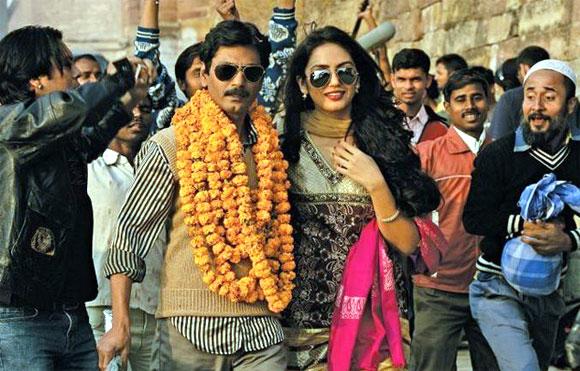 'The voter thinks that the State is not going to impartially deliver services, provide justice, basic law and order, social insurance -- so as a voter it's very rational that I may choose a criminal who will help me navigate the State.'
February 22, 2017
So which festival gets more electricity, Diwali or Eid?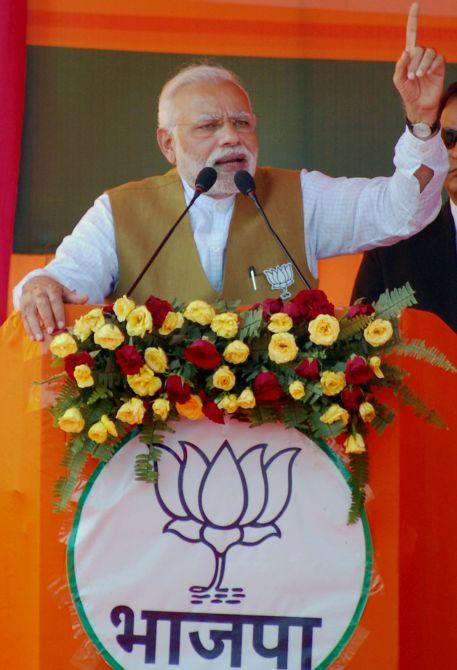 Prime Minister Narendra Modi stirred up a hornet's nest when he said that 'if there is electricity during Ramzan, there should be electricity during Diwali too'.
Why this MP wants curbs on shaadi expenses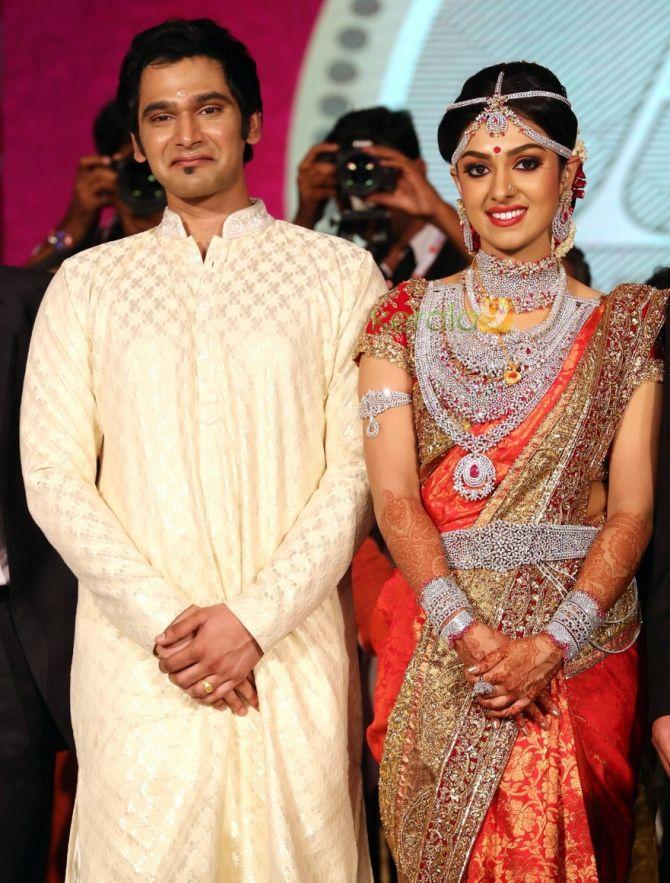 'Parents have to -- whether they like it or not -- save up Rs 50 lakhs to Rs 60 lakhs per daughter for her wedding.'
February 21, 2017
'Sasikala is still ruling the state'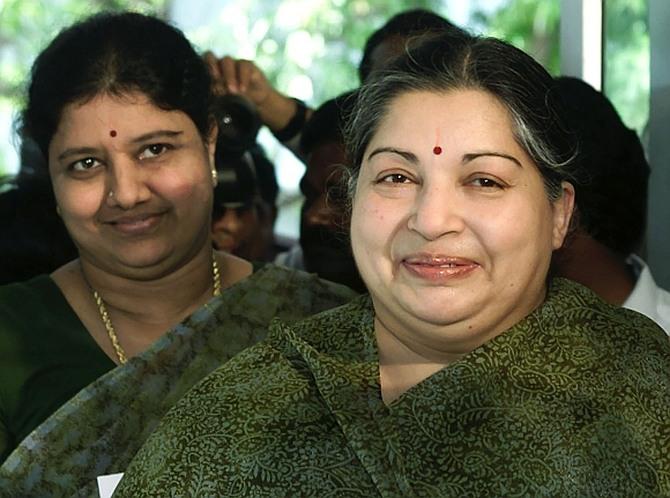 'There are many people like me who were kept away from Jayalalithaa.'
February 20, 2017
'TN governor can reject confidence motion'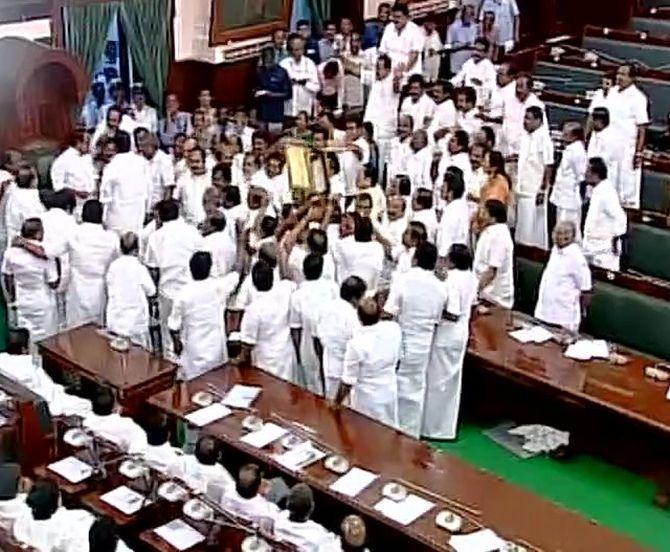 'He can say justice has not been done in accordance with the free will of the MLAs without a secret ballot and also by the issuing of a whip.'
February 18, 2017
When a seat at the White House table becomes meaningless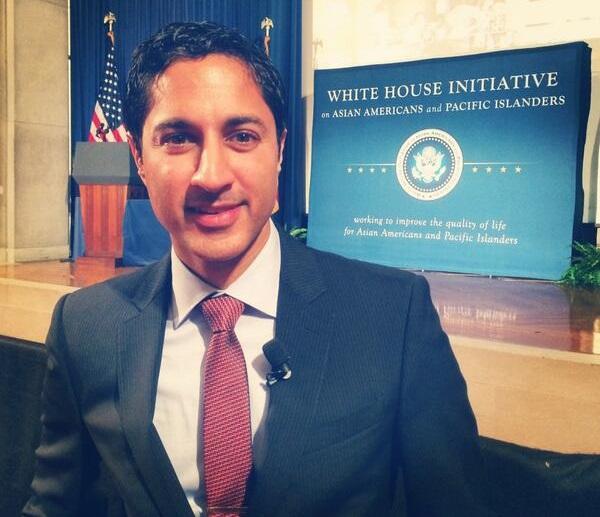 'Having a voice at the table means the other side has to show up to listen. It became clear that wouldn't happen,' says actor Maulik Pancholy, one of the 10 members who resigned from the US president's advisory commission on Asian Americans.
February 17, 2017
'Impose central rule and call for fresh polls in TN'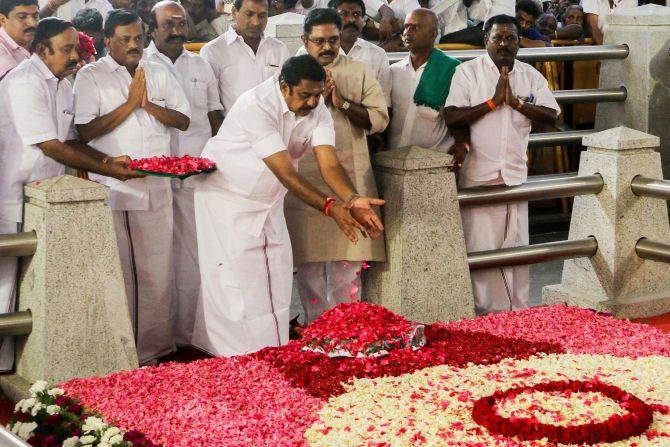 'The people of Tamil Nadu are fed up of these people, whether it is Panneerselvam or Palaniswami.'
February 14, 2017
'Governor did the right thing by waiting for SC verdict'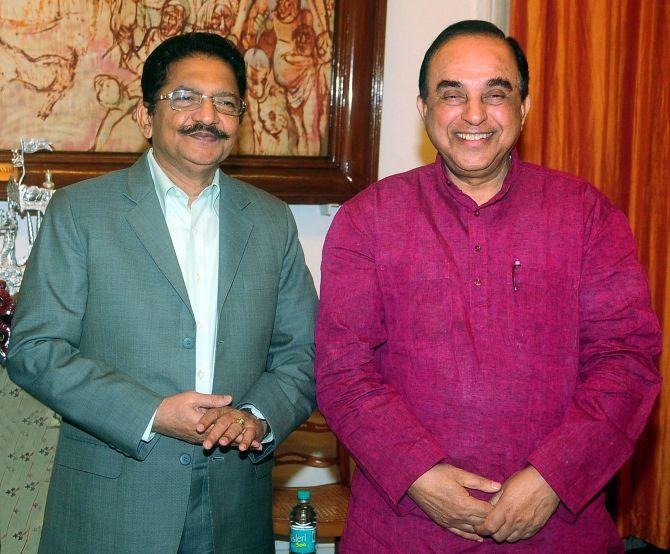 'He can install OPS as chief minister and ask him to do the floor test later.'
'Moment MLAs are released they will join OPS'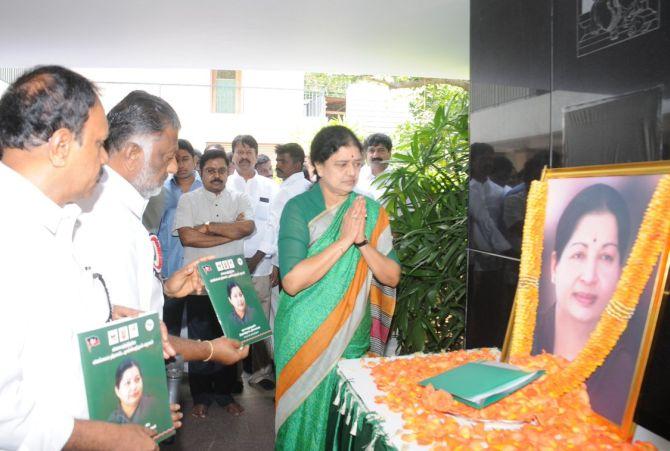 'The entire bandwagon of MLAs will move to our side.'
February 13, 2017
Beware India's enemies! 'IAF is expanding at a rapid pace'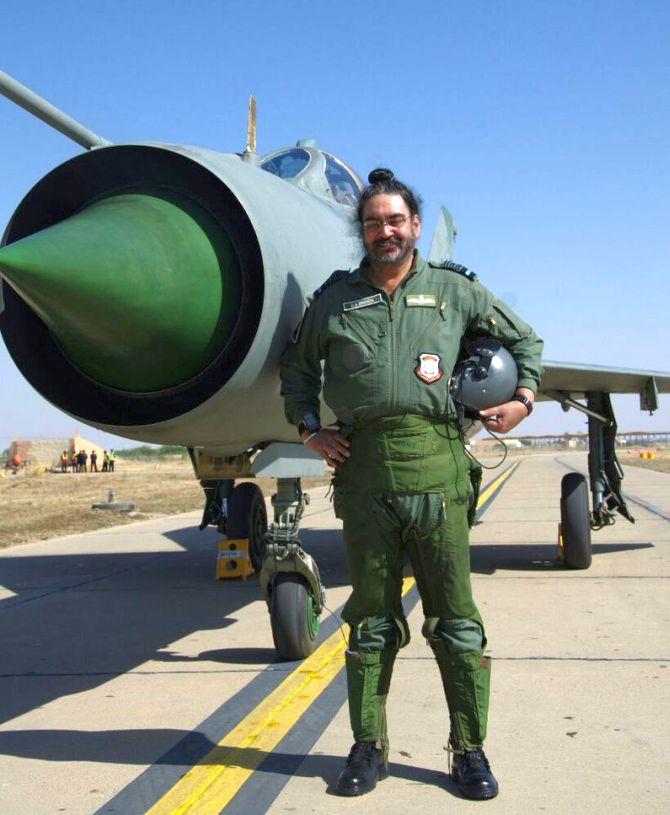 'IAF is expanding at a rapid pace'
New York City Immigrant Affairs chief: I was in tears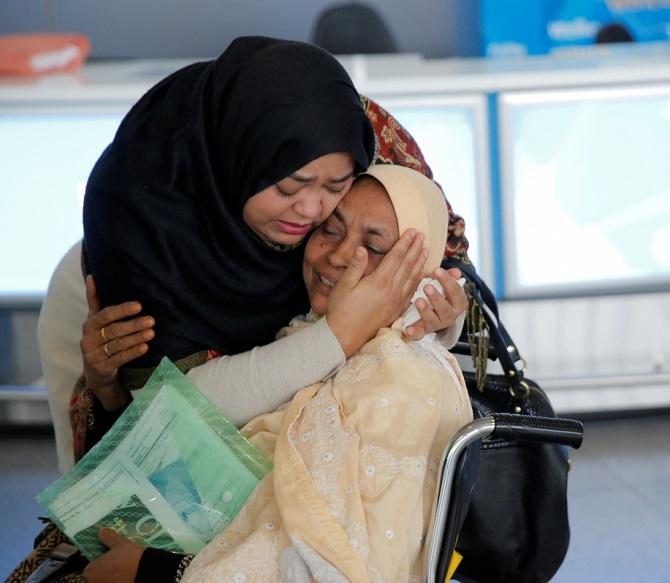 Nisha Agarwal, commissioner of the New York Mayor's Office of Immigrant Affairs, recalls, with both anguish and elation, the events of the last fortnight after the US President's order banning entry for people from seven countries was put in place.
February 10, 2017
'There must be fresh elections in Tamil Nadu'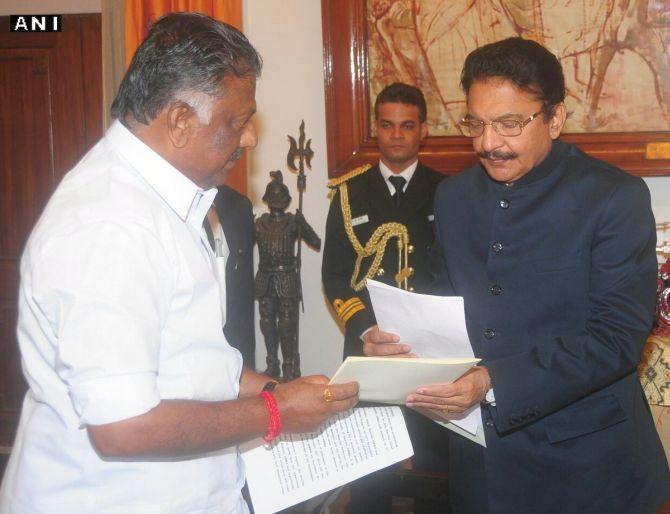 'The Centre is using Panneerselvam.'
The man who cracked the Rs 3,700 crore online scam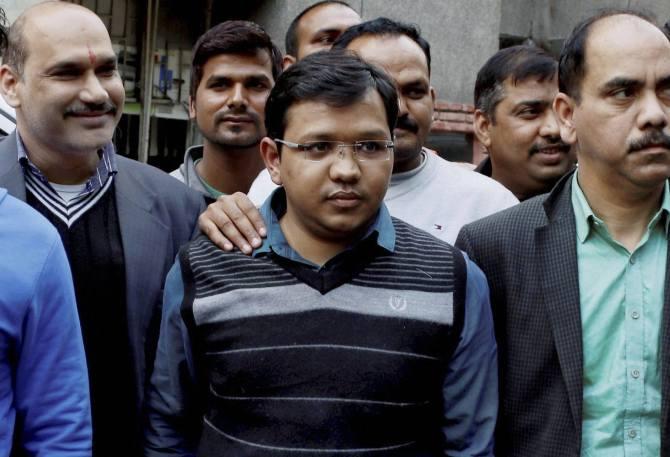 With just 10 detectives under his leadership and in about three weeks' time, Senior Superintendent of Police of Uttar Pradesh's Special Task Force Amit Pathak cracked an online digital racket that swindled 600,000 people and is now worth Rs 3,700 crore and counting.
February 09, 2017
'When he was pushed, he had to retaliate'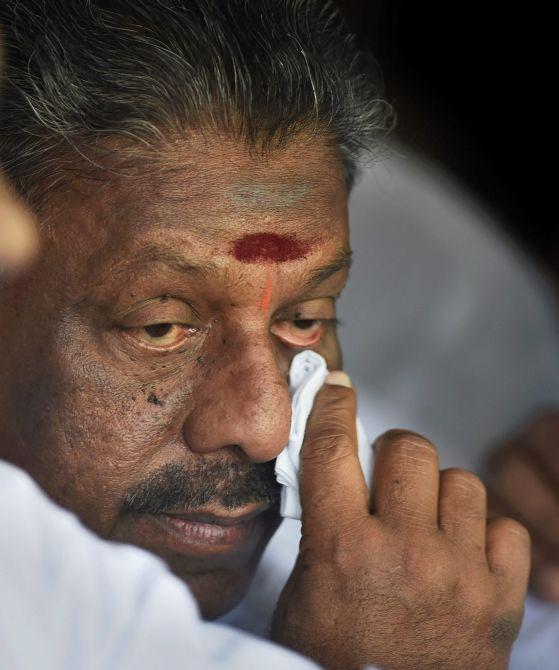 'He was doing so well as the CM, which some vested interests didn't like.'
'Paneerselvam should chargesheet Sasikala'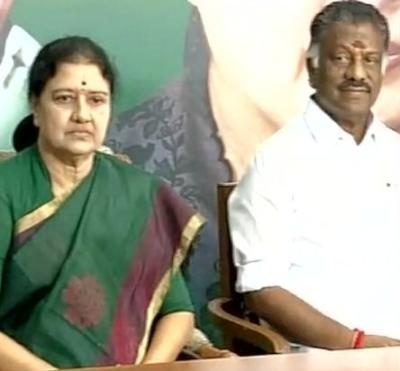 'If the interim chief minister lodges a criminal complaint against Sasikala for grabbing power through coercion, she has to face one more case.'
February 07, 2017
'The AIADMK will disintegrate very soon'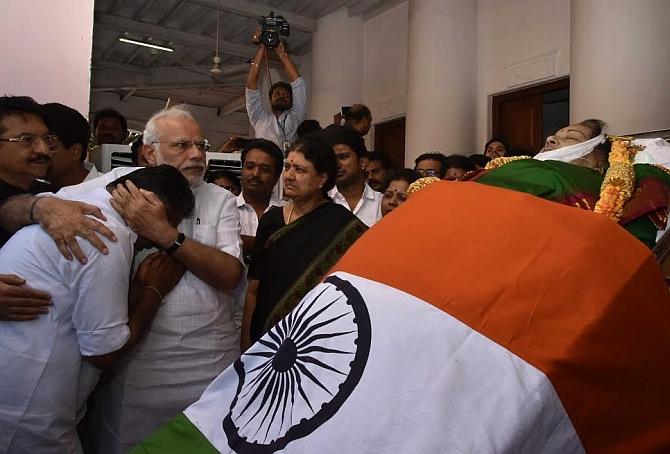 'The BJP is playing not just a double, but a triple game!'
'Sasikala is an extremely smart operator'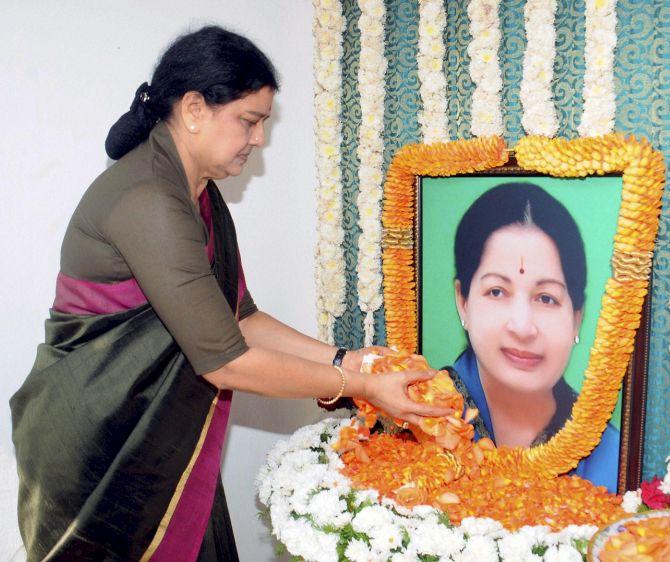 'As the financier, she controls the party.'
February 06, 2017
'The plan is to get foreign funding to political parties'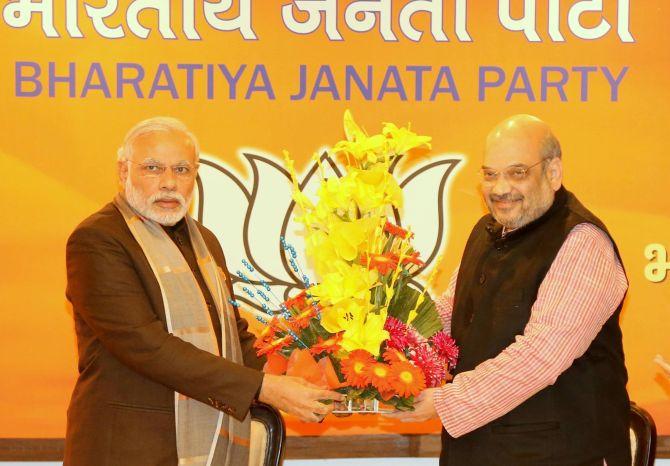 'On the one hand, they are targeting NGOs that are doing development work, accusing them of accepting foreign funds by bypassing rules, and on the other they are allowing political parties to take foreign funds.'
February 03, 2017
'How can you call anybody anti-national?'
'We have been fighting for the last 70 years on the issue of Article 370.'
February 01, 2017
Why Trump's immigration ban should worry Indians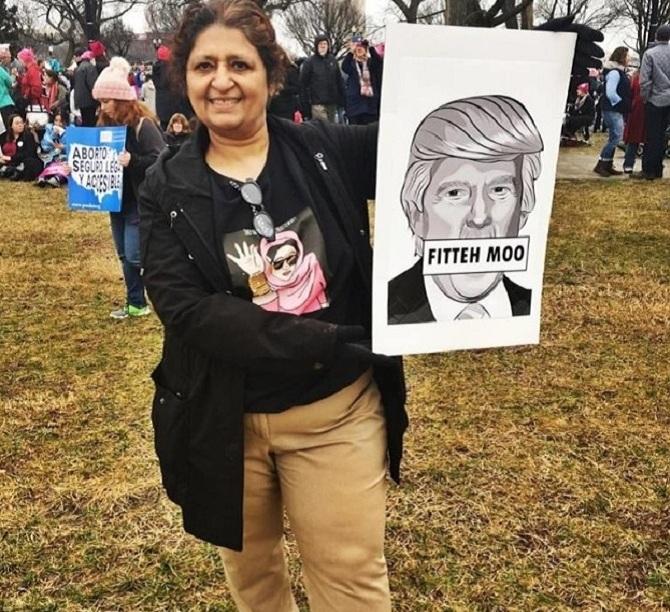 'We are going to see relatively soon an executive order that deals with H-1B and other temporary visas.'
January 31, 2017
Will Trump take sides in the India-Pakistan dispute?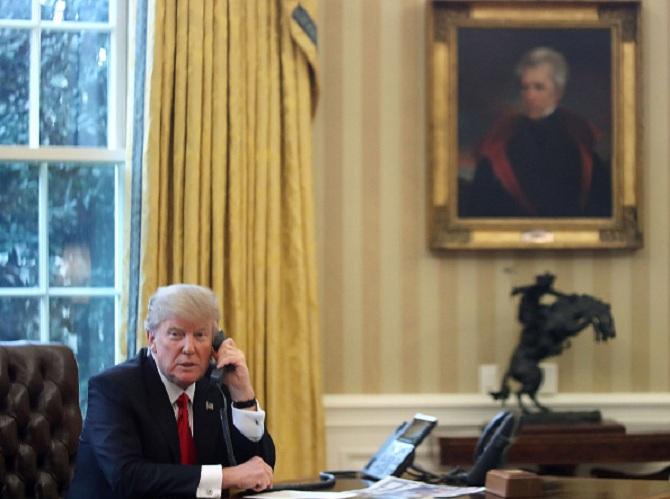 'It is highly doubtful that the Trump administration will consider inserting itself into the volatile India-Pakistan dispute.'
What we must know about SUPERBUGS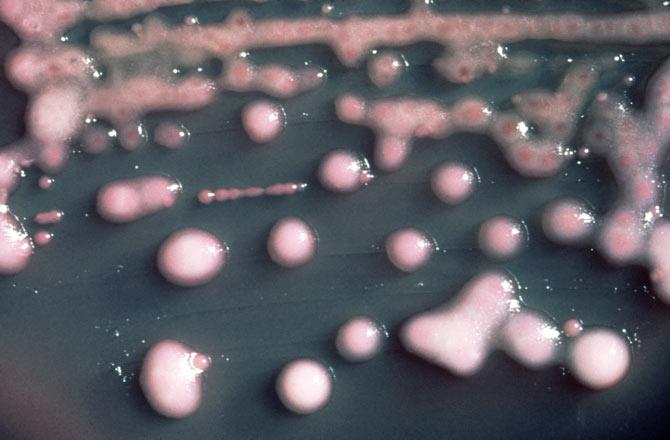 How can we protect ourselves against superbugs?
'Sri Lanka will never compromise India's security'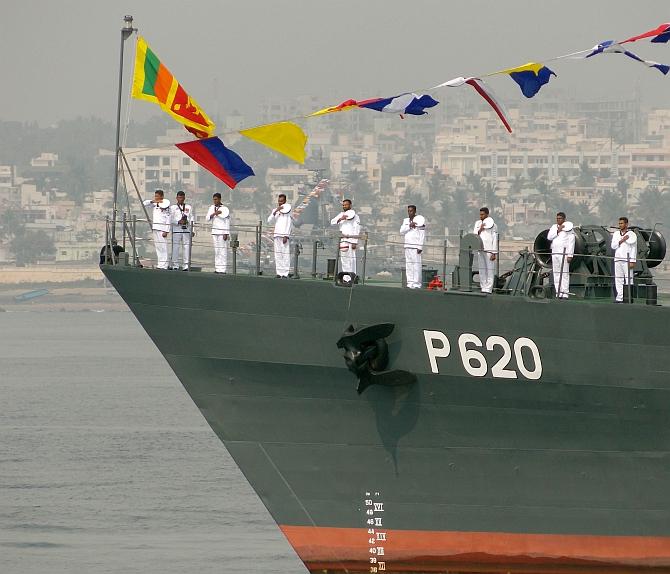 'Investment is the only way India can counter the Chinese influence in the region.'
'BJP is more pseudo-secular than the Congress'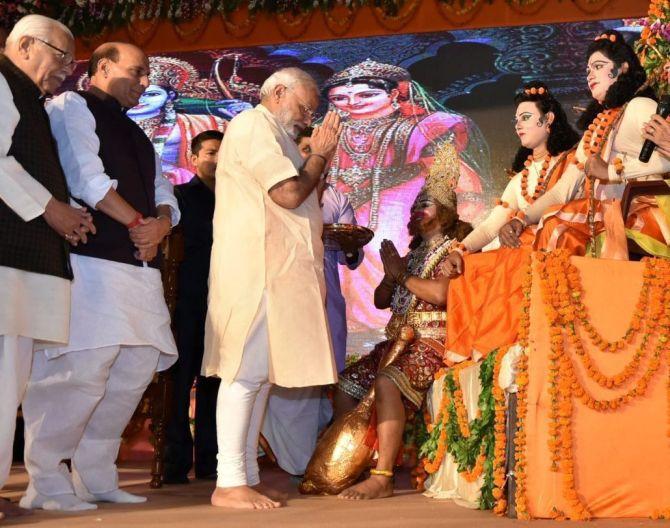 'If they call themselves a Hindutva party, then they must sever the alliance with the PDP in Kashmir.'
January 30, 2017
The man who led the attack on Sanjay Leela Bhansali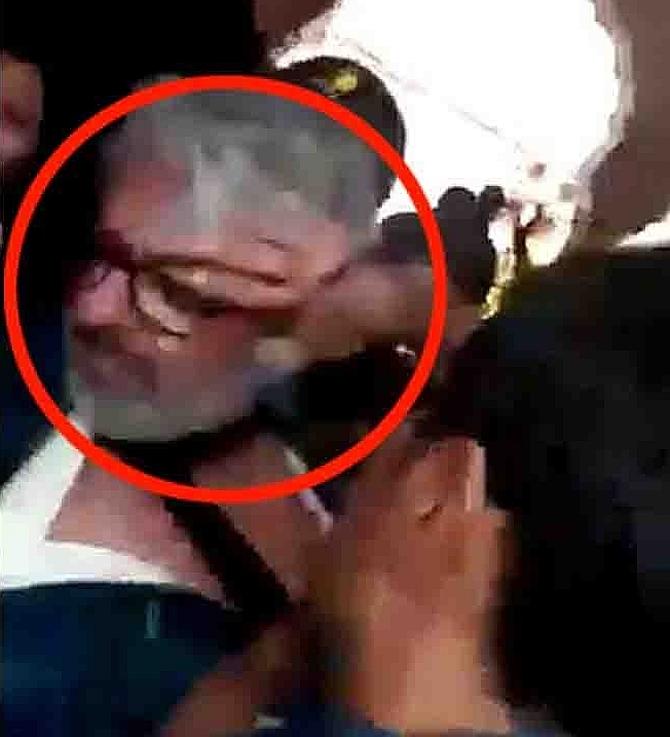 '340 films have been shot in Rajasthan in the last 50 years.'
January 24, 2017
'Jallikattu can't be played without torturing bulls'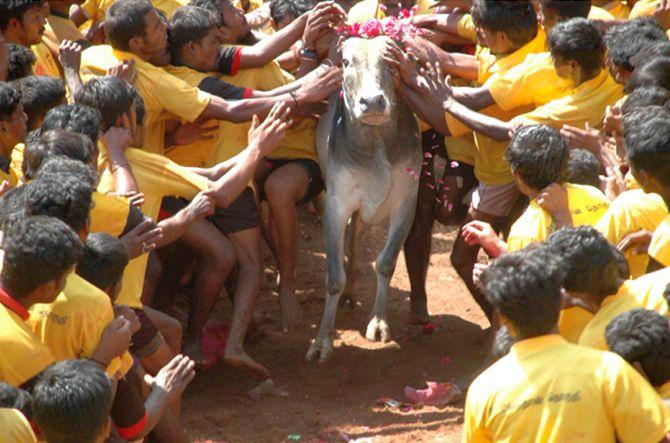 'The bull does not want to go in front of the crowd, so they put chillies on his private parts etc to make him enter the game arena.'
January 23, 2017
Who is threatening lawyer Bela Bhatia? And why?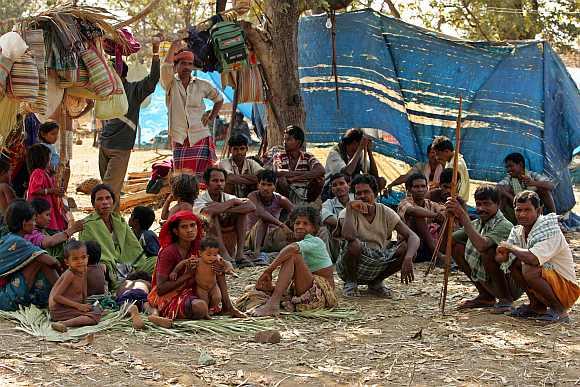 'The whole idea is to intimidate lawyers like me and others who are helping the Adivasi women seek justice and file FIRs against the security personnel for raping them.'
'What Tamil pride when 100 farmers have committed suicide?'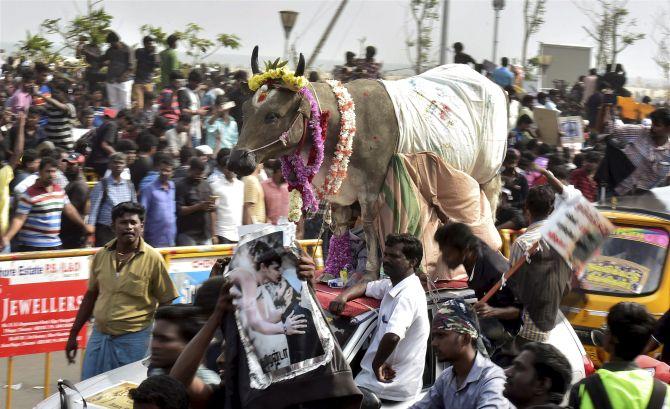 'We see different people bringing different resentments and we feel this is the result of the deprivation of an identity because of the reintroduction of Hindi, the Hindutva overtones in the national discourse, the betrayal of the Dravidian parties and even small things like the Devanagiri script in the Rs 2,000 note.'
January 20, 2017
'Jallikattu movement is bigger than 1965 anti-Hindi agitation'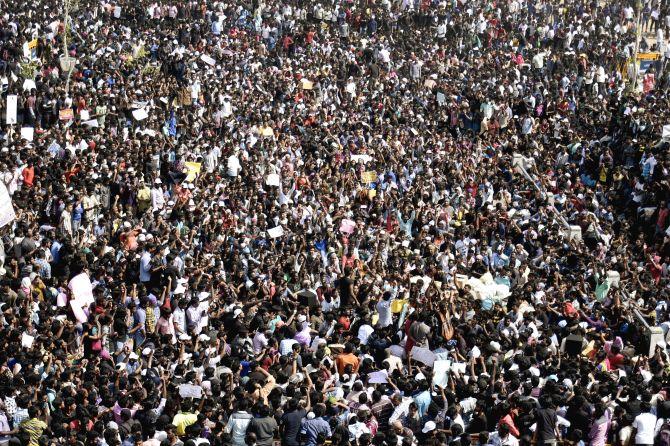 'What is surprising is the scale and spontaneity of the mobilisation and the social profile of the mobilisation.'
Jallikattu: 'Tamil rights, not pride, have been hurt'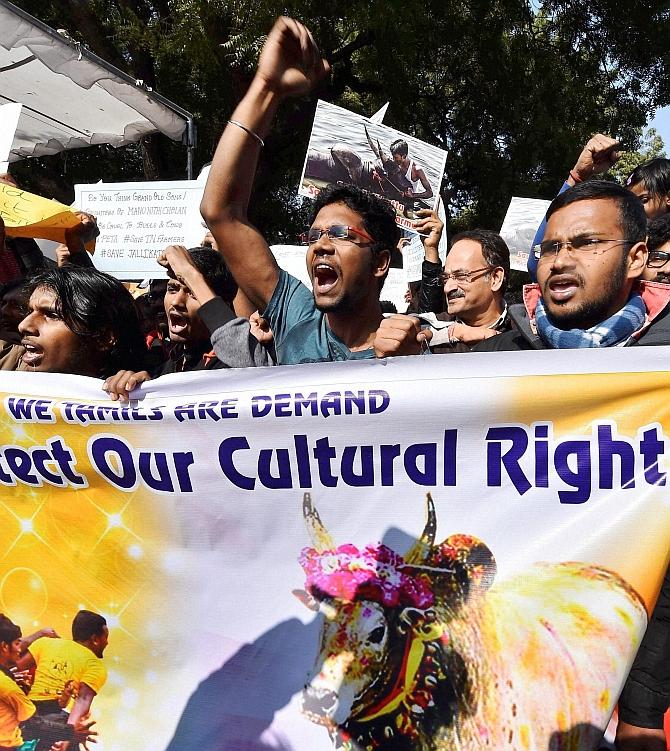 'Politically, Tamil Nadu has faced several setbacks in the past -- the water sharing issue with Karnataka, on Katchatheevu, on the Tamil fishermen issue...'
January 19, 2017
'Modi is assertive, not aggressive'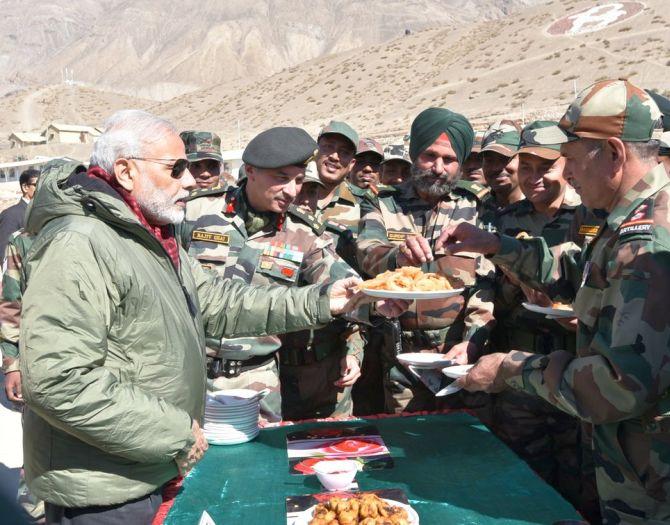 'We have not seen even during Vajpayee's time what Modi and the BJP has adopted now.'
January 17, 2017
'If there is no work, there will be law and order problems'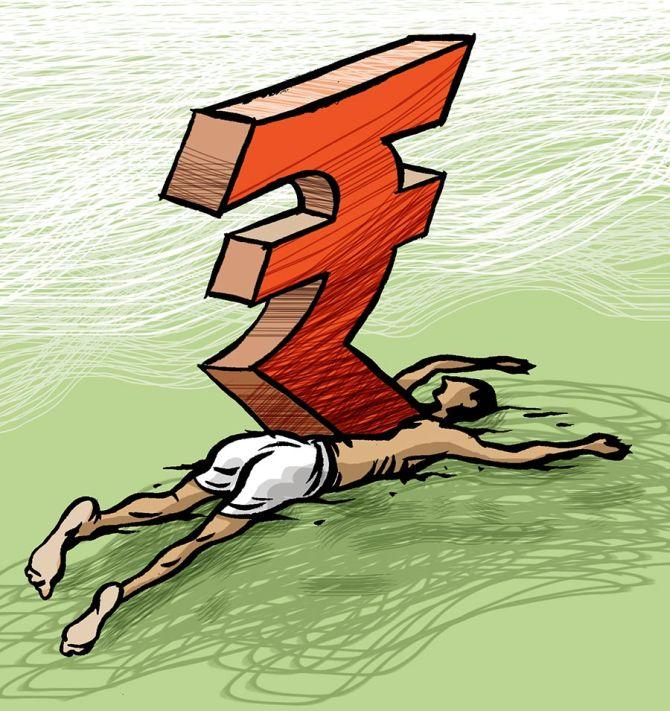 'That will affect the economy, employment, agriculture, and ultimately, youngsters, the working class and job opportunities.'
January 15, 2017
Why are our soldiers killing their own?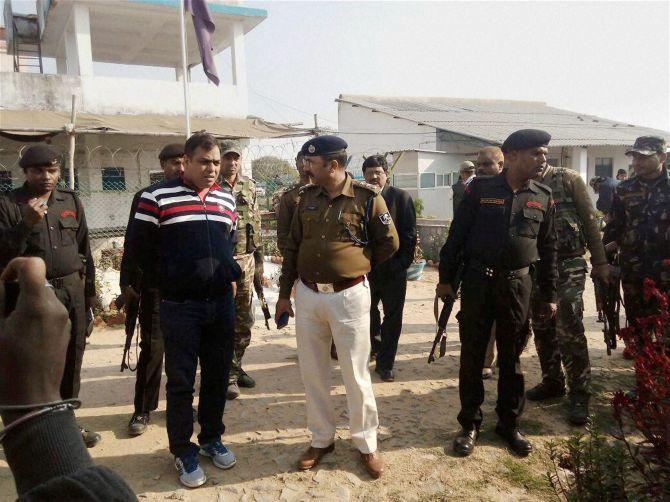 'The feeling of being part of one family, which is an essential part of the armed forces ethos, is weakening.'
January 12, 2017
'Shiv Sena tiger is now a circus tiger'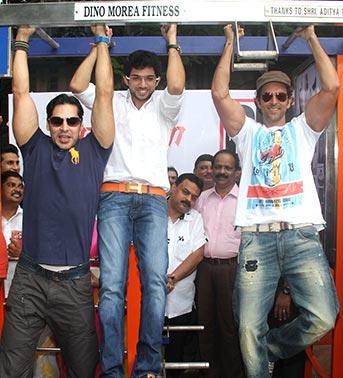 'They are running the Shiv Sena on Facebook and Twitter.'
January 05, 2017
'Identity politics isn't going away anywhere'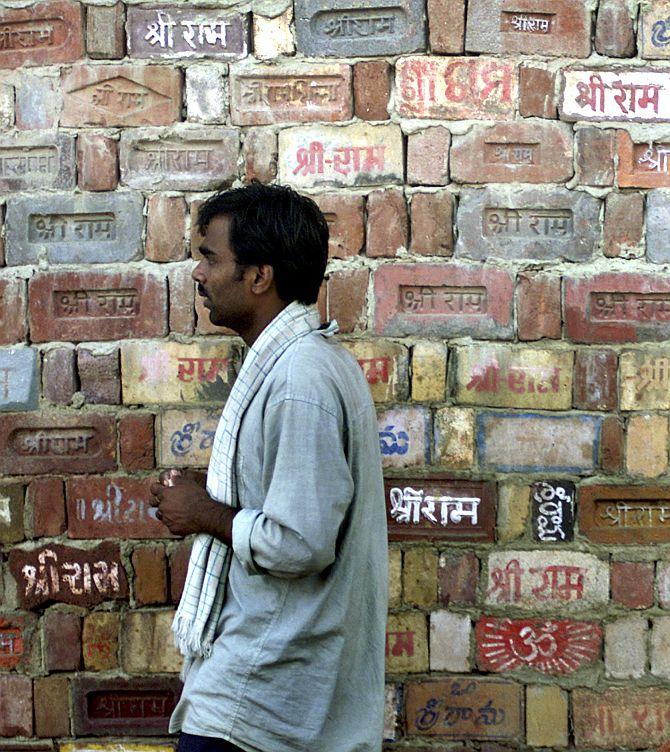 'The ruling provides a Constitutional template, it draws boundaries, and there is this expectation that henceforth political parties will not make crude appeals to religion for electoral gains.'
January 04, 2017
'Accept it or not, I'm the CM candidate'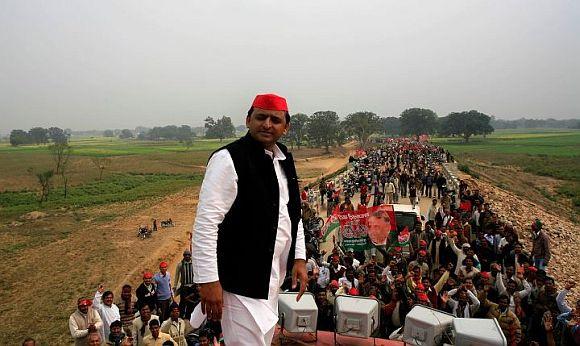 'My election slogan will be 'kaam bolta hai.'
Are Mulayam and Akhilesh batting for the same side?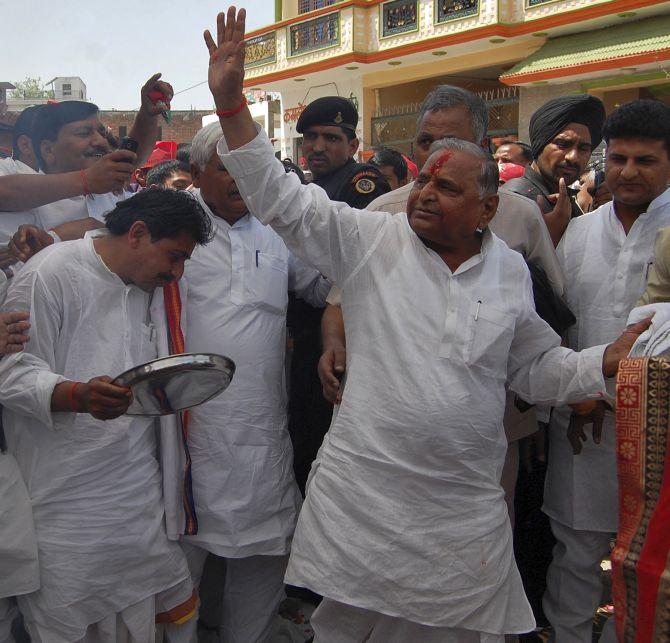 'Mulayam has by design cornered the people's attention back to the party and Akhilesh.'
January 03, 2017
'Supreme Court ruling strengthens the values of secularism'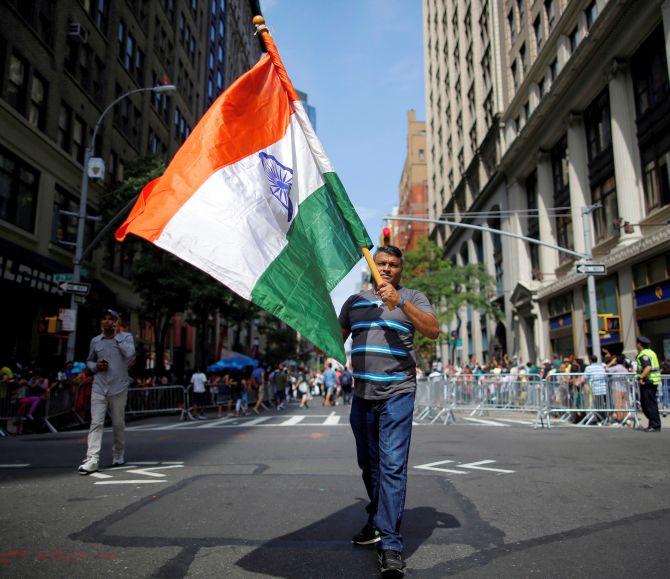 'Unfortunately, the judges chose not to address the issue of whether Hindutva is an appeal to religion.'
'UPA government let down the people of J&K'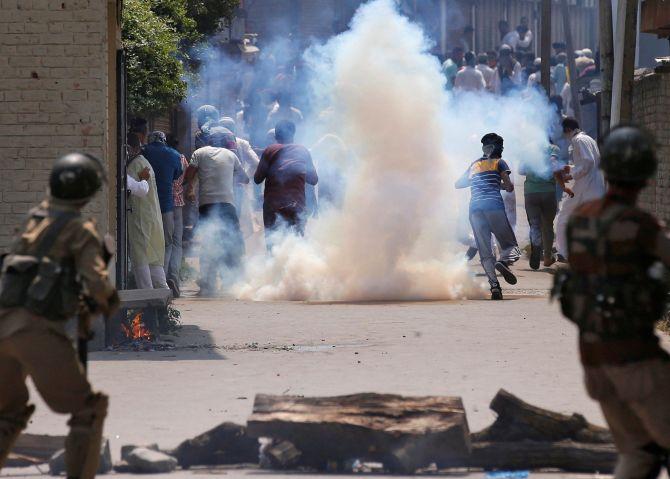 'I felt like a used and discarded rag.'
January 01, 2017
'The poor have come to the BJP'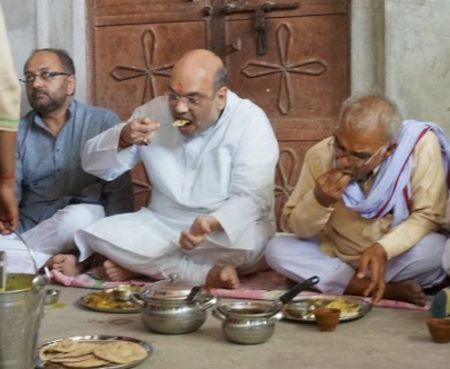 'Their vote bank has shifted to the BJP; the Congress is yet to realise it.'
December 22, 2016
'The Congress is like a waste management company'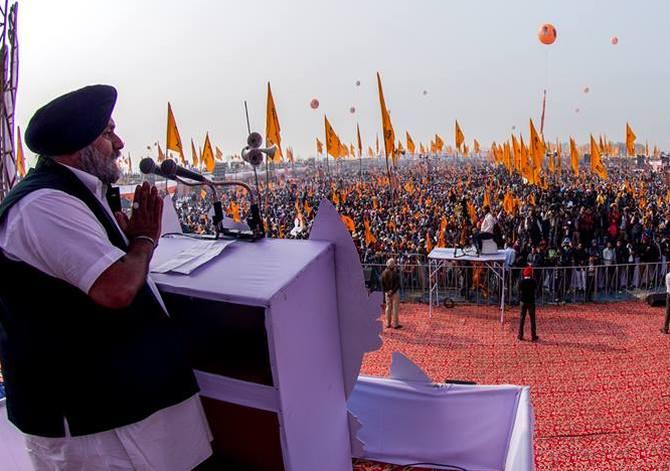 'While Kejriwal has lost his credibility due to his failure in Delhi, Captain Amarinder Singh is dancing on the tune of his image managers.'
December 20, 2016
'Who can prove ISIS is popular?'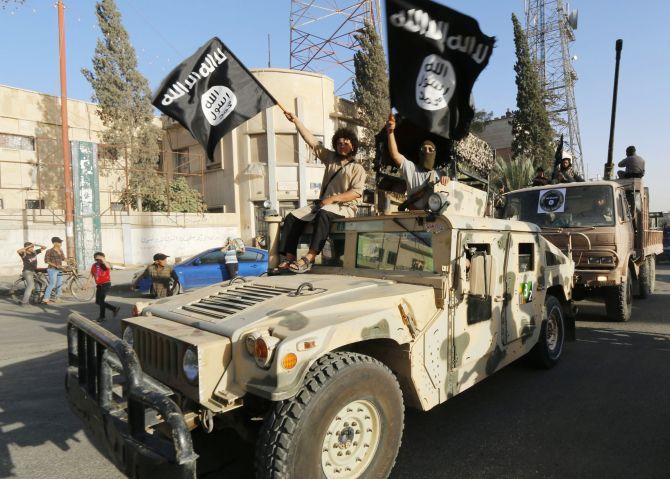 'If ISIS was popular, they don't need to use violence.'
December 16, 2016
'When we don't talk to Kashmiris, Pak becomes relevant'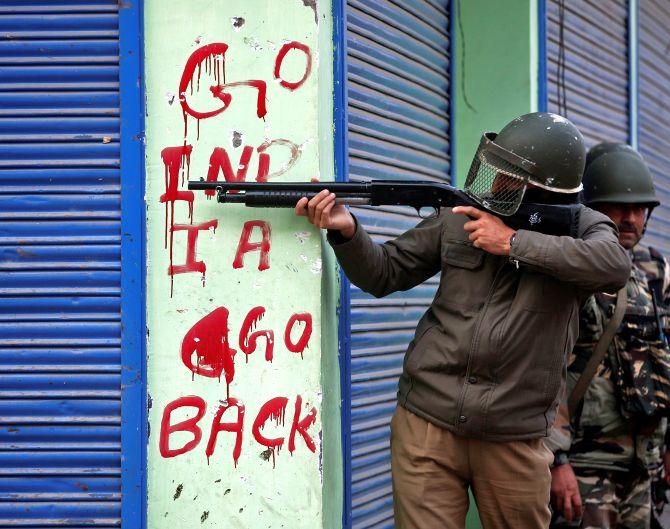 'Engagement should never stop.'
December 15, 2016
The man who fought against liquor shops on highways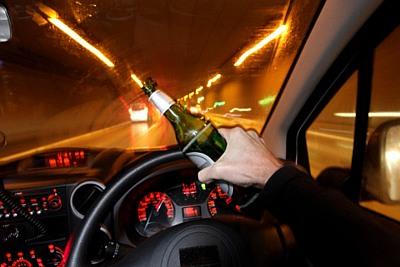 "In India, one person dies every fourth minute in road accidents, which is the highest in the world," Sindhu says.
'If Jaya wanted, she would have chosen Sasikala'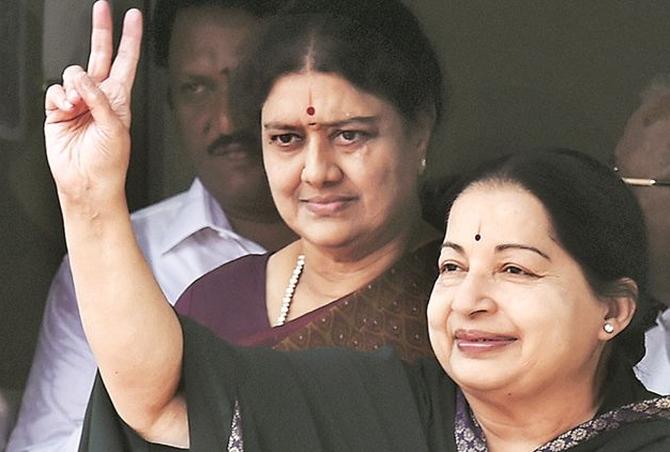 'There is no doubt that Sasikala wanted the transition to go this way.'
Washed out Parliament sessions and its impact on India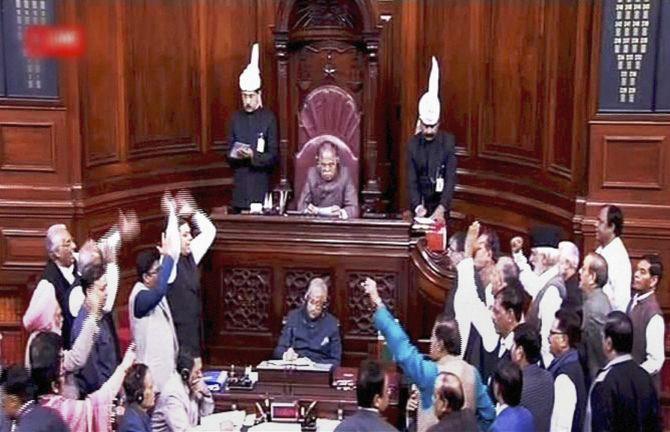 'The role of Parliament is to hold the government of the day, whichever party is in power, accountable for its actions, policies.'
December 13, 2016
'The Kohinoor has wreaked havoc in its trail'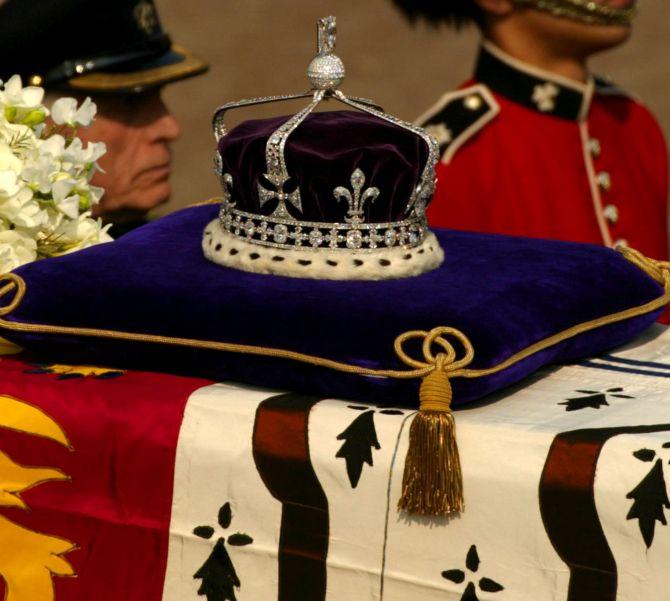 Two authors track a diamond with a bloody history.
December 09, 2016
'It won't be easy for Sasikala to take over the AIADMK'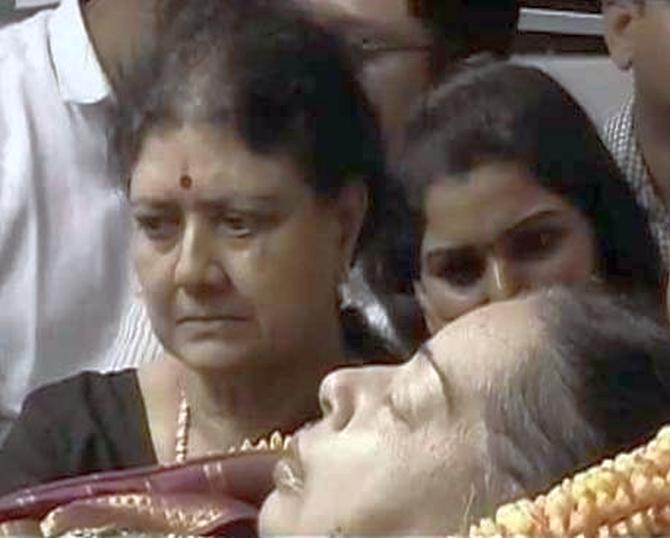 'Sasikala definitely has an emotional advantage over the others, but there are very seasoned politicians with a strong support base.'
December 08, 2016
'BJP is using triple talaq to tarnish Muslims'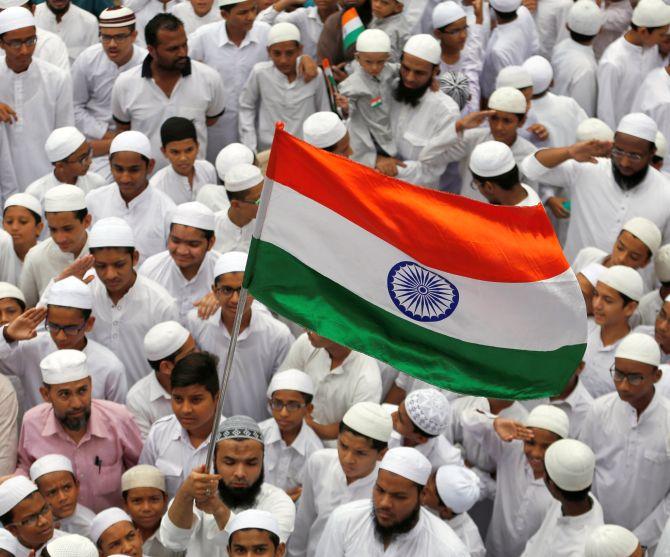 'In the name of cultural nationalism, Modi wants to impose another ideology on Muslims.'
'Expect all Rs 500 and Rs 1,000 notes to come back into the system'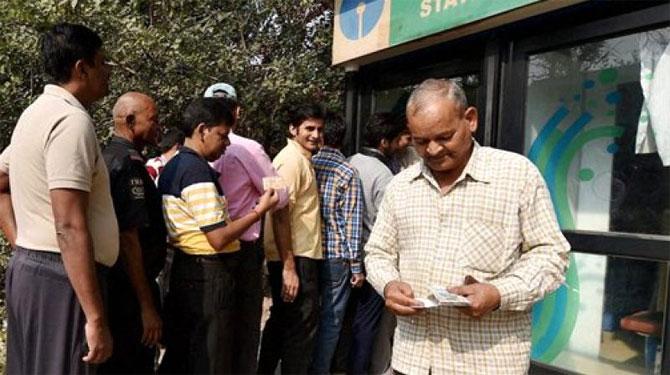 The economy could return to 8% growth by the end of 2017-2018, says Arvind Panagariya, vice-chairman NITI Aayog.
December 07, 2016
Will Sasikala take Jaya's place?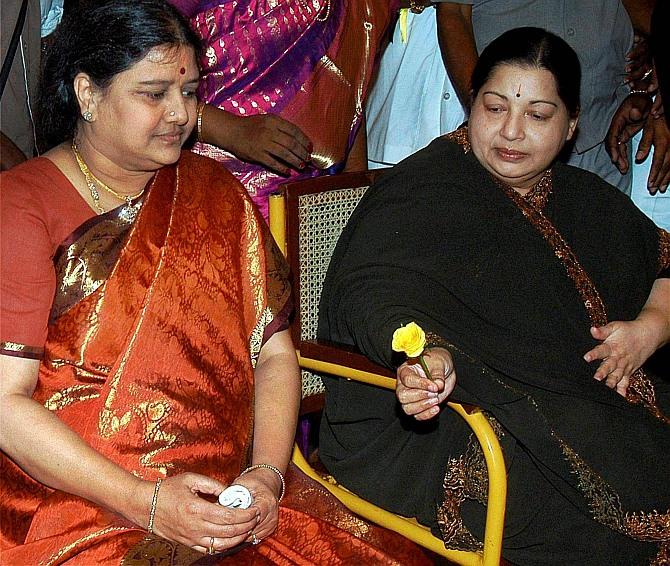 'I see the queen bee kind of syndrome.'
December 05, 2016
The lady who made the 'beggar' video that impressed Modi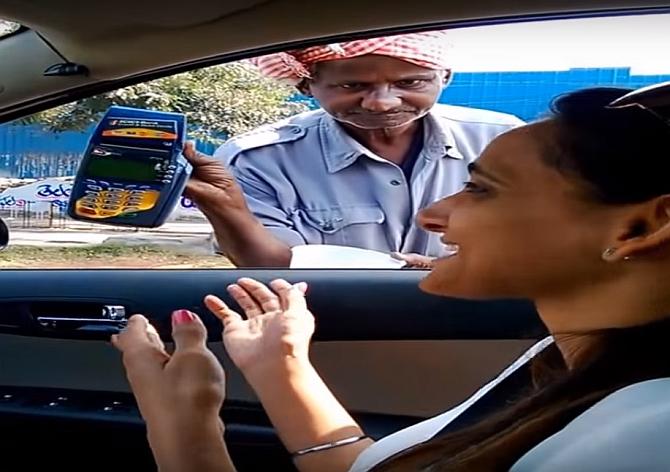 'I shot the video in January 2014 and I had no idea then that demonetisation will happen.'
December 01, 2016
His crusade made the national anthem a must at movie halls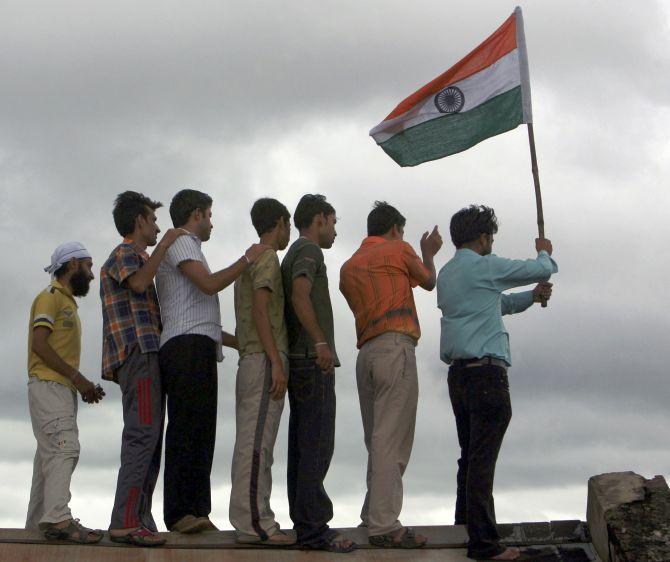 'When the national anthem is played it has to be played for 52 seconds.'
November 29, 2016
The 20 year old arrested for speaking against demonetisation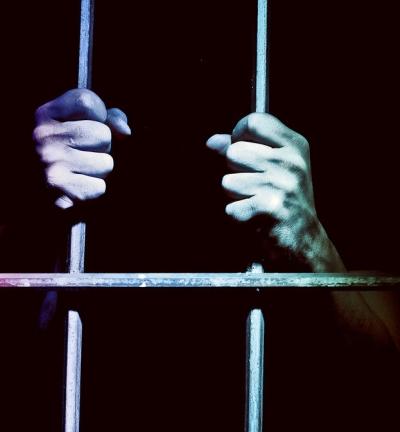 'If they felt that my post was wrong they should have filed a defamation case against me.'
November 27, 2016
Demonetisation: 'It's a very tiny hit to politicians'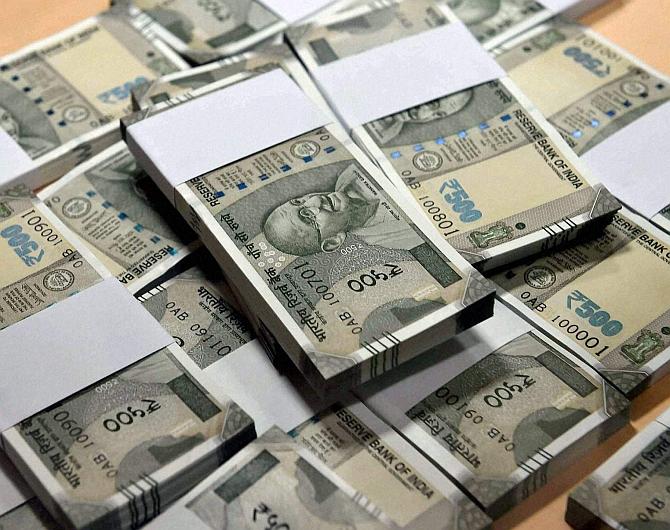 'The BJP gets most of its contributions in cash.'
November 24, 2016
Did the RBI keep the PM in the dark?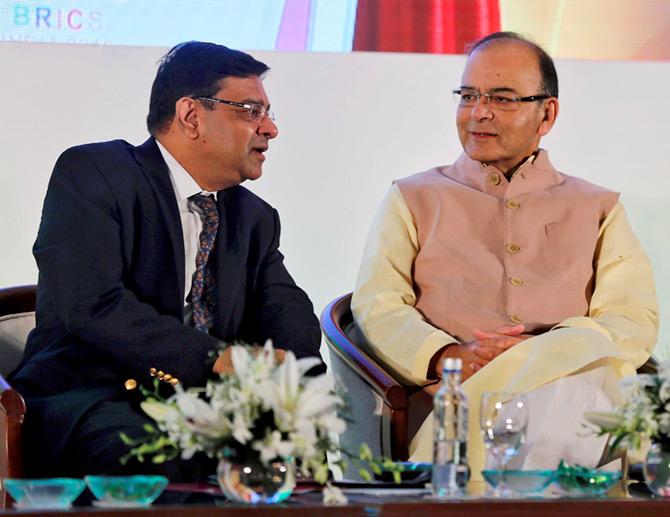 'When I met the prime minister on November 15 there was no RBI report with the prime minister as to why this was done.'
November 21, 2016
Sinha to Modi: 'You need to take bold steps in Kashmir!'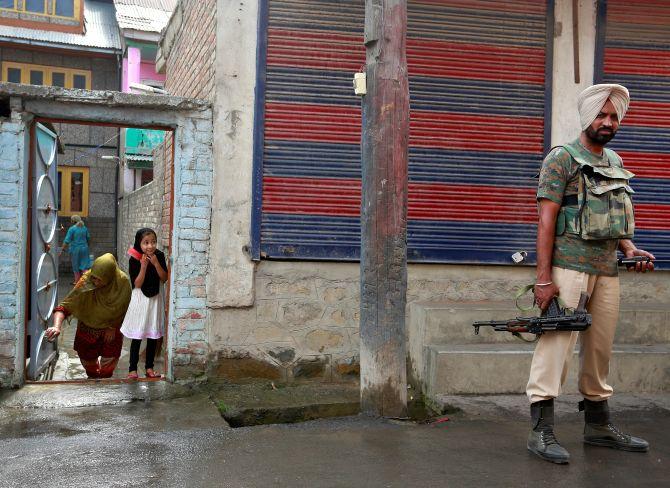 'As of now, it seems like they want to tread the Vajpayee line, but the central government has to create trust.'
November 10, 2016
'The prisoners were wearing layers and layers of clothes'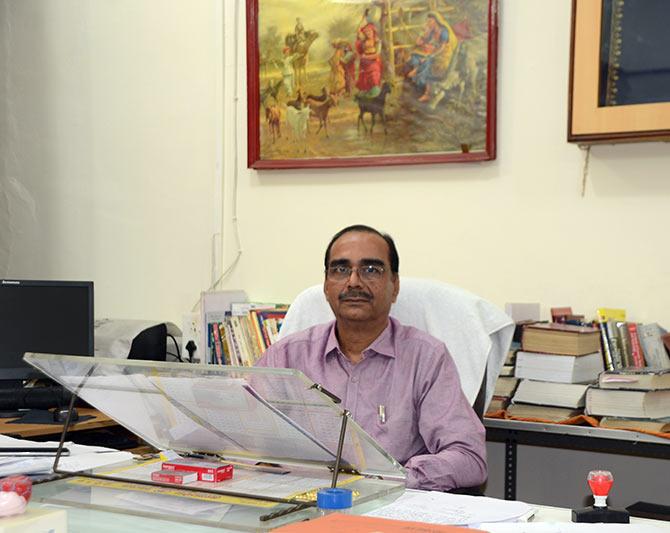 'Many were wearing three shirts, one on top of other.'
November 07, 2016
'Ban on NDTV India is not the answer'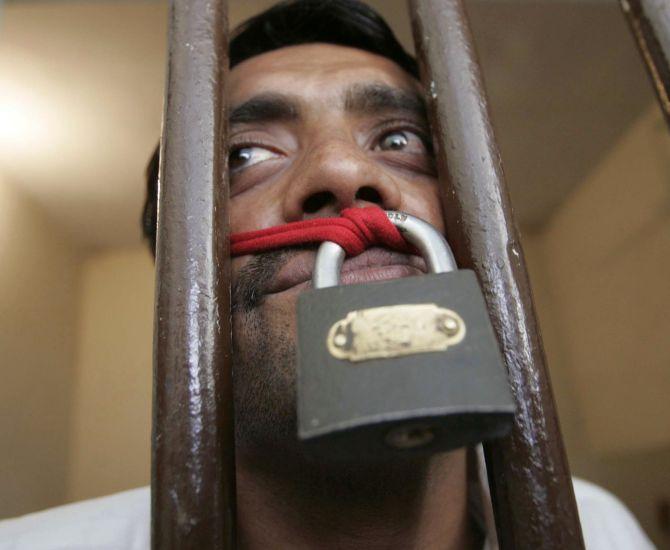 'If anyone crimps on the media, it automatically begins to impact the freedom of the citizen.'
November 05, 2016
'I would hire Arnab Goswami, but who will pay his salary?'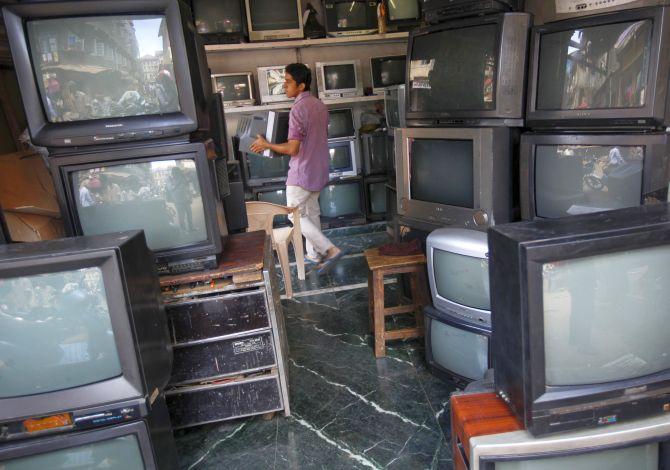 'People don't want to watch a screaming channel if given a decent alternative.'
November 04, 2016
The Kanhaiya Kumar Interview: 'We live so we can defeat fear'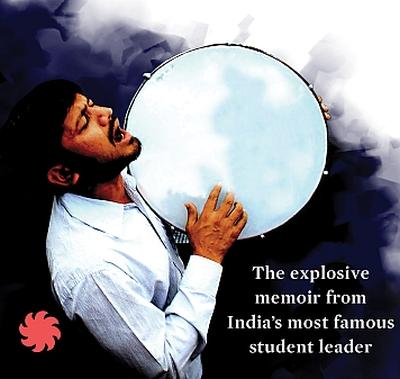 'It used to sound very strange.'
November 03, 2016
'The Modi government is lying about OROP'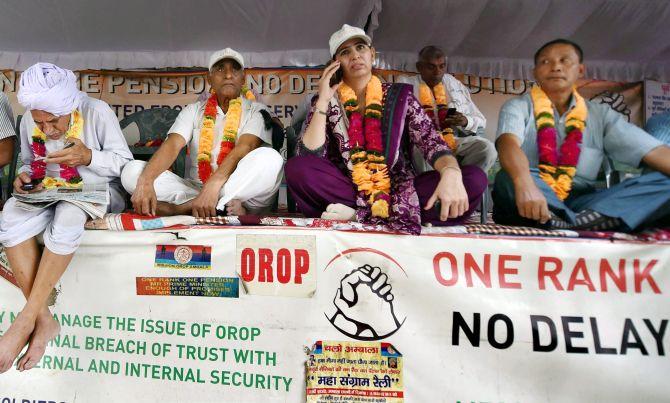 'If Modi is talking to every Tom, Dick and Harry, why is he afraid of talking to ex-servicemen?'
'I smell a fake encounter'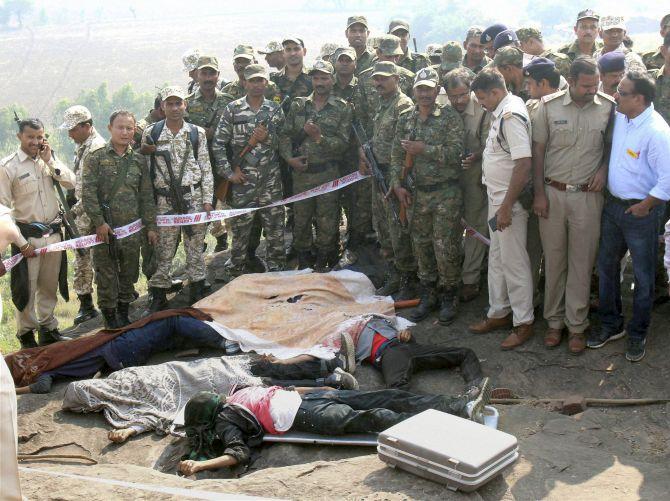 'If you question the police you become an anti-national and that is ridiculous.'
October 28, 2016
'We went to share the pain of Kashmir'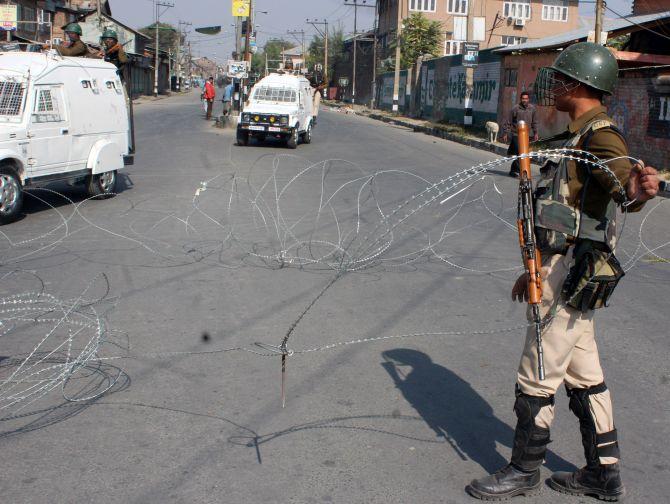 'Everyone has to take some step in solving this deadlock -- civil society, separatist leaders, the government.'
October 24, 2016
'Akhilesh can damage SP but cannot be a great leader on his own'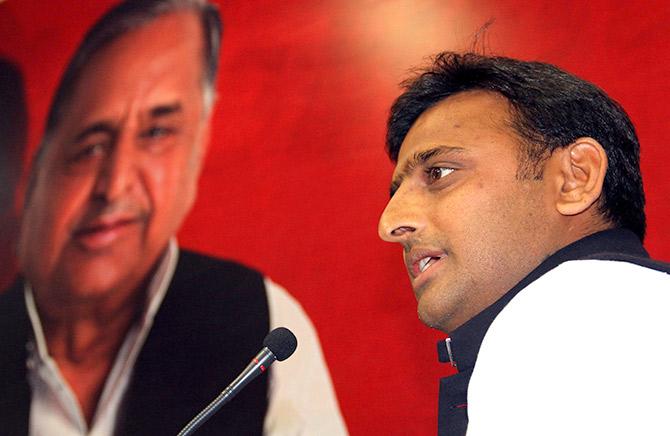 'If Muslims who are 20 percent of UP's population feel the SP has no future they will go with the BSP. Even if 10 percent Muslim vote goes to the BSP every equation will change.'
October 19, 2016
'Modi has an attitude like Alexander for Kashmir'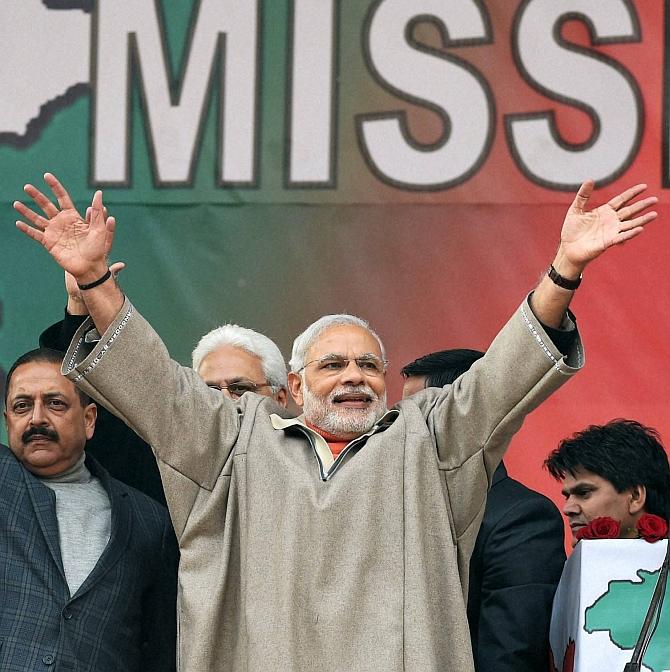 'Modi has missed the bus in Kashmir.'
October 17, 2016
'We have started a revolution, there will be change'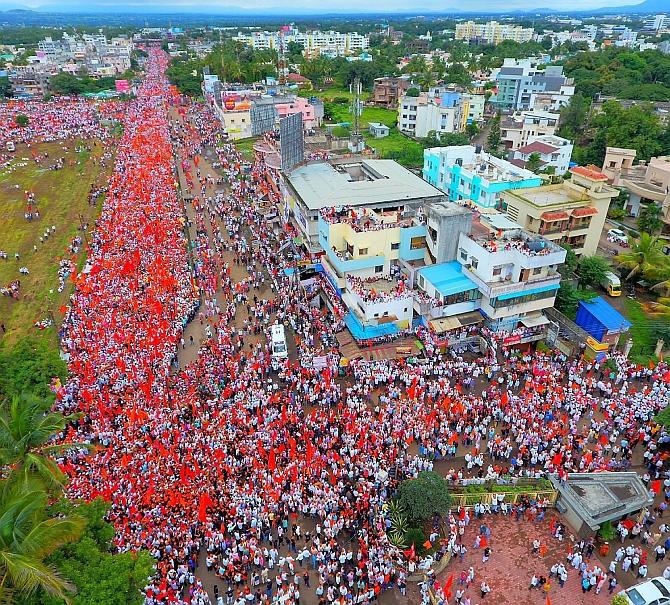 'The Kopardi rape/murder was the immediate cause of the unrest.'
October 14, 2016
'Politics over surgical strike is an insult to the army'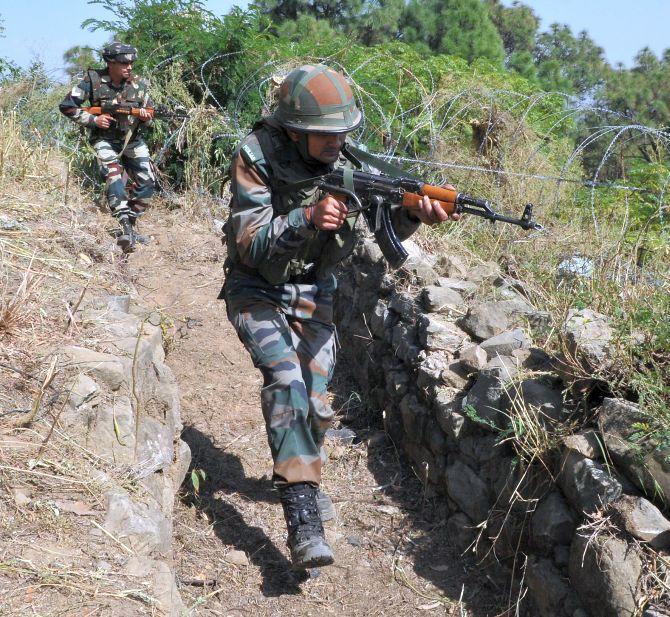 Former Defence Minister A K Antony tells Amit Agnihotri that Defence Minister Manohar Parrikar's statement is an insult not only to the Indian Army but also the previous National Democratic Alliance government led by Atal Bihari Vajpayee
October 13, 2016
'India does not need a Uniform Civil Code'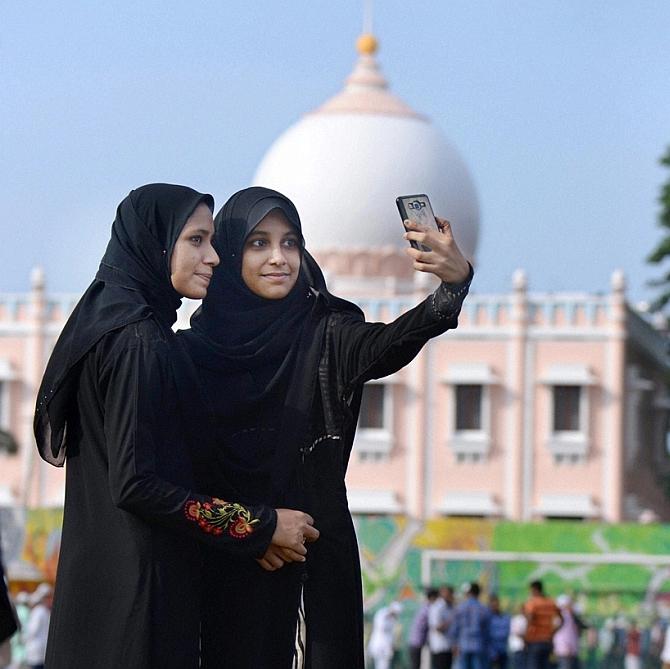 'Who is the government to decide about my religion?'
October 10, 2016
'There can be positive things on the Internet'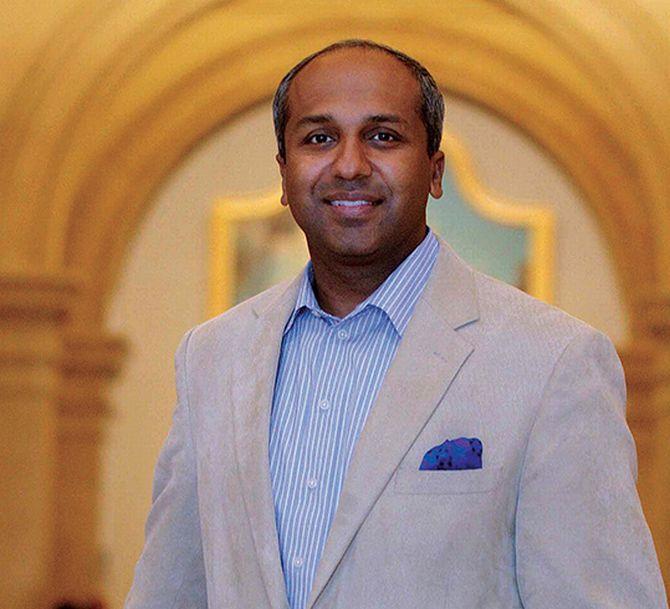 'I always used to say ignore the trolls and move on and focus on your fans and friends,' Sreenath Sreenivasan tells Rediff.com's Monali Sarkar.
'Like Indians, Pakistanis are not interested in war'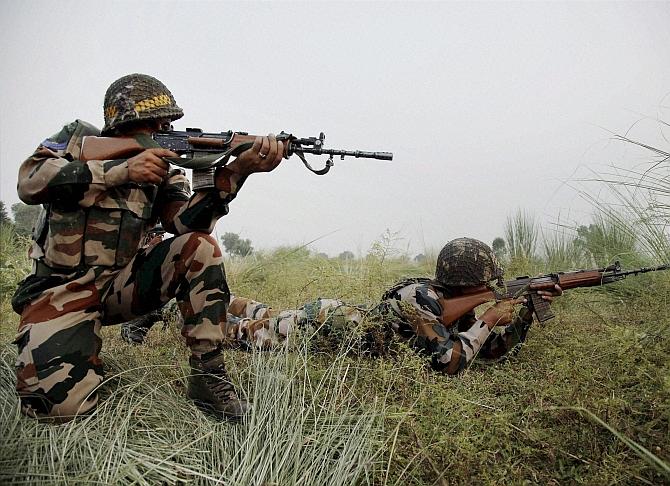 'Both India and Pakistan don't want to escalate tensions.'
October 04, 2016
'Those questioning surgical strikes are treacherous'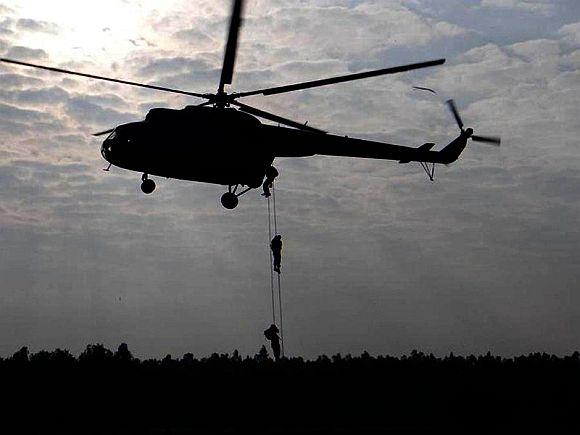 'Military operations demand the highest degree of secrecy.'
September 27, 2016
Indus Treaty: 'Modisaab is playing a dangerous game'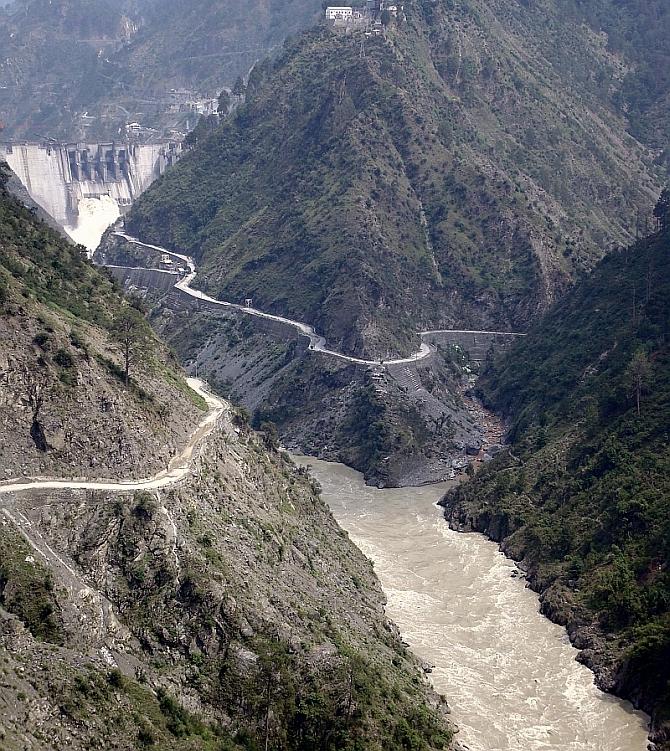 'What Modisaab will accomplish by tampering with the treaty is providing ammunition to ultra-nationalist right wing elements within Pakistan who see India as an existential threat.'
September 24, 2016
'If you stop water to Pakistan, you will flood J&K'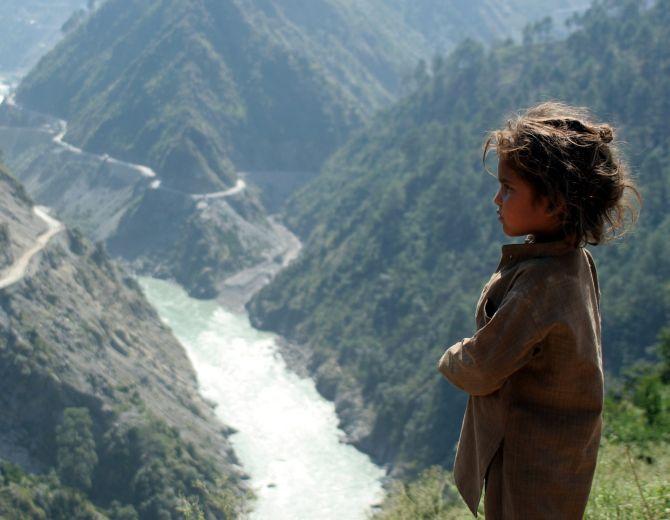 'In the last 55 years India and Pakistan have gone to wars, but nobody spoke about scrapping the Indus Waters Treaty.'
September 23, 2016
'India must use special forces against Pakistan'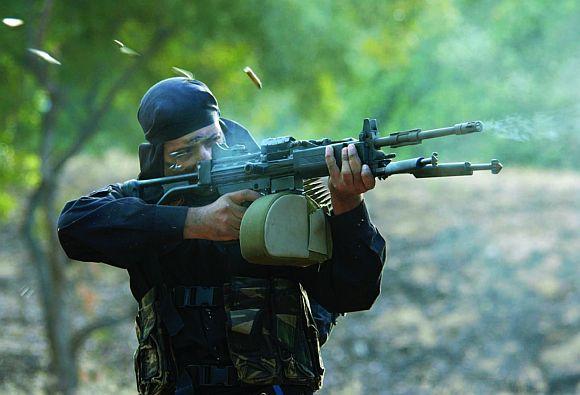 'The era of conventional wars is almost over in the Indian context.'
September 22, 2016
'Revenge is a dish best served cold'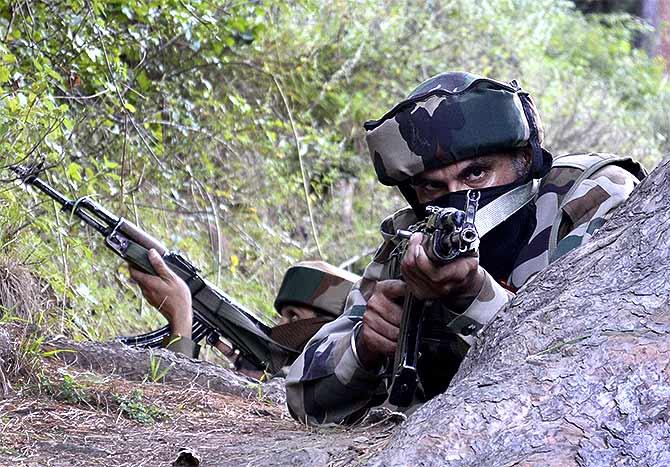 'If you invest your entire capital in talks, you cannot abruptly change gear and decide on war.'
September 21, 2016
'Uri won't lead India to undertake major military action'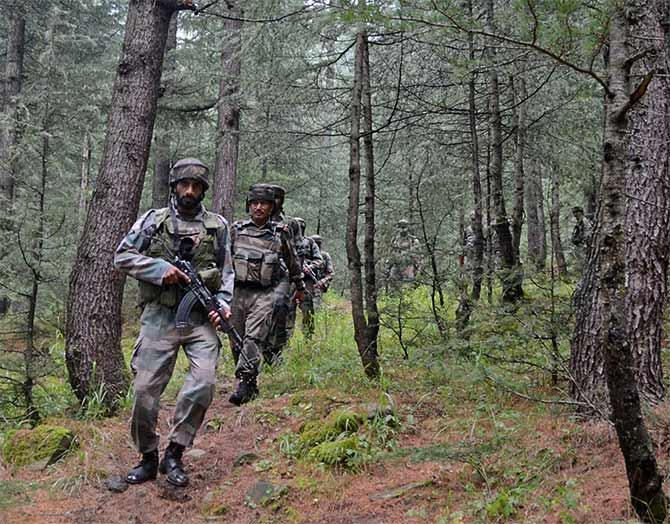 'As outrageous as the attack was, it was against a military installation in Kashmir, not a civilian target in the heartland.'
'US has failed to hold Pakistan's feet to the fire'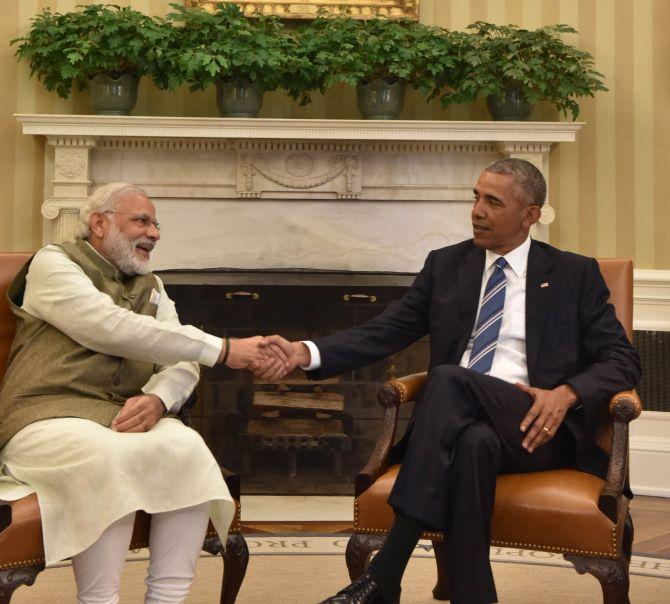 'Part of the problem lies in the US failure to stay focused on the goal of convincing Pakistan to crack down on terrorists that attack India.'
September 16, 2016
'Some people want to divide Hindus'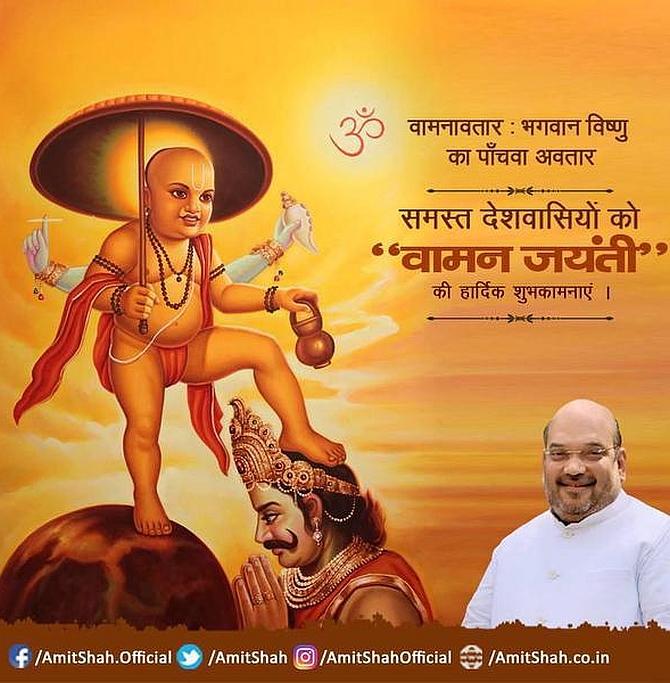 'These people want to create fissures among the Hindus and they have been trying to do this for quite sometime.'
'Mulayam is an outdated ticket in the SP'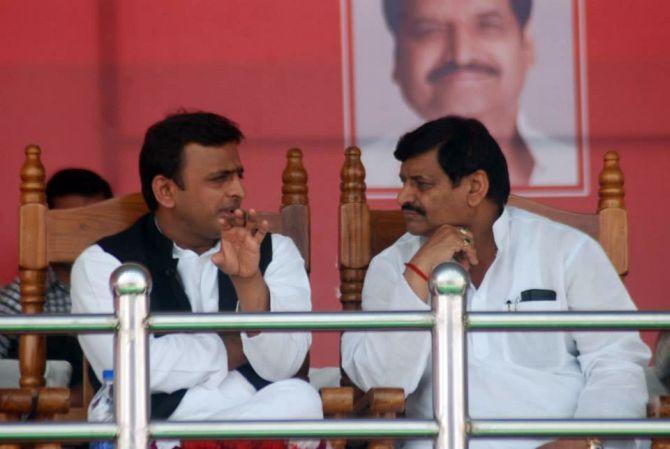 'If you interpret Akhilesh's statement, he is clearly saying Shivpal wants to become chief minister.'
September 15, 2016
'Sidhu has formed his party to stop AAP'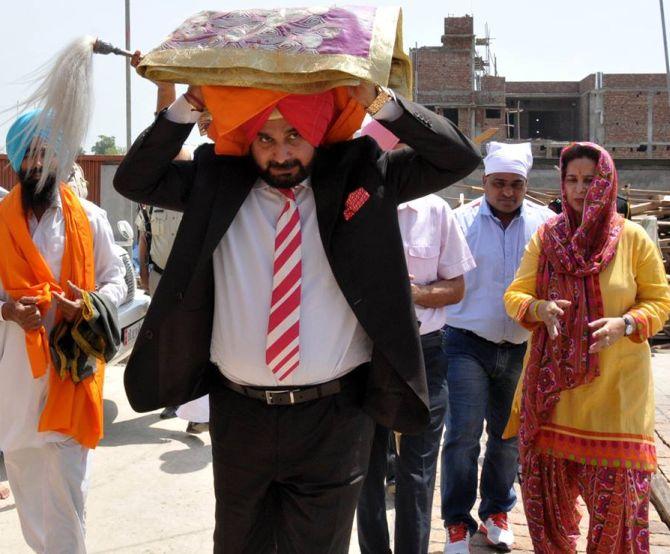 'We always had a doubt that Sidhu would not campaign against the Badals.'
September 14, 2016
'Ordinary people live in mortal fear in India'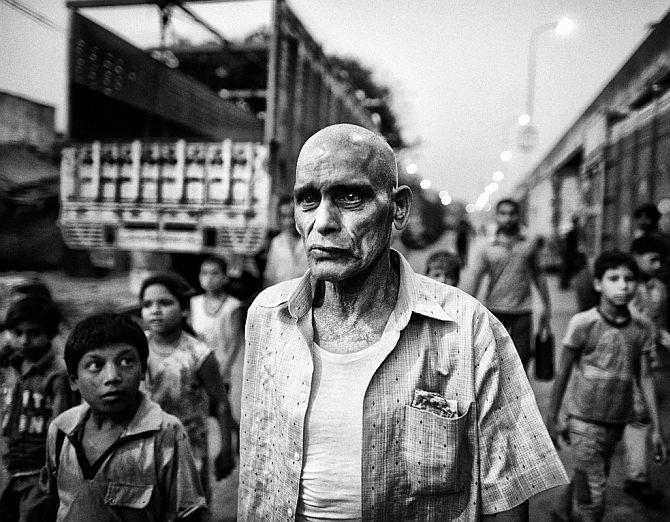 'How can middlemen disappear as long as our political parties are sucking in massive amounts of black money?'
'Indian laws do not protect men'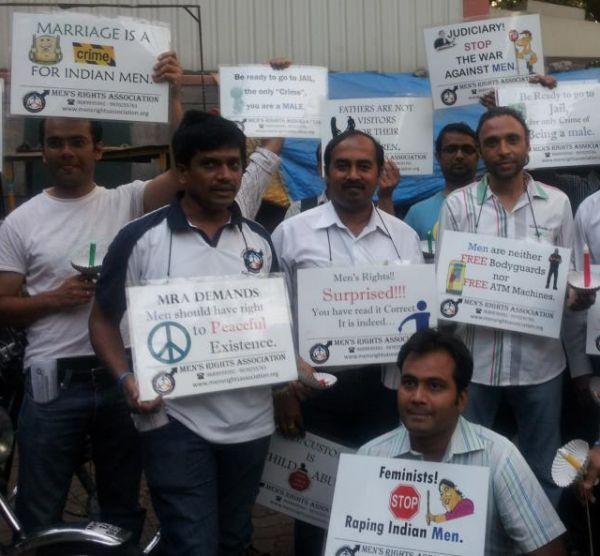 'A false promise of marriage cannot be called rape.'
September 12, 2016
'The Cauvery water dispute is going to get worse'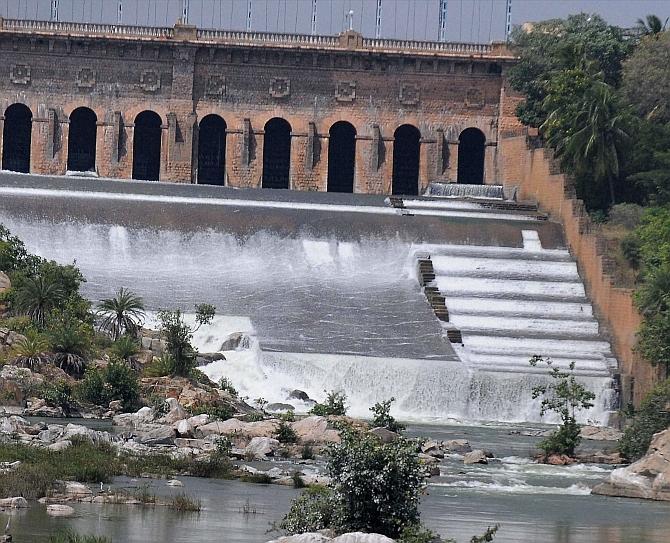 'The Cauvery river has become excessively politicised by all political parties.'
'I have never wanted to distance myself from India'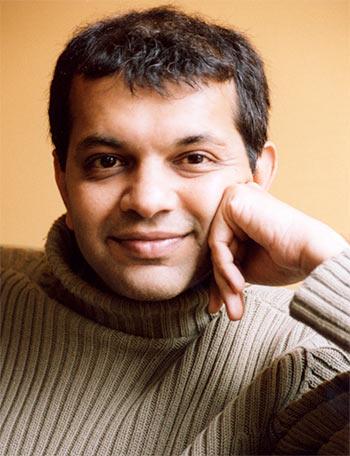 'The more I lived in India, the more I realised that America was my home too.'
September 08, 2016
'In Kashmir, we're in a tunnel with no light at the end'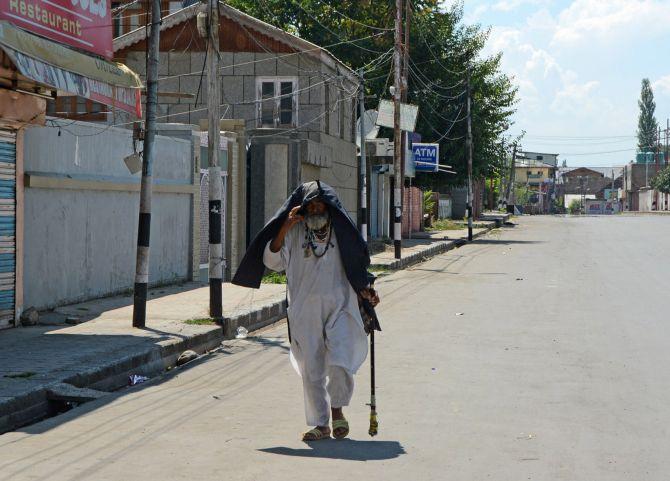 'We have made no effort in recent years to build a national opinion on Kashmir amongst political parties.'
September 07, 2016
'Have you seen Geelani's son throwing stones?'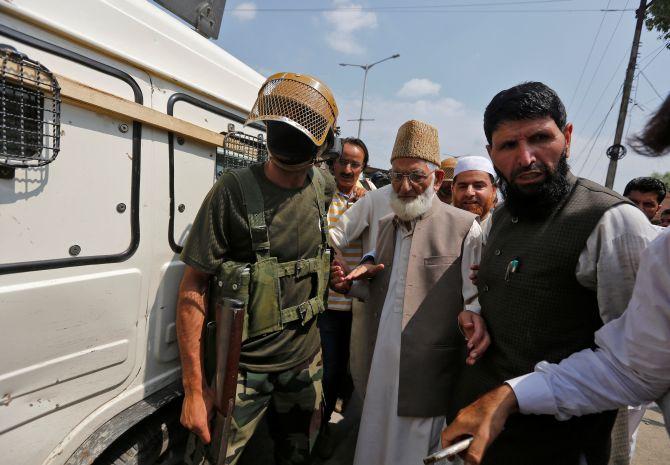 'The Indian government spent Rs 506 crore on security of the separatists in the last five years.'
'AAP is a myth that has started to explode'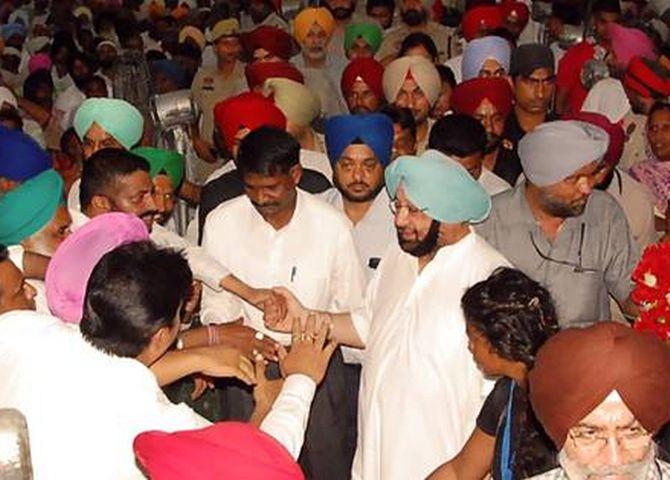 'I have promised that I will eliminate the problem within four weeks.'
September 06, 2016
'Amnesty will continue to highlight human rights abuses'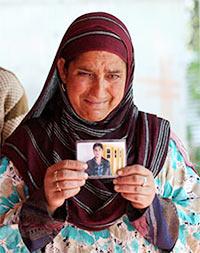 'Criticism that Amnesty is interested in those in favour of independence for Kashmir is unfounded.'
September 02, 2016
'Why was Rahul running away from this case?'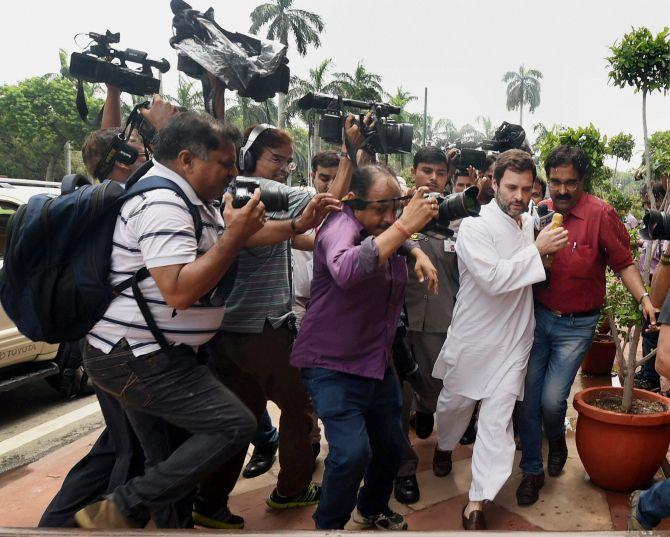 RSS leader Rajesh Kunte on why dragged the Congress vice president Rahul Gandhi to court and why he believes that the RSS is being wrongly targeted in this matter.
'Modi and the Indians just discovered the B-bomb'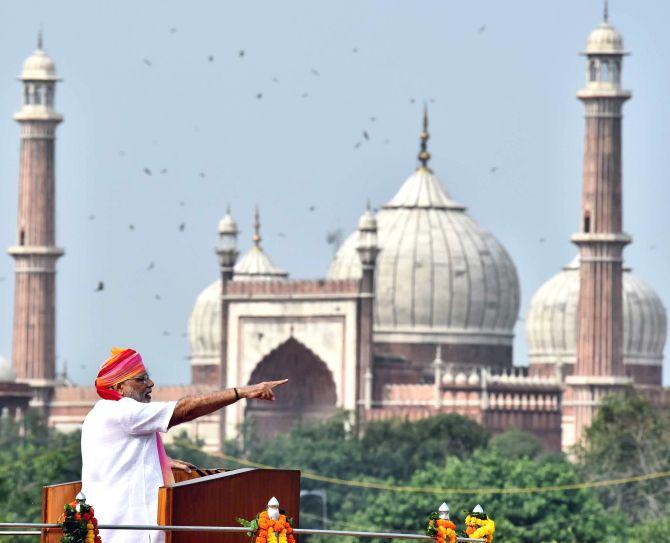 'I believe Modi mentioned Balochistan only to embarrass Pakistan and also divert attention toward the situation in Kashmir.'
'Secularism has torn us apart'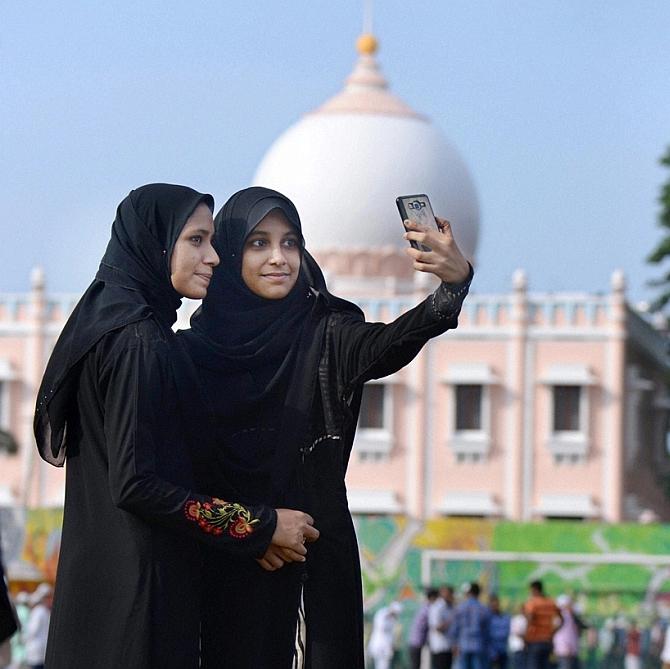 'At no time since Independence this issue of whether we are a secular country or whether we are a Hindu Rashtra has come up in this manner.' 'This is the most important issue which is going to decide whether we remain together as one country or not.'
August 30, 2016
'Do you want the poor to pay even to shit?'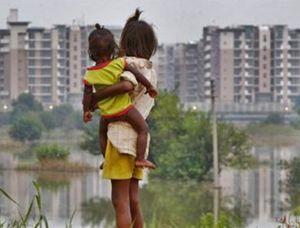 'We cannot let this country be a place where the poor pay to shit.'
Decoding China's game play against India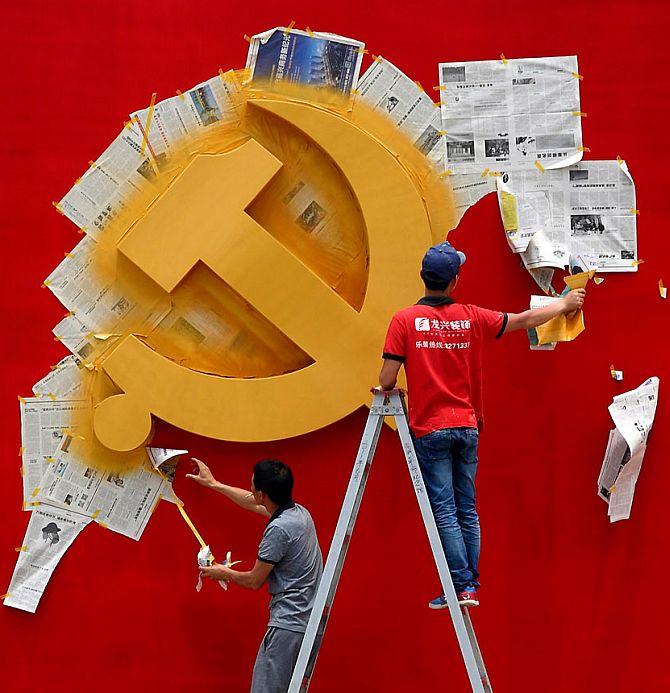 'With the recent challenging of the notion of the Indian Ocean Region being India's strategic backyard, China is gradually upping the ante in the maritime realm around India.'
August 29, 2016
THE Irom Sharmila interview: 'I have become more fearless'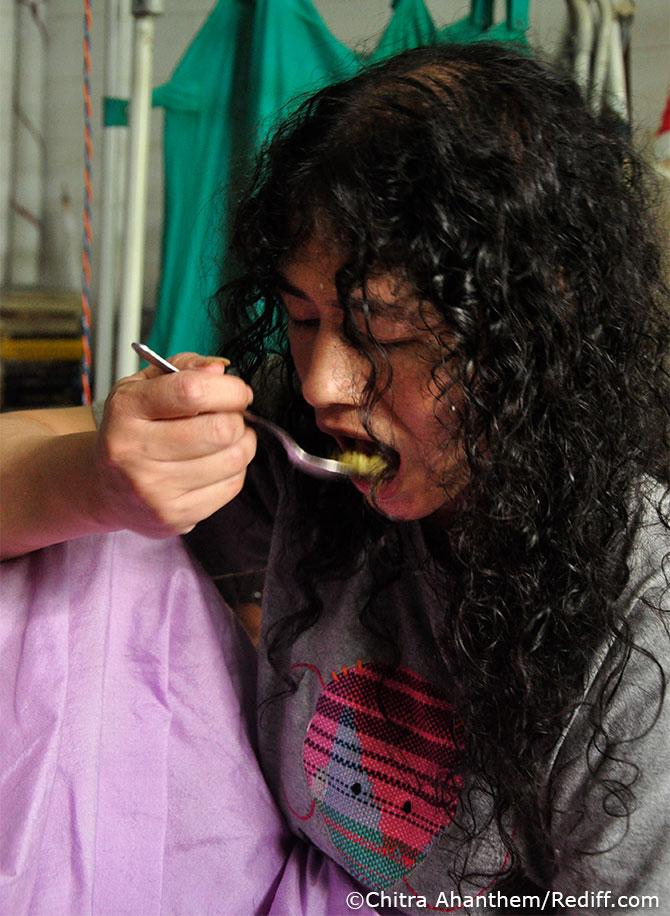 Iconic rights activist Irom Sharmila on the highs and lows of her long fast, why she gave it up and her plans.
Kashmir: 'Worryingly, there's a growing cult of martyrdom'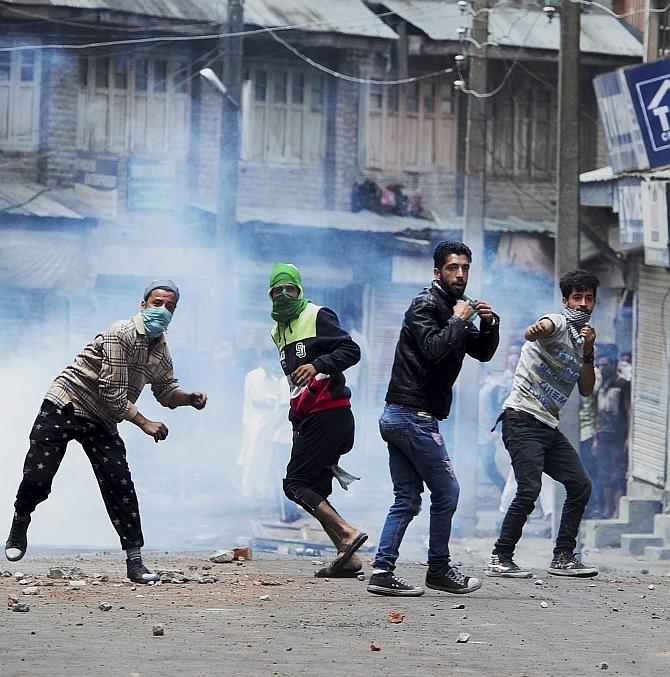 'Burhan Wani's killing served as a spark for the anti-establishment fire that has been raging in the minds of Kashmiris ever since the Centre stopped engaging them for their political future,' says Air Vice Marshal (retd) Kapil Kak in an interview with Rediff.com
August 26, 2016
'Surrogacy is exploiting a woman's body'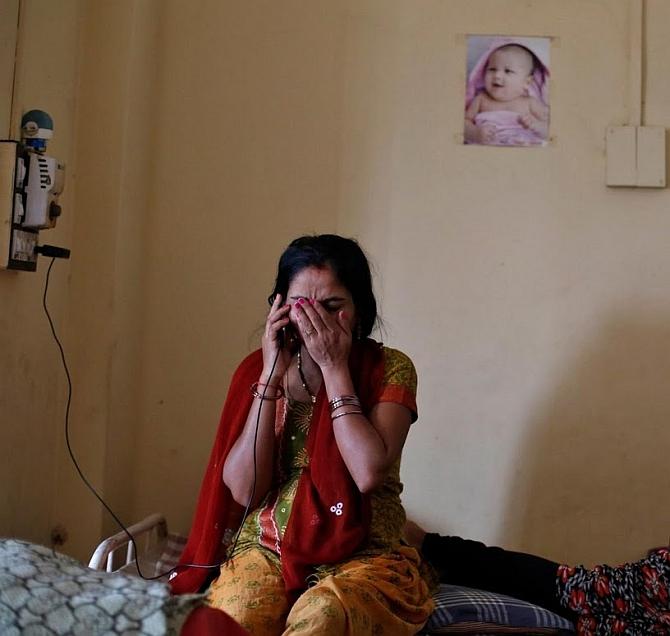 'There were absolutely no guidelines (on surrogacy) and poor women were being exploited.'
'Islam is not exclusively for men; it's for men and women'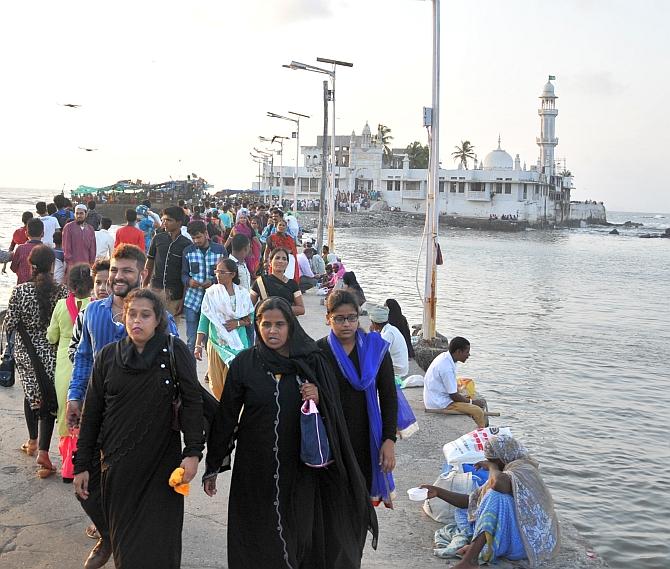 On Friday, the Bombay high court reversing the ban imposed on women entering the inner sanctum of the Haji Ali Dargah in Mumbai said, "The ban is contrary to articles 14, 15, 19 and 25 of the Constitution of India. Women should be permitted to enter the dargah on par with men."
'We want to pay respects to gau rakshaks who faced bullets'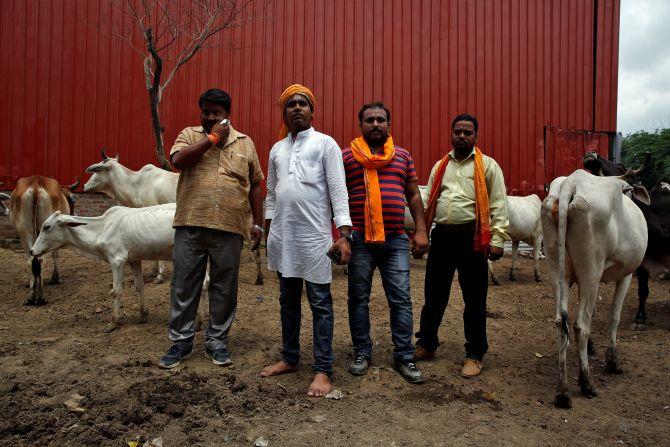 RSS ideologue and former BJP general secretary K N Govindacharya talks about commemorating the deaths of naga sadhus and sants who were killed in police firing on November 7, 1966.
August 25, 2016
'Stress on Vedic culture in new education policy is not right'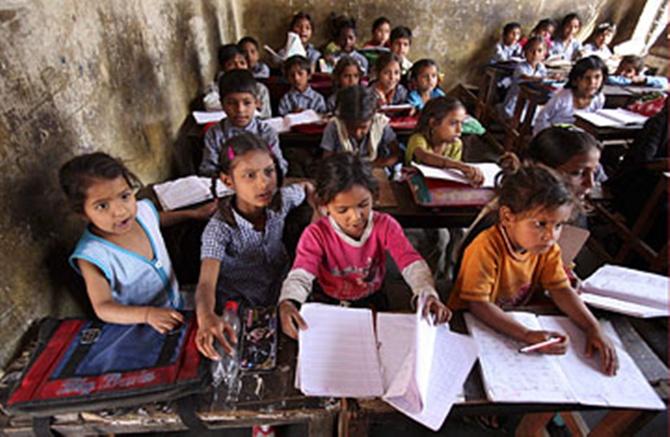 Secretary general of CBCI Bishop Theodore Mascarenhas on what he doesn't like about the new education policy.
'I won't apologise, come what may'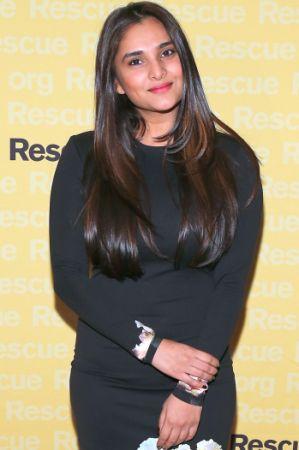 The young politician seems unfazed about the complaint and tells Subhash K Jha that she would return to the neighbouring country to foster peace.
August 22, 2016
The American who rescues Indian treasures!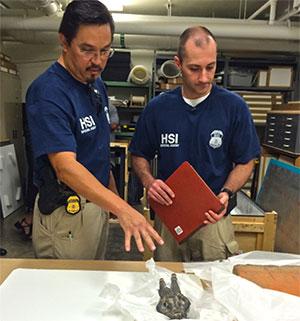 'Cultural property crimes have been linked, by the United Nations and others, to terrorism.'
August 20, 2016
9 ways to deal with the Kashmir crisis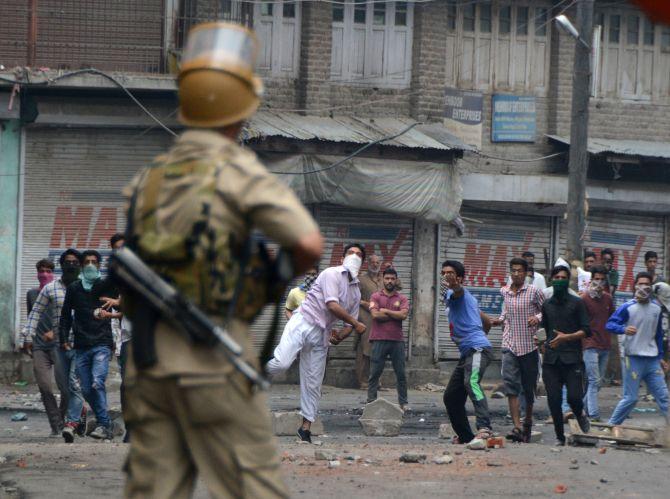 'Civilian casualties are something that could change the mood overnight, and therefore should be avoided by every means.'
August 18, 2016
Hoisting the Tricolour in the Maoist heartland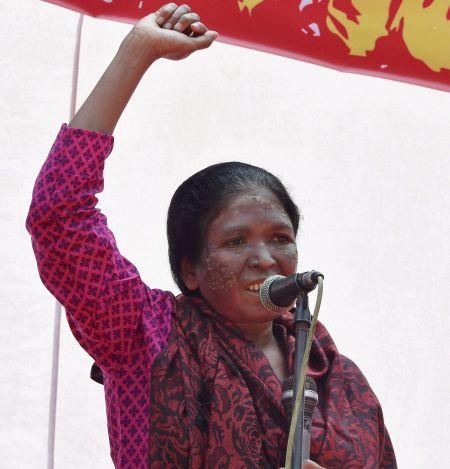 'By hoisting the national flag we have kindled a small flame of hope among the Adivasis.'
What PM needs to do about cows eating plastic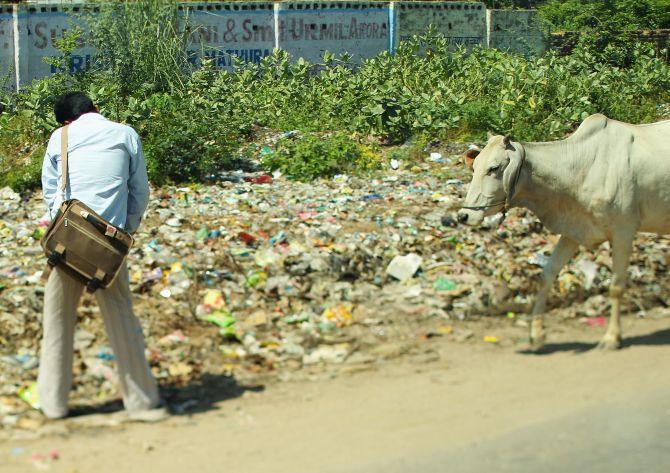 'Why has cows eating plastic become so important only before the Gujarat and Uttar Pradesh elections?'
August 12, 2016
'Would you feel safe if a nuclear plant was near your house?'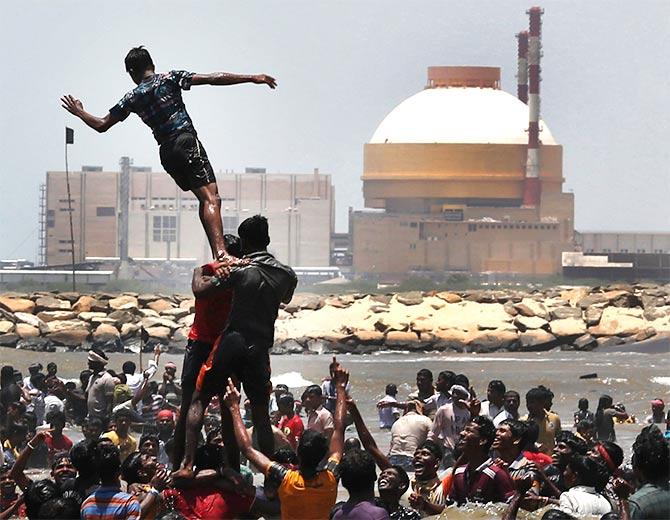 'Not a single person I spoke to there believes that the Kundalkulam plant is safe.'
August 11, 2016
Why S H Raza is one of India's greatest painters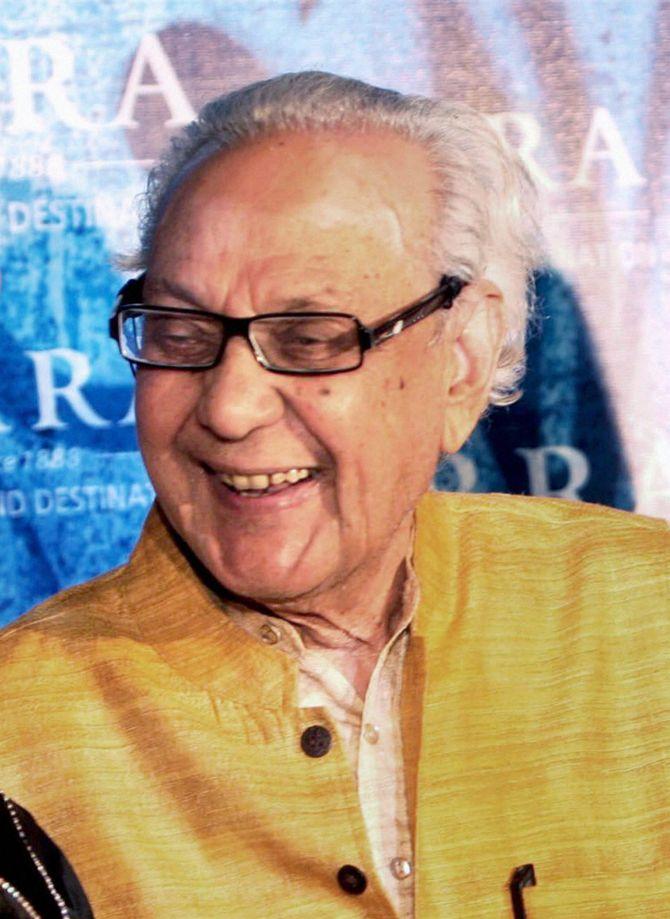 'Raza exemplified a sense of warmth and a connectedness to his roots and to Indian earth.'
'Delhi has to engage Kashmiris politically'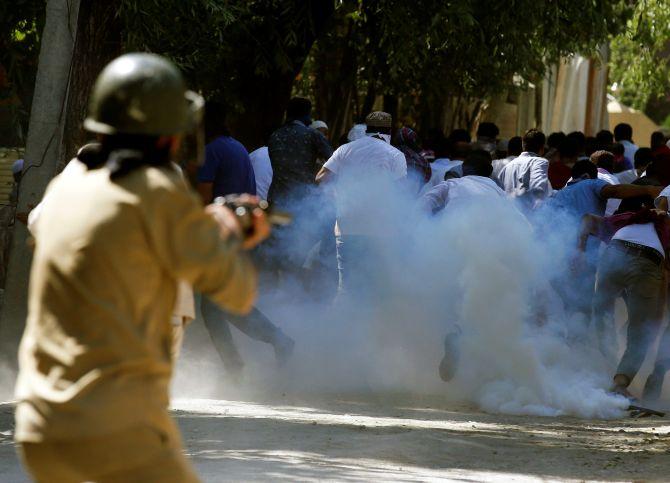 'The problem in Kashmir is not about pellets, bullets or tear gas.'
August 09, 2016
'Neutralising IS modules has no easy solutions'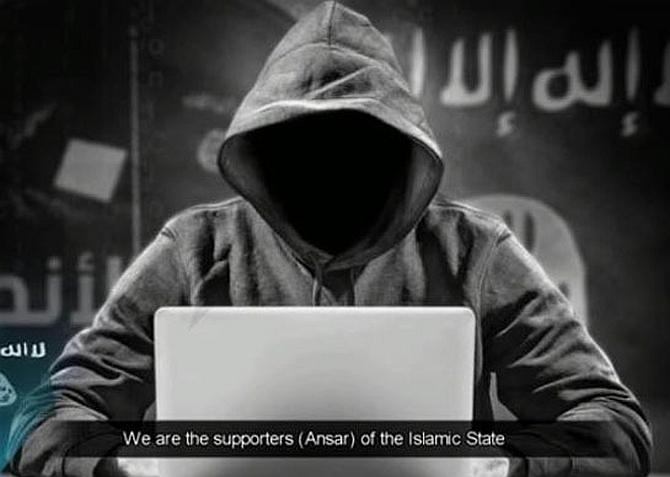 'You cannot say that I have blocked a thousand Web sites (operated by IS) and so I am happy.'
Why Soni Sori plans to hoist the Tiranga in Maoist heartland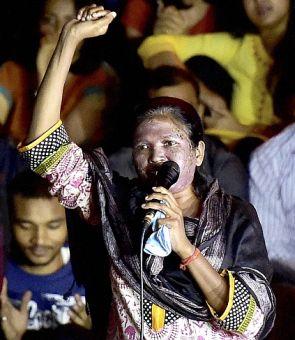 'India is my country and we will raise our voice against anybody who harms the interests of Adivasis, be it the state government or the Maoists.'
August 08, 2016
Protecting Kaziranga's rhinos from floods, poachers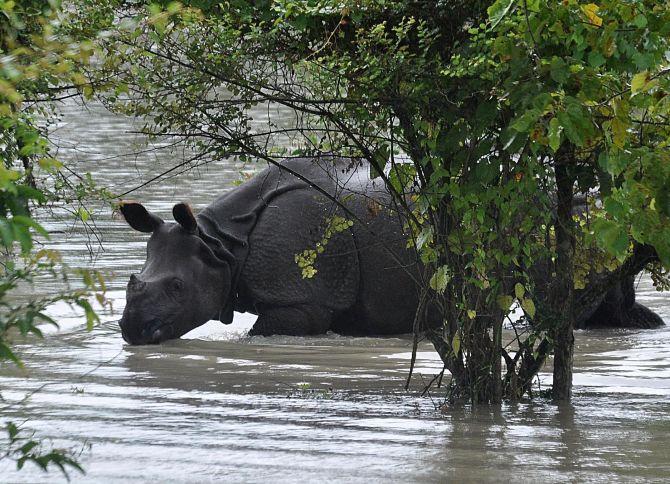 'Flooding forces the animals to disperse out of the park that, in turn, attracts the attention of poachers.'
'Hindus will vote against Modi'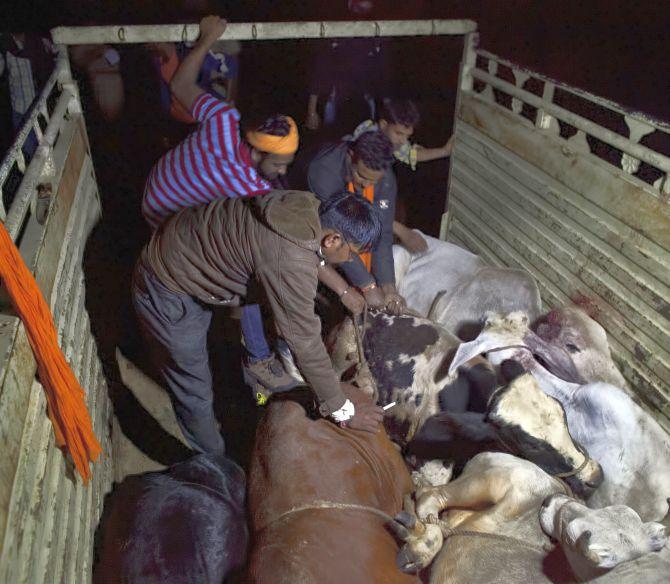 'If PM has some concrete information against gau rakshaks then he must disclose it, otherwise we will take legal action against him.'
'You are sitting on a volcano of Dalit anger'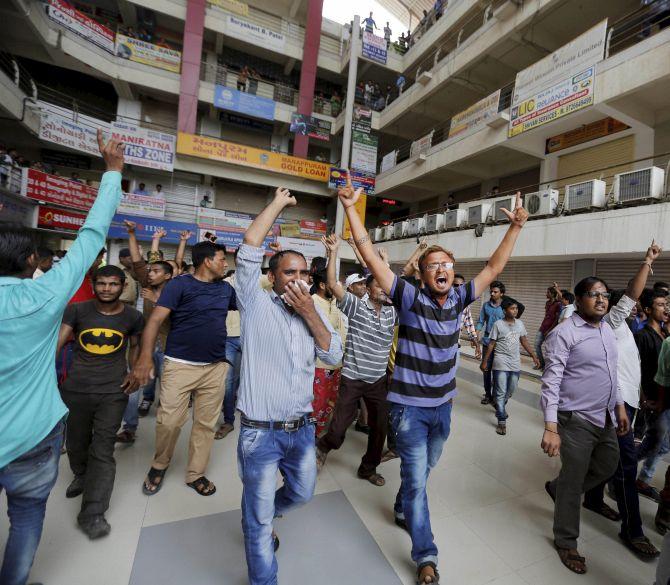 'Only the smoke is coming out now. Let us prevent the lava from coming out by taking proper measures.'
August 04, 2016
'ISIS will never hold sway in J&K'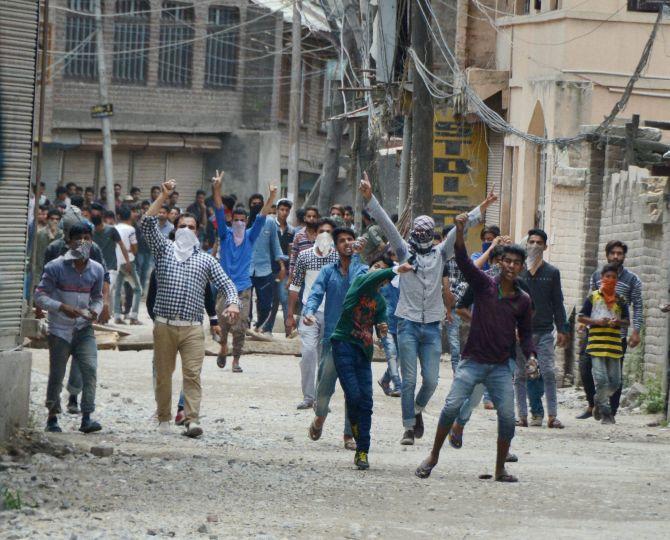 'These inhuman people will never find a place in Jammu & Kashmir or hold in any sway over the youth here.'
'We'll convert as we are treated like dirt and shit'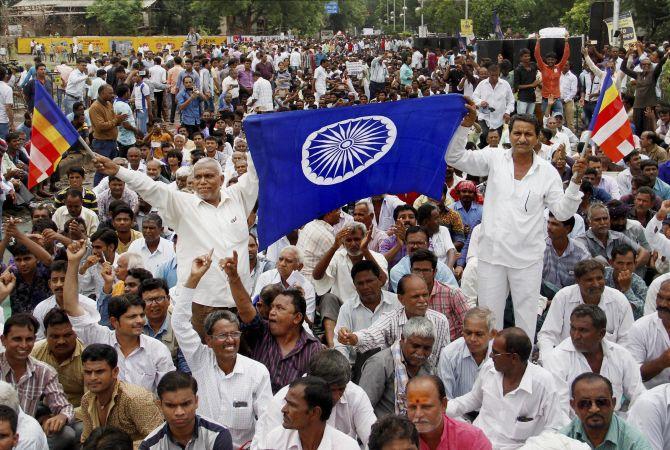 'Despite living in a free nation for so many years, if atrocities like rapes, public flogging, social boycotts are faced by Dalits, then conversion is the only option.'
Indo-US research may create designer humans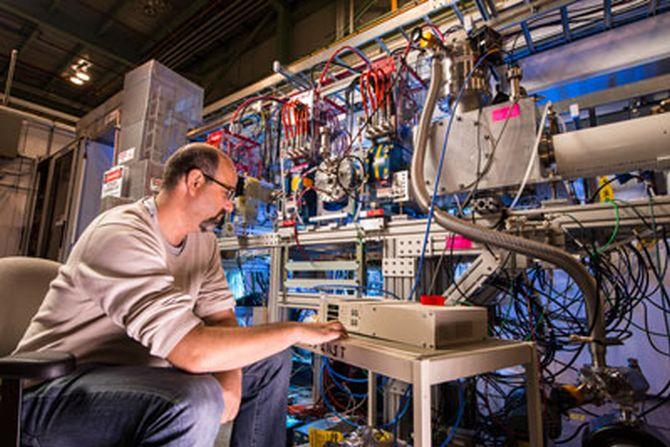 'This is the beginning of a big campaign which may last a hundred years of trying to understand the human body in detail.'
'Raza carried India in his heart'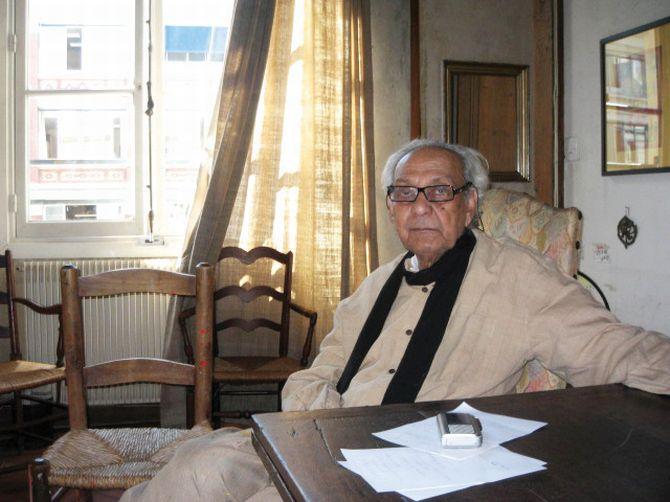 '... and all of the symbolism, history, the colours of his motherland, the earth, the sky, all of that is there and it always remains with him.'
August 03, 2016
Why the BJP leadership is WORRIED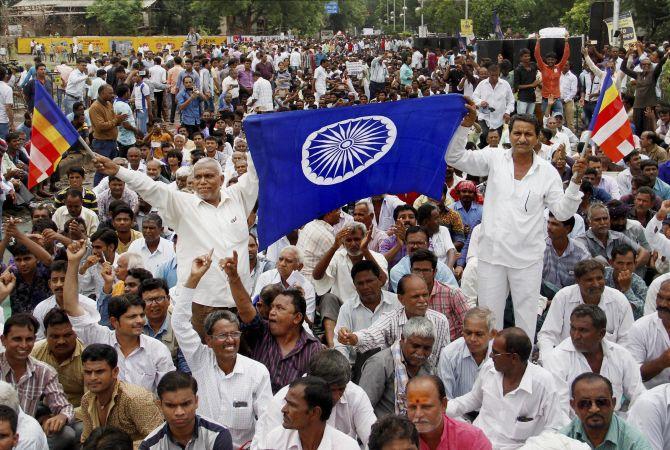 'It is very interesting that the RSS is sending sadhus to Una.'
'Muslim youth must understand the dangers of joining IS'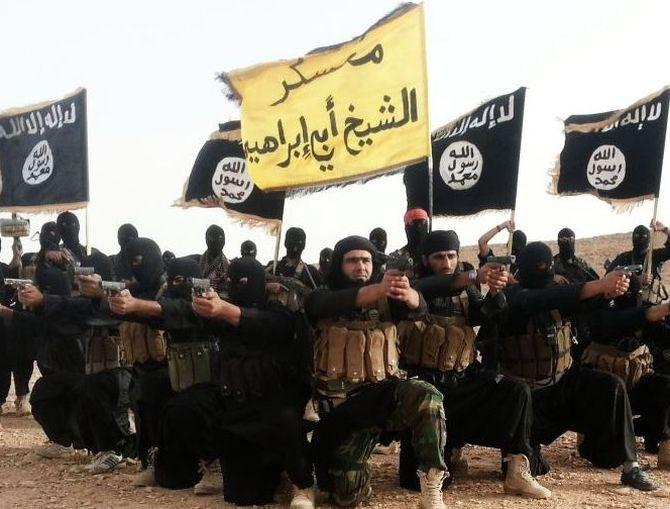 'Terrorism has no place in our religion, society or in our daily lives.'
August 01, 2016
'Not Dalits, Una victims were Christian converts'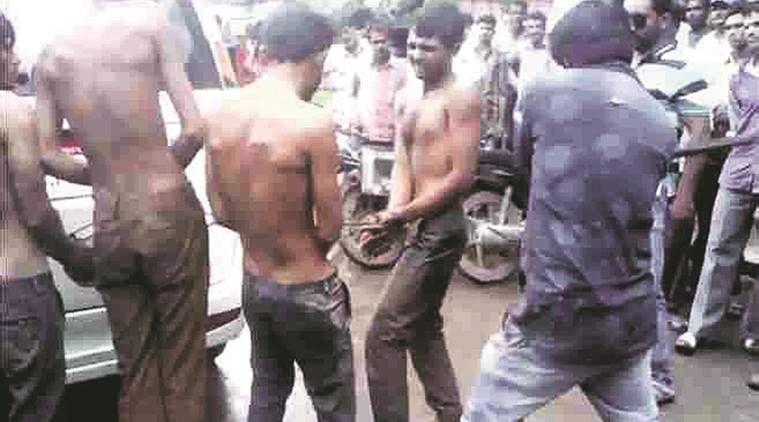 'The day the BJP has a majority in the Rajya Sabha, the cow will be declared 'rashtra mata.'
'Headley can teach us a lot about terrorism'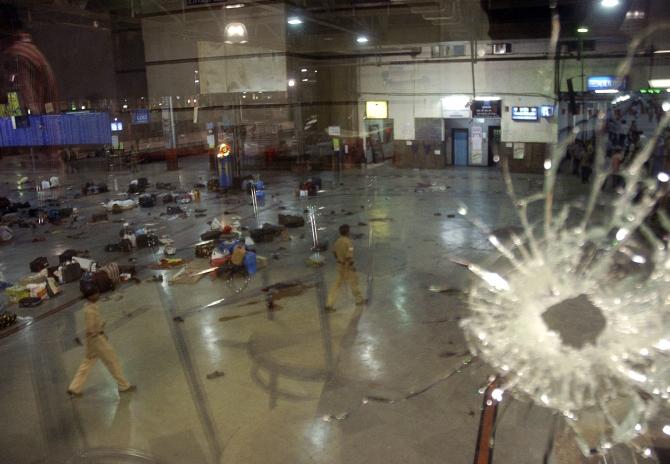 'India simply wasn't prepared for the fact that a natural-born American could be organising a major terror plot in their country. And they didn't look for people like him.'
July 29, 2016
The Million Dalits March to Ahmedabad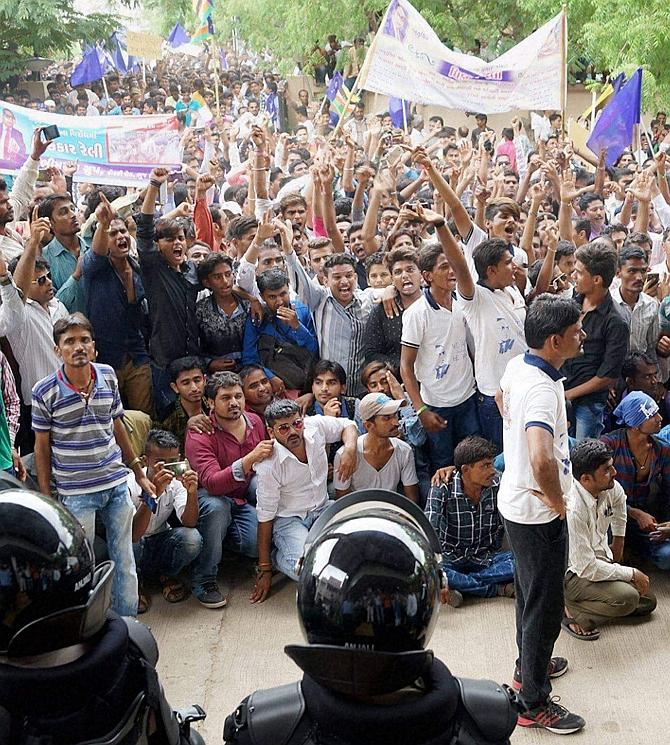 'If Modi sincerely thinks that Dalits are also Hindus then spread this message to the entire nation through programmes like Mann Ki Baat.'
'Pakistan will seek turmoil and violence in Kashmir'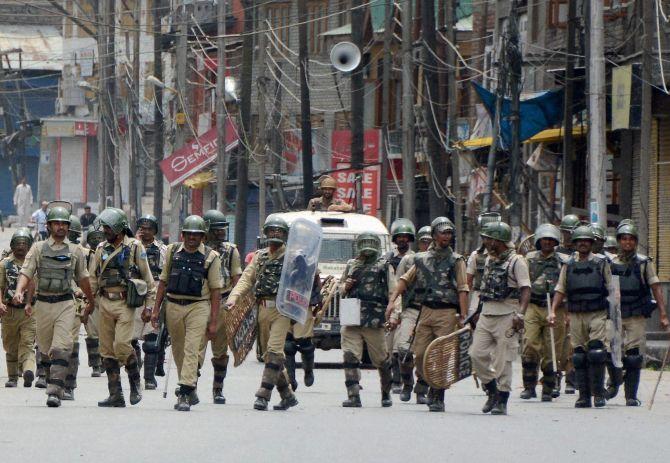 'It should be of concern that some youth in Kashmir have started raising Daesh flags along with those of Pakistan.'
July 28, 2016
'Gau Rakshaks run a mafia business in Gujarat'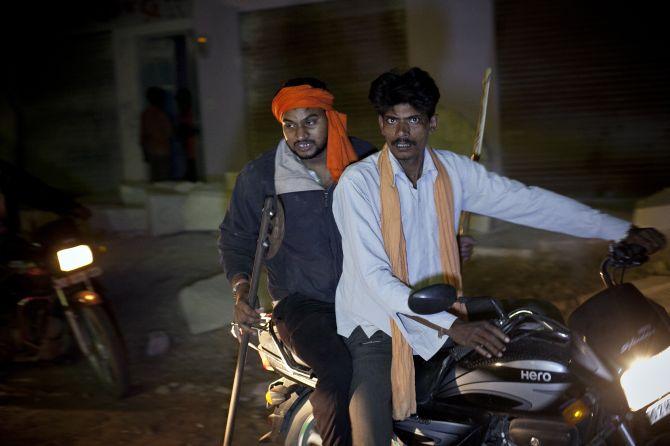 'Atrocity on Dalits get political support.'
Madhavan Nair on why the Antrix-Devas deal went sour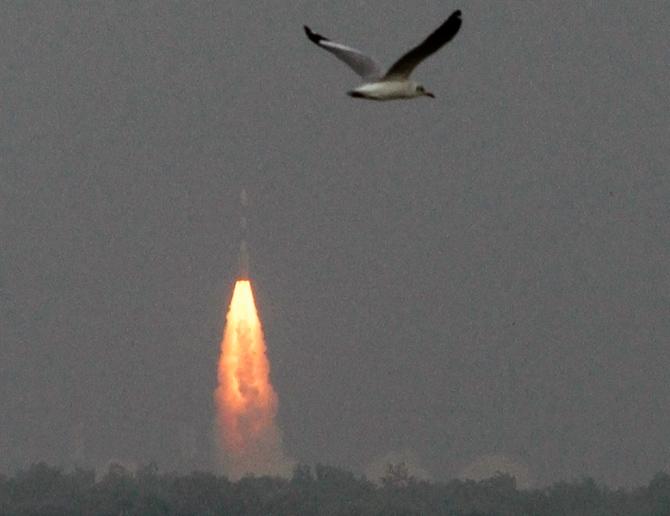 'I will say all this happened because of ignorance coupled with arrogance,' says Dr G Madhavan Nair.
July 25, 2016
What Democrat vice president pick thinks of India and Modi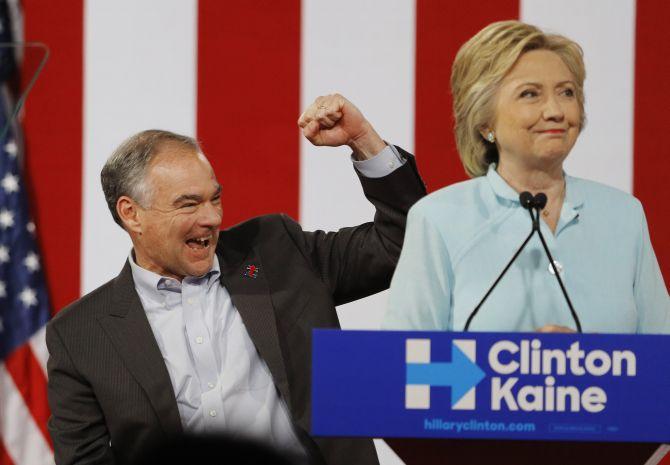 Rediff.com reproduces this 2014 interview with Tim Kaine where in he discusses the new opportunities to foster Indo-US trade and the improvement in ties.
'Headley has a deep hatred for India'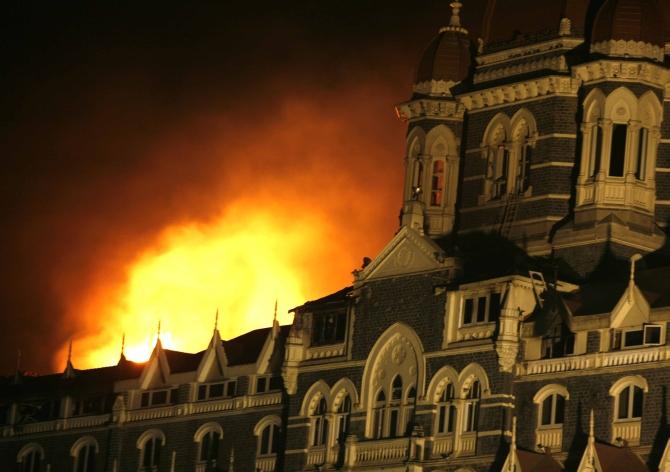 If the radical Islamic movement had been largely peaceful, Headley would have probably found another way to ensure real life excitement.'
July 22, 2016
'Gau rakshaks are systematically targeting Dalits, Muslims'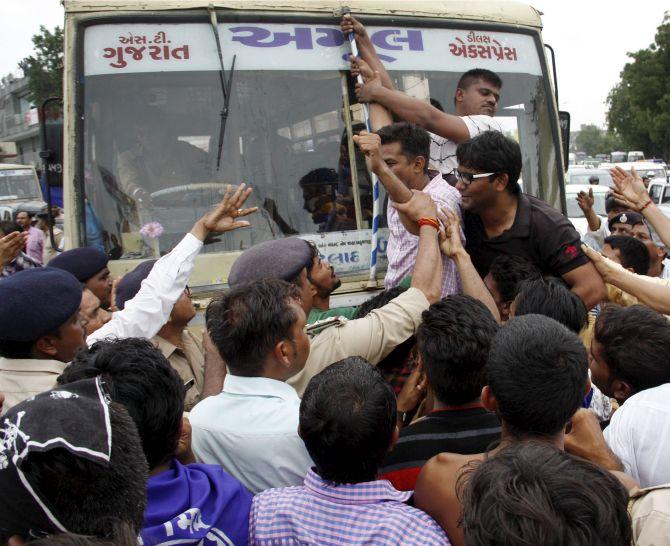 'Gau rakshak groups are beating Dalits and circulating videos on social media because they know that no one will touch them.'
July 20, 2016
12 hours was all it took: Erdogan on crushed coup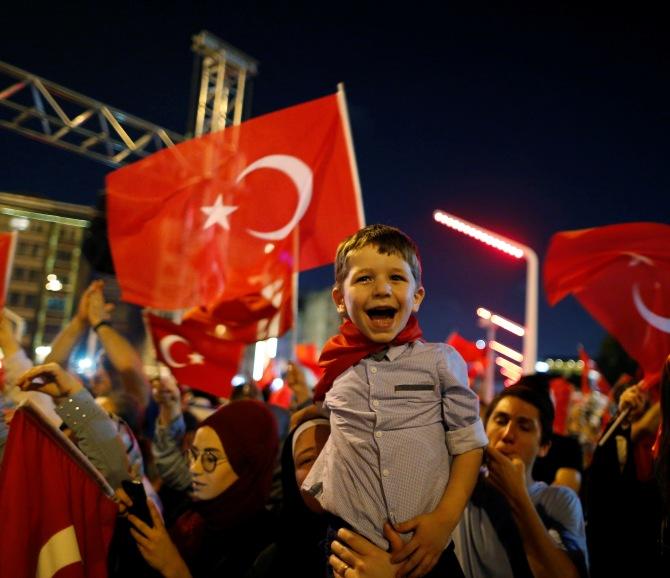 Turkish President Recep Tayyip Erdogan talks CNN's Becky Anderson.
July 19, 2016
Will the thugs who assaulted this cop be brought to justice?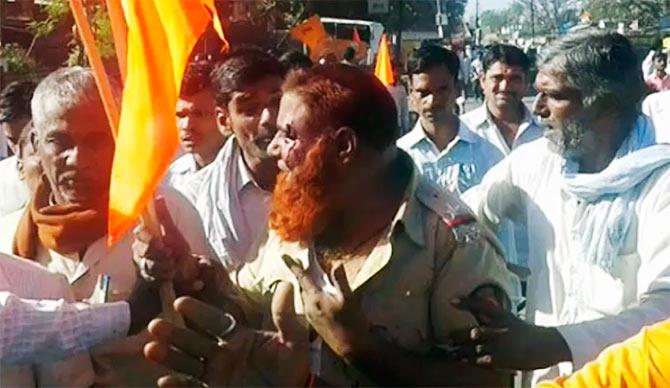 Five months after he was assaulted by a mob and forced to chant 'Jai Bhawani, Jai Shivaji,' Assistant Sub Inspector of Police Yunus Shaikh will return to the police force on July 21.
July 15, 2016
Kerala's Missing: 'They became extremely religious'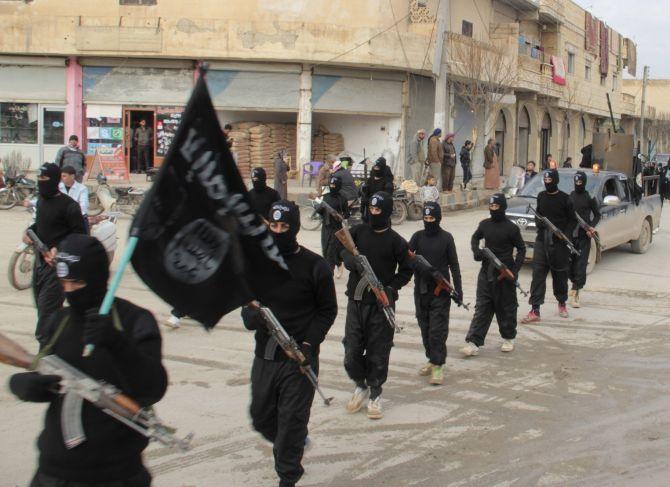 'If the missing people really had any contact with IS, it would be dangerous.'
July 14, 2016
'Rest of India needs to listen to what Kashmiris have to say'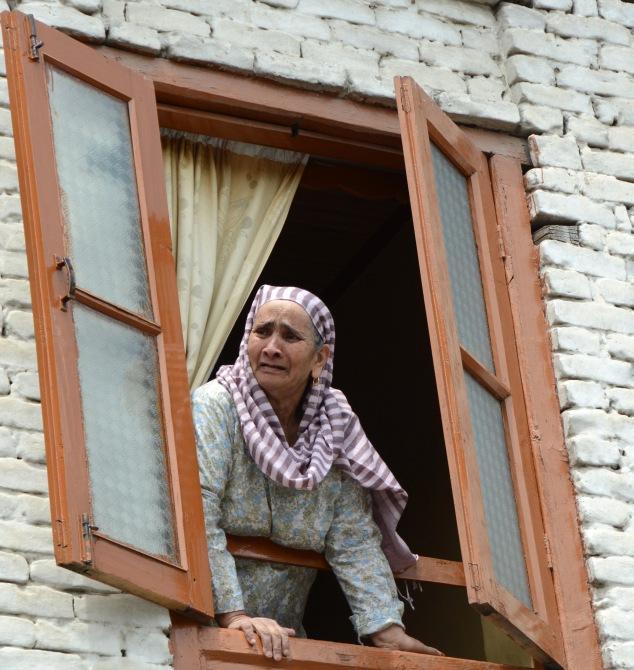 'The Kashmiri wants freedom, the dignity that comes from it and the intellectual versatility that flows from the combination of the two,' says political historian Siddiq Wahid.
'Modi must say Zakir Naik is spreading hatred'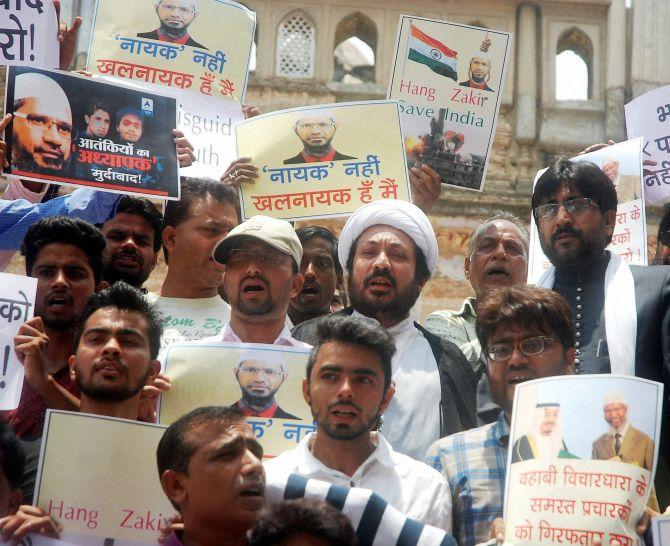 'If the charges are so serious against him, then why hasn't a single case been registered against Dr Zakir Naik?'
July 13, 2016
'If summoned by authorities Dr Naik will come immediately'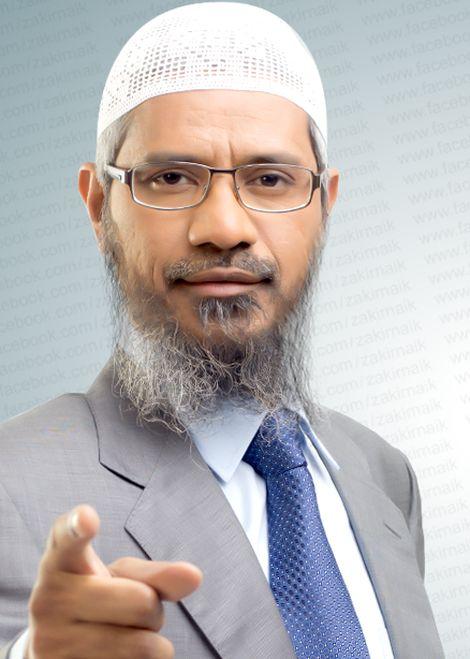 'Dr Zakir Naik is a busy person and as an NRI he is out of India six months of the year.'
'Modi government cannot ride roughshod over Constitution'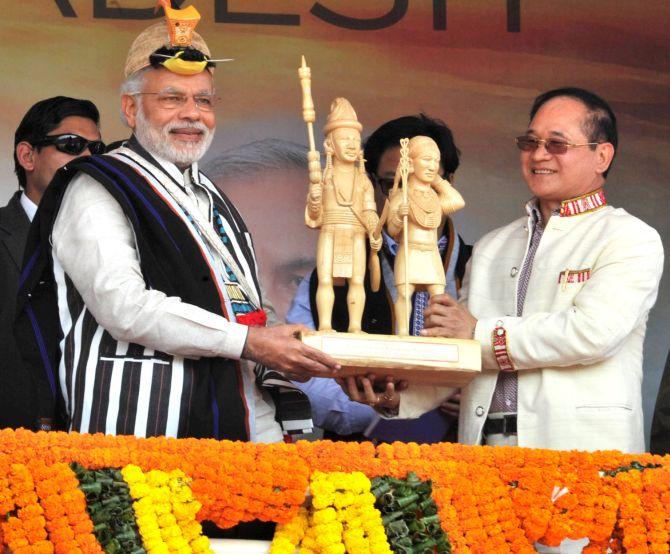 'It's a great victory for Constitutionalism and the rule of law.'
'How can they run away and become terrorists?'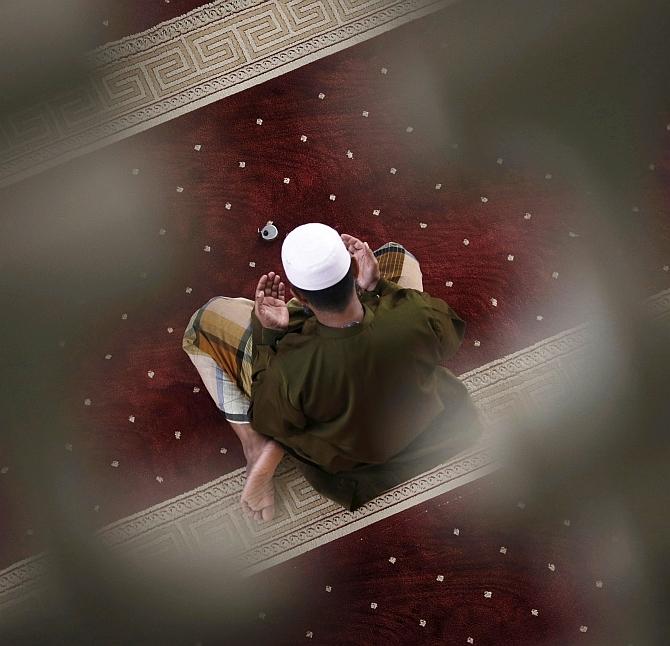 'I do not believe that they have become terrorists and have gone to Syria to fight.'
July 05, 2016
'A person who has understood Islam will never become a fundamentalist'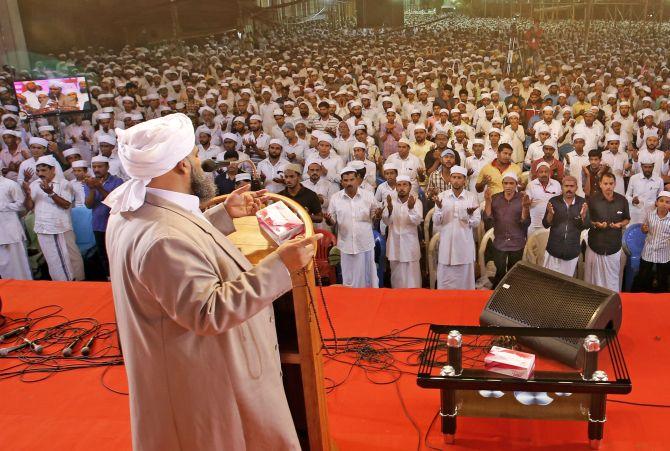 'When you have the freedom to have mosques, the freedom to have madrasas and the freedom to pray, why should you turn to terrorism?'
'Ruthless Dhaka attack indicates undeniable ties with IS'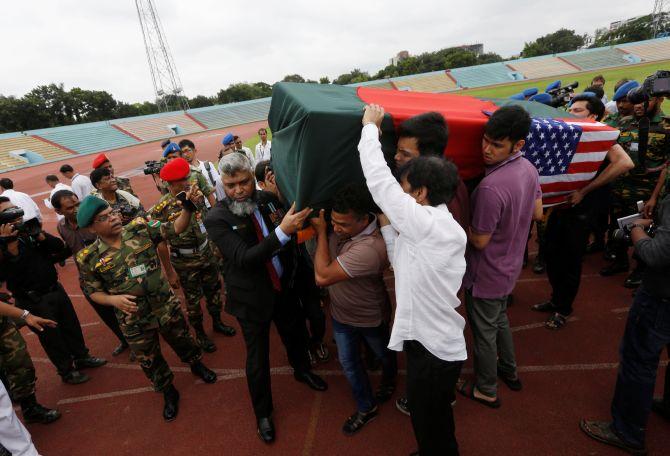 'A deadly combination of money and religion lures them into the murky world of terrorism.'
July 04, 2016
'Time to accept that Dhaka attackers had an IS link'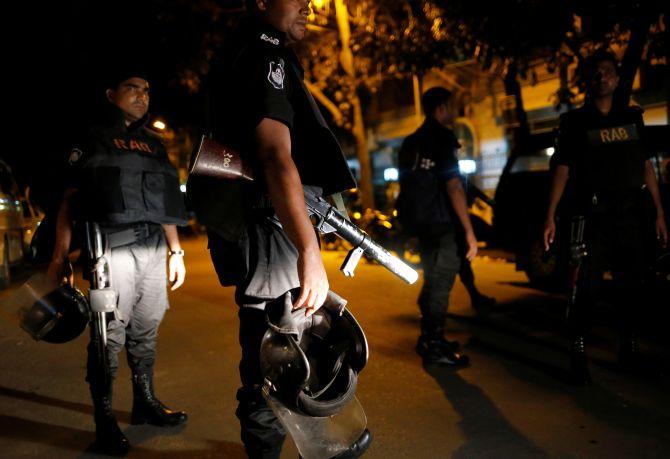 'The police had cautioned me that there could be some 'trouble' in Dhaka by the end of June.'
July 03, 2016
'The attackers were Bangladeshis whom the police knew'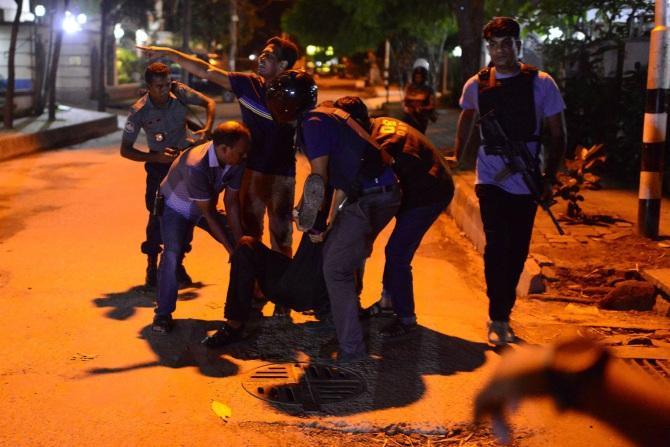 'If a bloodbath of this nature can occur in a high security area like Gulshan, I shudder to think how vulnerable other parts of this country are.'
Islamist groups: 'Hasina has chosen to turn a blind eye'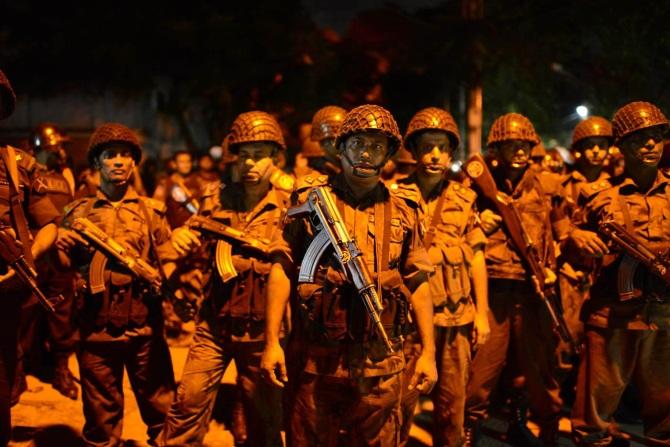 'I have noticed how a certain country wants to establish the presence of ISIS in Bangladesh.'
June 30, 2016
'I must get credit for Beti Bachao Beti Padhao slogan'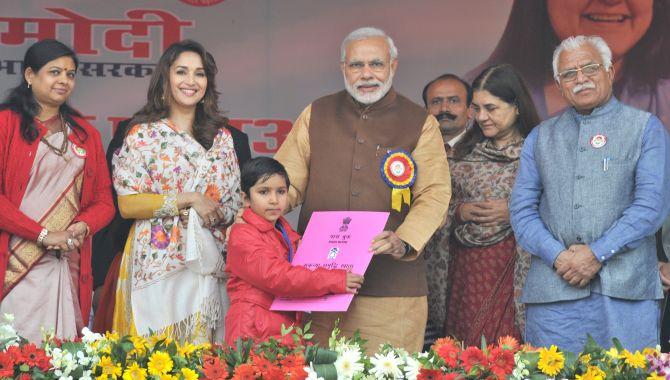 'I wrote to the PMO to know who has written the slogan. but did not get an answer.'
June 29, 2016
'Even NASA wants to work with us now'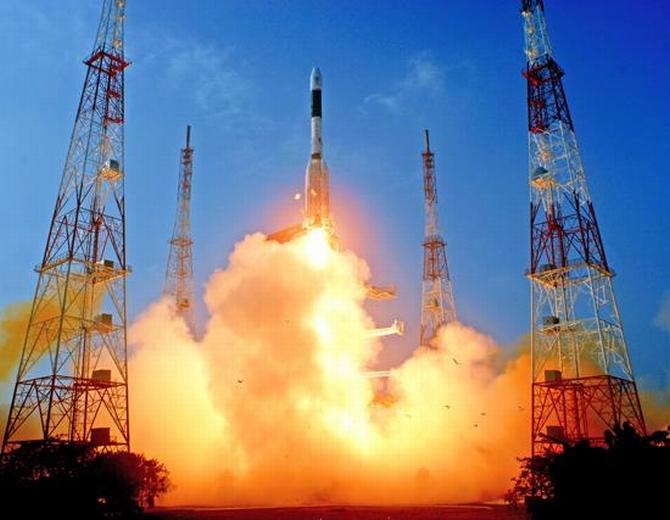 ISRO chairman A S Kiran Kumar talks of what's on and what lies ahead for the Indian space agency.
'Modi tells lies and hypnotises people'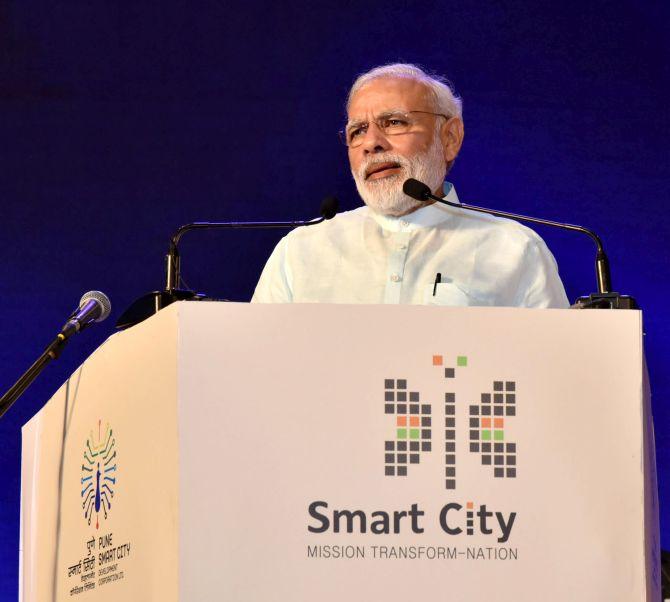 'Modi's popularity is a myth.'
'Ram Temple NOT demolished by Babur, but Aurangzeb'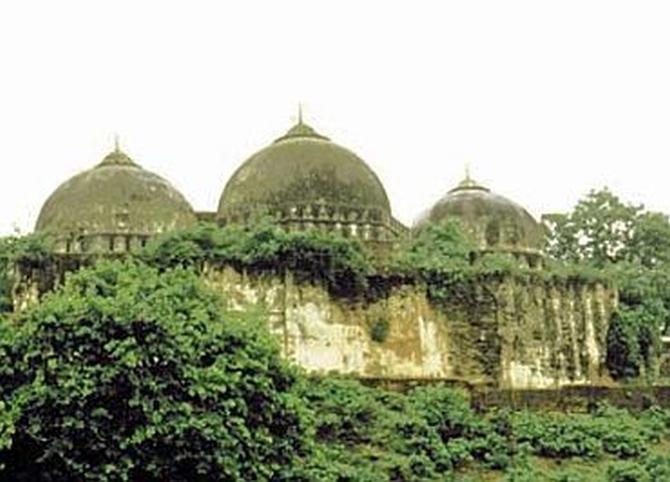 'Babur has been facing gross historical injustice for the last two centuries, when he had no role either in the demolition of any temple or in the construction of the so-called Babri mosque at Ayodhya.'
June 28, 2016
'If he moved to India, he could never return to Pakistan'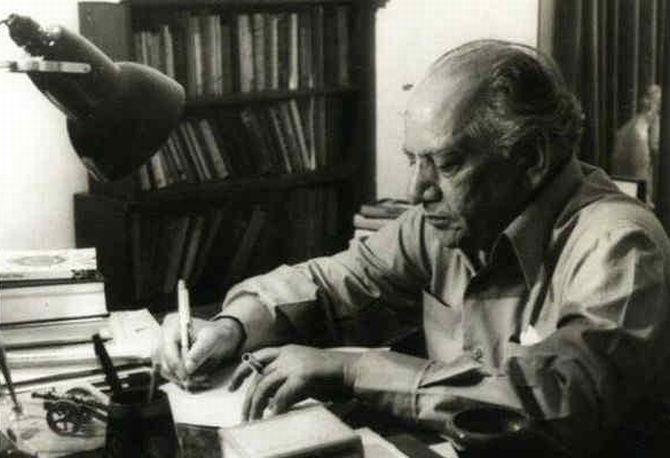 'The biggest advantage for India was its seasoned and experienced political leadership who had spent decades struggling against the Raj and had spent years behind bars.'
June 24, 2016
4 reasons behind Britain leaving the European Union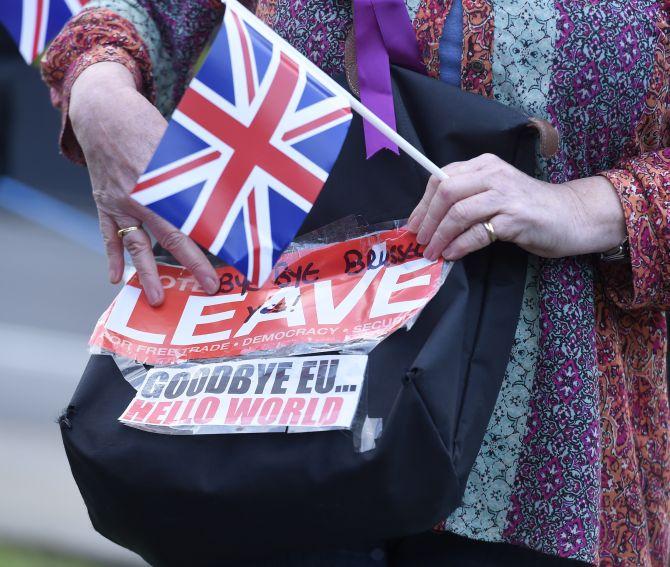 'Britain always had a very special relationship with the EU -- it always was an on/off relationship. It retained its own currency and visa.'
June 23, 2016
'The situation in Sri Lanka is not alarming for refugees to return'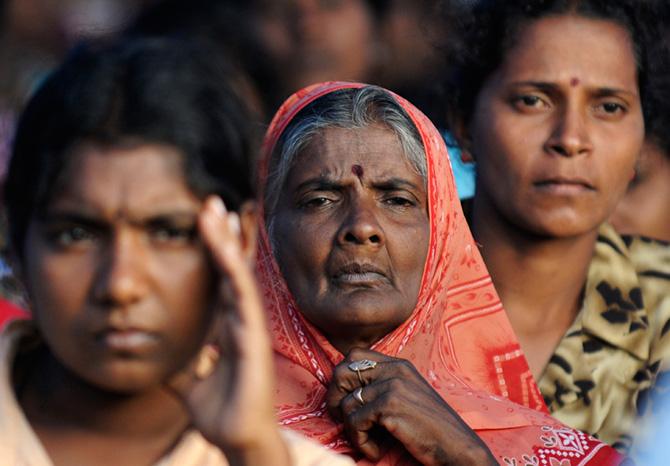 In a conversation with R Ramasubramanian, Xavier said, "My documentary attempts to find answers to those frequently asked questions from Tamil refugees who are still in India."
June 22, 2016
'There is a disinformation campaign about Nehru'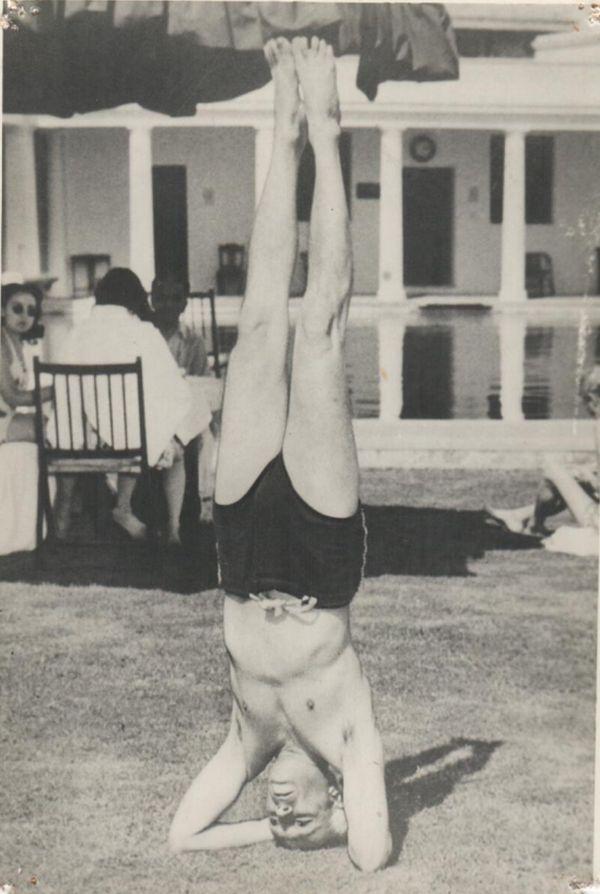 'Nehru was singularly clear sighted about the international political situation.'
'Modi sets his own rules -- that is if he has any at all'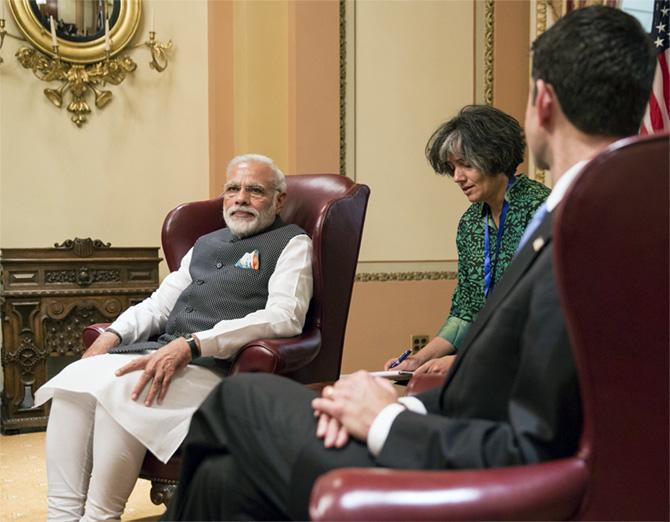 'Modi's idea of India is to make it less liberal, less tolerant and a less accommodative of diversity.'
June 19, 2016
'Without the Gandhi family, the party will disintegrate'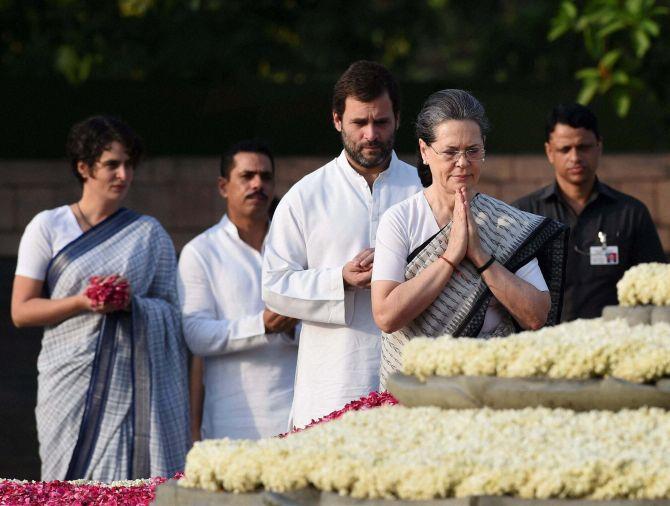 'Instead of camping in the cities and leading the party, leaders have to go to the interiors of the country.'
June 17, 2016
'If a company can get FDI, an NGO too can get foreign funds'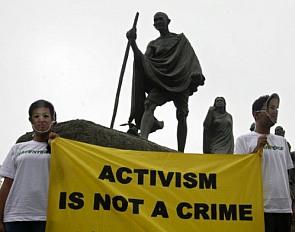 'The government is using the Intelligence Bureau to go after NGOs.'
June 16, 2016
'Kejriwal is indulging in political corruption'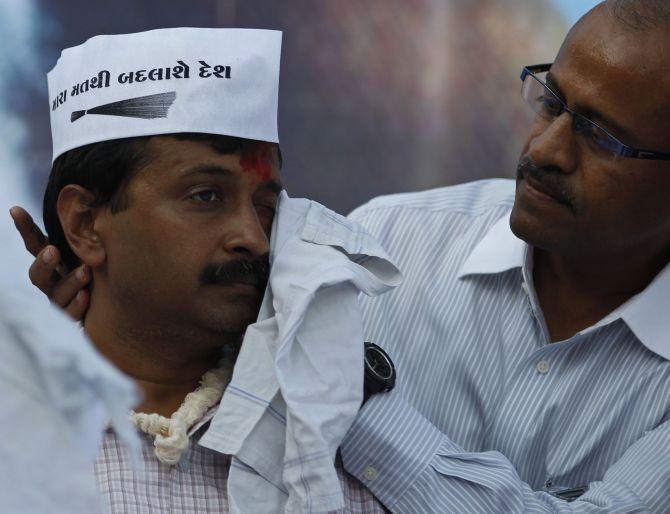 'Kejriwal has read the Constitution, still he misused office to benefit his MLAs.'
'I'm caught between Maulana Modi and Maulana Mulayam'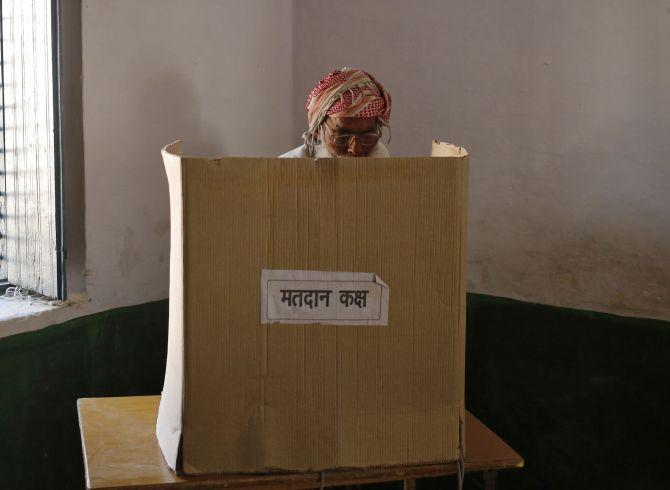 Asaduddin Owaisi opens up to T S Sudhir on his party's plans for the elections in Uttar Pradesh next year and why he thinks both the Bharatiya Janata Party and the Samajwadi Party have vitiated the secular atmosphere in the state.
'Talaq must go through the court of law'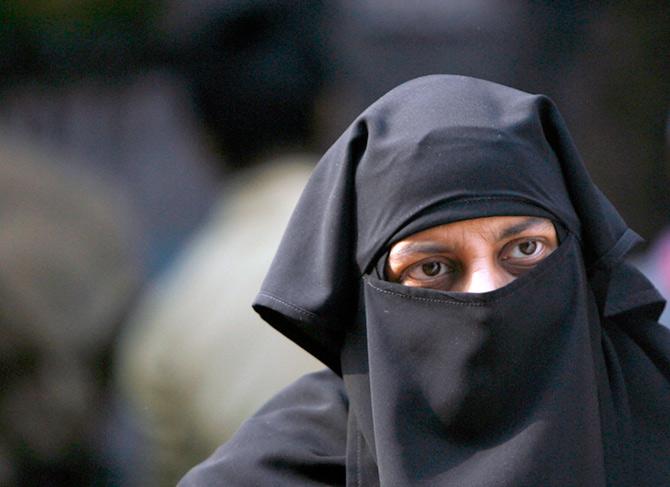 'My religion is great and it has given a lot of rights to women, but these intermediaries are interpreting it wrongly and ruining it.'
June 15, 2016
'Faiz was devastated by the aftermath of Partition'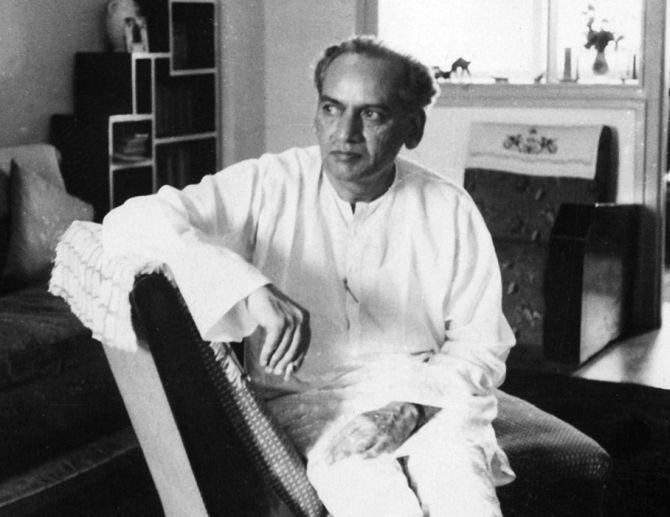 'The original dream of people like Faiz was that Pakistan would be something different from the old India: Progressive, forward looking, democratic (if not socialist), tolerant, diverse and pluralistic.'
June 14, 2016
Kairana exodus: Blame it on 'bhaigiri', says BJP MP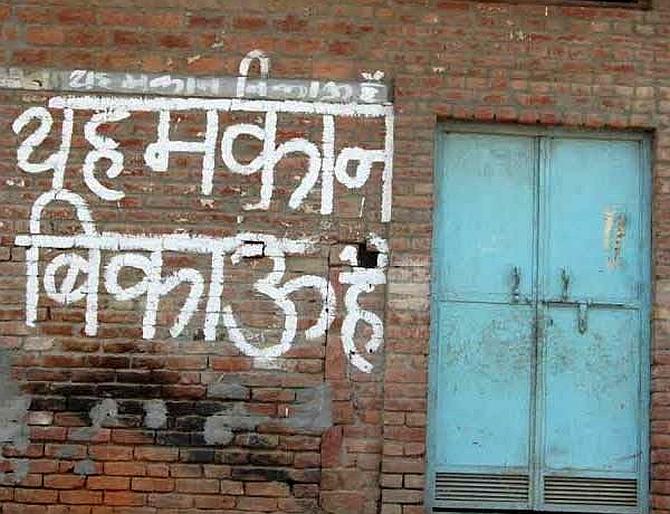 'It is impossible for a decent man to live in Kairana town.'
'Vajpayee was a statesman, Modi is a doer'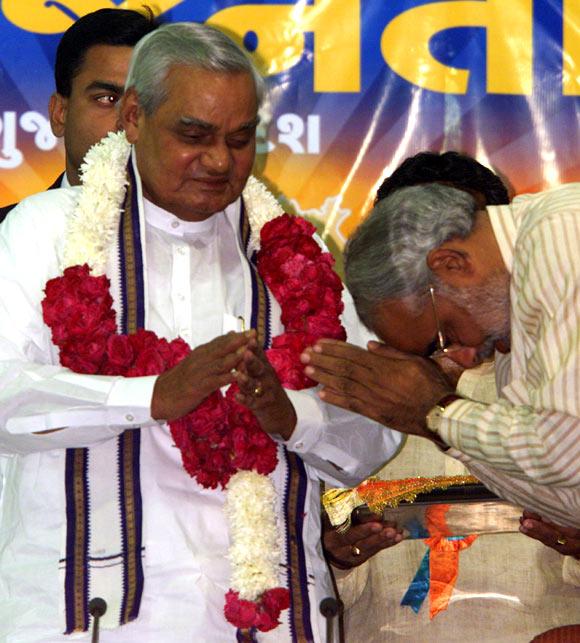 'Narendra Modi is one person who came up fighting many injustices. So, he is a fighter all the time, and that makes all the difference.'
June 13, 2016
'Why are we handing over our territory to Pakistan?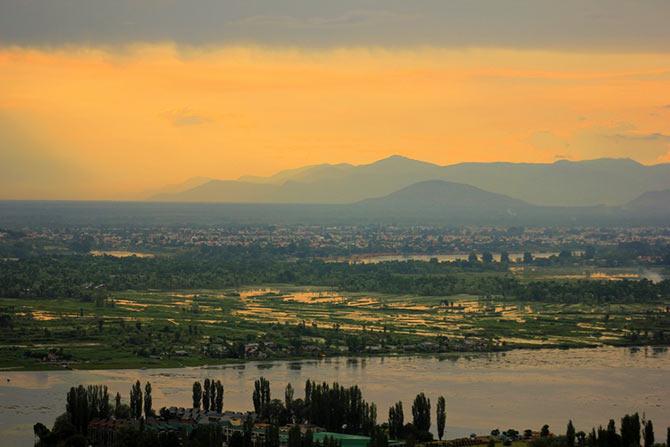 'Our policy seems to be to give away part of J&K, even though we are entitled to the entire state.'
June 10, 2016
Maneka is right and Javadekar is wrong!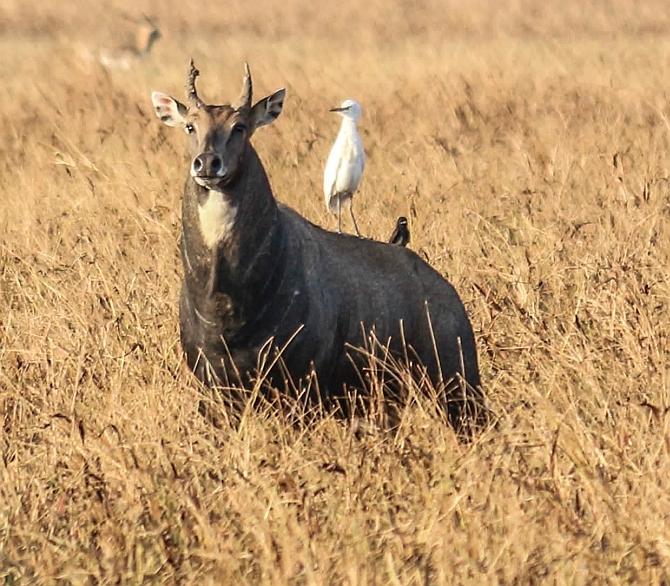 'Never ever have so many states across the country declared animals as vermin as they have in 6 to 8 months.'
June 09, 2016
Are Punjabi pop songs promoting its drug culture?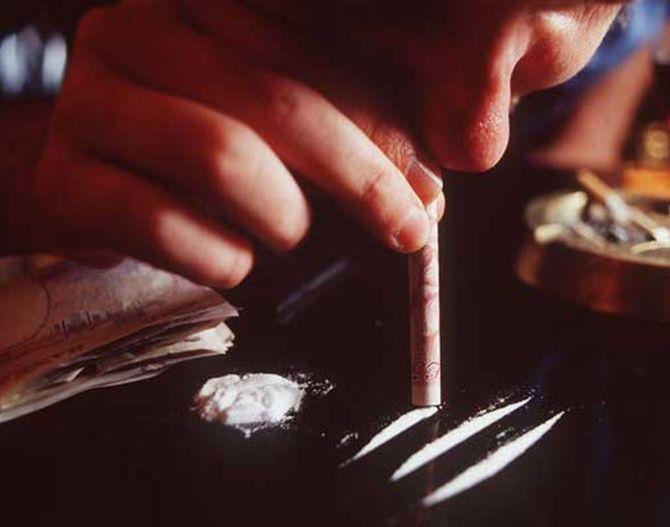 'Almost 60 per cent of 2,000 songs had references to drugs and violence.'
June 08, 2016
'I hope Udta Punjab creates awareness about drugs'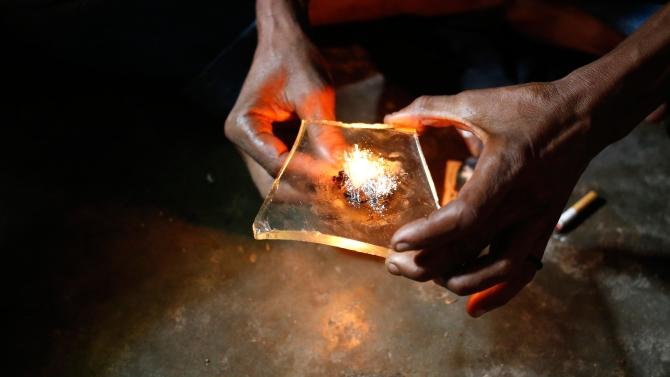 'I support Udta Punjab because we must show the reality of Punjab.'
June 07, 2016
'Why will Priya Dutt resign from the Congress?'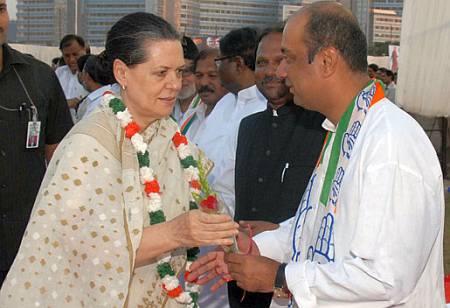 'Gurudas Kamat's resignation is very unfortunate. I think he should take back his resignation.'
June 06, 2016
'I have zero expectations from Smriti Irani'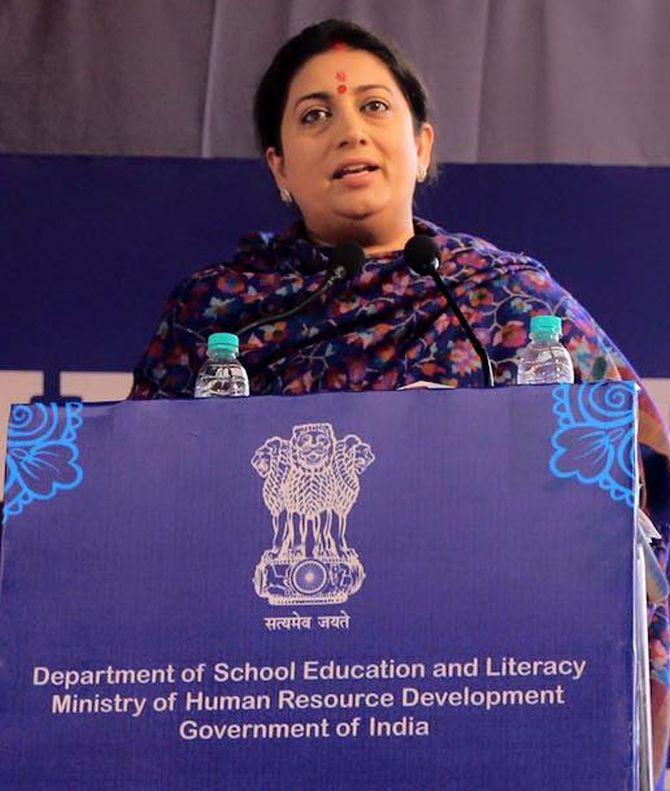 'I would rather have an HRD minister who concentrates on her job rather than bicker on Twitter.'
June 02, 2016
'Modi thinks "I'm number 1 and up to number 10 there's no one"'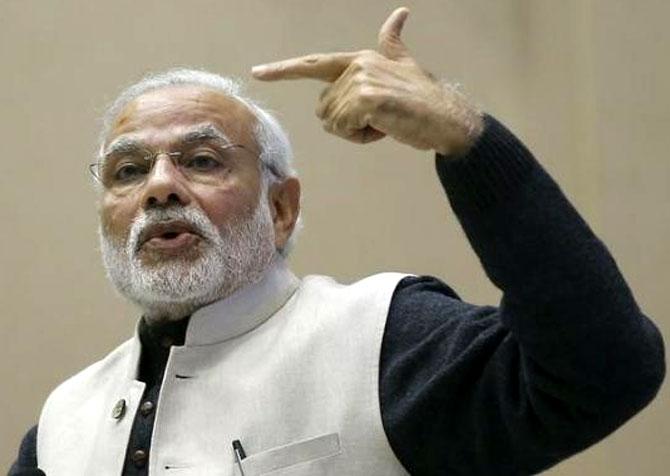 'We are passing through a very historical moment. The UP election next year and the Lok Sabha election of 2019 will decide the course of India.'
'There's no BJP. It is now the Narendra Modi Janata Party'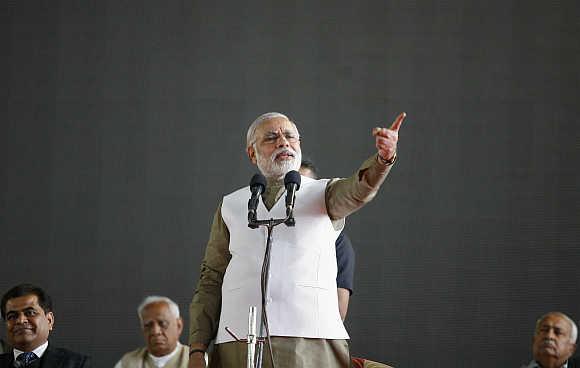 'People will realise sooner or later that there are no jobs, inflation is unchecked and loads of corruption charges are coming from various states which the government is totally brazen about.'
May 26, 2016
What the Modi Sarkar needs to do for Indians' health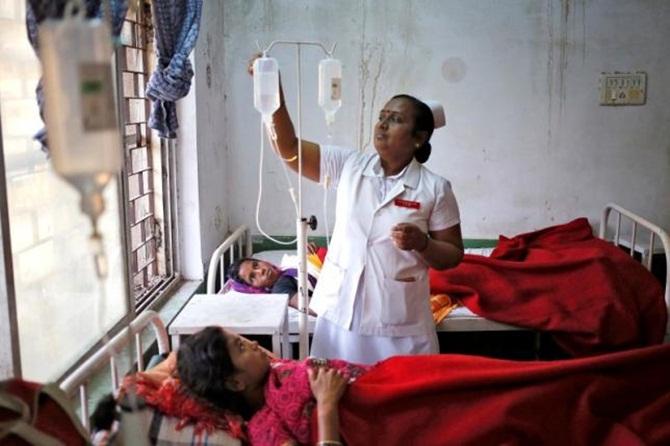 'Make sure your public hospitals work.'
May 25, 2016
ISRO is ready to give the Americans a run for their money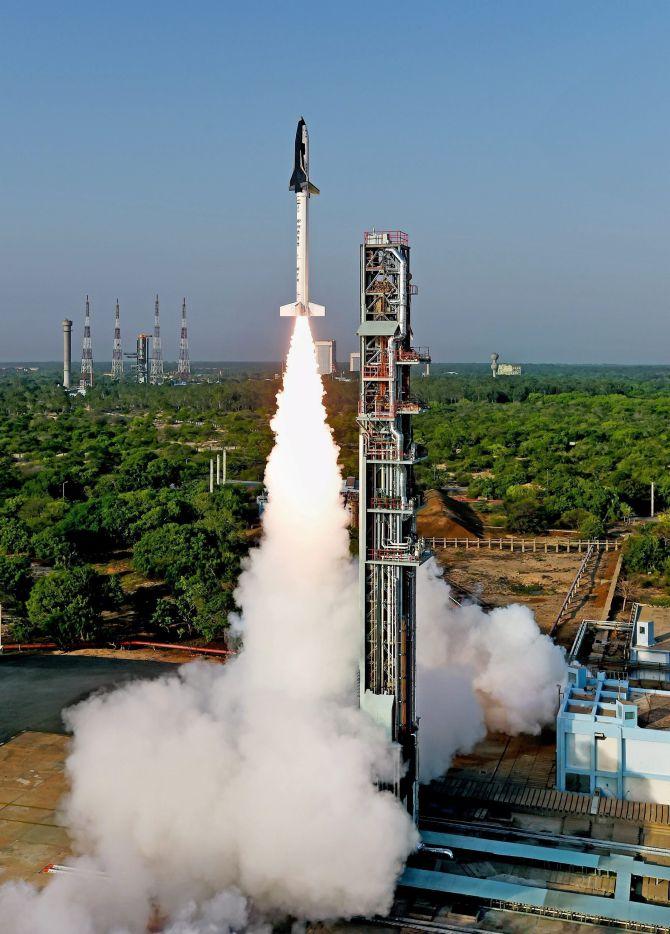 'What we are trying for is to make space travel easier like air travel.'
Why Amit Shah is happy with the Kerala poll results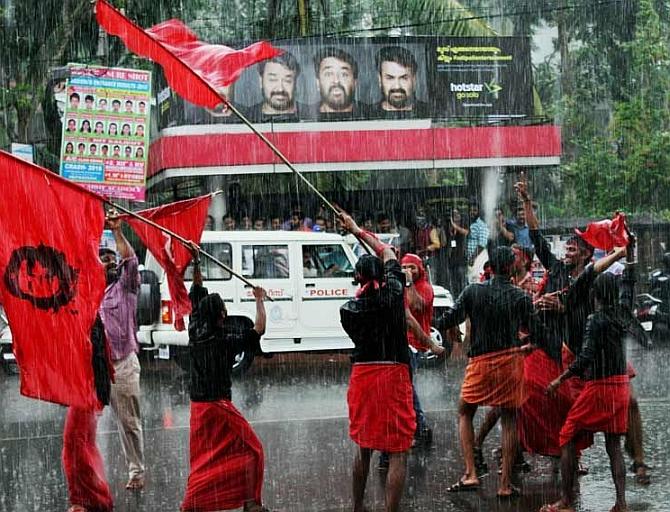 'It is our aim to capture power and rule in Kerala. We may not be able to achieve our target in one attempt.'
'Militarisation is a problem in the Tamil areas in Lanka'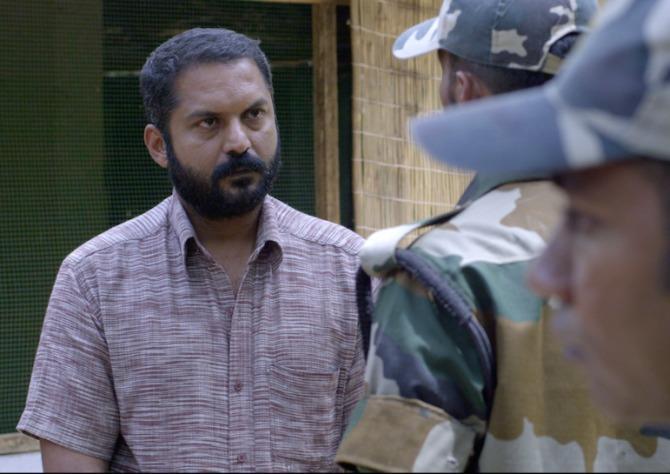 Sherine Xavier, a Sri Lankan Tamil filmmaker from Canada, is happy. After months of struggle with the Indian censor board, she has finally obtained approval to screen her film Muttrupullia?, which deals with the post-war situation in Sri Lanka's Tamil areas.
May 24, 2016
How World War II changed India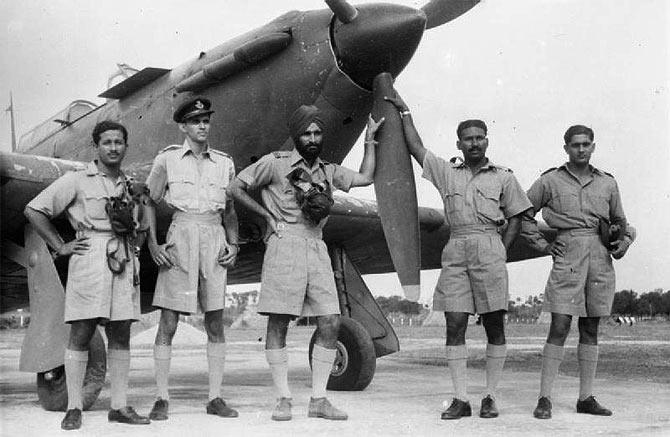 'The origins of the model of planned economic development adopted by independent India was a direct consequence of the war.'
May 23, 2016
'In 2 years, not 1 case of corruption in defence ministry'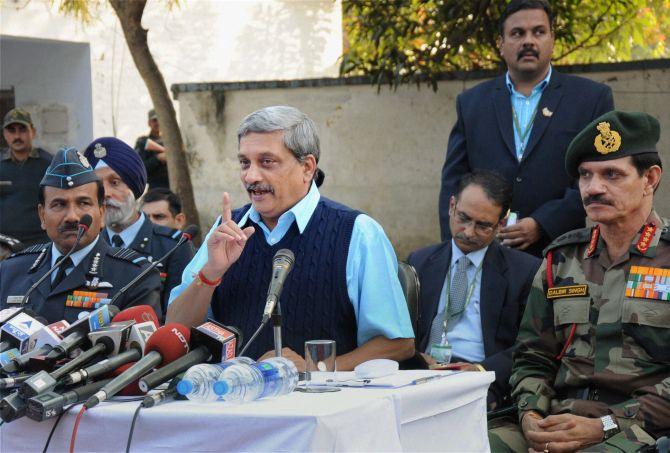 'The cost of the Rafale contract will be substantially lower than being talked about.'
May 20, 2016
'This is a victory of Mamata's personal charisma'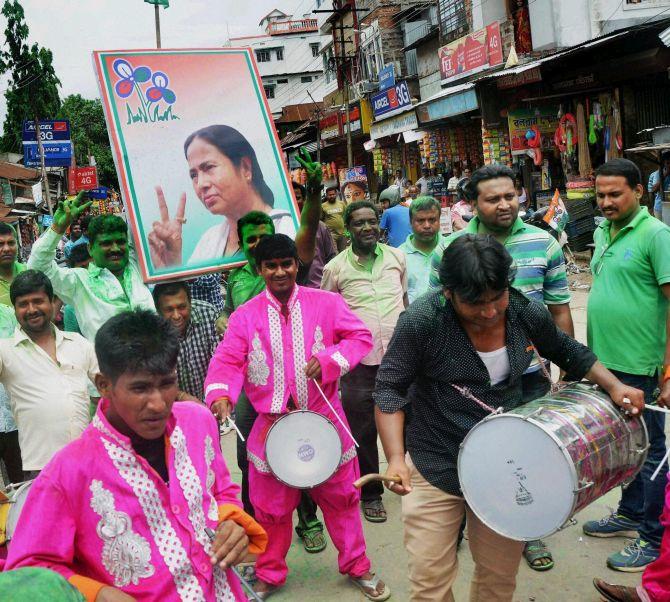 Celebrations continued for a second day on Friday after the Trinamool Congress led by Mamata Banerjee put up a stunning victory in West Bengal winning 211 of the 294 seats, bettering its 2011 tally of 184 seats.
Exclusive: Kerala CM's wife on her husband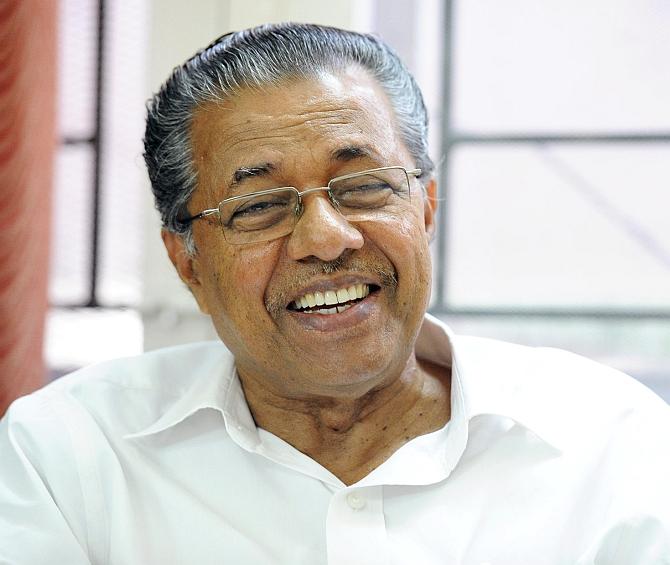 'He only talks about what concerns our home, like what I have made for lunch or dinner. No politics at home and no controversies too.'
'It has turned out to be a humiliating defeat'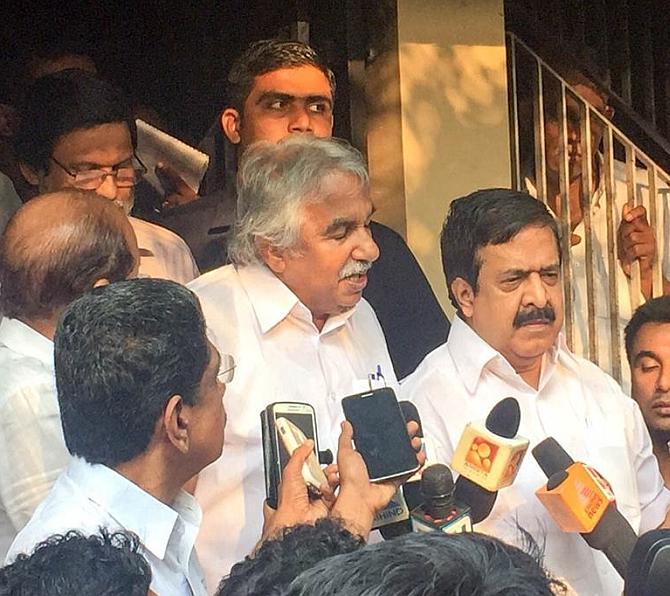 'I was very much aware of what was coming, but not to this extent.'
How to prevent losses in a major quake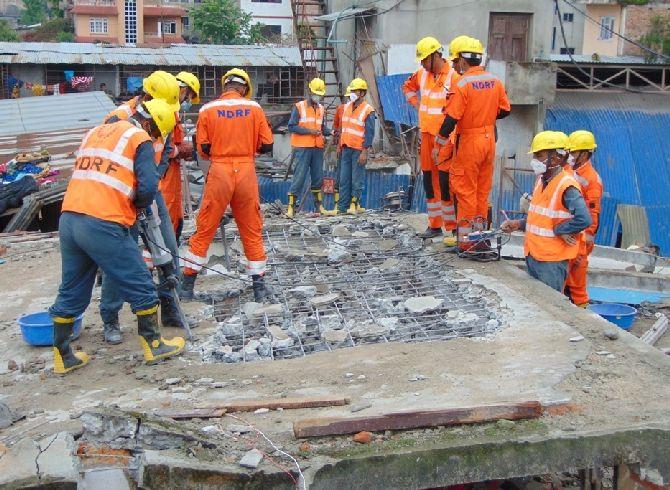 'If a major earthquake of the kind that hit Nepal hits us in Delhi, 35 per cent of our homes would be destroyed.'
May 19, 2016
'Hindutva is one of our most important cards in Bengal'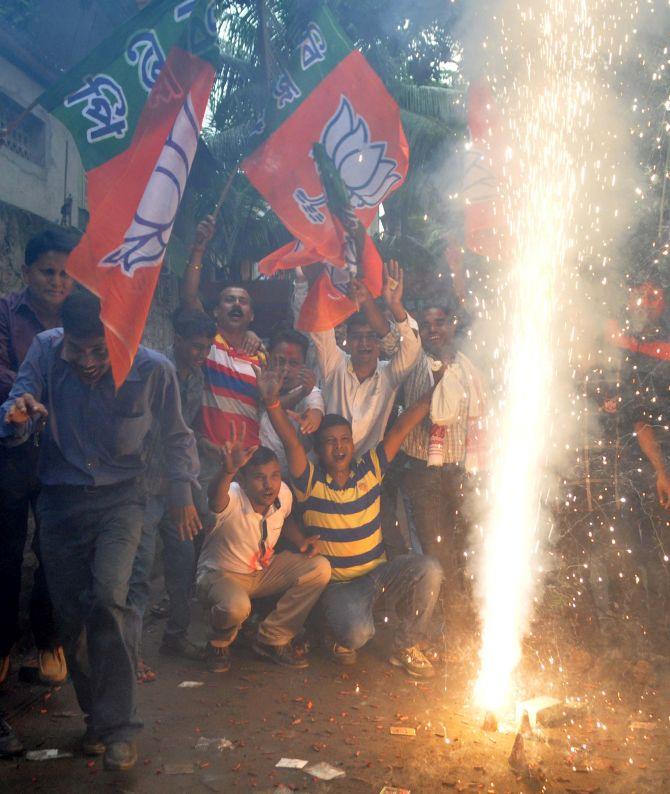 'Thanks to Mamata's shameless way of wooing Muslims, Hindus in large numbers have started aligning with us,' says Bengal's BJP boss Dilip Ghosh.
Why BJP is rejoicing despite losing in West Bengal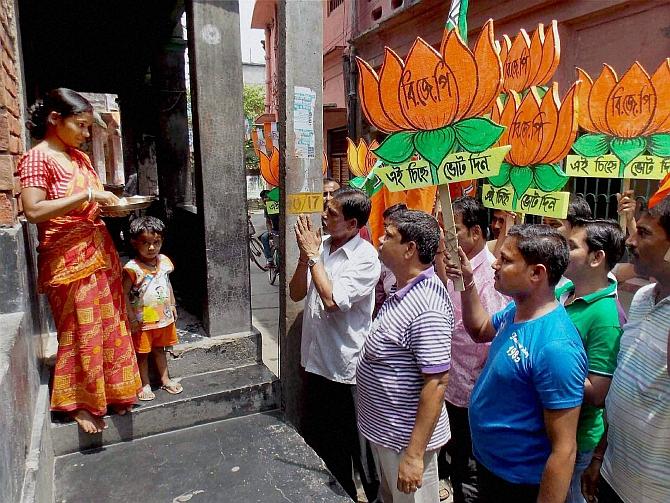 The Trinamool Congress has romped back to power in style in West Bengal. However, Bharatiya Janata Party activists and supporters can't help being happy with their performance in the state. The party has received a 10.2 per cent vote share.
May 16, 2016
Kanchi shankaracharya: 'Jayalalithaa will win'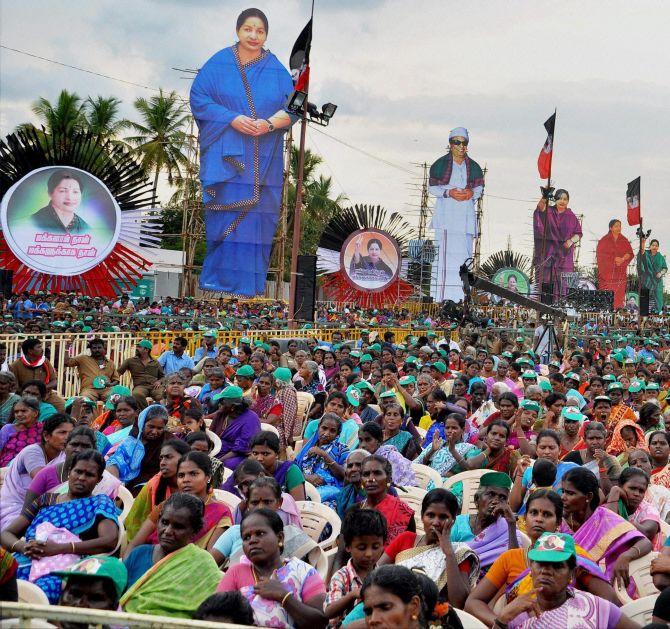 Jayendra Saraswati, the shankaracharya of Kanchi, discusses the temple entry for women controversy, the Ram Janmabhoomi temple issue and gurus getting into business with Rediff.com's Saisuresh Sivaswamy and A Ganesh Nadar in his first interview since being acquitted recently by a court.
May 14, 2016
'I will show you 100 Somalias in Attapady'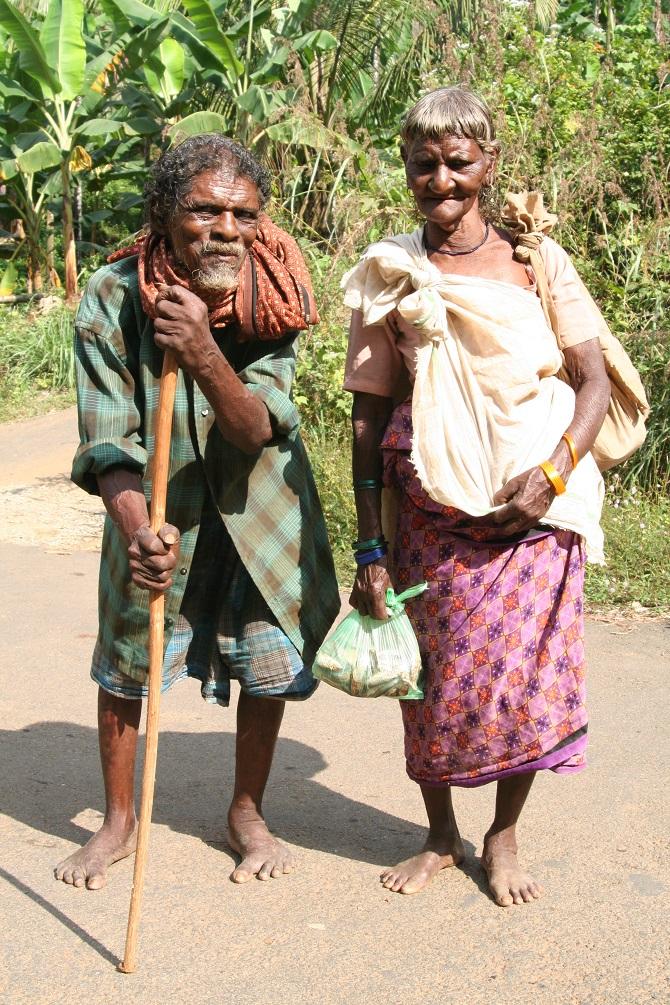 'The condition of some of the Adivasi hamlets is worse than Somalia, worse than what the prime minister described.'
The men enforcing election raids and cash seizures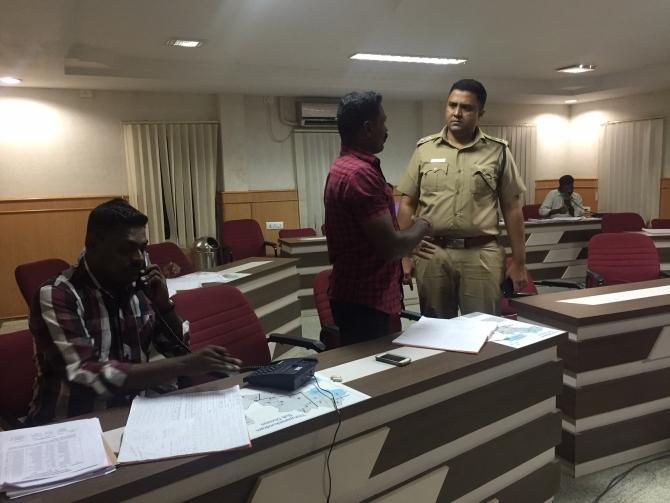 'Initially, we had 48 teams, now it has been enhanced to 133 teams: that is for every 10 to 12 villages, there is a team that is working round the clock.'
He is fighting the election against India's nuclear policy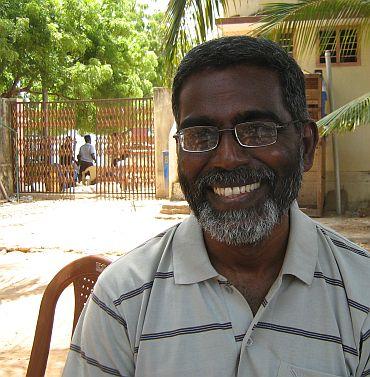 'I am contesting elections to encourage and start a nationwide debate on the present nuclear policy.'
May 13, 2016
'This is no time for confrontation'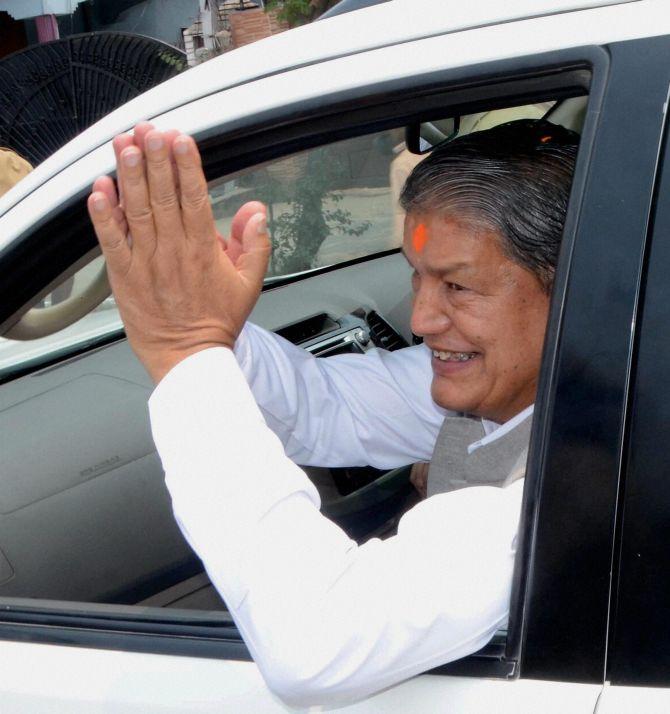 'I am not going to talk about fear and apprehension.'
'Today, only Sangh Parivar's agenda is given importance'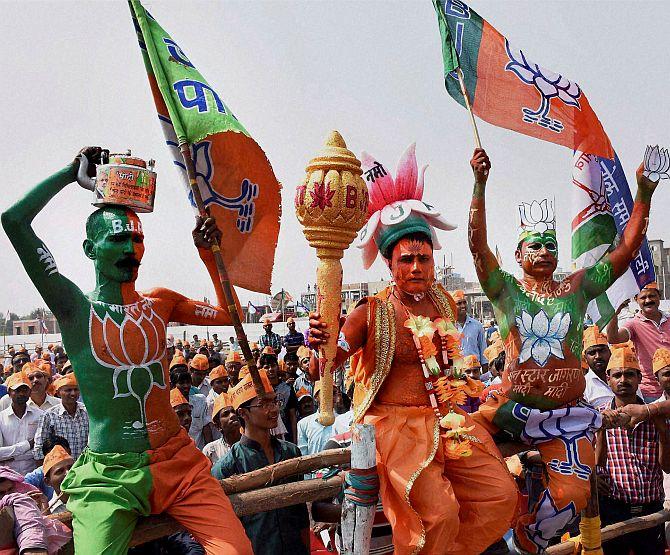 'In Kerala, if the Left had worked on stopping fascism the BJP would not have become a force today.'
May 12, 2016
This man believes Modi's degrees are fake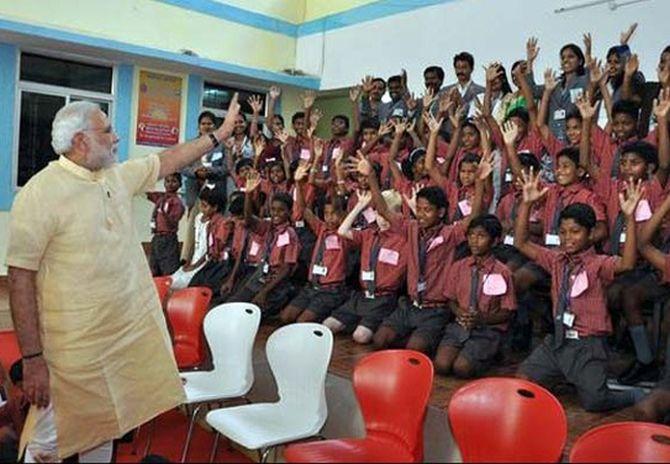 Roshan Shah, a Canadian citizen and an Overseas Citizen of India, filed a Right to Information application in Gujarat in 2013 to demand that Narendra Modi, then the Gujarat chief minister, make his educational qualifications public.
Sreesanth: 'I will be the best politician in Kerala'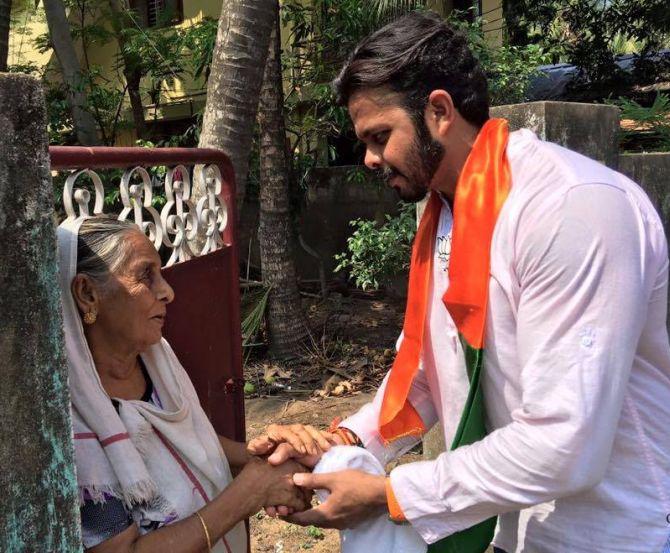 'I am a human being, I was surely nervous, I am competing against a lot of people, but even when I played cricket there is not a single match where I was not nervous.'
May 11, 2016
'Why promote silly characters like Mickey Mouse?'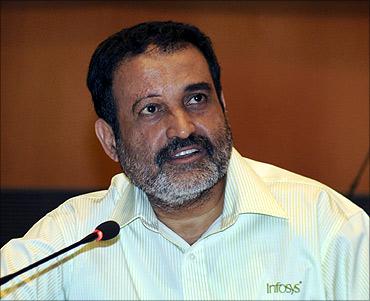 'Children should be brought up connected to our culture and should be introduced to characters from our mythologies. What is this Baa Baa Black Sheep?'
May 10, 2016
Meet this unusual BJP candidate from Kerala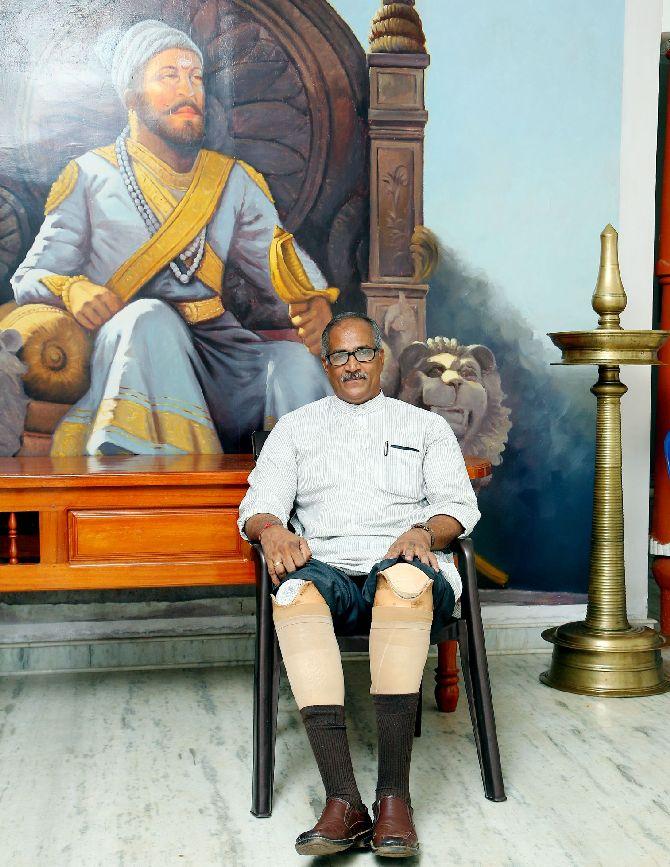 32 years ago, CPI-M activists hacked both the legs of Sadanandan Master, a former party member who has moved over to the RSS. Master learnt to walk using prosthetic legs and rebuilt his life. Today he is the BJP candidate highly-sensitive Koothuparamba constituency of Kannur. He told Shobha Warrier/Rediff.com his story.
Is the Modi government scared of this man?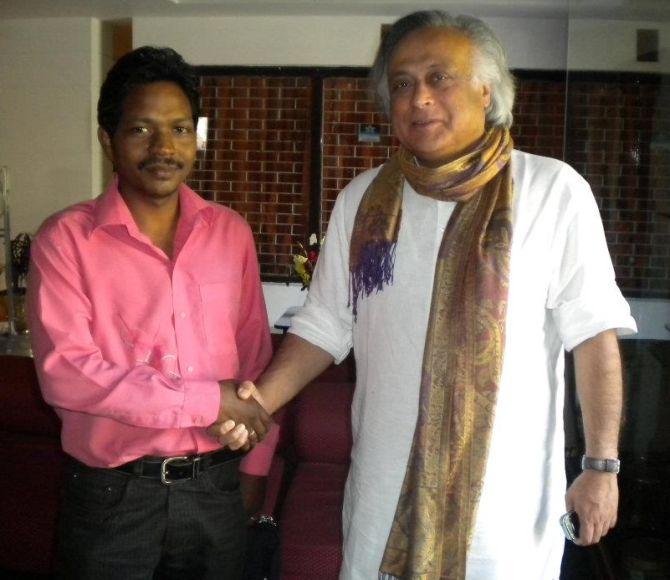 'Defaulters like Mallya can't be offloaded, but activists like me are. And that too for raising questions.'
Why we need an A P J Abdul Kalam party
'When you can use Mahatma Gandhi and Babasaheb Ambedkar's names why can't you use Dr Kalam's name?'
'We must question how we are bringing up our sons'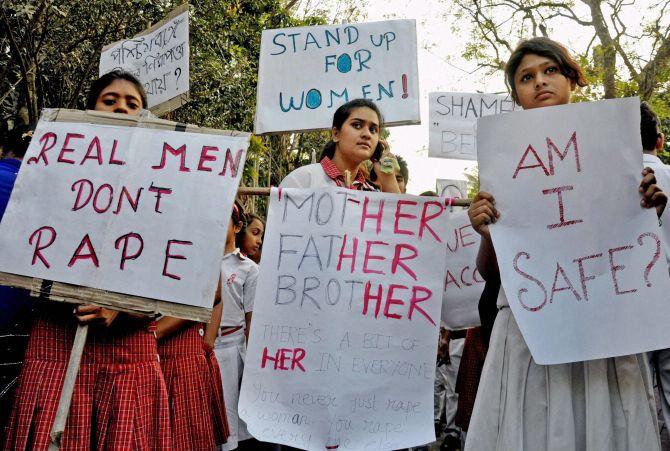 'It is not about women today; it's about men.'
May 09, 2016
Why this RSS leader opposes the BJP in Goa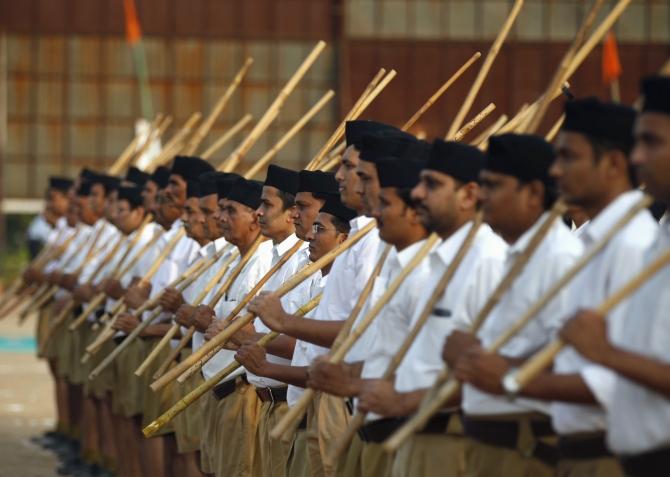 'We do not oppose any parent admitting his child to any English school.'
'I will not win unless Hindus vote for me'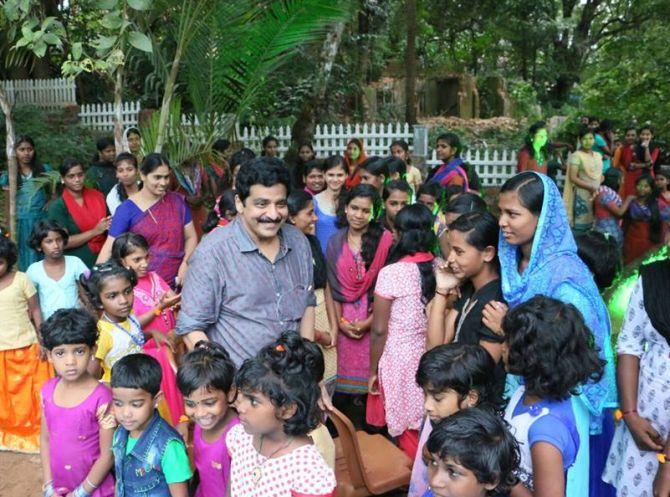 'People are losing their freedom to eat, speak, write and practise their religion.'
May 06, 2016
'People will now get beef in Maharashtra'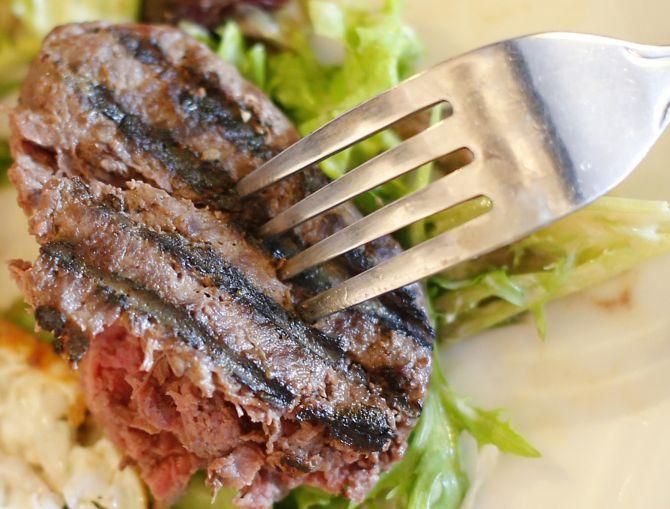 Feroz Bharucha on what the Bombay high court judgment, which decriminalised the possession of beef even while upholding the ban on slaughter, means.
May 05, 2016
'The accused will now feel the pain of our families'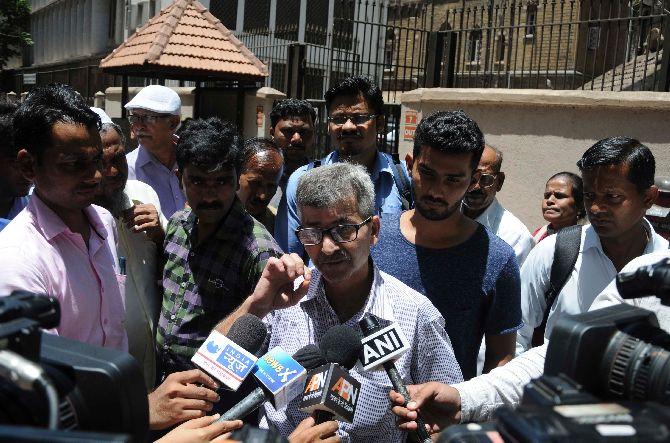 'They will be in prison all their life and they will understand what suffering means to Reuben's and Keenan's families.'
Kerala home minister: 'The rape is a black mark on society'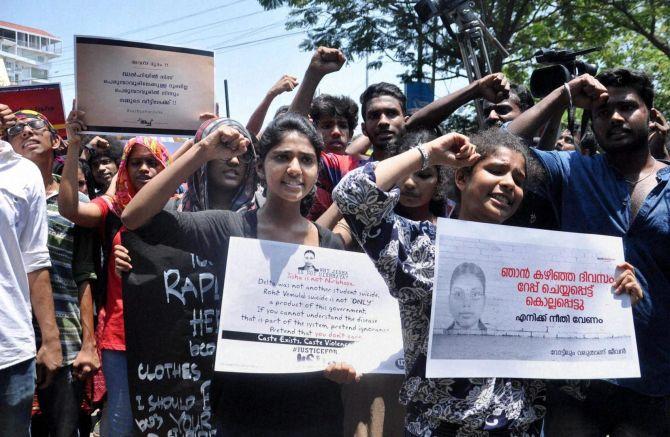 'Kerala society is more advanced than any other society in India and everybody is more aware of the laws and how to proceed against the accused. So, you cannot blame Kerala based on the crime records,' says state home minister Ramesh Chennithala.
The Kargil martyr's daughter who wants peace with Pakistan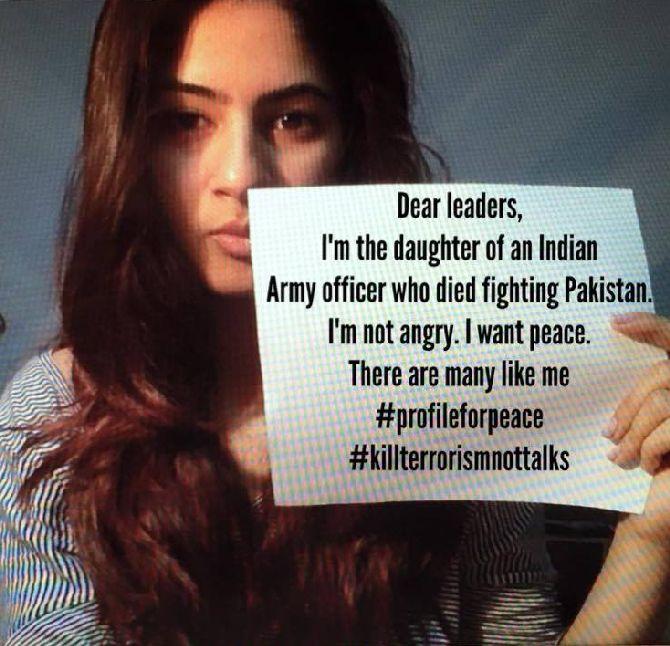 'When do you seek peace, if not now? Once both nations destruct?'
May 03, 2016
'The PWF will defeat the AIADMK, DMK and create history'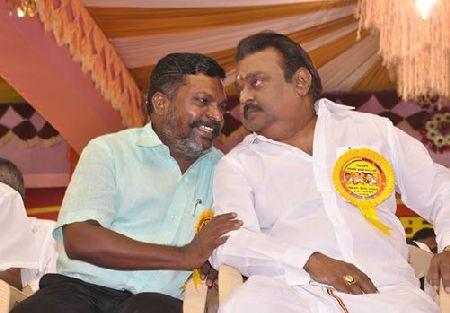 'They plan to purchase votes.'
BJP leader: Hawala money is fomenting trouble in Kashmir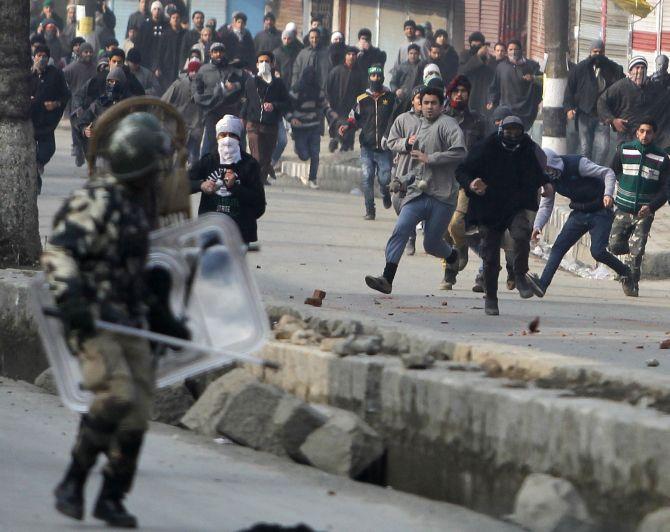 'Media reports have highlighted that hawala money is coming from Arab countries. And this money is used to create disturbances in Jammu and Kashmir.'
May 02, 2016
'Modi is following a policy of shoot and scoot'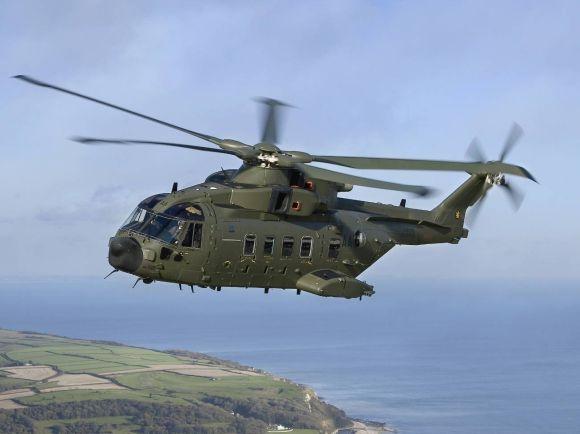 'We will continue to ask why Modi and his government were benefactors to this AgustaWestland company, why within 40 days they overturned the ban?'
'Modi travels everywhere, but not to Marathwada'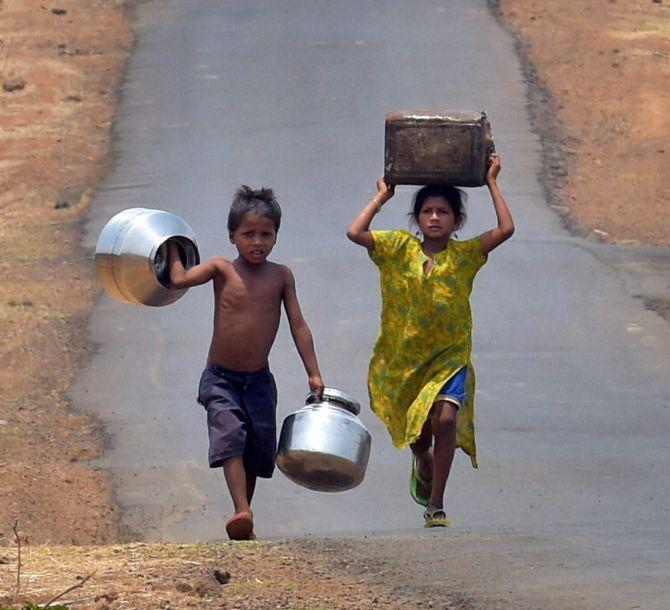 'There is no food to eat and water to drink and people are migrating in hordes.'
'I am not dreaming to be the CM's wife'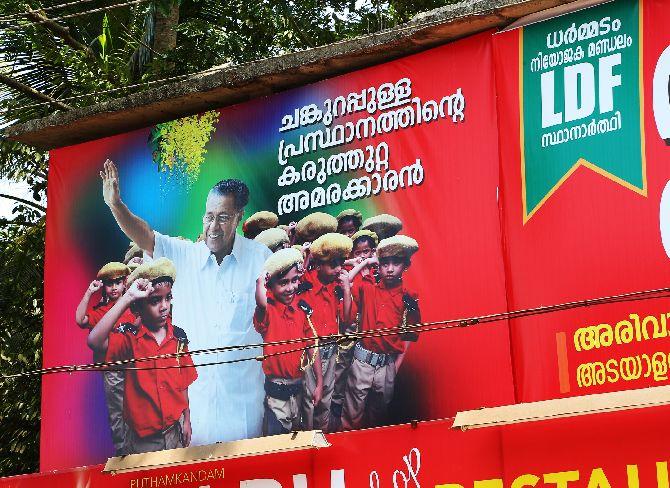 'He only talks about what concerns our home, like what I have made for lunch or dinner. No politics at home and no controversies too.'
April 29, 2016
'They want to give second class treatment to women'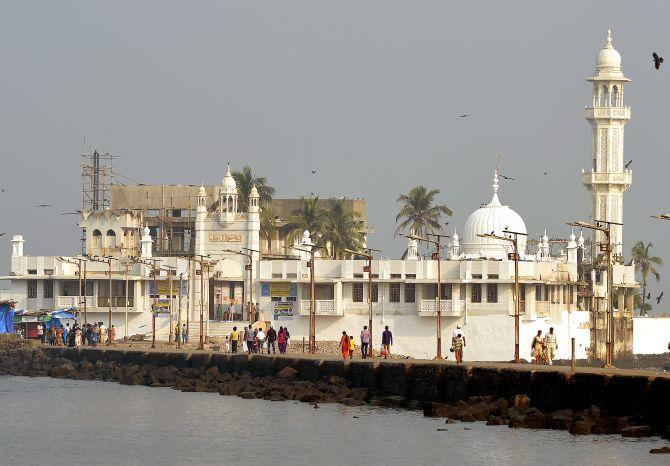 'As I was getting out of my car at Haji Ali some activists charged towards me with lathis and knives.'
April 28, 2016
'Several monuments are under serious threat'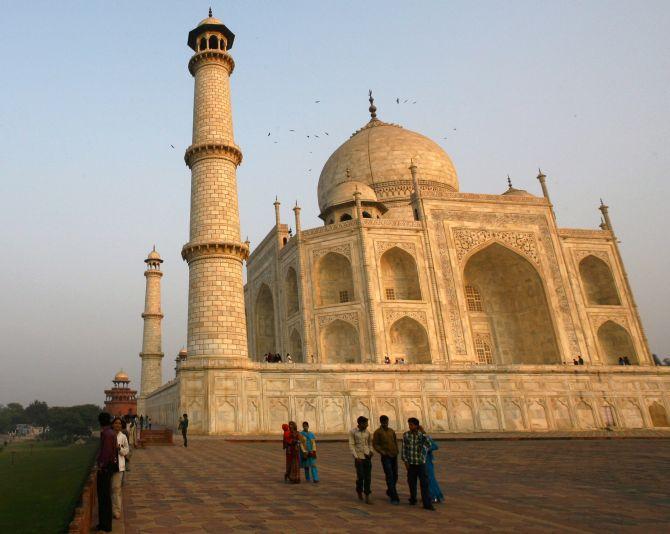 'At one of the UK's best known museums, one of our greatest sculptures had been placed next to a public toilet.'
April 27, 2016
'Racial profiling is not a valid proxy for good law enforcement'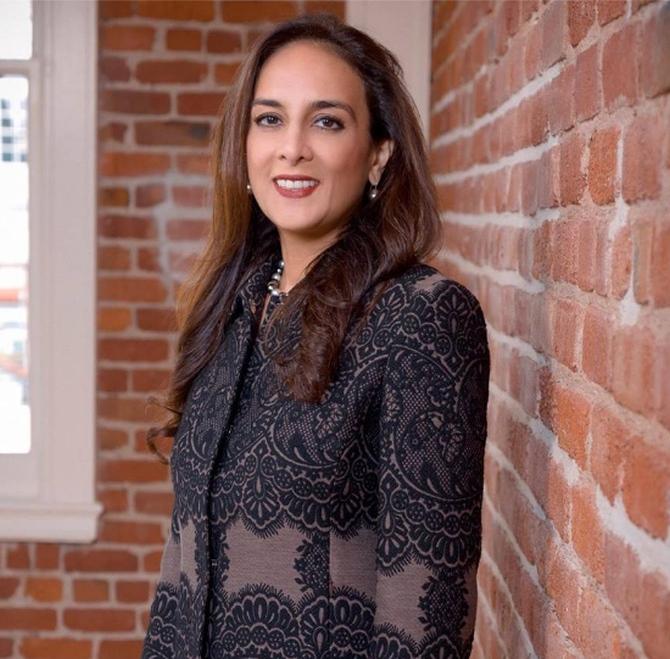 'We have to face the fact that Islamic terrorists are here on our soil and mean to do America harm.'
'Anybody who does not agree with them is anti-national'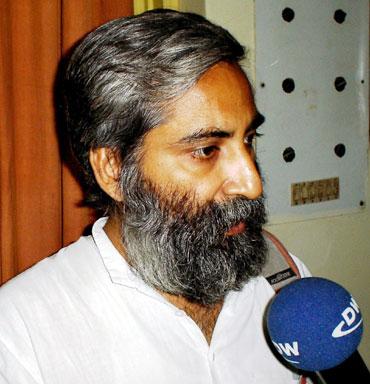 'The judge said that anybody who does not believe in the RSS ideology is not acceptable to you. You have terminated his contract because he thought differently.'
April 26, 2016
'Islam is not a magic potion'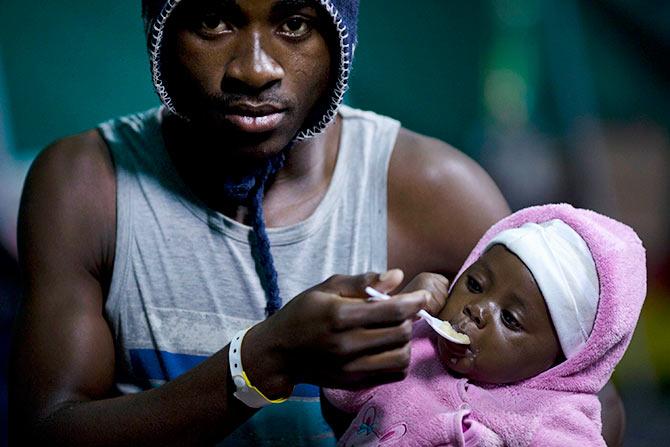 'Islam insists on sameness, which is fine but can run the danger to jihad against those who are not the same.'
'We are here because of Modi and Obama's vision'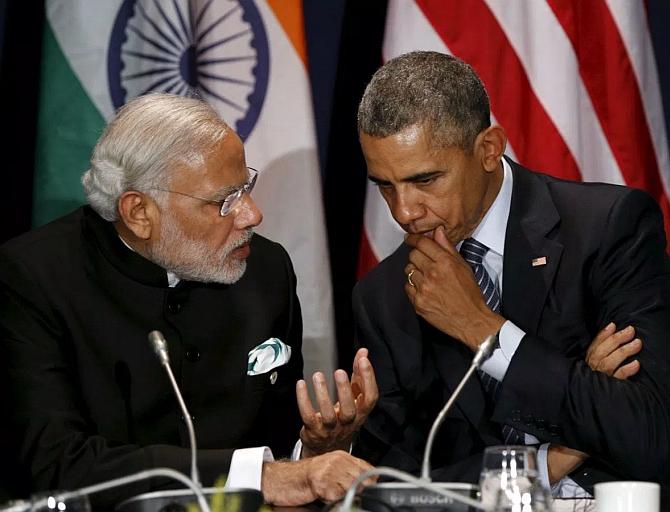 'Big countries do not agree on every set of issues.'
'Proving marital rape isn't easy; it will be a challenge for the woman'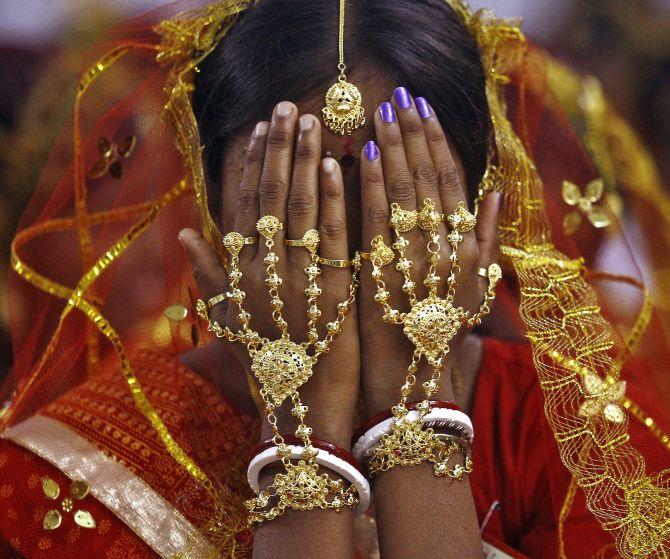 Flavia Agnes, lawyer and founder of women's legal aid group Majlis, provides a contrary view to criminalising marital rape.
April 24, 2016
'Chances of smooth run of Parliament remote'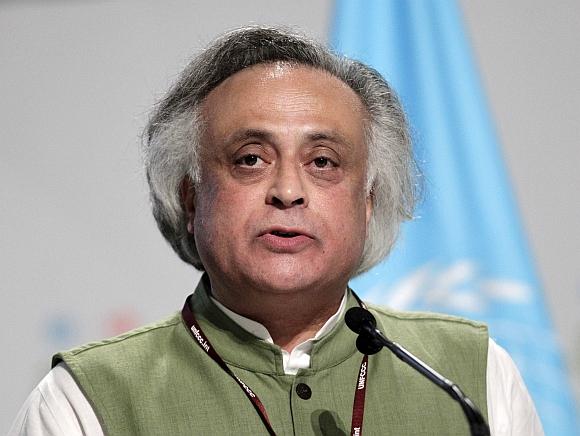 Ramesh says that since the attitude of the Narendra Modi government is deliberately provocative and confrontational, it should not expect cooperation from the Congress.
April 21, 2016
How India's tiger population increased by 30%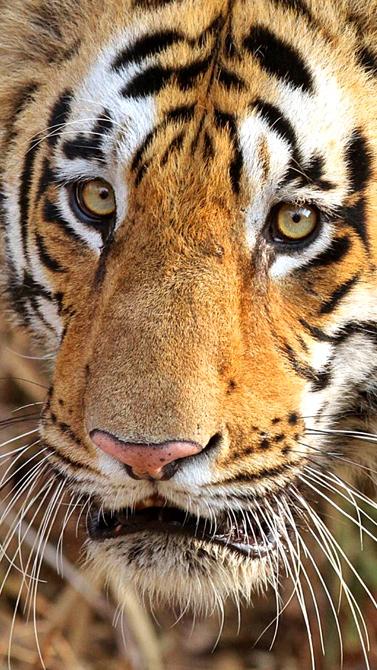 'The tiger is the epitome of evolution.'
Uttarakhand verdict: 'Setback for Modi'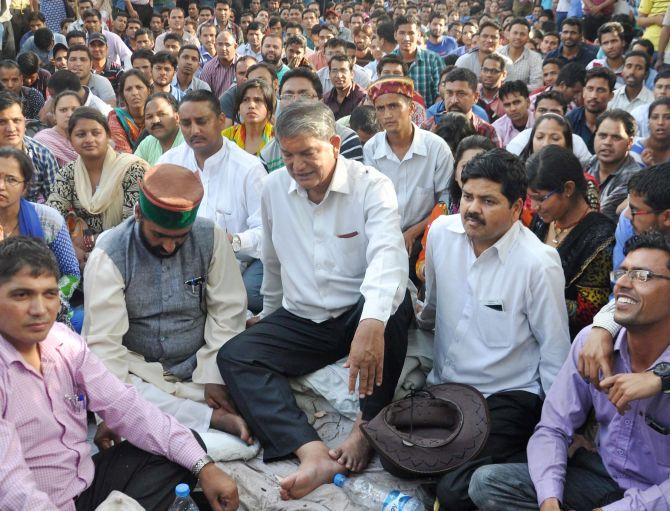 'Verdict shows they had illegally imposed President's rule in Uttarakhand.'
BJP MLA: 'Shaktiman's death, a political conspiracy'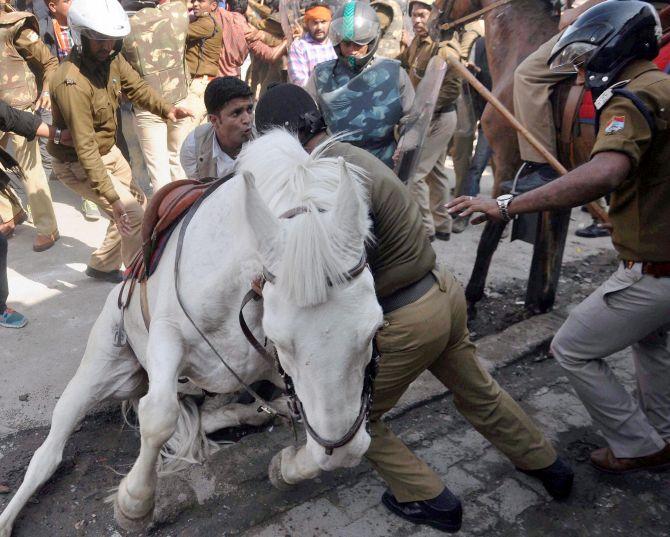 'I had told the government that if they could not take care of Shaktiman, I would take care of him.'
April 19, 2016
'The Kohinoor was not gifted to the British'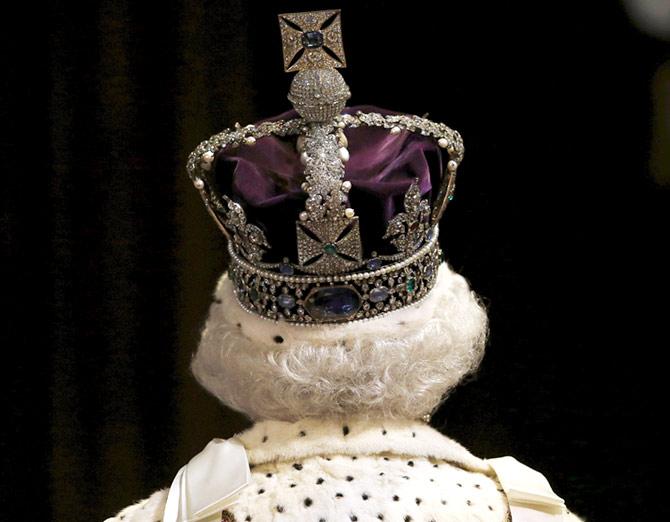 'It is a diamond which has a very long competitive history.'
Meet Devi, the transgender taking on Jayalalithaa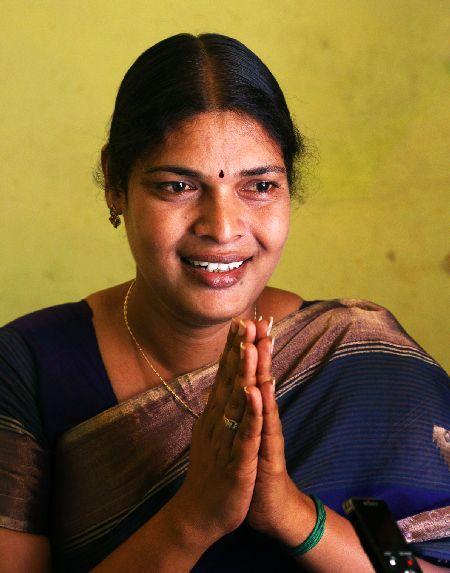 'Because I am the first official transgender candidate of a political party and fighting against Jayalalithaa, I got a lot of publicity.'
April 18, 2016
'If Jats can get reservations, why can't Patels?'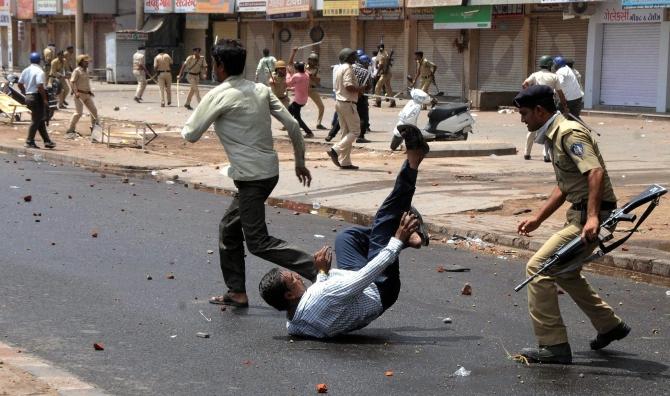 'People with vested interests in the BJP don't want the Patels to get reservation.'
'The BJP is not coming to power in Assam'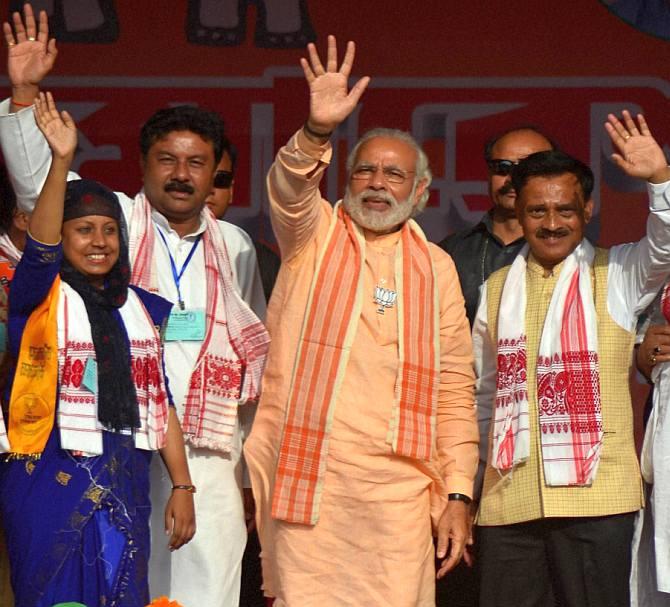 'Everything was sacrosanct when the BJP was led by Vajpayee and Advani.'
April 14, 2016
'Vulgar to hold IPL tamasha in drought-hit state'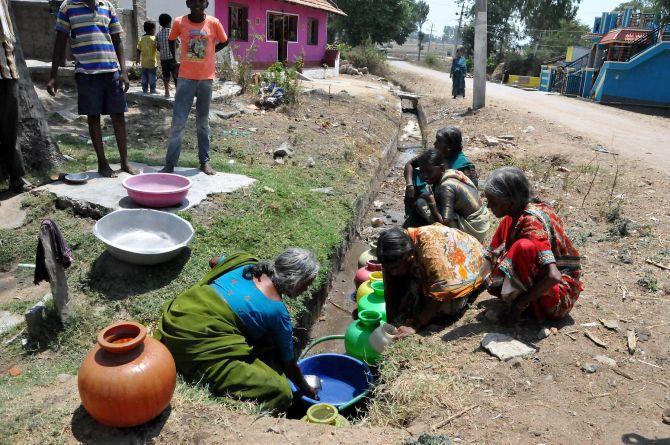 'Over 50 crore Indians are currently suffering from a livelihood crisis, something to which the whole country had shut its eyes to for the past six months.'
April 13, 2016
'Political interference ensured fireworks at Paravur temple'
'What we see is the vested interest of political parties. Just to get a few votes, political parties played with fire, they gambled with the safety of the people.'
For 38 years he has fought for human rights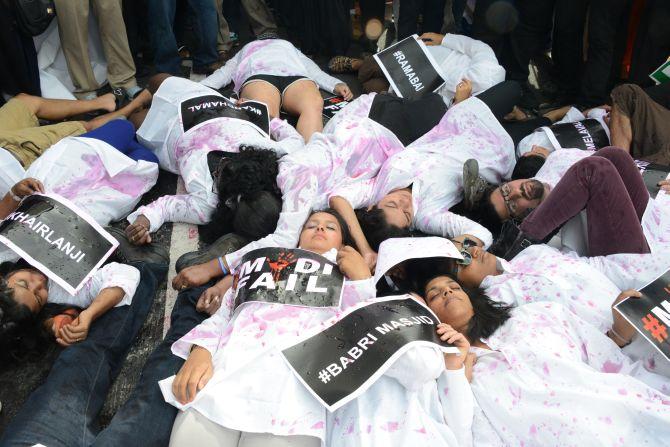 'Human rights violations are there in rural areas and in cities. In rural areas it is crude and in the open. In urban areas it is well hidden.'
April 11, 2016
'How can anyone not speak out against the genocide of Adivasis?'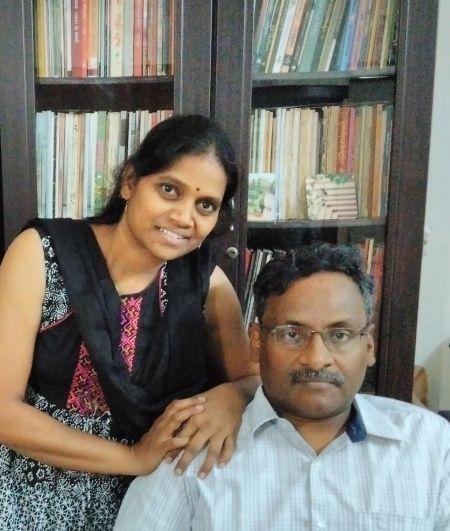 'How can we be silent when we see millions of Adivasis being displaced? Do we have a choice whether to speak or not?'
April 10, 2016
'A total ban on fireworks is necessary'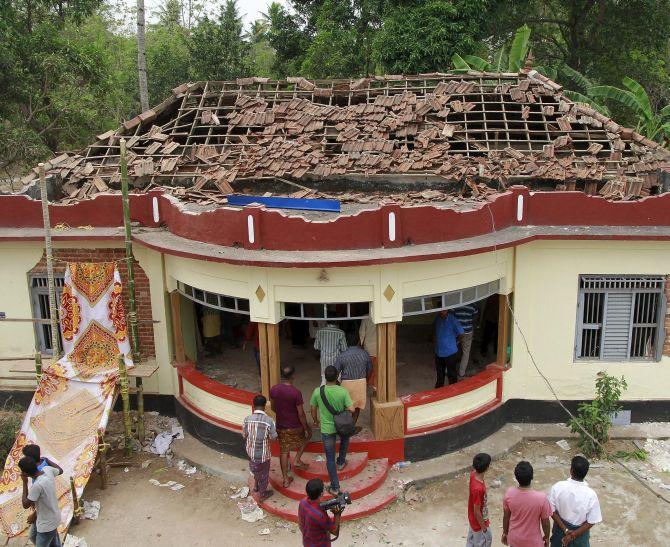 'The government and the court have to interfere and stop both fireworks and elephants at festivals.'
'This tragedy shows total disregard for safety'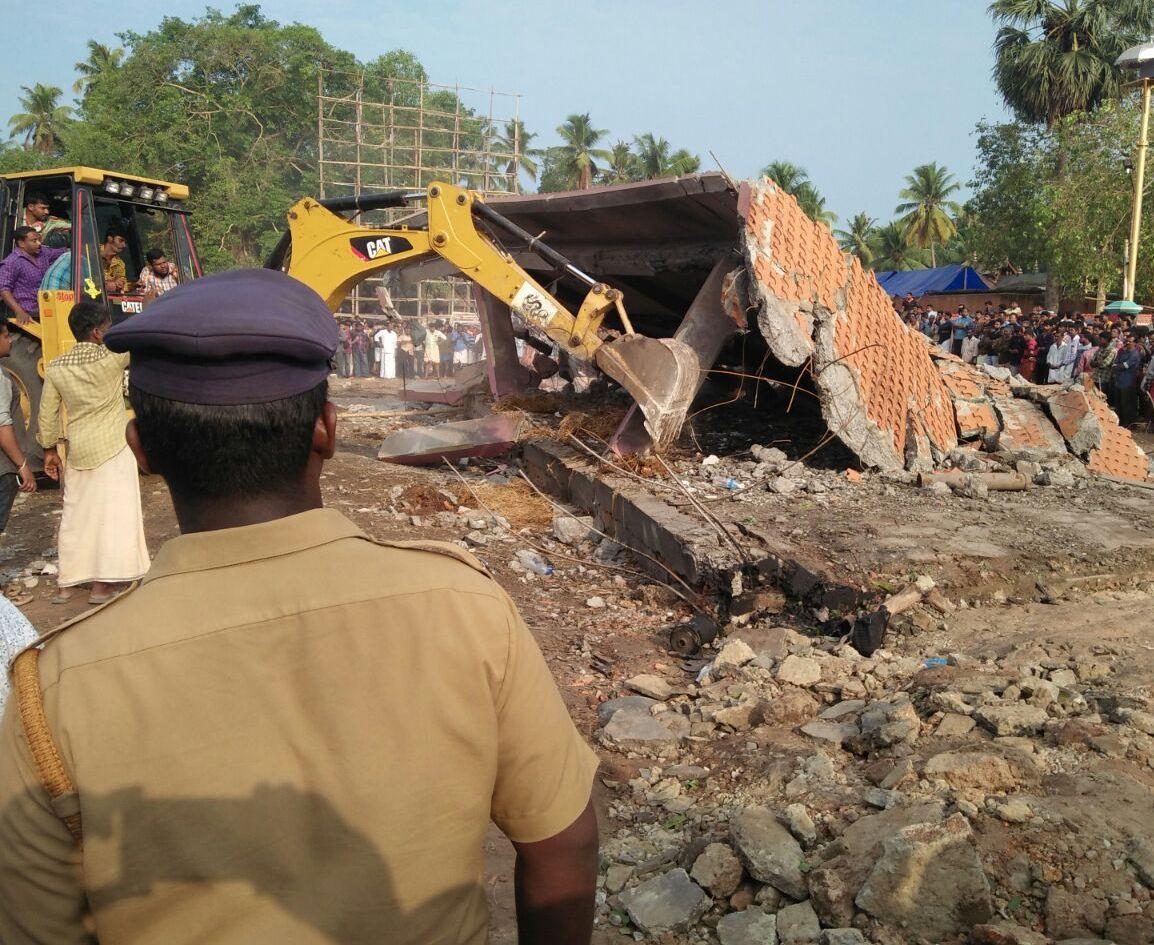 'Fireworks are dangerous in Kerala where there is very little open space.'
April 07, 2016
Amit Shah is too big to speak to us: Vanzara's son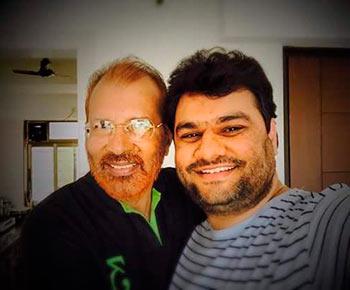 'My father would always tell me not to worry because he was innocent and had to be in jail because of the politics involved.'
'Hyderabad University is like a prison now'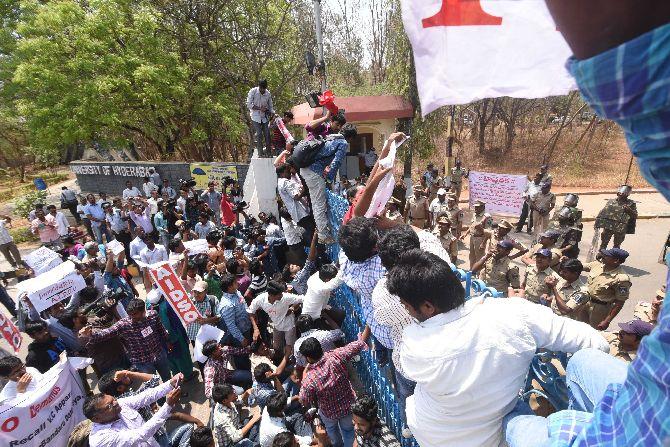 'The police are warning students to go, to leave their own campus.'
Exclusive! Sreesanth: I will stick to politics for now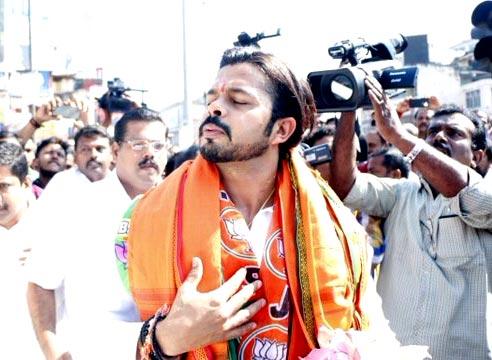 'There were a lot of offers, but I wanted to be with a party that is working for the people and making them happy, not just by words, but also by action.'
April 06, 2016
Why are prisoners dying in TN prisons?
Are prisoners dying in Tamil Nadu jails due to lack of medical attention?
April 05, 2016
'IPL games will waste 60 lakh litres in a drought-hit state'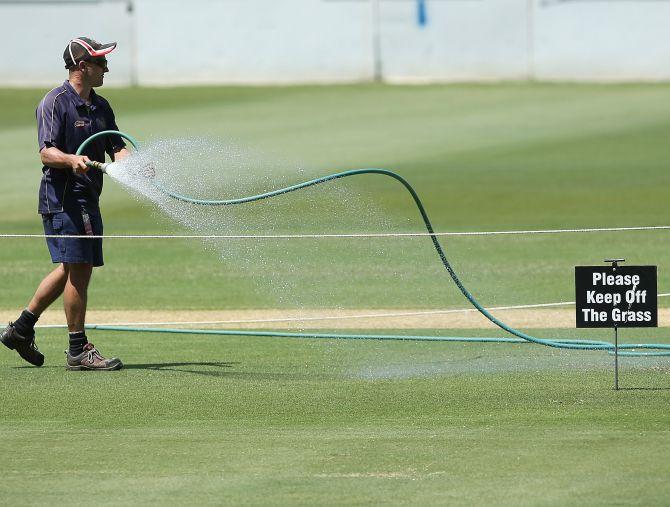 A public interest litigation has been filed in the Bombay high court stating that IPL matches must be shifted out of Maharashtra owing to the acute shortage of water in the state.
April 04, 2016
'In India, rules are modified and altered at the drop of a hat'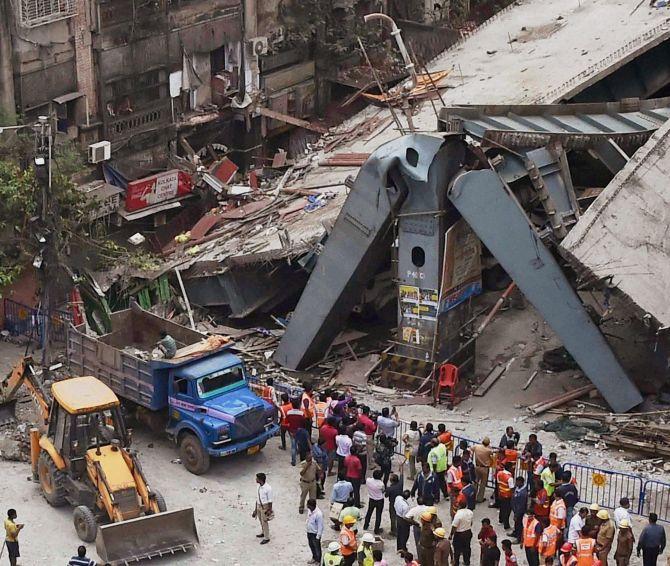 In a conversation with Rediff.com's Indrani Roy veteran civil engineer Subhash Bhattacharya tries to ascertain the causes behind the collapse of the Vivekananda Setu, an under-construction flyover in Kolkata last Thursday.
'Will be satisfied if 29,000 farmers stop committing suicide'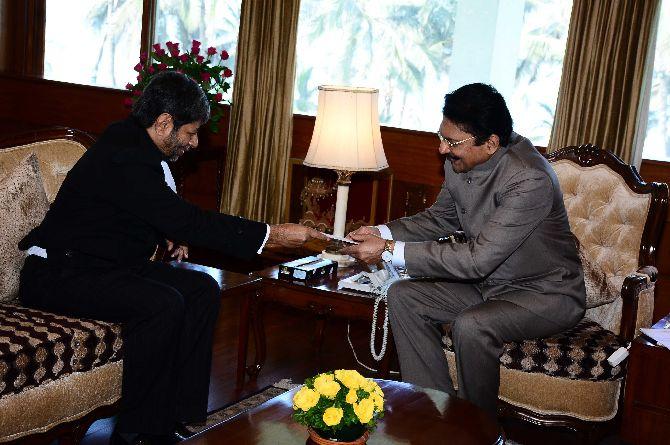 'All that Maharashtra can give someone whose husband has died is a piece of cloth. That was extremely tragic for me.'
April 01, 2016
'Aadhaar is the best in class in terms of privacy protection'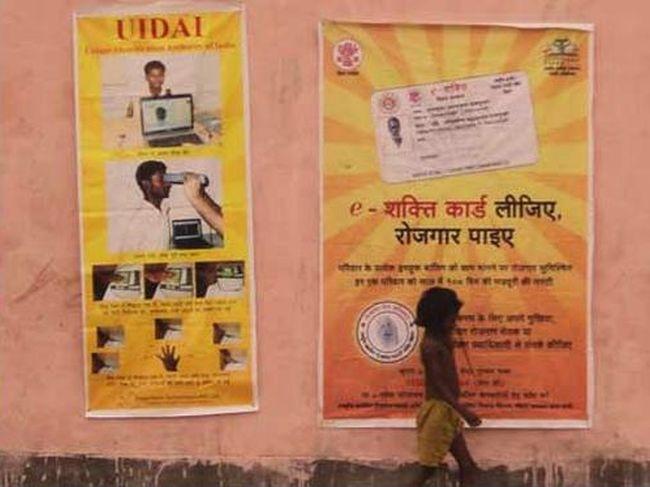 Former chairman of the UIDAI Nandan Nilekani, elucidates how Aadhaar could become the spine for alternative banking and could replace government services with cash benefits.
March 31, 2016
'Rescue operation? It was a joke!'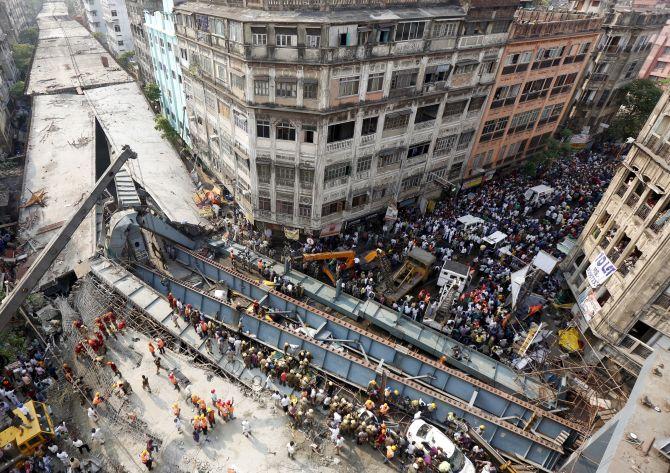 In a brief interaction with Indrani Roy/ Rediff.com, Ashok Bhattacharya discusses the tragedy and criticizes the TMC government for the tragedy.
'AMU will fly the Indian flag with pride'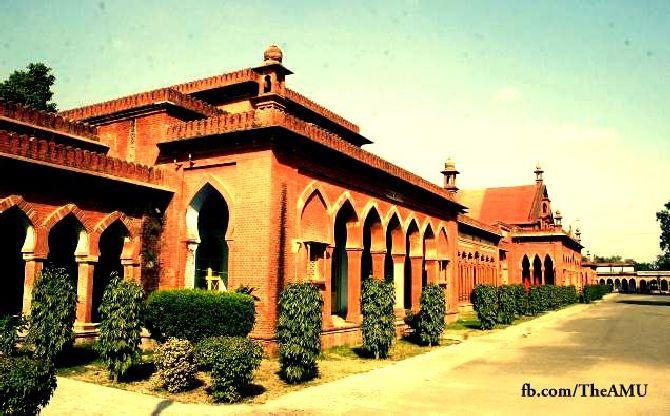 'The HRD minister said AMU was not a minority institution. I told her the matter would be settled in court.'
March 30, 2016
'Hrithik has insulted and humiliated the Pope'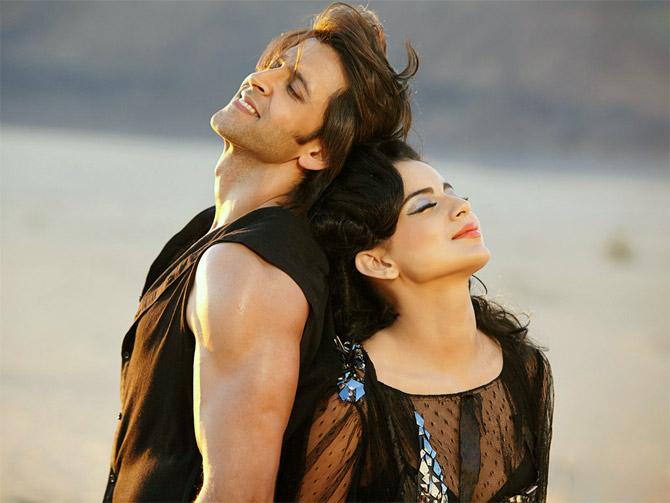 'He had 6 billion names to choose from and he chose the Pope who is the religious head of the Catholic community in the whole world.'
How Twitter helped build Brand Modi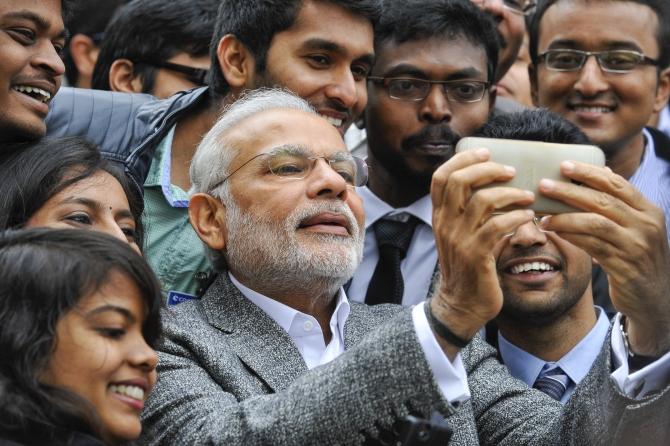 'Prior to the elections, there were many direct attacks on rivals on the social media, but post election, he has taken a more 'benevolent leader' style of tweeting, by sticking to largely non-controversial topics and positive tweets.'
March 29, 2016
'The BJP has behaved disgracefully'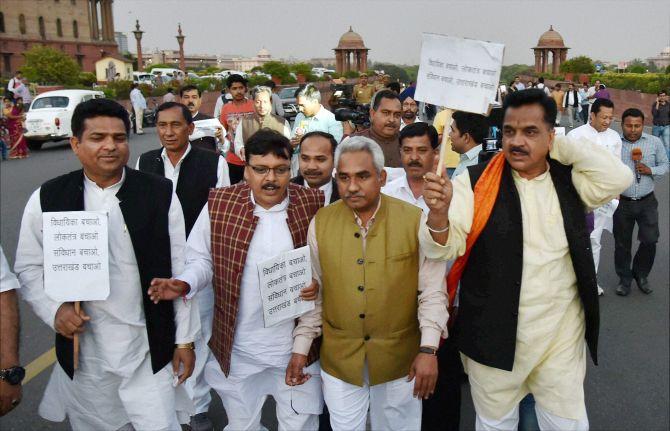 'This is about demolishing all that we have stood for as a nation after Independence. This is an attack on the nation's very foundation.'
'We are on the verge of a student movement'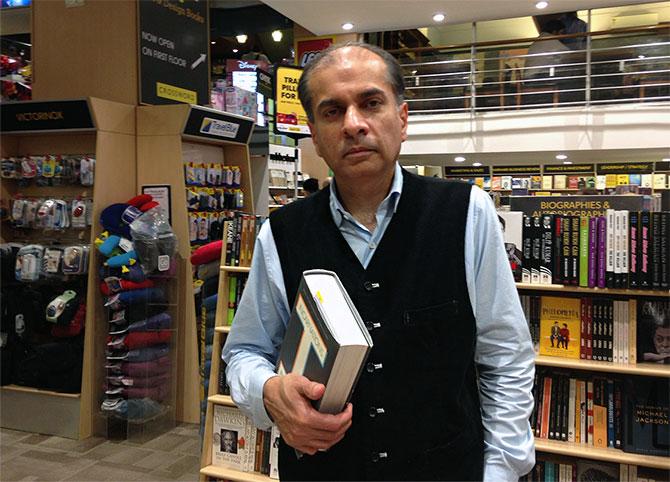 '... A youth movement which could really transform our politics in a way that the existing elites don't understand.'
March 25, 2016
Tripura Governor: I am not secular, I am a Hindu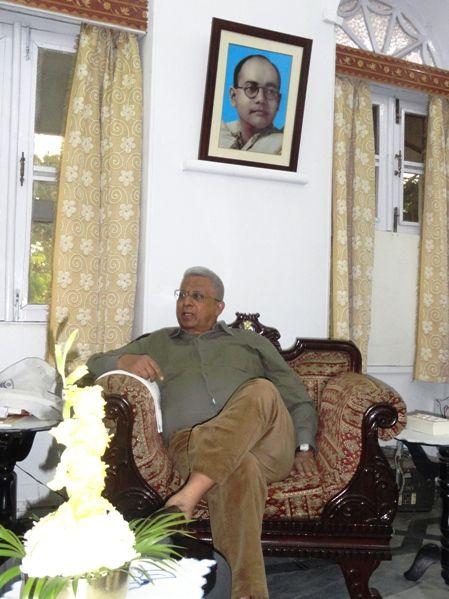 'As a governor, I have every right to speak my mind if I feel the security of my country is at stake.'
March 23, 2016
'You can build bridges or bombs'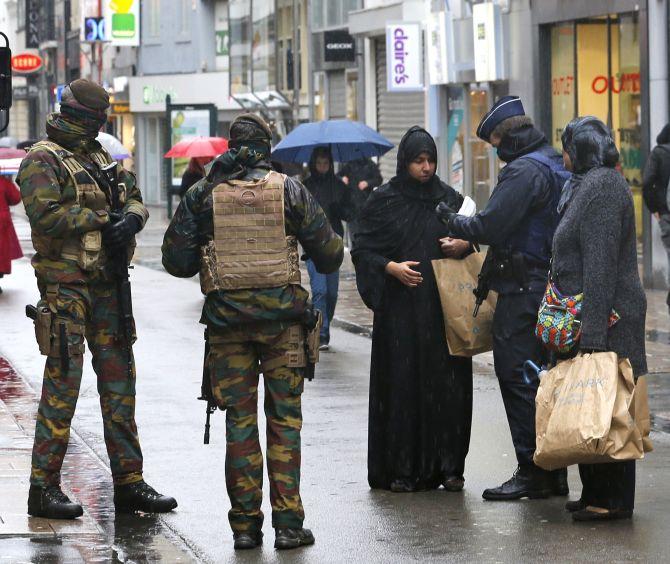 'If some Europeans do not allow Muslims to assimilate into European national cultures, some Muslims also refuse to try and adopt and assimilate.'
Ex-RSS ideologue: Maharashtra must be divided into 4 parts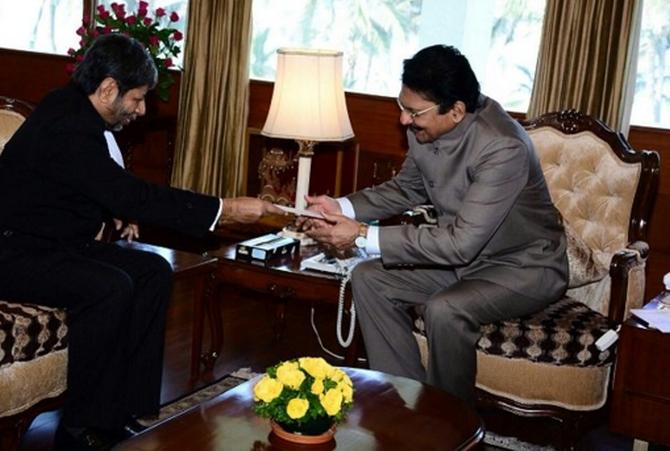 "I am not talking about reorganisation of just Maharashtra but of all the states of the Indian Union based on the basis of population."
March 22, 2016
'There is no feeling of honour involved in these killings'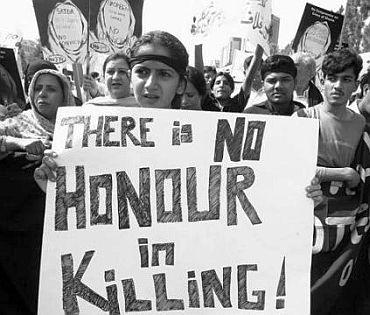 'Most of those involved in these honour killings are the people who belong to the class that feels left out.'
March 21, 2016
The man who has an issue with Mother Teresa's miracles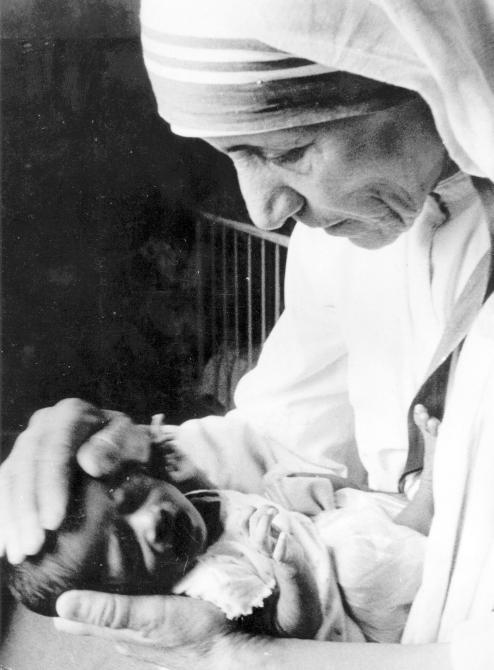 'They must withdraw the word "miracle" from the sainthood of Mother Teresa.'
'Wonder what they are trying to hide'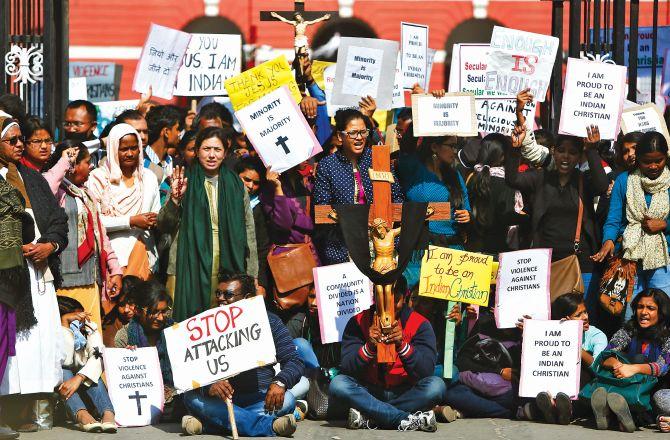 'The Indian government has accepted and is a party to international agreements, standards and conventions on religious freedom.'
March 17, 2016
'India cheers Mary Kom, but doesn't reach out to Irom Sharmila'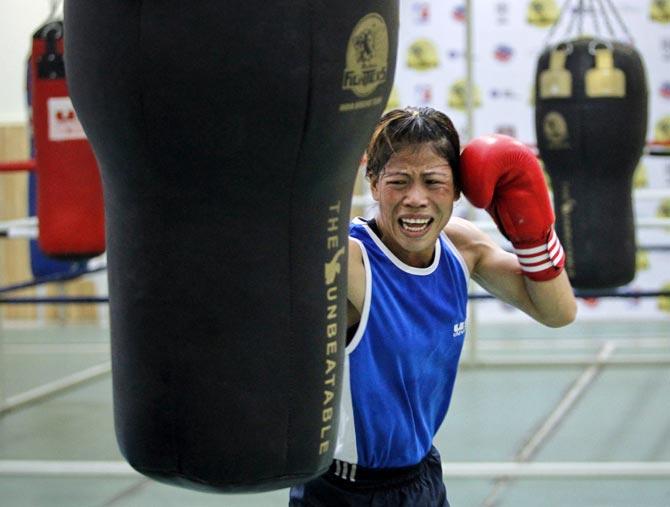 'There is a joke that is cracked in hushed tones sometimes in Manipur, what would many of the insurgent outfits do if AFSPA is indeed taken away? What would they fight against?'
'Why don't you say Jai Hind? What's wrong with Jai Hind?'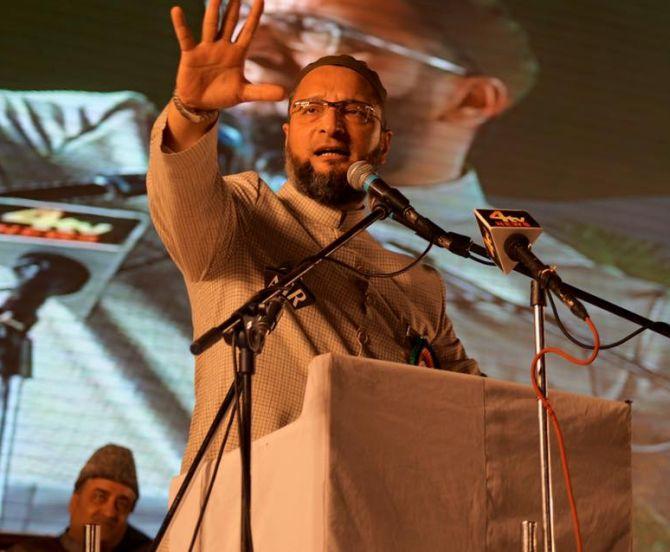 'How can you say this is a test of my loyalty? I feel comfortable saying "Jai Hind." I feel comfortable saying "Hindustan Zindabad".'
March 16, 2016
Uttarakhand BJP MLA: 'I was not there when the horse fell'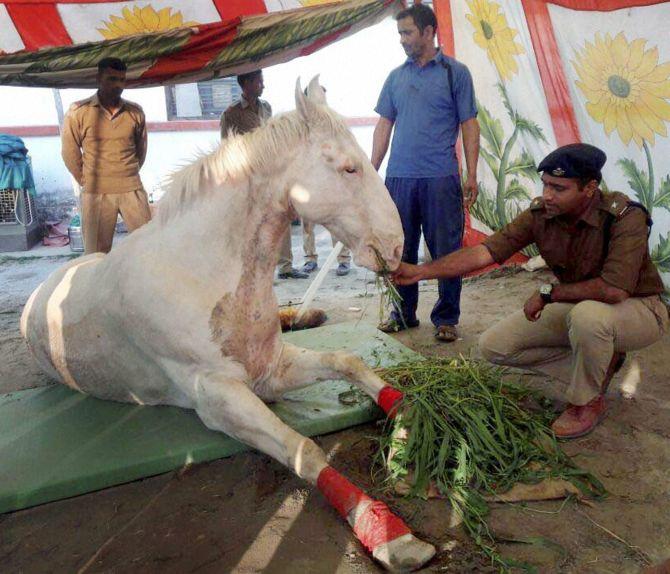 'They are calling me an accused without even an inquiry.'
'They cannot silence me'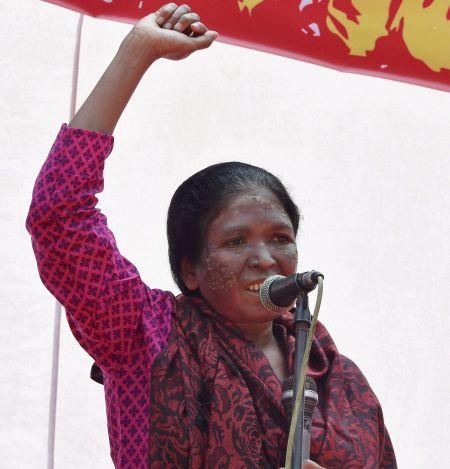 'The police go into villages, kill villagers, rape women, burn homes, file false cases.'
March 15, 2016
'BJP was trying to give Bhujbal a backdoor to escape'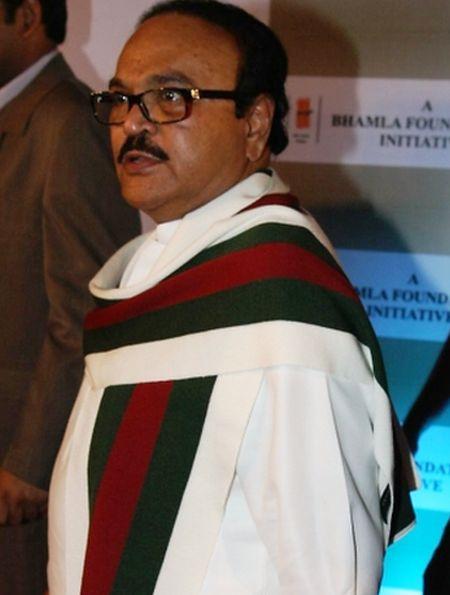 'Sameer and Chhagan Bhujbal's arrest is directly the impact of the PIL filed by the AAP in the Bombay high court.'
'Bhujbal is not Vijay Mallya to run away from India'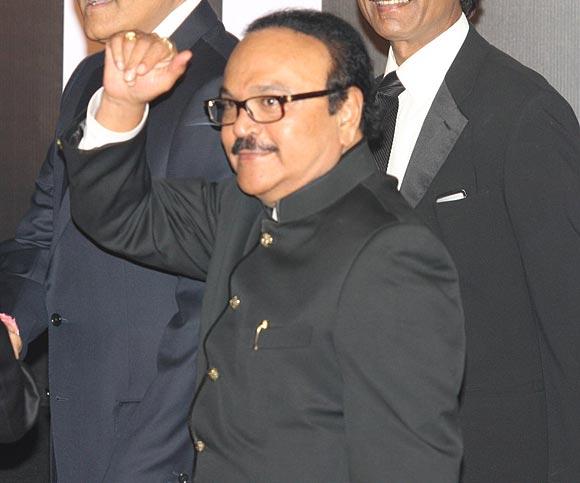 'When Mr Bhujbal was with the ED officers throughout the day and cooperating with them, what was the need to arrest him?'
March 14, 2016
The hijacker who wants peace in Kashmir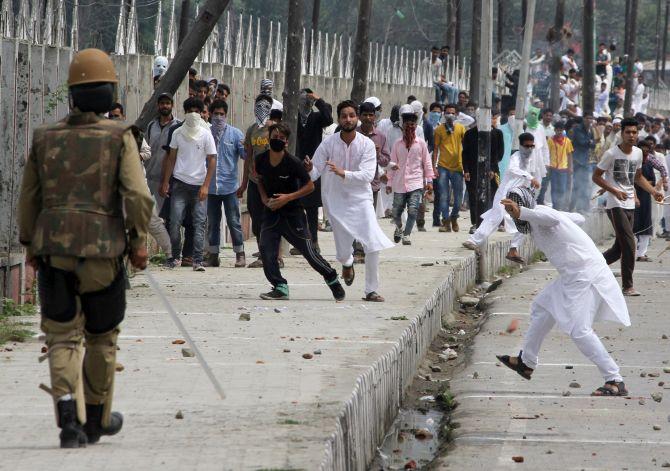 'The so-called separatists are representatives of Pakistan. They get paid from Islamabad for propagating that country's policy and conniving in her ploy of accession of Kashmir to Pakistan.'
March 11, 2016
This BJP MLA believes the beef ban must go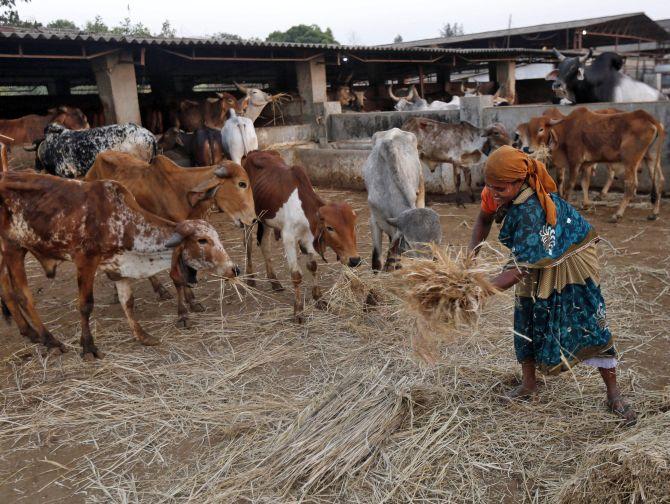 'Muslims eat beef, some Hindus and poor people also eat, so why should we stop them from eating?'
March 10, 2016
Exclusive! 'A historic year that yielded extraordinary results'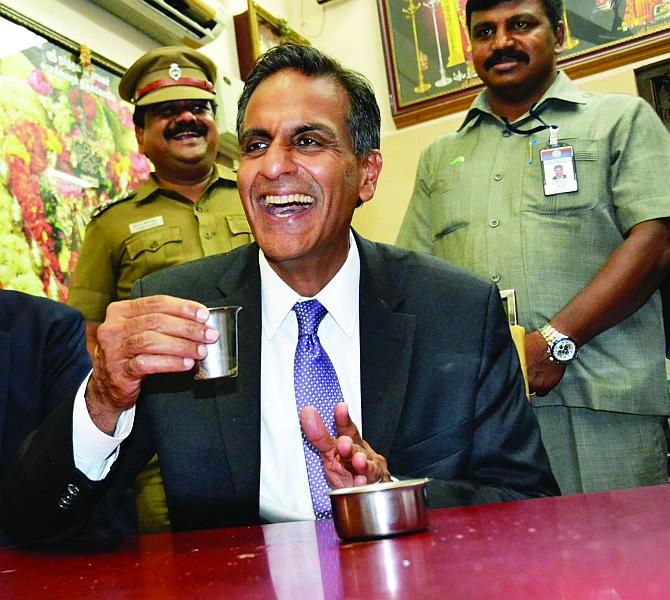 'The past year has yielded extraordinary results in the strategic, commercial, and people-to-people components of the India-United States partnership, US Ambassador to India Richard Rahul Verma tells Aziz Haniffa/Rediff.com in an exclusive interview.
'Why did no one talk of pollution in the Yamuna earlier?'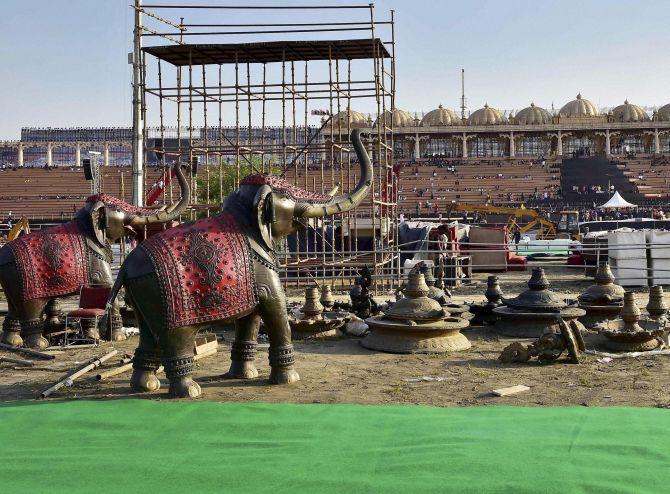 'Why did they not raise their voice against the pollution in the Yamuna earlier?'
'In our political system minority view is either ignored or not heard'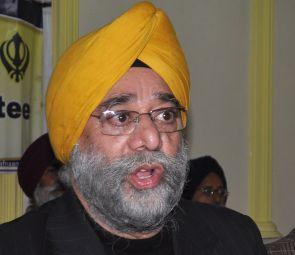 APSCC Chairman Jagmohan Singh Raina talks about the life and times of the Sikh minority in a politically tumultuous region of Jammu & Kashmir.
March 09, 2016
Exclusive! Why Tulsi Gabbard doesn't want Hillary as Prez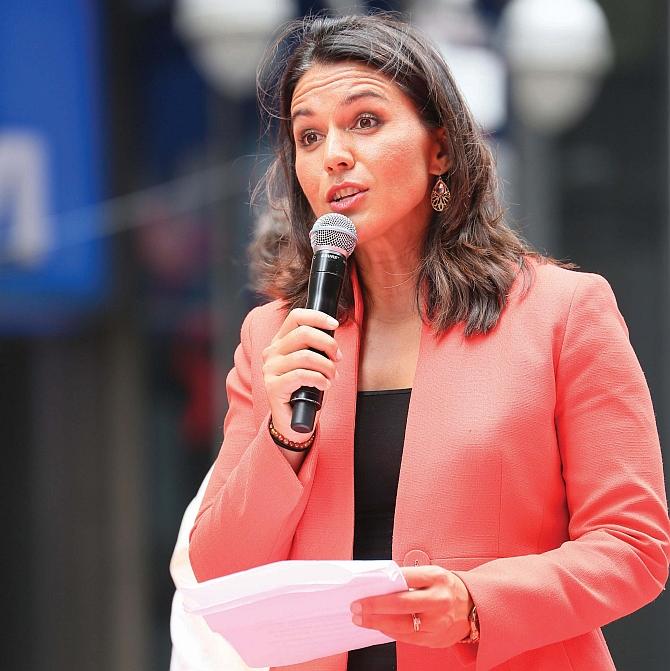 'A vote for Hillary means a vote for endless wars of trying to overthrow governments and rebuilding foreign countries.'
March 08, 2016
Take a bow, Lieutenant Colonel Sofiya Qureshi!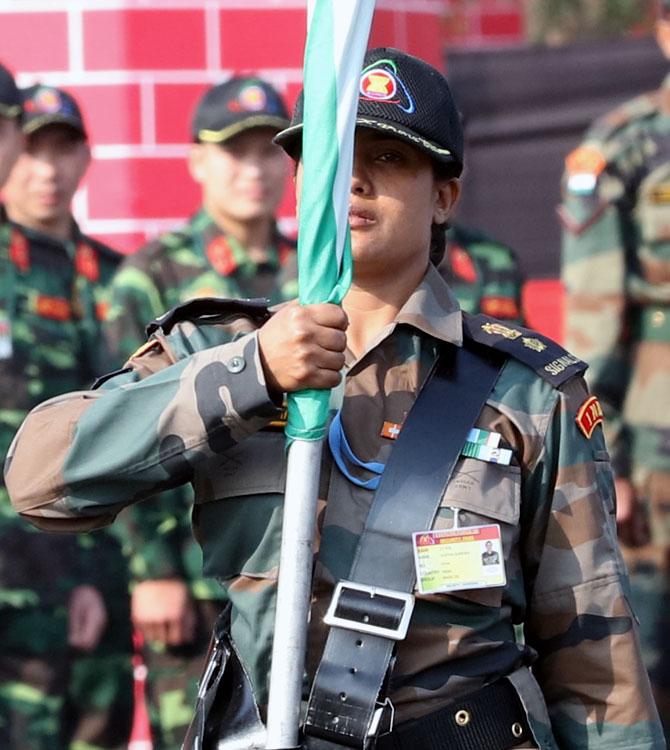 'The same charm that draws men to the armed forces, also draws women. It is love for the nation and honour and pride in donning the uniform,' says Lieutenant Colonel Sofiya Qureshi, the first woman to lead the Indian Army in a 18-nation military exercise.
March 07, 2016
'For Tagore, human beings were far more important than nation'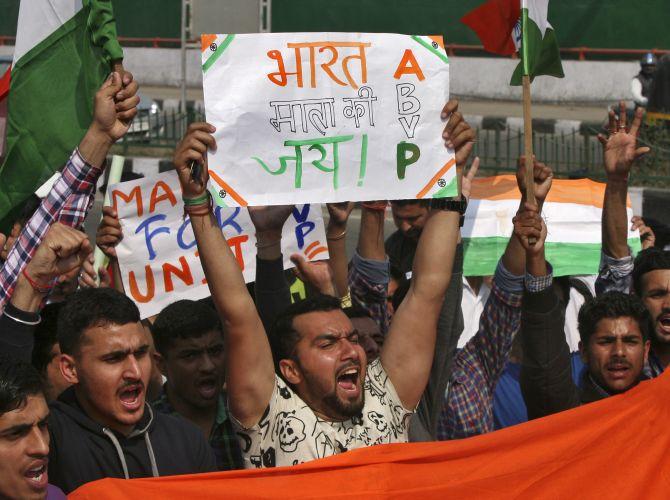 'Tagore repeatedly denounced the "My country, right or wrong" attitude.'
March 04, 2016
'CPI-M is enemy number one'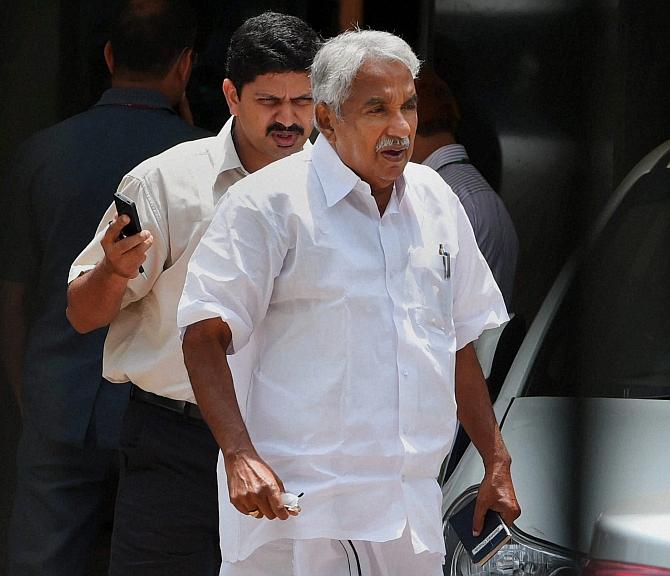 'The CPI-M indulges in senseless talk. Be it the solar scam or the National Games scam, did the CPI-M prove anything?'
'The war is going to intensify'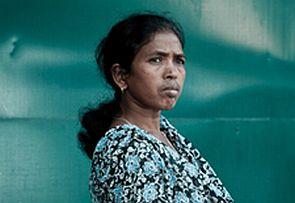 'Under the guise of Maoism, the State is presently determined to clear out the whole Bastar area of its tribal population.'
February 26, 2016
'BJP-RSS want to show Brahminical supremacy'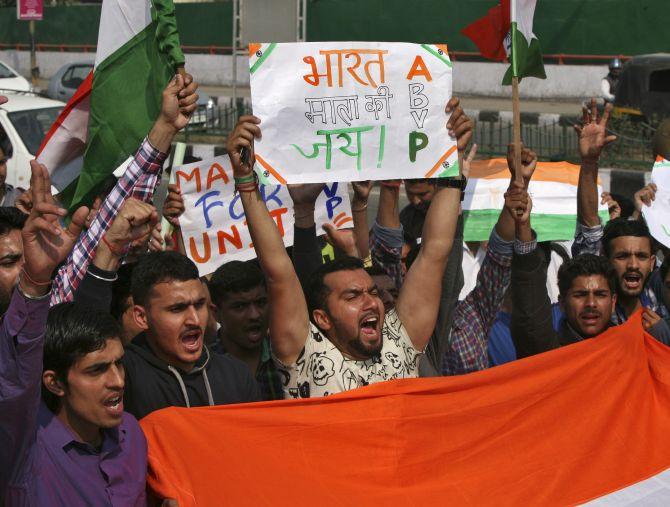 'This country is not of one culture. We must live together and we must respect each other.'
Tamil Nadu mystery blasts: '99% it could be a meteorite'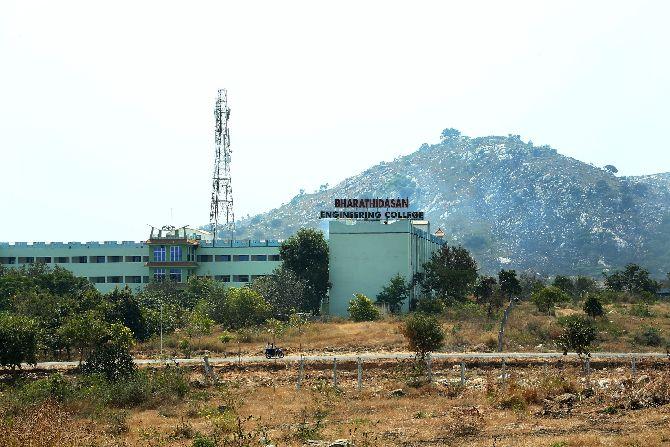 'If a small object of less than 100 gm can make a deep crater and also release this kind of energy, it could only be a meteorite.'
February 25, 2016
Why Washington is moving close to Colombo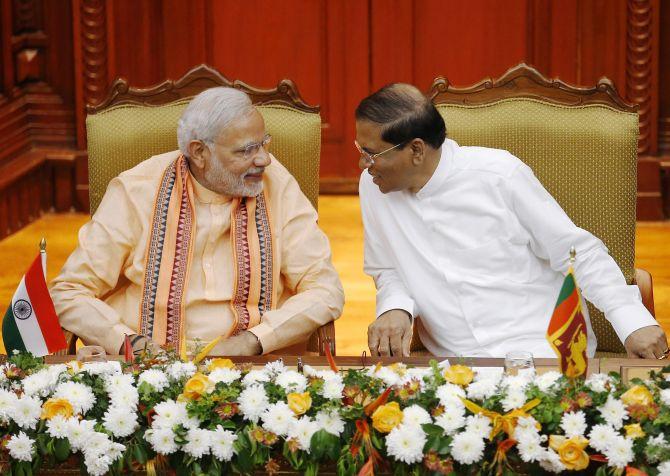 'What we have heard from the Sri Lankans is their desire to have a foreign policy that allows Sri Lanka to best advance its own interests rather than a foreign policy that relied solely on one relationship.'
February 24, 2016
Shocking! Why this police officer was beaten up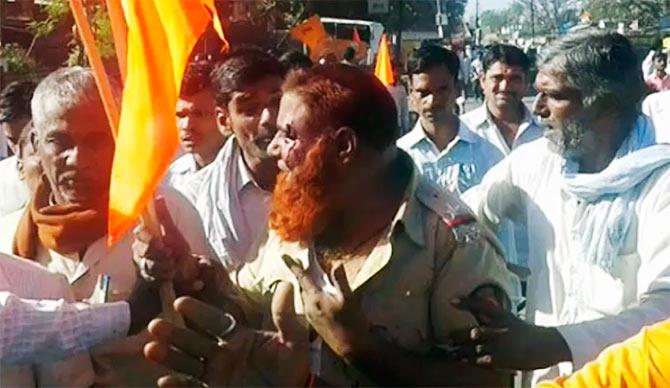 In a shocking first in Maharashtra's history, a mob attacked a police station last week, assaulted two policemen, dragged one of them out, paraded him with a saffrom flag and made him chant, 'Jai Bhavani, Jai Shivaji.'
February 23, 2016
'You are using the Army against your own people'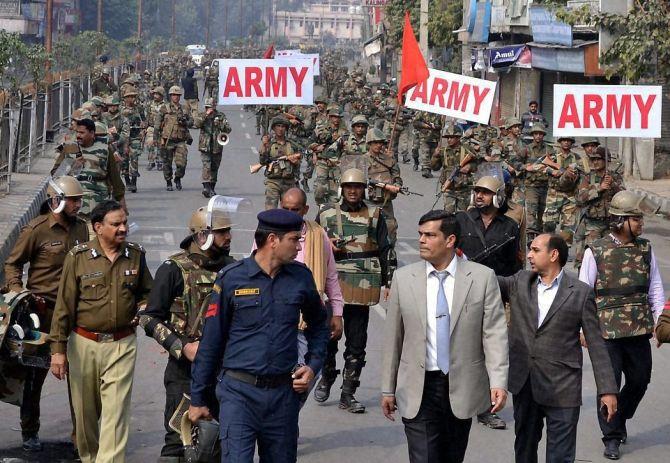 'You are sending the army to Rohtak? There are six paramilitary forces in the country. Why can't you use these people?'
February 22, 2016
'My son will win the battle against Hinduvta politics'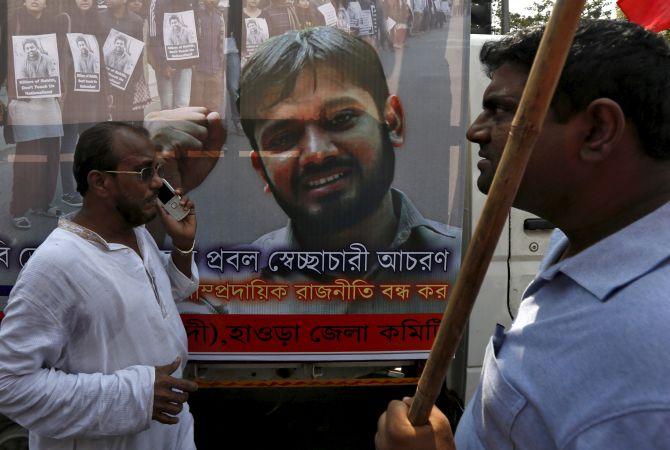 'The attack on Kanhaiya was an attempt to silence his voice and send a warning to all those who are supporting him.'
'They are protecting the police'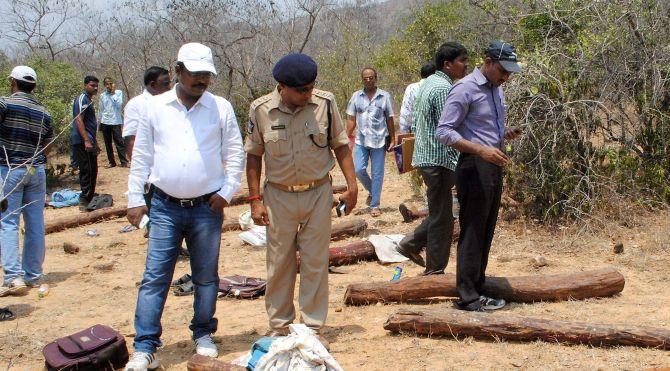 'The Tamil Nadu government should ask Andhra Pradesh to speed up the investigation.'
Why BJP MP Shatrughan Sinha speaks out for Kanhaiya Kumar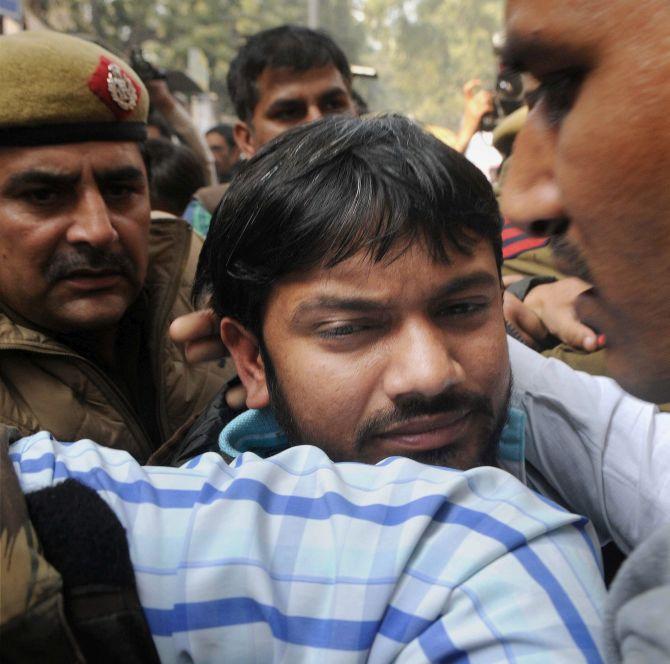 'Pressing sedition charges against students for activism within the campus shows the failure of the administration.'
February 21, 2016
'There's no free speech; we're in a state worse than Emergency'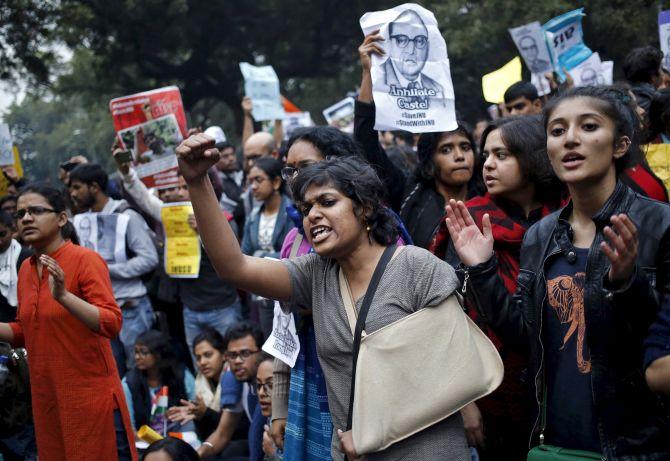 Senior advocate Kamini Jaiswal speaks to Nikita Puri on what the term means and its implications on freedom of speech in India.
February 19, 2016
Former SC judge: Are we living in a democracy?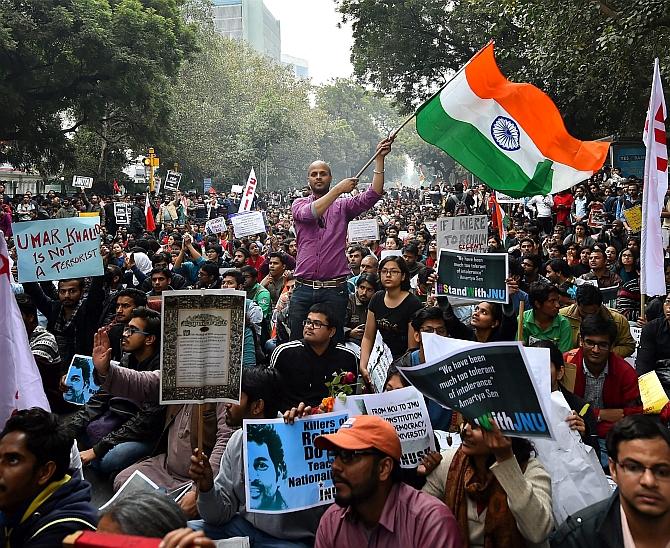 'We are living in terrible times.'
Former SC judge: Are we living in a democracy?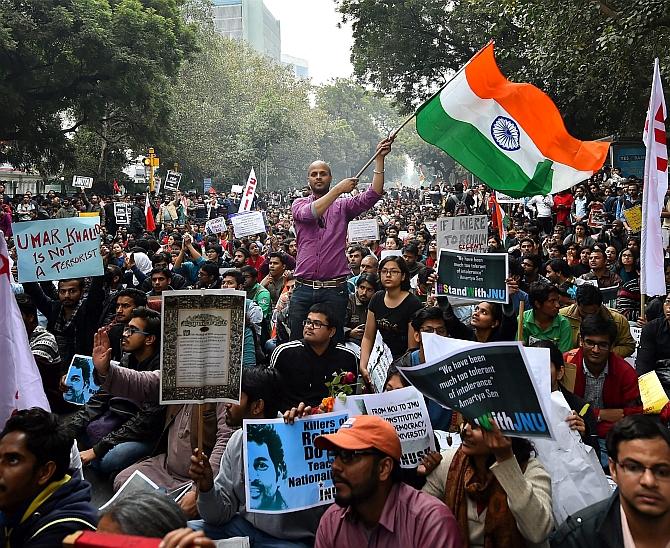 'We are living in terrible times.'
'This is not the way to show your patriotism'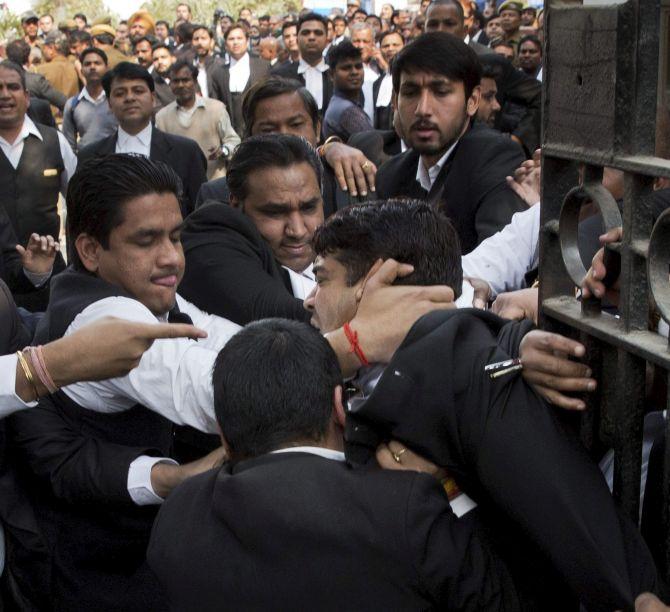 'It is very sad. Everyone is feeling bad. Because of some lawyers our profession has been defamed.'
February 18, 2016
'BJP/RSS bringing disrepute to Indian nationalism'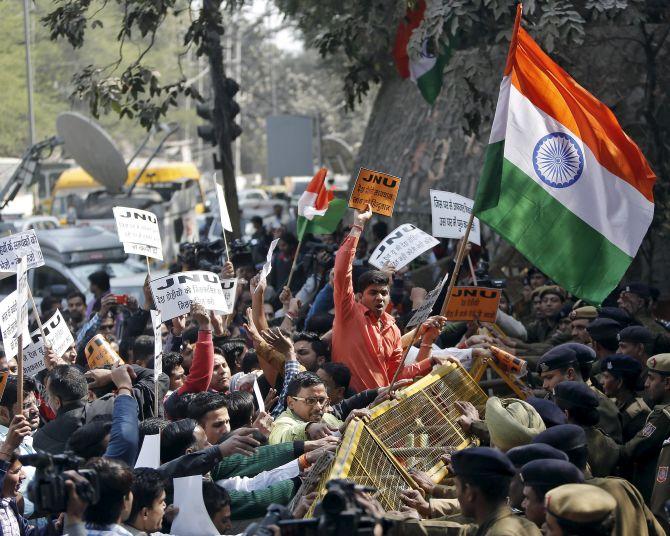 'The message the government is sending out is you are not safe if your dare oppose this regime.'
February 17, 2016
'If I get arrested, I will go to Kanhaiya's cell and beat him up'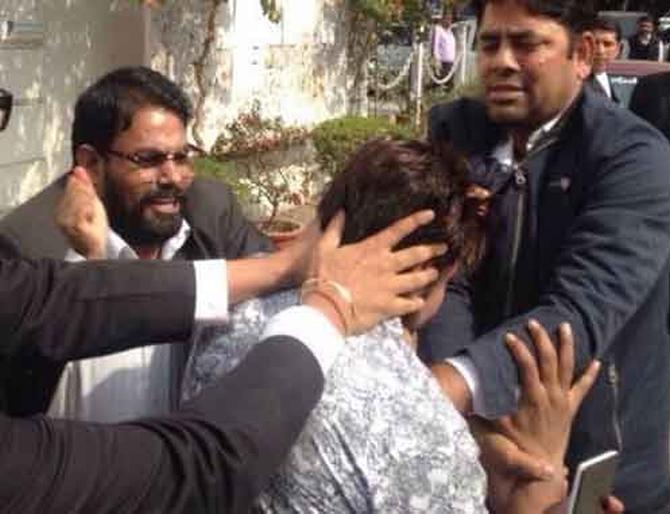 'There were 10-15 JNU guys who came in fake lawyer dress and instigated the violence. They want to give us a bad name.'
February 16, 2016
'BJP/RSS is trying to make JNU their laboratory'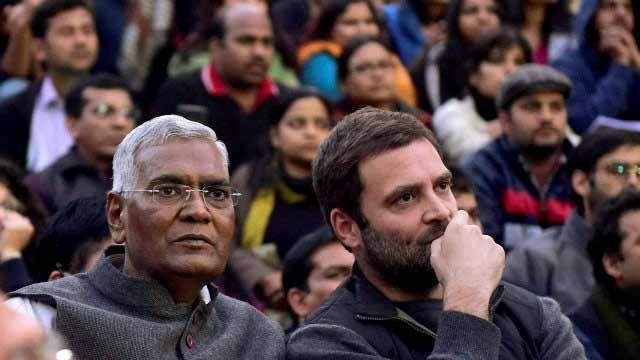 'Is the agenda of the RSS according to the Constitution of India? They talk of Hindu Raj, Hindutva. Is this Constitutional?'
February 15, 2016
A chief minister who lives on 10,000 per month!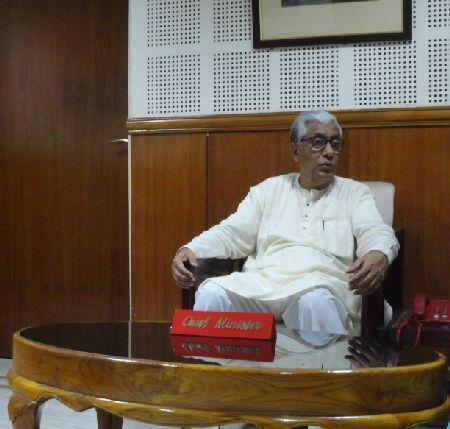 'The present government's greatest weakness is its intolerance. Tolerance is the key tenet of democracy. How can any government stop someone from speaking one's mind?'
'AAP has been a letdown in transforming business of politics'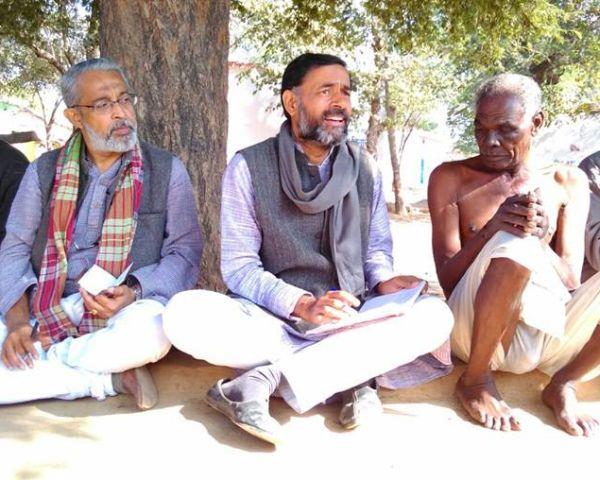 Yogendra Yadav, expelled co-founder of the Aam Aadmi Party, on the party's performance in the last one year.
February 14, 2016
'Who actually enjoys the fruits of development?'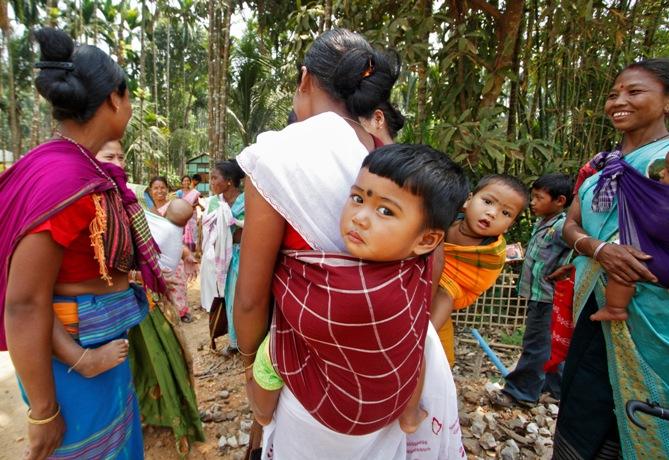 'Although strong arm tactics do cause inconvenience, they have not been able to stop us from carrying out our campaigns.'
'Our people don't criticise the BJP openly'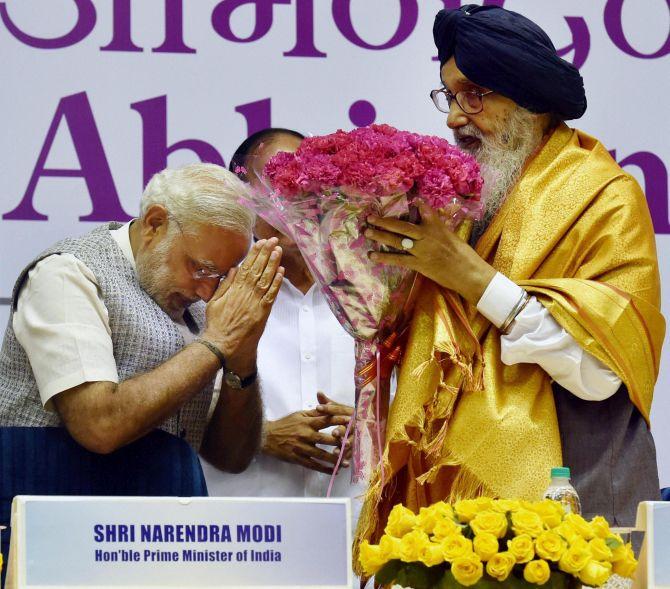 '...even if they have profound differences. We discuss within our party and with each other, but not openly. We just reminded the BJP that they too, should follow this dharma.'
February 13, 2016
'Every party in J&K must be ready for elections'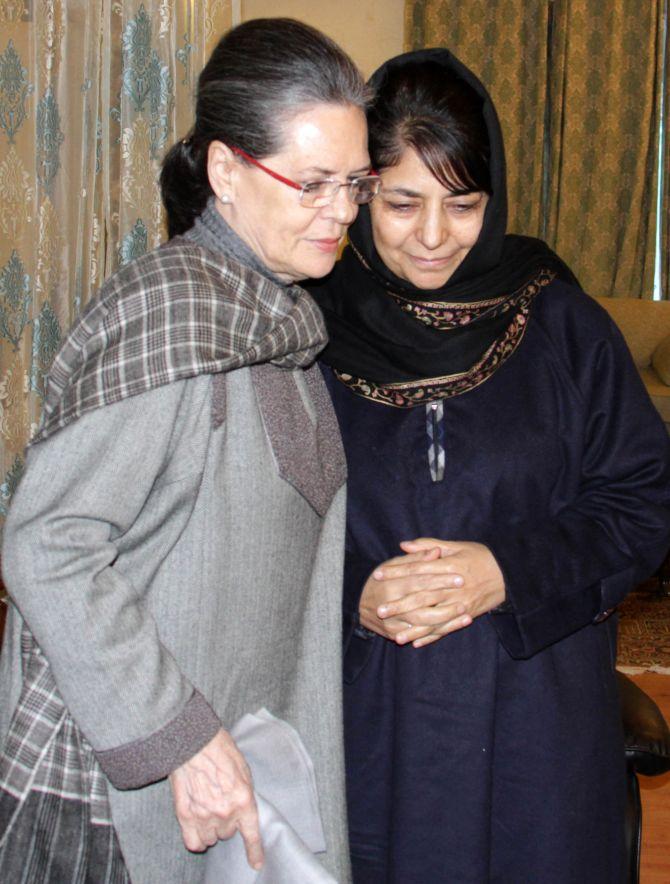 'As PDP chief, Mehbooba has every right to raise issues in her party's interest.'
February 11, 2016
'Headley's testimony on Ishrat Jahan is like KBC'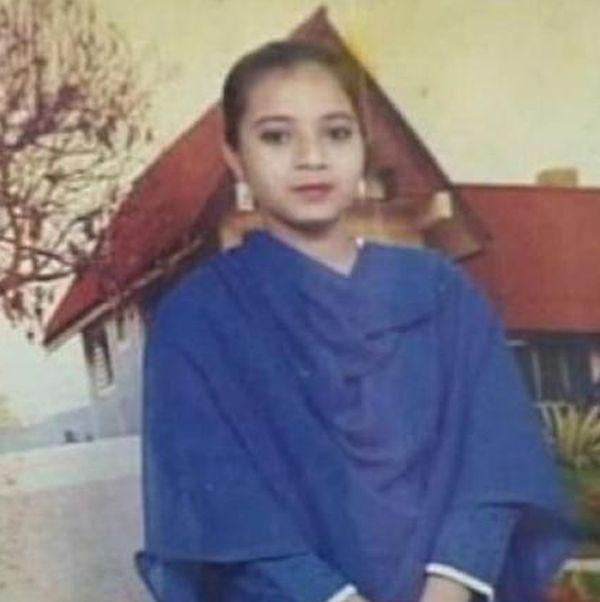 'There is nothing in Headley's testimony. Where is he saying anything? He says, 'I don't know, I don't know.' He says 'I overheard somebody's speech.' Is this evidence? This is double hearsay.'
February 09, 2016
'If it loses its minority character it will be the end of AMU'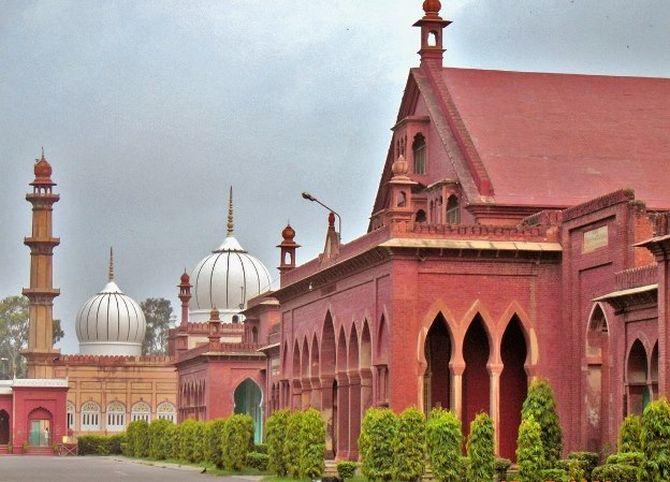 'AMU is a secular university with an Islamic ethos.'
February 05, 2016
'Still guessing why BJP changed its hearts on Dalits'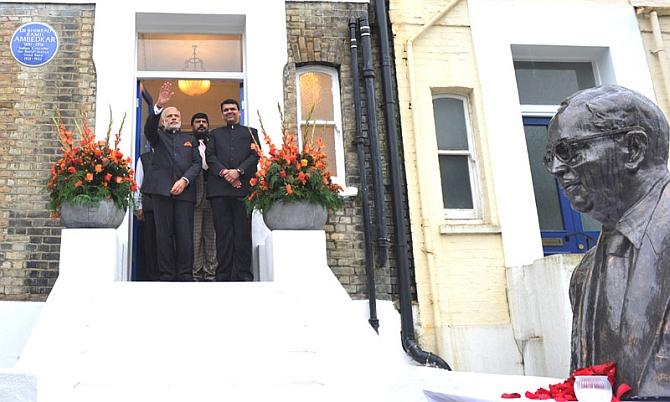 'We were at war with the BJP in the 1990s. We were burning down each other's offices then. I don't want that to happen again.'
'I'm doing it for the students and they hit me'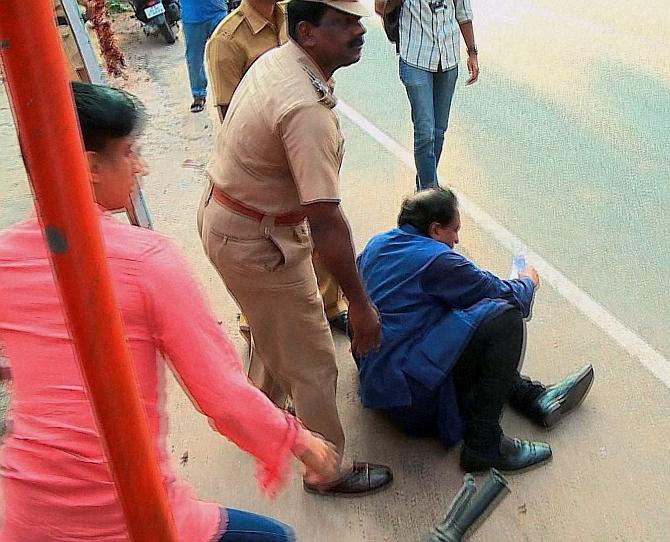 'I am doing all this for the students of Kerala, and when they come and hit me, it is very frustrating.'
February 04, 2016
Of course, I'll go: Anupam Kher if he was invited to Pak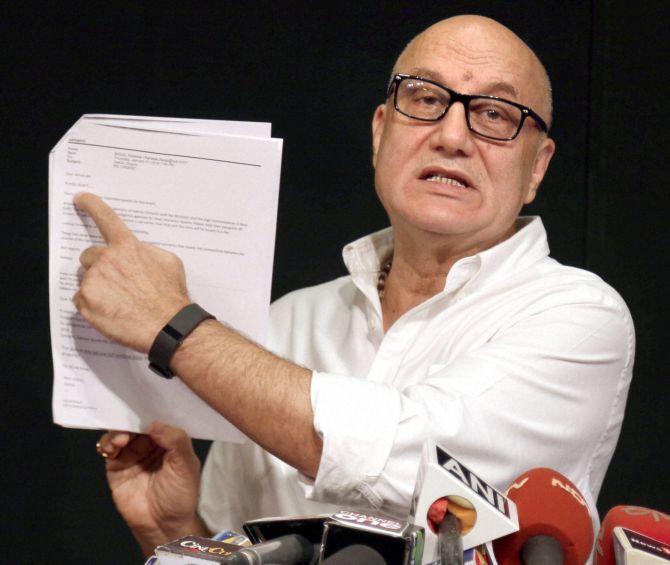 'Main koi rootha nahin hoon for denying me a visa. I am baffled, and a bit hurt.'
February 03, 2016
'Kejriwal can't handle being CM, dreams of being PM'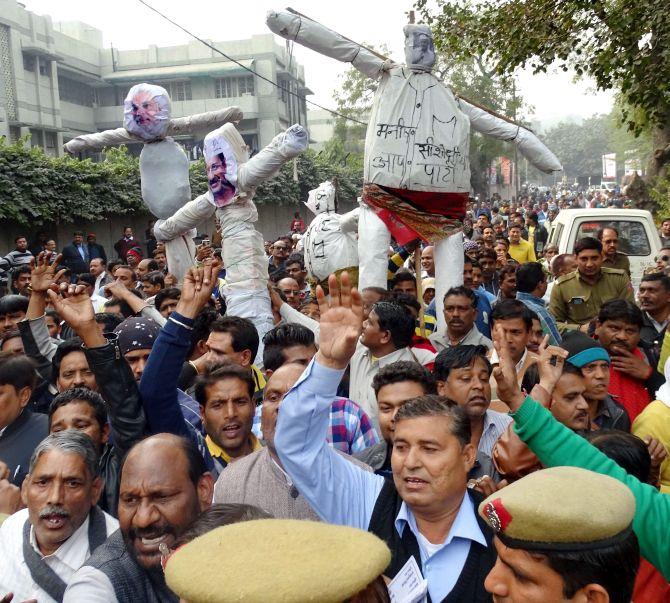 'Delhi is regretting its decision of electing Arvind Kejriwal.'
'Will Pawar say the courts are taking instructions from me?'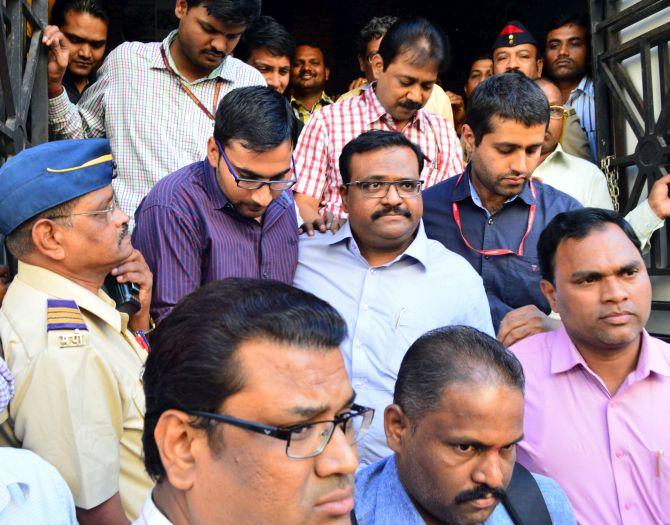 'May I ask if Sharad Pawar will say the chief justice of the high court as well as the judge who extended remand are also taking instructions from Somaiya?'
'China has stolen a march over us at sea'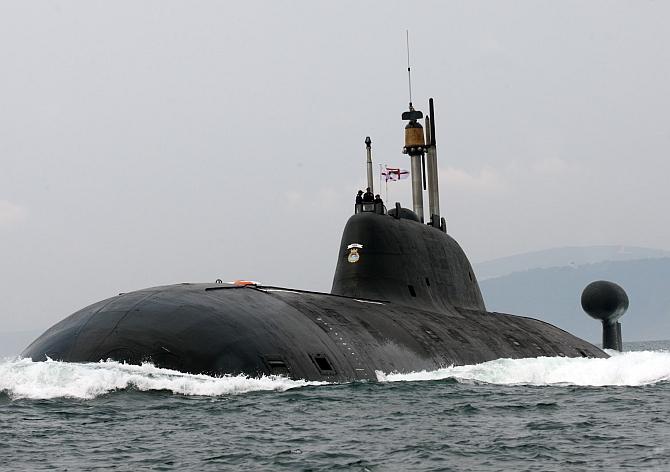 'We have been found seriously wanting in addressing our undersea warfare capability and China's emergence is a cause for concern.'
February 02, 2016
'Admitting petition on Section 377 is a giant step'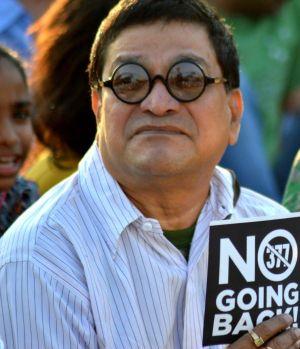 'The reopening of the petition shows that there was something that was flawed in (the earlier) Supreme Court judgment, and this means another step forward.'
Now a Nyay Yatra for speedier justice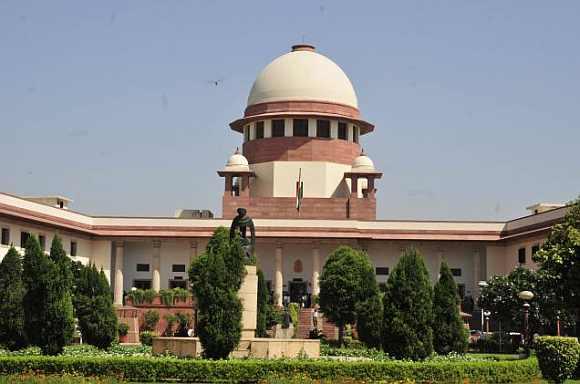 'Generations pass by, but those fighting for justice are still not seeing the end to so many cases.'
February 01, 2016
'Kaliachak was was the work of criminals'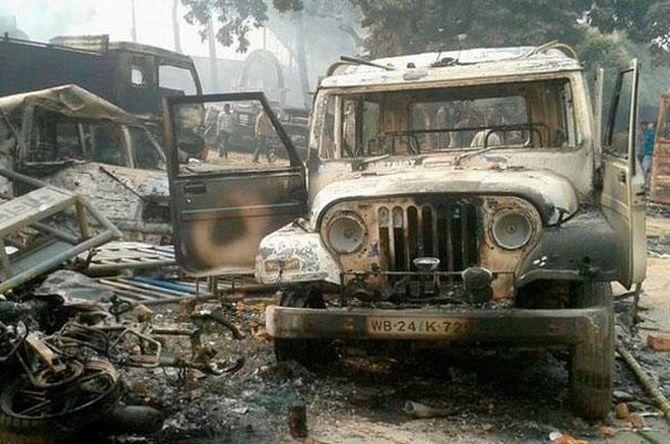 'It was planned in such a manner that it was made to look like a communal incident.'
January 29, 2016
Did Hema Malini get a Rs 70 cr plot for Rs 70,000?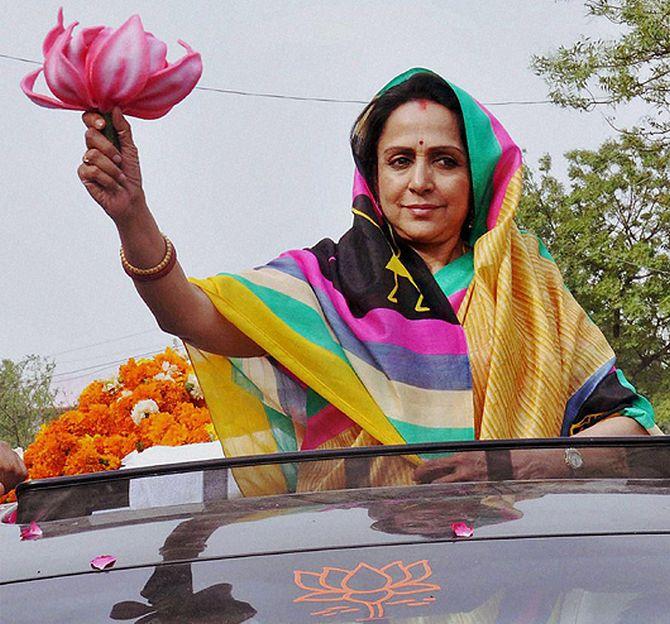 'When Revenue Minister Eknath Khadse called Hema Malini to Mantralaya and handed over a plot to set up a dance academy I felt there is some problem in it.'
January 28, 2016
'BJP feels intimidated by the fringe elements'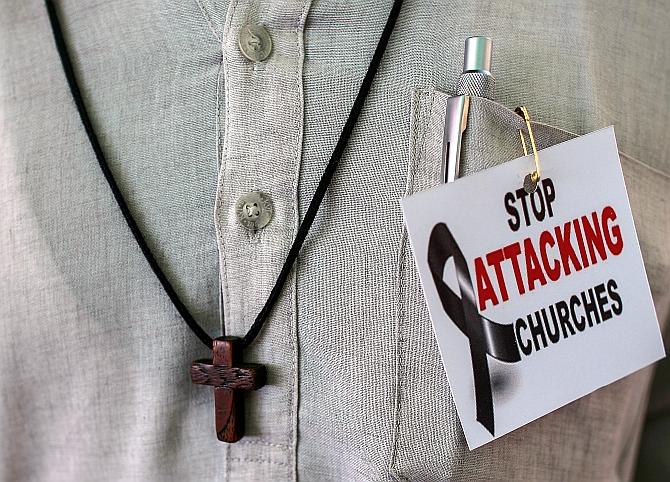 'I do not call the BJP or RSS as extremist groups, but some small groups all over India have started behaving aggressively after the BJP came to power.'
'A tradition which prevents women at temples needs to change'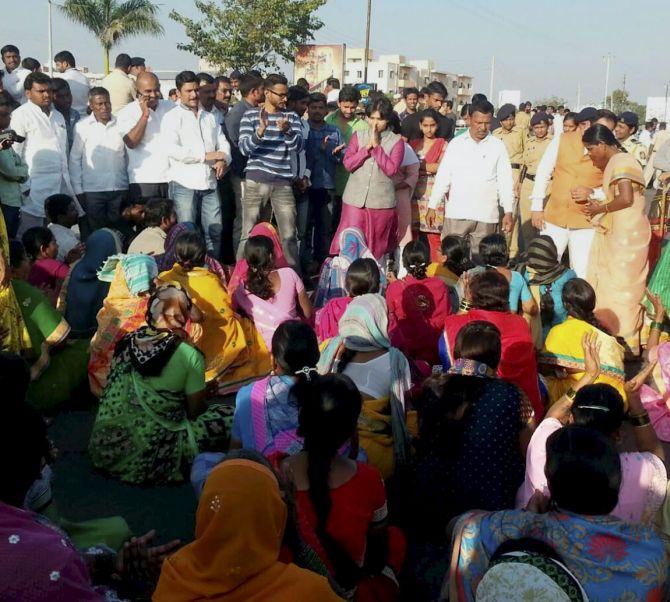 'I want to know, how can any God become impure if woman enters the temple?'
January 27, 2016
'India under threat from Al Qaeda, ISIS'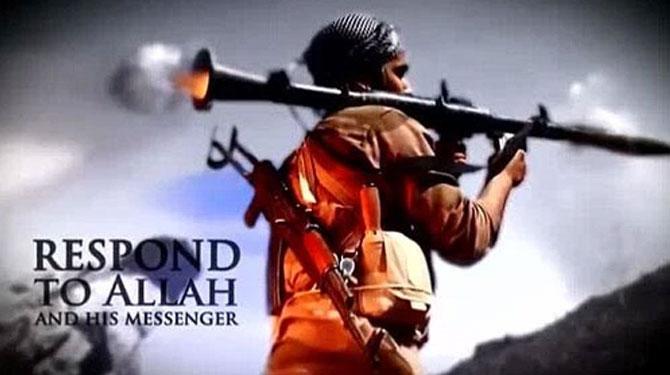 'India is a major target for ISIS and Al Qaeda because it has a very large Muslim Diaspora, regular conflicts with a Muslim country and experiences violent clashes between Hindus and Muslims on a regular basis.'
'Netaji was the reason why the British left India'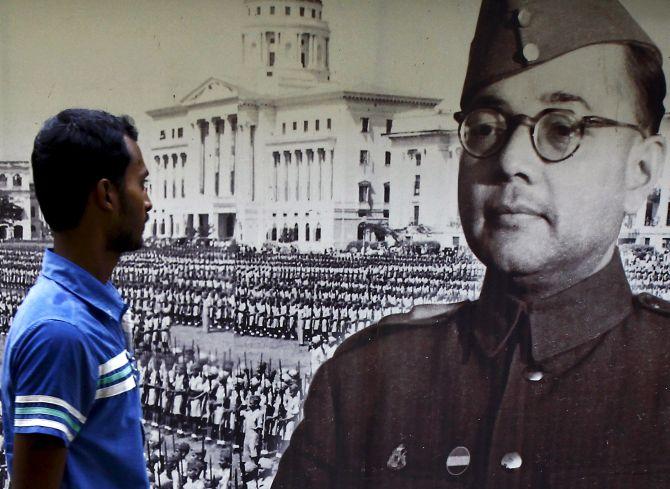 'The non-violent movement would not have brought freedom to the country, that had to be an armed struggle.'
January 26, 2016
Why an award-winning farmer is contemplating suicide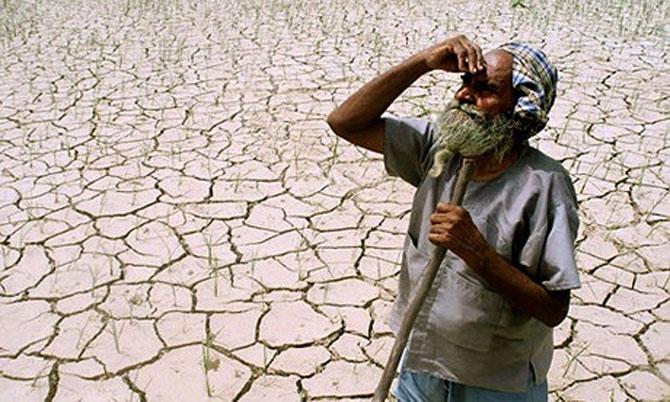 'I am buried under a mountain of debt. Wheat at Rs 2 and rice at Rs 3 is killing farmers.'
January 25, 2016
'The Rafale deal will go through'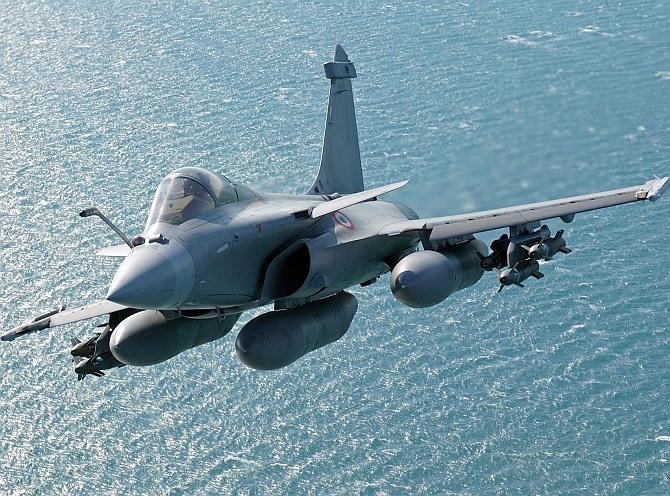 'The India-France relationship has been that of the elites of two countries, who appreciate each other's philosophical traditions -- whether it is ancient Indian civilisation and Sanskrit texts or the French tradition of Rene Descartes, Albert Camus, (Jean-Paul) Sartre... This is a drawback. It doesn't create the buzz, the excitement necessary for a relationship. We need more people-to-people contact, especially among students,' says former Ambassador to Paris, Rakesh Sood.
'For 1,400 years India led the world in science'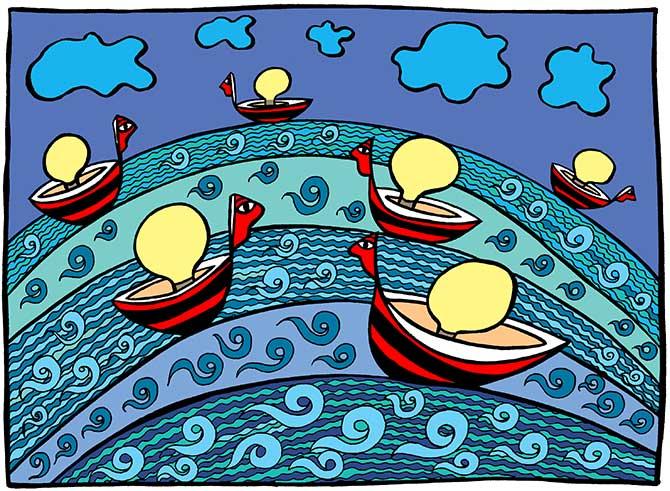 'Some Indians take the extreme view that everything was known to our ancients, but others go to the opposite extreme and consider everything Indian was superstition and rubbish.'
January 22, 2016
'As a BJP MP I must speak against this injustice'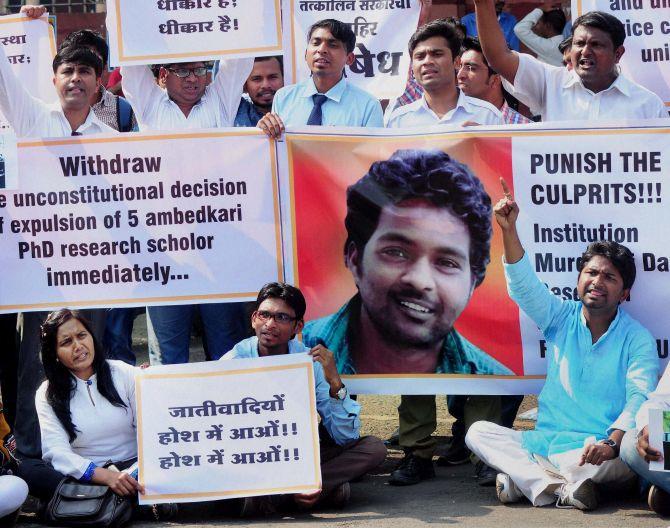 'For a Dalit boy to reach the PhD stage, it requires a lot of pain and hard work. He was a scholar, an intelligent student.'
January 21, 2016
BJP leader: Bandaru Dattatreya mishandled the Rohith issue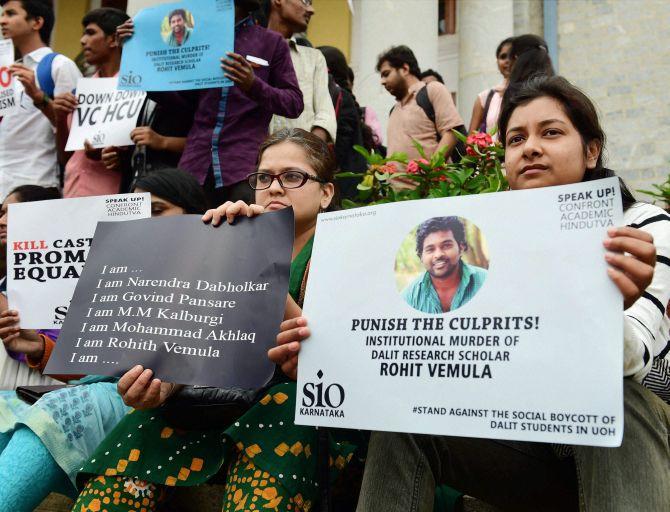 'Bandaru Dattatreya shouldn't have blindly accepted what the ABVP told him.'
'Amit Shah said we have to rule Kerala'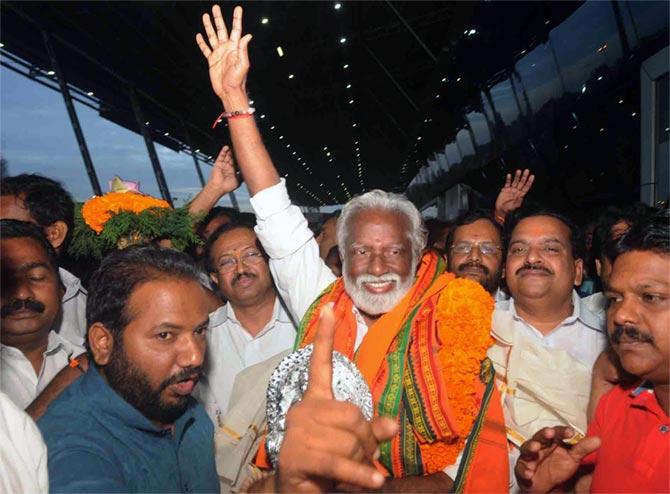 'What authority has a secular government to administer Hindu temples? When Hindu temples are ruled by secular governments, what religious freedom do Hindus have?'
January 20, 2016
'Modi is India's PM, and not that of the ABVP'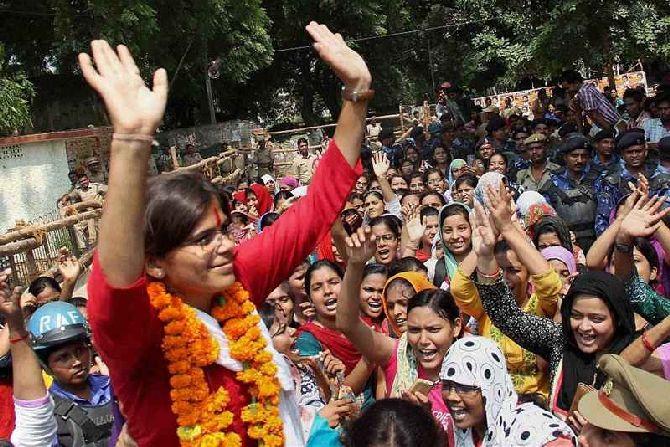 'You tell me without support, can the ABVP do these things? They are only doing these things because the central government is supporting them.'
'Rohith will become a symbol for educational reform'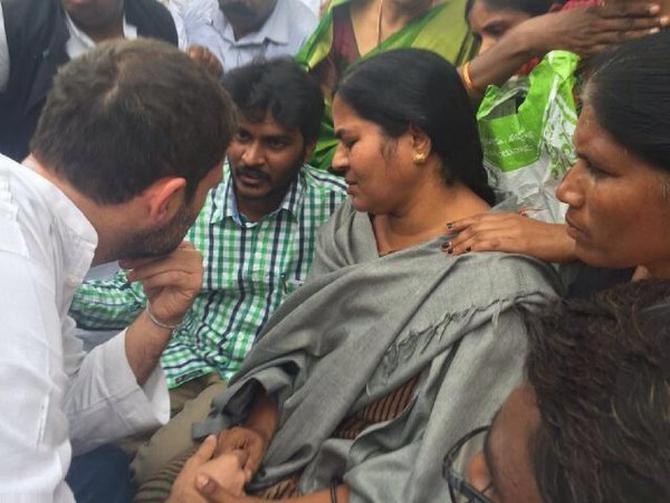 'If you are a slave, nobody has any problem. The conflict starts when you question and ask for equal rights.'
'There is cruelty in Jallikattu'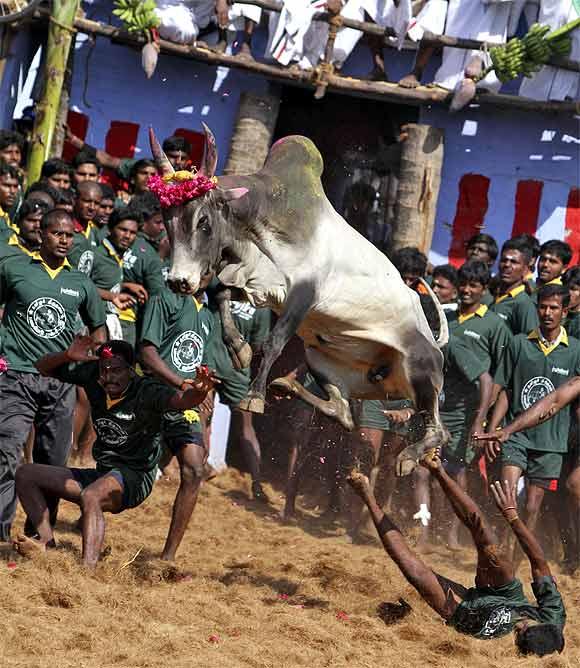 'We need all the people who support Jallikattu to empathise with a poor, frightened, animal. Like racism and casteism, this is speciesism; discrimination based on species.'
January 19, 2016
What happened in Kaliachak on January 3: The MP's view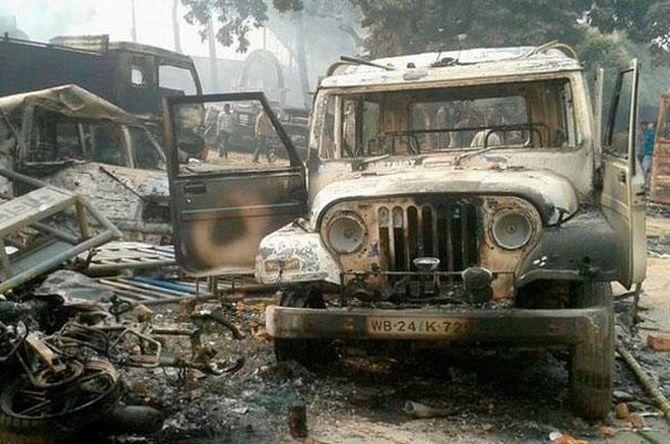 'My party men discouraged me from visiting Kaliachak because all kind of people were part of the mob and they feared that someone could shoot at me.'
January 18, 2016
'The Akalis have run Punjab to the ground'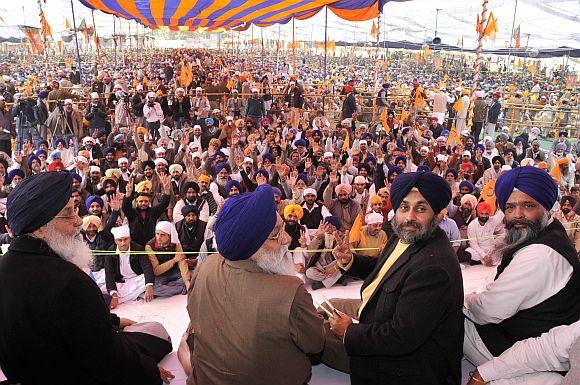 'They are completely corrupt and have introduced a mafia culture which has seen one family control the entire resources of the state.'
January 14, 2016
'Mamata must restore confidence of Hindus in Kaliachak'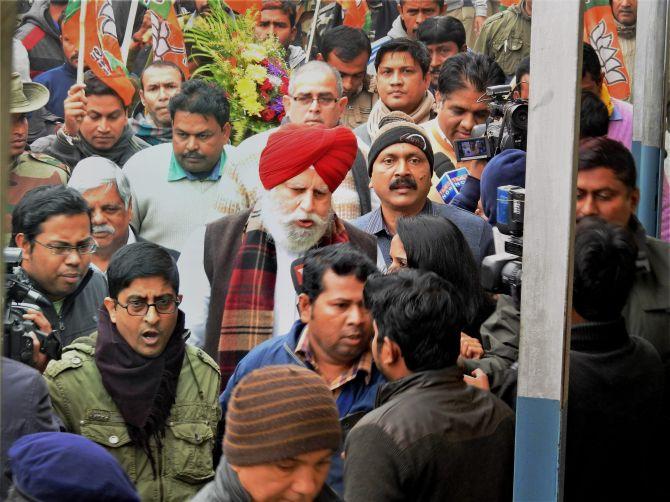 'People are tense. The morale of the perpetrators of the Kaliachak attack is very high.'
January 13, 2016
'The Ganga is in ICU'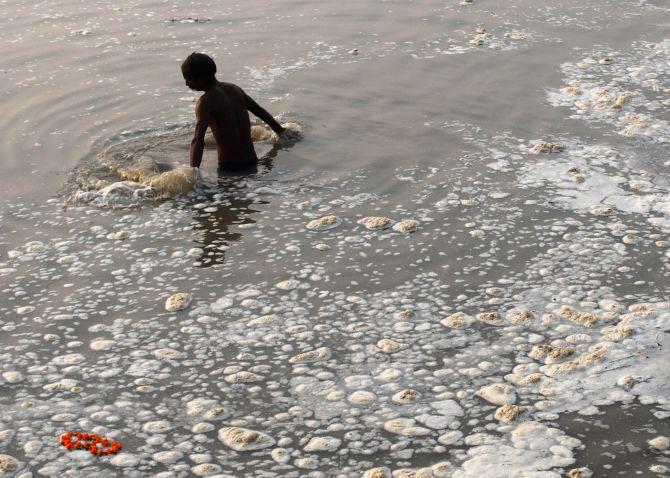 'One per cent of wealthy people have been handed over 99 per cent of our nation's resources. The rest are mute, helpless and very frightened spectators to this loot.'
January 12, 2016
'Whenever Mamata opens her mouth, only lies can be heard'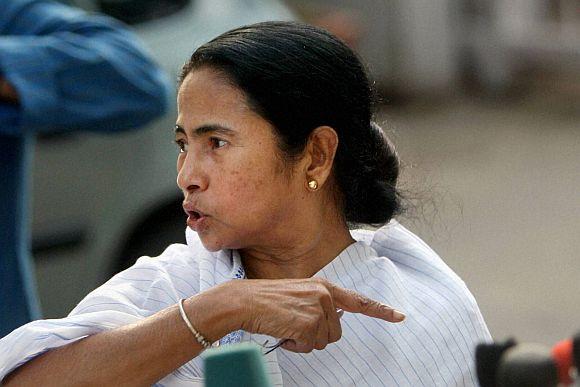 'Now that there is an election in the offing, she is repeating the same old promises. Does she think the people of Bengal are fools to fall for her lies?'
January 11, 2016
'Chiefs allowed Doval to dictate terms'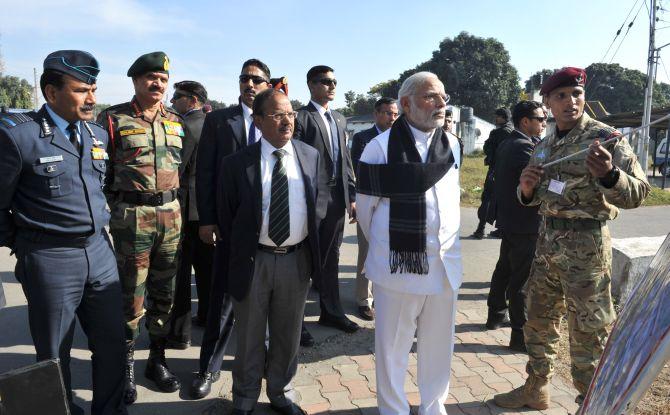 'The ISI is bound to exploit narcoterrorism.'
January 10, 2016
'Pakistan has called Modi's bluff'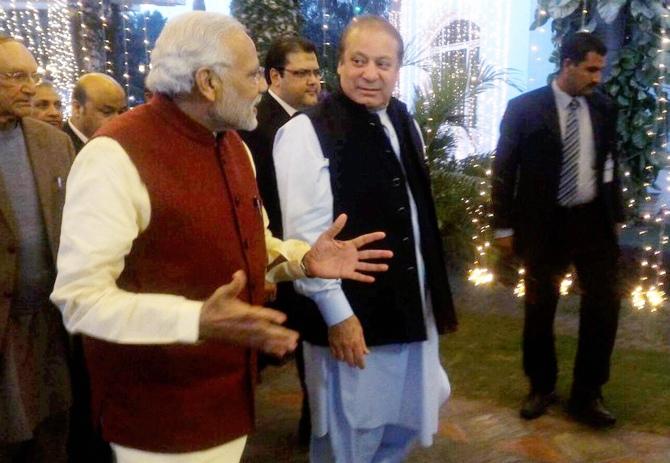 'There is a consensus within the Indian security establishment -- at least among those who draw their conclusions from data instead of speaking from nationalist sentiment -- that India lacks the offensive capability to defeat Pakistan in a short war.'
January 09, 2016
'Hindu consolidation won't work in Kerala'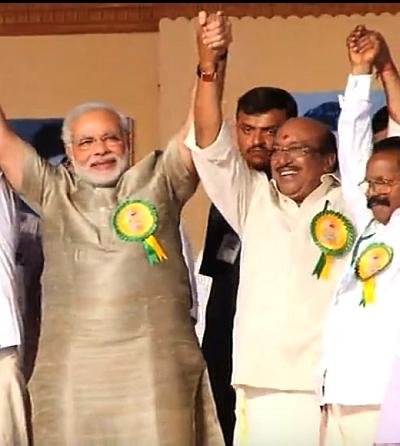 'Unlike in other states, minorities form a significant number in Kerala. They have money and political power. In such a society, the emergence of a new communal power is not a healthy thing.'
January 08, 2016
Pathankot: 'Luck helped us'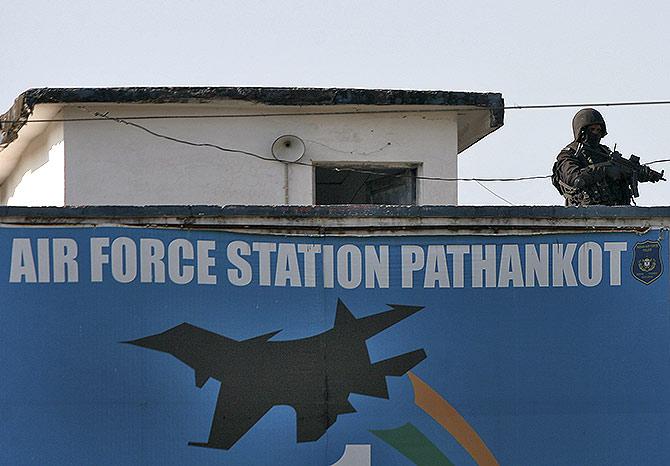 'Had they struck on the night of the 1st, there would have been hell to pay and had they been able to sneak further in, we would have had a greater problem,' says Lieutenant General H S Panag (retd), the former Northern Army Commander.
'Why give special treatment to Sanjay Dutt alone?'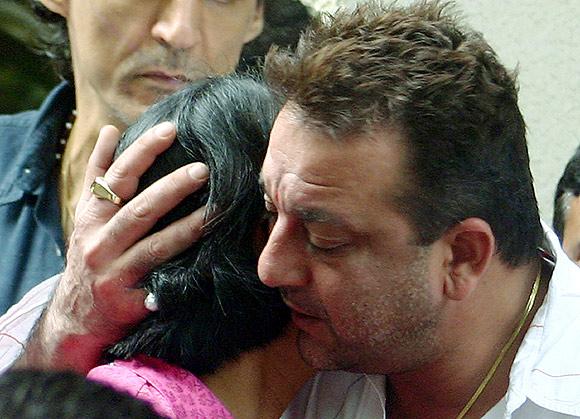 'There are other prisoners too who are behaving in a good manner, but they are not being released sooner.'
Why has history forgotten this giant?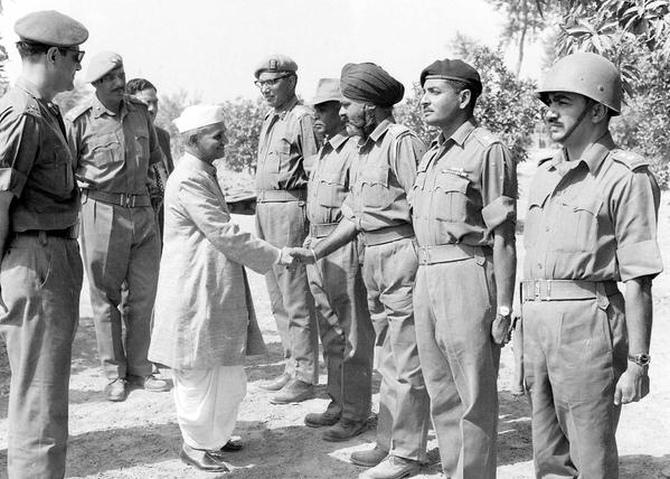 Anil Shastri, one of the late prime minister's six children, recounts memories of his father.
Rafting down the Ganga, for a cause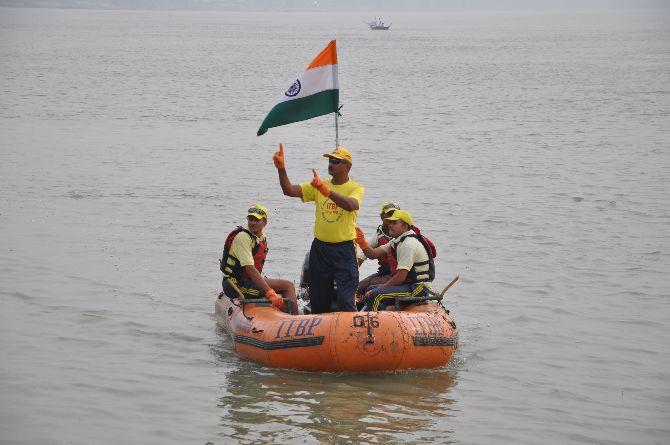 'Kanpur and Hoogly district are the most polluted on the Ganga.'
January 07, 2016
Magsaysay Awardee: RSS/BJP can't tolerate dissent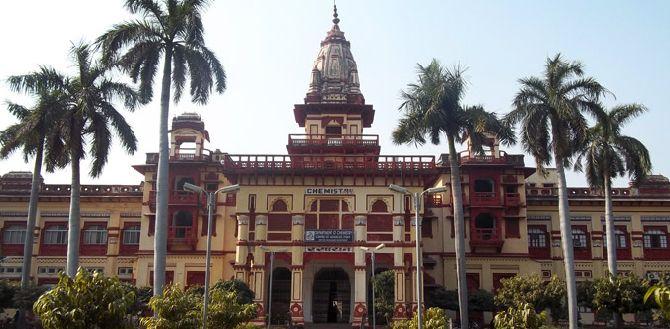 'If I am not there, the RSS would do that job. They are obviously in power, they can do anything.'
How Lord Shiva sustains the environment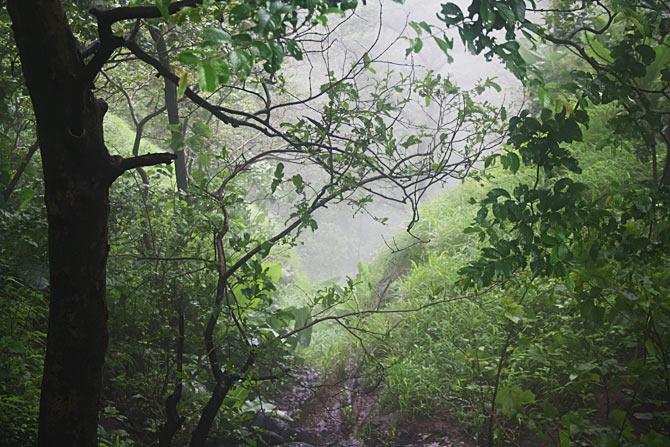 'My aim is that the message from our ancient texts reach the younger generation of Indians.'
'Modi's Pakistan policy shows his weakness'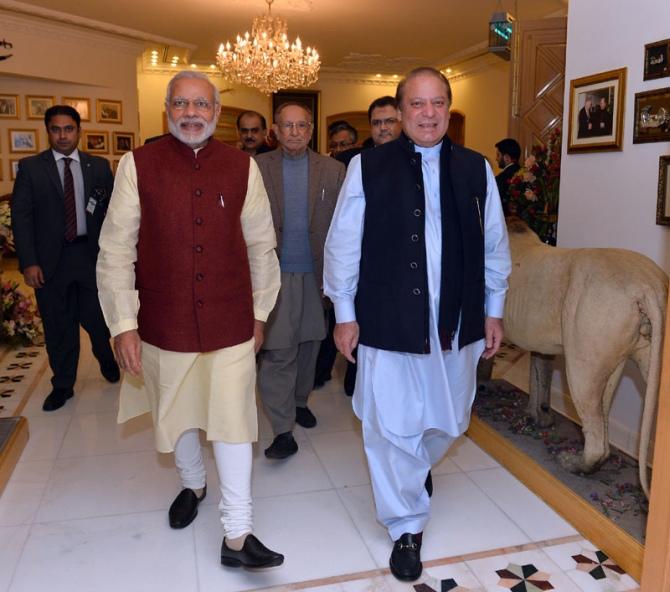 'We cannot forget that Pakistan is a criminal State, it is a rogue State and yet we want oil pipelines to go through their State, we want to have people-to-people contact, want to increase trade with them.'
January 06, 2016
'Not a terrorist attack, but an attack on India's sovereignty'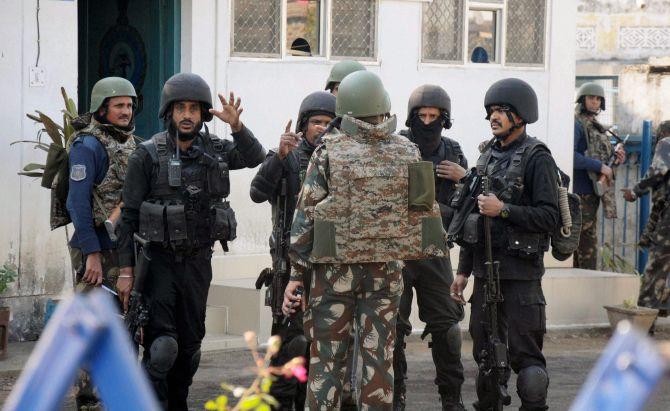 'If you destroy the assets in Pathankot, you degrade the combat potential of India; you degrade the war potential of India.'
'The information we had was pure gold'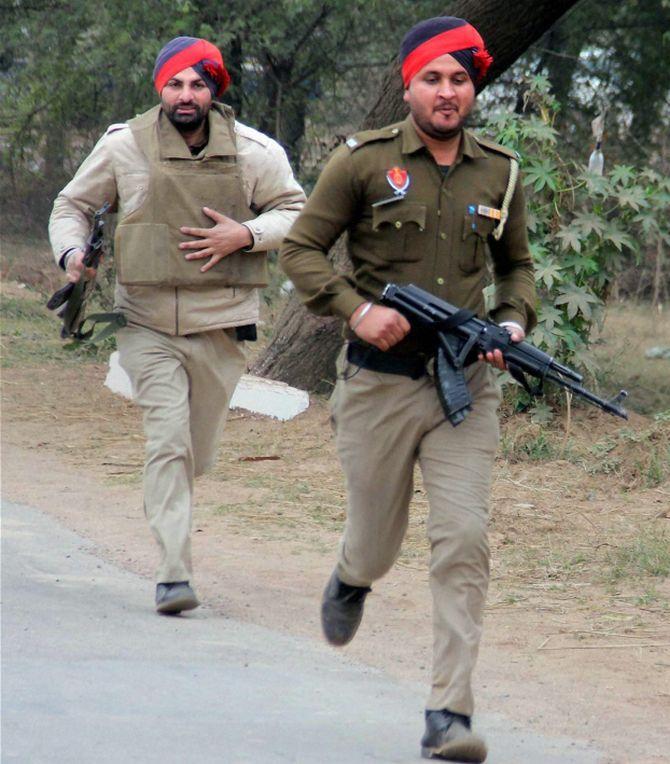 'Had this been handled in a correct way, the only lives that would have been lost, presumably, were the lives of the terrorists and that would have been welcome.'
January 05, 2016
'With Pakistan, where is the question of trust?'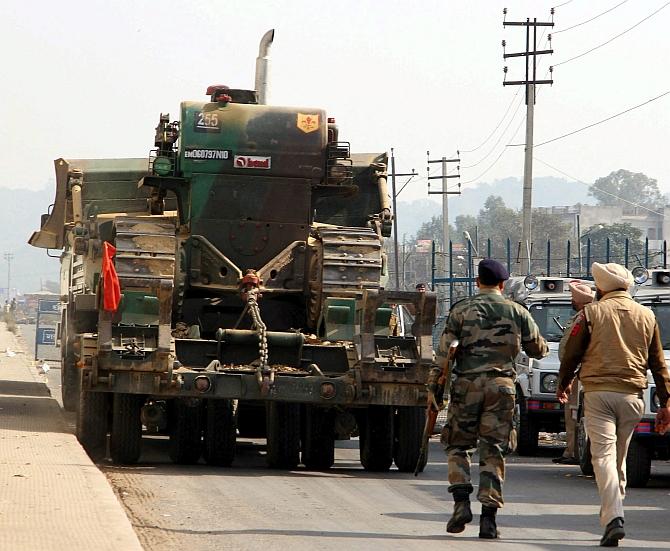 'The message to India is (with attacks like Pathankot) basically what the Pakistani army is trying to test is how serious are you when it concerns the peace process with that country.'
January 03, 2016
'Modi will continue the engagement with Pakistan'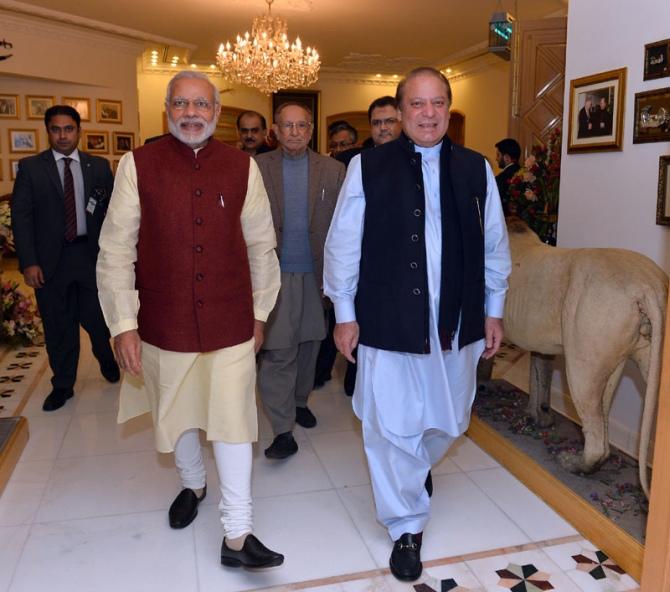 'Diplomatic engagement will continue even as India keeps all its options open with respect to discretely targeting the Pakistani military and its terrorist proxies.'
'Serious risk of a big terrorist attack by ISI-backed groups'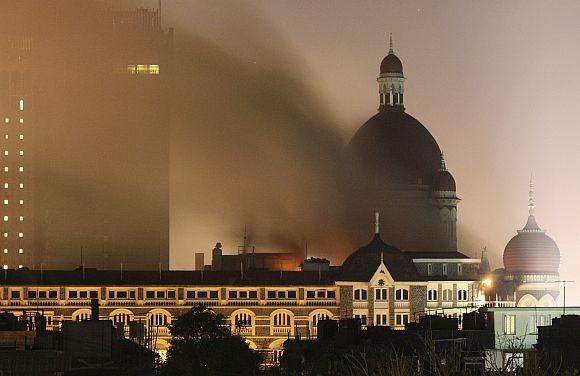 'The combination of the LeT and the ISI is the most dangerous terrorist challenge in the world because it carries a real and present danger of provoking nuclear war.'
January 02, 2016
Pakistan will continue to support terrorists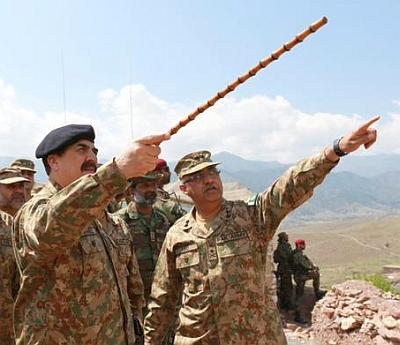 'The problem with India and Pakistan can be solved by Pakistan by ceasing its support for Islamist terrorists operating in India, letting go of its baseless demands upon Kashmir, ceasing its support for terrorists attacking India assets in Afghanistan.'
December 31, 2015
Why a 25-year-old CRPF camp in Srinagar was shut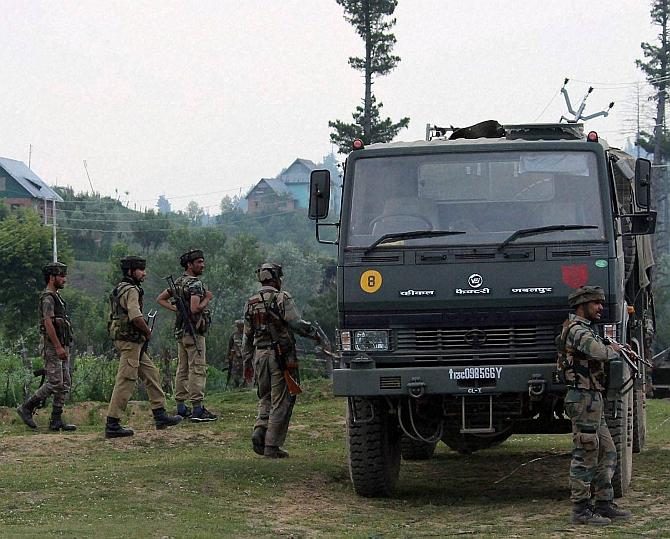 'Thousands of people were stoning us, but we never fired back.'
December 30, 2015
'People of Bihar are living in terror'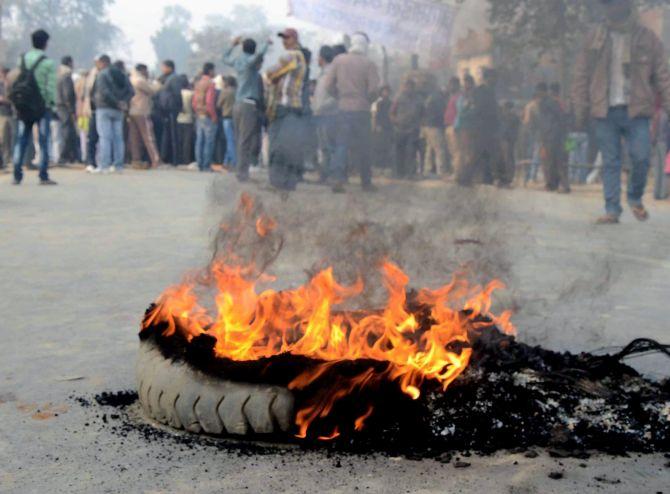 'Since the RJD came to power, criminals have stopped fearing the law.'
'If Osama could be killed, then why not Dawood?'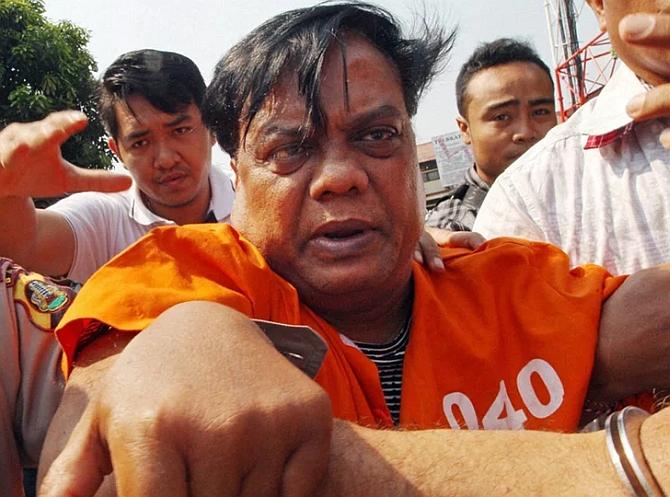 'After Chotta Rajan's arrest, Dawood is feeling the heat.'
December 26, 2015
'It is always possible saboteurs will swing into action'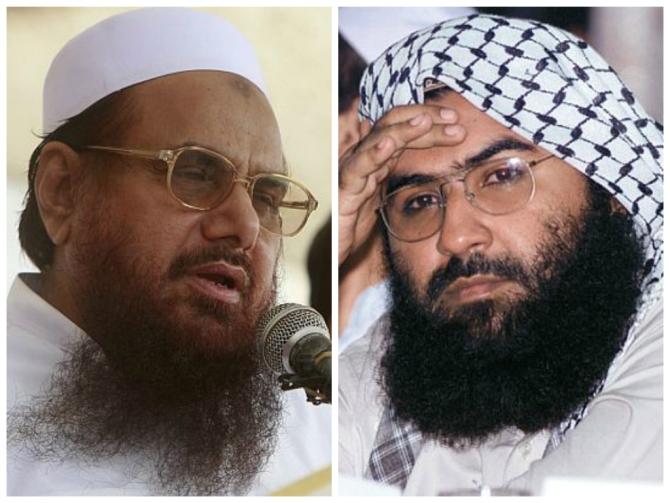 'When it comes to India-Pakistan relations, seminal moments of progress invariably bring out saboteurs of peace -- whether we're talking about fresh provocations along the LoC, or even a terror attack in India.'
'US wants Pak to sever ties with LeT'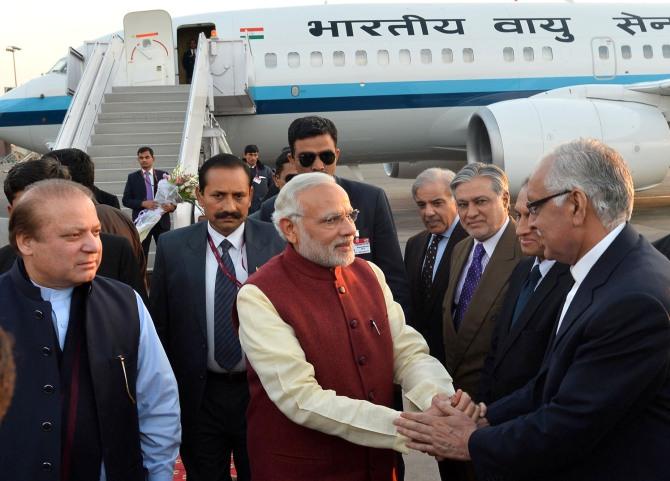 Some members of the Obama administration have worried that Pakistan's heightened anxieties about India might lead Islamabad to take reckless measures, so they have wanted New Delhi to pursue more diplomatic engagement with Islamabad.
December 24, 2015
'Putting 16 to 18 year olds in jail for rape is wrong'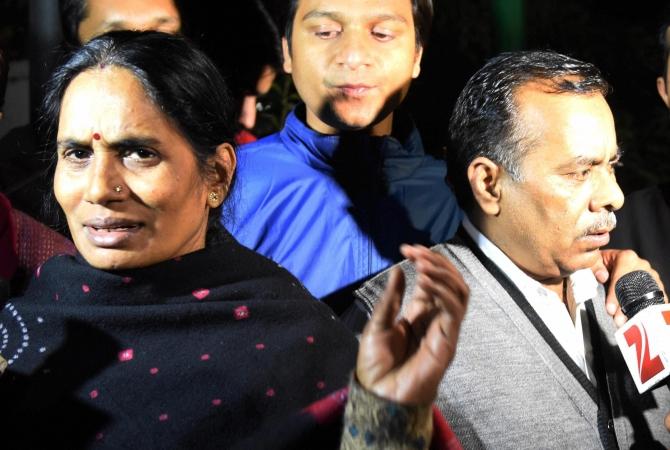 'It is a retrogressive Act. It actually criminalises a child who needs care and protection.'
'There is a culture of mismanaging funds meant for earthquake victims'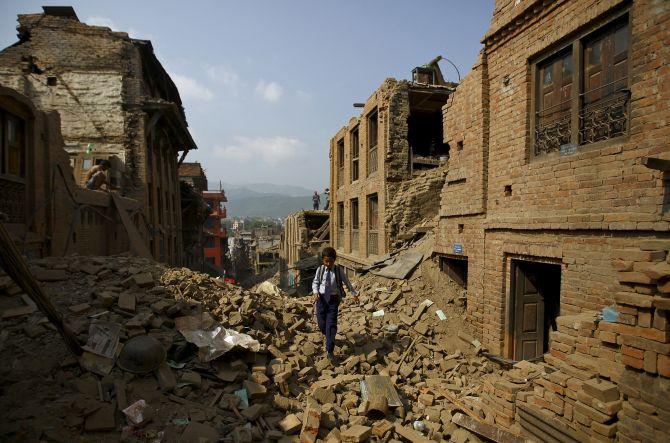 Jaya Puri Gharti, who served as a cabinet minister during the Maoists' term in government, tells Patrick Ward about the issues facing Nepal and the difficult road to reconciliation.
December 23, 2015
'Has reservation served its purpose?'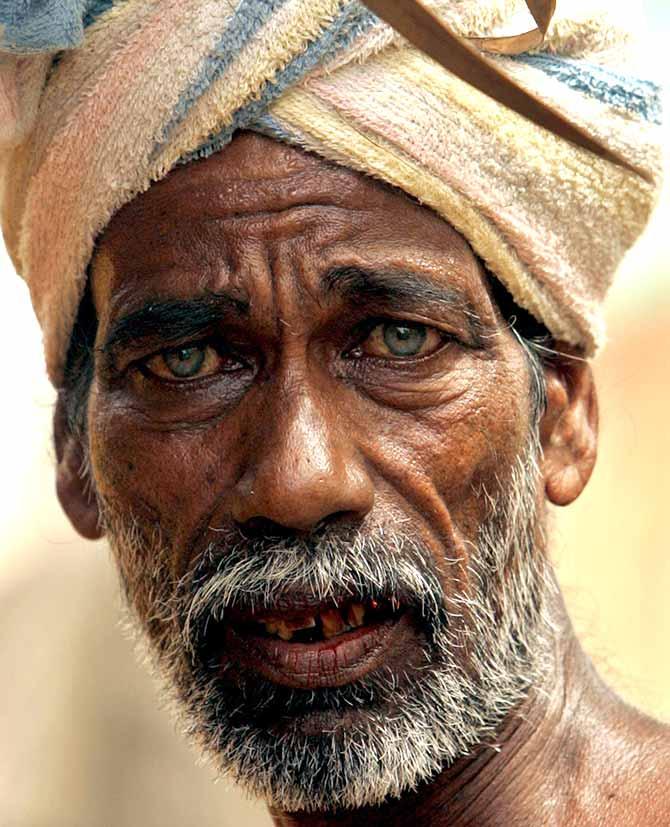 'There are some castes that grab power, then pass on the benefits to those who belong to their own caste.'
Will CCTV prevent cheating in exams?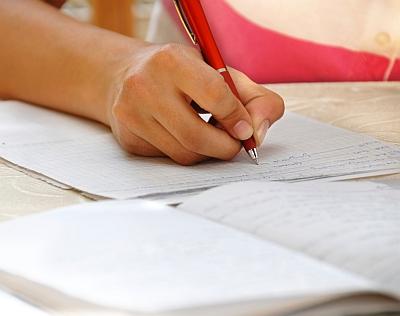 'The copying mafia is very powerful. We need to use technology to fight them.'
December 22, 2015
'India is a very powerful democracy. It can humble any dictator'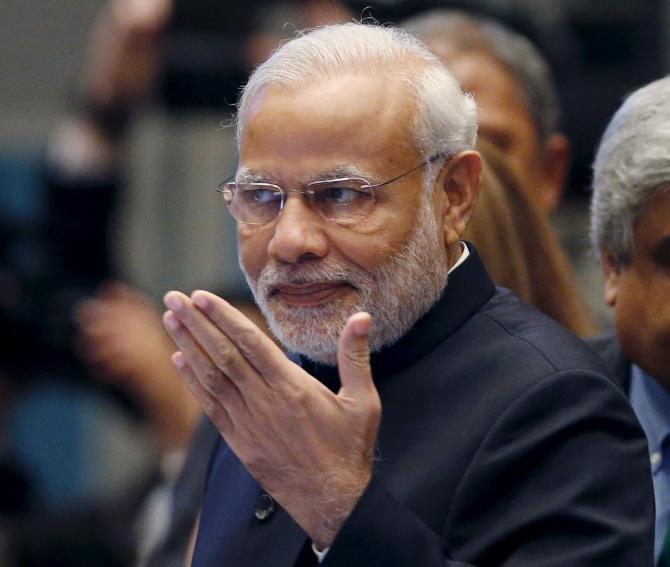 'I have never seen anybody disliked more as prime minister than Modi.'
The man who wants 6 lakh sq ft in Mumbai to protect cows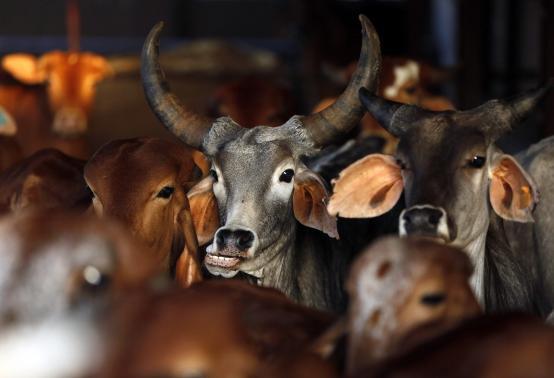 'I have seen so many cows roaming the streets of Mumbai. When people from foreign countries see cows roaming on our streets, it is not good.'
December 21, 2015
'Had Delhi trusted us, Kashmir wouldn't have been in this mess'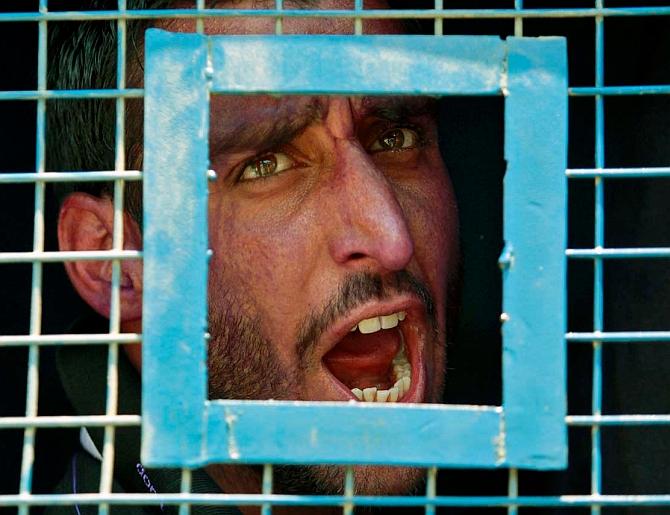 'The root of the Kashmir problem lies in Partition. To solve the issue, we have to begin from there and settle it forever.'
December 19, 2015
'Gandhis will be at the court as common citizens'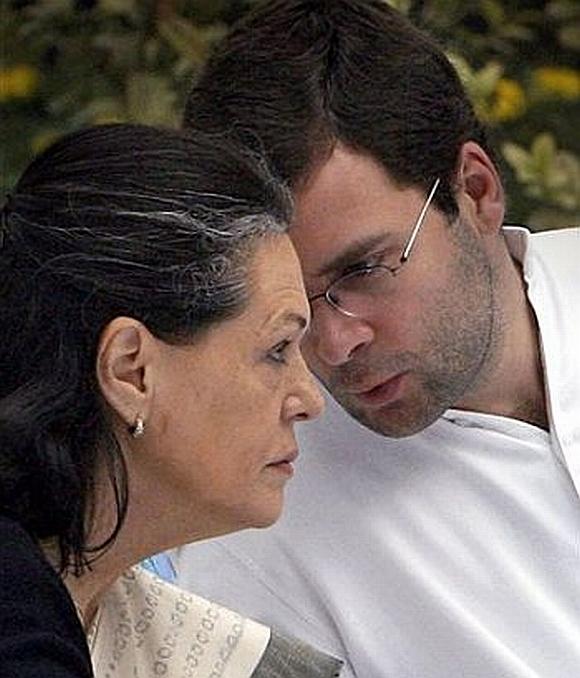 'So, why did Kejriwal, the crusader against corruption, choose such an officer as his principal secretary? He has to explain. After that, he realises that Kumar's case is not picking up, so he changes tracks and picks up Jaitley for the DDCA case.'
December 18, 2015
'Sooner or later, we will hear news about Dawood's end'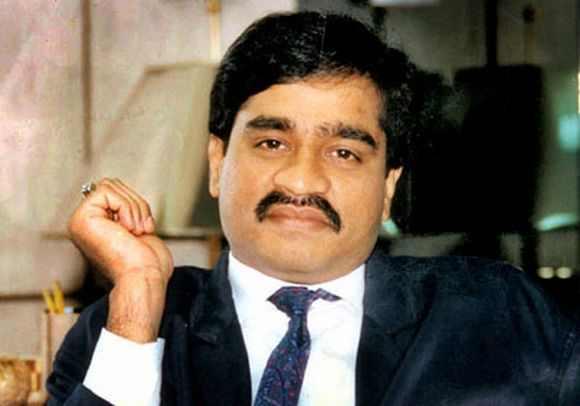 'After Rajan is back in India, our resident dons are almost down. I won't say that they are out. So, now the obvious question is about Dawood, and the present government, I think, is more than willing to address that issue.'
'You can't bribe nature'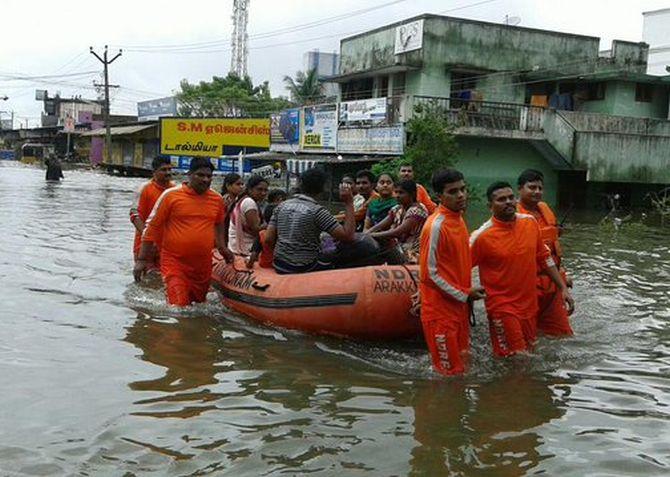 'You have to respect nature. You won't respect nature unless you see nature's fury.'
No screening of Bajirao Mastani in Pune: BJP MLA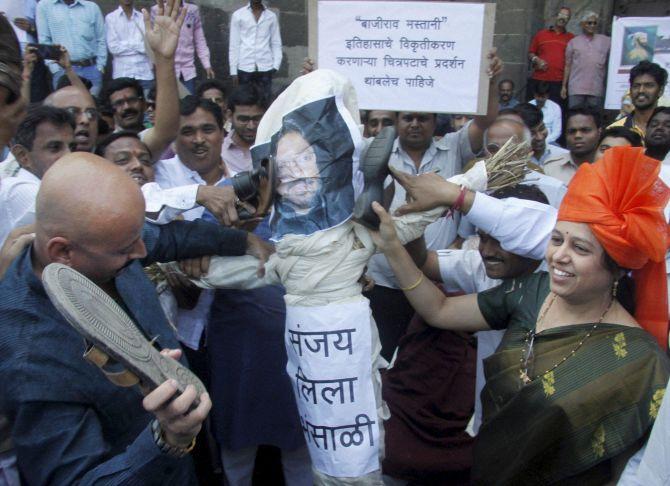 'The way they have showed Bajirao dancing in the song Malhari Malhari -- this is not the way to depict history.'
December 17, 2015
Why Poonam Mahajan wants NRI MPs in the Lok Sabha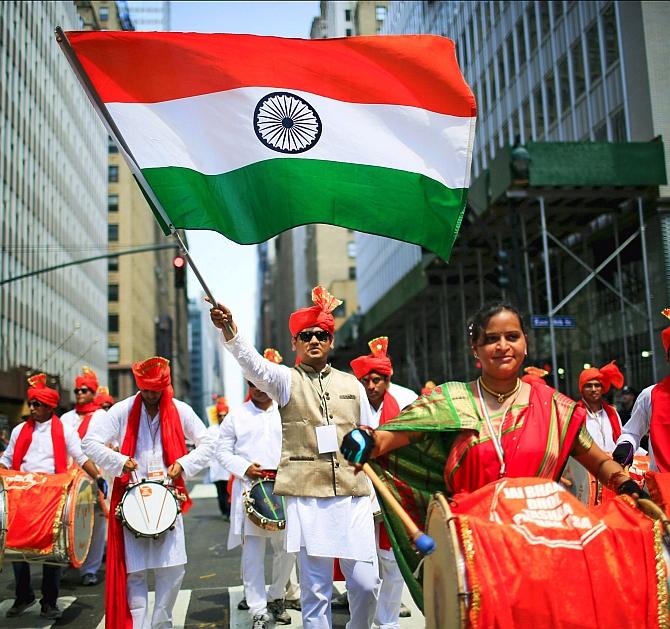 BJP leader Poonam Mahajan explains why she believes that NRIs joining Parliament will strengthen democracy.
The man who led Chennai's rescue effort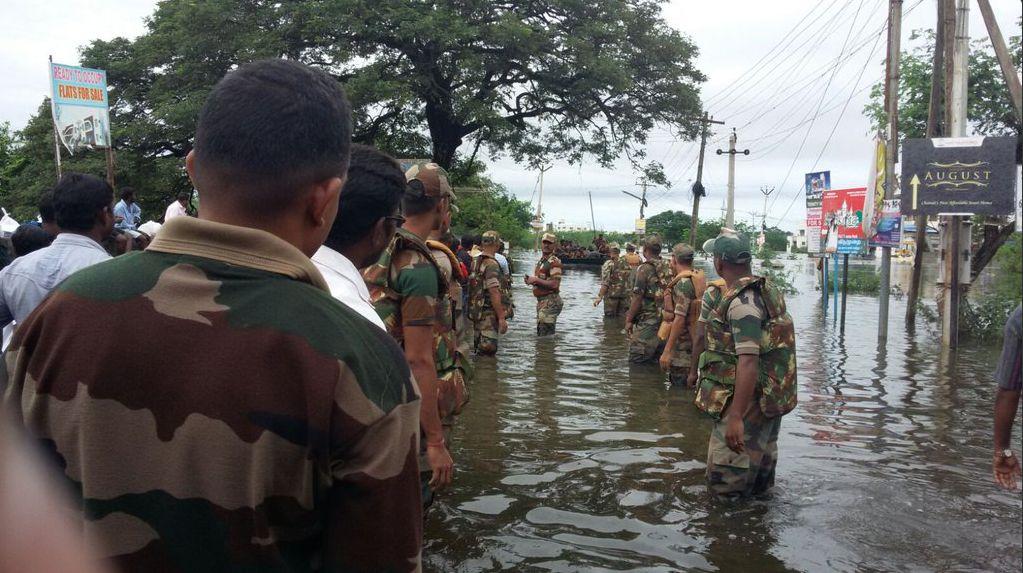 'Coordination between our 50 teams, each with a strength of 45 men, played a key role in rescuing flood-affected people in Chennai. In all, we succeeded in rescuing over 20,000 people.'
December 16, 2015
How Chennai is trying to keep an epidemic away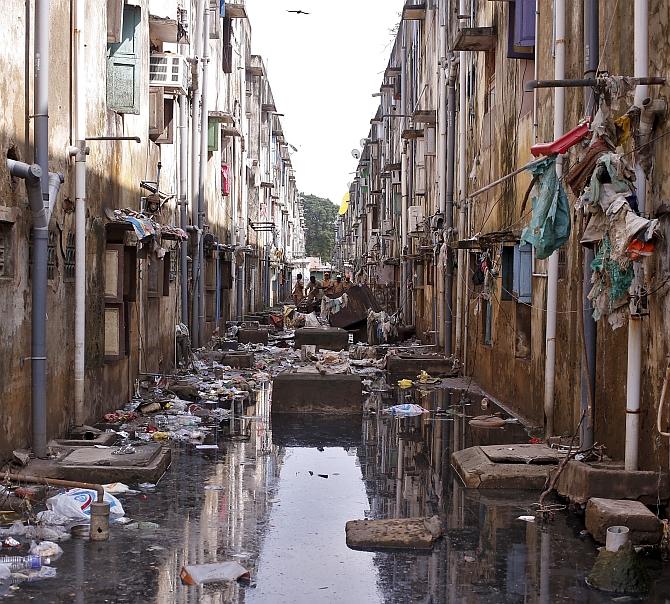 'There are Rs 90 crore worth of medicines in government hospitals, which is sufficient for the next three months.'
'The juvenile rapist is a threat to society, why release him?'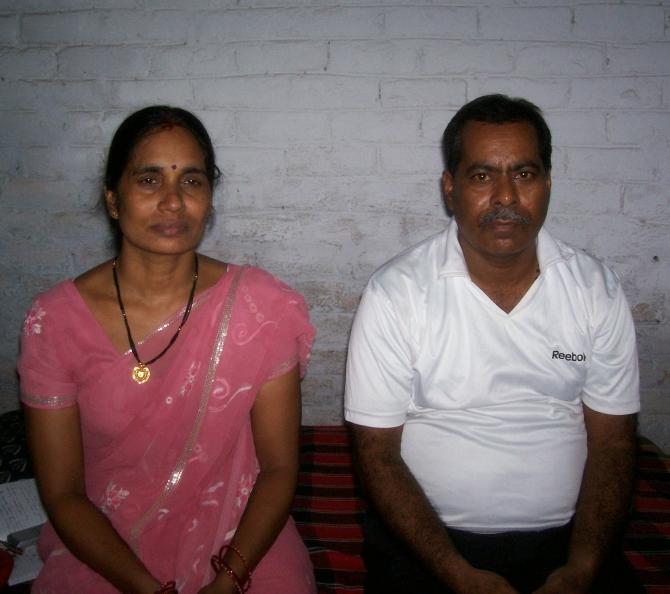 That it's the day his daughter was brutalised, raped and died as a result of her horrific injuries does not weigh heavily on Badrinath Singh.
December 15, 2015
'CM told PMO he would not be available'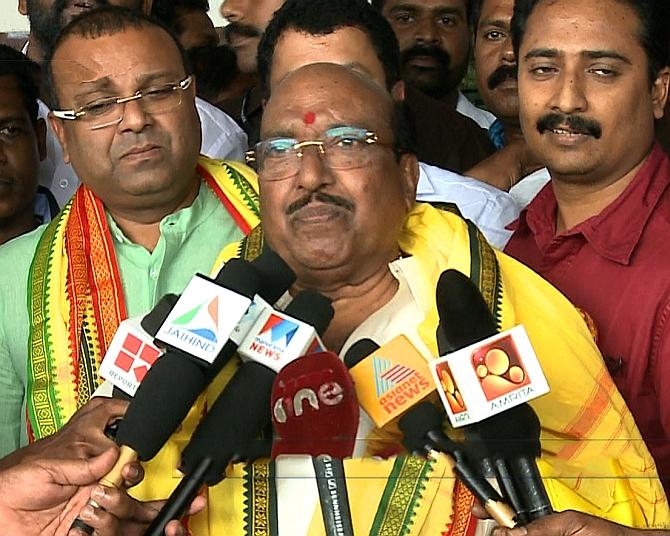 'Why do they talk about Narendra Modi insulting Oommen Chandy when he himself informed the PMO that he would not be available? Why did he write to Delhi that he was preoccupied on the 15th? After that, he should not make such noise about the function.'
December 11, 2015
'Headley has nothing to lose'
'In the long run, because of international pressure, Headley's testimony will become credible in Pakistan also. And if Pakistan decides to examine him as a witness in their trial then I think there is a chance of conviction against Hafiz Saeed and Zaki-ur Rehman Lakhvi.'
ISI spy network: 'Who are the people behind the masks?'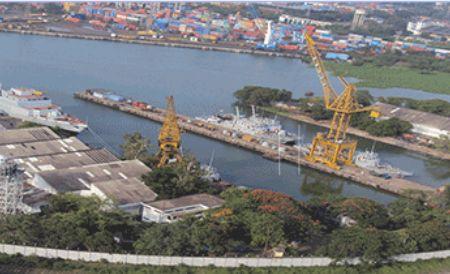 'It's scary to know that those arrested passed on sketches of warships etc to the ISI.'
December 09, 2015
Meet the Mumbai lady in a Pakistani madrasa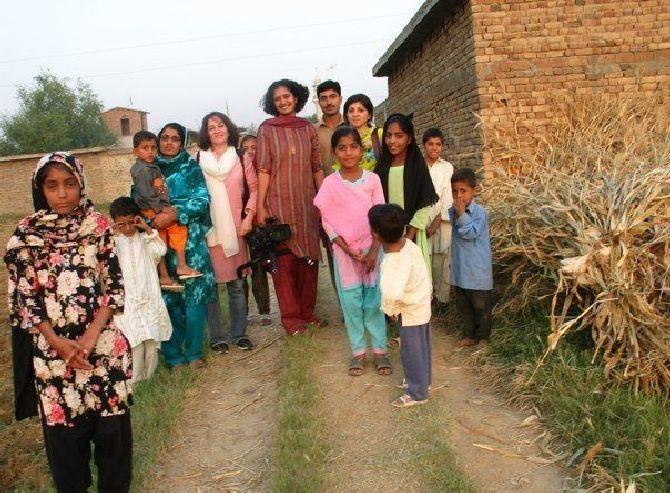 'People in Pakistan opened their homes and hearts to me because I was an Indian. I didn't feel alien at all and I felt as if I was in my own country.'
December 03, 2015
'The downfall of BJP has begun from Gujarat'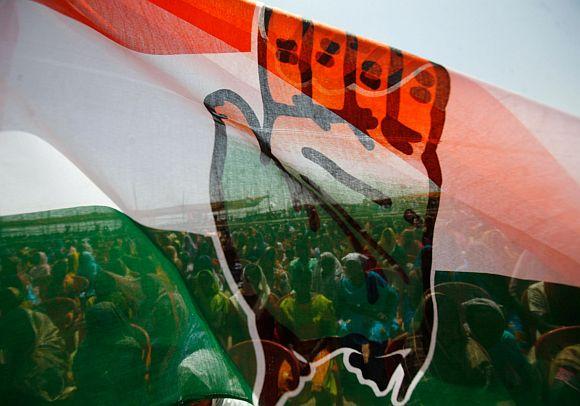 'People were very upset with the fake promises of the BJP in the 2012 assembly elections as well as general elections of 2014.'
December 02, 2015
'Religious leaders are trying to suppress Muslim women'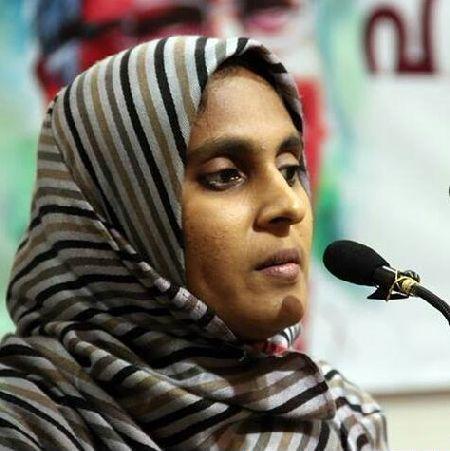 'Male domination is not coming down but women have started standing up and questioning the authority of men.'
December 01, 2015
'BJP's days in Madhya Pradesh are numbered'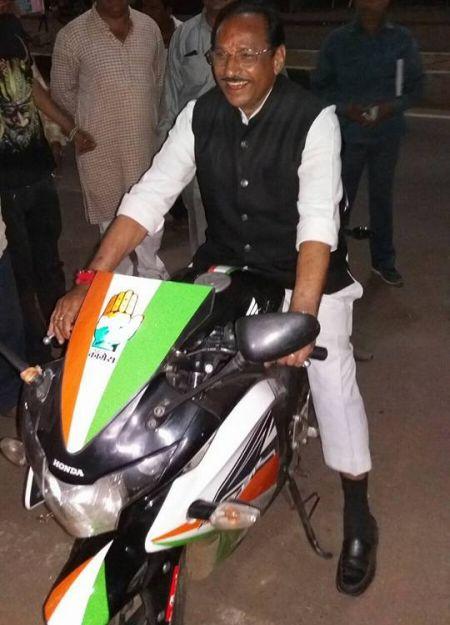 Congress leader Kantilal Bhuria, who wrested the Ratlam Lok Sabha seat in Madhya Pradesh from the BJP recently, speaks to Prasanna D Zore.
'Kejriwal is in the grip of anti-party elements'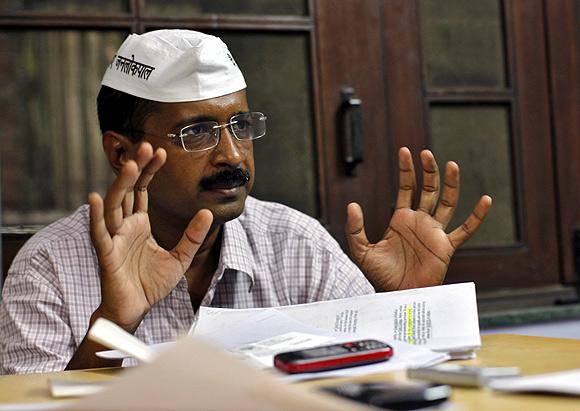 'Kejriwal's way of working is 'my way or the highway'. If you don't say Kejriwal zindabad then you will be thrown out of the party.'
November 30, 2015
'The BJP expelled me for no reason'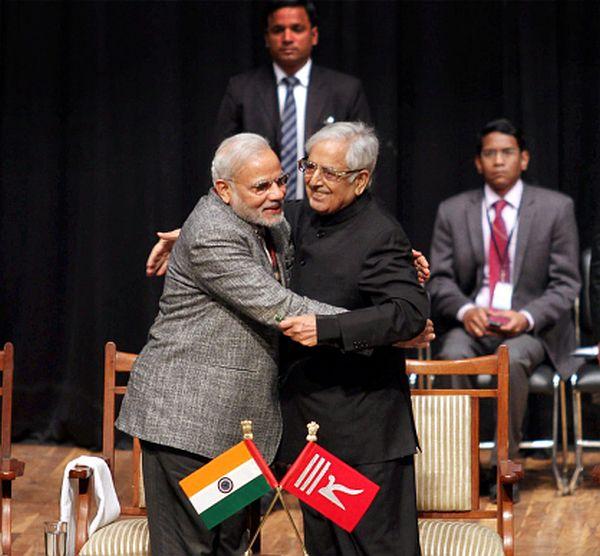 Expelled BJP ideologue Prof Hari Om speaks to Pervez Majeed.
Dawood was 'boastful'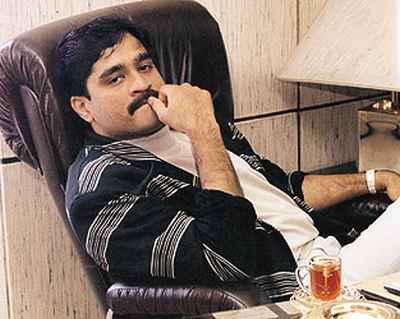 'It would be unfair on the Mumbai police to believe that D has compromised the force. We should not forget that today the underworld in Mumbai stands decimated because of the efforts of the Mumbai police.'
Finally, one state decides to tackle hartals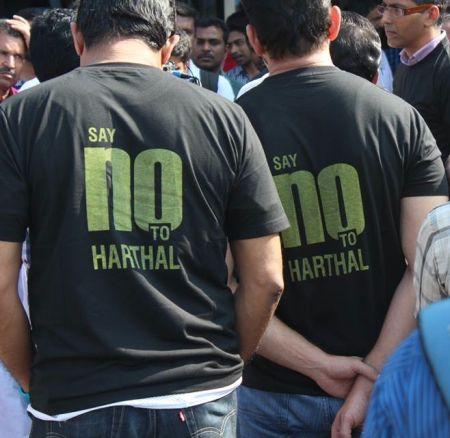 'In each hartal, enormous amount of public money is wasted. The entire state comes to a standstill. How long can this go on?'
November 27, 2015
How the navy is dealing with India's dwindling submarine fleet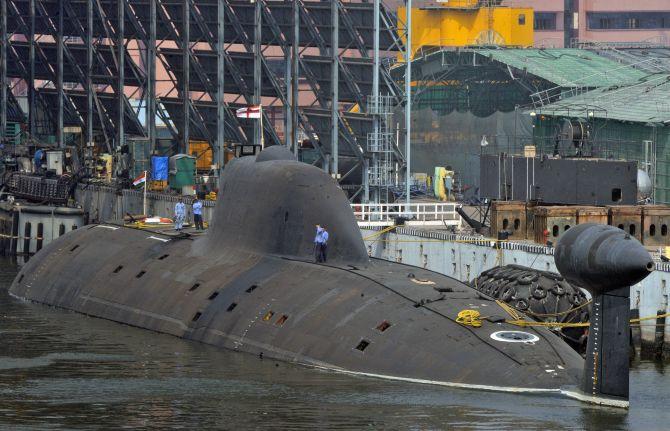 Indian Navy Chief Admiral R K Dhowan enumerated a three-pronged strategy to counter the country's minified submarine fleet.
'Indian Muslims have no better place to live than India'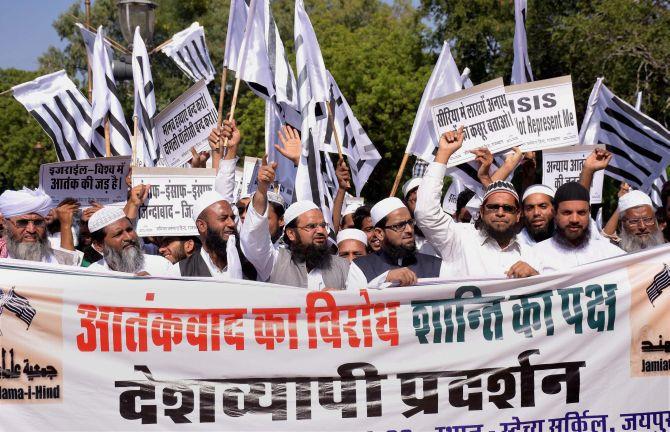 'We are Indians not by chance, but by choice.'
November 26, 2015
'We expected Modi would follow Vajpayee's doctrine of insaniyat'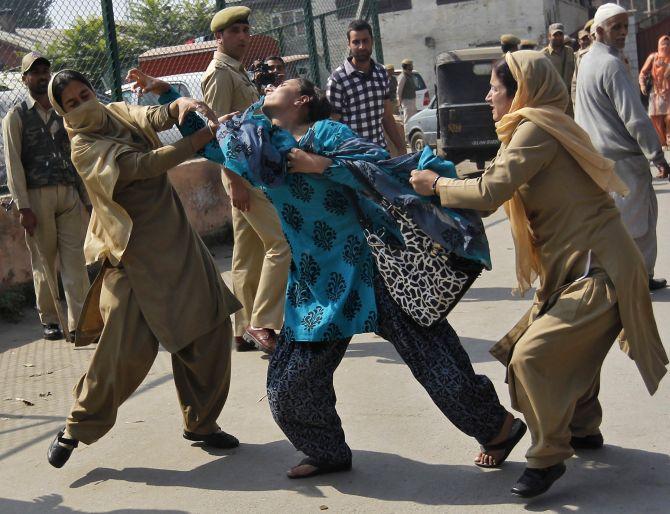 'Many people thought that a Hindu nationalist party's government would take bold steps vis-a-vis Kashmir. But sadly their approach has been led by military and security priorities.'
November 25, 2015
'Government of India should penalise TN government for floods'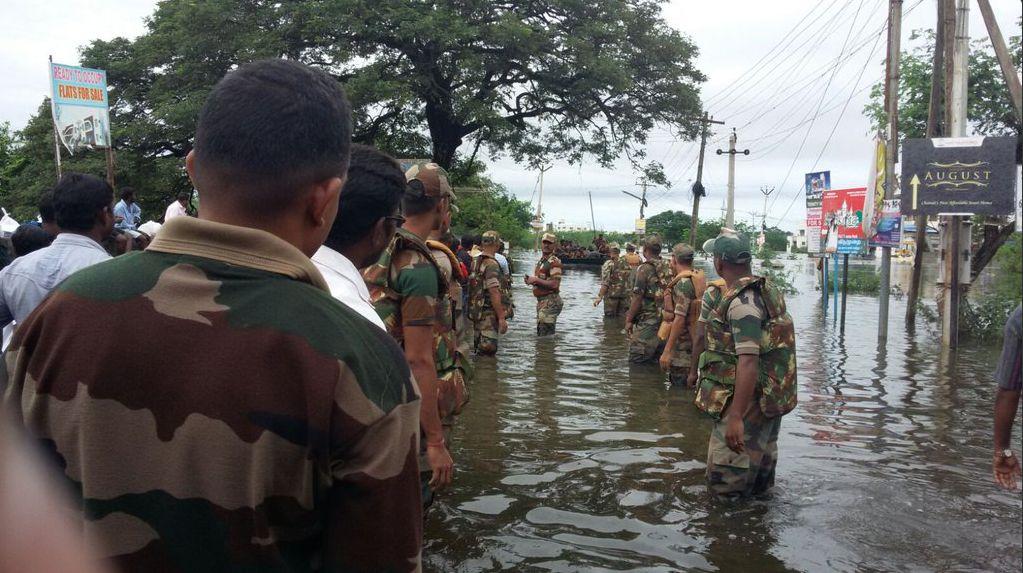 'The Chennai floods in particular clearly show there is a nexus between corruption, disaster, destruction and death.'
Exclusive! Manohar Parrikar on his plans for India's defence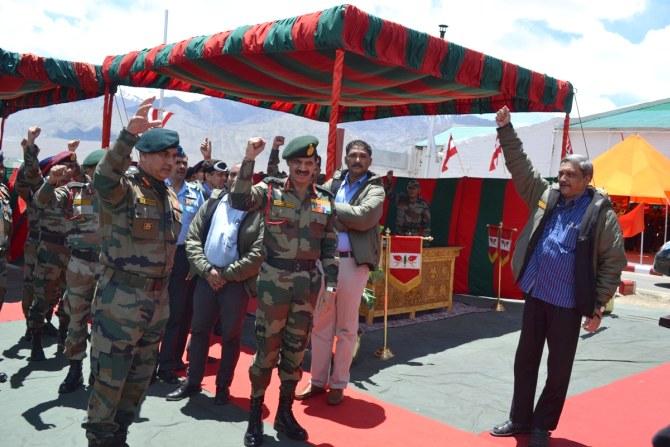 'The armed forces have been given clear indication that they have to give priority to Make in India and indigenisation and dependence on foreign source should be reduced.'
November 24, 2015
'Terrorism is also a social activity'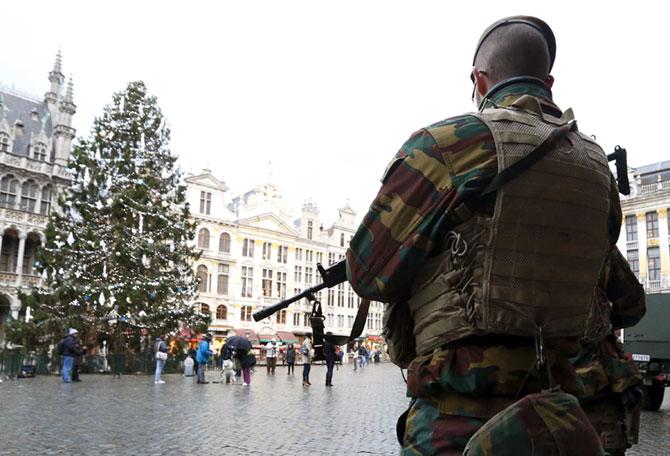 'So a number of people are drawn in along with members of their friends' circle or their relatives.'
November 23, 2015
'We will not let our culture die'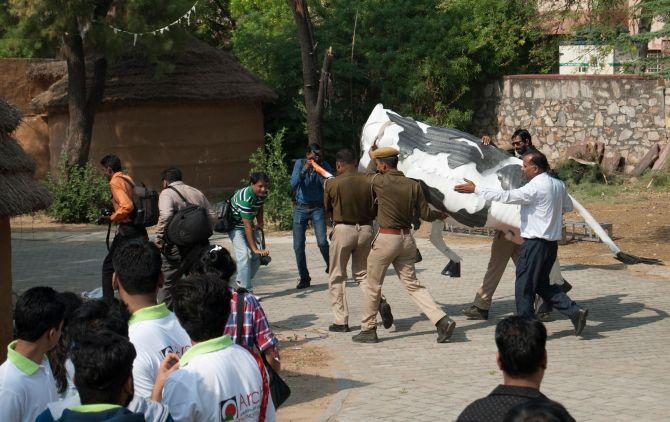 'Not just the cow, nowadays any issue can be problematic.'
Why this priestly community wants reservation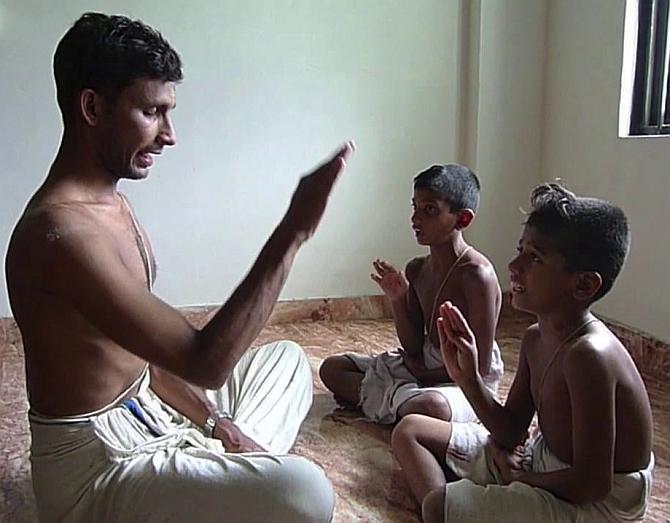 'Our children score very high marks, but do not get admission in good colleges. They get top rank, but they do not get jobs because they belong to the so-called forward caste.'
'We will always fight this battle with our hands tied'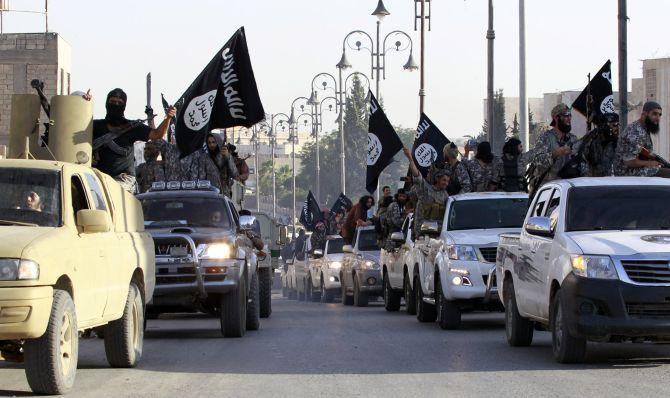 'It has taken bombings in Beirut, bombing of a Russian airliner and now terror attacks in Paris for people to realise that we are not going to achieve our objectives of destroying ISIS if we drive in second gear. We need to get into top gear.'
November 20, 2015
'This Modi government is more talk than substance'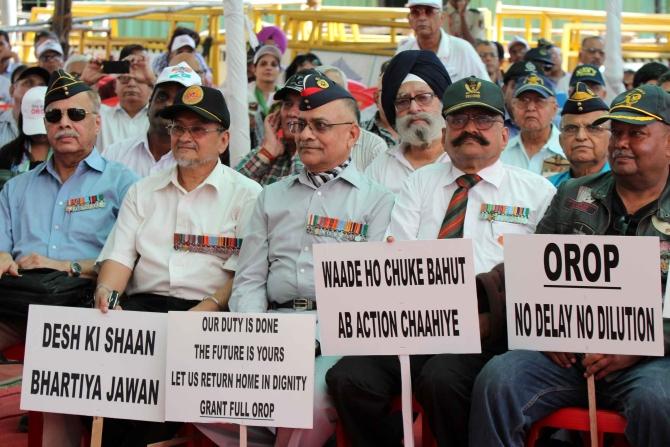 'We all expected Modi with the majority to tame the bureaucracy, but it is the bureaucracy that tamed him.'
November 19, 2015
'Spirituality, in its true sense, is the need of the hour'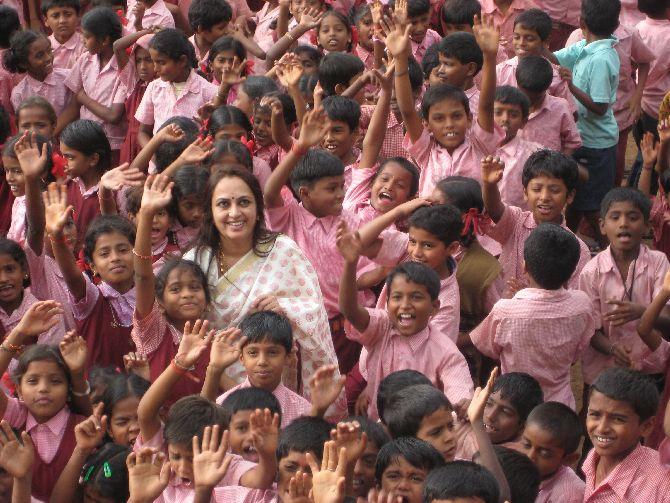 Bhanumathi Narasimhan, sister of Art of Living founder Sri Sri Ravi Shankar, spoke to rediff.com about the upcoming World Culture Festival 2016 in New Delhi celebrating 35 years of service by the Art of Living foundation.
'We should not discount the ISIS threat in India'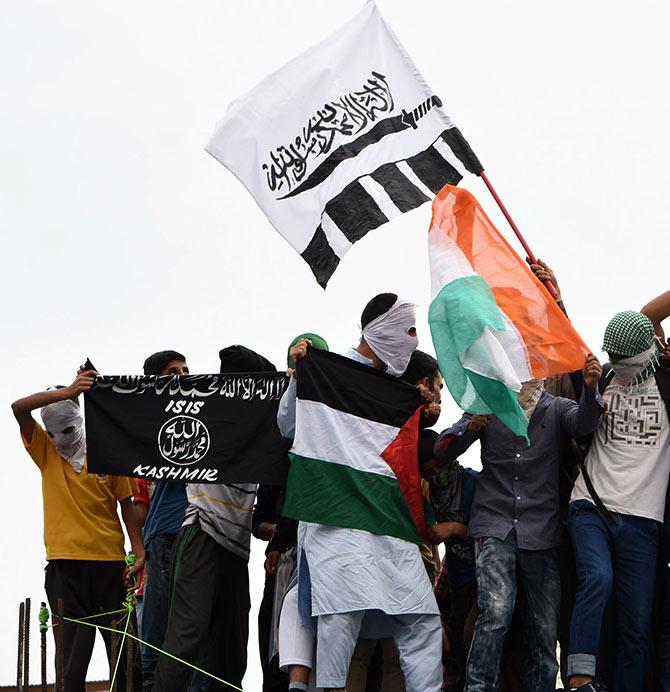 'These ISIS terrorists want to smash Western civilisation, smash India. For the time being though, their main target would be the US and Europe.'
November 18, 2015
'Don't know why the govt calls Greenpeace anti-national'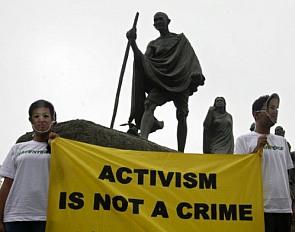 'We are facing a crackdown for more than a year. Our permission to collect funds was cancelled. Our bank accounts were frozen.'
November 14, 2015
Why cities like Paris and Mumbai are victims of terror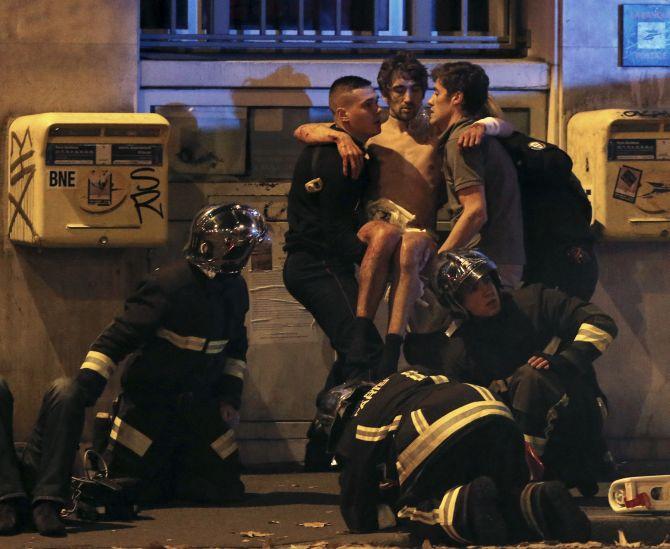 'As Mumbai showed, and the Nairobi Westgate Mall attack reinforced, "guerrilla-style terrorism" has increasingly become the method-of-choice for terrorist groups,' says terrorism expert David Kilcullen.
November 13, 2015
'Laluji will get Mamta, Kejriwal, Patnaik in secular alliance'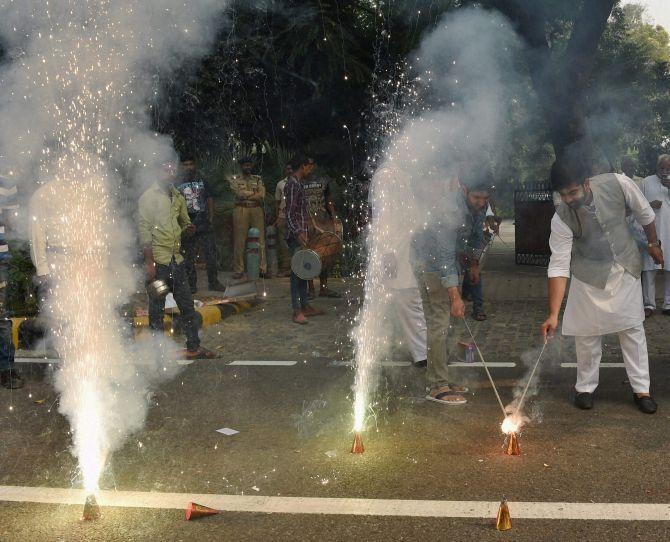 'We had never imagined that the prime minister could use such language to win votes.'
'Modi said fighting climate change improves life of citizens'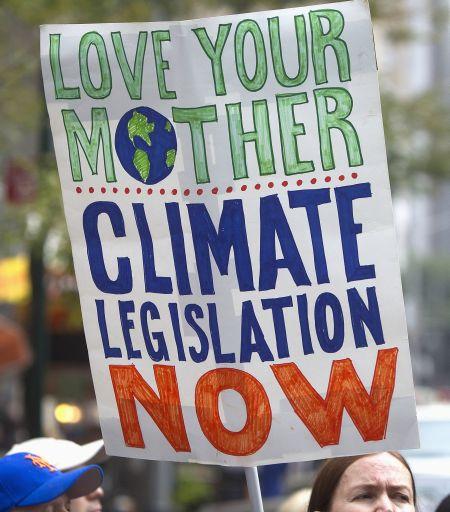 'The Paris Conference is a decisive meeting on climate change.'
November 12, 2015
'For a mother it was obviously a very joyous occasion'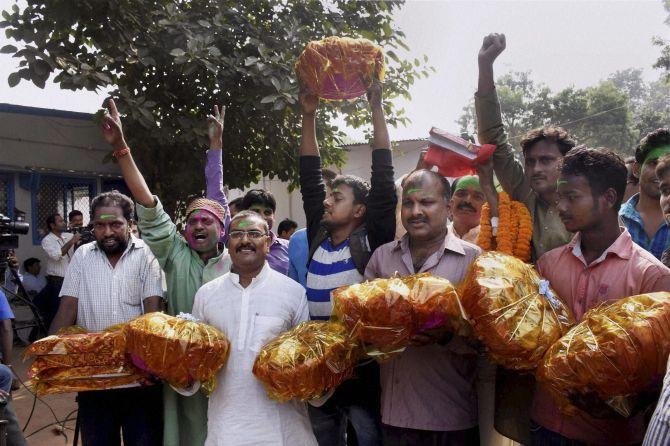 'Laluji is resting for some time, but he will surely act on his commitment and tour the entire nation to unite all the secular forces.'
November 11, 2015
How a company may change India's politics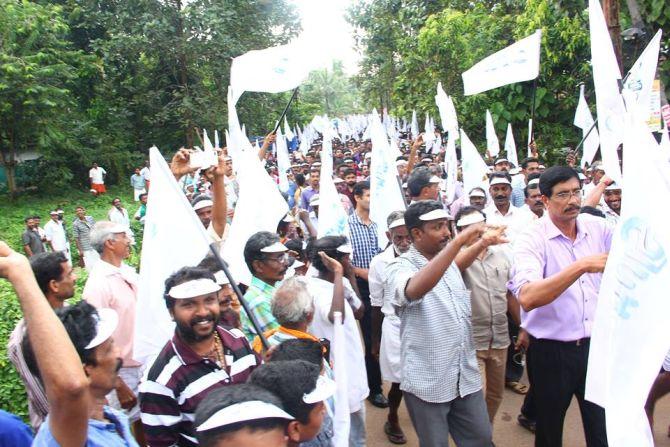 'India is so poor that political parties will not be able to wipe out poverty from our country in another 100 years. I am of the opinion that development can come only through corporates.'
November 10, 2015
Lalu's son: 'The BJP will, of course, play dirty'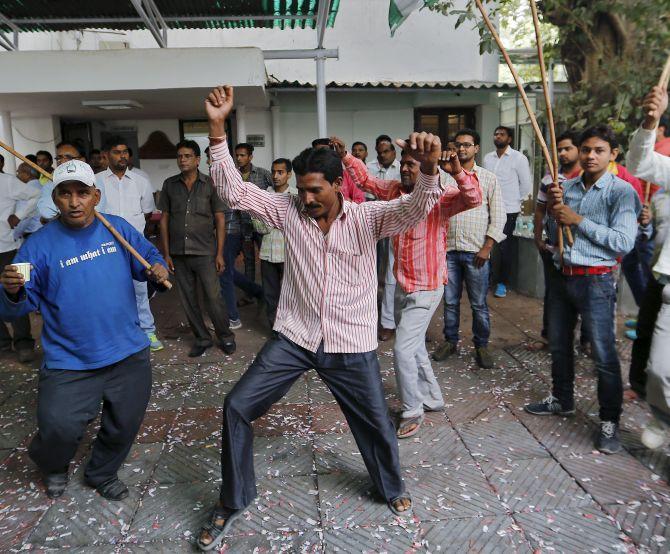 Tejaswi Yadav spoke with Rediff.com about how he plans to wash clean the 'jungle raj' tag that has stuck with his father and former chief minister Lalu Prasad Yadav.
November 08, 2015
'The honeymoon with Modi is over'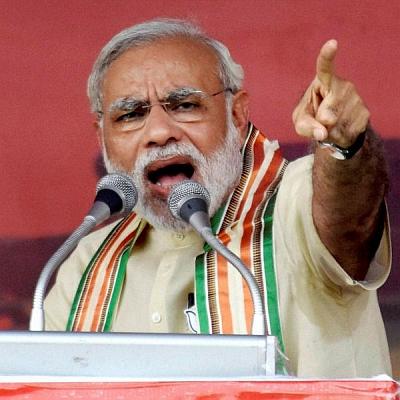 'If Lalu puts the agenda of his son's career ahead of the coalition's interest, this coalition will fare very badly.'
November 06, 2015
Amish: You cannot judge 1.25 bn people by 5, 10 incidents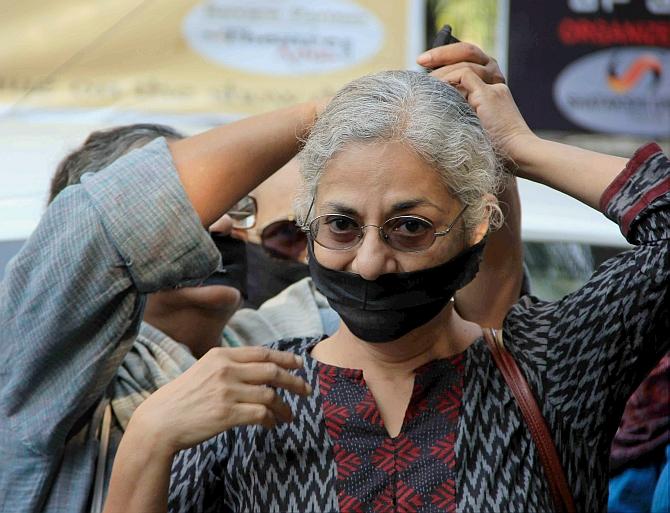 'When you are returning your award you are commenting on the country and not the government.'
November 05, 2015
Former hostage: 'Islamic State is bullshit'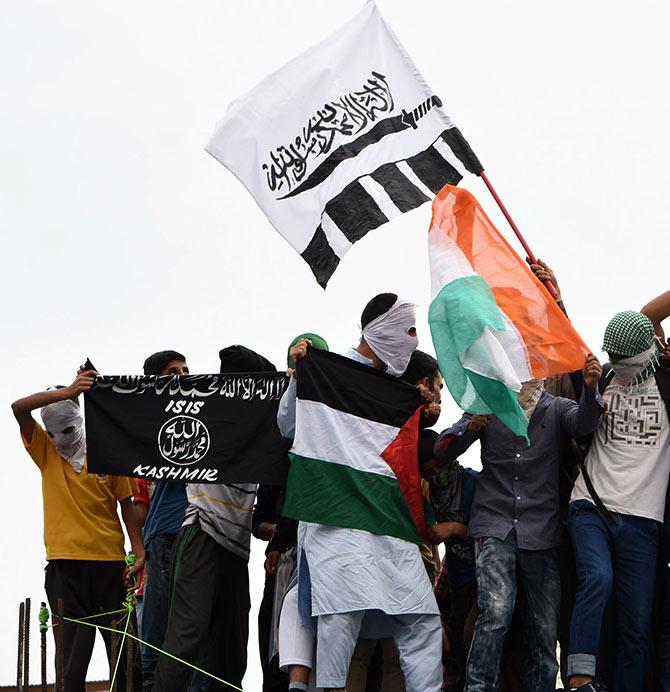 French journalist Nicolas Henin was captured by the terrorist organisation, the Islamic State, and spent 10 months in captivity explains how the growth of the Islamic State is result of the West's limitation in seeing the IS merely as a terrorist organisation while ignoring its political message and goals.
November 02, 2015
Why an ex-ISRO chief wants a BJP-led Third Front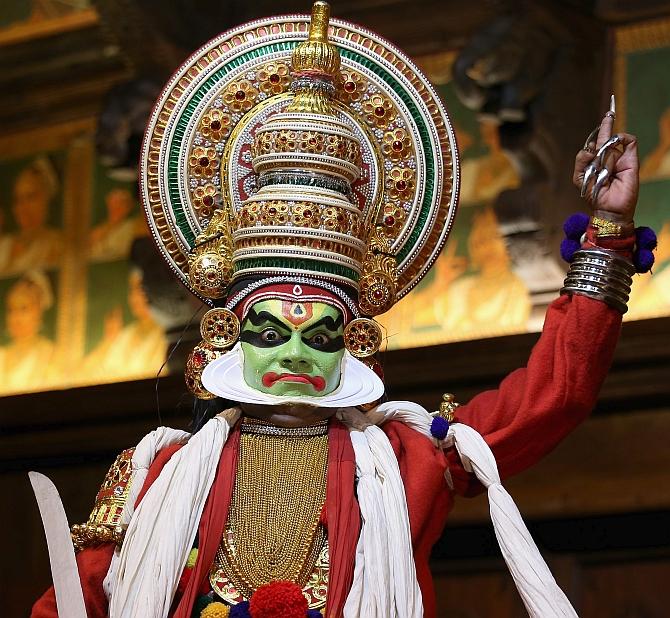 'There could be some aberrations here and there. This has nothing to do with the government or the ruling party. The government machinery is put in action when atrocities take place. They are not sitting silent.'
October 29, 2015
'Modi government does not understand the ABCD of science'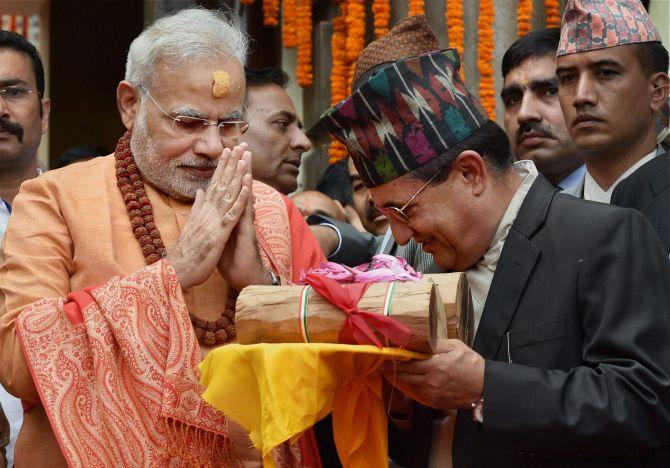 'We are moving away from the path of democracy and towards Hindu religious dictatorship,' scientist P M Bhargava, who announced his decision to return the Padma Bhushan, tells Syed Firdaus Ashraf/Rediff.com
'A country that does not respect its soldiers is doomed to fail'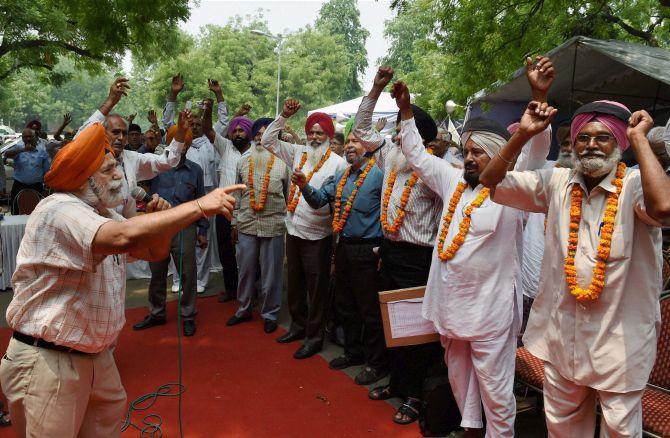 'Think about this: A widow of a jawan is drawing only Rs 3,500. If OROP is implemented, she will get additional Rs 1,500. These poor girls are young and have no source of income; they are trying their best to just make ends meet. It is the pain of these situations that has driven me to this.'
October 28, 2015
The man who thinks it is his karma to unite Hindus in Kerala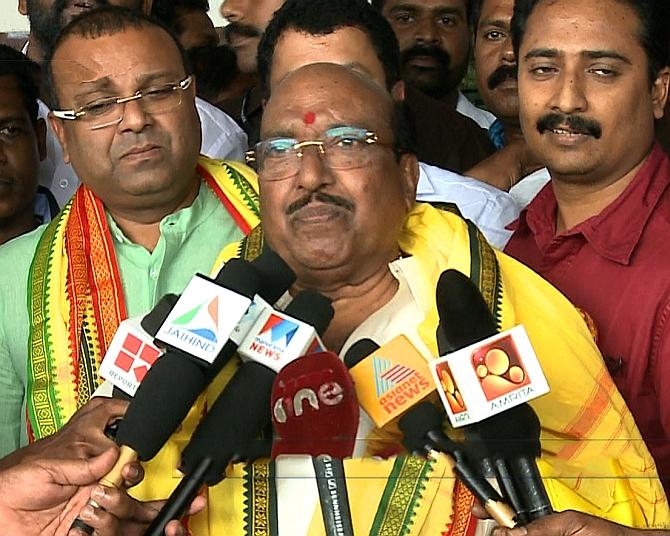 'Slightly more than 50 per cent of all Keralites are Hindus. If we can unite as many as we can, we can create a huge difference in the political scene in Kerala.'
October 27, 2015
Congress politician: 'Cancer can be cured by gaumutra'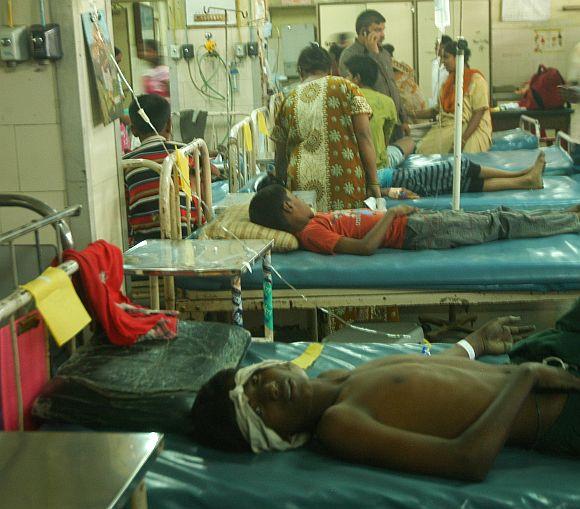 'Gaumutra kills all bacteria,' says the Congress corporator from Mumbai, who wants cow urine to clean the city's hospitals.
Exclusive! The JEB BUSH interview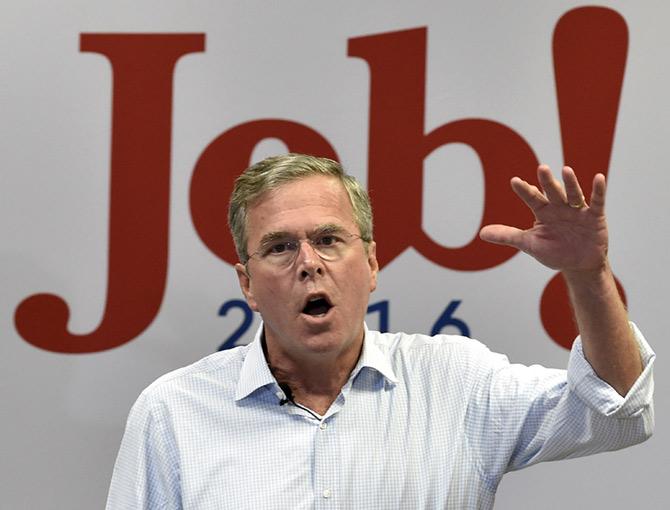 'We don't have to be the world's policeman. We don't have to impose our values. But we need to lead and when we pull back as we've done, you begin to see exactly what happens -- the voids are filled by threats of terror that countries have to suffer with, including India.'
'There is a big game plan to defame Modi'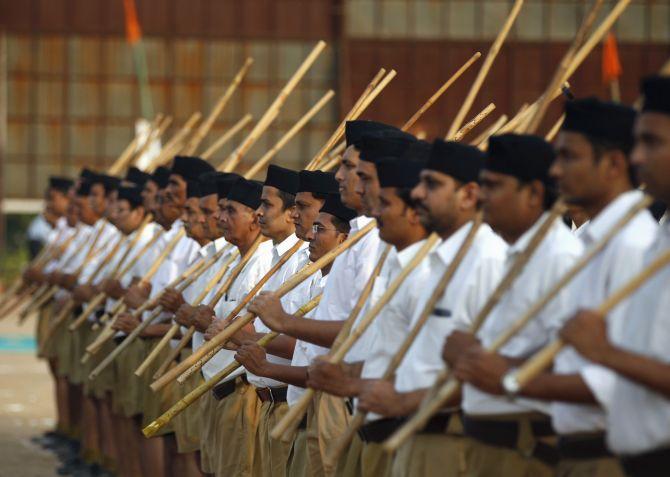 'The dirt in the Indian Ocean must be less than the abuses Narendra Modi got from secular forces.'
October 26, 2015
'Nitish had no option but to join Lalu Prasad'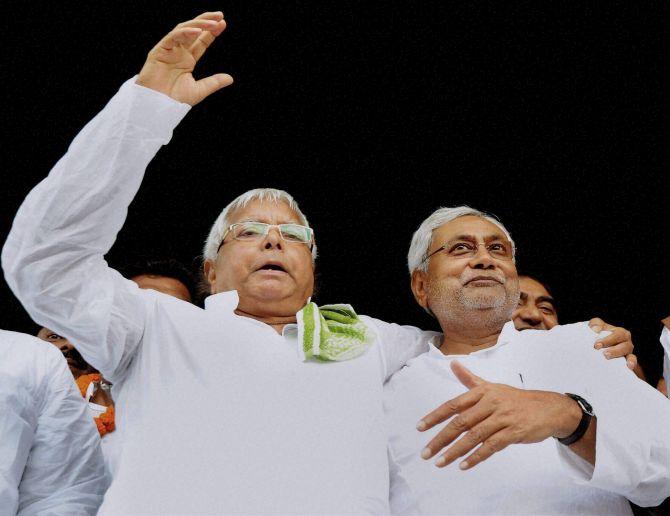 Upendra Kushwaha, president of the Rashtriya Lok Samta Party, which is part of the National Democratic Alliance government at the Centre, admits the Bihar assembly elections will be a close contest and will be fought along the lines of caste.
October 21, 2015
'Nepal has never undertaken something of this magnitude'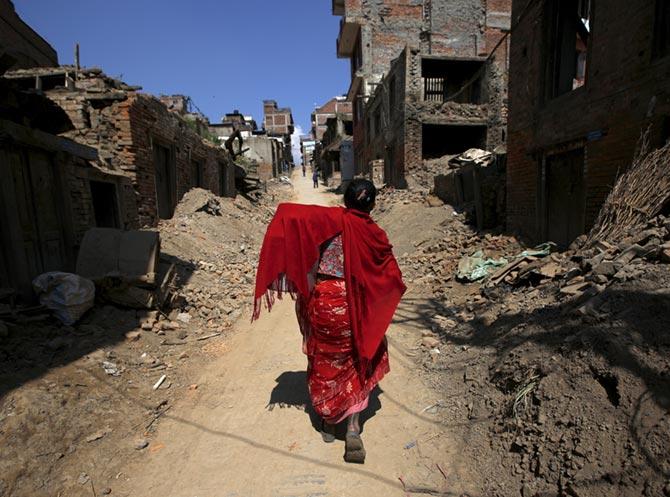 Dr Swarnim Wagle, the official behind Nepal's reconstruction strategy, speaks to Patrick Ward.
October 20, 2015
'Bringing religion into public life is a dreadful mistake'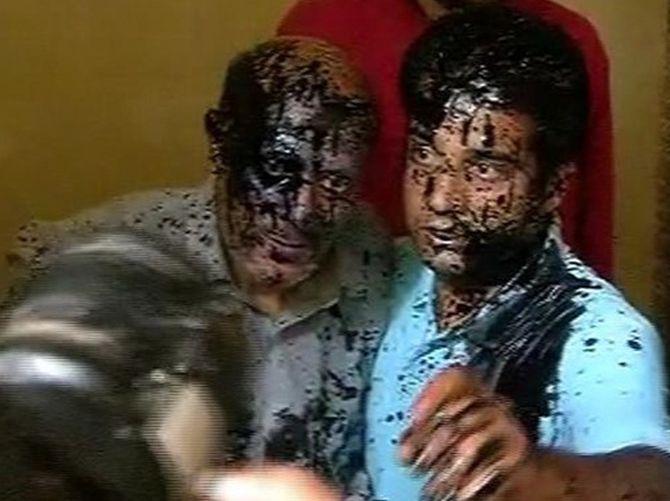 'Communal tension and violent mobs have been part of our country, whichever government is in power. What has happened since the BJP came into power is that individuals or group activities asserting Hindutva have become louder, more aggressive.'
October 16, 2015
'Modi does not want institutions to run'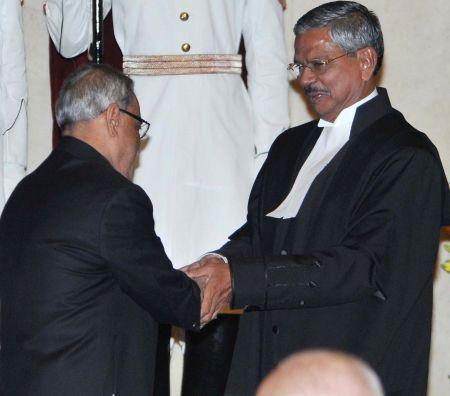 'The appointment of judges must not be under the control of the government,' says Prashant Bhushan.
October 15, 2015
Hardik Patel: They may have me killed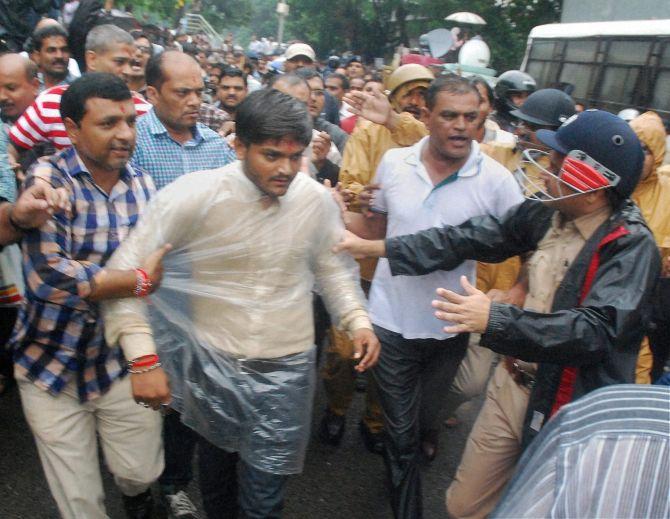 'I warn them of such tactics because hundreds of Hardiks will be born if one is killed because our fight for justice has been accepted by the Patidar community.'
This man wants to know how much PM spent on foreign trips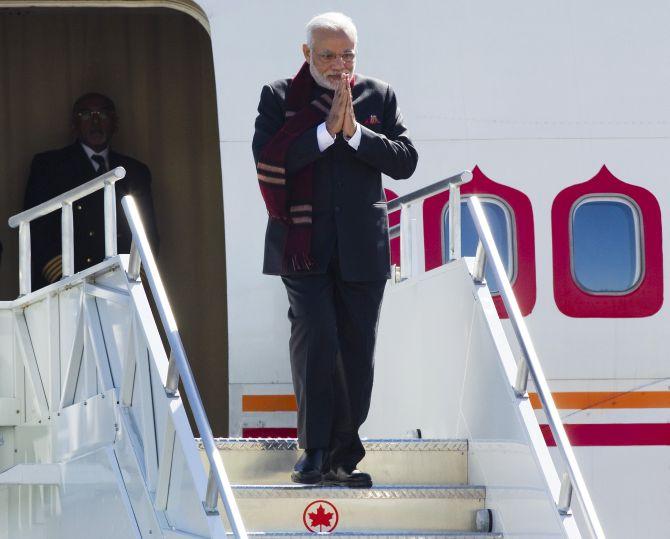 'My interest is to open up transparency to the people who unnecessary raise these issues. The prime minister has full right to go wherever he is going but the question is why is he not transparent on expenditure.'
'A cultural Talibanism is happening in the country'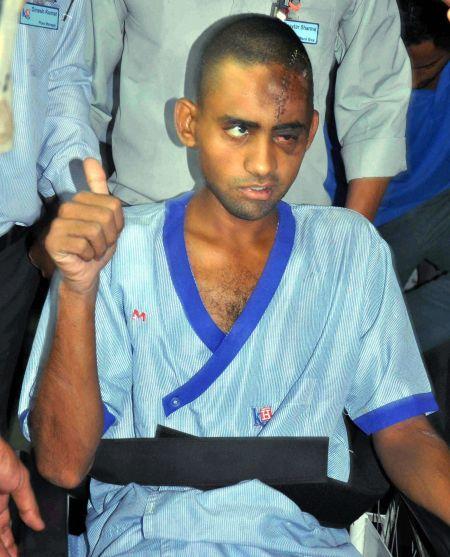 'Dadri was an extension of the cultural fascism that was happening in the country.'
October 14, 2015
This hero stops the plunder of India's past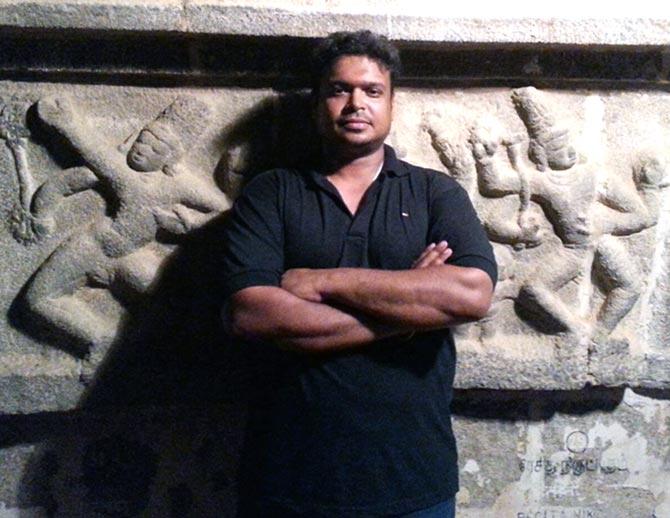 'Imagine how secure are our seaports and airports that 10,000 objects can leave every decade and our custodians are not even aware?'
October 13, 2015
Sahitya Akademi President: 'Why are writers returning awards?'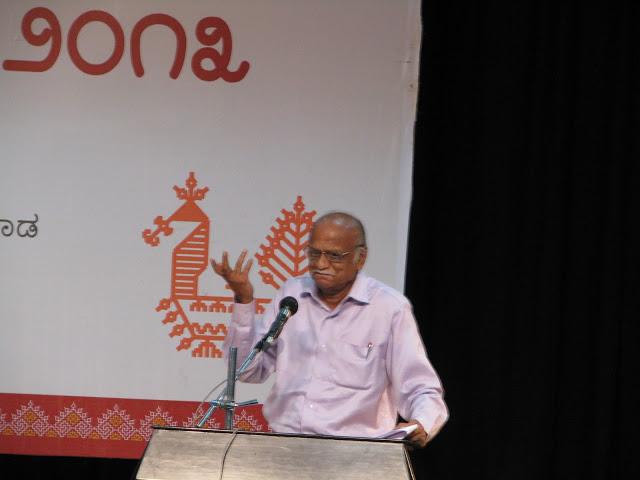 'If they oppose the government on different issues, what has the Sahitya Akademi got to do with it?'
'Why I supported the beef fest'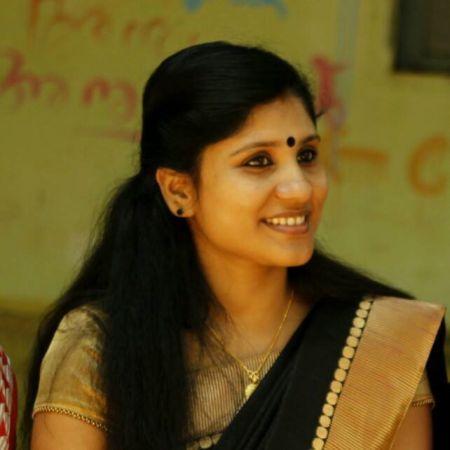 'The beef fest is about an individual's freedom to wear what he wants and eat what he wants. The students were protesting against the state interfering with their personal liberties.'
October 12, 2015
Why the Shiv Sena threw ink on Sudheendra Kulkarni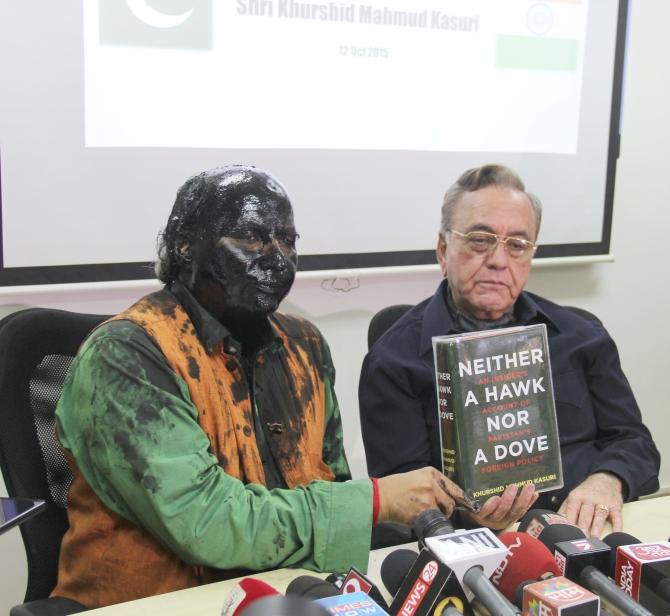 'The Pakistani defence minister talks of throwing a nuclear bomb on India. And if someone throws ink on your face, you call it violence?'
October 11, 2015
Bihar's development won't take a back seat even if BJP loses: Rajnath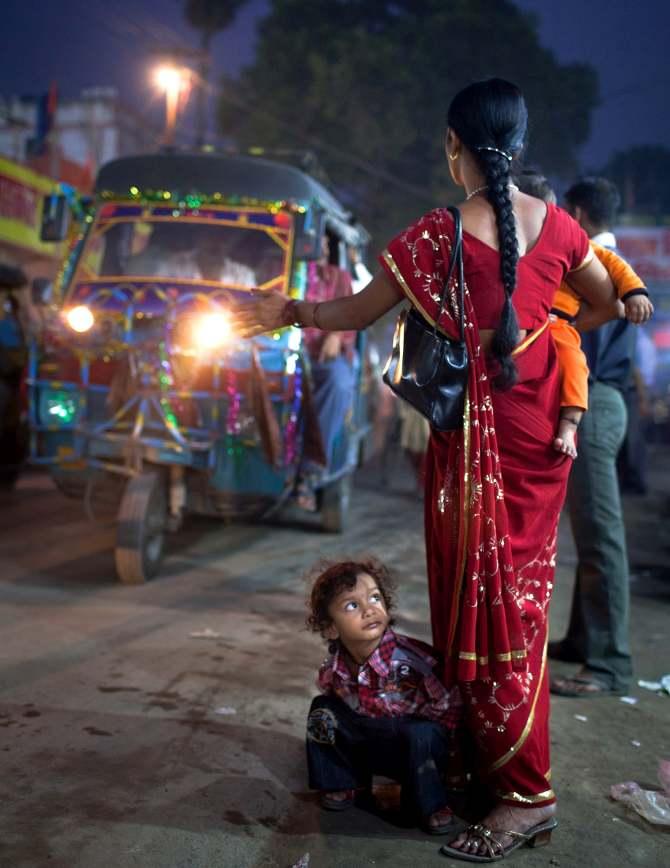 Ahead of the five-phase crucial elections in Bihar, which begins on Monday, Home Minister Rajnath Singh talks about the BJP government and its bight future in the state, beef politics and more in an exclusive interview to CNN IBN.
'Except China, it's hard to imagine global powers trusting Pak'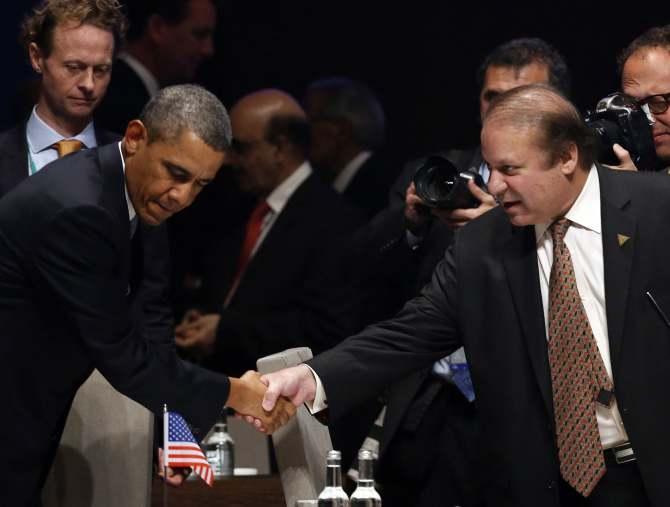 Sheel Kant Sharma, chief negotiator for India in the talks leading to the Indo-US civil nuclear agreement, tells Aditi Phadnis that for a United States-Pakistan nuclear deal to happen, credible guarantees have to be offered by the government in Pakistan, which seem to be an elusive entity.
October 09, 2015
He brings the gods back home to India
'There are hundreds of items from Madhya Pradesh, Andhra, Rajasthan, Gujarat in Subhash Kapoor's loot. The Tamil Nadu Idol Wing wants to just prosecute Kapoor for three cases and close it. To me that's myopic.'
'Castes were not created by Lalu Yadav'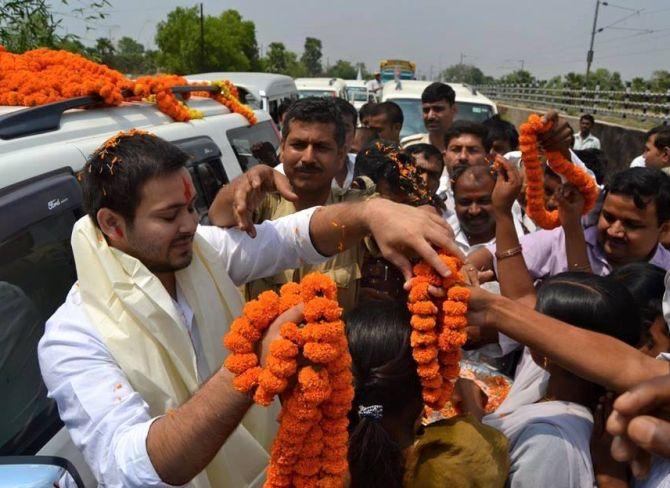 'For the BJP, development is nothing more than a jumla,' says Tejaswi Yadav.
October 08, 2015
Why BJP MLAs beat up this MLA in the J&K assembly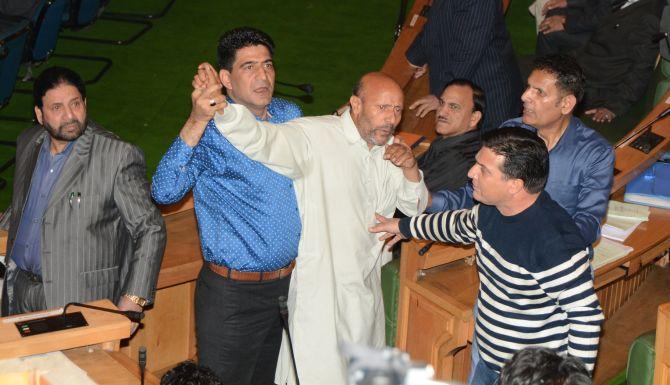 'I should not have lifted my hand, but whoever eats the meat of a cow, whom we Hindus consider our mother, these things will happen.'
'Only 5-10% benefitted from reservation'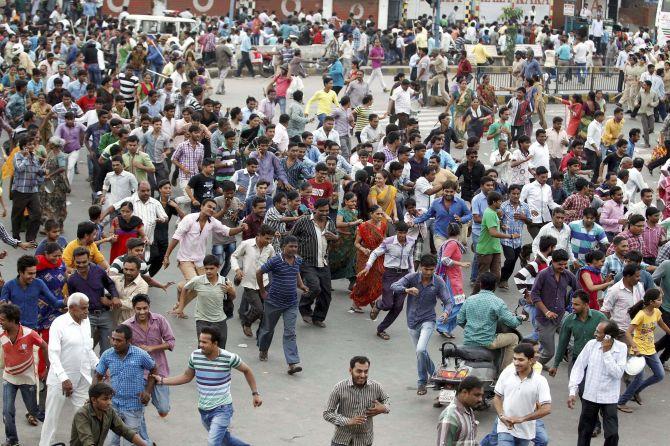 'When the youth population is so large, in a globalised world, they look for opportunities. Are there enough opportunities for the youth in India?'
October 07, 2015
'I can't help if people want to love a dictator'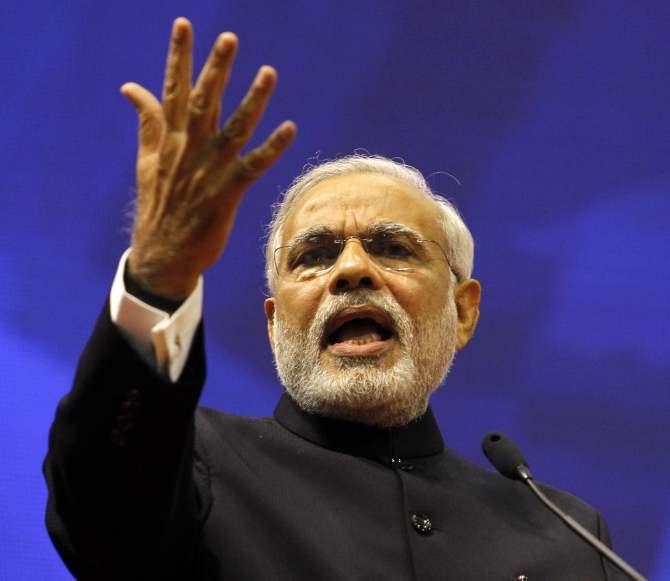 'Modi is an uncivilised person who is ruling a fascist regime.'
October 06, 2015
'Too much togetherness does not work in a couple'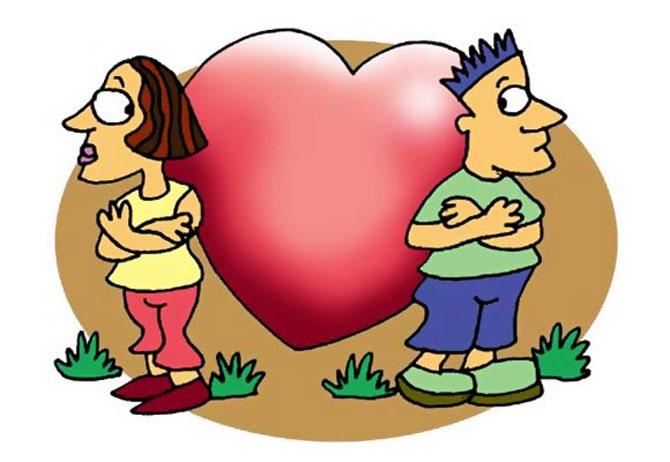 'A family works best when a husband and wife share a 15 to 20 per cent relationship.'
October 01, 2015
Pappu Yadav: 'Mahatma Gandhi is not my icon'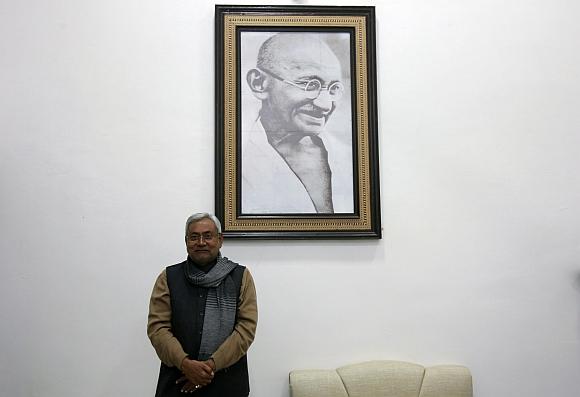 'Nitish's claims of development are false. He has only helped corrupt officials.'
'Sanatan Sanstha wants to overthrow the political system'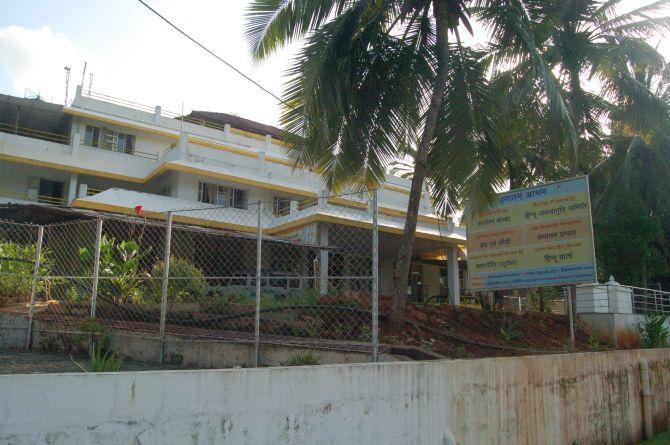 'Neither the Congress nor the BJP has the political will to take on the Sanatan Sanstha.'
September 30, 2015
'Always a challenge to ensure free, fair polls in Bihar'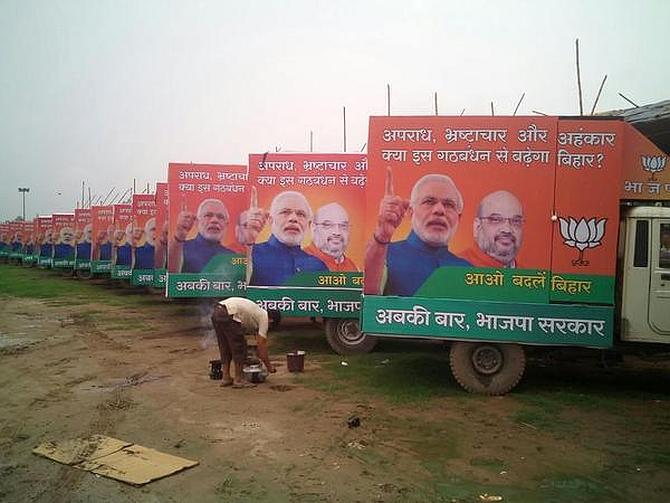 'The Election Commission has to deal with money power, intimidation tactics and caste politics.'
September 29, 2015
Exclusive! The Nita Ambani interview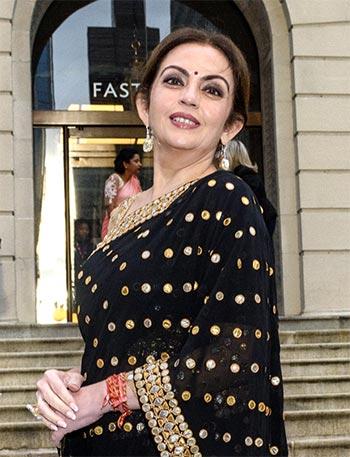 'I sat down and asked them what they would want in their new school. One student said a football field, another one asked for computers. One little girl came and sat next to me and said, "A separate toilet for the girls." I think these small things make a huge difference in the future of education in India,' Nita Ambani tells Aseem Chhabra/Rediff.com
September 28, 2015
'PM Modi's Silicon Valley visit will inspire GenNext to dream big'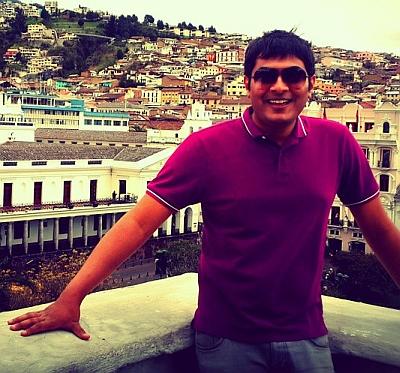 Ankit Fadia talks to Prasanna Zore about his roles and responsibilities as a brand ambassador of Prime Minister Narendra Modi's 'Digital India' programme
Exclusive! Sanathan Sanstha managing trustee speaks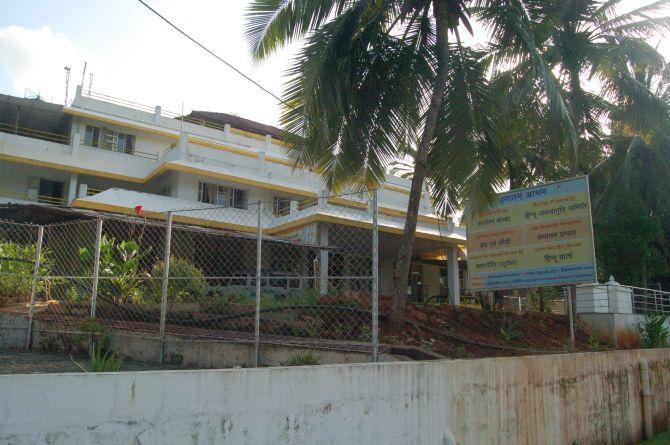 'The Sanatan Sanstha does not believe in violence. The concept of violence and threatening people doesn't fit into our ideology and principles.'
'Nobody can stop me writing on the Ramayana'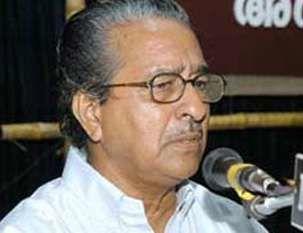 'There is nothing wrong in accepting Rama as a God.'
September 23, 2015
'My becoming CM proved that Dalits are not weak'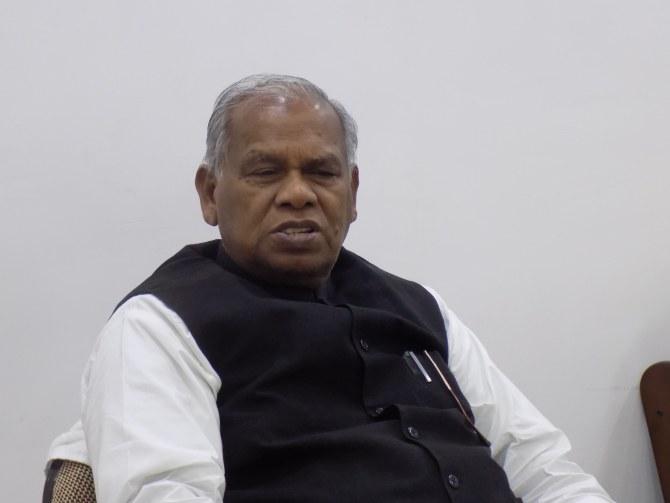 Bihar chief minister Jitan Ram Manjhi talks about the Bihar polls with M I Khan/Rediff.com
'India is going to see many more struggles'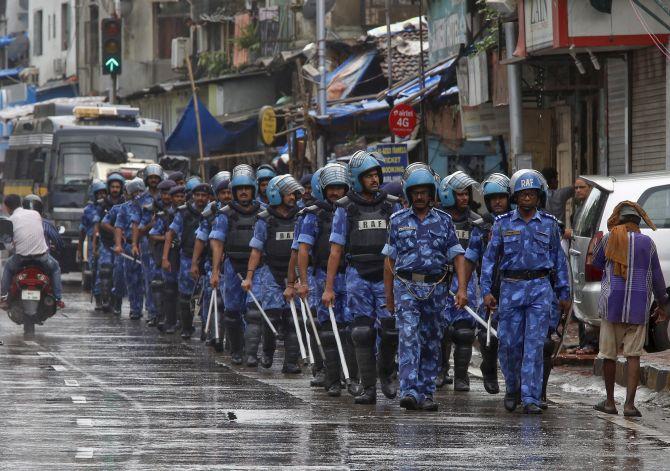 The various meat bans across the country are an attempt to attack civil liberties, says civil rights activist Kavita Srivastava.
'The disaster in Nepal has brought everything to zero'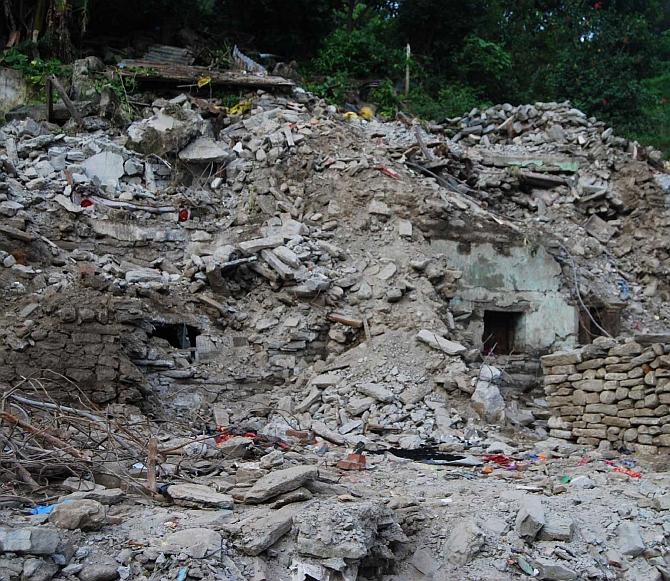 Ramon Magsaysay winner Anshu Gupta, whose non-governmental organisation Goonj has been leading the relief efforts in Nepal which was ravaged by a devastating quake in April this year, speaks to Ankita Mishra.
September 21, 2015
The man who 'exposed' Kejriwal govt on onions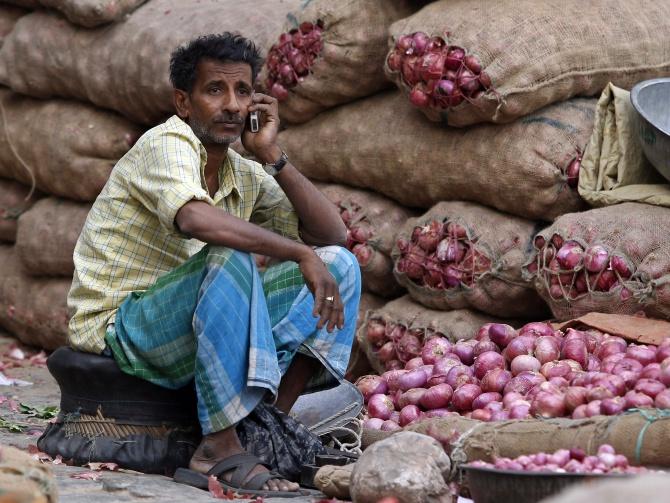 'I came to know that there was a big racket going on in the selling of onions. Private players were hoarding onions and these things cannot happen unless they have political patronage.'
'Congress doesn't want to declassify something that hurts Nehru's legacy'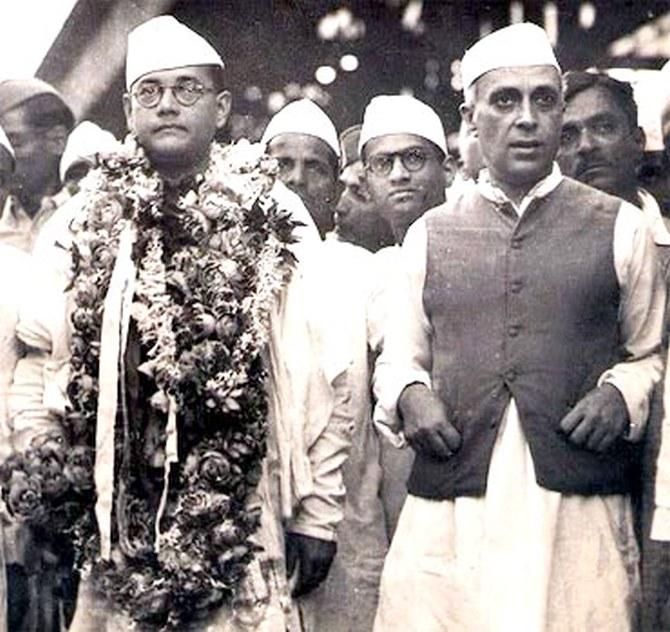 Ardhendu Bose, nephew of Subhas Chandra Bose, emphasizes why the Centre should declassify files on the legendary freedom fighter
'The Mughals were struggling financially after Shah Jahan'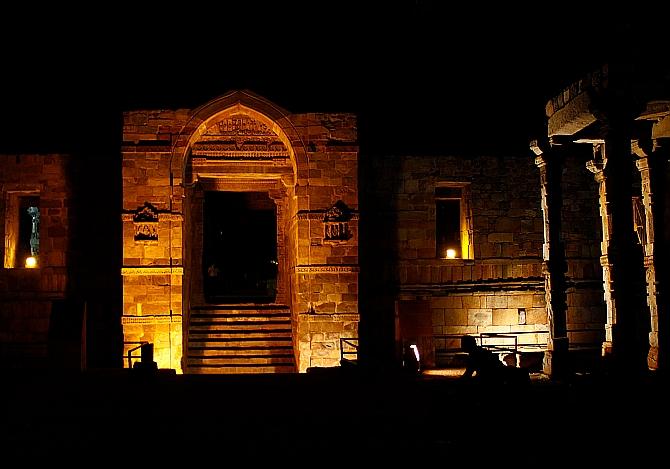 'Aurangzeb spent a major part in the Deccan. The later Mughals were looted by Nadir Shah and Ahmed Shah Abdali. The Mughals had no money to build. That's why Zafar Mahal, the only palace they built in Mehrauli, was built very shoddily and quickly fell into ruin.'
September 16, 2015
The man who doesn't want precious water wasted at Kumbh Mela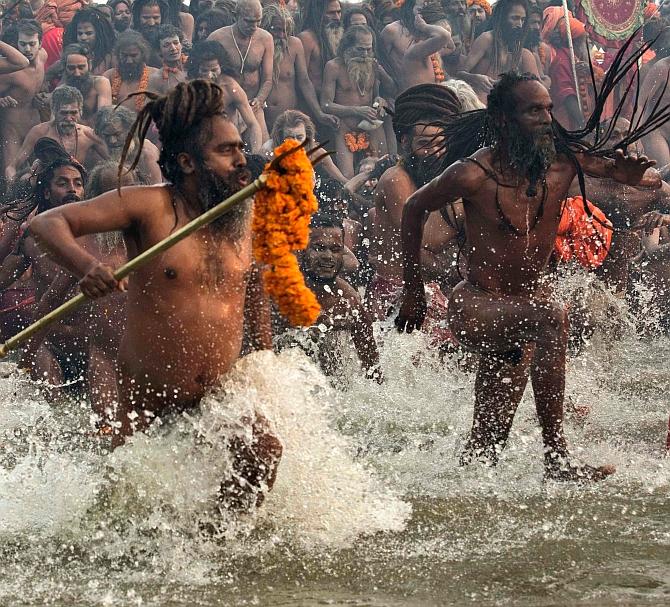 'Releasing dam water for a holy bath is the most unholiest thing. No religion propagates polluting or squandering resources.' Professor Hiralal Desarda explains why he went to court against release of water for the Shahi Snan at the Kumbh Mela in Nashik.
'I was used to woo Muslim votes and later left in the lurch'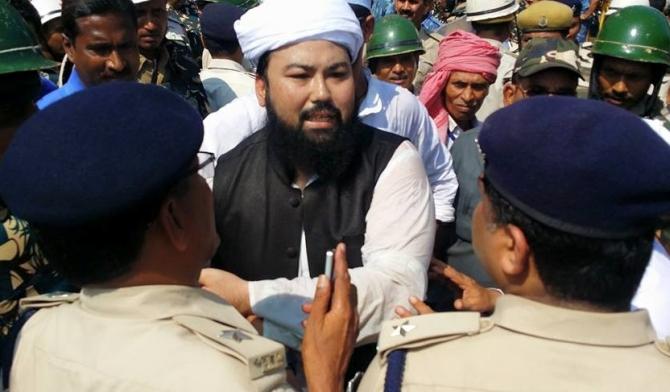 I am not here to play negative politics in the name of Muslims, says the leader of yet another electoral front in Bihar.
September 15, 2015
'Whoever works on Tipu Sultan movie is anti-Indian'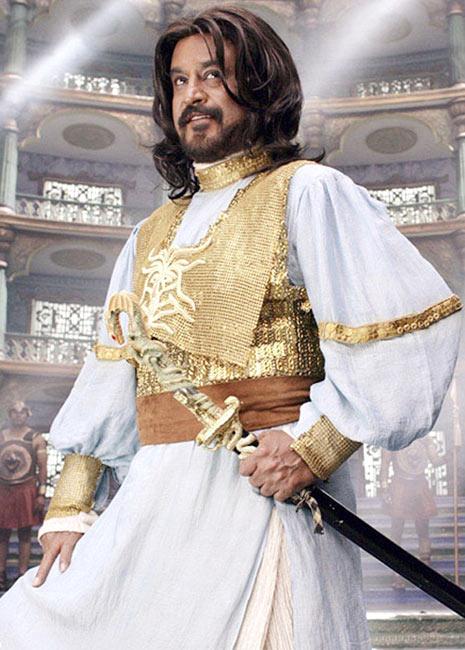 'I am very sure that Rajnikanth, a patriot and a spiritual person, will not do this movie which is about a tyrant, killer and murderer,' BJP leader H Raja tells Syed Firdaus Ashraf/Rediff.com
'Reservations are not chocolates Hardik can pick up from the streets'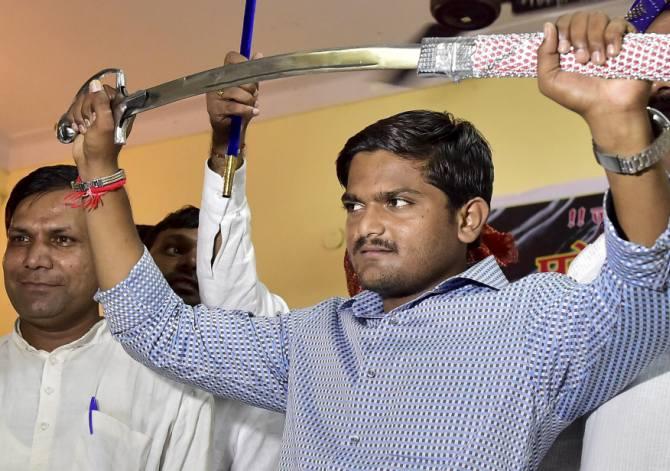 'He is just a 22 year old who has no knowledge of India's laws or Constitution. How will such a man handle a discussion on reservations in an intelligent, lawful manner?'
September 14, 2015
Trouble ahead for Amit Shah?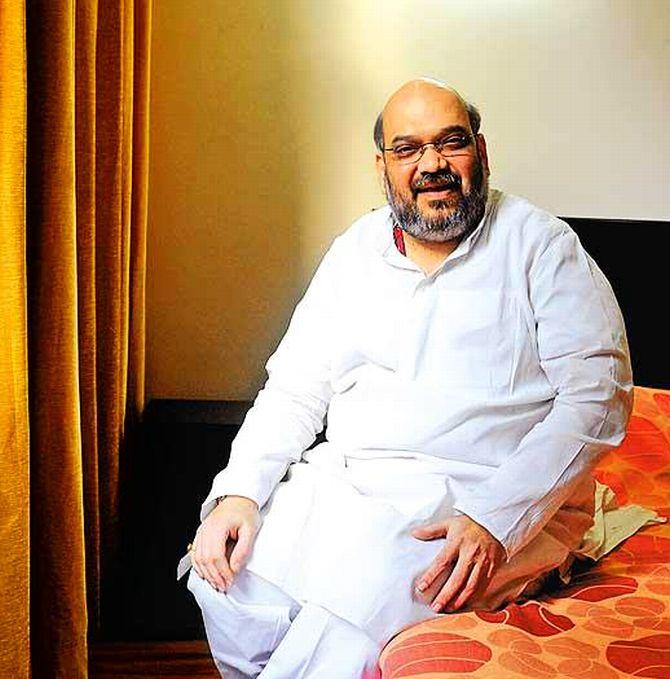 Former IPS officer Sanjiv Bhatt wants BJP chief Amit Shah to be made a respondent for allegedly foisting wrong criminal cases against him, former additional solicitor general Indira Jaising tells Prasanna Zore/Rediff.com
'Patidars may stop supporting BJP'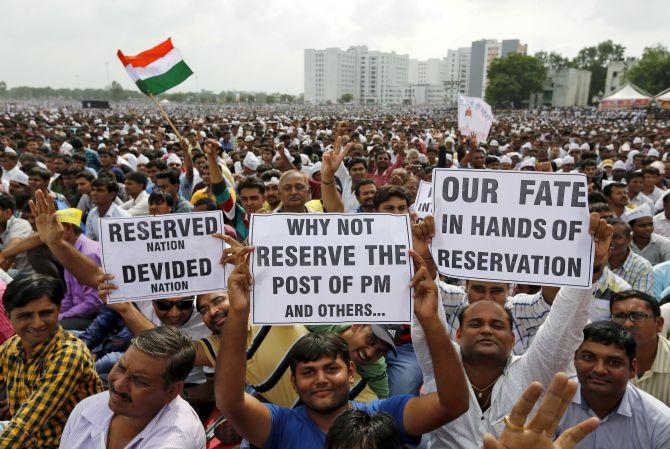 'Other communities are also equally frustrated, but they have not been able to put up a front so far. Now a wind of change is blowing,' says Gujarat Congress leader Arjun Modhwadia.
September 10, 2015
'Our enemy is not Pakistan or China; it is our babus'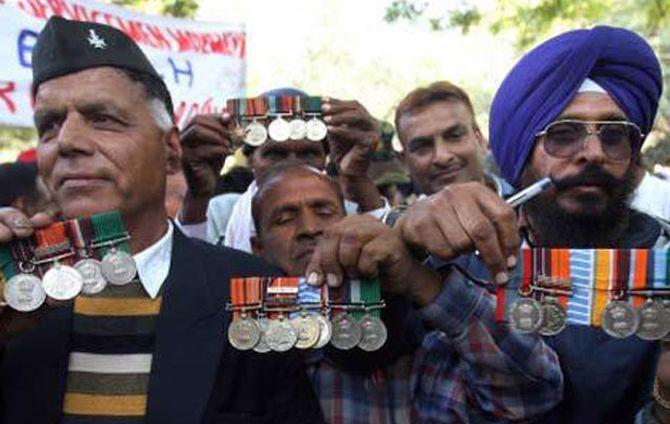 'There were tears in my eyes when I parted with my medals. I thought was it for this moment did I become a soldier?'
September 09, 2015
'Unless Maria has superior officer powers, he can't supervise the Sheena case'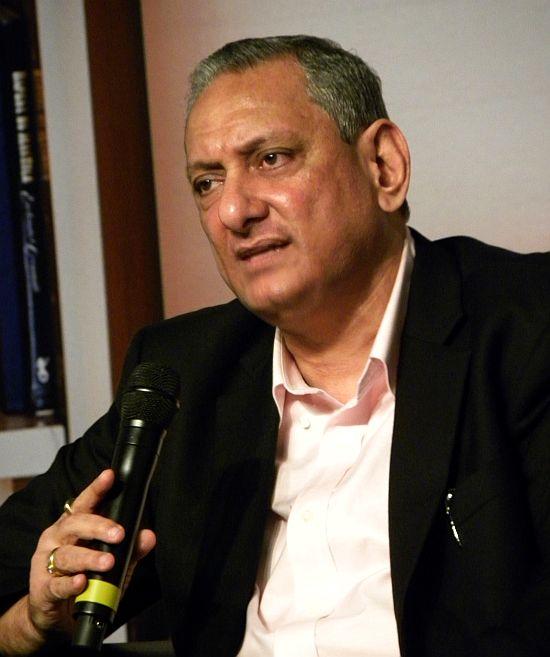 'The state government would have to divest the Mumbai police commissioner of the powers of this investigation. Mr Javed's power will have to be divested or withdrawn and then conferred on Mr Maria specific to this investigation.'
September 08, 2015
'Modi sarkar's communal agenda is a threat to our country'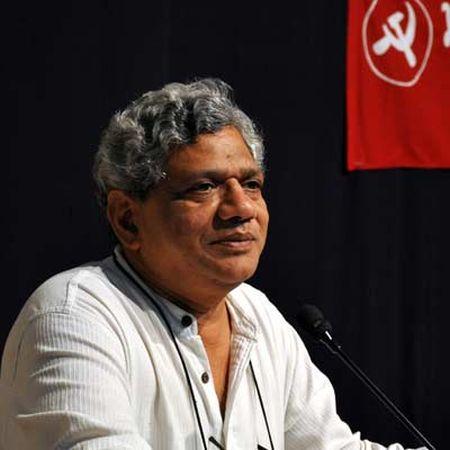 Sitaram Yechury speaks about the Left's future in politics and their chances in the Bihar polls.
The man who inspired the meat ban in Mumbai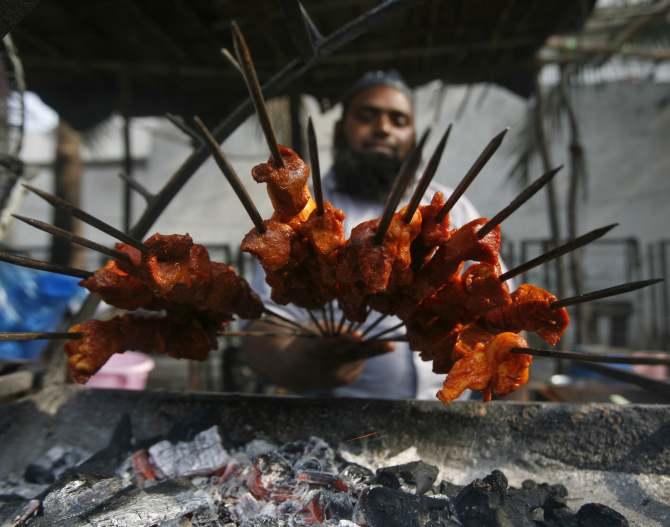 'No lives should be taken during Paryushan.'
'Rao overestimated his clout with the RSS'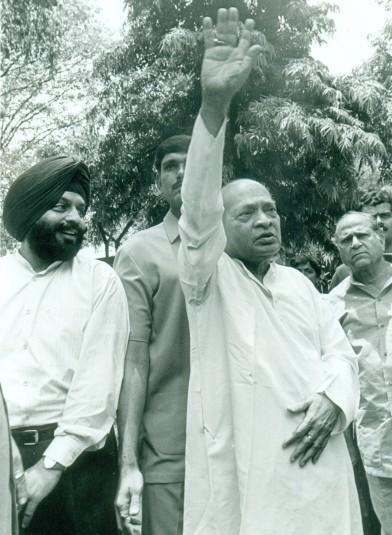 'He depended too much on assurances given by sadhus and sants. He may not be culpable, but he was wholly responsible for December 6, 1992.'
September 07, 2015
The man who stole India's past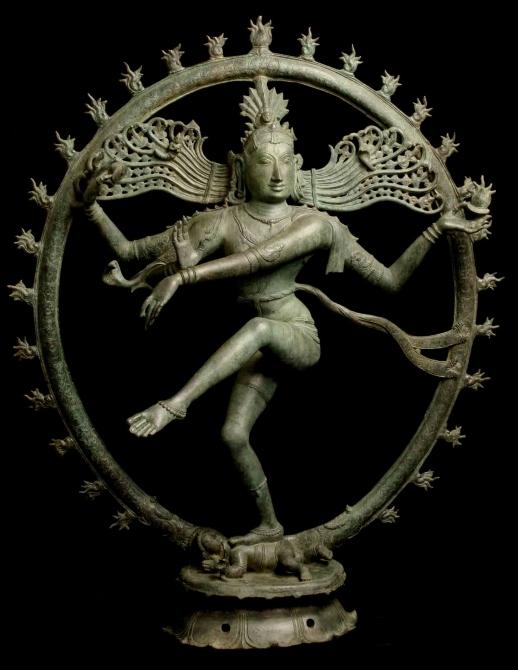 'It was only relatively recently that Subhash Kapoor was able to secure the sources in India, Afghanistan and Cambodia, that allowed him to get the really highest level objects, and that helped propel him in recent years up the ranks.'
September 04, 2015
'Even if the PM grants OROP, the trust is fractured'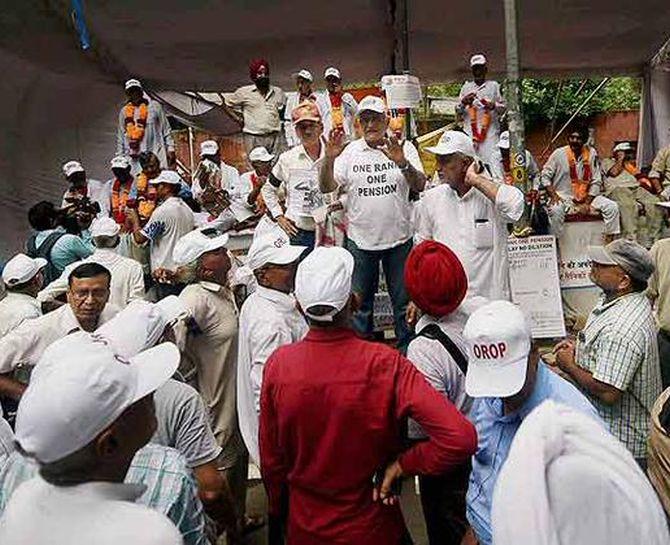 'Modi has entered blunderland as he does not understand the army. He has actually meddled with the army, which is much more damaging than the ignorance of Sonia Gandhi and Manmohan Singh.'
'We have evidence that the rasgulla is from Odisha'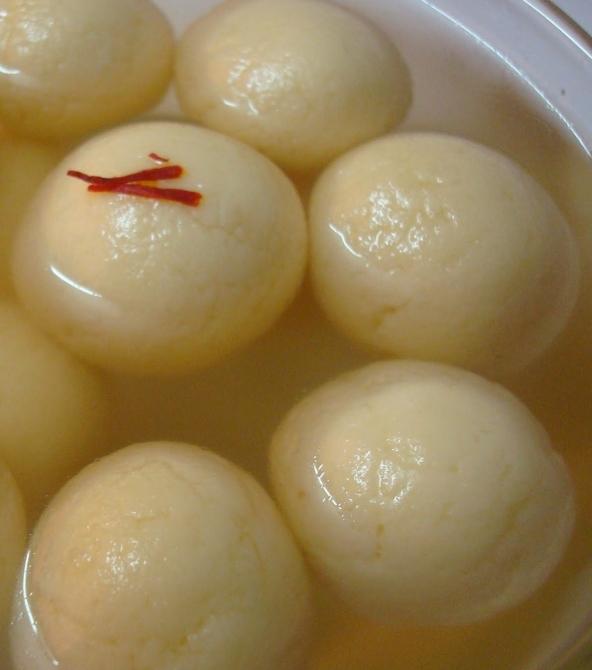 Where did the rasgulla originate from? Is the dish originally from Odisha or West Bengal?
September 03, 2015
The man who wants madrassas to fly the tricolour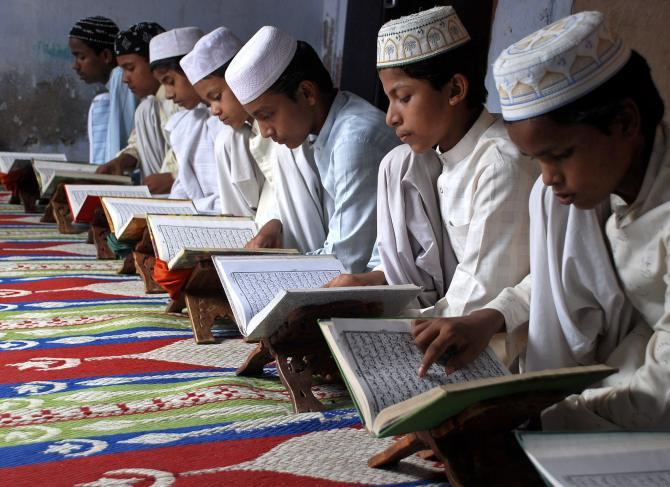 'I have seen that many madrassas do not celebrate Independence Day and Republic Day. They don't even invite people for Independence Day celebrations and this is an insult to nation. It is wrong.'
September 02, 2015
RSS thinker: 'Caste has become obsolete now'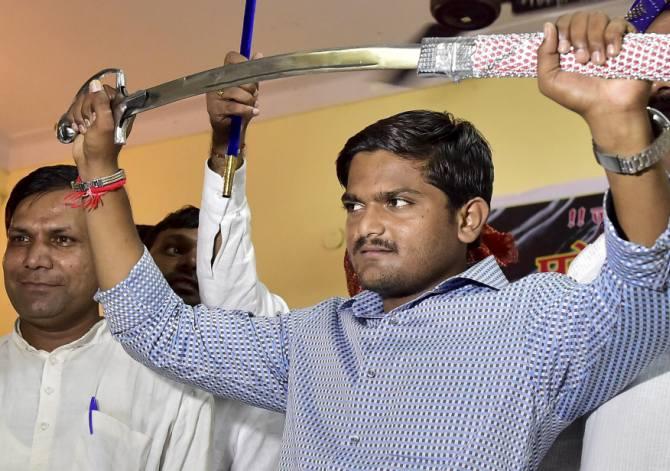 'Let reservations be decided on the basis of the economic status of a family or person.'
August 28, 2015
'To compare bureaucrats to those in armed forces is laughable'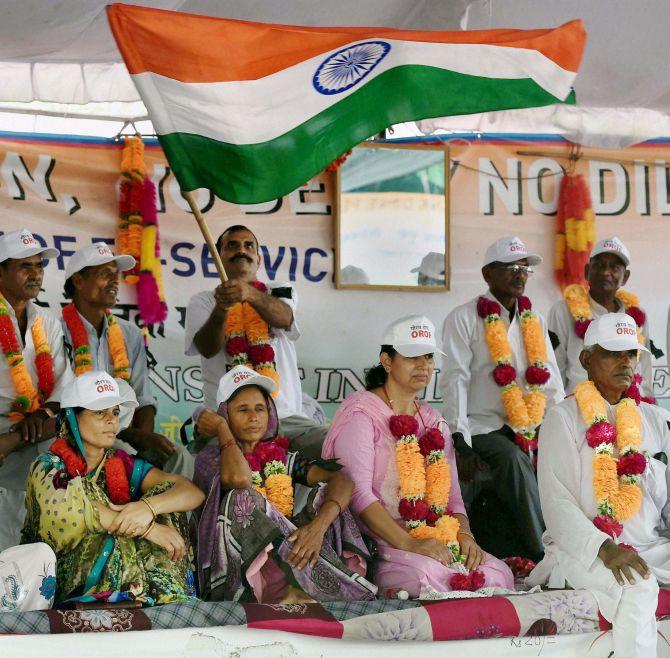 Rajiv Chandrashekhar, Rajya Sabha MP, explains that the argument that other government servants are eligible for OROP is incorrect and the comparison is laughable.
'Indrani was adept in keeping a secret too many'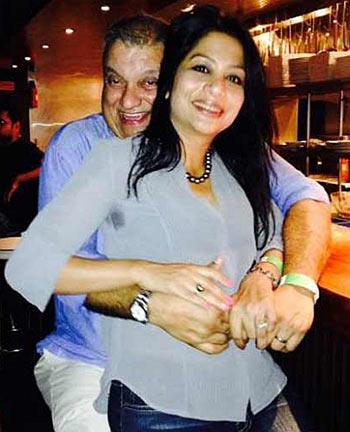 'When Vidhie was born, Indrani doted on her and was everything one could ask for in a mother and a wife. Then one fine morning, we heard that she had dumped Sanju and left for Mumbai.'
August 24, 2015
'We cannot talk to India without Kashmir'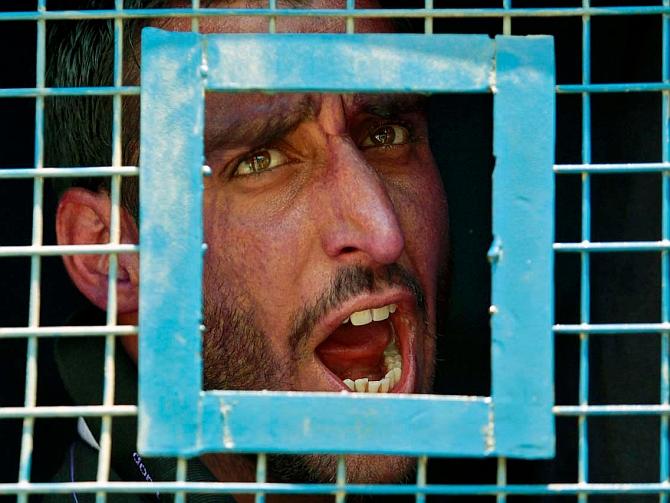 Pakistan has made it clear that there can be no talks with India unless Kashmir is on the agenda.
'What is dangerous for the world is the Pakistan army's behaviour'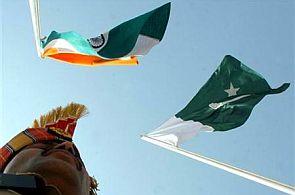 'The obsession of the Pakistan army with India leads to several destabilising things. Support for the Taliban in Afghanistan. Support for groups like the Lashkar-e-Tayiba, that have attacked India. Every time you get an attack like that there is a possibility of a war. And then the build up of the their nuclear arsenals. Chances of a nuclear weapon landing in the hands of a terrorist group, or a nuclear war breaking out, are tiny. But they are higher here than anywhere else in the world.'
August 22, 2015
'Modi wants Pakistan to be a distraction, not a crisis'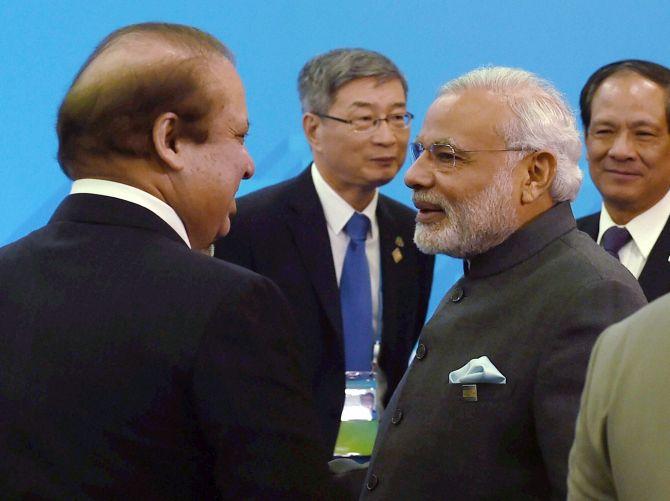 'Modi wants to be pragmatic -- acknowledge the problem of Pakistan and that full reconciliation is essentially a non-starter, but at the same time grab the low-hanging fruits (such as trade) to put things on a more even keel, to engender enough stability in the relationship to allow him to focus on other priorities.'
August 21, 2015
'Our people are disillusioned over peace with Pakistan'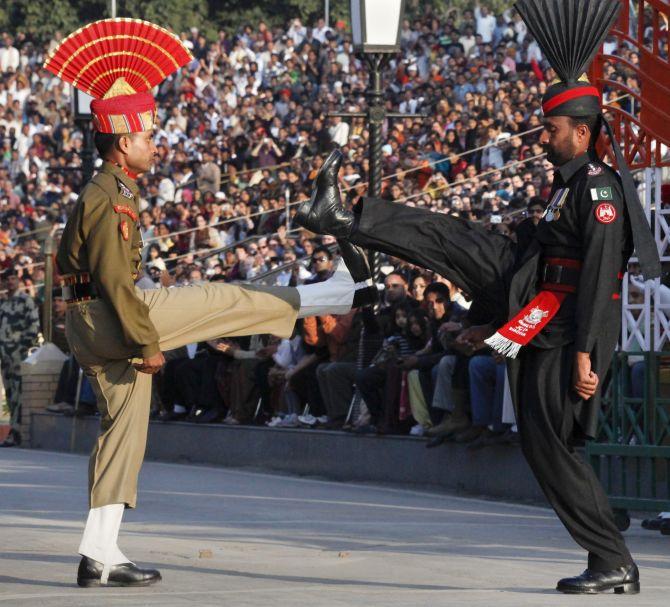 'Pakistan's capacity to carry a normal relationship with India doesn't exist.'
'Rajapaksa is unlikely to depart the political stage'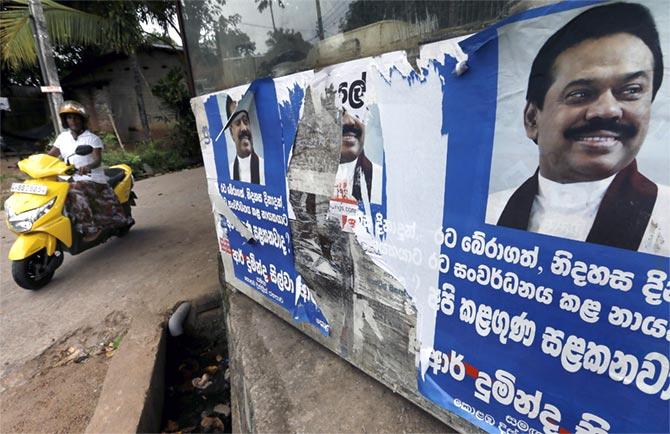 'The path to a resolution of the ethnic conflict is likely to be complicated and controversial with the majority Sinhalese community, and will become less likely if delayed.'
August 20, 2015
'You can't build concrete jungles on agricultural land'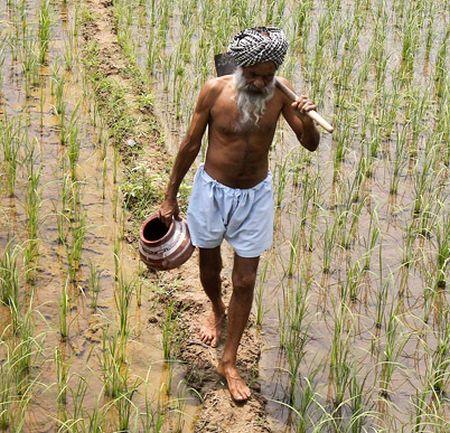 'Everybody was ready to agree with the government if the process to acquire land was a judicious one. All of us want industrialisation and development of the country.'
August 17, 2015
'Himalayan glaciers are melting, but will still exist by 2099'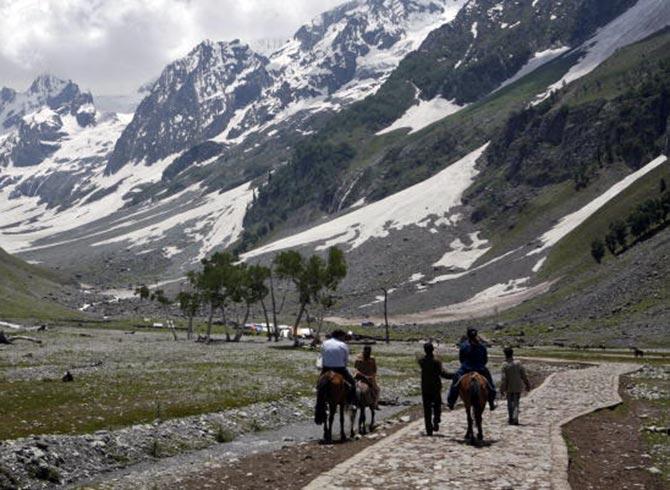 'Himalayan glaciers are expected to become smaller, and small glaciers will have disappeared, but by no means will all glaciers have melted by the end of the 21st century,' glaciologist Markus Stoffel tells Rashme Sehgal.
August 16, 2015
'The forecast for deficit monsoons remains'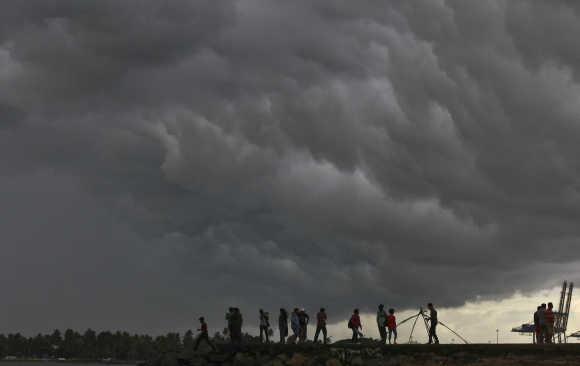 'All El Ninos are not associated with the deficient monsoon.'
August 14, 2015
'Why and how did science in India stagnate?'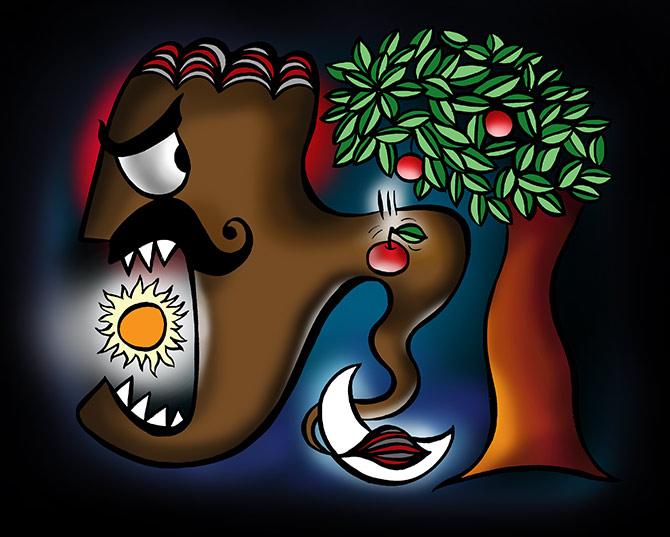 'It looked as if India had been a major player in science at that time, raising the question when and why things changed,' says distinguished aerospace scientist Professor Roddam Narasimha.
August 13, 2015
'Nehru was as much to blame as Jinnah for Partition'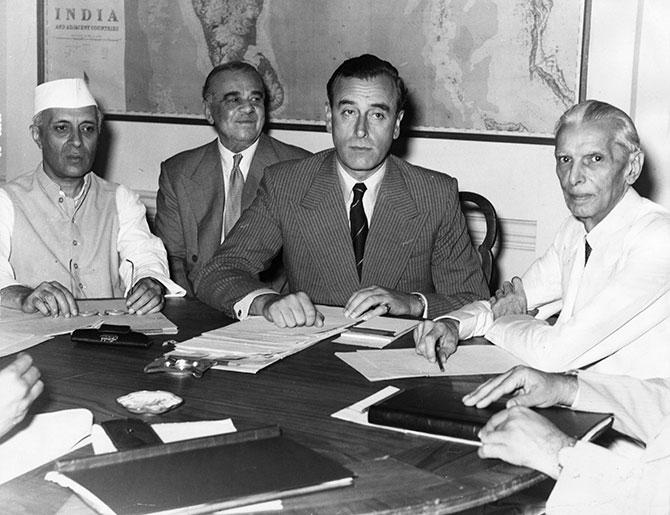 'Nehru had multiple chances to make compromises, that would have preserved a united India, and he chose not to,' Nisid Hajari tells Vaihayasi Pande Daniel/Rediff.com
August 12, 2015
'Impatience has become a permanent factor in elections'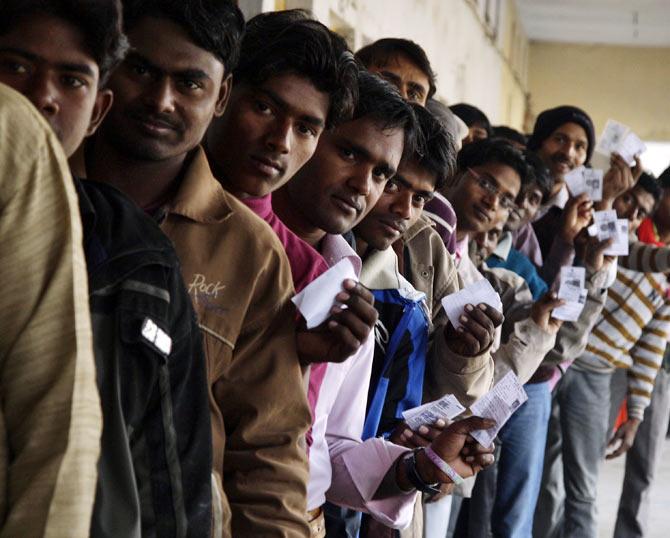 'It is good for the country, but it is not good for a politician... What we call impatience is actually desperation to needing something NOW.'
EXCLUSIVE! How the Naga Accord was reached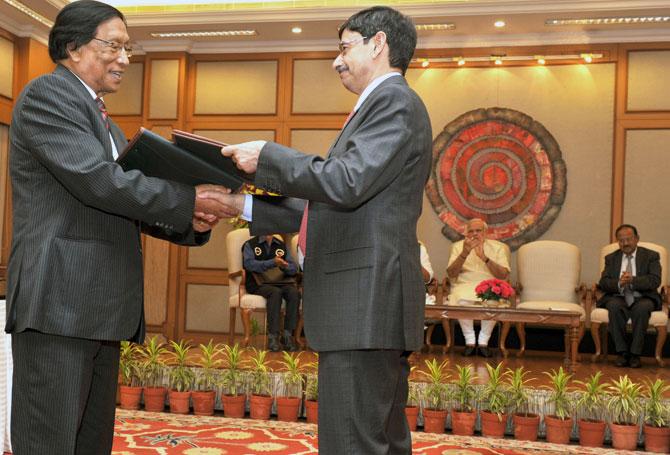 'In the first meeting of this new year, we took a joint new year resolution that we will complete it this year. At the time things were not very clear, but the mood was clear that yes, we must resolve it.'
August 10, 2015
Rahul Mahajan: The man who exposed Radhe Maa
'My problem is that these people are calling themselves God. Godmen are becoming bigger than God.'
'Terrorism is something you have to deal with. But that is a political call'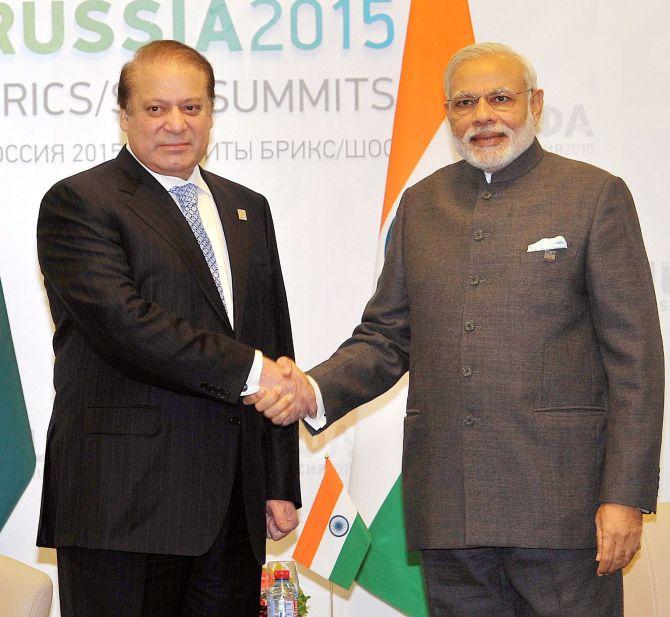 'If you say I won't talk to them at all, does terrorism stop?'
August 07, 2015
Govind Nihalani salutes Bhisham Sahni on his 100th birthday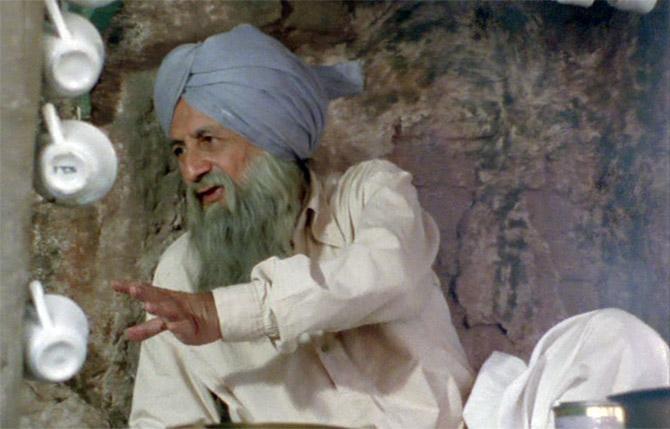 'When I started reading Tamas I instantly knew it had to be made into a film. I could relate to the tragedy in the lives of the characters.' Govind Nihalani remembers Bhisham Sahni on his centenary.
The man who wants pornography banned in India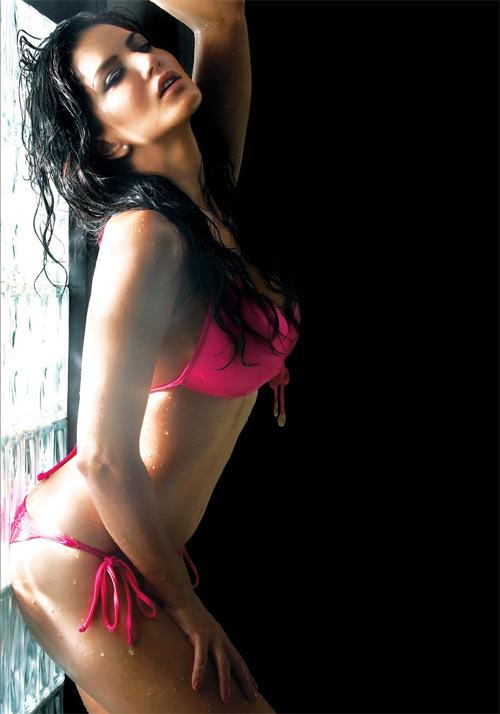 'Pornography is available on every phone today. Even children are watching it'
August 06, 2015
EXCLUSIVE! The Teesta Setalvad Interview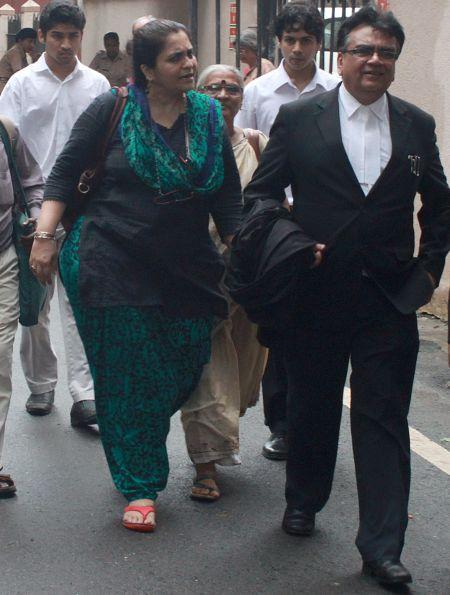 'Little about this regime, given its vindictive credo, is a complete surprise. But we were still taken aback by the CBI raid as it was a complete abuse of due process.'
August 03, 2015
India's Cloth Man on winning the Magsaysay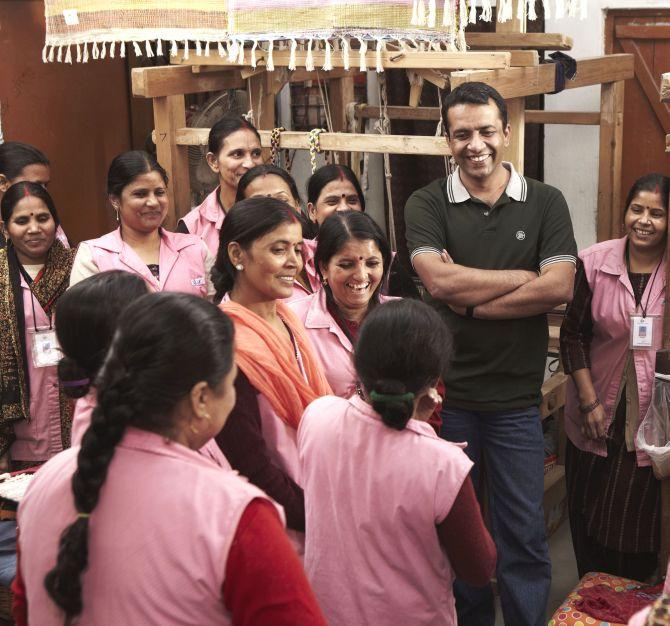 Anshu Gupta, the founder of Goonj, has transformed the culture of giving in the country.
She saw Goddess Durga surrounded by sadness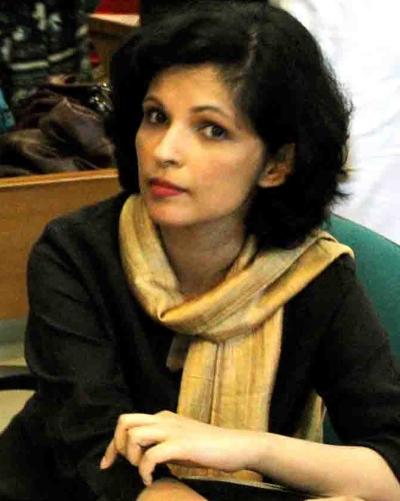 Deepta Roy Chakraverti talks to Chandrima Pal about her book that chronicles her psychic investigations into what she says are unnatural occurrences in familiar places.
July 29, 2015
'The judiciary in India is one institution that is above fault'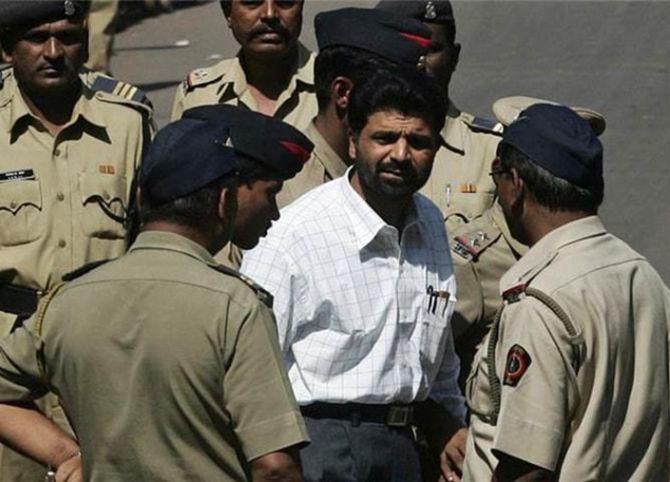 'My confidence in the Indian judiciary is absolute after I saw justice being delivered in Gujarat even when a BJP government was ruling the state. The Muslims of Gujarat believed that they will never get justice in a BJP-ruled state, but the facts are before all of us to make a judgment.'
July 28, 2015
Kalam's 2008 interview: 'Economic prosperity has to reach 700 million people in rural areas'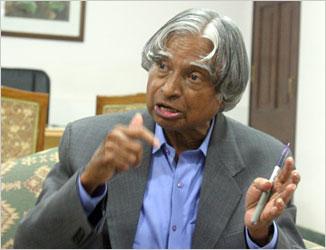 Former President A P J Abdul Kalam kindly answered rediff.com's questions for an exclusive interview.
July 27, 2015
K P S Gill: 'If we don't wake up, such attacks will continue in Punjab'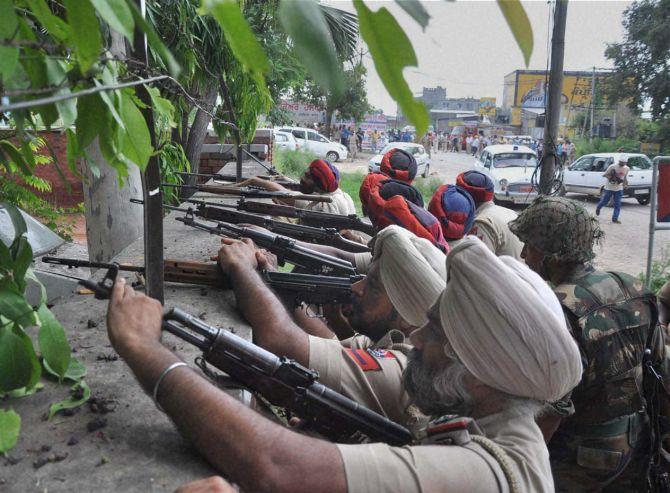 'Border areas should be policed properly. The police at the international border with Pakistan should be well equipped.'
'People are not asking for Yakub's acquittal, but commuting his death sentence'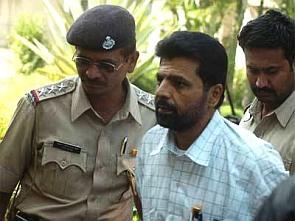 'Leave B Raman aside, 50 eminent personalities have written about commuting his death sentence. Even a retired judge of the Supreme Court has written about it. Nobody is talking about it.'
'The wrath of the State has become a hallmark of our democracy'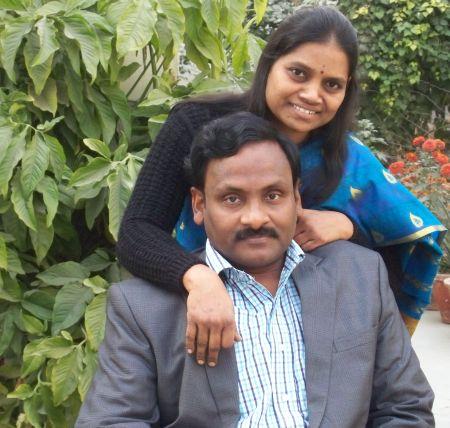 'If a Delhi University professor's rights can be violated so easily, then think about what the rest of the population, with even lesser means, has to suffer under the State.'
'Pakistan's Nasr missile is the most dangerous development in South Asia'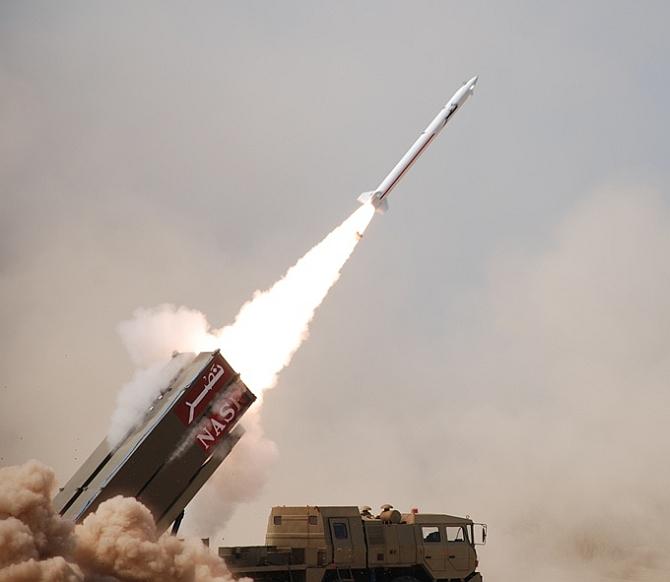 'If ever India loses its patience after repeated terror attacks and decides to retaliate against the terrorist camps, Pakistan may term that a conventional military attack and invoke the nuclear option. This is a way to continue with terrorism without retaliation.'
July 24, 2015
The actress who took on Modi on Twitter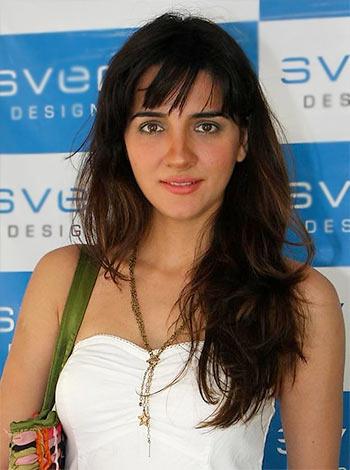 'There is a time for grace and there is a time for dignity and, sometimes, there is a time to fight. We should never back down from that fight. Don't let them win. Don't let them bully you.'
July 23, 2015
'Anti-nationals show other flags at Lal Chowk, I want to hoist the national flag'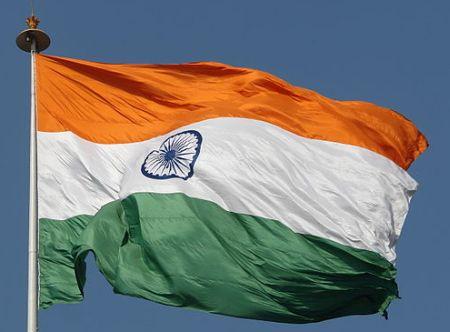 'The situation is normal now. The Kashmiri Pandits should come back.'
July 22, 2015
'Can you have Sunny Leone songs playing during Ganpati?'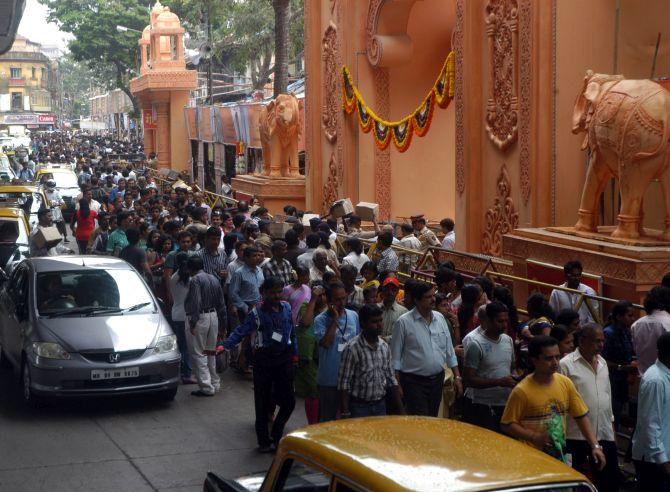 'The mandals and politicians are trying to project that this is against somebody. We are not against anybody. We do not want the celebrations to stop. It has to happen, but do it in a civilized way.'
'Allegations of India helping the Balochs never proved'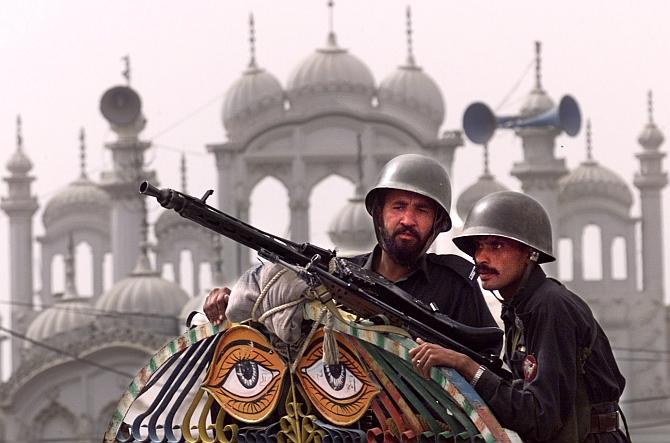 'Pakistan has employed force to curb Baloch aspirations and rights. There have been charades of giving rights and concessions and packages, but all of them are hollow and meaningless and not even worth the paper these are written on.'
July 20, 2015
'Where are the jobs going to come from?'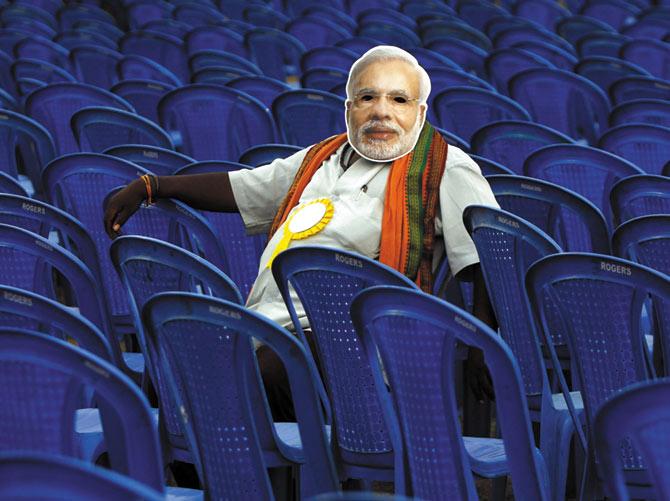 'Will 'Make in India' be able to harness the demographic dividend so it does not become a disaster?'
Exclusive! 'By 2012, we brought China boundary row to point of solution'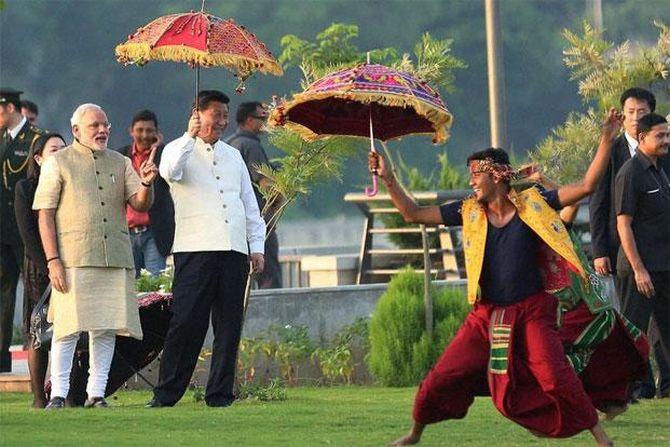 A sensational interview on India-China ties, with the man most qualified to answer.
July 17, 2015
Jana Gana Mana was NOT sung in praise of the English king!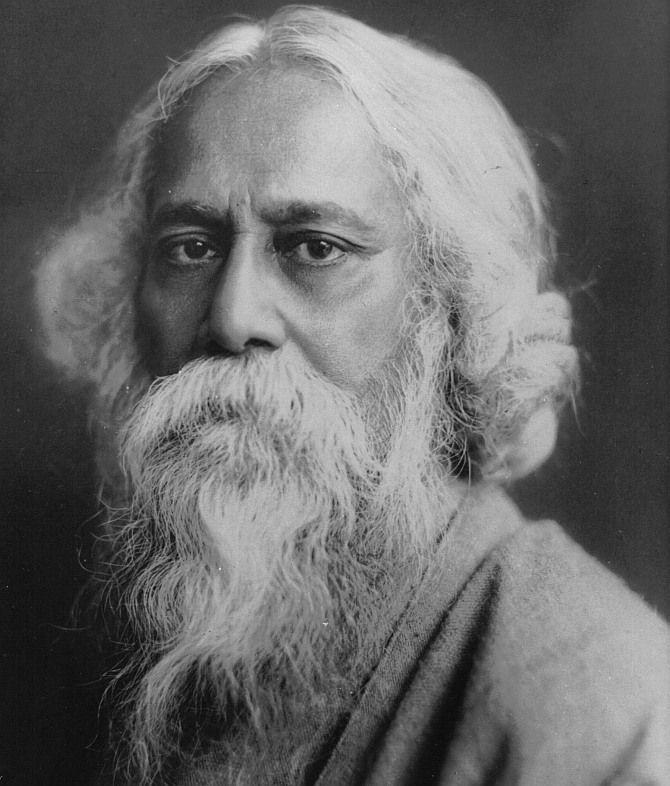 104 years after it was first written, and 76 years after the poet's clarification, the controversy surrounding Rabindranath Tagore's Jana Gana Mana refuses to go away.
July 16, 2015
Shocking! How India treats a 90% disabled Indian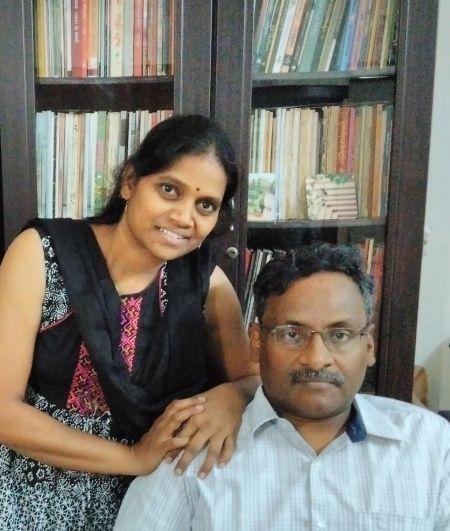 'People are beaten at the slightest provocation, paraded completely naked and then tortured. Did you know the number of prison deaths is the highest in Maharashtra? The one year I was in jail, 98 prisoners died.'
July 15, 2015
'Modi is taking a big risk'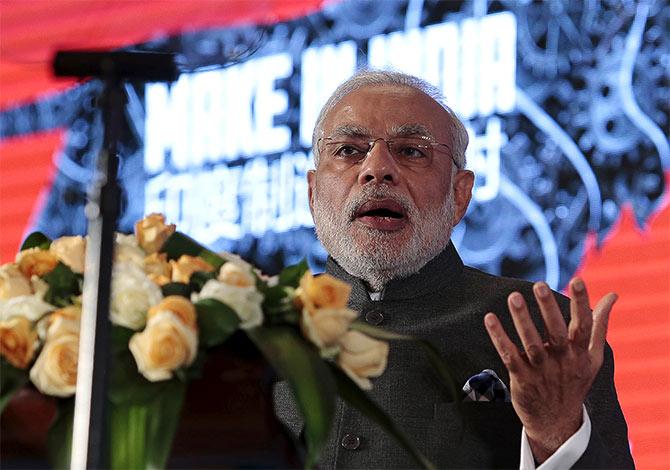 'When he first came to office, my belief is that the PM's reading of the landscape was that, with a vanquished Congress and fragmented Opposition, he was looking at least at two terms in office. This reading perhaps allows for a more cautious, gradual approach.'
July 12, 2015
'The first thing we have to address is the fear of public opinion'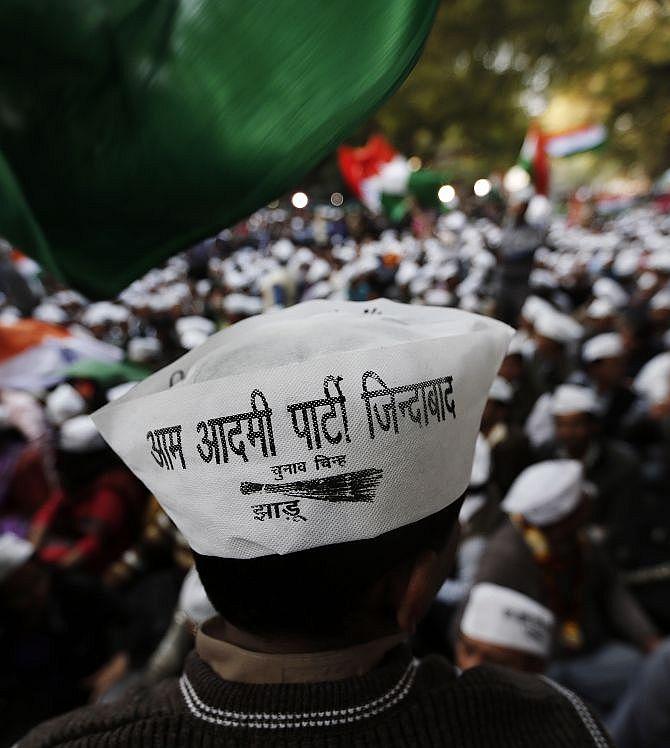 Everything about the way Delhi is governed needs to change, Delhi's Deputy Chief Minister Manish Sisodia tells Aditi Phadnis and Akshat Kaushal.
July 10, 2015
Swapan Dasgupta is not untouchable for me'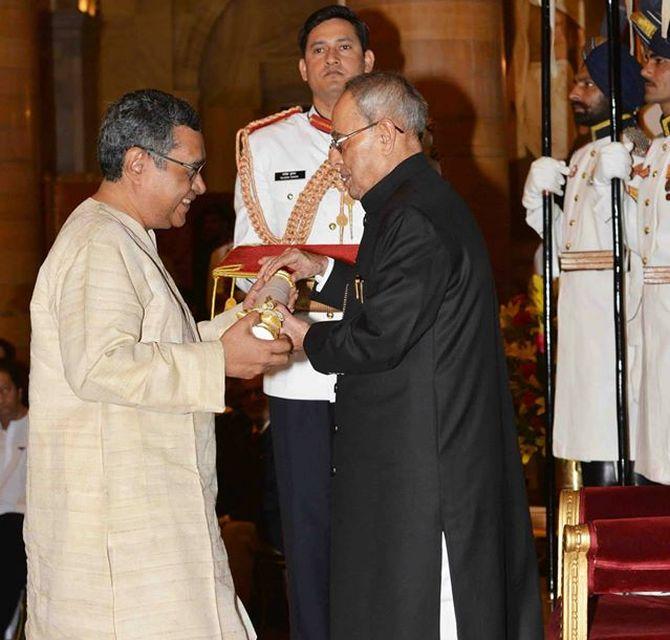 'I have no problem with people from the right wing who speak with a certain integrity of position.'
'Kerala is going to be the next Kashmir'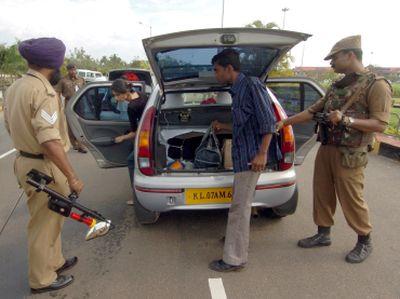 'Nowhere in the country, except perhaps Jammu and Kashmir, do extremist groups enjoy political patronage as they do in Kerala. Terrorists are exported from Kerala to Afghanistan, Syria.'
'How can some exercise be taken as a test of nationalism?'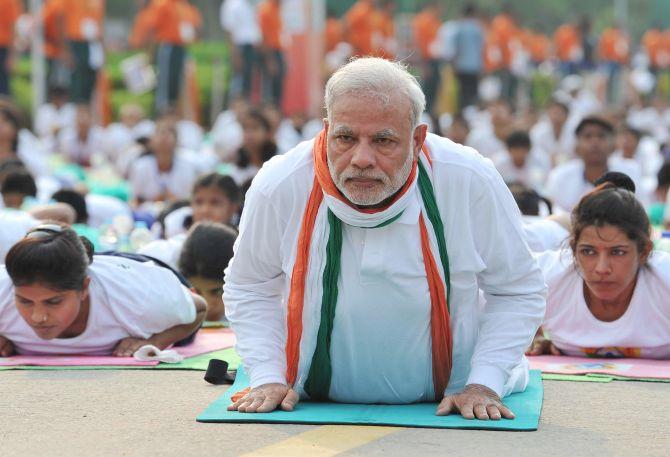 'I don't practise yoga. How am I less of a nationalist than the person who practises it? Is it a crime if I don't practice it?'
July 09, 2015
What if the land bill is not passed this Parliament session?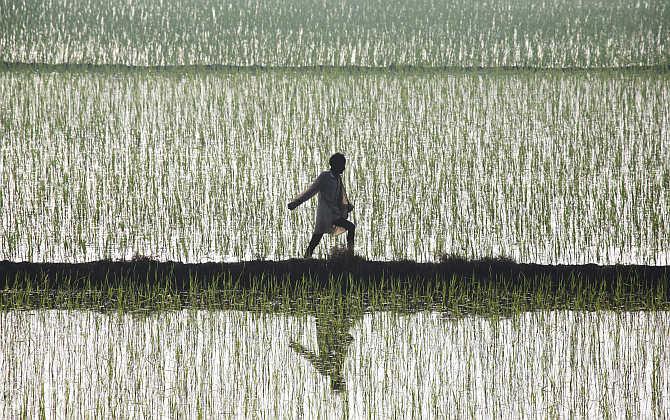 'Re-issuing ordinances is against convention. Courts have said that re-promulgation of an ordinance is against the Constitution.'
July 08, 2015
'Just 2% students go to madrasas. What is the government doing for the other 98%?'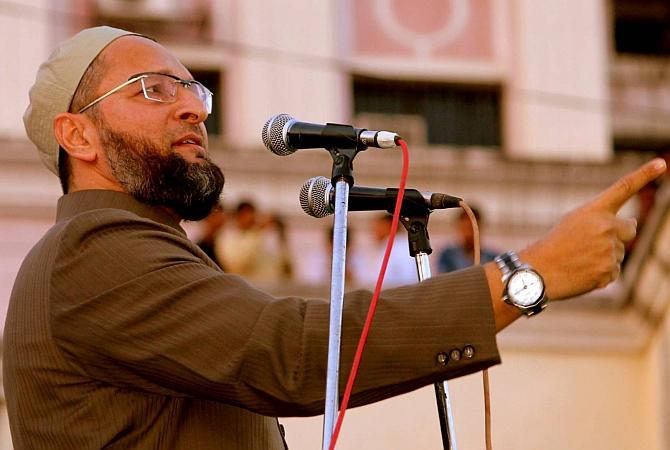 'Why isn't the BJP ready to give reservations to Muslims despite the high court telling it to do so?'
July 06, 2015
'Kejriwal has been exposed as a run-of-the-mill politician'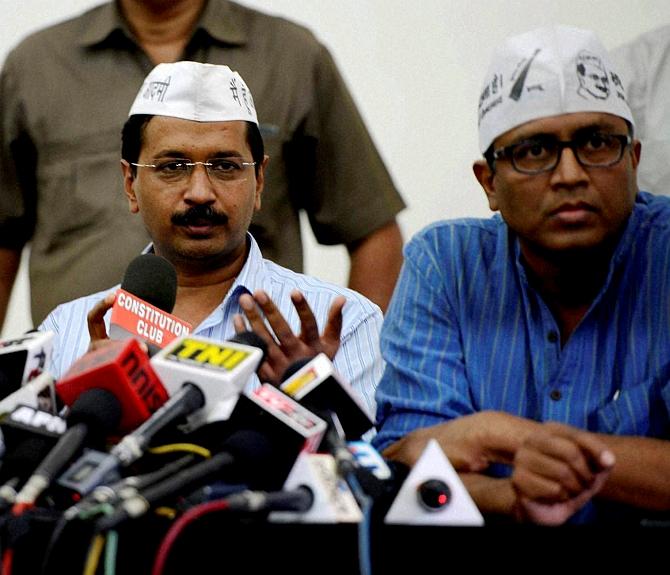 Swaraj Samvad has moved on to be a nationwide agenda, says group convenor Professor Anand Kumar.
July 04, 2015
Exclusive! 'Sri Lanka will never pose a threat to India'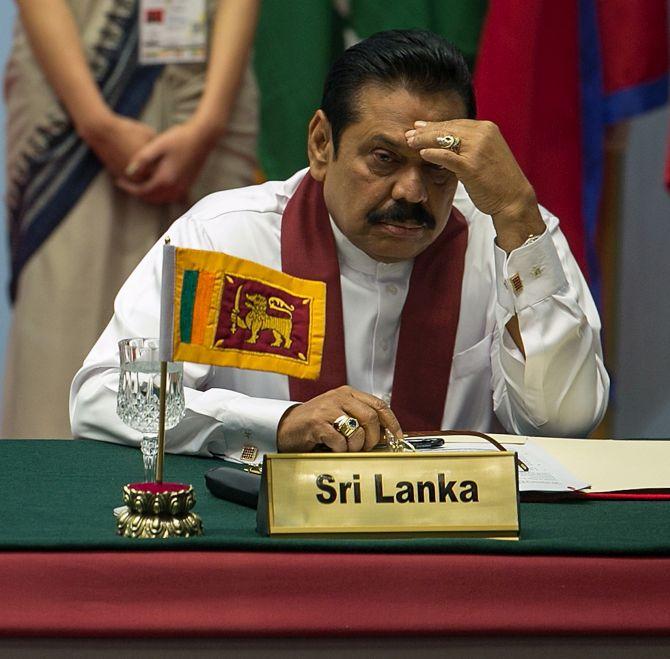 'We have nothing to gain by helping any other country to become a threat to India,' former Sri Lanka president Mahinda Rajapaksa, who is on the comeback trail, tells Rediff.com in an exclusive interview.
July 02, 2015
'We spent 25, 30 crores on Yoga Day'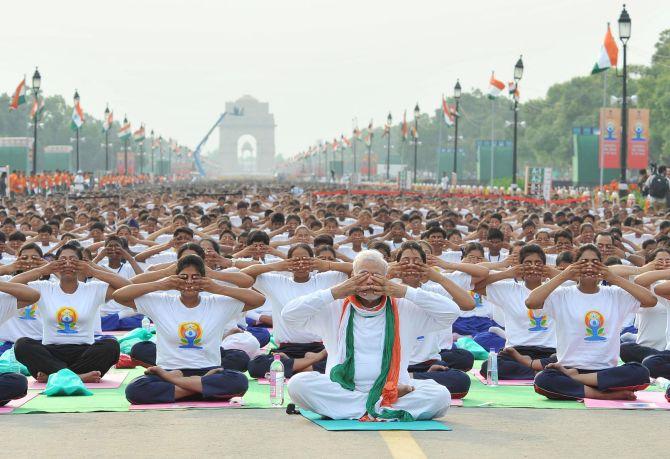 'Nobody is making yoga compulsory. If you don't want to do it, it is okay. Yoga has no religion.'
June 26, 2015
'Sonia and Rajiv had no role in the Emergency'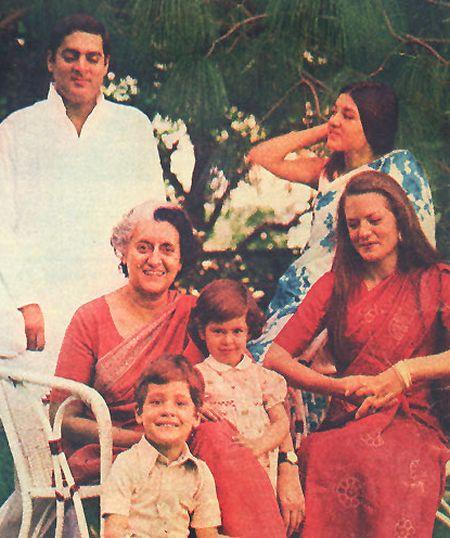 'I do not think Rajiv Gandhi at that stage had any influence on his mother. Indira Gandhi relied totally on Sanjay and she looked upon him as a dependable son.'
June 25, 2015
'Emergency was a time when everyone was scared'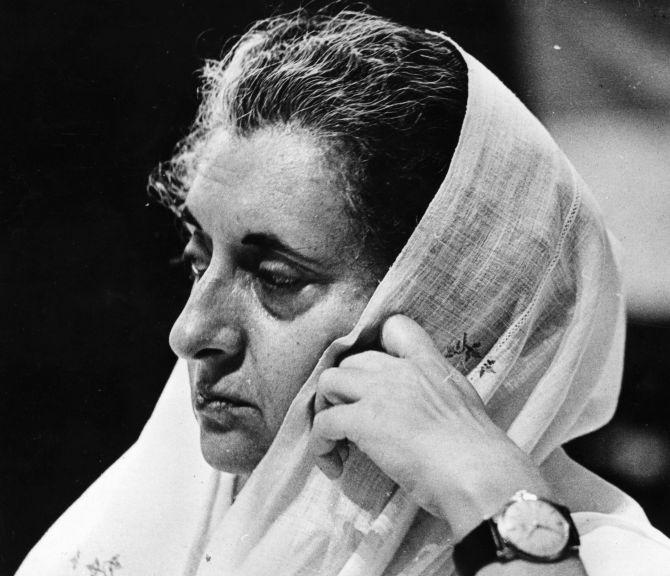 Veteran journalist Coomi Kapoor, whose book came out recently, speaks to Sheela Bhatt/Rediff.com about Independent India's darkest phase.
June 24, 2015
A website to locate India's missing children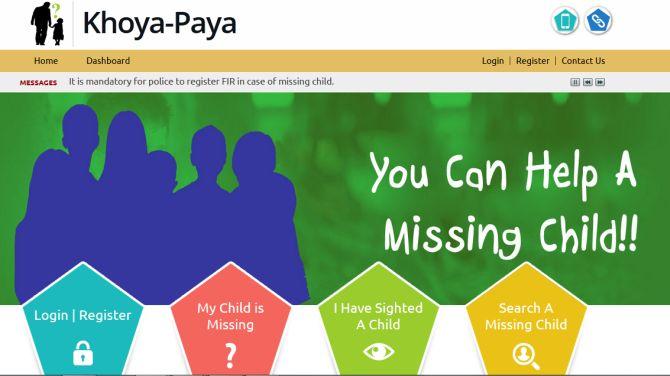 A new government website allows parents to upload details/photos of their missing children. Naveen Yadav, the official in charge of the venture, explains how the website will help.
Advani: 'Whoever forms the govt doesn't hesitate in committing excesses, even some of our people'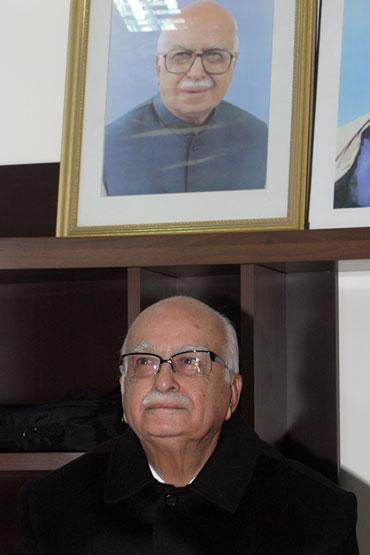 Five years ago, Bharatiya Janata Party veteran L K Advani spoke to Sheela Bhatt/Rediff.com on the Emergency.
June 23, 2015
'Both India and China must help Nepal, more so India'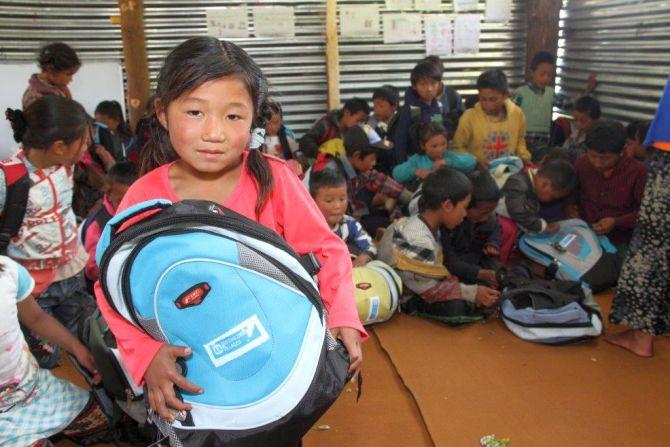 Siddhartha Kaul, president of SOS Children's Villages International that has been involved in earthquake relief work in Nepal, speaks to Rashme Sehgal.
June 22, 2015
'Raje is legally and morally not in a position to continue in office'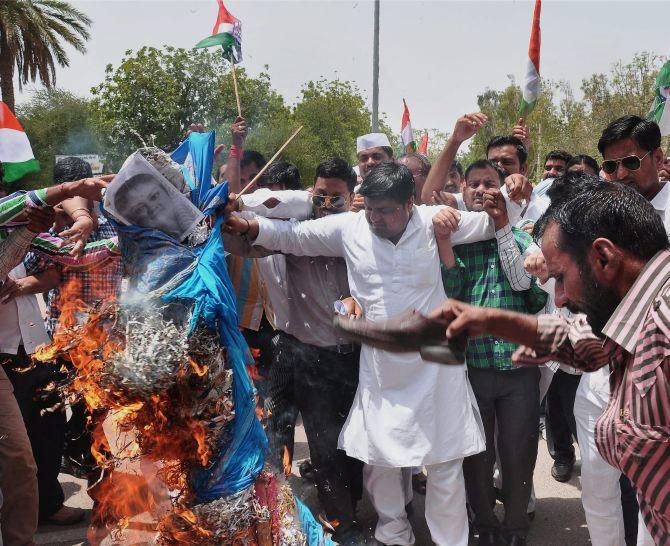 Pilot says that the Congress is demanding that the Rajasthan CM be booked for criminal culpability.
June 19, 2015
'Those who boycott yoga day are playing dirty politics'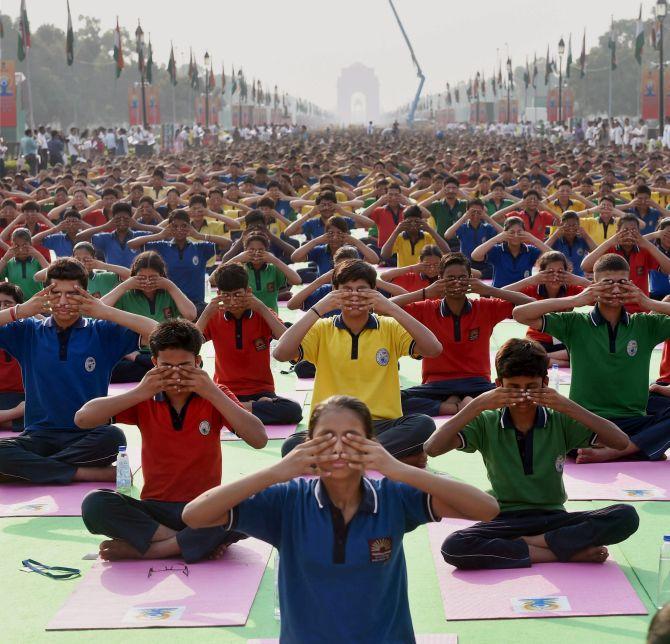 Ahead of the event, Shripad Naik, the Union minister of state (independent charge) for Ayurveda, Yoga and Naturopathy, Unani, Siddha and Homoeopathy, which is coordinating yoga day, speaks to Upasna Pandey.
'The BJP will pollute Ambedkar'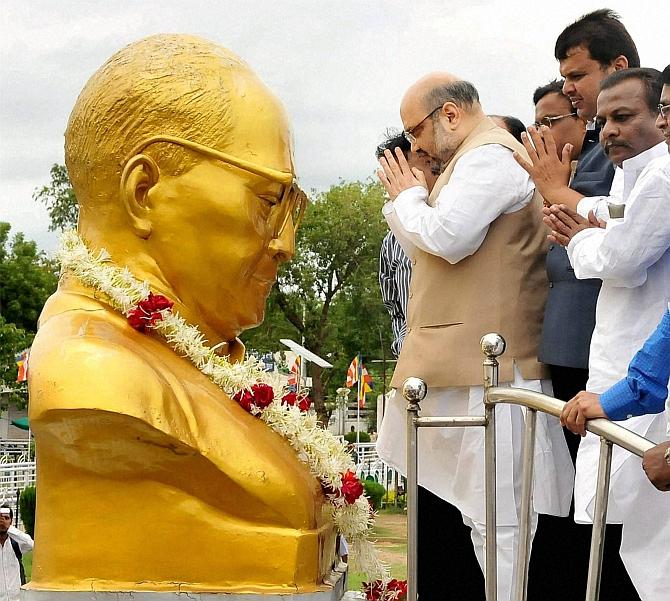 'The educated, employed, and self-sufficient Dalit is being attracted towards the BJP. The middle-class that has rapidly emerged among Dalits in the last two decades has deviated from its path. It has become a traitor to its own class. It cannot distinguish between a friend and an enemy.'
June 16, 2015
'BJP may get an upper hand as far as Dalit votes are concerned'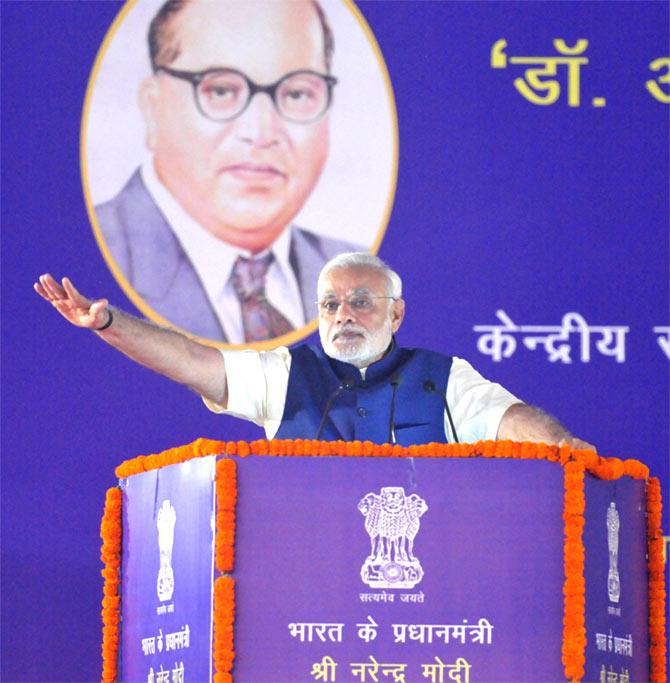 'It is difficult to imagine the BJP becoming the legatee of Ambedkar. Whichever way one looks at it, Ambedkar's thought and Hindu nationalism are not easy to reconcile.'
June 15, 2015
'I am a Tamil-speaking Muslim, I wanted to know my roots'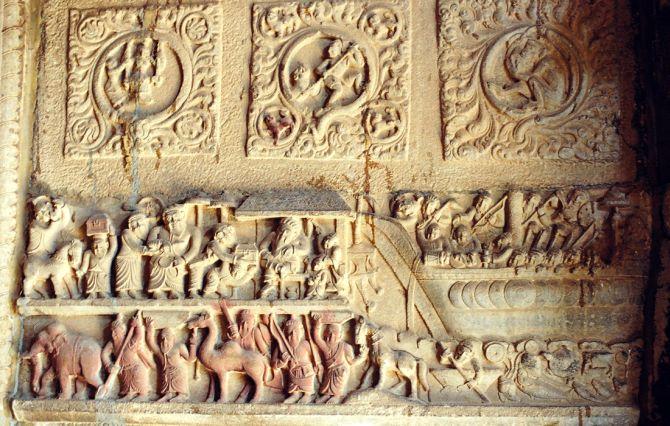 Yaadhum is a documentary that talks about how Islam spread in South India because of trade and not through invasion.
June 12, 2015
S Gurumurthy speaks: 'Modi has set right his and India's image abroad'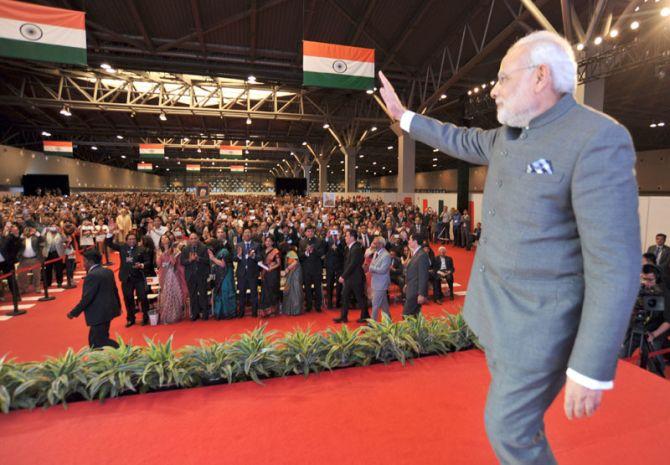 Swadeshi economist, columnist and chartered accountant S Gurumurthy speaks to Shobha Warrier about one year of Modi Sarkar.
June 05, 2015
'Border deal will control infiltration from Bangladesh'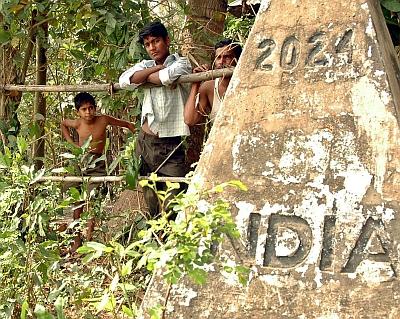 'People residing in the enclaves have led completely isolated lives. They are stateless, have no official identity proof.'
'The Indian soldiers adapted quickly and performed remarkably well'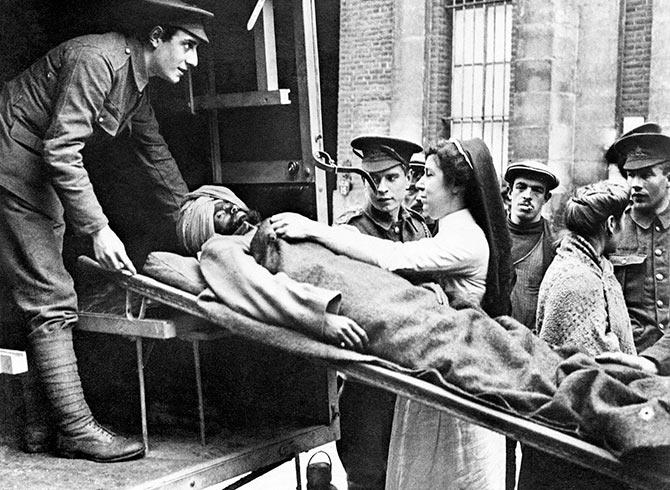 'Many sepoys fought with distinction, winning some of the first Victoria Crosses to be awarded to Indians; and indeed, as in any army fighting under such inhumane conditions -- standing in the freezing sludge, with shrapnel tearing through bodies and being subjected to gas attacks -- some buckled under pressure.'
'India has a vital stake in the digital renaissance'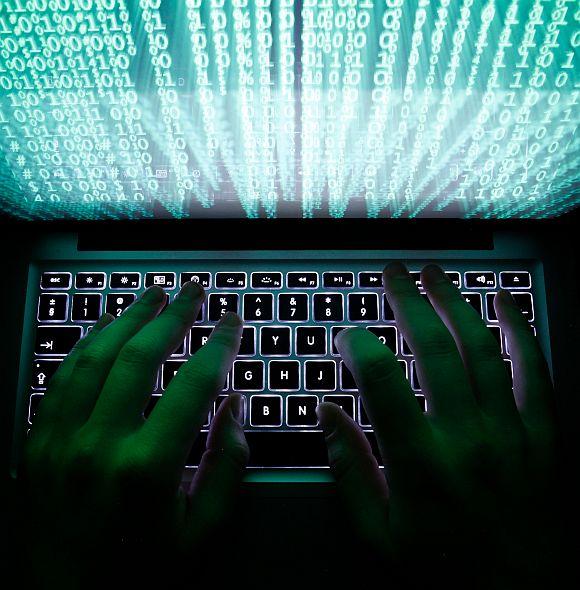 'Everywhere our younger computer professionals are in the forefront, defending our national interest in every forum and keeping our flag flying high.'
June 03, 2015
'Rahul does not speak from the heart'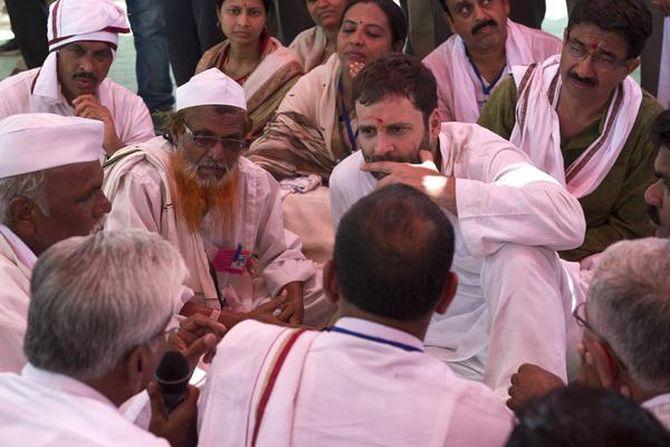 'Nitish has no future in state politics.'
June 02, 2015
'We now have a prime minister who talks'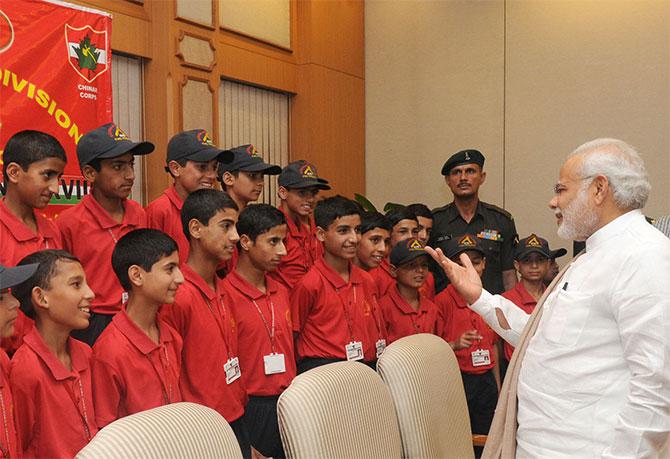 'This is not a small change, it's a BIG change. People wanted to hear the voice of their PM. They can do so now. This is a big parivartan.'
June 01, 2015
'If you excel, the very society that hated you will be in awe'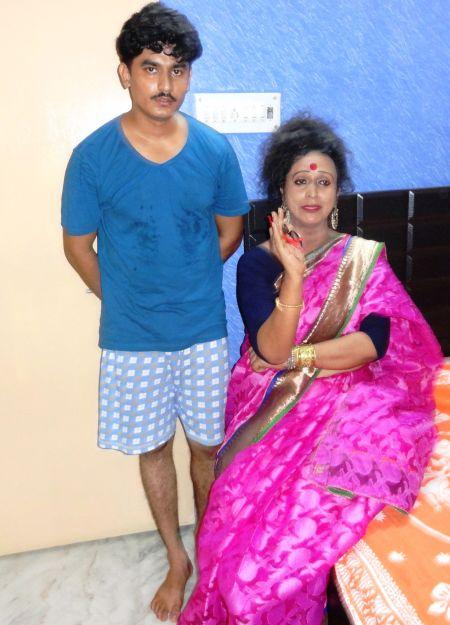 Manobi Bandyopadhyay, India's first transgender principal of a college, speaks of her struggles in a moving interview.
'How can dissent on government's policy be seen as spreading hatred?'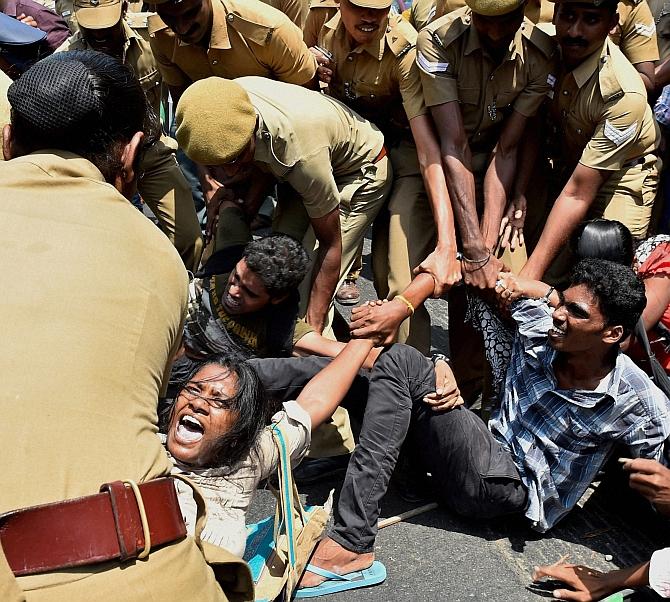 The Ambedkar-Periyar Study Circle explains their side of the story which saw the IIT-Madras student body being de-recognized for violation of code of conduct and misuse of privileges.
'One-and-a-half million Indians served in World War I'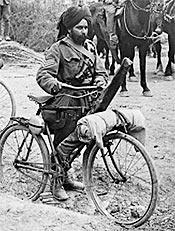 'Over one million people served in various battlefronts during World War I. And yet, even today, we know so very little about them.'
May 30, 2015
Suit boot ki sarkar definitely better than suitcase ki sarkar: PM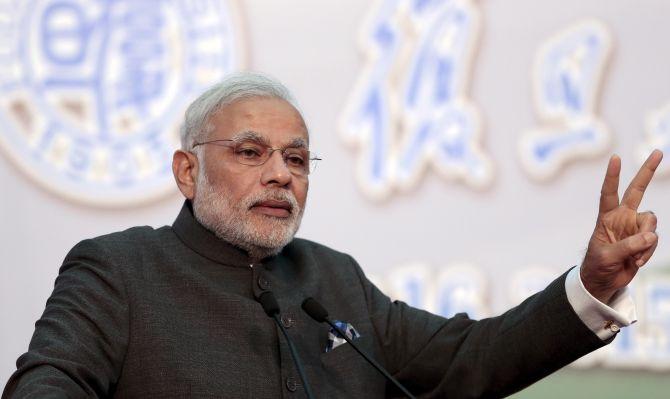 Prime Minister Narendra Modi, who recently completed one year in office, has, in an exclusive interview with Smita Prakash, editor, ANI, said the opposition alleging that his government is a "suit boot ki sarkar" is definitely better and more acceptable than being labelled a "suitcase" (ki sarkar), and satirically added, that after ruling for sixty years, the Congress has suddenly remembered the poor.
'Home ministry is making malicious allegations to smear Greenpeace'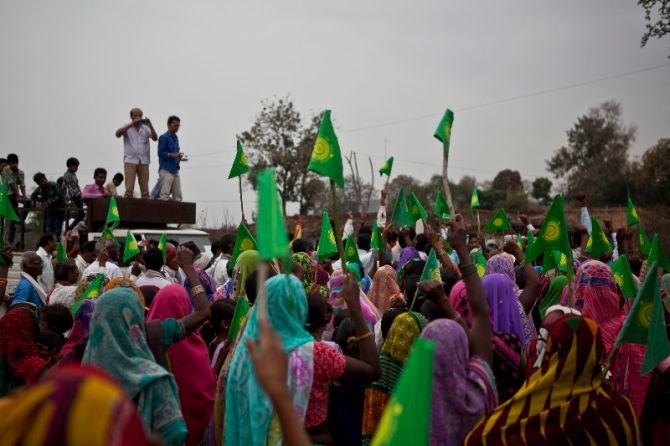 'The home ministry has made a serious allegation to the media without providing a scrap of evidence to back it up. We think this shows how worried the ministry has become.'
May 29, 2015
'Mufti now is very different from the Mufti of 2002'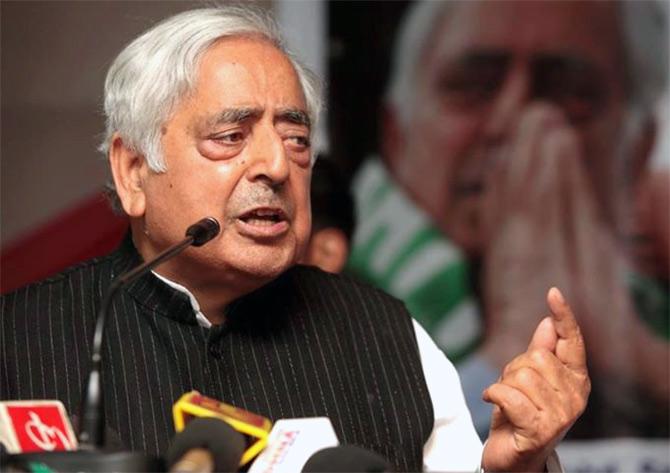 'Mufti is much more mellowed, much more accommodating. He knows he is stuck and he knows that he cannot retreat now.'
May 27, 2015
A Few Good Men and the Angry Sea: How the IAF regained a lost paradise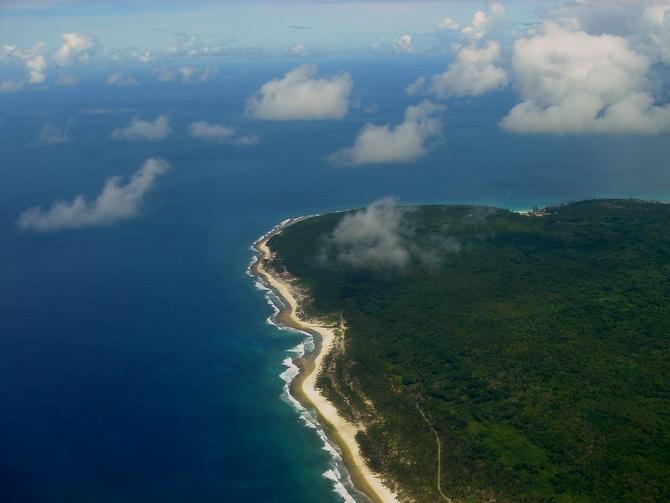 'I had heard that it was a paradise... but when I first lay my eyes on it, it wasn't what I had pictured.'
'Modi's Kashmir policy is very imaginative'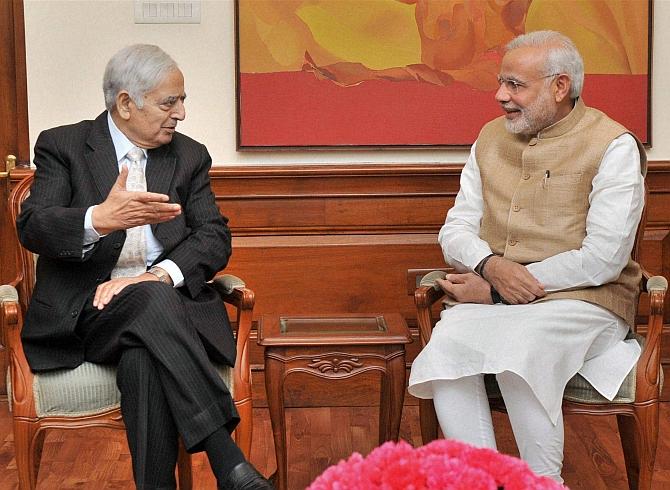 'I could have never imagined any other prime minister giving time to a separatist leader.'
May 22, 2015
'Delhi government should keep its promises to women'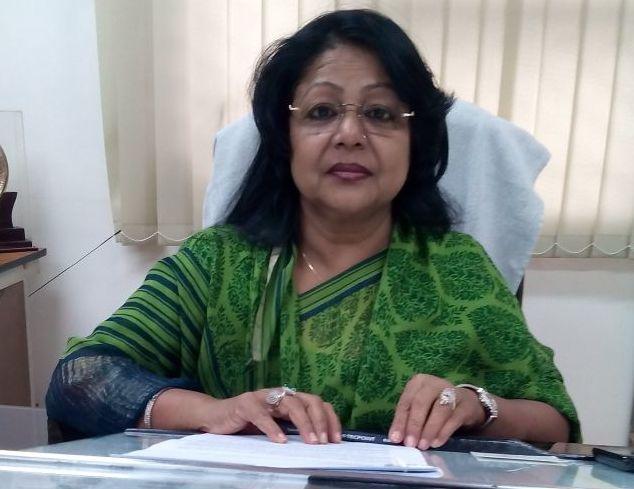 'There are no women in the Delhi government and it shows how much the government is concerned about women's issues,' says DCW chairperson Barkha Singh.
May 20, 2015
'Modi sold dreams but where are the dreams being fulfilled?'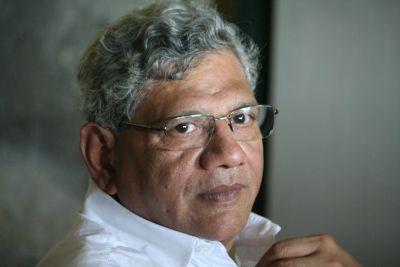 Newly-elected CPI-M general secretary Sitaram Yechury speaks to Syed Firdaus Ashraf/Rediff.com.
May 19, 2015
Amit Shah exclusive 2: 'We have added 'nishtha', sincerity of purpose, to governance'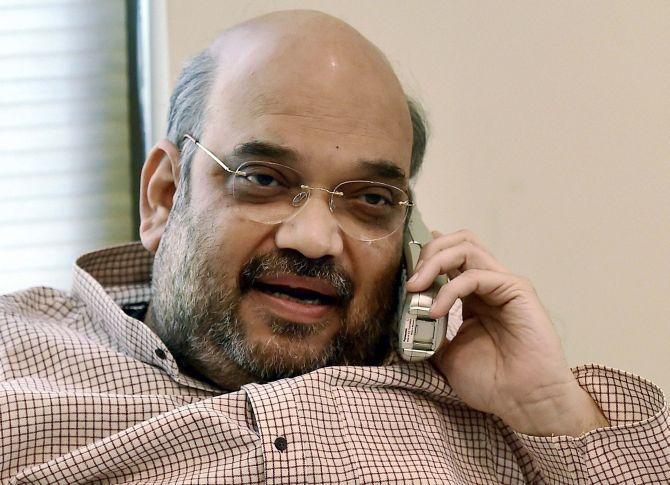 The second part of BJP president Amit Shah's interview to Sheela Bhatt/Rediff.com, to mark the completion of one year of the Narendra Modi government.
PM Modi is a leader; Dr Singh was not: Cong's ex-foreign minister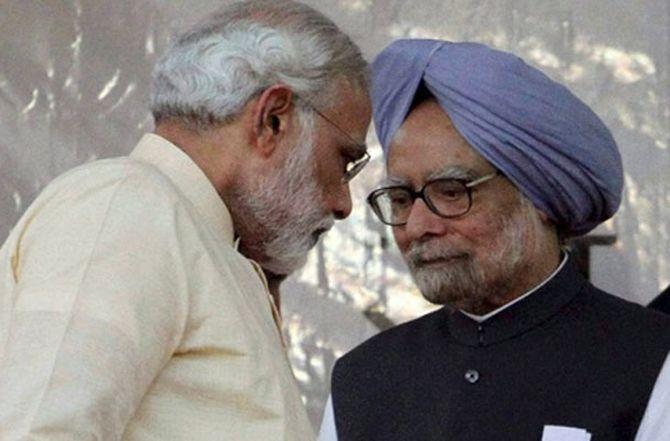 Former external affairs minister, K Natwar Singh, shares his critique of the Narendra Modi government's foreign policy in this e-mailed interview with Aditi Phadnis. Edited excerpts
May 14, 2015
Beijing believes unrest in Tibet linked with Tawang: Expert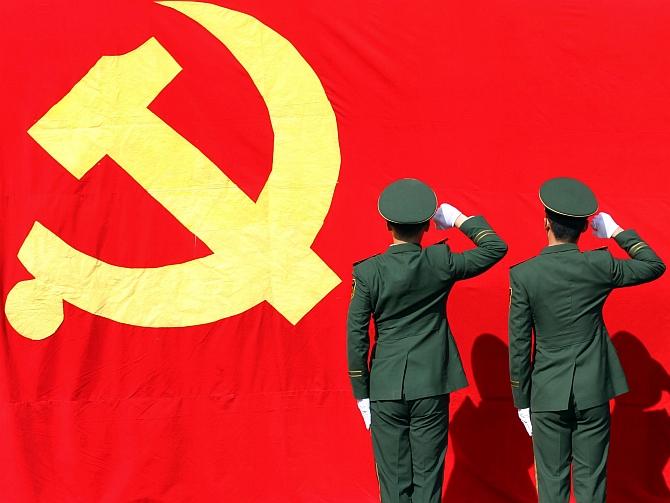 'In Chinese perception, India is strategically getting closer to United States and some Chinese analysts fear perhaps one day it may become a part of American arrangements against China.'
May 13, 2015
'China does not consider India as equal to itself'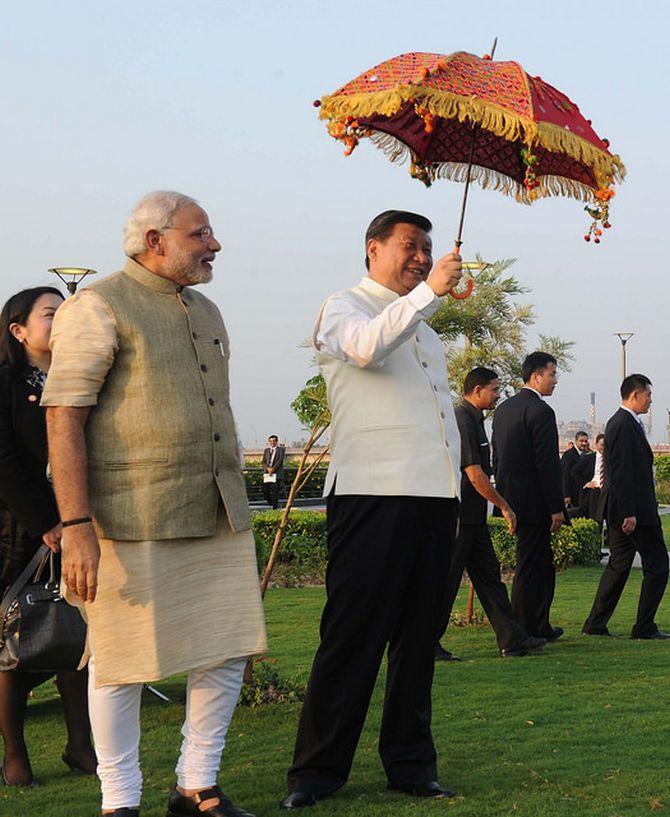 'It is a pattern of behaviour of the Chinese that whenever a Chinese leader visits India or an Indian leader visits China, some incidents take place.'
Amit Shah exclusive: 'Not an inch of acquired land will go to industrialists'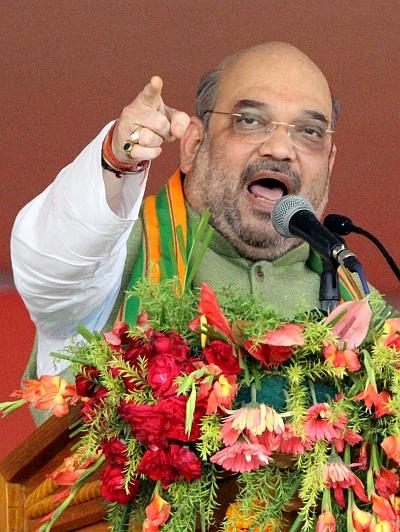 In the first part of an exclusive interview with Sheela Bhatt/Rediff.com on the eve of the first year of the Narendra Modi-led NDA government, BJP President Amit Shah talks about the government's achievements and the controversy over the land ordinance.
'We will wait for the government to deliver, or else...'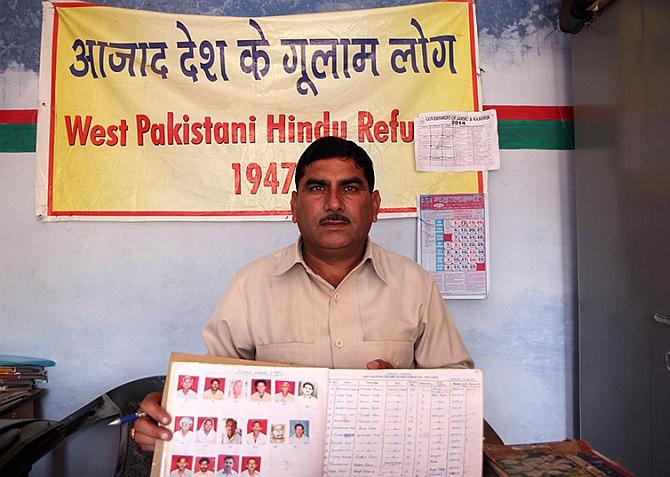 West Pakistan refugees say they are willing to give Prime Minister Modi and Bharatiya Janata Party chief Amit Shah time to come good on their promise.
Modi@1: Exclusive interview with Amit Shah!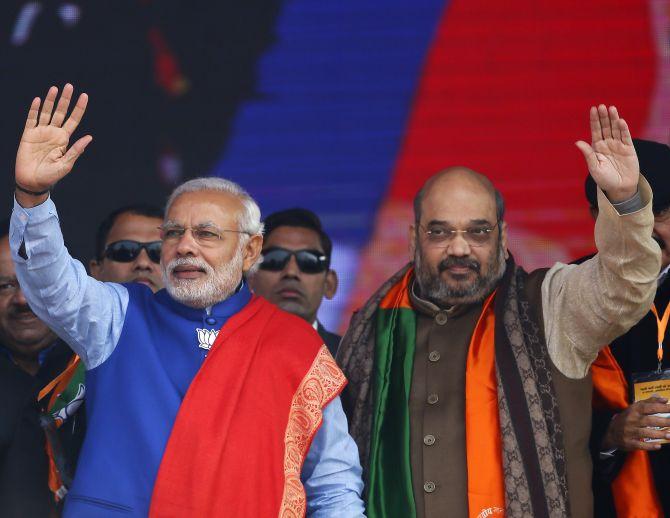 On the occasion of the Narendra Modi government completing one year in office, Sheela Bhatt/Rediff.com speaks to BJP president Amit Shah who is yin to Modi's yang. Don't miss it!
May 12, 2015
The 2013 land law is non-negotiable: Jairam Ramesh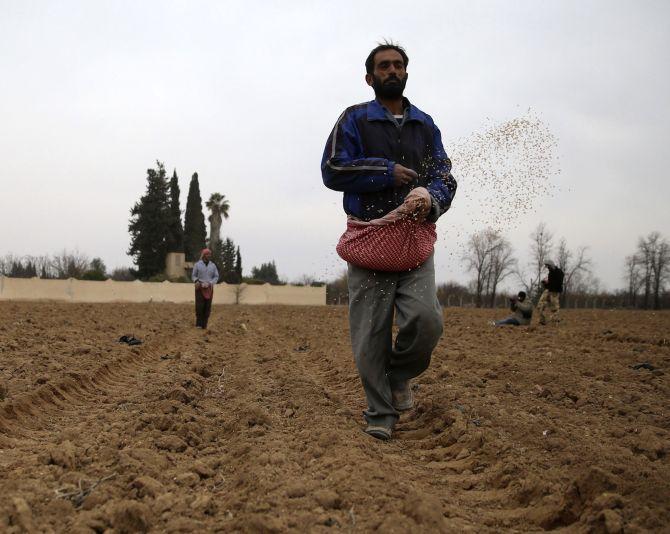 Ramesh says the best route now is to refer the amendments to Parliament's standing committee on rural development.
May 11, 2015
'Jayalalithaa's acquittal is a bad omen for the entire country'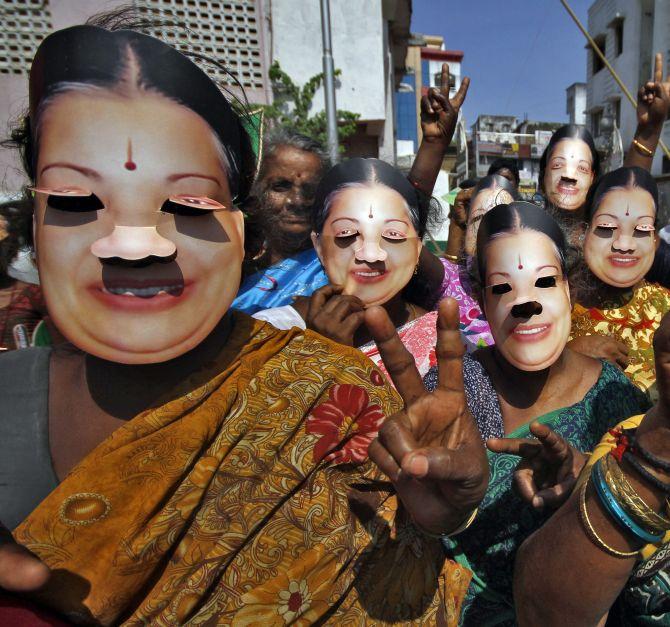 One of the leading political analysts in Tamil Nadu, Gnani Shankaran speaks to Shobha Warrier/Rediff.com from Trichy on the Jayalalithaa verdict.
May 07, 2015
'The attack on Greenpeace means we are asking the right questions'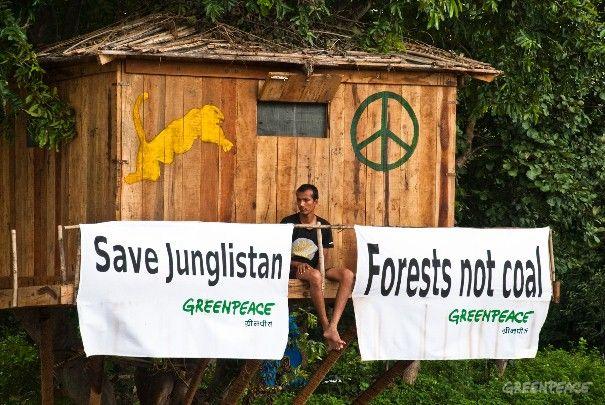 'Democracy and dissent are being strangulated. It is not good for the country.'
May 06, 2015
'Leaders understand the change of realities much faster'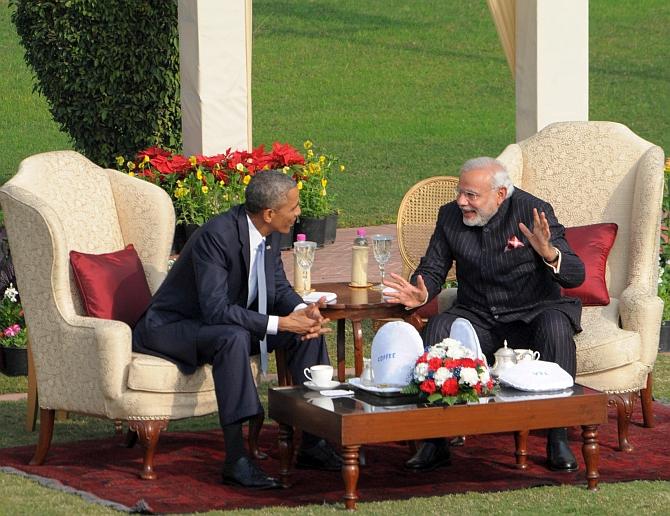 'When George Bush Senior decided in 1992 that India and the United States must start talking in this-now-changed world, who would have thought that 10, 15 years down the road, we will start looking at each other as strategic partners?'
April 30, 2015
'Even the first step to clean the Ganga has not been taken'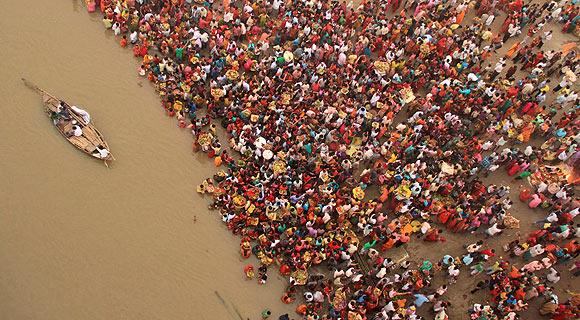 '70 per cent of sewage flows untreated into the river along its entire course. Hardwar and Rishikesh remain two of our holiest cities. Then why has the government failed to do anything?'
April 28, 2015
'In 11 months, India has been pushed back several decades'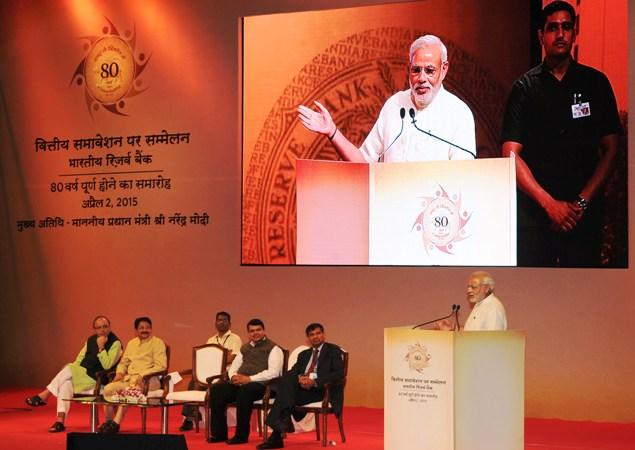 'Tell me, what is more important to Modi -- his position as prime minister or as an RSS pracharak?'
'As a nation we don't learn lessons from our past'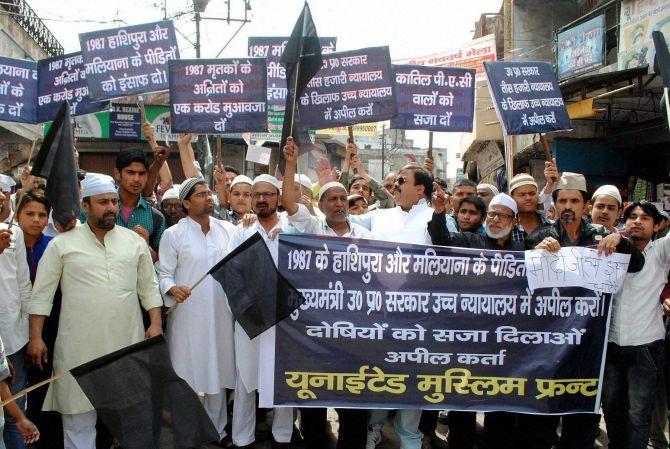 'Communal killings take place routinely in our country and yet we don't ever convict the offenders.'
'Reports of Netaji's death should leave no doubt in anyone's mind'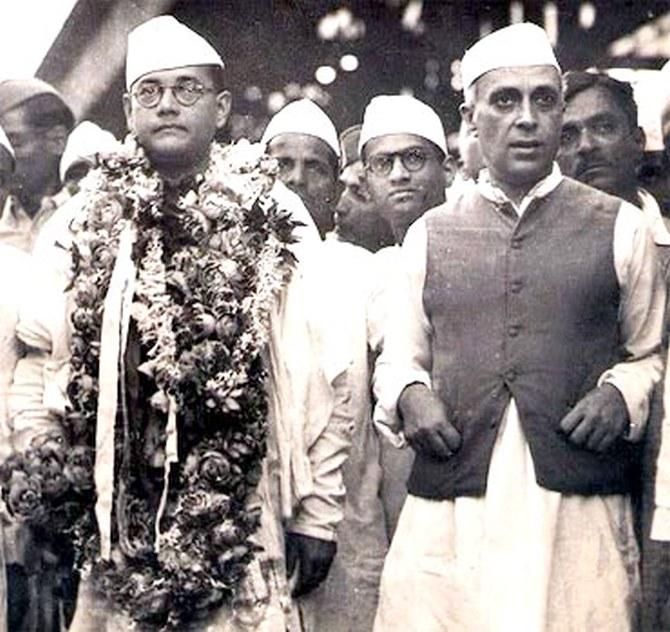 'There is no evidence that it was Nehru who ordered this surveillance (on Netaji's kin). It was a very low-level Bengal-based operation.'
April 27, 2015
Rahul has come back with a new style of politics: Sushmita Dev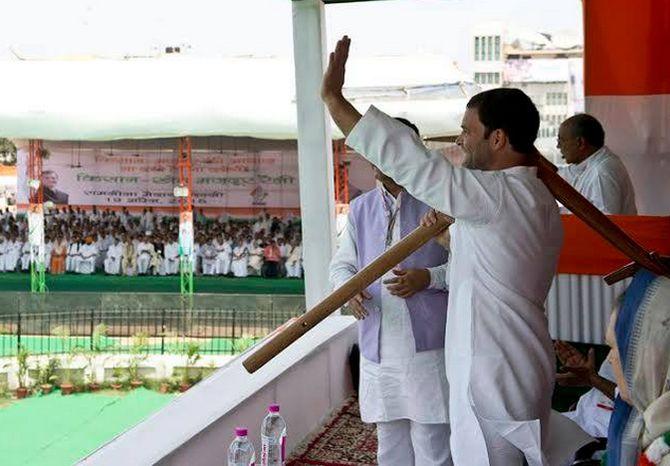 Congress Member of Parliament and party spokesperson Sushmita Dev tells Kavita Chowdhury that party Vice-President Rahul Gandhi's "new kind of politics" has revitalised the party, lifting it from the gloom of the 2014 general elections.
'Interlinking rivers will be disastrous for India'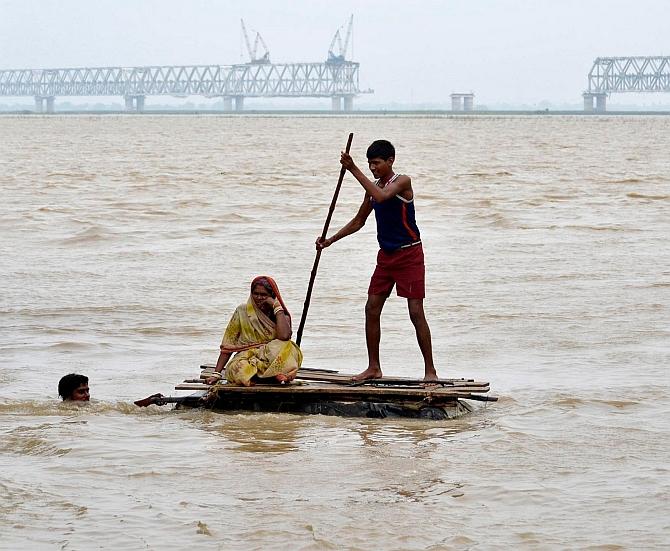 'Why should the people of Odisha divert water from the Mahanadhi when 13 out of 32 districts are chronically drought prone?'
April 24, 2015
'Kejriwal may have the mandate but he has lost the road map'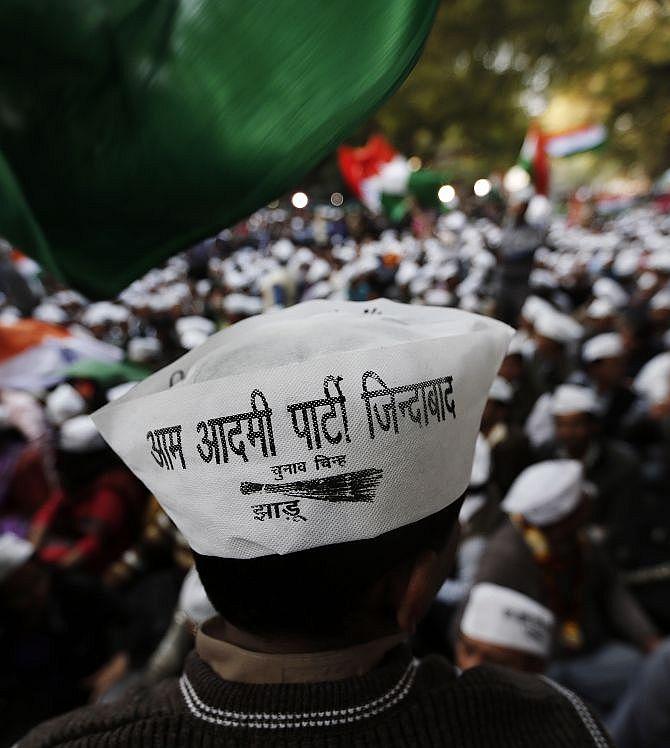 'Swaraj Samvad sees itself in the role of a watchdog in Delhi,' Professor Anand Kumar tells Rediff.com.
April 22, 2015
'Communal riots never happen in a political vacuum'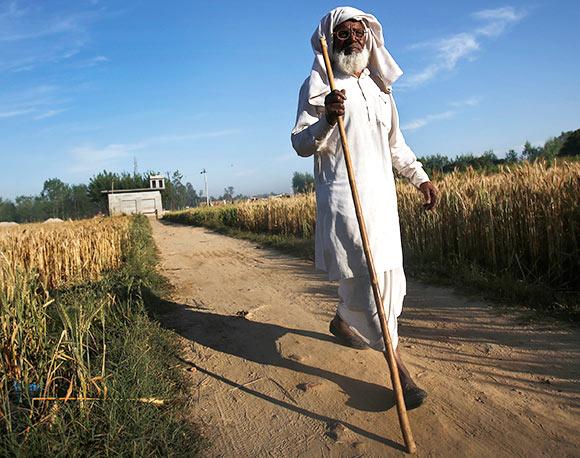 'Communalism and communal riots happened in India only during and due to colonialism. Pre-colonial India didn't have this problem of communal conflicts and religious strife.'
'Hinduism has been failed by seculars and the right-wing'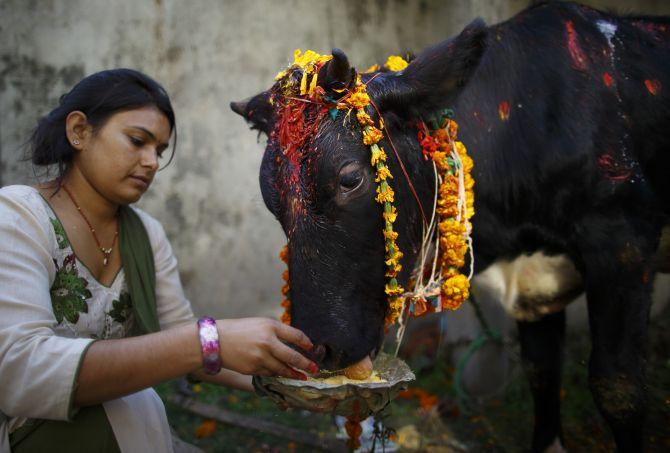 'The real danger in India right now is that identity politics is being stoked in extremely dangerous ways.'
April 21, 2015
This is India's biggest challenge. Did you know about it?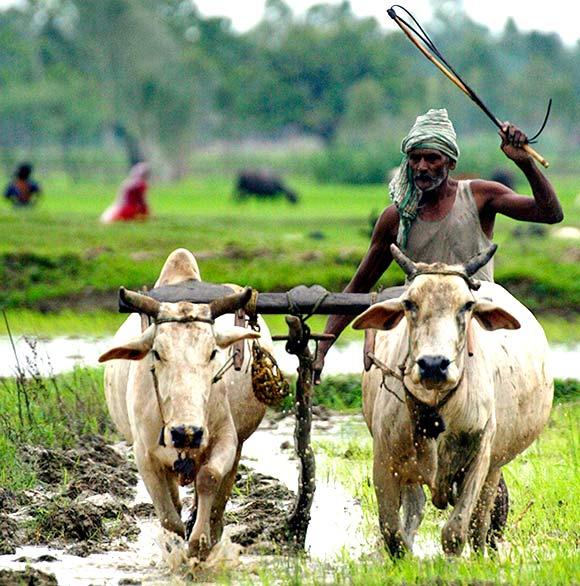 'Any new technology, either before or soon after its release, will face severe criticism by one or the other segment of society. It is only after seeing the benefits of new technology for themselves that our farmers accept it.'
April 20, 2015
Netaji's grandnephew: 'Hard to reconcile Nehru with spying'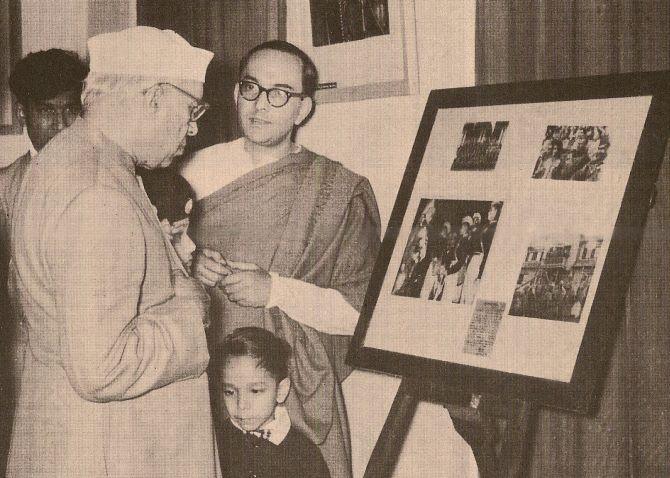 'The evidence about a plane crash that killed Netaji as stated in the Shahnawaz Committee report, is quite strong.'
'There'll be attempts to break us because of the danger we pose'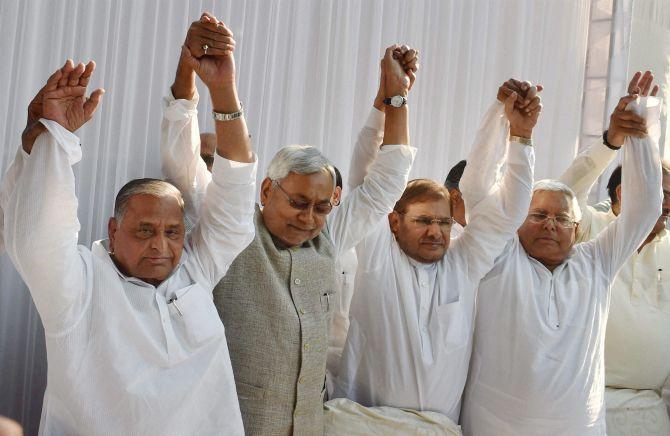 Sharad Yadav says that reports about disquiet among the factions are 'sponsored'.
April 15, 2015
Sena's no vote demand: What does Modi's Muslim pal think?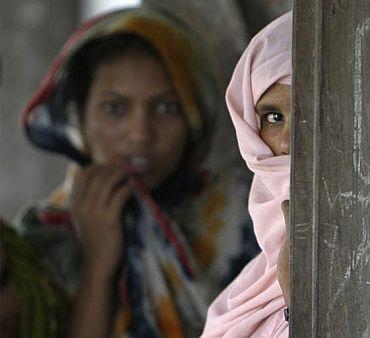 'Muslims have been exploited for 65 years. They have been reduced to a community of committees and commissions. Nothing happens. Since 1947 they are worse than Dalits.'
April 14, 2015
'AAP's failure is not an option'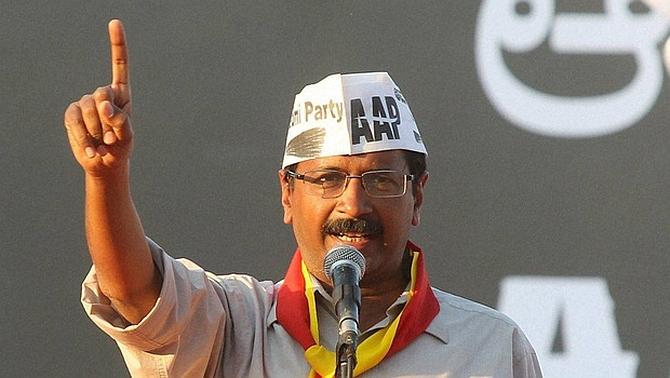 'AAP has to run a marathon and could face a new crisis on the way. The beauty is to learn from the crisis, correct the mistakes and move forward.'
'I will not spare my son's killers'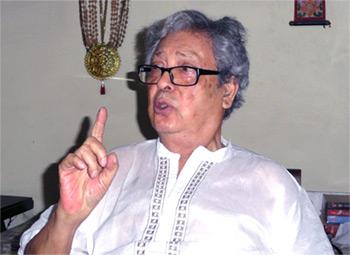 'Bangladesh is a country of immensely organised terror outfits.'
April 13, 2015
'Muslims have lost faith in KCR'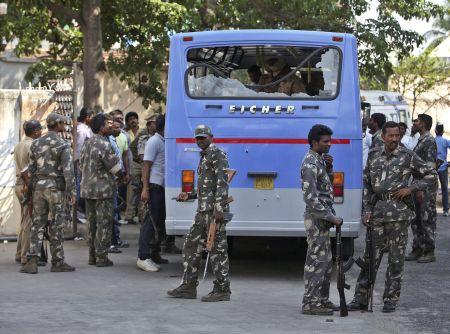 'The Telangana police are working on the same agenda against Muslims as the Modi government at the Centre.'
April 10, 2015
The man fighting for Americans to learn the truth about Hinduism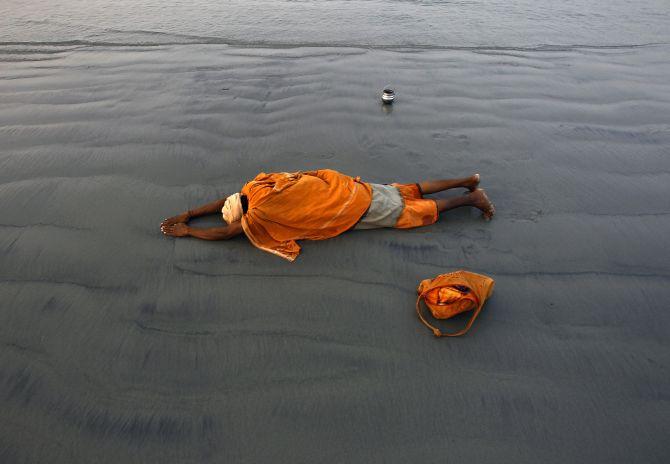 'For years American academia has used the concerns about Hindutva in India to almost completely trash the concept of Hinduism.'
April 09, 2015
They are targeting us regularly, says Greenpeace India chief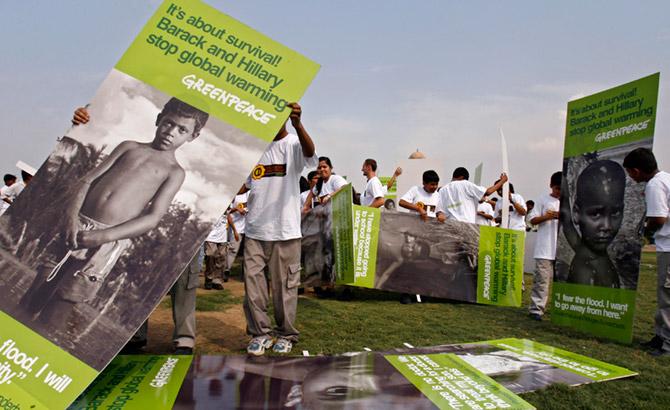 'Possibly, our campaigns have made the right impact and raised the right questions, which is making several stakeholders uncomfortable,' Samit Aich, Greenpeace India's executive director, tells A Ganesh Nadar/Rediff.com
'Many Nagas are angry with the mob action'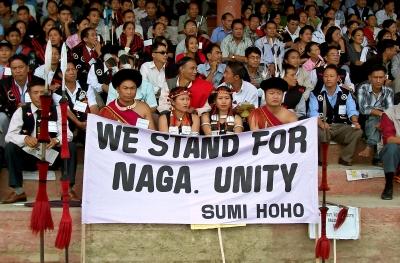 'Societies like the Nagas have gone through so many decades of armed conflict. Conditions which are not 'normal' for others are 'normal' for them!'
'PM's '5-star activists' comment borders on contempt of court'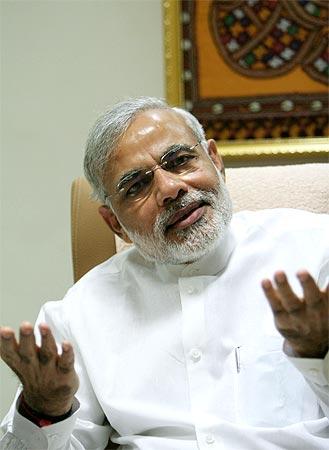 'The comment is ill advised and unworthy of the exalted office occupied by the prime minister.'
April 08, 2015
'Killing 20 people is a massacre; you can't call it an encounter'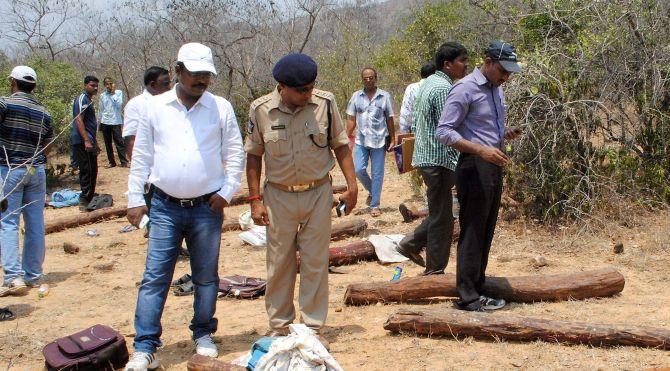 'There is a mafia operating in that area that lends money to these labourers. Loans are paid off with red sandalwood. The actual smugglers don't need to come to the area.'
April 07, 2015
When Mohan Bhagwat became a hardliner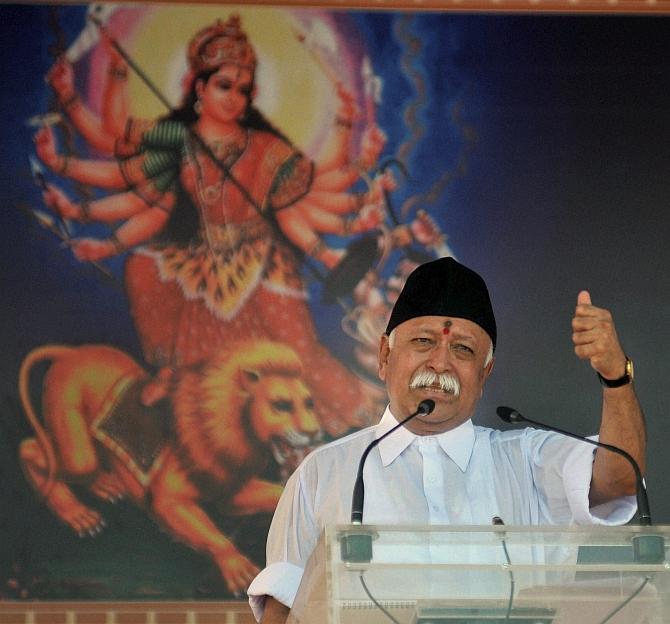 'RSS chief Mohan Bhagwat was on the Hindu extremists' hit-list. In June 2008, this information was made public. Prior to that, you should hear Bhagwat's speeches and listen to his 'liberal' statements.'
'Government websites hold so much unprotected data'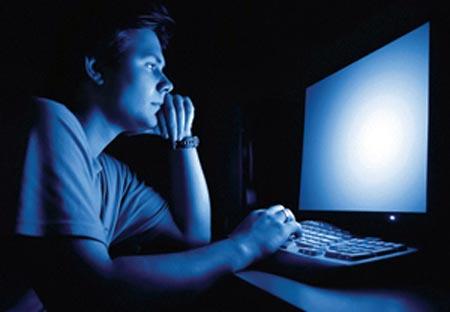 Gulshan Rai talks to Surabhi Agarwal about the tussle with social media companies over sharing data, Section 66a of the Information Technology Act and his new job.
April 06, 2015
'Nothing unconstitutional or illegal about ordinances'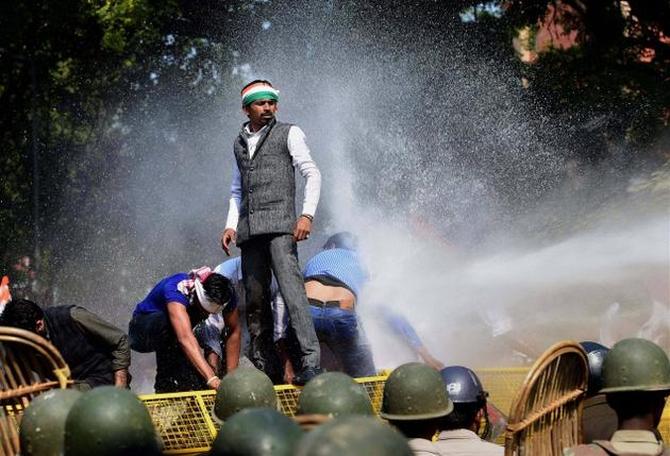 'The Constitution says the government, the council of ministers, shall be responsible to the House of the People which is the Lok Sabha, not to the Rajya Sabha.'
'Modi government is receptive to creating consensus'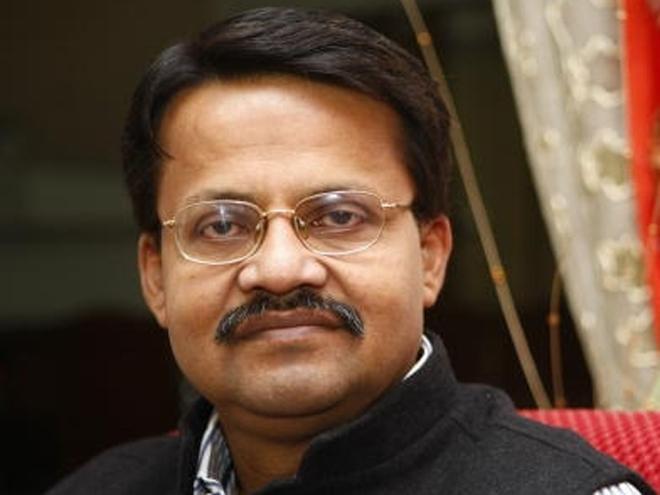 The Biju Janata Dal will not oppose the government simply for the sake of opposing it, BJD Member of Parliament Bhratruhari Mahtab tells Aditi Phadnis.
April 05, 2015
They tell me Avijit Roy was killed; you are next: Imran H Sarker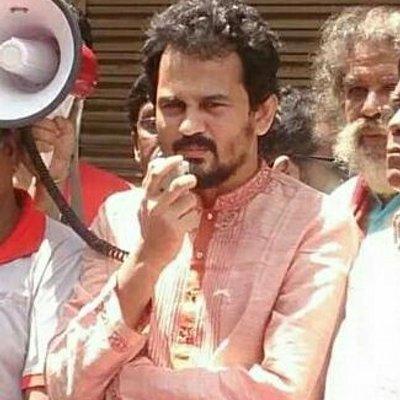 Interview with head, Blogger and Online Activists Network.
April 01, 2015
'Kejriwal has become larger than the party now, but it won't last'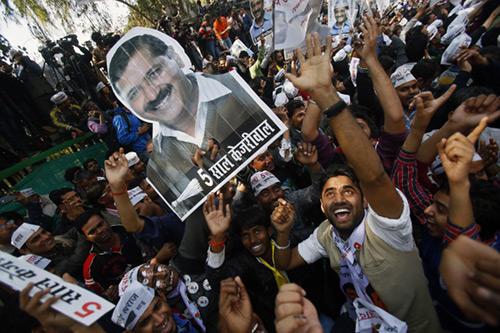 'I think the AAP is still in transition from being a movement to a political party so there is a mix of people who form the party. So there is somewhat of a overlapping and commonality of purpose.'
Archives
January 2013 - March 2015
|
September - December 2012
|
May - August 2012
|
January - April 2012
|
August - December 2011
|
March - July 2011
|
March - July 2011
|
January - February 2011
|
November - December 2010
|
August - October 2010
|
June - July 2010
|
February - May 2010