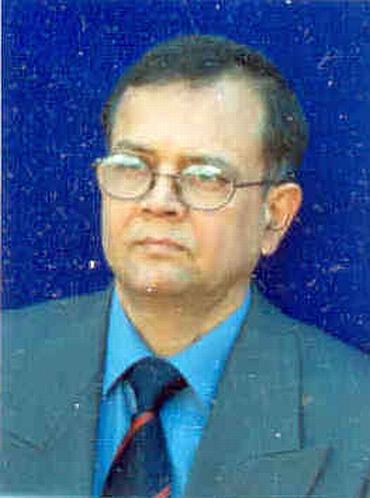 Post the 26/11 terror attacks on Mumbai, the National Investigation Agency was set up to probe all terror-related cases in India. Over the past three years, the NIA has had its share of hits and misses. And there's a long way to go before it emerges as India's premier investigating agency to combat terror.     
In an interview with Rediff.com's Vicky Nanjappa, Radha Vinod Raju, who was the first chief of the NIA, talks about the teething problems faced by the agency and what needs to be done for its smooth functioning in days to come.

How do you rate the NIA on the basis of the work it has done since its inception?
The NIA comprises officers who have had exposure to terrorism and terror-related case. They are a committed lot and there is sincerity in their approach towards work. The output of their effort clearly reflects their enthusiasm. In this respect, it's the best investigating agency that India has seen so far.

The unit has the requisite database and technology that supports their work and they have established a great rapport with state Anti-Terrorism Squad teams. While a lot more ground needs to be covered by the NIA, professionally they are shaping out well. What they need is continued support of the Centre and states to grow in their full potential.
A lot of confusion prevails during a probe thanks to the involvement of several investigating agencies including the local police. Also, there have been reports of ego clashes between agencies, which hampers a probe. Should all terror-related cases be handled solely by the NIA? 
There are a few teething problems, especially with our federal set-up, and these should be patiently and tactfully handled. Cases will be, mostly, registered at the local police stations, and as per the NIA Act, will be investigated by them first. Only if necessary, will they be transferred to the NIA. There is bound to be some confusion during this process. These initial problems will be, and can be, tackled professionally.
The NIA cannot be the only agency investigating terror cases. But a regimen will have to be worked out by which the NIA and the states' ATS are able to work on case jointly, some led by the ATS units, some by the NIA.
How do you rate the quality of NIA's investigations?
The quality of investigations has been simply outstanding. This includes the cases against the black widow gang of Assam and the fake Indian currency notes case of Mumbai.
Do you feel the media often pressures the NIA for quick results?
Cases taken up by the NIA are difficult to crack. There's generally a conspiracy angle, and investigations are spread across the country and even overseas. But the NIA needs to collect evidence before taking action and should not arrest suspects only to deflect pressure. Officers of the NIA will never indulge in such tactics. The media has to be realistic.
There have been reports that the NIA is short-staffed. Has the government taken steps or provided sufficient funds to help the agency overcome its shortcomings?      

The NIA was set up less than three years ago. It has strength of about 300. It is learned that the government has sanctioned more posts and branches in Mumbai, Lucknow and Kochi. It is obvious that the government wants the NIA to become the premier agency to tackle terrorist cases.
Why is there such slow progress in the David Headley and Tahawwur Rana case? Do you think we are relying too much on the United States for information, which eventually is leading to a delay in filing the chargesheet?
In the Headley case, media reports suggest that the NIA has sent letter rogatory to Pakistan to tie up loose ends. In the case of Rana, they are waiting to interrogate him. The NIA is not depending on the US so much. We have no control over their systems of law. The US has provided unprecedented cooperation in the Headley case. We cannot set a timetable for investigations to be carried out in foreign countries.
Cases such as the Mecca Masjid and Malegaon cases are far from being cracked? Earlier, Islamic organisations were blamed, but today investigations show the involvement of Hindu extremists…

The NIA has to go by the evidence it has collected before coming to any conclusion. Old cases are bound to be time consuming because over the years the accused have had enough time to destroy vital clues. But I am glad the agency is going about its task in a fair, professional and transparent manner.  
Do you find probes are being modified according to the political weather?

No investigator worth his salt would ever do this. I know each superintendent of police, director general of police and inspector general in the NIA, and many of the junior officers as well. They are professionals, and would not deviate from the principles of the rule of law.
Investigators today are in a hurry to file chargesheets, but they often fail the judicial test. Is this because of the hurry to complete to probe or do they lack investigating skills. 
This is a general statement, and does not apply to the NIA if you go by cases in which chargesheets have been filed by them. In most cases there has been a positive judicial pronouncement. Professional investigation organisations have a system where the investigation is scrutinised at several levels by superior officers and law officers. Chances of failure in these cases is less and this can been seen in the working of the Central Bureau of Investigation.
Post 26/11, do you think India has managed to secure itself? What suggestions do you have sir to step up our security?
Since 26/11, many steps have been taken to strengthen the investigating machinery as well as preventive mechanisms like augmenting coastal security, immigration points etc. But India is a huge country and unlike the US, we live in a highly unstable region, characterised as the epicentre of terror. We will therefore have to be more alert, and strengthen all our systems -- preventive and detective -- and the justice system for optimum results.
We have seen a spate of terror strikes like the one at the Delhi high court and also at Varanasi. These are unsolved mysteries. Do you see a new trend in terror operations by fringe elements?
The NIA has got a few leads in the Delhi case and has made arrests. There are also media reports quoting NIA sources that there is a trend where fringe jihadi elements have started acting on their own. This is quite possible, and would make the job of the intelligence and investigating agencies more difficult.
Is the danger to national security today more from a country like Pakistan or is the enemy inside the country?
Pakistan has been a constant source of trouble for us these 60-odd years. We also have fault lines in our polity, which our enemy exploits. We should address our fault lines ourselves. A strong India cannot be troubled by anyone for long.
How strong do you think the Indian Mujahideen is today?
It is difficult to say. We will have to account for each of its members, and then, by our fair governance, ensure their numbers are not increased. That is the way forward.
Is our government serious about dealing with the problem of terror? Do you think it has been fair in dealing with Islamic and Hindu terror?
The government, to the best of my knowledge, has never interfered in any investigation or prosecution, be it against the jihadi terror or right-wing terror. It depends on the investigating and prosecution machinery to deliver, not the government.

Image: NIA's first chief Radha Vinod Raju