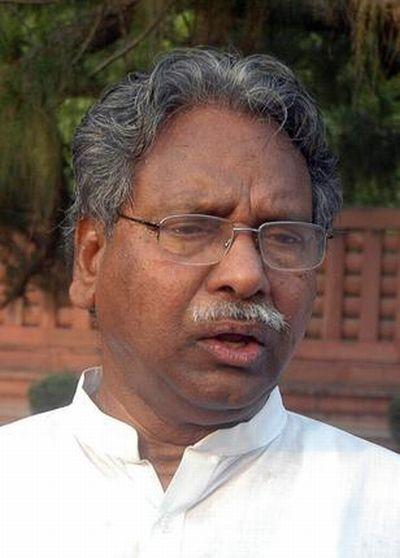 'Some false information was carried to Delhi, these negative bits seemed to have played heavily.' Union Textiles Minister KS Raoon why he opposes the Telangana decision.
Union Textiles Minister Kavuru Samba Siva Rao has been a lone voice all along within the Congress party in favour of a united Andhra Pradesh. A five-time member of Parliament, Rao was inducted into the Union Cabinet only in the June 2013 reshuffle. In an exclusive interview with Neeta Kolhatkar during his visit to Mumbai, Rao says the declaration of a separate Telangana state is unfortunate and today's times aren't favourable for those who are vocal.
You have been the lone opposing voice in the Congress party against the division of Andhra Pradesh. Are you hopeful a separate Telangana will be stalled?
I am hopeful the division will be avoided and we will eventually be able to come to a solution that will not affect any single group. As you are aware, a group of ministers has been formed and they are expected to meet all the groups. Right now the situation is tense, but I am confident we will be able to value all the sentiments.
Do you think a united Andhra is the best solution?
Of course, a united Andhra is the best for all and our region (coastal Andhra) too. If the group that is insistent on a separate Telangana (keeps up its stand), then this issue can fester into something big. It is sad we have reached such a situation. The Justice Srikrishna committee report also had mentioned that a division should be avoided, we all believe the division isn't the best in any respect.
Then what went wrong? Why didn't the Congress high command listen, before coming to this no-win situation?
True, we are in the most unfortunate situation. I still believe we could have avoided all this trouble. But what to do? Some false information was carried to Delhi, these negative bits seemed to have played heavily.
Have these developments hurt you? Do you think it will impact the Congress's chances in the forthcoming elections?
(When prodded for a reply on if he feels hurt, Rao laughed for a while and replied pensively) It hurts. Yes, it does hurt that we allowed the announcement of the formation of a separate Telangana. Elections are still a few months away, anything can happen.
How much of an impact will Jagan Reddy have on the Congress party's electoral fortunes?
I can't say about Jagan at this juncture, to be honest. He is also in a bad situation, so it is not easy to assess the amount of impact he can have on the results. Right now, the situation is such that one can't say anything. Some incident can change the whole situation. Right now all are awaiting the final decision of the committee. Nothing is clear right now.
You still haven't answered my question, will this decision affect the Congress in the next Lok Sabha elections? Is the high command upset with you for being so vocal about a united Andhra?
Yes, it will impact the Congress negatively in the next elections. Isn't it obvious? But you see, I am a true Congressman and will always be one. That is why it took me 47 years to reach where I am today. No outspoken fellow can be accepted by anybody in politics today.