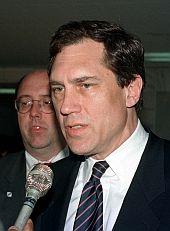 Karl F Inderfurth, who was the point man for South Asia in the Bill Clinton administration, does not believe President Barack Obama's India visit can be as transformational as Clinton's in 2000 or George W Bush's in 2006 -- because the circumstances are quite different. 
Inderfurth is currently professor of international relations at George Washington University.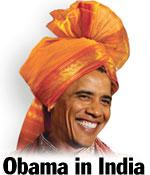 In this exclusive interview to Aziz Haniffa, Inderfurth says that, however,  'Obama can certainly leave his own mark in the relationship with continuing to build on what his two predecessors have done.'
What are your expectations from Obama's visit?
I believe he will have a highly successful visit and I think it's very significant that he is making this visit during his first term -- something that neither President Clinton nor President Bush did.
This shows the priority that India has for his administration. It was also reflected in (Indian) Prime Minister (Manmohan) Singh being the first state visitor to the White House in his administration. So, the trip itself is another signal about the view that not only this administration has but previous administrations had of the rising importance of India in terms of our relationship for the 21st century.
When we chatted some weeks ago, you said Obama's visit was highly unlikely to be the kind of transformational visit as Clinton's was. Why?
Because the transformational aspect occurred under President Clinton, because we had been without a significant strong relationship with India for most of our time.
There had not been an American President who had visited India in 22 years, when President (Jimmy) Carter went there in 1978. A 22-year gap between then and President Clinton's trip and much had taken place in between, including the end of the Cold War, the opening up of the Indian market.
Many things had changed to allow the United States to step across the threshold for a new relationship; and President Clinton did that with his trip.
You can't repeat that. Once you have crossed the threshold, you can't continue to do it on every trip. What President Bush did was to do a major undertaking for our bilateral relationship with the civilian nuclear agreement.
That was the centerpiece of his very positive eight years in office in terms of our relationship with India. President Obama can't match those two aspects, but he can certainly leave his own mark in the relationship with continuing to build on what his two predecessors have done and to take steps that would truly be of lasting importance, including, as I have argued on many occasions, announcing the full support of the United States for India to become a permanent member of the United Nations Security Council.
Why are you so insistent that this otherwise symbolic gesture is imperative?
I am a strong proponent of that endorsement but for a broader reason than just the UN Security Council, which, of course, is very important.
Many of us want to see India become a full stakeholder in the international community -- to occupy a position at the table of all important international institutions.
Already, India is a member of the G-20, which is now the most important international economic forum. India has also played an important role recently in President Obama's Nuclear Security Summit.
India played a critical role at Copenhagen with the US and with China on the whole issue of climate change and global warming. India is going to be a global player and it should be a full stakeholder in the international community and one of the key positions in that regard is as a permanent member of the United Nations Security Council. So, my view in support of India's aspirations for a permanent seat goes beyond the United Nations to other key organisations that run across the gamut of important global fora.
Is it really that important that there be some big-ticket items announced during the visit to give it some oomph, or are such expectations asking too much?
I believe that one should always hold one's expectations in check for any state visit. There are always the unexpected things that occur, and so I think we should be reasonable in our expectations.
There are important other aspects of this visit that may get less attention than if he endorses India as a permanent member of the Security Council. But no less important and in fact may be more important for where we are today -- including what I hope will be a very serious and in-depth discussion with Prime Minister Singh and his advisers -- is on security issues with respect to Afghanistan and Pakistan.
This is an urgent matter. We are all concerned where Afghanistan is heading. We also have concerns about Pakistan and its stability. It has had a number of major setbacks of late, including the floods that further impacted the country. The US and India should be in close consultation and work in joint fashion as much as they can to promote stability in these two countries.
And so, I hope that quite frankly, behind closed doors, that we will be able to deepen our dialogue on Afghanistan and Pakistan with India.
Should the President categorically condemn publicly the cross-border terrorism that has emanated from Pakistan against India? The Indians always feel that the US may talk about being partners in fighting international terrorism but doesn't walk the talk when it comes to coming down hard on Pakistan-inspired and supported terrorism into India.
These are very important issues but in terms of talking the talk, the talks should be done behind closed doors. Just as we did during the Clinton administration in the Jaswant Singh-Strobe Talbott talks on nuclear matters, where we made a great deal of headway in understanding each other's positions by trying to address our respective concerns, we should do that with respect to both what is taking place today in Pakistan as well as in Afghanistan.
So, I believe that public announcements will not be helpful but private understandings in trying to determine what is the best role for the United States to play on these issues and what contribution India can make would be terribly important at a critical time.
Does the exclusion of Pakistan on the President's itinerary once and for all mark the demise of the age-old US zero-sum game policy on South Asia?
I hope that we have seen the demise of that and indeed the administration's decision to have this trip focus on India -- and, of course, then he will travel to Indonesia and then to South Korea for the G-20 meeting -- was entirely appropriate.
He has announced that he will travel to Pakistan in 2011, and that is quite frankly an excellent example of what both the Clinton and Bush administrations attempted to do in terms of de-hyphenating the relationship.
We have important issues and an important relationship to pursue with Pakistan and everyone understands that. So, it is better for the administration to be able to pursue that in another timeframe. This was a very adroit decision on the part of the administration.
What should one look out for in terms of success of this visit?
I have already mentioned the UN Security Council endorsement and the need to have private in-depth consultations on what's taking place with respect to Afghanistan and Pakistan.
There are a number of other important steps that can be taken, including beginning a bilateral investment treaty, supporting India's membership not only in the Security Council, but also in certain export control organisations like the Nuclear Suppliers Group and the Missile Technology Control Regime.
This would be a further part of what I was referring to as a full stakeholder. I also hope that we'll make some progress bilaterally on liberalising US export control.
I'd like to see a number of the entities that are currently on the Entity List removed including the Indian Space Research Organisation so that we can move ahead with our space cooperation in the same way that we can now move ahead on civilian nuclear cooperation.
I hope that we will be able to see some resolution of the nuclear liability legislation issue because we've come a very long way with this important civilian nuclear agreement, it would be a great shame if we are not able to now see it implemented.
There are a lot of things that we can do but that's one on the Indian side that is extremely important. But the most important thing is to recognise is that although we have come a long way in a short space of time, this progress is not self-sustaining, and that it needs to be pursued by each administration as energetically as the previous one.
Because this relationship will not be defined by the limits, but by the limitless opportunities.
Image: Karl F Inderfurth