December 31, 2012
There is a definite change of mood in India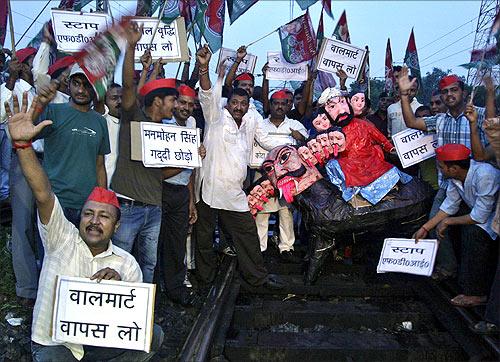 The country's mood at the end of 2012 is markedly different from that at the end of 2011. Bread and butter issues, not corruption, have become the focus of attention, says
The man who should be 'with you, for you, always'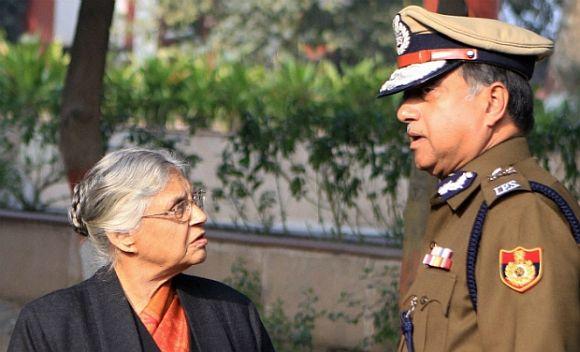 Delhi Chief Minister Sheila Dikshit, who was for long nursed a grudge against Delhi Police because it reports to the Lieutenant Governor and not to her, wants him out. But Kumar, 58, who retires in July, has made it clear he won't step down.
Delhi criminals don't fear cops; rapes occur daily: Sushma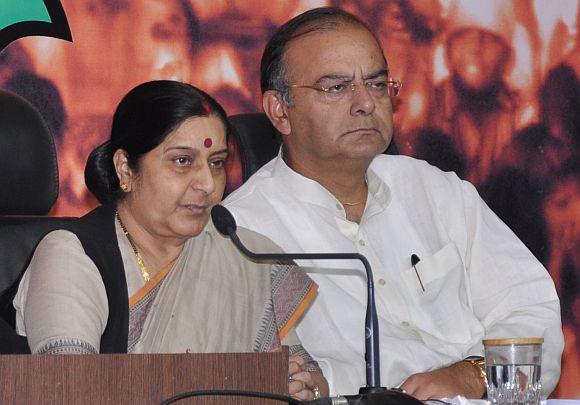 Senior Bharatiya Janata Party leader Sushma Swaraj on Monday expressed profound grief over the death of the 23-year-old gang rape victim, and demanded that speedy justice must be meted out in this unfortunate case.
Ten things I hate about YOU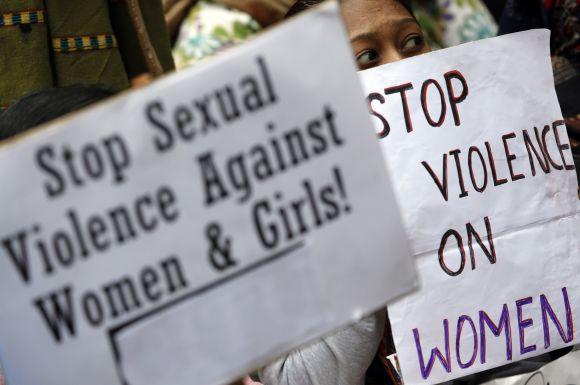 wishes India gets angry about some other issues in a similar way as it has been upset over the menace of crimes against women.
What is chemical castration? Will it STOP rape?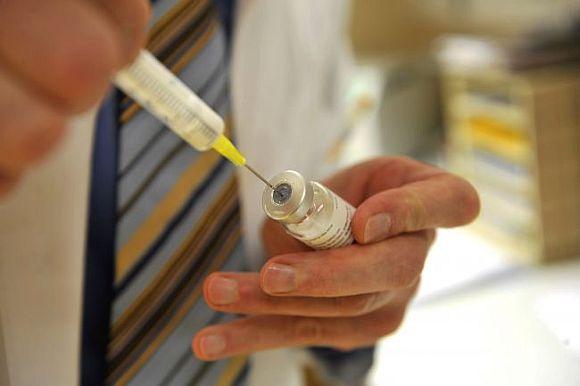 reports on the effectiveness of chemical castration as a deterrent for sexual assault on women
2013: A year of power struggle in Indian politics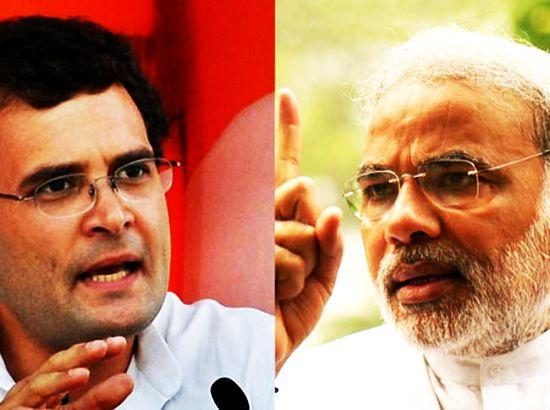 Whether they or their parties like it or not, the battle of 2014 will be between Narendra Modi and Rahul Gandhi. on how the next year will pan out for the two
'It's sad a liberal man was killed because of his looks'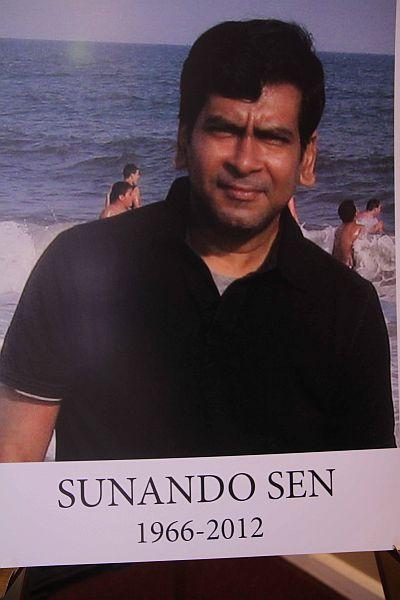 speaks to friends of New York hate crime victim Sunondo Sen, who was last week pushed in front of a subway train by a woman who hates Muslims and Hindus.
December 30, 2012
'What occurred in Delhi can happen to any one of us'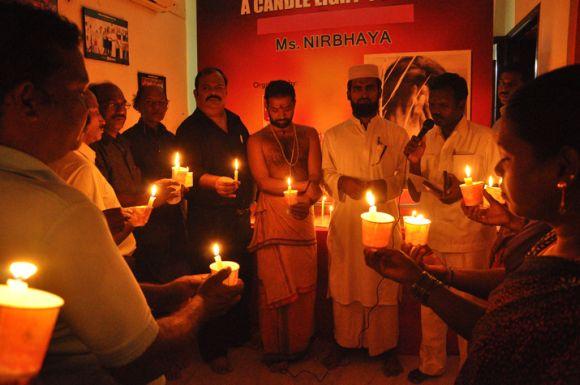 Religious leaders from different faiths led a prayer meeting in Chennai to condole the death of the Delhi gangrape victim. and Sriram Selvaraj report from Chennai
December 29, 2012
Mumbai unites in grief, anger over rape victim's death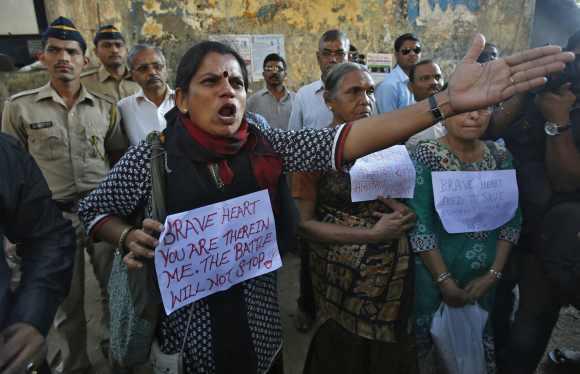 The death of the 23-year-old Delhi gangrape victim on Saturday prompted peaceful protests and sharp reactions from political leaders and activists, with people from all walks of life joining in condolence meets and peace marches in Mumbai.
Pix: Thousands light candles, pray for Delhi rape victim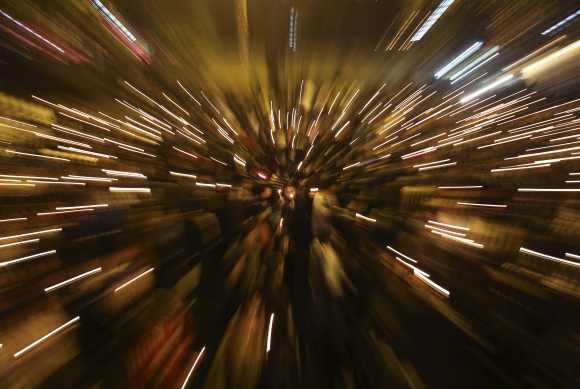 A series of peaceful marches and protests were held in New Delhi on Saturday, including one at Jantar Mantar, to mourn the death of the 23-year-old gangrape victim even as India Gate and Raisina Hill were kept out of bounds for people.
'We will liberate Kashmiris from India and Pakistan'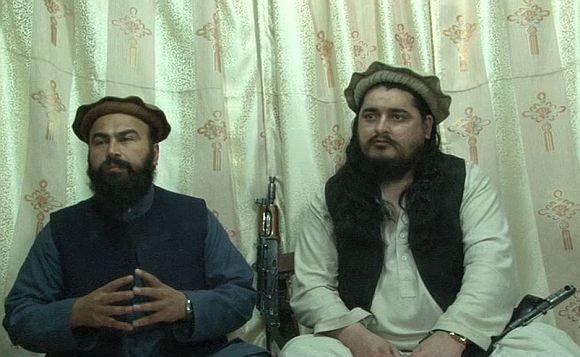 The Tehrik-e-Taliban Pakistan has held both India and Pakistan responsible for the 'unrest in Kashmir' and has vowed to liberate and establish Islamic Shariah there.
MUST SEE: 2012, The Year That Was
Rediff.com looks back at 2012 through a series of lists -- showcasing the good and the ugly, the serious and the quirky -- in a commemorative special.
December 28, 2012
PHOTOS: Trial run on India's longest train tunnel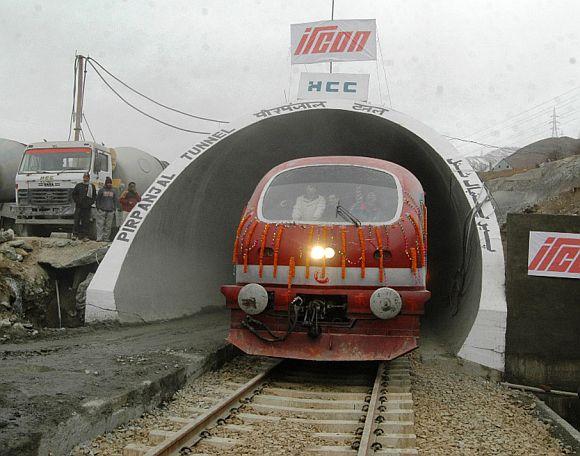 The trial run of train services across the Pir Panjal Mountains through the 11.2 kilometre-long tunnel between Qazigund town in the Valley and the Banihal town in the Jammu region was carried out on Friday.
Flashback: India's war against terror in 2012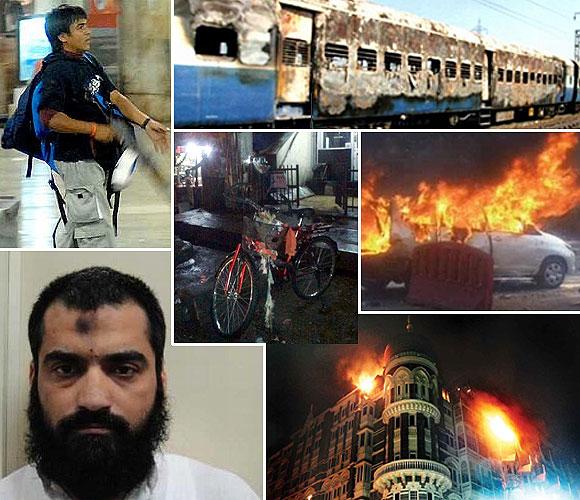 The execution of 26/11 gunman Ajmal Kasab and the arrest of 26/11 handler Abu Jundal came as a silver lining to the dark terror cloud in 2012, reports
Newsmakers 2012: Why these men, women made headlines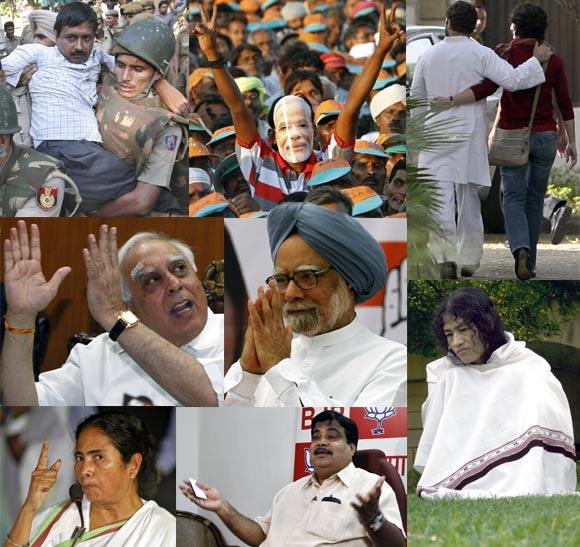 We have seen them hog the top headlines in newspapers, watched them on television and seen their videos and read about them on the internet.
Bilawal Bhutto makes formal entry into Pakistani politics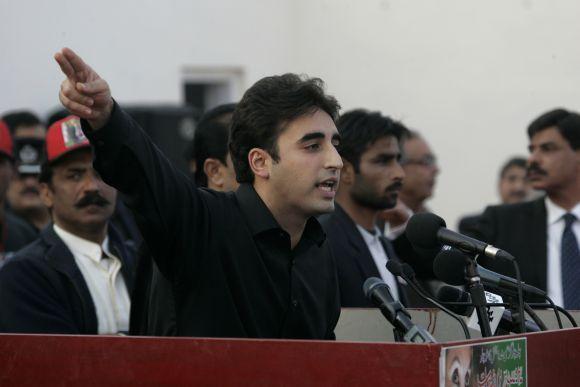 Slain former premier Benazir Bhutto's 24-year-old son Bilawal Bhutto Zardari on Thursday made his formal entry into Pakistani politics, pledging to protect his country and its fledgling democratic system from dictators and terrorists.
In PHOTOS: The world's longest chocolate train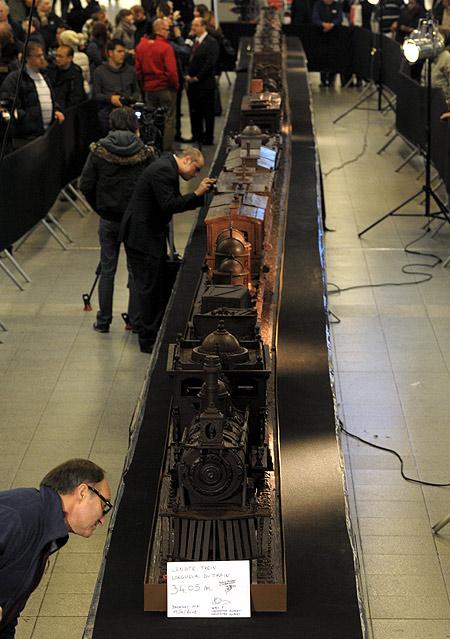 In an attempt to boost Belgium's internationally renowned chocolate industry, a chocolatier from the country has created the world's largest vintage steam train made out of the delicious treat.
In PHOTOS: The world's most SHOCKING moments of 2012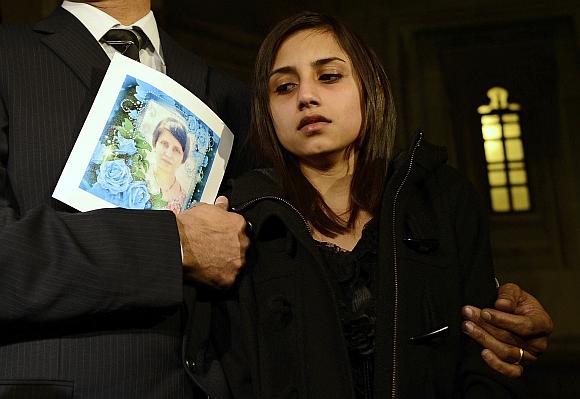 From shootout at an elementary school to a nurse's suicide over a hoax call, from a scandal involving the CIA chief cheating on his wife to romps of Britain's prince in Las Vegas, 2012 continued to send shockwaves across the globe. Here are some of the moments that stopped us in our tracks.
December 27, 2012
PHOTOS: Narendra Modi gets resounding welcome in Delhi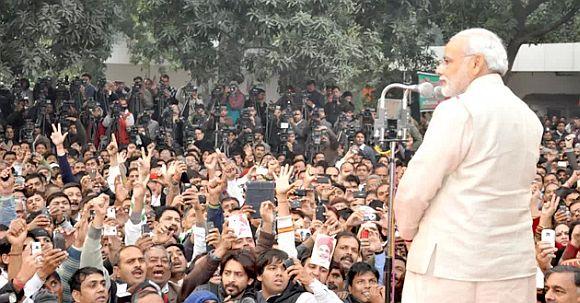 The crowd turned up in large numbers outside the BJP headquarters in New Delhi on Thursday to congratulate Narendra Modi. At least, they were clear in their mind on who will be BJP's prime ministerial candidate in the 2014 elections. reports
2013: Can we survive Indo-Pak war, Iran nukes?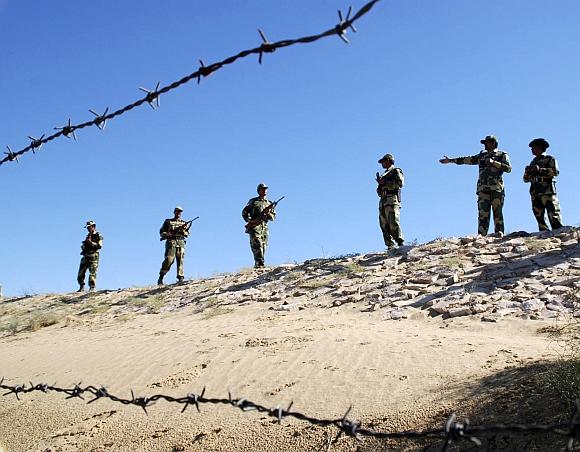 The Center for Preventive Action, established in 1994 by the United States council on foreign relations to prevent, defuse, or resolve deadly conflicts around the world to expand the body of knowledge on conflict prevention, has published a survey, identifying possible contingencies which have a likelihood to occur in 2013.
Will the Sena survive without Balasaheb's charishma?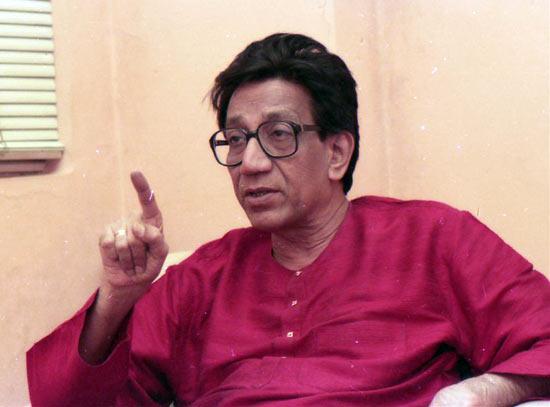 Will Uddhav Thackeray manage to hold the Shiv Sena together without his charismatic father? And what will his maverick cousin Raj do?
The MOST embarrassing Indian politicians in 2012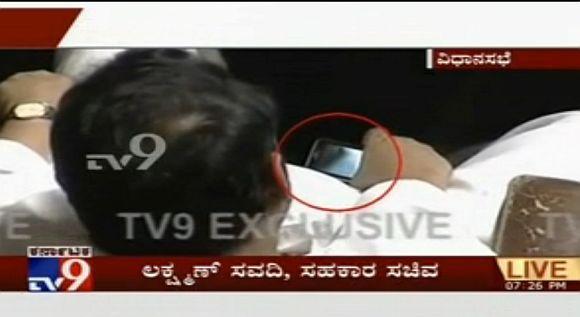 As the year comes to a close, we present a list of some of the most embarrassing politicians in India -- although we claim to provide no clarity as to who particularly stands embarrassed: the politicians or the society.
Year-end special: The people who mattered in 2012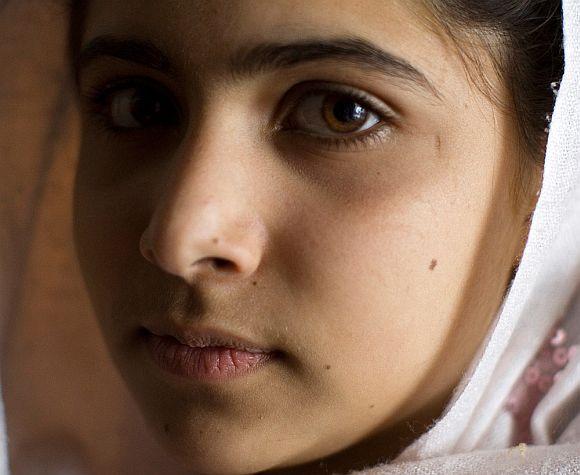 As 2012 draws to a close, rediff.com takes a look at the international personalities who hit headlines around the world.
December 26, 2012
Rape protests: 'Numbers may have thinned, but not spirits'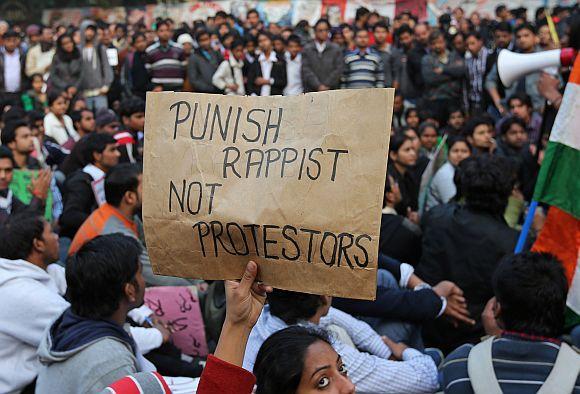 reports from ground zero of the protests aimed at securing justice for the bus gang-rape victim and women's rights.
Modi sworn in Gujarat CM, ally JD-U, opp boycott ceremony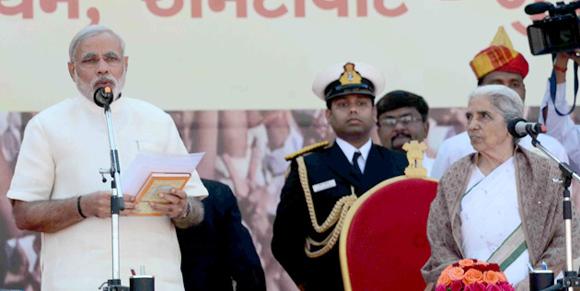 Narendra Modi, who powered Bharatiya Janata Party to an emphatic victory in Gujarat, was today sworn in as chief minister for the fourth time at the head of a 17-member ministry, in a ceremony boycotted by Opposition Congress and National Democratic Alliance ally Janata Dal-United.
Tribute to dad: A life spent fighting injustice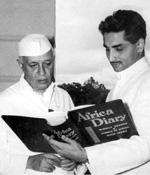 'He spent his lifetime writing about Africa, supporting the continent's desires to stand up against injustice. Watching him work, I learned to be tolerant, secular and liberal, values that now define who I have become.' Aseem Chhabra pays tribute to his father Hari Sharan Chhabra, one of India's foremost experts on Africa.
Where millions fulfill their dream of a lifetime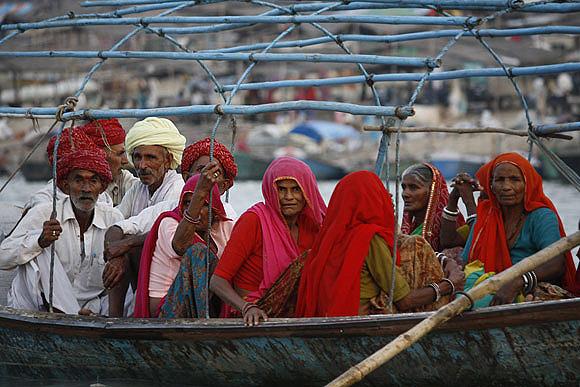 The Maha Kumbh, considered to be the largest religious gathering on earth, will begin at the Sangam in Allahabad from January 14. Photographer Rajesh Karkera and Archana Masih capture the scenes from the ghat in the run-up to the religious festival that is the pinnacle of many spiritual dreams.
Indo-Pak ties 2012: Visa deal inked, 26/11 unresolved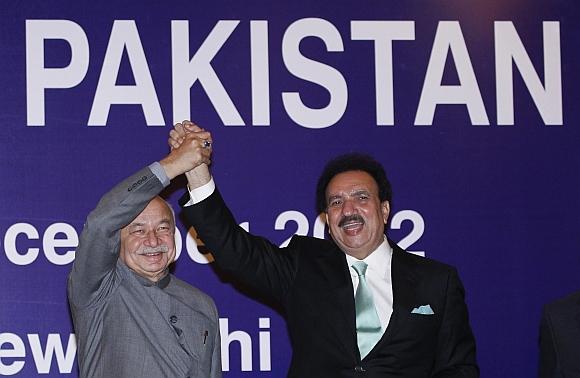 Pakistan and India took several steps to improve their ties this year, including through the signing of a landmark visa pact, even as Islamabad struggled to put its relationship with Washington on an even keel while seeking a greater role for itself in Afghanistan ahead of the pullout of foreign forces.
A Nano for the Mother Teresa of Bengaluru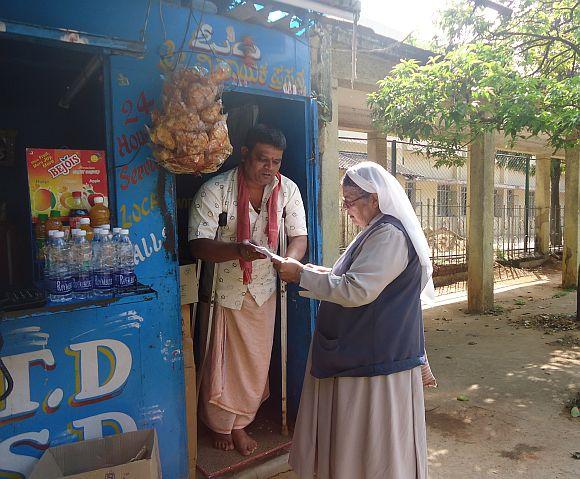 A 75-year-old nun in Bengaluru brings those neglected by the stigma of leprosy back into mainstream society. reports.
IN PHOTOS: World's 10 most happy countries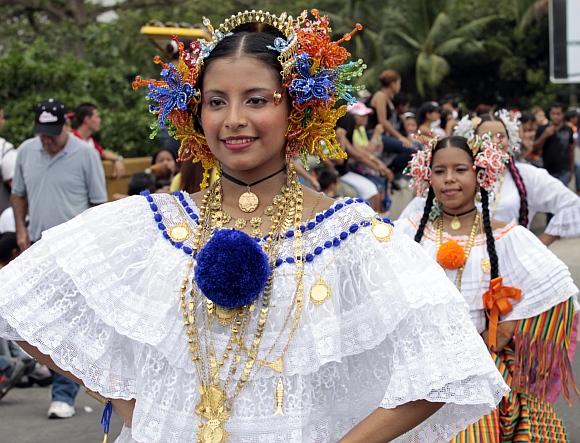 Rediff.com brings you a list of the happiest nations in the world.
December 25, 2012
Trinamool got too much power too soon: Mahasweta Devi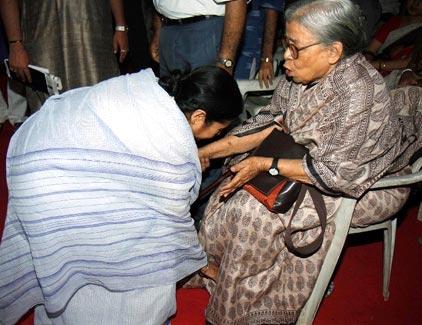 'The chief minister has to remember that the people of Bengal have suffered a lot. They waited for three decades for a change in rule. Hence, they are impatient and want fast and effective action.' Legendary writer Mahasweta Devi rates the Trinamool Congress-led government in West Bengal.
IN PHOTOS: World immersed in Christmas fervour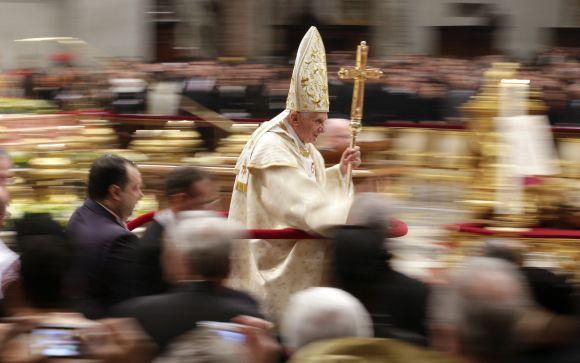 We present a collection of photographs from across the globe to exhibit Christmas festivities. Merry Christmas!
December 24, 2012
'Decisions taken in a spell of emotions can be dangerous'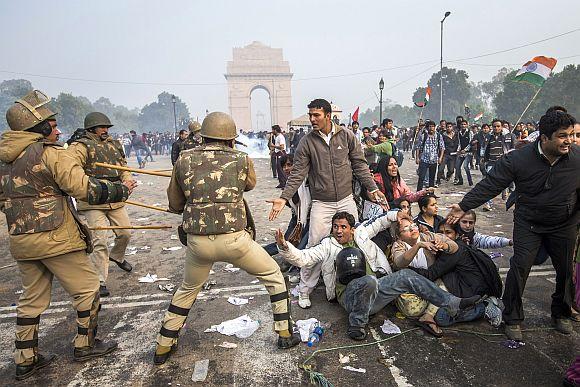 Minister of State for Home Affairs Ratanjit Pratap Narain Singh, the young face of the UPA government, talks to rediff.com's about the protests that rocked the national capital over the gang-rape of a 23-year-old girl in a bus.
Delhi rape: How the powers-that-be misread the protest!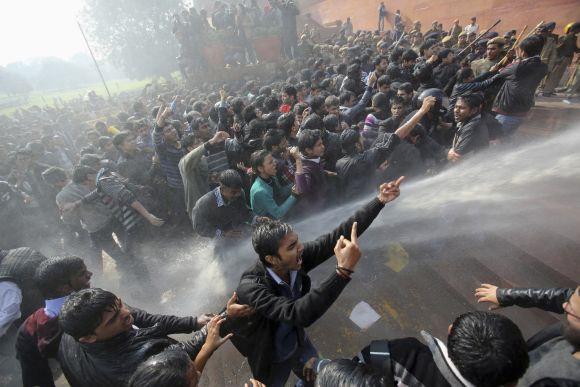 Who's wooing Narendra Modi now? Which post did Sheila Dikshit refuse? What is Montek Singh Ahluwalia planning? All this and more in this week's Dilli Gupshup.
Why shameless politicians must be blamed for Delhi rape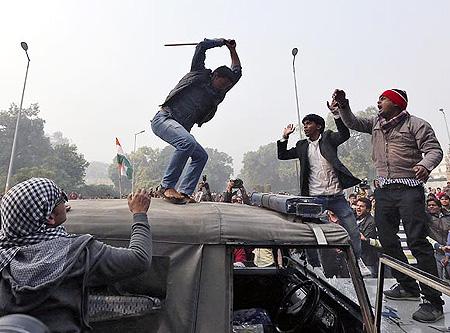 Sheela Bhatt blames the Delhi gang-rape and its aftermath on the dreadful transport mafia, the offspring of the nexus between politicians, crooked bureaucrats and shady operators.
Bangalore loses its Kohinoor, iconic cafe shuts down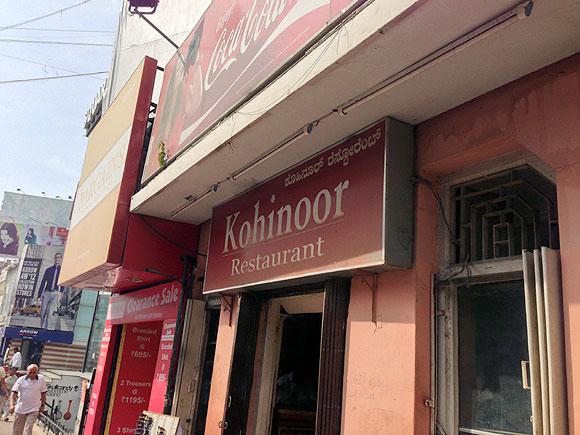 It is curtain call for the 57-year-old landmark Kohinoor Hotel in Bengaluru, says
No apologies: Shinde justifies police action on protestors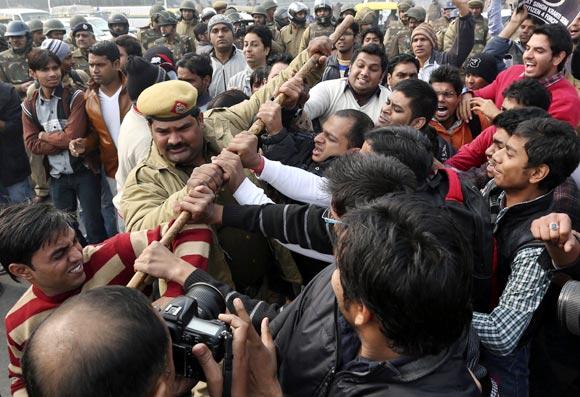 Talking for first time after the brutal police crackdown on the peaceful protesters at India Gate on Sunday, in an exclusive interview to CNN-IBN Editor-in-Chief Rajdeep Sardesai, Union Home Minister Sushil Kumar Shinde says the police crackdown was necessary as hooligans had joined the crowd.
Eyewitness: 'Why did they hit the women?'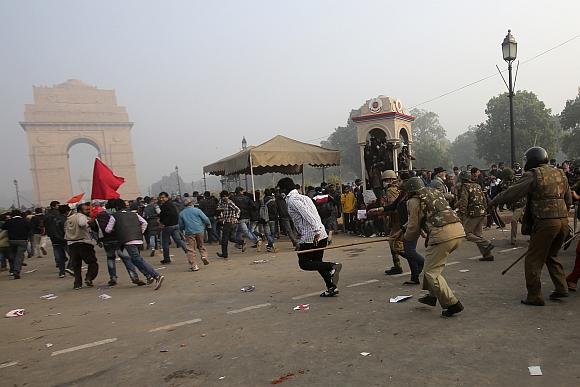 'Hum ne kya kiya hai yaar? Hume kyon mar rahe ho? (What have we done? Why are you hitting us)?' a young girl shrieked as we -- young students and professionals, boys and girls, old couples and a few children -- fled the Delhi police personnel who charged at us with lathis. reports from the scene of Sunday's mayhem in Delhi.
In first person: How the Delhi protest was hijacked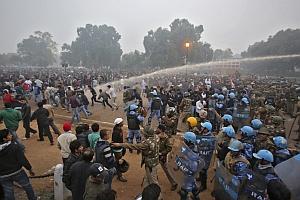 'I had naively believed that for the rape-related crisis to be resolved, the young protestors would have walked along with the police, with the hope of eventually working out issues with the elected officials and the law enforcement personnel. The protest I participated in the morning was hijacked later in the afternoon by self-serving politicians and people who perhaps had other agendas to pursue,' Aseem Chhabra notes in this first person account of what happened.
PART 3: The most INCREDIBLE photos of 2012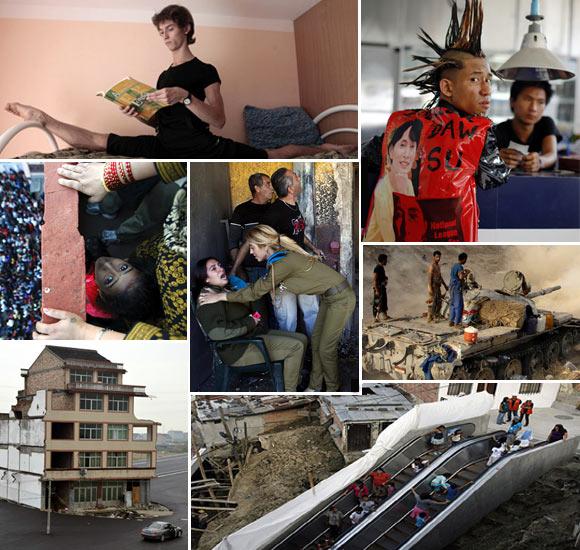 In the third part of our series on the best photographs of 2012 we bring you pictures as varied as the conflict in Israel, to the Bisket festival in the ancient city of Bhaktapur near Kathmandu; from the bullrings of Spain to the New York fashion week.
December 23, 2012
Violence erupts at India Gate, hooligans hijack protests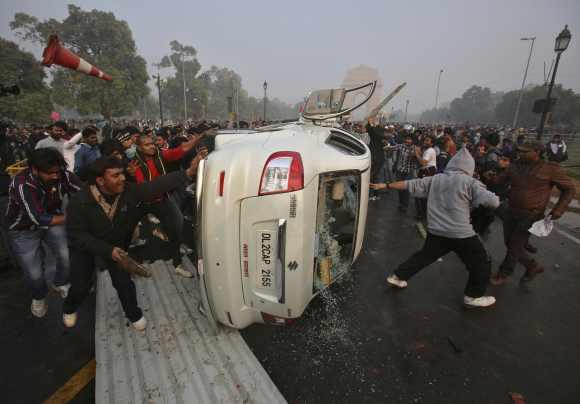 Violence erupted at India Gate on Sunday when protesters pelted stones and fought pitched battles using rods with the police, which repeatedly lobbed teargas shells, sprayed water jets and used force to disperse the agitators.
Pix: More tear gas, water canons to quell Delhi protests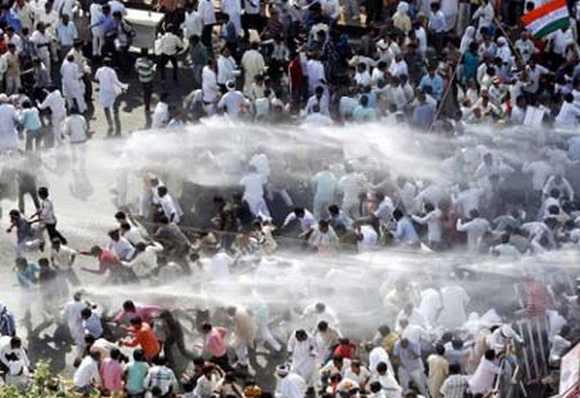 Delhi Police fired water canons again to disperse hundreds of protestors, mostly students, who had gathered on Sunday morning to vent their ire over the Delhi gang-rape incident that took place a week ago.
December 22, 2012
PIX: Gangrape protests rock Raisina Hills; 30 injured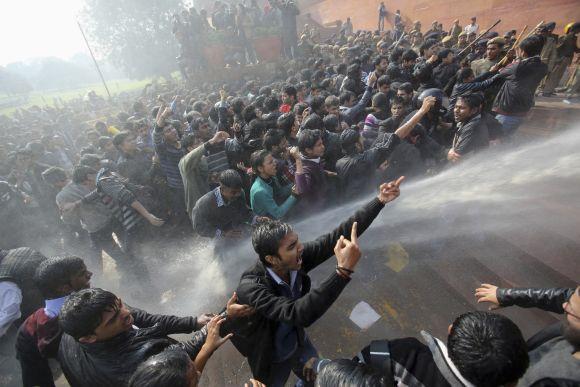 Sustained protests over the gangrape of a young girl erupted in Raisina Hill, the seat of power, as thousands of youth clashed with police undeterred by the repeated use of water cannons, teargas shells and baton charge.
Delhi gang-rape: Teargas, water cannons rain on protesters
Police fired teargas shells and used water cannons as several hundreds of young students on Saturday marched towards Rashtrapati Bhavan for the second day demanding justice for the 23-year-old gang-rape victim.
Videos this week: Modi super win, India's shame and more
Videos this week: Modi super win, India's shame in capital and more
December 21, 2012
What's common in Modi, Sheila and Patnaik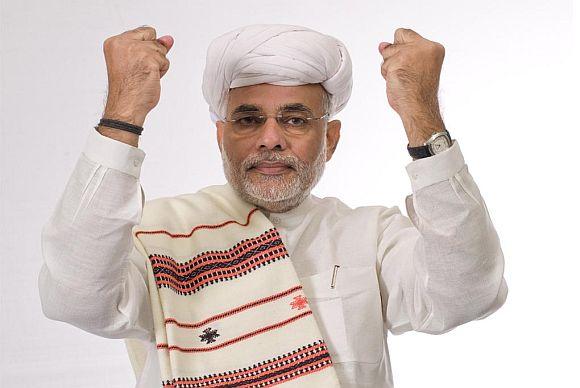 Narendra Modi, who won the Gujarat mandate emphatically on Thursday, joins an elite club of politicians who have been in power for three consecutive terms.
Why Modi of 2012 is a triumph of secularism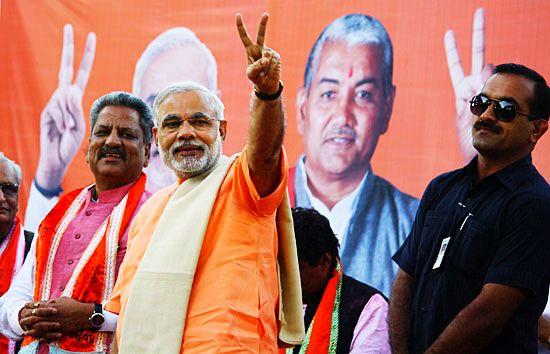 Narendra Modi of 2002 couldn't change Hindustan into Modistan; it is Hindustan which has changed Modi of 2002 into Modi of 2012, notes .
Activists knock Rashtrapati Bhavan gates for rape victim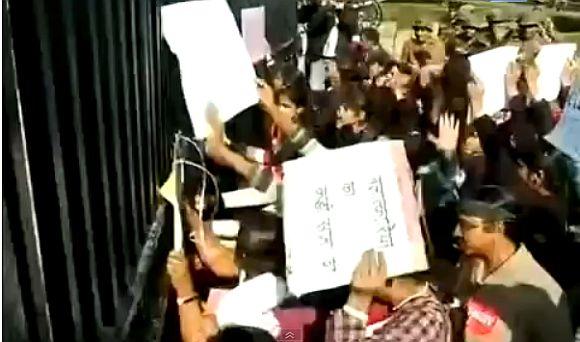 A large number of women activists and students on Friday marched towards Rashtrapati Bhavan to protest against the gang-rape of a young girl in a moving bus and demand stringent action against rapists.
Modi vs Mahatma: What is Gujarat's message to India?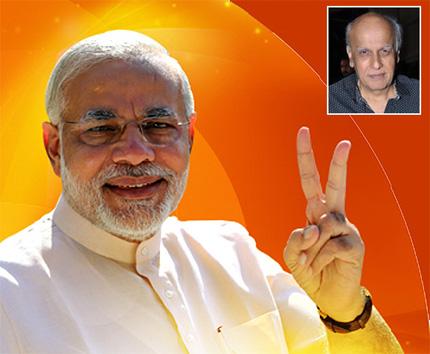 'Unless he engages with the darkness within, unless there is remorse for what happened within his rule, I don't think he is going to be my leader,' says filmmaker Mahesh Bhatt in his forthright style.
Modi is an engine beginning to stall. Is BJP awake?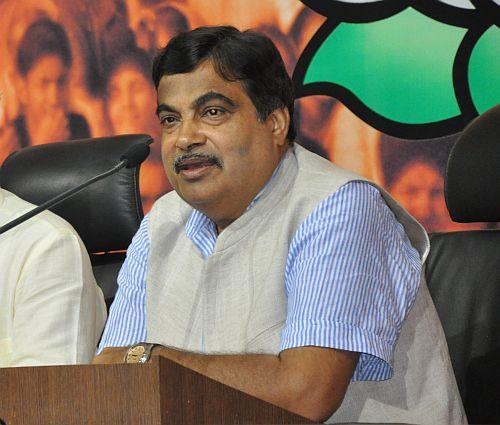 If the Bharatiya Janata Party's own chances of returning to power are so weak, where is the question of Narendra Modi assuming its leadership and becoming the next Prime Minister. B Raman examines
Modi's a man in a hurry, and there's no stopping him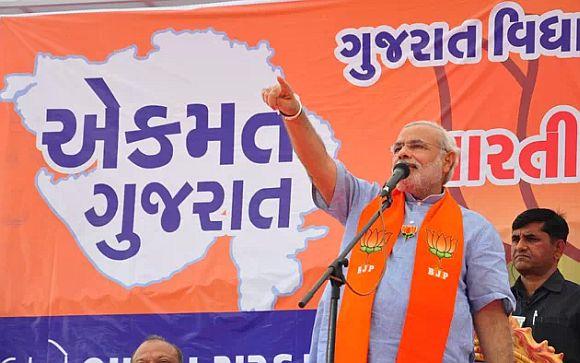 With the tide in favour of Narendra Modi, his shift to Delhi is inevitable. Aditi Phadnis examines
Mr Modi, state politics is not a national game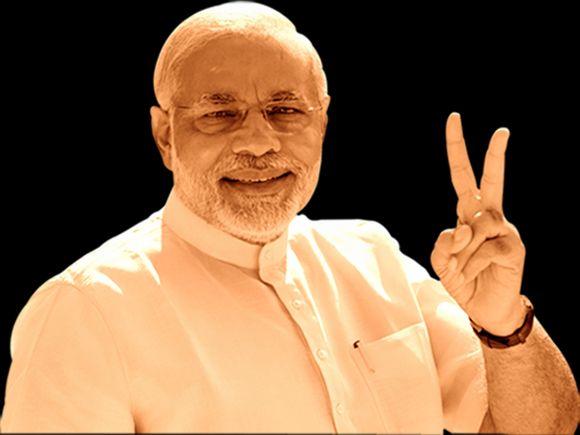 Invincible as he appears in his western stronghold, can Narendra Modi sweep forth from it and take New Delhi for an insurgent BJP? The good news for Modi's rivals in his party is that these results don't even begin to suggest he can.
December 20, 2012
VIDEOS: How Narendra Modi celebrated his victory
Gujarat Chief Minister Narendra Modi, in his first speech after winning the state elections for the third time, thanked the voters and apologised for them for his mistakes, if any.
I will surely go to Delhi: Modi tells Gujarat
Fresh from the hat-trick in the assembly polls, which pitch-forked him in the BJP's prime ministerial candidates' race, Chief Minister Narendra Modi on Thursday said if he had committed any mistake, he seeks forgiveness from the people.
'Modi didn't let politics interfere with progress'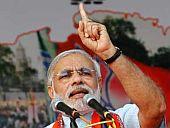 'In India people want progress, development, they don't want politicians to hamper progress. If that is what Mr Modi has done, that is what will happen. If this is not true, why would the people of Gujarat, which is such a progressive, developed society, vote for Mr Modi?' asks Devang Nanavati.
View: India is NOT Modi and Modi is not India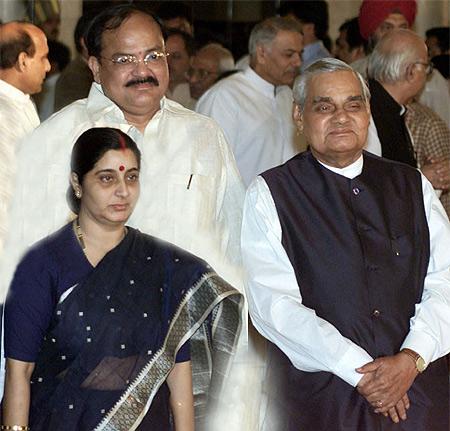 Gujarati asmita may have resulted in a hat-trick for Modi, but can he really speak on the behalf of 1.2 billion Indians, asks .
Narendra Modi at the doorsteps of New Delhi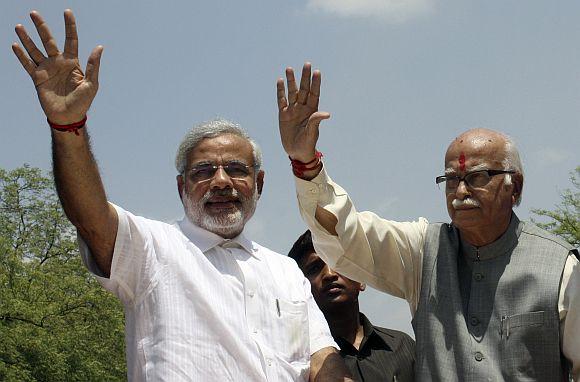 A 125 plus verdict would have given Narendra Modi automatic advantage to move to New Delhi. But now he will maneuver his way because the third consecutive victory makes him more impatient than ever, says .
Adore or abhor, but you cannot ignore Narendra Modi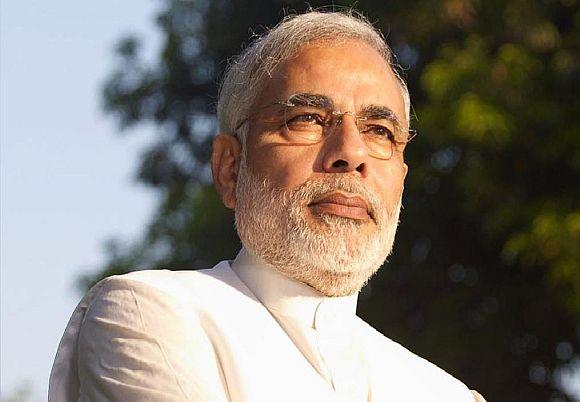 Narendra Modi, whose hat-trick in Gujarat could possibly pitchfork him as a prime ministerial candidate of BJP in 2014, has always remained a leader with a difference, a personality you may love or hate but cannot ignore.
BJP thanks people, accuses Cong of communalising Guj polls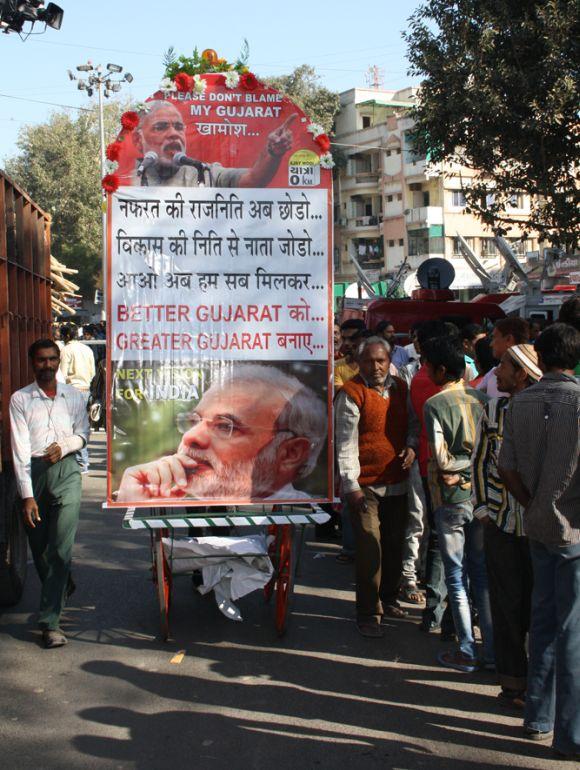 With the election results pointing towards a convincing victory for Narendra Modi in Gujarat, party president Nitin Gadkari thanked the people of Gujarat for the success.
IN PIX: The big winners in Himachal Pradesh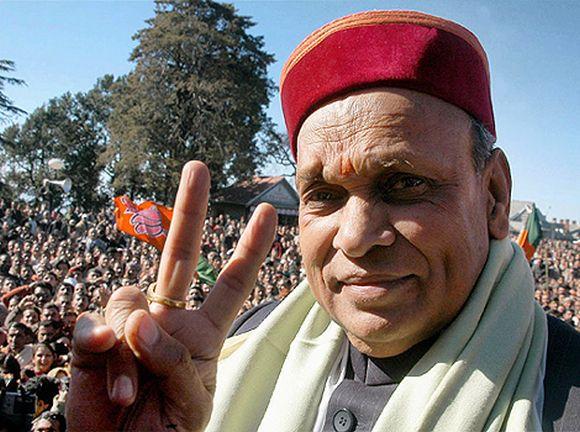 IN PIX: The big WINNERS in Himachal Pradesh
In PHOTOS: The big winners and losers in Gujarat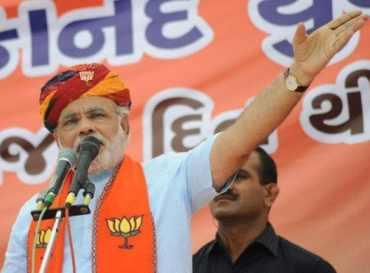 Rediff.com brings you the results of the heavyweights in the Gujarat elections.
'Modi ruthlessly bulldozes obstacles in the way'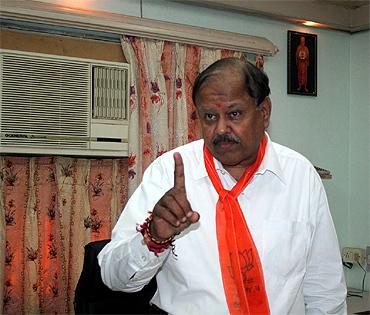 'That is why he is able to deliver. That is what makes Narendra Modi, Narendra Modi,' Gujarat Minister Jay Narayan Vyas tells Rediff.com's Prasanna D Zore.
First pics: Party begins at BJP HQ as Modi set for win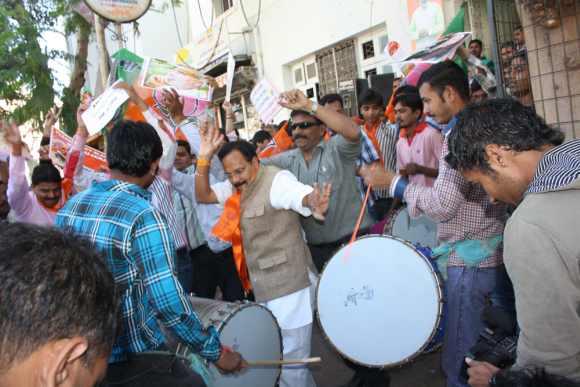 The Bharatiya Janata Party headquarters in Khanpur, Ahmedabad, is buzzing with party workers and news reporters.
Gujarat assembly poll results to be out TODAY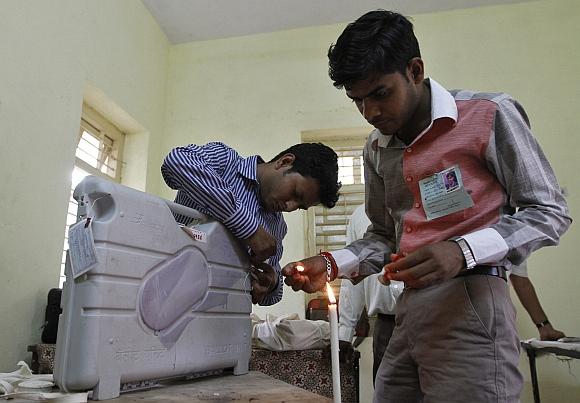 Counting of votes for the 2012 Gujarat assembly elections, which witnessed a historic 71.32 per cent voter turnout, will be held today for all the 182 constituencies across the state.
December 19, 2012
Gujarat assembly poll results to be out TODAY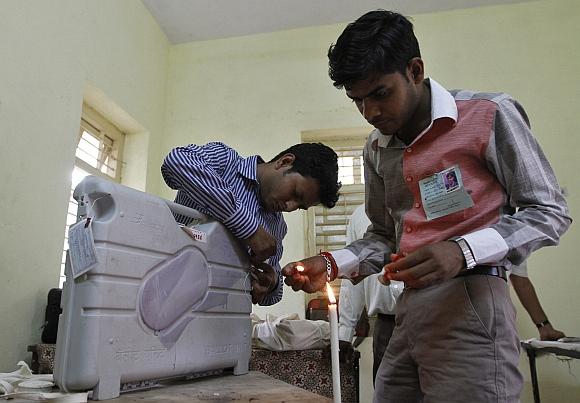 Counting of votes for the 2012 Gujarat assembly elections, which witnessed a historic 71.32 per cent voter turnout, will be held today for all the 182 constituencies across the state.
VIDEO: Delhi erupts in protests against gang-rape
Delhi witnessed a number of protest demonstrations and rallies on Wednesday against the horrific gang-rape of a 23-year-old girl in a moving bus on Sunday night.
Time names Obama 'Person of the year', the second time
United States President Barack Obama has been named Time Magazine's 2012 Person of the Year, with the US publication calling him the 'Architect of New America'.
Delhi gang-rape: Crackdown on buses with tinted glass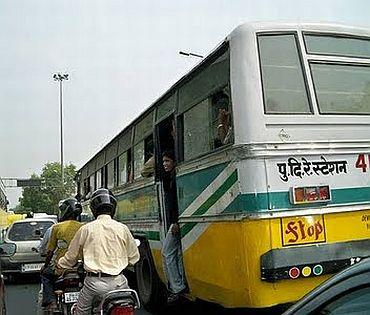 Under all-round attack over the barbaric gang-rape of a 23-year-old woman in Delhi, government on Wednesday announced a slew of measures to instill confidence among people shaken by the brutality of the Sunday night crime.
Exclusive interview! Ahmed Patel, Sonia's trusted aide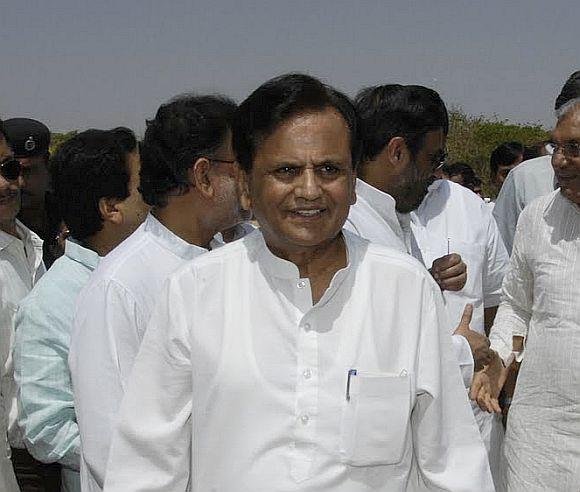 Ahmed Patel, the most powerful man in the Congress party after the Gandhis, speaks to Rediff.com's Sheela Bhatt in a rare and exclusive interview.
Connecticut weeps as it buries 6-yr-olds killed in school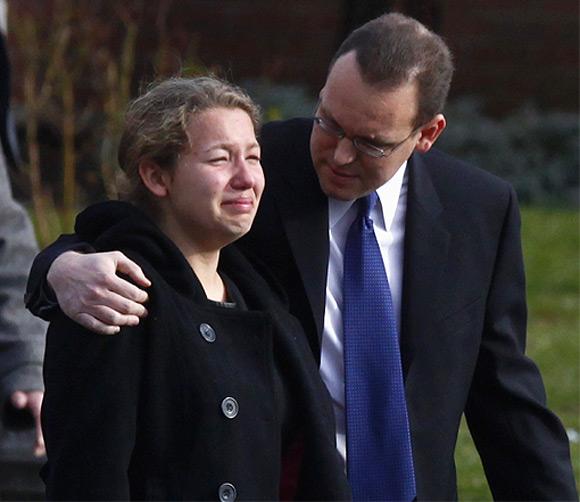 Heart wrenching scenes were witnessed at a Newton church as two more victims of the Sandy Elementary Hook School massacre -- James Mattioli and Jessica Rekos -- both six-year olds, were laid to rest. reports
Rs 600/month scheme: 'Mrs Dikshit, is this a joke?'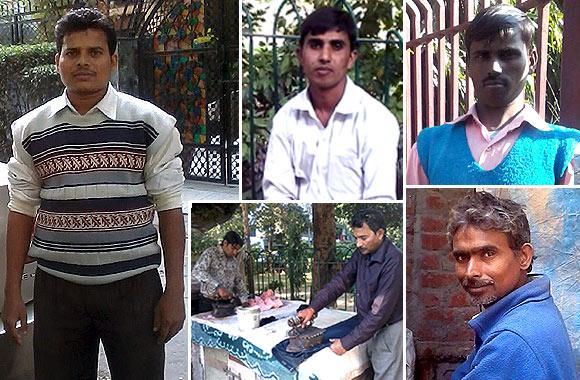 In a case of grandstanding-gone-very-wrong, Delhi Chief Minister Sheila Dikshit, while launching her government's flagship scheme Dilli Annashree Yojna, claimed that a family of five can fulfill all their needs with a cash subsidy of Rs 600 per month. Rediff.com's spoke to the aam aadmi in the affluent Nizamuddin East area in New Delhi, where Dikshit lives, and found reactions ranging from disbelief to disappointment at the chief minister's view.
The temple priest who could unlock Samjhauta blast mystery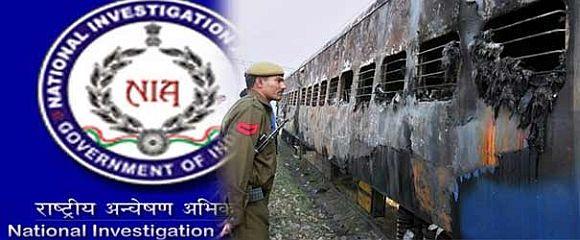 The recent arrests made by the National Investigation Agency in connection with the Samjhauta Express blast case could see the probe meeting a logical end soon. reports
PIX: Students return to school after Connecticut shooting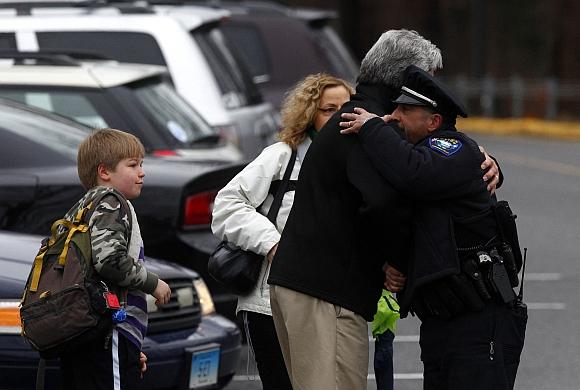 Easton police officer J Sollazzo hugs a parent dropping off their child at school in Newtown, Connecticut.
'A woman is kidnapped, raped every 40 minutes in Delhi'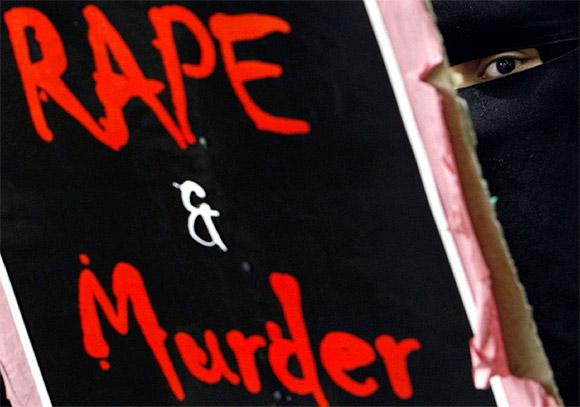 Majority of women surveyed by the Associated Chambers of Commerce and Industry of India said they feel unsafe, especially during night shifts, in all major economic hubs across the country.
December 18, 2012
Landmark day: Queen Elizabeth attends UK cabinet meet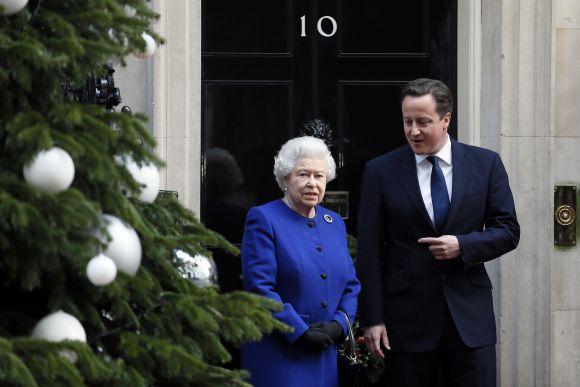 Queen Elizabeth II, celebrating the diamond jubilee of her reign, on Tuesday scripted history when she attended a cabinet meeting in 10 Downing Street, becoming the first British monarch since 1781 to do so.
Never wanted him to join politics, says Modi's brother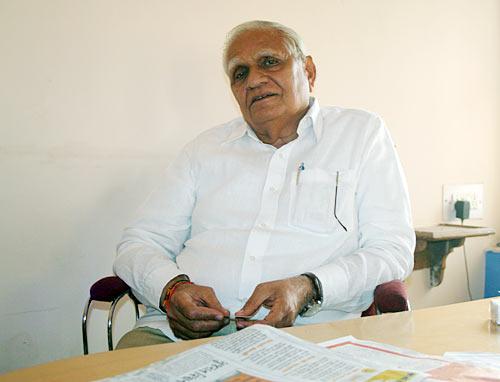 Somabhai Modi talks to about his famous younger brother, Gujarat Chief Minister Narendra Modi
'Please wake up and save our girls'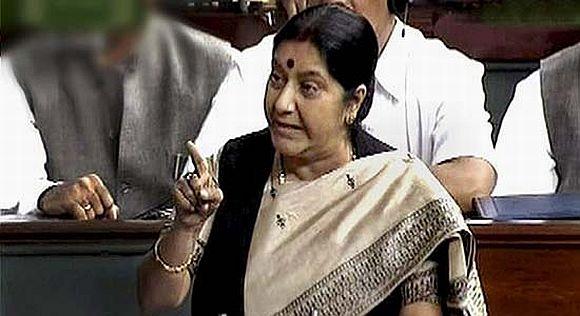 Parliament on Tuesday witnessed outrage over the rape of a para-medic student in the capital with a united Opposition demanding an immediate statement by Home Minister Sushilkumar Shinde on the issue.
'NO DOOMSDAY, December 21 will be another normal day'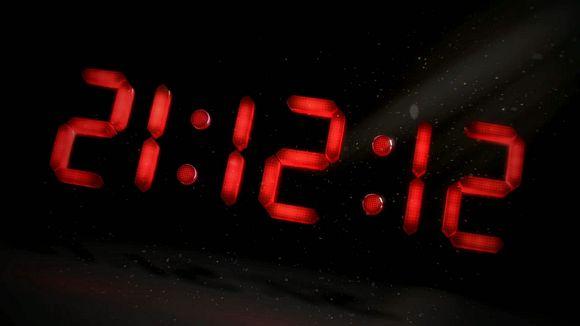 D P Duari, a NASA educator and director of M P Birla Planetarium, said December 21 would be marked different only because it is a day of winter solstice and the world would not certainly meet its end on that day.
Exclusive! Congress to announce Telangana state by January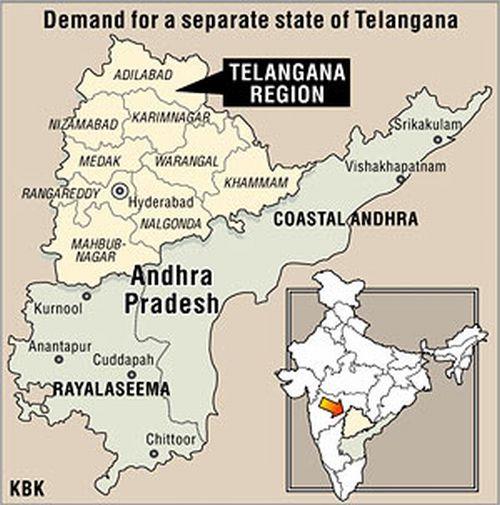 The Congress seems to have realised that a decision on Telangana cannot be delayed any further. A formal announcement on this could come by January 2013. reports
Exclusive! Not even a tiny taint on my kurta: Amit Shah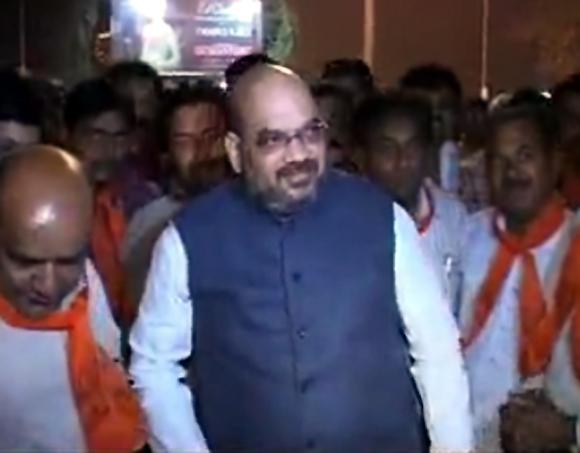 Amit Shah, the prodigal leader of Gujarat and the man who knows Modi like no one else, shares some interesting insights with Rediff.com's Sheela Bhatt.
Delhi police may seek death penalty for rapists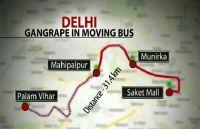 Police Commissioner Neeraj Kumar said the Delhi police would write to the Union home ministry for appropriate changes in the law to invoke the death penalty for rapists.
In PHOTOS: The most INCREDIBLE moments of 2012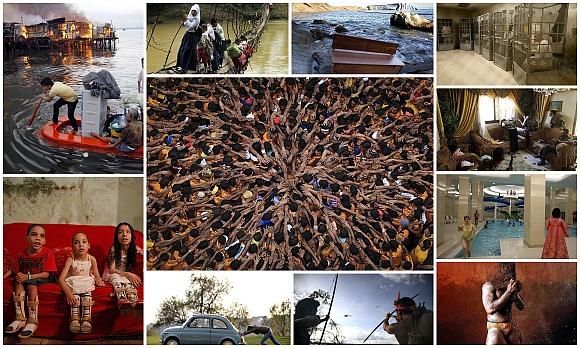 The year 2012 has witnesses several defining moments; the conflict in Syria, Hurricane Sandy that struck the United States, the re-election of Barack Obama as US President are some of them. In a three-part series, we offer behind-the-scenes account of the images captured by Reuters photographers.
Modi set for LANDSLIDE victory, predict exit-polls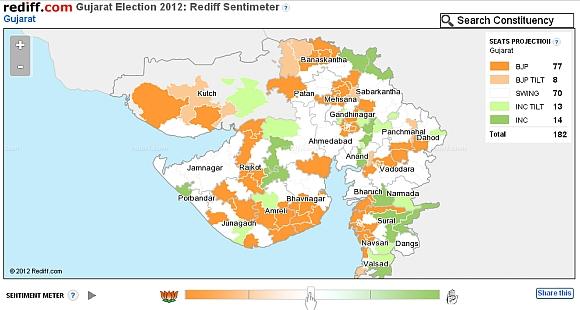 If opinion polls are to be believed, Gujarat Chief Minister Narendra Modi seems all set to make a hat-trick in the state.
December 17, 2012
'Maninagar's strongman will soon be India's PM'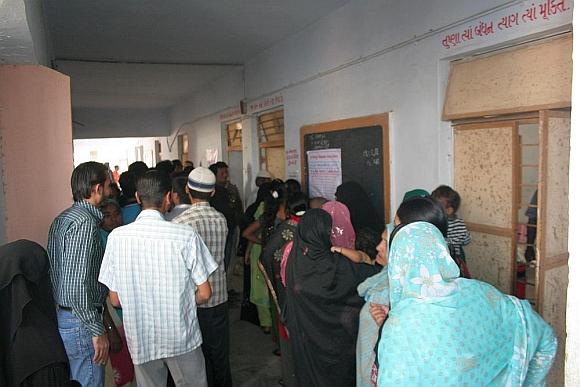 On the final day of the Gujarat election, Rediff.com's takes a day-long tour of Juhapura in Vejalpur (dominated by India's biggest minority), Naroda Patiya in Naroda (with an explosive mix of the majority and minority communities) and Maninagar (dominated by the majority community) in Ahmedabad. This is what he discovered.
IMAGES: Jacintha Saldanha laid to rest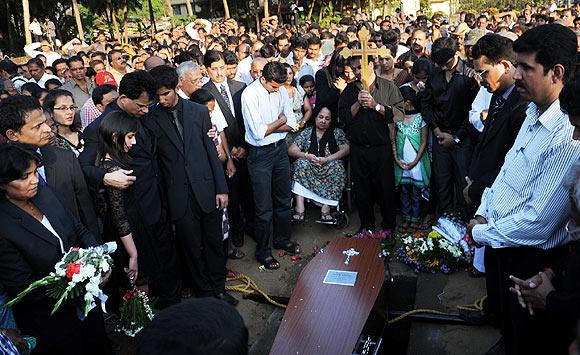 The body of Jacintha Saldanha was laid to rest at the Our Lady of Health Church at Shirva, Udupi on Monday. The funeral took place amidst a large congegration of mourners.
Gujarat: The election that wasn't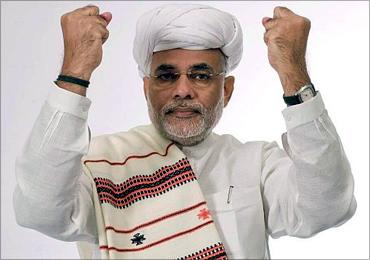 A democratic set-up is a necessary instrument to choose rulers, but it cannot always provide a roadmap to a good society. That needs a moral compass, which is prominent by its absence in the current campaign, says Dr Shreekant Sambrani.
PIX: Cong cries foul over Modi's election day 'V' sign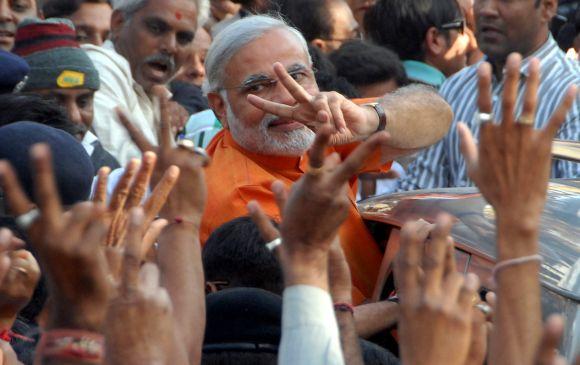 Gujarat Congress unit on Monday filed a complaint against Chief Minister Narendra Modi for allegedly violating the model code of conduct by 'campaigning' on the election day at the polling station where he cast his vote.
Malik's India visit: How naive can we be?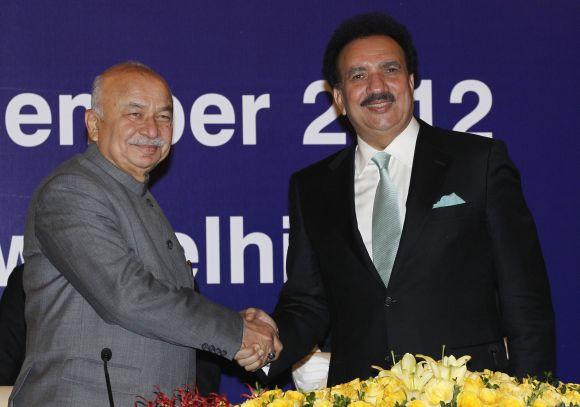 For India to expect that Pakistan Interior Minister Rehman Malik and his police will act against the ISI-protected Lashkar-e-Tayiba is to live in a fool's paradise, says security expert
Guj: How technology is being used for a fair election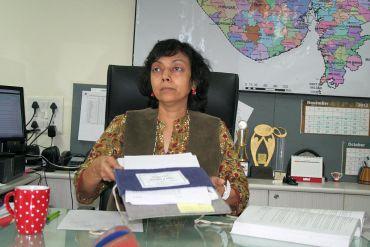 Real time monitoring of all the 23,000 booths where polling will take place on Monday will ensure a free and fair election, Gujarat Chief Electoral Officer Anita Karwal tells Rediff.com's Prasanna D Zore.
'Trinamool Congress is a one-woman dictatorship'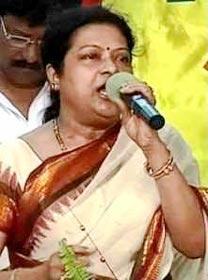 'Every minute, one has to listen to some diktat or the other. As a Trinamool Congress member, every step of ours is vetted. One has to take permission before doing anything,' MLA Sikha Mitra, suspended for criticising party leader and West Bengal Chief Minister Mamata Banerjee, tells Indrani Roy.
'It's not difficult for Modi to convince Muslims'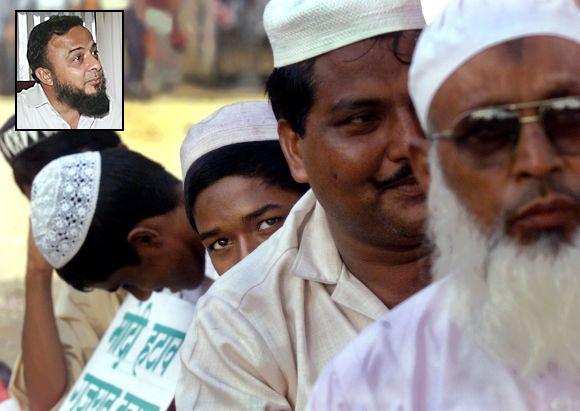 Zafar Sareshwala tells Rediff.com's Sheela Bhatt why Muslims are better off under Narendra Modi's rule than they were under the Congress.
US MUST do more to protect its children: Obama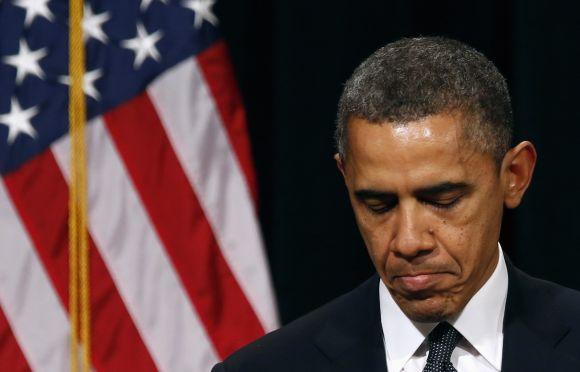 United States President Barack Obama has said America must do more to protect its children in the wake of Friday's shootings at a school in Newtown, Connecticut, BBC reported.
PIX: 70 pc turnout in 2nd phase of polling in Gujarat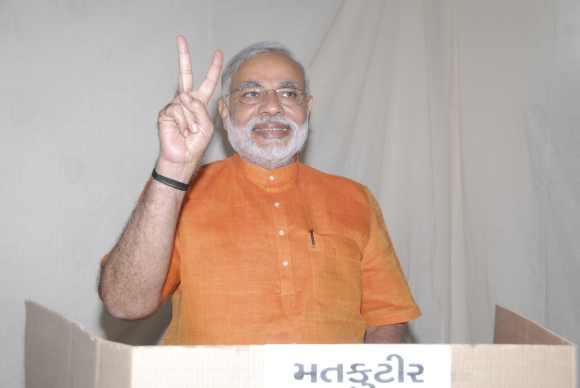 Amidst tight security, voting is underway on Monday in 95 constituencies in the second phase of Gujarat assembly elections which will decide the fate of 820 candidates including Chief Minister Narendra Modi.
Exclusive: SECRET behind Gujarat's super voter turnout!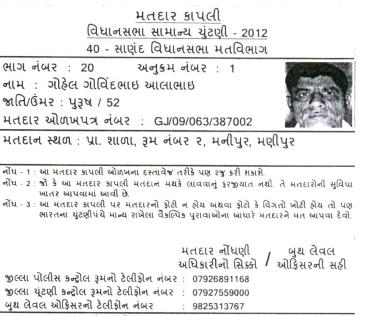 Gujarat Chief Electoral Officer Anita Karwal tells Rediff.com's Prasanna D Zore about the amazing ways state electoral officers boosted voter sentiment, and the likely reasons behind the high turnout in the first phase of the assembly election. An exclusive interview!
December 16, 2012
Jacintha Saldanha's body arrives in Mangalore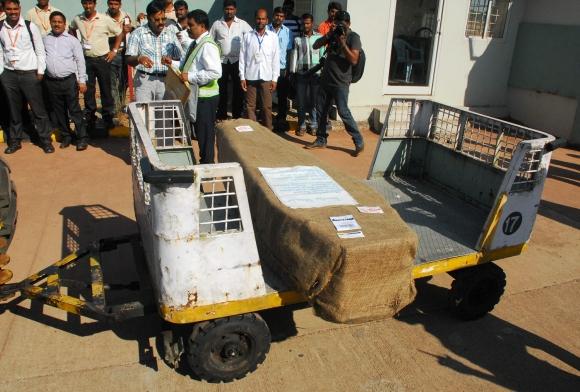 The outpouring of grief was immense at Mangalore and Udupi when the body of Jacintha Saldanha arrived here on Sunday.
Malik on 26/11 strike: Indian, Pak agencies failed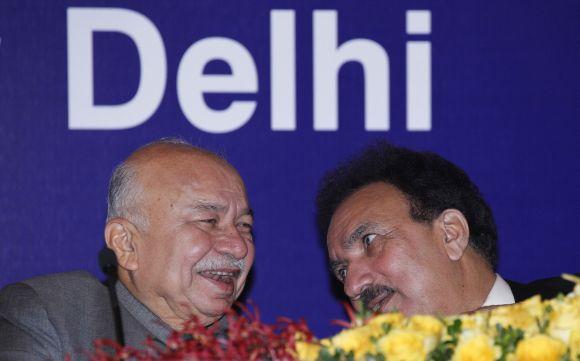 Pakistani Interior Minister Rehman Malik on Sunday blamed Indian security agencies for their failure to prevent the Mumbai terror attack and alleged that Indian non-state actors were involved in the massacre.
Modi is like Lord Shiva, he is a lion: Paresh Rawal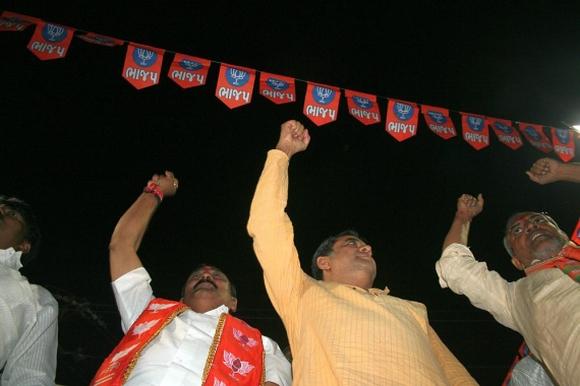 At a campaign rally in Patan in northern Gujarat on Friday, actor Paresh Rawal was at his sarcastic best as he spewed venom on the Congress and urged the voters to "perform Congress's last rites" on December 17, when Gujarat votes in the second phase of the state elections.
December 15, 2012
At Kapadvanj, Jaitley tears into Sonia, Manmohan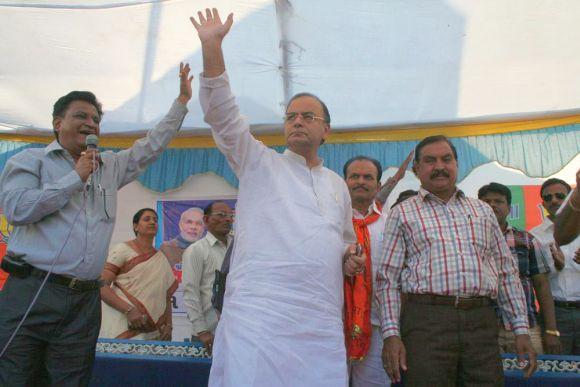 Leader of Opposition in the Rajya Sabha and senior Bharatiya Janata Party leader Arun Jaitley on Saturday showed an uncharacteristic discomfort in using Parliament attack convict Afzal Guru's name as well as taking on Congress candidate and chief ministerial-hopeful Shankersinh Vaghela in his public address at Kapadvanj constituency in Gujarat's Kheda district. Rediff.com's reports from the ground.
Over 100 people have died in campus shootings in US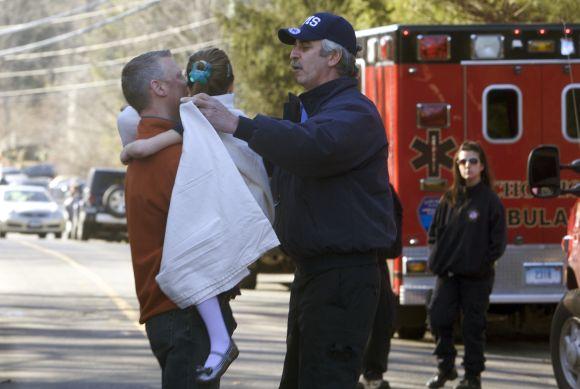 Over 100 people have died and about two dozen injured in the campus shootings across the United States over the last 20 years with the Virginia Tech massacre in 2007 being the deadliest claiming 33 lives including that of two Indians, a study says.
Pak needs hard evidence against Hafiz Saeed: Malik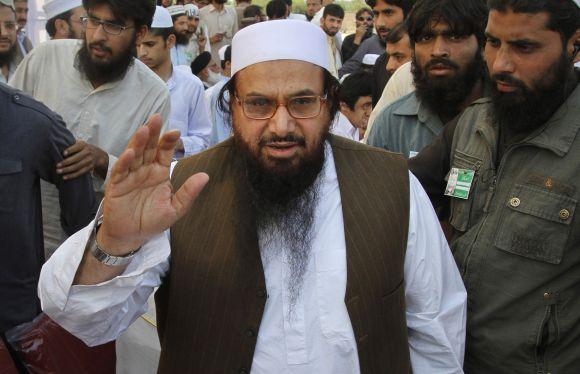 Pakistan's Interior Minister Rehman Malik on Saturday virtually rejected India's demand for action against 26/11 mastermind Hafiz Saeed on the basis of dossiers provided so far, saying "hard" and "substantive" evidence is needed to arrest him.
Unlike Modi I don't have one bit of anger in me: Rahul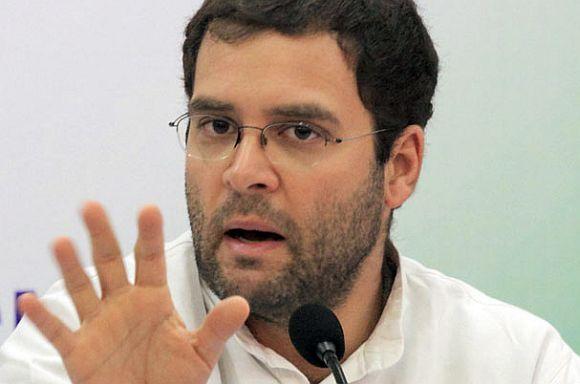 In a veiled attack on Gujarat Chief Minister Narendra Modi, All India Congress Committee General Secretary Rahul Gandhi on Saturday accused him of practising "politics of anger" and said it was time people switch to the power of "love", preached by the Mahatma, to ensure progress of Gujarat.
Day after US shooting, cops try to read gunman's mind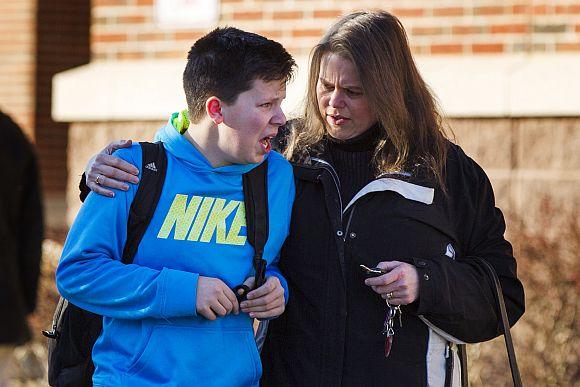 A day after a lone attacker went on a shooting spree at a Connecticut school killing 20 kids and six adults, US police and law enforcement agents were on Saturday trying to establish the motive behind his actions and questioned his elder brother and father.
PHOTOS: Our hearts are broken today, says tearful Obama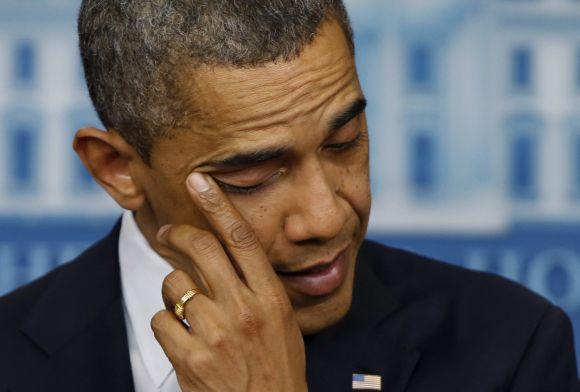 Appearing shaken by the death of 20 children in one of the deadliest school shooting in American history, the US President Barack Obama choked up several times as he said "our hearts are broken today" before the White House Press Corps.
PIX: 'US school shootout a tragedy of unspeakable terms'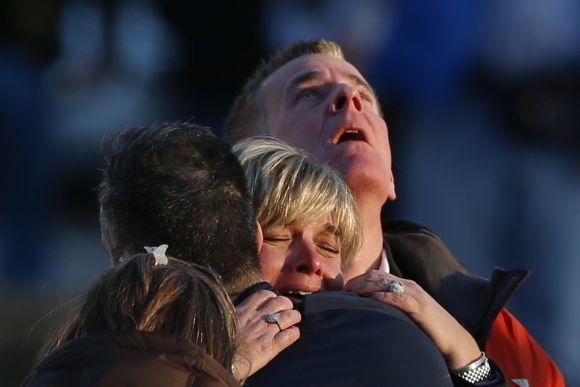 Connecticut Governor Dannel Malloy has described the shooting at an elementary school a "tragedy of unspeakable terms" that left 20 children and six adults dead in one of the most horrific incidents in US history.
December 14, 2012
20 children among 27 dead in US school shooting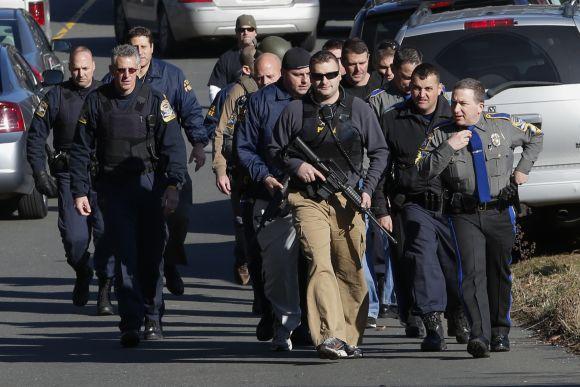 A young man opened fire at a school in the US state of Connecticut on Thursday, killing 27 people including 20 children, in yet another horrific shooting that ended with the gunman's own death.
Modi's six desperate campaign strategies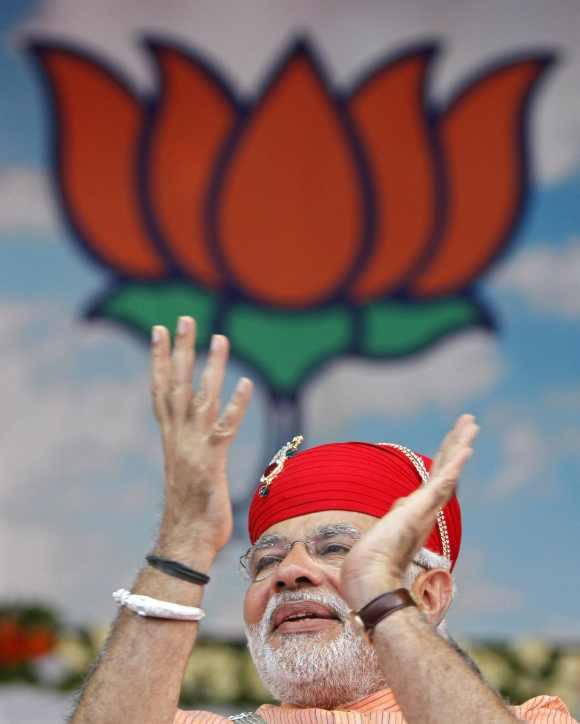 on the Gujarat chief minister's desperate search for tangible issue that could swing the voters his way.
IMAGES: Kashmir wakes up to a snowy surprise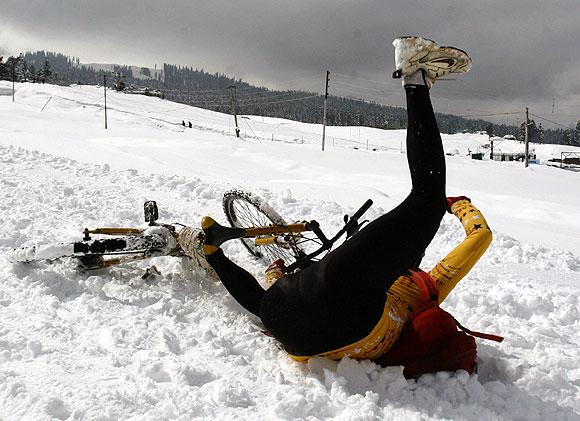 Kashmir on Friday received the season's first snowfall that spread a mesmerising white quilt over the valley.
'Pak obsessed about a billion Indians surrounding them'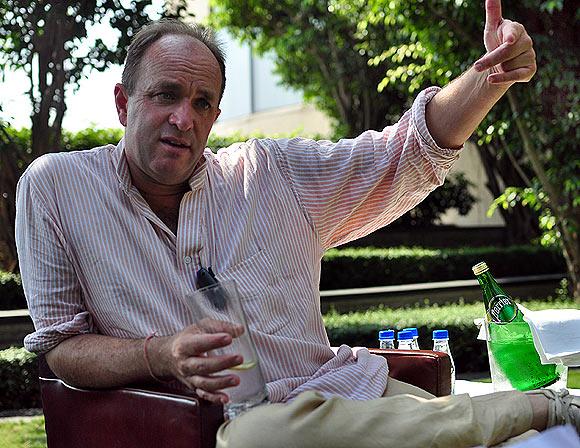 'If you can come with some arrangement with the Pakistanis that Pakistan ceases to stop creating trouble in Kashmir in return for the Indians not arming Afghanistan, everyone wins.' William Dalrymple discusses his new book Return of a King, Afghanistan, the Mughals and, of course, India with Rediff.com's Syed Firdaus Ashraf.
December 13, 2012
SAURASHTRA PROJECTION: BJP 20, Cong 10, 16 too close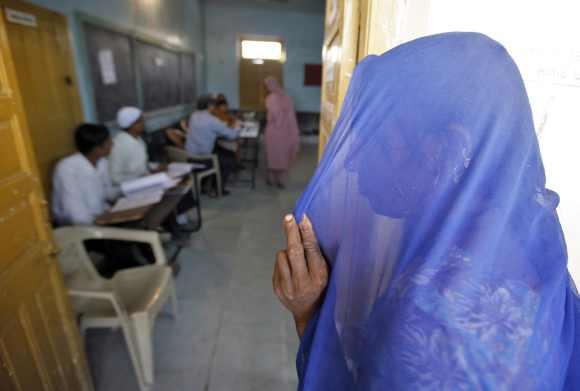 Rediff editors on the field speak with experts, common people, media personalities and others to project how the election will go in Saurashtra which voted on Thursday.
How important is Gujarat to Rahul Gandhi?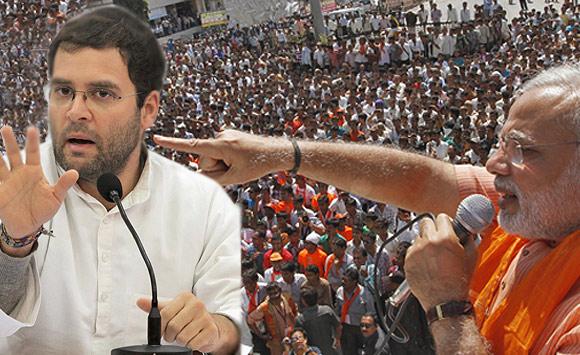 Is the Congress underestimating Narendra Modi? Who are the Bollywood actresses campaigning for the Congress? Will the Irfan Pathan gamble cost Modi votes? All this and more in our Gujarat Special edition of Dilli Gupshup.
Damning revelations of CAG's illegal mining report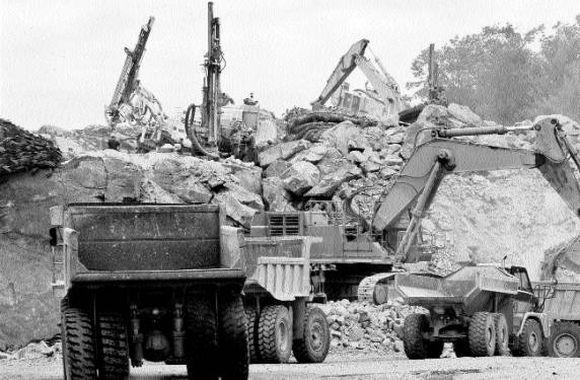 accessed the CAG report on illegal mining in Karnataka and finds out that the in the face of losses worth thousands of crores, the state administration had only been able to recover just Rs 7.22 crore
PIX: 67 pc voter turnout in first phase of Gujarat polls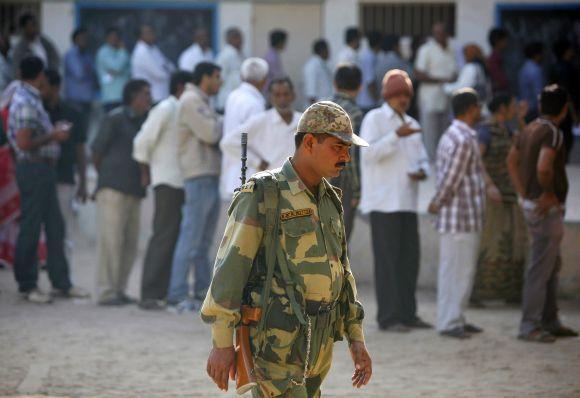 Voter turnout of 67 per cent was recorded on 87 seats across Gujarat during the first phase of state assembly elections on Thursday.
RARE PICTURES: The life and times of Pt Ravi Shankar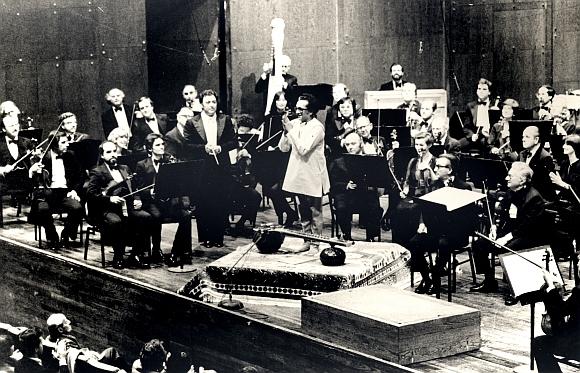 Rediff.com beings you some of Sitar maestro Pt Ravi Shankar's rare photographs from our archives.
Narendra Modi will go this time: Keshubhai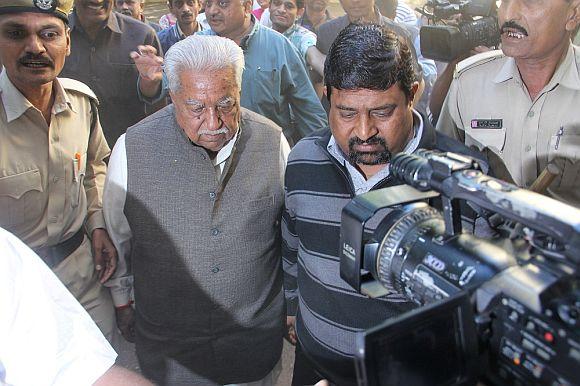 Gujarat Parivartan Party supremo Keshubhai Patel on Thursday said the people would vote for a change in the state, and added that Chief Minister Narendra Modi would be thrown out of power after the assembly polls.
How Saurashtra has rattled Modi, made him insecure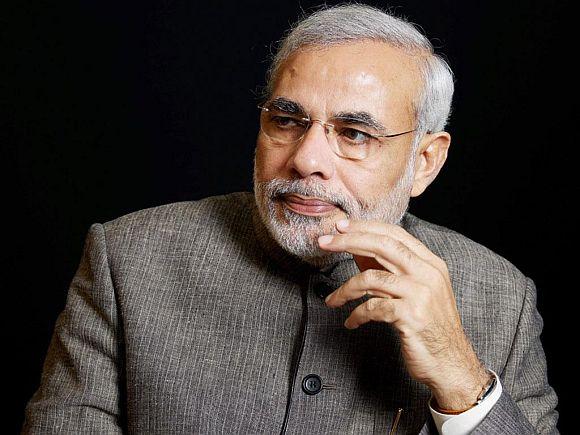 For the first time since the riots of 2002, Gujarat Chief Minister Narendra Modi finds himself on uncertain territory in Saurashtra, where the intense caste politics of Patels is now intertwined with the water problems of all the farmers of the region, reports .
Villagers fight a losing battle against the N-plant in TN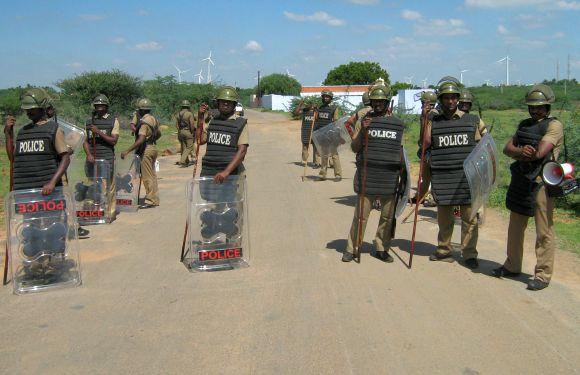 At Idinthakarai -- the epicenter of protests against the nuclear plant -- Rediff.com's encounters a hostile crowd that is angry with the heavy police presence outside their village.
'Modi is a Raktabij -- he gets stronger when hurt'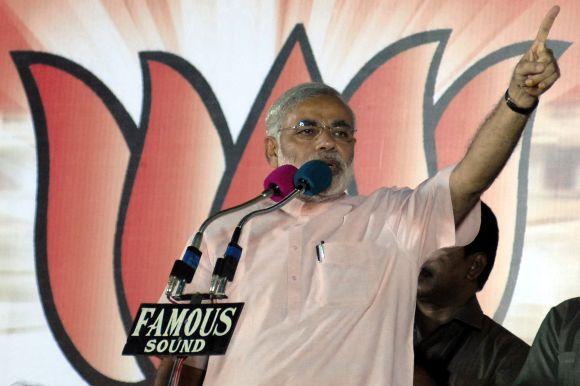 Senior Gujarati journalist explains Chief Minister Narendra Modi's 10-year rule through his own experiences.
December 12, 2012
'Narendra Modi is a politician not a saint'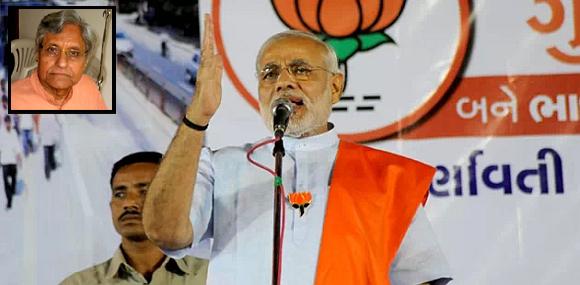 speaks to the popular Gujarati writer Gunvant Shah, who holds some strong and firm views on Narendra Modi.
Officially, Uttar Pradesh is the rape capital of India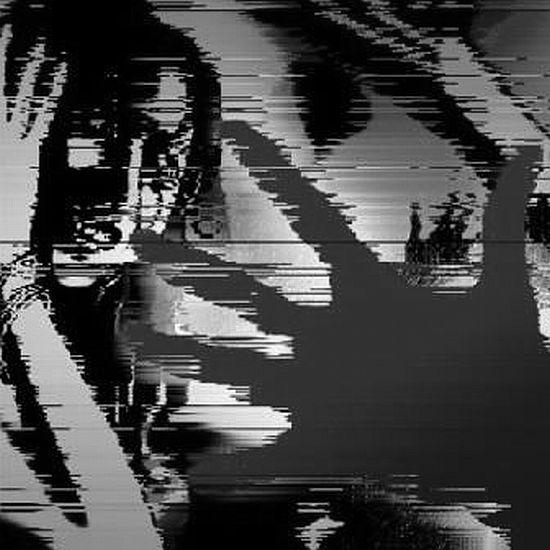 Over 570 cases of rape, including 319 from Uttar Pradesh, have been reported to the National Commission for Women till December this year, Minister for Women and Child Development Krishna Tirath said on Wednesday.
When Panditji played, women went weak, the gods sat up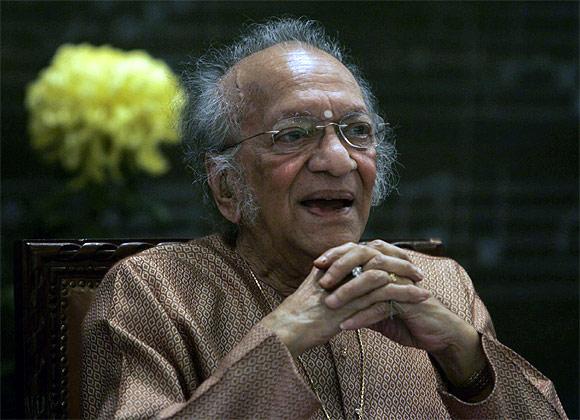 Pandit Ravi Shankar took Indian music global, wrote the rules of the modern Indian classical performance. pays personal tribute to the legend.
Who will succeed Modi if he goes to Delhi?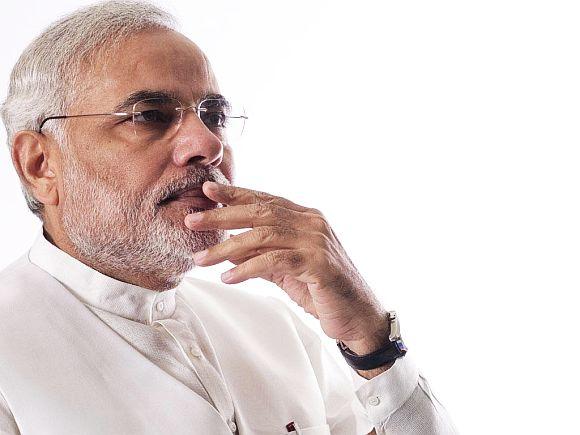 list the front-runners in the race to succeed Gujarat Chief Minister Narendra Modi if he opts for a larger national role in the BJP.
Ravi Shankar: Performer, composer, teacher, global envoy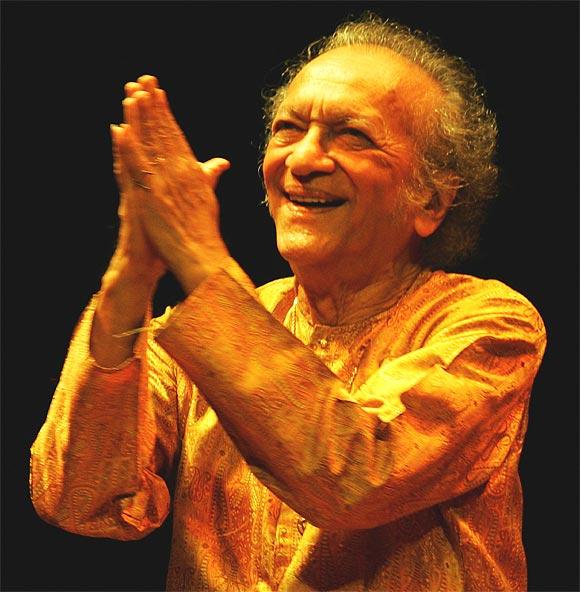 Labelled the 'godfather' of world music, Ravi Shankar undertook an extraordinary journey from the banks of Ganges to the heart of the west, mesmerising them with Indian ragas and partnering with musical greats like Beatles' George Harrison and Yehudi Menuhin
'Pt Ravi Shankar's Sitar played for our souls'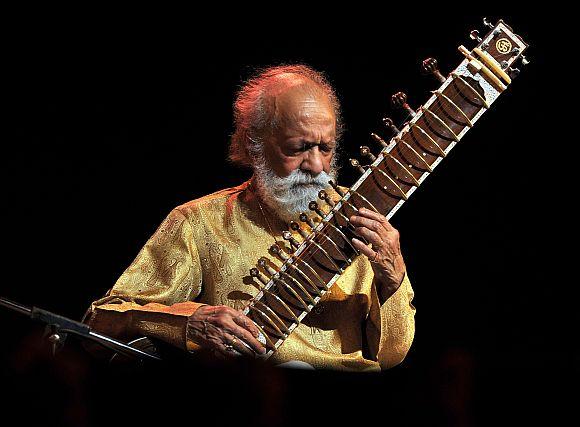 Artistes across the spectrum on Wednesday mourned the demise of sitar maestro Ravi Shankar with Prime Minister Manmohan Singh describing him as a national treasure and a global ambassador of India's cultural heritage.
World media reacts to Pandit Ravi Shankar's demise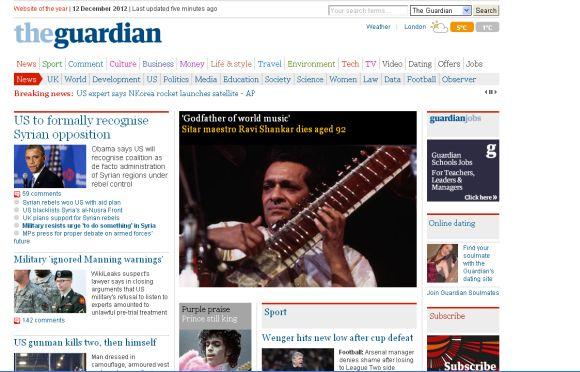 The demise of Sitar maestro Pandit Ravi Shankar has sent shockwaves throughout the world.
VIDEO: How the youth rediscovered Pt Ravi Shankar
An interview with Pt Ravi Shankar and George Harrison
Gujarat: In Godmother's den, her son roars like a tiger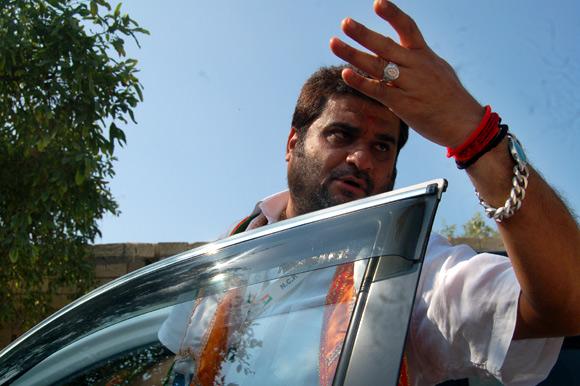 Santokben Jadeja's son Kandhal, contesting from Kutiyana assembly segment in Saurashtra, is all set to carry forward his family's legacy with no fear of his opponents or shame about his criminal record, reports
VIDEOS: Pandit Ravi Shankar, the phenomenon
When you know you are listening to Robindro Shaunkor Chowdhury, more popularly known as Pandit Ravi Shankar, all you need to do is sit back and enjoy.
FATWA FACTORY: Hair dye, women receptionists,'un-Islamic'!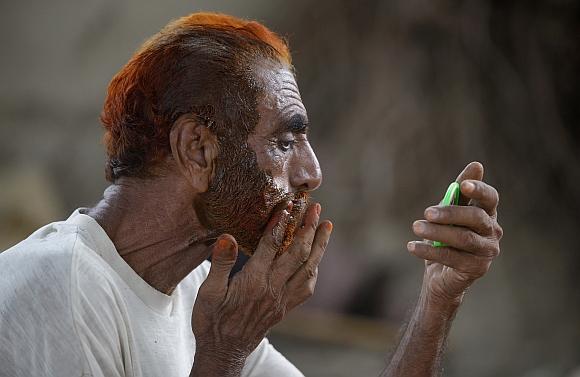 A collection of some of the recent controversial fatwas
December 11, 2012
War of words heats up as Modi takes on Rahul 'baba'
Rahul Gandhi attended thee public speeches in Jamnagar, Amreli and Sanand on Tuesday, but his careful attitude made them bland, says .
US VIEW: India, China won't rule the world anytime soon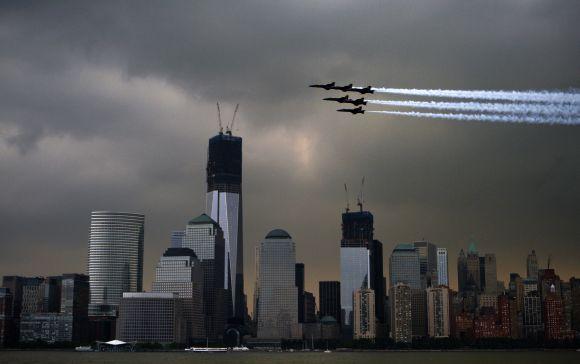 The United States will be the "first among equals" in a world not dominated by a hegemonic power as neither China nor India are likely to topple the American supremacy to create a new international order by 2030, the US intelligence believes.
Modi only hears his own voice, not people's: Rahul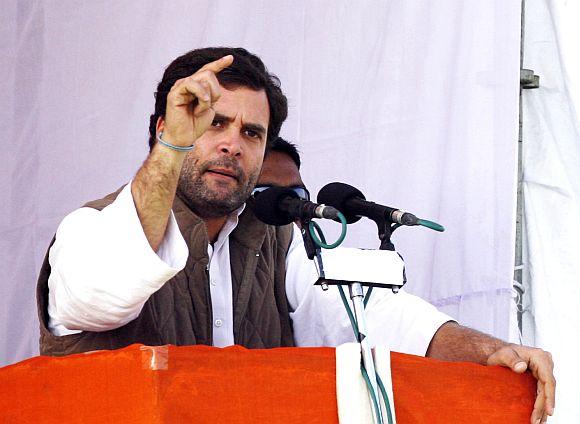 Making his first appearance in the Gujarat assembly election campaign, Congress leader Rahul Gandhi on Tuesday unleashed an attack on Chief Minister Narendra Modi calling him a "marketeer" who does false propaganda claiming progress in the state.
Reveal Walmart bribe list or Parliament won't work: BJP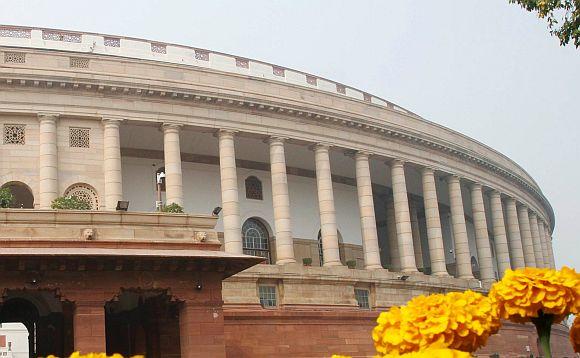 Seeking to put pressure on the government on the Walmart lobbying issue, the Bharatiya Janata Party on Tuesday said it was determined to raise the matter in both Houses of Parliament and seek suspension of Question Hour.
Why this indifference to Tejas fighter jet?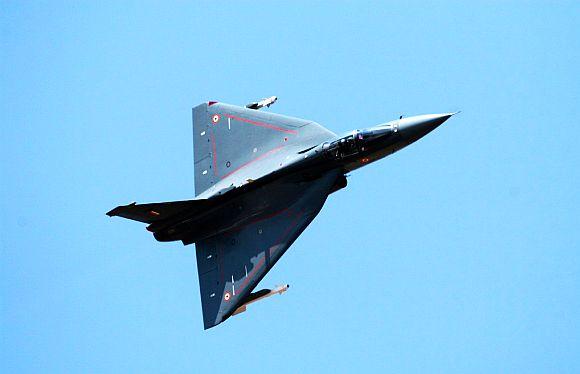 Why this indifference towards the Tejas, the alert citizen would ask?
'Most Pakistanis view nukes as a rare success story'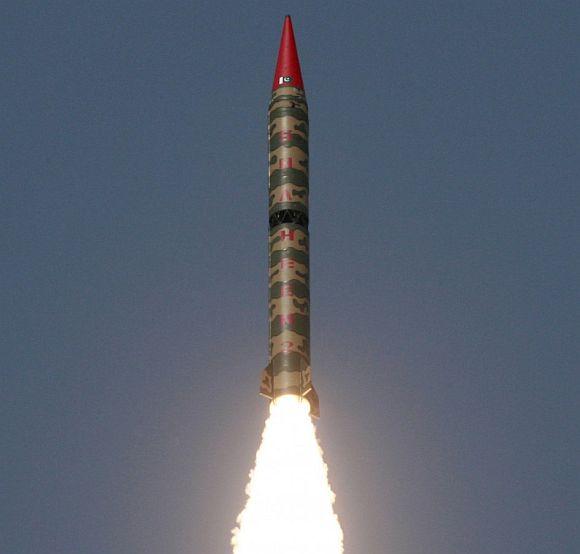 Pakistan's nuclear stock pile is likely to grow in the coming years, as its programme unlike that of India is controlled by military leaders who consider this as both a political and military instrument, a noted American analyst has said.
'Muslims feel secure in Modi's Gujarat now'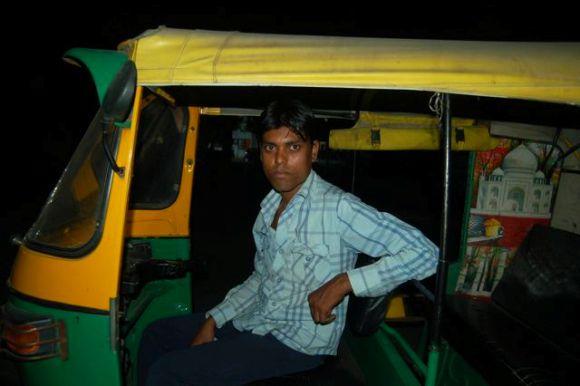 Can Gujarat Chief Minister Narendra Modi ever wash away the taint of the 2002 anti-Muslim riots? spent five days in Ahmedabad meeting several Muslims across the socio-economic-caste divide, to find out what the community feels about Modi.
India SNAPSHOTS: Best Photos of the Week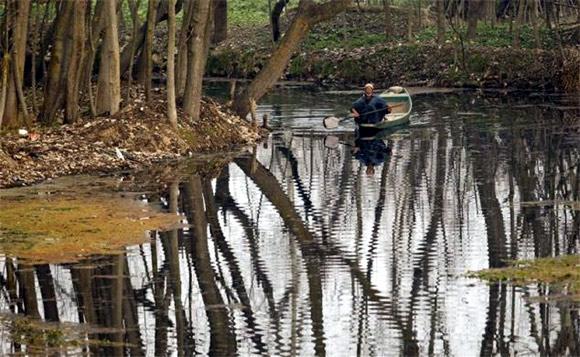 Amazing pictures shot by ace Reuters photographers capturing the different moods of people in India.
December 10, 2012
Give us Hafiz Saeed: Shinde to ask Malik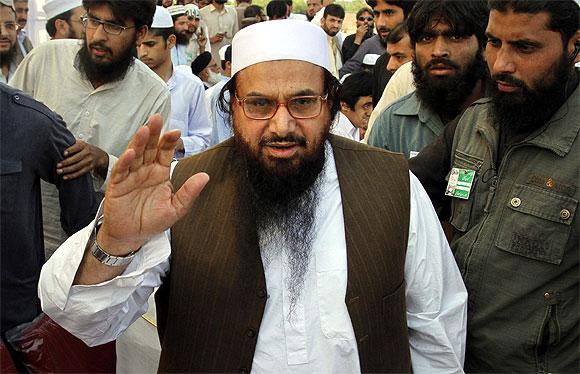 India will press for handing over of Lashkar-e-Tayiba founder and 26/11 Mumbai terror attack mastermind Hafiz Saeed during the visit of Pakistan's Interior Minister Rehman Malik beginning December 14.
Migrants, arsenic pollution add to Malda's health woes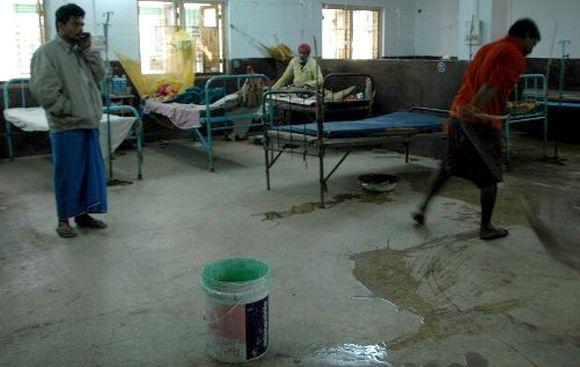 The notorious Malda Medical College and Hospital, where dozens of children have lost their lives due to alleged negligence, is not the only factor crippling the healthcare situation in this West Bengal district. Rediff.com's digs deep into the multi-layered crisis.
Exclusive! Congress is in awe of Modi, says Jaitley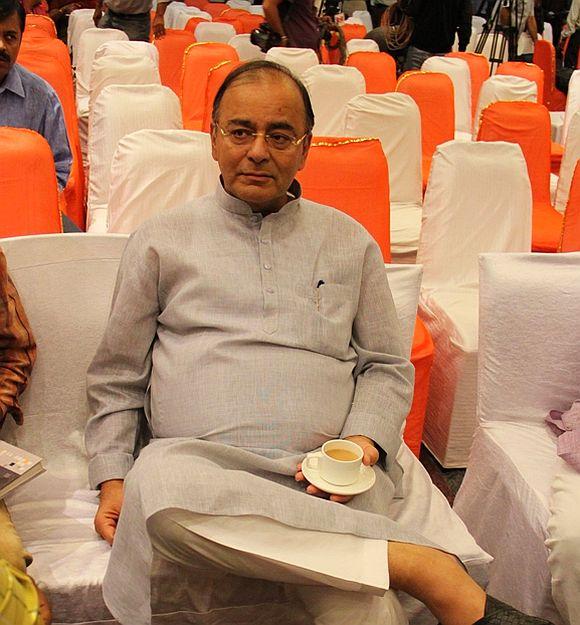 While speaking to about Narendra Modi and the Congress's media strategy, Jaitley deliberately and subtly downplays Modi's projection as a prime ministerial candidate and the BJP leaders' endorsements of Modi for the top job as if it is a routine affair
'More Modi appeals in Gujarat, less he appeals outside'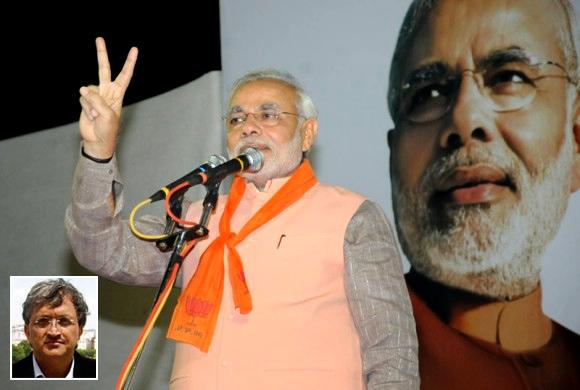 Author and historian Ramachandra Guha tells Rediff.com's that Narendra Modi's victory in Gujarat won't be a turning point in Indian politics because he is far too polarising.
PIX: N Korea's reclusive leader like you have never seen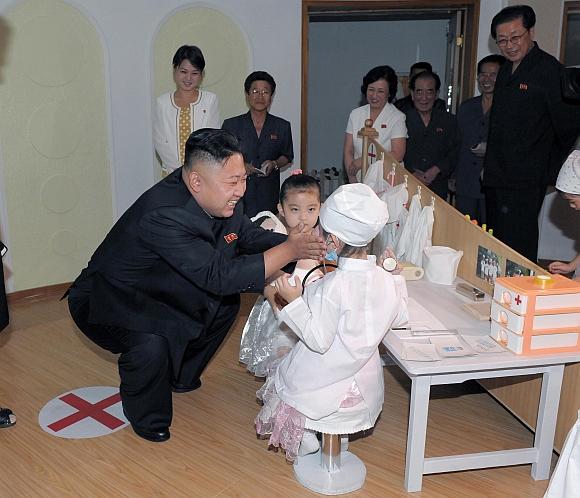 Rediff.com brings you some unseen pictures of North Korean leader Kim Jong-Un.
MUST SEE! Nat Geo contest's AMAZING photographs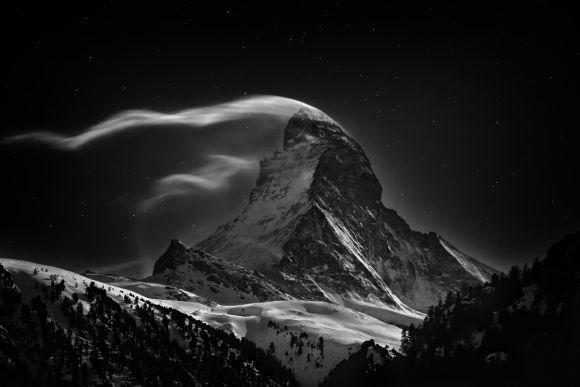 We present some of the amazing photographs that are in line for the prestigious National Geographic photo contest award.
December 09, 2012
I CHALLENGE the BJP to dissolve the assembly: Yeddy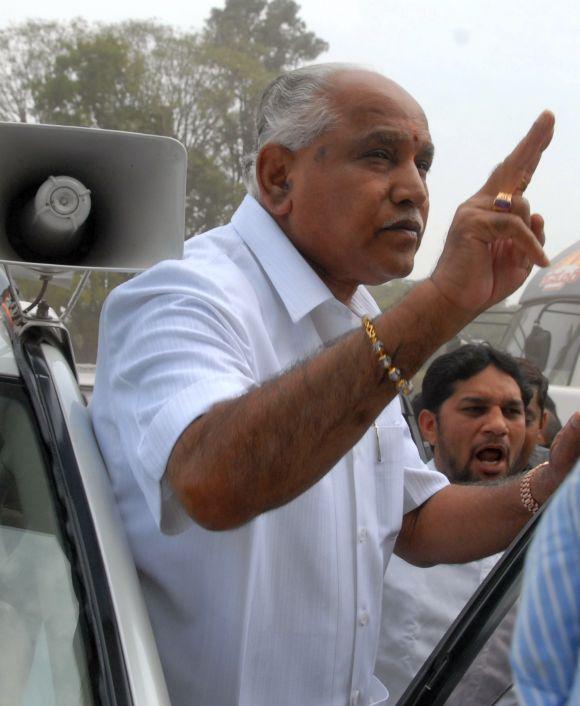 Yeddyurappa appears confident that his will not be like the rest of the regional parties that Karnataka has seen. In this interview with rediff.com's , Yeddyurappa hits out directly at Chief Minister Jagadish Shettar and the BJP high command, and challenges them to 'dissolve the assembly and face the people'.
December 08, 2012
Sonia's rally in Keshod a bigger hit than Modi's show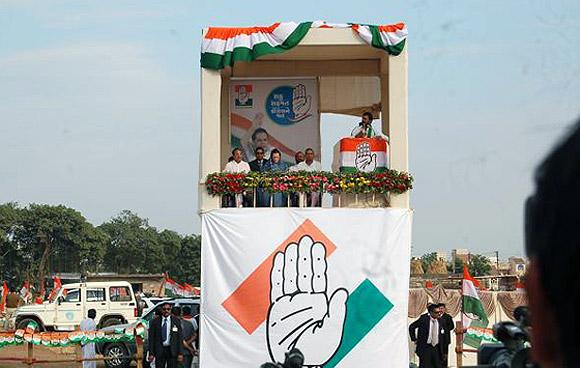 While a massive crowd gathered of 25,000 thronged Congress President Sonia Gandhi's rally in Keshod, only 3,000 showed up when the Gujarat chief minister campaigned in the Junagadh town. reports
December 07, 2012
Congress leads crorepati pack contesting Gujarat election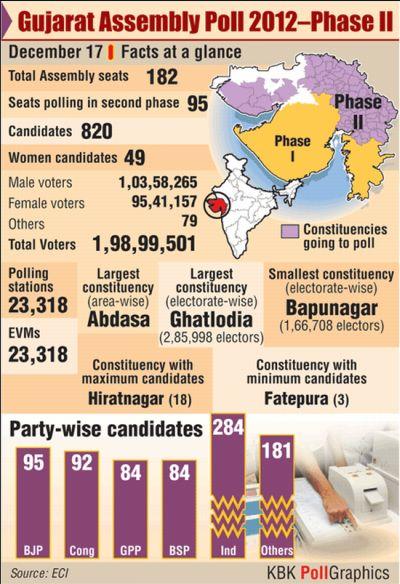 If the first phase of Gujarat election will have 147 crorepatis in fray, the second will see another 150 contesting, says National Election Watch
PHOTOS: Powerful 7.3 quake jolts Japan
A strong earthquake measuring 7.3 on the Richter scale struck northeastern Japan on Friday.
'M for Modi' is actually 'M for Mr Moneybag' for BJP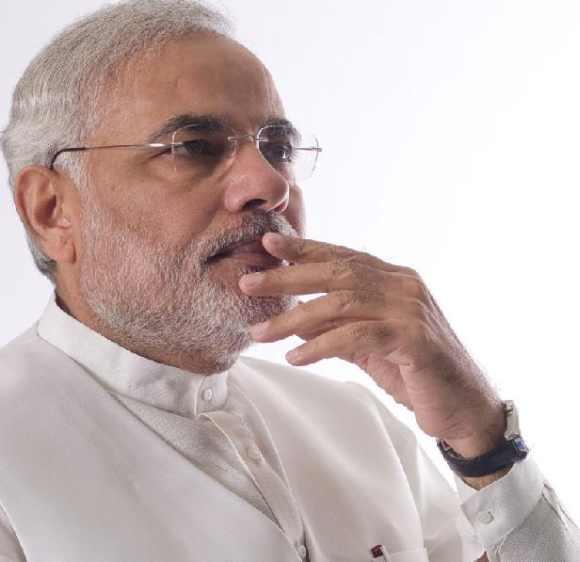 looks beyond the myth of Narendra Modi and highlights the chinks in the Gujarat chief minister's armour.
Pakistan's anti-India terror factories are mushrooming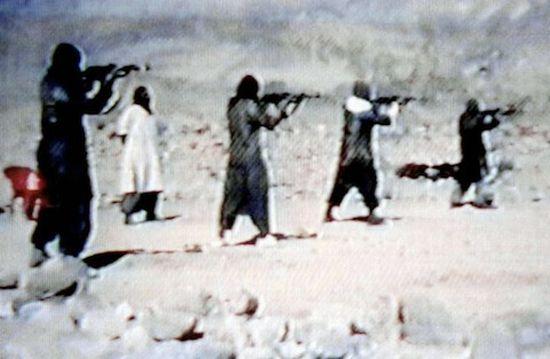 reports on why the number of recruits in Pakistan-based terrorist camps is growing to worrying proportions
Nobody is invincible, not even Modi: Shweta Bhatt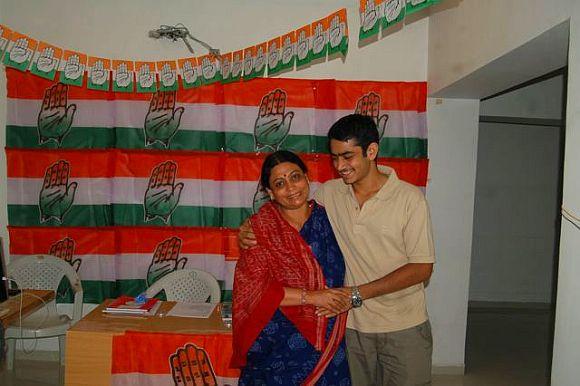 After completing a hectic day of campaigning among the voters of Maninagar, Shweta Bhatt answers 's posers with the ease of a master politician. Read on to know why she decided to take on Narendra Modi, how campaigning has changed her and how she copes with all the stress that comes with fighting against a chief minister as powerful as Narendra Modi.
FDI vote: SP walks out, BSP stays, UPA wins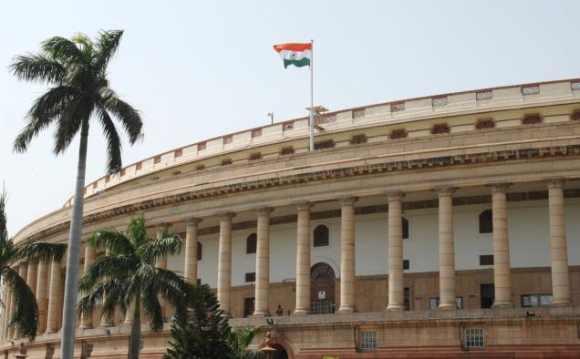 Voting will be held in the Rajya Sabha on Friday on the Bharatiya Janata Party's motion opposing the Congress-led United Progressive Alliance Government's move to allow Foreign Direct Investment in multi-brand retail.
India 4th most terror-affected country in the world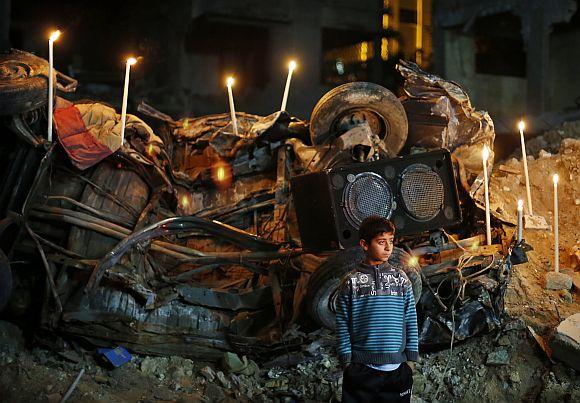 India, Pakistan and Afghanistan were among the nations most impacted by terrorism in 2011, according to a new global study, which said the terror strikes worldwide had increased fourfold since the start of the Iraq war in 2003.
Stunning new PHOTOS of the Earth at night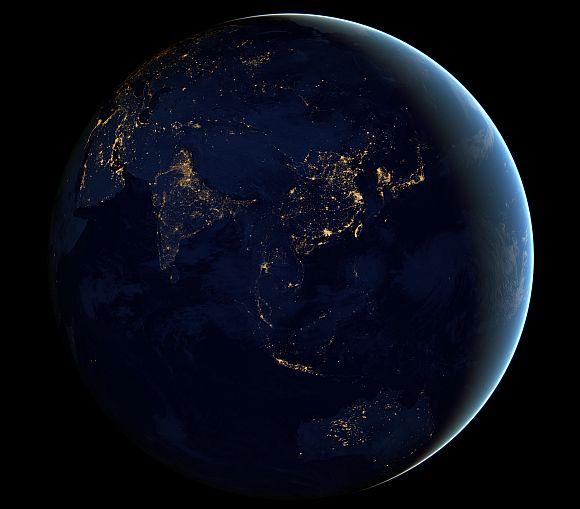 A global composite image, constructed using cloud-free night images from a new NASA and National Oceanic and Atmospheric Administration satellite, shows the glow of natural and human-built phenomena across the planet in greater detail than ever before.
December 06, 2012
IN PICS: Ambedkar followers throng 'Chaityabhoomi'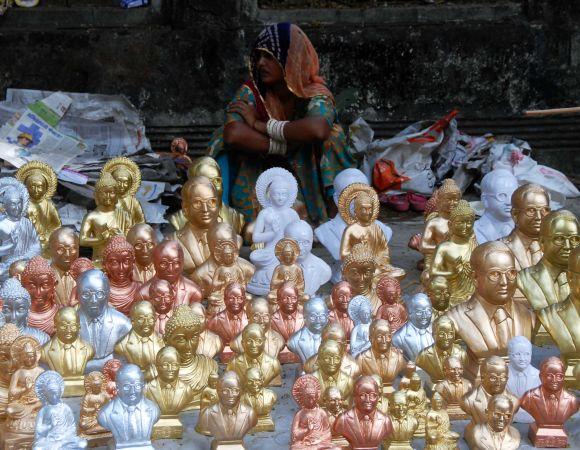 Rich tributes were today paid to the architect of Constitution Dr Babasaheb Ambedkar on his death anniversary, observed as 'Mahaparinirvan Din' by lakhs of followers from all over the state who converged at his memorial 'Chaityabhoomi' near Shivaji Park in Dadar.
Maya to vote for govt on FDI, win in Rajya Sabha likely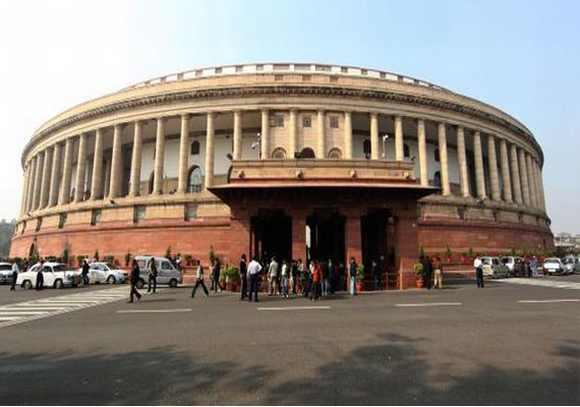 The Bahujan Samaj Party on Thursday promised to vote in favour of Foreign Direct Investment in Rajya Sabha, giving much relief to the government which is bracing for a crucial vote on Friday, even as the Bharatiya Janata Party and All India Anna Dravida Munnetra Kazhagam attacked parties which sided with the United Progressive Alliance despite having reservations over the measure.
'India has talent to do world-class work'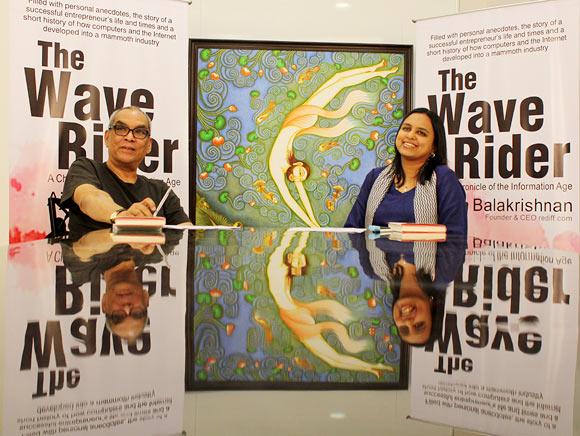 CEO of Rediff.com, answers some of the questions you asked him.
In PHOTOS: Typhoon Pablo rips through Philippines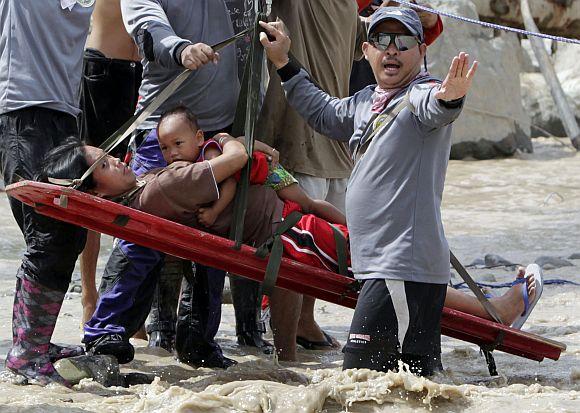 Nearly 200,000 people have been rendered homeless and 475 confirmed dead after the Philippines' worst typhoon this year, officials said on Wednesday, as the government appealed for international help.
UPA govt lame duck, dependent on costly support: Jaitley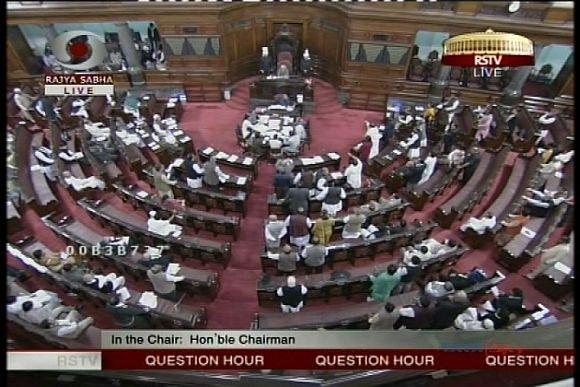 Expressing disappointment with the Samajwadi Party and the Bahujan Samaj Party's decision to abstain from voting on the issue of Foreign Direct Investment in multi-brand retail in the Lok Sabha, Leader of Opposition in Rajya Sabha, Arun Jaitley, on Thursday said that the Congress-led UPA is a lame-duck government dependent on costly support.
PIX: NASA's Voyager 1 spacecraft enters 'magnetic highway'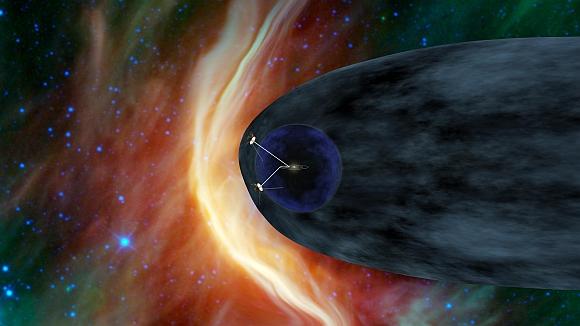 NASA's Voyager 1 has entered a new and unexpected region at the far reaches of our solar system that scientists believe is the final area the spacecraft has to cross before reaching interstellar space.
'We won't become a great country'
'I don't think any politician now can kill growth for the next couple of decades,'
Gurcharan Das
tells Rediff.com's Vaihayasi Pande Daniel. 'We will continue to have these very slow, incremental, reforms. Then we will hit a wall. That's the wall of bad governance. Unless we fix our governance, we won't become a great country.'
FDI in Rajya Sabha: Govt sure of win; SP not to back UPA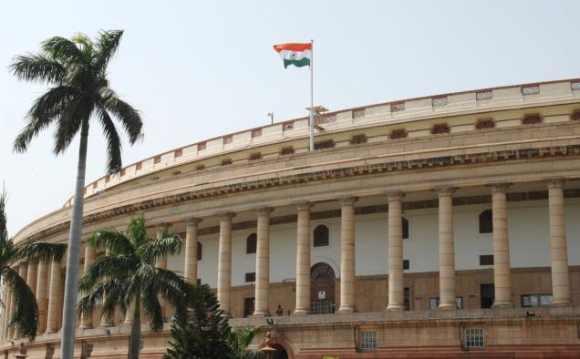 A day after the Foreign Direct Investment in multi-brand retail got the approval of the Lok Sabha as the opposition motion seeking immediate withdrawal of the decision was rejected convincingly as the Bahujan Samaj Party and Samajwadi Party walked out, the Rajya Sabha will debate and vote on the issue over the next two days starting Thursday.
Why Modi will never be Vajpayee for the Muslims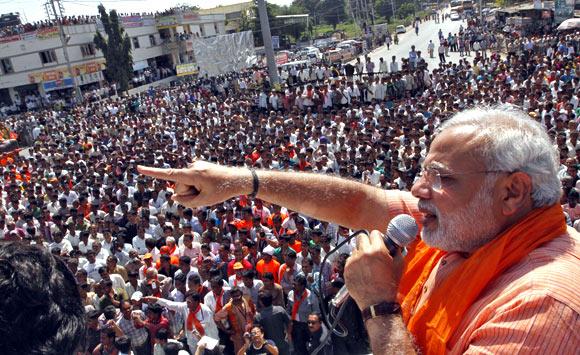 Narendra Modi can never be Vajpayee because the poet-prime minister had a heart. Modi doesn't. He only understands the language of business, of profit and loss. It is beyond his capacity to understand a complex country like India, says .
A BJP under Modi will spell the end of NDA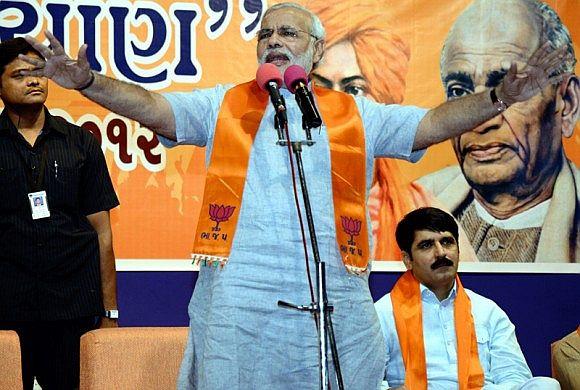 There is a whiff of desperation to the rush of endorsements Modi has received. It is also true that it makes some BJP allies in the National Democratic Alliance -- and potential allies uncomfortable, says Business Standard in its editorial
Sonia, PM in top 20 most powerful people: Forbes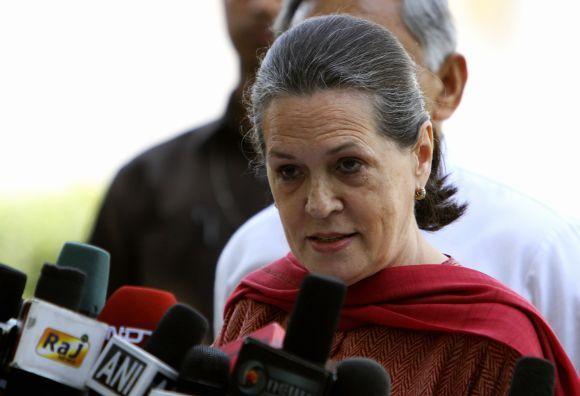 Prime Minister Manmohan Singh and Congress president Sonia Gandhi have been named among the top 20 most powerful persons in the world by Forbes magazine in its annual power rankings which placed United States President Barack Obama as number one for a second year in a row.
In Ayodhya today, there is religion but little else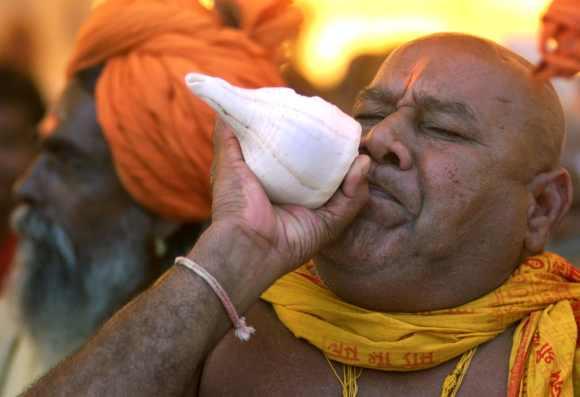 years after the Babri demolition, Ayodhya stands disabled, dilapidated with no development and no jobs. Devjyot Ghoshal reports
'This election is like a semi-final match for Modi'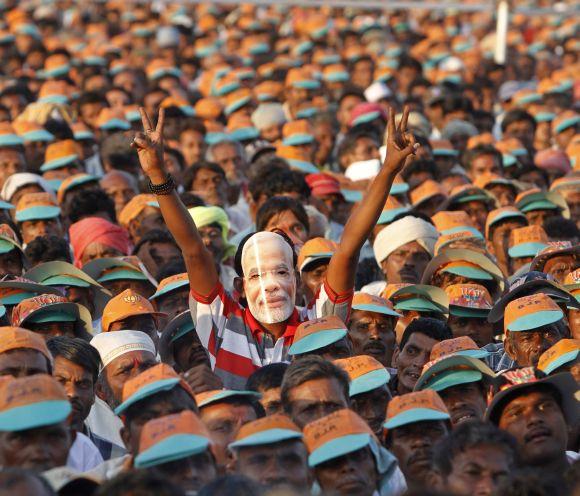 Political analyst Viduyt Thakar tells Rediff.com's the importance of the 2012 Gujarat assembly elections, why Chief Minister Narendra Modi is so popular and why he thinks that this is the last chance for Congress to come back to power in Gujarat.
REWIND: The Ayodhya issue over the years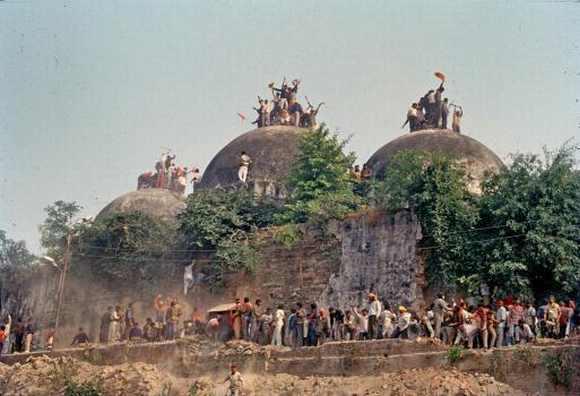 A ready reckoner on the Ram Janambhoomi-Babri Masjid issue.
December 05, 2012
Why UPA govt can't afford to celebrate FDI 'victory'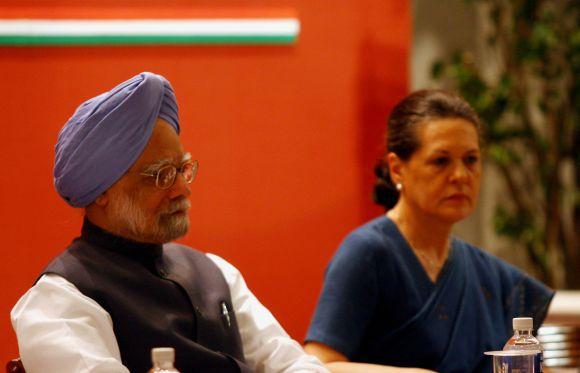 analyses UPA government's 'victory' on FDI vote in Lok Sabha on Wednesday, and explains why the Congress-led coalition cannot afford to celebrate.
Results of J&K panchayat polls to be declared on Thursday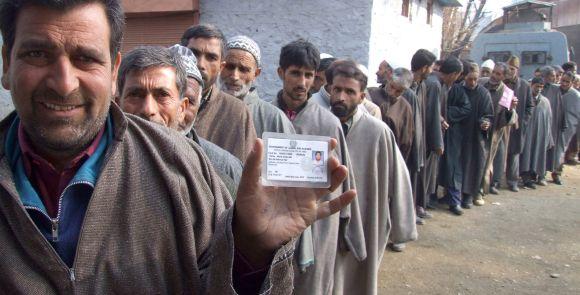 Counting of votes for four legislative council seats representing panchayat quota in the state is scheduled to be taken up on Thursday and the results are expected by noon.
P Chidambaram as prime minister?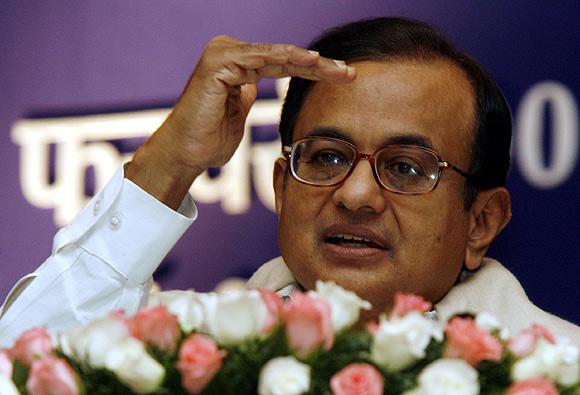 How Kamal Nath left the Opposition leaders stumped... Why Montek Singh is avoiding the poverty line... Mamata Banerjee's newest enemy. All this, and more, in this week's Dilli Gupshup.
Gujarat poll: Five factors that go against Modi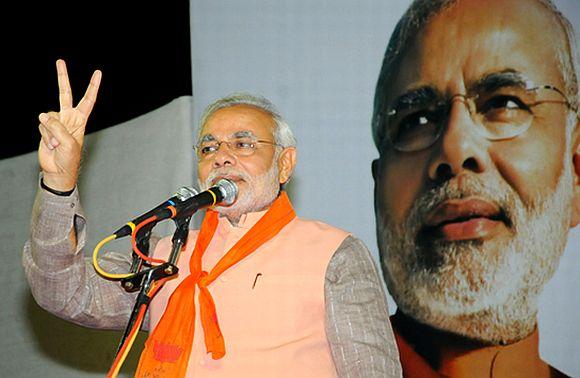 'Through his Election 2012 campaign Narendra Modi has not shown any signs to suggest that he is confident enough to take the risk to set new standards to don the national leadership. His attempt to stoop low to conquer is avoidable, entirely, in view of his comfortable position in the ongoing election campaign.' Rediff.com's identifies the factors that are not going well for Modi.
Women receptionists, blood donors 'un-Islamic'!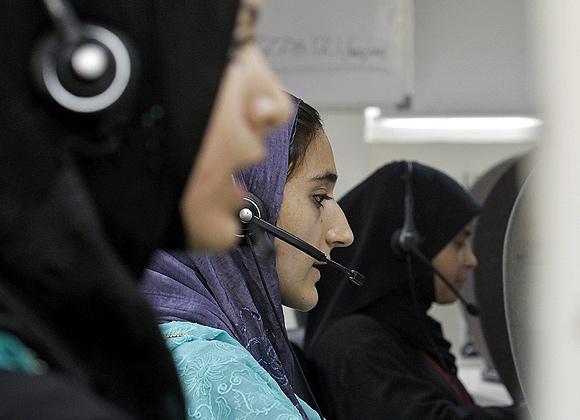 A collection of some of the recent controversial fatwas
'Good' Taliban orders 'bad' Taliban out of their area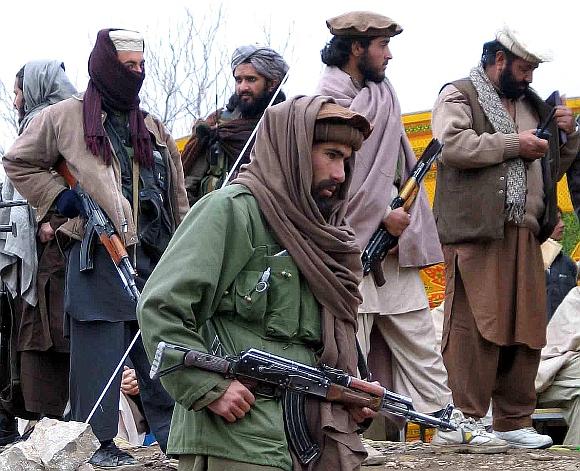 Tension prevails in South Waziristan, after a jirga (assembly of elders) of the dominant Wazir tribe set December 5 as a deadline for Mehsud tribesmen, who live as refugees, to vacate the area. But the Mehsuds are in no mood to yield. reports
Mumbai, Kolkata MOST prone to floods, superstorms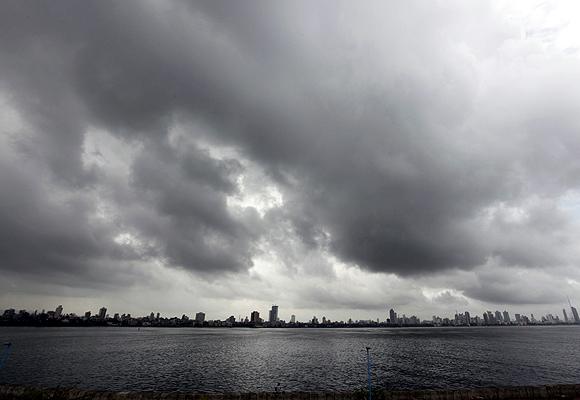 Port cities across Asia -- including Kolkata, Surat, Mumbai and Chennai -- are exposed to the threats of severe flooding and superstorms
'Modi a political salesman, marketer and hypnotist'
Gujarat Chief Minister Narendra Modi is a dictator, lying is his style and his development propaganda is completely fake. These are some of the claims made by Professor Hemant Shah, head of the department of economics at H K Arts College, Ahmedabad.
December 04, 2012
Rahul not campaigning in Guj to avoid defeat slur: Modi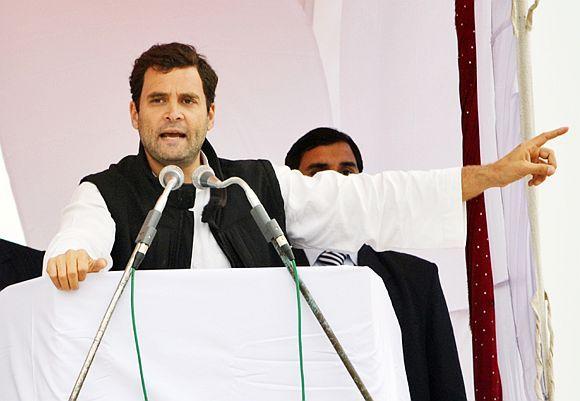 Congress leader Rahul Gandhi is not campaigning in Gujarat because he does not want to take responsibility of his party's likely defeat in the assembly polls, Chief Minister Narendra Modi said on Tuesday night.
PIX: Peace march eases tension in curfew-bound Srinagar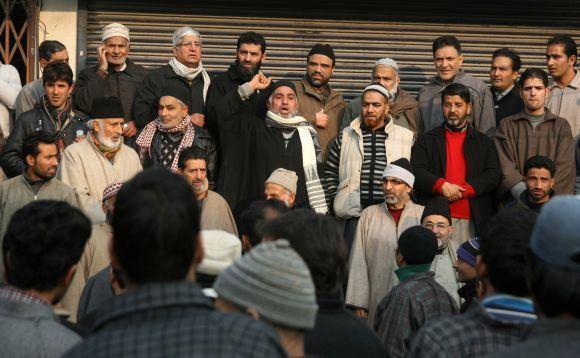 Members of Shia and Sunni communities hold a peace march to ease tension in curfew-bound parts of Srinagar on Tuesday
India's corruption, Sachin's tons in TIME's 2012 stories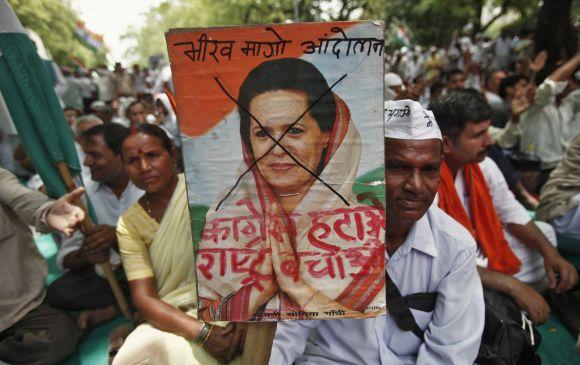 India's corruption woes, the Wisconsin Gurudwara shooting and cricket icon Sachin Tendulkar's 100 centuries are among the top stories of 2012, according to a list compiled by Time magazine which chronicles the "highs and lows, the good and the bad" of the past year.
GRAPHIC: Dengue most deadly in 2012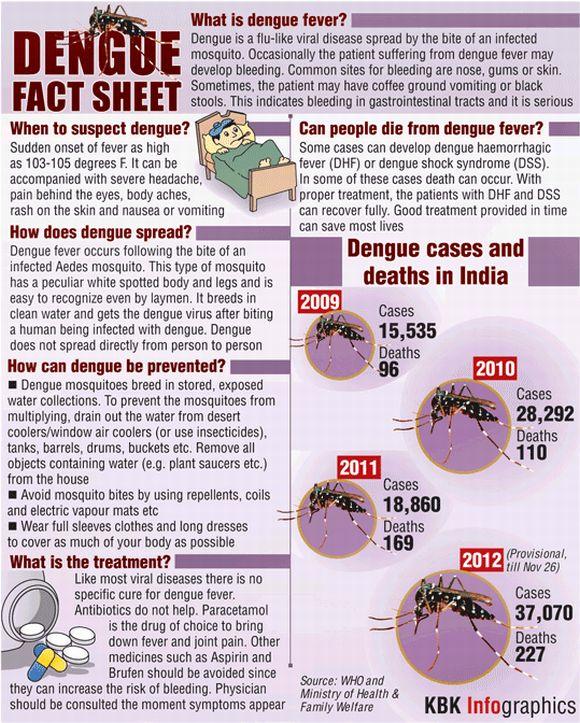 Kejriwal goes after Narendra Modi, Congress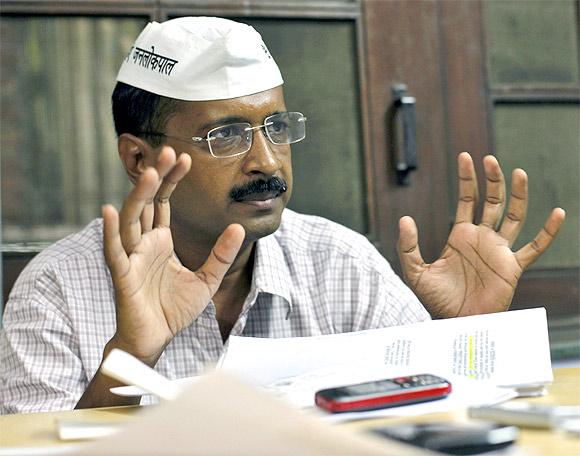 Activist-turned-politician Arvind Kejriwal took on Gujarat Chief Minister Narendra Modi as well as the Congress on Tuesday evening.
General Singh leads sugarcane farmers' fight for justice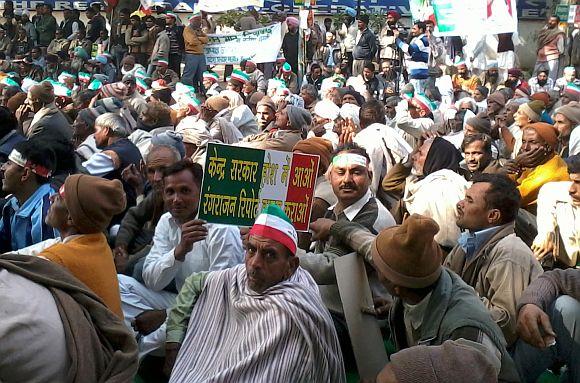 Around 6,000 sugarcane farmers from across India held a massive protest in national capital New Delhi against the controversial Rangarajan Committee report. Former Army Chief V K Singh joined issue with the farmers and declared war against the government. reports
Remove makeshift Thackeray memorial at Shivaji Park: BMC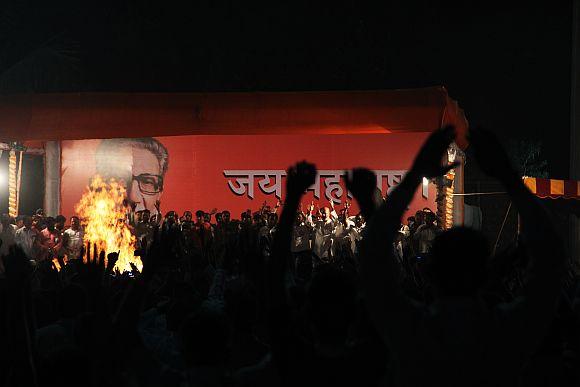 The Brihanmumbai Municipal Corporation has served notices to Mayor Sunil Prabhu and Shiv Sena Member of Parliament Sanjay Raut, asking them to remove the make-shift memorial of Sena patriarch Bal Thackeray from Shivaji Park in Dadar.
Pradhan Mantri ji, soch kyon badal gayi: BJP on FDI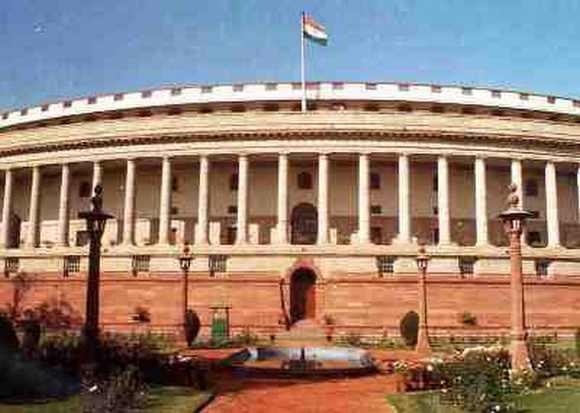 The Lok Sabha will on Tuesday take up discussion on the issue of Foreign Direct Investment in multi-brand retail under rule 184 that entails voting.
Why are children dying by the dozen in Malda, Bengal?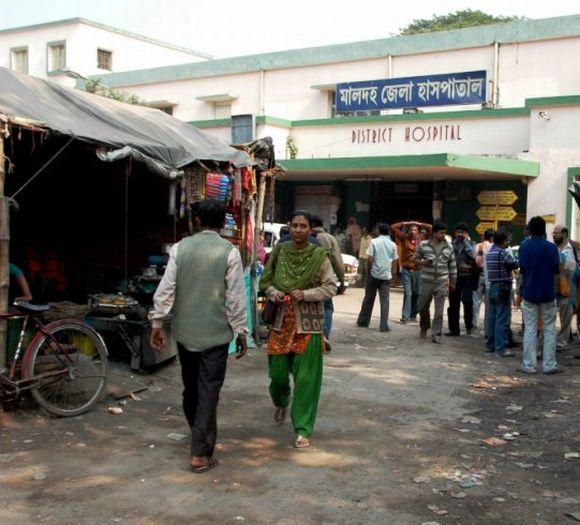 The Malda Medical College and Hospital in West Bengal has become infamous for the unbelievable number of infant deaths there. sets out to find out why.
PICS: A tour of India's majestic palaces and forts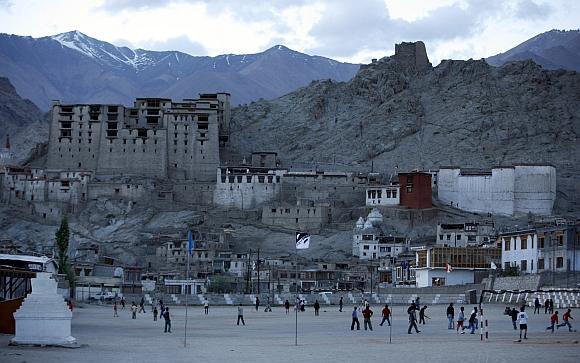 Rediff.com brings you these awesome pictures of forts and places of historic importance from all over India
What will Prince William and Kate name their baby?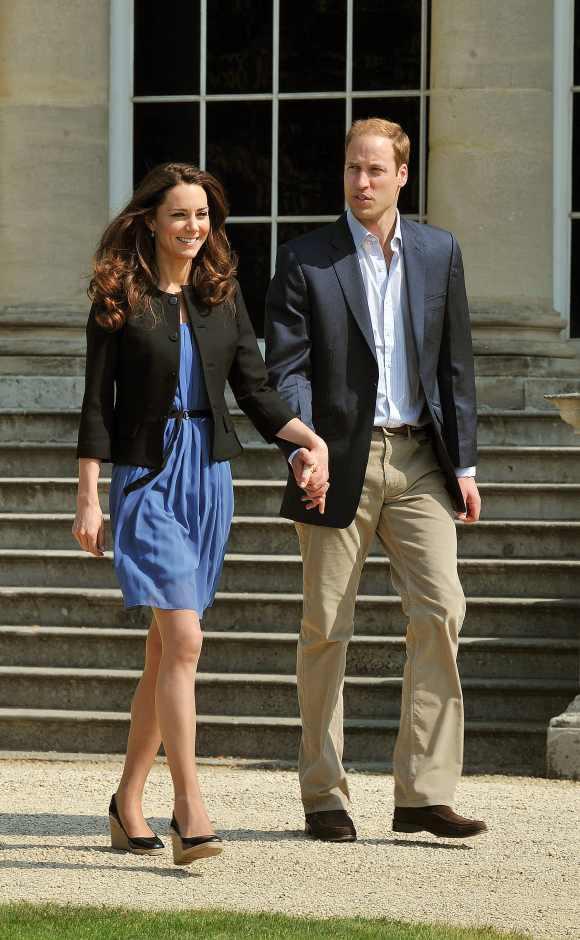 Termed as the most anticipated pregnancy since the Princess Diana's, British Prince William and Catherine, Duchess of Cambridge, are expecting their first child after 19 months of marriage.
Narendra Modi, the young boy and his quaint little village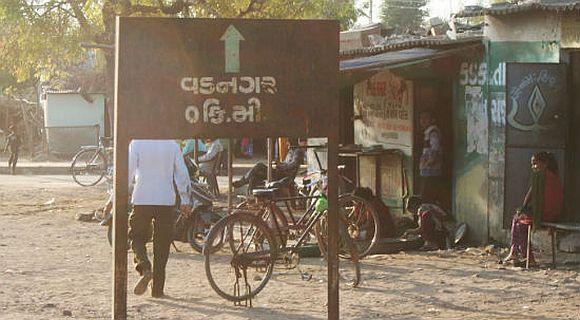 undertook a visit to Narendra Modi's village Vadnagar and learnt interesting facts about Gujarat chief minister's childhood. He shares his experience in this diary entry
Chinese now plan to grow vegetables on Moon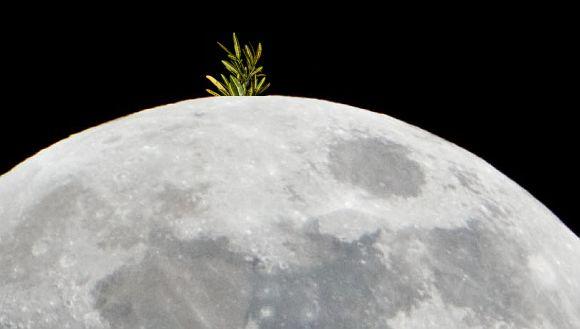 Gardening in space! Chinese astronauts may grow fresh vegetables in extraterrestrial bases on Moon or Mars in the future to provide food and oxygen supplies to astronauts, an official said after a successful lab experiment.
Gujarat Phase 1 election: 104 criminals, 147 crorepatis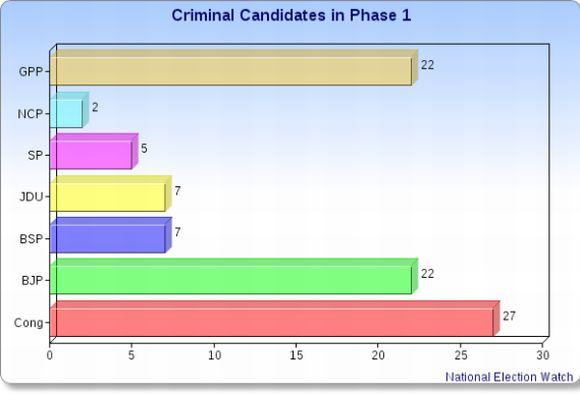 The first phase of the Gujarat assembly elections will have 104 candidates with a criminal record, says a data analysed by the National Election Watch.
December 03, 2012
'Siachen: India must offer Pak a dignified solution'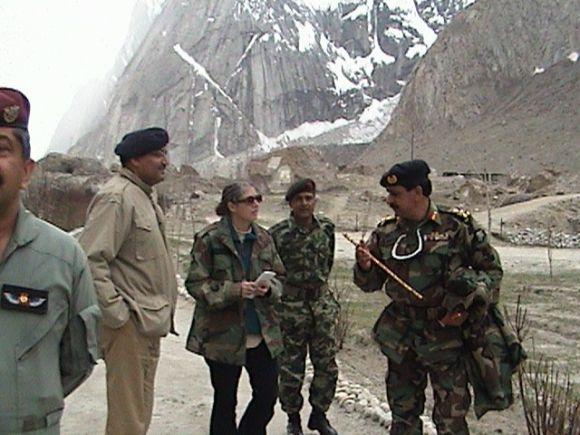 Amidst alarmist rumours that track-two parleys between India and Pakistan are urging India to 'give up Siachen', Myra MacDonald tells Shivam Vij in an e-mail interview why resolving Siachen without resolving the Jammu and Kashmir dispute may not be easy.
PIX: Modi's manifesto promises 50 lakh houses in 5 yrs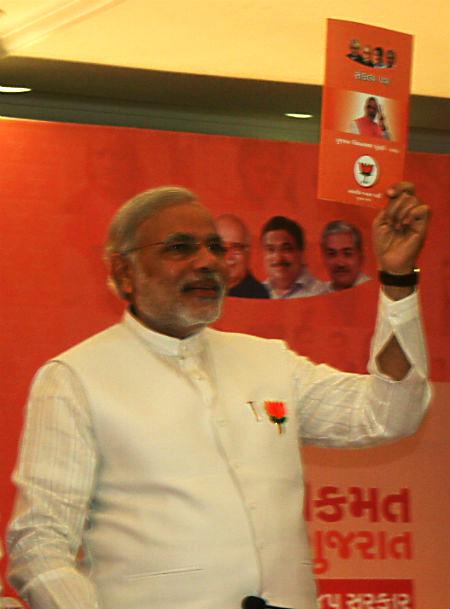 Gujarat Chief Minister Narendra Modi on Monday released the Bharatiya Janata Party's manifesto for the state assembly elections, saying that it is a blueprint for development of all sections of the society.
PIX: Modi's manifesto promises 50 lakh houses in 5 yrs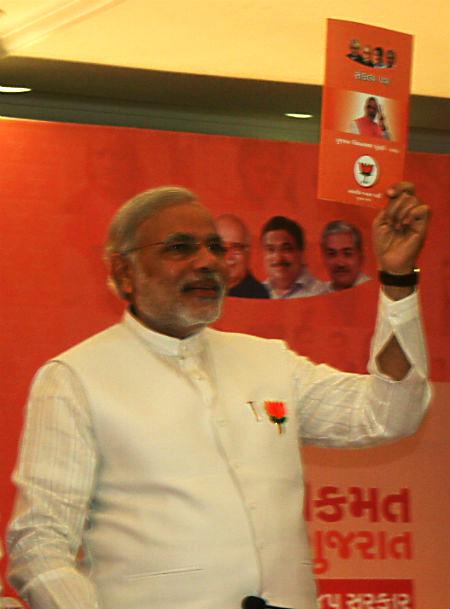 Gujarat Chief Minister Narendra Modi on Monday released the Bharatiya Janata Party's manifesto for the state assembly elections, saying that it is a blueprint for development of all sections of the society.
PICS: Snow traps Russian drivers in 2-day jam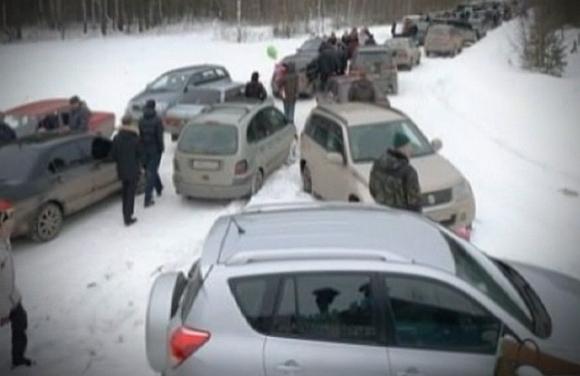 Thousands of vehicles have been trapped, some for more than two days, in a traffic jam dozens of miles long caused due to heavy snowfall in Russia.
'He told Sharief India would never give J&K to Pak'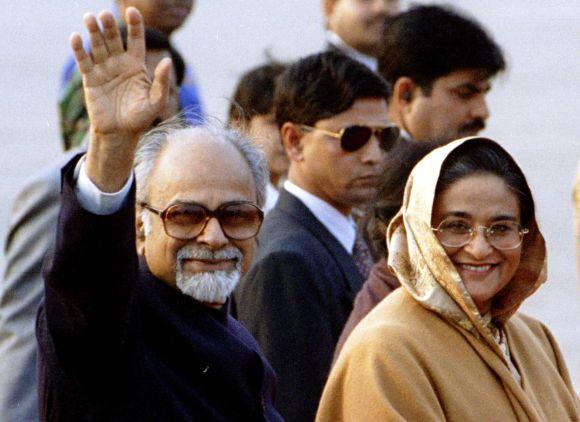 'I K Gujral's place in Indian history may not run into several pages. But he will always be remembered as a decent gentleman, generous and kind to a fault, who nursed a dream for a peaceful, prosperous India, in harmony with the world.' T P Sreenivasan pays tribute to his mentor.
Amazing PHOTOS of the Week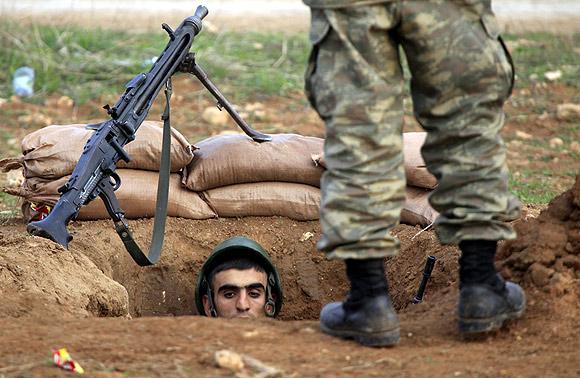 We bring you a collection of some of the best photos from around the world in the week gone by
Photos: Hindus fume as 100-yr-old temple demolished in Pak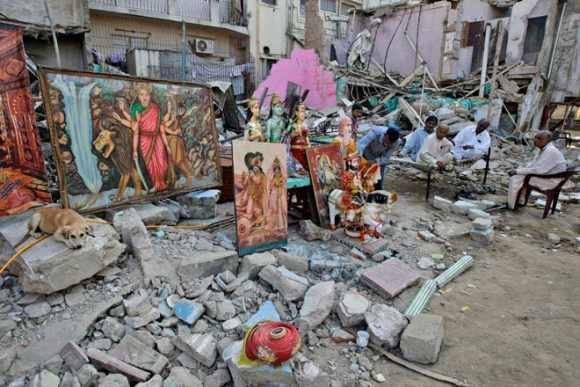 While Hindus are complaining about the violation of their rights in Pakistan's rural Sindh, they received a harsh blow in Karachi when a pre-partition temple was demolished by a builder despite a Pakistani court hearing a petition seeking a stay on such a move.
Sanand's overnight crorepatis are all for Modi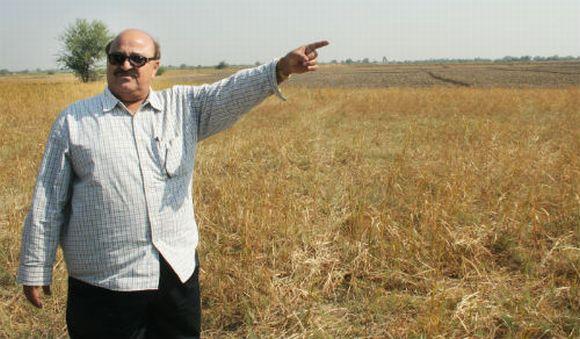 Rediff.com's and Photographer Reuben N V visit Gujarat's Sanand taluka, the recent hotspot for many high-profile investments: A fascinating story of unassuming crorepatis.
Kaleidoscopic PHOTOS: The icy beauty of Mercury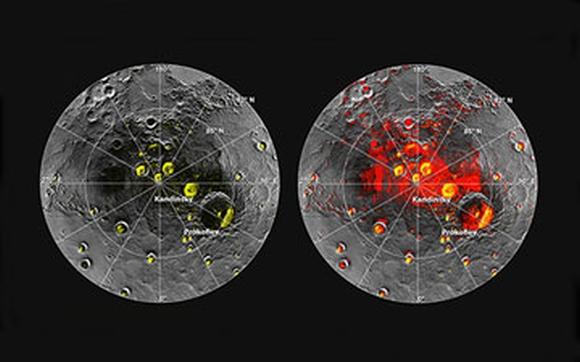 A National Aeronautics and Space Administration spacecraft has confirmed the presence of abundant 'icy' water along with other frozen volatile materials within 'burning hot' Mercury's permanently shadowed polar craters.
Amazing PHOTOS of the month: November
We bring you a presentation of some of the best photos from around the world in the month gone by.
December 02, 2012
N D Tiwari doubts Rahul's potential as future PM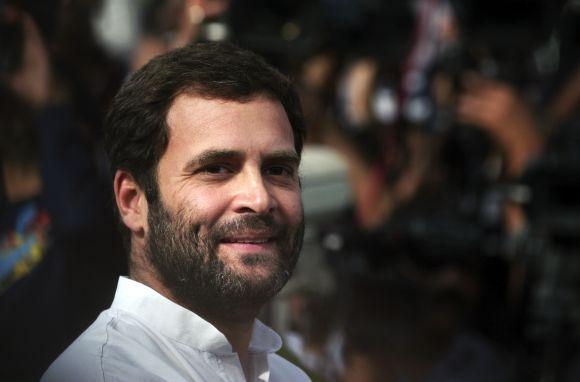 Veteran Congress leader N D Tiwari on Sunday virtually questioned party general secretary Rahul Gandhi's potential to emerge as India's future prime minister.
There won't be another Shiv Sena supremo: Uddhav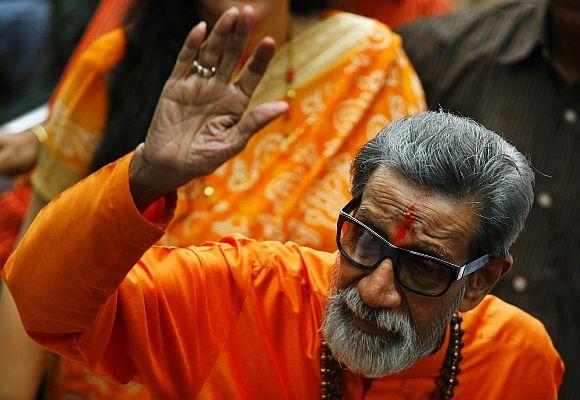 Shiv Sena executive president Uddhav Thackeray has said that he will not take over the position of "Shiv Sena pramukh" (supremo) which will always belong to his late father Bal Thackeray.
December 01, 2012
Modi fit to become prime minister: Sushma Swaraj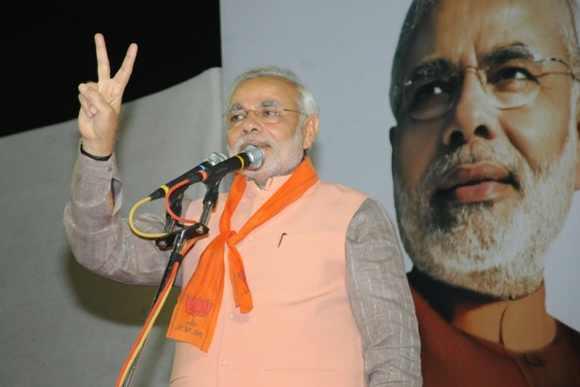 Leader of Opposition in the Lok Sabha Sushma Swaraj on Saturday said that Gujarat Chief Minister Narendra Modi is fit to become the prime minister of the country.
Modi govt gave away K-G basin stake for free?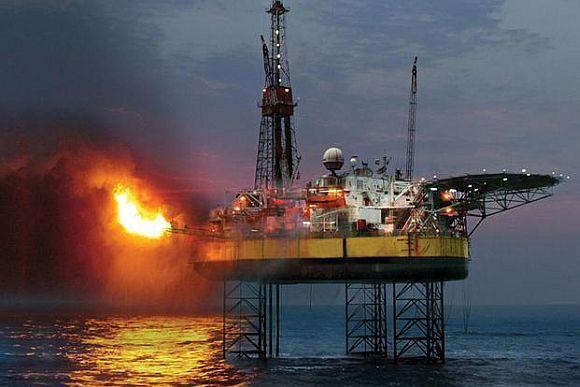 An investigation carried out by Tehelka, the Narendra Modi regime gave away a 10 per cent participating stake in an expansive gas field it had won in a bidding process to a company named GeoGlobal Resources that existed only on paper and was controlled by a Guatemala citizen named Jean Paul Roy. The company, incorporated in Barbados, had a capital of just $64.
Don't Miss: The interesting videos of this week
Don't Miss: The interesting videos of this week
Gujral was sophisticated, gracious in his dealings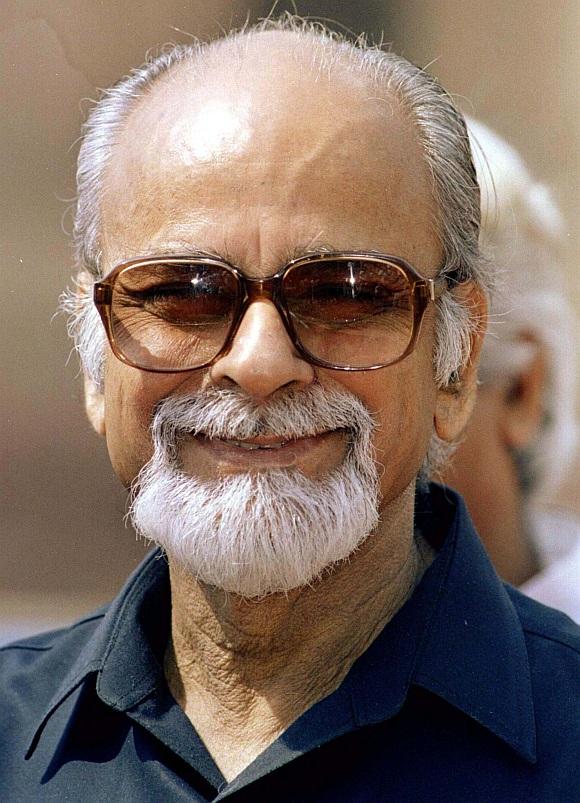 remembers a gentleman politician, an unusual prime minister.
November 30, 2012
PHOTOS: Kashmir gets season's first major snowfall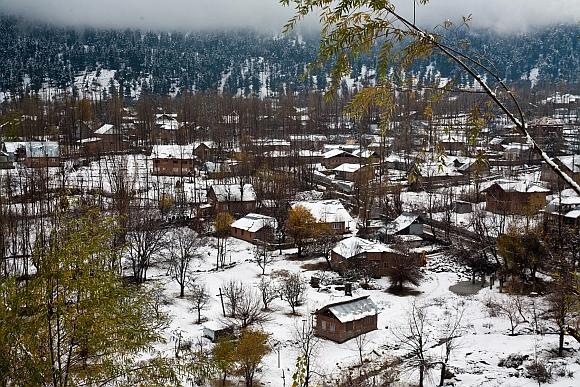 Upper reaches of the Kashmir valley including the famous tourist resort of Gulmarg received season's first heavy snowfall on Friday. reports.
Unlike Cong, I'm not hungry for power: Narendra Modi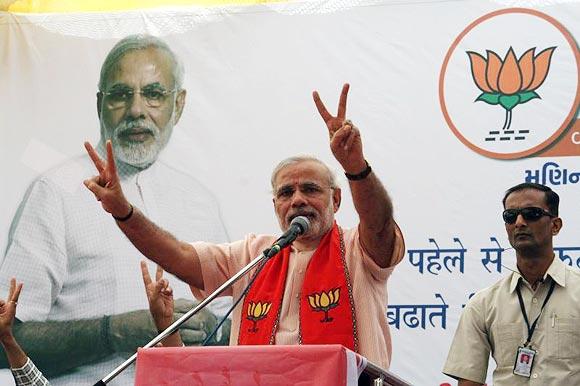 A steady stream of supporters of Narendra Modi thronged Maninagar area in Ahmedabad where the chief minister of Gujarat addressed a meeting before filing his nomination on Friday for the state assembly elections.
Unravelling BSY's Plan B: Why BJP was spared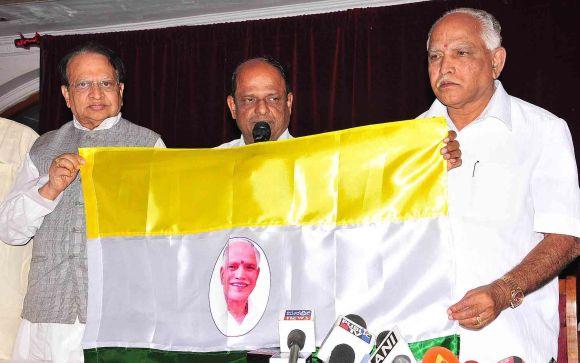 explains Yeddyurappa's Plan B, and tells us what made him go soft on Bharatiya Janata Party today.
I K Gujral: A suave politician, foreign policy expert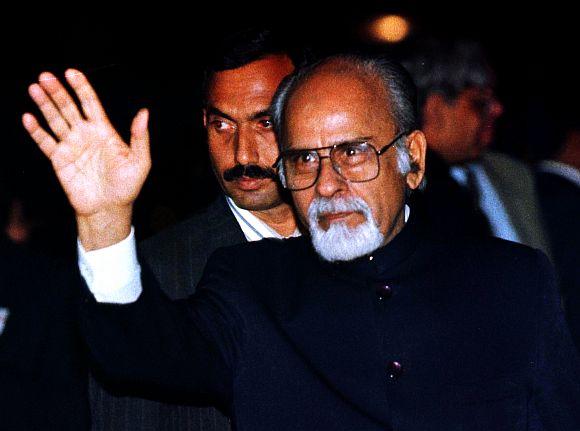 A suave and sobre politician, Inder Kumar Gujral belonged to that genre of intellectuals who made a mark in the country's foreign policy and a slice of luck catapulted him to the prime minister's office, though briefly.
I've been backstabbed, portrayed as criminal: Yeddyurappa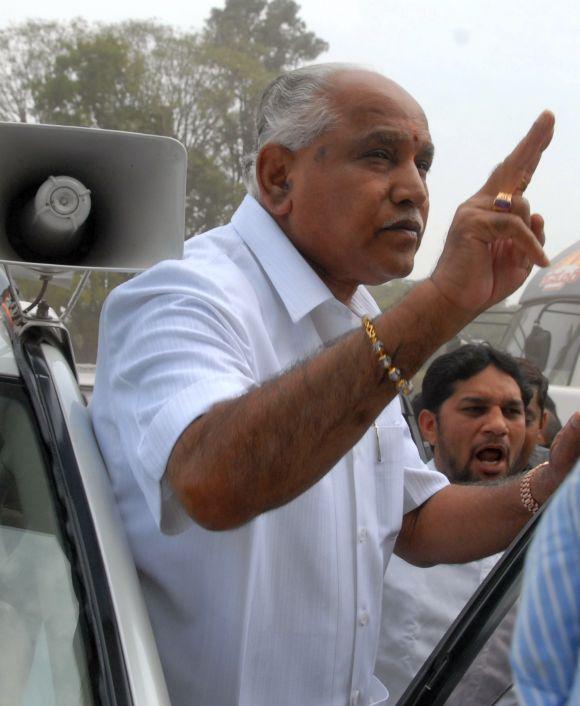 Former Karnataka chief minister B S Yeddyurappa chose not to target his political opponents in his speech at the Freedom Park in Bengaluru.
Chetan Bhagat, Ajit Balakrishnan discuss the Info Age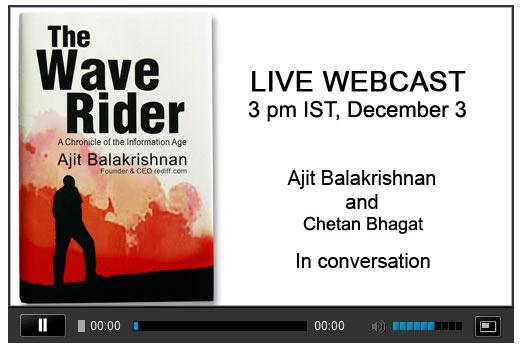 Bestselling author Chetan Bhagat discusses the Information Age with .com Founder, Chairman and CEO Ajit Balakrishnan to mark the launch of his book The Wave Rider. Don't miss this event, which will be live streamed at 3 pm IST on Monday, December 3.
'Pained' Yeddyurappa faxes his resignation to Gadkari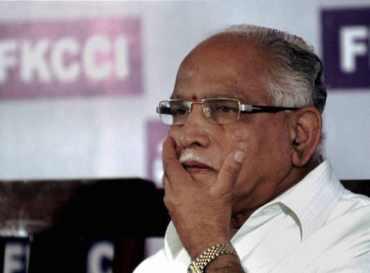 The 40-year old-association between B S Yeddyurappa and the Bharatiya Janata Party came to an end today. The former Karnataka chief minister, who has been threatening to quit for six months now, finally faxed his resignation to party president Nitin Gadkari.
HAUNTING IMAGES: Children of Conflict - Part II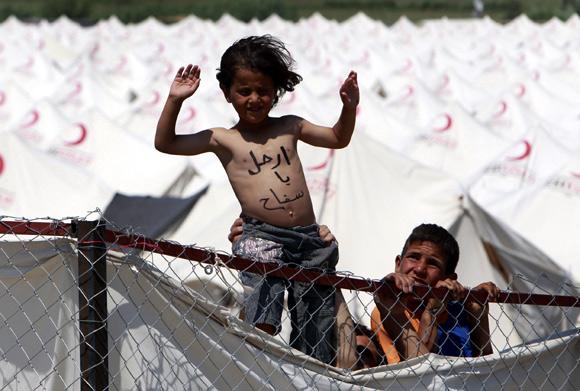 The heaviest price a nation pays for a war or conflict is the loss of innocence of generations of children.
In PHOTOS: Celebrations as UN upgrades Palestine status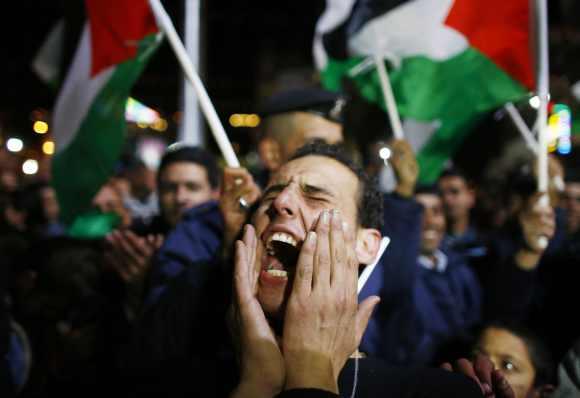 Palestine overwhelmingly won a historical United Nations General Assembly vote, which will upgrade its status to non-member observer state at the world body, despite intense opposition from the United States and Israel.
The world is NOT ending on December 21: NASA scientists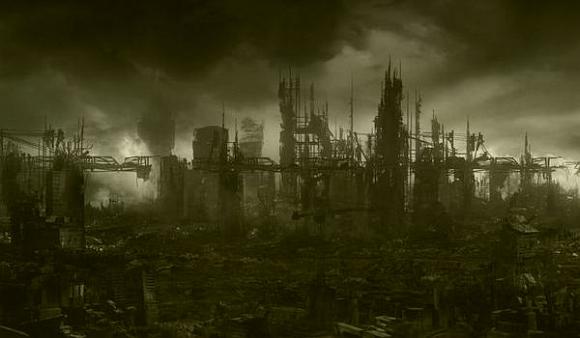 Quashing the 'doomsday' rumours, top National Aeronautics and Space Administration scientists have assured that the world won't end on December 21, 2012.
November 29, 2012
PICS: Srinagar curfew to continue until Friday
The indefinite curfew imposed in summer capital Srinagar on Wednesdy evening following sectarian clashes will continue until Friday without any break.
'Mamata intolerant, whimsical, won't be CM for long'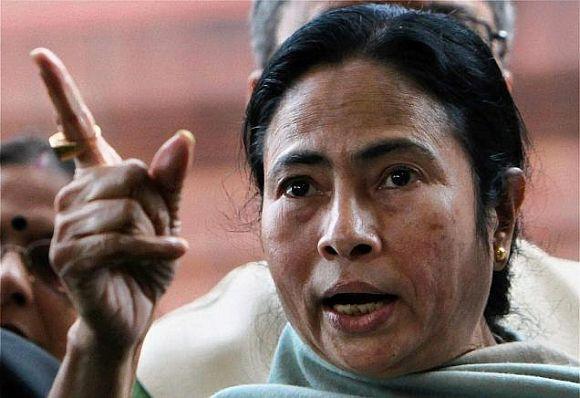 Press Council of India Chairman Markandey Katju on Thursday slammed Mamata Banerjee for being "increasingly intolerant and whimsical" and asked her to mend her ways, but the West Bengal chief minister hit back by saying her government would not function at anyone's diktat.
'Poll Tourism' set to make entry in Gujarat
International tourists visiting poll-bound Gujarat this December can now get a peep into the conduct of Assembly polls with tourism specialists mooting the concept of 'election tourism'.
The 5 things in Narendra Modi's favour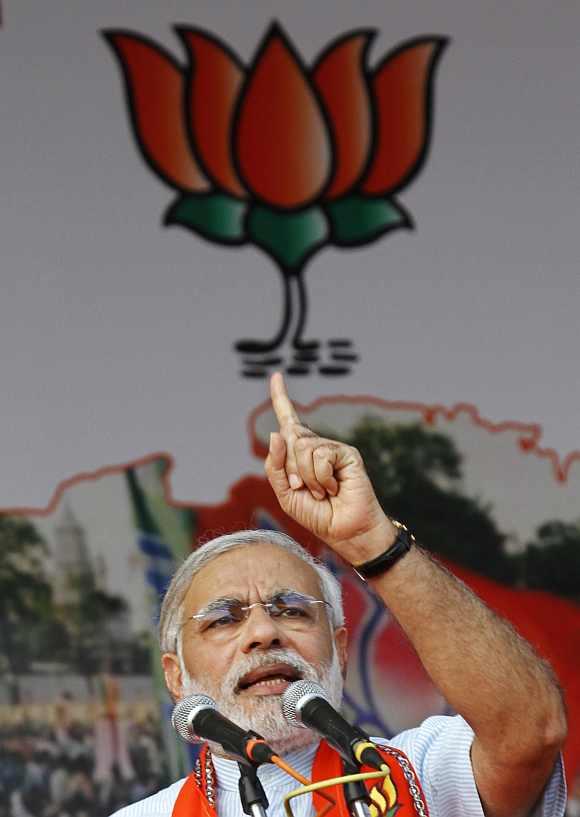 Rediff.com's , who is travelling around Gujarat, lists the factors that will help Chief Minister Narendra Modi likely win the state election.
PIX: Ban Ki-moon launches Aakash 2 tablet at UN HQ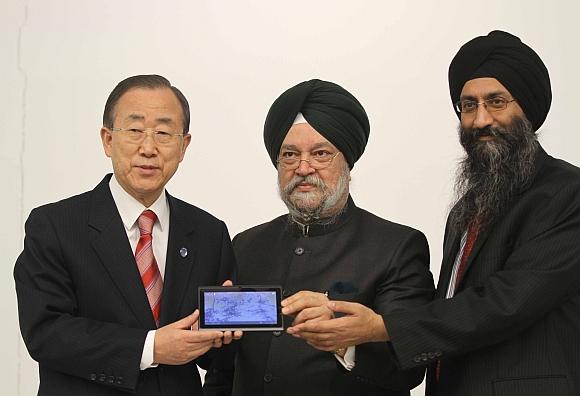 United Nations Secretary General Ban-ki moon on Wednesday said that not only India is a critical player on security issues, but it is also so a leader on development and technology and 'indeed a superpower on the information superhighway.
November 28, 2012
Palghar photos: Sena bandh over cops' suspension
A bandh was observed in Palghar town in adjoining Thane district on Wednesday following a call by the Shiv Sena against suspension of two senior police officers in connection with the arrest of two girls over a Facebook post, criticising shutdown during Bal Thackeray's funeral.
Is Lashkar commander Lakhvi enjoying prison stay?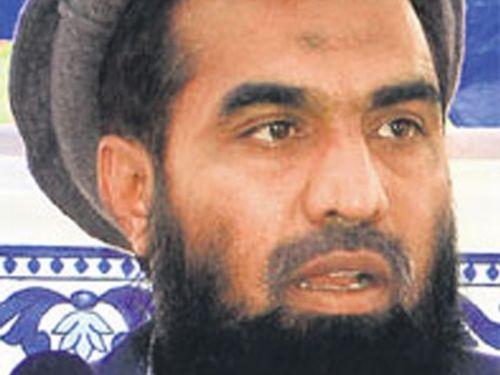 Lakhvi is a top-ranking prisoner in Pakistan. It does not appear as though he is in judicial custody, but looks like he is living a normal life. reports
I'm not here to replace Jagan: Y S Sharmila Reddy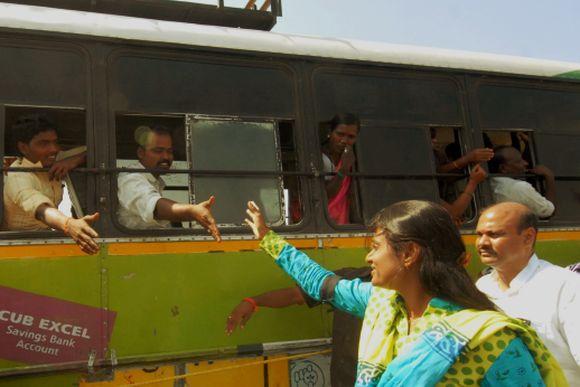 Many in the rallies Y S Sharmila Reddy has been addressing feel that she would be a better chief ministerial candidate than her mother in case Jaganmohan Reddy is not out of jail, reports
'What's wrong in Lokpal having jurisdiction over PM?'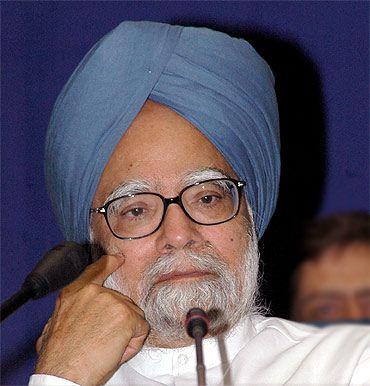 There is nothing wrong in bringing the prime minister under the jurisdiction of Lokpal as like others he is also a public servant, former Supreme Court Judge and erstwhile Karnataka Lokayukta N Santosh Hegde said on Wednesday.
Rule of Law Index: India ranks poor 78th in 97 nations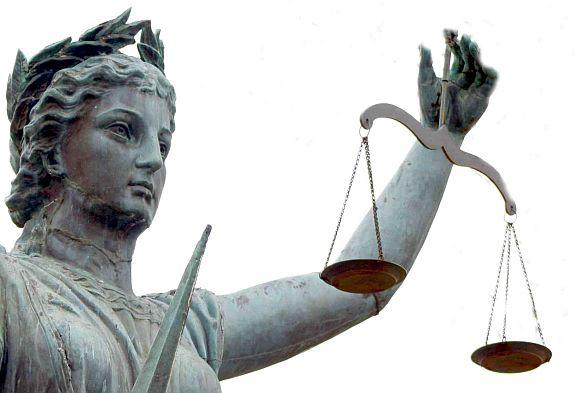 India ranks 78th among 97 countries in guaranteeing access to all civil justice, a latest report has said, while its neighbouring country Sri Lanka leads the South Asian nations in most dimensions of the rule of law.
PHOTOS: Glimpses of world's LARGEST camel fair in Pushkar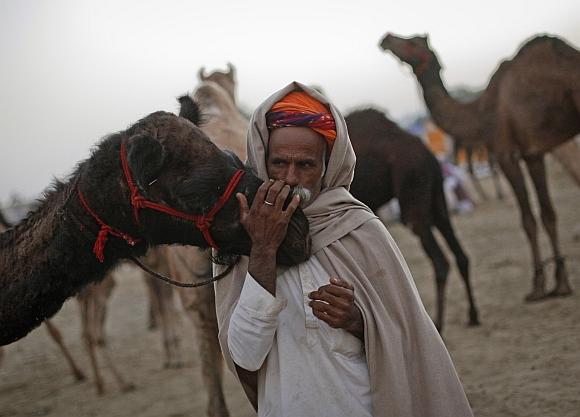 The famous Pushkar fair, which attracts lakhs of people including foreign tourists, has begun in Ajmer, Rajasthan, with a number of cultural programmes, group dance and camel race attracting lakhs of visitors.
Why I want to ask disturbing questions, say the unsaid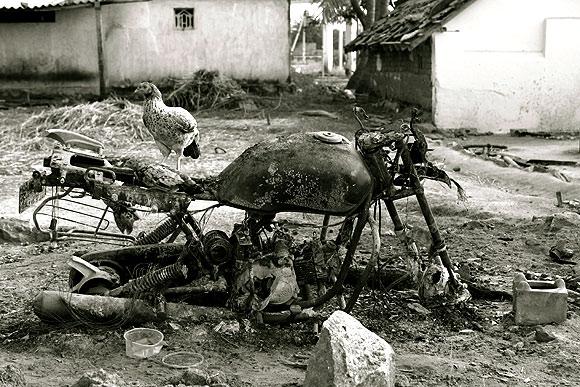 What happened in Tamil Nadu's Dharmapuri district is not merely anti-Dalit caste hatred, but also the most vicious form of sexual oppression of women. Almost every single home was burnt and looted. I still withhold my tears because of the fear that weeping will rob me of my rightful anger, that emotional catharsis will lead to complacence, says poet in this column exclusive to Rediff.com
PHOTOS: A Martian colony of 80,000 people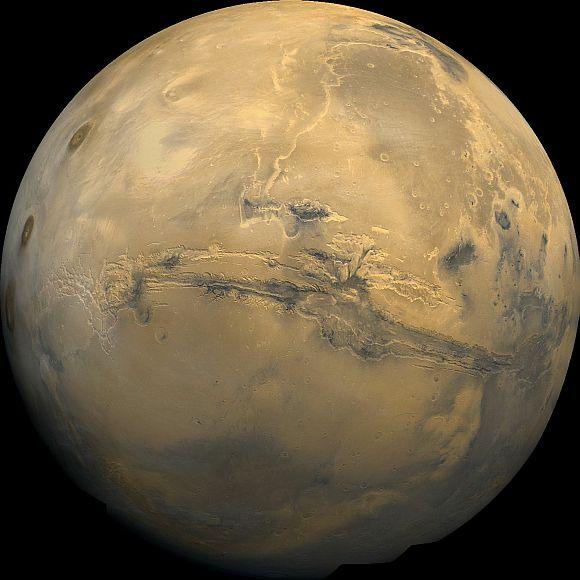 SpaceX founder Elon Musk has announced detailed plans to send 80,000 people to colonise Mars by ferrying explorers to the Red Planet for $500,000 (Rs 2.78 crore) per trip.
PHOTOS: Mt Everest garbage turned into art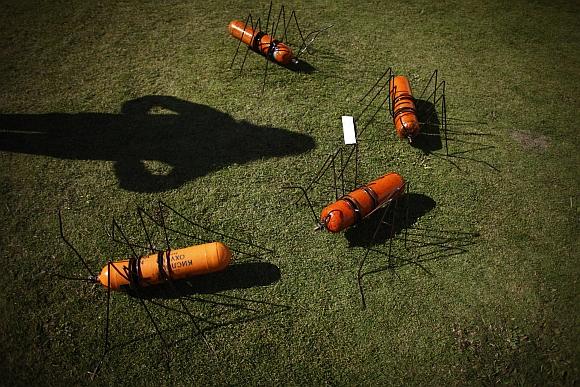 A visitor casts a shadow on the ground as she looks at art made from trash picked from Mount Everest at a visual art symposium in Kathmandu.
November 27, 2012
Why Parliament passed IT Act without debate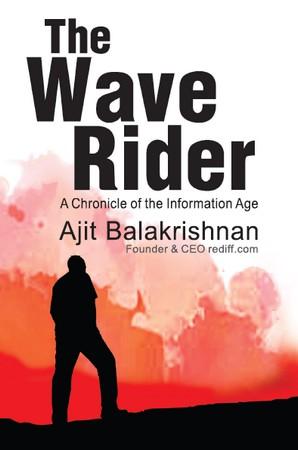 'The new Information Technology Act with the requisite power to allow the Indian State to deal with Information Age challenges was passed by Parliament, without debate, within a month of the Taj crisis.' An exclusive excerpt from The Wave Rider: A Chronicle of the Information Age, one of the most important books published in India this year.
'Corruption is a bigger threat than terrorism'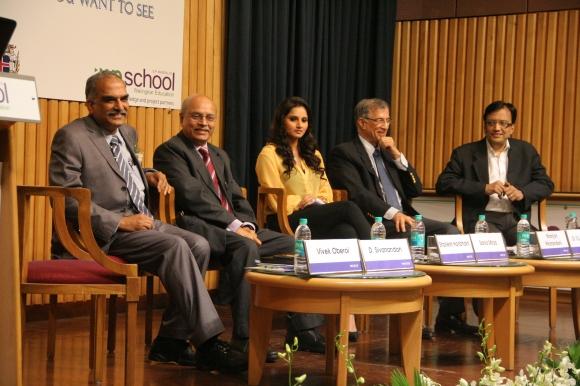 'Corruption eats the vitals of our bureaucracy, our army, our government. It is a bigger threat than terrorism. The terrorists are four steps ahead of us.'
PHOTOS: Sharmila smiles her way into Andhra's hearts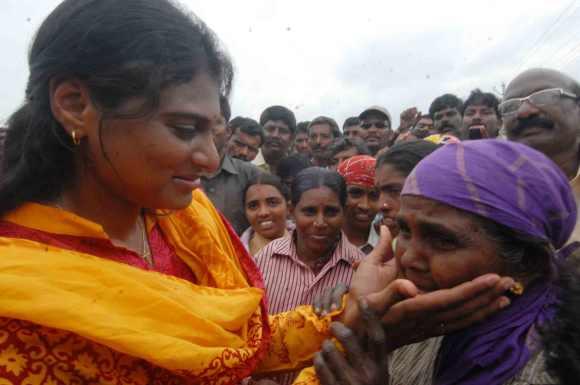 Like brother like sister! The Congress belief that Jaganmohan Reddy's jail term would dent the YSR Congress's popularity in Andhra Pradesh takes a hit with his sister Sharmila proving to be yet another crowd-puller.
Now, allegations of a Rs 4 lakh crore scam!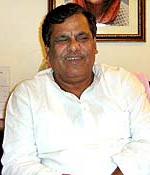 'Naveen Patnaik's simplicity makes him look like an innocent fellow. But he is not like that. You can go to Odisha's mining areas and you can understand what is going on under his nose. A colossal loss to the national exchequer has taken place in Odisha,' Union Minister Srikant Jena tells Rediff.com's Sheela Bhatt.
VIDEO ga ga: Congress, BJP go after each other in Gujarat
Election campaigning in India can never be complete without promises, abuses, allegations and counter-allegations flying about thick and fast. The growing popularity of the social media platforms and electronic paraphernalia has made the parties even more excited.
'I can't think of one politician worthy of respect'
Unfortunately for India's politicians, Shobhaa De has trained her sights on them in her 18th book, Sethji, whose protagonist is a wily, old-world, Delhi politician. She discussed the murky world of Indian politics with Rediff.com's Savera R Someshwar and Vaihayasi Pande Daniel.
India's desi fighter jet Tejas limps out of the ICU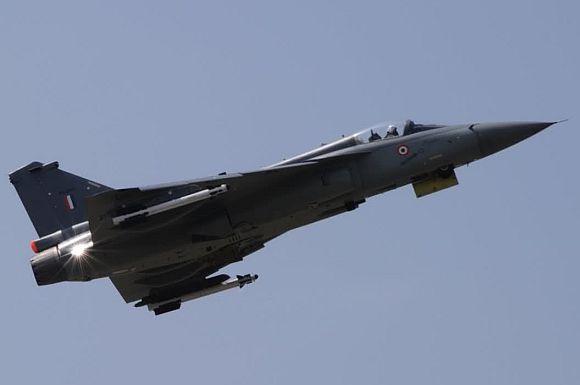 The Tejas Light Combat Aircraft, which has remained grounded for more than three months, finally resumed flight-testing last week.
It is just a drill: Bangladesh fire victims were told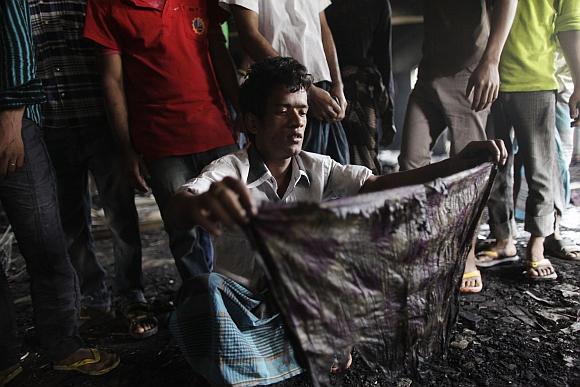 In one of the worst fire tragedies in Bangladesh, a blaze broke out at Tazrin Fashion factory, a readymade garments factory in suburban Ashulia Savar, 30 km from Dhaka, on Saturday night and quickly spread to the ground and first floors of the six-storey building, killing at least 137 people. The tragedy has highlighted unsafe working conditions in an industry, rushing to produce for major retailers around the world.
HAUNTING IMAGES: Children of Conflict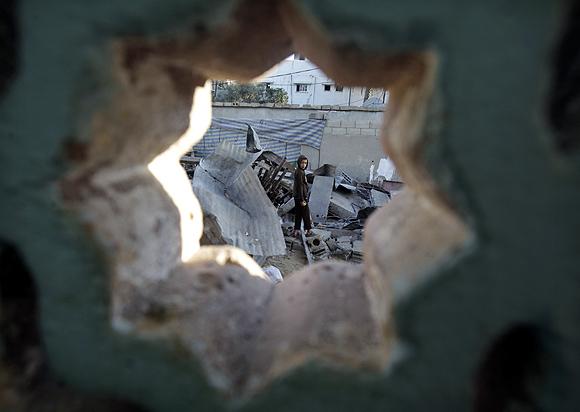 Rediff.com brings you some haunting images of children -- often scarred but sometimes smiling -- from strife-torn regions across the world
'If I am Indian I would want Headley here tomorrow'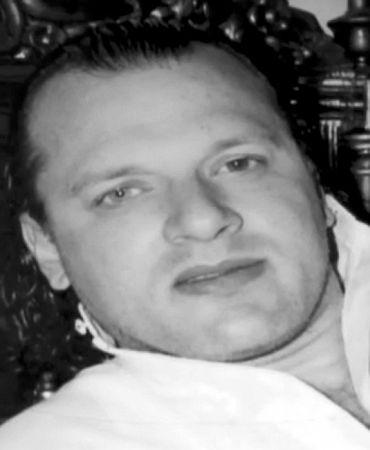 On the fourth anniversary of 26/11 Mumbai terror strike, US Under Secretary for Political Affairs Wendy Sherman says Lashkar-e-Tayiba operative David Coleman Headley's extradition to India is under consideration in an exclusive interview with CNN-IBN
Nitish, Hazare, Malala among top 100 global thinkers list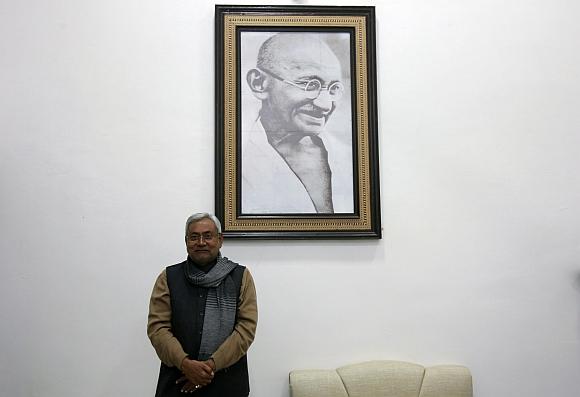 Foreign Policy, a United States-based magazine has placed 15-year-old Pakistani child rights activist Malala Yousafzai in its top 100 Global Thinkers list.
November 26, 2012
Pics: Show of strength at Aam Aadmi Party's first rally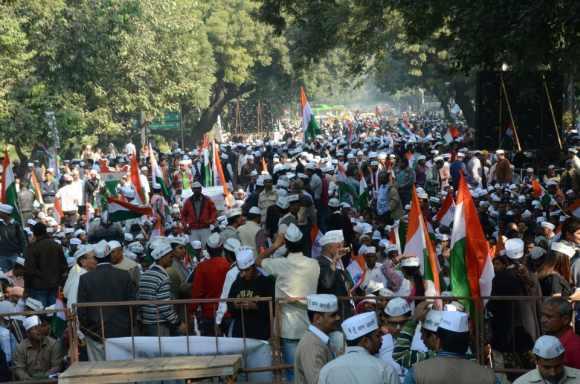 captures the upbeat mood at Jantar Mantar on Parliament Street where Arvind Kejriwal's party was formally launched on Monday.
Bal Thackeray was a cartoonist, and not a bad one at that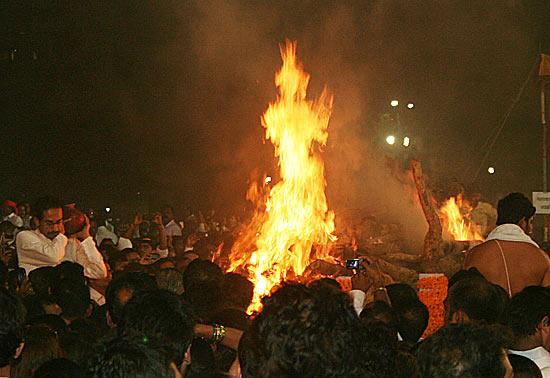 It is a shame that a bright man with a clear political agenda should have arrogated to himself the right to say things deeply offensive to other people, but trampled on the right to a contrary opinion, says
Exclusive: David Headley and I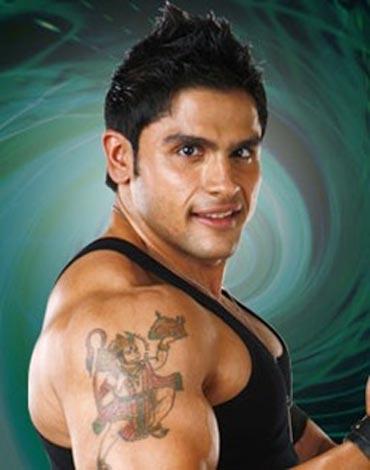 'The bond between Rahul and David was a powerful one. While Rahul saw a father figure in Headley, the latter saw Rahul only as a codename for Mumbai. Rahul had spent approximately 1,000 hours with Headley and planned to spend more, when Headley was finally busted in the US. Rahul was devastated. He had lost a father figure for the second time in his life...' Exclusive excerpts from 's latest book, Headley and I.
PHOTOS: Tributes paid to 26/11 martyrs, victims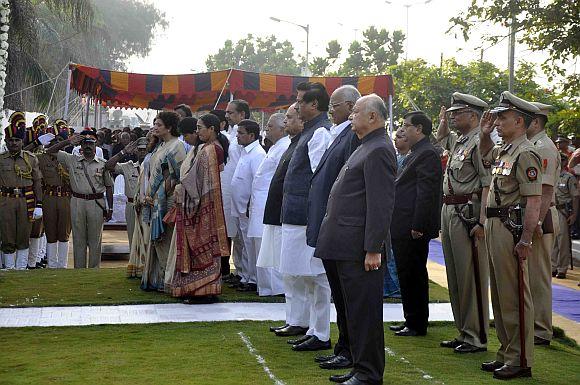 Floral tributes were paid to martyrs of the 2008 Mumbai terror attacks on the fourth anniversary of the strike on Monday with Union ministers Sushil Kumar Shinde and Sharad Pawar laying wreaths at the police memorial in South Mumbai.
'Perpetrators of 26/11 are not heroes in Pakistan'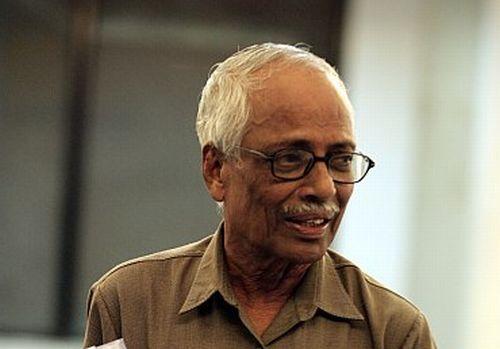 'People of Pakistan abhor violence, they have seen so much. They did not and do not support the 26/11 terror attacks on Mumbai,' B M Kutty, a Pakistani activist from Kerala, tells Athimuthu Ganesh Nadar in an exclusive interview.
The man whose car Kasab stole, speaks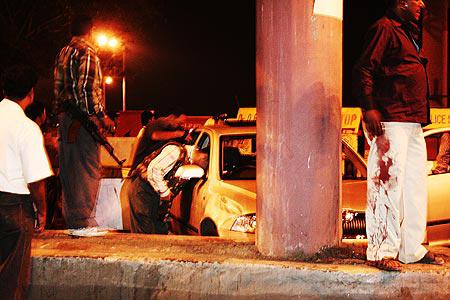 It doesn't matter how they did it. The end result is what matters, says Sharan Arasa, reacting to the news of 26/11 Mumbai terror convict Ajmal Kasab's execution. He spoke to Rediff.com's .
PHOTOS: China ready to deploy jets on aircraft carrier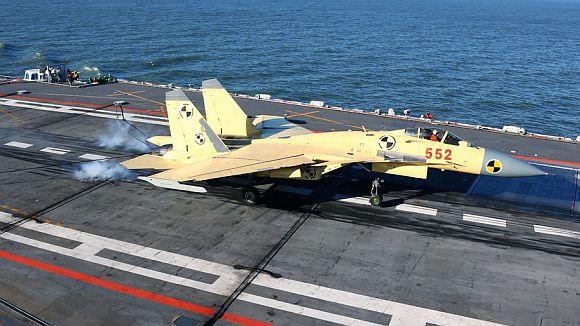 China successfully landed and took off the J-15 jet from The Liaoning aircraft carrier on Sunday.
November 25, 2012
BJP suspends Jethmalani with IMMEDIATE effect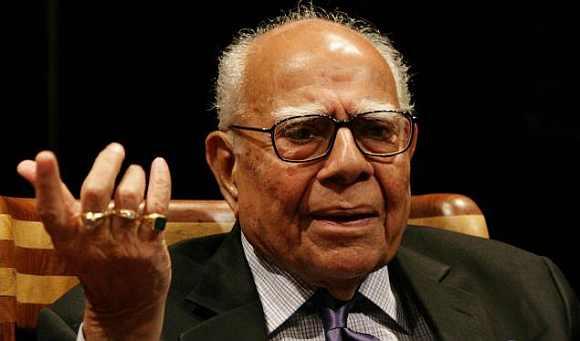 The BJP on Sunday suspended senior party leader and eminent criminal lawyer Ram Jethmalani for anti-party activities with immediate effect.
'We have risen from the ashes of 26/11'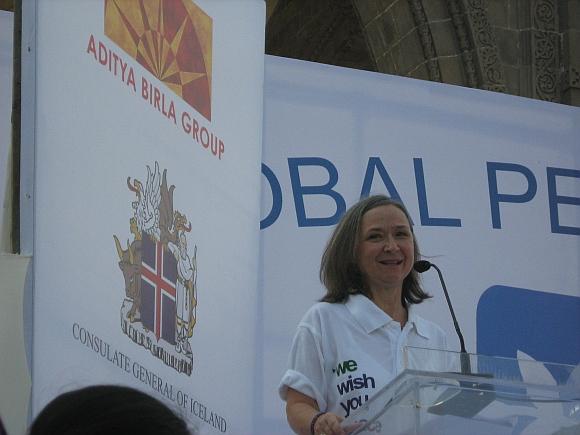 Kia Scherr, who lost her husband and daughter in the 26/11 attacks, and calls Mumbai her second home, paid tribute to the victims, a day ahead of the fourth anniversary. reports from the Gateway of India.
Security heightened in parts of Srinagar for Muharram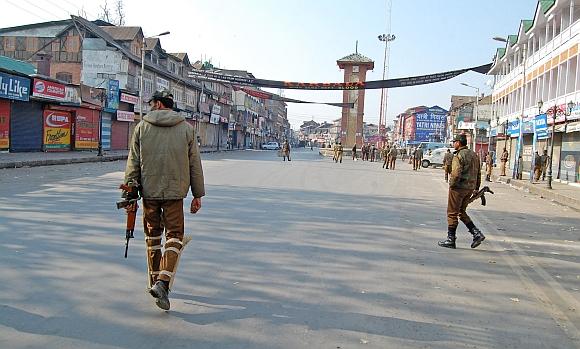 Authorities disallowed the main Muharram procession as they apprehended it may create law and order problem in summer capital Srinagar.
PICS: Factory fire, flyover collapse kill 137 in B'desh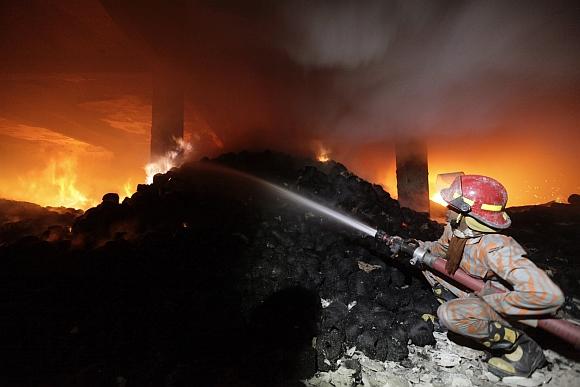 Over 100 people were killed overnight after a fire engulfed a multi-storey garment factory on the outskirts of Bangladesh's capital Dhaka, officials said on Sunday.
November 24, 2012
I was made to sign on 2G audit report: R P Singh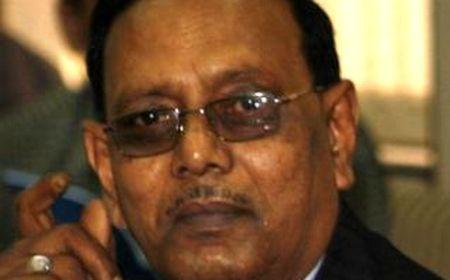 Former CAG official R P Singh, who has created a storm with his statements on the 2G spectrum allocation audit, on Saturday claimed that his superiors gave him "written order" following which he signed on the final report giving a presumptive loss figure of Rs 1.76 lakh crore.
Kejriwal sets off with Swaraj in heart, Aam Aadmi in mind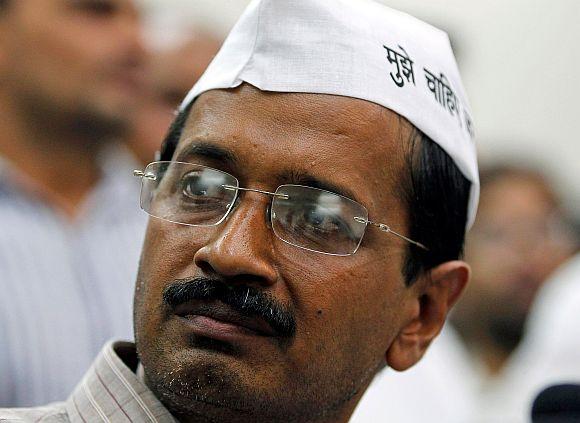 Over two months after his split with Anna Hazare to take a political plunge, Arvind Kejriwal on Saturday launched his party naming it 'Aam Aadmi with an aim to provide gram sabhas more say in law making and making higher judiciary accessible to common man
Modi set to sweep Gujarat; No Congress revival: Poll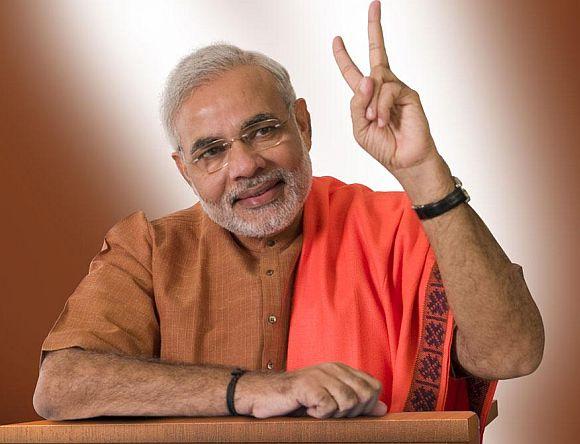 Bharatiya Janata Party and Narendra Modi look set for a comfortable victory in Gujarat, winning even more seats than last time, an opinion poll has revealed.
PHOTOS: Egypt erupts in anger against new Prez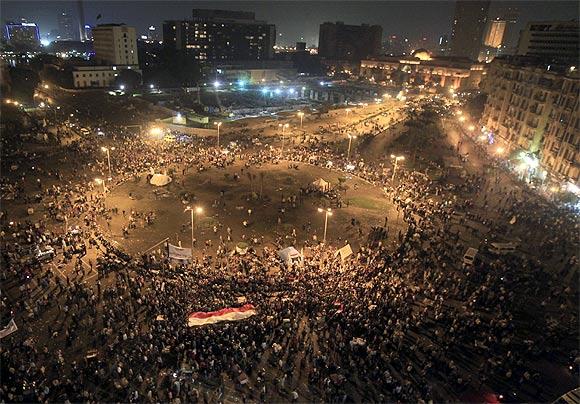 Egypt's first democratically elected President Mohammed Morsi's decision to give himself near-absolute powers saw opponents and supporters of the Muslim Brotherhood party clash in one of the worst violent outbursts since he took office.
Kasab's hanging: Why I disagree with Hazare, RGV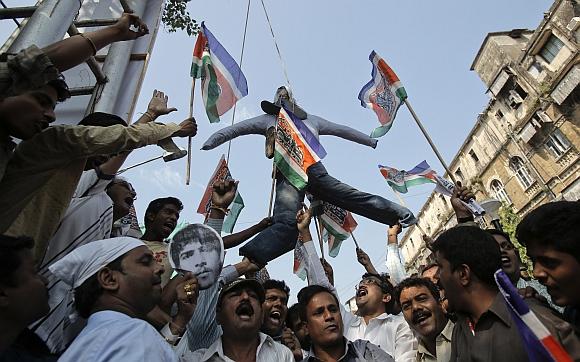 Capital punishment brings the state, the highest invention of humanity, down to the level of the barbarity it is supposed to rise above, says
PIX: Top JeM commander killed in Kashmir encounter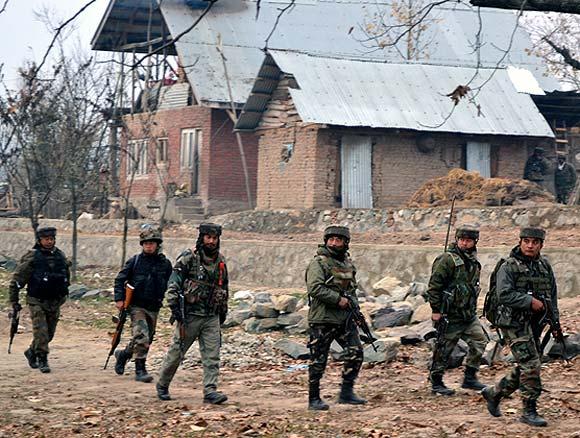 Security forces on Saturday morning killed a top commander of Pakistan based terror outfit Jaish-e-Mohammad in north Kashmir's Baramulla district.
Videos this week: Kasab hanging and more
Videos this week: Kasab hanging and more
November 23, 2012
Muharram protest: Man sets himself on fire in Srinagar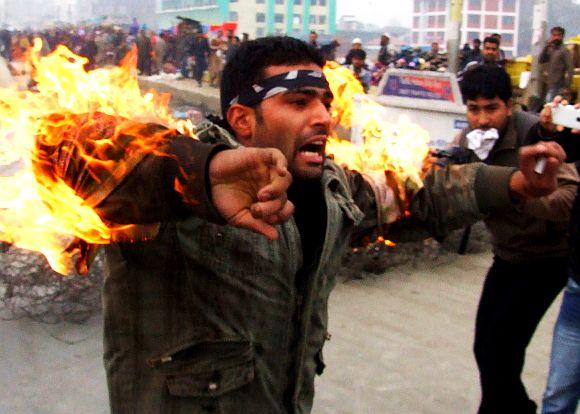 A person set himself on fire on Friday to protest a ban on religious processions marking the Muslim month of Muharram in Srinagar. The person suffered minor injuries and was later arrested.
JuD is looking for game, mobile programmers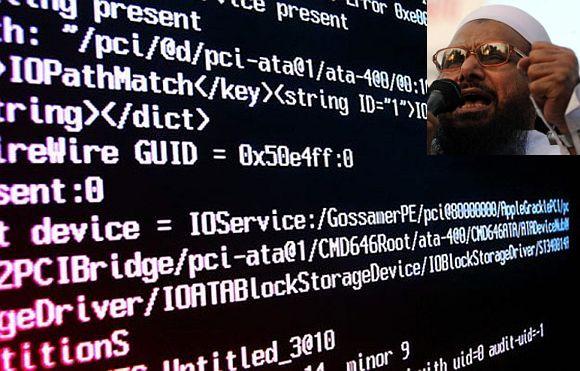 Pakistan-based Jamaat-ud-Dawa has realised that mobile Internet is the future and that by foraying into it they would have a larger reach. reports why Indian agencies are visibly upset by the development
Let's salute an unhonoured hero!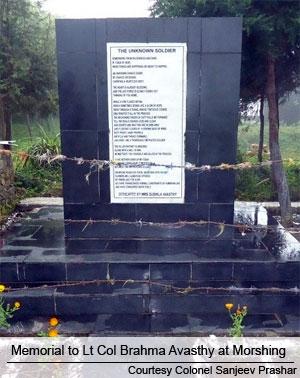 That Lieutenant Colonel Brahmanand Avasthy deserved a gallantry medal for his conspicuous bravery is unarguable, but his valour went unrecognised. M P Anil Kumar salutes an Indian hero on the 50th anniversary of his martyrdom.
Three lives Kasab drastically changed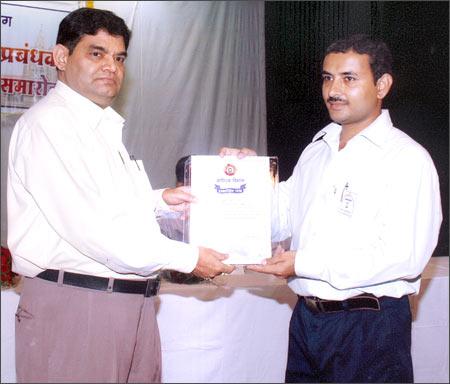 Rediff.com's speaks to three victims of Mumbai's 26/11 terror attack, as they react to LeT terrorist Ajmal Kasab's hanging.
November 22, 2012
'Arresting the girls saved them from physical harm'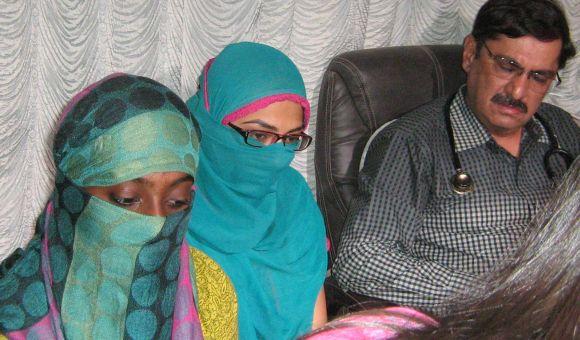 A Facebook post resulted in the arrest of two young girls. Rediff.com's met them and others present there to find out what actually happened.
PIX: Innovative ways to WAKE UP the government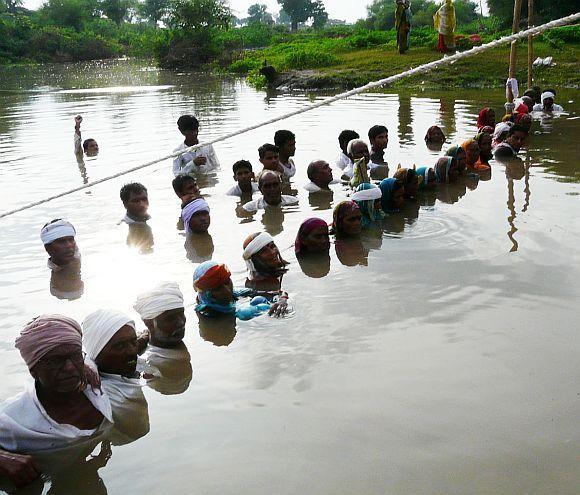 With dharnas, rallies and fasts not drawing much attention from the government, people in Madhya Pradesh have resorted to unique ways of protests that have been taken notice of and provided some relief to protestors.
Can China and India get along? Very unlikely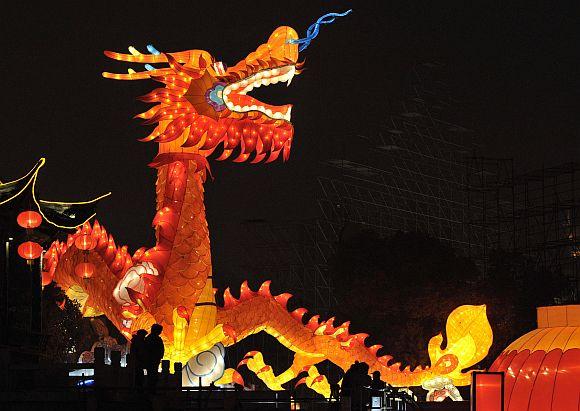 India's ties with China are gradually becoming competitive, with a sentiment gaining ground among Indian policy elites that China is not sensitive to India's core security interests and does not acknowledge its status as a global player, says .
Land at the centre of Khaps woman-centric marriage codes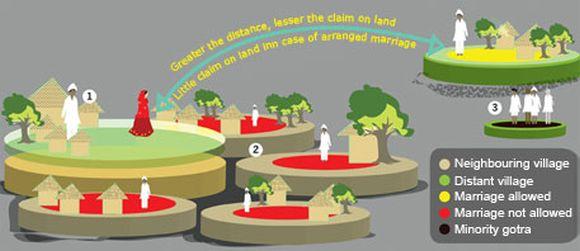 Khap panchayats oppose marriage in same gotra to control landholdings, writes
'Fight against corruption is always against ruling party'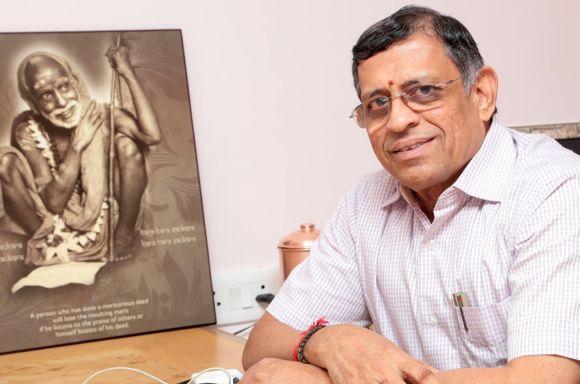 In the second part of an exclusive interview to rediff.com's , S Gurumurthy talks about why he found Bharatiya Janata Party president Nitin Gadkari "morally and legally clean".
November 21, 2012
IN PICS: India reacts to Kasab's hanging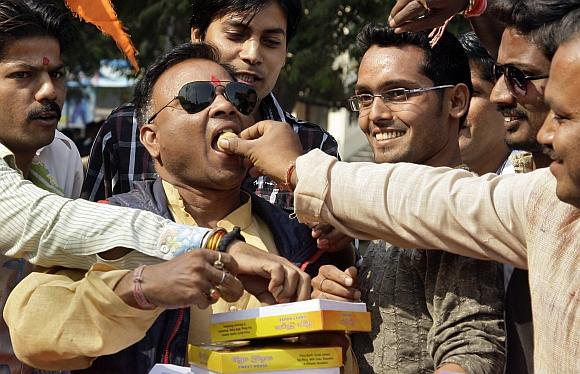 The execution of Mohammad Ajmal Amir Kasab in the wee hours on Wednesday has been welcomed by people from all over India. After nearly a four-year-long legal battle, , the Supreme Court had confirmed the death penalty awarded to the Lashkar-e-Tayiba operative by the trial court and later upheld by the Bombay high court.
'First among game changers for 2014 elections'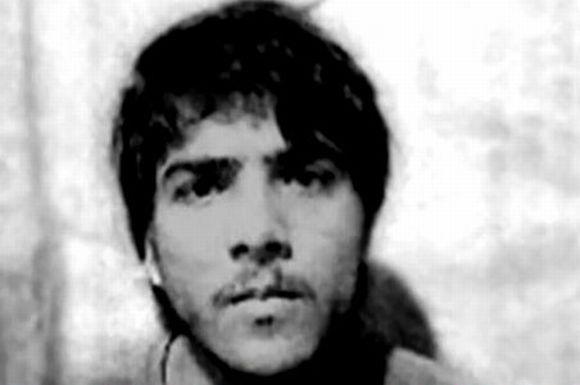 Kasab's execution is part of the government's effort to demonstrate how it will deal with issues of national security strongly, political journalist Rasheed Kidwai tells Priyanka.
'Only God can decide if hanging Kasab was right or wrong'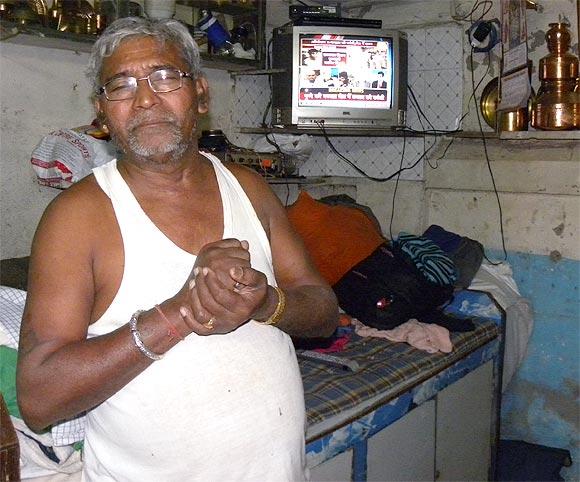 Father of a GT Hospital sweeper, who was killed by Ajmal Kasab on the night of November 26, 2008, says he never expected the terrorist to be executed.
Alert sounded after Kasab's execution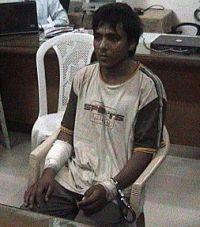 An alert has been sounded across the country following terrorist Ajmal Kasab's execution.
I did right, no regrets, Kasab had said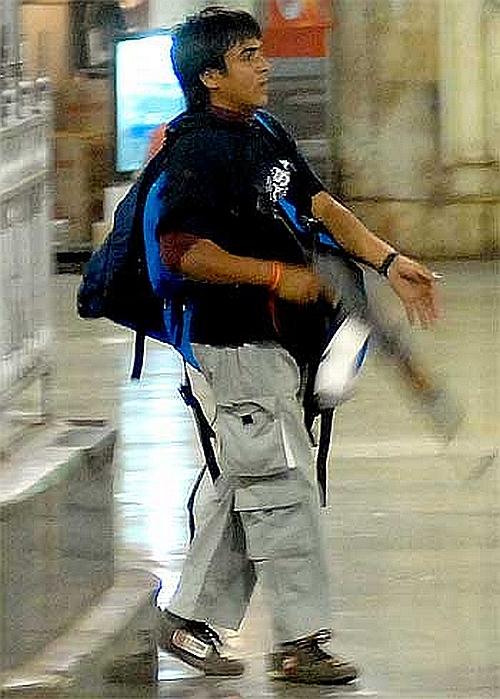 A slight figure in cargo pants and sneakers and a blue sweatshirt, gun-wielding Ajmal Kasab was the face of the horrific Mumbai terror attack and the key to unravel the conspiracy hatched in Pakistan.
'Would have been happier if Kasab was hanged publicly'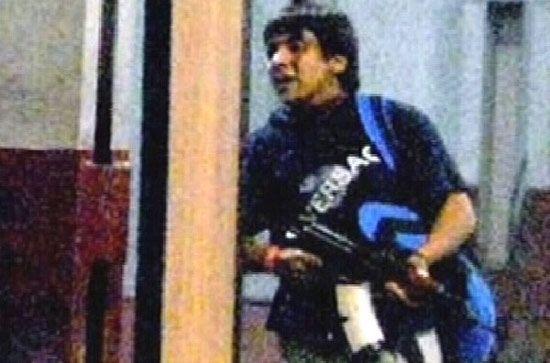 Survivors of the 26/11 Mumbai terror attack have expressed happiness over the hanging of Ajmal Kasab, the sole surviving terrorist from the 26/11 terror attack.
What Kasab said after 26/11: 'We were meant to die here'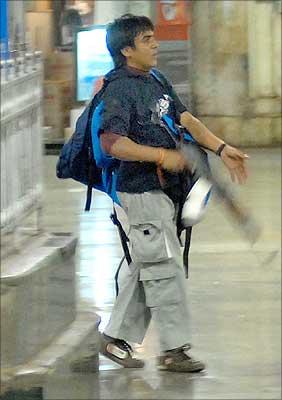 In the first of a five-part series in March 2009, rediff.com brought to you an exclusive excerpt written by journalist Ashish Khetan detailing the initial interrogation of an injured Ajmal Kasab, the only surviving terrorist, in the early hours of November 28, 2008, even as the siege continued at the Taj Mahal and Oberoi-Trident hotels and Nariman House. We reproduce the special
The man who caught Ajmal Kasab alive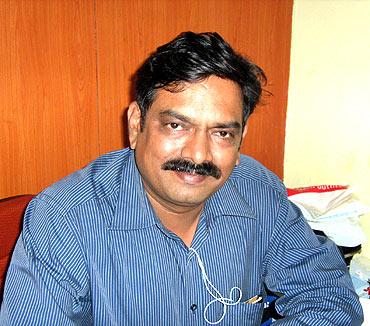 Rediff.com's spoke to Inspector Sanjay Govilkar, who intercepted Ajmal Kasab and his accomplice Ismail Khan when the duo approached them at Chowpatty in their stolen car on November 26, 2008.
November 20, 2012
Israel onslaught has opened the gates of HELL: Hamas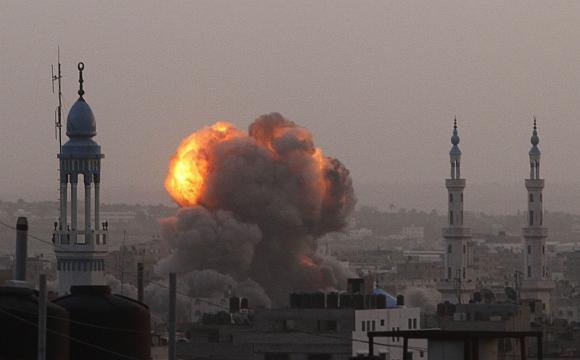 Israel temporarily put on hold a decision on a possible ground invasion of Gaza to give more time to Egypt's truce efforts, but seven days of incessant raids took the Palestinian death toll to 111 amid warnings by Hamas that it won't succumb to Israeli conditions.
Obama, Dr Singh go traditional in Cambodia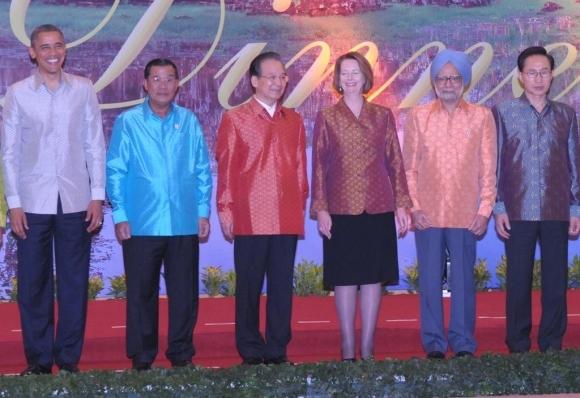 Prime Minister Manmohan Singh skipped his usual attire of pristine white to take part in a photo-op with United States President Barack Obama and the top leaders of Asia.
'Uddhav, Raj should unite for the future of Marathis'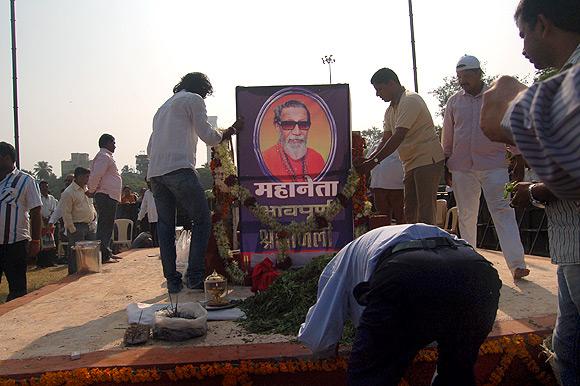 Rediff.com's reports that many want Uddhav and Raj Thackeray to bury the hatchet and form a united front for the betterment of the Marathi manoos
IN PHOTOS: It's an ODD world out there!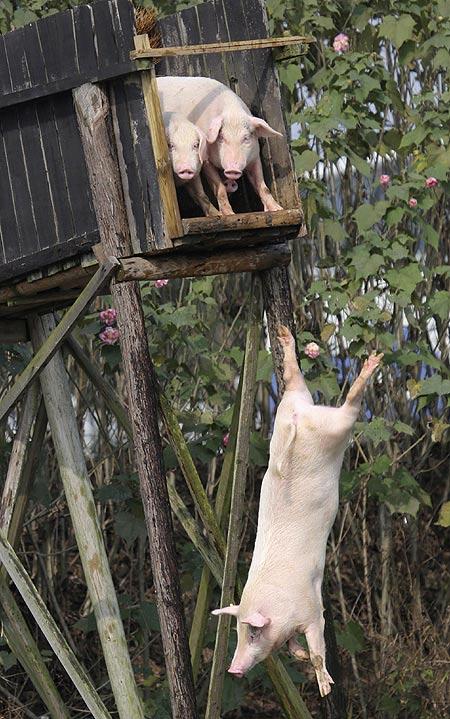 We bring you a collection of some of the odd moments from around the world in recent weeks.
PIX: When LUST got the better of these powerful men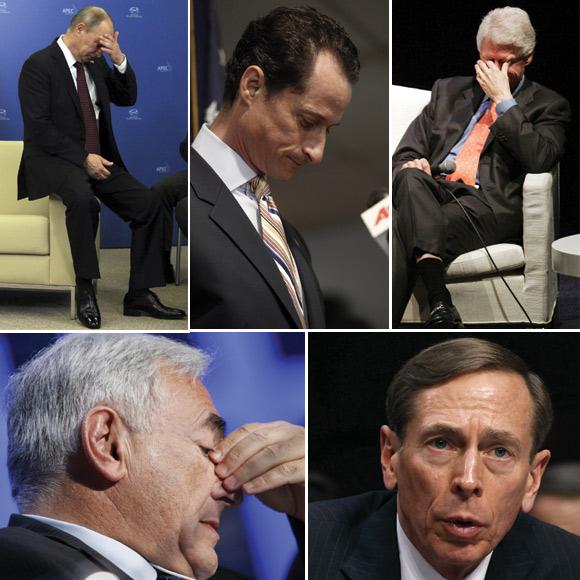 In the wake of the scandal caused by Central Intelligence Agency chief David Petraues's affair, we take a look at some powerful men who thought, mistakenly, that they could have a little extra-marital fun on the side and get away with it!
S Gurumurthy: The man who gave Gadkari a clean chit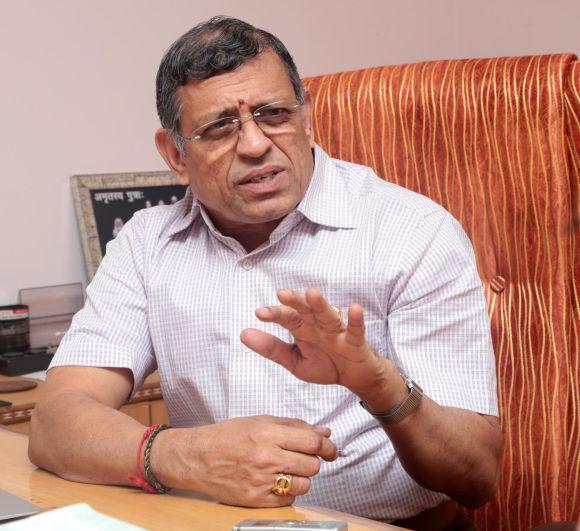 In the first part of this exclusive interview to rediff.com's , Gurumurthy talks about how he, a chartered accountant, became an investigative journalist and a writer.
November 19, 2012
Sibal slams arrest of girls over Facebook post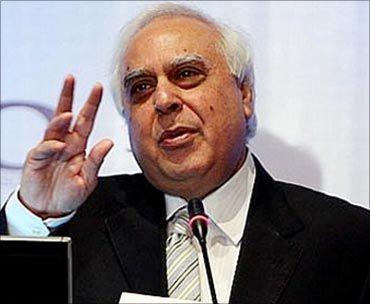 Telecom and IT Minister Kapil Sibal Monday said he was "deeply saddened" by the arrest of two girls over their Facebook post questioning the shutdown in Mumbai for Shiv Sena patriarch Bal Thackeray's funeral and said the IT Act should not be used to "throttle dissent".
In PHOTOS: Uddhav collects Bal Thackeray's ashes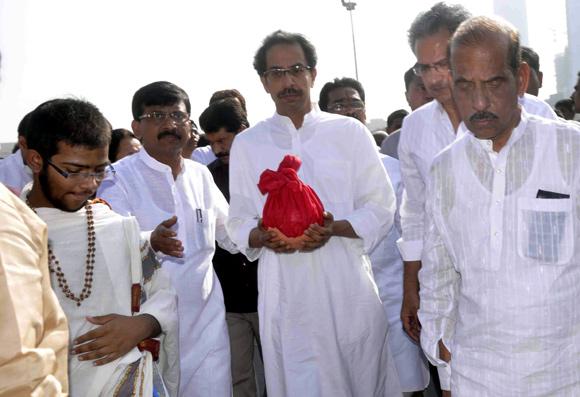 Shiv Sena executive president Uddhav Thackeray on Monday collected the ashes of his father and Sena supremo Bal Thackeray in two urns at Shivaji Park in Mumbai.
PHOTOS: Catching a glimpse of an era coming to an end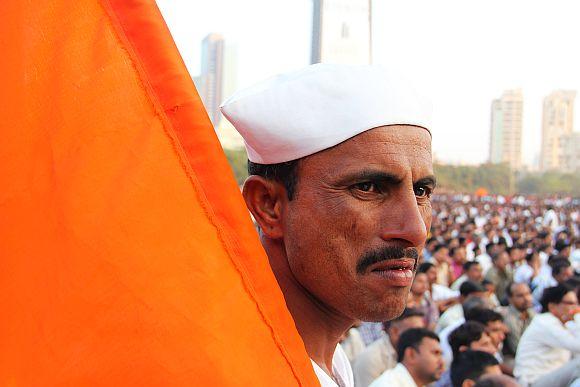 Rediff.com's Uttam Ghosh captured some candid moments on his camera.
Fond moments: When Obama met Suu Kyi during Myanmar trip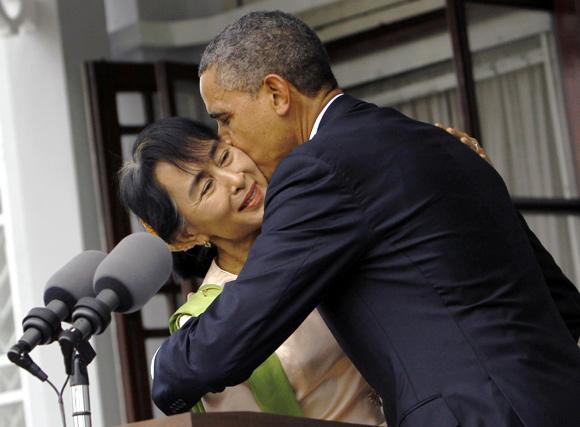 US President Barack Obama staged a historic meeting with Myanmar opposition leader Aung San Suu Kyi as he became the first American president to visit the nation. Here are some candid moments from Obama's landmark visit.
Video: Fire in Delhi high-rise; guard charred to death
The blaze was reported from the 15 storeyed building, which is around 50 metres high, on K G Marg near Connaught Place at around 6:20 AM and 32 fire tenders were rushed to the spot to douse the fire.
'Muslims in Andhra Pradesh will NOT vote for Congress'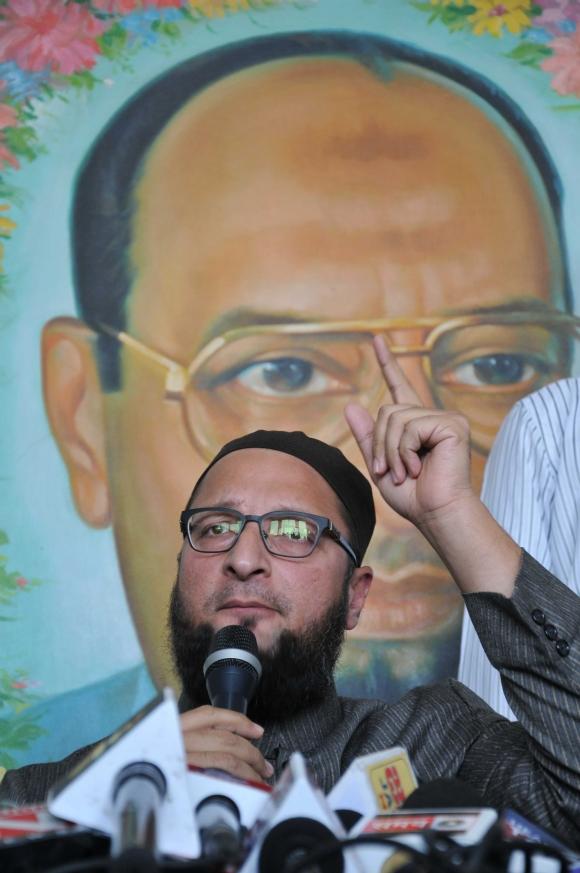 In a freewheeling interview to rediff.com's , Owaisi explains what went wrong between the Congress and the MIM and lays out his future plans.
PIX: Sunita back on Earth after setting space record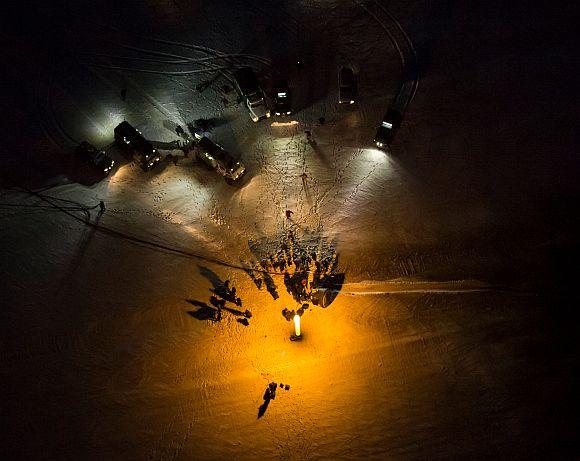 Record-setting Indian-American Sunita Williams along with two fellow astronauts safely returned to Earth on Monday from the International Space Station, touching down on the steppes of central Kazakhstan, after spending four months in orbit.
In PHOTOS: Different strokes of Bal Thackeray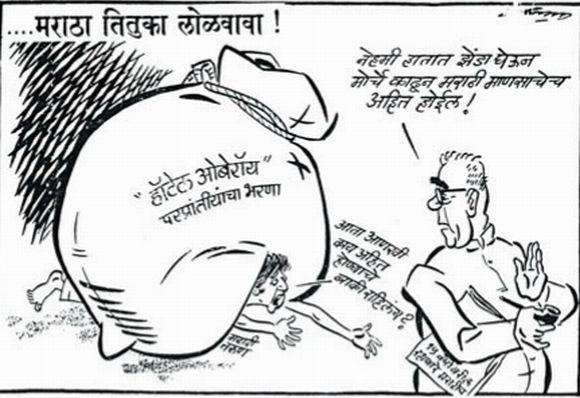 Rediff.com showcases some of the cartoons drawn by late Shiv Sena supremo Bal Thackeray
November 18, 2012
'Saheb's darshan was only meant for big leaders'
Thousands of ordinary Shiv Sainiks poured in from different parts of the Mumbai and state on Sunday for a last glimpse of their ultimate leader -- but many of them were left disappointed at the end of it all. reports from Shivaji Park, Dadar.
VIDEO: Bal Thackeray's final journey
The final journey of Shiv Sena supremo Bal Thackeray, from his residence Matoshree in Bandra to the cremation ground at Shivaji Park in central Mumbai, was an event the city will not forget anytime soon.
PHOTOS: Politicians, actors at Bal Thackeray's funeral
A stream of eminent personalities from politics, films and corporate world reached the historic Shivaji Park ground in Mumbai to attend the last rites of Shiv Sena supremo Bal Thackeray.
Photos: Raj, Sainiks break down as Thackeray laid to rest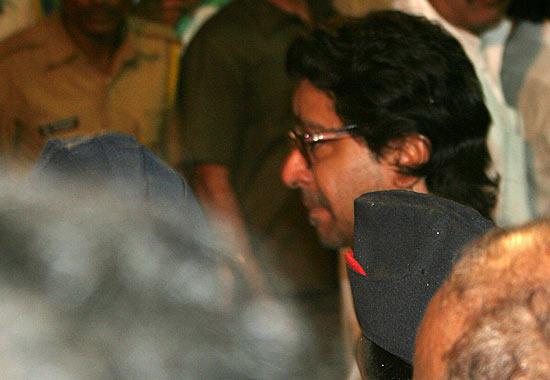 Rediff.com's Prasanna D Zore and Satish Bodas capture the most moving moments at Shivaji Park.
VIDEOS: The last rites of Bal Thackeray
The man often referred to as the 'Boss of Mumbai' was cremated in the heart of the city he loved on Sunday evening.
PIX: Sainiks strive for FINAL glimpse of 'Balasaheb'
Lakhs gathered at Shivaji park to watch the funeral of Shiv Sena supremo Bal Thackeray, mainly via giant television screens.
Thackeray's cortege: 'Witnessing history in the making'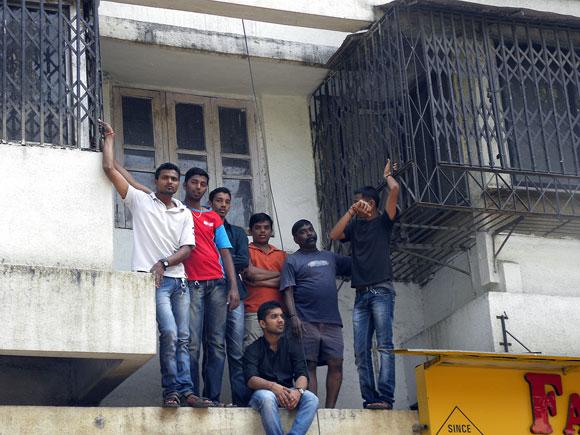 I have never seen such a vast ocean of humanity. And probably never will. It was unforgettable, says Rediff.com's .
Photos: Mumbai stands up for Bal Thackeray, literally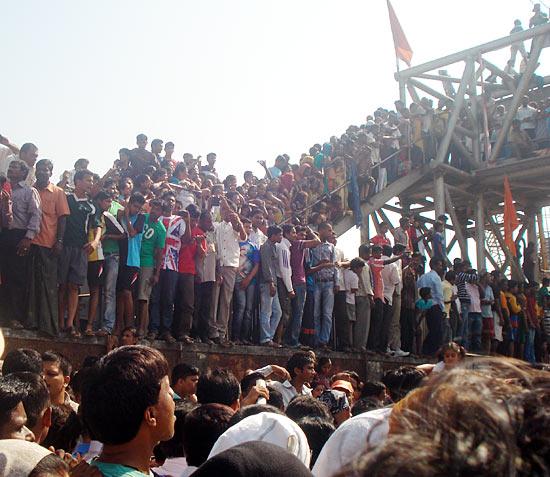 Savera Someshwar captures the mood in Mumbai as lakhs and lakhs of supporters of Shiv Sena chief Bal Thackeray poured on to the streets to bid adieu to their leader.
What will Uddhav Thackeray do next?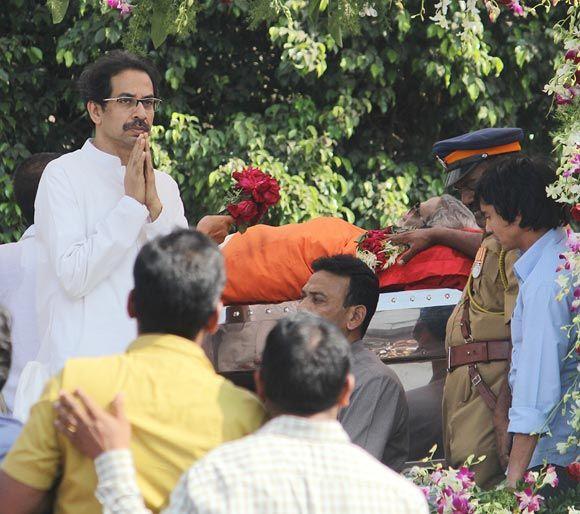 Mumbai has not seen scenes like what it witnessed on Sunday when Balasaheb Thackeray's cortege made its way to Shivaji Park. Will Uddhav Thackeray, Balasaheb's political heir, use this huge surge of support to revive his party's electoral fortunes, wonders Abhishek Mande.
Photos: Supremo Thackeray's final stopover at Sena Bhavan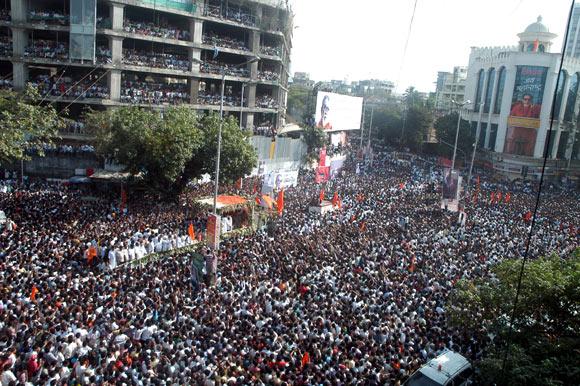 Rediff.com's Sanjay Sawant captures the mood outside the Shiv Sena headquarters
RARE PHOTOS: The life and lines of Bal Thackeray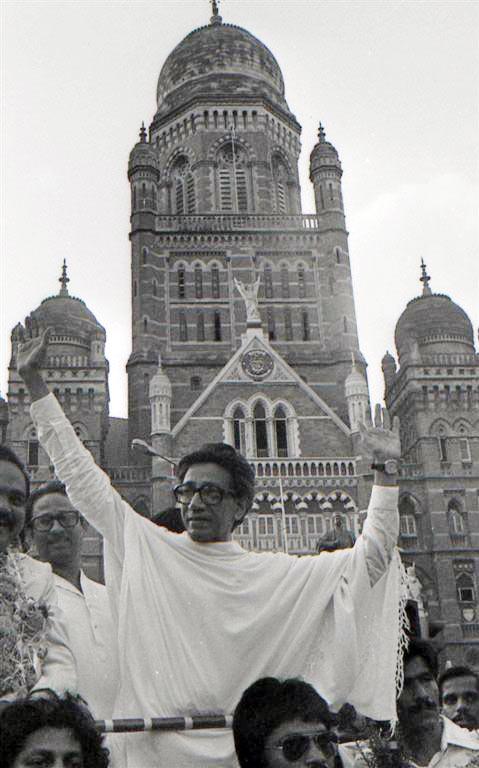 Photographer Gopal Shetty sent us these exclusive vintage photographs of Shiv Sena chief Bal Thackeray, which we reproduce along with quotes from the leader who passed into the ages on Saturday.
PIX: Bidding Thackeray farewell from rooftops, roadsides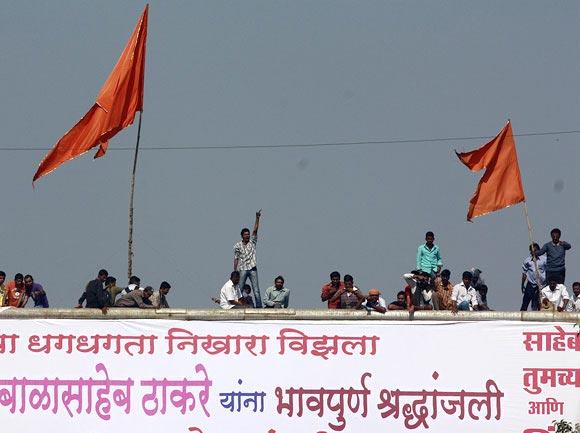 Rediff.com's Vaihayasi Daniel Pande and Rajesh Karkera snap up the way supporters have been paying the respects to Bal Thackeray during his funeral procession
PIX: Mourning Mumbai downs shutters for Thackeray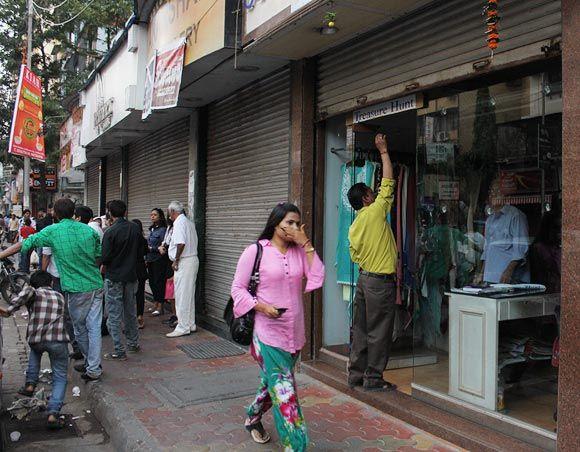 With Shiv Sena supremo Bal Thackeray's body being taken to Shivaji Park in central Mumbai for last rites, the city wore a deserted look as taxis as autorickshaws and private vehicles remained off the roads and shops and other commercial establishments chose to down their shutters.
VIDEO: Pakistanis react to Bal Thackeray's death
As Bal Keshav Thackeray, one of India's most polarising politicians and Shiv Sena chief died on November 17, people in Pakistan expressed hope that his anti-Muslim and anti-Pakistan legacy would perish. Thackeray often referred to Indian Muslims as 'anti-nationals' and called for Hindu suicide squads to counter what he saw as a rise in Islamic terrorism.
PHOTOS: Sombre moments outside Matoshree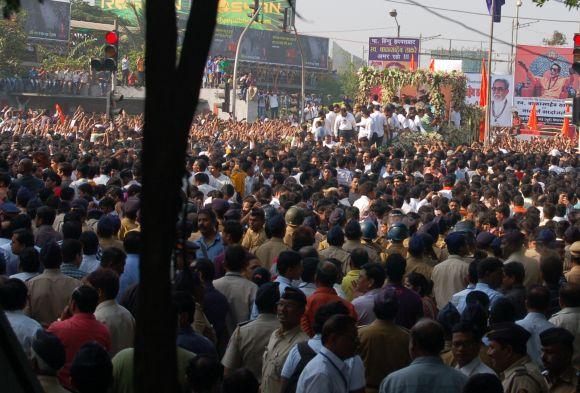 Rediff.com captures these poignant moments as Shiv Sena's tiger began his final journey.
Close-up PHOTOS: Thackeray's last journey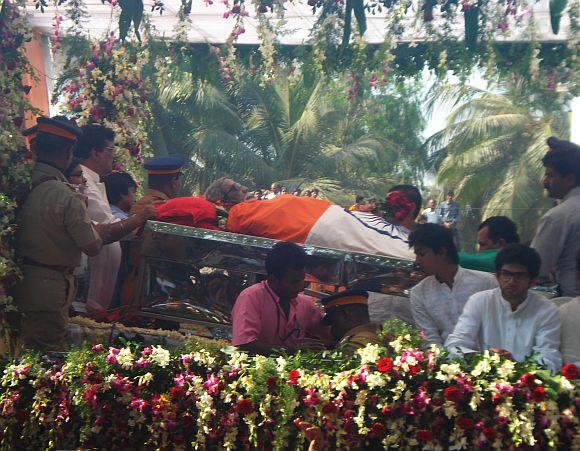 Rediff.com captures the mood of the Thackeray family as Bal Thackeray's final journey continues
End of an era: Bal Thackeray consigned to flames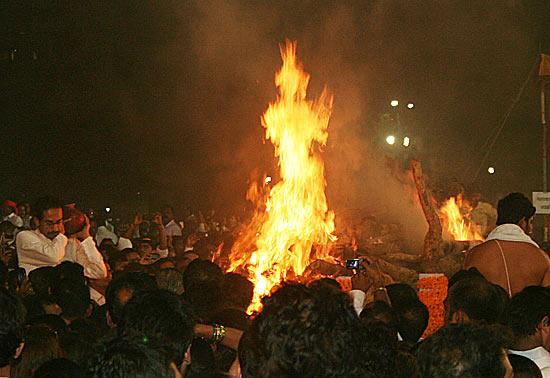 The mortal remains of Bal Thackeray, a Hindutva mascot and flagbearer of Marathi pride, were consigned to flames as lakhs of mourners joined the Shiv Sena founder's grieving family to bid him a tearful farewell, with the city observing a virtual shutdown.
In PHOTOS: The moods and shades of Bal Thackeray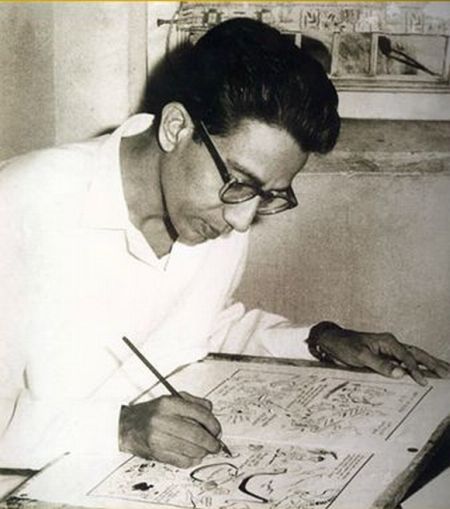 Rediff.com brings to you some moments from Bal Thackeray's life
PHOTOS: Mumbai bids farewell to Bal Thackeray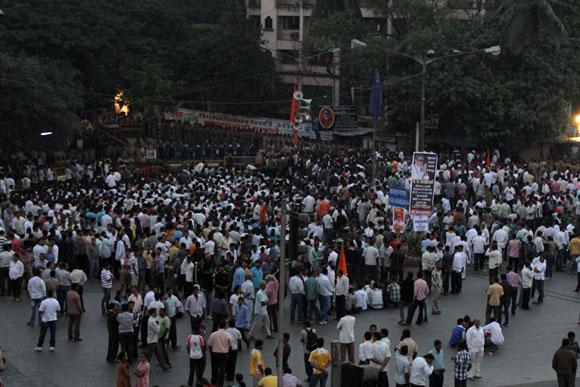 Supporters of late Shiv Sena Supremo Bal Thackeray turned up in large numbers early Sunday morning to pay their last tributes to the leader.
November 17, 2012
PIX: Shiv Sainiks prepare for last salute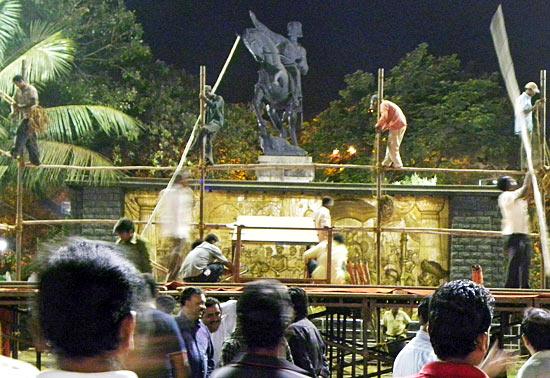 For years Shiv Sena supremo Bal Thackeray has enthralled his supporters with his fiery speeches from Shivaji Park at Dadar, central Mumbai. On Sunday, thousands of mourners will pay their last respect to him at the same ground.
PHOTOS: Mumbai shuts down after Thackeray's death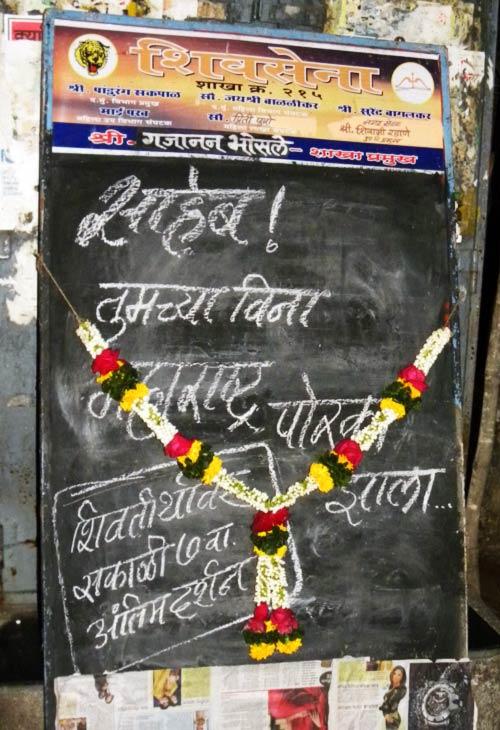 Security was beefed up across Maharashtra, particularly in Mumbai where 20,000 police personnel were deployed, to keep a tight vigil following the death of Shiv Sena chief Bal Thackeray in Mumbai on Saturday.
PIX: Shocked Sena workers rush to Matoshree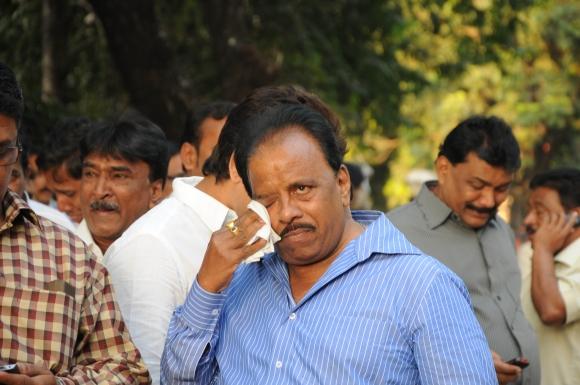 Thousands of Shiv Sena workers headed to Matoshree the residence of late Shiv Sena supremo Bal Thackeray to pay their last respects.
Tributes pour in for Thackeray: 'Maharashtra orphaned'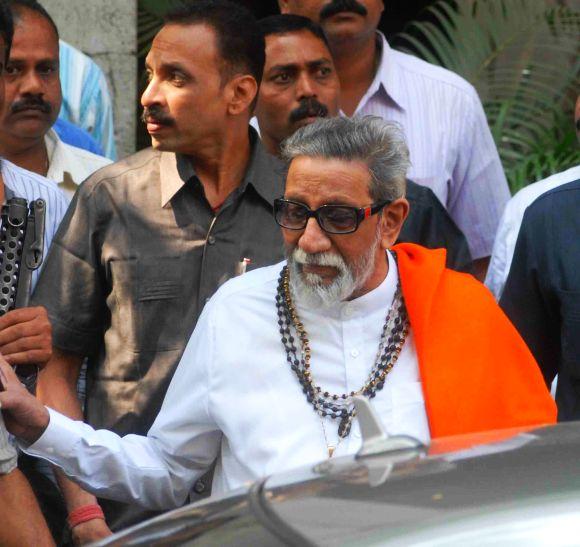 Personalities across the political spectrum and social sphere on Saturday condoled the death of Shiv Sena supremo Bal Thackeray.
Pix: Outpouring of grief at the Thackeray residence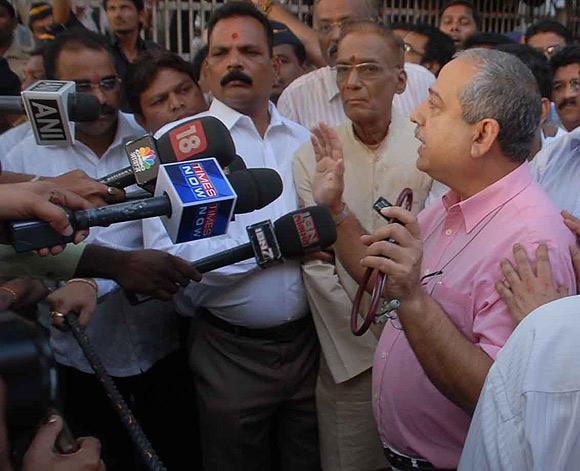 Sorrow and grief descended on the Shiv Sena followers on Saturday afternoon on Bal Thackeray's demise
Balasaheb Thackeray: The Tiger of Maharashtra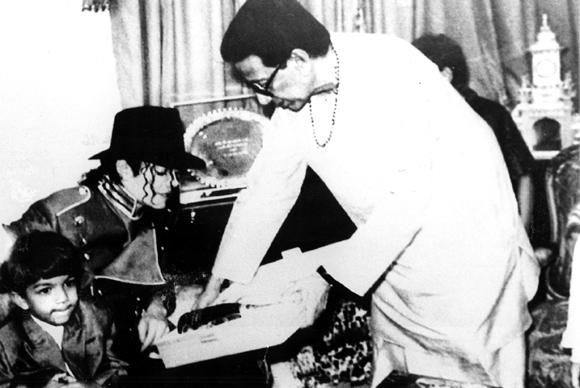 From drawing cartoons with potent messages to etching for himself a larger-than-life image on Maharashtra's political landscape, Bal Thackeray was the mascot of Marathi pride and Hindutva who aroused extreme emotions but could never be ignored.
PHOTOS: Bal Thackeray's wisdom and wit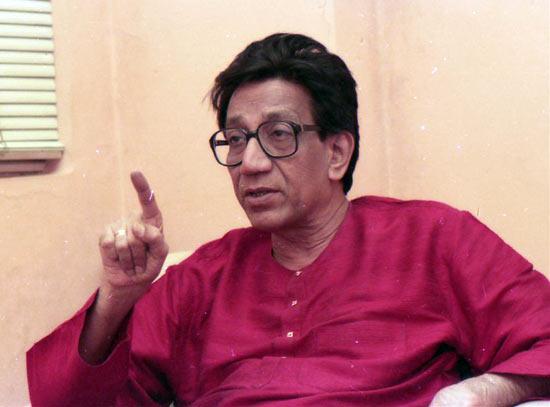 Photographer Gopal Shetty sent us these exclusive photographs of Shiv Sena chief Bal Thackeray, which we reproduce along with quotes from the ailing leader.
'Tiger' Thackeray no more, Maharashtra mourns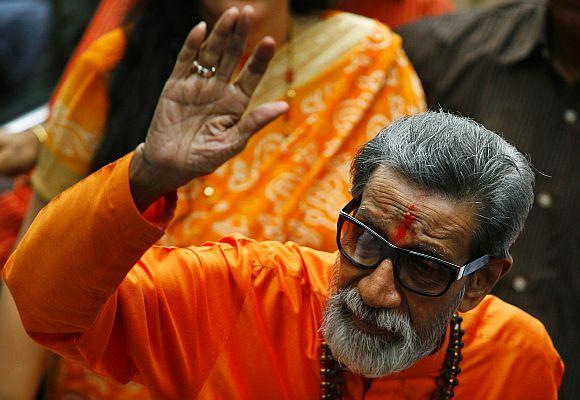 Shiv Sena president Balasaheb Thackeray is no more. After hours of uncertainity, the 86-year-old leader passed into ages, reports stated.
Court summons Digvijaya in Gadkari defamation case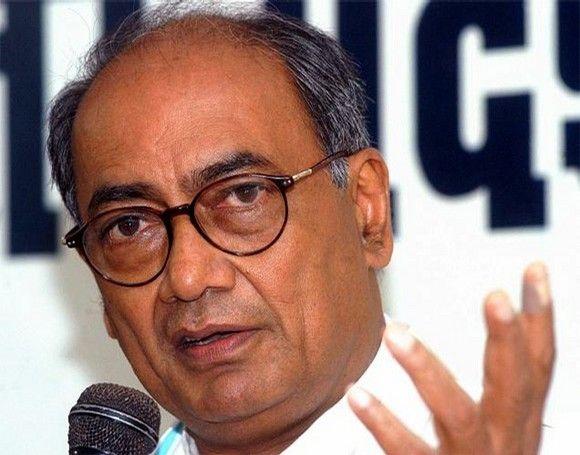 Senior Congress leader Digvijaya Singh was on Saturday summoned by a Delhi court to face trial in a criminal defamation case lodged against him by Bharatiya Janata Party president Nitin Gadkari.
In PHOTOS: Israel air strikes hit Hamas HQ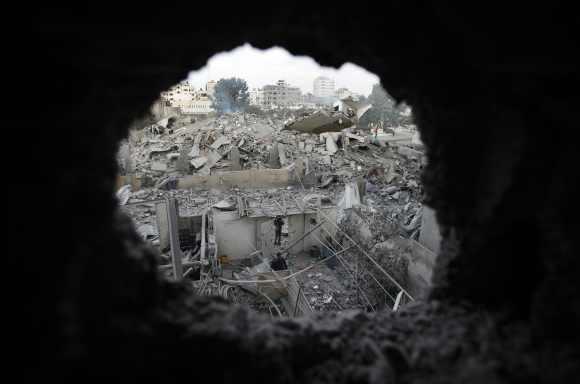 Israeli air strikes targetted the cabinet headquarters of Gaza's Hamas government on Saturday, as the bombardment of the coastal enclave moved into a fourth day.
Watch: The BEST videos of the week
Watch: The BEST videos of the week
Reality hits PM @ dinner; ready to discuss FDI in Parl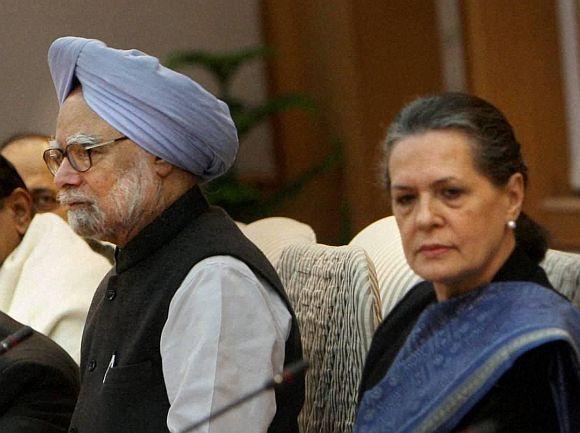 Prime Minister Manmohan Singh on Friday night hosted a dinner for United Progressive Alliance leaders where the Dravida Munnetra Kazhagam is understood to have insisted that government should avoid voting in Parliament on FDI in retail, making clear its reservation on the issue.
November 16, 2012
PHOTOS: Outside Matoshree, a vigil for Bal Thackeray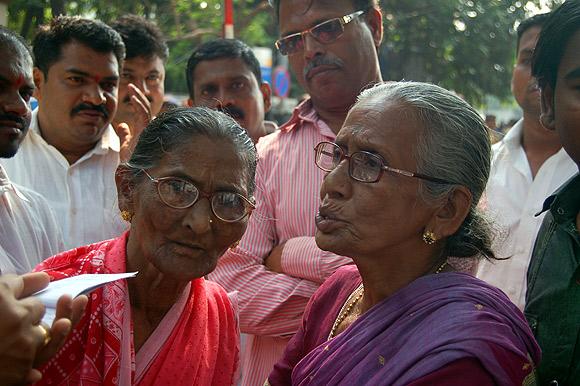 Thousands of people from all walks of life have kept a vigil outside Matoshree -- the residence on ailing Shiv Sena supremo Bal Thackeray -- hoping for some good news about their beloved leader's fragile health.
Opposition doubts Congress LS poll overtures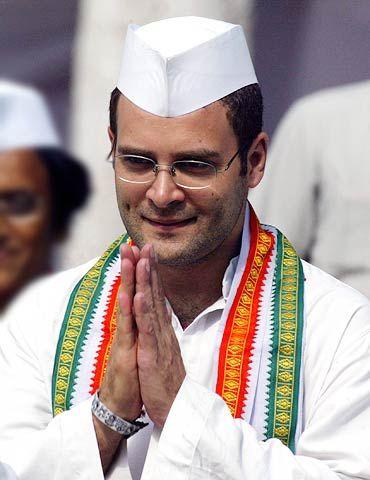 Rahul Gandhi being assigned a major role in connection with next Lok Sabha election has made the Opposition talk of Congress advancing the polls to cut losses, a contention vehemently denied by the party and the government.
Bal Thackeray's health is improving: Sena leaders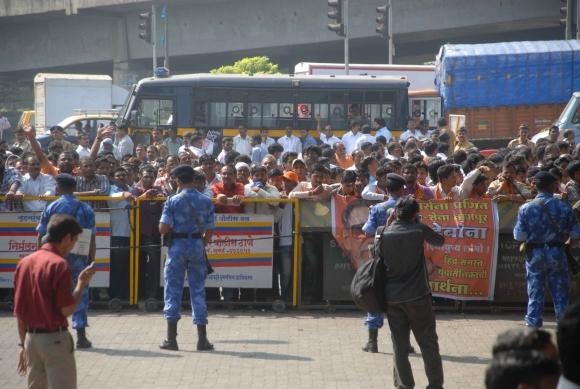 Shiv Sena patriarch Bal Thackeray, who has been taken off life support system, on Friday continued to show signs of improvement with party leaders terming his condition as stable.
PIX: Charminar cordoned off, Hyderabad turns tense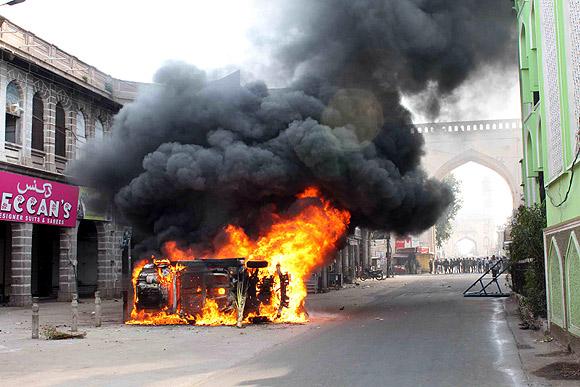 Violence again rocked the old city of Hyderabad after the police barricaded the entire area around Charminar to prevent people from gathering near the monument.
Pix: At Matoshree, Sainiks ask for 'Balasaheb's darshan'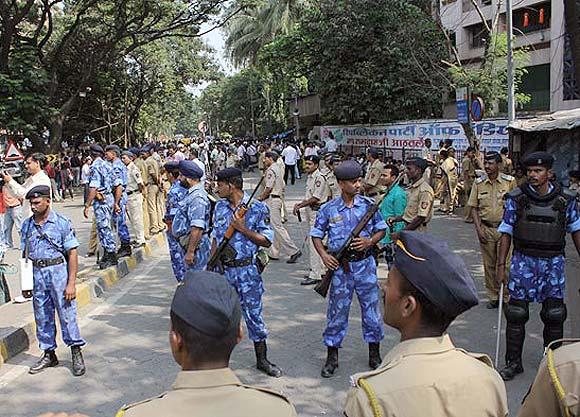 The crowd outside Matoshree has halved, but the slogans have doubled. Cries of "Darshan dya, darshan dya, Balasaheb darshan dya" are at fever pitch. Rediff.com's reports
NRI's death: Outrage for change in Ireland abortion laws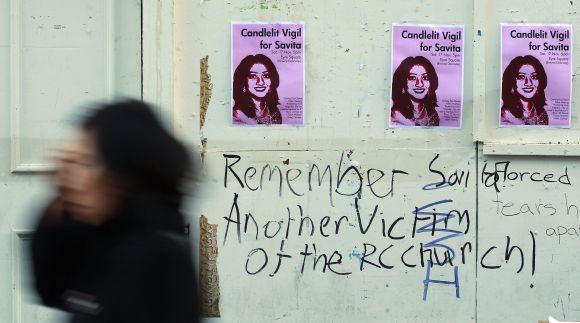 The tragic death of Indian dentist Savita Halappanavar in Ireland evoked global outrage. Irish authorities have announced that they would appoint an independent external expert to probe the matter, so that it could "stand up to world's scrutiny".
CANDID IMAGES: The man who will LEAD China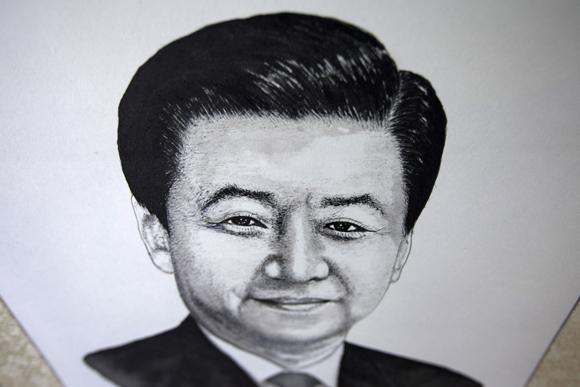 In March 2013, Xi Jinping will officially become one of the most powerful men on the planet, when he takes over the Chinese President's post from Hu Jintao.
November 15, 2012
@ Matoshree: The Sena bike, the priest and the historian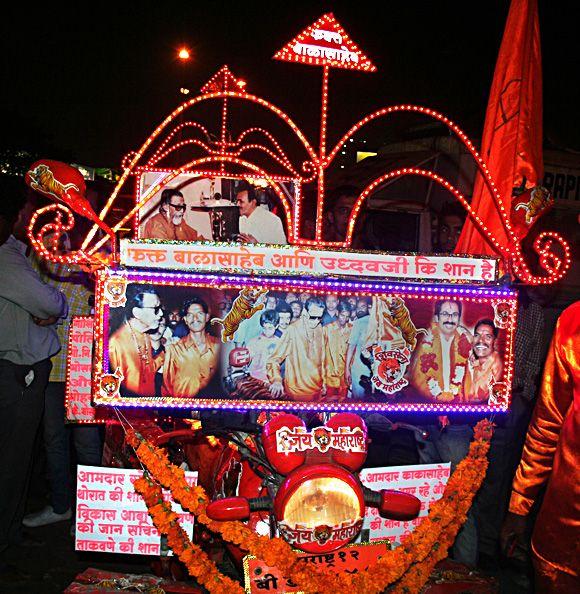 The condition of Shiv Sena supremoe Bal Thackeray, who is critically ill, was showing some improvement, senior party leaders said on Thursday evening.
WATCH: Stars, corporates and Aam Janta at Matoshree
A host of Bollywood stars, industrialists and poiticians visited Matoshree to meet ailing Shiv Sena chief Bal Thackeray. The aam janata was there too.
Rahul will lead Congress in 2014 Lok Sabha polls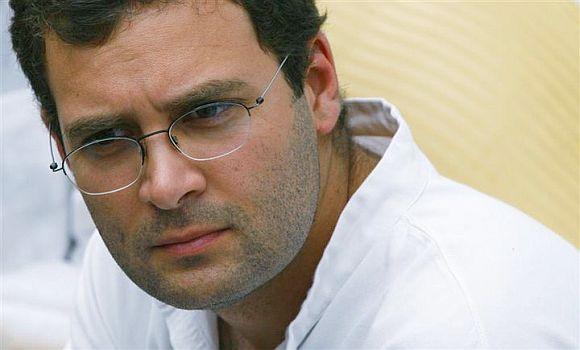 In a move signalling his larger role in the party, Rahul Gandhi was on Thursday made the head of the Congress coordination committee for 2014 Lok Sabha polls.
PHOTOS: Salman Khan, Kapoors visit ailing Thackeray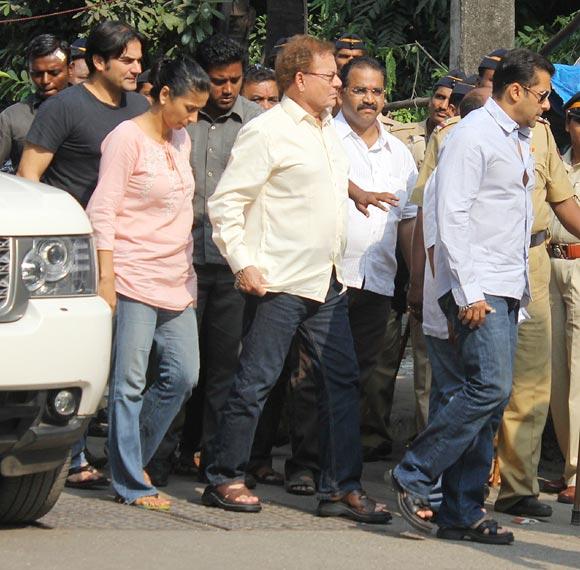 Politicians, actors and people from different sections of society landed up near Matoshree -- the residence of ailing Shiv Sena supremo Bal Thackeray -- on Thursday.
Meet the entrepreneur who donated Rs 110 crore to Shirdi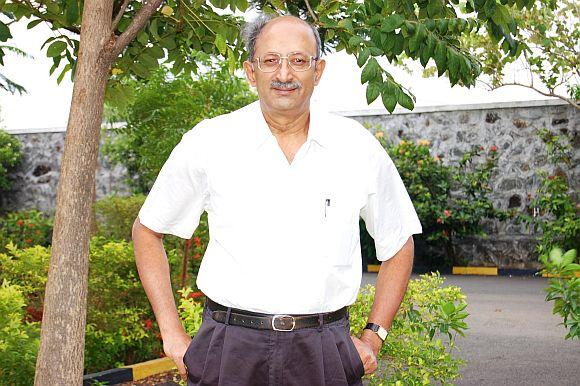 Nasscom co-founder K V Ramani was recently in the news for having built a Sai Ashram for Rs 110 crore and handed it over to Sri Saibaba Sansthan. He talks to rediff.com's
Big B, Abhishek mobbed by fans outside Matoshree
Megastar Amitabh Bachchan and son Abhishek suffered bruises after being mobbed by fans as they went to meet ailing Shiv Sena patriarch Bal Thackeray at his house, 'Matoshree'.
'Corruption, divorce from people main challenges in CPC'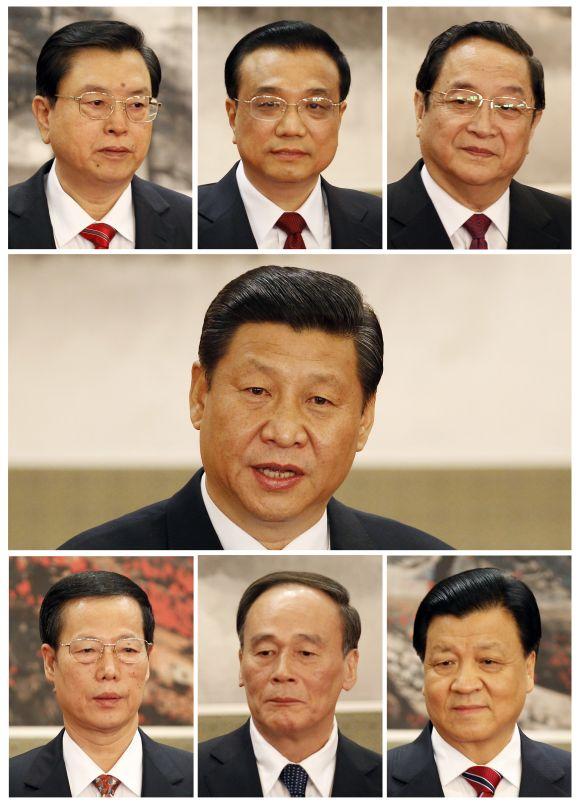 Identifying corruption and the ruling CPC's "divorce" from people among "severe challenges" facing the party, China's new supreme leader Xi Jinping on Thursday vowed to make every effort to address these problems.
US Vice Prez Biden leads White House Diwali celebrations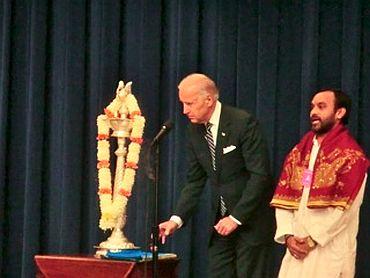 Just one week after United States President Barack Obama's convincing re-election, his faithful Vice President Joseph Biden led the White House celebration of Diwali, reflecting on the significance of festival of lights, and also acknowledging the presence of Tulsi Gabbard, the first Hindu American elected to the US Congress, and also Ambassador Nirupama Rao, who like Gabbard, seemed to have that gravitational pull in terms of the guests wanting to pose for pictures with them
PHOTOS: Mumbai stays indoors over Thackeray's health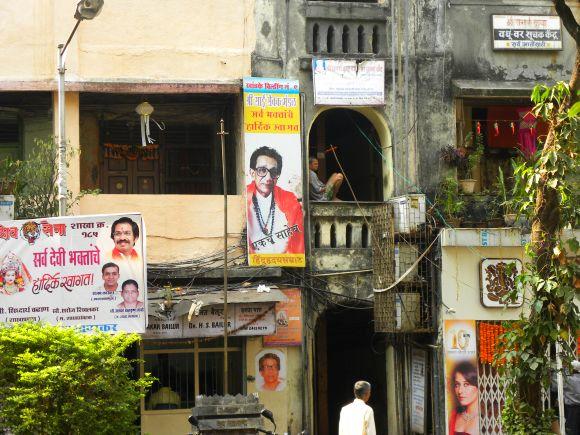 Thursday morning didn't wake up the 'city that never sleeps' as shops largely remained closed with news of ailing Shiv Sena chief Bal Thackeray's critical health condition spreading around.
Thackeray off life support system, security beefed up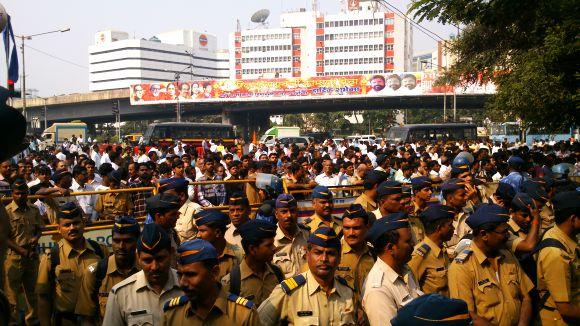 Shiv Sena supremo Bal Thackeray, whose condition turned critical on Wednesday night, is showing signs of improvement and has been taken off the life support system, party spokesman Sanjay Raut said on Thursday.
Tempers flare outside Matoshree, lull at Sena Bhavan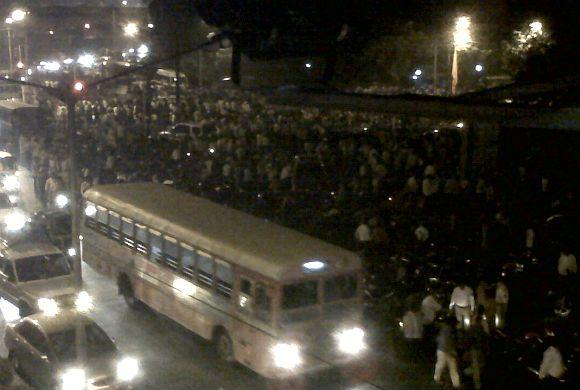 As news of Bal Thackeray's health turning critical emerged, Rediff.com's witnessed contrasting scenes outside Matoshree, the residence of the Shiv Sena chief, and the Shiv Sena Bhavan.
November 14, 2012
PIX: Israel assassinates Jabari, the 'Osama of Hamas'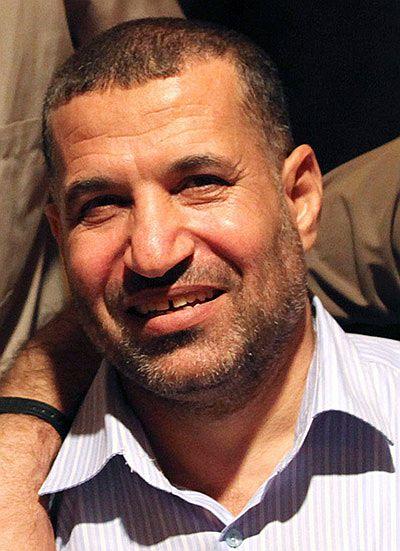 Israel has killed Ahmed Jabari, a top military commander of the Hamas, in an airstrike on the Gaza Strip, bringing the two sides to the brink of a possible new war.
PIX: No austerity please! Protests shut down Europe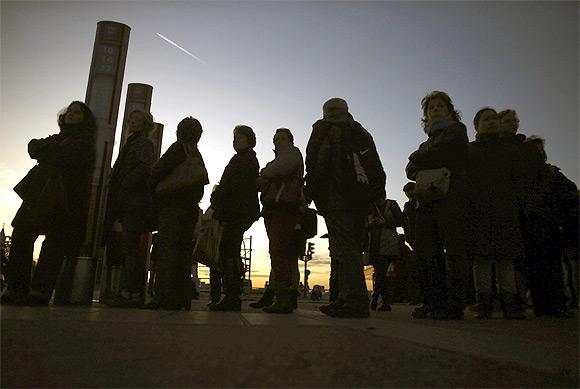 Streets remained deserted and garbage cans overflowed as workers across Spain, Portugal, Greece and Italy went on a 24-hour strike to protest austerity measures and tax hikes.
PIX: Suu Kyi meets PM; pays homage at Rajghat, Shantivan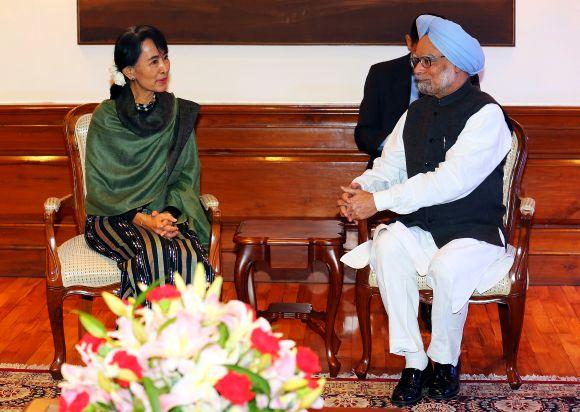 Chairperson of the National League of Democracy of Myanmar Aung San Suu Kyi met Prime Minister Dr Manmohan Singh at his official 7 Race Course Road residence in New Delhi on Wednesday.
'Pak deposition in 26/11 case is plain POSTURING'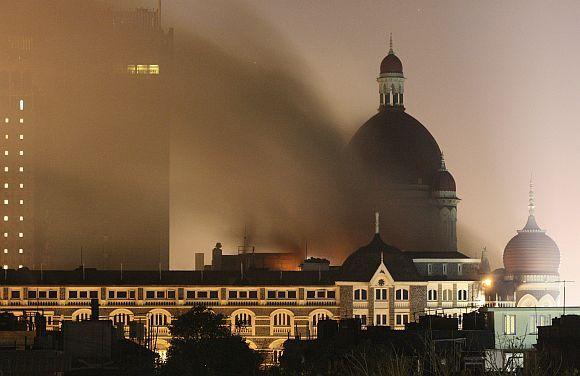 Rediff.com's speaks to a host of intelligence officials in India to know their take on the latest deposition made by six Pakistani inspectors in the 26/11 attacks case.
India & US: Focus on convergence, handle divergence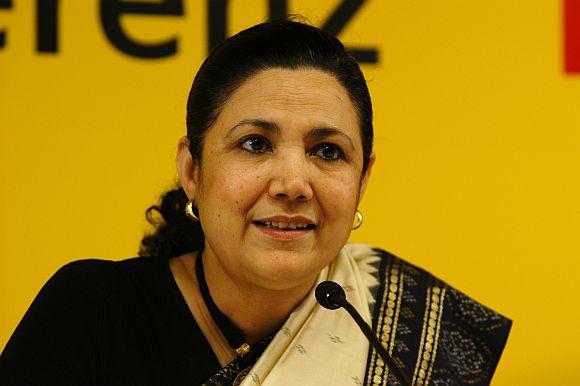 Rediff.com's , who witnessed the historic re-election of Barack Obama as president, talks to former Indian Ambassador to the US Meera Shankar about the future of the ties between the two democracies
PHOTOS: The most POSITIVE countries in the world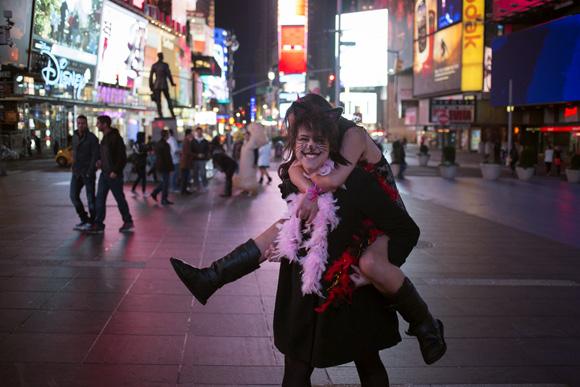 The United States has topped the list of most positive countries of the world this year after taking away the top position from last year's winner Australia.
China CPC set to select its main policy body today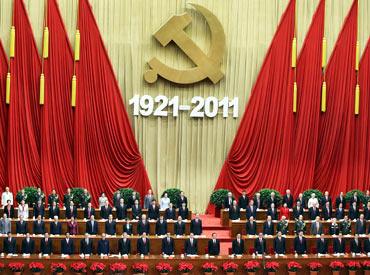 Ending months of jockeying for power, China's ruling Communist Party is all set to select 371 members for its top policy body, the Central Committee on Wednesday at the end of its week-long once-in-a-decade leadership Congress being held in Beijing.
November 13, 2012
Video: India celebrates Diwali with great fervour
Earthen diyas dotted houses and fireworks illuminated the evening sky as people celebrated Diwali decorating their homes with colourful rangolis and twinkling electric bulbs and also exchanging sweets.
Kashmir's LPG supply crisis worsens as winter sets in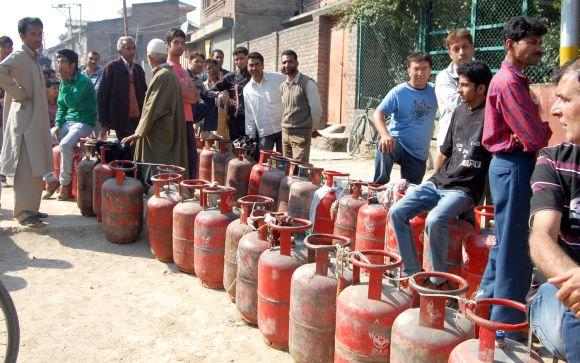 As the state police declined the provincial administration's directive to allow police stations to be used as distribution points for the supply of liquefied petroleum gas cylinders to the consumers, the crisis has only deepened.
Likely SEVEN: Could this be the new CPC leadership?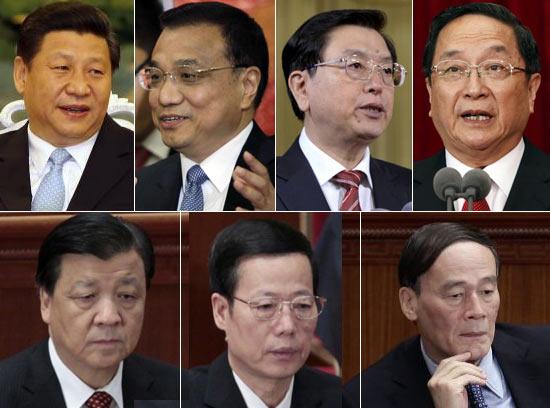 Bio-data of the likely new members of the standing committee of the politburo as taken from Chinese Internet Databases are given below. This is still a speculative list and is not yet confirmed, writes
In PHOTOS: Venice sees worst floods in 22 years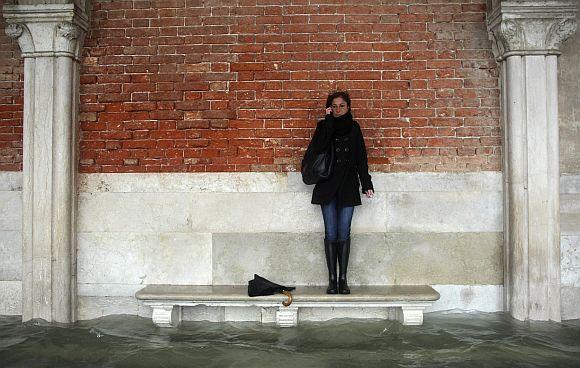 Venice is today literally a floating city.
November 12, 2012
2 countries, 2 Presidents, 1 message on Diwali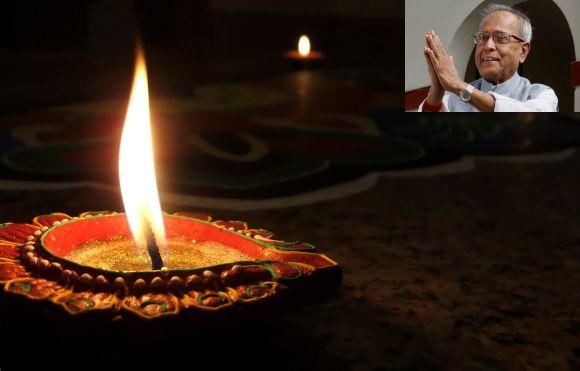 Presidents of India and Pakistan extend Diwali greetings
Obama win: 'We were stunned when the result came in early'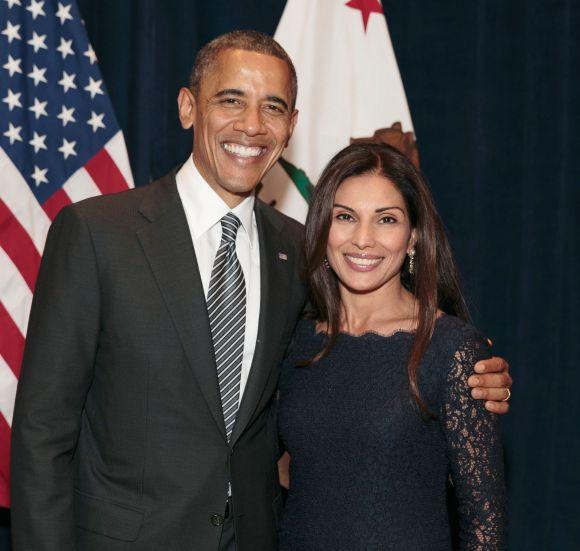 Indian Americans Shalini Kapoor Collins and Shefali Razdan Duggal, who raised millions for Barack Obama, celebrated the victory in Chicago. reports
Special: Legacy of faith in times of Diwali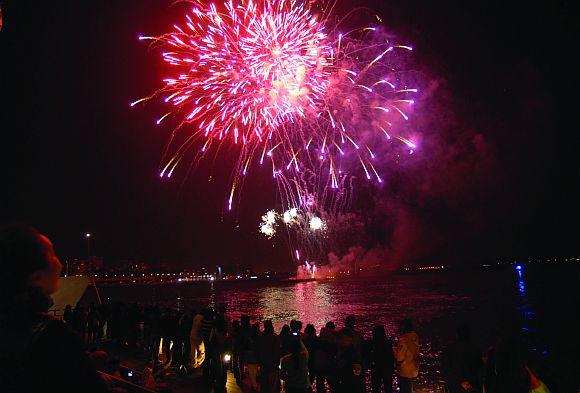 Bringing Indian festivals home for the second generation
Will sue Digvijaya for outraging my modesty: Rakhi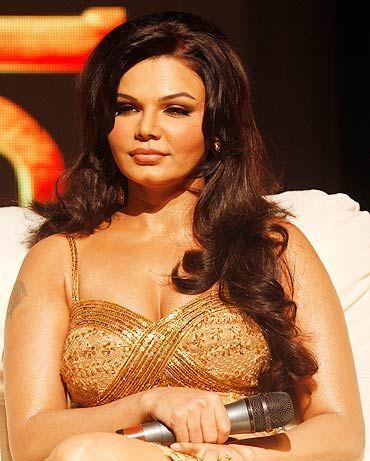 Irked over Digvijaya Singh's remark comparing her to Arvind Kejriwal, Bollywood item girl Rakhi Sawant has issued letters to Mumbai police commissioner and Maharashtra home secretary asking them to book the Congress general secretary for "outraging" her modesty.
No DIRECT evidence of graft against PM: Bhushan
There is no direct evidence of corruption against Prime minister Manmohan Singh, Prashant Bhushan, activist Arvind Kejriwal's aide and senior Supreme Court advocate, admits in an exclusive interview with rediff.com's .
'Cong govt is licking the boots of BJP, Sangh Parivar'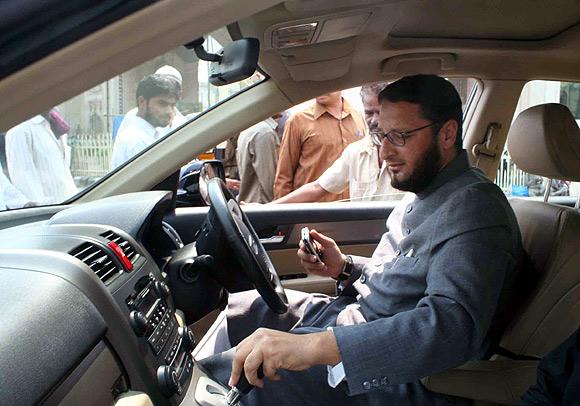 The All India Majlis-e-Ittehadul Muslimeen, an influential political party in Andhra Pradesh, pulled the rug from under the feet of the ruling Congress government on Monday after terming it "communal, a stooge of Sangh Parivar and anti-people".
'Muslims have a higher perception of unfairness'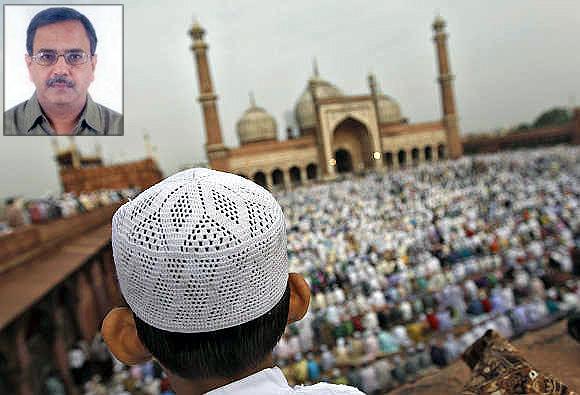 Policies should help Muslims cross the school threshold, says Rakesh Basant, IIM-A professor and author of a study on Indian Muslims
New Obama determined to dismantle nuclear armaments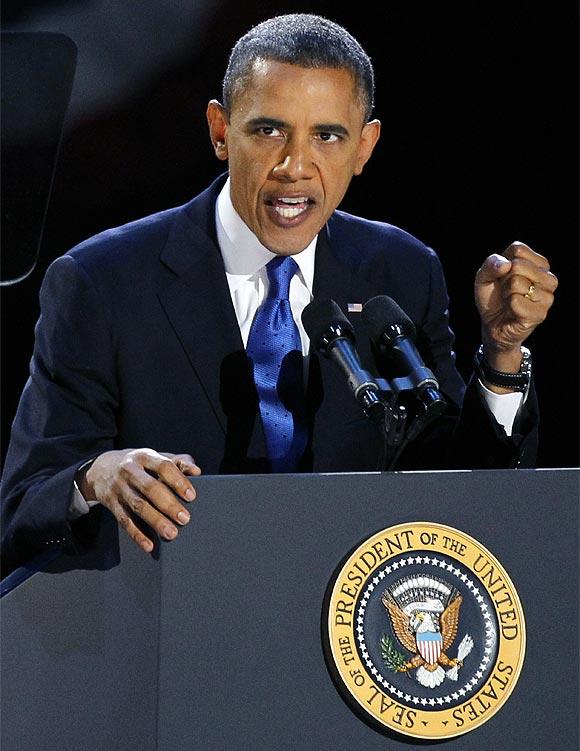 India must prepare itself to sign the Comprehensive Test Ban Treaty with US and the two nations are expected to join hands with Japan to counterbalance China.
Xi's head-start: Hu to step down as China military chief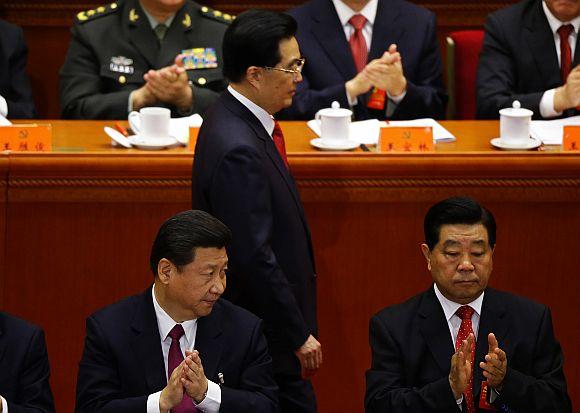 China's new leader in waiting, Xi Jinping will have a surprise head-start to emerge as the most influential leader, as outgoing President Hu Jintao has reportedly decided to step down from all posts including the all-powerful post of the military chief.
Modi behind campaign against Gadkari, says RSS' Vaidya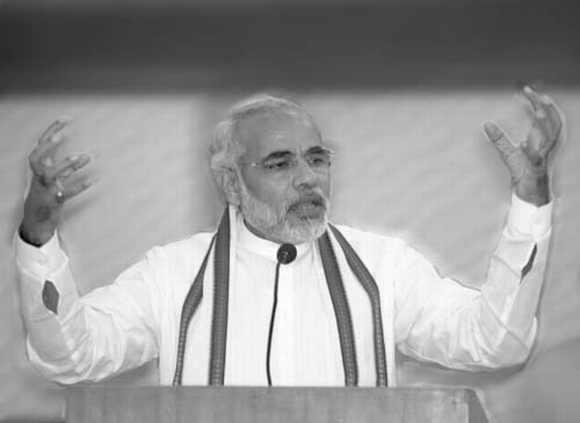 Gujarat Chief Minister Narendra Modi is behind the campaign against Bharatiya Janata Party president Nitin Gadkari, said senior Rashtriya Swayamsevak Sangh ideologue MG Vaidya.
Will Liu Yandong make political history in China?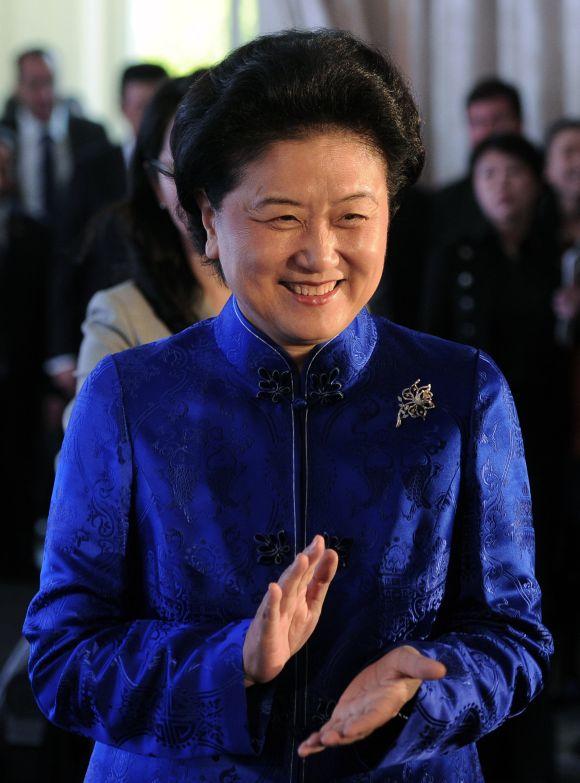 The elite Standing Committee of the politburo consists of the top leadership of the Communist Party of China, but no woman has ever held a post in the committee.
November 11, 2012
PM meets Mayawati ahead of Parliament session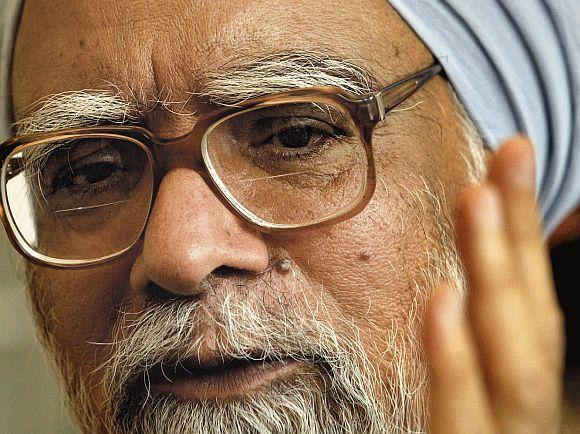 Prime Minister Manmohan Singh on Sunday reached out to Bahujan Samaj Party supremo Mayawati ahead of winter session of Parliament, but she remained evasive on her party's stand on plans by Trinamool Congress to bring a motion against Foreign Direct Investment.
Bihar police removes poster after Big B's tweet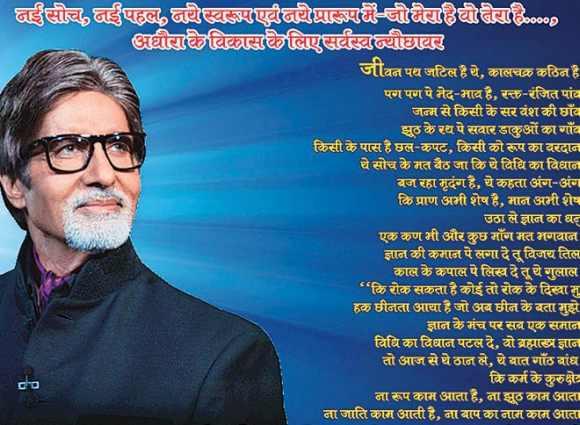 Bihar Police has removed the posters containing Amitabh Bachchan's pictures on Sunday after megastar has threatened to take legal action against them saying the photograph has been used without his consent.
November 10, 2012
A snake won't bite ONLY the neighbour: Karzai on Pak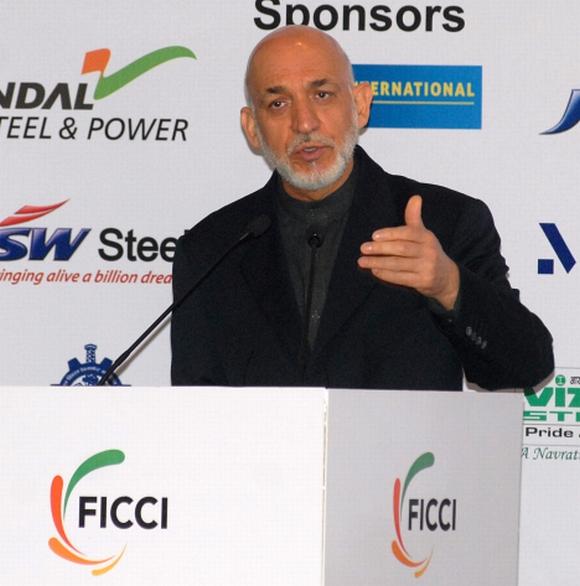 In a candid interview with news channel CNN-IBN, Afghanistan President Hamid Karzai has stated that the earlier Pakistan realises the perils of nurturing terrorists, the better it was for India and Afghanistan. Here are some excerpts from the interview
We NEED a revolution to change the system: Hazare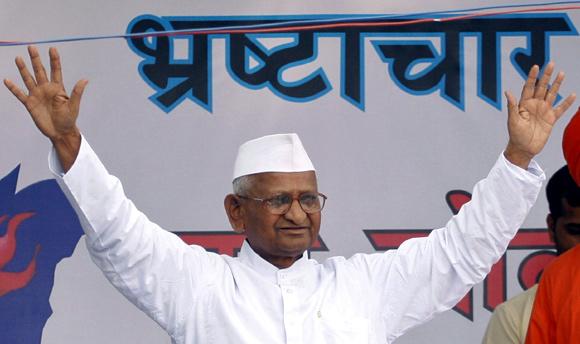 Veteran social activist Anna Hazare on Saturday stated that his movement had not been disrupted because of the split with India Against Corruption chief Arvind Kejriwal.
Pix: Kejriwal supporters protest against Ambanis, detained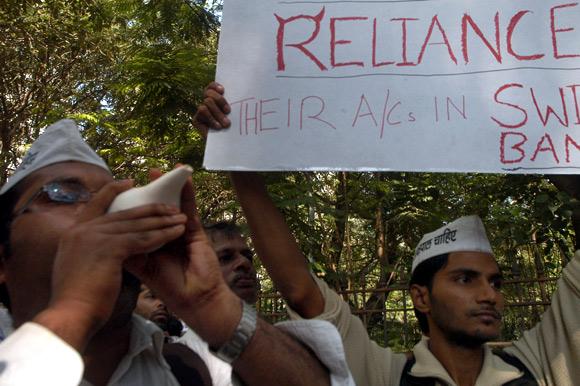 Scores of activists of Arvind Kejriwal's India Against Corruption were on Saturday briefly detained by the police while staging a protest outside the family home of the Ambani brothers in Mumbai to demand a probe into alleged parking of black money by them in a Swiss bank.
I am a big fan of Mamata Banerjee: Shah Rukh Khan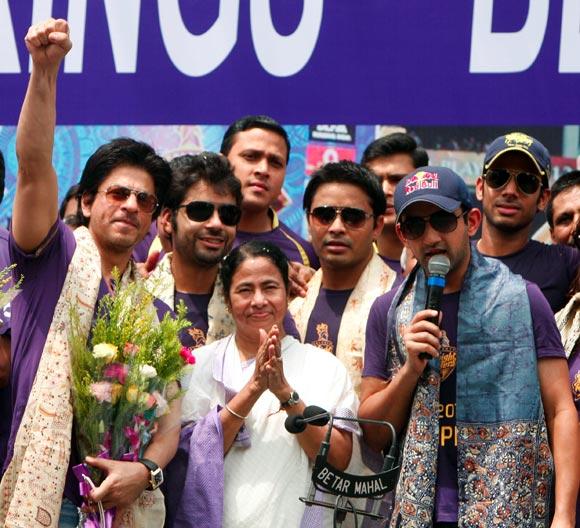 Impressed with the leadership qualities of West Bengal Chief Minister Mamata Banerjee, Bollywood superstar Shahrukh Khan says he is a big fan of hers.
Decoding Hu's speech at Congress: No big reforms in China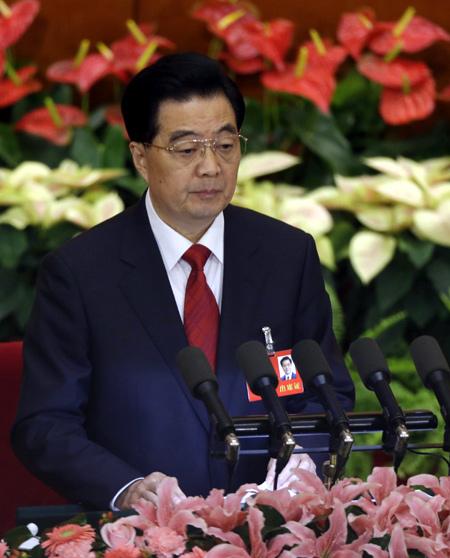 analyses the outgoing Chinese president's keynote address to the once-in-a-decade Congress and his take on corruption, foreign policy and political reforms
IN PHOTOS: How Mumbai gears up for festival of lights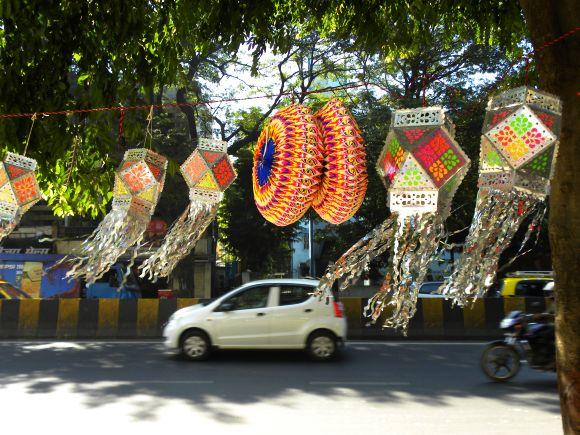 As the city that never sleeps prepares to usher in the festival of lights, captures the celebratory mood on camera.
November 09, 2012
'From where did Kejriwal get info on black money?'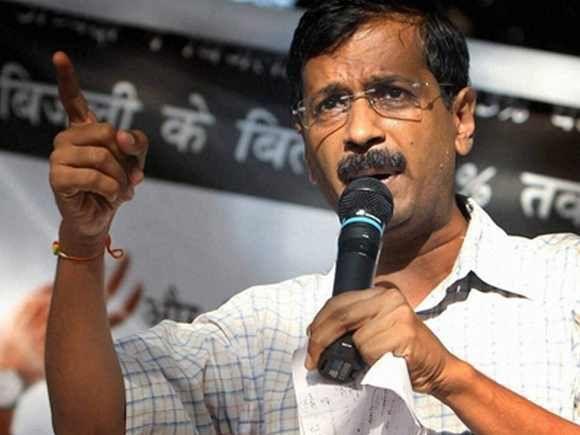 Professor R Vaidyanathan, who has written extensively on the issue of black money stashed abroad, tells Rediff.com's that it's very important for Arvind Kejriwal to reveal his source of information on his latest anti-graft expose.
Karnad's shocker: 'Tagore a second-rate playwright'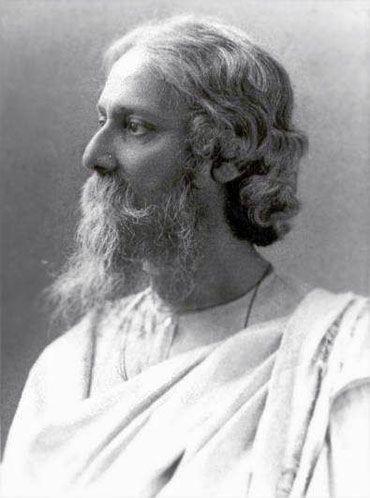 After his public criticism of V S Naipaul, writer-actor Girish Karnad has kicked up a fresh storm by calling Nobel laureate Rabindranath Tagore a "second-rate playwright".
Thackeray's latest: Pak's highest civilian honour for HM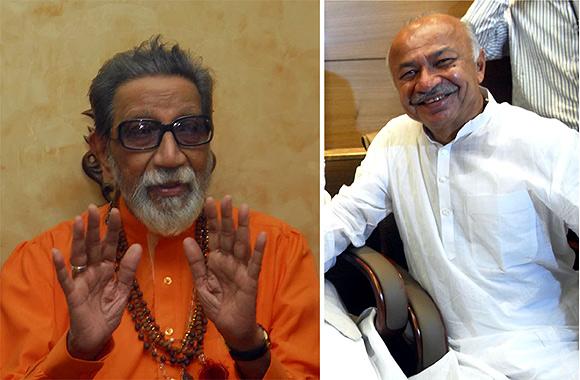 Locking horns with Home Minister Sushilkumar Shinde for promising the "best possible" security to the Pakistani team during the upcoming Indo-Pak cricket series, Shiv Sena chief Bal Thackeray on Friday scoffed at him saying he should be bestowed the title of 'Nishan-e-Pakistan' (Pakistan's highest civilian honour).
Cong opponents trying to grab power at any cost: Sonia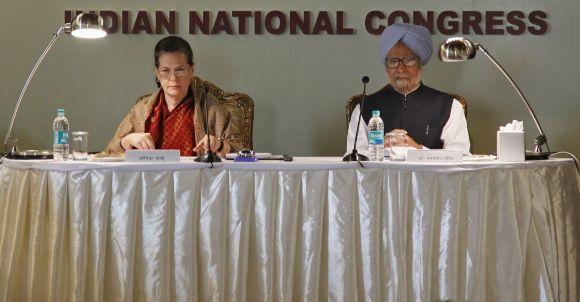 Asking partymen to gear up for the next Lok Sabha polls, Congress President Sonia Gandhi on Friday accused its opponents of attempting to grab power at any cost and called for an aggressive response to their "false propaganda".
FOUR issues China's new leaders will have to sort out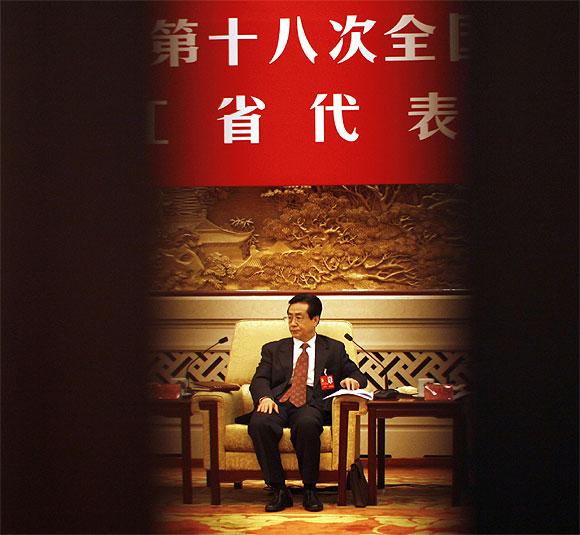 The new leaders will clearly confront large challenges in domestic management, says Kishan S Rana
'Mukesh, Anil, Naresh Goel, Cong MP have Swiss a/cs'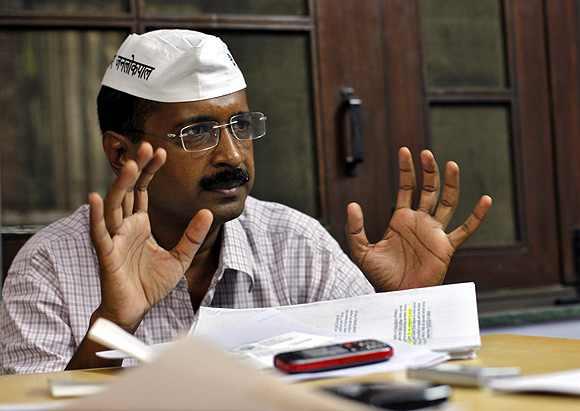 Activist-turned-politician Arvind Kejriwal on Friday took on the issue of hawala money stashed in Swiss bank accounts.
In Bihar, it's Big B versus Maoists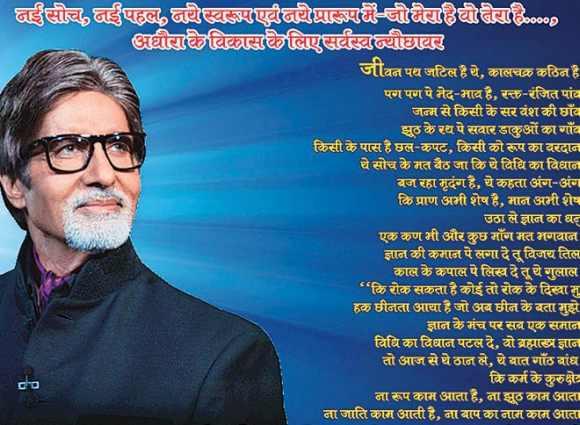 Bollywood's Shahenshah Amitabh Bachchan is Bihar's police mascot in their battle against Maoists -- to lure youths to join the forces instead of the rebels. reports
Obama will have to cross major MINEFIELDS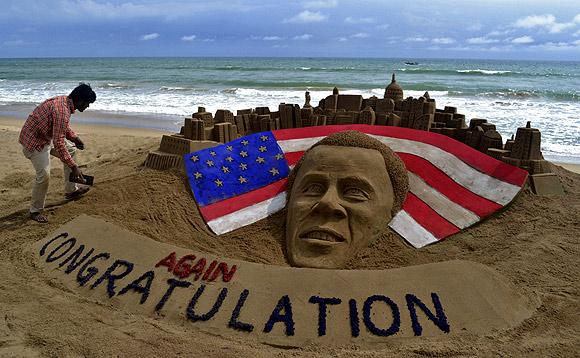 The lack of references to India during the presidential debates showed how inconsequential India is from the point of view of the economy as well as Asia-Pacific tensions, says
PICS: World's COSTLIEST spice blooms in Kashmir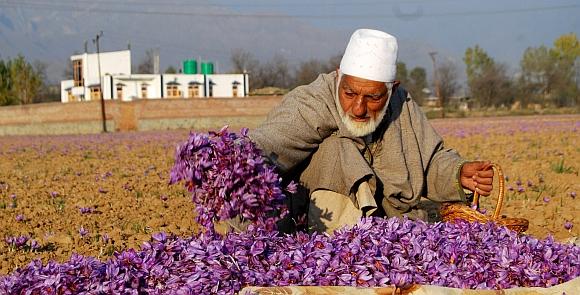 Corms of Saffron, the world's costliest spice are these days in full bloom in the highlands of Pampore, a town 14 kilometres south of capital Srinagar. reports.
The Xi factor: All about China's president-in-waiting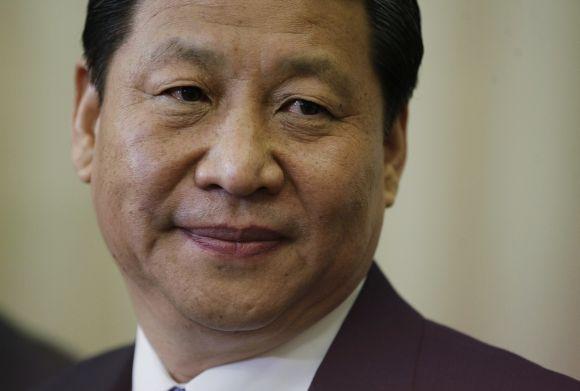 At 15, 'princeling' Xi Jinping was forced to quit luxuries of city life and sent to work in the villages and mountains. Come March 2013, he will be the leader of over 1.3 billion Chinese people. We present the story of China's president-in-waiting.
Cong's Surajkund session to witness party-govt faceoff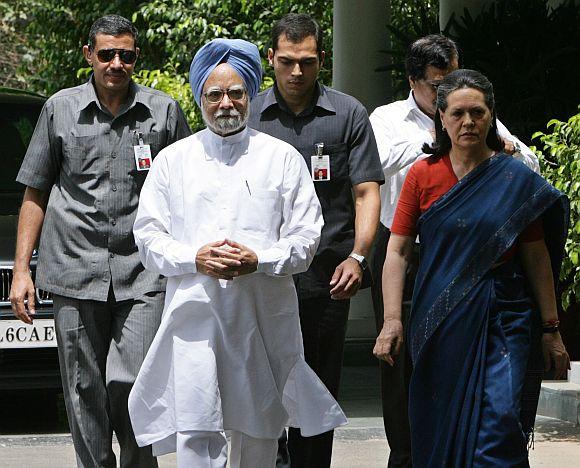 Friday's Samvad Baithak of the Congress at Surajkund in Haryana is set to witness a face off between the party and the government, reports .
November 08, 2012
Inside China's Great Hall: Once-in-a-decade Congress opens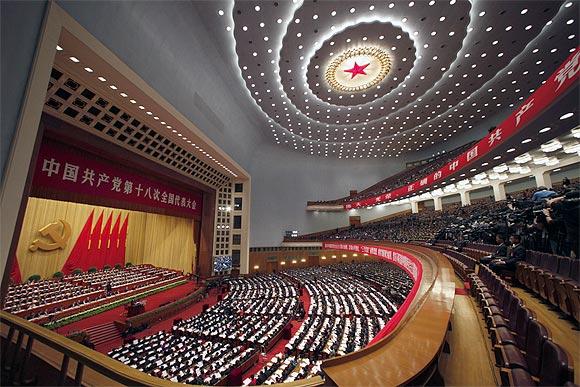 China's ruling Communist Party opens a Congress to usher in a new group of younger leaders. Rediff.com's takes a sneak peek inside Beijing's Great Hall of the People, which hosts one of the most-talked about political event, across the globe.
Do NOT mix sports, politics: Shinde on Indo-Pak cricket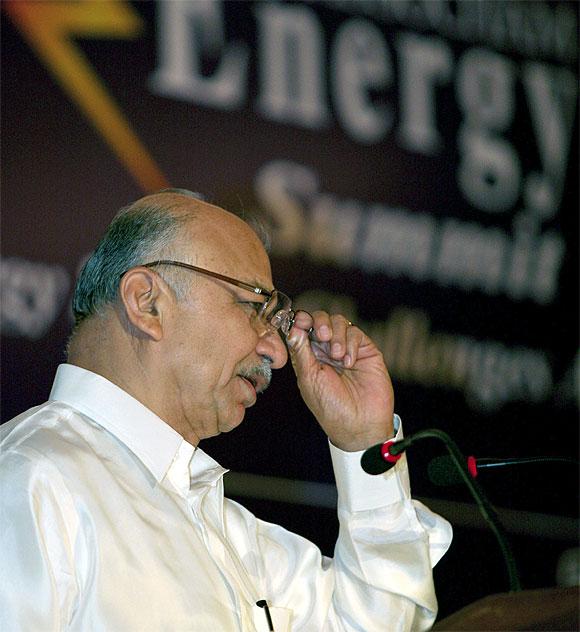 Against the backdrop of Shiv Sena's threat to disrupt the upcoming India-Pakistan cricket series, the central government on Thursday said it would provide the best possible security to players and spectators of the neighbouring country.
Photos: New York battles new storm, 1,700 flights hit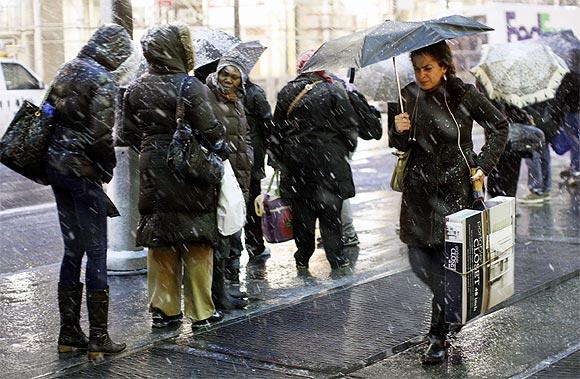 A new storm brought heavy rains, snow and powerful winds to New York and New Jersey, leaving over 1,700 flights cancelled and thousands of residents without power in the United States East Coast, which is still reeling under the devastating impact of hurricane Sandy.
In PHOTOS: The Obamas return to the White House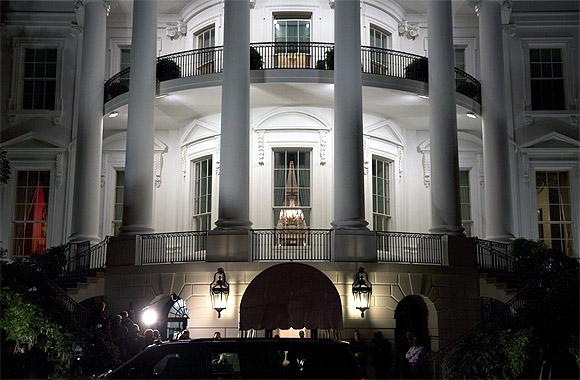 United States President Barack Obama, First Lady Michelle and their two daughters Malia and Sasha have arrived at the White House from his home town of Chicago, a day after his historic re-election.
IN PHOTOS: WORLD celebrates Barack Obama's triumph!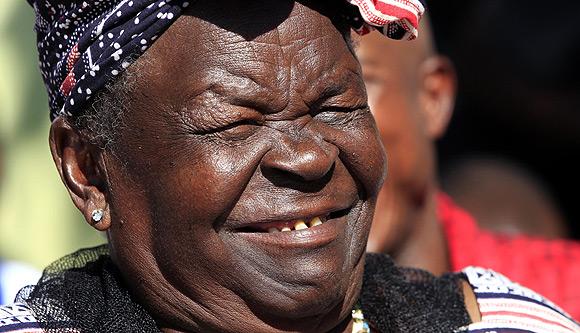 Rediff.com presents a collection of photographs to show how people rejoiced Obama's victory across the world.
IN PHOTOS: The 'LOL' moments of US presidential polls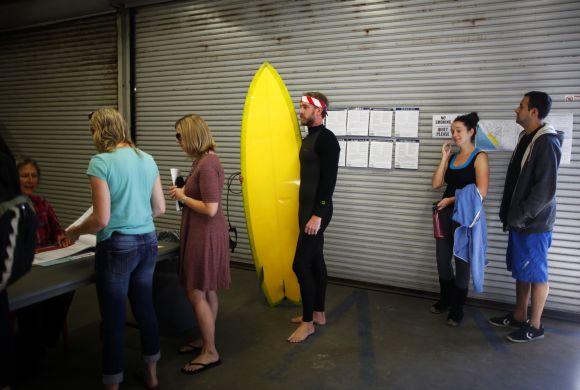 We present a collection of whacky 'laugh out loud' photographs of the election day from across the United States. Enjoy!
PHOTOS: When President Obama videographed me!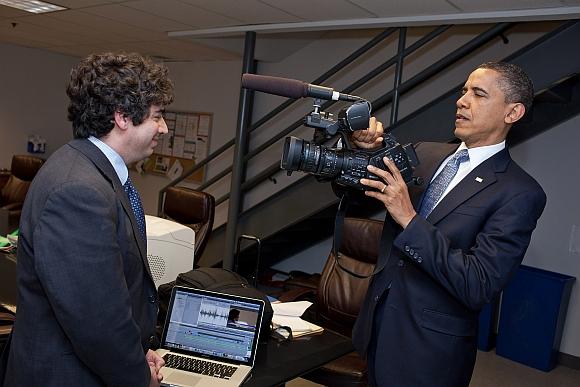 Rediff.com brings you some of the pictures which show the other side of the American president.
I had planned to kill Narendra Modi in 2002: Jundal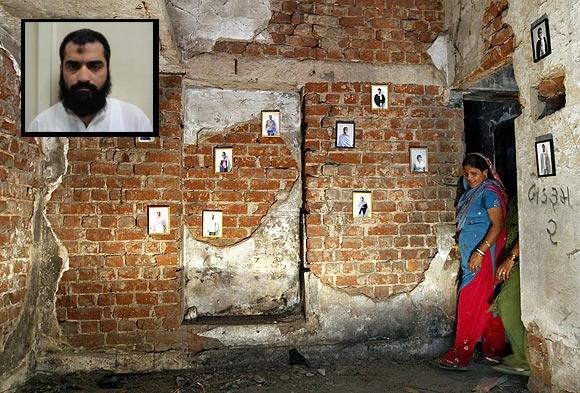 This is what a defiant and talkative Abu Jundal, the Lashkar-e-Tayiba operative and key 26/11 handler who is in the custody of the Gujarat Anti-Terrorism Squad told his interrogators. reports.
November 07, 2012
Hindi and Bengali: Voting in US' most diverse district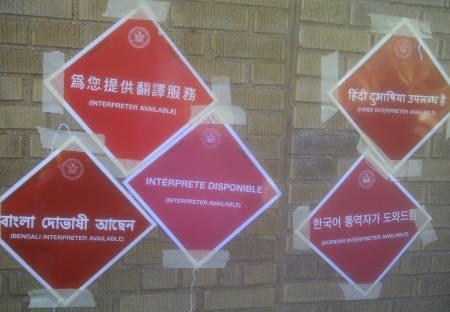 stood for 80 minutes in near freezing temperatures to vote, the longest he has waited in 20 years. All around him, a sea of immigrants anxious to cast their ballot.
IN PHOTOS: America VOTES for its next president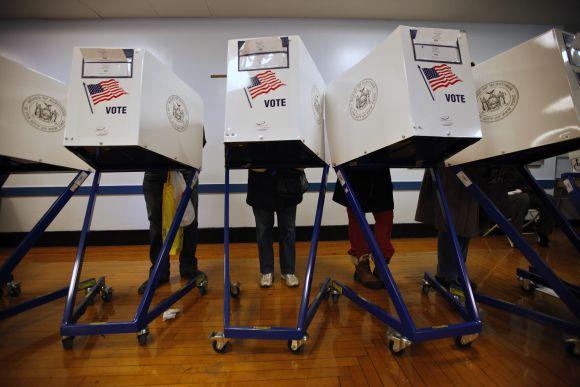 We present a collection of photographs of the polling day hustle bustle in the United States of America.
US polls: 'Tired, people still looking for hope'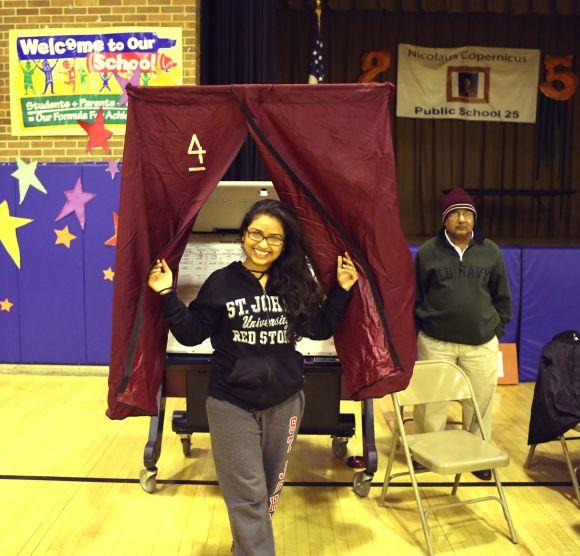 Rediff.com/India Abroad's speaks to scores of Indian Americans in Sandy-hit New York and New Jersey to know their take on the ongoing US presidential elections.
'India NOT a priority for US right now'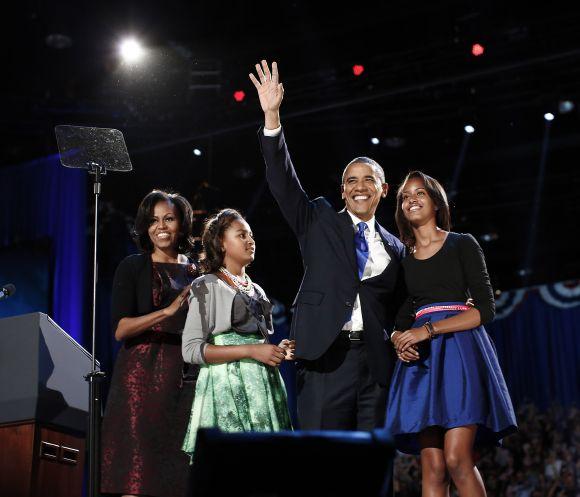 It was said to be a close fight, but as it turned out President Barack Obama effortlessly went past the challenge posed by his Republican challenger Mitt Romney.
What Obama has in common with these Presidents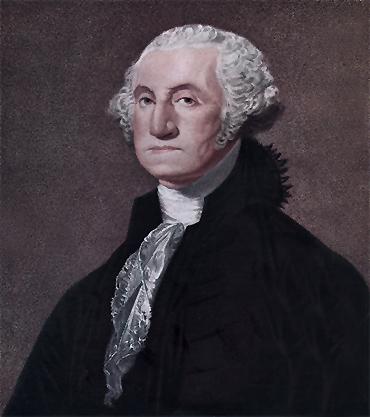 other Presidents have won a second term; Frankin D Roosevelt served four!
Video report: What's Obama's second term agenda
What's Obama's second term agenda
'In US polls are peaceful, in India they turn violent'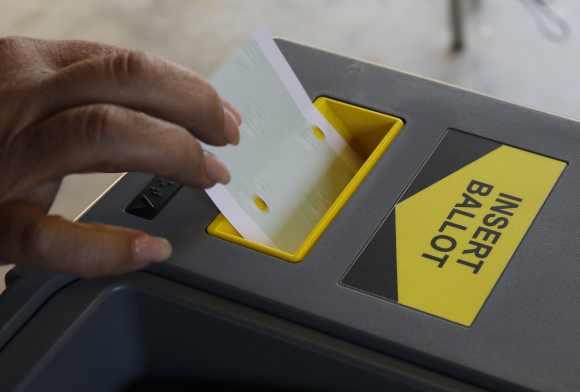 Indian-American voters from California compare the elections in the US to the ones back home. reports
In PHOTOS: Celebrating US elections in Mumbai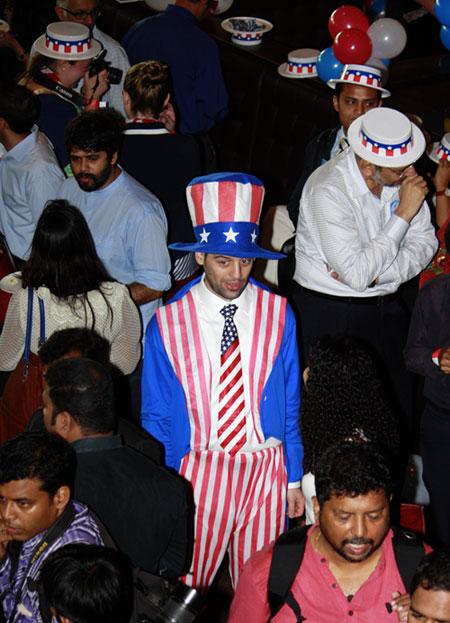 Americans and desis came together to watch the US Election results live at Mumbai's Hard Rock Cafe. Rediff.com's Nadisha Daniel and Abhishek Mande were at the venue. Photographs and video: Rajesh Karkera
Meet Tulsi Gabbard, first Hindu American in US Congress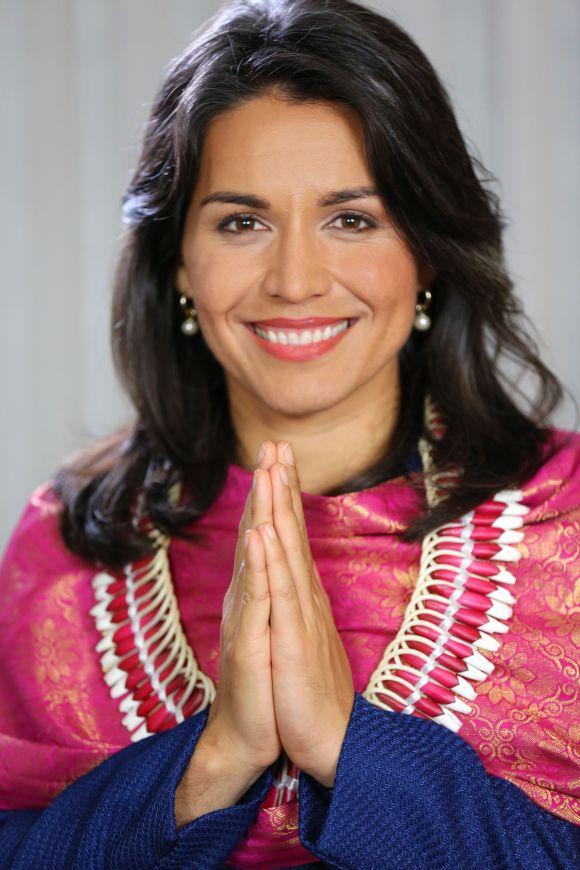 The Indian American community has embraced and felicitated Tulsi Gabbard like no other Indian American congressional candidate, even though she's not Indian American, reports
The best is yet to come, says Obama in victory speech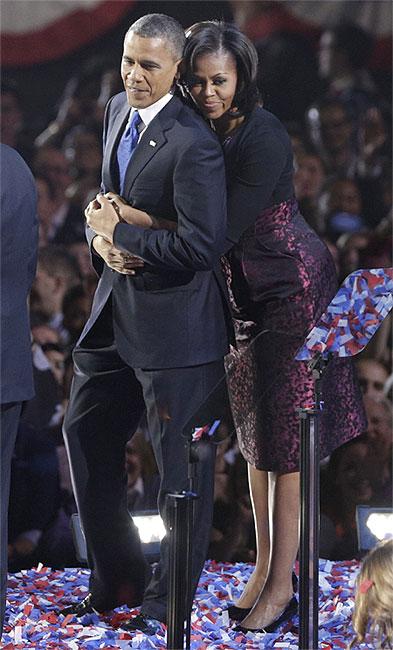 Barack Obama was re-elected president of the United States on Wednesday by defeating Republican challenger Mitt Romney in Democratic strongholds and key battleground states. Here the full text of his victory speech.
In PHOTOS: The boy called Barack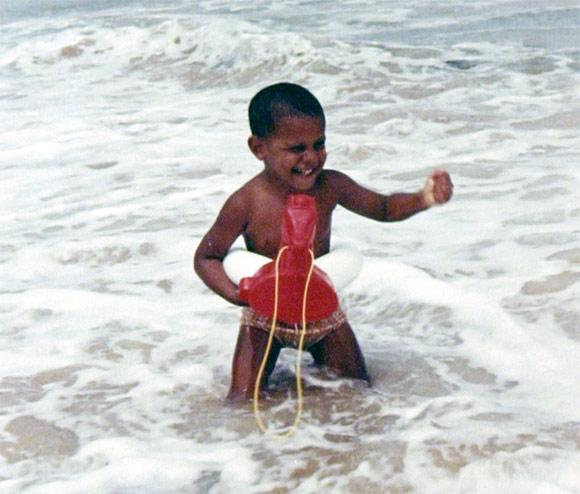 Stories surround United States President Barack Obama's growing up days focus on his birth in Hawaii, his time in Indonesia, his time living with his grandparents on Beretania Street in lower Makiki and his high school years at Punahou School. Here's a look at some adorable pictures of Barack Obama playing on the beaches of Hawaii, his boyhood days with his father and more.
Why Americans voted Obama again and dumped Romney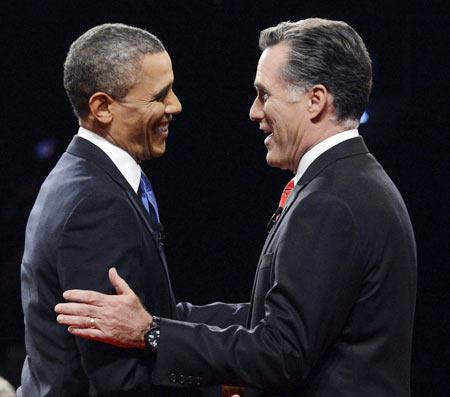 Rediff.com's lists some of the compelling reasons that prompted American voters to re-elect President Barack Obama.
PHOTOS: Happy hours for Barack Obama's supporters!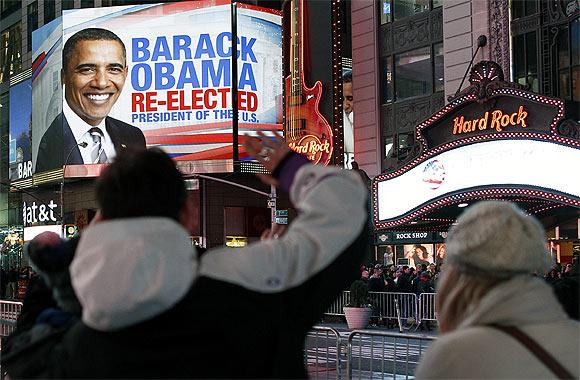 Thousands of people took to the streets across the United States to celebrate the victory of incumbent Barack Obama in the United States presidential election. We bring you some images of the party.
All The Best, Signed Barack!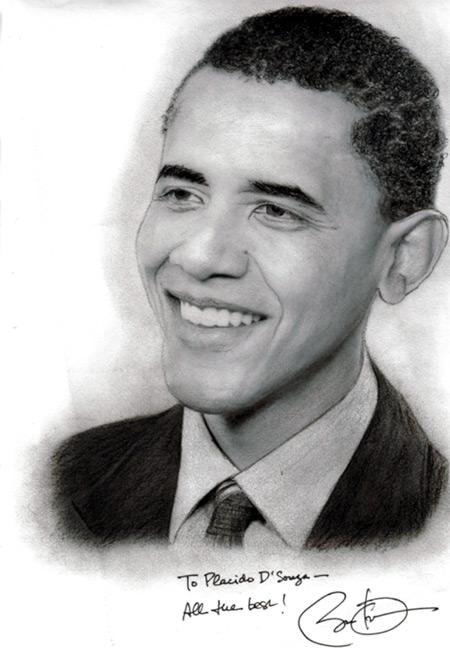 On the occasion of Mr Obama's re-election as President, we have great pleasure in reproducing an image, with Ambassador Placido P D'Souza's kind permission, autographed by America's 44th President.
DON'T MISS: Top 10 speeches of Barack Obama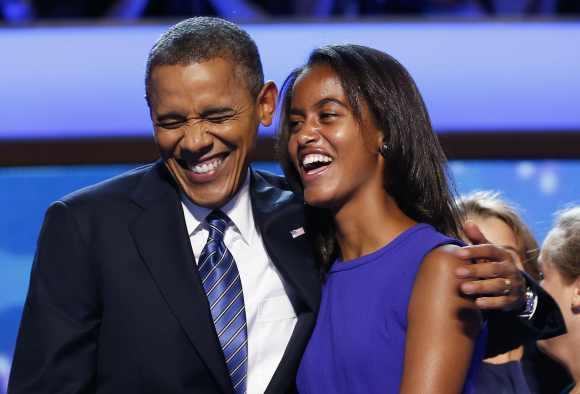 Re-elected for a second term, US President Barack Obama is dubbed as one of the greatest presidential orators in the modern era. Rediff.com takes you through some of his best speeches.
Obama shows he is 'the blessed' twice over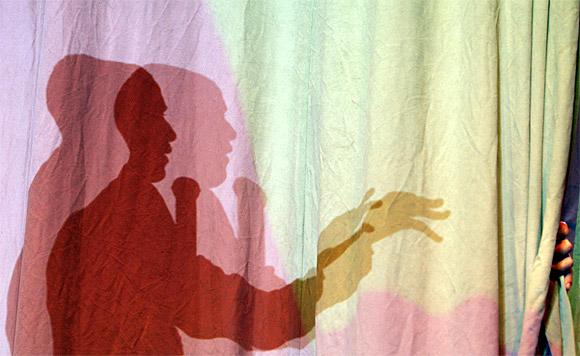 Barack Obama, who won a second term to the White House on Tuesday against all odds, is a hard-nosed leader with an even-keel temperament, charismatic speaking skills and a knack for consensus-building.
Candid moments: Obama's first term in the White House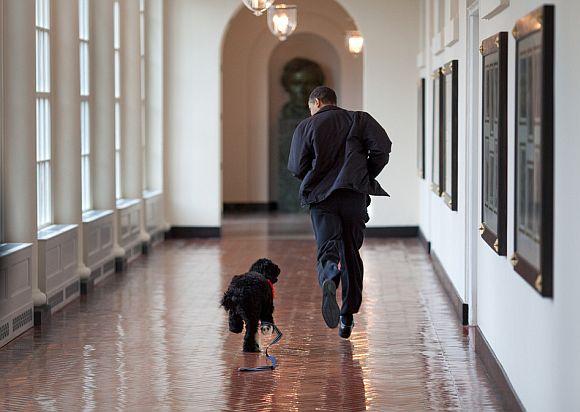 Official White House photographer Pete Souza has used his incredible access to document Obama's journey, capturing both the tense moments and the lighter ones to provide a behind-the-scenes look at his presidency.
Photos: Turnout heavy in Sandy-hit New Jersey, Obama wins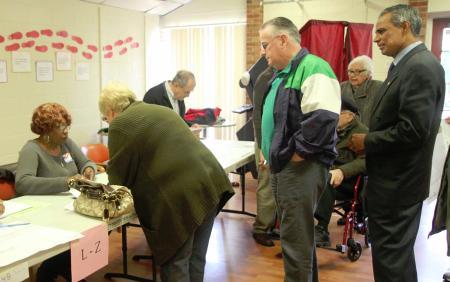 Rediff.com's Paresh Gandhi captures the scene from New Jersey, the state worst hit by Sandy, as voters braved near freezing temperatures and adjusted to changes in polling procedures as they came out in large numbers to vote for the country's next president on Tuesday.
Yes he CAN! Obama beats Romney, gets second term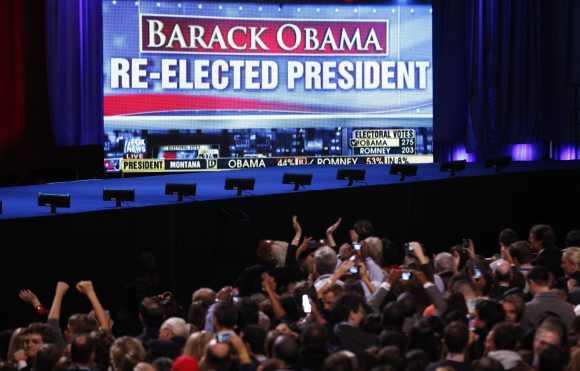 United States President Barack Obama and Republican challenger Mitt Romney are locked in an intense battle for the White House. Pundits have predicted a wafer-thin win for the incumbent.
November 06, 2012
PICS: Sandy-hit NY, New Jersey vote in large numbers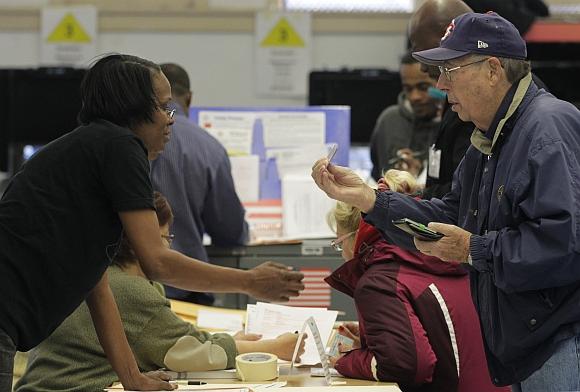 Residents of New York and New Jersey, the two American states worst hit by the superstorm Sandy, braved near freezing temperatures and adjusted to changes in polling procedures as they came out in large numbers to vote for the country's next president on Tuesday.
PHOTOS: Obama or Romney? US decides in cliff-hanger poll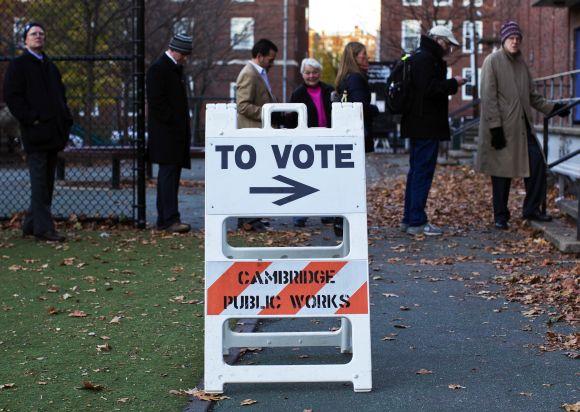 With President Barack Obama and Republican challenger Mitt Romney locked in an intense battle for the White House, Americans on Tuesday voted in an election that followed one of the most expensive and negative campaigns, with pundits predicting a wafer-thin win for the incumbent.
Yeddyurappa's lunch meet is a show of strength: BJP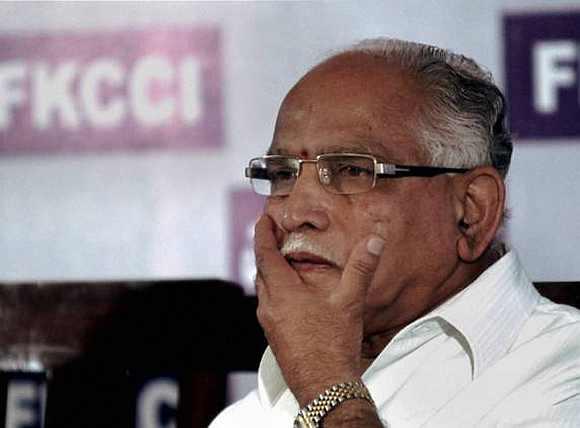 A meeting of former Karnataka Chief Minister B S Yeddyurappa and his supporters is being closely watched by many in the state, says
'Haji Ali ban should not DEMONISE Islam further'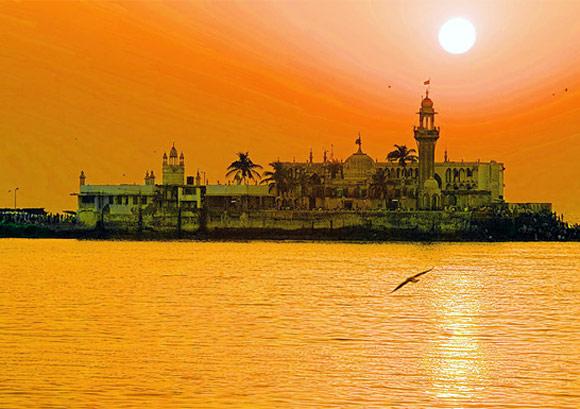 The decision by the authorities of Mumbai's iconic Haji Ali dargah -- to bar the entry of women into the tomb area has drawn widespread condemnation.
Behind the scenes with Barack Obama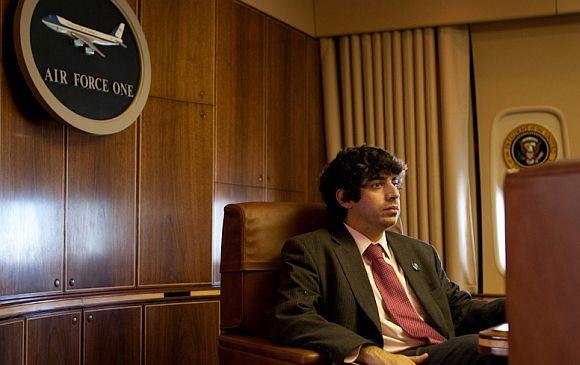 Having travelled extensively with US President Barack, Arun Chaudhary has captured public events and behind-the-scenes moments as well as produced and packaged presidential tapings for the Internet and broadcast television. He speaks to
Ram Jethmalani demands Gadkari's immediate resignation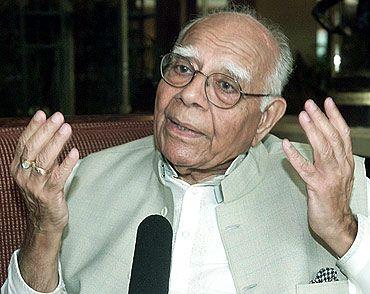 Stepping up further pressure, Bharatiya Janata Party Rajya Sabha MP Ram Jethmalani on Tuesday demanded the immediate resignation of party president Nitin Gadkari and claimed three other senior leaders including Jaswant Singh and Yashwant Sinha were with him on the issue.
VOTE: Who is India's most 'foot-in-mouth' politician?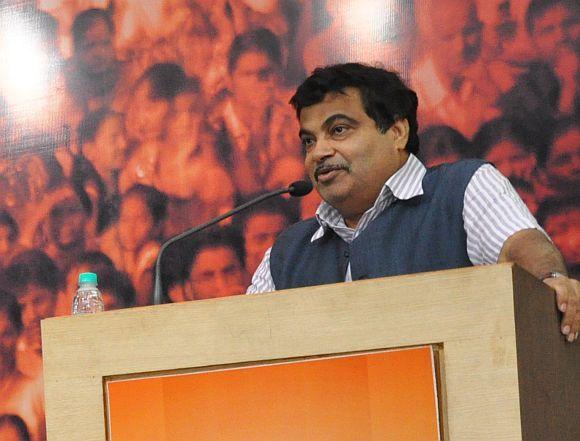 Rediff.com presents some of the recent remarks made by our leaders that have created flutters. Please DON'T forget to cast your vote at the last slide.
PHOTOS: Basketball, dinner and more on Election Day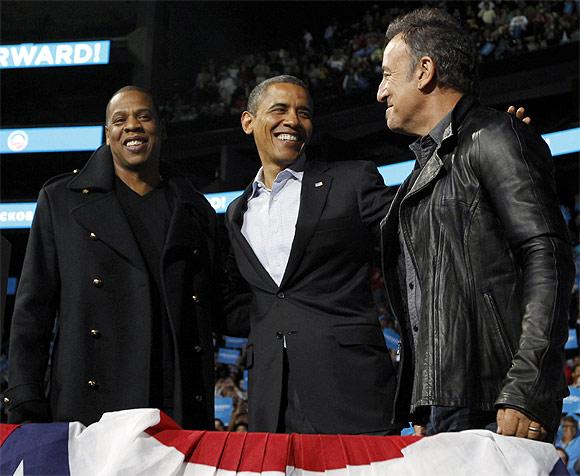 United States President Barack Obama will spend the Election Day in his hometown of Chicago, playing basketball with friends and giving a dozen satellite interviews in several battleground states.
Pakistani Taliban kill three peace activists in Swat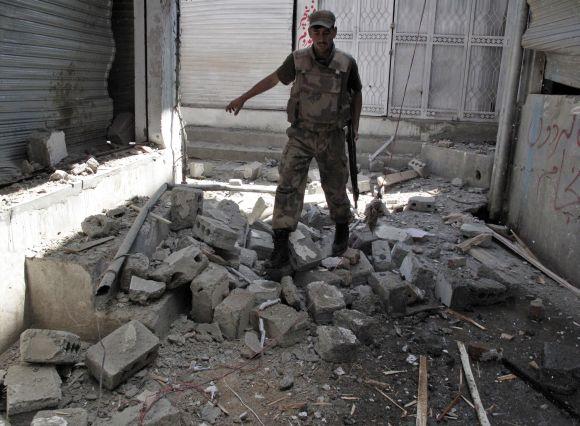 The Pakistani Taliban has staged a bloody comeback in Malakand division by killing three peace committee chiefs, reports .
Election Day: Obama, Romney TOO close for comfort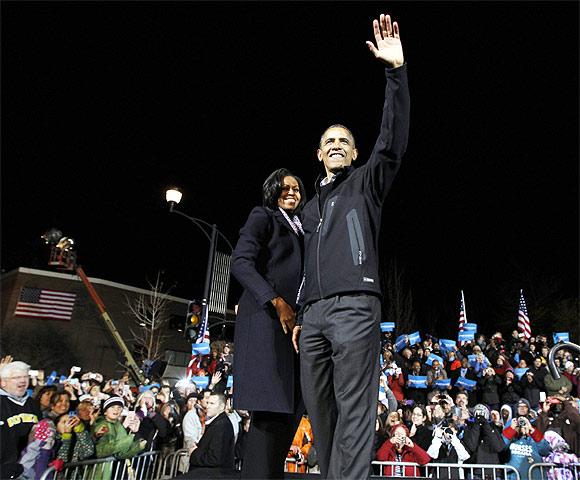 Notwithstanding the latest opinion polls suggesting a close fight between incumbent Barack Obama and his rival Mitt Romney, both the Democrat and Republican camps have claimed victory ahead of the crucial presidential elections set for Tuesday.
Obama backer 99-year-old woman votes for first time!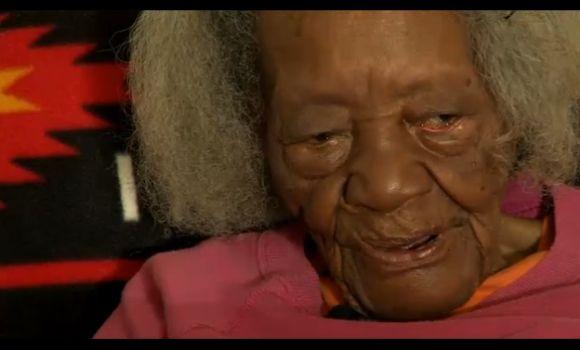 Better late than never! A 99-year-old woman in the United States has lived through 24 presidential elections, but has chosen this year's close contest to cast her first ballot.
PHOTOS: Pond formed with 'Shiva's tears' restored in Pak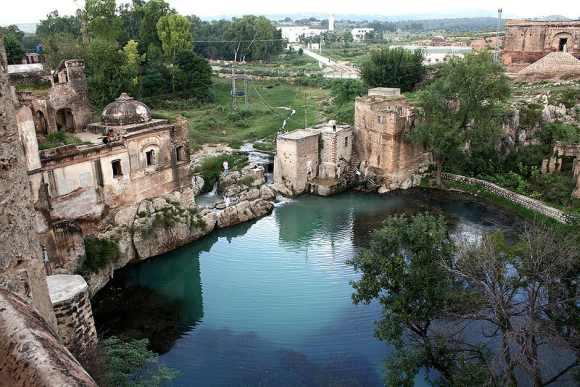 Scores of Hindus participated in a special ceremony held at the historic Katasraj Temple in Pakistan's Punjab province following the restoration of its holy pond, which had begun drying up due to excessive use of groundwater by a nearby cement factory.
November 05, 2012
PIX: Canadian PM in India; visits Taj, Humayun's tomb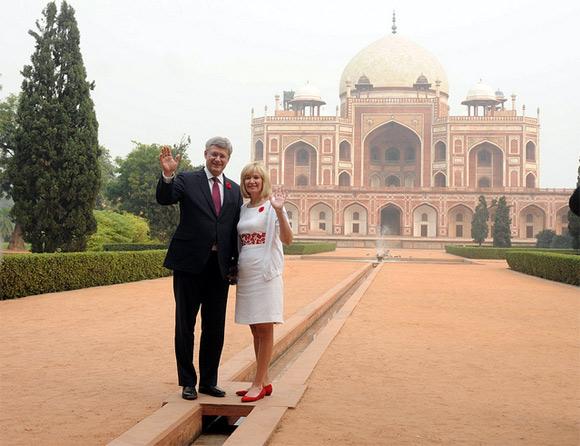 "It's really a gift of beauty for all humanity," said Canadian Prime Minister Stephen Harper as he visited the Taj Mahal, walking hand in hand with his wife Laureen, marvelling at the 17th century Mughal monument of love.
Is Rahul Gandhi scared?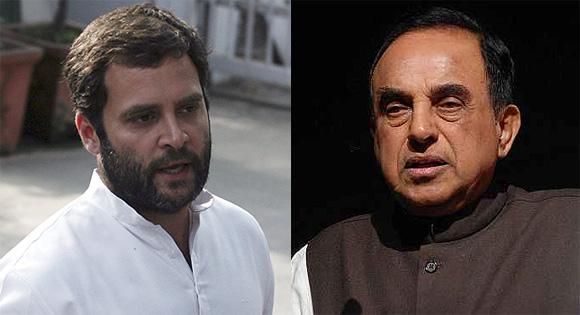 The Congress's big dilemma... What makes A K Antony shiver... N D Tiwari plots his comeback... Catch up on the latest gossip from Delhi.
Exclusive! Shobhaa De's advice for Rahul Gandhi
Novelist Shobhaa De's typically original advice for Congress neta Rahul Gandhi, his sister Priyanka and his bro-in-law Robert Vadra...
Vote! PM, Sonia or Rahul. Whose speech was better?
Prime Minister Manmohan Singh, Congress president Sonia Gandhi, and heir-apparent Rahul Gandhi. Much has been said about their speeches at the Congress rally in Delhi on Sunday, but whose speech do you think was better? Vote now!
3 out 6 Indian-Americans in US poll fray expected to win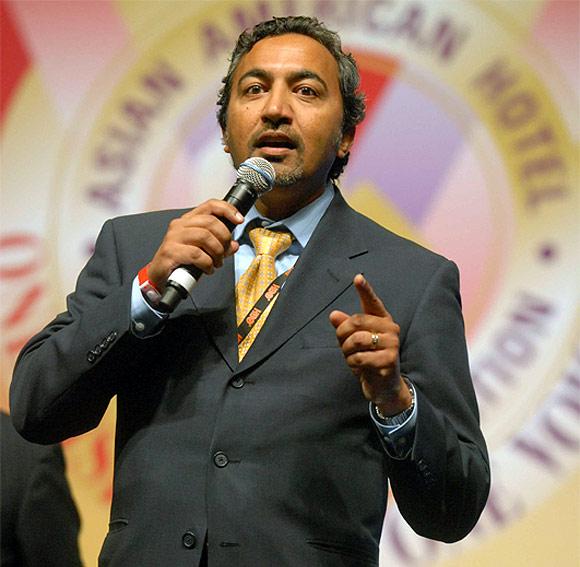 So far only two Indian-Americans have been elected to the US Congress. Dalip Singh Saund was the first Indian-American elected to the House of Representatives in 1950s, while Bobby Jindal, now the Louisiana governor, was the second one.
'Afghanistan under attack from Pak's proxy militants'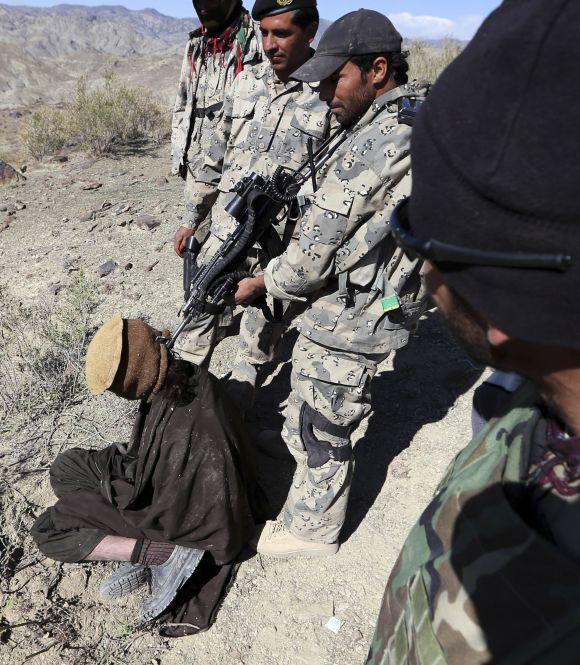 In an interview to rediff.com's , Vanni Cappelli says that in the absence of America coming to its senses, India, together with Russia, would have to shoulder the military and economic burden of shielding Afghanistan from Pakistani aggression.
With a day to go, Obama-Romney war of words reaches climax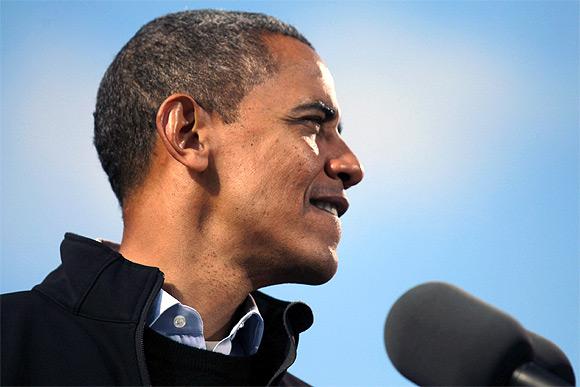 With just a day to go for the United States presidential elections, both contestants -- incumbent Barack Obama and his Republican rival Mitt Romney -- are leaving no stone unturned to woo the voters and were engaged in a heated exchange of words in their final leg of campaigning.
Pix: Heavy rains lash Andhra; 25 dead, 80,000 evacuated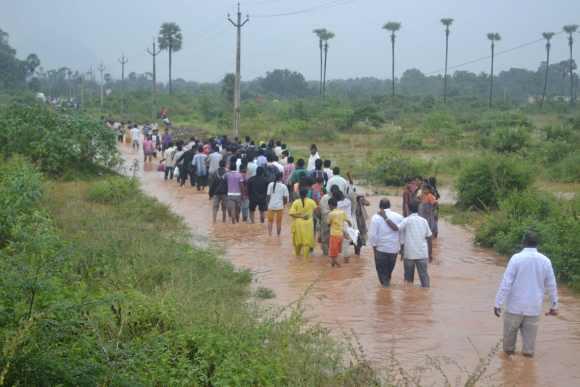 At least twenty two people are dead and 80,000 have been evacuated to government shelters as many parts of coastal Andhra Pradesh were flooded after heavy rains brought by the Cyclone Nilam that hit Indian shores on October 31.
'Fasting is what Irom Sharmila is meant to do in life'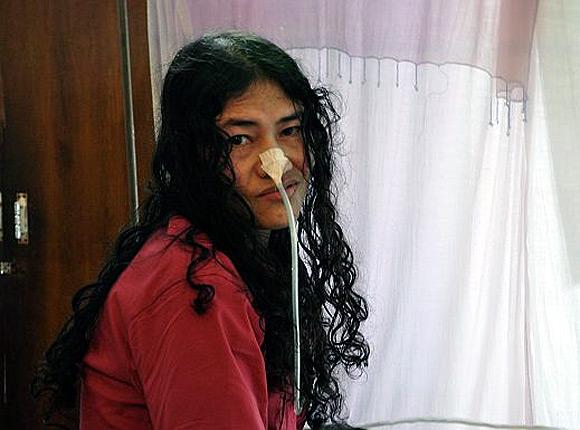 'She feels that undertaking the fast is what she is meant to do in life. She believes deeply that that's her purpose, and that's what God wants her to do,' says Deepti Priya Mehrotra, the author of Burning Bright: Irom Sharmila and the Struggle for Peace in Manipur.
Didn't compare Dawood to Vivekananda, Gadkari clarifies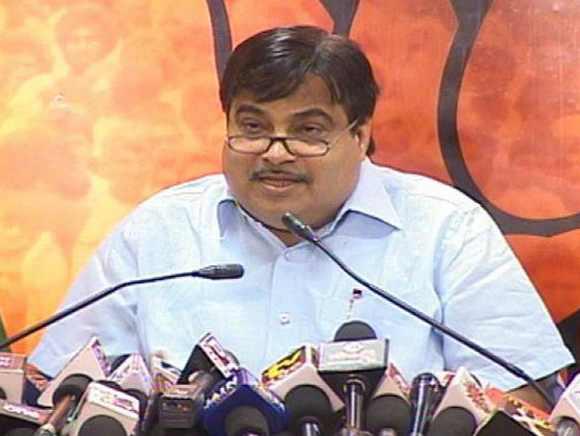 The Bharatiya Janata Party president Nitin Gadkari said that the intelligence quotient level of Swami Vivekananda and Dawood Ibrahim was almost the same, but the spiritual leader had used it for nation building while the underworld don for pursuing crime.
US polls: Obama-Romney locked in tie, predict surveys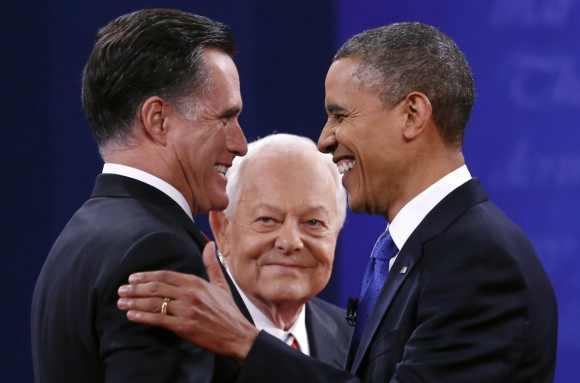 As the presidential poll campaign in the United States moves towards its climax, independent surveys predict that incumbent Barack Obama holds an edge over rival Mitt Romney, but the two are locked in a virtual tie in the crucial battleground states believed to be holding the key.
November 04, 2012
Obama, Romney fight to the finish in a battle of equals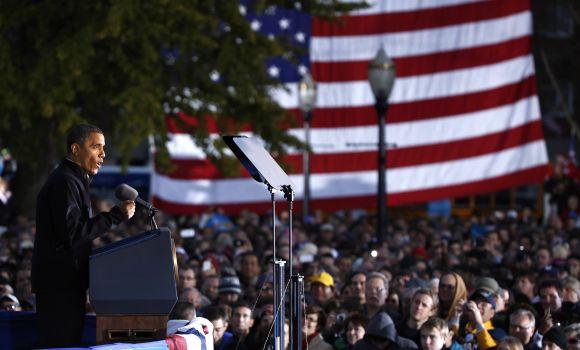 As they zeroed in towards the D-day in a virtually tied presidential race, both Barack Obama and Mitt Romney, battling fatigue and nerves, darted across crucial swing states in their desperate final bids to woo the starkly polarised American electorate.
I waited for 10 years to speak up against Naipaul: Karnad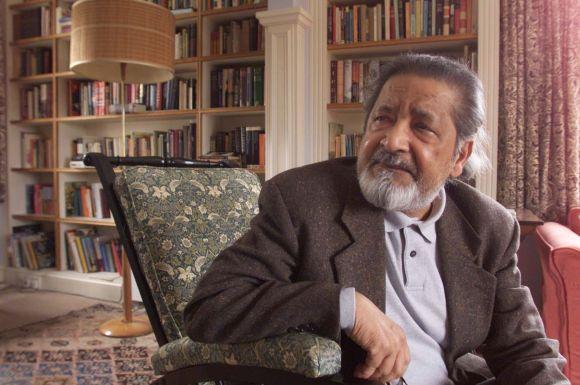 In an exclusive interview to CNN-IBN's Deputy Editor Sagarika Ghose, acclaimed playwright Girish Karnad defended his recent public attack on Nobel Laureate V S Naipaul at the Mumbai Literature Festival.
November 03, 2012
India's first Playboy Club to open in Goa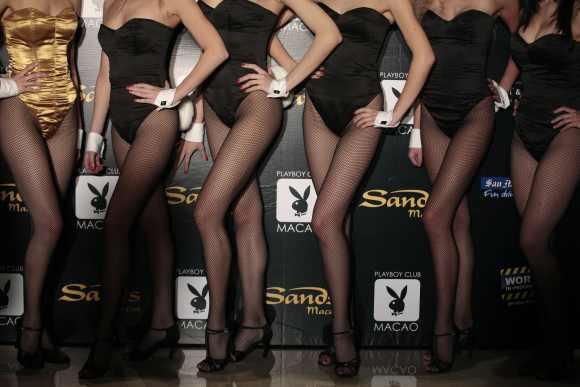 Adult entertainment company Playboy is set to open its first club in India in north Goa's Candolim beach.
US prez polls: Clinton craze bodes well for Obamania
Barack Obama is the "only right person" for America, said former president Bill Clinton as he endorsed his defence policy and touted his job record. reports from St Petersburg
Swamy moves EC seeking derecognition of Congress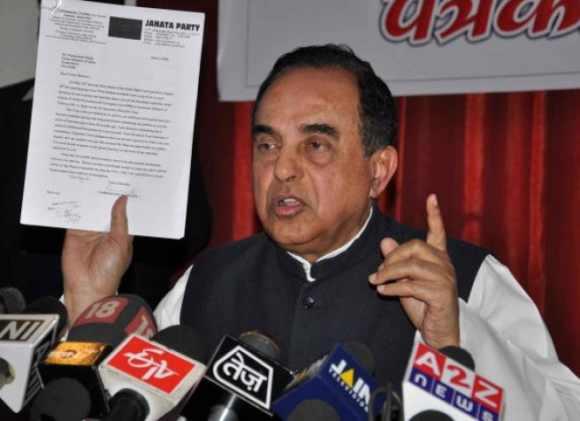 Janata Party chief Subramanian Swamy said that he will be filing a plea before the Election Commission of India on Saturday seeking derecognition of the Congress party for giving an unsecured loan of Rs 90 crore to Associated Journals.
Watch: The BEST videos of the week
Watch: The BEST videos of the week
November 02, 2012
Why American voters prefer traditional ballot over EVMs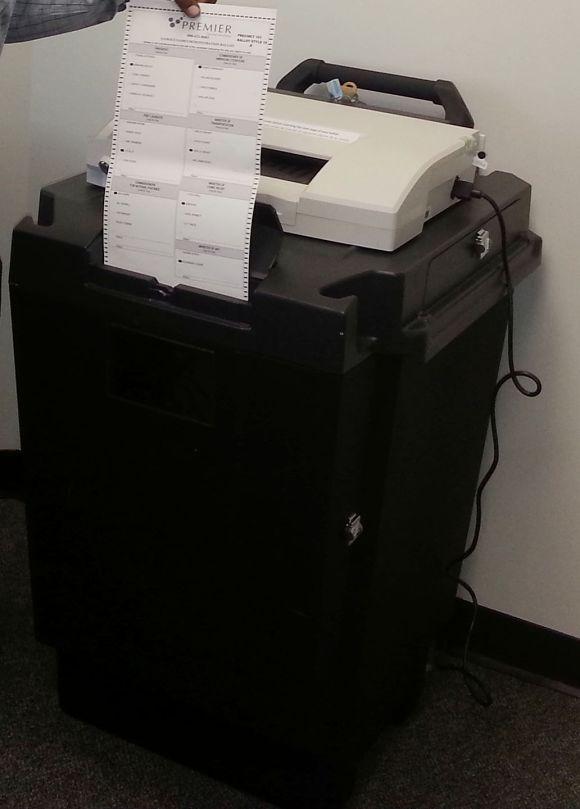 Rediff.com's , who is in the US to cover the presidential election, finds out that the American voter does not really trust the electronic voting machine.
Good, Obama and Romney didn't mention India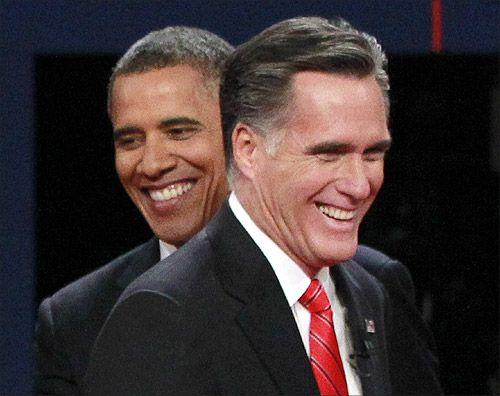 India should probably be glad that it was left out of the discussion, says the Brookings Institution's .
PHOTOS: Sandy-hit US struggles to get back on its feet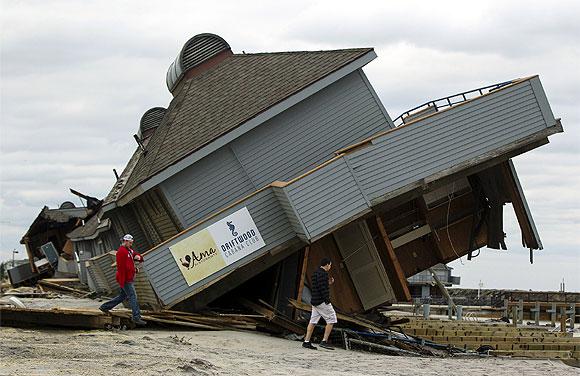 With despair and fear, the east coast struggles to limp back to normalcy.
Desi paan shop 'illuminates' Sandy-hit New Jersey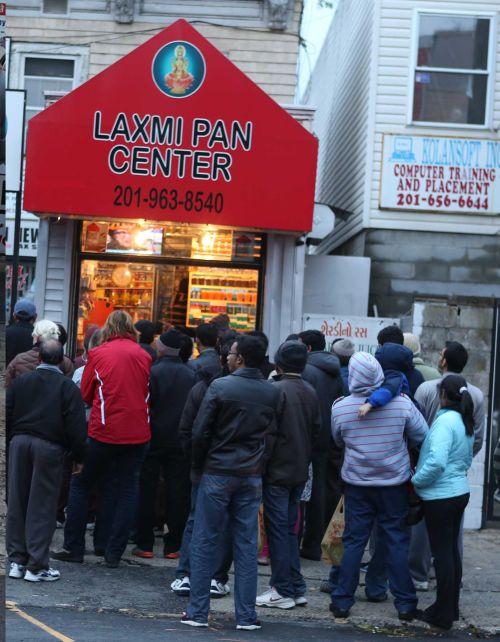 A nondescript paan (betel) and tobacco shop, owned by an Indian American, is supposedly the only shop in New Jersey which has electricity thanks to a generator.
Prez polls: Unpredictable Florida could swing either way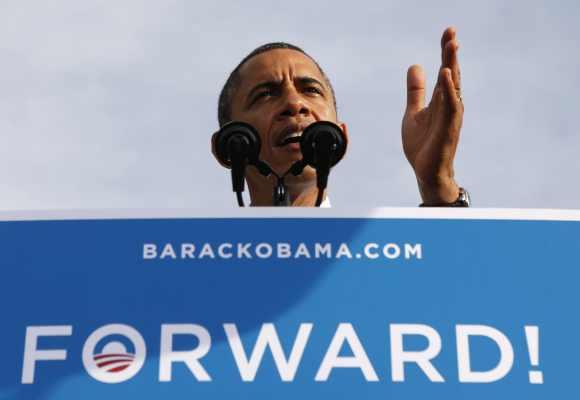 Though the original phrase doesn't mention Florida (it is Maine), the southern state fits in perfectly if the impact it has had in the United States presidential elections in recent years is taken into consideration.
In PHOTOS: It was a torrid, stormy October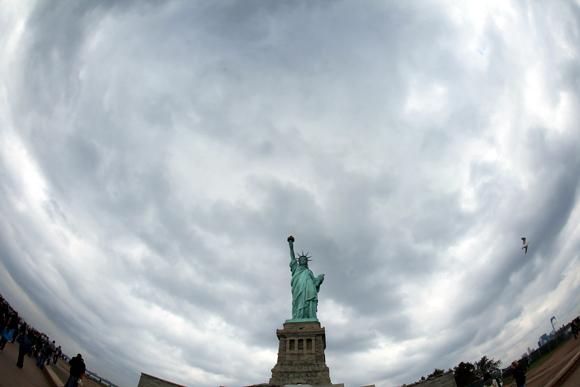 We bring you a presentation of some of the best photos from around the world in the month gone by
Congress set to sound the election bugle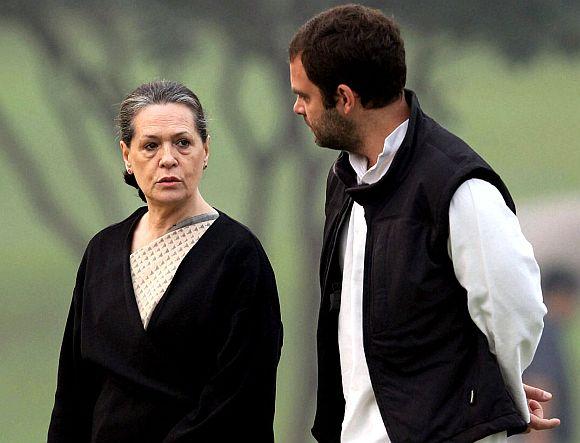 The Congress has decided to sound the election bugle, even as the government looks to be skating on thin ice, bombarded as it is by scams and more scams, writes
November 01, 2012
Sandy Diary: 'I just wanted to be back home'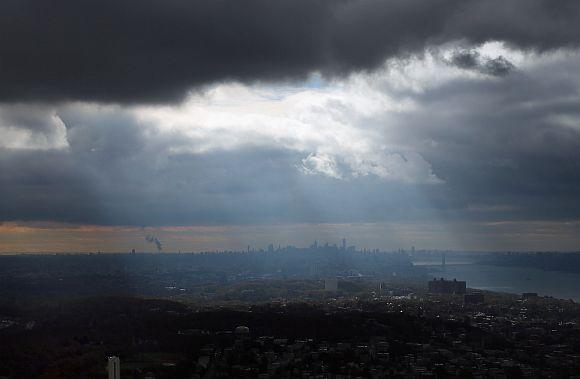 flew half way around the world from New Delhi to get back to his home in the Sunnyside neighbourhood in Queens to witness the imminent of wrath and fury of Hurricane Sandy with his fellow New Yorkers. He narrates his experience
Rahul responds: 'Swamy's charges baseless, defamatory'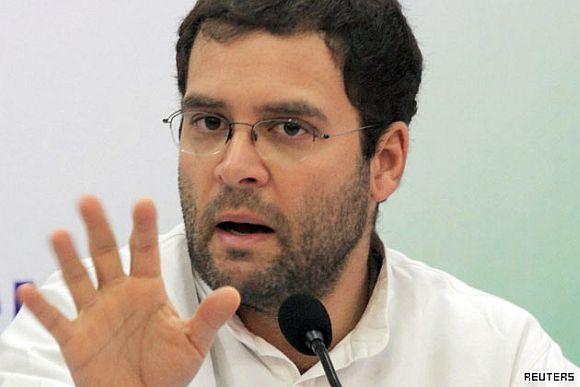 Rahul Gandhi has threatened to pursue "all legal actions" against Janata Party chief Subramanian Swamy, who targeted him and Sonia Gandhi raising questions over acquisition of a company that published the now-defunct National Herald newspaper to which Congress gave a loan of over Rs 90 crore.
Sunita Williams on record 7th space walk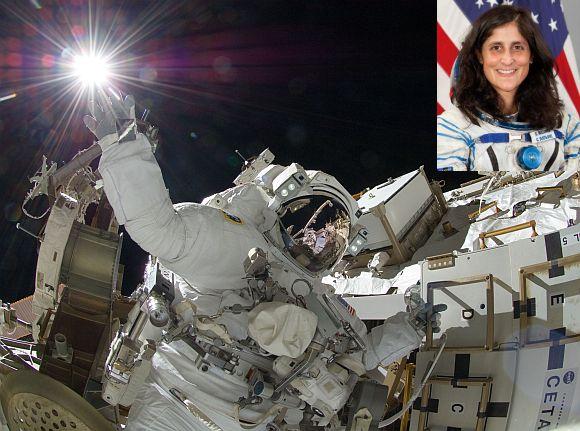 Indian-American Sunita Williams along with a fellow astronaut on Thursday ventured out of the International Space Station, adding to her record-setting space walking sojourns, to find an ammonia leak in the vital radiator system.
PIX: Sailor sets off on voyage of adventure, fun, dolphins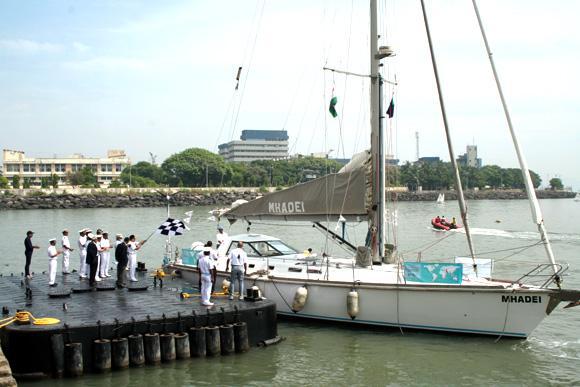 Lieutenant Commander Abhilash Tomy set off on his adventure a solo, non-stop circumnavigation of the world -- from Mumbai on Thursday.
PICS: Superstorm Sandy leaves 70 dead, 4mn without power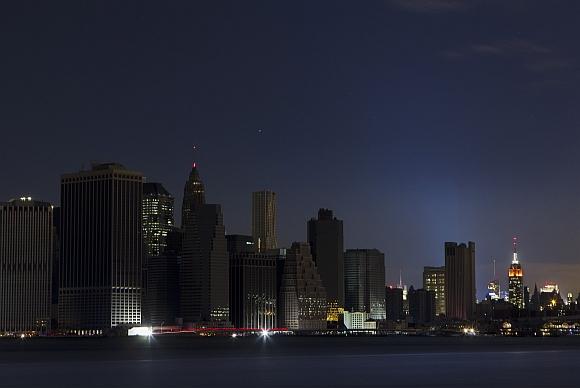 Superstorm Sandy left a trail of bodies and wreckage on the densely-populated United States East Coast, claiming over 70 lives and sparking burglaries in flooded neighbourhoods as nearly 4 million Americans still struggled without power and communication.
'Civil society has taken on the White man's burden'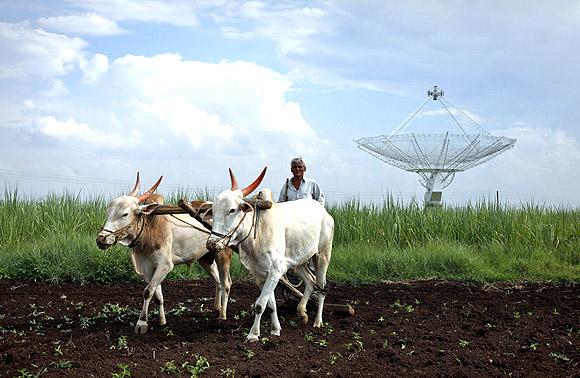 'Punjab, Haryana, Gujarat, Maharashtra, Tamil Nadu, Kerala and Delhi are the richest states in the country. Except Haryana and Punjab, the remaining states produce 40 to 90 per cent less than their food grain requirement. It is states like Punjab, Haryana and UP that are feeding these rich, food-deficit states,' says Pradeep Bhargava, thinker.
Nilam: Search ops on for missing ship crew in Chennai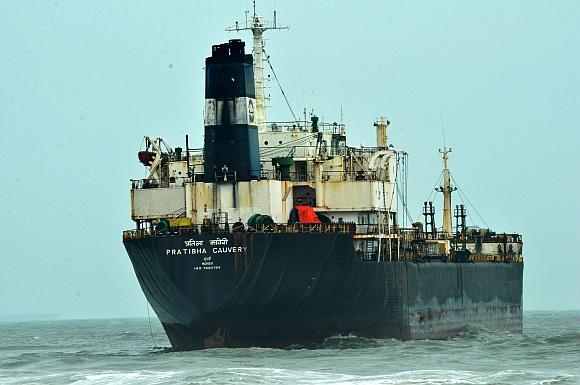 Search operations are in full swing for the missing crew members of the Indian vessel Prathibha Cauvery, which ran aground following strong winds due to Cyclone Nilam, which made landfall on the southeast coast on Wednesday evening.
Cyclone Nilam kills 11; 17 stranded sailors rescued in TN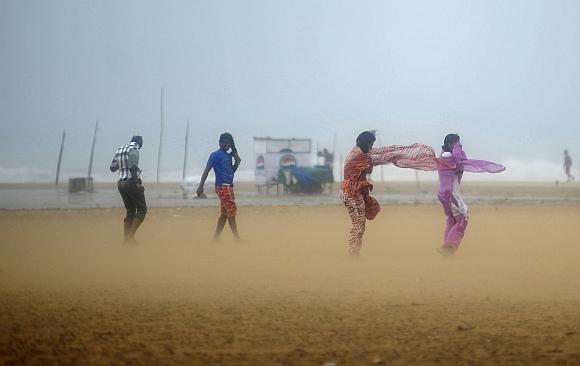 Cyclone Nilam has so far claimed lives of eight people in Tamil Nadu and three in Andhra Pradesh. The devastating storm swept across north Tamil Nadu coast near Mahabalipuram.
Sandy Aftermath: Grim faces say their story
Two days after superstorm Sandy rampaged across the northeast of the United States, New York struggles to find its way.
PIX: Obama tours Sandy-hit New Jersey with his new admirer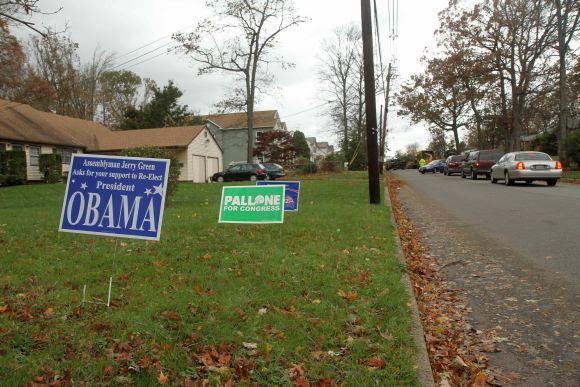 United States President Barack Obama is in New Jersey to begin a tour of the Sandy-ravaged state with Governor and one of his top Republican critics Chris Christie as cities hit by the massive storm began their slow process to recovery.
Should govt pay Reliance $14.2/mmBTU for K-G gas?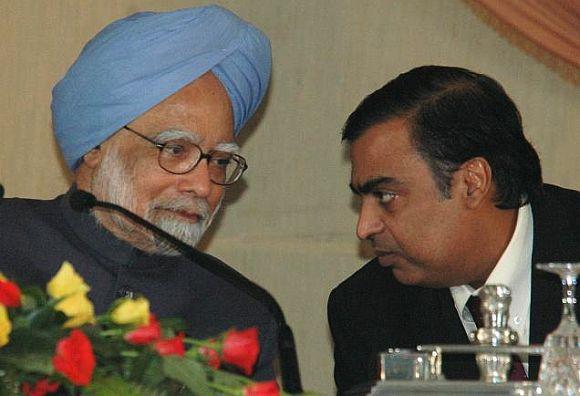 Arvind Kejriwal and Prashant Bhushan have successfully managed to blow the lid off the 'crony capitalism' that is flourishing in the country today, and in the process delivered a crushing blow to the UPA government. analyses
Archives
September 2012 - October 2012
|
August 2012
|
July 2012
|
June 2012
|
May 2012
|
April 2012
|
March 2012
|
February 2012
|
January 2012
|
December 2011
|
November 2011
|
October 2011
|
September 2011
|
August 2011
|
July 2011
|
June 2011
|
May 2011
|
April 2011
|
March 2011
|
February 2011
|
January 2011
|
December 2010
|
November 2010
|
October 2010
|
Sepetember 2010
|
August 2010
|
July 2010
|
Jun 2010
|
May 2010
|
April 2010
|
March 2010
|
February 2010