December 31, 2015
Jet-setting Modi: 26 nations in 12 months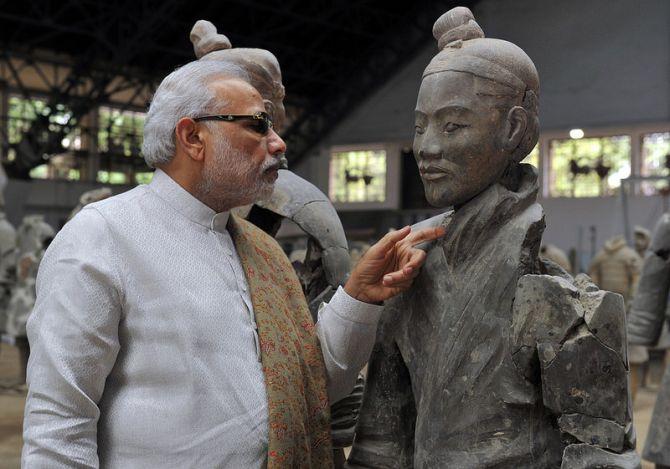 A list of all the foreign visits taken up by PM Narendra Modi this year and their outcomes.
PHOTOS: They found love amidst a war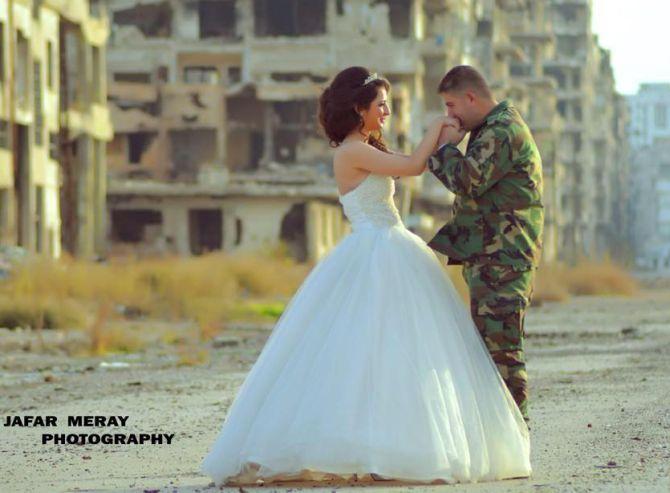 The bride and her soldier groom were pictured posing for a remarkable photoshoot following their wedding in the war-torn Syrian city of Homs.
It's been a controversial 2015. Here are 13 reasons why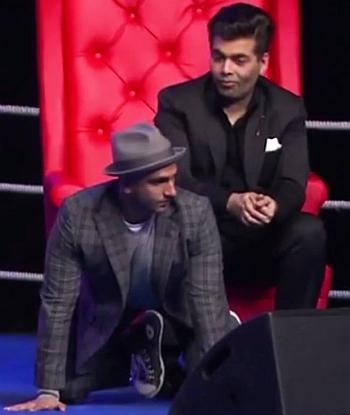 Controversies don't cease to erupt ever around us. And this year was no different.
IN PHOTOS: 17 shades of India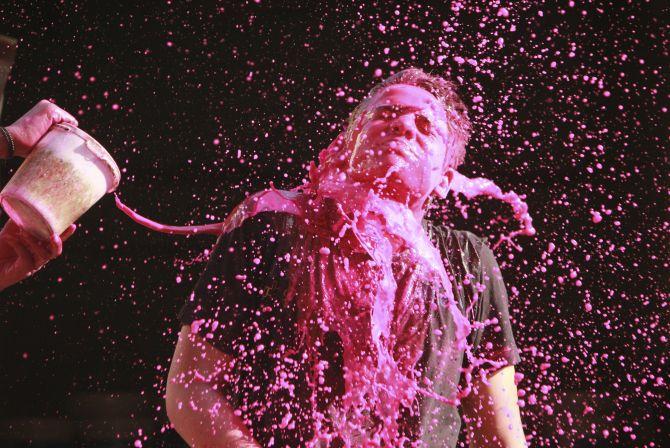 These photographs show India in various colours and moods in 2015.
December 30, 2015
Discovered: A Ninja shark that glows in the dark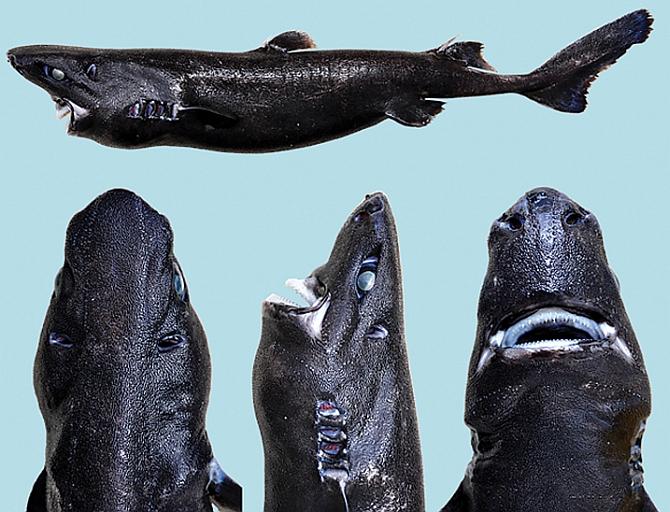 The researchers named the new species Etmopterus benchleyi, after Peter Benchley, the author of the book "Jaws" and co-author of its 1975 film adaptation.
SHOCKING: Woman caned for getting too close to man in Indonesia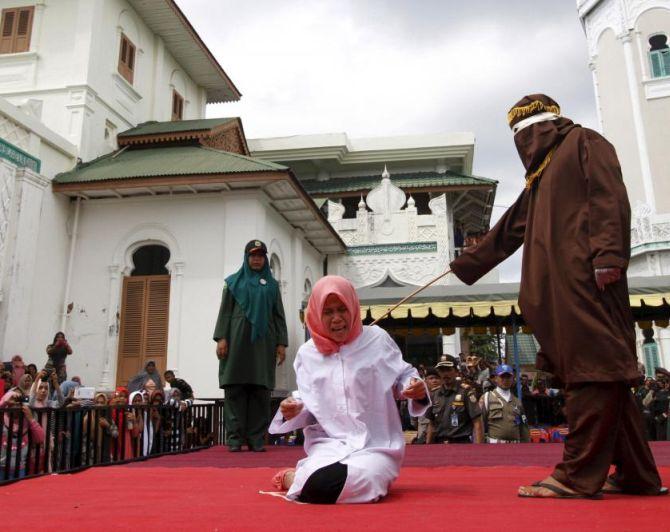 Nur Elita was forced to endure the punishment outside a mosque where hundreds of people gathered to watch her being caned.
MUST SEE: Rare 'Corpse Flower' blooms in Australia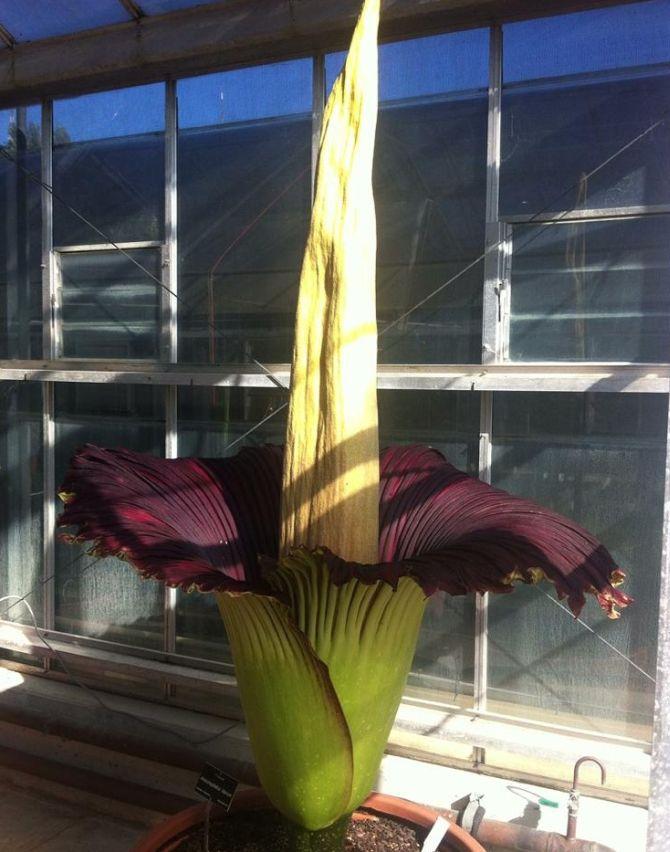 Thousands of visitors queued at the Mount Lofty Ranges botanic garden in Adelaide to see and smell the titan arum.
Commandos storm Delhi malls to stop 'terrorists'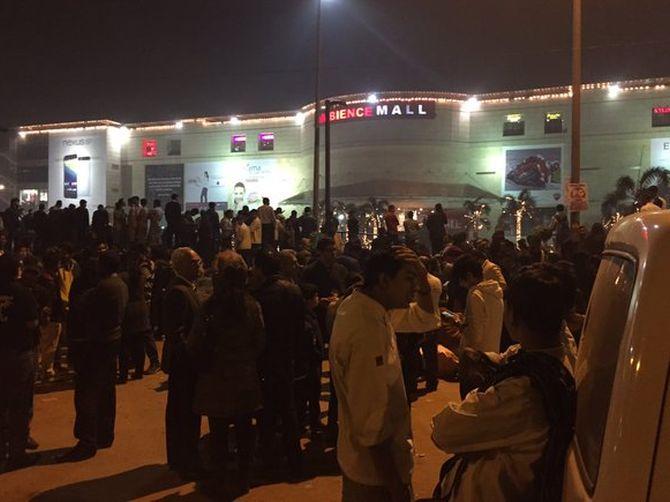 Ahead of New Year, the Delhi police carried out mock drills to check the preparedness of the security forces.
December 29, 2015
News Stories That Gripped You in 2015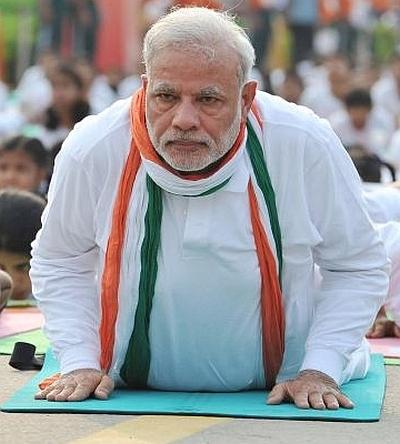 The best news specials that rediff readers loved reading and sharing.
PM Modi 7th most popular leader in the world; US President Barack Obama leads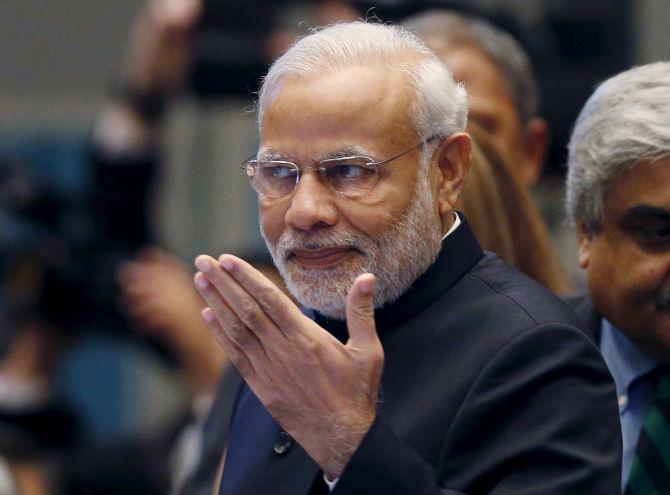 Prime Minister Narendra Modi has been voted as the seventh most popular leader in the world in a new poll topped by US President Barack Obama.
The year that was: 2015 tongue-in-cheek awards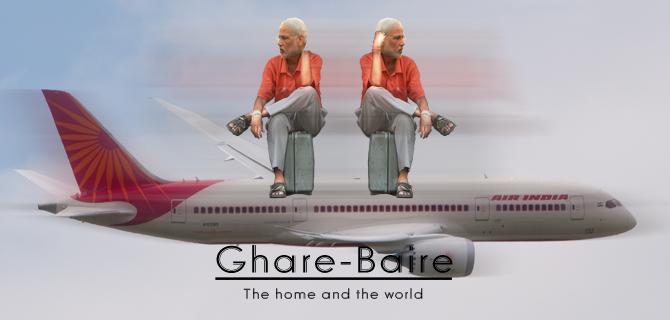 15 is finally coming to an end, and it is that time of the year when we collectively reflect on all that has transpired in Indian politics during the last 12 months.
December 28, 2015
Pack your bags! 10 images which will make you want to travel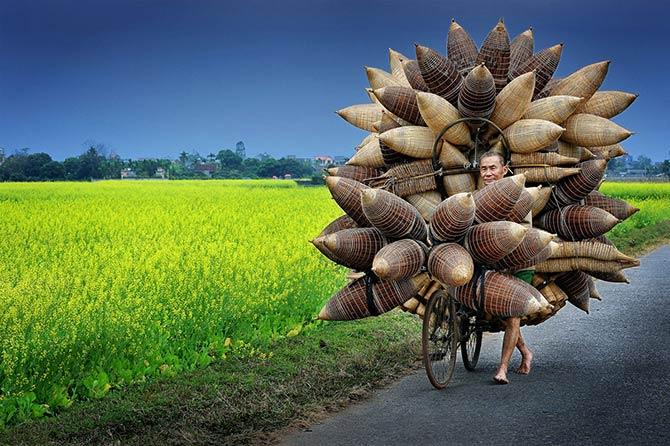 The winners of the 2015 Travel Photographer of the Year are out and the stunning images feature the bleak, frozen Arctic alongside the renderings of steamy swamps in America's deep south.
December 27, 2015
PHOTOS: Britain turns into Waterworld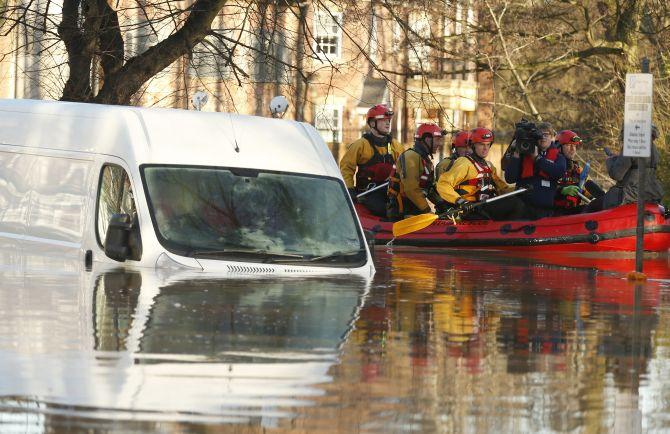 Hundreds of people have been evacuated from their homes as 'unprecedented' levels of flooding continue to hit the already blighted north of England.
Fire breaks out at KCR's Rs 7 crore puja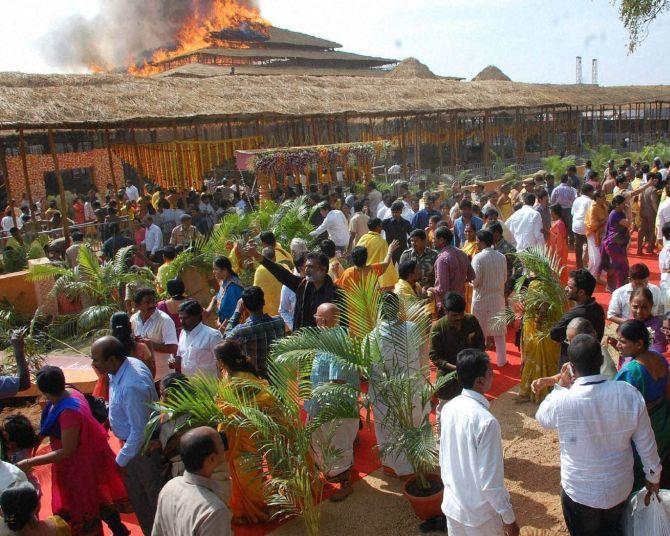 Several fire fighting teams present on the spot brought the fire under control immediately but they were not swift enough to prevent the blaze from destroying the thatched roof of the main pandal completely.
December 24, 2015
PHOTOS: Modi takes crisis management tips at EMERCOM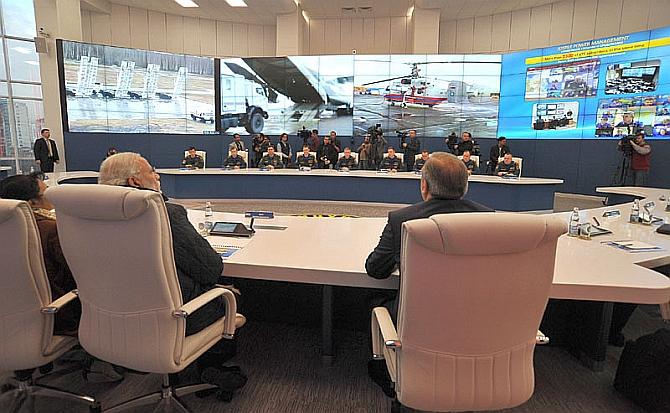 Prime Minister Narendra Modi on Thursday visited Russia's premier crisis management centre which deals with emergency situations and ensures coordination among various relevant agencies.
400 kg of yummy! This Kalam statue is made of chocolate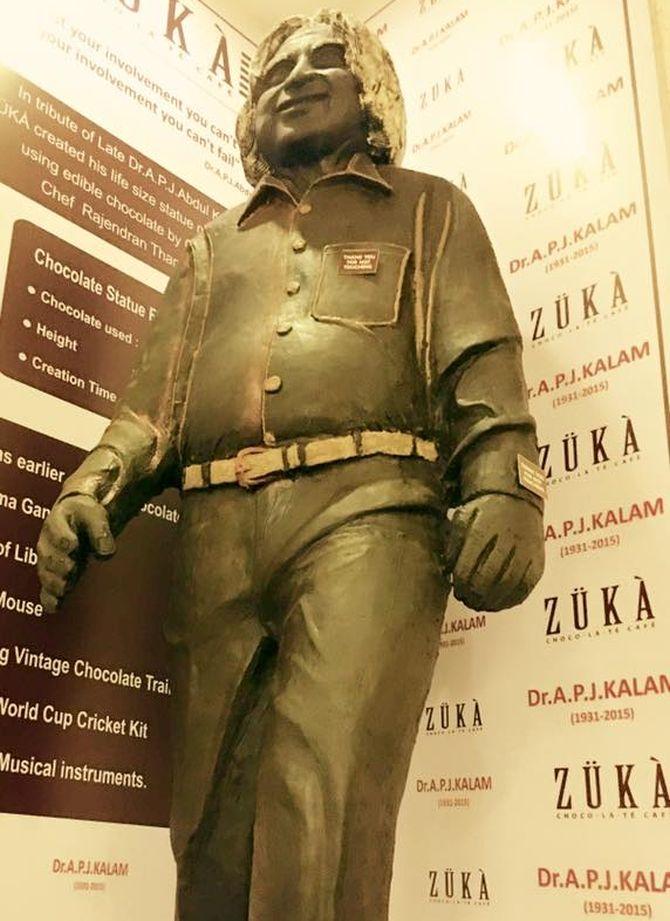 The chocolate model of the missile man, weighing about 400 kilogram, is not for sale. It has been installed by Puducherry's chocolate boutique "Zuka" at its premises in Puducherry.
The AI robot that is making Chinese journalists jittery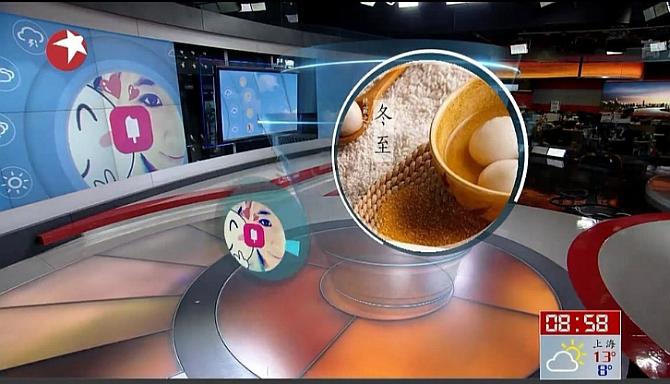 For the first time, a Chinese news channel has employed an artificial intelligence robot as a weather reporter on its live breakfast show, raising concerns among the country's journalists as it could threaten their jobs.
Wednesday was Mumbai's coldest night since 1949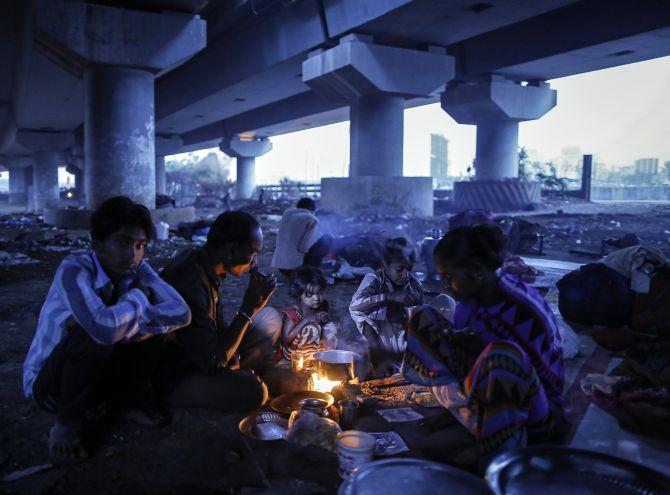 While the minimum was 14 degree Celsius at Mahableshwar, it was 11.6°C in Mumbai.
PHOTOS: In drought-hit Telangana, KCR's Rs 7-crore puja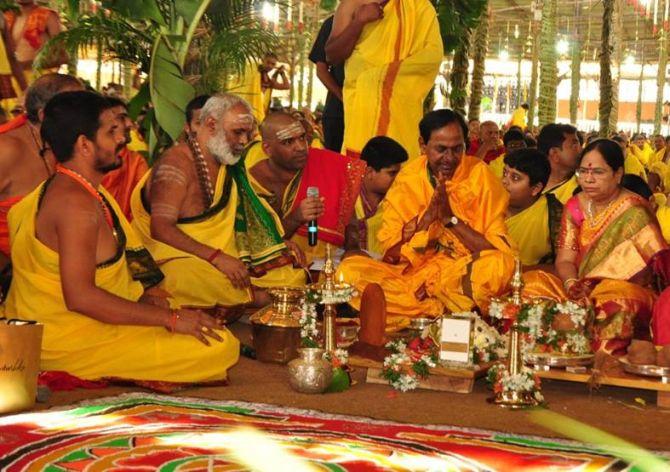 Even as thousands of people are reeling under drought in Telangana, Chief Minister K Chandrasekhar Rao is organising an Ayutha Maha Chandi Yagam on a scale that is unprecedented.
2015 in PHOTOS: Floods, fights and family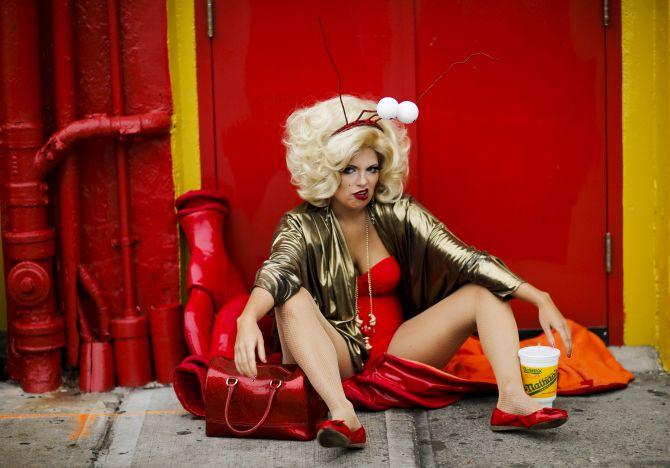 In this series, Rediff.com presents a selection of the year's most enduring moments year from around the world.
VOTE: Who made the biggest impact in 2015?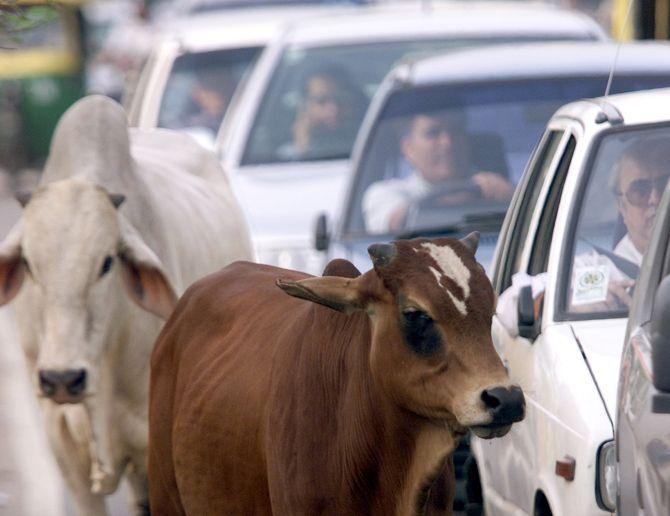 Don't forget to make your pick for the newsmaker of 2015.
December 23, 2015
Achche din only for PM: Rahul sharpens attack against Modi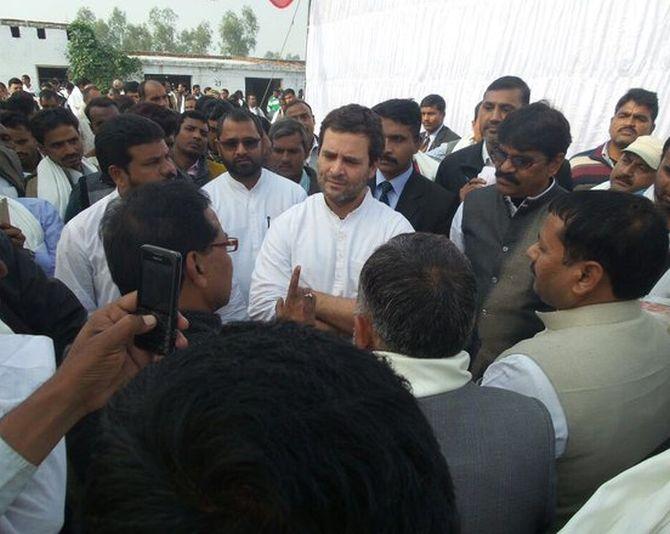 "The aam aadmi is groaning under unprecedented price rise. It is no achhe din (good times) for them. It is achhe din only for the prime minister," Gandhi said during his two-day visit to Amethi.
Modi in Moscow: PM gets red carpet welcome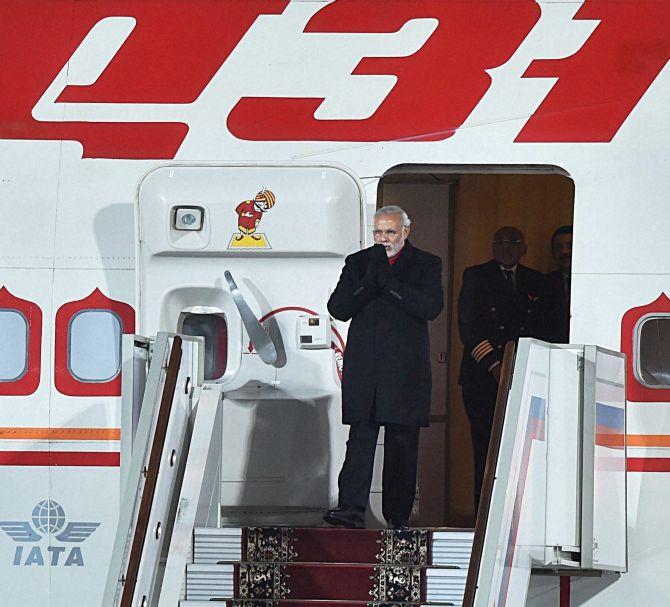 During his two day visit, Modi is expected to seal a raft of major deals in defence, nuclear energy and hydrocarbons sectors to further cement their 'special and privileged strategic ties'.
BSF crash: Why does a soldier's family have to cry?' Relative asks home minister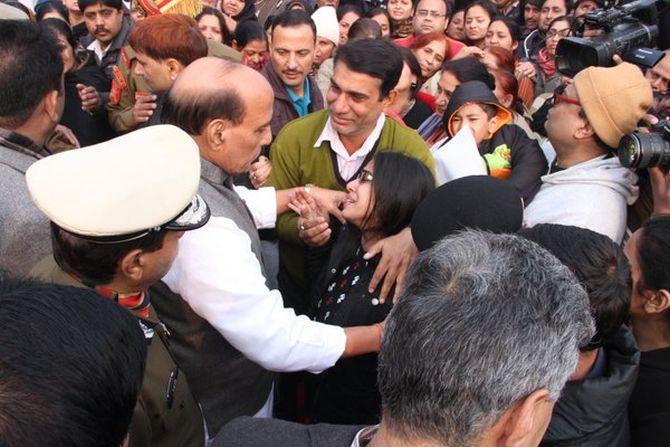 Home Minister Rajnath Singh was present at the funeral of the BSF personnel who died in the air crash on Tuesday.
December 22, 2015
10 dead after BSF plane crashes into wall near Delhi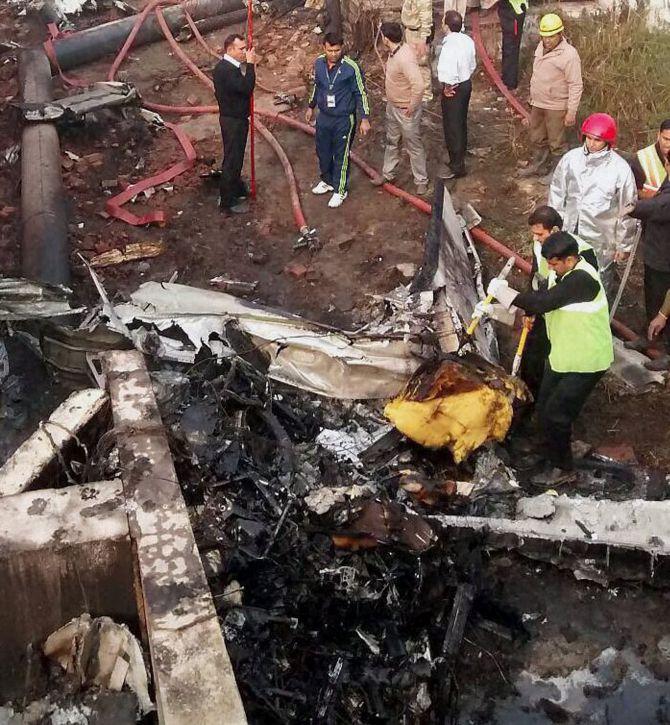 The plane crashed into the airport boundary wall and landed in a sewage treatment plant while returning back due to apparent technical problem.
When an image simply can't say it all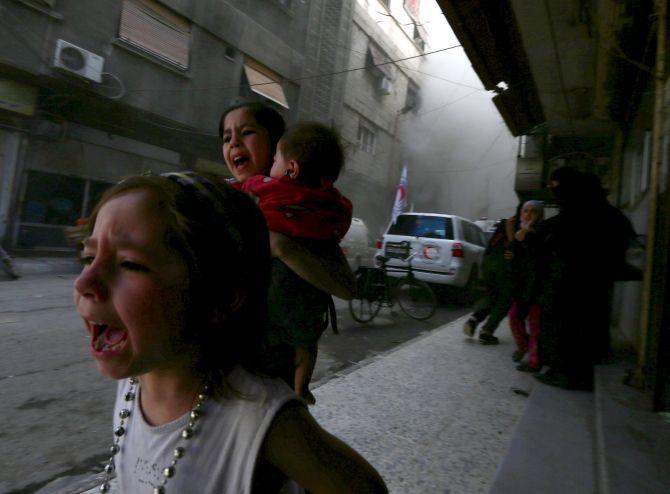 Here are the stories behind some of the most iconic pictures of the year.
WTF News! It's Weird, True and Funny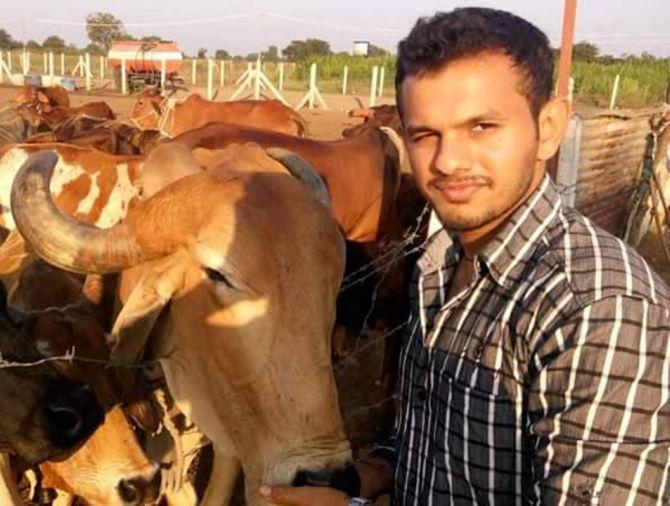 Here's your weekly digest of the most weird, true and funny news from the across the globe.
December 21, 2015
MPs now have an electric bus to take them to Parliament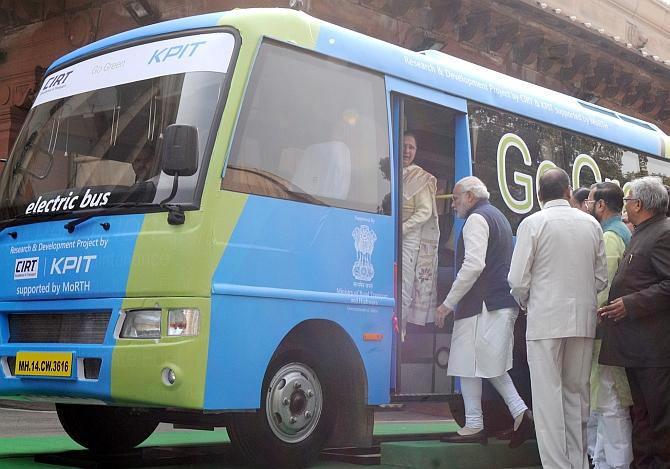 As part of efforts to curb pollution, the Centre is in the final stage of completing the Rs 10 crore pilot project under which 10 refurbished electric buses will be handed over to select State Transport Corporations by March 2016.
Kashmir enters the harshest duration of winter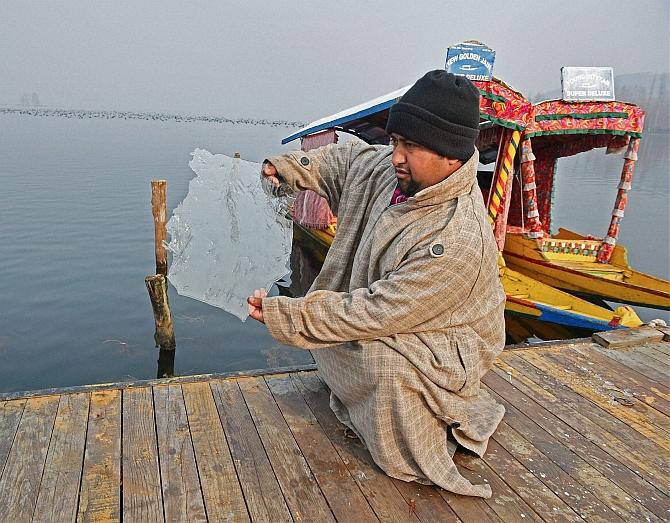 The 40-day period of harshest winter in Kashmir known as 'Chillai-Kalan', began on Monday as the mercury dipped to season's lowest at several places including Srinagar, the summer capital of Jammu and Kashmir.
This couple's honeymoon is like nothing you have seen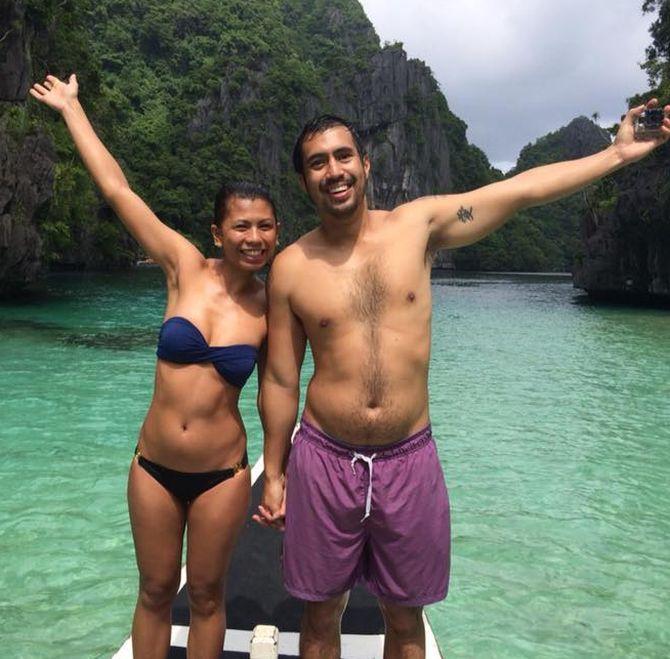 Mark, who said he had always wanted to travel the world, pitched the idea of doing so to his new wife in the shape of a 365-day honeymoon -- and after a year of convincing, she agreed.
REWIND: TOP photos of the week that was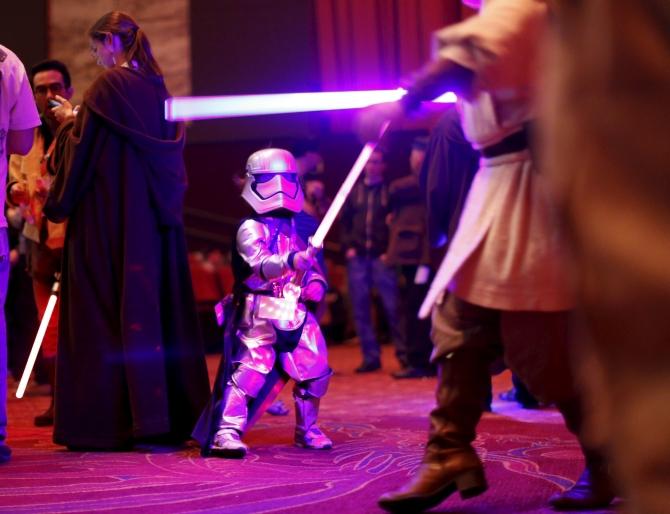 Here's a glimpse of all that happened around the world last week, in 10 images
December 20, 2015
Delhi gang rape: Victims' parents among protesters detained at India Gate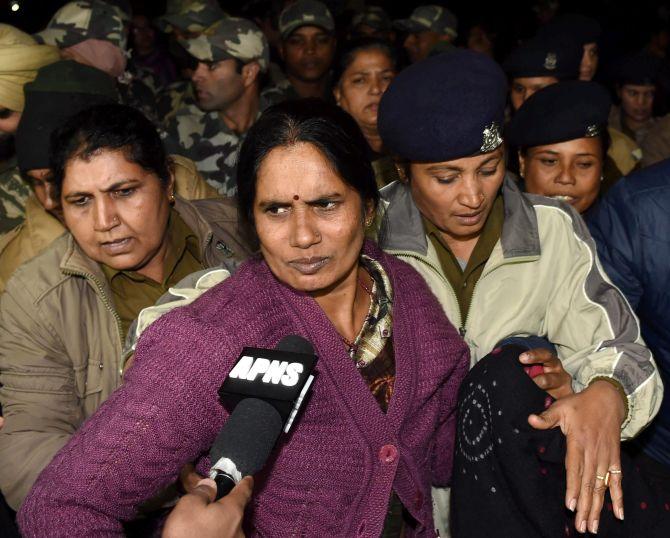 Scores of protesters, including the parents of the December 16 gang rape victim, were detained by the police after they staged a protest.
December 19, 2015
Yoga with PM: Police bosses join Modi in Yoga session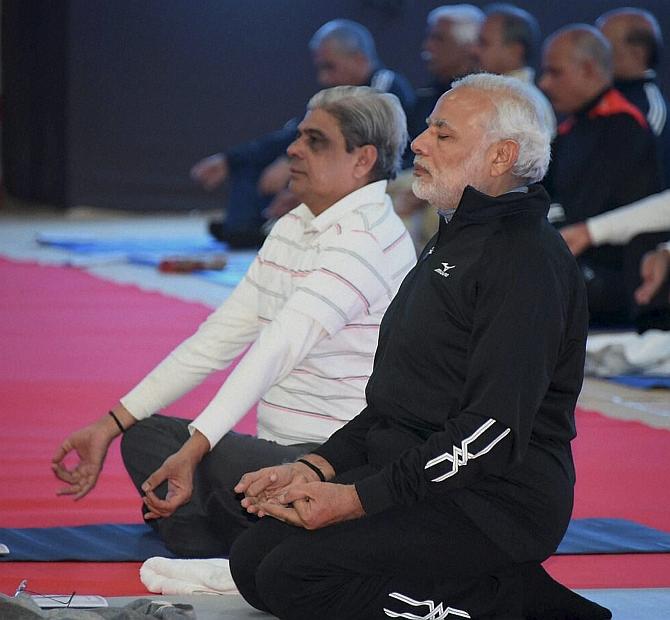 Prime Minister Narendra Modi and Home Minister Rajnath Singh on Saturday participated in a 45-minute yoga session along with over 200 top police officers of the country gathered at Kutch for an annual conference, which has been marked by a distinctive personal touch this time.
PHOTOS: A sea of support for the Gandhis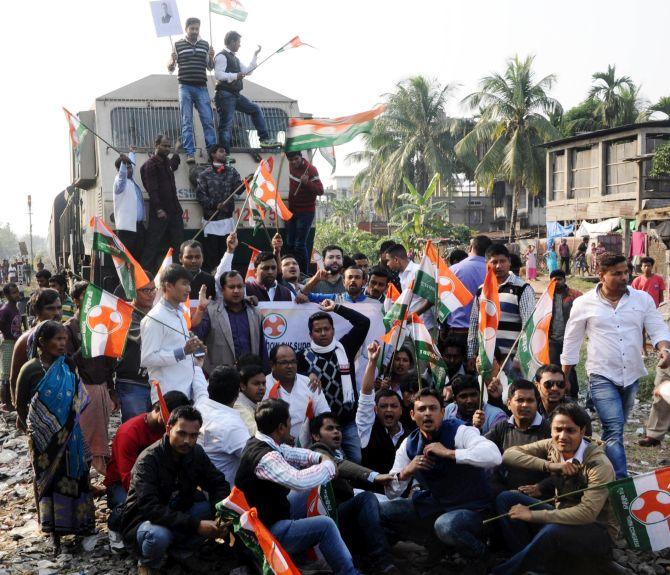 Massive protests were seen across the country after Congress party members and workers took to the streets to agitate against the Bharatiya Janata Party.
December 18, 2015
From Russia with love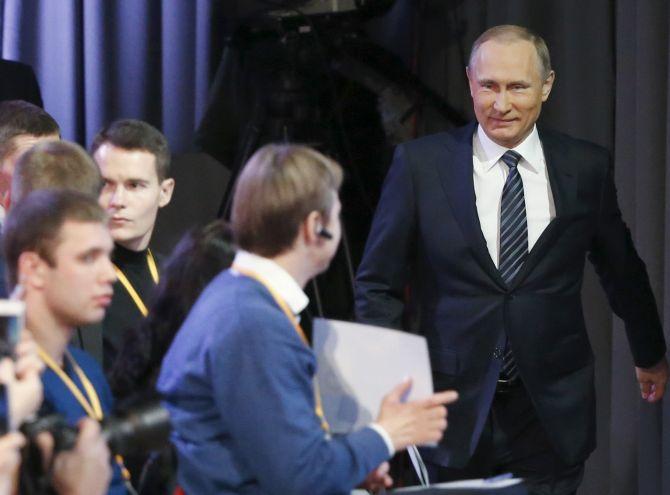 Russian President Vladimir Putin described Trump as a "talented and outstanding man".
Russia's war machine in fight against Islamic State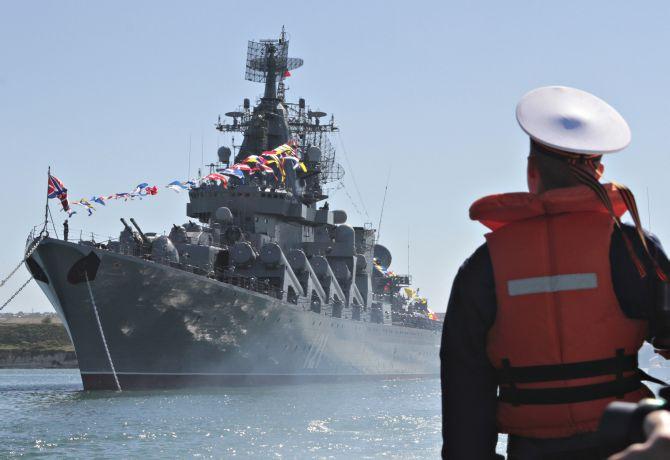 The Russian warship Moskva, laden with long-range guided missiles, is a formidable symbol of Russian naval might in the fight against the Islamic State.
When Obama walked on the wild side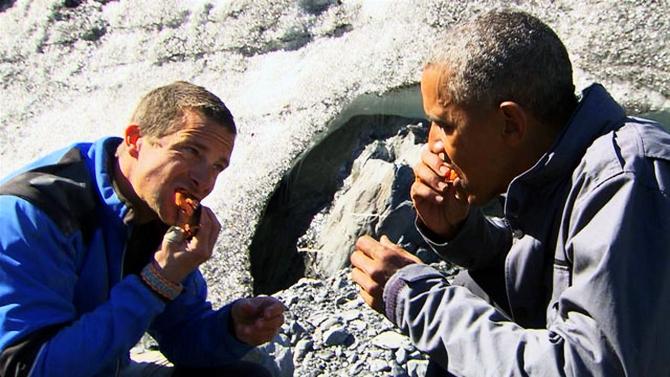 The US president spent time with Bear Grylls, the famous survival expert, in the Alaskan wilderness, which has been made into a documentary.
December 15, 2015
PHOTOS: PM gets a glimpse of Indian Navy's might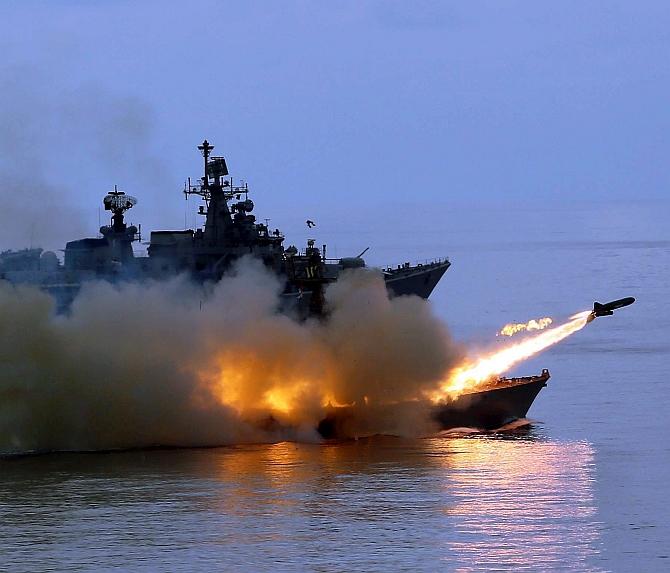 An impressive array of warships, including nuclear capable submarines, and about 8000 men and officers of Indian Navy presented an exquisite display of operational capabilities in an exercise reviewed by Prime Minister Narendra Modi off the Kochi coast in Kerala on Tuesday.
Delhi demolition: Woman gives birth to girl in biting cold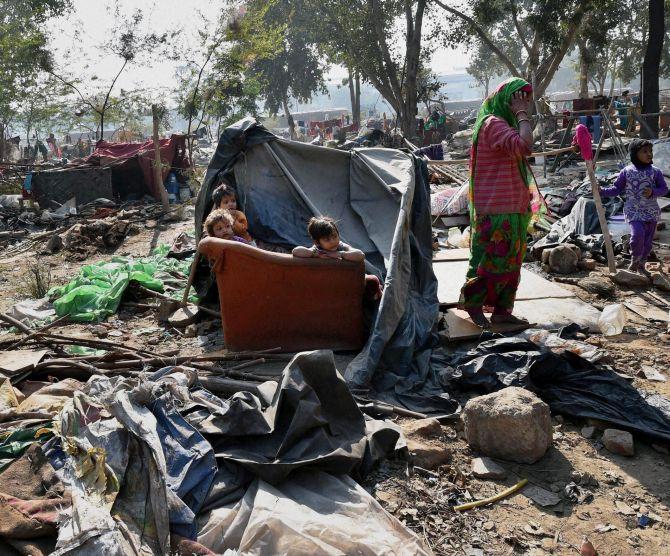 A few metres from where Anwar Alam and Safina lost their daughter, Ruksiya, in an incident that has now turned into a major political controversy, a woman gave birth to a girl. The mother and child were quickly shifted to a hospital from the biting cold.
Ho Ho Ho! Santas, Santas everywhere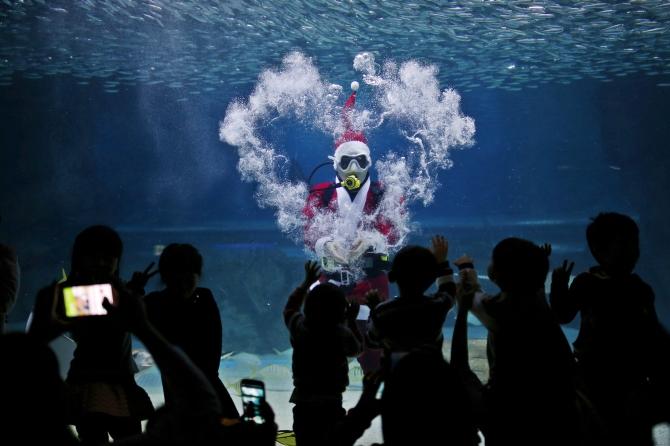 Here's what some crazy Santas have been up to around the world
December 14, 2015
Won't let them break your homes again: Rahul to Shakur Basti dwellers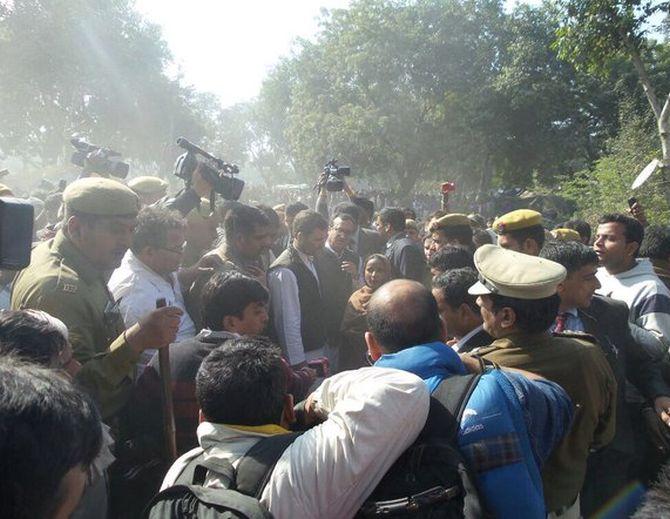 Flanked by security and chanting Congress supporters, Rahul inspected the slum area and also interacted with affected families who told him of their woes, while a massive crowd followed him.
Winter Wonderland: Stunning images of snow in Kashmir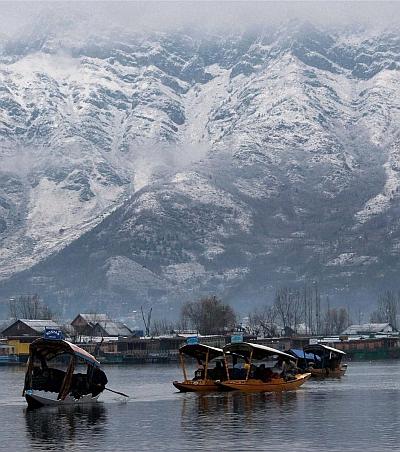 Some stunning glimpses of Kashmir's first snowfall
REWIND: Stunning PHOTOS of the week that was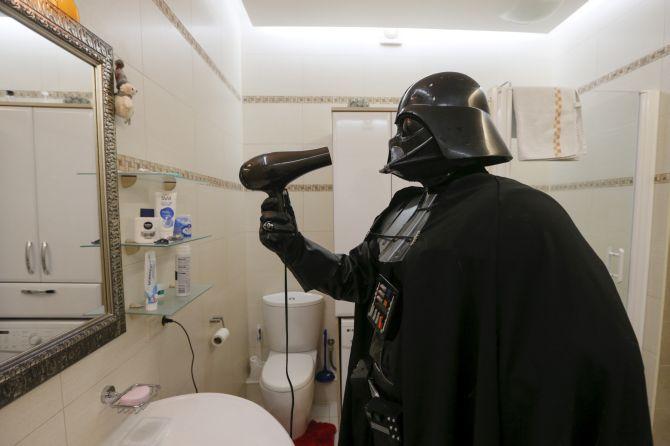 Here's a glimpse of all that happened around the world last week, in 10 images.
December 11, 2015
PHOTO: When Kashmir woke up to this!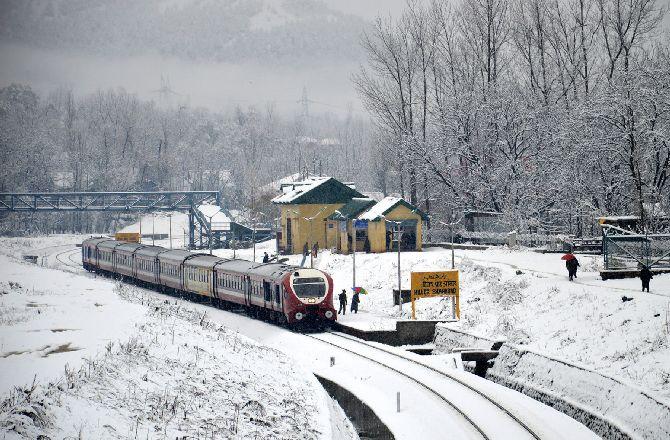 Tourist hot spots like Gulmarg and Pahalgam woke up on Friday morning under a thick blanket of snow.
INSIDE LOOK: When Defence Minister Parrikar was aboard USS Eisenhower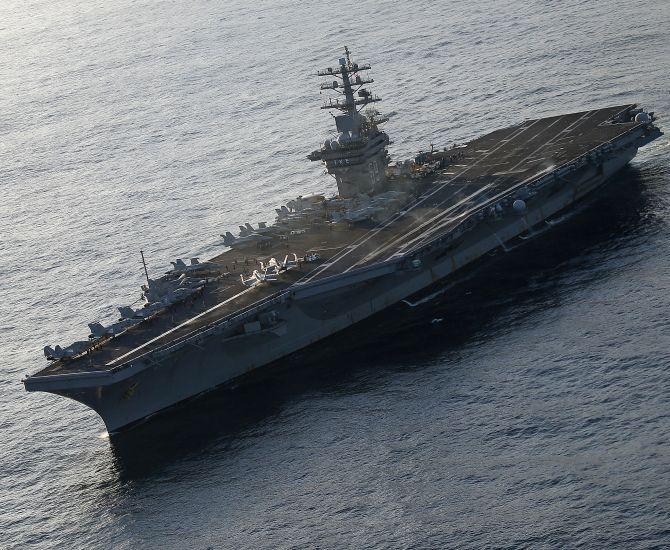 On Friday, the 'raksha mantri' boarded the USS Eisenhower to view flight operations while the ship was at sea.
December 10, 2015
WTF News! It's Weird, True and Funny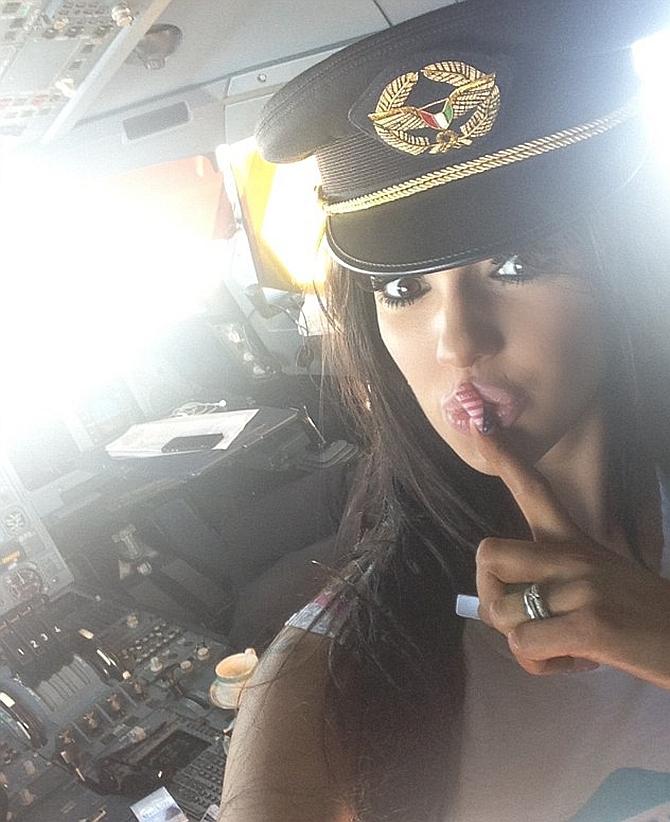 Here's your weekly digest of the most weird, true and funny news from the across the globe.
December 08, 2015
Rahul visits rain-hit Tamil Nadu, says 'not the time for politics'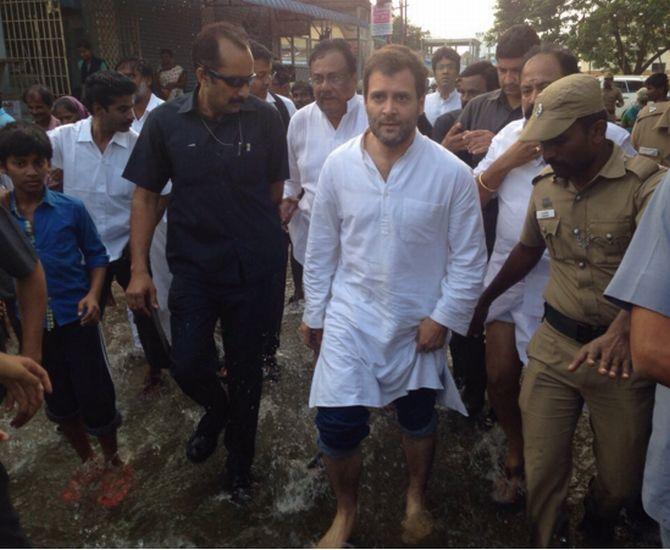 The Congress leader also handed over relief material to affected people.
After floods, Chennai battles to keep diseases at bay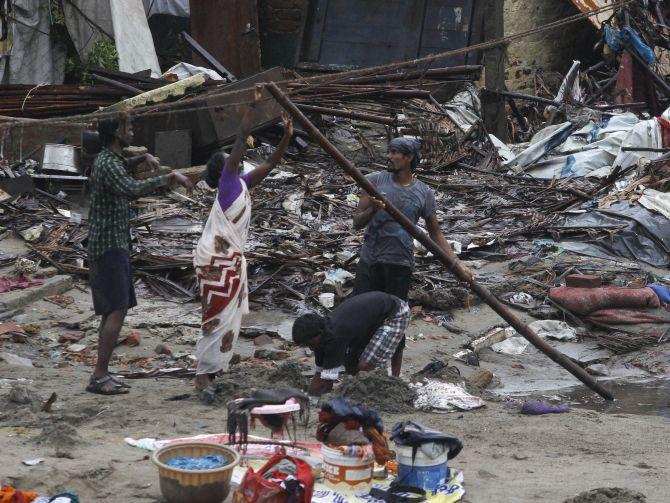 Government doctors were visiting severely affected areas to distribute medicine for the residents to safeguard themselves against diarrhoea and other water-borne infections.
1 dead, two injured after trains collide in Haryana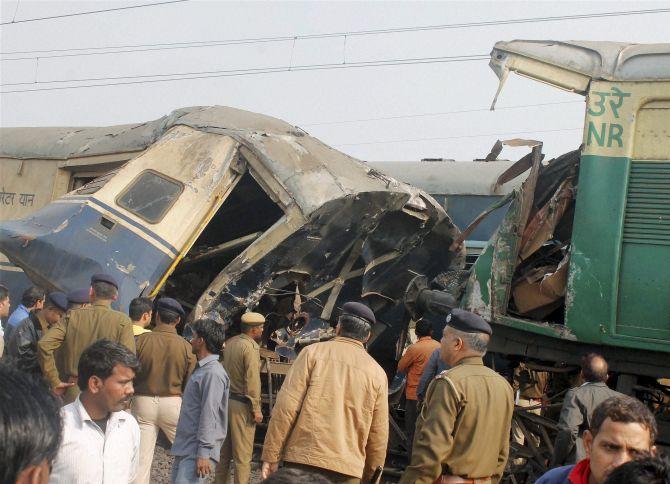 Fog and negligence of the driver of the rear train are being reported as to being causes of the mishap.
Check out who turned up for Arun Jaitley's daughter's wedding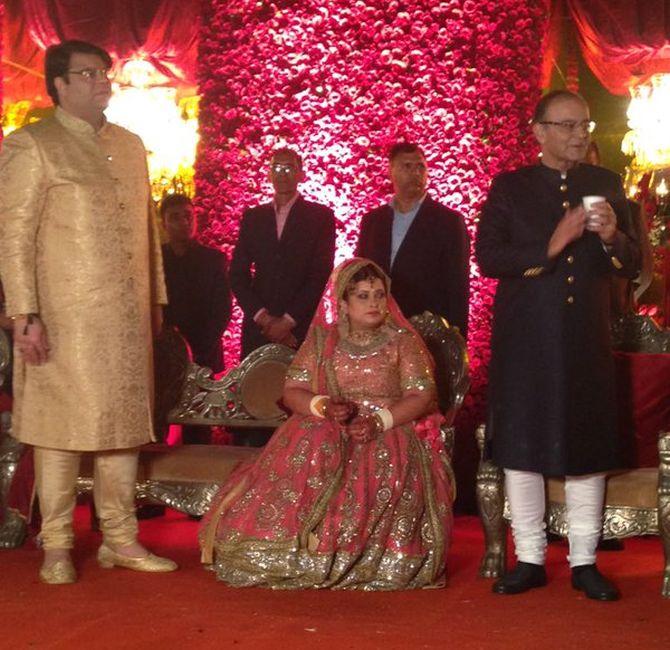 Arun Jaitley, the Union finance minister, played the doting father of the bride on Saturday and Sunday at the wedding of his daughter Sonali who tied the knot with businessman-lawyer Jaish Bakshi.
December 07, 2015
Saving lives from Kashmir to Chennai: IAF's big birds to the rescue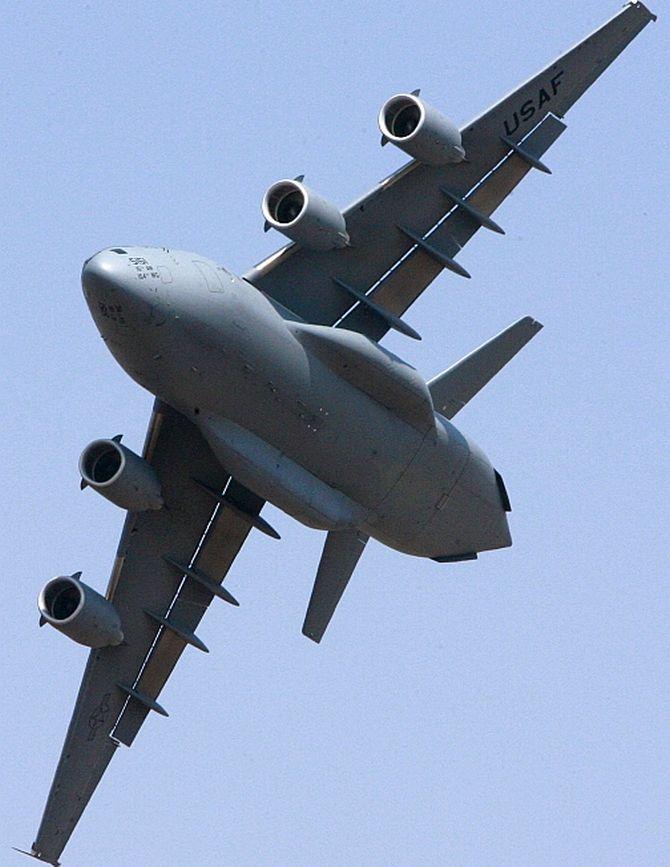 Heavylifter C-17 Globemaster and the C-130J Super Hercules, which helped in saving thousands of lives during Uttarakhand and Kashmir floods and the deadly Nepal earthquake early this year, again did a yeoman service in rain-hit Chennai where they ferried nearly 1,500 people to safety following the deluge.
December 05, 2015
#Chennaifloods: With 1,600 troops, NDRF launches 'most massive' relief ops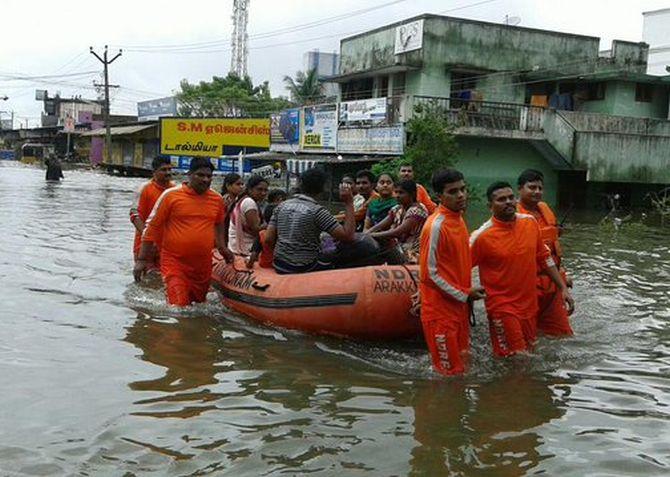 "This is our most massive deployment in any flood disaster till date. Now we have close to 1,600 personnel with 21 officers and 200 rubberised inflatable boats. We have rescued over 16,000 people to safer locations till now," the DG said.
Toys and prayers books: Inside the home of California shooters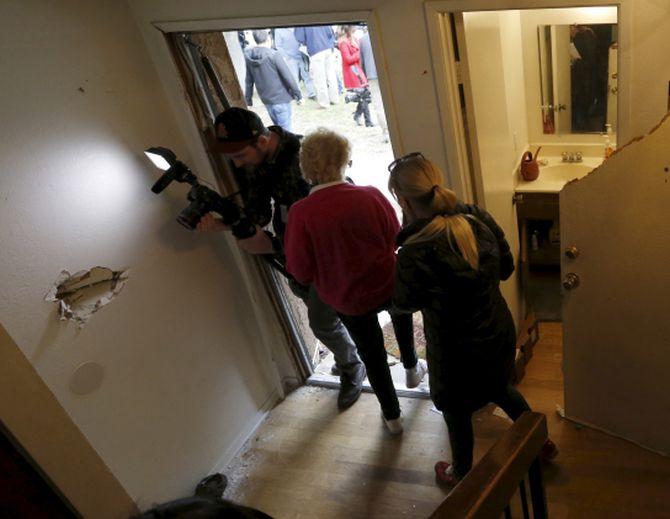 The media were granted access to the Redlands home, where they rushed in and went through personal effects, which included photo IDs and a wide array of documents and photographs - in addition to the couple's baby toys.
MUST SEE: Two crocodiles fight to the death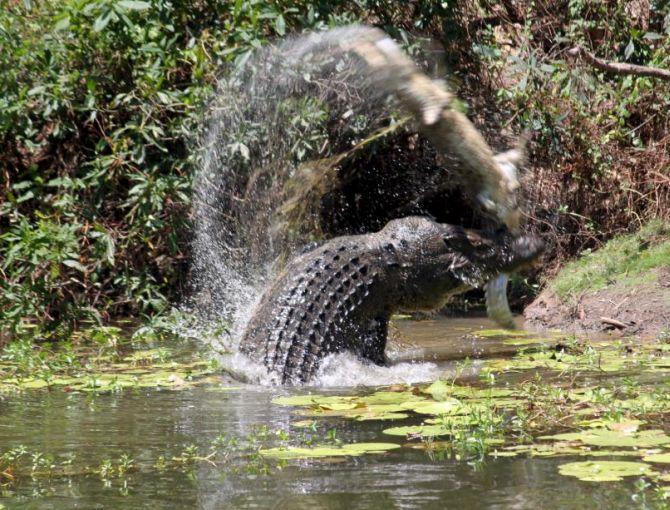 Photos surfaced of two crocodiles fighting in a dramatic fashion, with the bigger one eventually eating the smaller croc at Rinyirru National Park in North Queensland.
PHOTOS: Chennai grapples with flood aftermath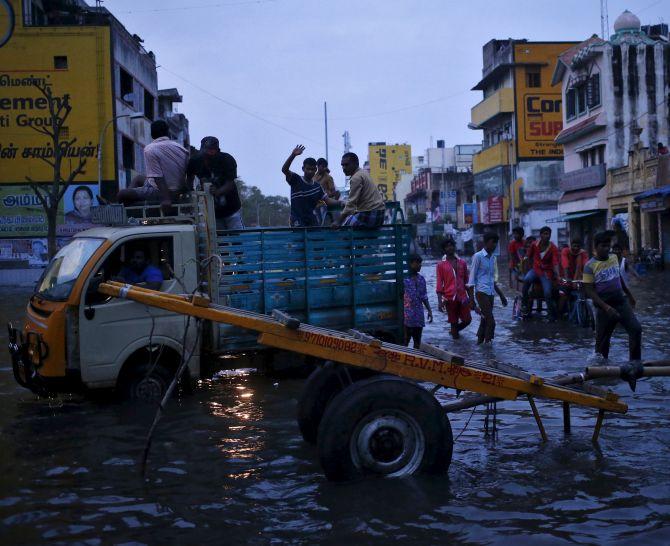 The flood-ravaged city was on Saturday struggling to return to normalcy with partial restoration of telecommunication and train services.
December 04, 2015
And the state worst affected by natural disasters is...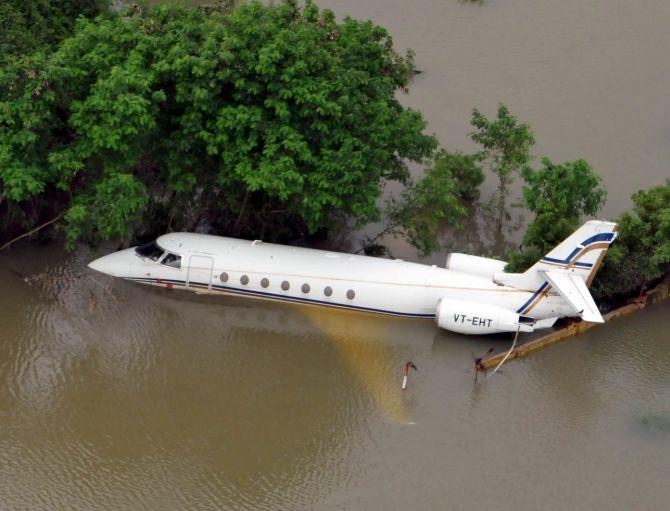 West Bengal and Tamil Nadu together account for almost 30 per cent of all deaths and 75 per cent of houses destroyed in the country due to natural calamities.
#ChennaiFloods: Before and After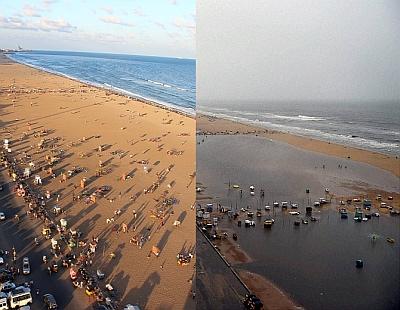 Rediff.com gives its readers an insight on the magnitude the flooding in Chennai.
December 03, 2015
Pregnant woman among thousands rescued from flooded Chennai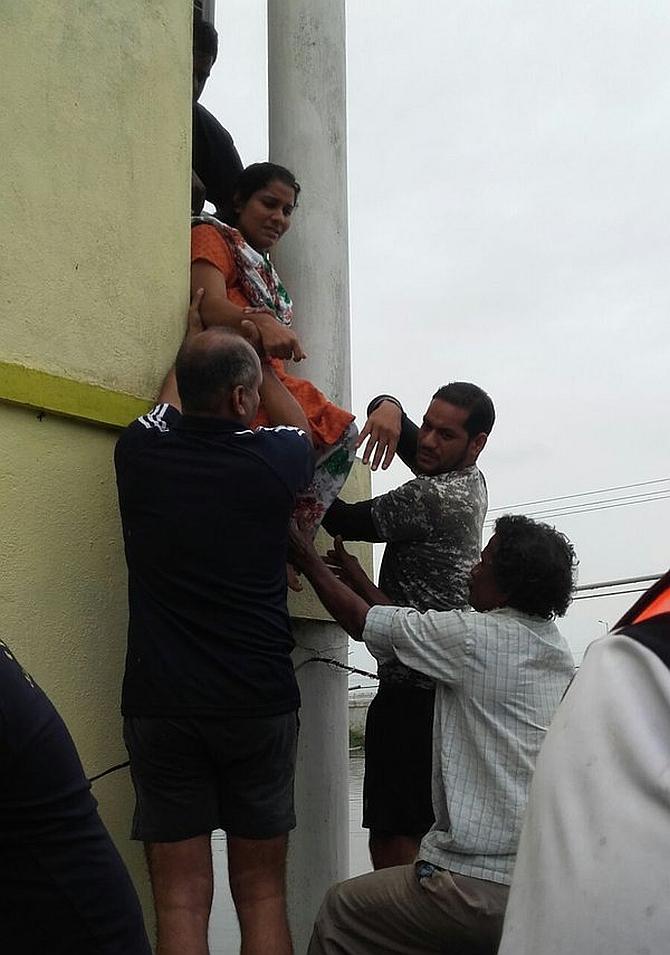 Rescue and relief operations continued in full swing in Chennai with over a hundred people taken to safety by teams of Army, IAF and NDRF, including a seven-month pregnant woman who was airlifted on Thursday from one of the worst-affected areas in the flooded city.
December 02, 2015
Home of the strange: The incredibly bizarre world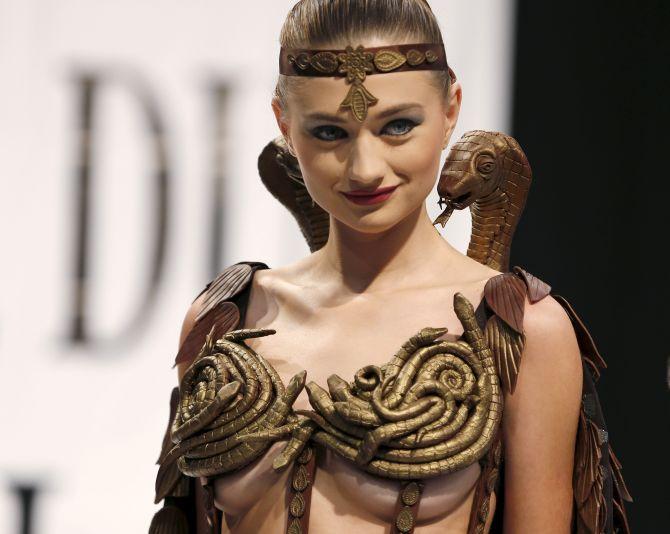 Here's this week of photos that prove we live in a mad world.
PHOTOS: Army, navy come to the rescue as rains pound Chennai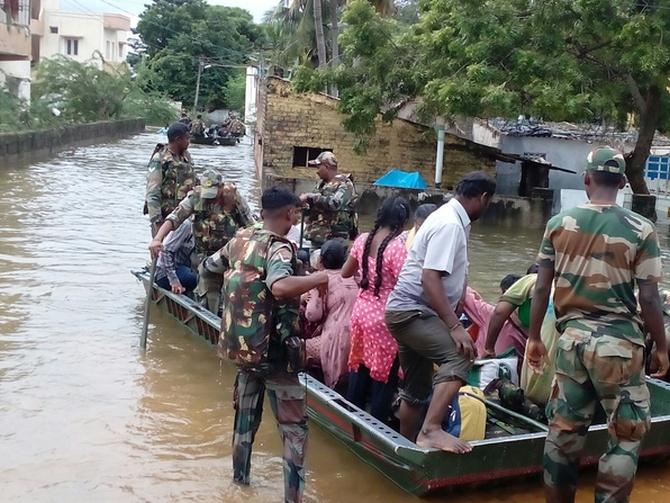 Even as the state is being lashed with torrential rainfall, with weather department officials describing it as the worst rainfall in 100 years, army and naval troops have already answered the calls for help and rushed in to save stranded people.
Rains will batter TN for 7 days more: IMD
Rains will continue to batter Tamil Nadu for the next seven days and the next 48 hours are "very crucial", the IMD has said.
PHOTOS: Super smog hits Beijing, Delhi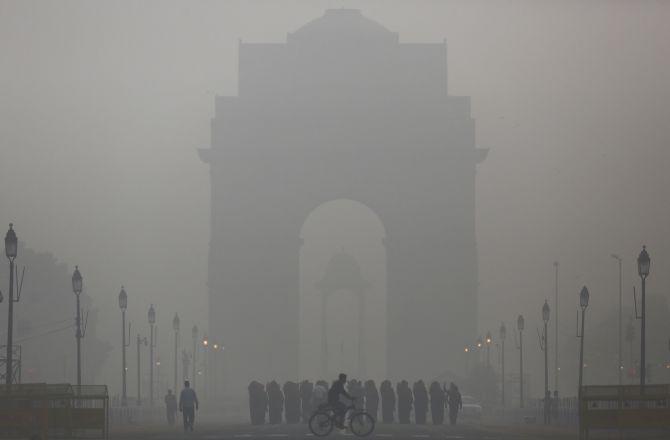 Rediff.com takes a look at images of smog that has blackened the skies of the two capitals.
December 01, 2015
Brace yourselves for more rain, Tamil Nadu!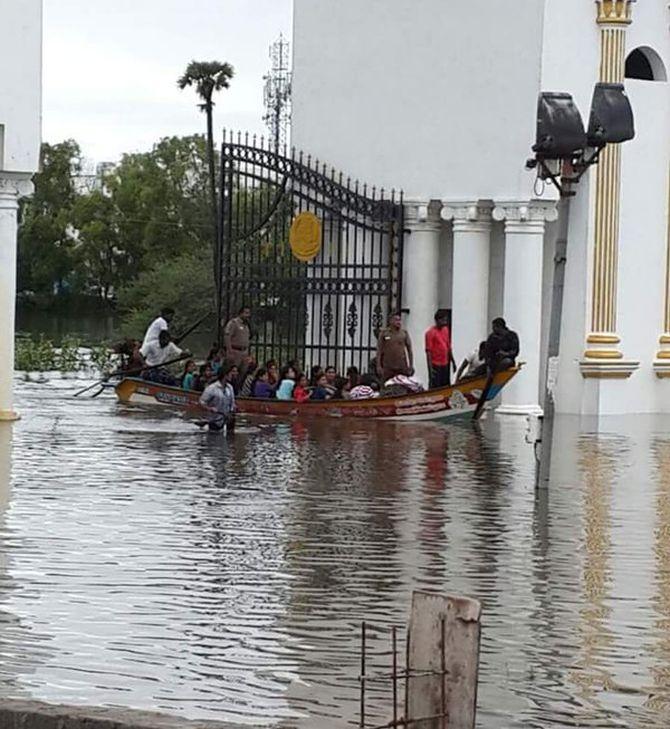 The picture looks no better for Wednesday with the weather office forecasting heavy to very heavy rainfall for Tamil Nadu.
WTF News: It's Weird, True and Funny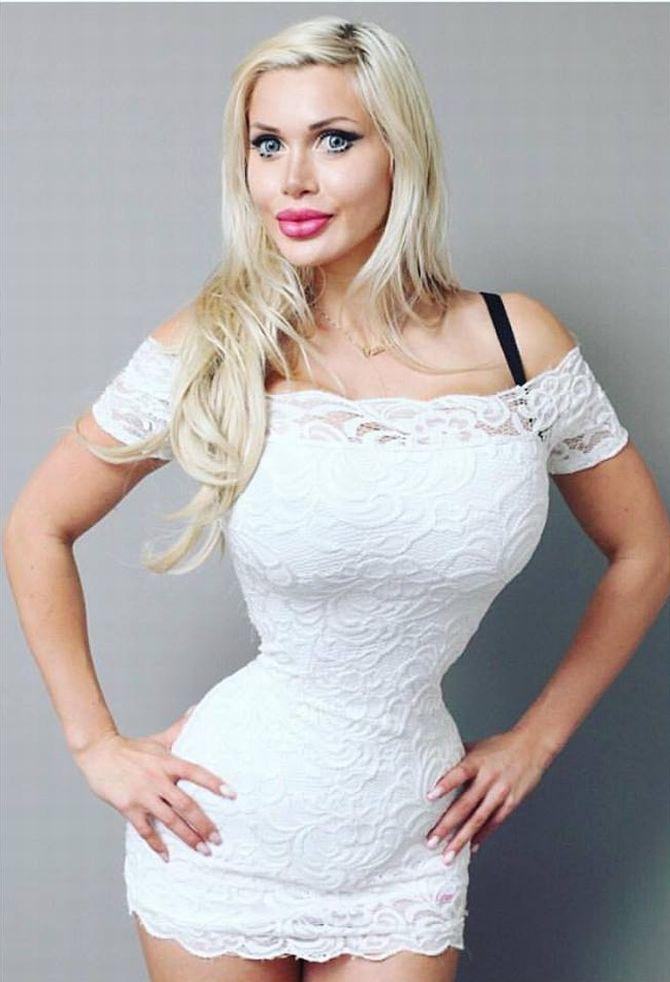 This week's collection of stories that prove we live in a truly mad, mad world.
Astronaut Kjell Lindgren goes on clicking spree from space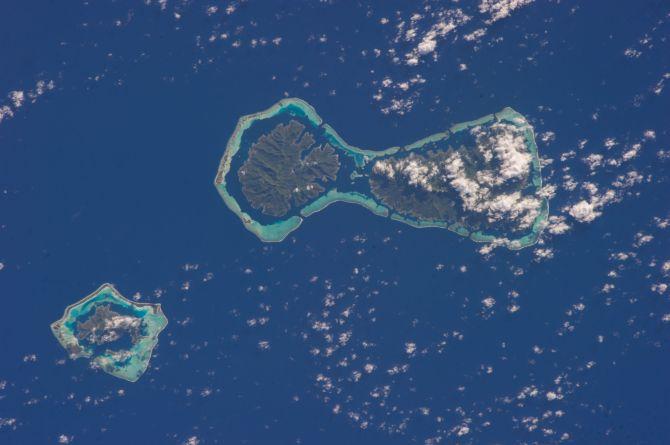 Rediff.com takes a look at these awe-inspiring images of Earth tweeted by ISS astronaut Kjell Lindgren.
November 30, 2015
FIRST LOOK: The Eiffel Tower turns green for Planet Earth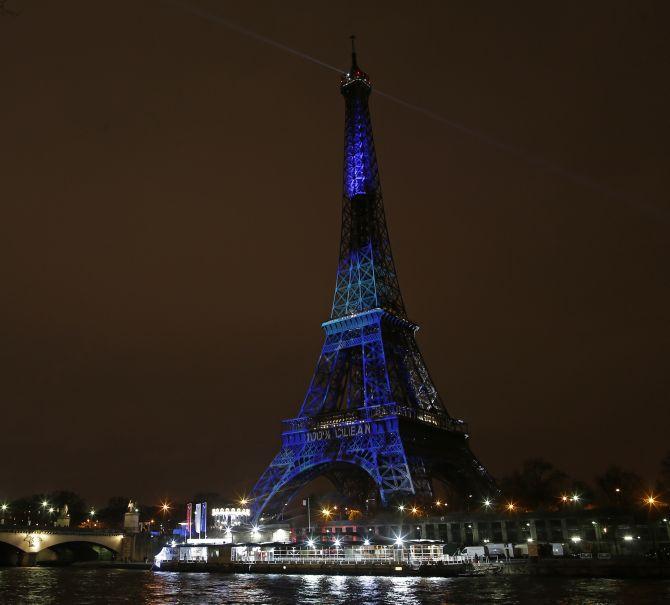 The structure went green for the opening of the Paris climate conference, marking the launch of an art project that will see "virtual trees" grow on the landmark to support reforestation.
REWIND: Stunning PHOTOS of the week that was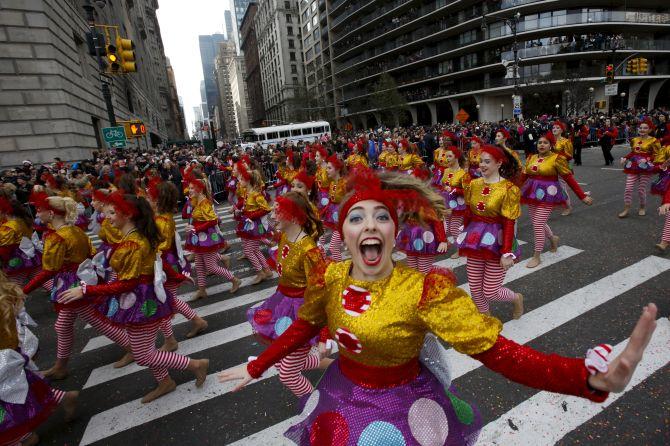 A round-up of our favourite photographs from the week gone by.
Move aside ice bucket, here comes the #condomchallenge!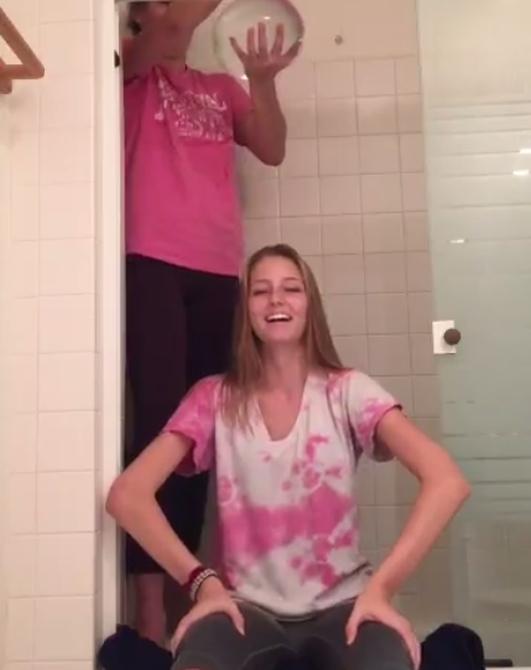 You have seen it all -- the fire challenge, the twerking challenge, the rice bucket challenge -- viral trends tend to take the internet by storm and now there is a new craze that is overwhelming the social media.
November 28, 2015
3 killed in shooting at US family planning centre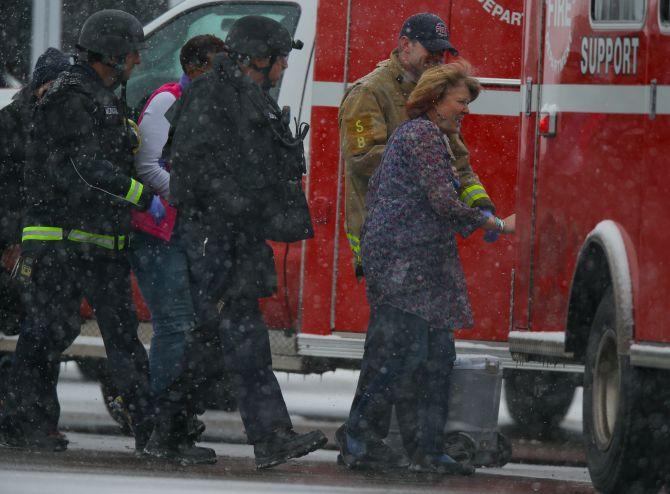 Two civilians and one police officer died after the gunman stormed the centre.
November 27, 2015
This Rs 55 crore wedding is like nothing you have ever seen!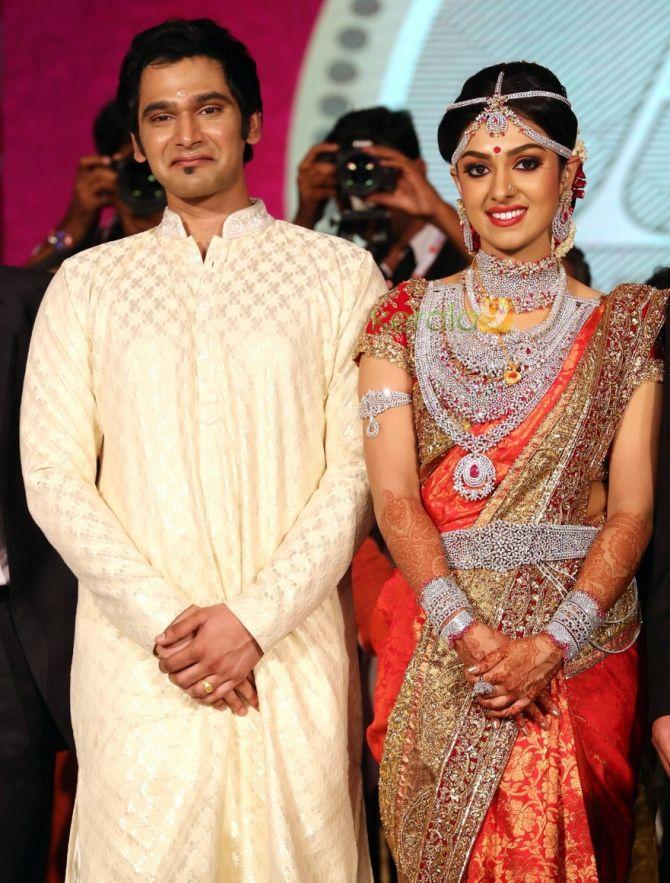 NRI businessman Ravi Pillai spent Rs 55 crore on his daughter Dr Arathi Ravi Pillai's wedding to Adithya Vishnu, a doctor based at Asramam ground in Kollam on Thursday.
From UK to Australia: She's flying 23 countries in 100 days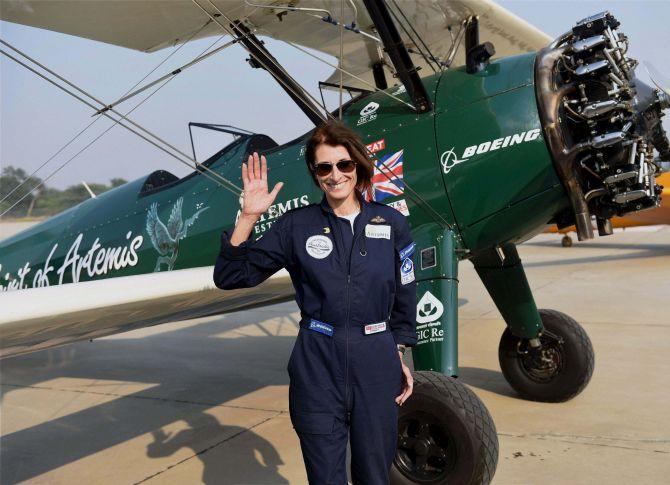 On a journey to recreate history, and to script a new one, British aviator Tracey Curtis Taylor, on a stopover in Delhi on her way to Australia to relive a flight made 85 years ago, said her mission is to inspire young girls to strive to achieve their dreams.
November 26, 2015
Revisiting the horror of 26/11, seven years on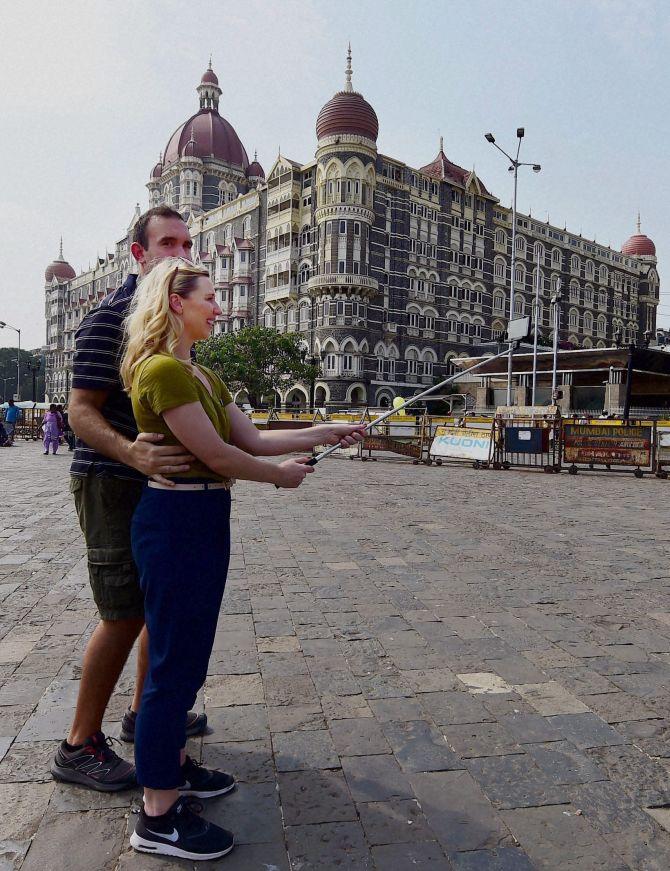 It's been seven years since 10 Pakistani terrorists arrived by sea route and opened fire indiscriminately at different sites in Mumbai, killing 166, including 18 security personnel, and injuring several others, besides damaging property worth crores.
PHOTOS: Seven years on, Mumbai honours its 26/11 heroes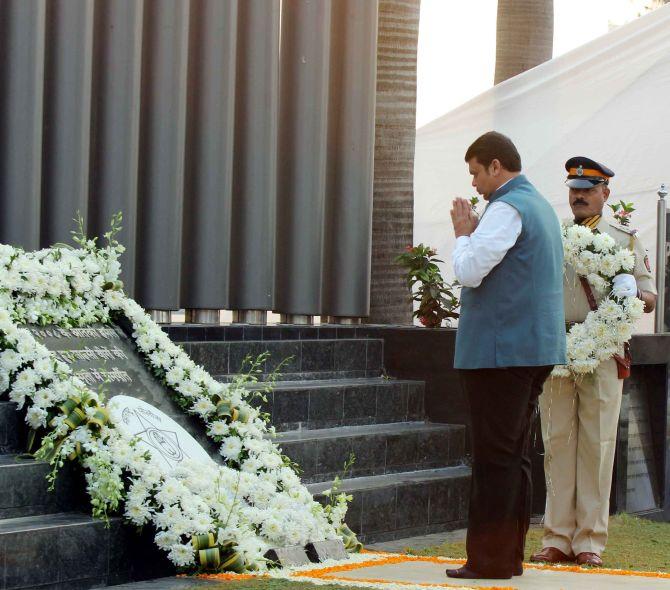 Maharashtra Chief Minister Devendra Fadnavis along with other ministers and the Mumbai police, on Thursday paid homage to the martyrs on the seventh anniversary of the horrific terror attack of 26/11.
PHOTOS: It's an odd, odd world out there!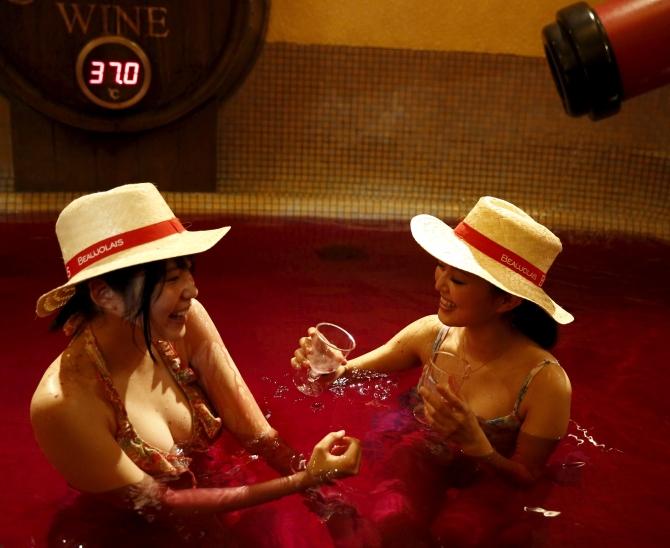 These 10 images prove that we live in a crazy, bizarre world.
November 25, 2015
PHOTOS: What was Modi up to in Singapore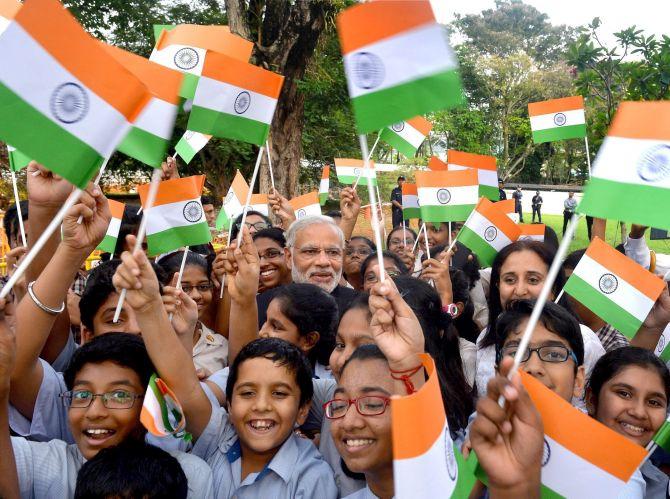 From signing key agreements to having dinner at the popular Indian vegetarian restaurant Komala Vilas, here are the top moments of his visit.
Syria: The most dangerous place to be a child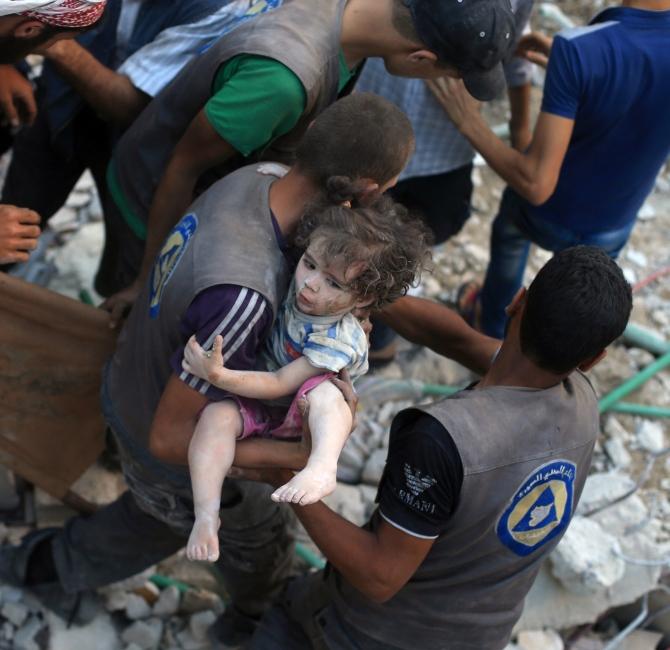 Rediff.com looks at the lives of children in Syria.
November 24, 2015
India, Singapore lift ties to strategic partnership, ink 10 pacts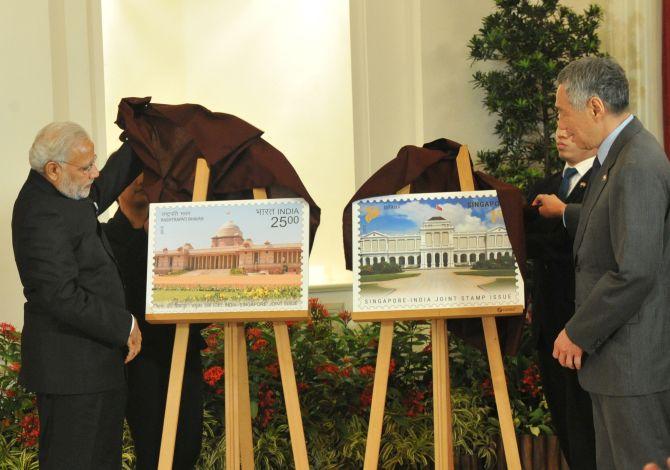 India and Singapore on Tuesday elevated their ties to the 'strategic partnership' level and signed bilateral agreements for enhanced defence cooperation and in areas like cyber security, shipping and civil aviation.
November 22, 2015
PHOTOS: PM Modi's 'Malaysia moments'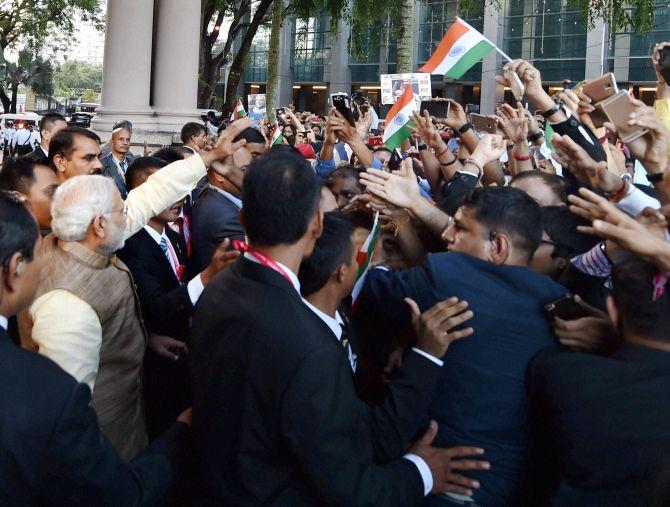 Here's a look at how PM Modi's Malaysia visit unfolded.
PHOTOS: Modi mania sweeps Malaysia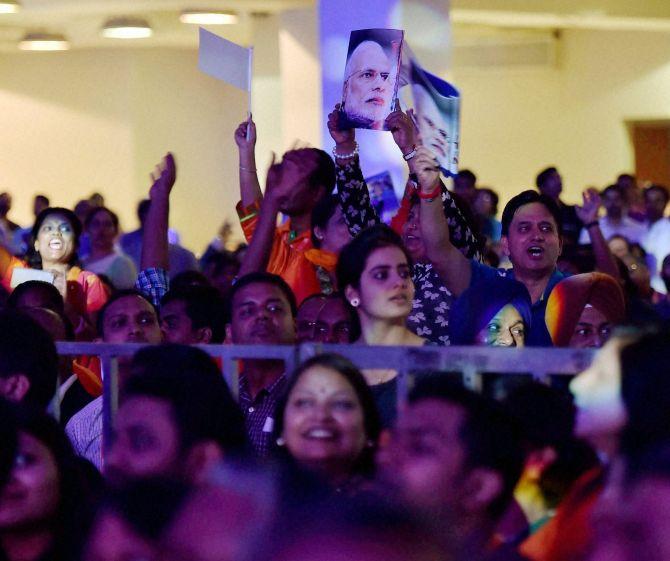 Prime Minister Narendra Modi rocked the Mines International Exhibition & Convention Centre in Kuala Lumpur, Malaysia. He addressed a crowd of over 15,000 Malay Indians.
PM Modi unveils Swami Vivekananda's statue in Malaysia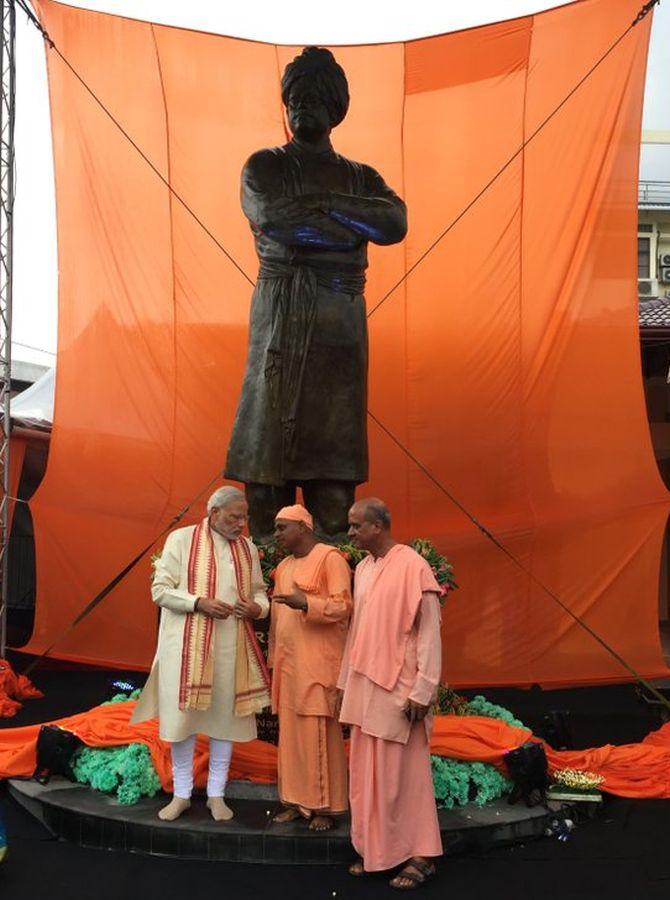 The PM unveiled the bronze statue of Vivekananda amid cheers from the more than 2,000 Indians, most of them ethnic Indian-Malaysians.
'Not in my name': Muslims hold peace rallies in Italy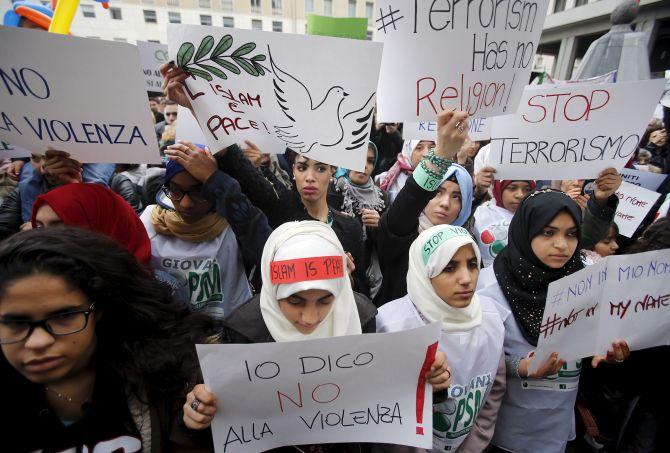 Hundreds of Muslims rallied in Rome and Milan on Saturday to show solidarity with the victims of jihadist attacks.
November 20, 2015
PIX: Look who turned up for Nitish Kumar's swearing-in ceremony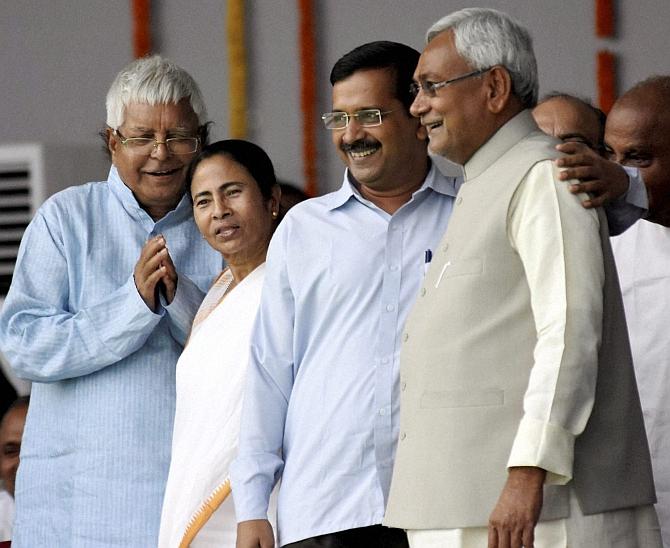 Political leaders from across states in the country have turned up for the event. Here's a glimpse at some of the leaders who have shown up for the big-ticket event.
PHOTOS: The odd, odd world we live in!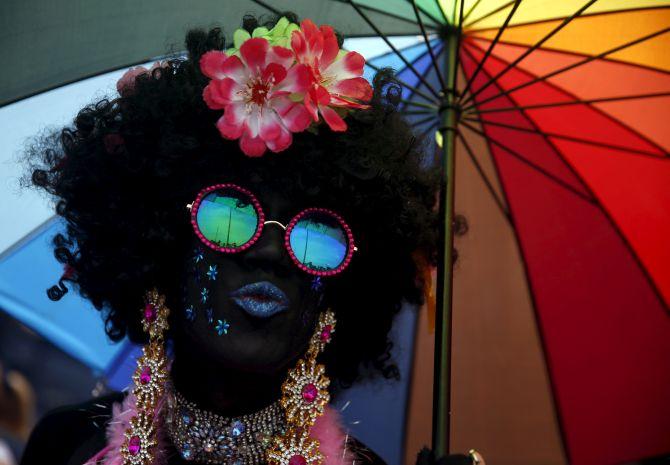 This week's collection of unbelievably unusual images from across the world
Top 10 nations hit hardest by terrorism; India 6th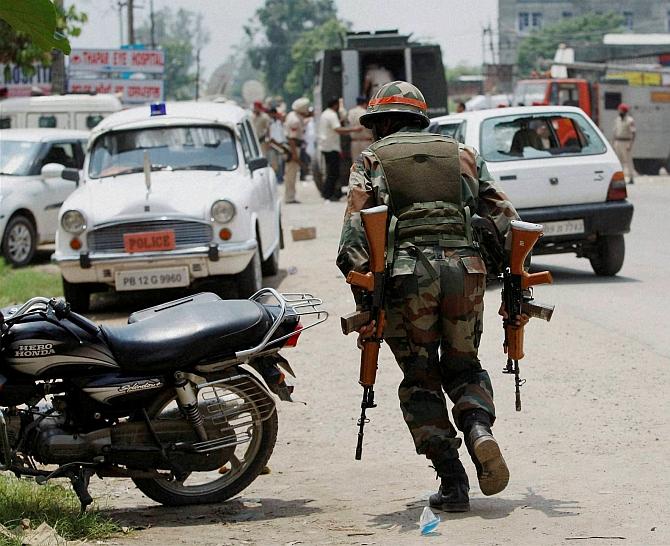 The number of people killed in acts of terror reached a record high last year, with almost four in five of these deaths occurring in just five countries, new research shows.
November 19, 2015
Death toll crosses 100 even as parts of Chennai receives fresh rainfall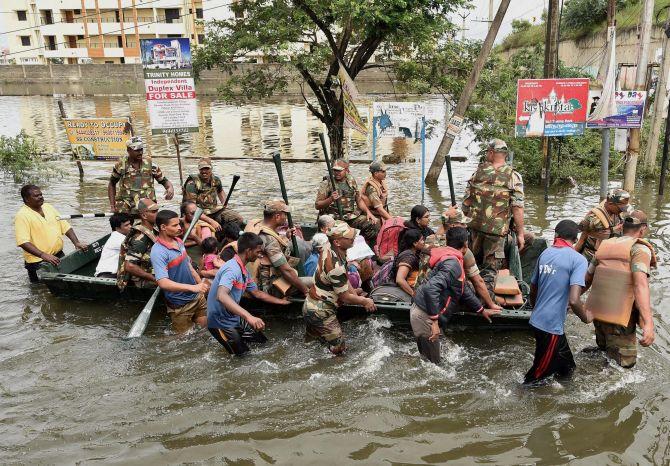 Chief Minister Jayalalithaa said in a statement that 24 more deaths have been reported in the past few days, taking the death toll in rain-related incidents like drowning and wall-collapse to 111.
Will Modi be this year's Time Person of the Year?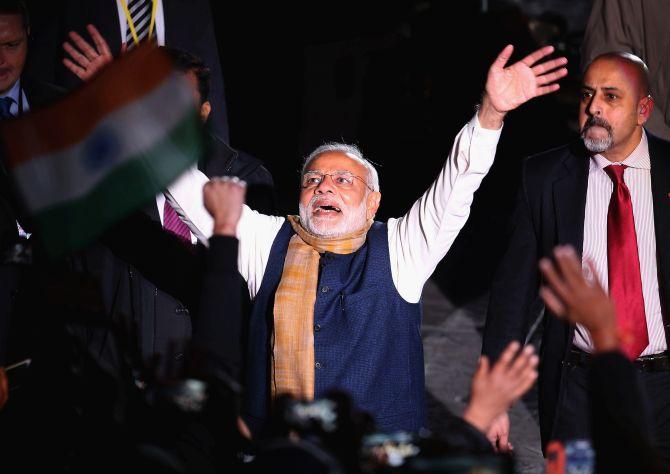 The PM has been named second year running; other contenders include Google's Sundar Pichai, US President Barack Obama, Islamic State leader Abu Bakr Baghdadi.
2016 Sony World Photography Awards: 16 breathtaking shots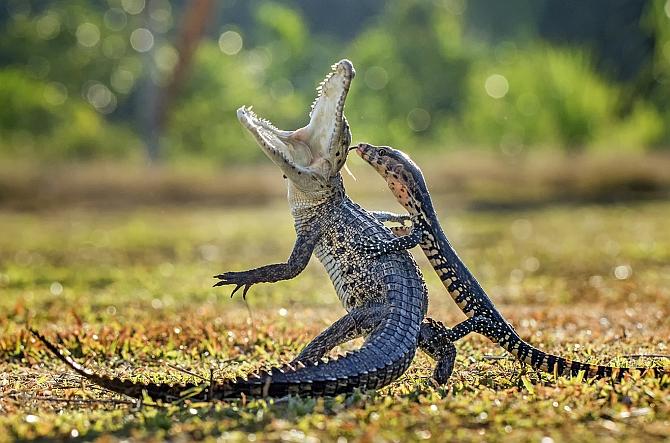 With barely weeks left to enter the 2016 Sony World Photography Awards, the world's biggest photography competition, photographers from around the world, including India, have been submitting some of the most stunning images -- many capturing breathtaking shots of mother nature at her finest.
PIX: When India and Russia took down terrorists in Rajasthan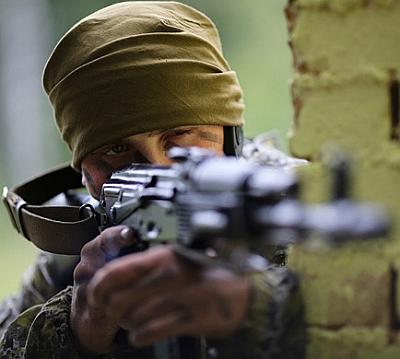 During the two-week intense and exacting military training, the two countries' contingents conducted focused training to understand the functioning of each other.
November 17, 2015
Images: Shiv Sena pays tribute to Bal Thackeray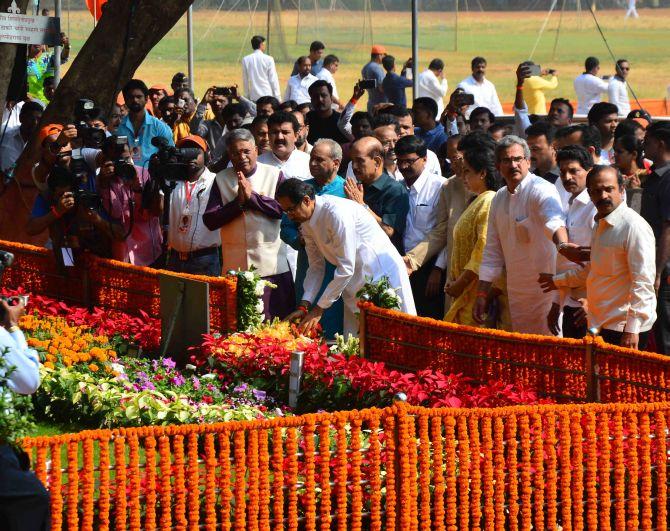 Party chief Uddhav Thackeray, Yuva Sena leader Aditya Thackeray and former CM Manohar Joshi, among others, paid tributes.
Cocktails, holidays in the sun: Inside the life of Paris attack bomber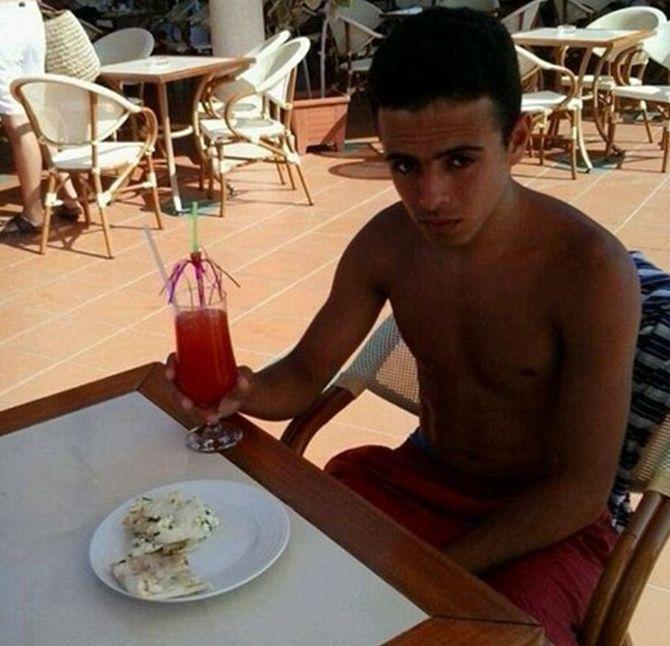 Chilling new images have emerged of suicide bomber Bilal Hadfi, who blew himself up outside the Stade de France during the deadly Paris attacks on Friday, which killed 132 people.
PHOTOS: The view from the top is always STUNNING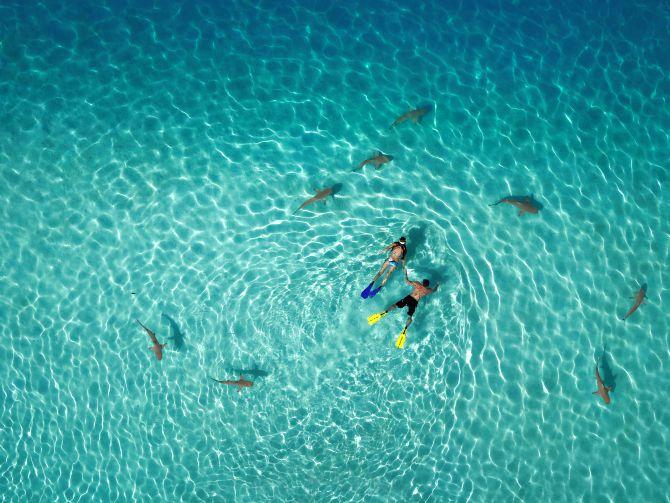 Whether they're capturing panoramic views of tulip fields or snapping thrilling images of cliff divers plunging into the sea, one thing is for certain: Drones can take awesome pictures.
MUST SEE: This is how beautiful South India looks from space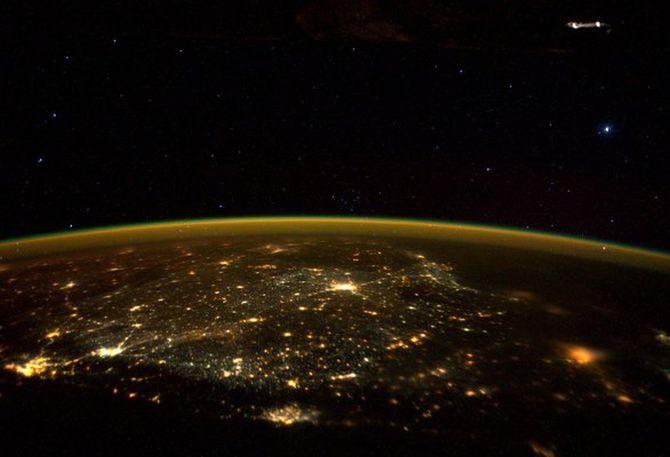 Astronaut Scott Kelly, the commander of International Space Station's year-long space mission, tweeted a special image of south India on Monday.
As parts of Chennai stay submerged, army, IAF join rescue operations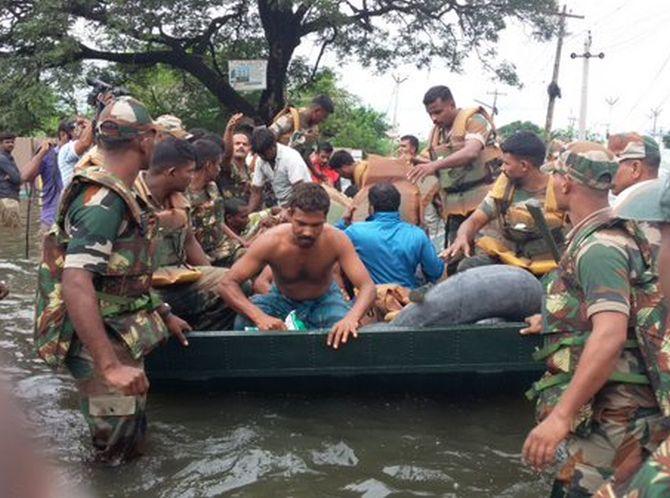 The army and air force have been deployed for rescuing stranded citizens after torrential rains have left residents marooned.
November 16, 2015
Thousands pray for Paris terror victims at Notre Dame cathedral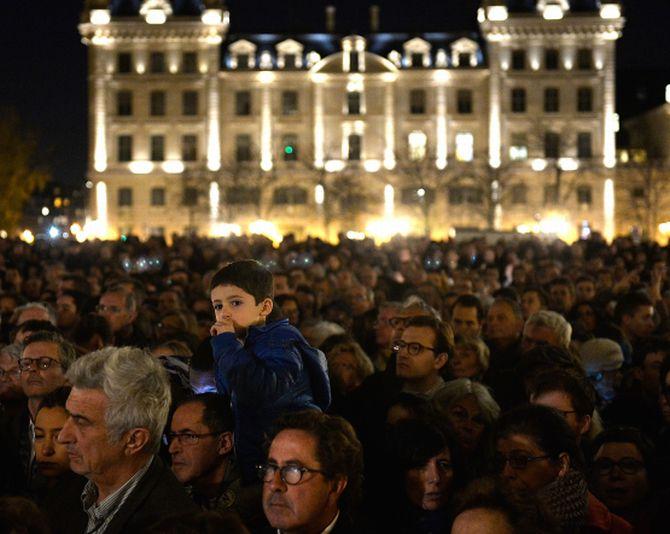 Parisians of all ages attended the Sunday mass held at Notre Dame cathedral to pray for the victims of Friday's terror attacks.
Flood fury unleashed in Tamil Nadu; death toll climbs to 71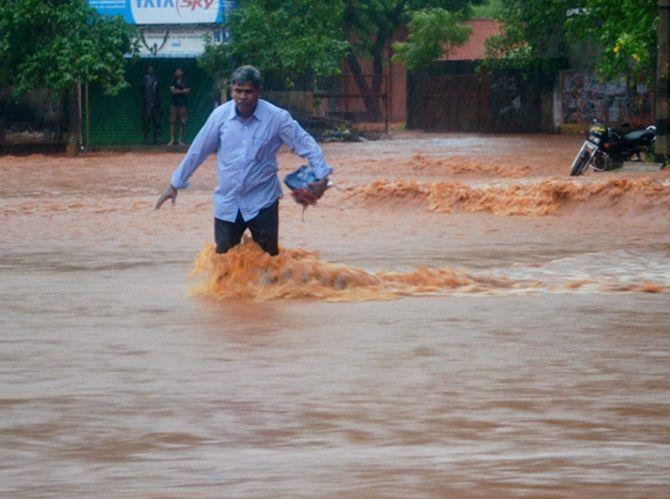 Educational institutions remained closed even as the weather office forecast heavy downpour in the next three days in the state, Puducherry and coastal Andhra Pradesh.
These heart-warming cartoons pay homage to Paris victims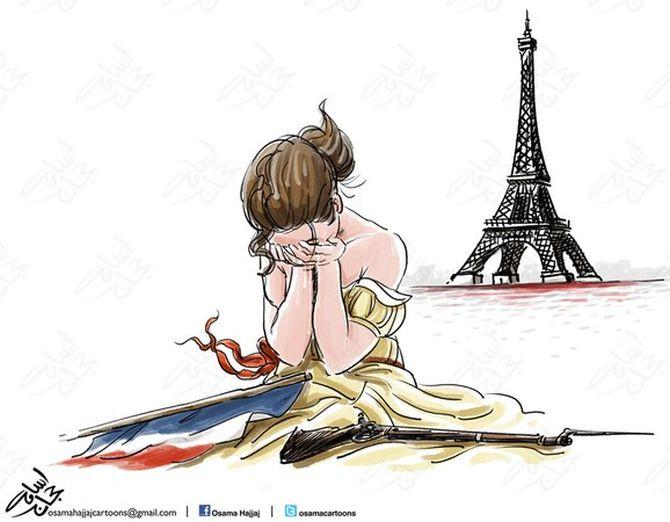 As the world watched terror unleashing in Paris from afar, cartoonists from all over the world have picked up their pen and paid tributes.
November 15, 2015
'Peace for Paris' symbol goes viral in solidarity with terror victims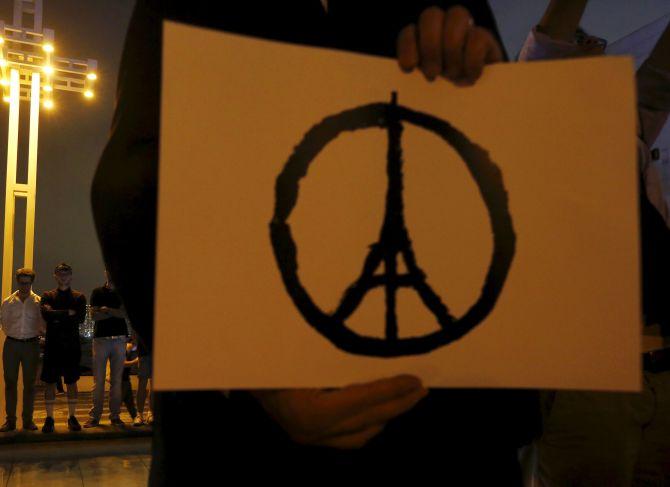 A "Peace for Paris" symbol, combining the city's beloved Eiffel Tower with the peace sign of the Sixties, has gone viral following the Paris terror attacks.
November 14, 2015
PHOTOS: NaMo's day out in London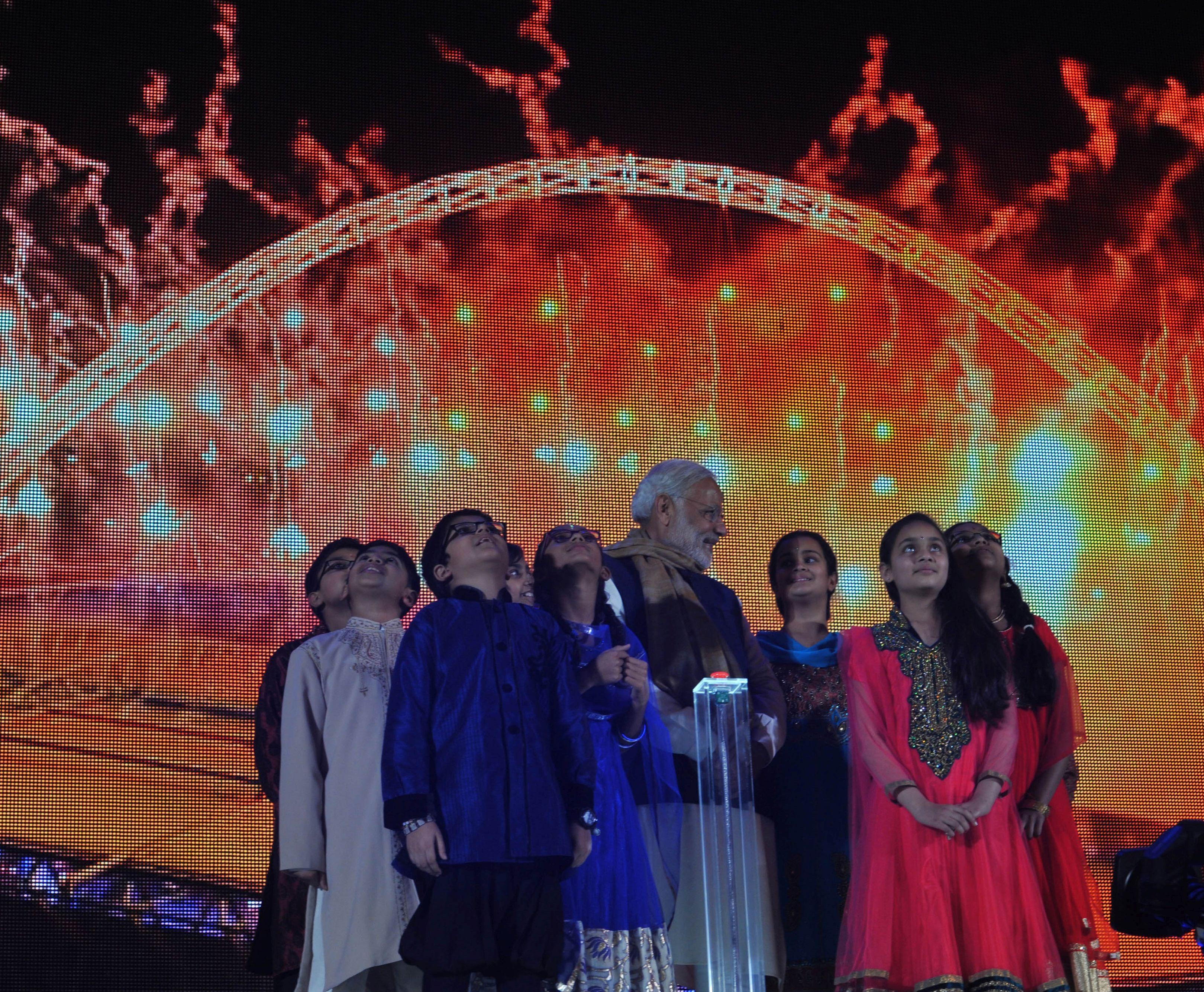 Here are the highlights from NaMo's visit.
Leaders pay tribute to Nehru on 126th birth anniversary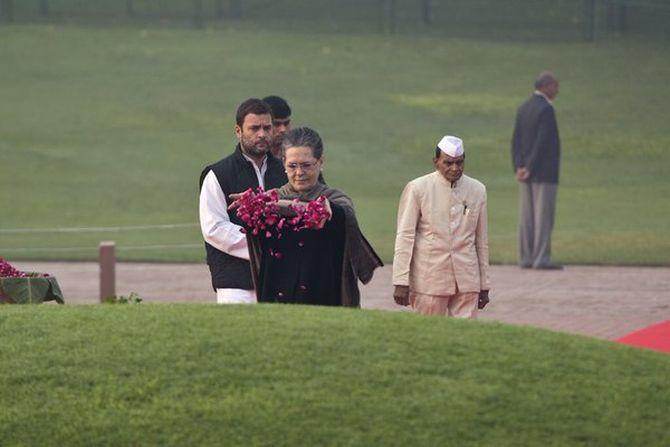 On Children's Day, the President showered his blessings and wishes on children, saying that the future of the nation depends on them.
PHOTOS: The deadliest attacks in Europe in decades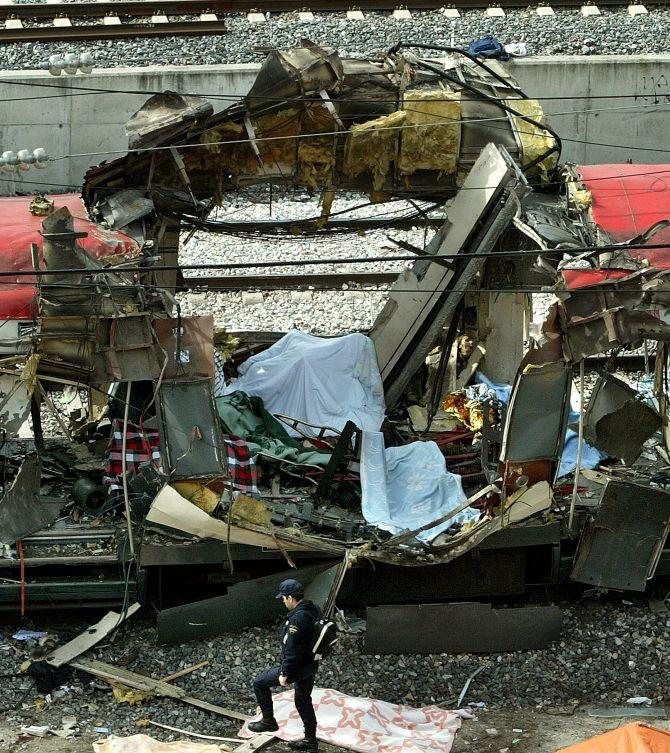 The attacks that left at least 120 dead in Paris are the deadliest in Europe since the Madrid train bombings in March 2004.
This time, it's war: How European papers covered Paris attacks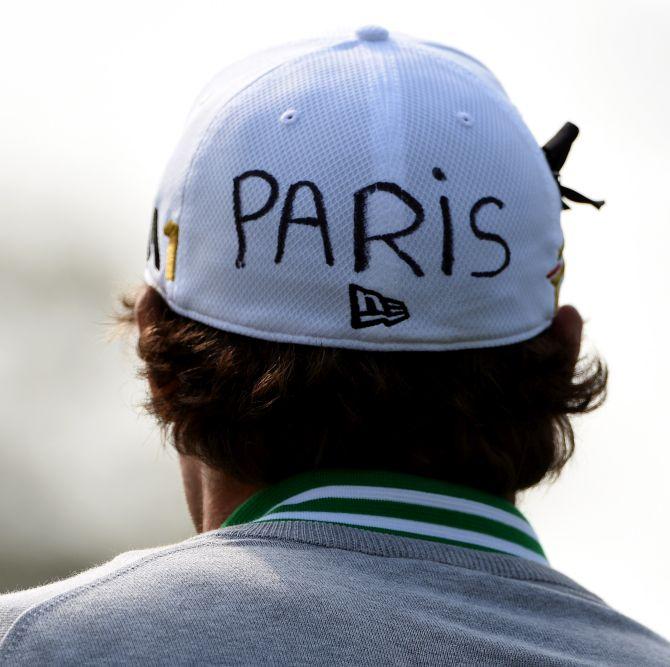 The above front pages show how the European media reported the tragedy.
PHOTOS: World stands with France after Paris terror attacks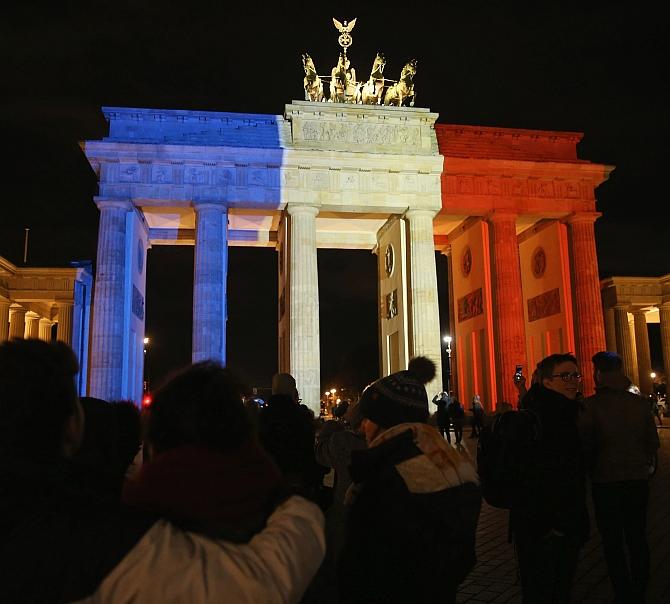 The world has come together to #prayforparis.
'It's the fault of your president, he should not have intervened in Syria'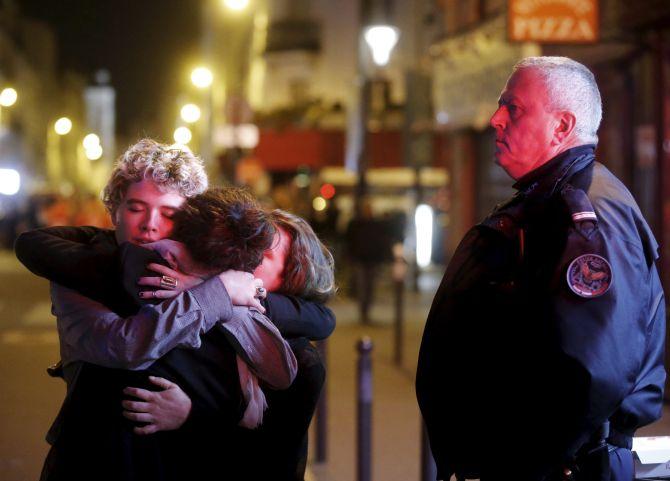 Even as Paris reels from the terror attacks that have killed over 120 people, several eye-witnesses have recounted the horror and the bloodshed that unfurled before them.
Bloodbath in Paris: 129 dead as terrorists plan Mumbai-style attacks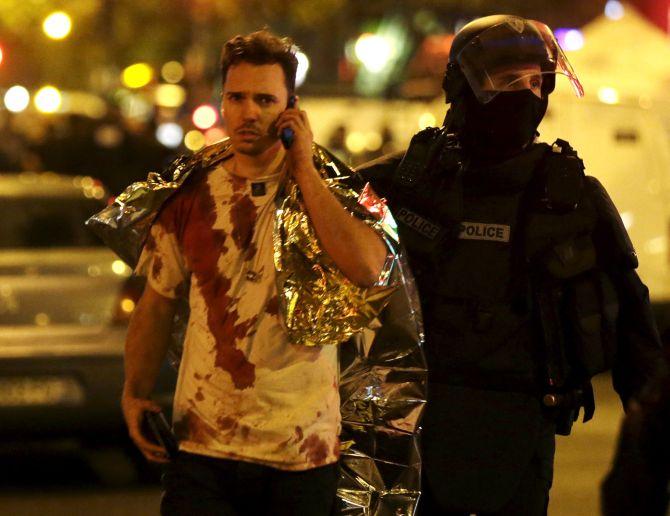 At least 129 people were killed and 350 wounded -- of whom 99 were said to be in critical condition -- in a series of coordinated attacks by suicide bombers and gunmen in Paris at a concert hall, restaurants and the national sports stadium claimed by Islamic State jihadists.
November 13, 2015
GLIMPSES: NaMo's stunning Wembley bash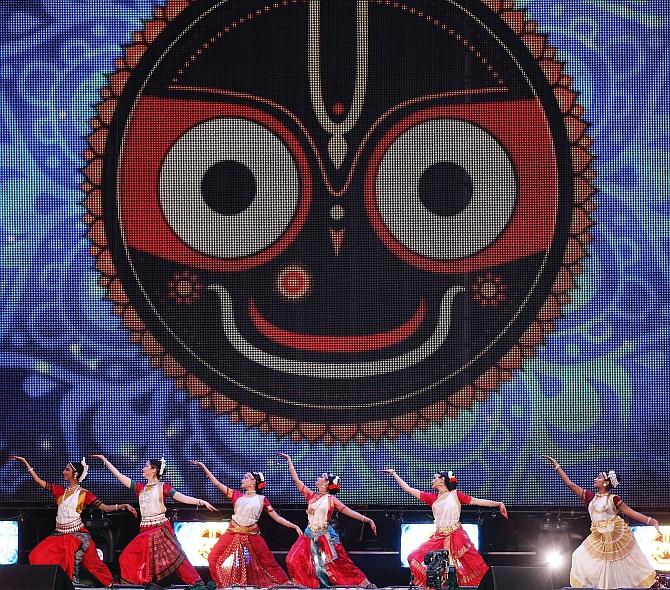 Prime Minister Narendra Modi is set to make one of his rock-star style appearances at London's famous Wembley Stadium on Friday during his ongoing visit to the United Kingdom.
Tamil Nadu pounded by heavy rains; toll rises to 55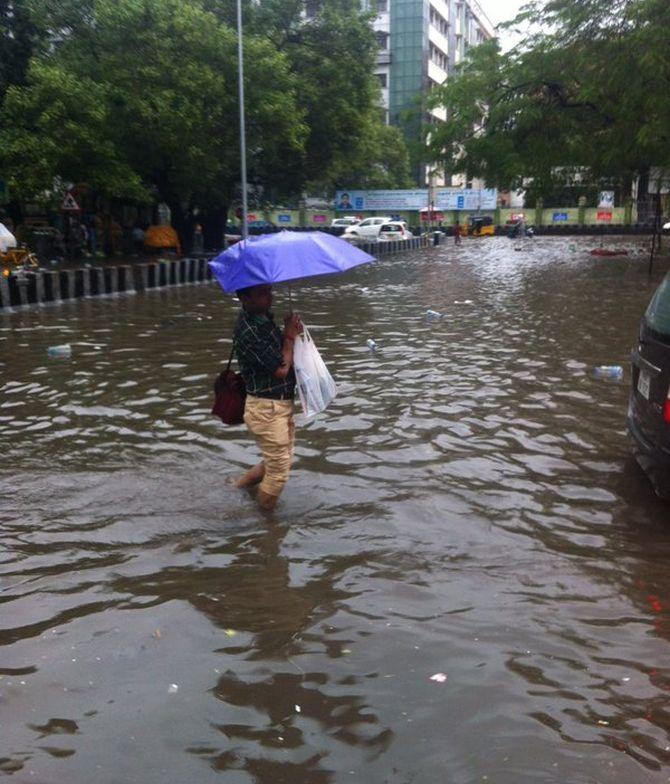 Rains on Friday continued to batter several parts of Tamil Nadu under the influence of an active North-East monsoon as the toll in rain-related incidents in the state stood at 48.
November 11, 2015
PIX: Diwali lights up India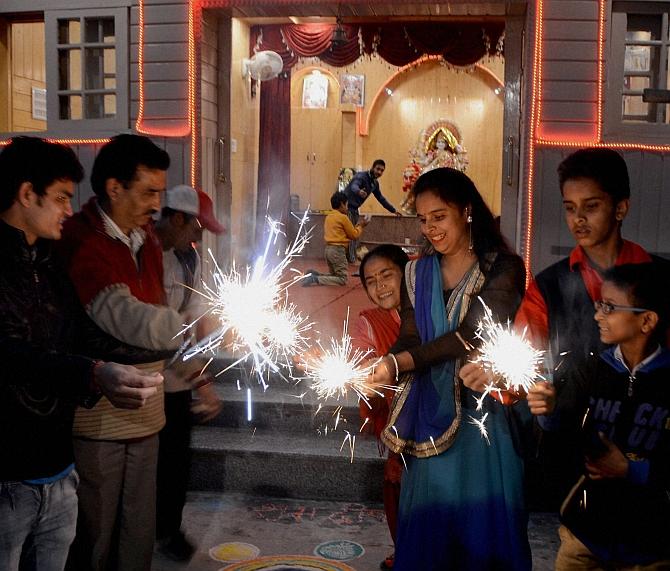 Fireworks illuminated the evening sky, earthen lamps dotted houses and lights decked up buildings as people exchanged sweets and gifts on Diwali which also witnessed bonhomie between Indian and Pakistani guards at border posts.
PIX: Modi celebrates Diwali with troops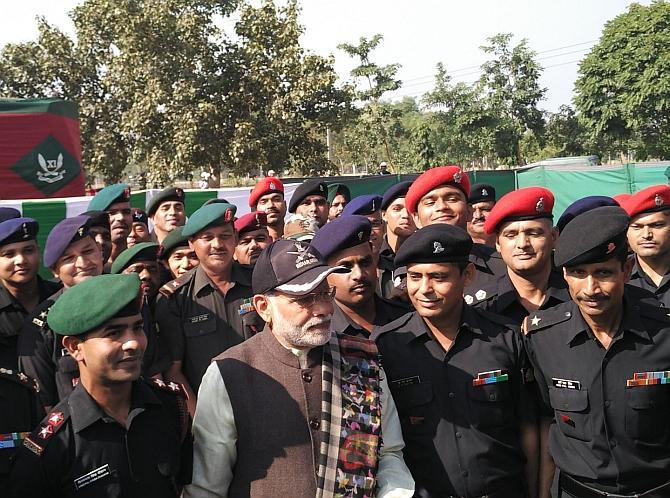 For the second successive year, Prime Minister Narendra Modi celebrated Diwali with troops on Wednesday, saying the world looks at India with respect because of their valour and "character", in comments that come against the backdrop of protests by several veterans over OROP.
November 10, 2015
PHOTOS: The odd, odd world we live in!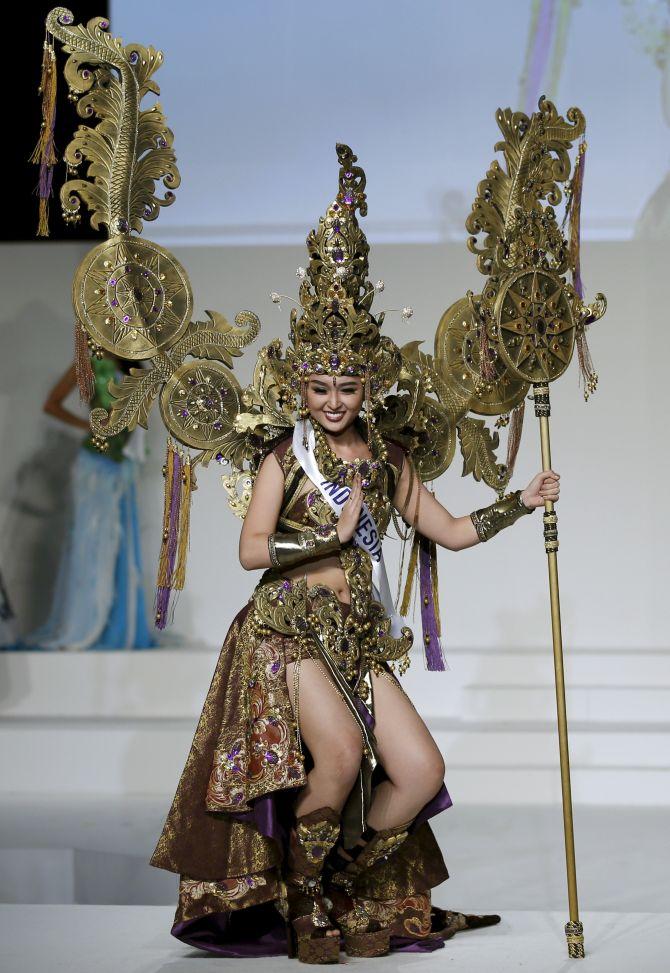 These images from across the globe tell that it is a crazy world out there.
November 08, 2015
Laddoos on us! Mahagathbandhan rejoices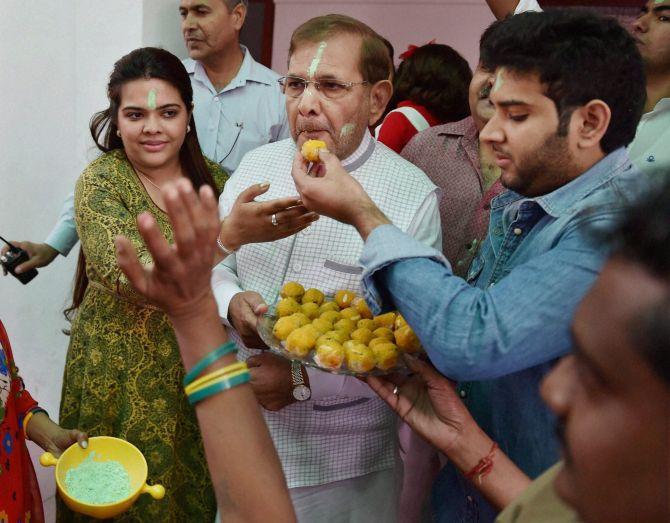 Celebrations broke out as the Grand Alliance was all set for a thumping victory in the Bihar polls.
November 05, 2015
These 4-year-old twins are more fabulous than you and me!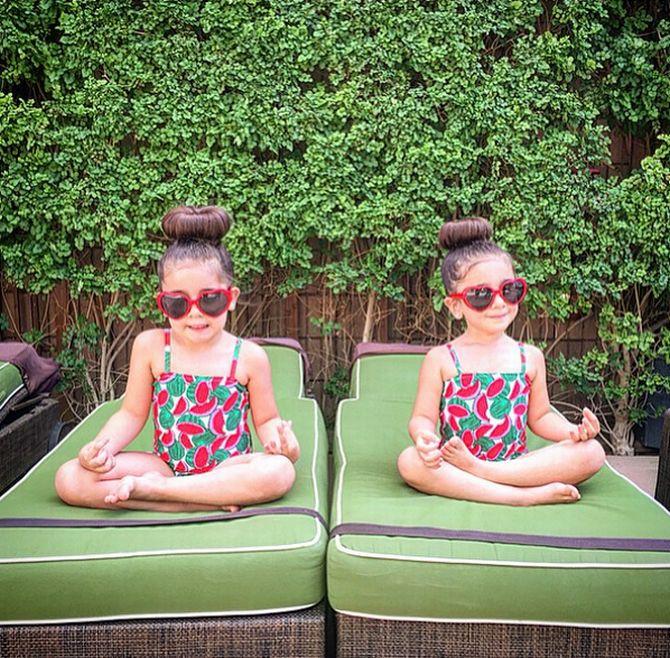 This duo of fashionable kindergartners have taken the internet by storm with more than 21,000 followers on their Instagram account.
Rahul meets families of youth killed in Faridkot firing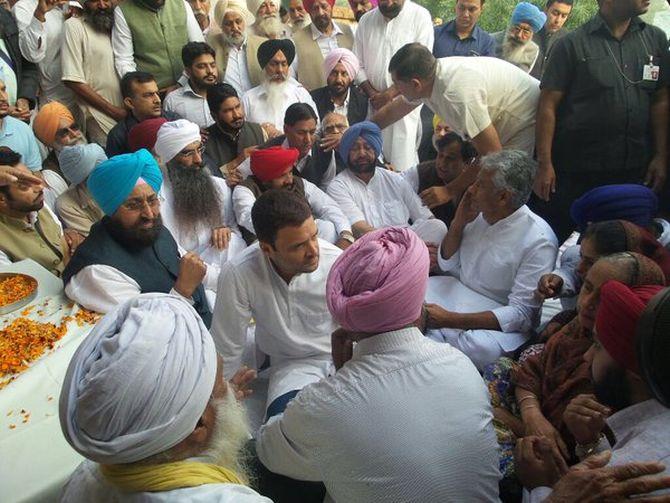 The Congress vice-president will also meet farmers in Bathinda district during his two-day visit.
PHOTOS: The odd, odd world we live in!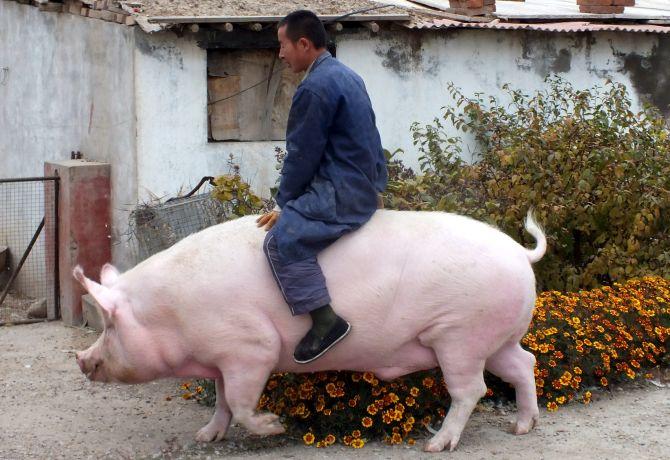 Here are photos that prove we live in a mad world.
Soldier, cancer survivor, former terrorist: Facts about Canada PM's new cabinet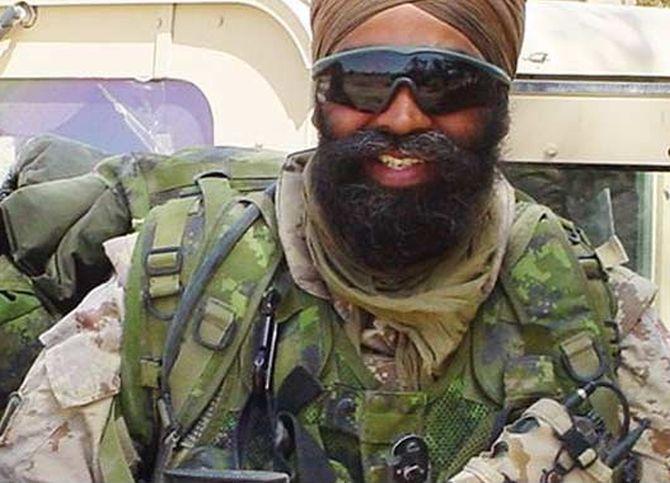 Canada's new Prime Minister Justin Trudeau has named a young and ethnically diverse cabinet, with a ministerial team that for the first time in the country's history is equally balanced between men and women.
Final phase of Bihar polls sees 60 pc voting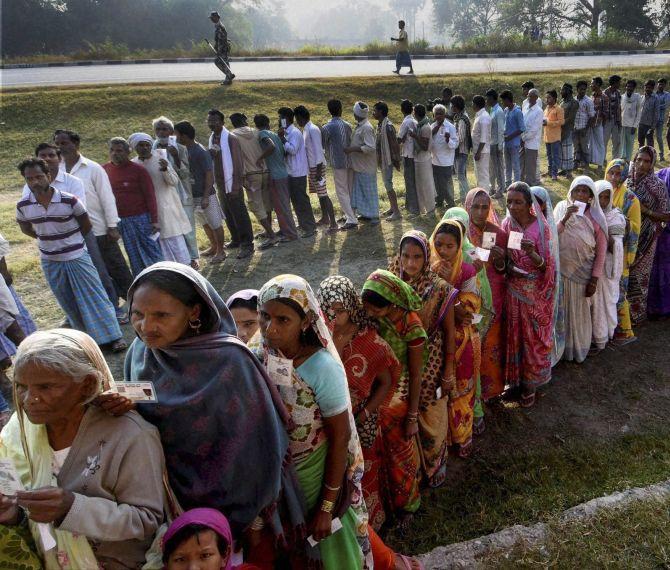 Two deaths due to heart attack were also reported from polling stations in Madhubani and Darbhanga districts.
November 04, 2015
Why are these giant spray bottles at the beach?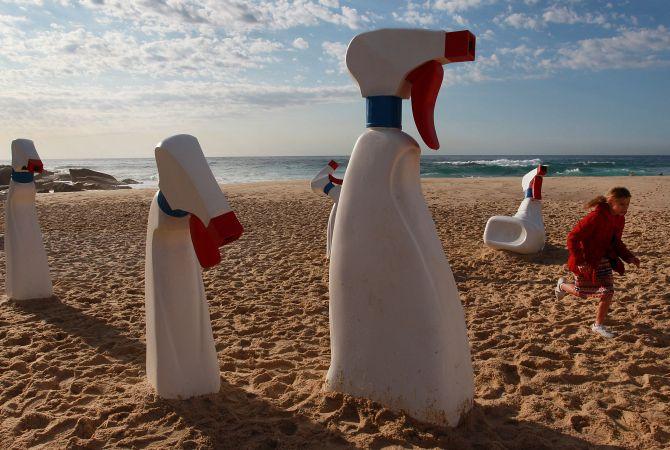 Rediff.com takes a look at some of the exhibits that grace the beaches of Sydney.
Happy birthday International Space Station! 15 memorable moments in space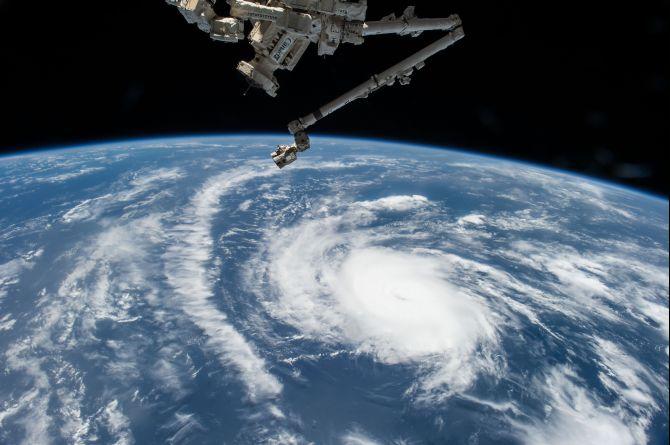 The International Space Station has completed 15 years of continuous human presence.
November 02, 2015
REWIND: TOP photos of the week that was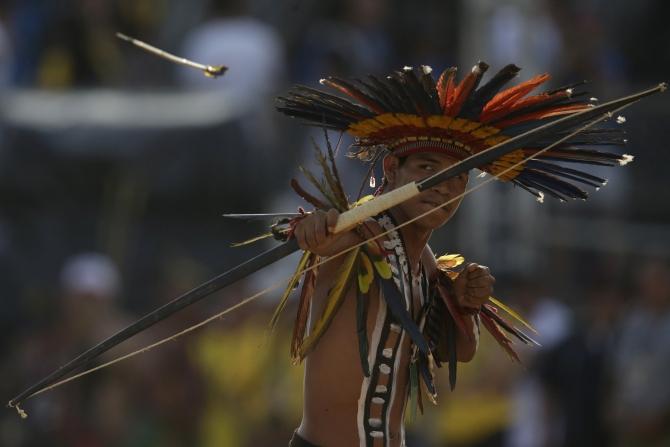 Here's a glimpse of all that happened around the world last week, in 10 images
When the world celebrated a spooktacular Halloween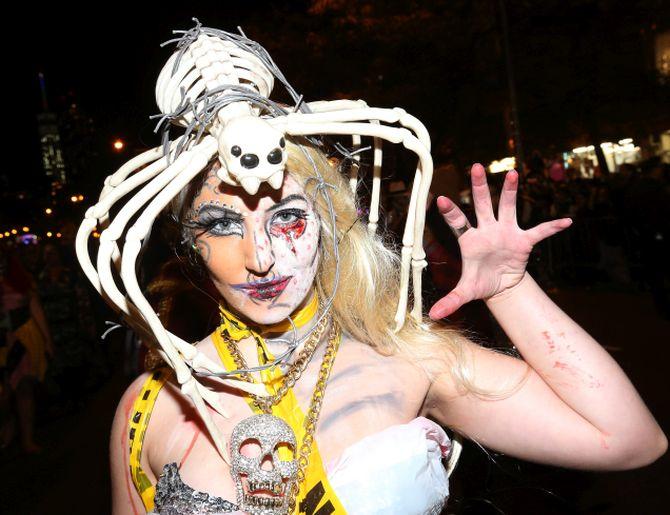 Rediff.com takes a look at the crazy but heartfelt world of Halloween revelers.
October 30, 2015
10 African dictators Modi shook hands with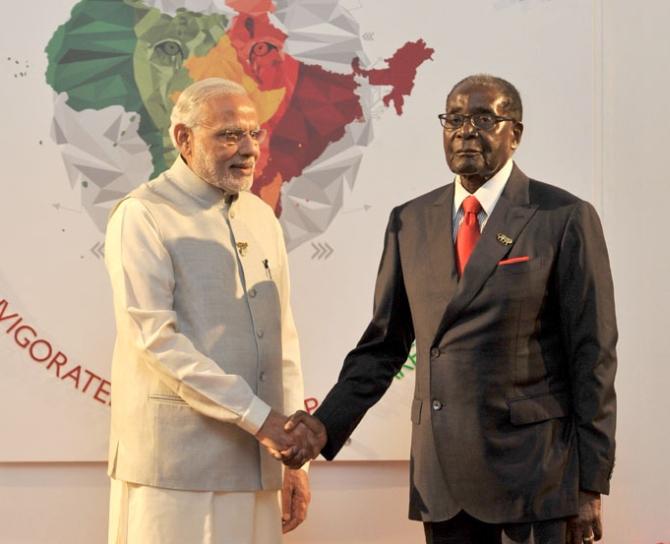 Over the last four days, Prime Minister Narendra Modi greeted the heads of over 50 African nations, some of whom have extremely unsavoury reputations. Meet the 10 most controversial leaders who visited Delhi this week.
These dresses are just mouth watering!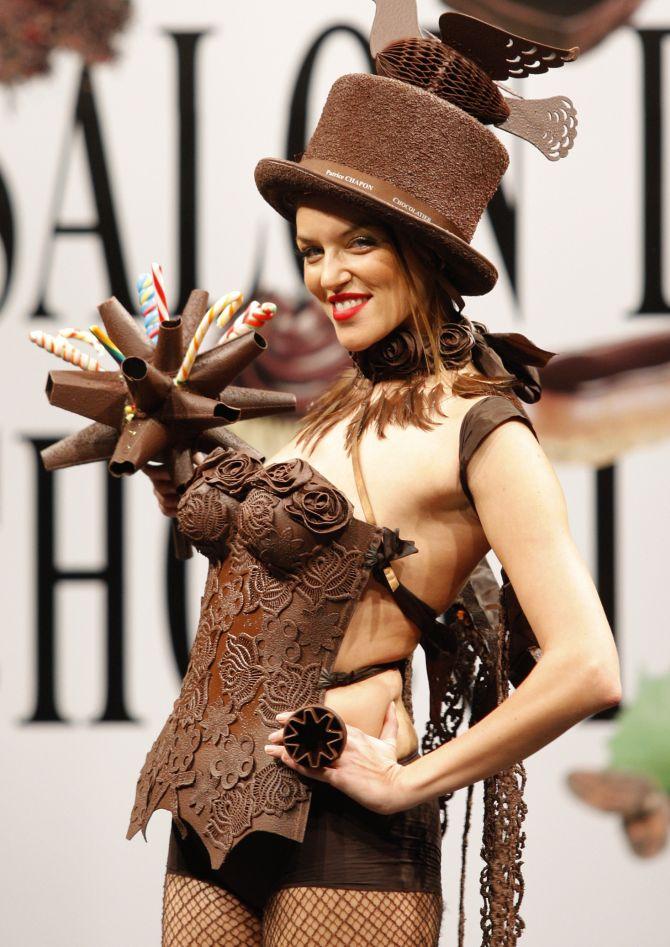 Rediff.com takes a look at this wonderful world of chocolaty goodness.
October 29, 2015
And the world's most admired leader is....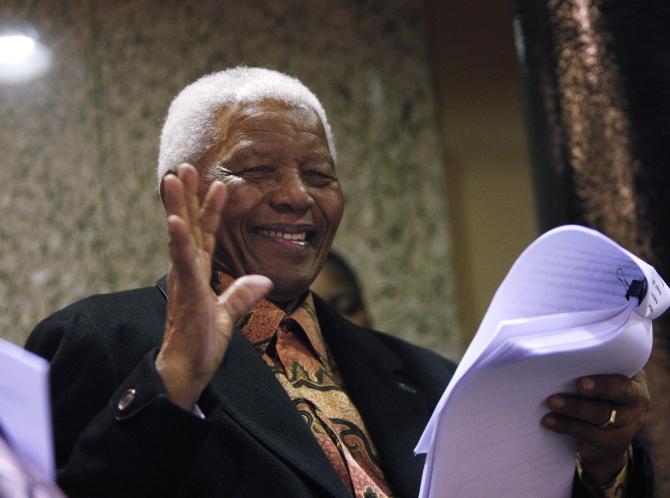 World Economic Forum's Global Shapers Annual Survey 2015 is one of the most geographically diverse surveys of millennials.
In the line of fire: 10 stunning shots by British Army's best lensmen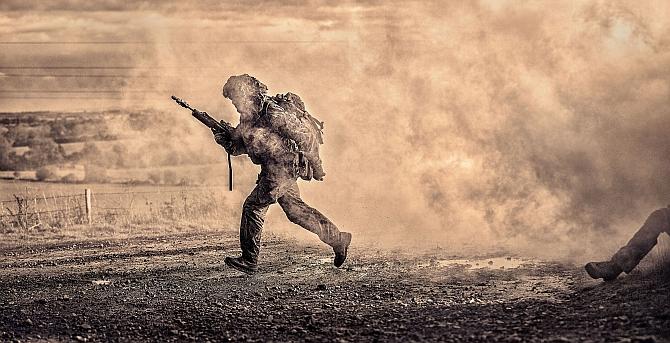 Sergeant Rupert Frere, who transferred from a role in bomb disposal to become a photographer in the Royal Logistic Corps, won no fewer than five of the professional categories.
October 28, 2015
Rescuers race to reach Afghanistan, Pakistan as toll rises to 340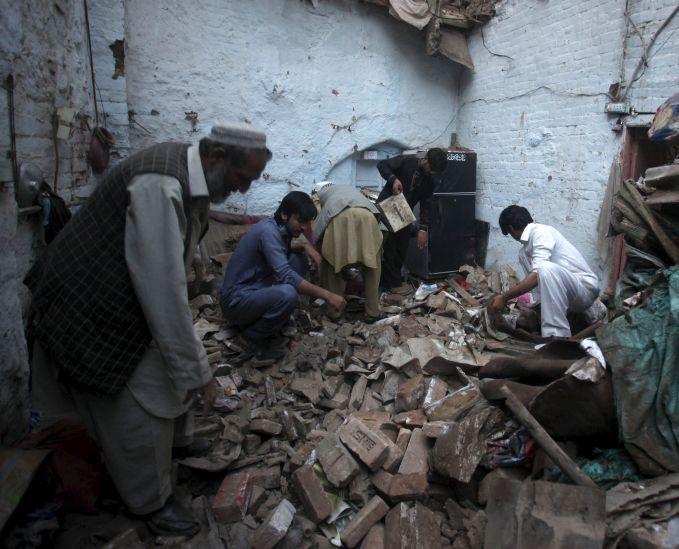 Two days later, Afghanistan and Pakistan are still trying to dig out people from the rubble, even as panic spreads across the region.
WTF News! It's Weird, True and Funny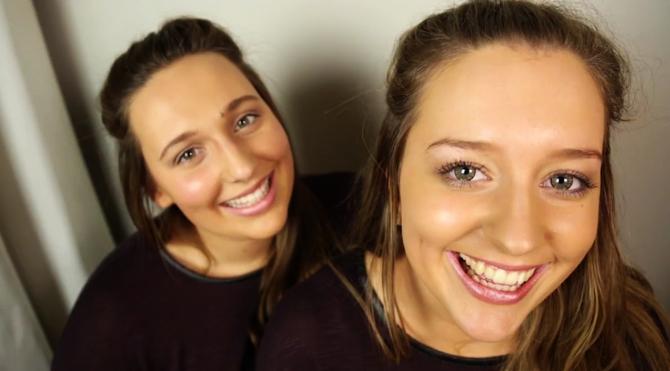 Here's your weekly digest of the craziest stories from around the world.
Look who's come out to vote in Bihar!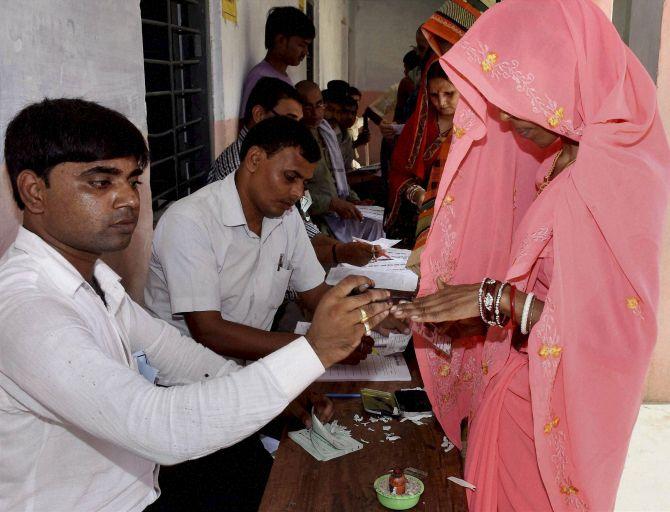 An electorate of 1,45,93,980 voters would exercise their franchise in the third phase.
October 27, 2015
India's most wanted: Criminals who were caught abroad and deported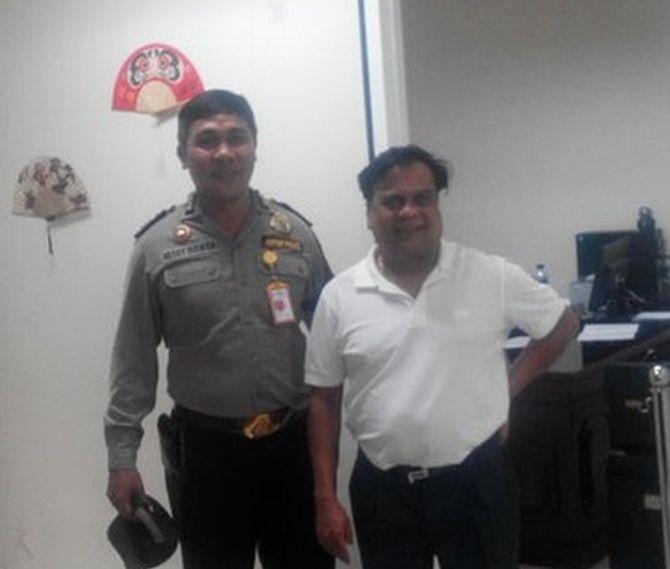 Rediff.com takes a look at some instances of underworld dons and terrorists detained or arrested in a foreign country and deported or extradited back to India.
Hindu Kush quake toll crosses 300; thousands spend night in the open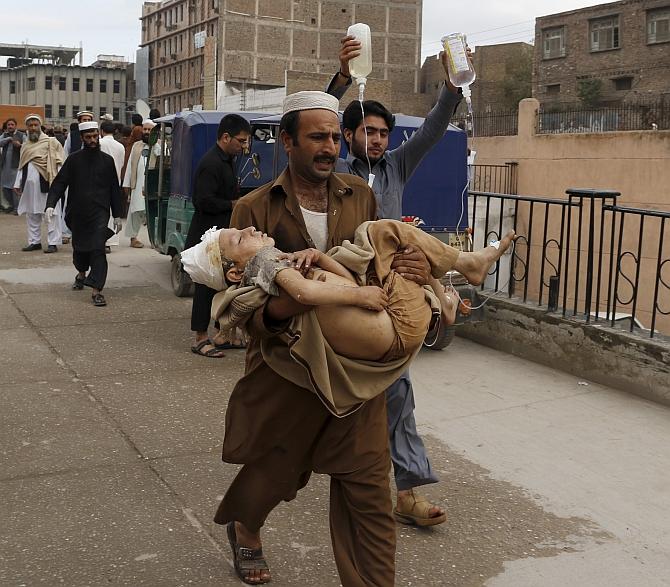 Rescuers on Tuesday rushed to deliver relief aid to victims of a massive earthquake that hit northern Afghanistan and Pakistan.
October 26, 2015
WINTER IS HERE! Kashmir receives season's first snowfall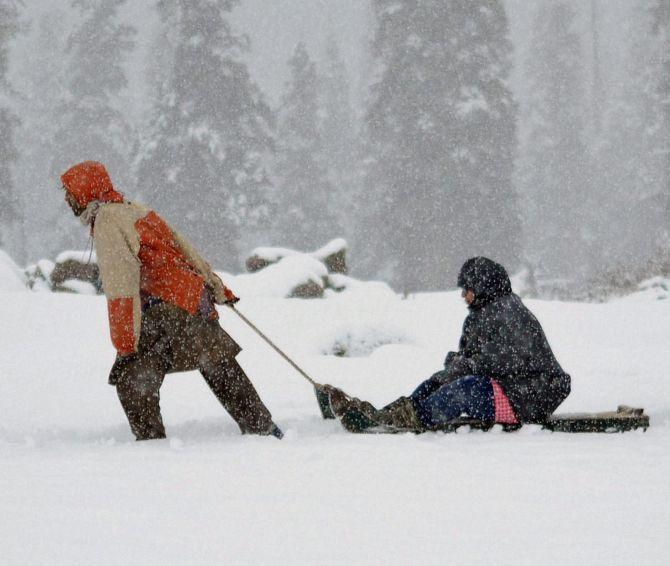 Tourists in Jammu and Kashmir were in for a pleasant surprise on Sunday as the upper reaches of the valley received the season's first snowfall.
Lights, camera, action: Top photos of the week that was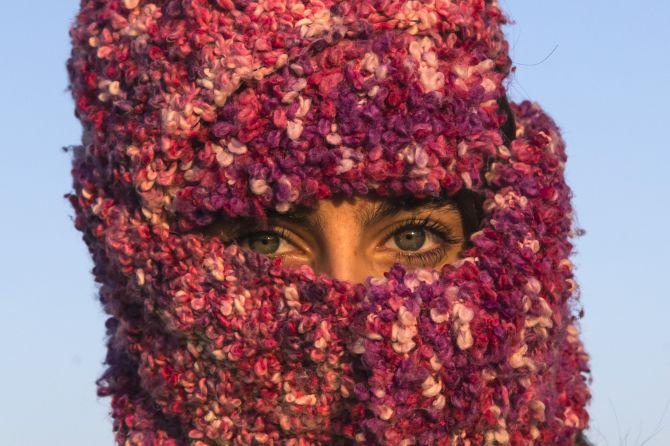 A round-up of our favourite photographs from the week gone by.
October 24, 2015
Muharram clashes in Jharkhand, Bihar leave 1 dead, 12 hurt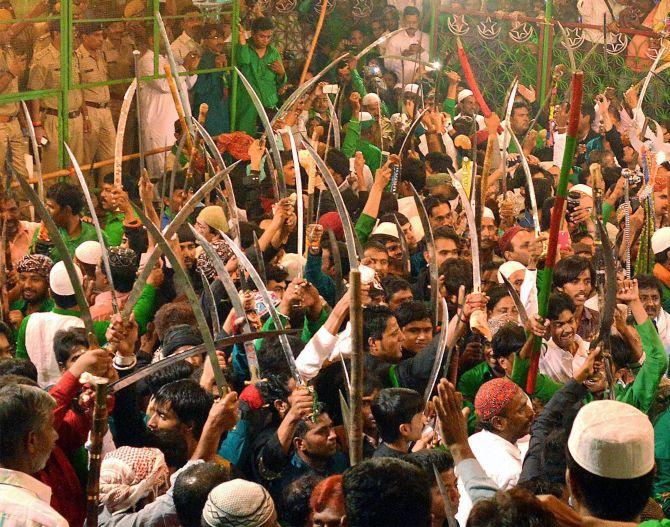 Violence marred Muharram processions on Saturday leaving one person dead and at least 12 injured.
#UNBlue: When the world turned blue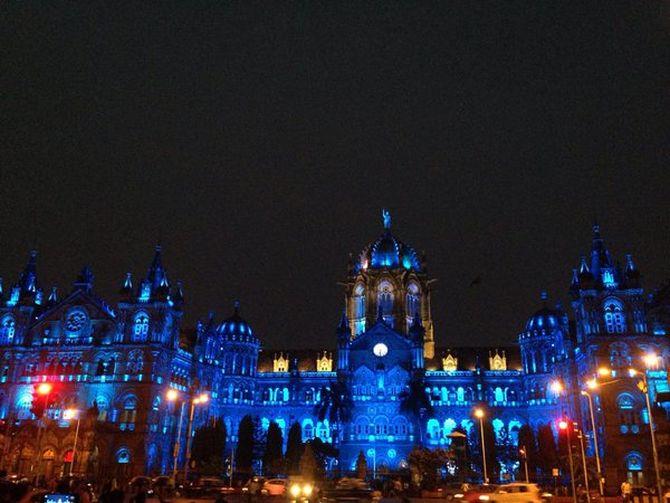 More than 300 monuments, landscapes, museums, bridges and other landmarks across more than 75 countries were lit up in the official colour of the United Nations.
October 23, 2015
Writers escalate Akademi unrest, march against 'intolerance'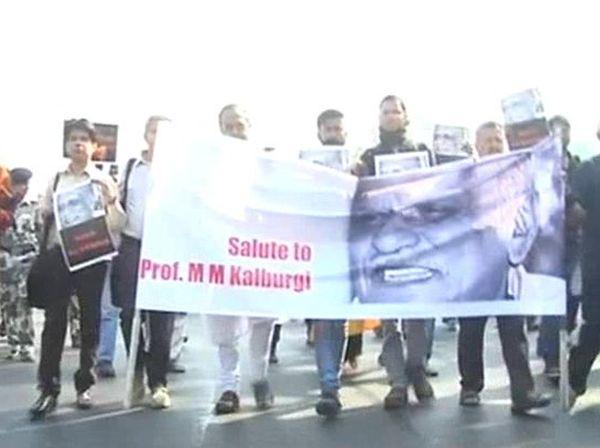 Writers from across the country gathered at Shri Ram Centre near Mandi House and marched towards Sahitya Akademi in the capital, wearing black ribbons on their heads as a sign of protest.
PHOTOS: The drones are coming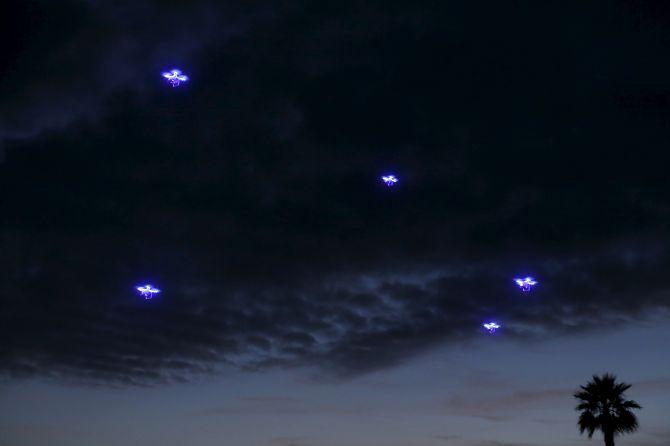 Rediff.com takes a look at drones as they engage in activities you'd never thought you'd see.
Drinks are on me! Xi, Cameron enjoy pub night out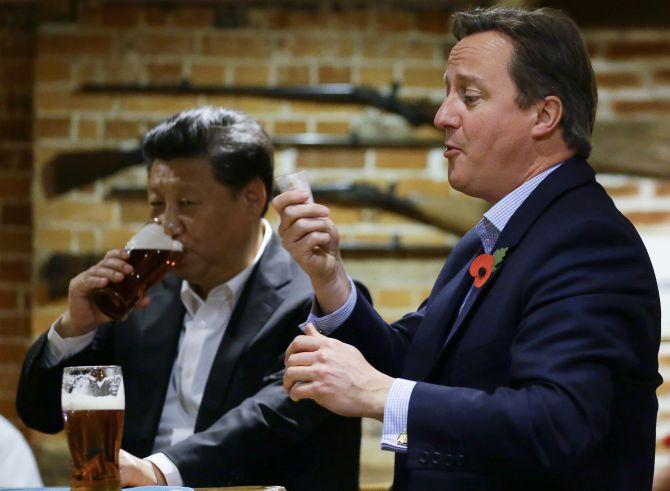 Britain's Prime Minister David Cameron brought Chinese President Xi Jinping to his favourite pub for a pint and a portion of fish and chips on Thursday.
October 21, 2015
PHOTOS: British Queen hosts extravagant dinner for Xi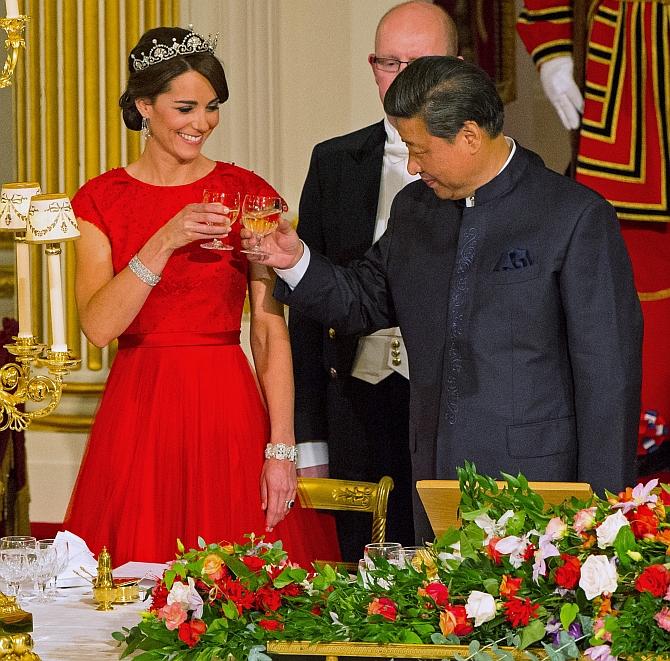 Over expensive wine, an exquisite menu and royal ensemble, the Queen hailed the "milestone" visit of the Chinese president to Britain and declared Anglo-Chinese ties are being taken to "ambitious" new heights.
We Meet, At Last!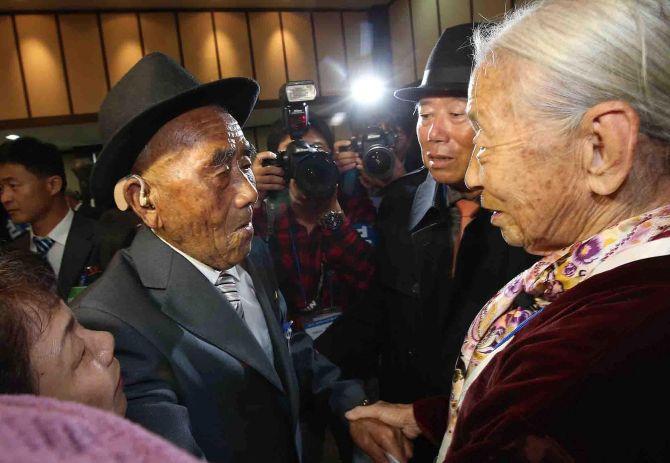 Hundreds of North and South Koreans were reunited with family members for the first time in 60 years.
PHOTOS: The odd, odd world we live in!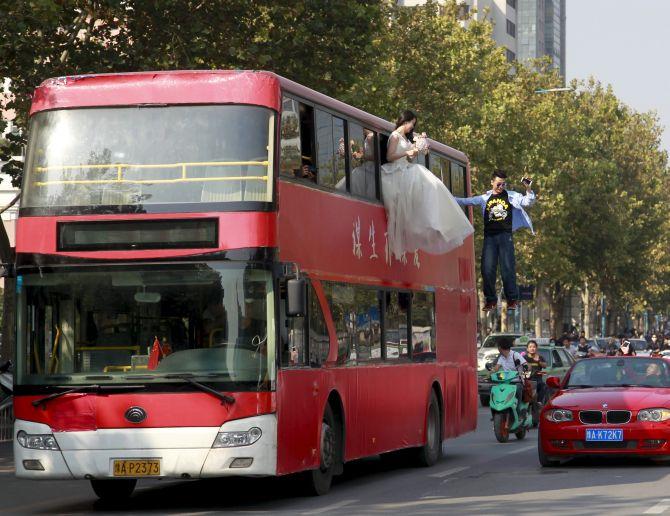 These photos prove we live in a bizarre world.
October 20, 2015
Walking in his shoes can't be easy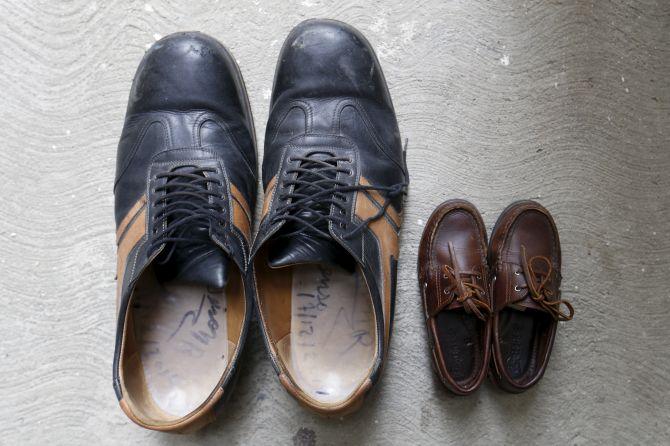 A 19-year-old boy from Venezuela has broken the Guinness World Record for the largest feet.
October 19, 2015
5 times when the Sena resorted to its old ways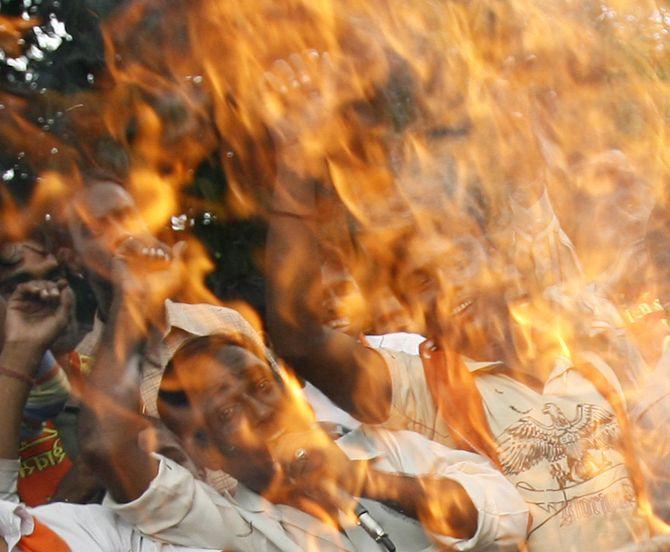 Rediff.com presents few other instances when the Sena created a furore through its protests.
PHOTOS: Big cities like you have never seen before!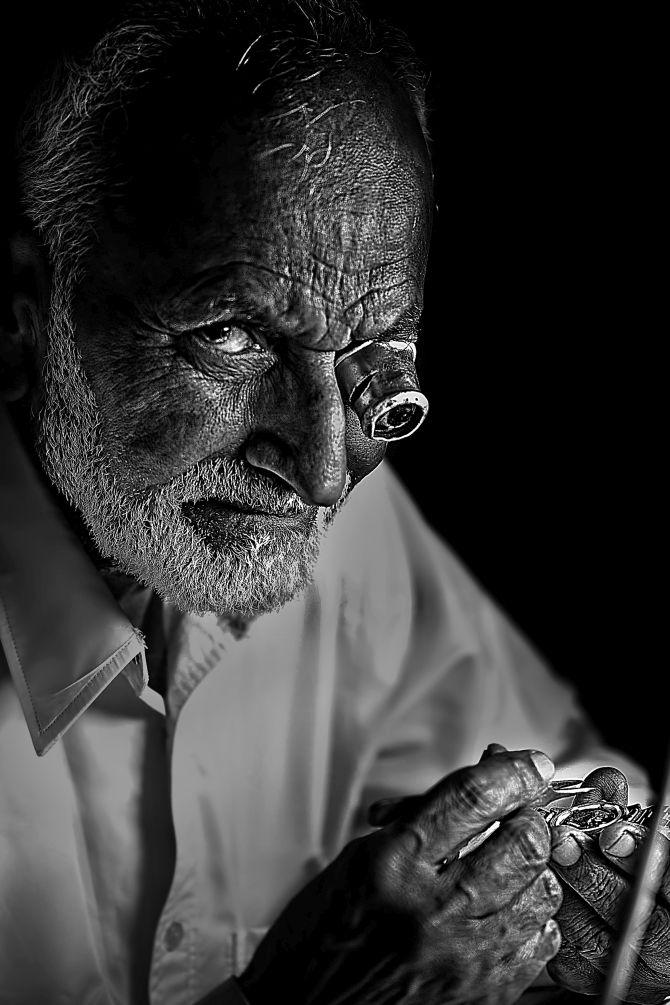 The CBRE Urban Photographer of the Year competition encourages professional and amateur photographers to capture cities at work.
October 18, 2015
BONG! Big Ben needs £40 million for 'urgent repairs'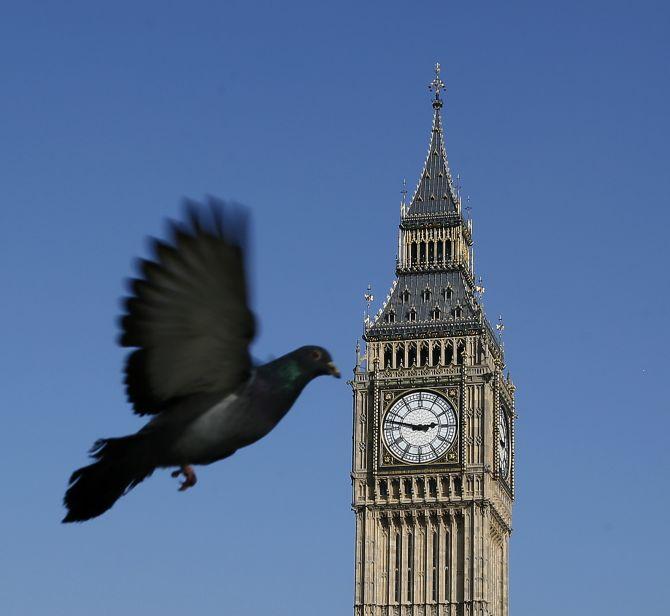 The iconic monument will fall silent for four months, the longest in its 156-year life.
October 15, 2015
APJ Abdul Kalam was 'Rashtra Ratna first', President later: PM Modi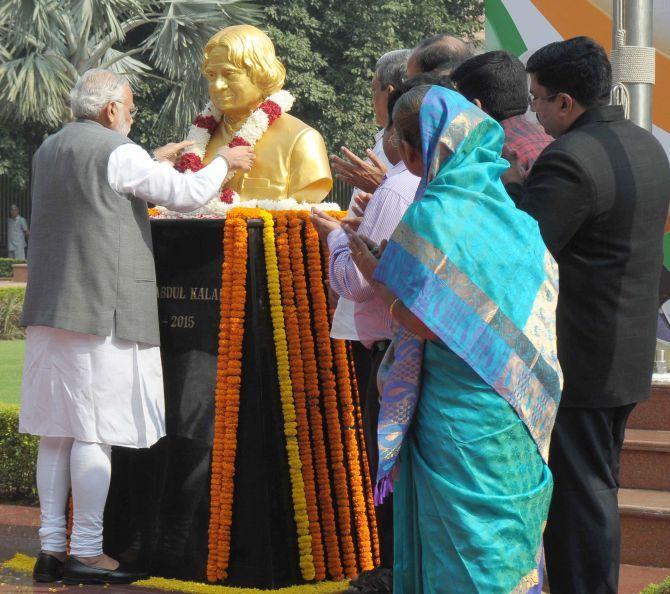 Prime Minister Narendra Modi on Thursday unveiled a statue of late former President Dr APJ Abdul Kalam to mark his 84th birth anniversary.
It's an odd world out there! Here are 10 moments that prove it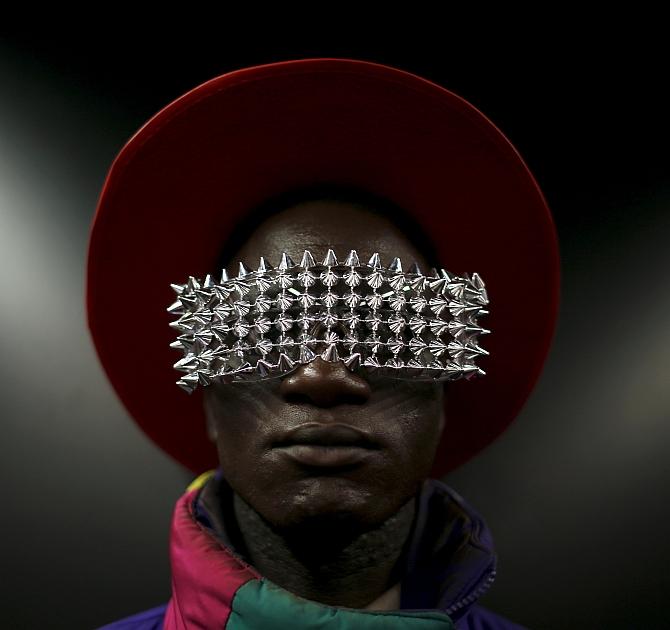 Here's your weekly digest of odd, crazy moments from around the world
October 14, 2015
Shalom, Mr President: The iconic Israel visit, in photos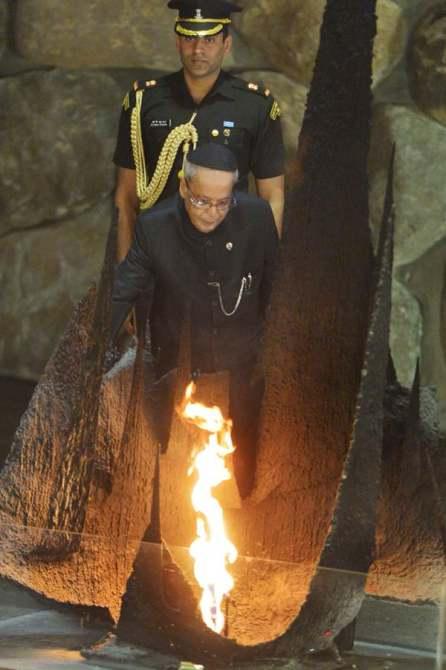 Marking a "political milestone" in the growing relationship between India and Israel, President Pranab Mukherjee arrived in Jerusalem on Tuesday on a three-day state visit, the first by an Indian Head of State. Here are the highlights from Day 1 of the visit.
Tired of hearing about your damn e-mails: Highlights from US Democratic debate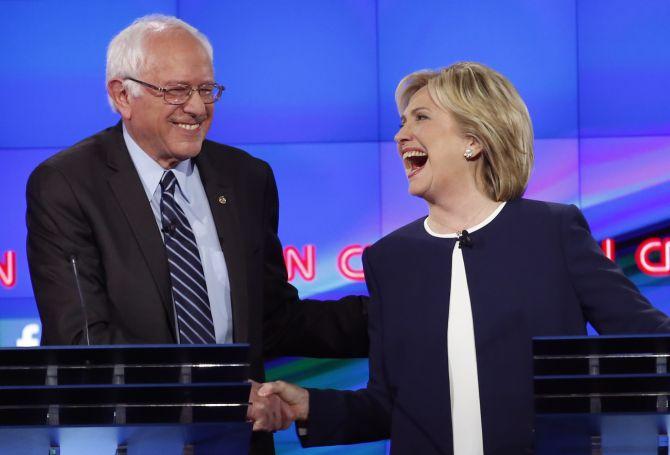 Rediff.com tries to recap the debate and presents the highlights from the event.
PIX: India and China in 'hand-in-hand' combat!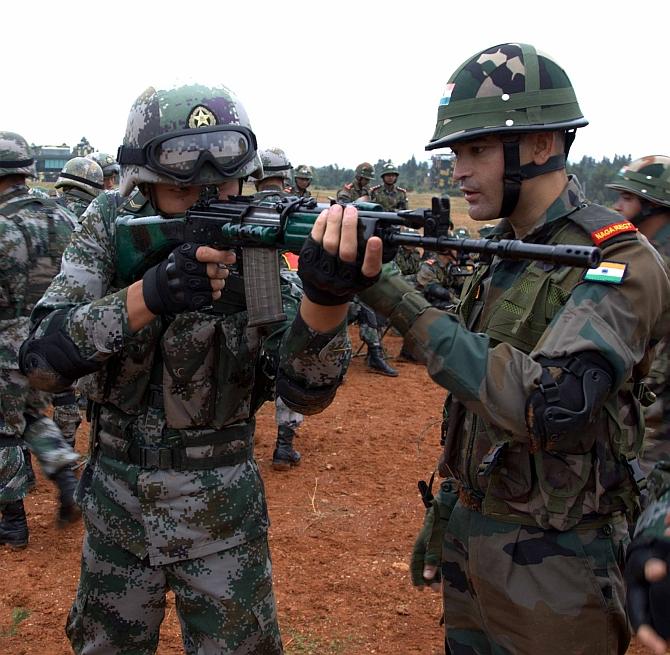 The fifth edition of the joint exercise between Indian and China, codenamed 'Hand-in-Hand 2015', commenced at the Kunming Military Academy at Yunnan Province in China on October 12.
October 13, 2015
Police withdraw 24/7 watch for Assange at Ecuadorian embassy in London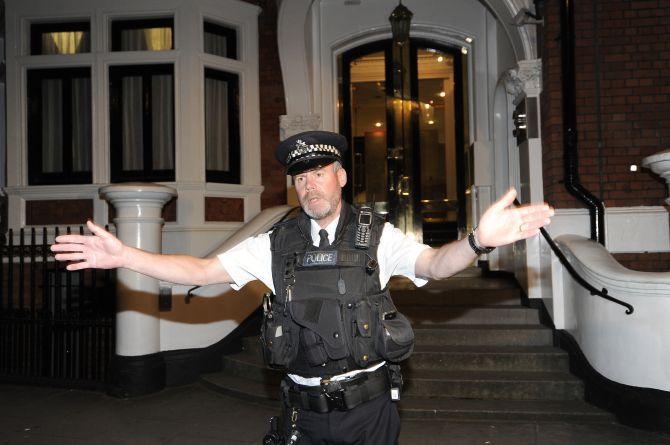 Police officers, stationed outside the Ecuadorean embassy in London where Wikileaks founder Julian Assange has sought refuge since 2012, were withdrawn on Monday over three years after they were stationed there.
Photos: Hop on to the 'Modi Express' in UK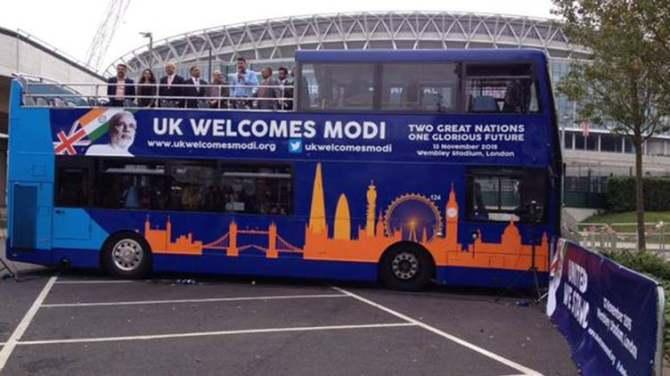 The Indian community groups in United Kingdom have launched a 'Modi Express' bus for a month-long tour around iconic landmarks to mark Prime Minister Narendra Modi's maiden visit to the country in November.
When YOUR superheroes showed up in New York!
The New York Comic Con played host to the latest and greatest in comics, graphic novels, anime, manga, video games, toys, movies and television.
October 12, 2015
PHOTOS: India, China armies begin anti-terror drills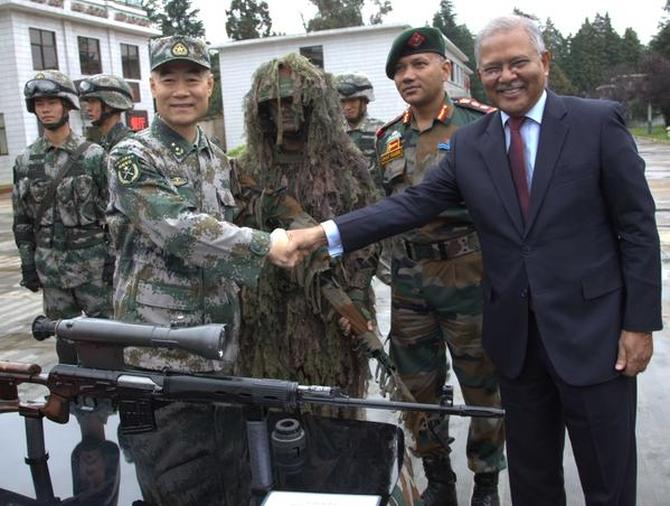 Both sides are fielding the same number of troops for the joint exercises, which will culminate on October.
REWIND: Stunning PHOTOS of the week that was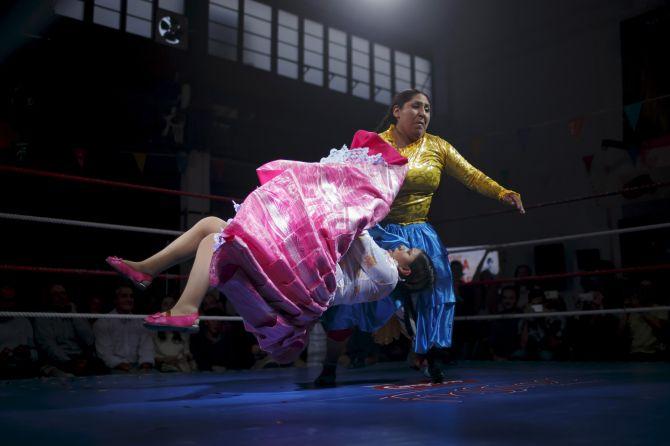 Here's a glimpse of all that happened around the world last week, in 13 images.
In Bihar, Naxal-hit Jamui sees maximum voting percentage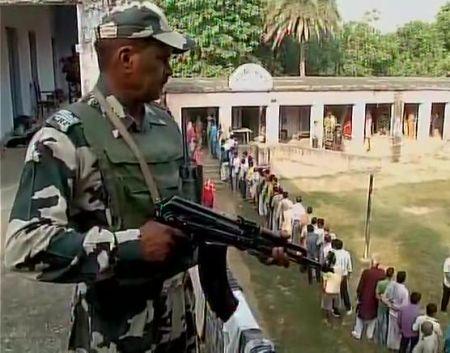 Voting in 49 assembly seats of Bihar in the first phase picked up with over 39 per cent polling being recorded till 1 pm.
October 10, 2015
Tanks, missiles and gun: North Korea's show of military might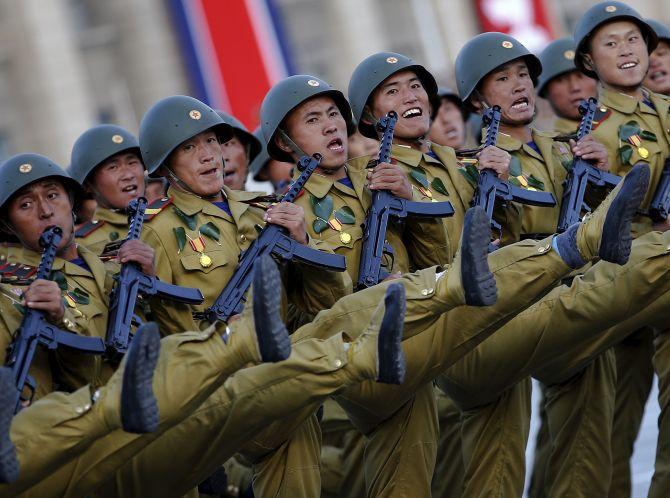 North Korean dictator Kim Jong Un ordered a military parade to mark the 70th anniversary of the Communist Party's -- and his own family's -- rise to absolute power. It's not just any parade: It was apparently the biggest in North Korean history.
October 09, 2015
PHOTOS: World's scariest yet thrilling glass bridges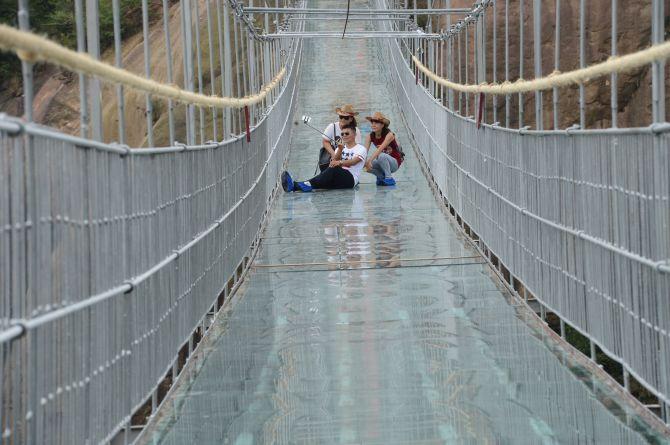 Glass bridges are conceptually scary but they are also enormous fun for those daring enough to cross them.
PHOTOS: The odd, crazy world we live in!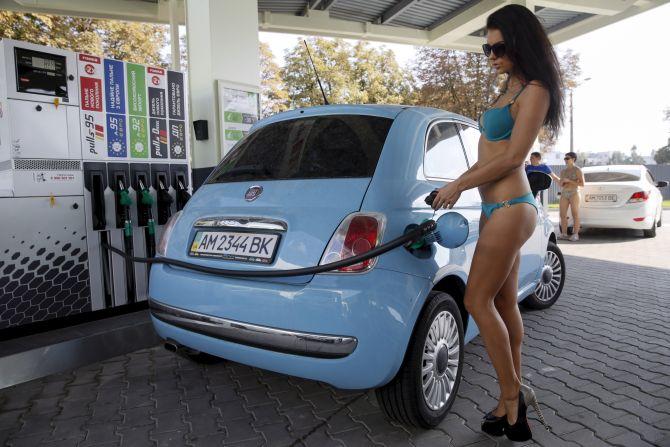 These 12 photographs show what a mad, mad world we live in!
October 08, 2015
'CAR'MAGGEDON: China's MASSIVE 50-lane traffic jam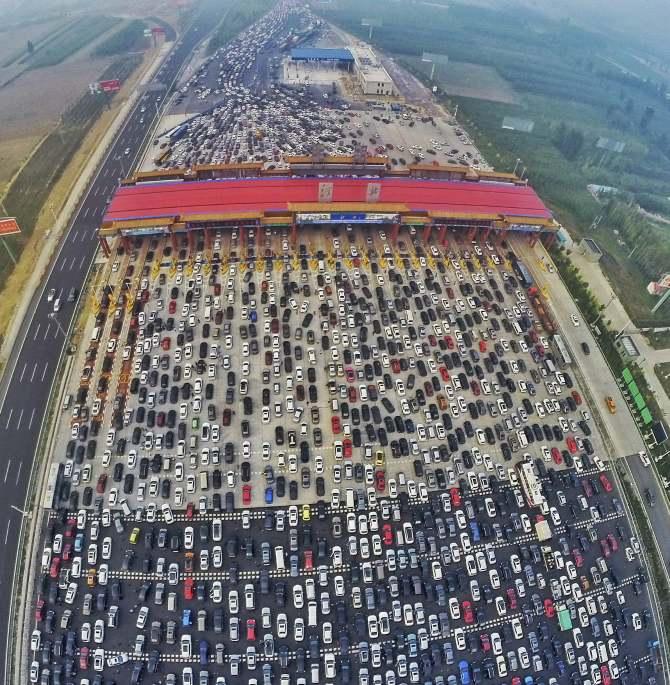 Stop complaining about the traffic jams in Gurgaon or Mumbai. This is definitely the mother of all snarls.
IAF @ 83: Air Force puts up a grand show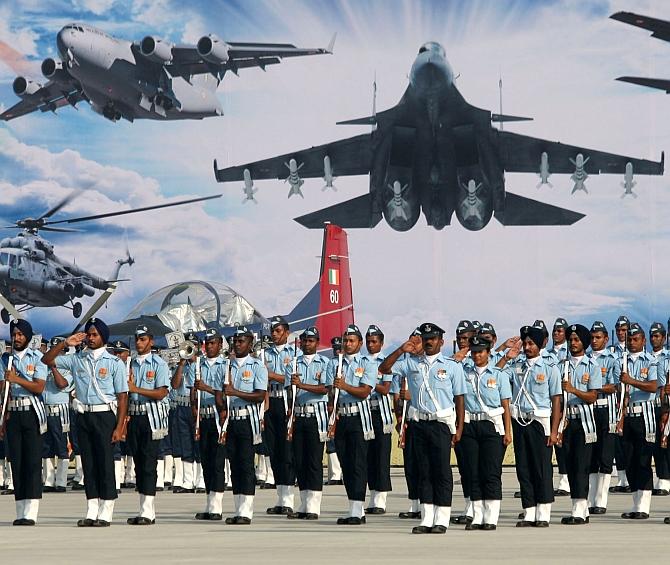 The Indian Air Force on Thursday put up a scintillating display as part of its 83rd anniversary celebrations.
2015 Nobel Peace Prize: Top Contenders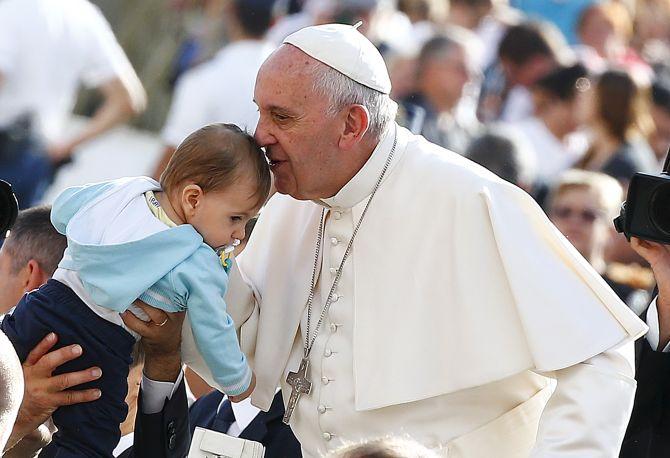 Rediff.com takes a look at some personalities who are likely to win the prize this year.
WTF News: It's Weird, True and Funny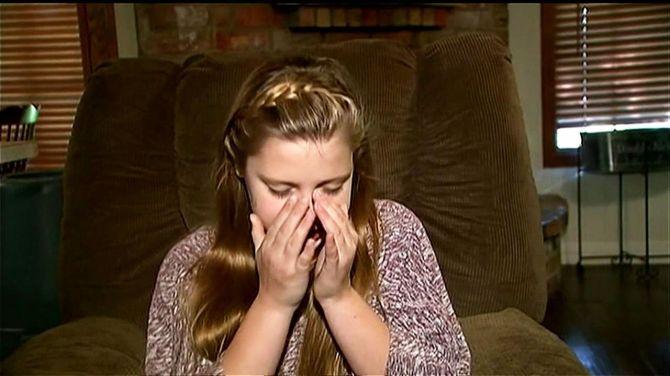 This week's collection of stories that prove we live in a truly mad, mad world.
October 07, 2015
Top gun! Here's what you will see at the Air Force Day parade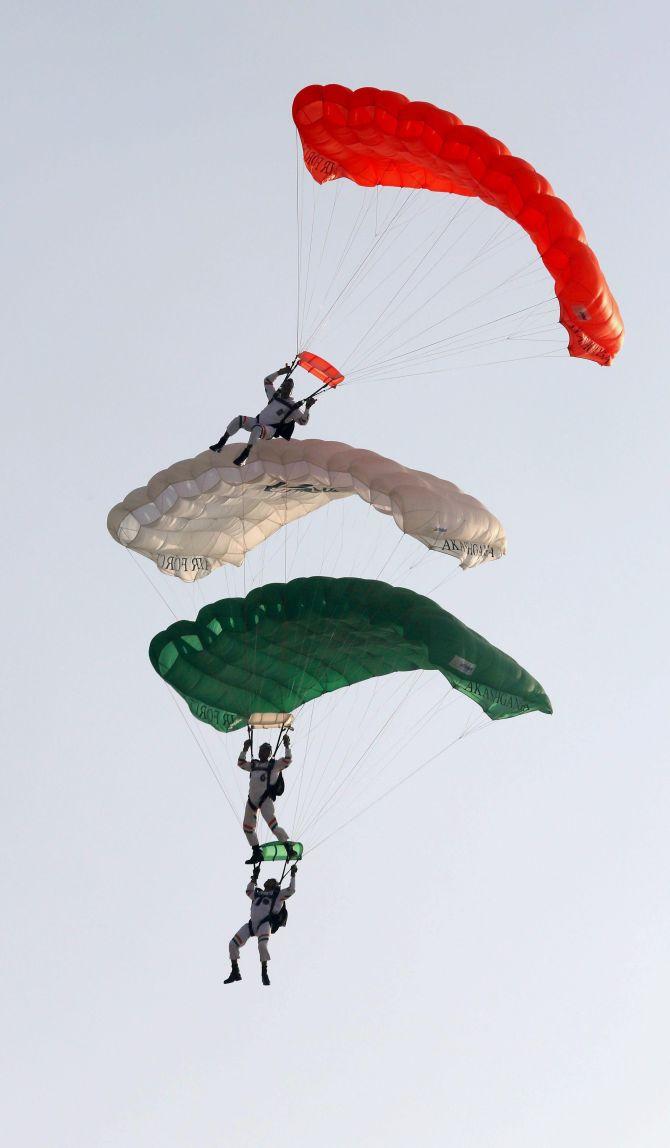 The Indian Air Force put its might on display at the full dress rehearsal on Tuesday, ahead of the 83rd Air Force Day on October 8, at the Hindon air base in Ghaziabad.
Which is the weirdest beard of them all?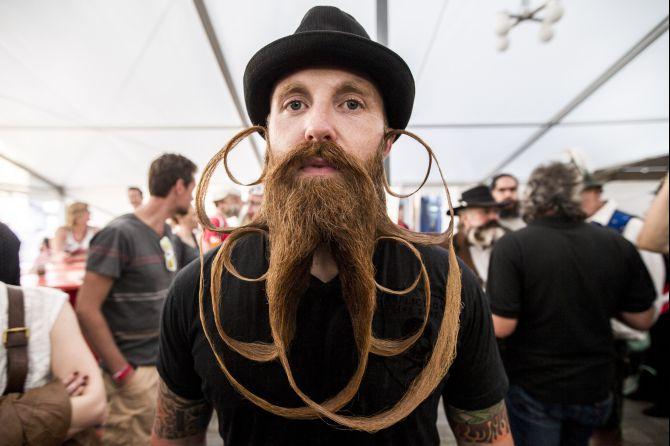 Take a look at this wacky world of dazzling facial hair.
October 06, 2015
PHOTOS: This is what the Indo-Pak border looks from space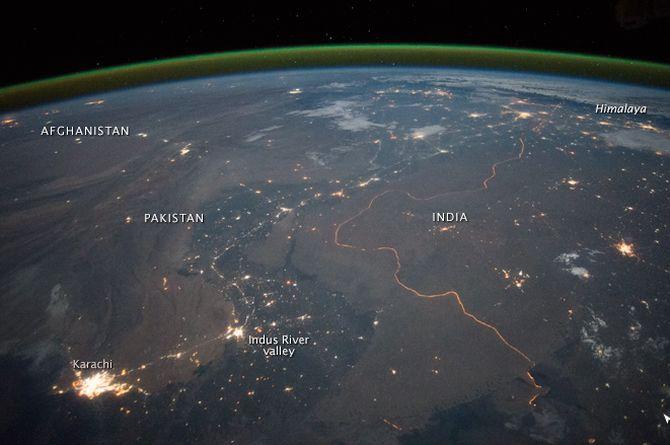 NASA released a photo taken by an astronaut aboard the International Space Station which captures the India-Pakistan border in the nighttime.
PHOTOS: Apollo moon missions like you've never seen them before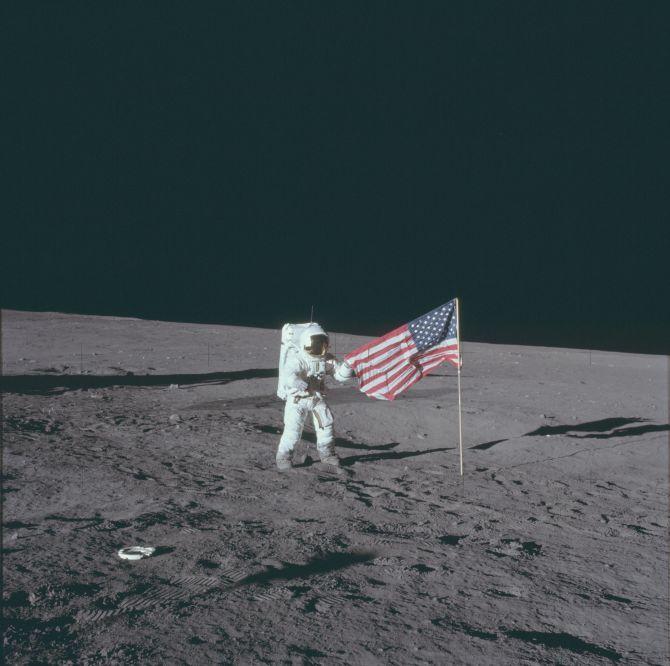 This incredible stockpile includes nearly every photo taken my astronauts during the missions.
Armed & dangerous: Indian military 5th deadliest in the world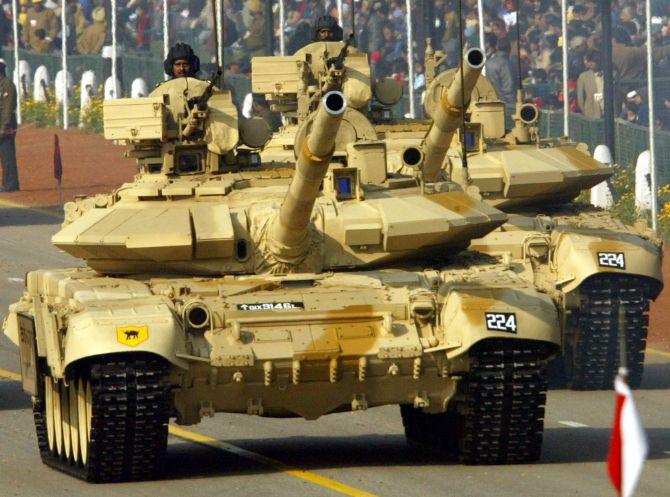 Indian ranks fifth in the world according to a report that ranks the strength of 20 countries according to weaponry, including tanks, aircraft, helicopters and submarines.
October 05, 2015
REWIND: The best PHOTOS from the week gone by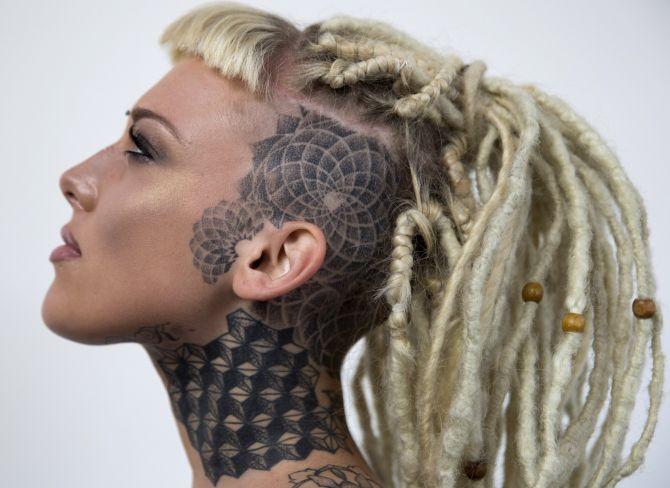 Fourteen photos from events that defined the world in the week gone by.
October 03, 2015
PHOTOS: Showers bring a smile to Mumbaikars' faces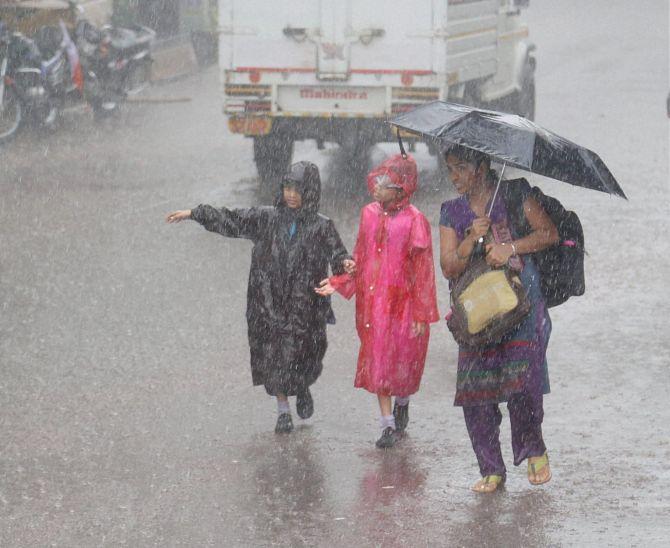 Mumbaikars were a happy bunch on Saturday after light showers brought some relief from the sweltering heat.
October 02, 2015
IN PHOTOS: One year of the Swachh Bharat Mission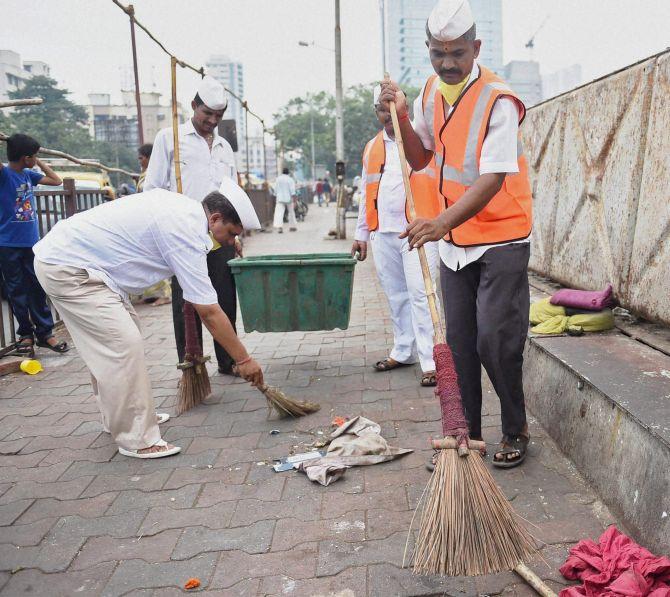 On Friday, India marked the first anniversary of Prime Minister Narendra Modi's pet project Swachh Bharat Abhiyaan. Various programmes were held across the country to mark the event, which coincides with the birth anniversary of Mahatma Gandhi.
Mahatma Gandhi like you have never seen before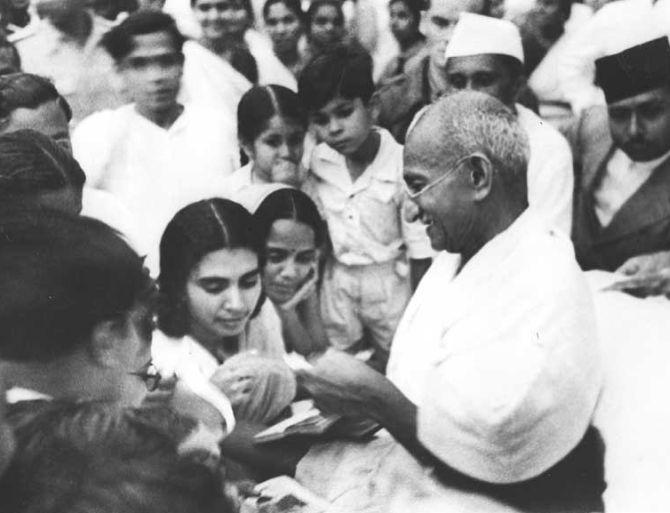 Some rare photographs of the Father of the Nation on his birth anniversary
Remembering Bapu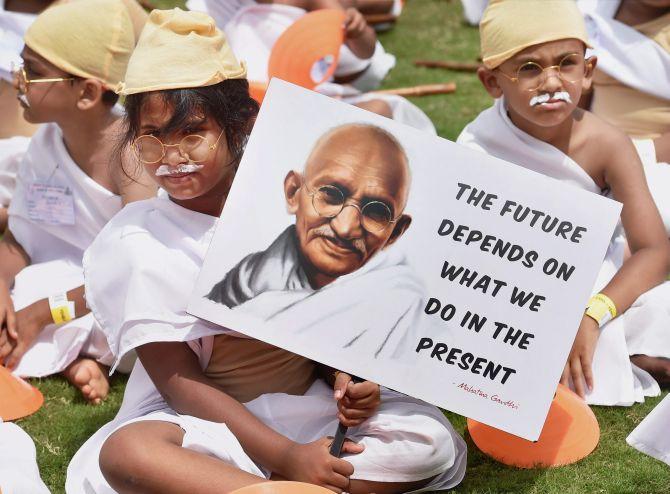 The nation on Friday remembered Mahatma Gandhi on his 146th birth anniversary.
September 30, 2015
Terror on the tracks: A deadly history of attacks on trains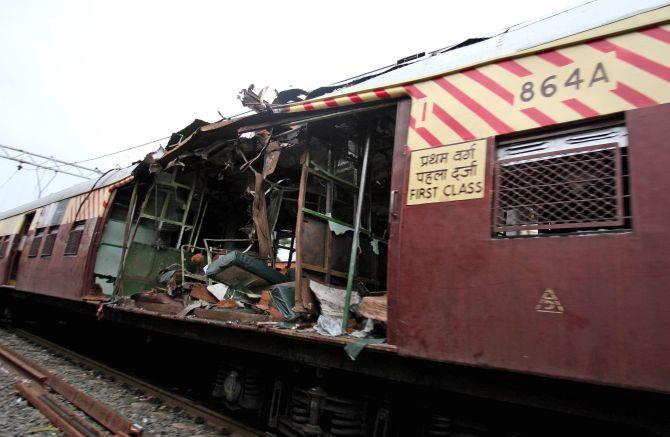 Here are some of the worst terror attacks in recent history with trains and passengers as intended targets.
When Modi's California visit created a flutter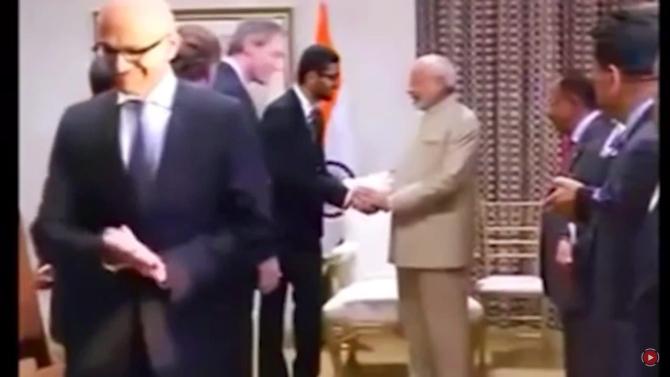 Here are a few issues that are most talked about Modi's California visit
PHOTOS: It's an odd world out there!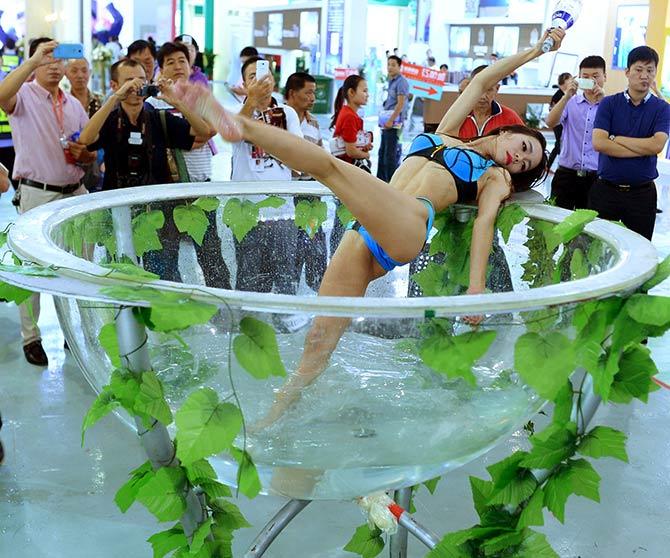 These images from across the globe tell that it is a crazy world out there.
September 29, 2015
That's what you call awkward: When Putin met Obama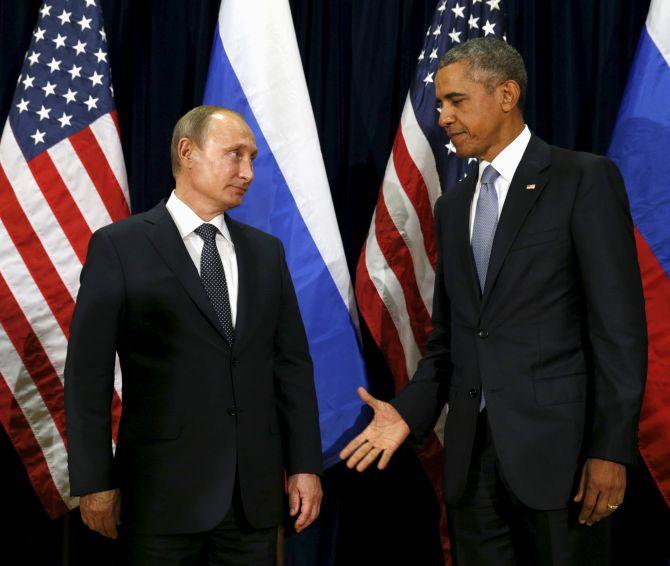 The meeting between United States President Barack Obama and Russia's Vladimir Putin was, by their own high standards, weird.
Live out your Mad Max fantasy here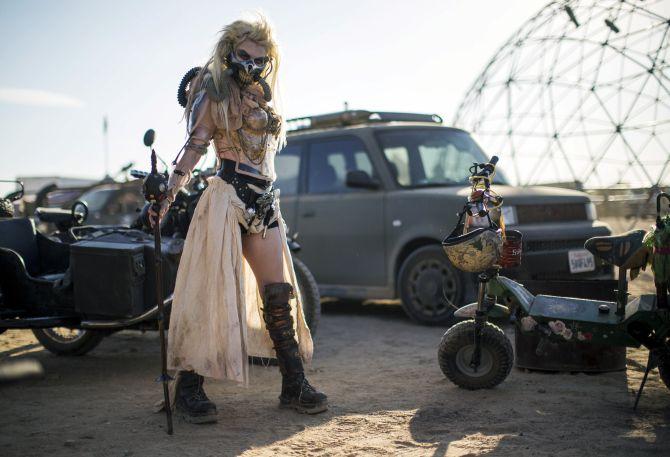 Thousands of cosplayers came together in the southern California desert to celebrate the Wasteland Weekend.
Stunning PHOTOS: There's flowing water on Mars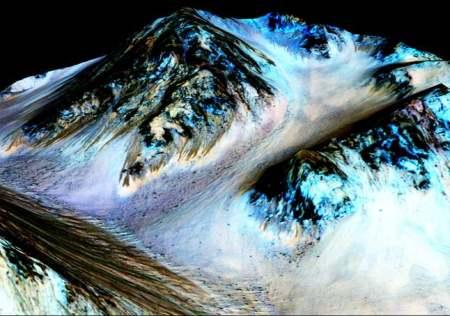 Scientists have found the first evidence that briny water may flow on the surface of Mars during the planet's summer months.
September 28, 2015
Blood moon paints the sky red: You won't get to see this sight till 2033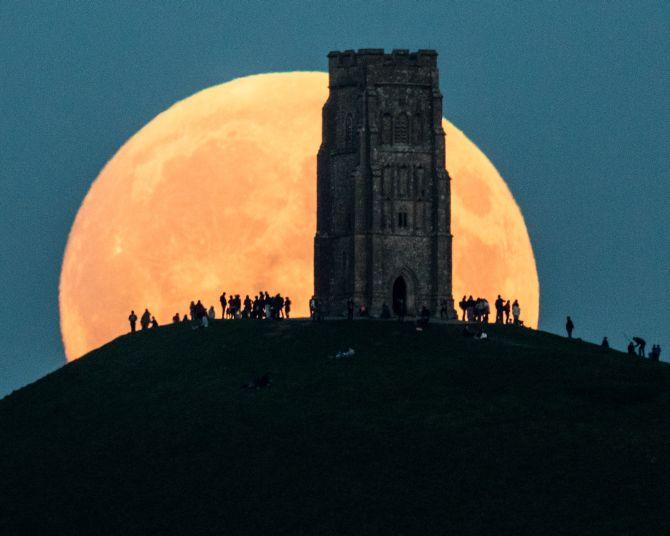 The world was in for a blockbuster on Sunday night when a total lunar eclipse shared the stage with a supermoon on Sunday night.
PHOTOS: When desi Americans in California got Modi-fied!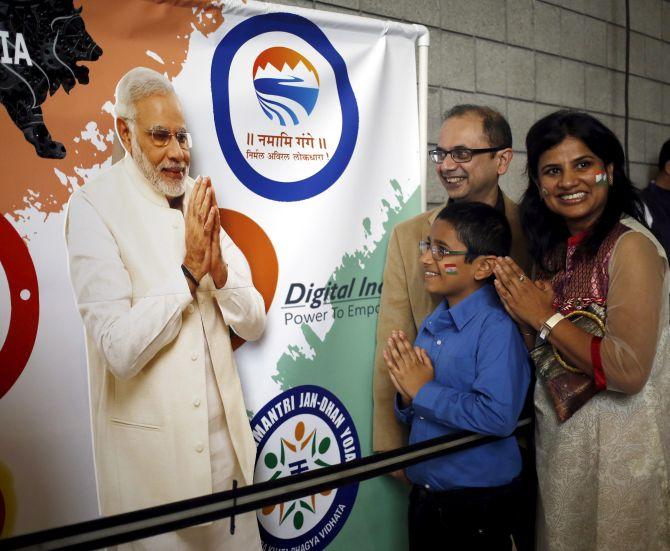 A colourful show has been put up for PM Modi at the San Jose Stadium in California.
September 26, 2015
Toasts, high-fashion and lobster at Obama's dinner for China's Xi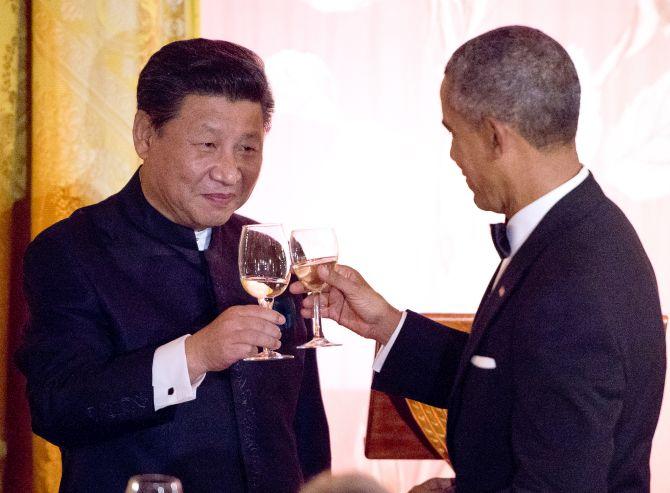 A powerhouse line-up mixing Hollywood, diplomacy and corporate America streamed into the White House for President Barack Obama's lavish state dinner for Chinese President Xi Jinping.
September 25, 2015
Eid Mubarak: Sacrifice, sweets, selfies and more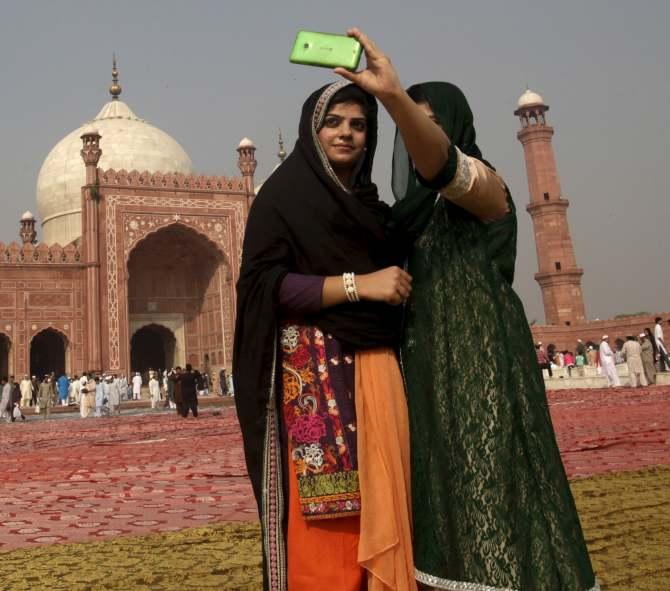 The Eid photo album, from New Delhi to New York.
'Namo'ste, New York: Beyond handshakes and photo ops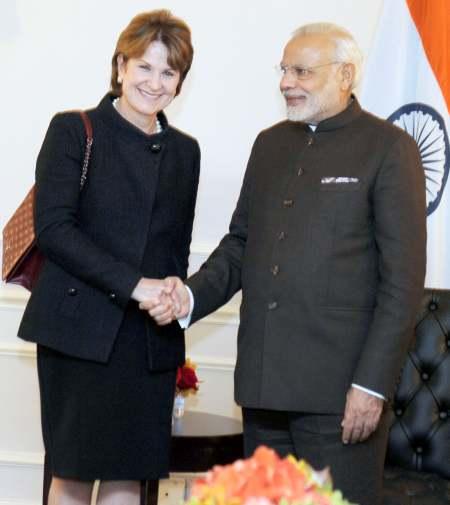 It was meeting after meeting for Prime Minister Narendra Modi on Day 1 on his five-day visit to the United States.
September 24, 2015
Eid shopping lifts the mood in Kashmir
Eid shopping picked up across Kashmir Valley on Thursday after Tuesday's rains caused a flood scare, subduing the festivities.
Horror at Hajj: 4 Indians among 717 killed in stampede in Mecca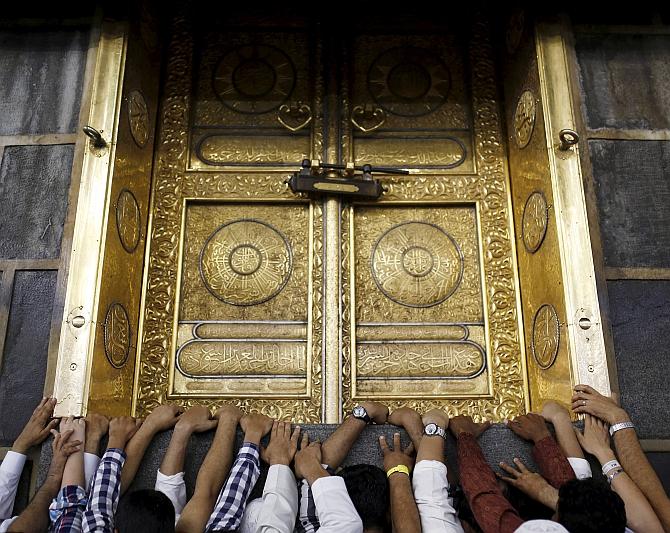 This is the second major disaster at Mecca this month.
Happy birthday MOM! One year and many more to go for India's orbiter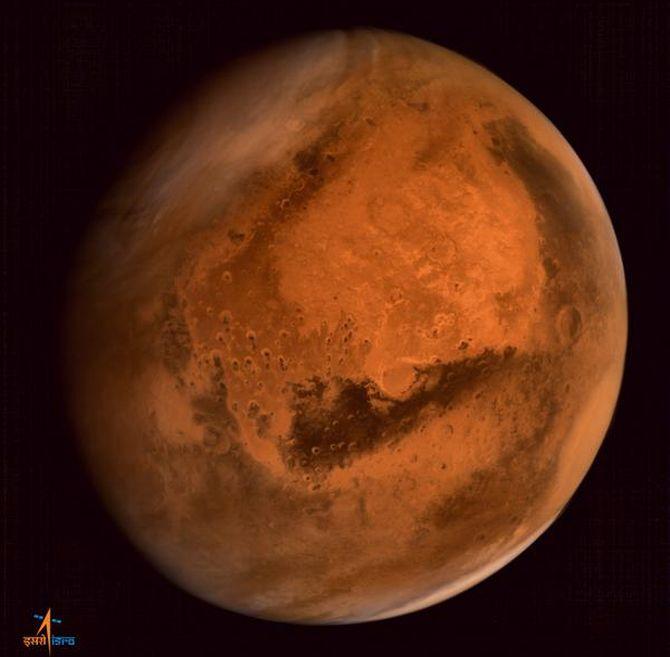 The Mars Orbiter Mission, or MOM, India's first planetary mission to explore Mars, has successfully completed one year around the Red planet on Thursday.
Will Europe fall apart?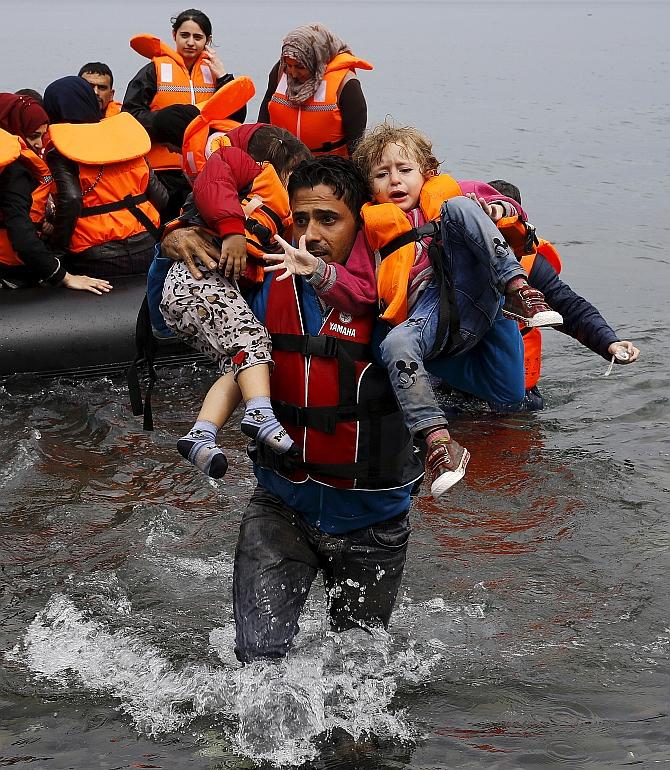 Hundreds of migrants, who continue to arrive in Europe as they flee the scenes of chaos and brutality of the Islamic State in the Middle East, have created sharp divisions among European Union member states which are increasingly finding it tough to control the massive influx.
Dhol baaje: A desi welcome for PM Modi in New York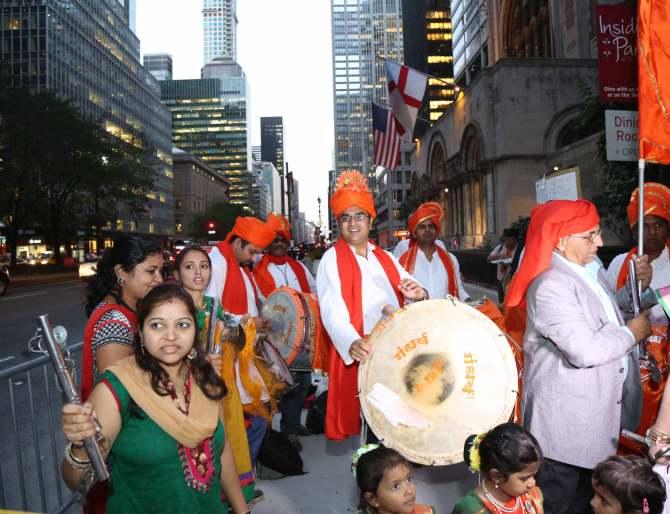 Prime Minister Narendra Modi arrived at The Waldorf Astoria in New York amid a rousing welcome by the India Diaspora.
PHOTOS: The wonderfully weird world we live in!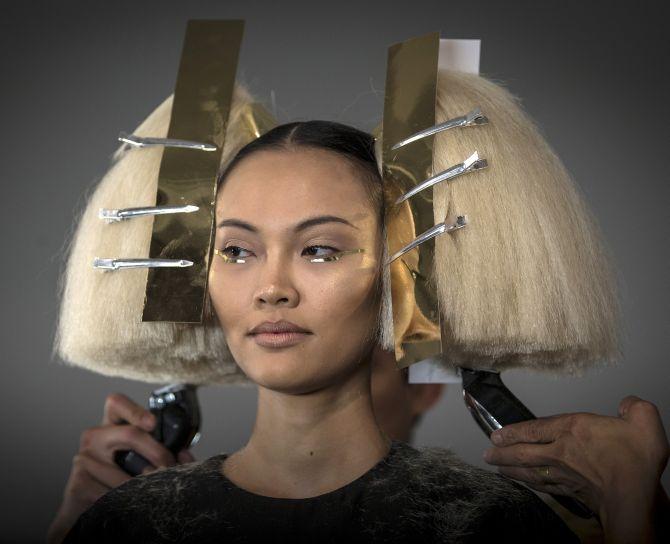 images that show we live in an odd, odd world.
PHOTOS: In US for second visit, PM Modi has a packed schedule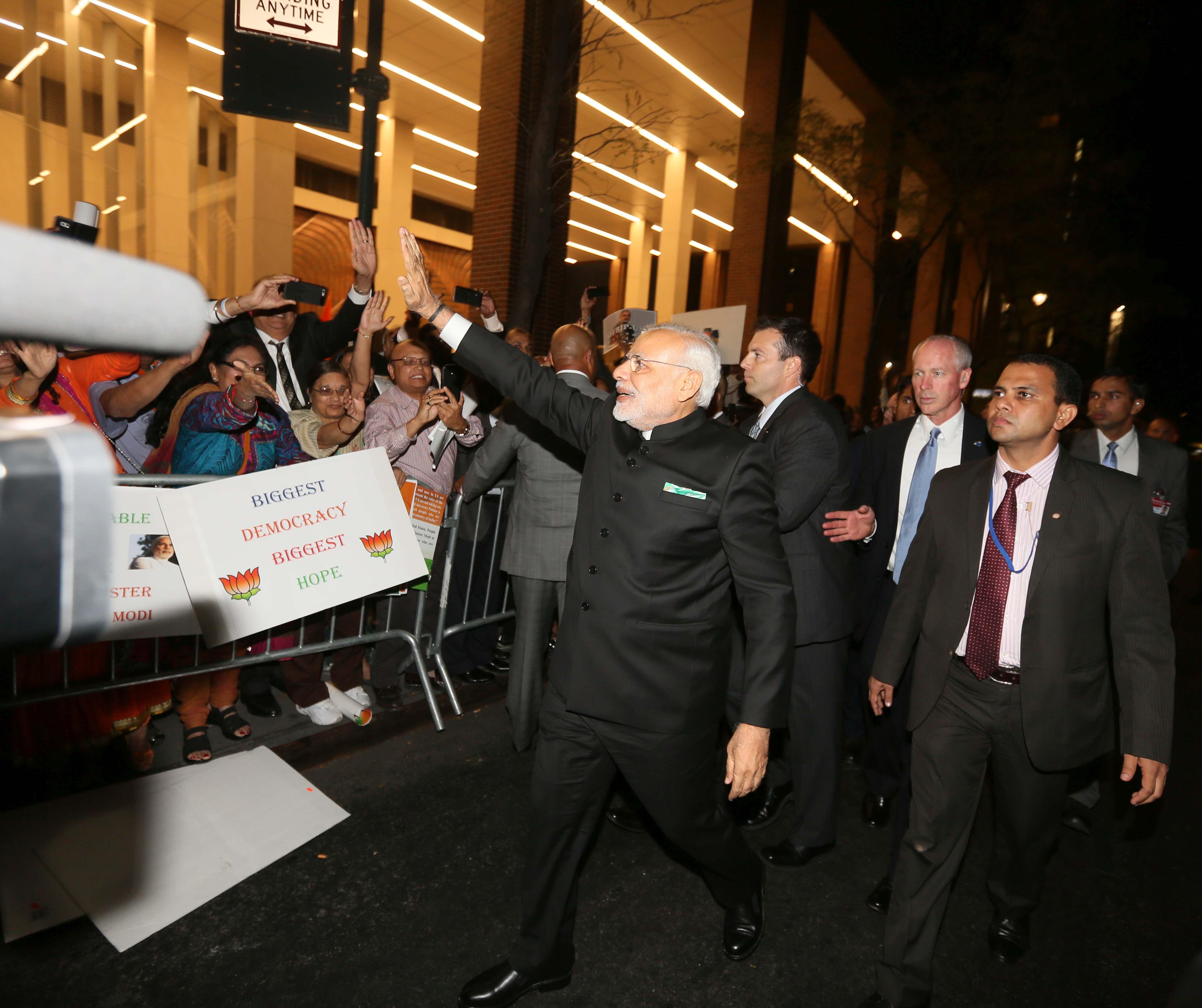 Prime Minister Narendra Modi, who arrived in New York on Thursday on his second visit to the United States, has a "packed schedule" ahead of him, during which he will address world leaders at a landmark United Nations sustainable development summit and interact with top CEOs and the Indian Diaspora in the Silicon Valley.
September 23, 2015
PHOTOS: Assam left in a watery mess!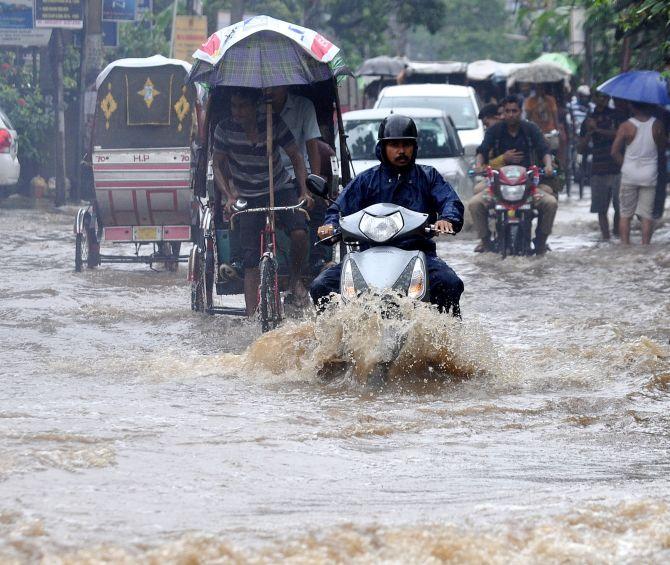 Rain-induced flash floods crippled life on Wednesday for the second time in the past four days.
PHOTOS: Muslims begin their long journey of faith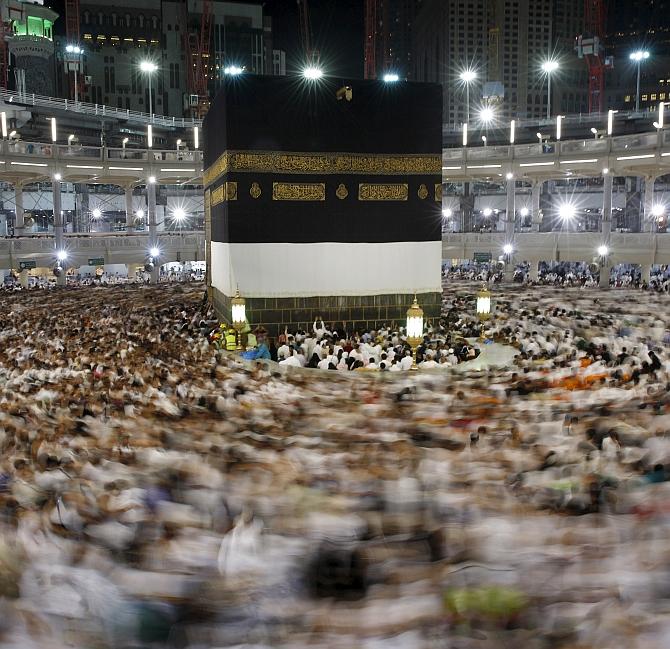 Over 1.5 lakh Indians along with tens of thousands of Muslims from across the world began moving from the holy city of Mecca to nearby tent-city of Mina, marking the beginning of the annual Haj pilgrimage.
Readers' PHOTOS: Beautiful Ganpatis from California to Delhi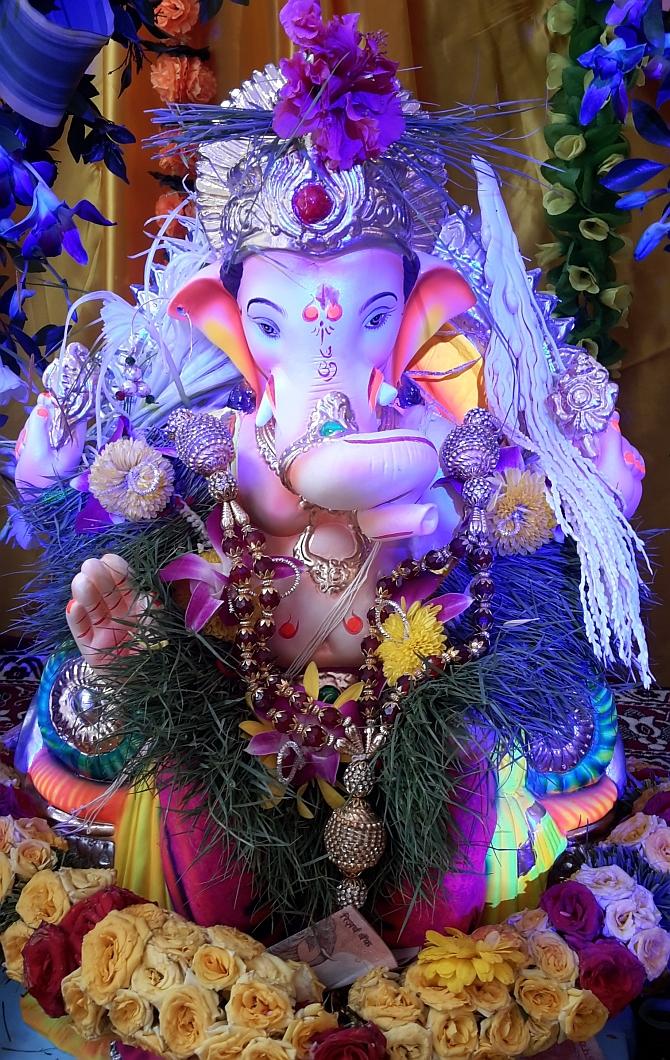 We had asked our readers to send us photos of their Ganesha. We received many entries, some of which are being showcased here.
Pope Francis gets rock-star welcome on maiden US visit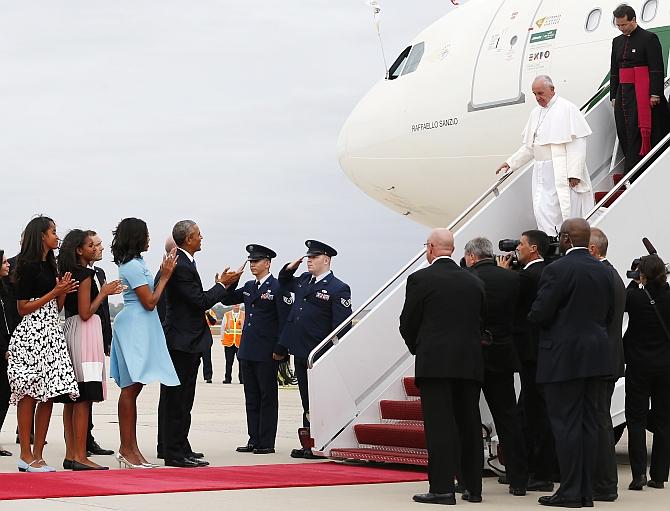 In a rare gesture accorded to few foreign dignitaries, United States President Barack Obama and his family received the Pope at the Andrews Air Force base outside Washington
September 22, 2015
Govt clears multi-billion deal for Boeing military choppers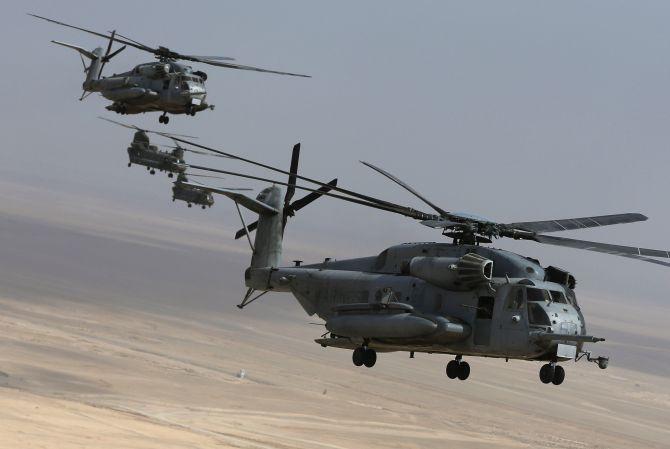 The government cleared a multi-billion dollar deal for attack helicopters and heavy-lift choppers with American aviation giant Boeing.
The President, tea and war stories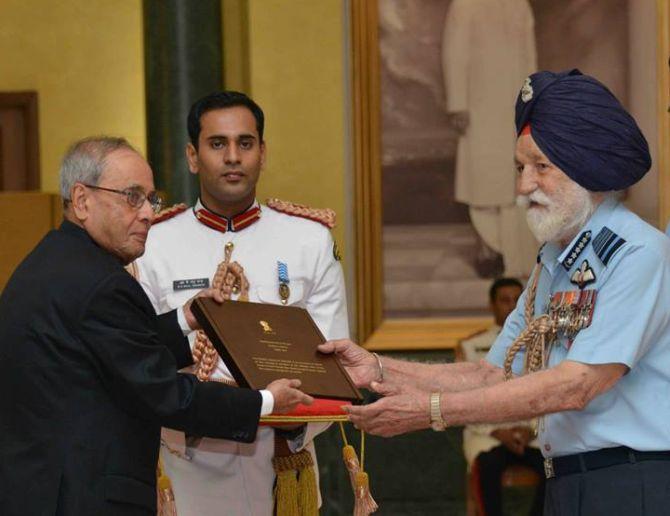 President Pranab Mukherjee on Tuesday hosted a high tea for 1965 war veterans in the Rashtrapati Bhavan complex as the country celebrated the golden jubilee of the war with Pakistan.
Readers' PHOTOS: Beautiful Ganpatis from London to Pune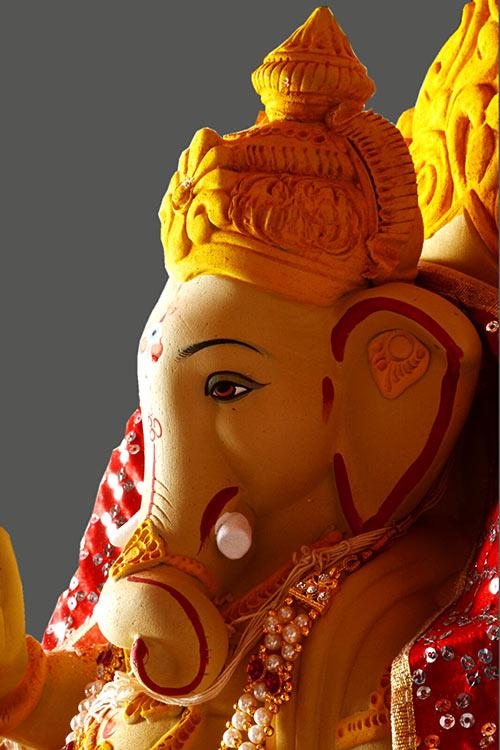 We had asked our readers to mail us photos of their Ganesha. We received many entries, some of which are being showcased here.
Beer with me: It doesn't get bigger than this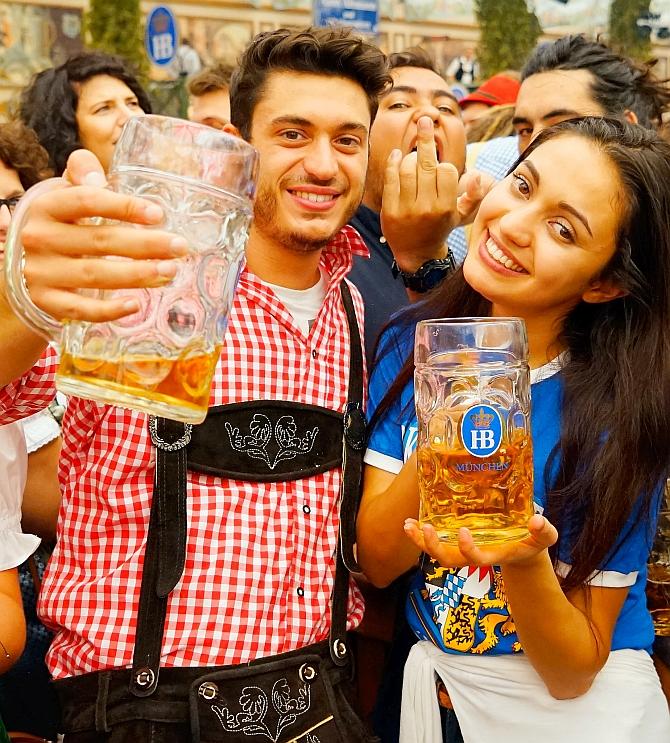 Beer drinkers from around the world have gathered in Munich to celebrate the 182nd Oktoberfest.
PHOTOS: This is what Gurgaon calls Car Free Day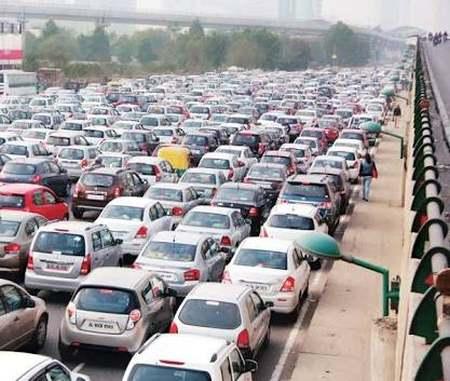 It was bumper-to-bumper traffic at many spots in Gurgaon.
September 21, 2015
PHOTOS: What Pope told Fidel Castro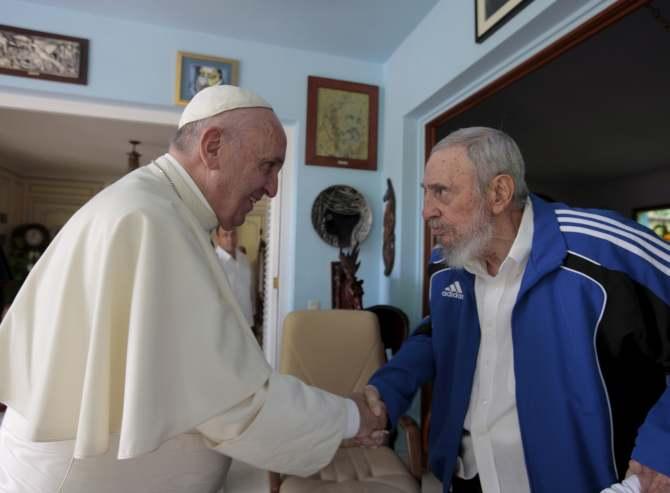 In a 30-minute friendly meet, the two leaders spoke about humanity and exchange books
Readers' PHOTOS: Beautiful Ganesha's from Mumbai to Kansas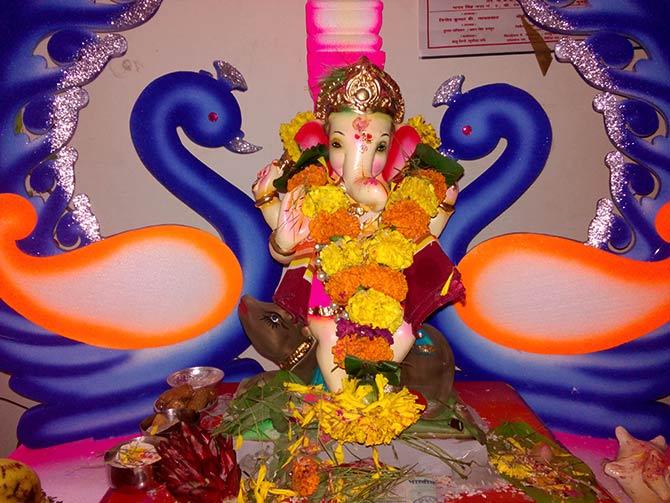 Send us your Ganesha photos and we'll showcase them here
September 18, 2015
At Lalbaughcha Raja is Amit Shah praying for Bihar?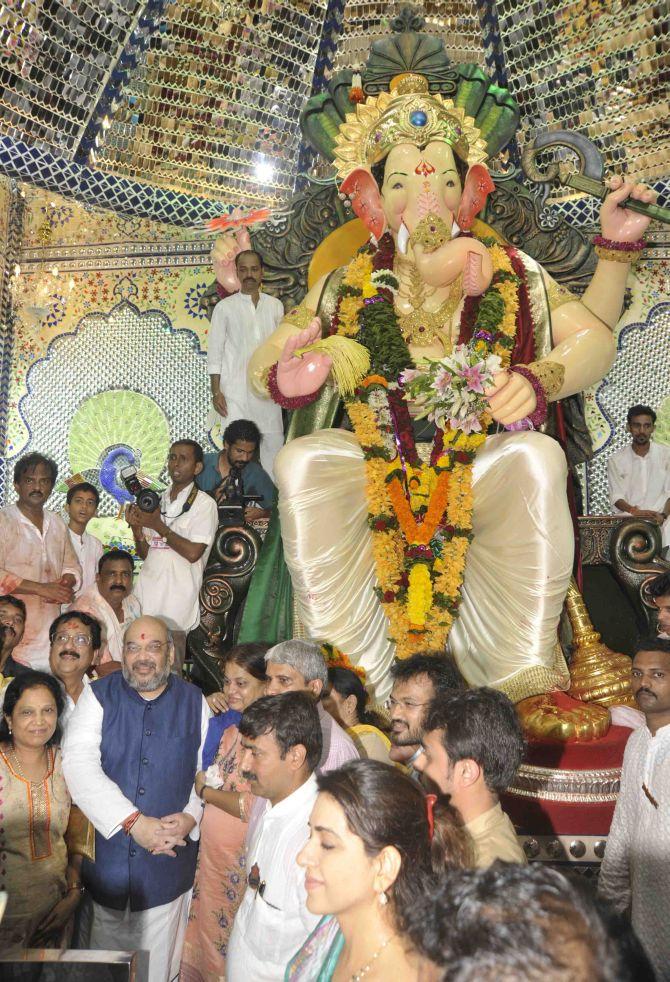 Here are some interesting images of the BJP president visiting the popular Lalbaugcha Raja.
PHOTOS: Band, baaja and bath @ Kumbh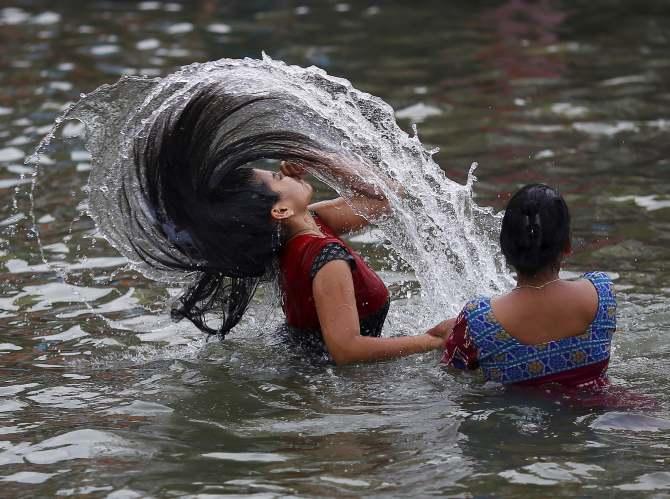 The last auspicious day of the ongoing Kumbh Mela was full of action
September 17, 2015
Devotees bring home Lord Ganesha with fervour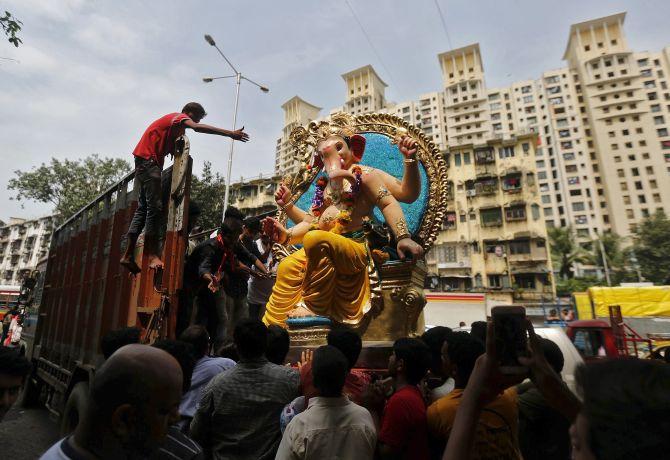 Devotees across India on Thursday welcomed their most beloved and venerated deity -- Lord Ganesh -- into their homes and community pandals, kickstarting the ten-day Ganesh Chaturthi celebrations with zeal and devotion.
September 16, 2015
PHOTOS: Mumbai hassled with train delays, traffic snarls for second day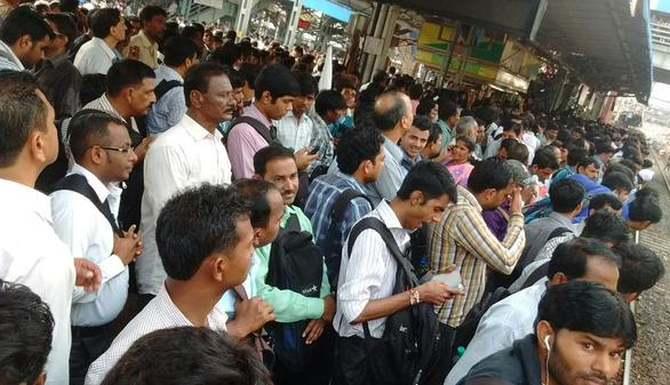 Tuesday's nightmare continued well into Wednesday morning for Mumbaikars, as trains on the Western Railway ran behind schedule.
15 Odd PHOTOS from a mad, mad world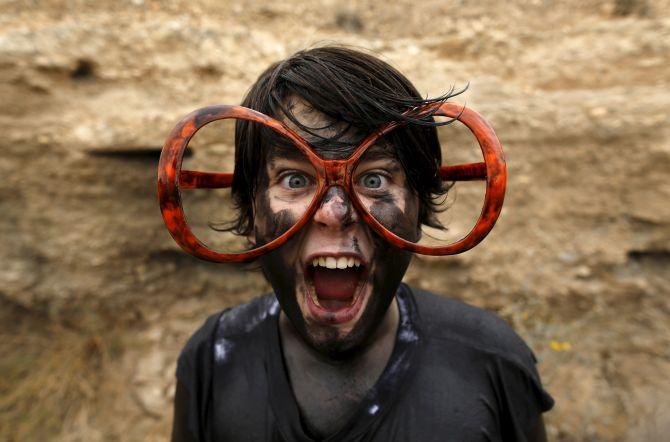 Here's this week of photos that prove we live in a mad world.
September 15, 2015
A curtain raiser to Mumbai's favourite festival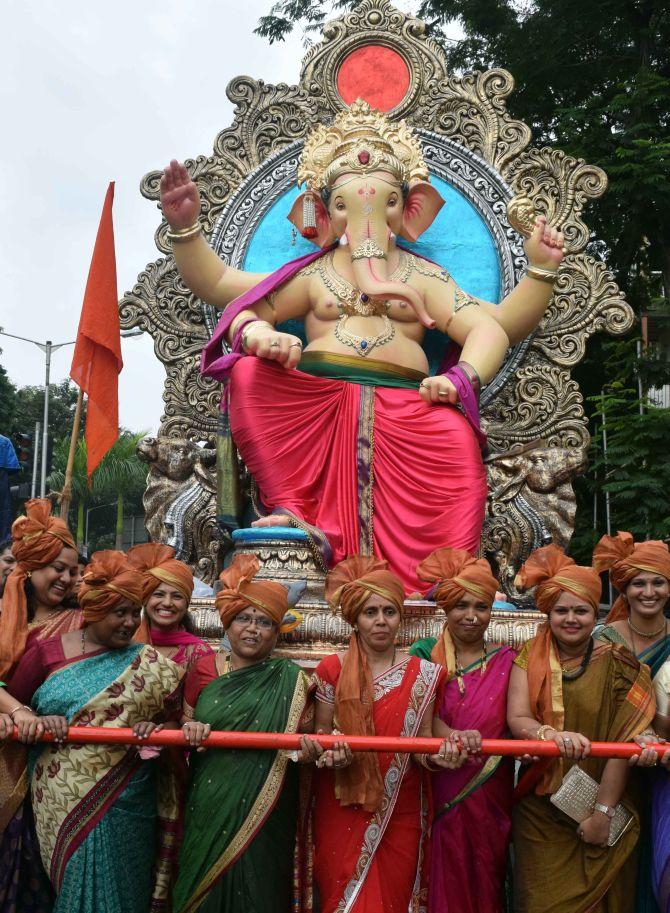 The ten-day-long Ganesh festival begins on September 17.
12 moving photos of Europe's migrant crisis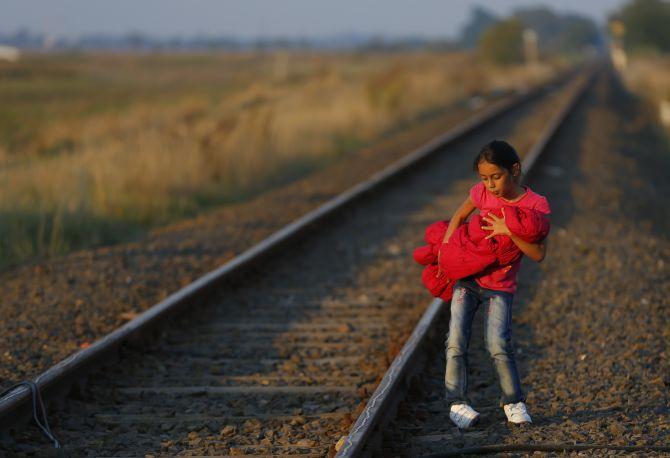 Rediff.com brings you images of struggle and hope as migrants attempt to reach European countries.
September 14, 2015
REWIND: Stunning PHOTOS of the week that was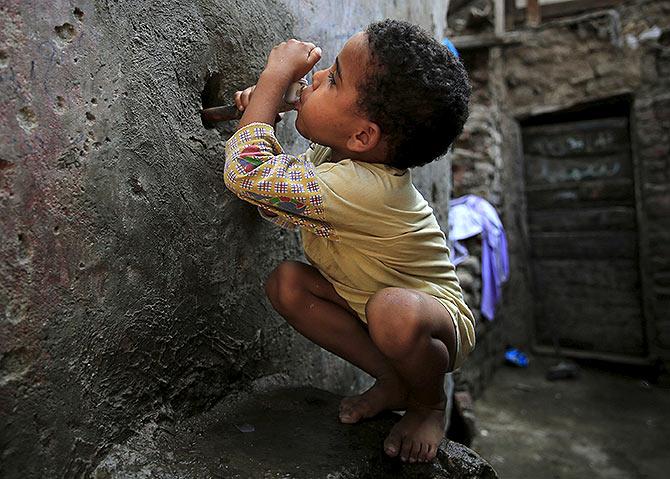 We bring you a collection of some of the best photographs taken in the week gone by.
September 12, 2015
Remembering 9/11: US marks 14th anniversary of September 11 attacks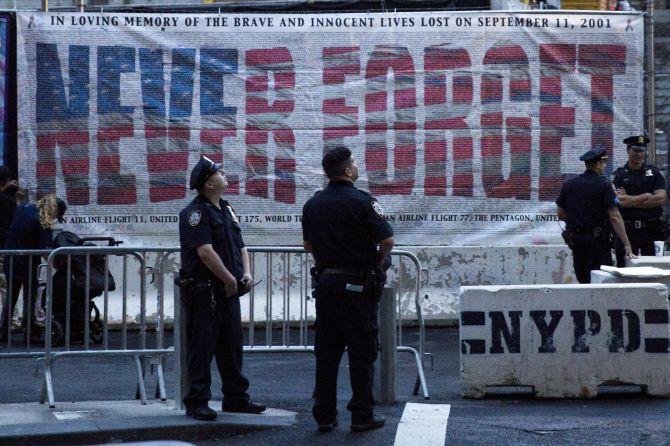 Fourteen years ago on September 11, terrorists hijacked four passenger planes and targeted the United States, killing 3,000 people in the attacks.
September 11, 2015
When their feet, err feats, made them famous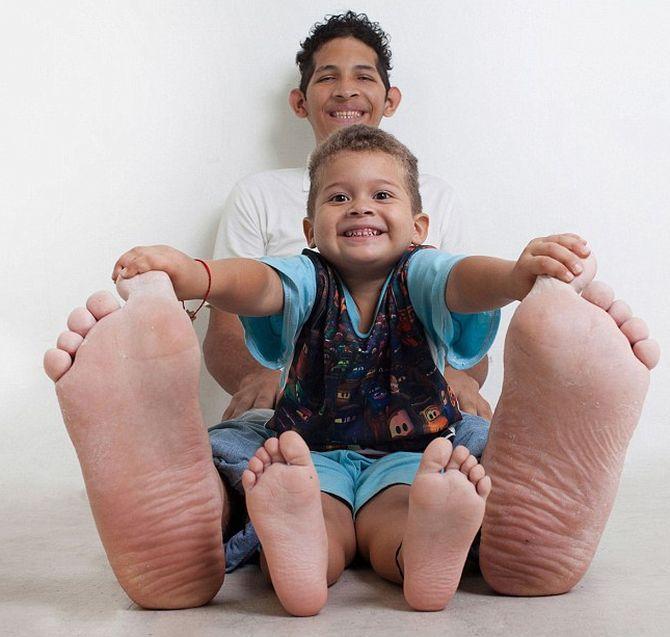 As Guinness World Records turns 60 this year, Rediff.com takes a look at some of the weirder records that are featured in the new edition.
NASA reveals Pluto's secrets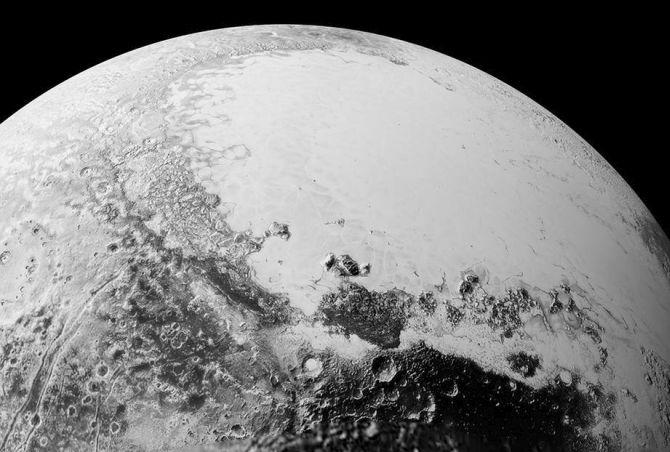 NASA's Pluto experts have revealed new high resolution close up images of the surface of Pluto -- and admit they are stunned by the planet.
'Once-in-50-years' rain causes heavy floods in Japan
Unprecedented rainfall in Japan unleashed heavy floods on Friday that ripped through parts of the island nation on Thursday, forcing more than 1 lakh people from their homes.
Remembering United 93: Memorial opens 14 years after 9/11 attacks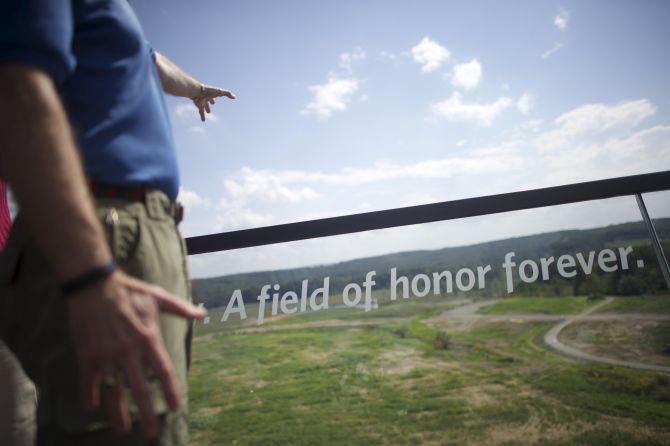 Fourteen years in the making and a incessant reminder of the horrors of the past, Flight 93 National Memorial, which opened on Thursday, is an interactive centre that employs photographs, video recordings, artefacts and graphic displays to tell the story of the doomed United Airlines Flight 93, the only jetliner among the four commandeered by terrorists that failed to reach its intended target on September 11, 2001.
September 10, 2015
These world leaders can shake a leg!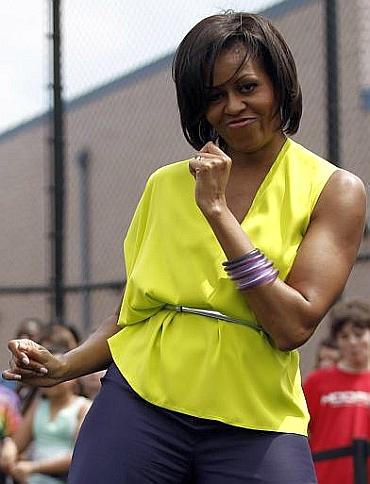 Rediff.com takes a look at some of the most prominent politicians across the world as they get jiggy with it.
Gandhi Peace Prize conferred upon ISRO by President Mukherjee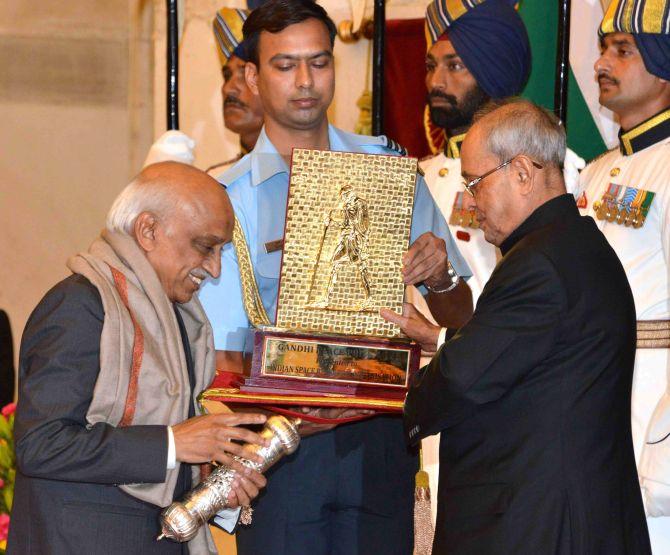 President Pranab Mukherjee on Wednesday gave away Gandhi Peace Prize 2014 to ISRO in recognition of its services in transforming India through the use of space technology.
September 09, 2015
Long live the Queen: 63 years of the longest-reigning monarch, in photos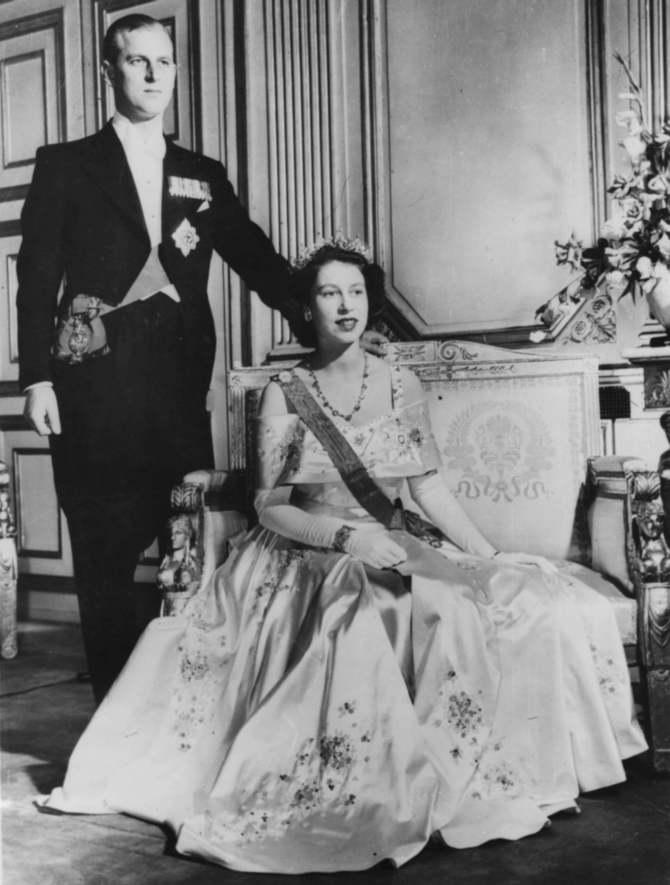 Here's a look at some candid photographs of Her Majesty during her record-breaking 63 years on the throne.
REWIND: Stunning PHOTOS of the week that was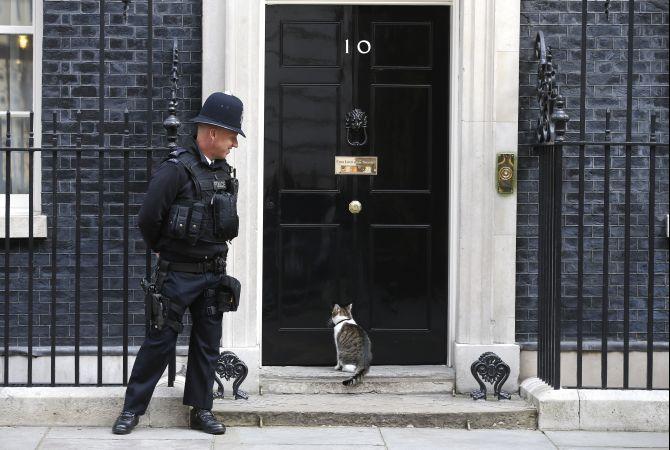 Here's a glimpse of all that happened around the world last week, in 14 images.
September 07, 2015
Assam floods: 41 dead, 18 lakh hit, 1800 villages submerged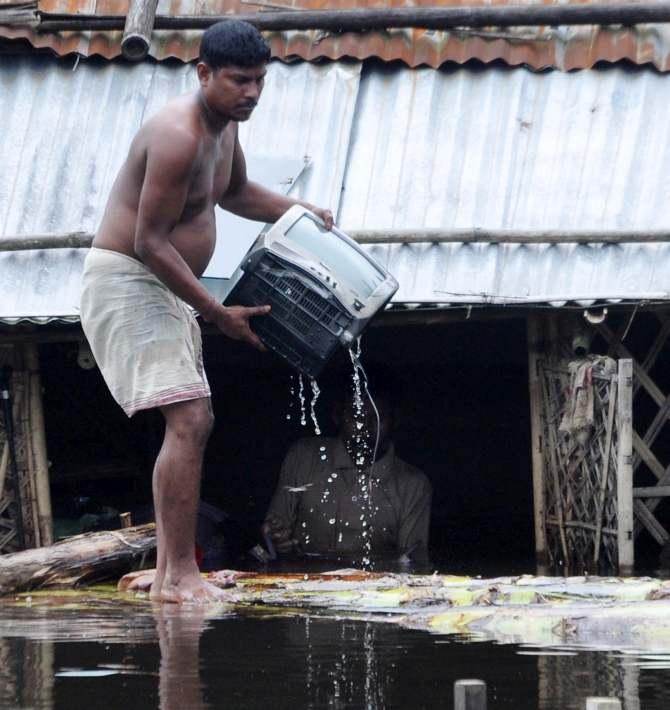 The situation in the state remained grim on Monday.
PIX: 12 wacky moments from Burning Man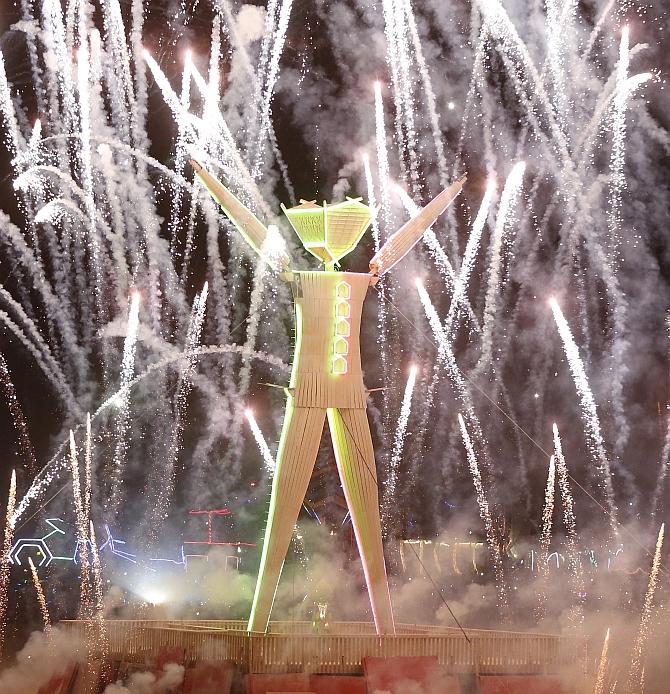 Some call it a social experiment, some see it as an interactive arts festival and some see it as a damn good rave party.
September 06, 2015
PHOTOS: Migrants welcome here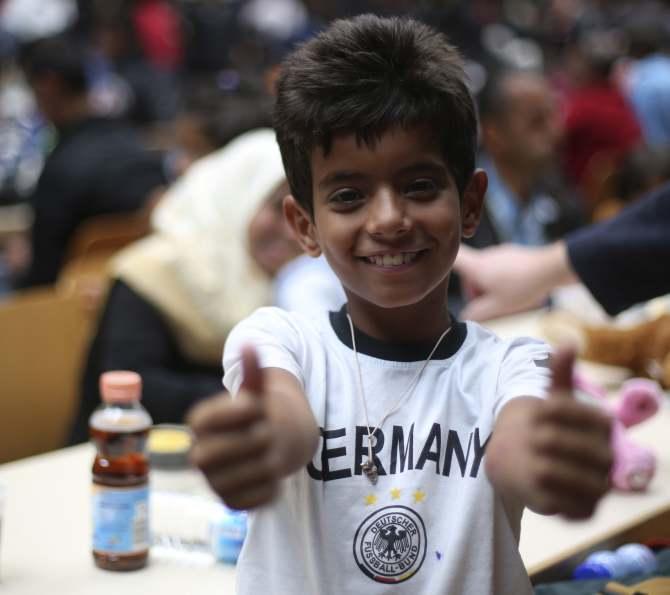 8,000 asylum-seekers reach Germany in a single day amid deepening refugee crisis
PHOTOS: Mumbai's govindas on a high...not really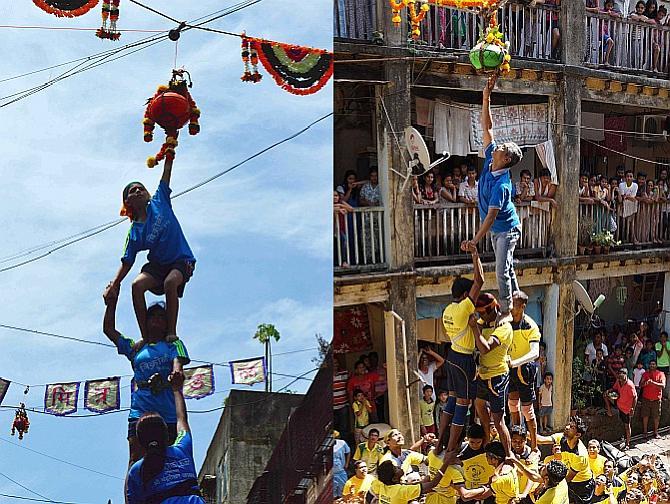 Restrictions on height of pyramids proved by a dampener
Photos: Life in a Metro with PM Modi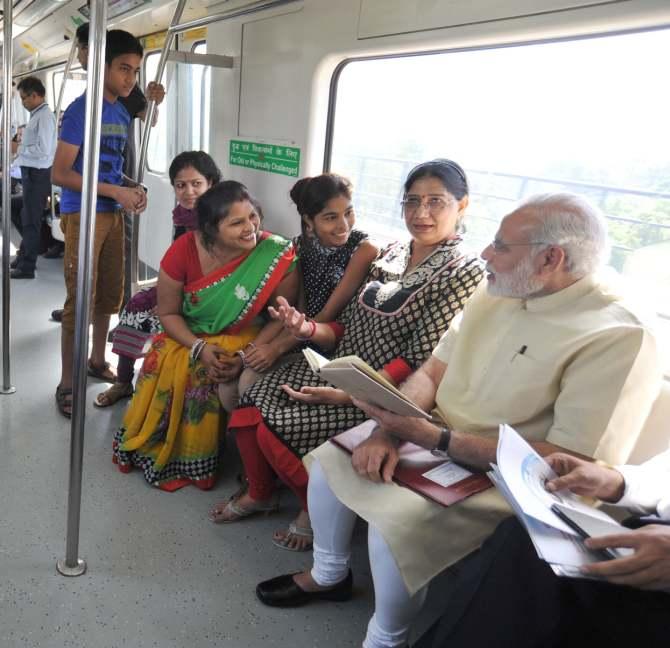 PM Modi can be quite a chatty co-passenger. Here's proof
September 04, 2015
PHOTOS: The world weeps for drowned Syrian toddler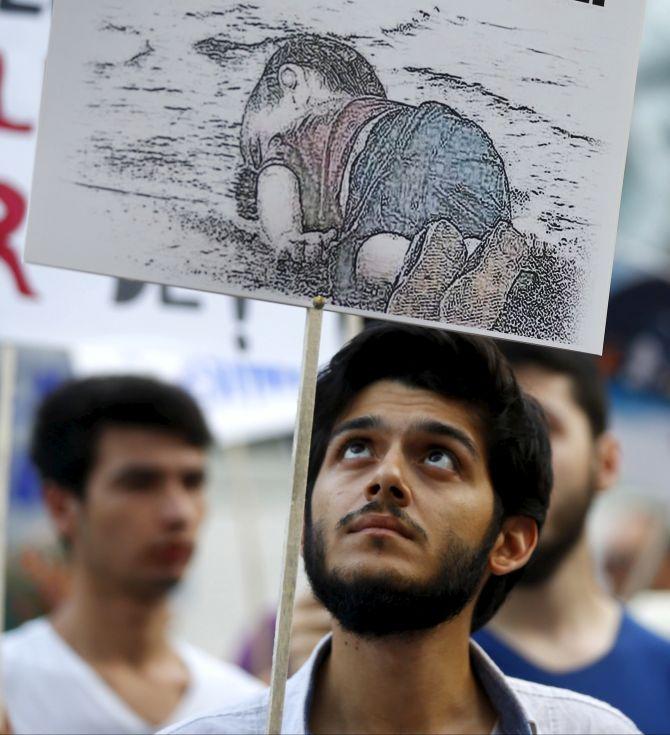 Artists from all over the world are now sharing amazing tributes to the widely seen photo of Aylan under the Turkish hashtag #KiyiyaVuranInsanlik, or #HumanityWashedAshore.
Why does he need LPG subsidy?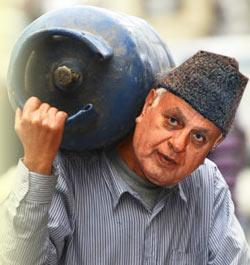 Despite his Rs 13 crore assets, former Jammu-Kashmir Chief Minister Farooq Abdullah has applied for a LPG cylinder subsidy.
WTF News! It's Weird, True and Funny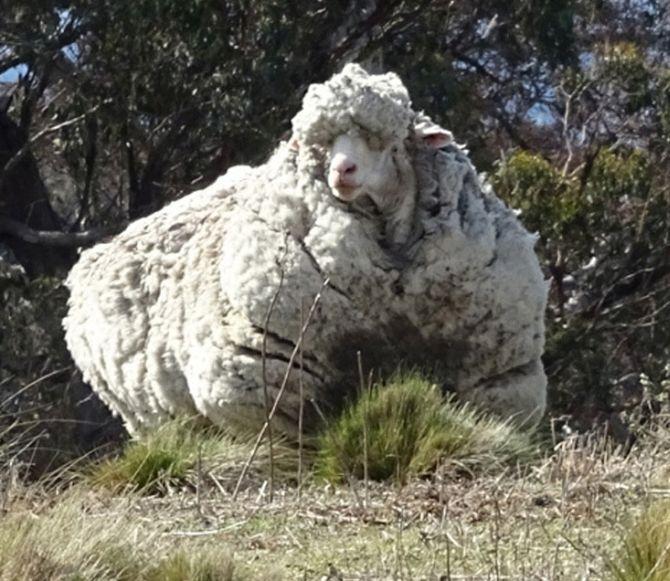 Here's your weekly digest of the craziest and funniest stories from around the world.
12 most OUTRAGEOUS selfies ever taken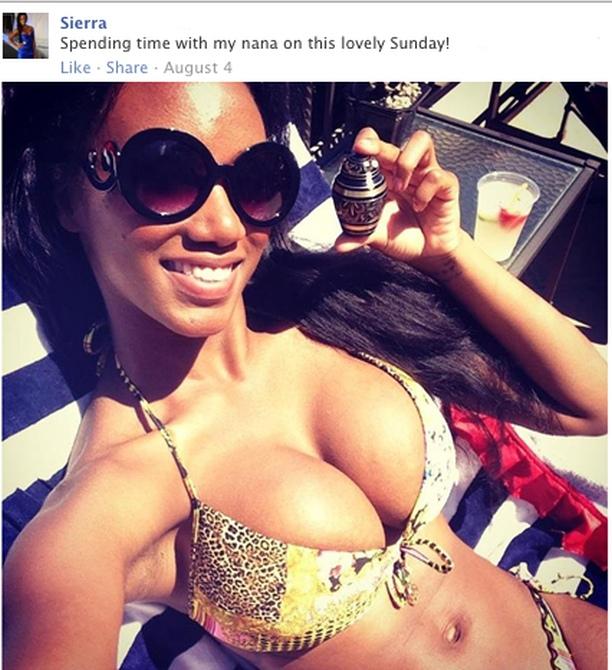 What's worse than watching someone take a million selfies?
September 03, 2015
What's the EU migrant crisis about?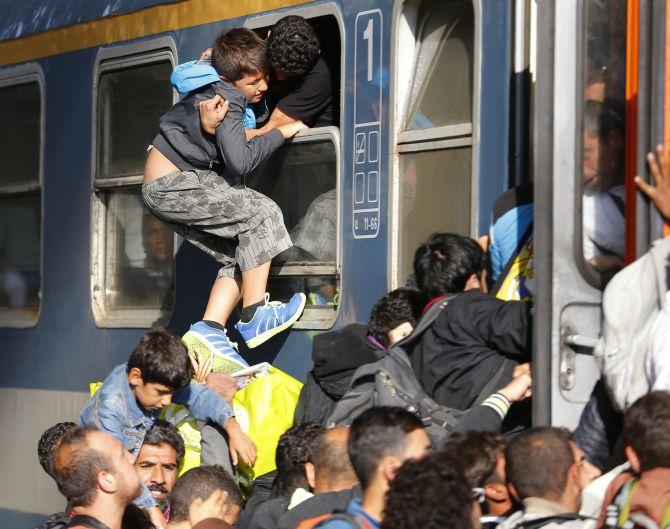 For those who are unaware of the migrant crisis the EU is facing and wondering just what the fuss is all about, here's an explanation of what's going on.
PHOTOS: It's an odd, odd world out there!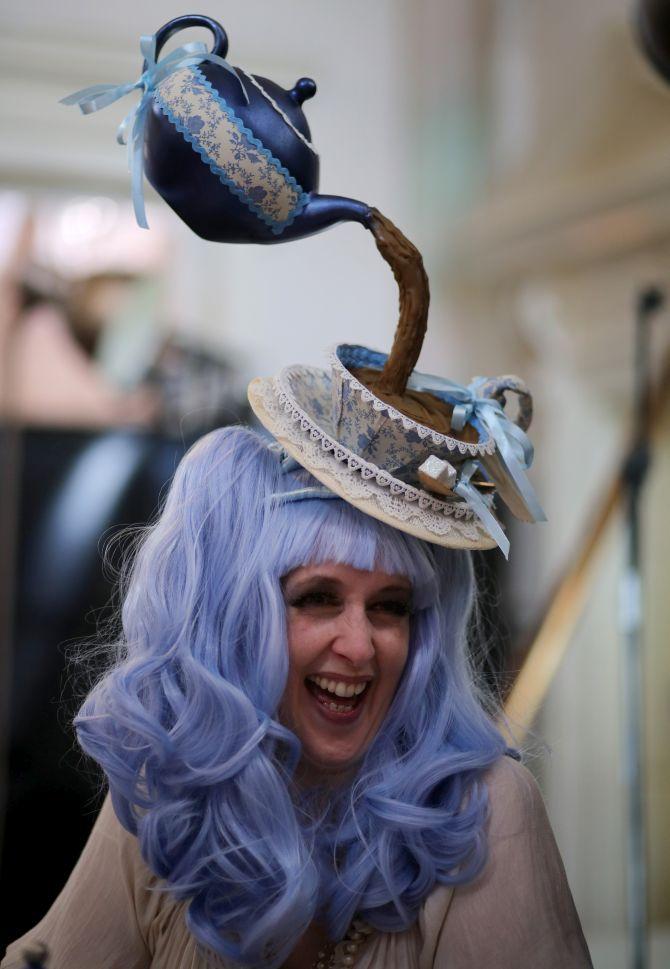 These 10 images prove that we live in a crazy, bizarre world.
PIX: China shows its might at WW-II victory parade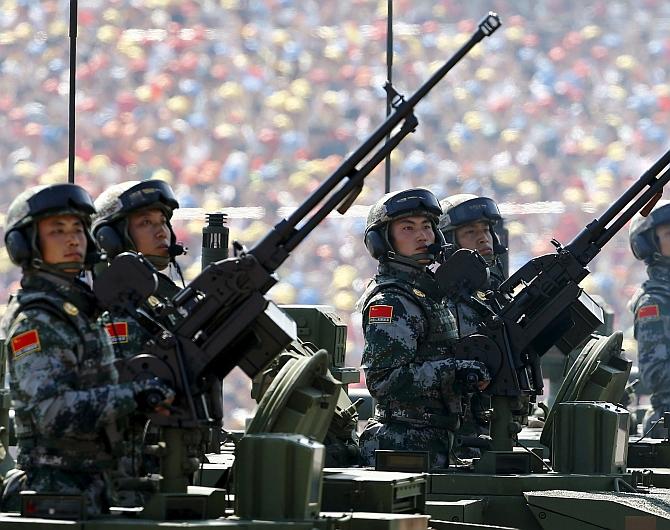 Troops from 17 countries, including Pakistan and Russia, formed part of 1000 foreign soldiers who took part in China's first military parade aimed at highlighting the excesses committed by Japanese troops against Chinese in the WW II in which according Chinese historians over 20 million people were killed, eight million forced into labour and thousands of women held as sex slaves.
September 01, 2015
Assam floods: Villagers face grim odds; over 7.35 lakh affected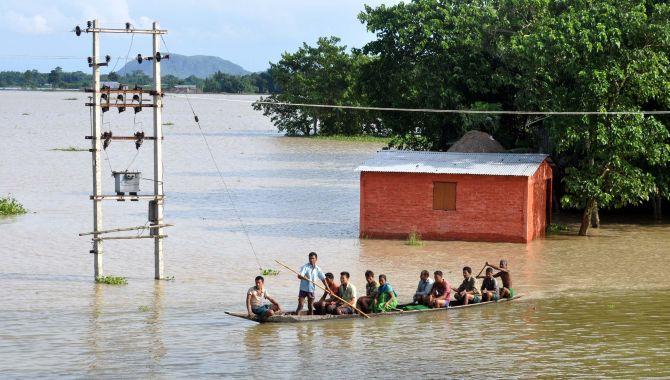 The flood situation remained critical in Assam, affecting over 7.35 lakh people from 1,597 villages have been inundated by the surging waters.
PHOTOS: China prepares for MASSIVE World War II parade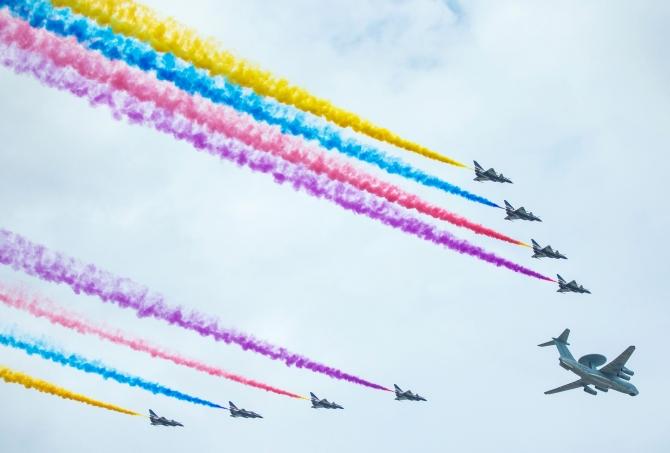 The parade on September 3 will involve about 12,000 Chinese troops and 200 aircraft.
August 31, 2015
PHOTOS: Macho man Putin pumps iron. And he has competition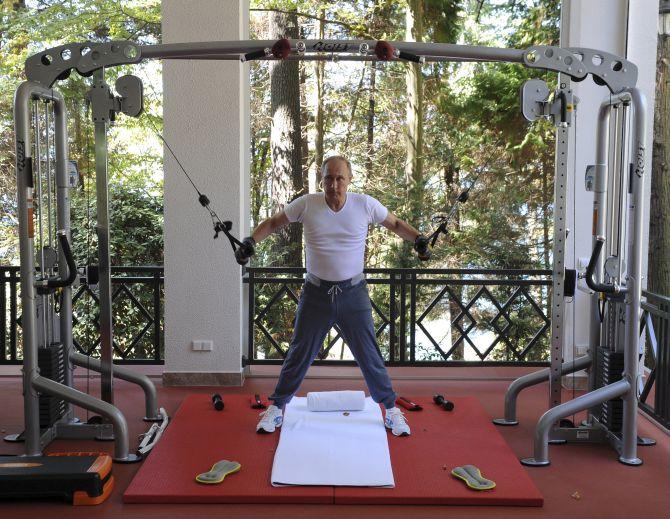 Action-man Vlad finds a gym buddy in Russian Prime Minister Dmitry Medvedev.
Tomatina is back! Tomato fest leaves Spanish town red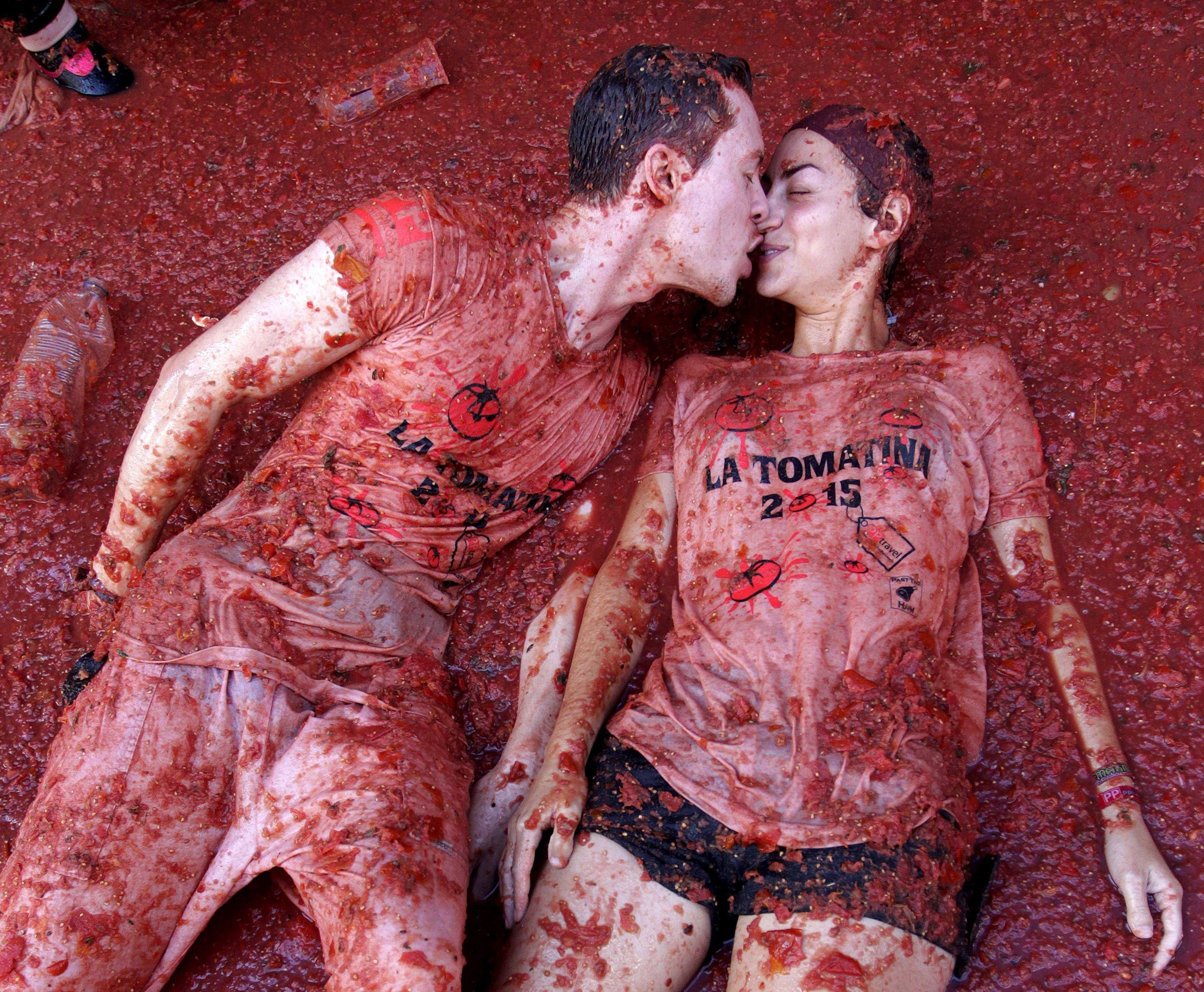 Yes, it's that time of year again when people start hurling mushy tomatoes at each other in the street of Spain for absolutely no reason.
REWIND: Stunning PHOTOS of the week that was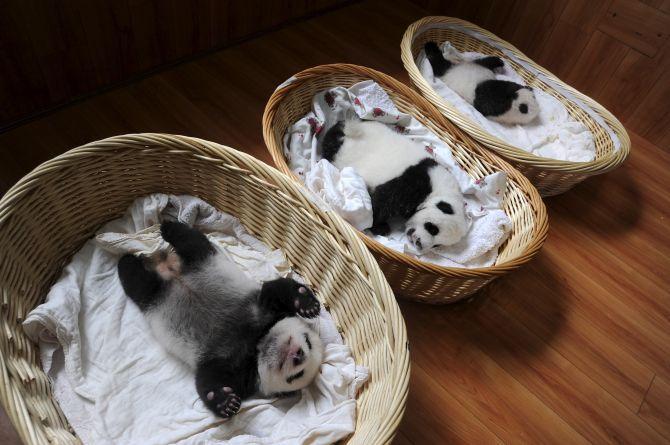 A round-up of our favourite photographs from the week gone by
August 29, 2015
Thousands gather in Kuala Lumpur to demand Malaysia's PM ouster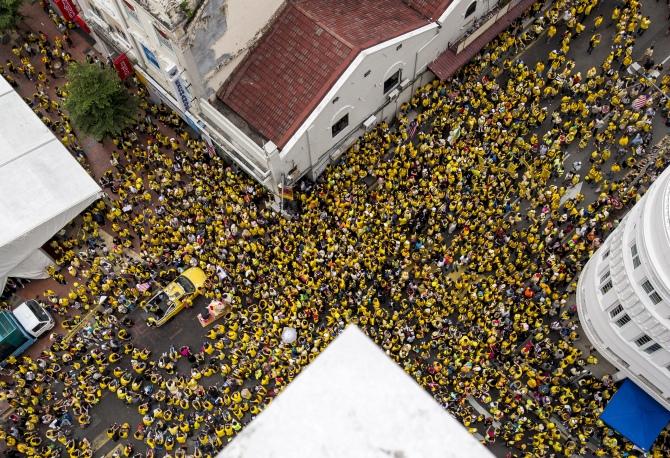 Online reports said there were at least 40,000 protesters in the rally in downtown Kuala Lumpur.
How India is celebrating Raksha Bandhan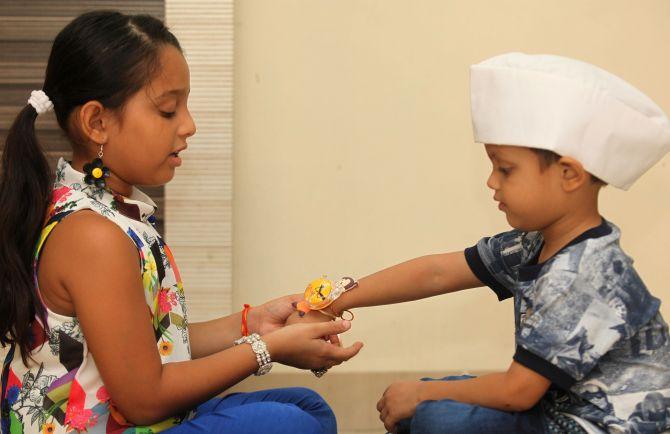 On the occasion of Raksha Bandhan, many women and children came out to tie rakhis to their brothers.
August 28, 2015
Veterans honour their fallen, respect their Commander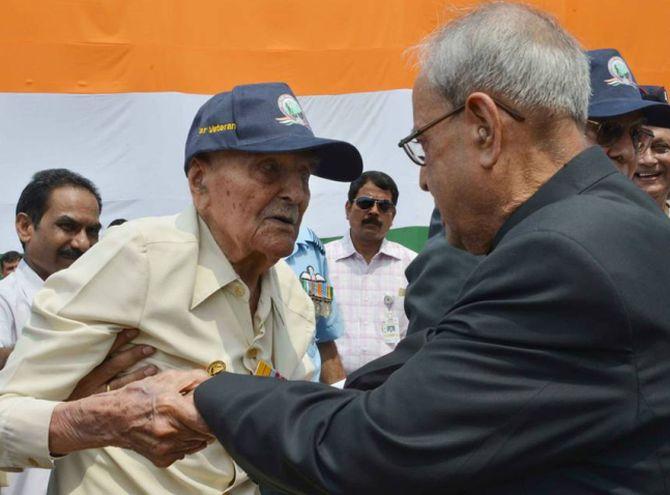 President Pranab Mukherjee, along with the Defence Chiefs and Defence Minister Manohar Parrikar were also present to pay homage on the 50th anniversary for the brave who sacrificed their all for the greater good.
August 27, 2015
14 sensational murders that shook India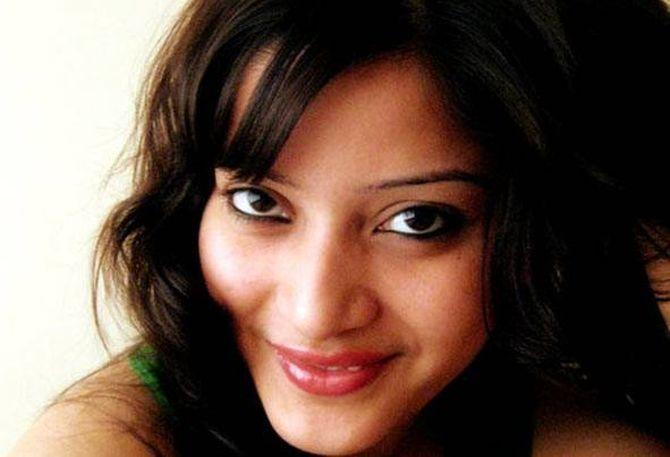 Rediff.com looks at other sensational murder mysteries that left India shell-shocked.
August 26, 2015
PIX: The morning after mayhem on streets of Gujarat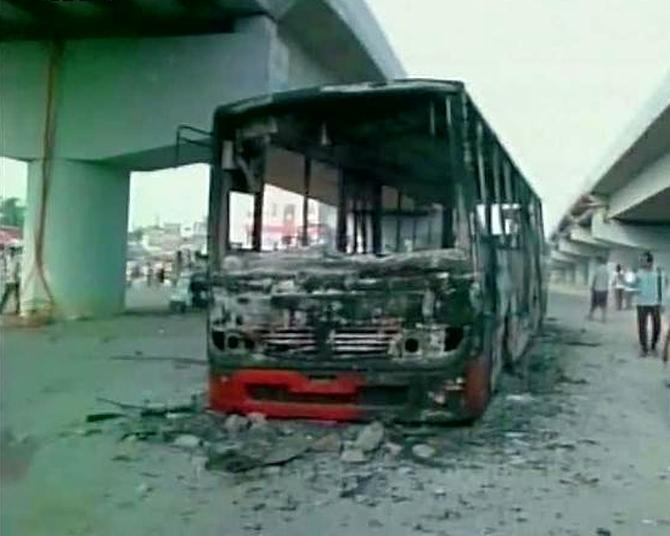 It was a night of carnage in parts of Gujarat on Tuesday.
PIX: Wings and wonder @ Radom Air Show 2015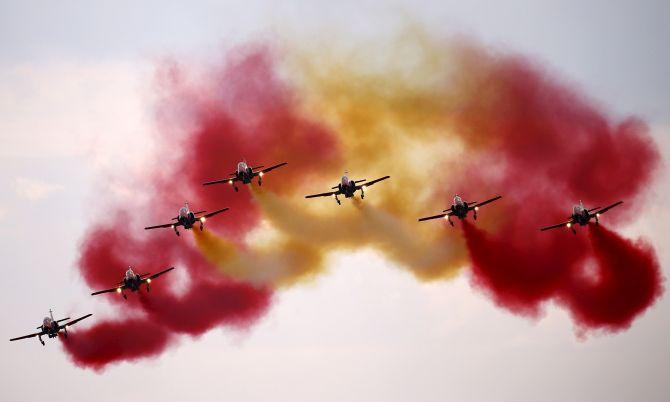 Every other year during the final August weekend, air forces of Europe and Russia gather for the Radom air show, which enthrals visitants through elaborate stunts and performances. Rediff.com takes a look at this awesome air-bending event.
Odd PHOTOS from a mad, mad world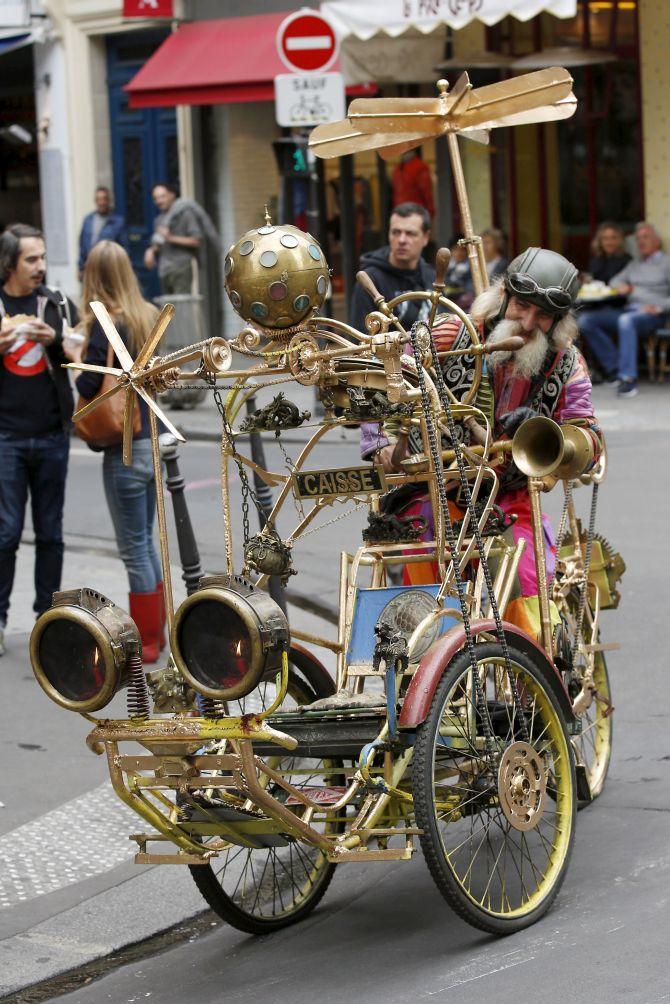 These images from across the globe tell that it is a crazy world out there!
These women stood up to their tormentors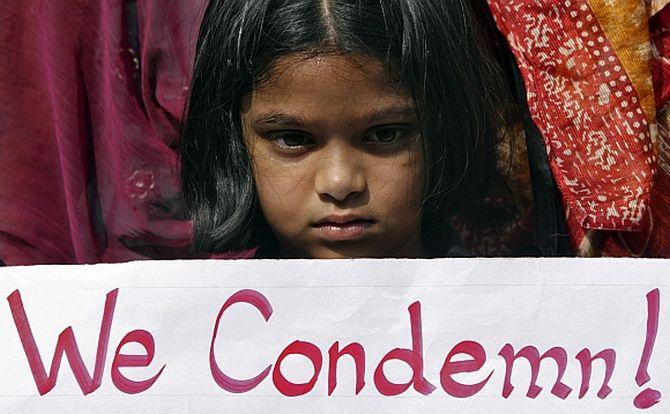 Rediff.com brings you some recent cases where women have said enough is enough and gone after eve teasers with vengeance.
August 24, 2015
Holy smoke! When Rs 2.5 crore Lamborghini went up in flames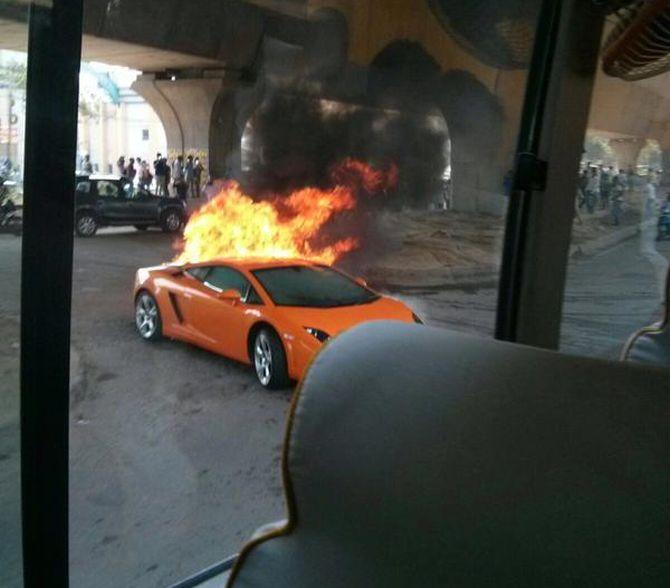 A saffron Lamborghini Gallardo, costing approximately Rs 2.5 crore suddenly caught fire in South Delhi's Badarpur.
Images that will make you go WOW!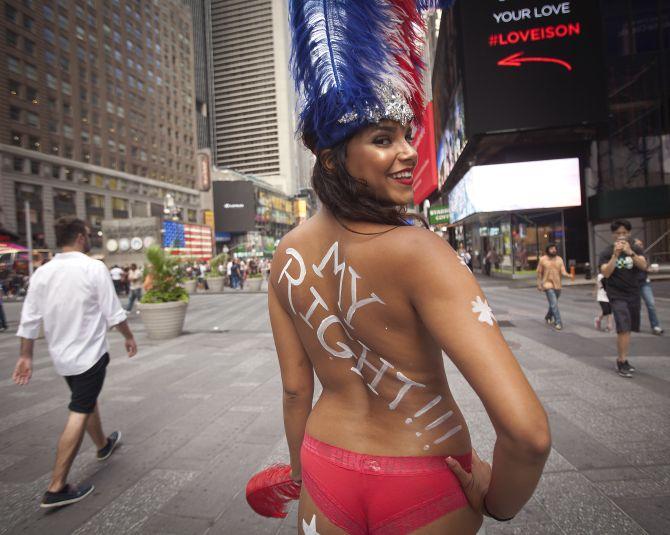 Here's a glimpse of all that happened around the world last week, in 14 images
August 21, 2015
PHOTOS: Meet the first women soldiers from US army's toughest school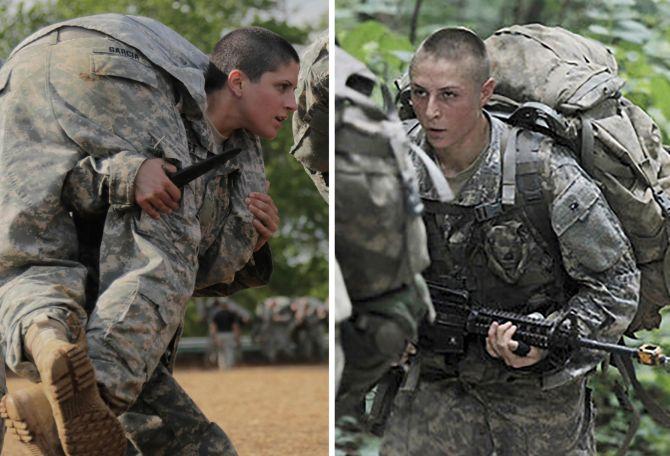 Captain Kristen Griest and 1st Lt Shaye Haver are the first women ever to graduate from the United States army's Ranger School, designed to produce elite and tough leaders.
With love, from Mars: Mangalyaan sends stunning images of red planet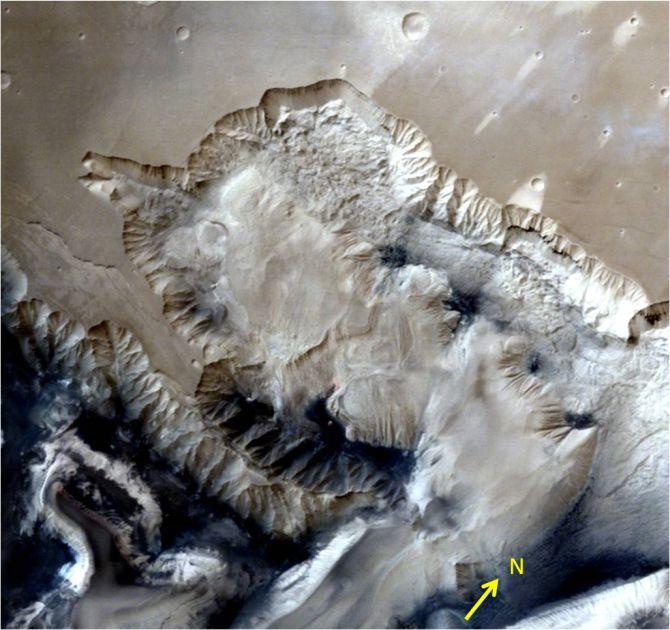 The Indian Space Research Organisation has released a series of beautiful images of a canyon named Ophir Chasma and other physical formations on the surface of the Red Planet taken by the country's Mangalyaan Mars Orbiter.
August 20, 2015
July was the HOTTEST month ever around the world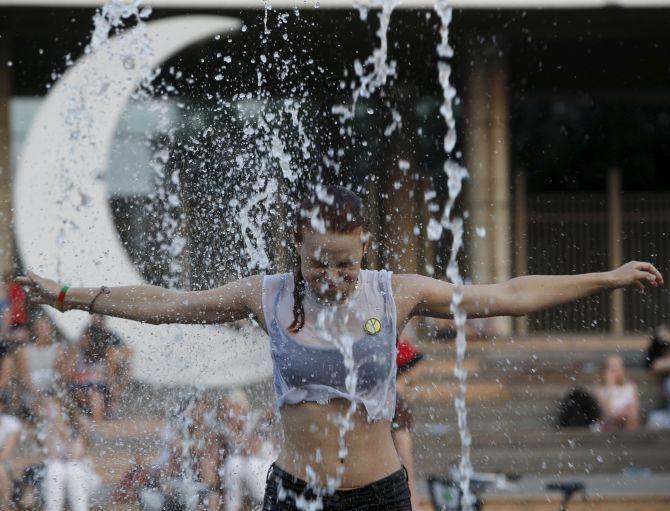 The average global temperature for July 2015 was the highest for any month since record keeping began in 1880, the National Oceanic and Atmospheric Administration said.
WTF News: It's Weird, True and Funny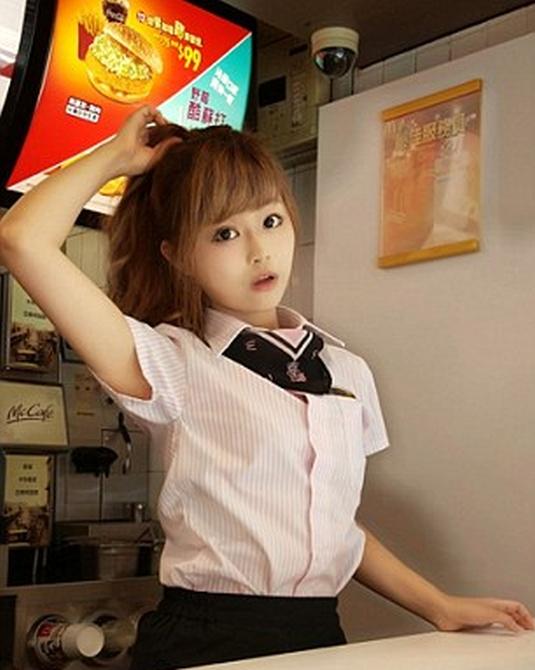 Weekly digest of the craziest stories from around the world.
August 19, 2015
Action Man Putin is back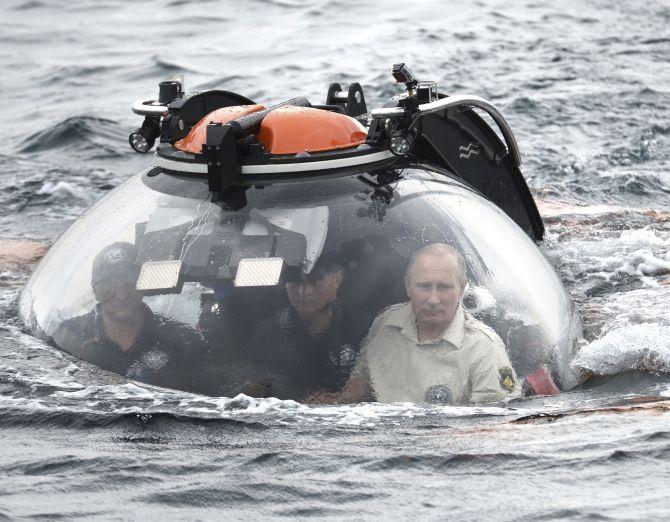 Vladimir Putin climbed into a three-seat submersible craft on Tuesday to check out an ancient sunken ship found recently in the Black Sea off the coast of Crimea.
August 17, 2015
PHOTOS: When Dubai waited for Modi magic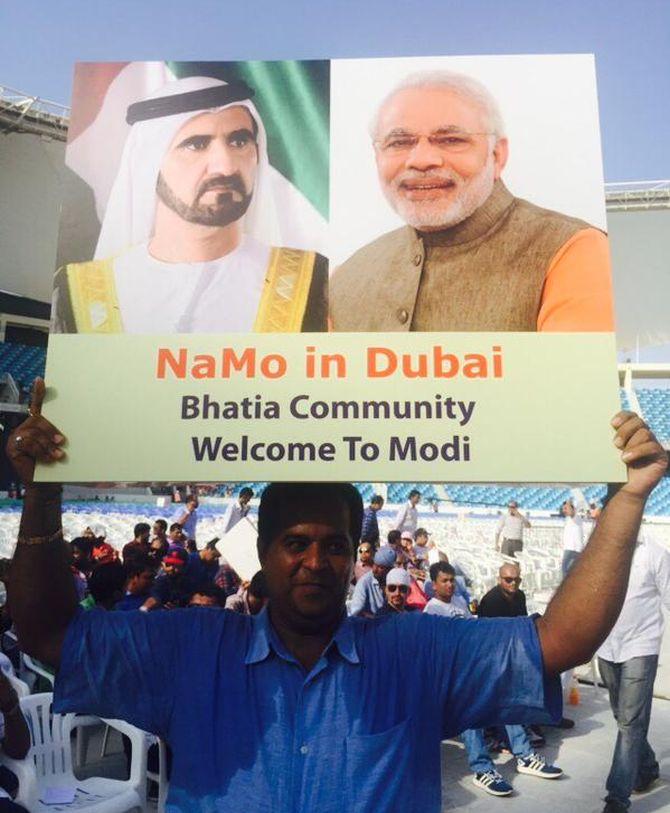 Hours before Prime Minister Narendra Modi will address a 50,000-strong Indian diaspora at the Dubai cricket stadium, his fans collected in large numbers to watch their 'rockstar'.
August 15, 2015
PHOTOS: No 'politics' at President's I-Day function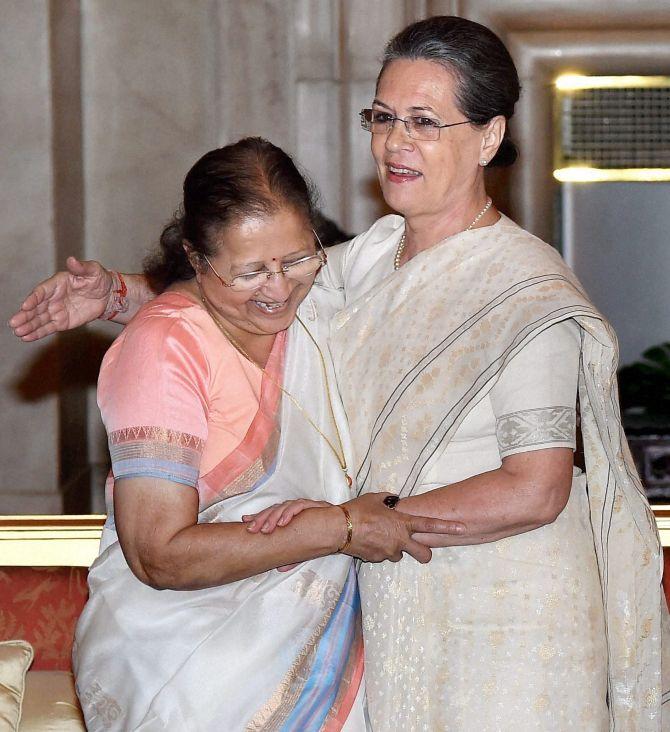 Sonia, Sumitra Mahajan share a laugh at the event
August 14, 2015
PHOTOS: Heavy rains leave Nagpur in a watery mess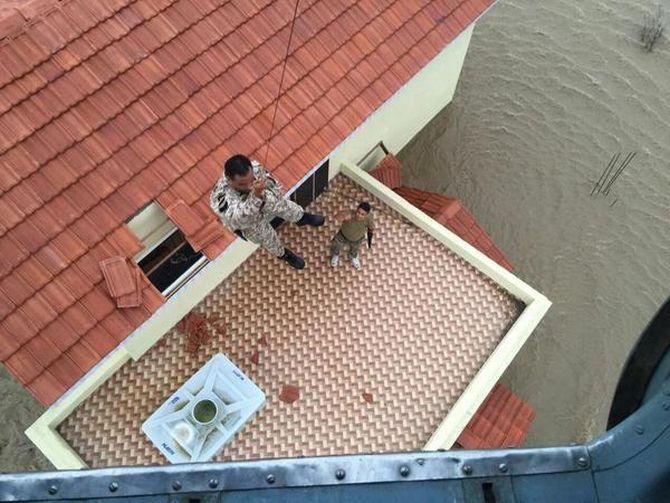 4 people have died owing to the floods.
What we know so far about deadly Tiajin explosions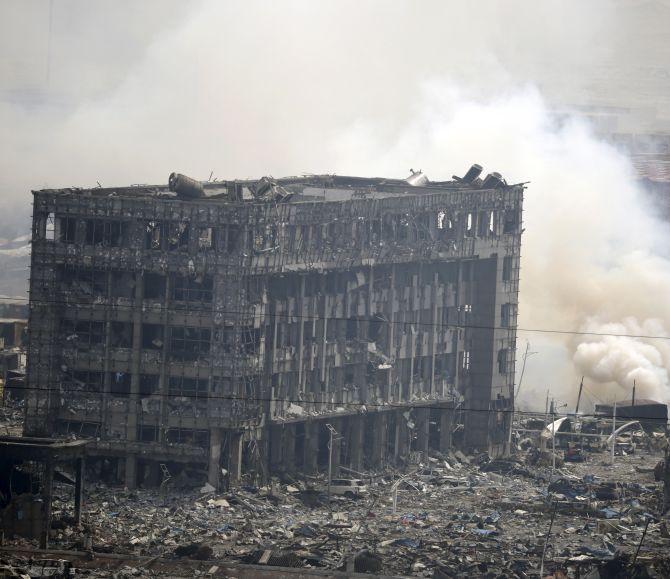 Almost 36 hours after China's worst industrial disaster, the cause of the massive blasts in Tiajan remains unclear. But here is what we know
WTF News! It's Weird, True and Funny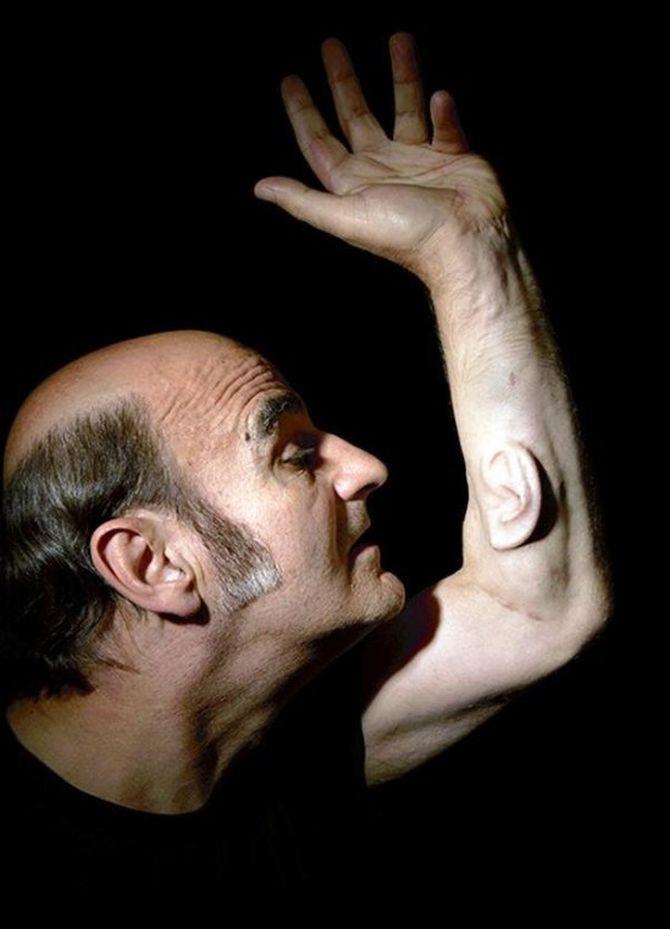 Here's your weekly digest of the craziest stories from around the world.
August 13, 2015
PIX: Fleeing war and repression, refugees flood Greece island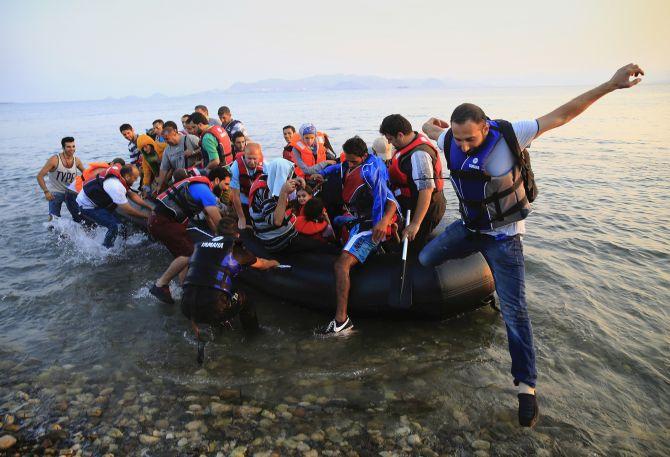 Hundreds of people arrive on Greece's eastern Aegean islands daily, many after fleeing conflict in Syria and Afghanistan.
PHOTOS: The incredibly bizarre world around us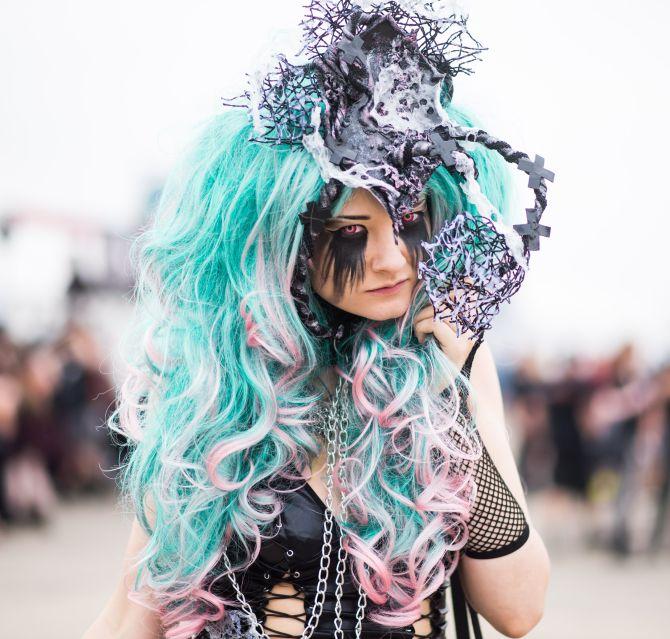 10 photos that prove the world we live in is crazy and strange
August 12, 2015
Capital snarl! Sea of traffic hits Delhi roads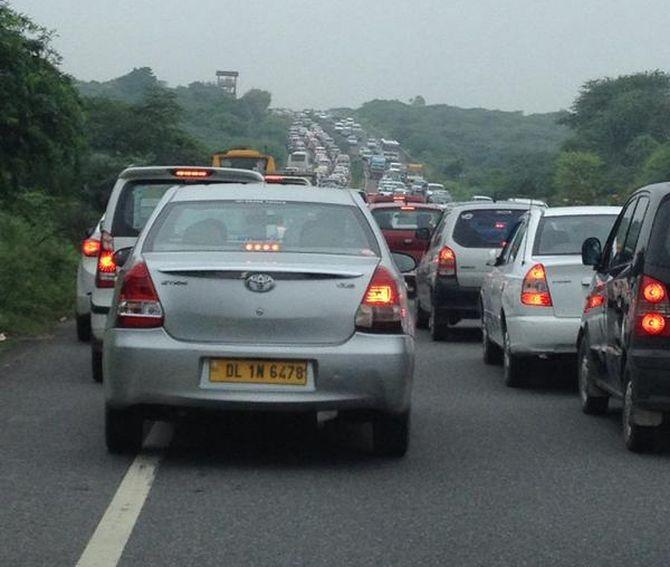 Roads in the national capital were packed in with cars waiting in bumper-to-bumper traffic.
These people have the most ABSURD collections ever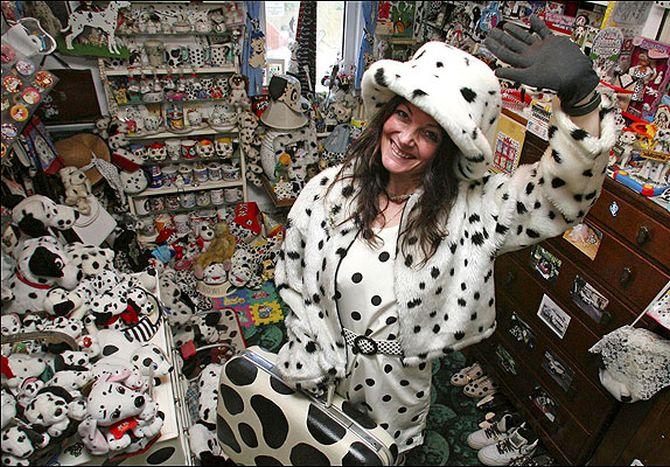 If you can name it, someone collects it. Here's a gallery of collectors and their (unusual) obsessions.
Comic book to immortalise India's bravest men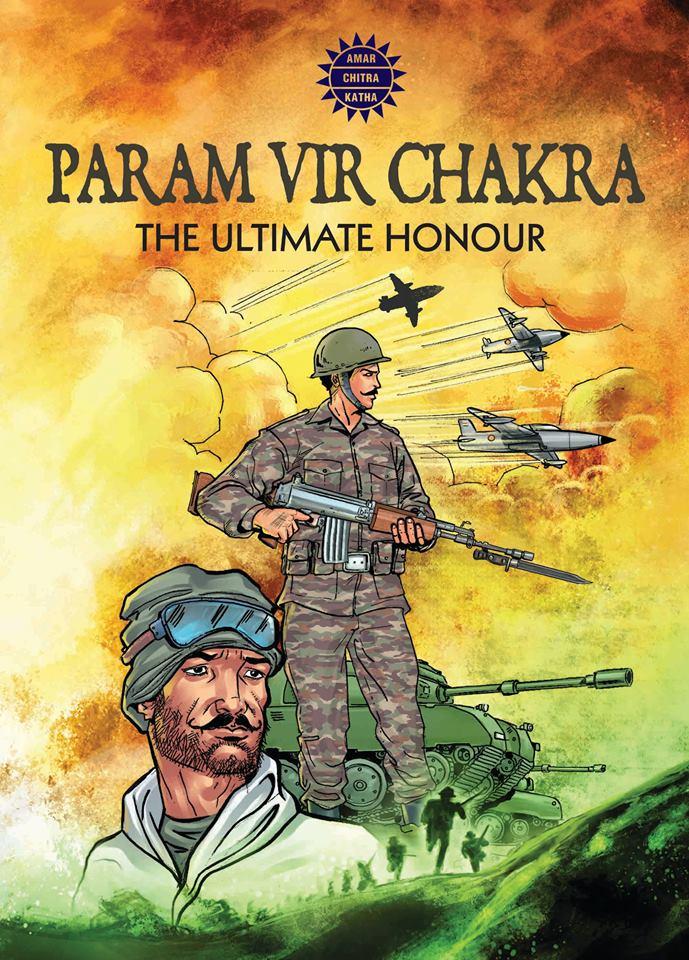 Ahead of India's 69th Independence Day, a special comic book is all set to be released this week chronicling the life, valour and sacrifice of 21 awardees of the Param Vir Chakra, the nation's highest military decoration.
Porn, Maggi, beef and more: India's banned list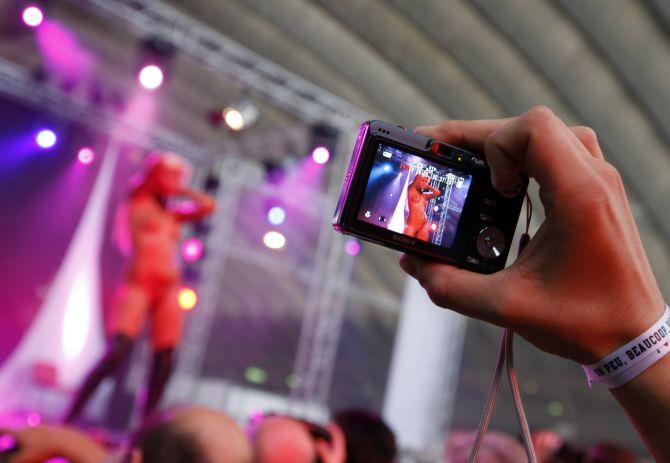 Here's a list of all things banned in India, this year
August 11, 2015
Help! Is this woman drowning in Bengaluru's pothole?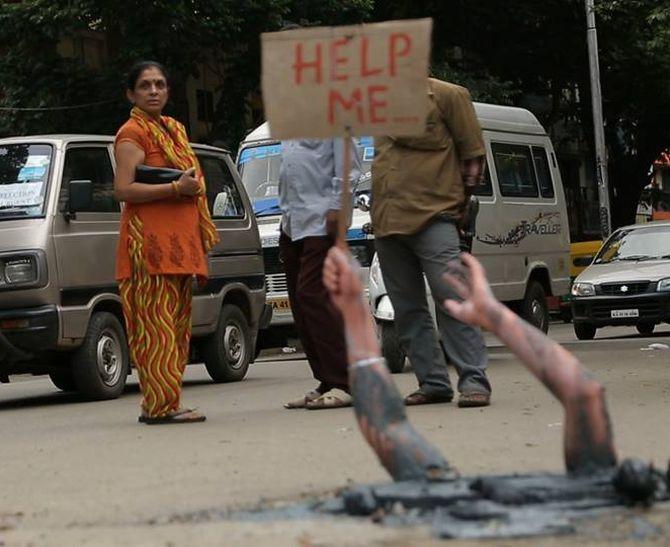 An NGO is putting up art installations to highlight the dismal conditions of the roads.
'Manhandled', arrested by Delhi police, Yogendra Yadav released on bail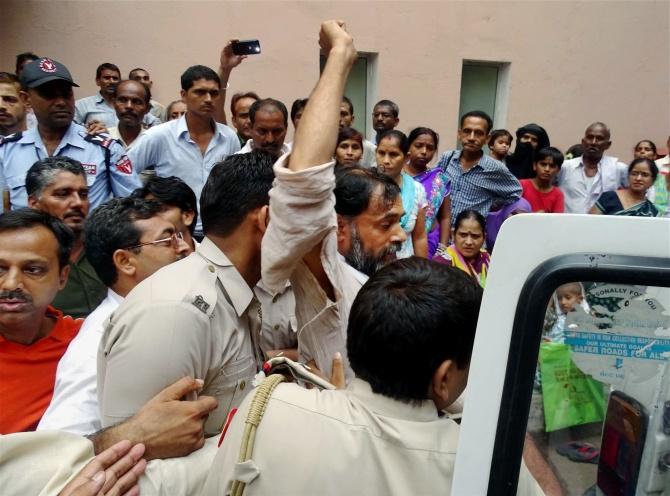 Activist Yogendra Yadav, who was detained on Monday night from a farmer protest at Jantar Mantar in New Delhi, was dragged by police officers as he tried to interact with the media.
PHOTOS: American desis cheer for India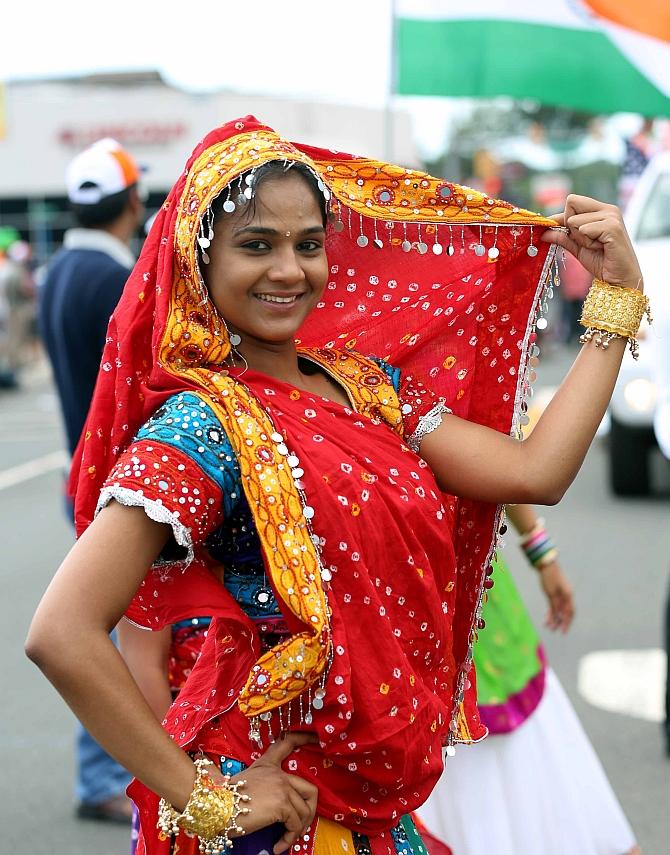 The largest parade to date, the festivities included marching bands, over 20 floats and dozens of walking groups. The over a mile parade route was filled with spectators, in many instances three and four rows deep.
August 10, 2015
What's for dinner? Astronauts to feast on space-grown vegetables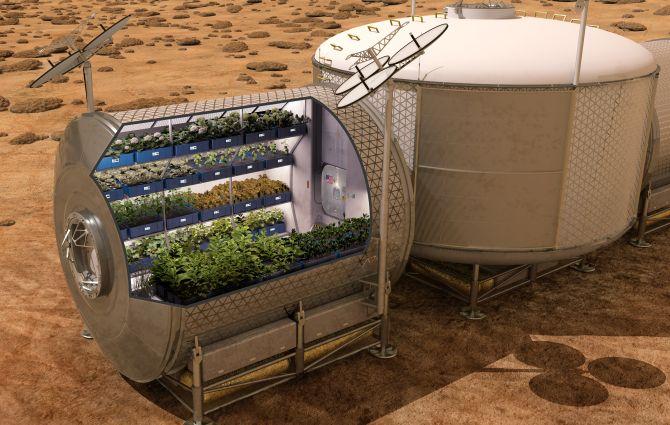 Members of the International Space Station Expedition 44 crew are undertaking a first for humanity: tucking into greens grown right there on the space station, in zero-gravity.
Cops shoot, critically injure man at Ferguson shooting anniversary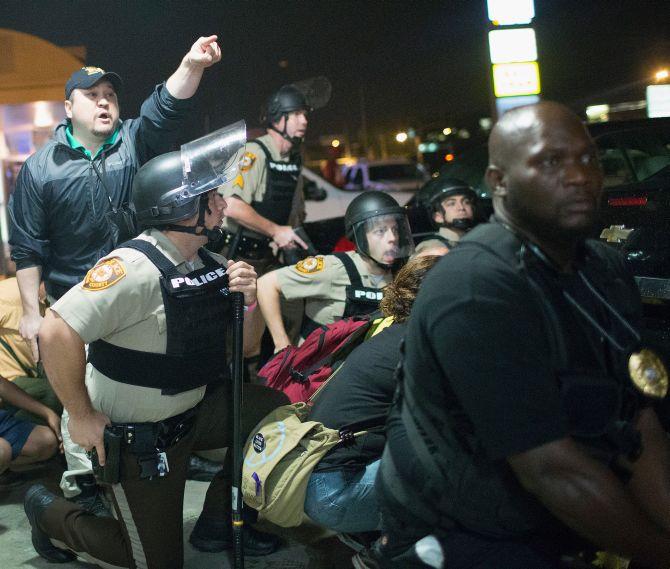 Ferguson on edge on the first anniversary of the killing of Micheal Brown that left America outraged
20 images of the week that was that will AMAZE you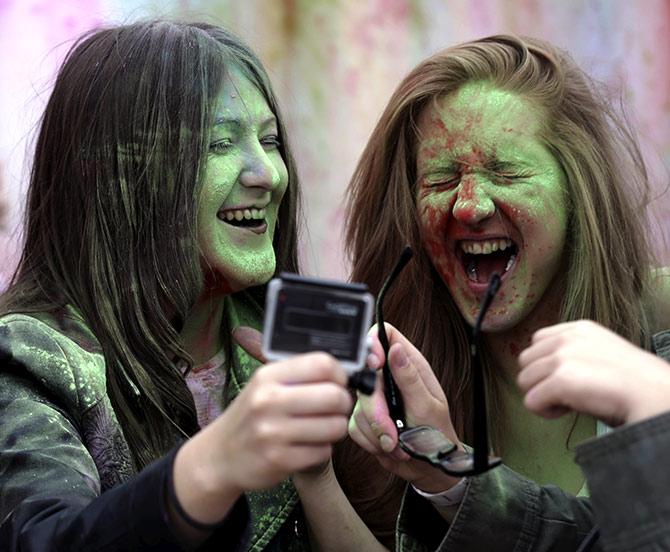 The news of the week gone by that shaped the world
August 08, 2015
This 86-yr-old lives with the scars of a nuclear war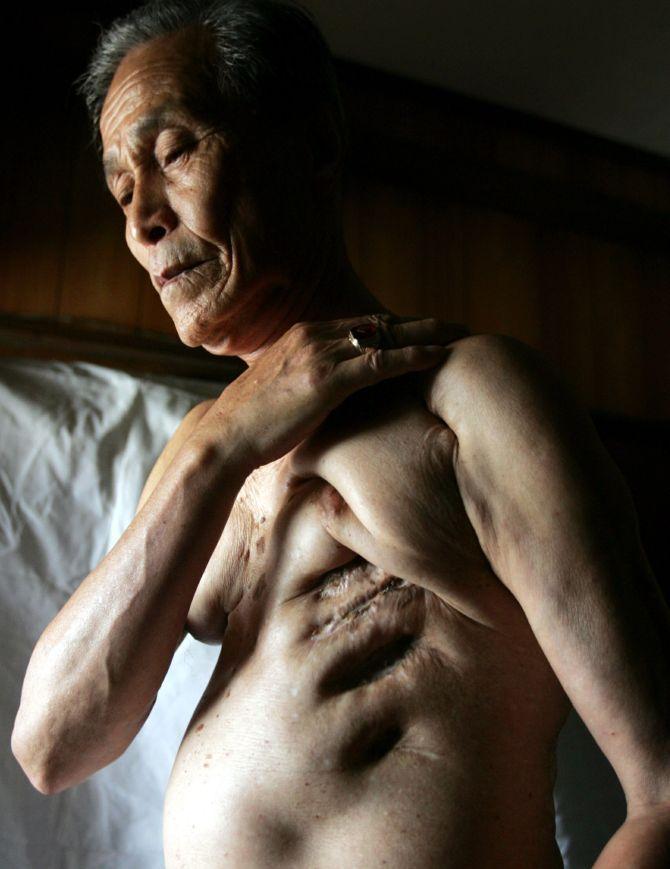 The octogenarian was just 16-years-old when an atomic bomb threw him from his bike in Nagasaki.
August 07, 2015
Modi has 'lunch pe charcha' with Jaya at Poes Garden home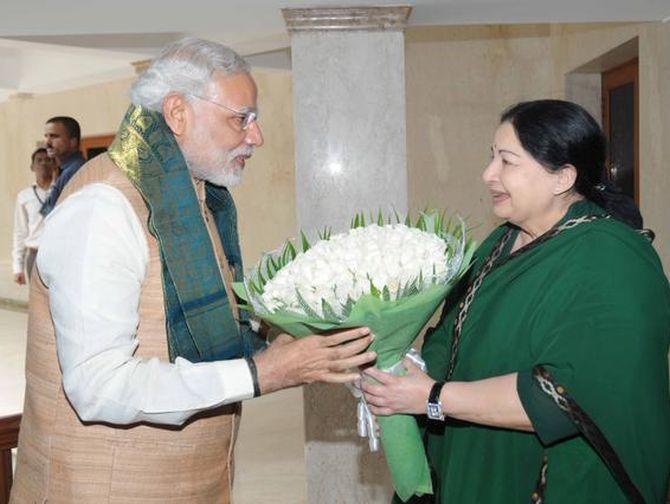 In his first visit to Chennai since becoming prime minister, Narendra Modi was given a rapturous welcome and hosted for lunch by Tamil Nadu Chief Minister Jayalalithaa.
US fight night: Top moments from first Republican debate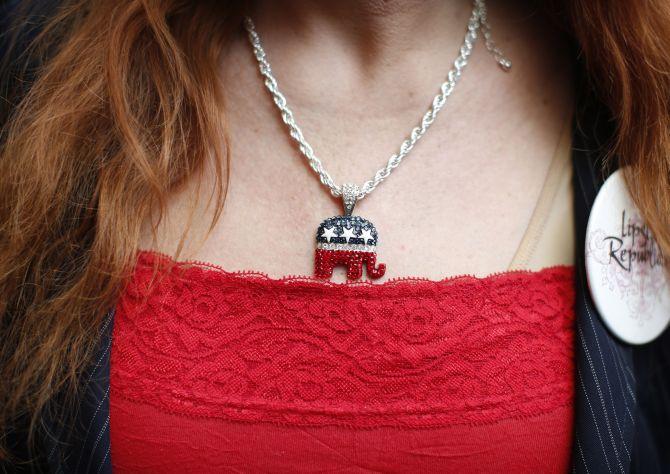 Here are seven of the buzziest moments from the GOP's big night.
August 06, 2015
These STUNNING award-winning photos will make you want to travel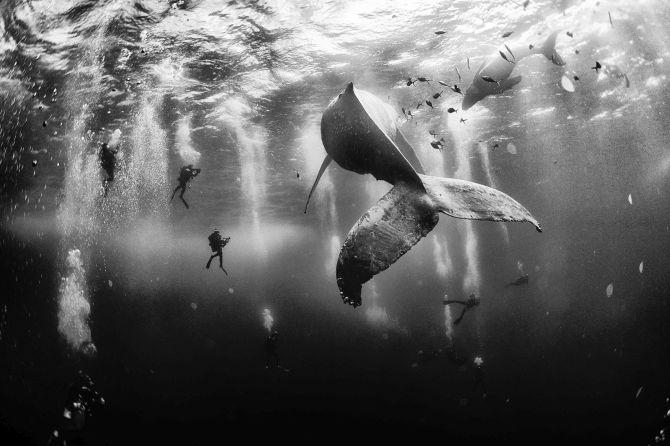 Be prepared to have a serious case wanderlust when you're scrolling through these awe-inspiring photographs of our Planet Earth.
70th anniversary of the Hiroshima-Nagasaki bomb; the Doomsday Clock ticks on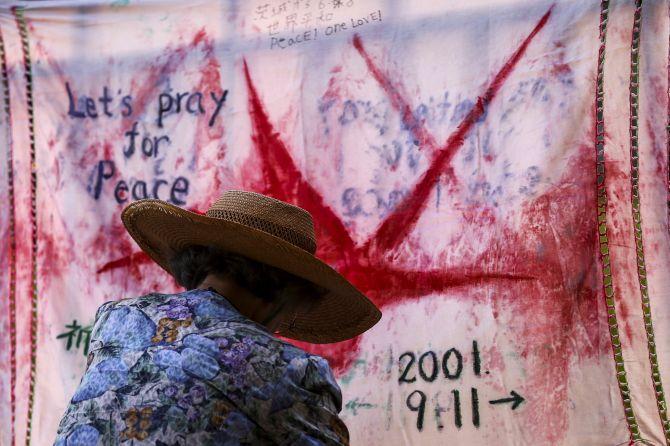 To this day, the shadows of the victims lay imprinted on the walls of these cities. Here are some interesting facts about Hiroshima and Nagasaki and how that tragedy changed the world.
August 05, 2015
12 oddball photos from around the world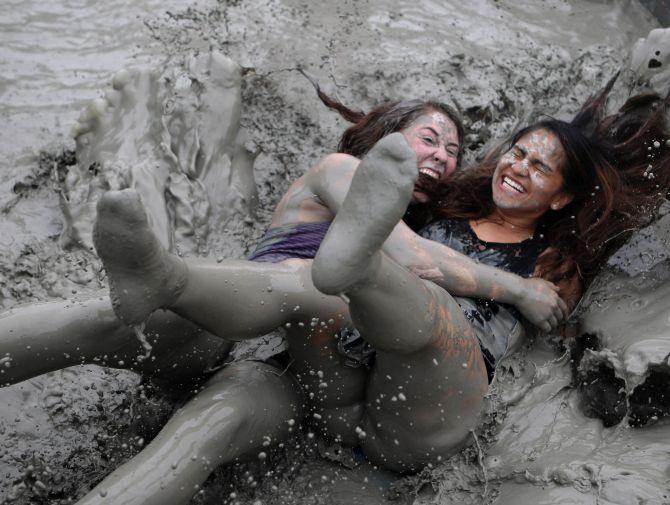 The gallery of the strange and weird.
US hunter's dead giraffe photo creates furore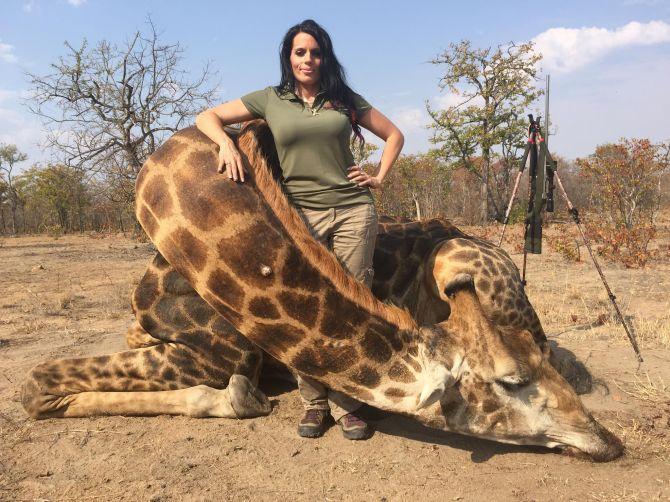 Sabrina Corgatelli, a university accountant from Idaho, who gleefully posted images of herself on big game hunts is finding herself at the defensive end against online criticism after about the Facebook photos of herself with her kills, including a giraffe, from a recent legal hunt in South Africa.
August 04, 2015
West Bengal, Gujarat, Odisha, Rasjasthan experience nature's wrath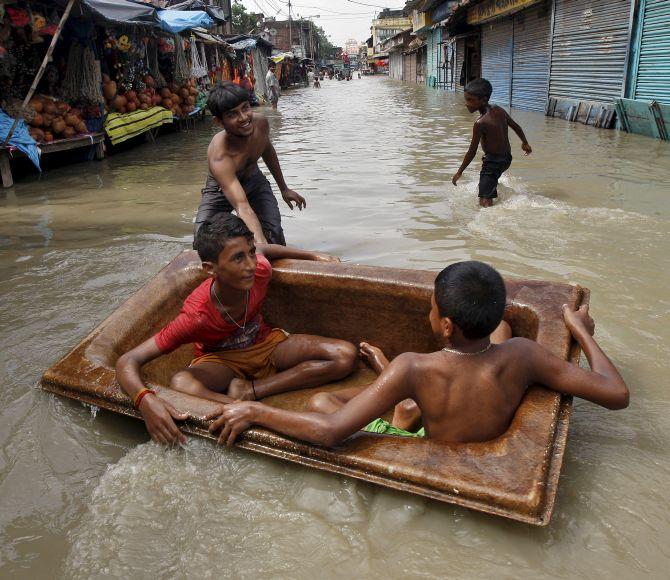 More than 180 people have lost their lives and nearly one crore people were affected in floods in West Bengal, Gujarat, Rajasthan and Odisha.
Democracy is being murdered: Sonia on Congress MPs' suspension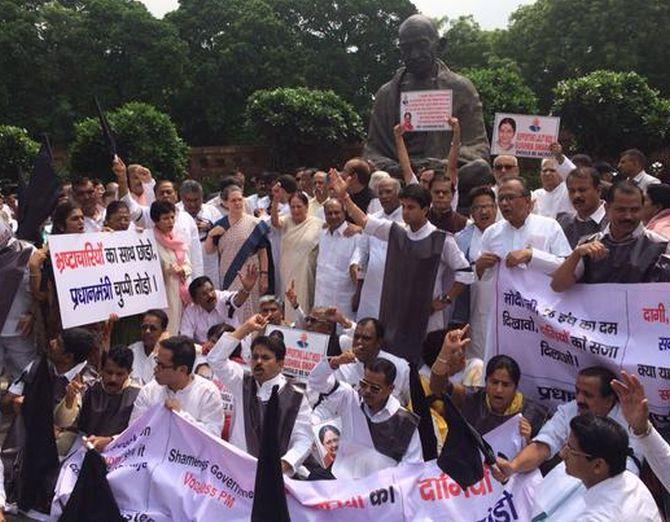 Former prime minister Dr Manmohan Singh, former defence minister AK Antony, senior leaders Ghulam Nabi Azad and Anand Sharma also took part in the protest sporting black bands.
This cute hitchhiking robot didn't last 2 weeks in US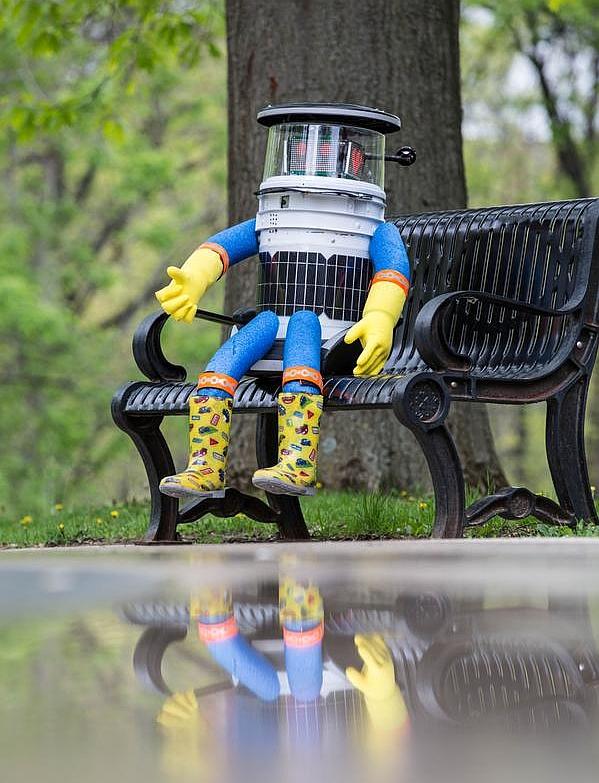 A hitchhiking robot that captured millions of hearts by successfully travelling across Canada and parts of Europe has met a violent end after being vandalised in the US, just two weeks into its cross-country trek.
BELIEVE IT OR NOT: No one died in these air crashes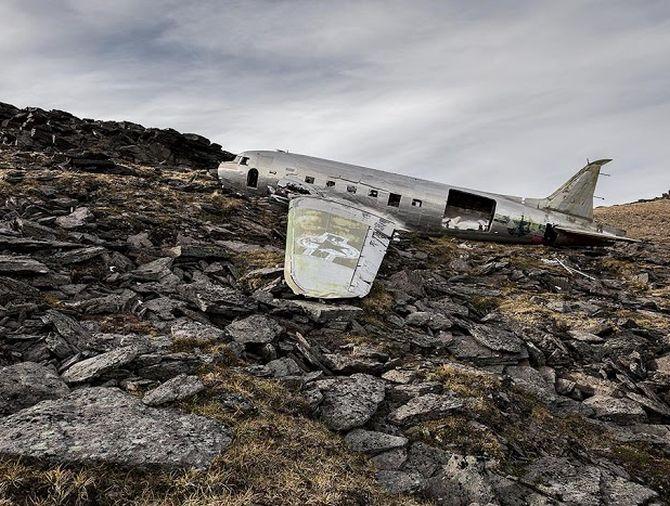 Happy End' is a photo-project of 15 airplanes that had forced landings but all on board survived and were rescued.
August 03, 2015
DON'T MISS: Stunning photos of animals light up Empire State Building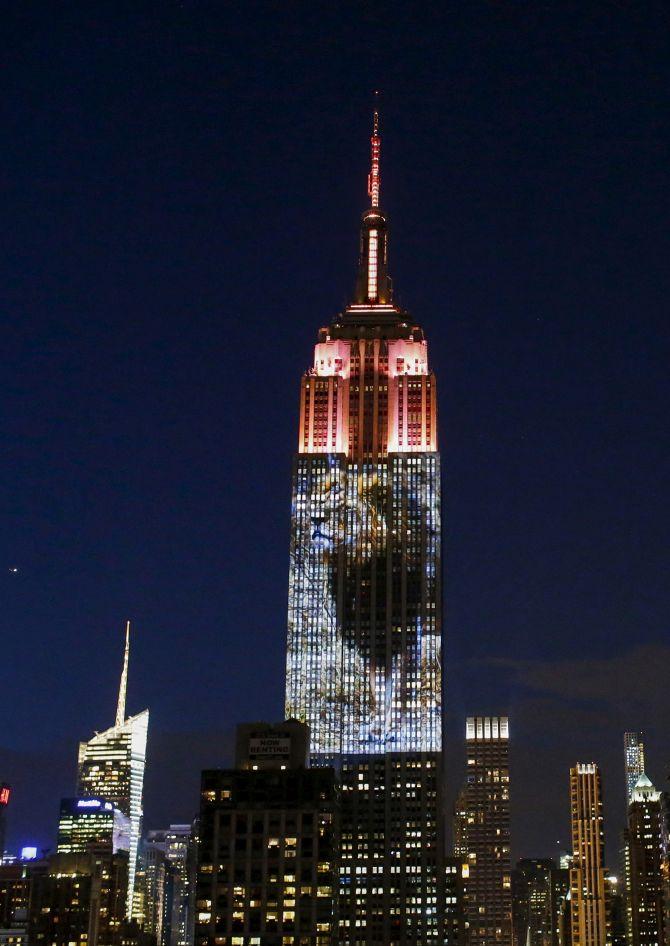 Images of Cecil the lion and a number of the world's most endangered animals were projected on to the side of the Empire State Building.
20 STUNNING photos of the month: July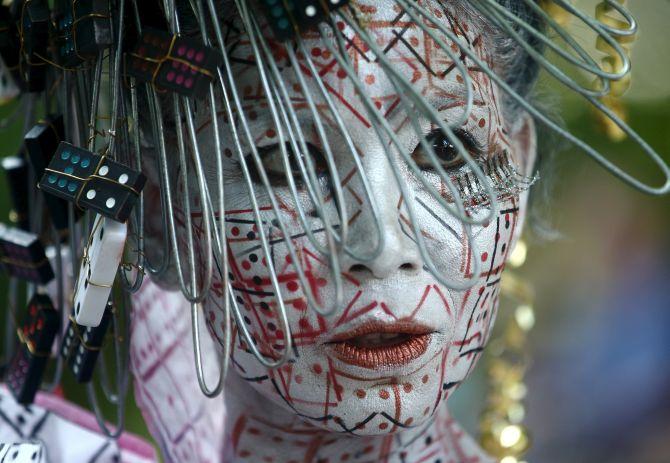 We bring you a presentation of some of the best photos from around the world in the month gone by
August 02, 2015
PHOTOS: Floods, landslide devastate Bengal, Manipur, Odisha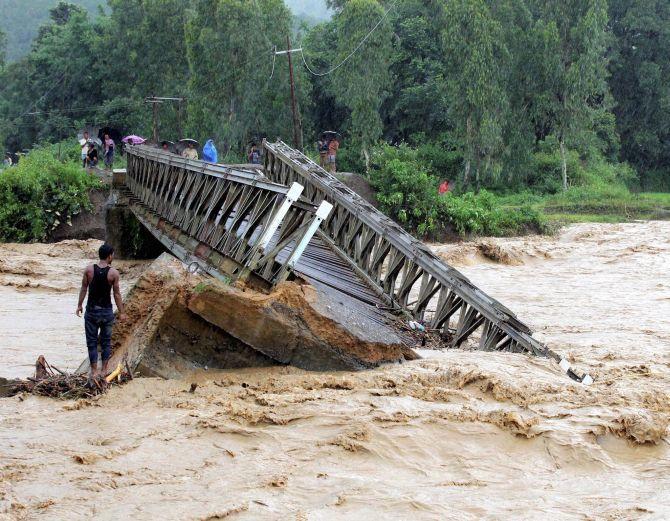 It is a complete mayhem in West Bengal, Manipur and Odisha with more than 60 dead
PHOTOS: How army saved drowning baby in flood-hit Gujarat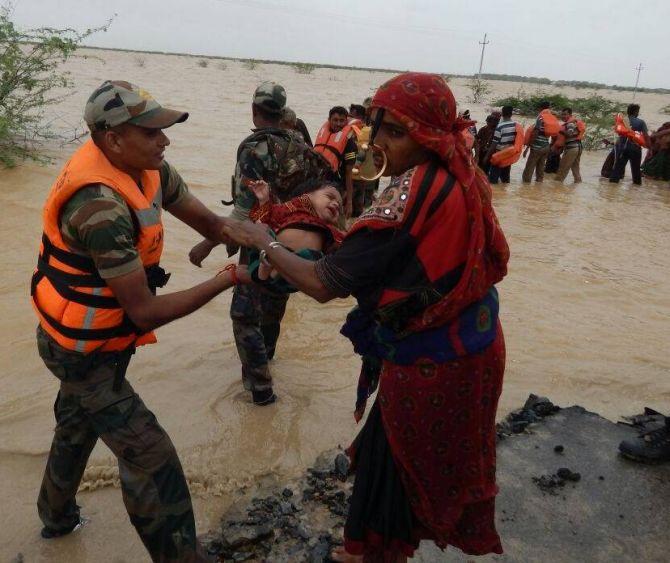 From restoring railway tracks to rescuing a drowning mother and her baby, and even a dog, the Indian Army and air force officers have come handy in the flood-hit areas of Rajasthan and Gujarat.
July 31, 2015
Blue moon rising: Stunning images of the night sky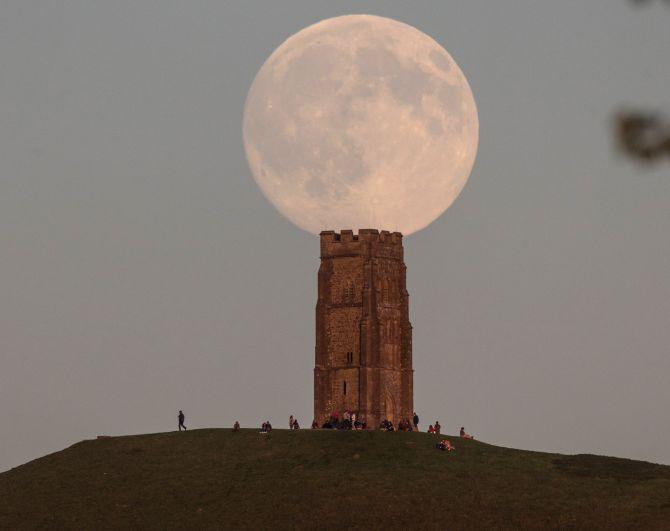 Clear skies helped provide a view of a rare blue moon.
July 30, 2015
Photos: Mahim on the edge as Memon's body comes home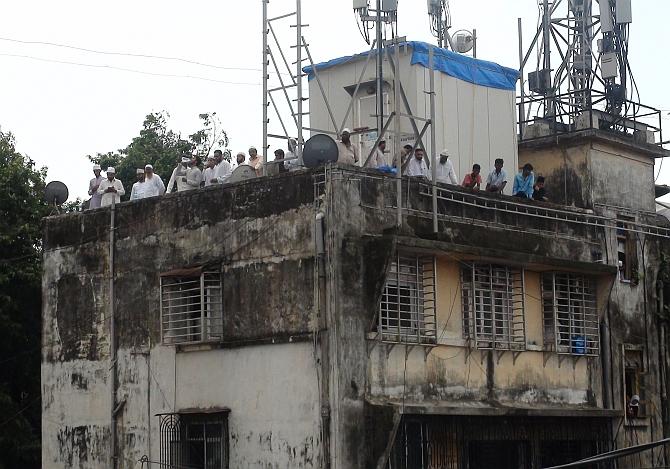 The body of Yakub Memon, who was hanged in Nagpur Central Jail on Thursday morning for his role in the 1993 Mumbai serial bomb blasts, arrived home in Mahim locality of the metropolis.
Memons of Mahim: India's most 'infamous' family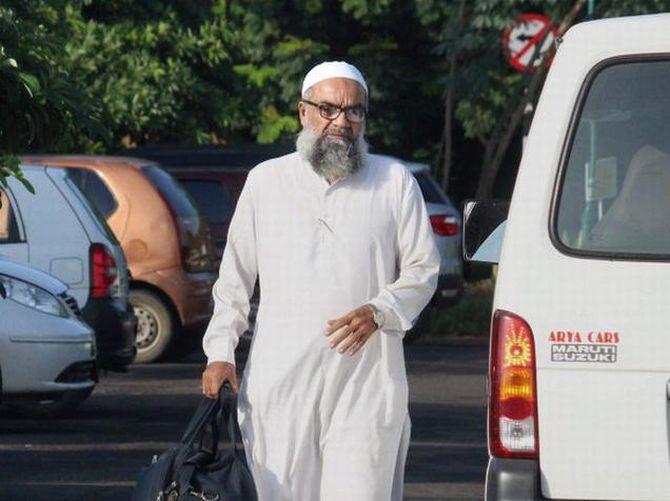 Looking back at the history of the Memon family from March 12, 1993 to July 30, 2014
July 29, 2015
Thousands say goodbye as Kalam makes his way home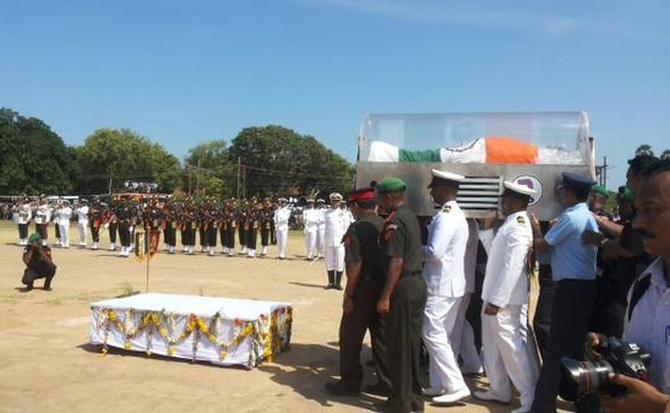 The body of the 'people's President' was brought down to Rameswaram from New Delhi in the afternoon.
The killing of Cecil, the beloved lion, has outraged the world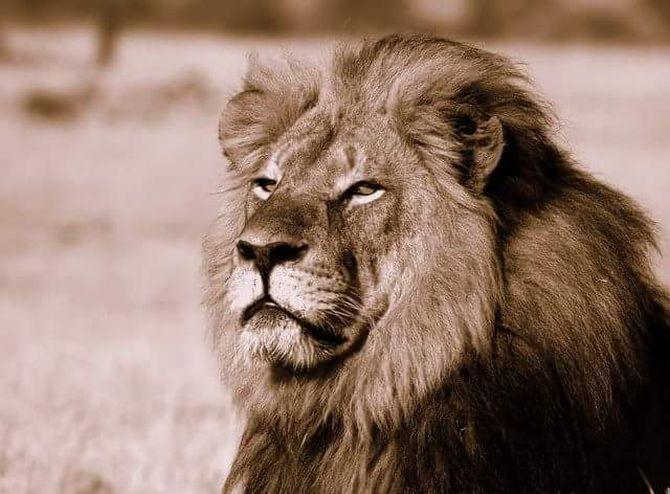 An American dentist is identified to be the hunter of Zimbabwe's most famous lion, and he's now receiving death threats on the Internet
NEVER seen before: Inside the White House bunker on 9/11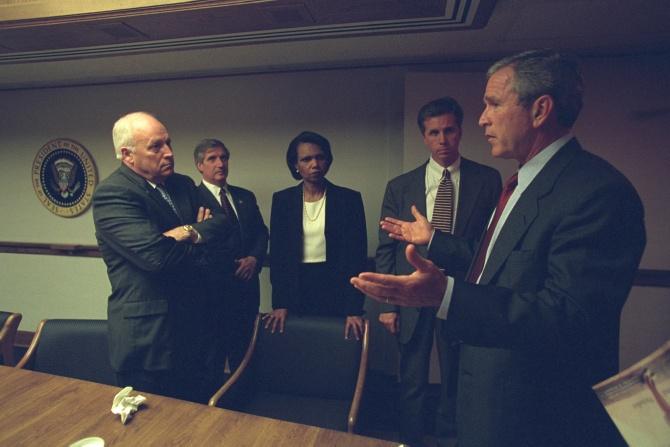 The United States National Archives has released never-before-seen photographs taken in the White House the day terrorists flew planes into the World Trade Centre that show how Dick Cheney and George Bush reacted as the horror unfolded.
July 28, 2015
PHOTOS: Farewell, President Kalam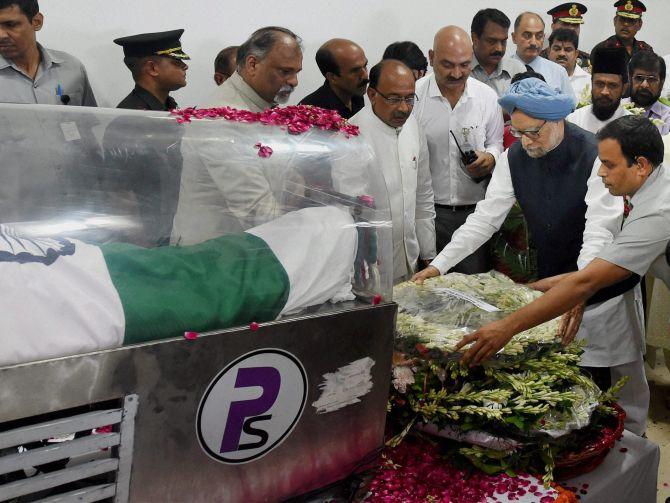 People queued up to pay their final respects to former President APJ Abdul Kalam.
Readers' Photos: When we met President Kalam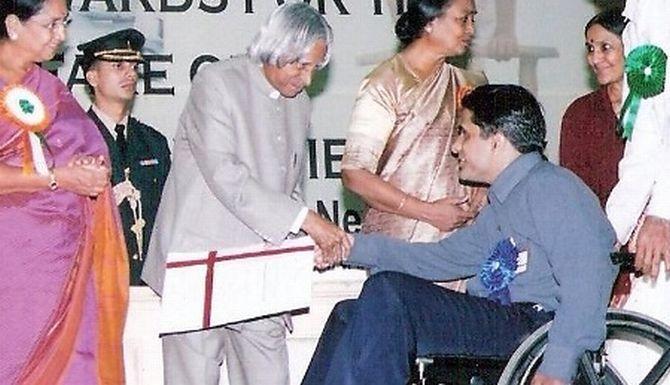 Rediff readers wrote emotionally about the passing of Dr Abdul Kalam while others sent in pictures of chance meetings with this humble physicist who was always available with an easy smile and some gentle words.
PHOTOS: Remembering the People's President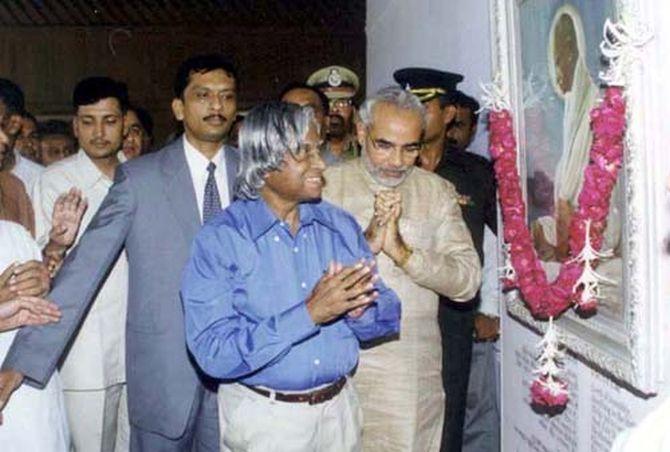 Here are photos from his life and career as India's pre-eminent defence scientist and one of the country's most popular president
July 27, 2015
Over 2,00,000 affected by Pakistan floods; death toll crosses 50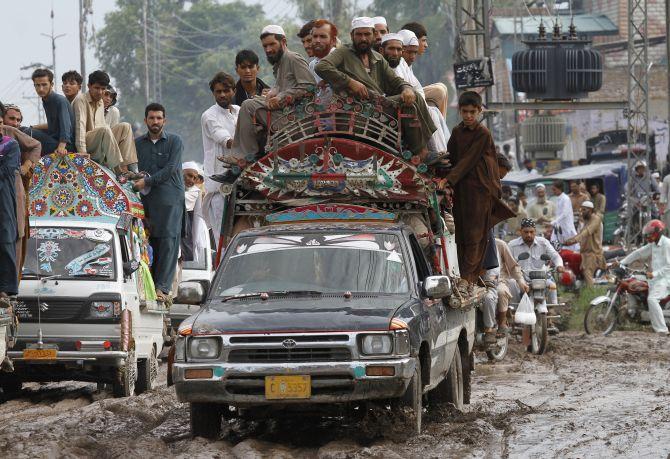 More than 50 people have been killed and over two lakh others affected by the floods caused by torrential rain across Pakistan, officials said on Monday.
15 jaw-dropping photos of the week that was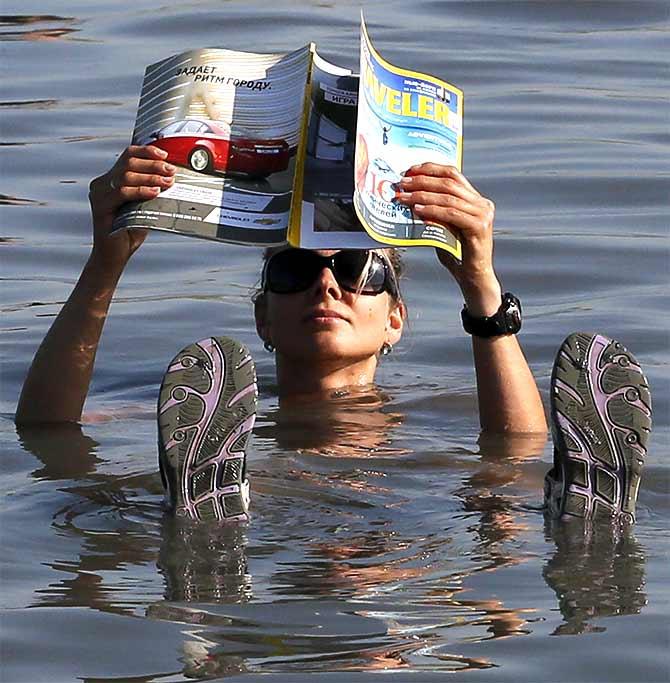 A round-up of our favourite photographs from the week gone by
July 26, 2015
IN PHOTOS: Plane crashes into homes in Tokyo
An airplane crashed into a residential area in Tokyo on Sunday, setting fire to several houses and reportedly killing three people.
#KargilVijayDiwas: Honouring the brave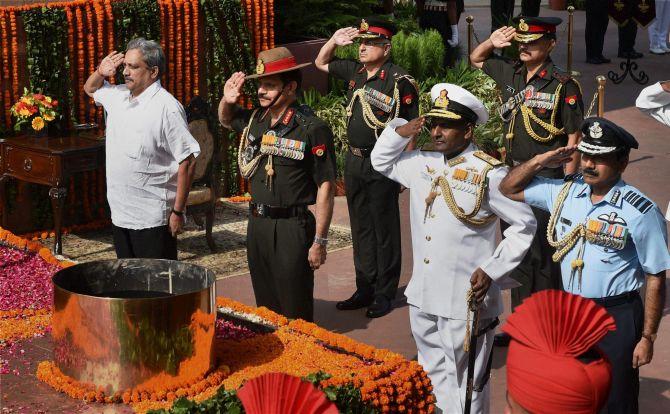 To commemorate the anniversary of the Kargil war, various tributes and homages kickstarted in various parts of India.
July 24, 2015
20,000 crocs in 37 years: Meet the real Crocodile Hunter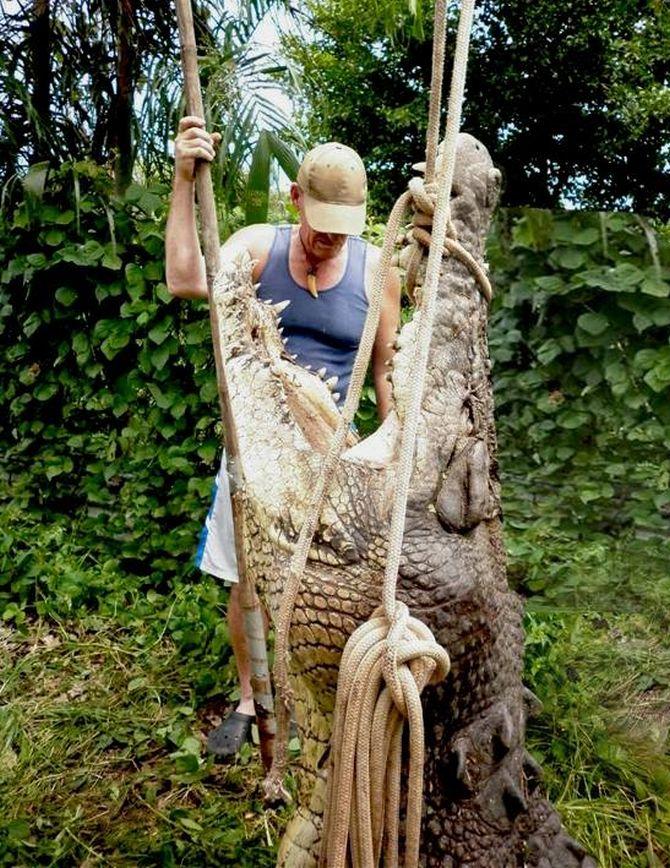 Crocodile Mick was taught all about crocodile hunting from his stepfather and mentor German Jack.
July 23, 2015
El Chapo's blinged-up kids flaunt their outrageous lifestyle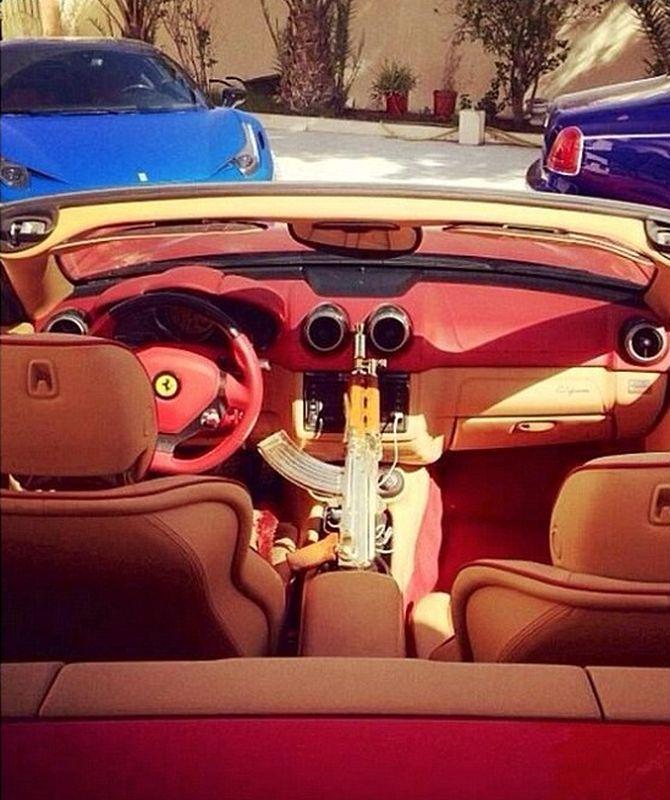 An insight into the flamboyant, violent lives of El Chapo's children
July 22, 2015
PHOTO: Is this the world's oldest Quran?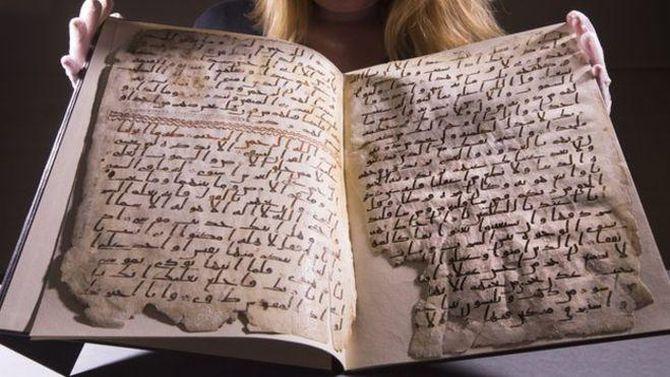 Radiocarbon dating found the manuscript to be at least 1,370 years old, making it among the earliest in existence.
PHOTOS: They cracked the Rubik's Cube with their toes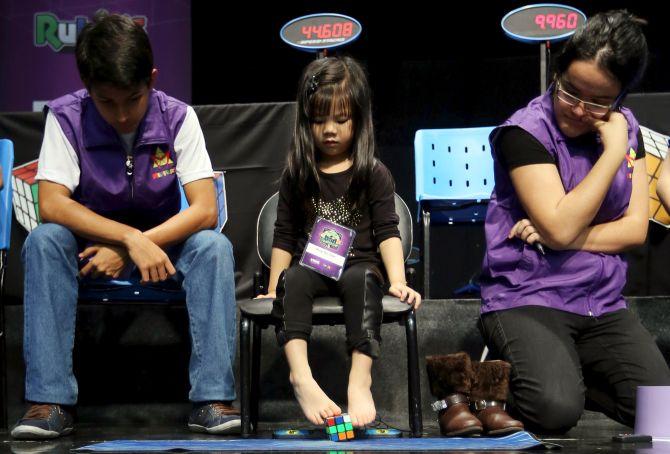 Glimpses from the Rubik's Cube World Championship that saw contenders speedily work their fingers, racing against the clock.
The First Family photo album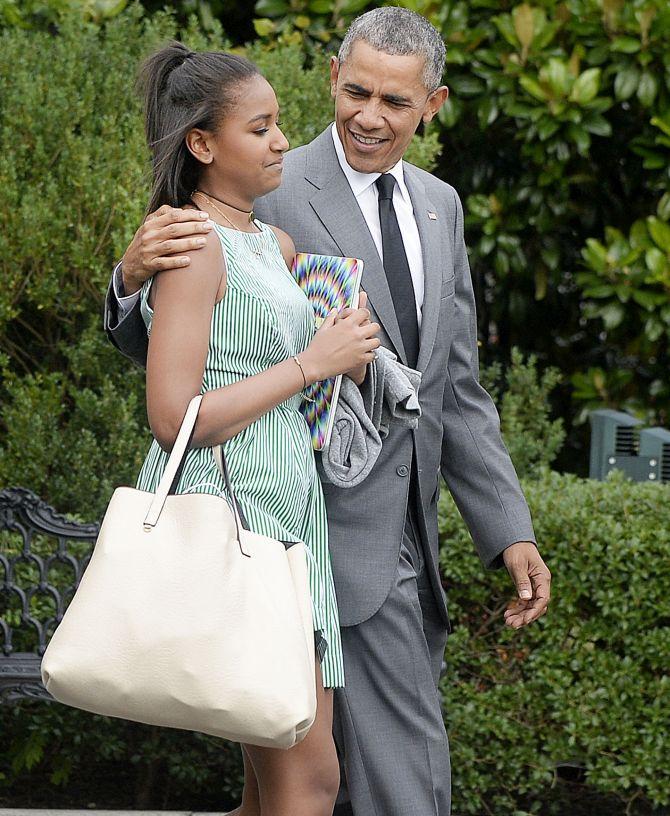 World leaders and politicians make it a point to take some time off from their hectic schedules and spend it with their loved ones.
July 20, 2015
Images that will make you go OMG!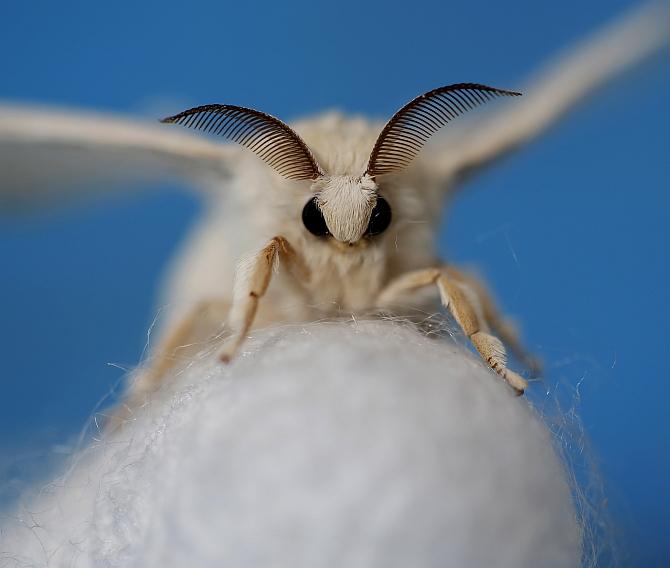 Photographs from moments that shaped the world last week.
July 18, 2015
PHOTOS: A violent Eid in Kashmir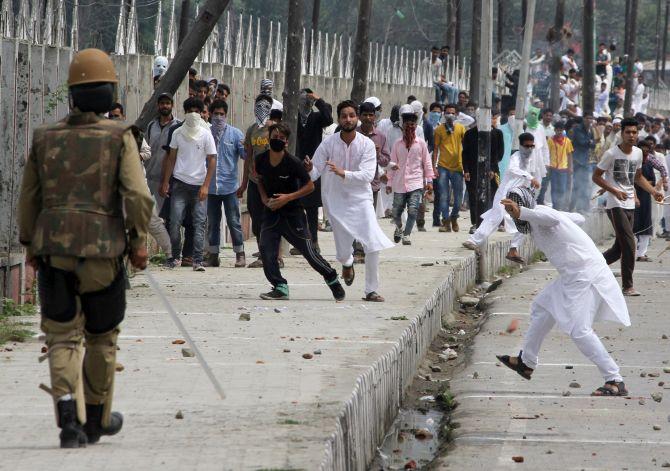 Protests rocked parts of Kashmir Valley including Srinagar on Saturday where Pakistan and Islamic State flags were yet again displayed by masked youths after Eid prayers.
Photos: Eid Mubarak: Hugs, selfies, tweets & more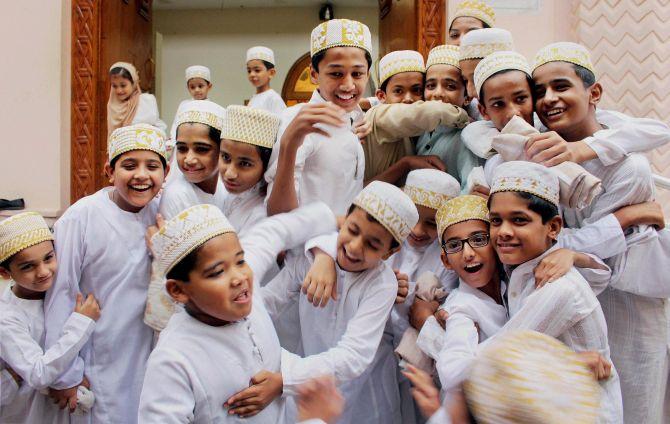 After a pious month of fasting and prayers, Muslims across the world celebrated Eid with great fervour.
July 17, 2015
They did not deserve to be shot out of the sky: Australia mourns MH17 crash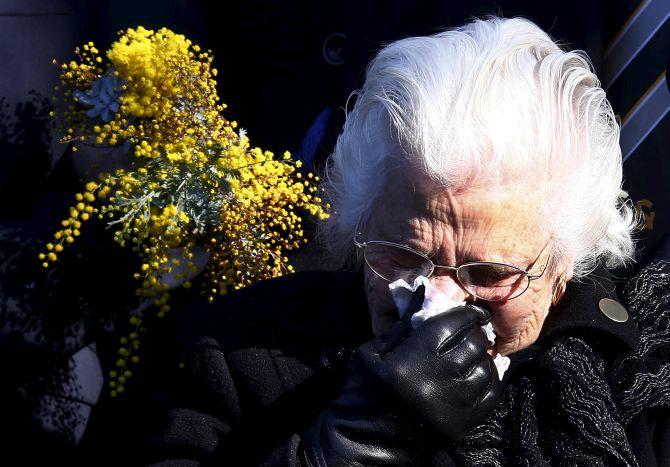 Australia Prime Minister Tony Abbott said, "We owe it to the dead to bring the guilty to justice".
OMG! Man spots crocodile on Goa beach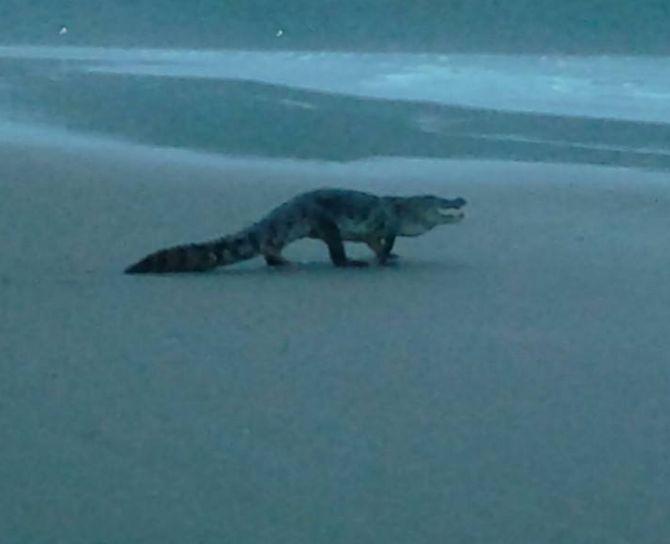 Nilesh Bagkar was out on his morning walk on Wednesda, when he spotted a crocodile on Goa's Morjim beach.
When US President Obama was in prison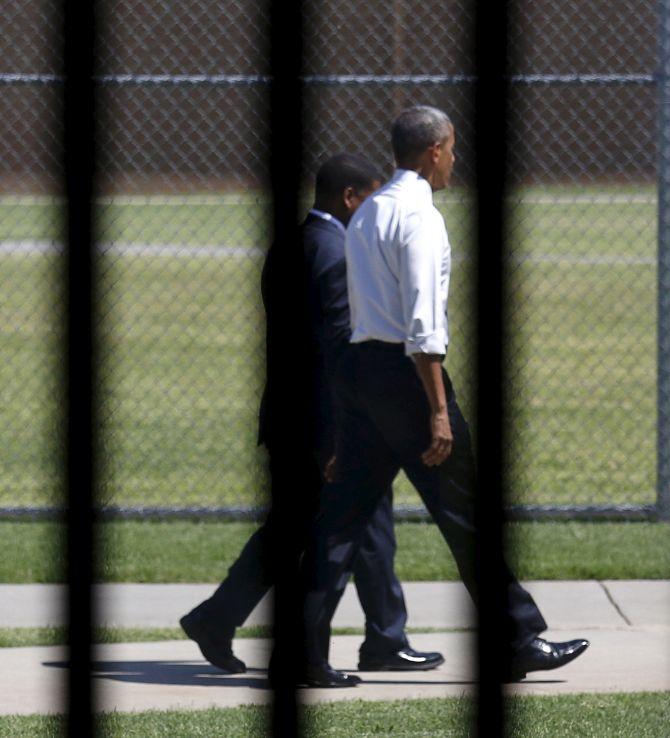 US President Barack Obama made history when he became the first sitting president to visit a federal prison.
Happy the animal will never see the light of day: Colorado gunman found GUILTY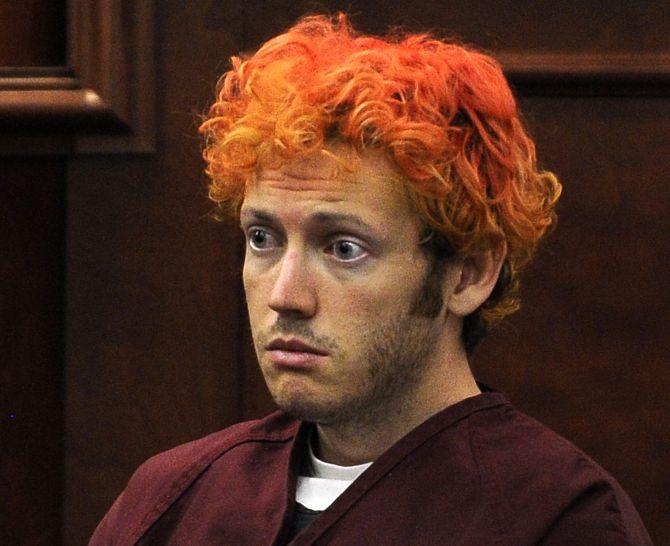 Will James Holmes face death is the next question jurors will be asked after finding him guilty.
Rhythm of Ramzan: A glimpse around the world!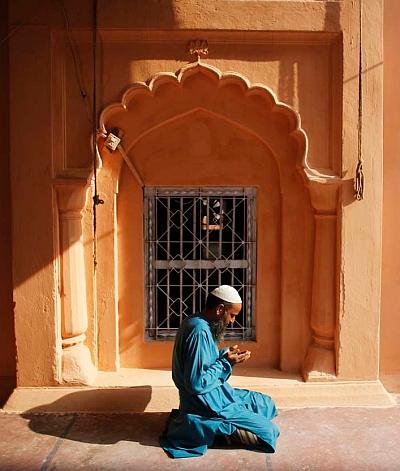 Rediff.com takes a look at the enthralling spectacle that is the month of Ramazan.
July 16, 2015
On the dusty road again: Rahul marches 8 km in Rajasthan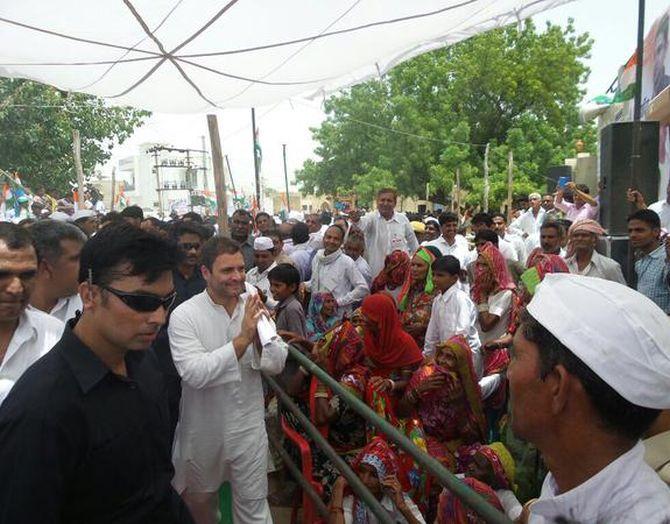 The Congress VP attacked the PM and said that the party would not let the BJP proceed on the land bill.
FIRST PHOTOS: A whole new world on Pluto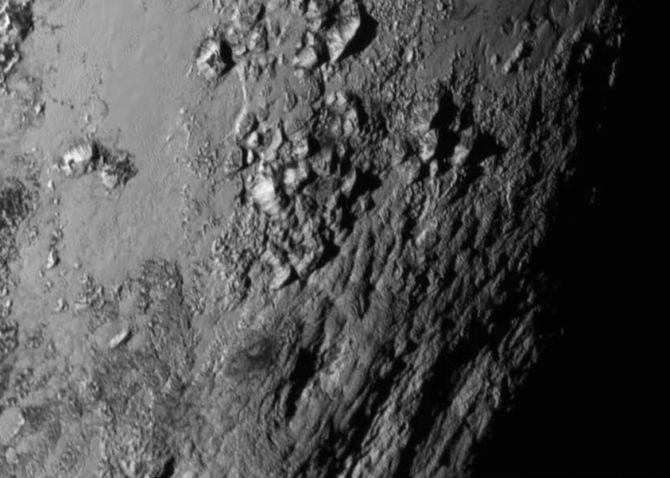 The mind-blowing dwarf planet has ice mountains and water
PHOTOS: Inside El Chapo's escape tunnel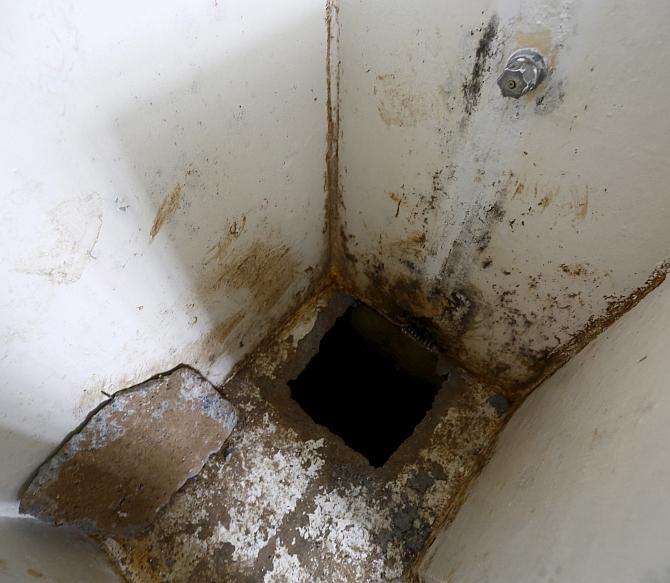 Rediff.com takes a look at the marvel of engineering, criminal ingenuity and dauntless malefaction with which 'El Chapo' escaped from his confinement.
MUST SEE: Beachgoers helped rescue stranded shark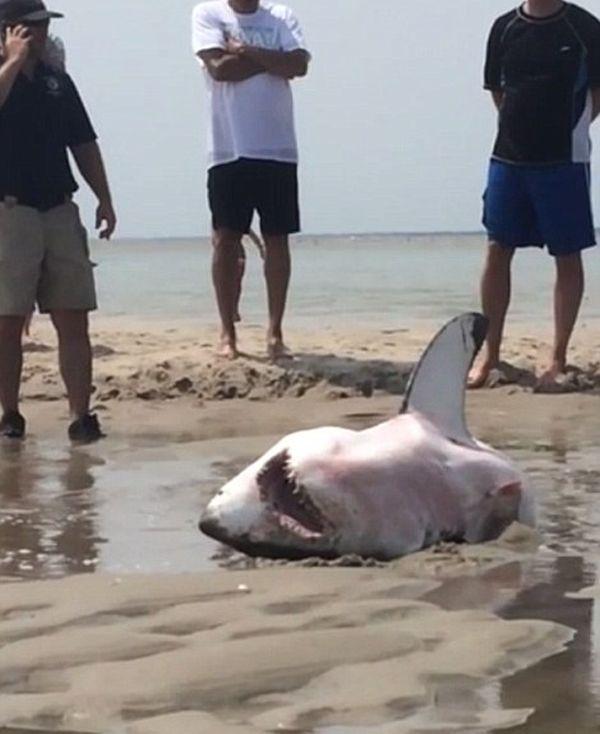 Bystanders kept their distance but worked to pour water over the gills of the massive predator.
July 15, 2015
REVEALED: Moments before drug lord El Chapo's daring jail break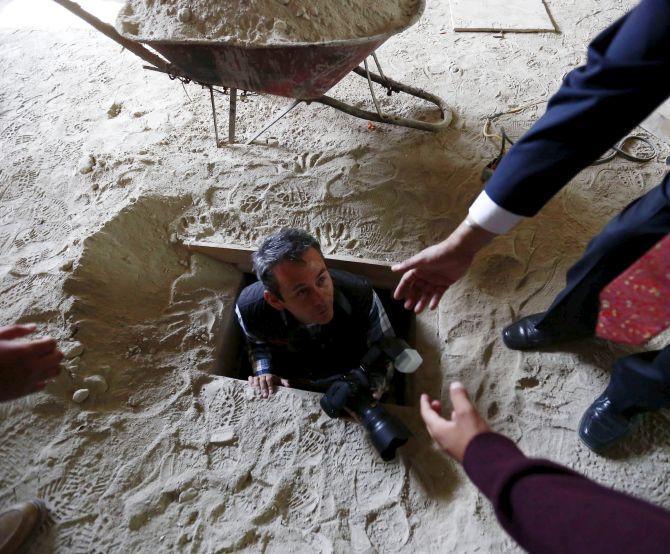 World's most notorious drug lord Joaquin "El Chapo" Guzman bends over in the shower of his prison cell and never resurfaces
This is what happened in a daylight shootout in Gurgaon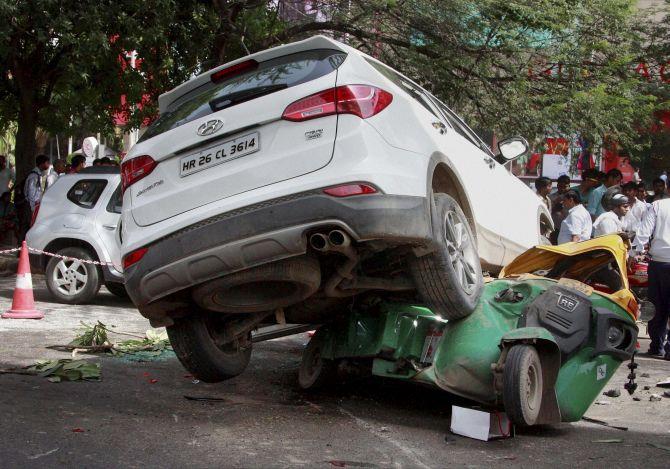 The SUV driver in his bid to escape the firing rammed into three other stationary vehicles. The driver lost control of the SUV and it toppled over an auto rickshaw
The extremely BIZARRE photo album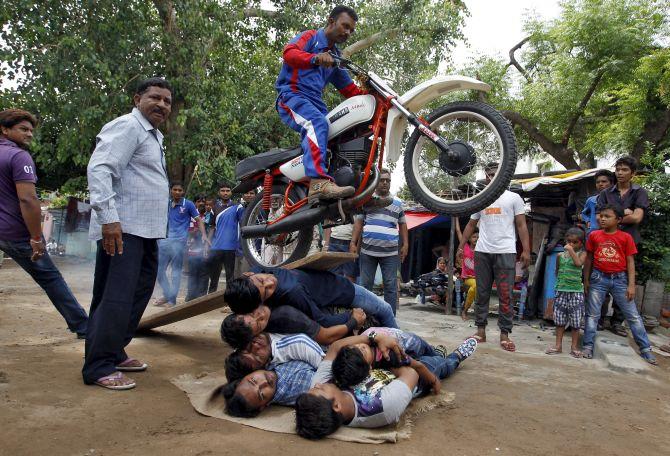 These images from across the globe tell us that it is a bizarre world out there!
Greetings from Pluto: NASA probe survives flyby, phones home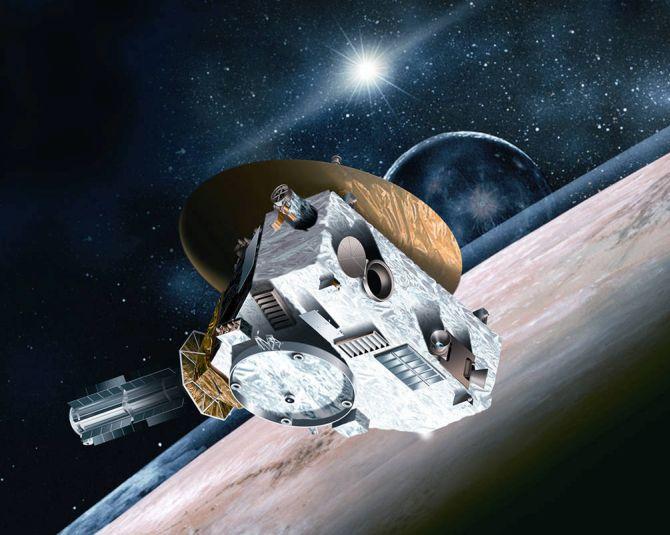 NASA has confirmed its New Horizons probe worked flawlessly on its flight past Pluto.
PHOTOS: Holy hai! A glimpse of the Kumbh Mela at Nashik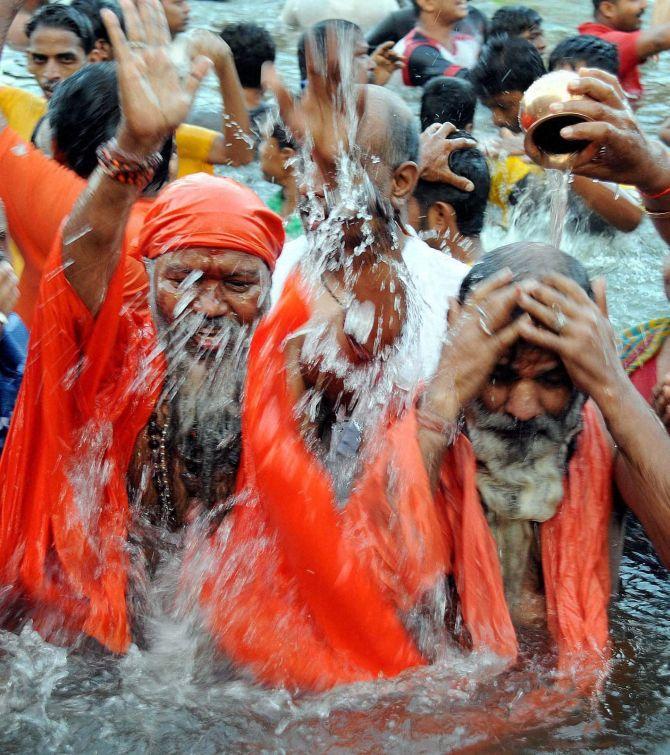 Rediff.com takes a look at the devout flock that attends the Simhastha Kumbh Mela to take a dip into the holy waters and purify themselves.
July 14, 2015
Hello Pluto!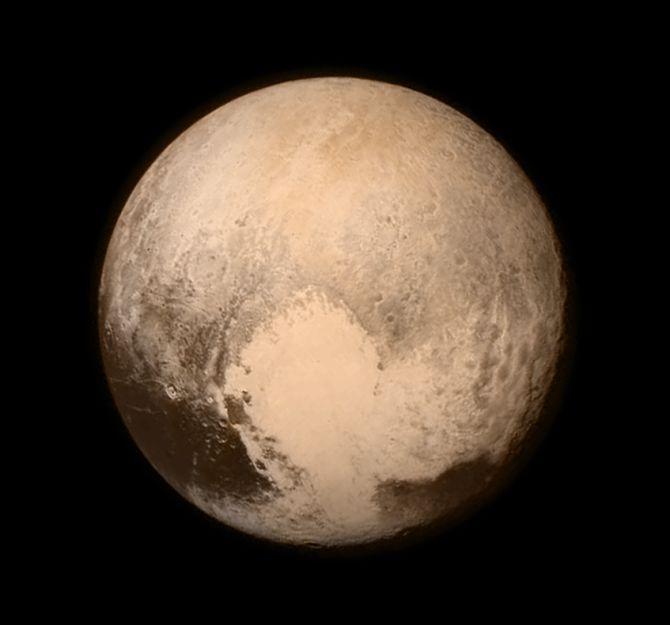 The New Horizons probe flew past the dwarf planet at 5.19 pm (India Standard Time), capturing history's first close look at the distant world.
9-yr-old Shreya wows Obamas with 'garam masala' burger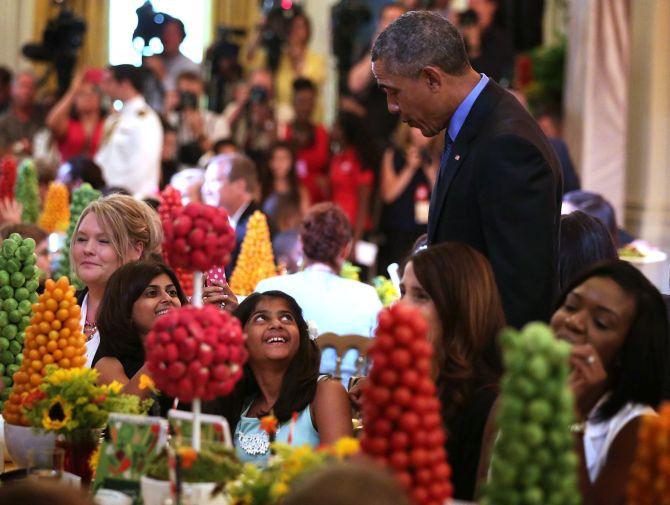 Shreya was the only Indian-American to have been invited by the US First Lady.
PIX: Fandom 'suits up' for Comic-Con cosplay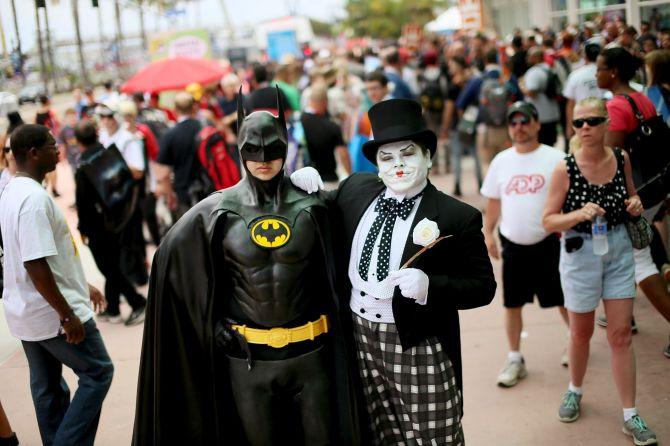 Rediff.com takes a look at which pop-culture icons made it to the Valhalla of fandom this year.
July 13, 2015
No aam aadmi here: Kejriwal's blockbuster iftar party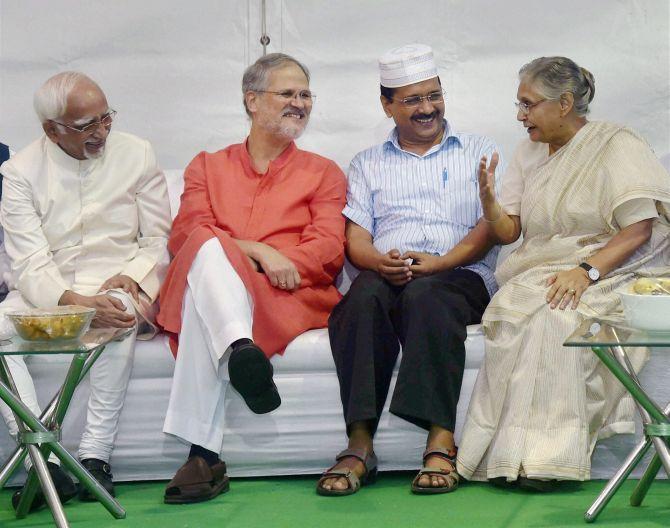 Delhi Chief Minister Arvind Kejriwal's iftar party on Sunday was a political blockbuster.
PHOTOS: Here's how the world's bravest teen celebrated her 18th birthday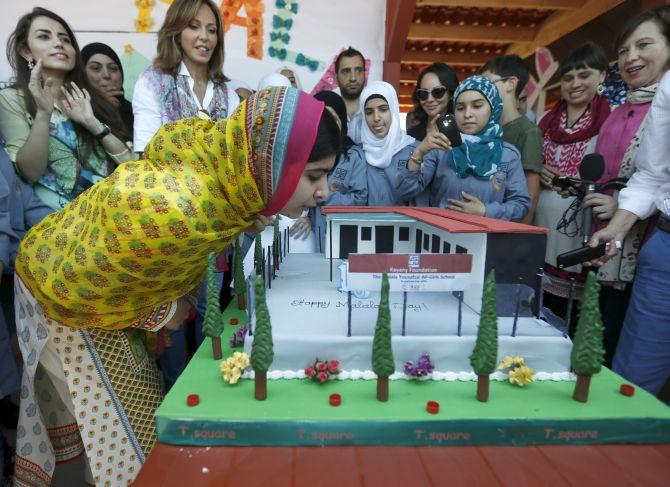 That she is no average teenager has been established time and again. As Malala Yousafzai turns 18, she opens a school for Syrian girls in a refugee camp.
OMG! These images are simply BRILLIANT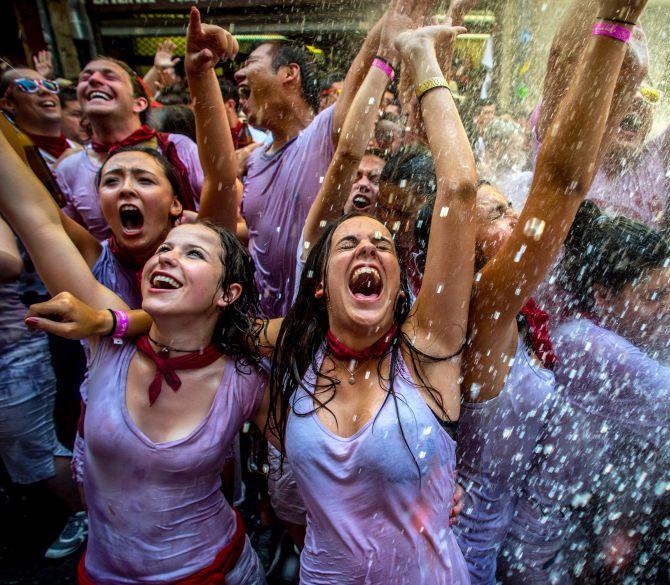 All the action from around the world last week, in case you missed it.
12 out-of-this-world photos of the starry sky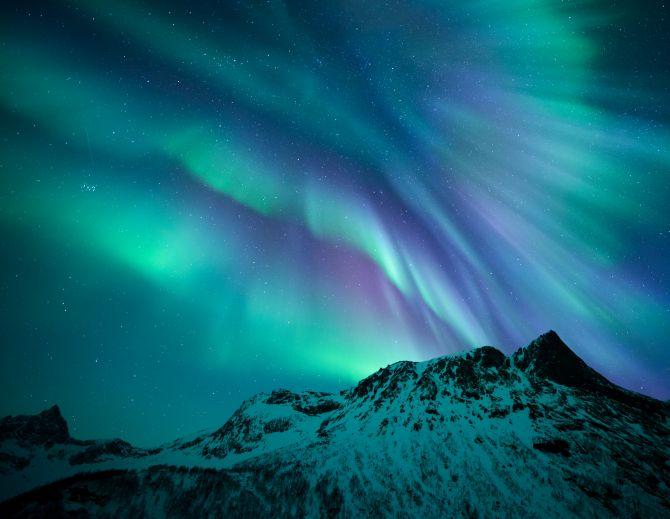 Celestial views of the Milky Way, Northern Lights, and comets hurtling through space are just some of the incredible images to have made the shortlist for the 2015 Insight Astronomy Photographer of the Year competition.
July 10, 2015
PHOTOS: It's water, water everywhere in Kolkata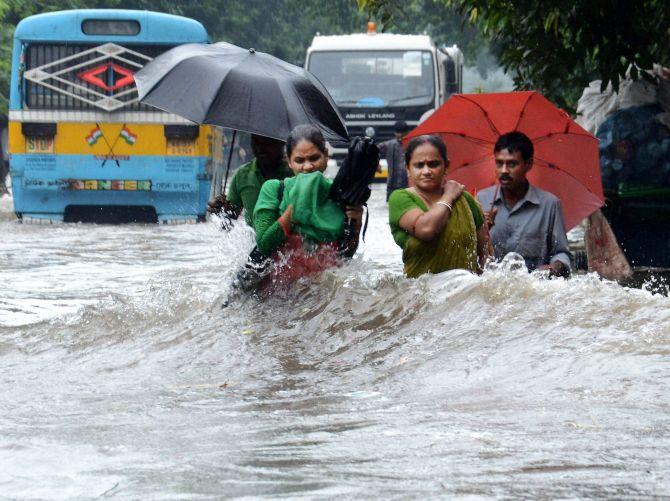 Heavy overnight rains lashed Kolkata leading to water-logging in many parts and slow traffic movement.
These photos from UK's Princess Charlotte's christening are too cute!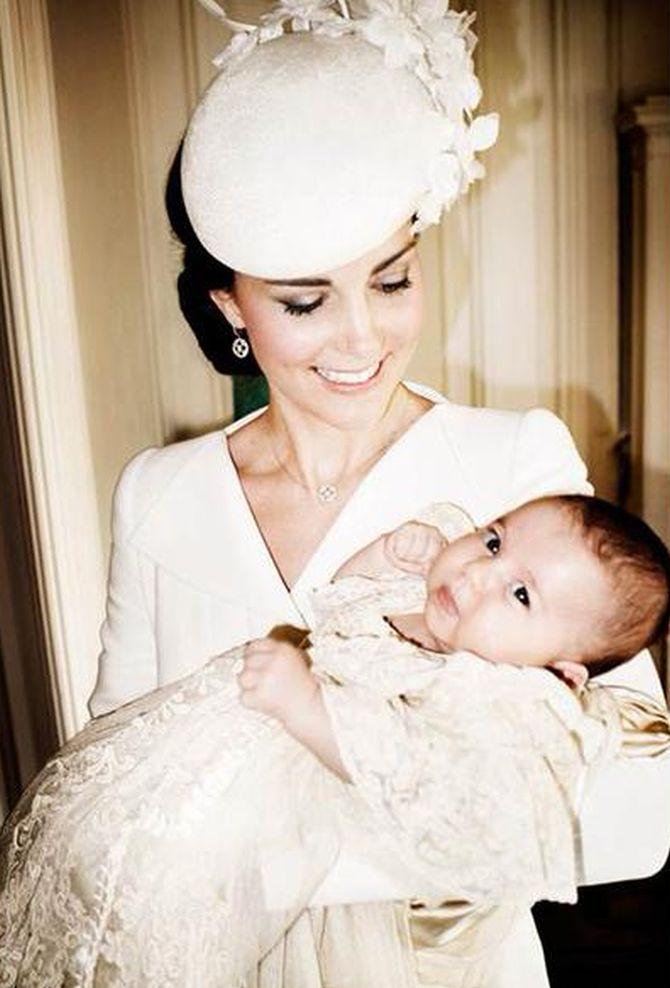 The first official photographs from the christening of Princess Charlotte were released on Thursday.
These INSANE death-defying stunts will leave you gasping!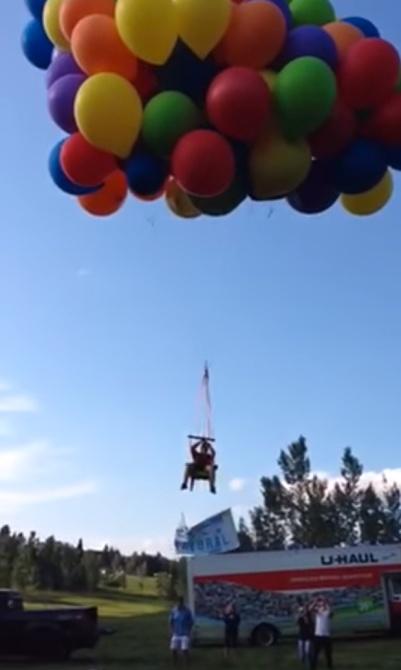 A look at those who treat the idea of putting their life at risk as FUN!
July 09, 2015
Are you bullish enough to run this race?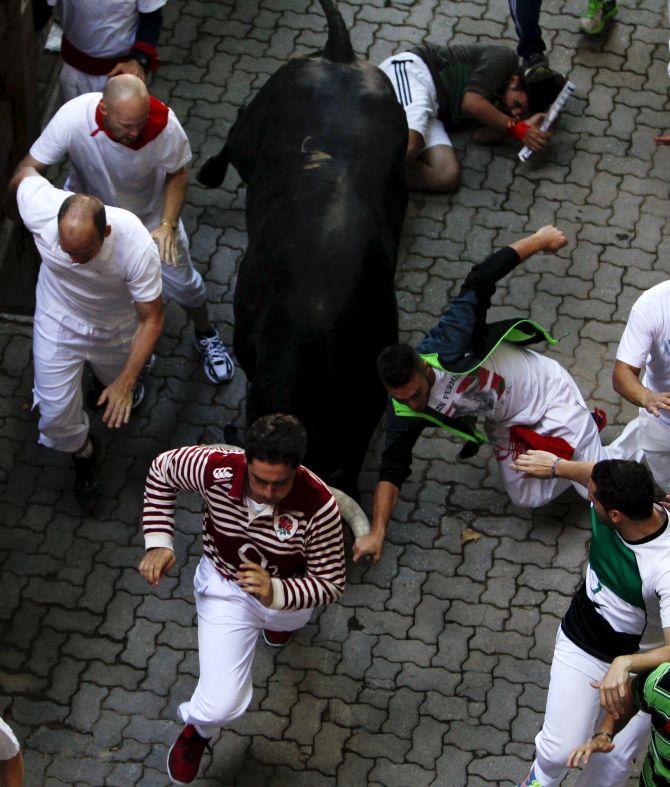 Another year, another crazy Pamplona bull run. It's part of the San Fermin festival to celebrate the northern Spanish town's patron saint.
July 08, 2015
PHOTOS: Himachal Pradesh on alert after incessant rain, landslides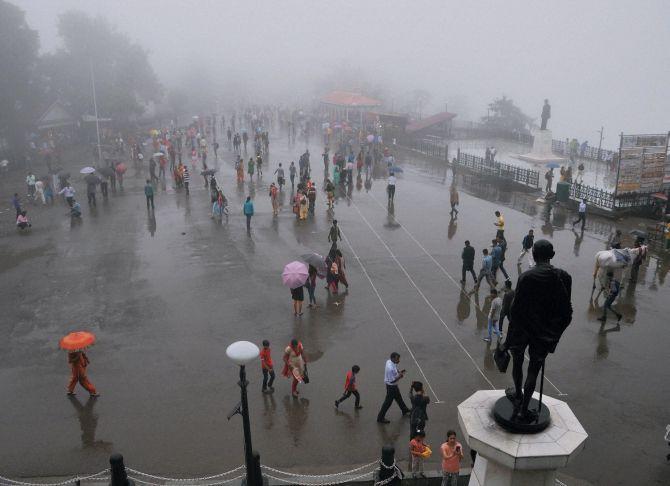 Heavy rain alert continued in Himachal Pradesh as the monsoon intensified in the various districts of the state.
PHOTOS: Modi's bag of gifts for Kazakh president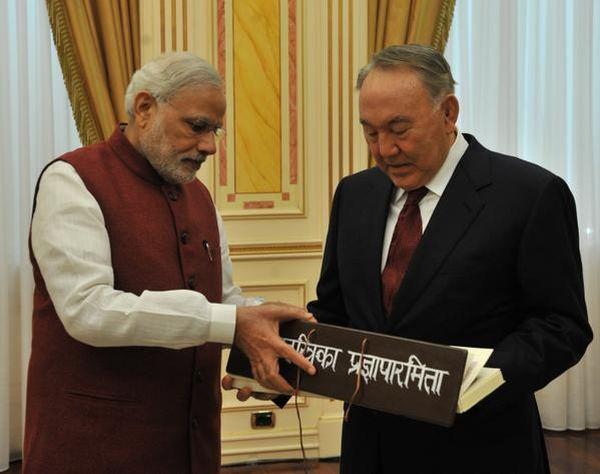 Prime Minister Narendra Modi on Wednesday gifted Kazakh President Nursultan Nazarbayev a set of books relating to religions born in India.
The unbelievably wacky world we live in!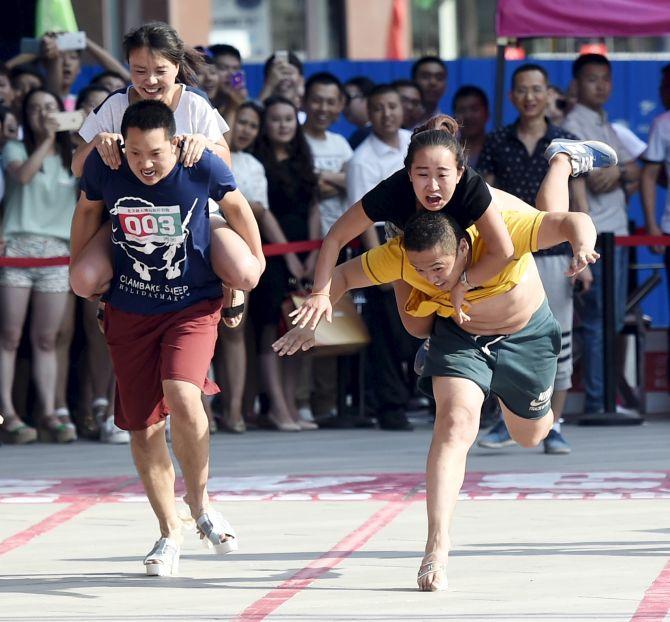 10 photos from an odd, odd world.
Are you a selfie addict? 10 landmarks you CAN'T visit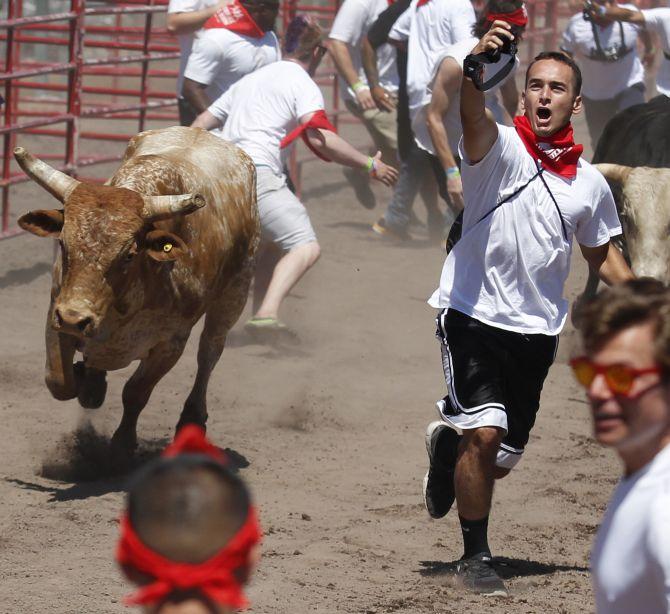 A guide to where you can't use the selfie stick.
July 07, 2015
Britain marks 10th anniversary of 7/7 London bombings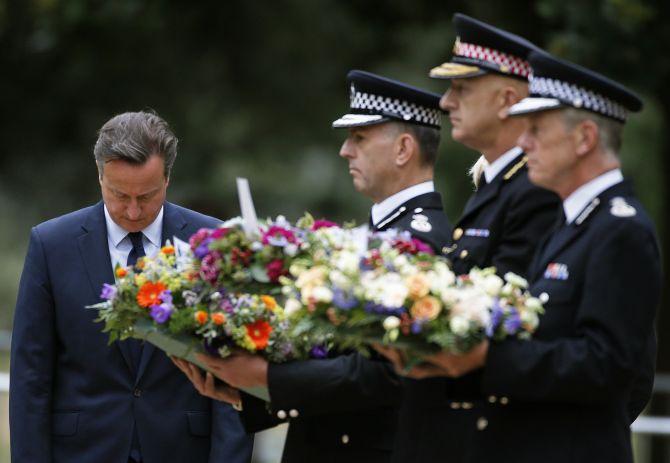 The threat from terrorism continues to be as real as it was ten years ago, but Britian will never cowed by it, Prime Minister David Cameron said on Monday.
PHOTOS: PM Modi charms Uzbekistan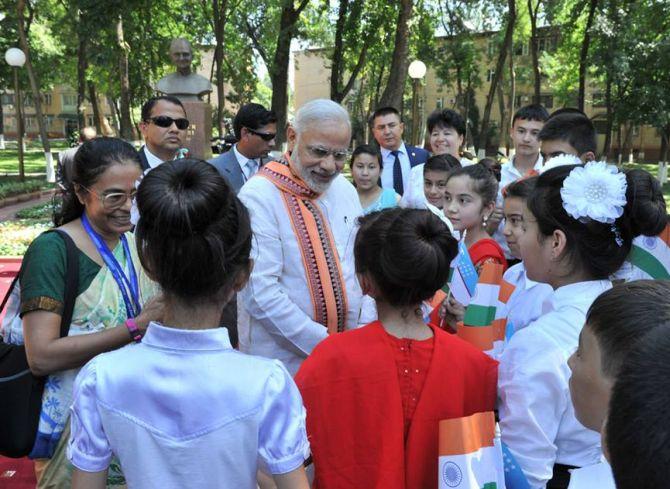 Prime Minister Narendra Modi arrived in Tashkent, Uzbekistan on the first leg of his eight-day visit to Central Asia and Russia. Here are top moments from his visit
July 06, 2015
UK's Prince George's look of love on sister's big day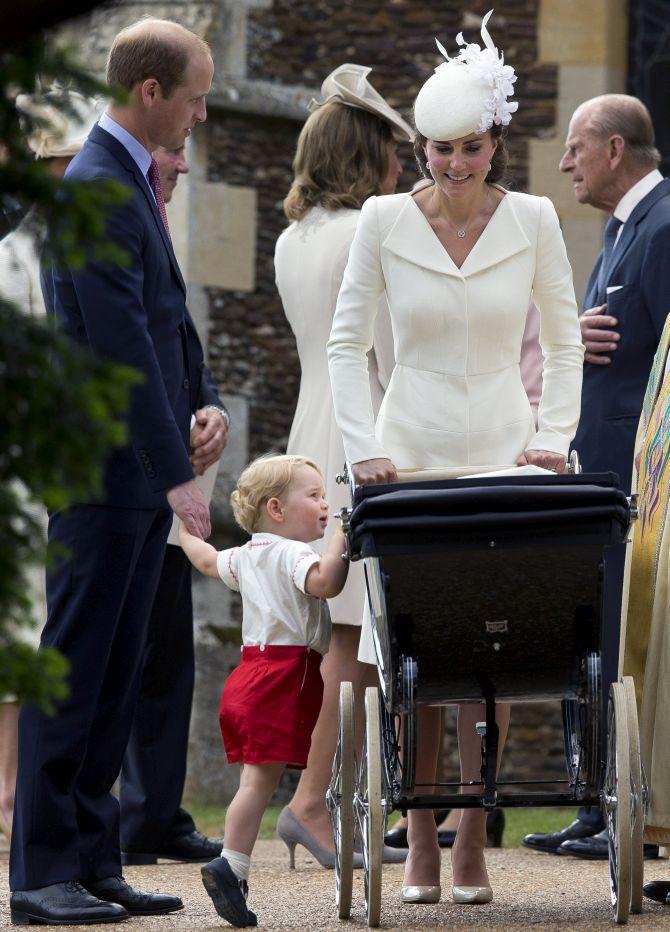 It may have been Britain's Princess Charlotte's big moment in the spotlight but Prince George stole the show at the royal christening.
12 awesome photos that will leave you stunned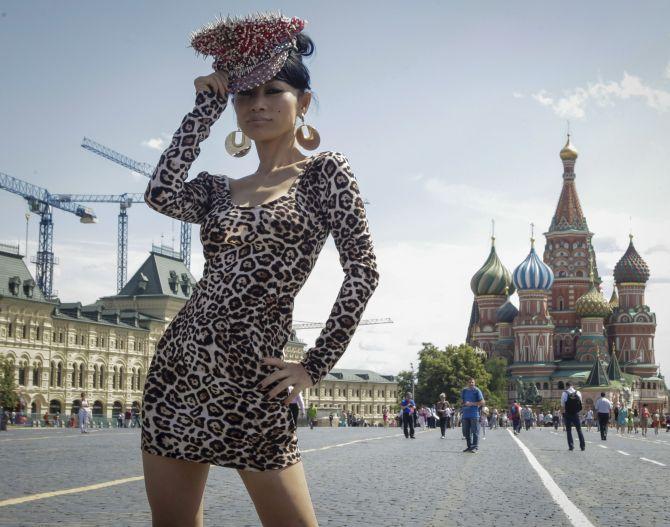 Top moments from around the world in the week that was.
July 03, 2015
WTF News! It's Weird, True and Funny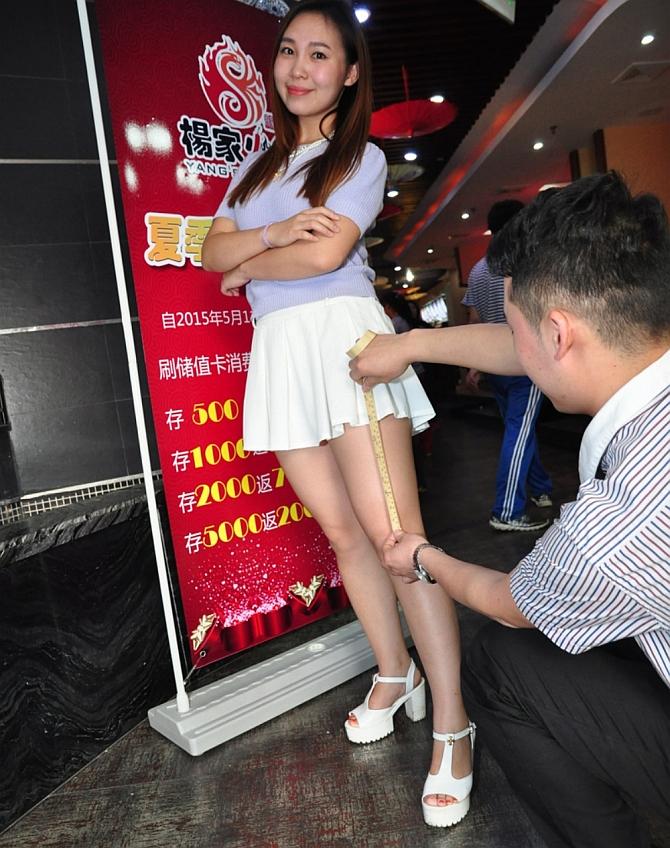 Here's your weekly digest of the craziest stories from around the world.
Hema Malini's driver arrested; actress undergoes surgery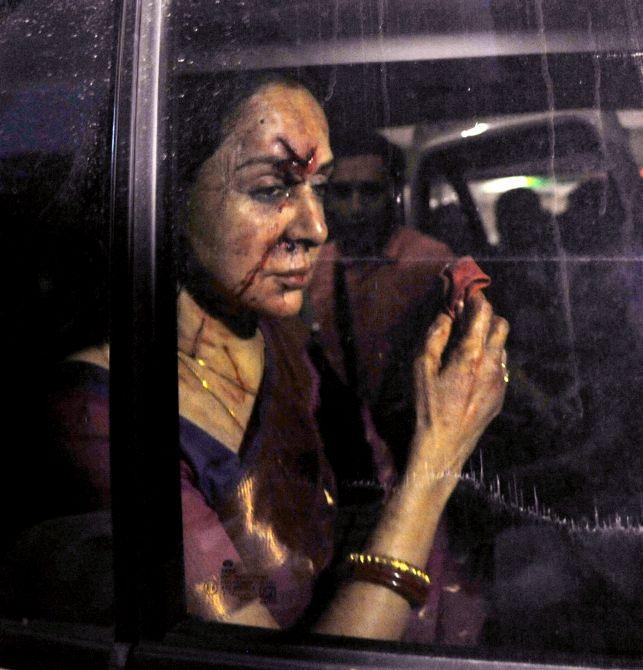 Actress and Bharatiya Janata Party MP Hema Malini's driver was on Friday arrested on charges of overspeeding and causing death by negligence after her Mercedes collided with another car, killing a four-year-old girl and injuring the actress along with four others last night.
July 02, 2015
When Nitish Kumar came knocking on your door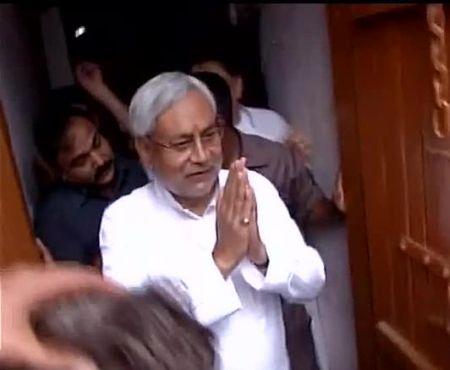 The CM knocked doors of 10 households in Pachim Darwaza.
Europeans sweat and soak in sizzling summer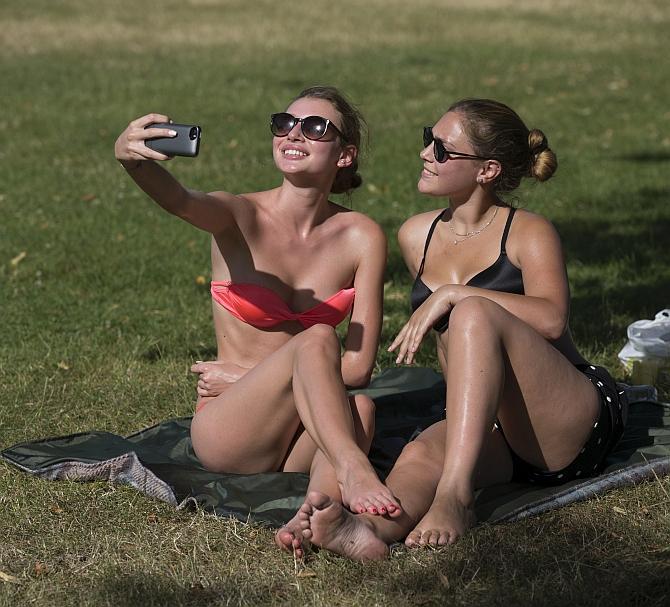 The heatwave, brought on by a mass of hot air flowing north from Africa to Europe in recent days, has enveloped Spain, France, Belgium, the Netherlands, Switzerland and northern Italy, and is expected to last several days and extend further north.
July 01, 2015
PHOTOS from the weird, wacky world!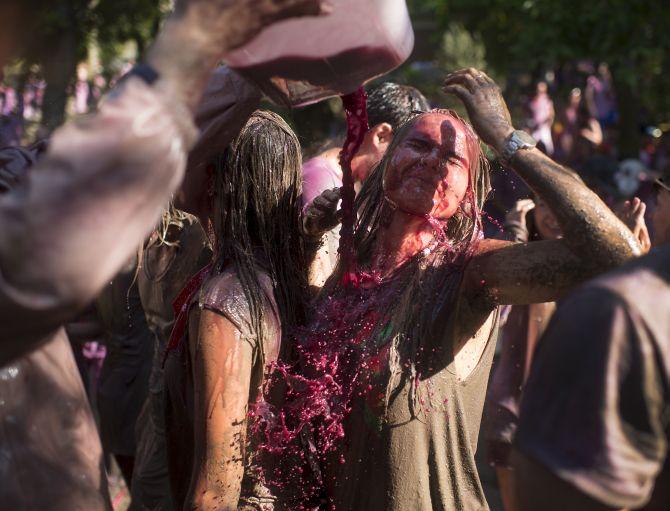 These 10 images prove it's a mad, mad world
PHOTOS: Inside the stunning, yet controversial Dholpur Palace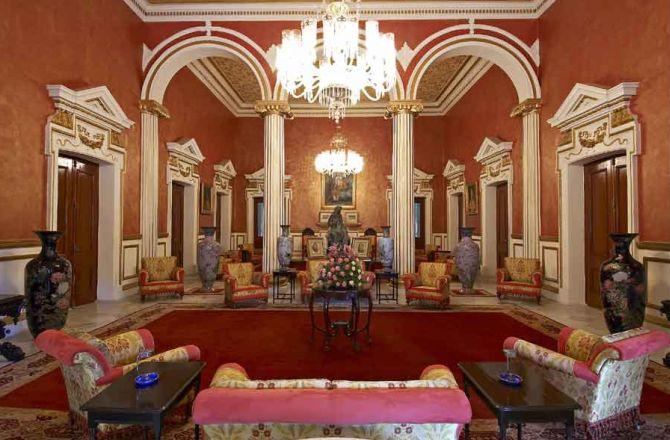 Here's a sneak peek into the grand Dholpur palace.
AWESOME photographs of the month: June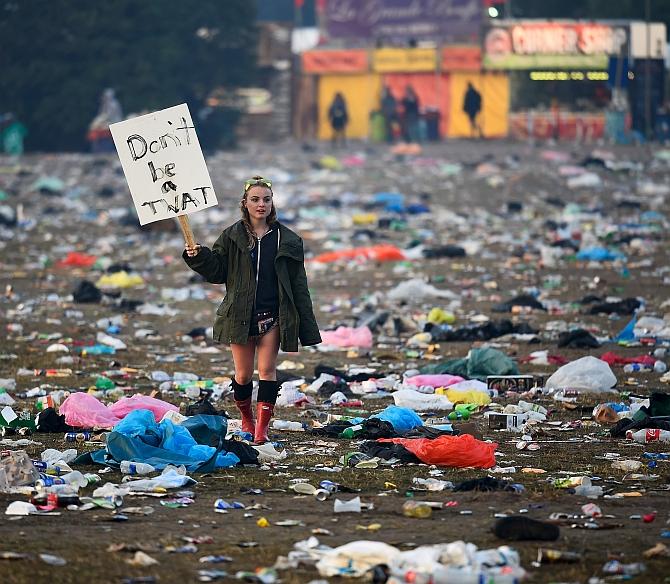 Here are some of the best photos from around the world in the month gone by...
PHOTOS: Get, set, trek 3,888 meters to Amarnath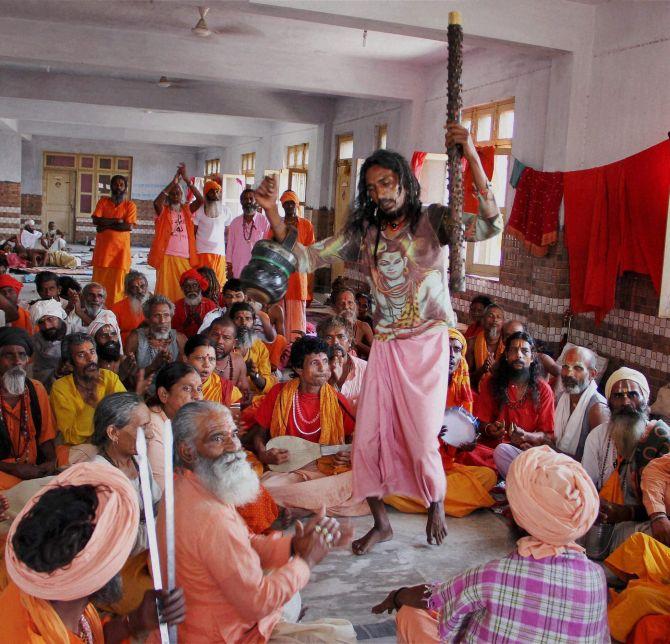 Amid tight security arrangements, the annual Amarnath yatra commenced from Jammu as the first batch of 1,280 pilgrims left for the cave shrine in the South Kashmir Himalayas.
June 30, 2015
Uproar inside Delhi assembly: BJP MLAs break mike, tear papers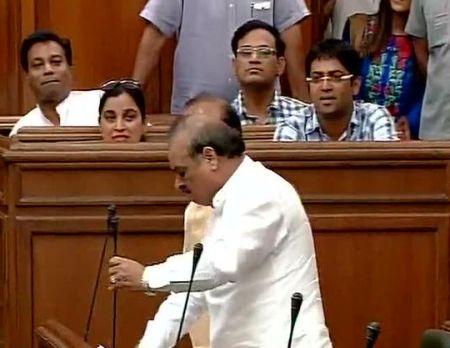 The last day of the budget session in the Delhi assembly witnessed uproar
PHOTOS: 116 feared dead after Hercules C-130 crashes in Indonesian city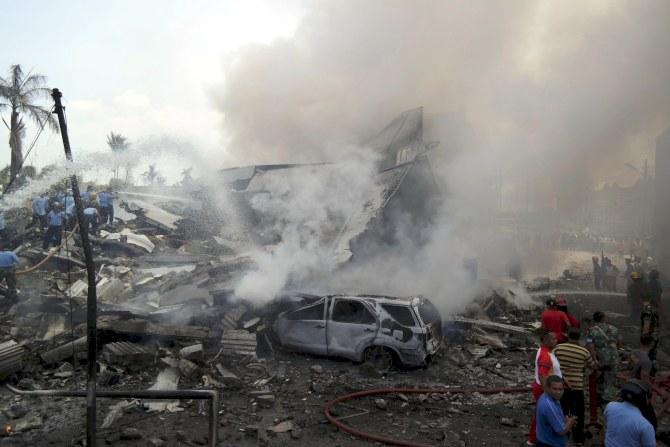 According to reports, the Hercules C-130 plane hit a hotel and houses in the northern Sumatra city of Medan.
When Maharashtra CM ate vada pav in New York!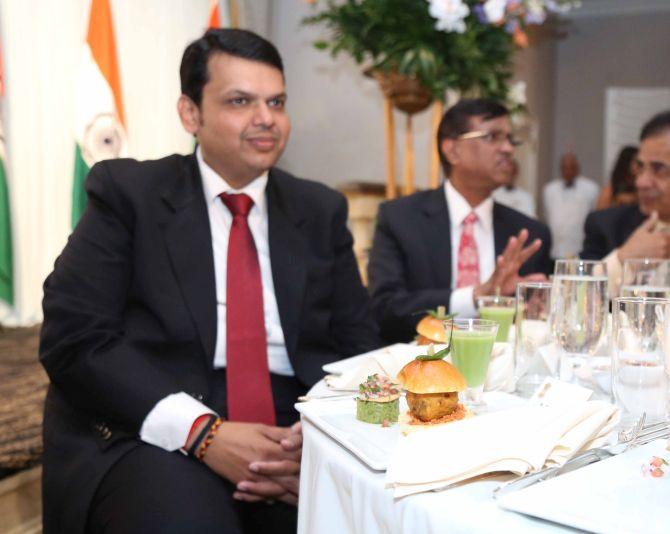 Fadnavis in US on a tour to woo American investors enjoyed a reception in New York at the Pierre Hotel.
10 most DARING jailbreaks in history!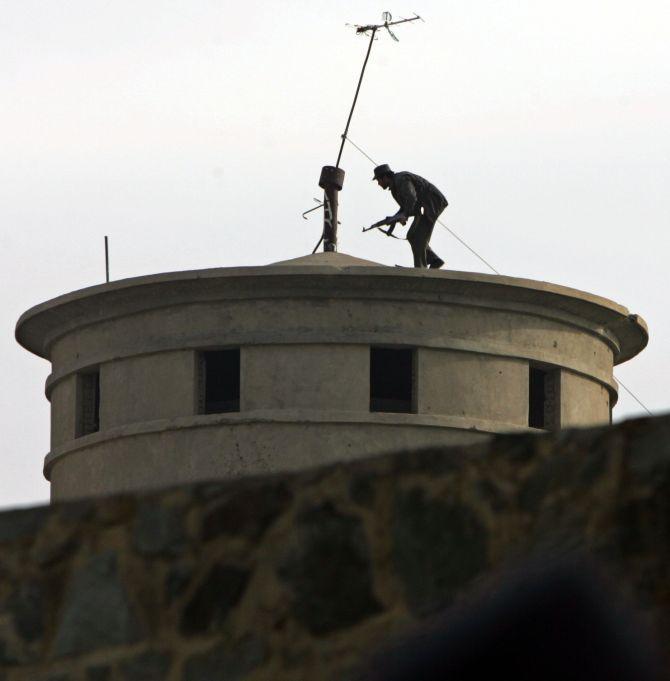 They broke free yet failed to evade the clutches of law.
June 29, 2015
Gay and proud: When the world turned into a rainbow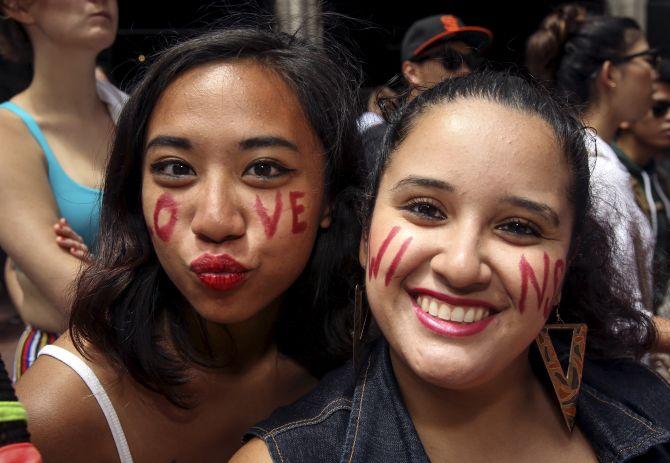 Signs with messages of love dotted parade routes around the world as millions took part in gay pride events from Toronto to San Francisco to Seoul.
AWWW! These proud dads posted #Selfiewithdaughters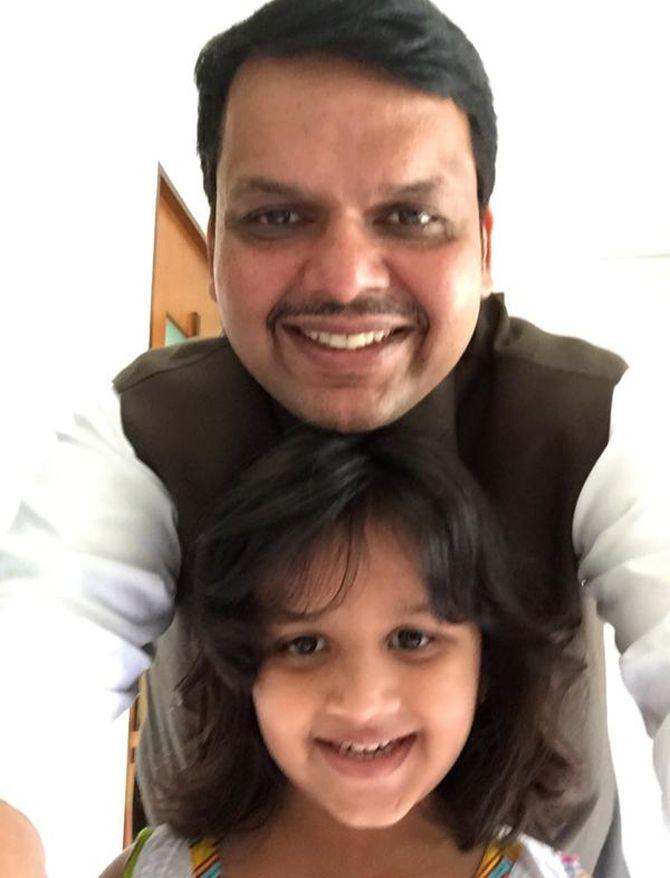 Twitter was flooded with photos of dads with their daughters after PM Modi's Mann ki Baat.
You just CAN'T MISS these images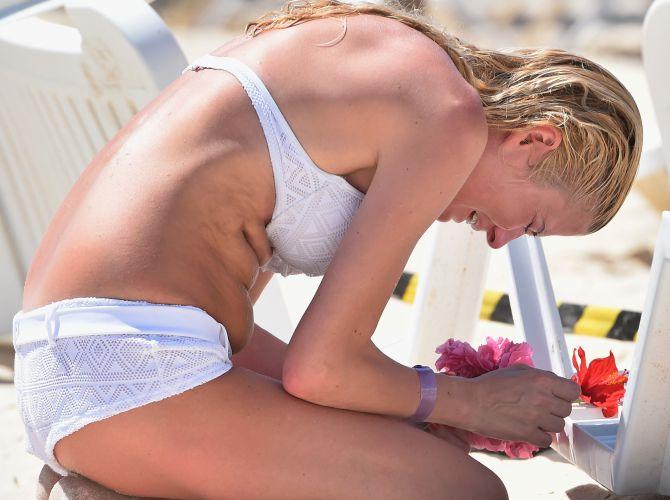 Here's a glimpse of all that happened around the world last week, in 14 images.
June 26, 2015
Historic day in US as Supreme Court legalises gay marriage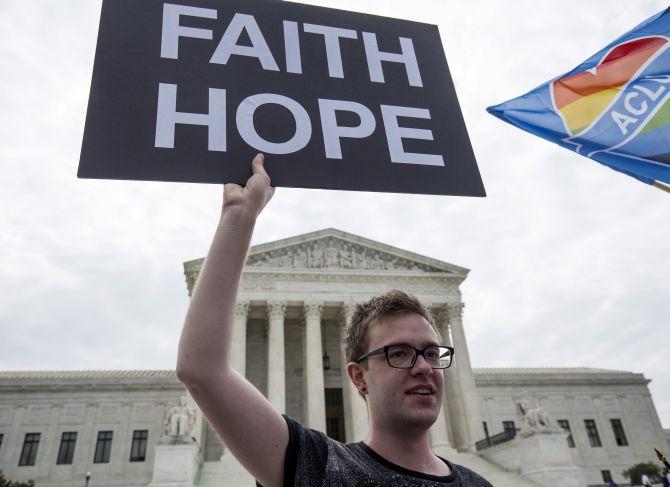 In a historic ruling, the US Supreme Court on Friday legalised same sex marriage, holding that gay people can get married in all 50 states of the country.
WTF News! It's Weird, True and Funny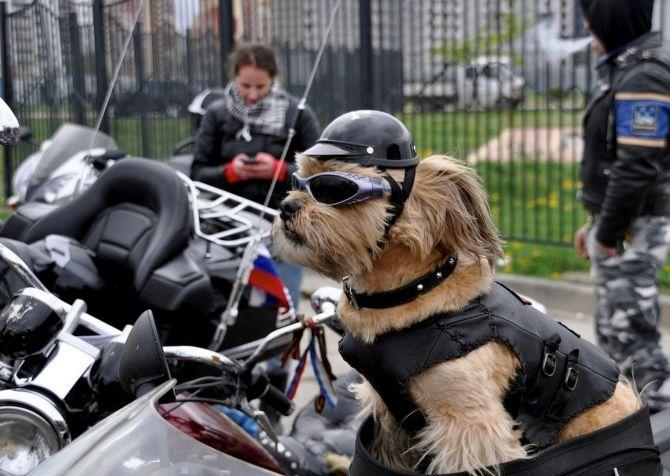 Here's your weekly digest of the craziest and funniest stories from around the world.
Photographs that capture India's monsoon mayhem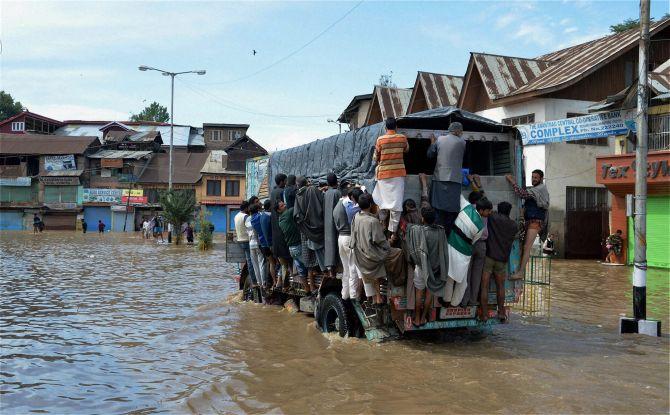 Rediff.com brings you monsoon images from across the country
June 25, 2015
PHOTOS: Monsoon arrives a day early in Delhi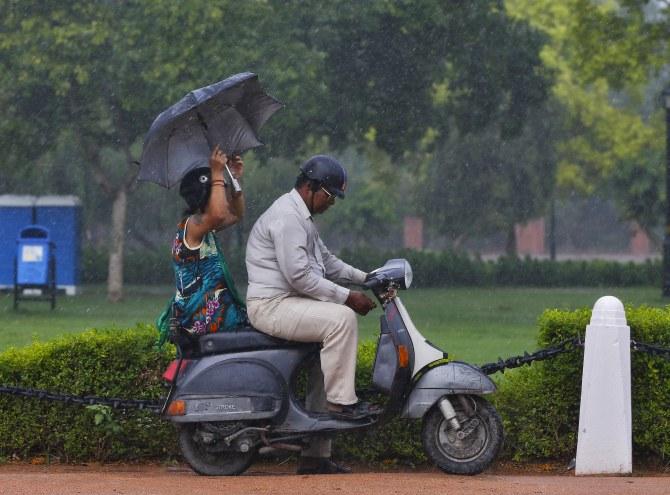 Delhiites woke up to a rain soaked pleasant morning on Thursday which brought down the temperature to 22.4° Celsius, six notches below the season's average.
38 killed, hundreds stranded as heavy rains lash Gujarat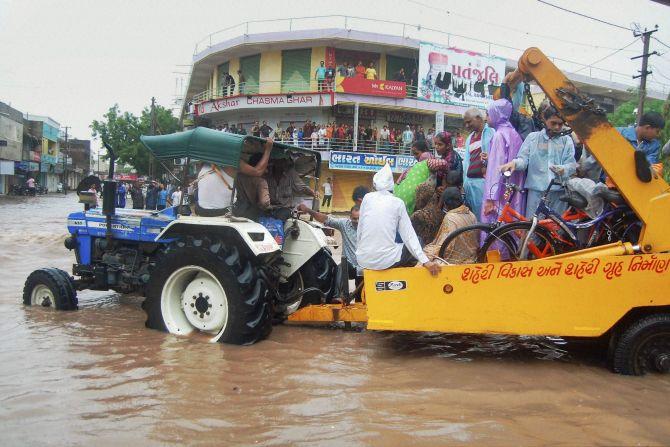 Heavy rains triggered by a deep depression in the weather system claimed as many 38 lives in Gujarat on Wednesday.
The 10 most expensive taxi rides around the world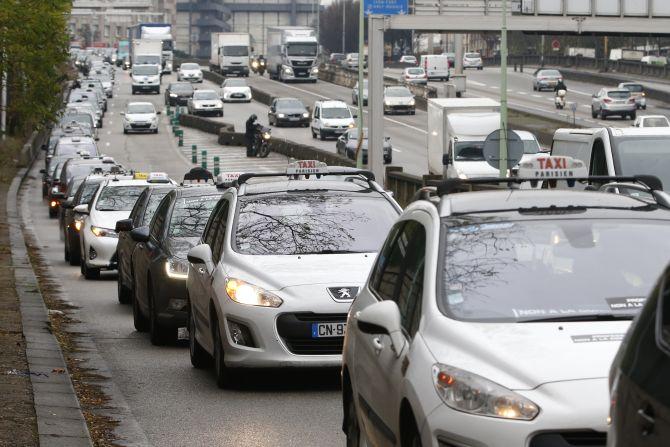 Rediff.com takes a look at the minimum taxi fare in other big cities around the globe on a day when auto rickshaw and taxi fares have been hiked in Mumbai
Ramzan in photos: Millions fast and pray during the holy month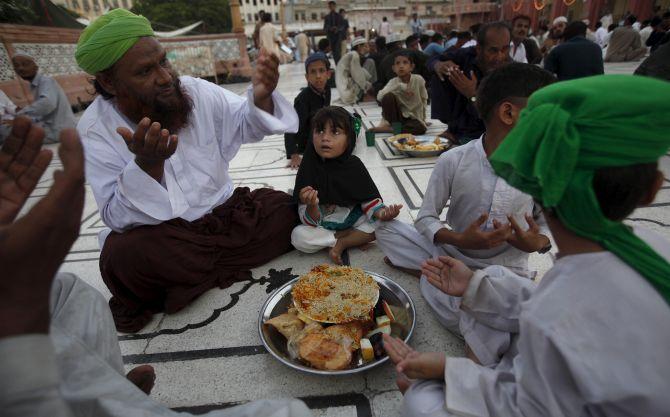 Rediff.com brings you glimpses of how Muslims across the globe are observing the month of fasting and the holiest period for the Islamic faith.
Boston bomber issues first apology as he is formally sentenced to death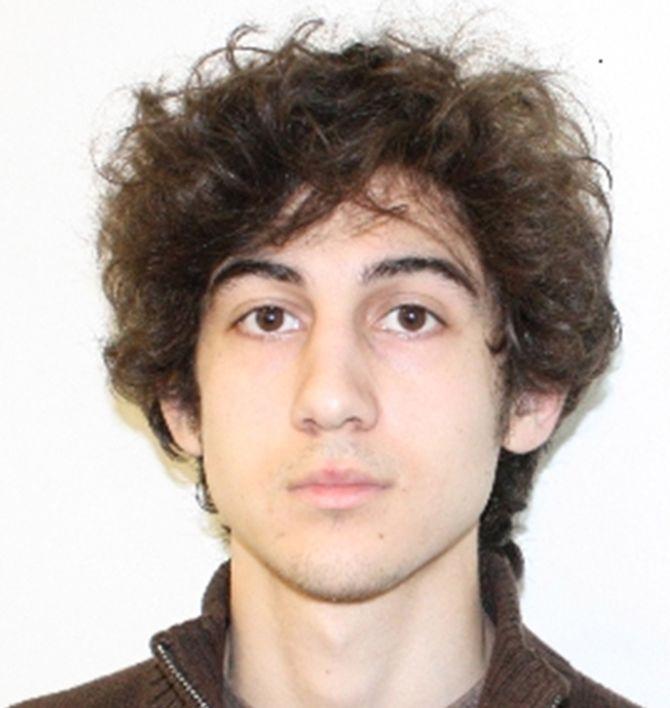 "I would like to now apologise to the victims, to the survivors," he told a Boston court shortly before being formally sentenced to death for the bombing. "I want to ask forgiveness of Allah and his creation."
June 24, 2015
PHOTOS: Pakistan heat wave death toll jumps to 1200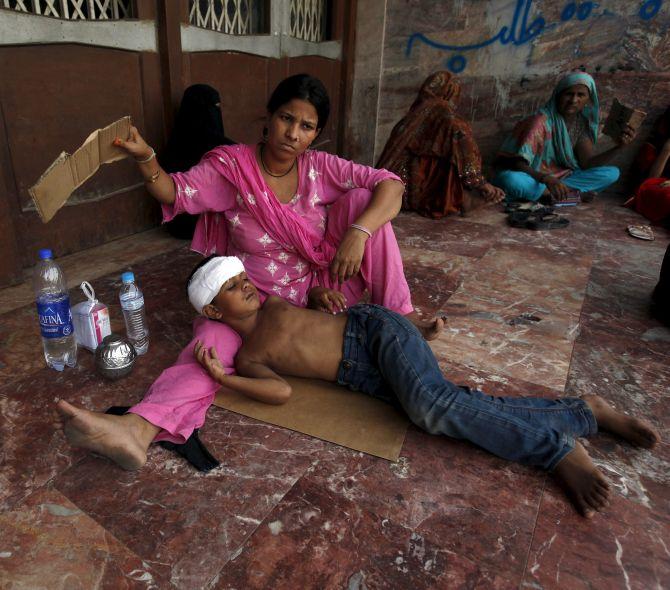 Over 1,200 people have died in Pakistan's Sindh province because of a heat wave described as the worst in decades, as major hospitals in Karachi struggled to cope with the unprecedented influx of patients seeking treatment for heatstroke-related illness.
PHOTOS: UK parliament transforms into House of Yoga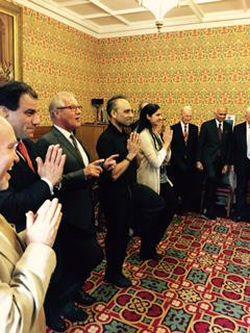 British lawmakers led by prominent Indian-origin entrepreneur Karan Bilimoria performed yoga in the United Kingdom parliament, celebrating the first International Yoga Day.
June 23, 2015
Heavy rains leave Mumbai crawling yet again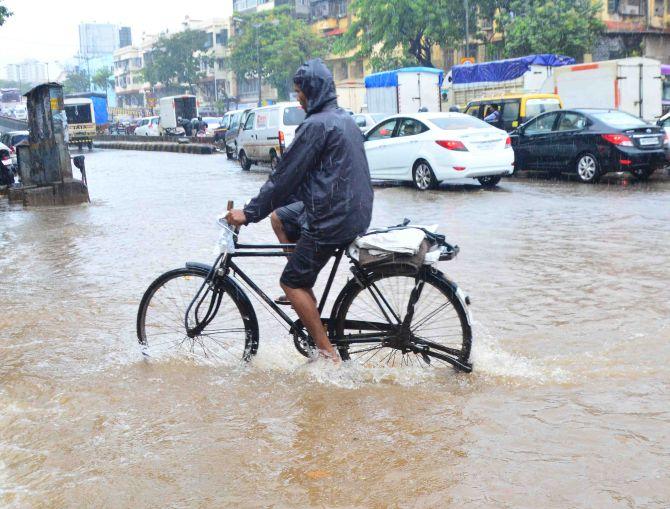 Mumbaikars travelling to work faced a harrowing time on Tuesday morning owing to waterlogging caused by the incessant rain since Monday night.
REWIND: BEST images in the last 24 hours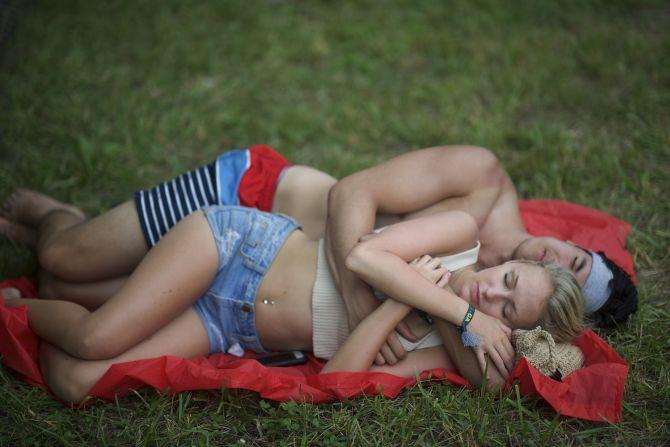 Here's a collection of some of the best photos from around the world shot by ace Reuters photographers in the last 24 hours.
June 22, 2015
Amazing grace of Charleston: US church holds first service since massacre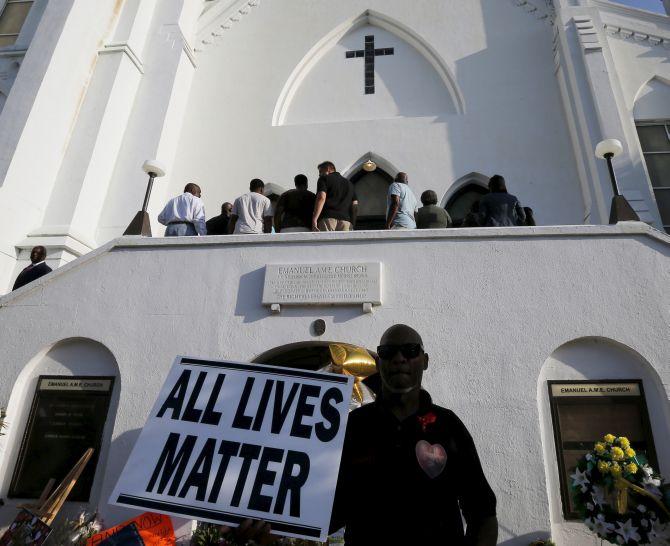 Churches around Charleston rang their bells in solidarity with Emanuel AME.
20 amazing snaps, believe it or not, shot using an iPhone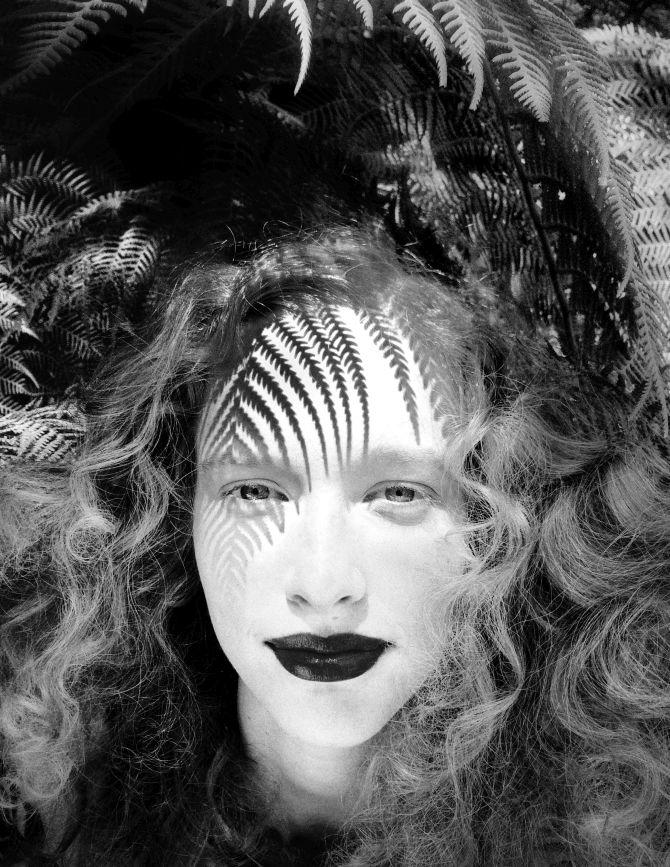 Here are some of the best iPhone photos taken this year.
PHOTOS: When New York's Time Square turned into yoga square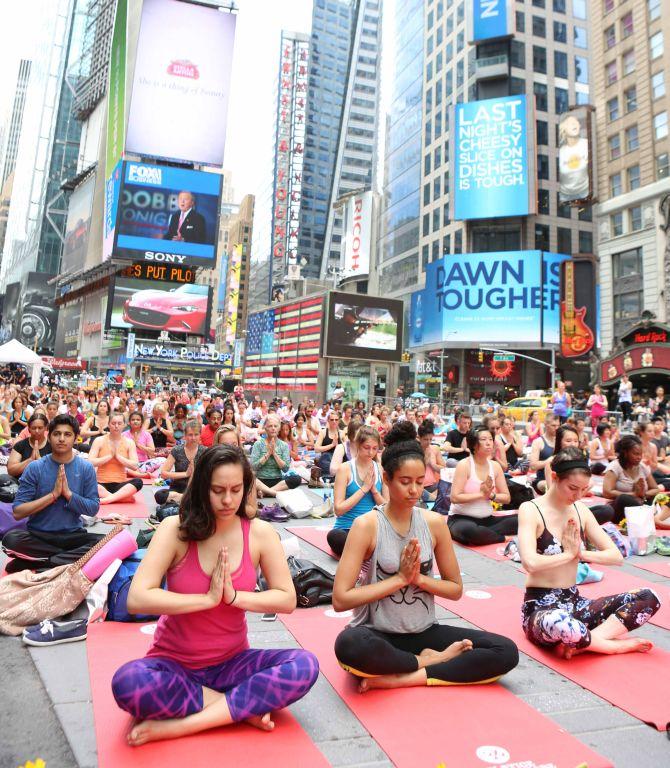 Some 30,000 enthusiastic people performed the ancient spiritual practice, celebrating the first UN International Yoga Day.
June 21, 2015
#InternationalYogaDay: Incredible images from India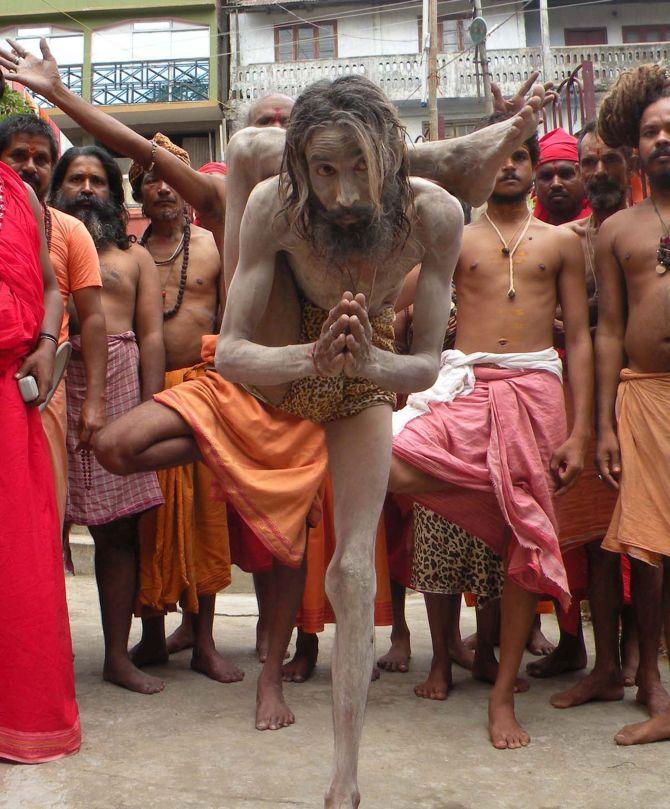 Amid chants of 'Om' and recitation of 'Mantras' for universal peace, millions across the globe today joined in spectacular celebrations to mark the inaugural International Day of Yoga, in a tribute to the ancient Indian spiritual and exercise discipline known to balance mind, body and spirit.
PHOTOS: The world gets its asanas right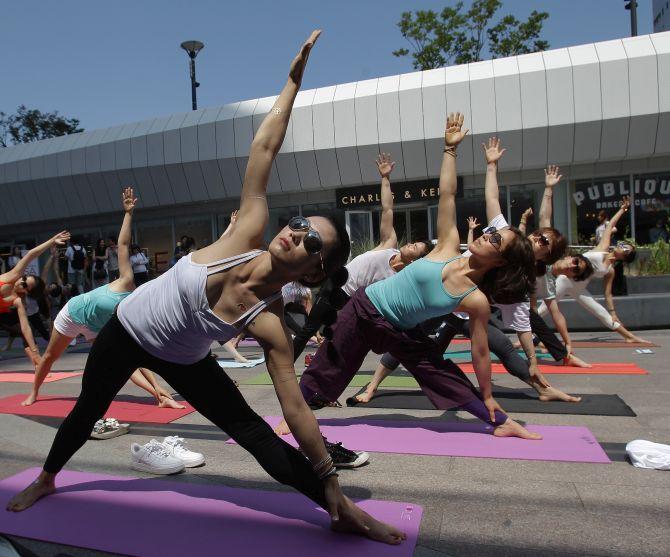 The pictures tell the story of the grand success of the first International Yoga Day.
PHOTOS: Mantris keep calm and do yoga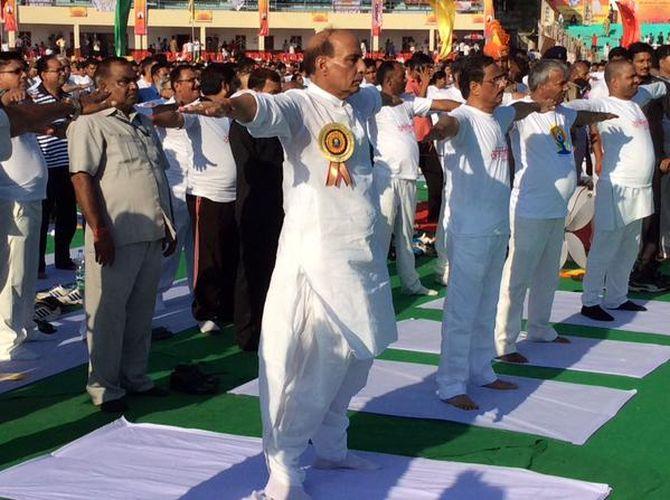 Rediff.com brings you the government's Yoga Day photo album.
PHOTOS: Top 12 'asanas' that Modi practised on Yoga Day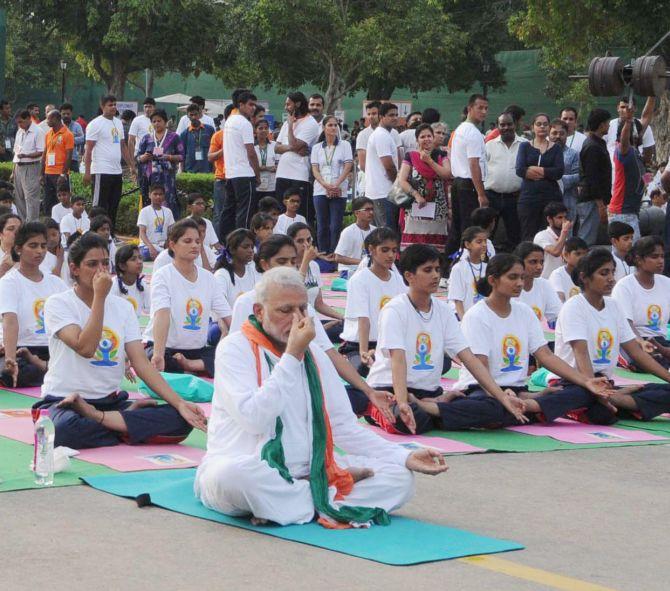 Rediff.com takes you through to NaMo's yoga class.
PHOTOS: On Yoga Day, PM shows how it's done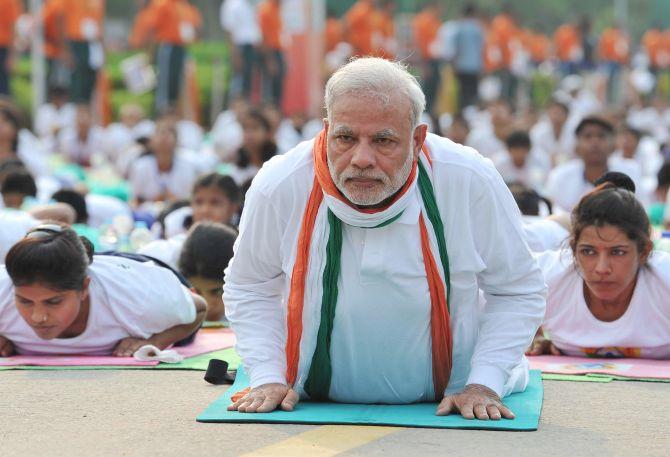 Prime Minister Narendra Modi led the early morning session on the first International Yoga Day at Rajpath in New Delhi.
June 19, 2015
#MumbaiRains: Dramatic photos by readers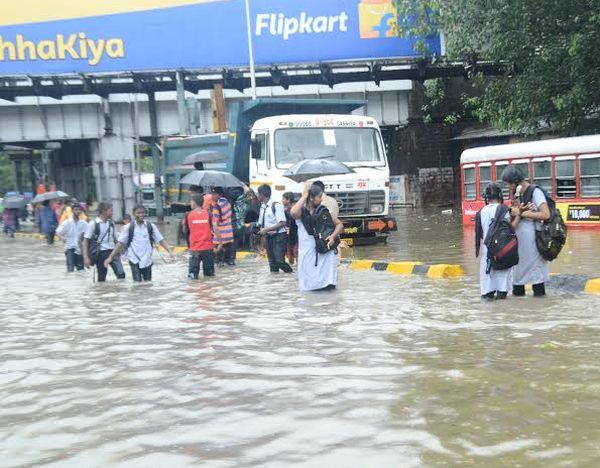 The most dramatic images of the Mumbai rains sent in by our readers.
#MumbaiRains: Send us your pictures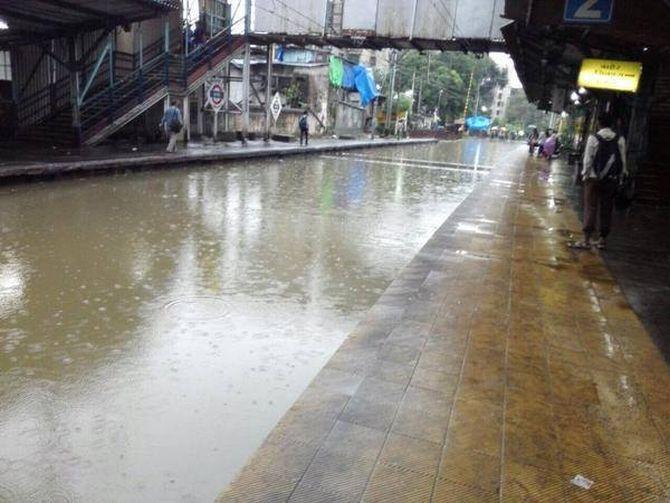 #MumbaiRains are here and they've brought the city to a standstill. Post your pictures here.
June 18, 2015
Mumbai slows down as rains lash city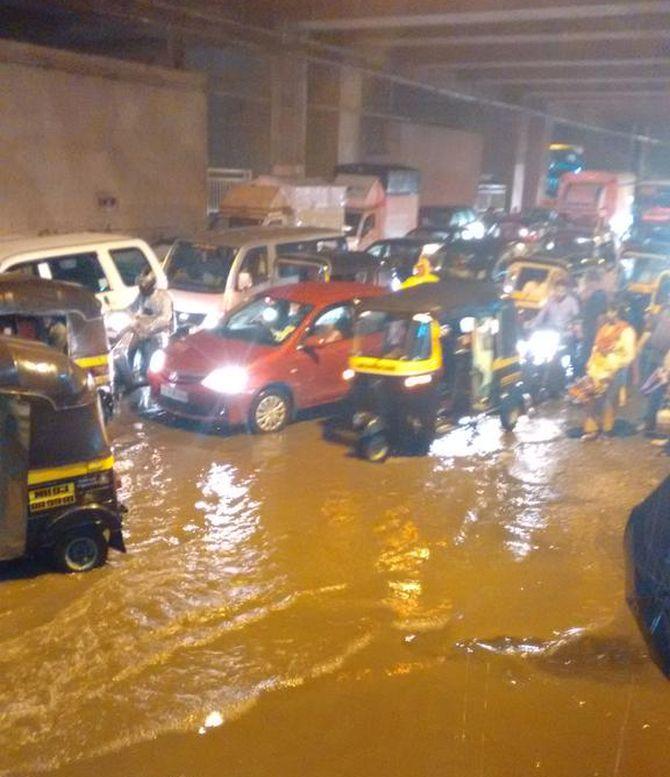 On Thursday, the city witnessed traffic jams due to heavy rains.
On Day 4 of OROP strike, ex-servicemen are ready to sacrifice their lives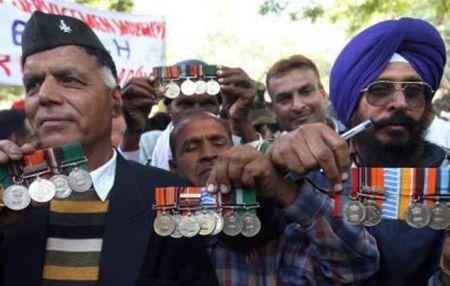 Soldiers remain firm in their protest against the delay in the implementation of the One Rank One Pension scheme.
Coming soon: Only 'Hindu trees' in Mumbai?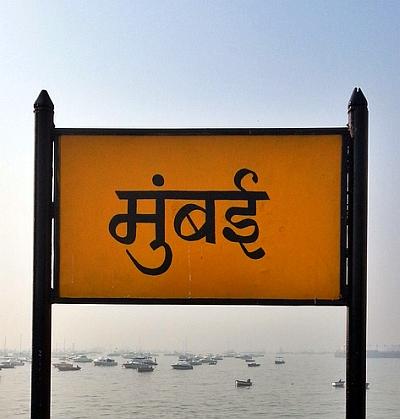 Mumbai, whose presiding deity is wealth, could soon Hindu trees all over the city, if Hanumant Raje, the Shiv Sena-nominated member of the city's Tree Authority who has proposed that only trees like peepal and banyan, which are "revered in Hindu culture", be planted across the metropolis.
PIX: Meet India's 10 most renowned yoga gurus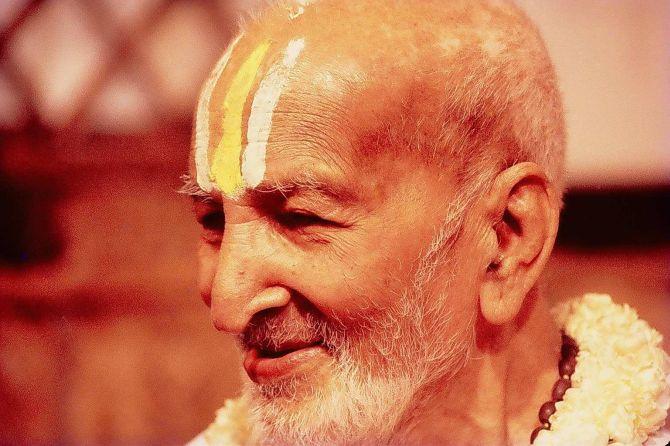 Yoga has been an intrinsic part of Indian ethos for over 5,000 years. While India is champing at the bit ahead of International Yoga Day that falls on Jun 21, Swati Snigdha Suar lists out the ten most famous yoga gurus of the country:
June 17, 2015
Congress workers burn PM, Swaraj effigies over Modigate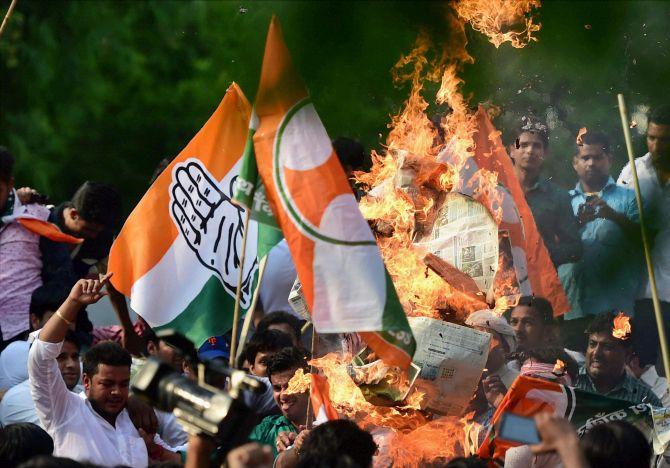 The protesters started marching towards the PM's residence shouting slogans and holding anti-government placards.
Standing tall: Charles Correa's ICONIC buildings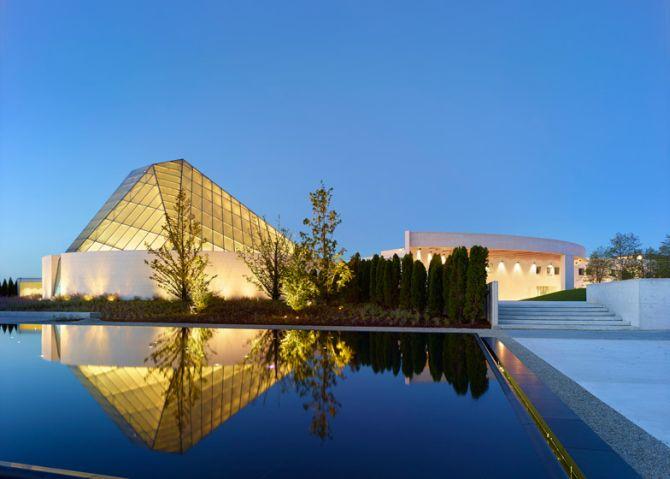 India's greatest contemporary architects Charles Correa died on Tuesday night at the age of 84. He was best known for his "open-to-sky" designs, which were reflected in some of his famous projects. Rediff.com takes a look at some popular buildings that got the Correa touch.
Gallery of the strange: Weird, wild and strange photos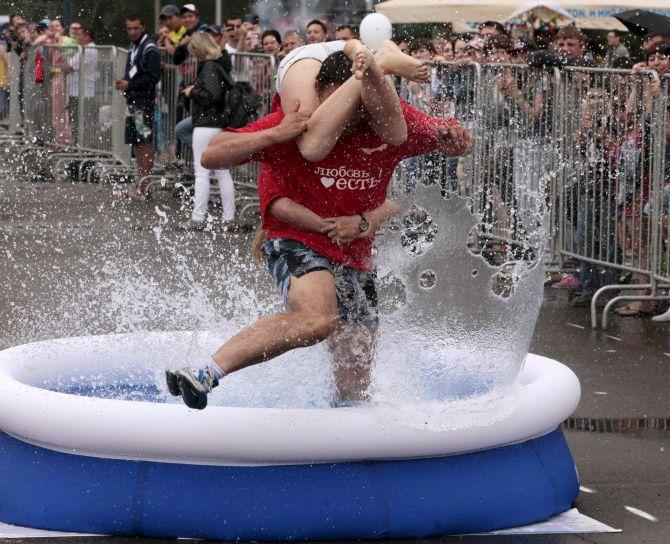 These 12 photographs show what a mad, mad world we live in!
June 15, 2015
Not just Portugal. Check out where Lalit Modi's been, with who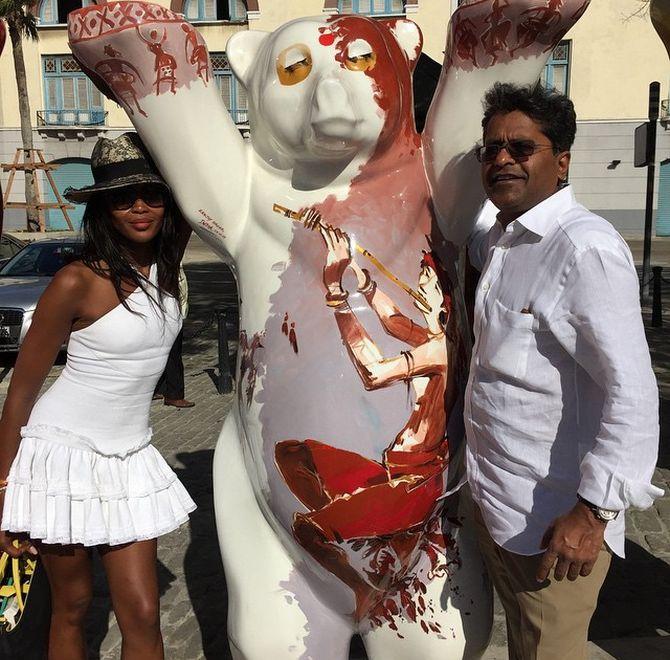 Lalit Modi has been living quite the high life.
June 14, 2015
Real life Jumanji! When a hippo roamed the streets of Georgia's capital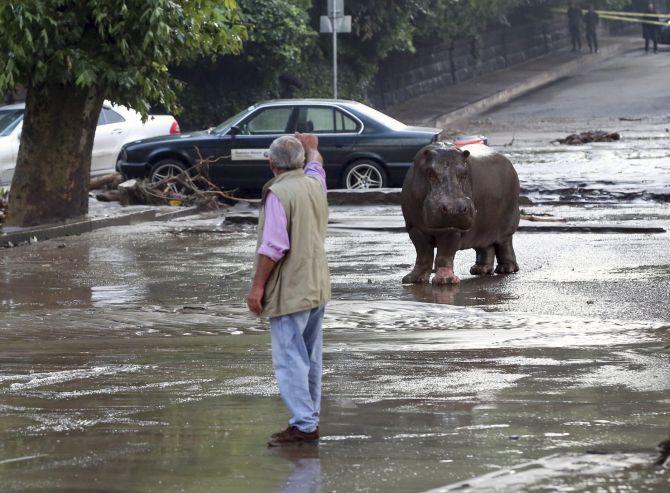 The capital of Georgia has been placed on lockdown after heavy flooding destroyed enclosures at the city's zoo allowing tigers, lions, jaguars, wolves, jackals and a hippo to escape and roam the streets.
In fight for OROP, ex-soldiers launch nationwide protests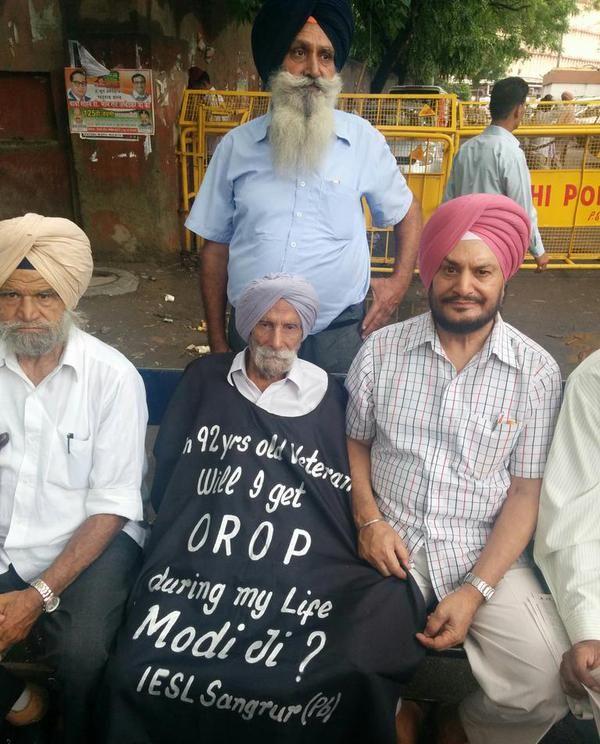 Thousands of ex-servicemen across the country on Sunday converged at Delhi's Jantar Mantar to protest over the delay in implementation of the 'One Rank, One Pension' scheme.
June 13, 2015
PHOTOS: Major fire in oil pipeline near Mumbai Port Trust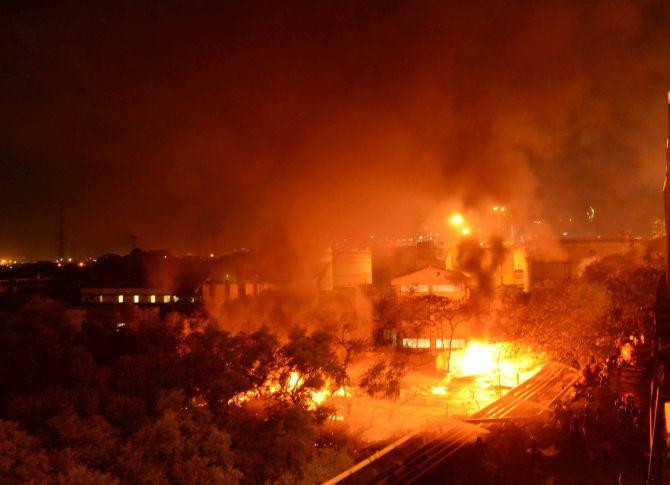 A fire broke out because of a suspected leakage in an oil pipeline passing through a land owned by the Mumbai Port Trust in Wadala in central Mumbai, but no one was injured.
Adorable alert! Prince George steals Queen's birthday show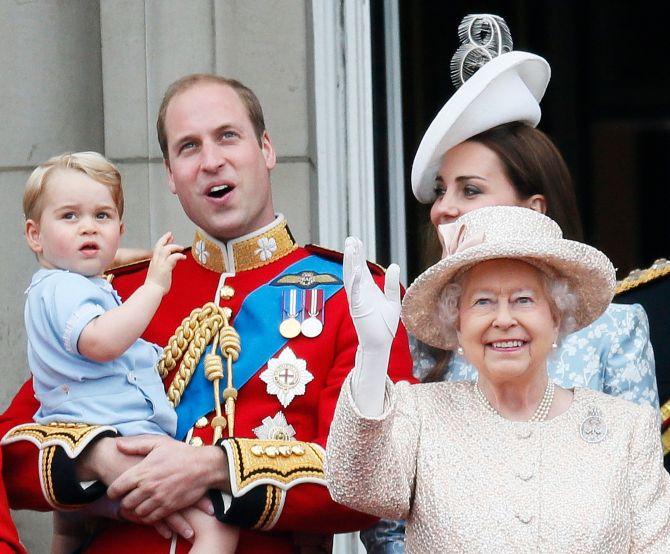 An excited Prince George watched his first Trooping the Colour parade to mark his great grandmother Queen Elizabeth II's birthday in London.
June 12, 2015
Flood fury in Assam: Over 3 lakh people affected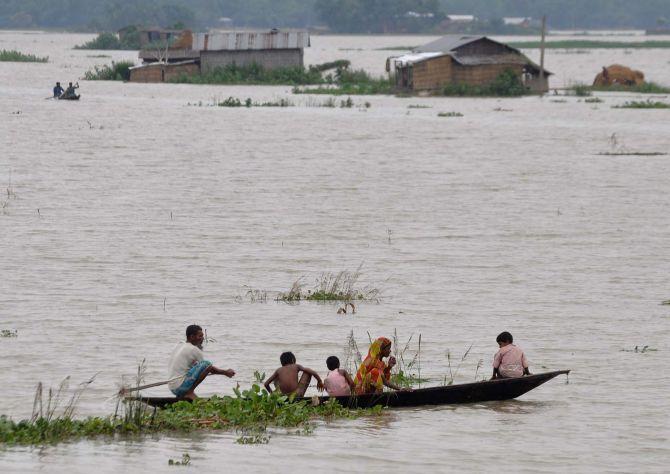 The rains have unleashed in Assam affecting close to two lakh people
June 11, 2015
Pedalling to safer streets: Mumbai cops to patrol city on cycles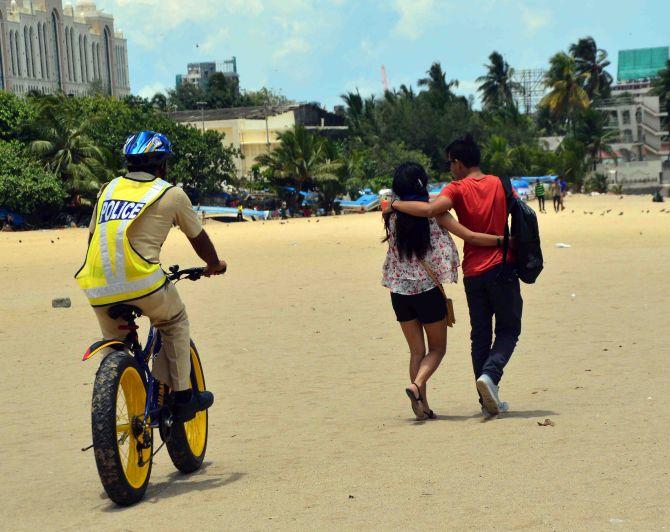 The project has been started on a trial basis during which 24 bicycles -- eight for beaches and 16 for streets -- will be used.
In PHOTOS: A desperate thirst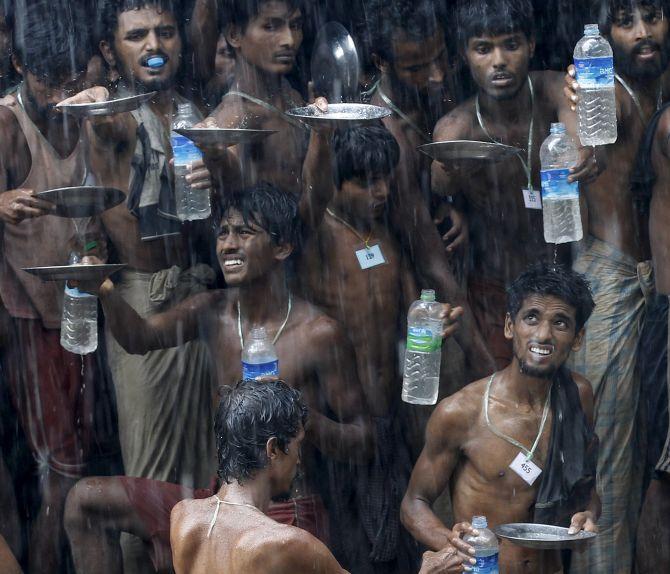 Reuters photographer Soe Zeya Tun captures the plight of Rohingya and Bangladeshi migrants who were rescued off Myanmar's southern coast last week from a boat carrying 734 people through these moving images.
The incredibly odd world we live in!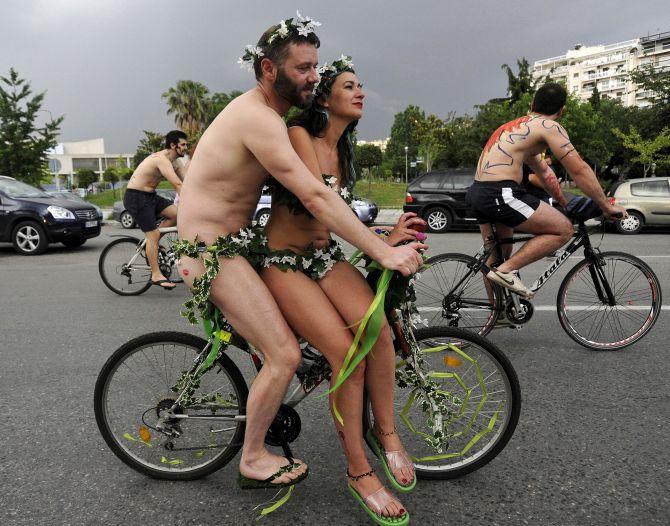 These 10 images show that it's an odd world out there.
June 10, 2015
PHOTOS: The INS Vikrant is HERE!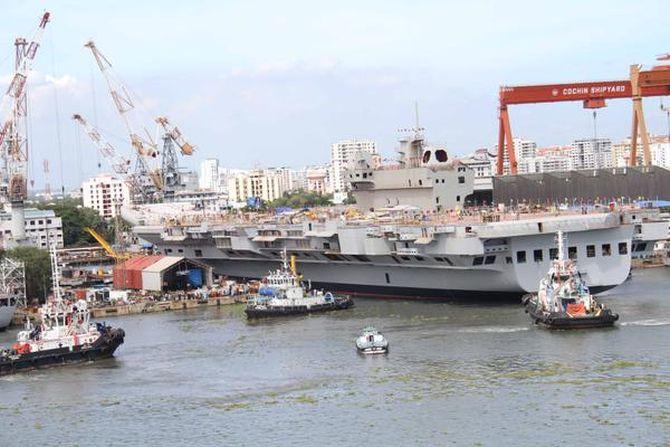 India on Wednesday undocked its first indigenously-built aircraft carrier INS Vikrant.
STUNNING photos: Instagrammer follows girlfriend around the world to the altar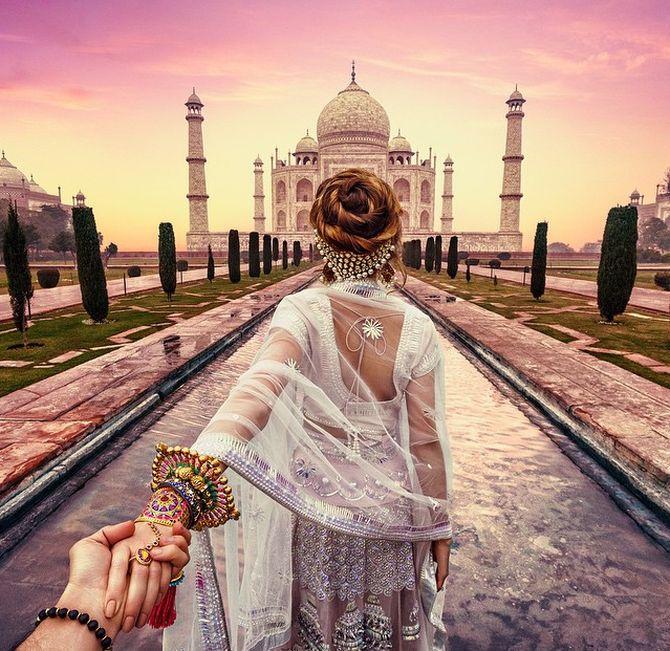 An instagramming couple has taken the best ever photos from around the world
SUNKEN: A look inside China's capsized ship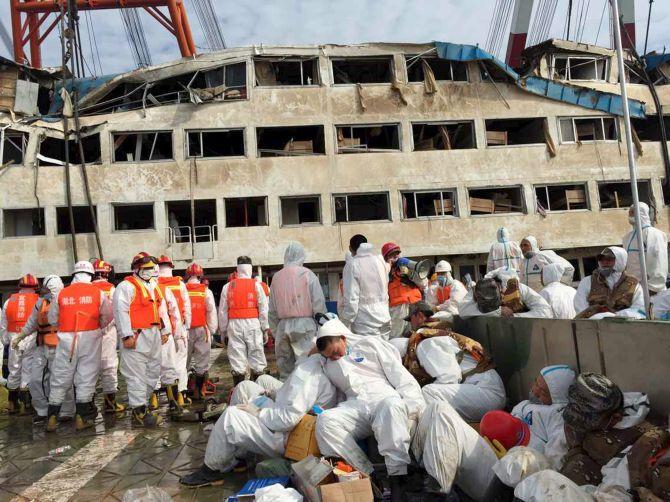 Rediff.com takes a look inside the capsized Eastern Star ferry and finds remnants of the ruination of over 400 lives in its detritus.
June 09, 2015
SEVEN-UP: Even the world's most powerful know how to chill out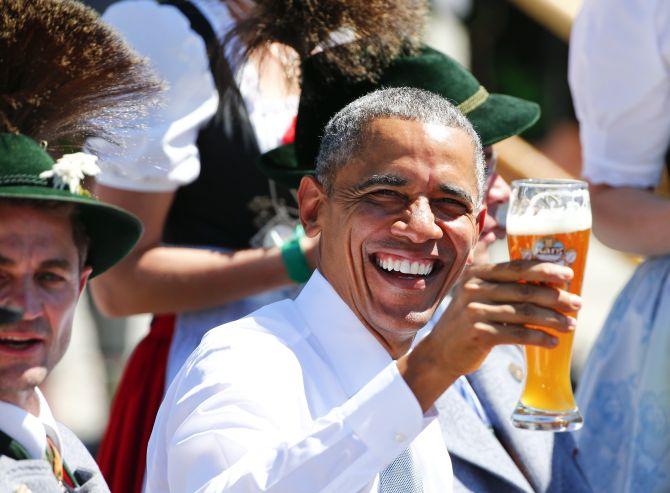 Here's a look at some of the more interesting sights at the G7 2015 summit.
ZEN OUT: Yoga moves in the most unthought-of locales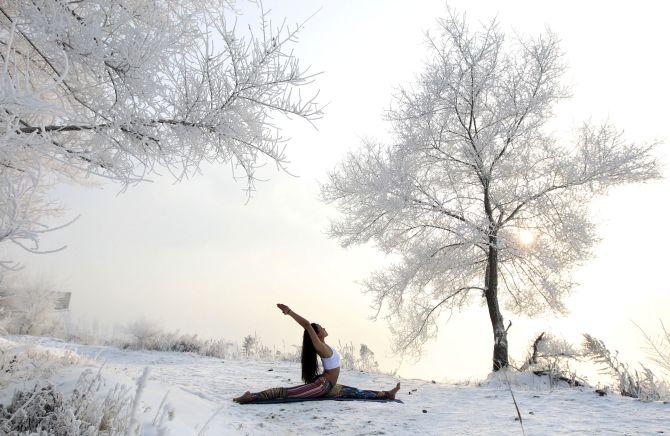 India is all set for a mega Yoga event on June 21. But before that watch these Yoga moves played out in the most 'out there' of locations.
June 07, 2015
PIX: Citizenry shows support for India, B'desh land deal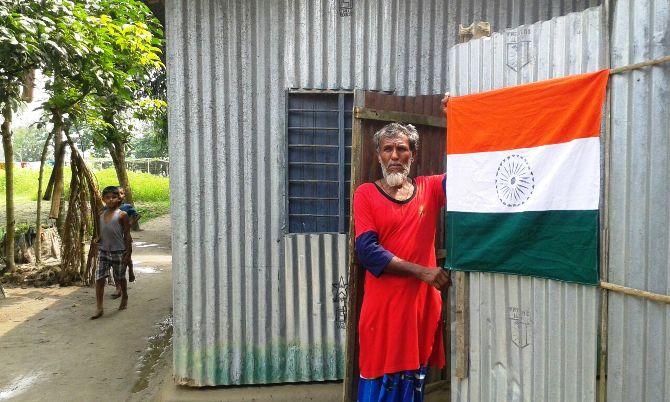 Marking a new high in bilateral ties, India and Bangladesh on Saturday sealed a historic deal to settle the 41-year-old land boundary dispute through exchange of territories, removing a major irritant in bilateral ties.
June 05, 2015
When undead monsters took to the streets around the world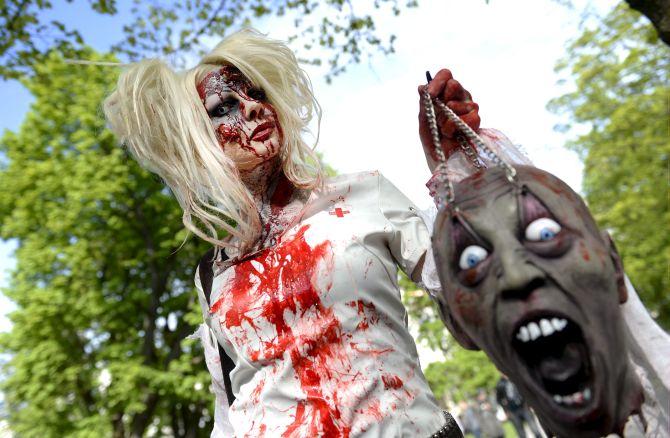 Rediff.com brings you images from some zombie events held in Finland, Sydney, Athens, Curitiba, Massachusetts and many other places.
June 03, 2015
Are these mermaids emerging from the water?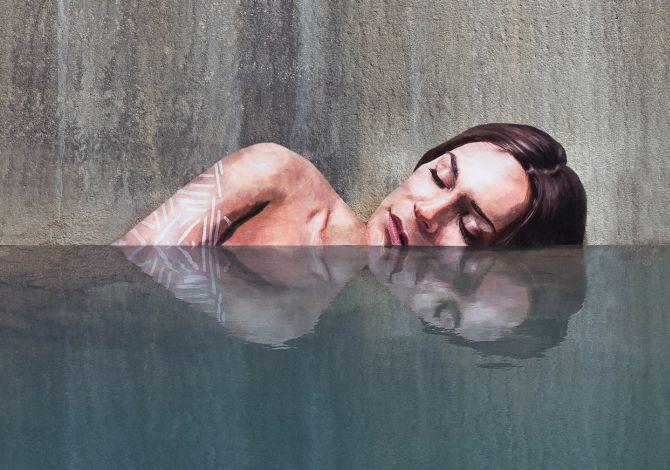 Hawaii-born Sean Yoro transforms dilapidated constructions by balancing on a paddle board to paint the enormous faces and figures.
Odd PHOTOS from a mad, mad world!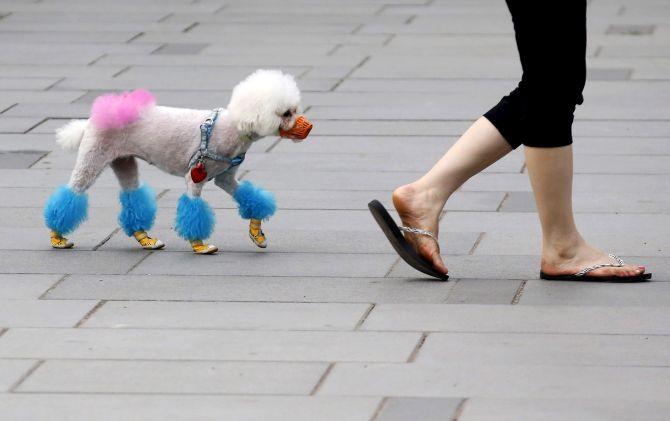 These images from across the globe tell that it is a crazy world out there.
June 02, 2015
PHOTOS: Heartbreak! Paris says au revoir to love locks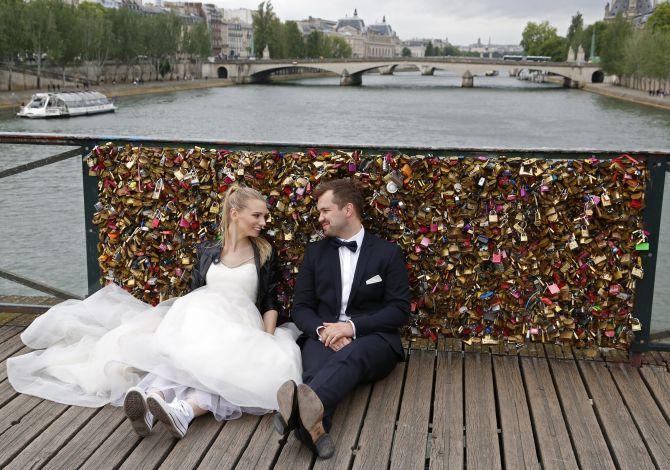 Paris, capital of romance, has started the heartbreaking process of removing thousands of love locks chained to the dreamy Pont des Arts Bridge by adoring couples.
Lights, action, music: Telangana celebrates turning 1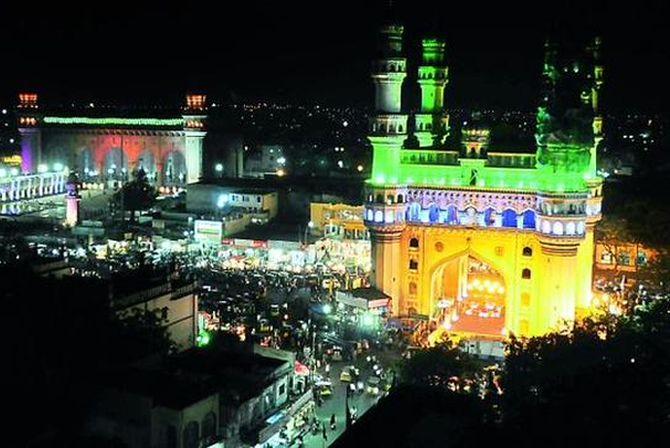 The Telangana government will be embarking on a week long celebration from Tuesday to observe its Formation Day.
View from 1,250 feet: One World Observatory opens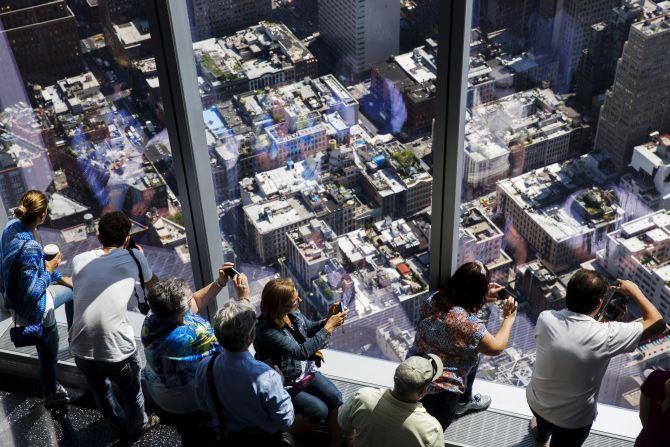 One World Observatory: Bird's eye view of NYC from 1,250 ft
June 01, 2015
The master builders of broken Nepal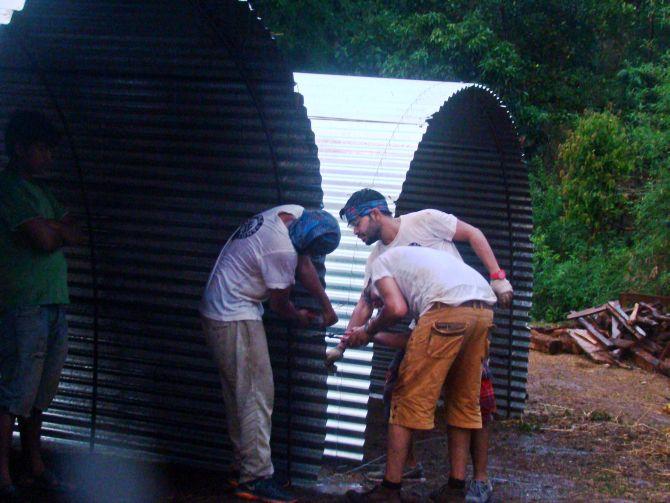 Helping Hands, a group of young volunteers, hopes to rebuild a "stronger, prettier and a prouder Nepal" after the Himalayan nation was rattled by the April 25 earthquake. Anusha Subramanian reports from Kathmandu.
Stunning images of the month: May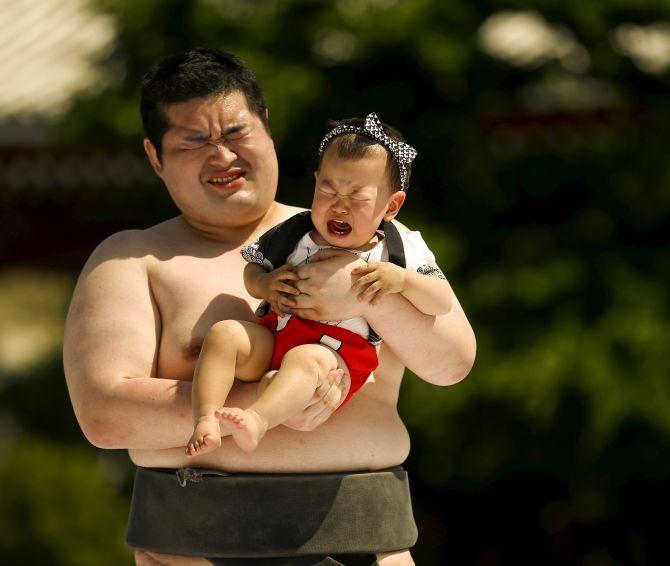 We present some of the best photographs clicked across the globe in the month of May.
May 30, 2015
PHOTOS: BJP protest outside Kejriwal's house over plans to buy 'snooping equipment'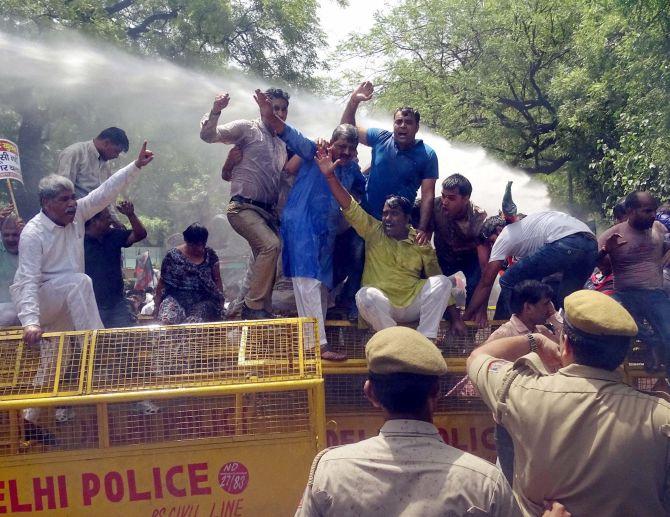 The Aam Aadmi Party and the Bharatiya Janata Party on Saturday trained guns at each other as they engaged in vociferous protests on separate issues in the national capital inviting police action.
May 29, 2015
PHOTOS: Desi kids co-crowned US Spelling Bee champs for second straight year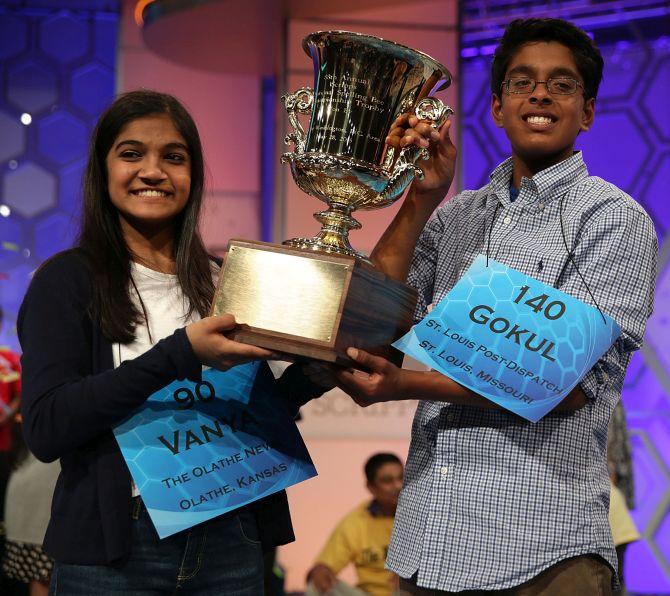 Indian American children maintained their complete dominance in the annual US Scripps National Spelling Bee contest by winning the prestigious competition for the eighth year in a row.
PHOTOS: Israel's Burning Man damages ancient archaeological site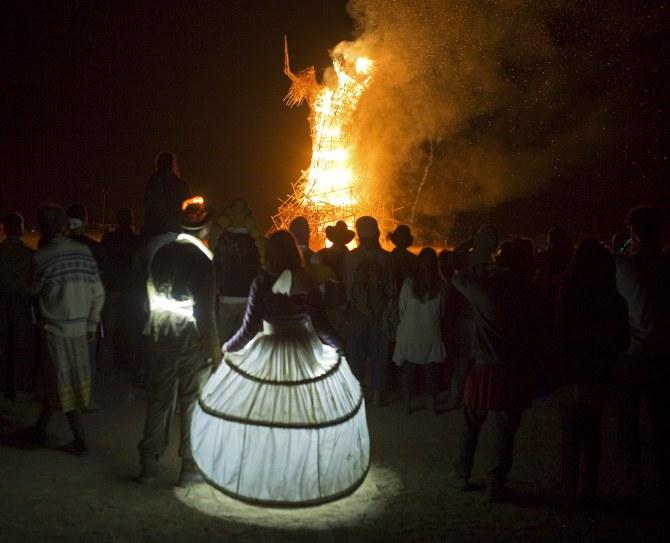 Israel's answer to Burning Man, the quirky, week-long 'Midburn', concluded on Sunday, in the country's southern Negev desert.
May 27, 2015
When Priyanka walked hand in hand with the people of Rae Bareli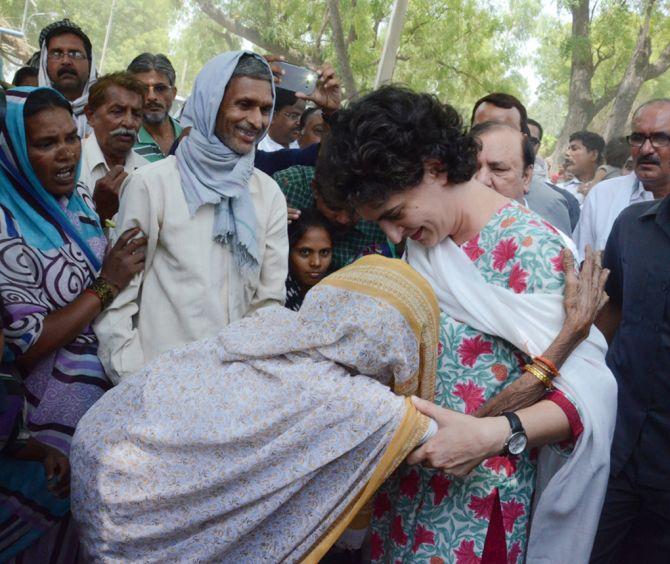 The Congress president's daughter held an exclusive session with the women.
As temperatures soar, death toll rises to 1,412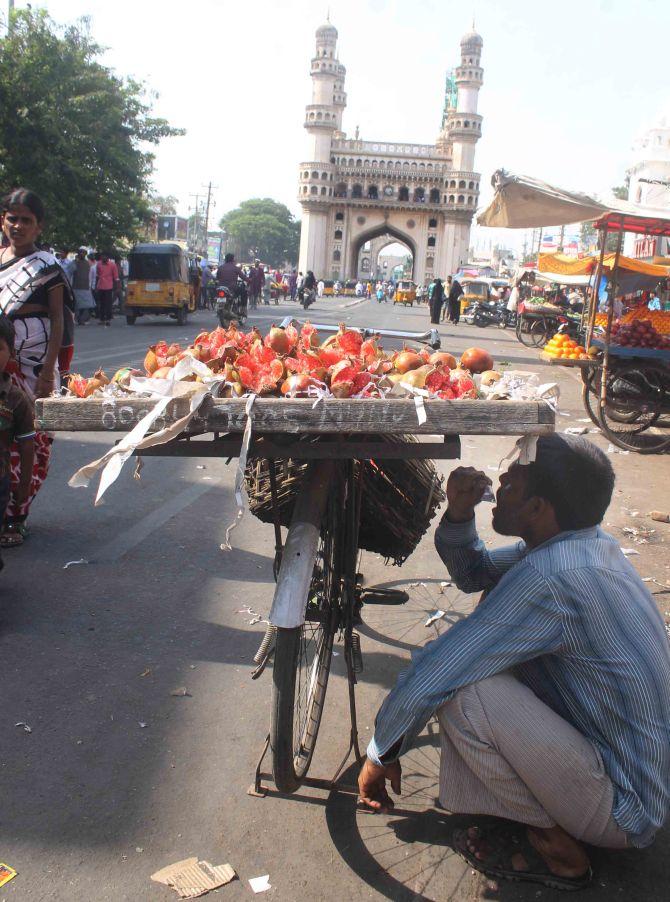 Stifling heat has killed more than 1,242 people in India in less than one week.
14 odd PHOTOS from a mad, mad world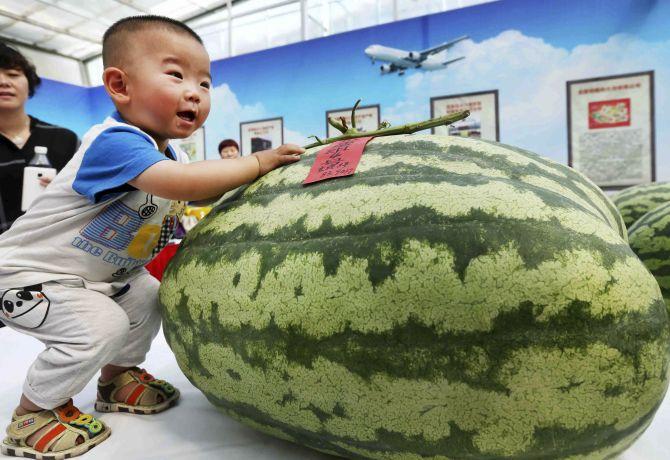 These images from across the globe tell that it is a crazy world out there!
BSF@50: A lensman's tribute to the Borderman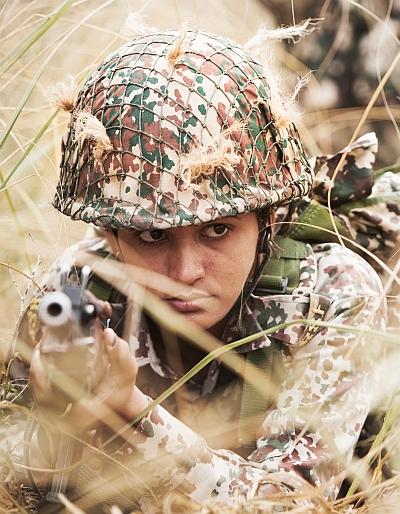 The paramilitary force, set up in December 1, 1965, is India's first line of defence and has the distinction of being world's largest border guarding force.
4 attackers killed as Taliban targets Kabul guesthouse again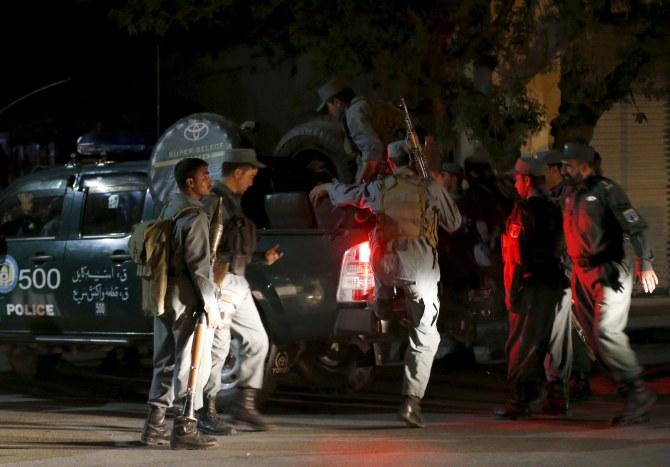 Four gunmen trying to storm a guesthouse in the diplomatic area of Afghanistan's Kabul have been killed, say the police.
PHOTOS: The gothic horror show!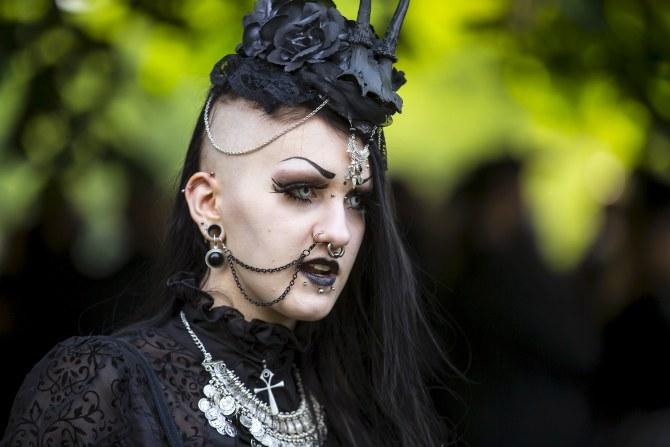 With 18,000 to 20,000 regular attendants, the Wave-Gotik-Treffen is one of the largest events of the Goth-, Cybergoth-, Steampunk and Rivethead- subcultures worldwide.
May 26, 2015
India's killer heat wave has now killed 852 people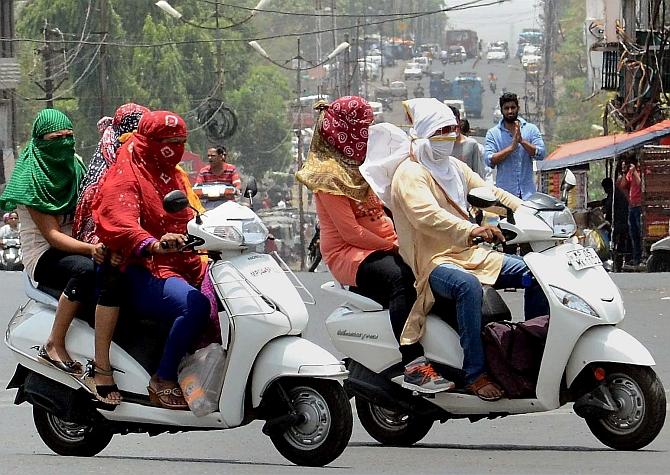 The death toll due to severe heat wave sweeping Andhra Pradesh has risen to 852 with the scorching weather claiming 202 lives in Prakasam district alone, officials said.
May 25, 2015
PHOTOS: Mathura all set for PM's mega rally to mark one year in office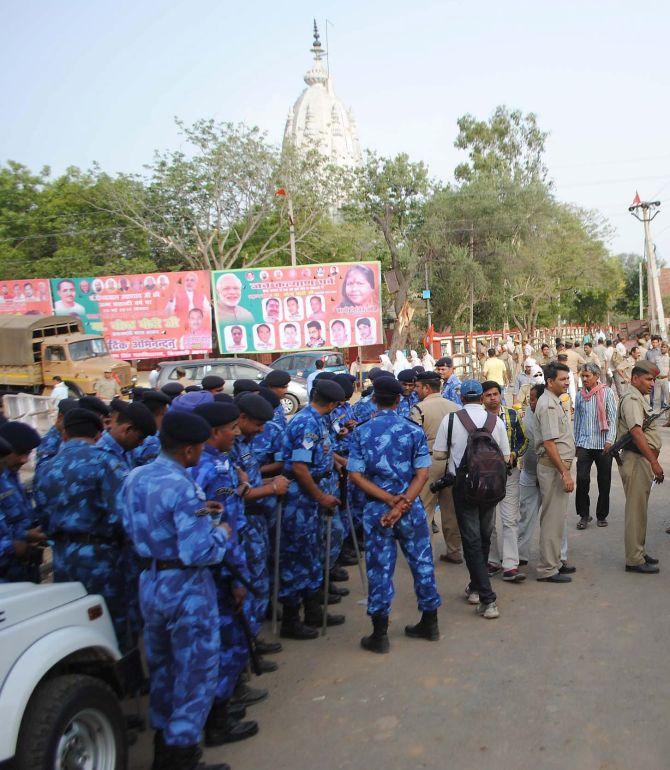 Preparations are in full swing for Prime Minister Narendra Modi's in Uttar Pradesh's Mathura, which will mark beginning of the Bharatiya Janata Party's celebration of its first year in office.
PHOTOS: Heat wave kills 500 in Andhra Pradesh, Telangana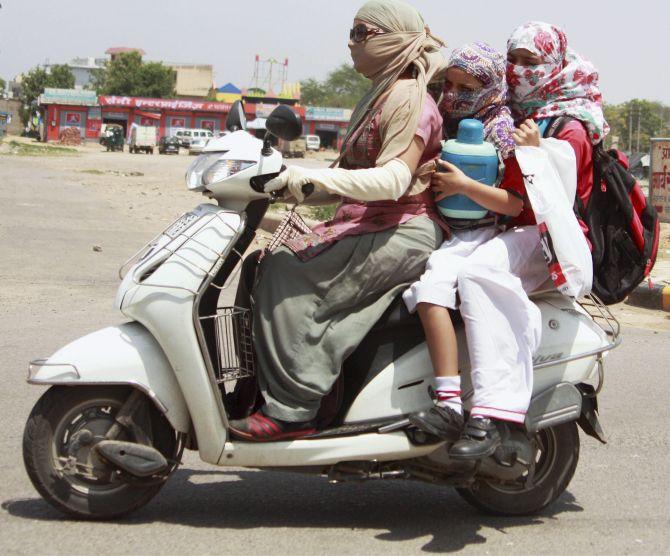 The death toll due to intense heatwave sweeping Telangana and Andhra Pradesh crossed the 500 figure on Monday, disaster management officials said in Hyderabad.
REWIND: Stunning PHOTOS of the week that was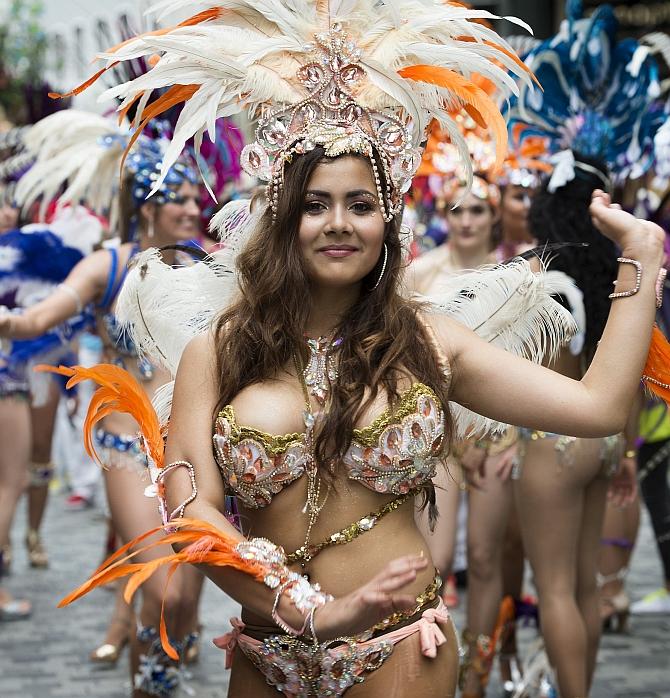 Here's a glimpse of all that happened around the world last week, in 16 images
May 22, 2015
Pakistani flags raised again in J-K, protesters clash with cops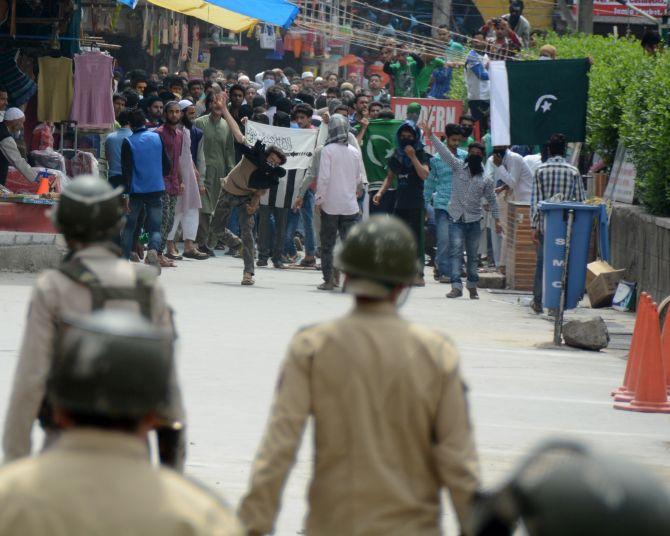 Violence once again erupted in the Kashmir Valley when a group of people began to wave Pakistan and terror group Lashkar-e-Tayiba flags.
May 21, 2015
PIX: Iconic ancient city in Islamic State clutches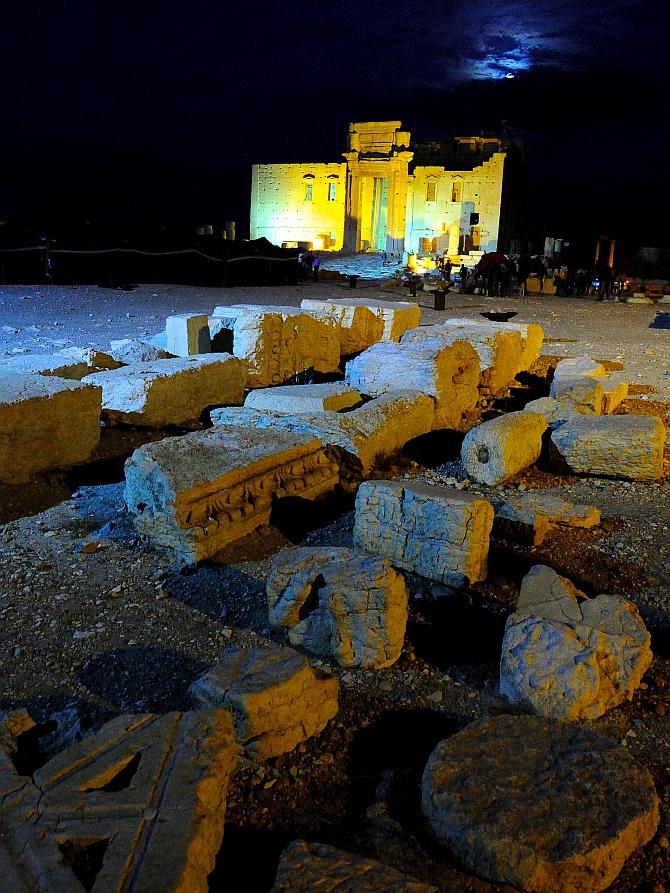 The fate of the UNESCO world heritage site of Palmyra seems to be tragically sealed as the Islamic State militia gained control of the Syrian city.
Delhi battles three fires in three hours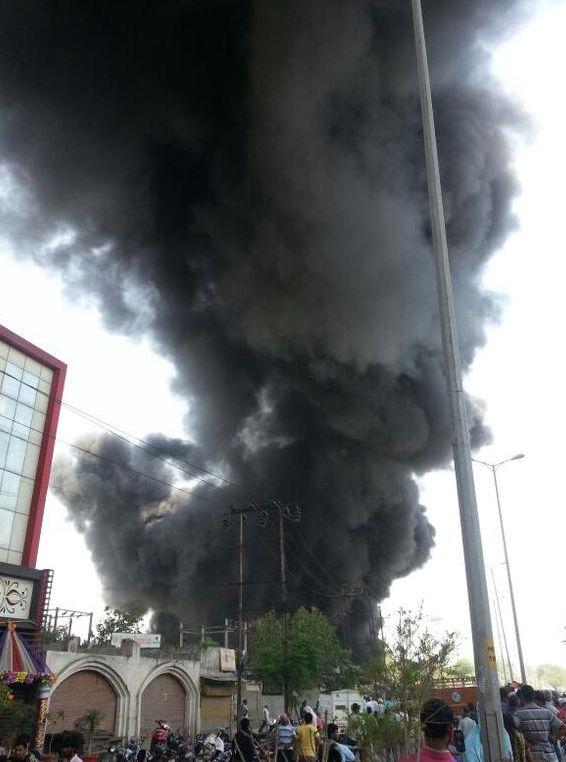 At least three fires broke out in different locations of Delhi today. No casualties were, however, reported from any of the fires.
Michelle Obama reveals how to workout FLOTUS style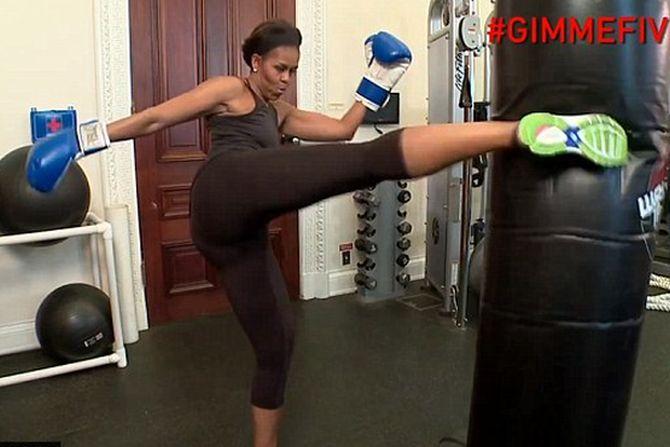 Michelle has posted a workout video online that shows her pumping iron, crunching abs and smacking a punch-bag.
When a fighter jet landed on the Yamuna Expressway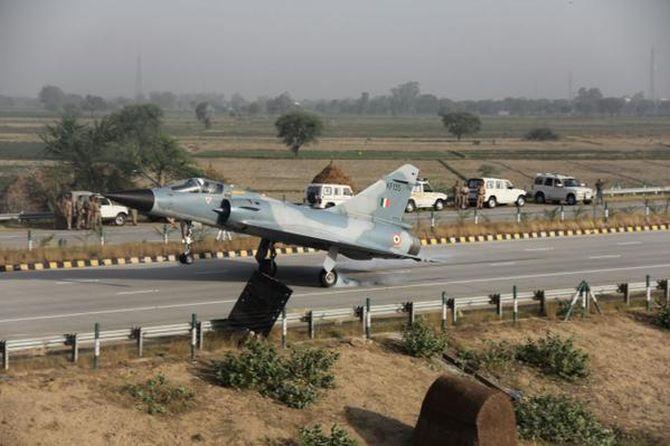 In a first, a Mirage 2000 fighter aircraft successfully landed on the Yamuna Expressway.
May 20, 2015
PHOTOS: Sizzling summers are here!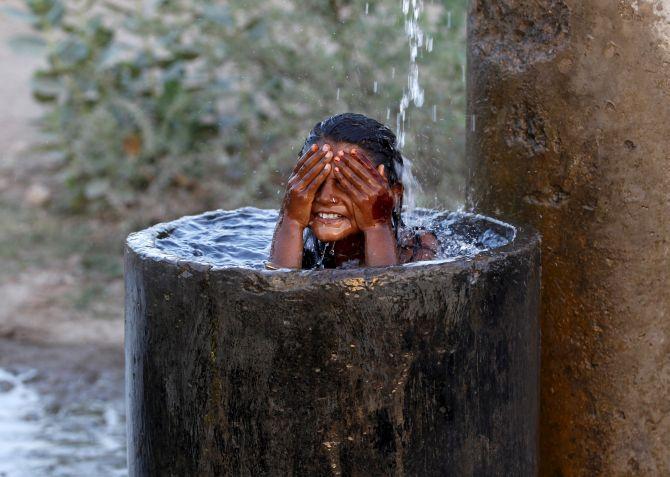 Here are some pictures of people who found interesting methods to avoid suffering under the fiery sun.
Odd PHOTOS from a mad, mad world!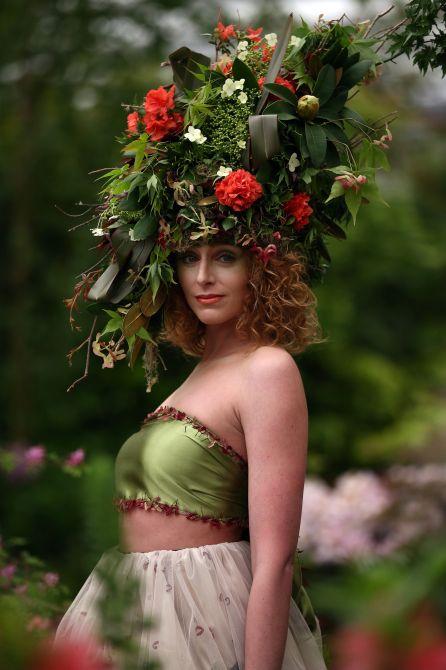 These images from across the globe tell us how crazy the world out there is!
May 19, 2015
Of talks and trade: Modi's South Korea visit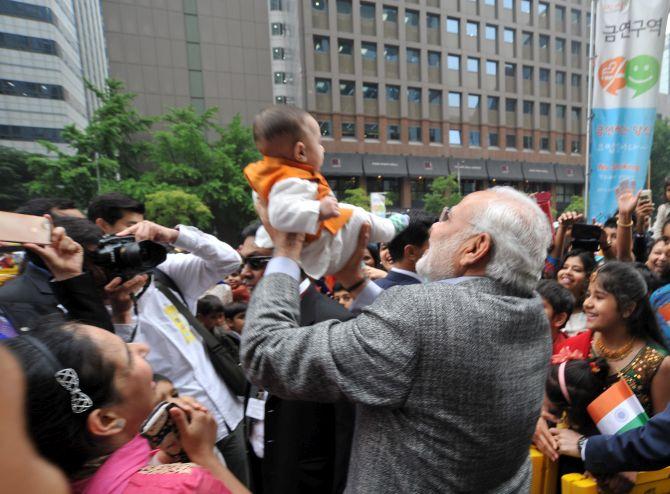 Here are some of the best moments from PM Modi's South Korea visit
May 17, 2015
PHOTOS: The adventures of Modi in Mongolia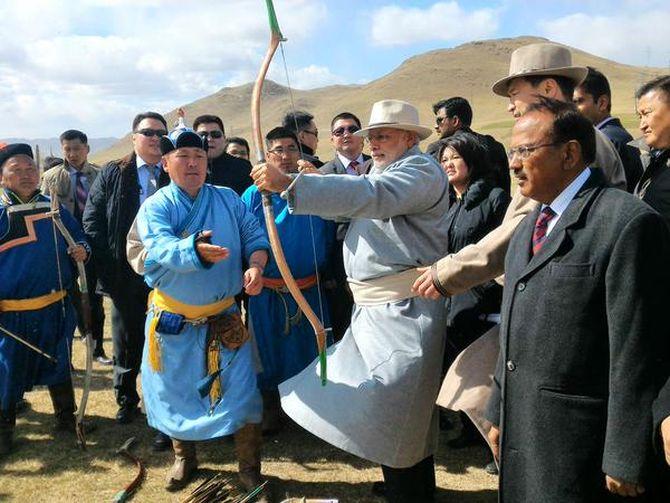 Prime Minister Narendra Modi had a rather eventful day out in Mongolia. Amid his packed schedule he made time to play a fiddle, try his hand at archery and of course click a selfie. :)
Modi's 'selfie diplomacy' moves to Mongolia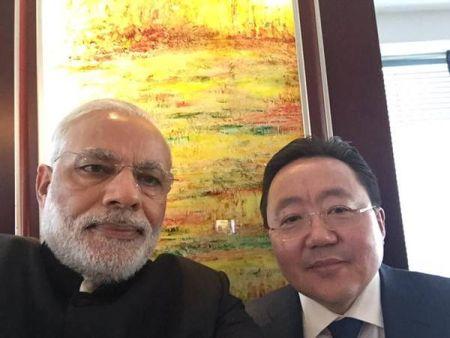 Prime Minister Narendra Modi, whose selfie with Chinese Premier Li Keqiang grabbed eyeballs across the globe, on Sunday, extended his 'selfie diplomacy' to Mongolia by clicking one with President Tsakhiagiin Elbegdorj.
Mongolia is an integral part of India's Act East Policy: PM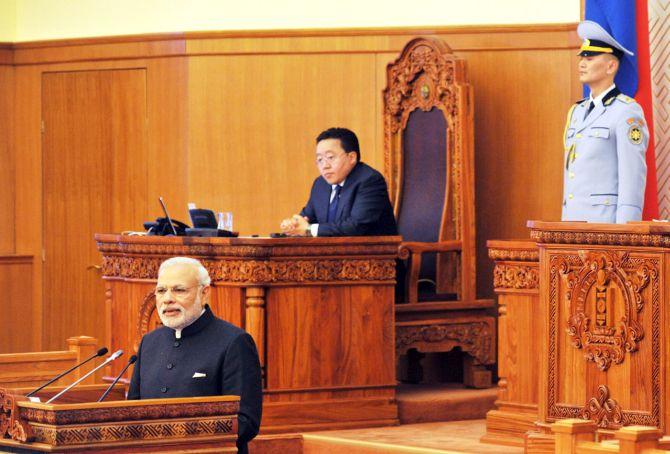 Prime Minister Narendra Modi on Sunday discovered a "special connection" with Mongolia when he entered the Buddhist country's Parliament to deliver a speech, the first foreign leader to do so on Sunday -- a holiday.
May 16, 2015
Meet Prince Harry, the crocodile hunter!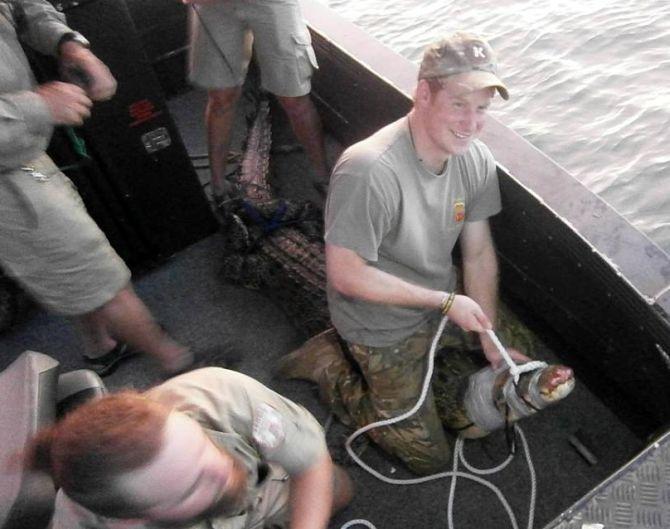 Photographs of Prince Harry wrestling a monster crocodile in the Northern Territory from the water have emerged
May 15, 2015
PHOTOS: After business, it's time for yoga, selfies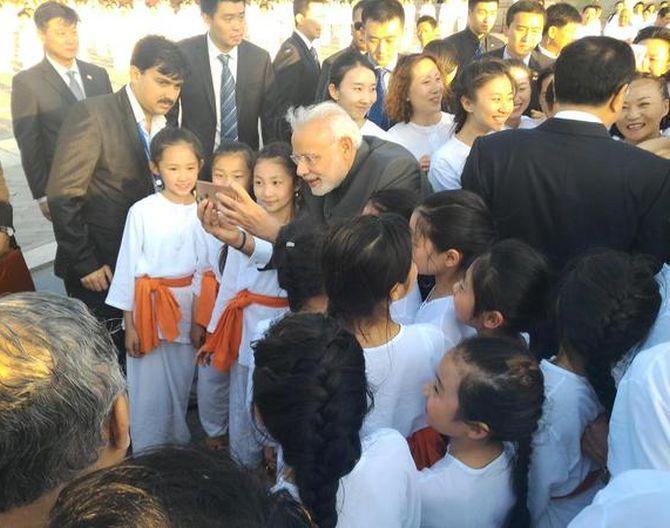 Here are some of the best moments from Day 2 of his visit.
Rahul 'padyatra': Modi govt trying to snatch farmers' land for corporates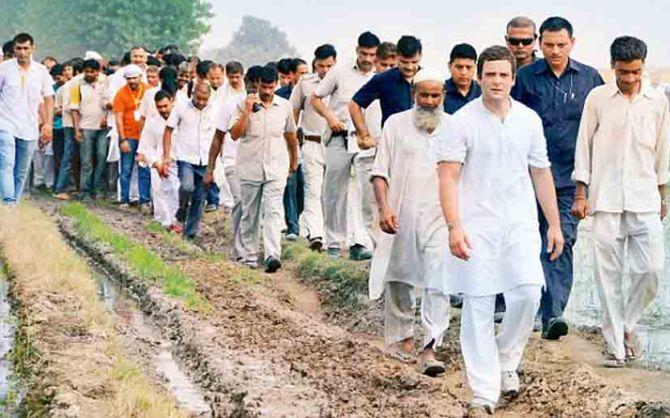 Gandhi kicked off his 15-km padyatra from Koritical village in Adilabad district to highlight the problems faced by farmers.
Seen these stunning glimpses of India from space?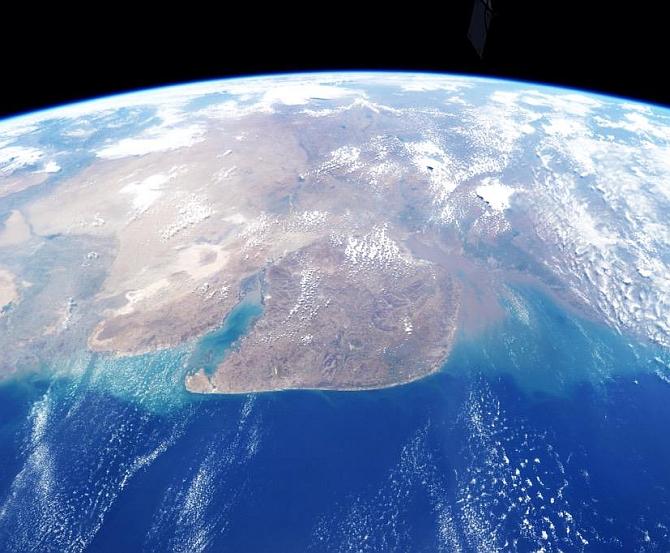 For the past week, NASA astronaut Terry W Virts has been flying over India. He has chronicled his journey through numerous stunning images and fabulous videos on his Twitter page.
WTF News! It's Weird, True and Funny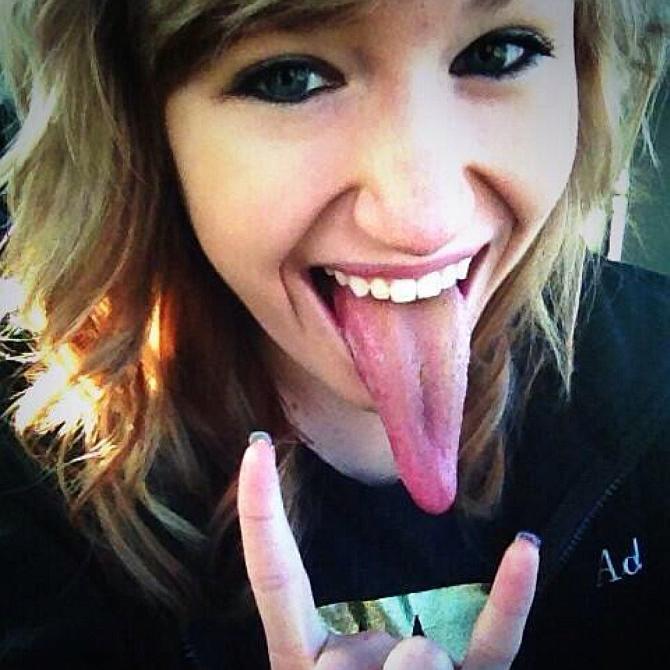 Here's your weekly digest of the craziest stories from around the world.
May 14, 2015
Modi in China: To the 14th Century and back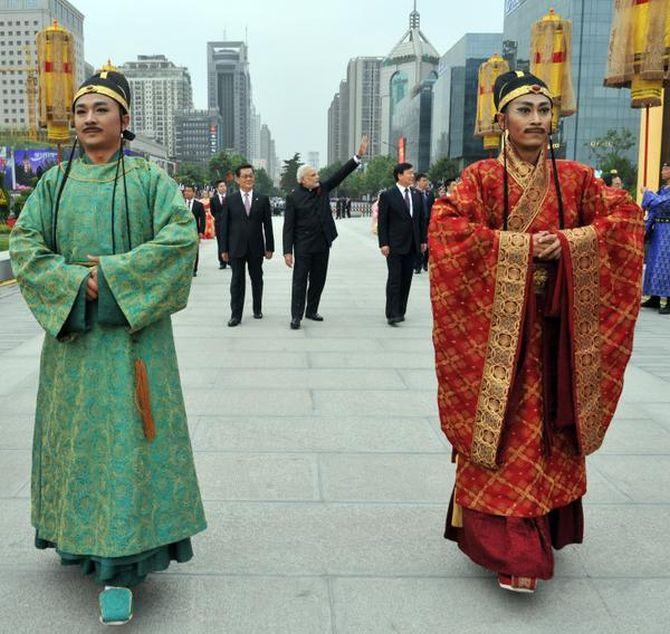 Prime Minister Narendra Modi on Thursday visited the Xi'an City Wall which is the oldest and the largest surviving wall of its kind in China and was given a traditional Tang dynasty welcome at the historic site.
Jolted again: Toll in fresh Nepal quake climbs to 110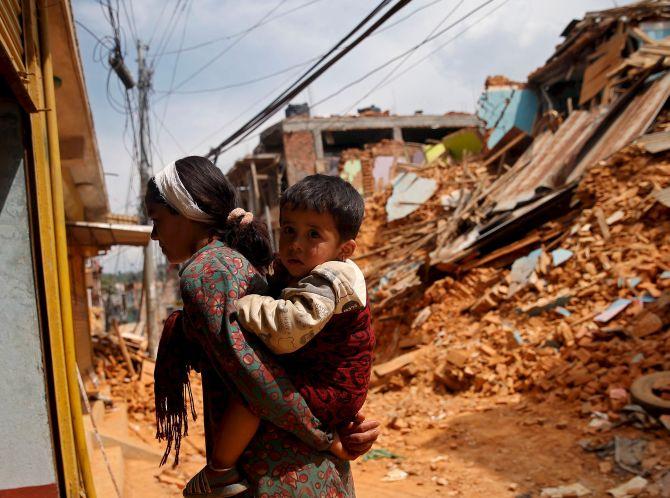 The death toll in Nepal from this week's earthquake has risen to 110, authorities said on Thursday even as a fresh tremor, measuring 4.5 on the Richter scale, was felt in Nepal on Thursday.
Modi's China visit: Among monks and warriors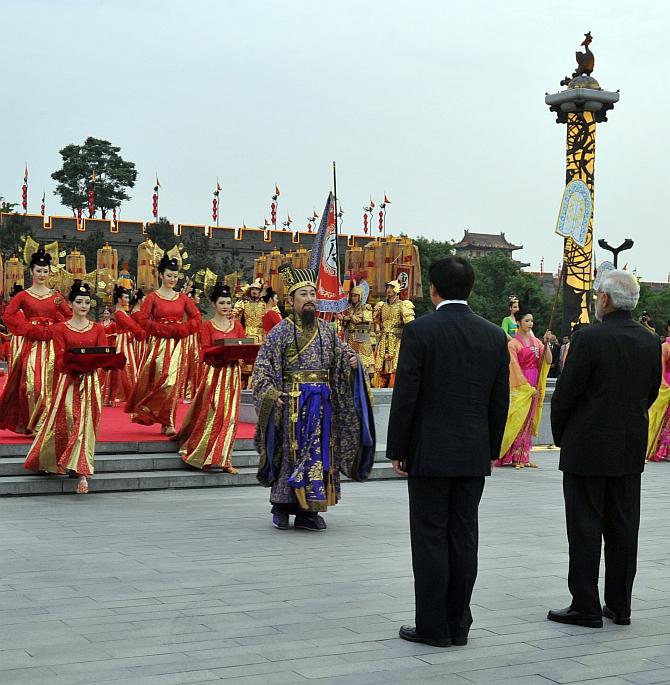 Some of the best moments from PM Modi's China visit.
May 12, 2015
Indian PMs who made it to the Time cover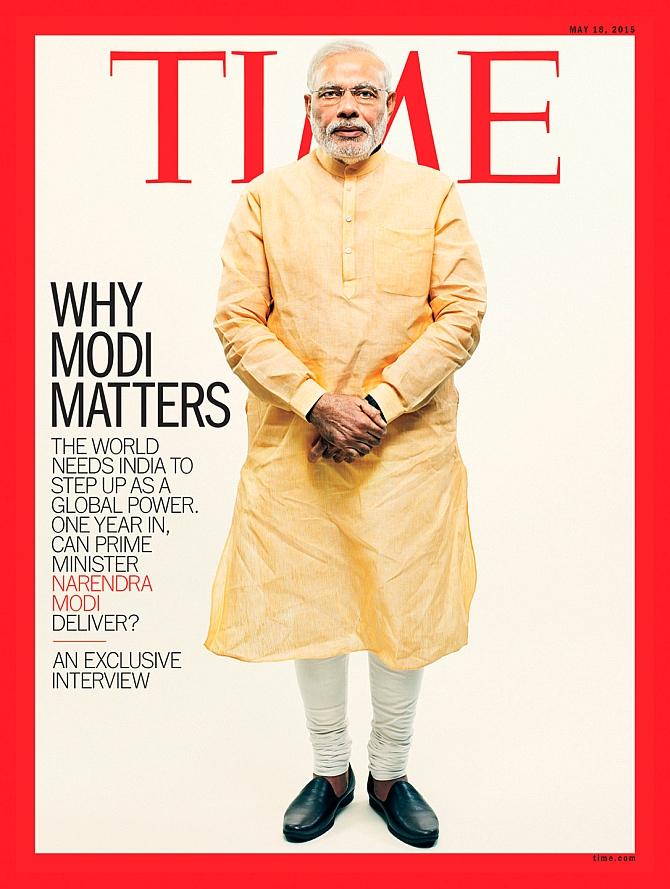 Prime Minister Narendra Modi has made it to the cover of the Time Magazine. A look at 5 other Indian PMs who have been featured in the past.
This probably is the toughest contest on the planet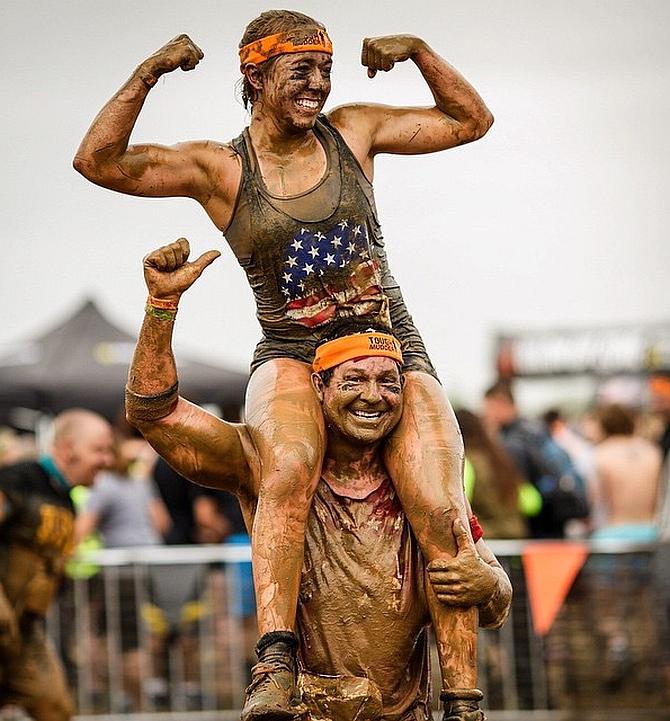 Are you one of those who dare to defy the odds? Are you game on taking on obstacles that push the barriers of physical strength and mental grit? Then Tough Mudder is where you ought to be.
This Picasso masterpiece sets world record for art at auction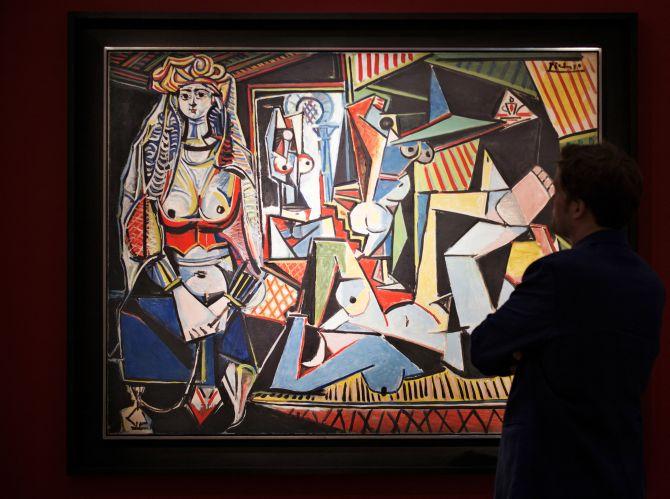 A painting by Pablo Picasso has set a new world record for the most expensive artwork to be sold at an auction.
May 11, 2015
IN PICTURES: Tornadoes, floods and hail batter Central US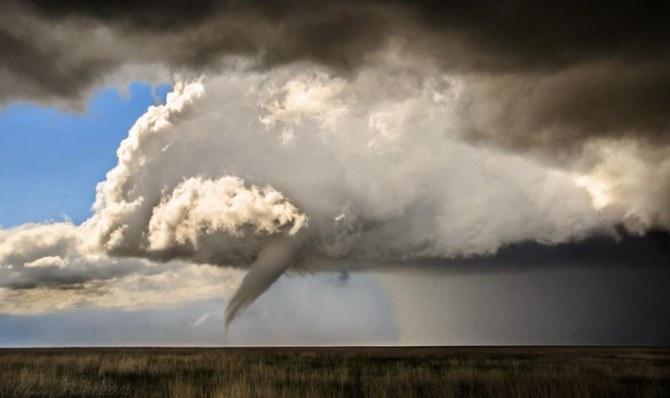 Six people were pulled out of their homes after thunderstorms dumped up to six inches in the southern part of Oklahoma City, prompting authorities to issue a flood warning.
PHOTOS: Stunning moments from the week gone by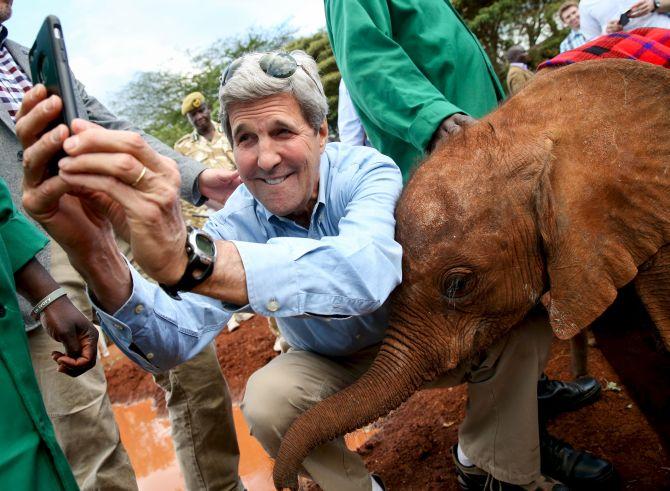 Moments that shaped the world from the week that was
May 09, 2015
PIX: On 'Victory Day', Russia displays its might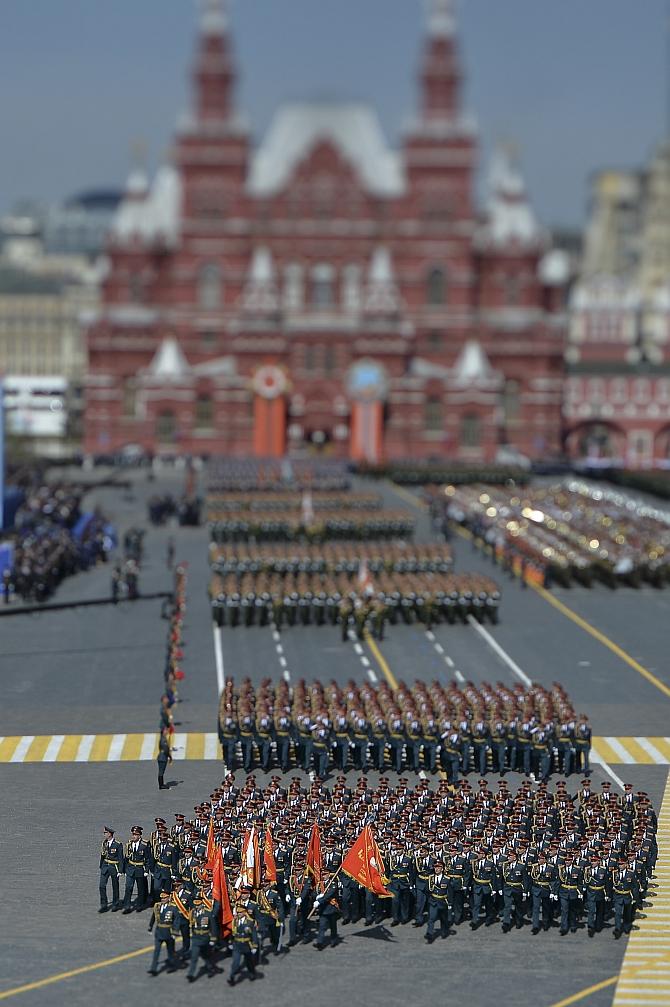 Russia on Saturday staged a grand military parade in Moscow to commemorate the 70th anniversary of its victory over Nazi Germany in the presence of several world leaders, including President Pranab Mukherjee, even as Western powers boycotted the event due to a standoff over Ukraine.
Indian Army wins hearts at Russia's Victory Day parade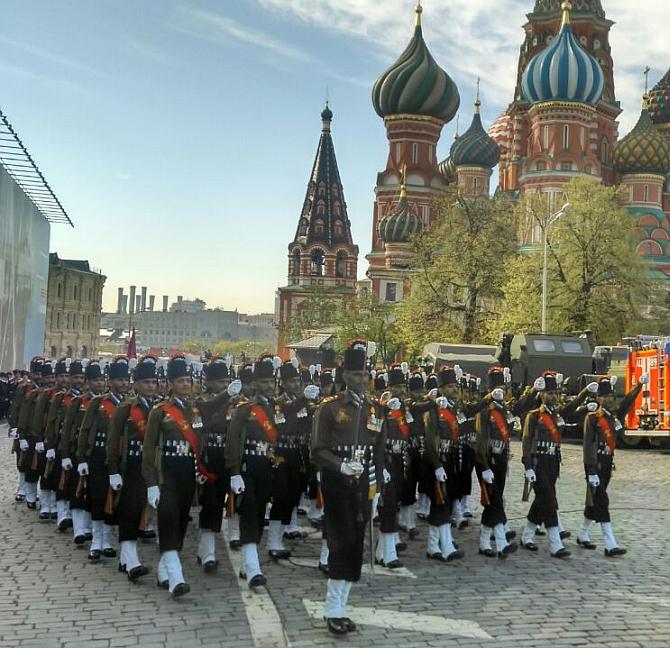 The 75-member team of Indian Army's Grenadiers, which on Saturday participated in the event to commemorate Russia's victory in the Great Patriotic War, won hearts in Moscow for their marching skills, height and uniform.
May 08, 2015
Meet Britain's youngest MP since 1667!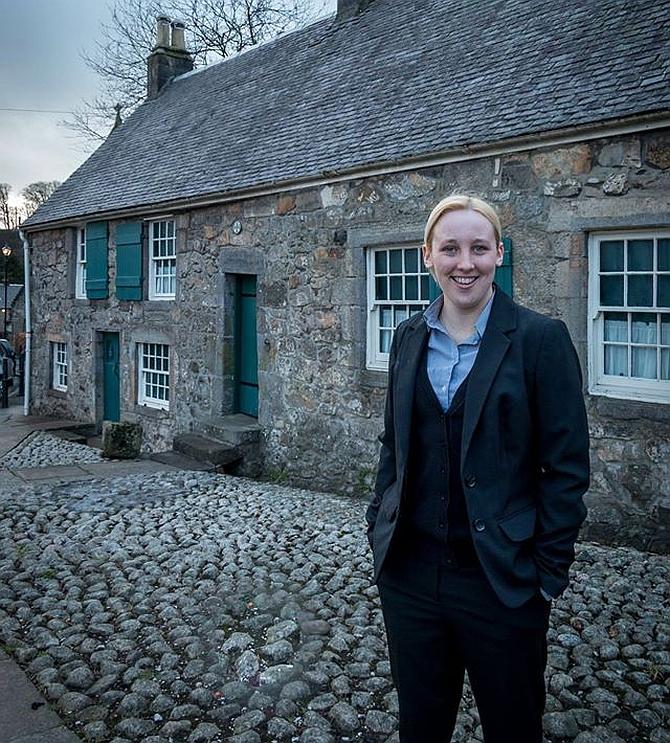 Black will be the youngest MP since 13-year-old Christopher Monckton won in 1667 when she takes her seat at Westminster later this month.
WTF News: It's Weird, True and Funny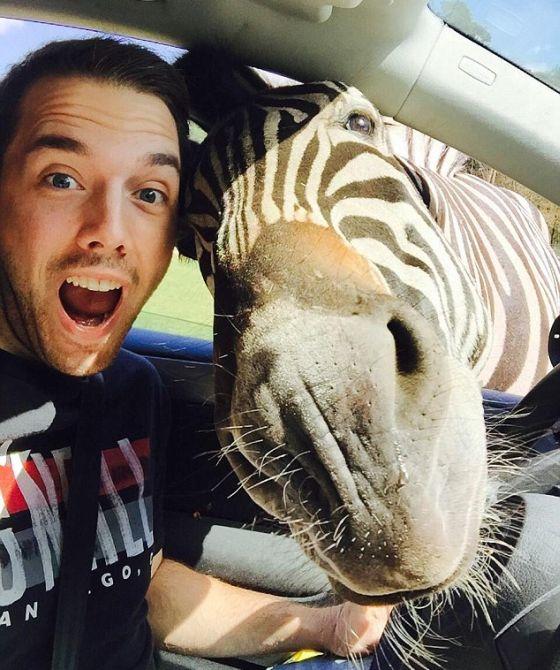 This week's collection of stories that prove we live in a truly mad, mad world
May 07, 2015
UK polls: Millions begin casting votes in knife-edged general election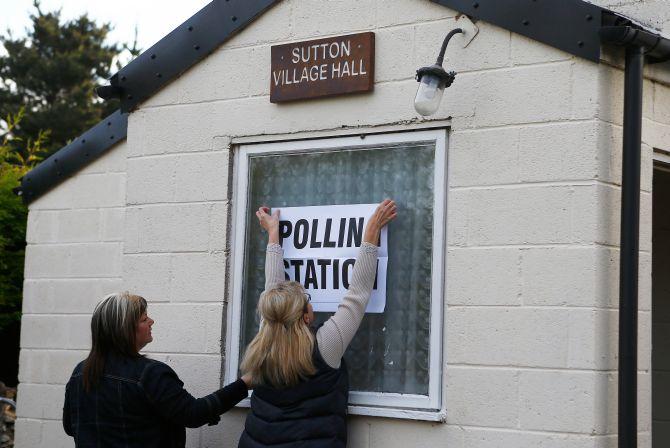 Polling began on Thursday in the United Kingdom in one of the closest general elections seen in decades.
Welcome to the home of strange!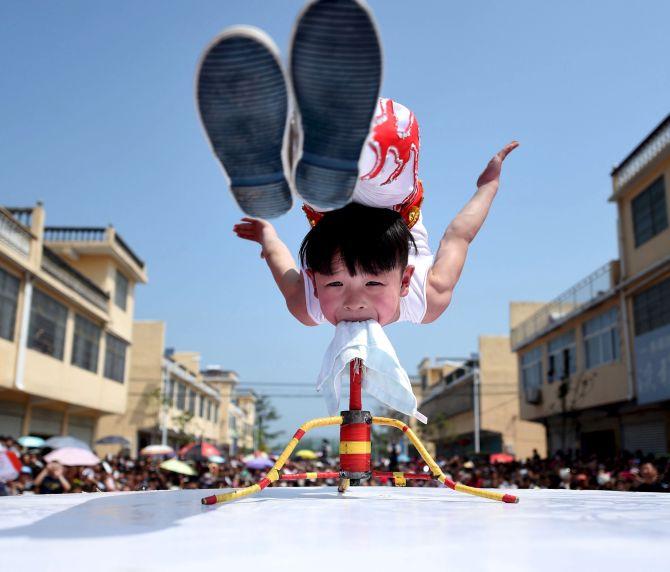 These photos prove we live in an odd, odd world!
Clowns bring smile and laughter in quake-hit Nepal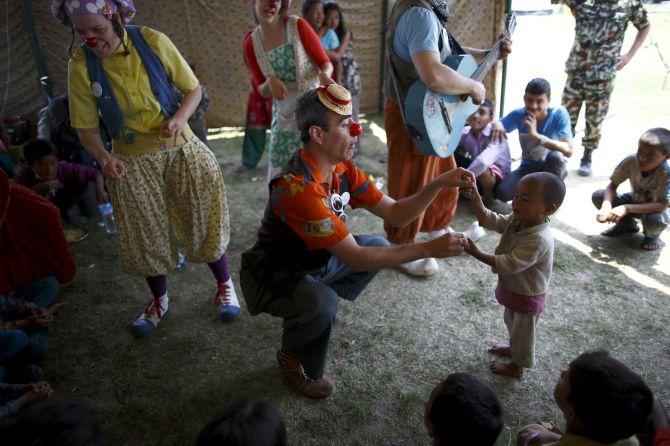 In Nepal, where more than 7,500 people were killed and hundreds of thousands left homeless by the earthquake, therapeutic medical clowning is being used as an integrated component of care for adult and pediatric patients and their families.
May 06, 2015
UK: Leaders in last minute dash on eve of 'most unpredictable' polls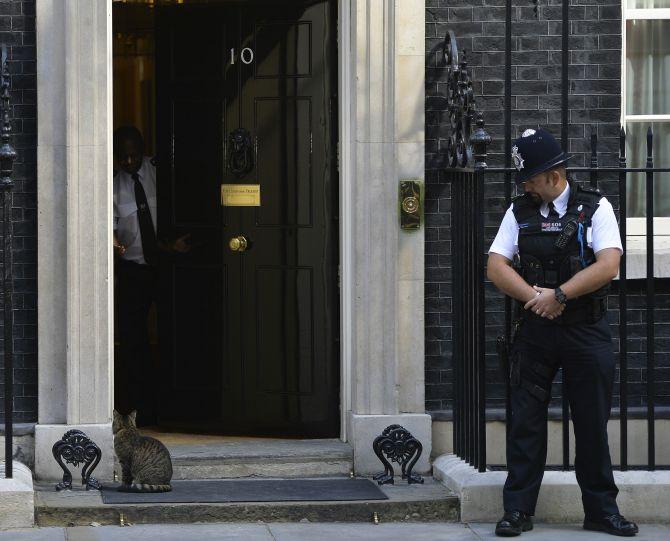 United Kingdom will go to the polls on Thursday. This election is being dubbed the most unpredictable of all time.
Post-quake renovations begin in Nepal; toll nears 7,700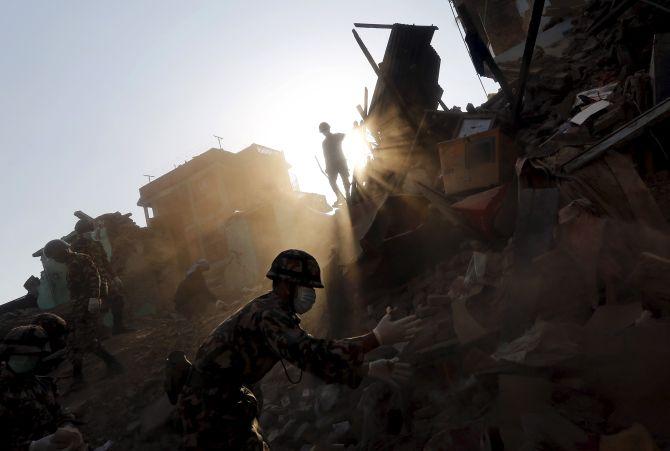 Nepalese authorities initiated post-quake renovation works on Wednesday, including inspection of homes to evaluate safety.
The key witnesses in the Salman Khan case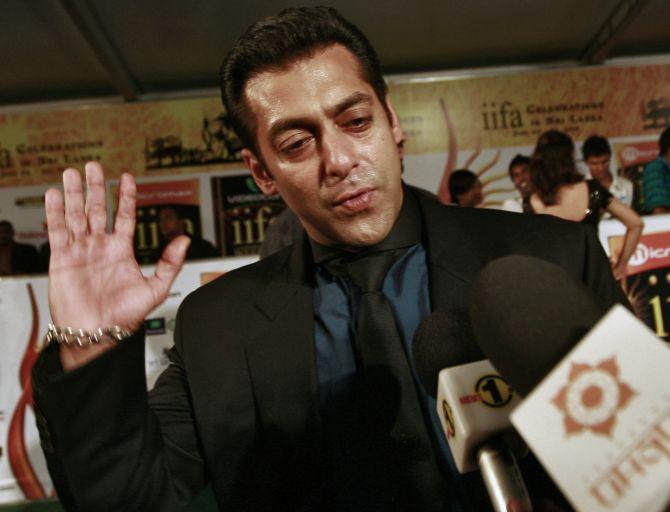 Rediff.com presents the key witnesses involved in the Salman Khan 2002 hit-and-run case.
It's AMAZING what Indians do to set World Records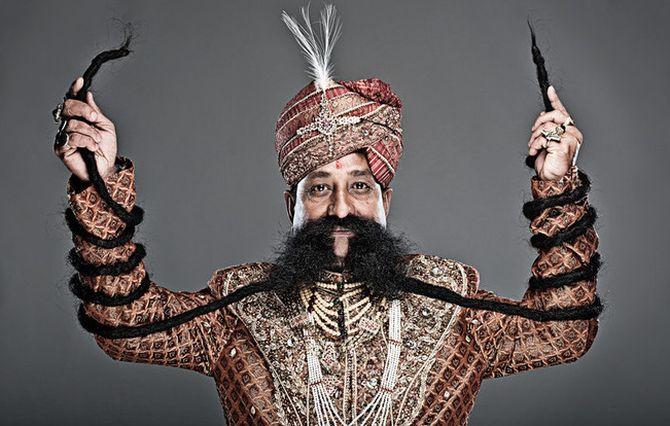 Rediff.com presents some of the oddest Guinness world records held by Indians.
May 05, 2015
REWIND: Best images in the past 24 hours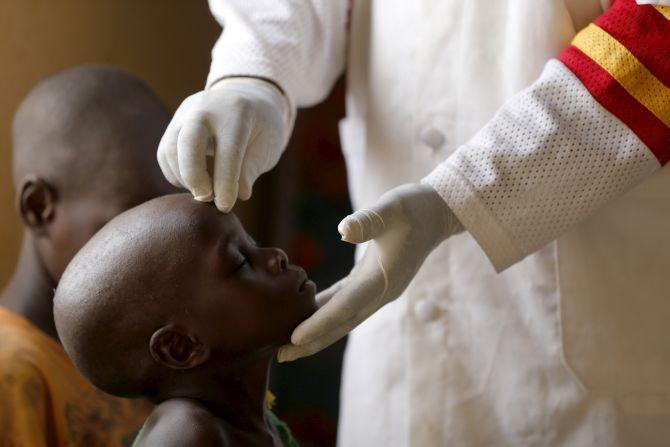 Here's a collection of some of the best photos from around the world shot in the last 24 hours.
May 04, 2015
'May the Fourth be with you!' Fans celebrate Star Wars Day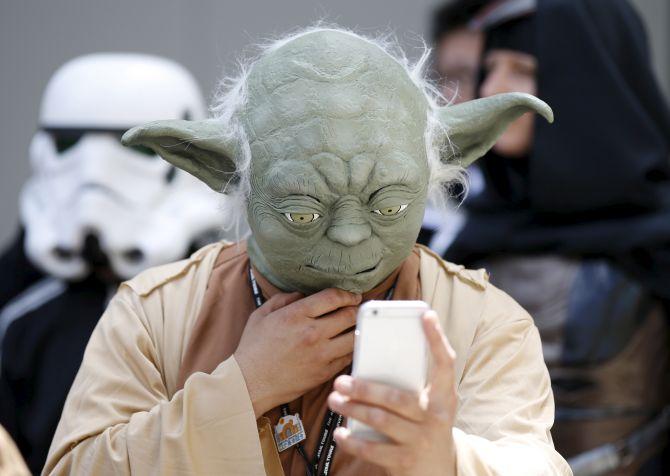 Star Wars fans, who are eagerly awaiting the release of the seventh film in the saga, Star Wars: Episode VII - The Force Awakens, love to meet up and dress up as their favourite characters to watch the movies together and socialise.
Nature's fury turns Nepal into a ghost town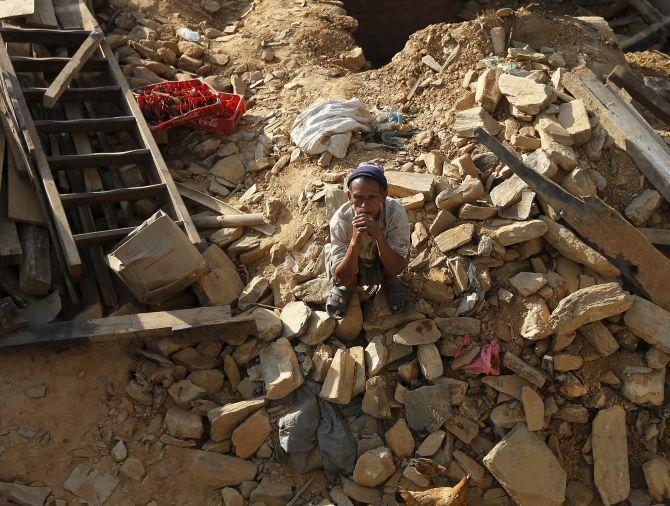 The scenic mountainous valley, which earlier bustled with presence of foreign tourists, now wear a deserted look. Kunal Dutt reports
48 hours, 5,500 migrants rescued: Italy's daring rescue ops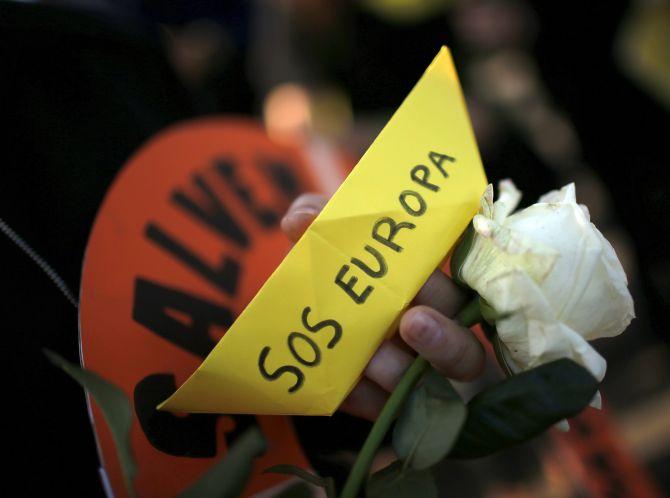 The Italian coastguard coordinated one of its largest rescue operations to date, saving 5,500 people on Saturday and Sunday as smugglers took advantage of calm seas to send migrants across the Mediterranean.
May 03, 2015
Here come the grandparents and aunt Pippa: Royal baby gets first visitors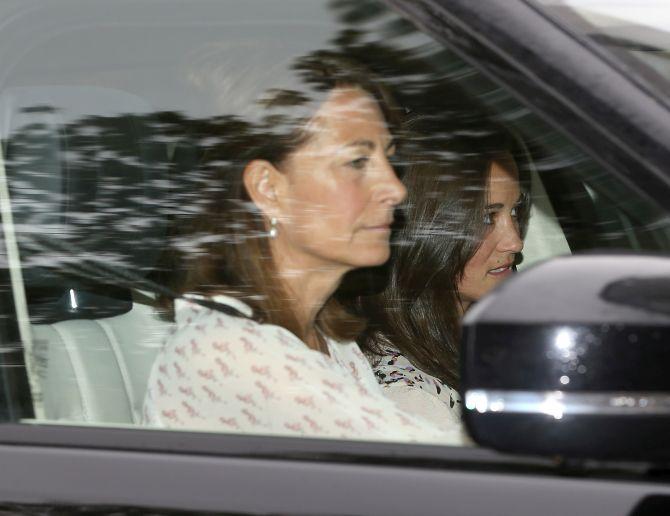 Close family members on Sunday visited Kensington Palace to see Prince William and wife Kate Middleton's new baby daughter.
Alice, Charlotte, Diana? Guessing game for Britain's royal baby's name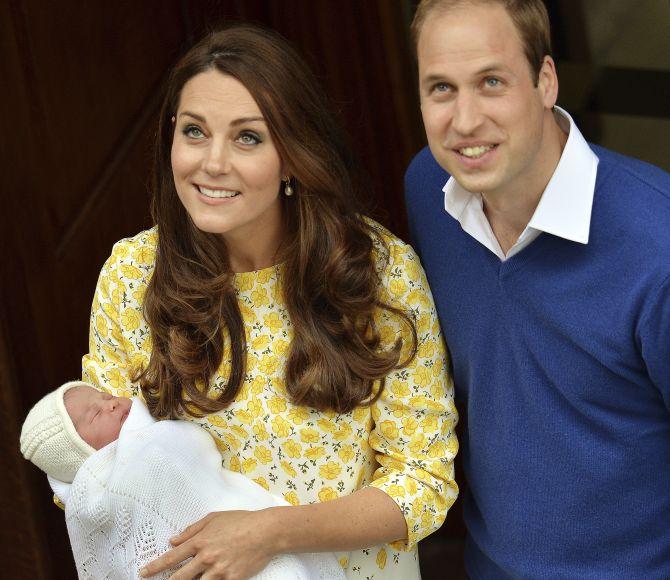 Britain's newborn princess has spent her first night at home in Kensington Palace - but the guessing game continues over what her name will be.
Yoga fever reaches Capitol Hill in US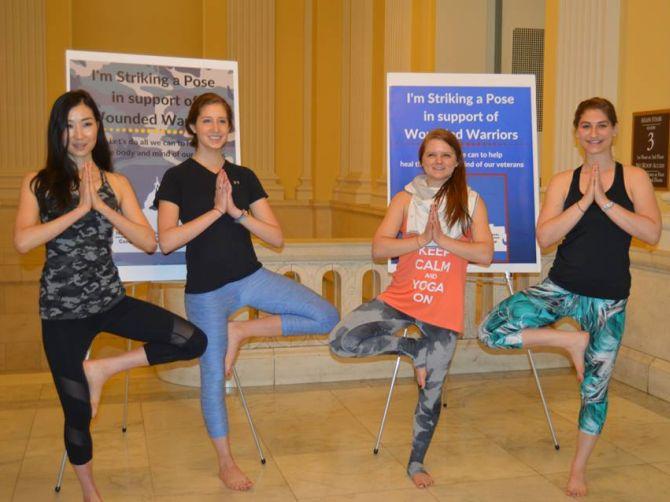 Yoga has conquered the last bastion in the US -- the Congress
Death toll exceeds 7,000 as Nepal says no chance of more survivors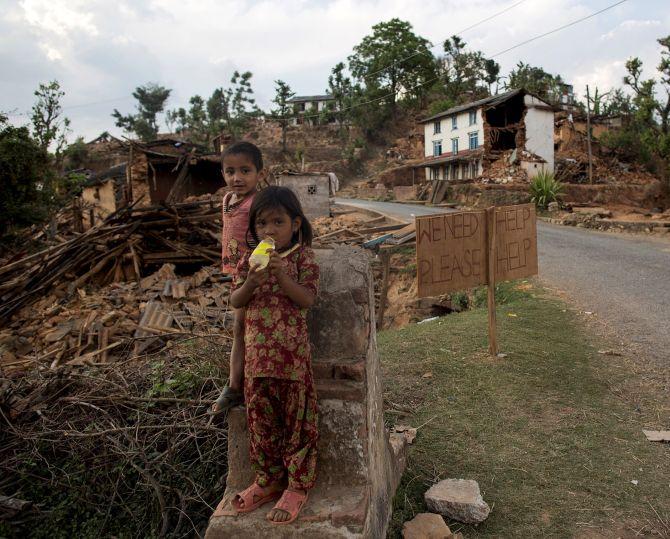 The death toll in Nepal's devastating earthquake on Sunday jumped to 7,040 with another 14,123 people injured.
April 30, 2015
After quake, frustrated Nepalese protest over slow relief efforts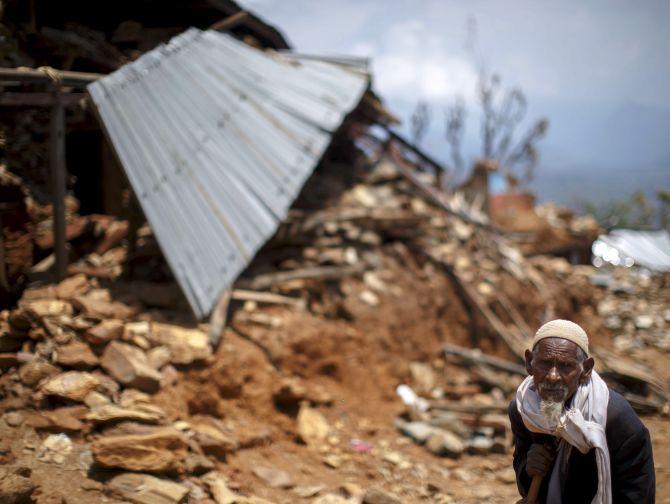 People in the interior parts of the country are yet to receive any aid.
PHOTOS: When Obama took a tea break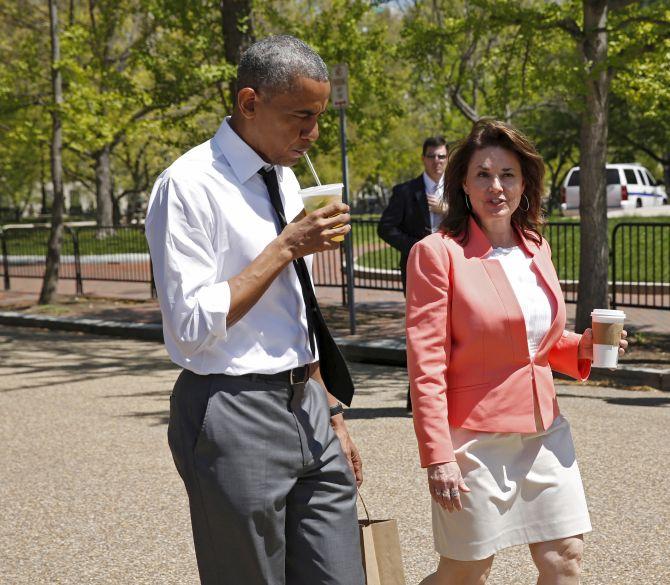 US President Obama -- accompanied by National Teacher of the Year Shanna Peeples of Amarillo, Texas -- left the White House for a block-long walk to a tea shop.
'Don't lose heart, we will stand by you,' Rahul tells Vidarbha farmers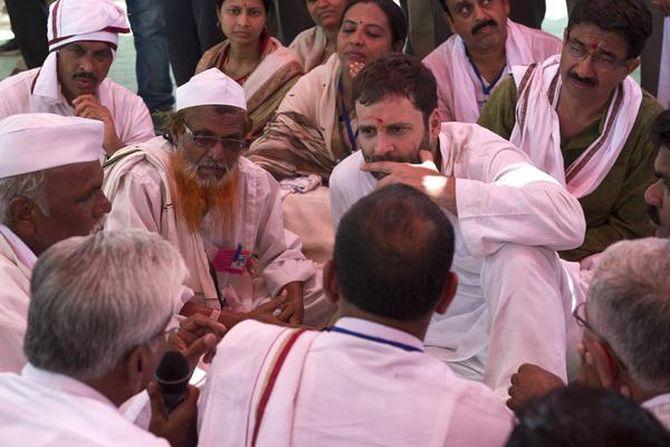 Congress Vice President Rahul Gandhi on Thursday accused the Modi government of "abandoning" farmers at a time when the country is faced with an agrarian crisis.
April 29, 2015
82 hours trapped with three dead bodies: A survivor's story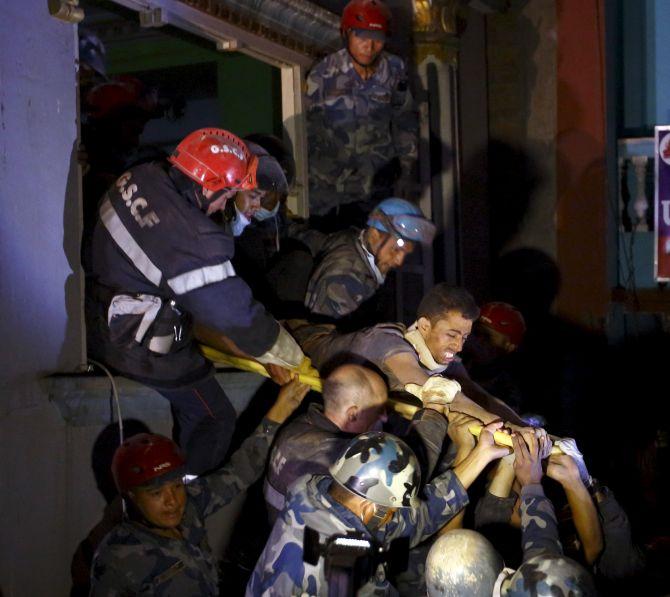 The man was trapped inside a hotel in Nepal for 82 hours alongside three dead bodies before a search-and-rescue team pulled him out.
Top 10 world leaders who reap the power of hashtag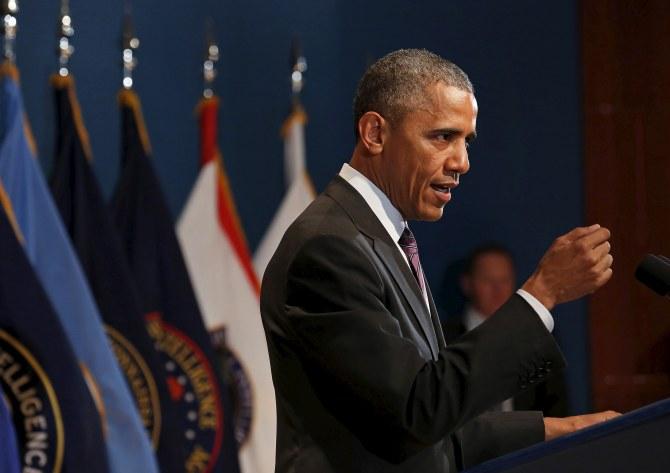 According to Twiplomacy, a study conducted by global public relations and communications firm Burson-Marsteller, United States Barack Obama is the most followed leader on the microblogging site, followed by Pope Francis, Narendra Modi, and Turkey President Recep Tayyip Erdogan and the White House.
April 28, 2015
PIX: Of shattered lives and a country in ruins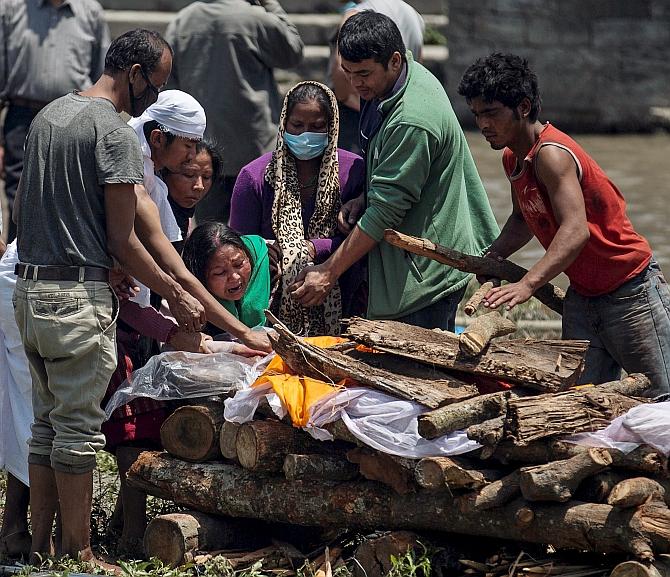 Capital city Kathmandu is in ruins, its wounded residents live with fear and hunger in camps, fearful of returning to their homes... if they are still standing.
ICYMI: Top moments from the week gone by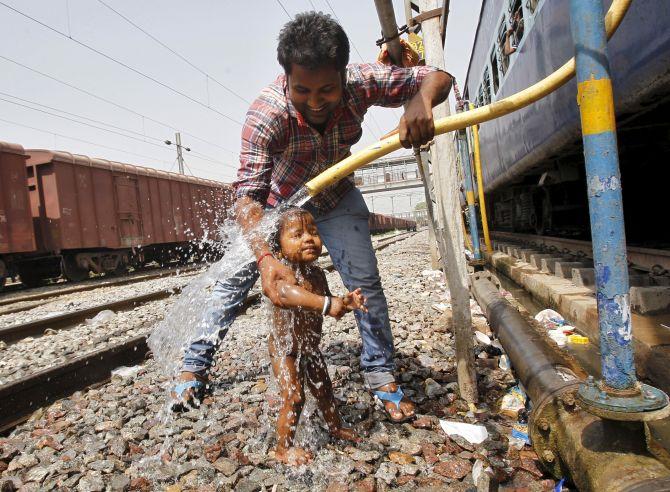 Catch up on all the events that shaped the world last week.
April 27, 2015
'Mini-cyclone' kills 45, injures 200 in Pakistan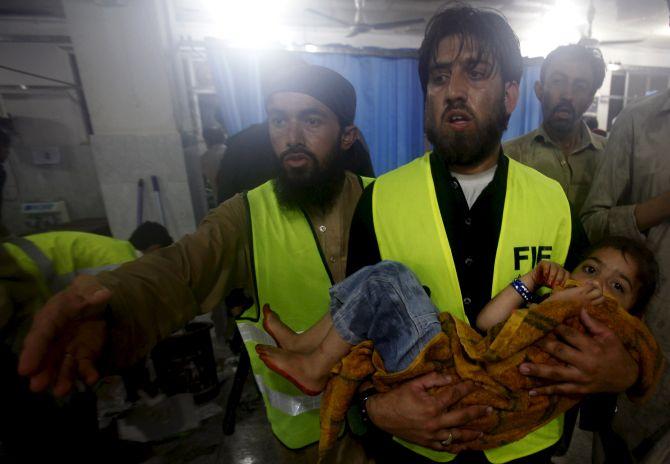 A 'mini-cyclone' coupled with torrential rains tore through northwest Pakistan's Peshawar Valley.
Tourists fight to leave Nepal, chaos at Kathmandu airport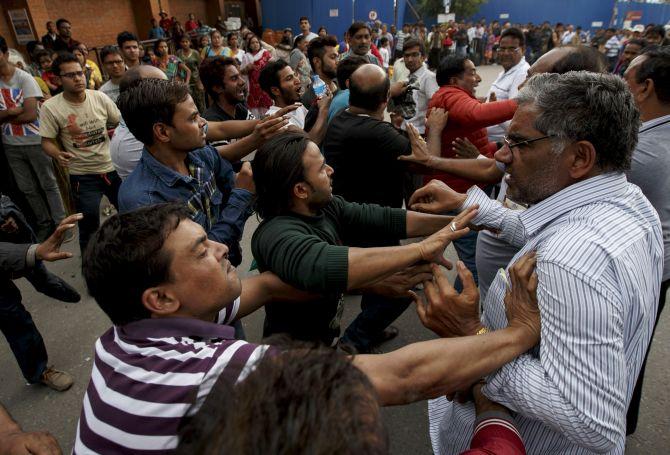 Chaos prevailed at Nepal's only international airport with hundreds waiting to be evacuated from the earthquake-ravaged country.
In Nepal, rescue teams race against time to help people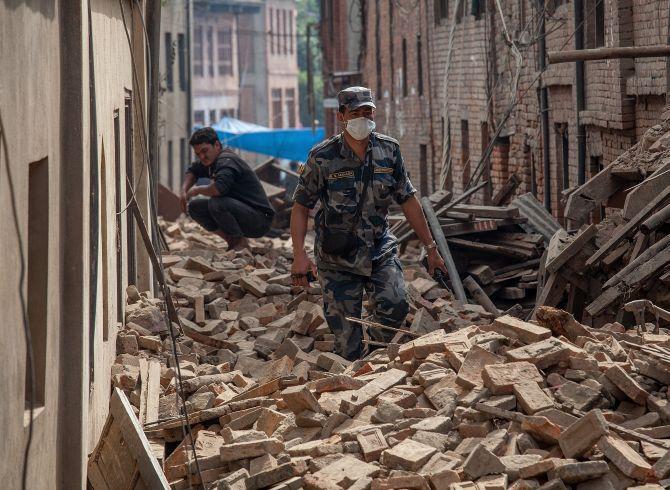 Ten teams of the NDRF have begun full-fledged relief and rescue operations on the third day of the disaster in quake-hit Nepal.
History comes crashing down in Nepal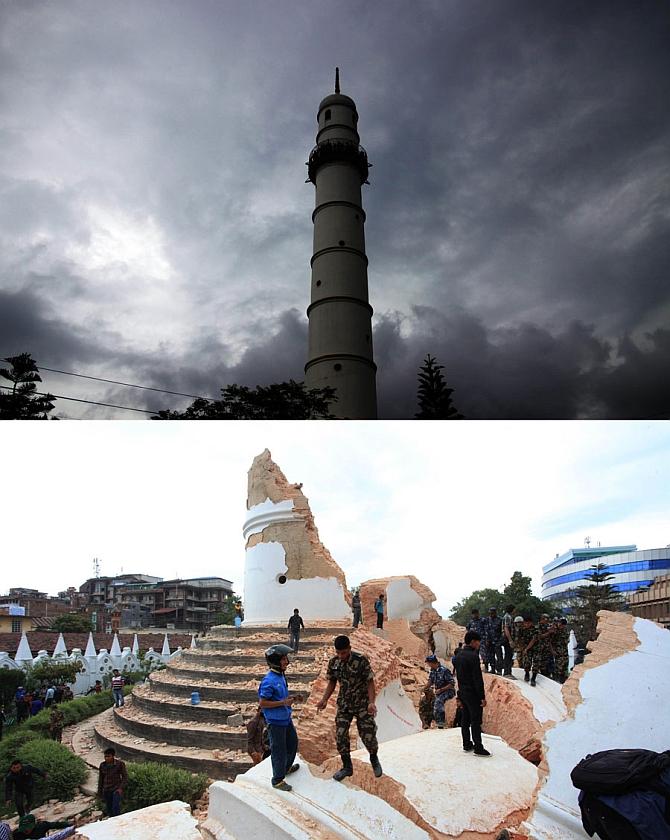 A comparative feature that reveals the true extent of the damage caused by Saturday's earthquake to Nepal's history.
India evacuates 2,246 citizens from Nepal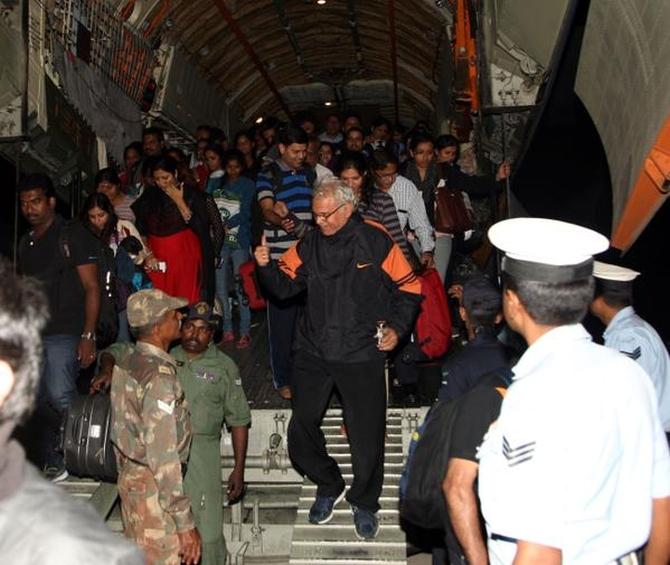 The Indian Air Force flew 12 sorties to bring back Indian nationals, including many children.
Death toll in Nepal hits 4,000 amid hunt for survivors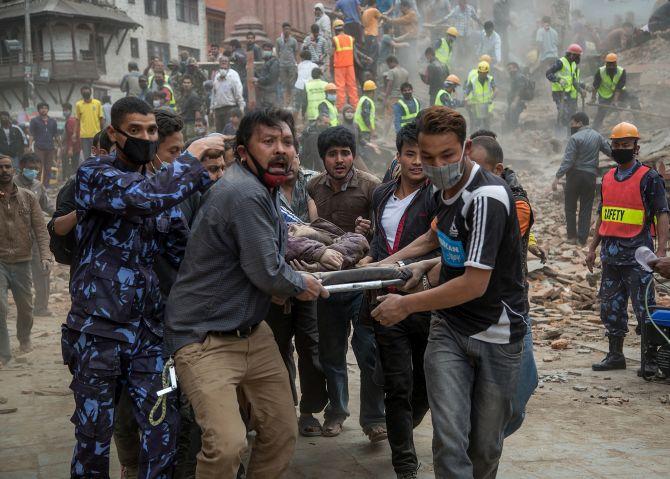 The death toll from Nepal's earthquake has risen to over 3,700, two days after the devastating earthquake measuring 7.9 on the Richter Scale struck the Himalayan nation.
April 23, 2015
Kejriwal effigies burnt at farmer suicide protest rally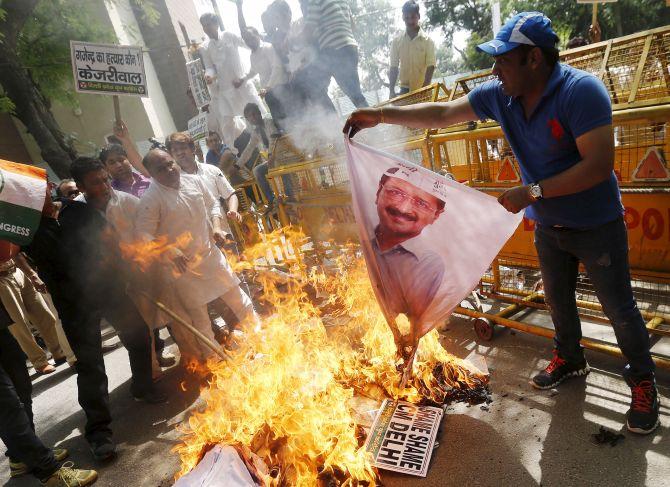 Youth Congress and BJP workers staged protests in Delhi a day after a farmer committed suicide at an AAP rally.
PHOTOS: How crooks got away with London's Rs 569 crore heist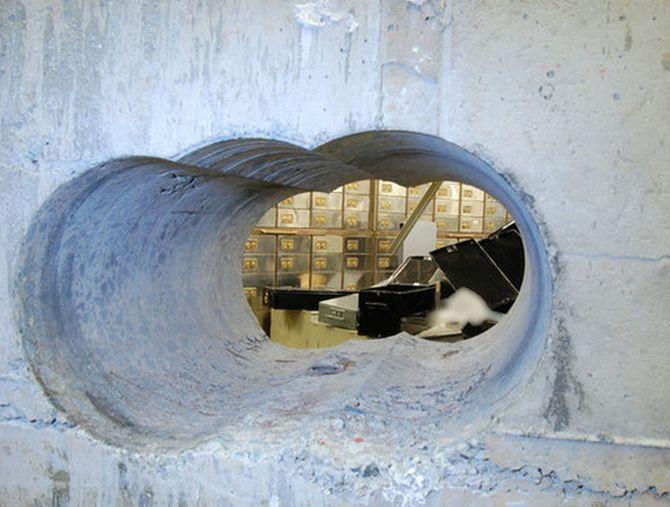 Photographs released by the London police show how the gang neatly tunnelled into the vault through concrete walls to ransack 72 security boxes over the Easter weekend.
April 22, 2015
Modi has betrayed farmers, his govt works for the super-rich: Kejriwal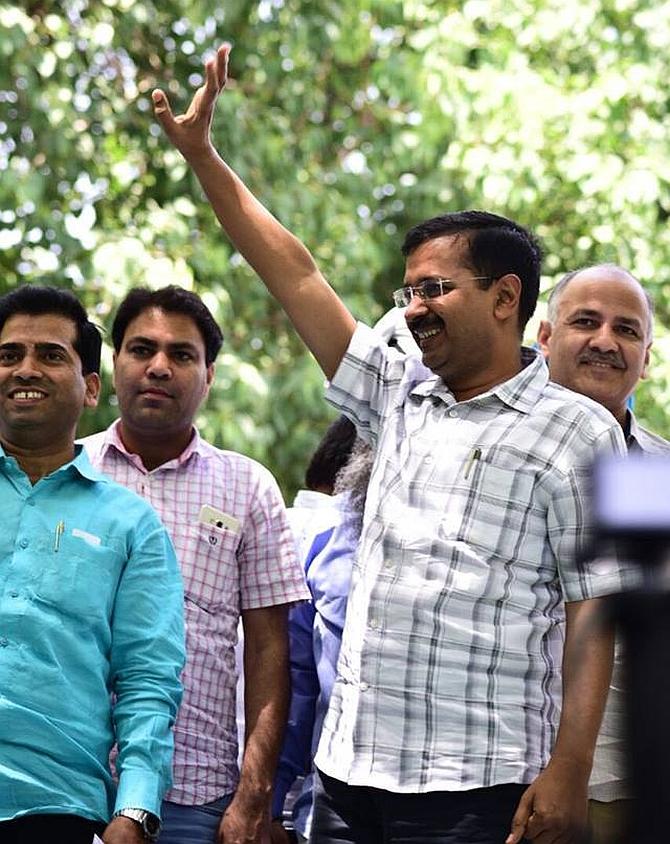 Delhi Chief Minister Arvind Kejriwal on Wednesday trained guns on the Narendra Modi government, charging that the country's farmers were being led to a suicide by an administration that is only interested in stealing their land.
April 21, 2015
Any day now! Wait for Britain's royal baby is on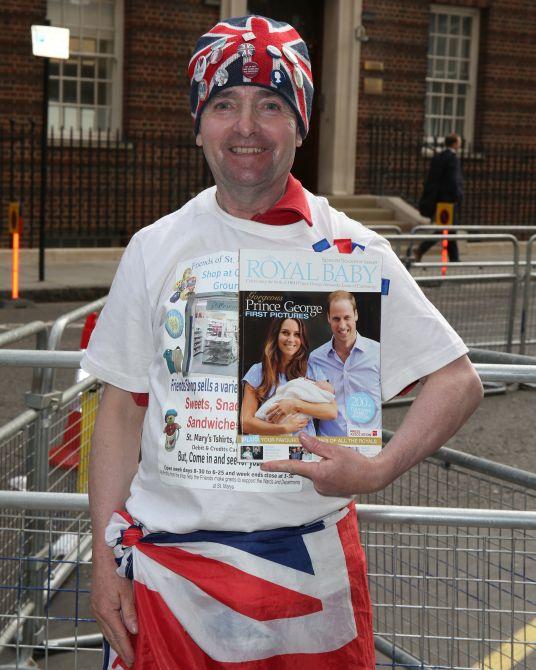 As the due date of Britain's royal baby number two looms near, fans have gathered outside Lindo Wing at St Mary's Hospital.
WTF News: It's Weird, True and Funny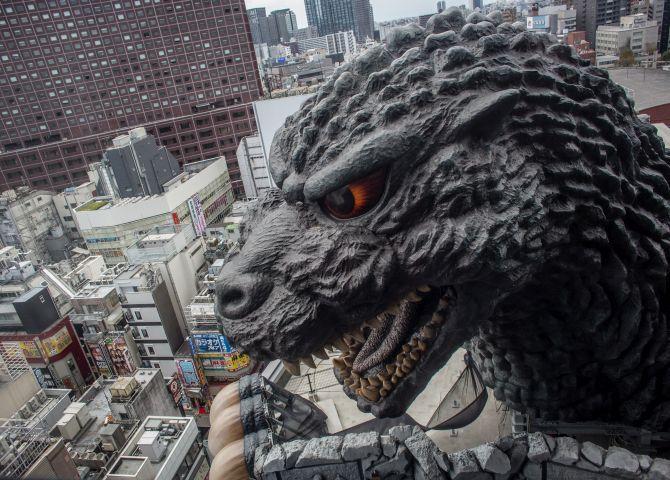 Here's your weekly dose of stories that are weird, true and funny!
And the world's most influential leaders are...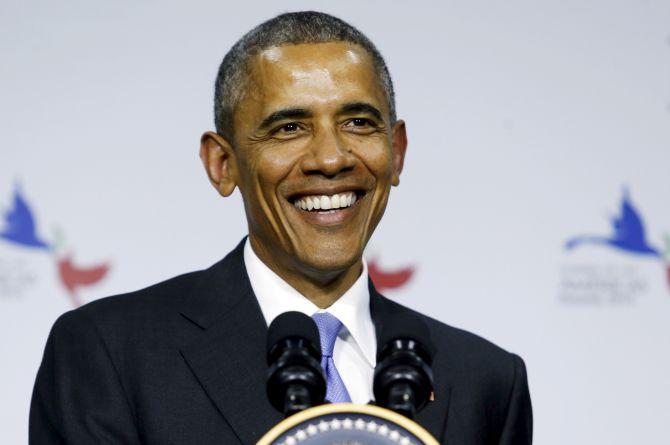 We take a look at Time magazines top world leaders.
April 18, 2015
Back to the grind: Rahul meets farmers ahead of big comeback rally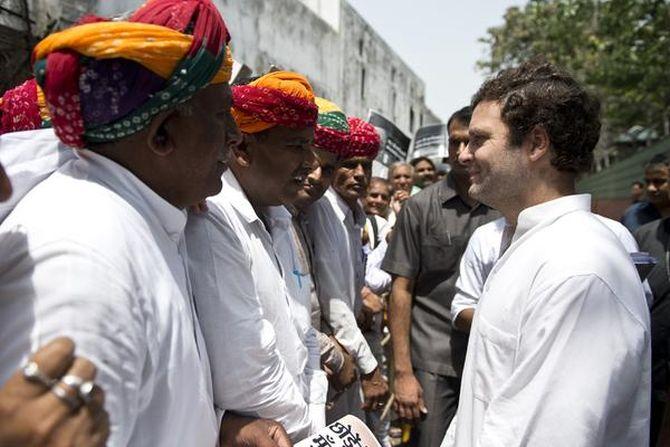 Congress vice president Rahul Gandhi was back in action on Saturday after he met farmers over land bill in Delhi, a day before the party's big kisan rally.
Violence breaks out in Kashmir protests; youth killed in firing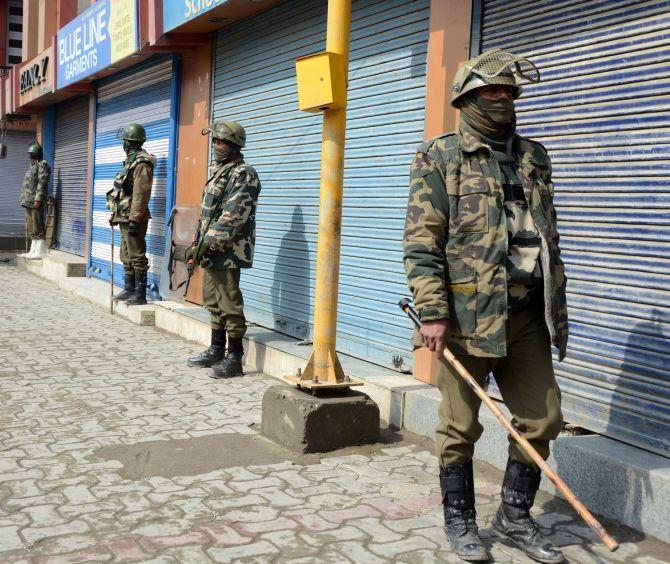 A young man was killed and two others injured in firing by the Central Reserve Police Force on Saturday during protests in Budgam district of Jammu and Kashmir where a strike has been called by the hardline Hurriyat faction against the killing of two youths in Tral earlier this week.
April 17, 2015
Barriers have turned into bridges, says PM Modi in Canada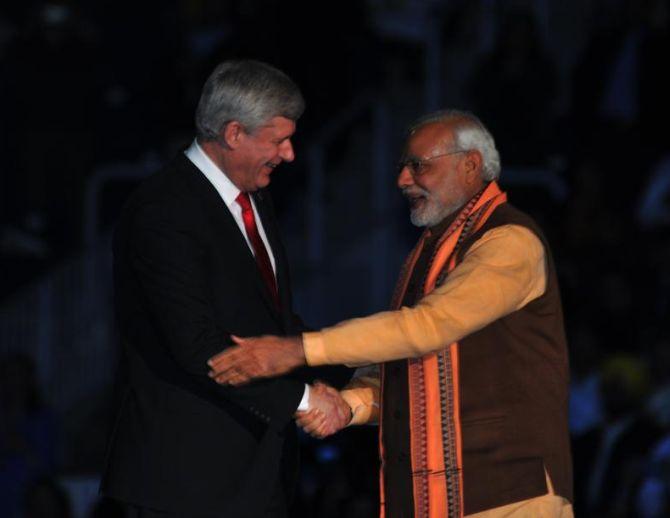 Winding up his visit to Canada, Prime Minister Narendra Modi said it was a historic trip that will herald a new era of cooperation between the two countries.
April 16, 2015
Alam, Geelani effigies burnt, 'arrest them' chants break out in Jammu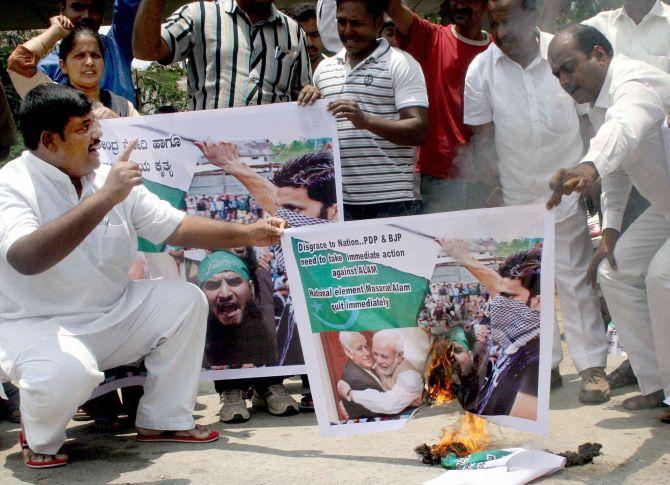 Protests broke out in several areas in Jammu on Thursday against raising of Pakistani flags and pro-Pakistan slogans at the rally held by separatist leaders in Srinagar on Wednesday.
April 15, 2015
Gone girls: A year on, world remembers #Bringbackourgirls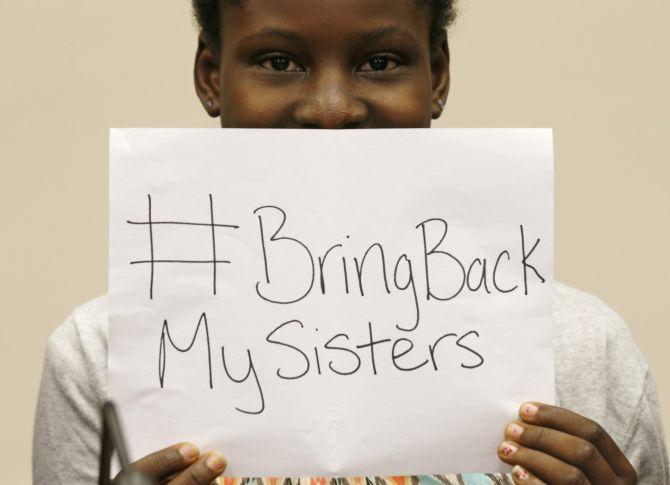 It has been a year since Islamic militant group Boko Haram abducted 276 teenage girls from their school dormitories in northeastern Nigeria.
April 14, 2015
She defied every Afghan who didn't want to see her fly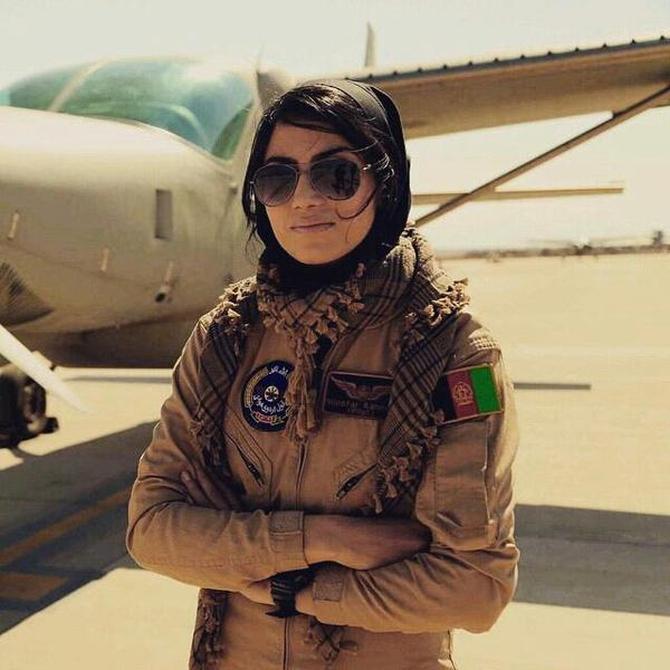 Rahmani is today an International Women of Courage Award recipient for her determination to become a military pilot and face day-to-day threats and challenges from people who disapproved of her career and ambition.
PHOTOS: Sultans of bling: Brunei prince weds in glitter & gold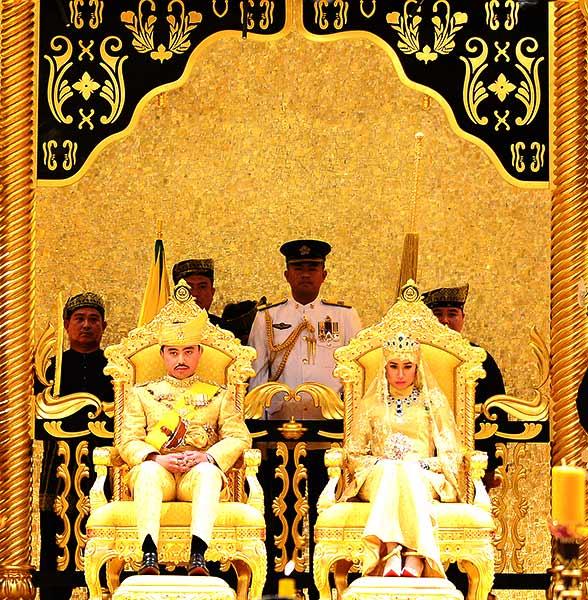 It was a wedding that redefined opulence. Prince Abdul Malik, son of the Sultan of Brunei -- one of the wealthiest men on the planet -- on Sunday married former systems data analyst Dayangku Raabi'atul 'Adawiyyah Pengiran Haji Bolkiah in a spectacular ceremony at the monarch's 1,788-room palace in Brunei's capital.
April 13, 2015
Modi takes chai pe charcha to Germany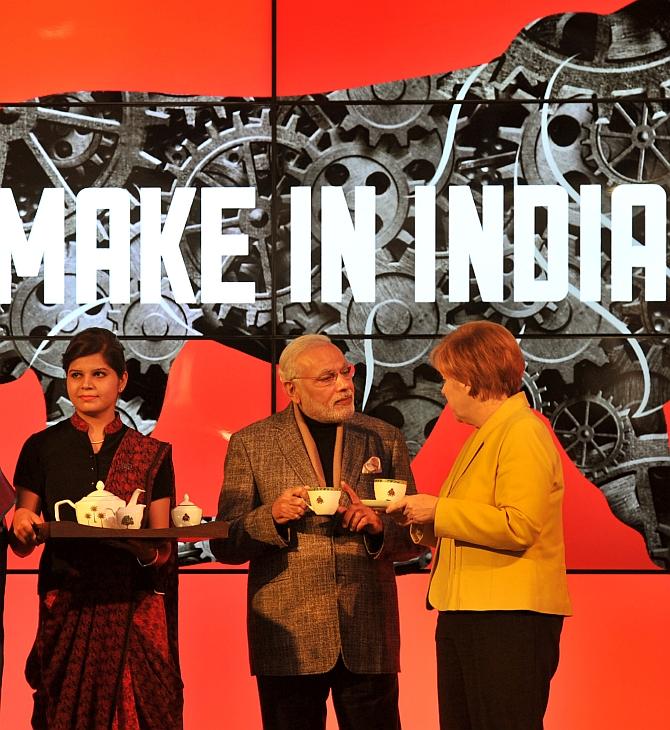 Best moments from PM Narendra Modi's trip to Germany.
Ready for Hillary: She drives around in Scooby, has a belly laugh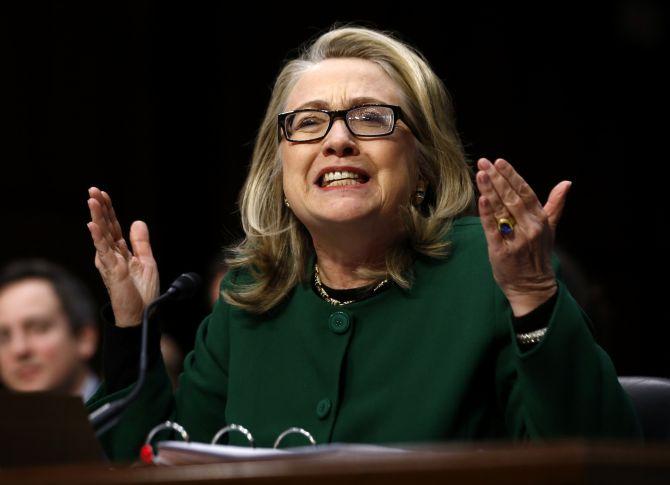 Rediff.com gathers digs deep, to bring you interesting facts about the Democrat and the former White House First Lady.
Modi's op-ed in German newspaper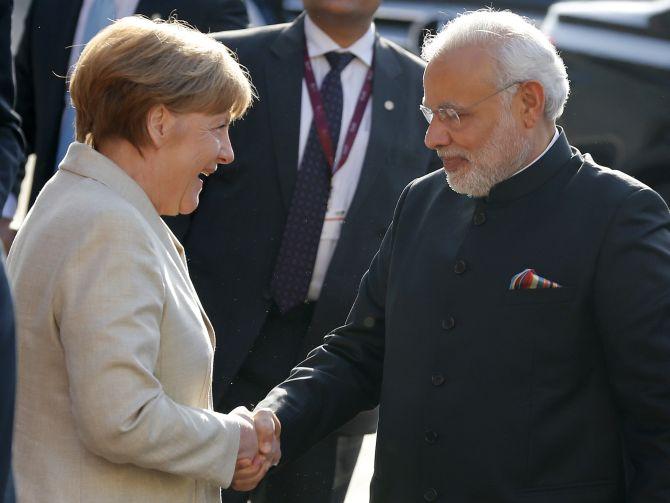 Prime Minster Narendra Modi's op-ed in the German daily Frankfurter Allgemeines talks about development, New Age India and his 'Make in India' campaign. Here's the complete text of the column.
Meet Pakistan's first female auto driver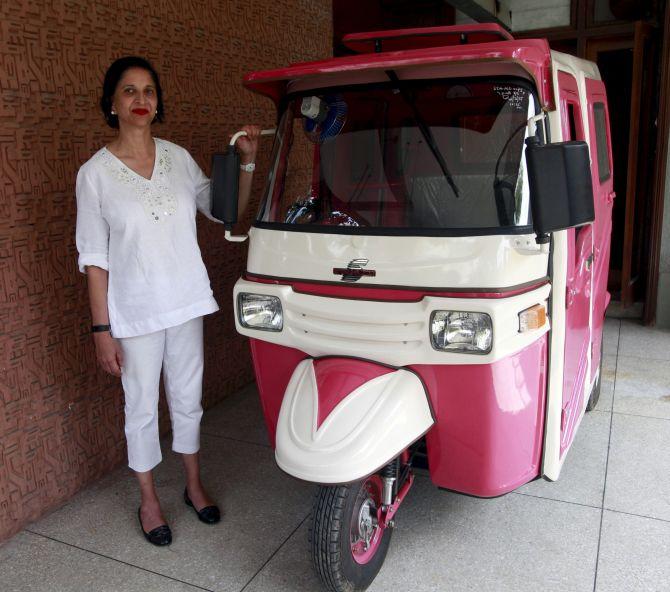 Zara Aslam, an environmentalist did something that very few would dream of. She began her own all-female auto service
Hillary Clinton announces, 'I'm running for president'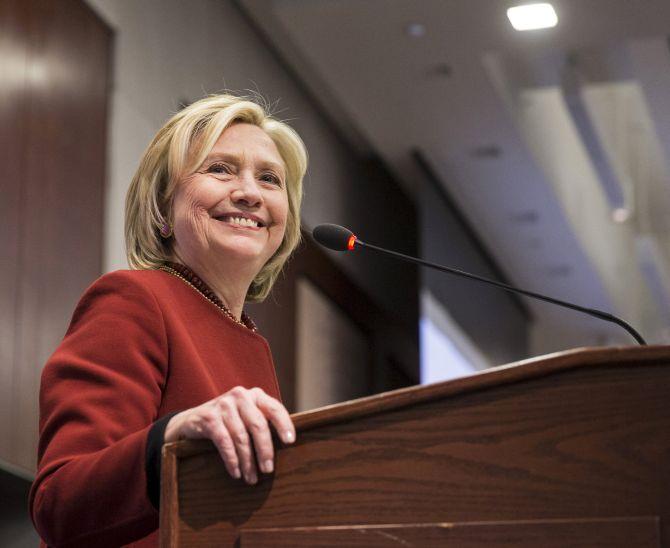 Former Secretary of State Hillary Clinton announced her United States presidential bid, emerging as one of the top contenders for the Democratic Party nomination as she once again seeks to become America's first woman president.
18 INTERESTING photos from around the world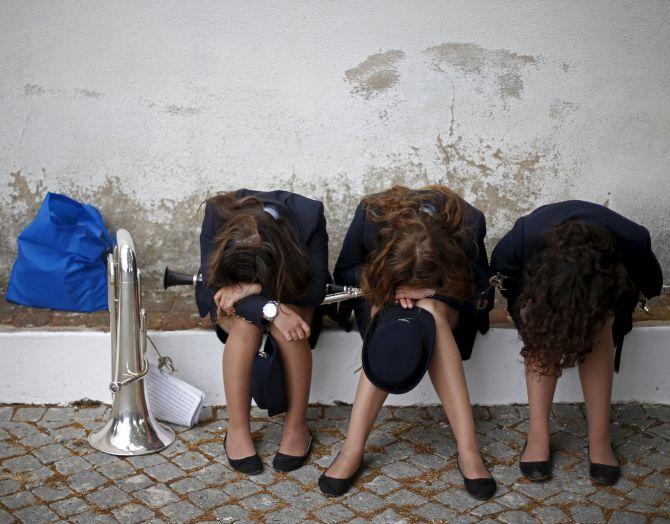 A round-up of our favourite photographs of the week gone by.
April 11, 2015
Bonjour Modi! Best moments from PM's France visit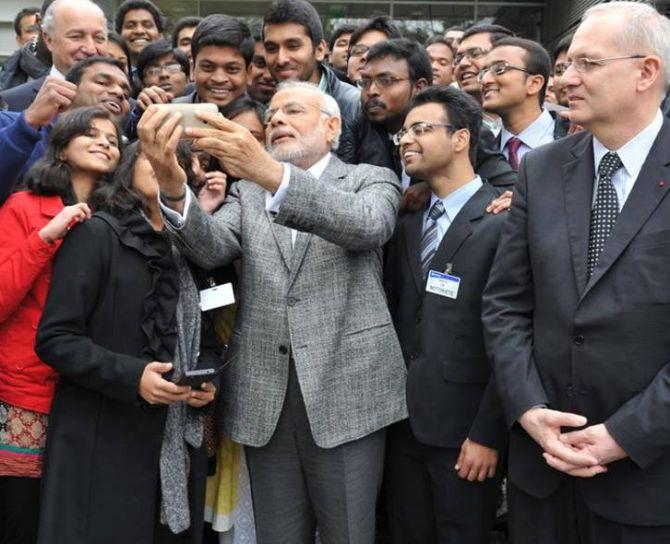 Top moments from PM Modi's France visit
April 10, 2015
WTF News: It's Weird, True and Funny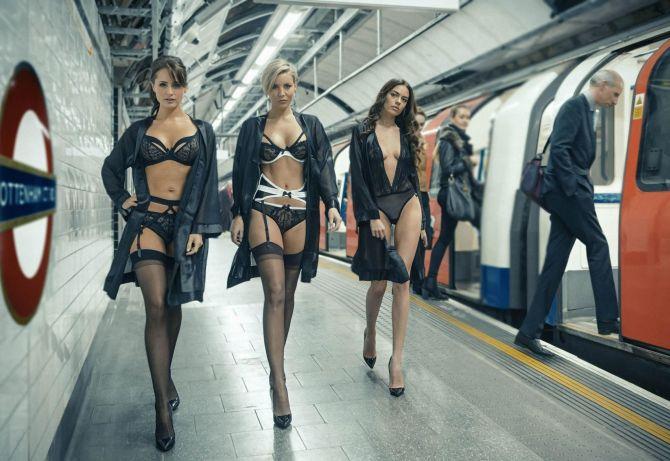 This week's digest of stories that are weird, true and funny.
April 09, 2015
Sena launches 'vada, misal' protest against Shobhaa De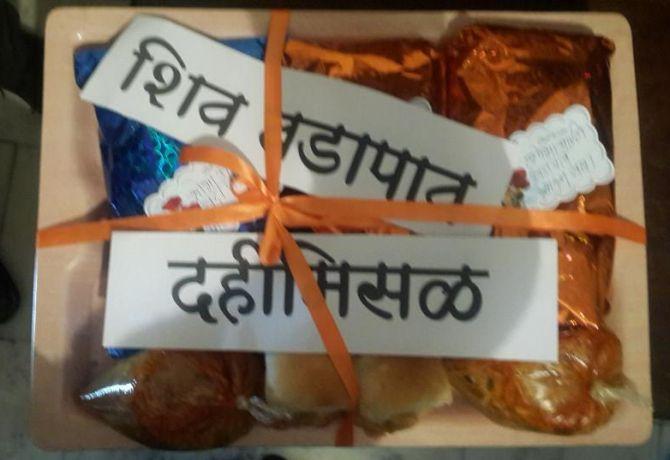 Shobhaa De's remarks are an insult to Maharashtra, Marathi language and culture, said Sena's Sanjay Raut.
World's best PHOTOS taken using cellphones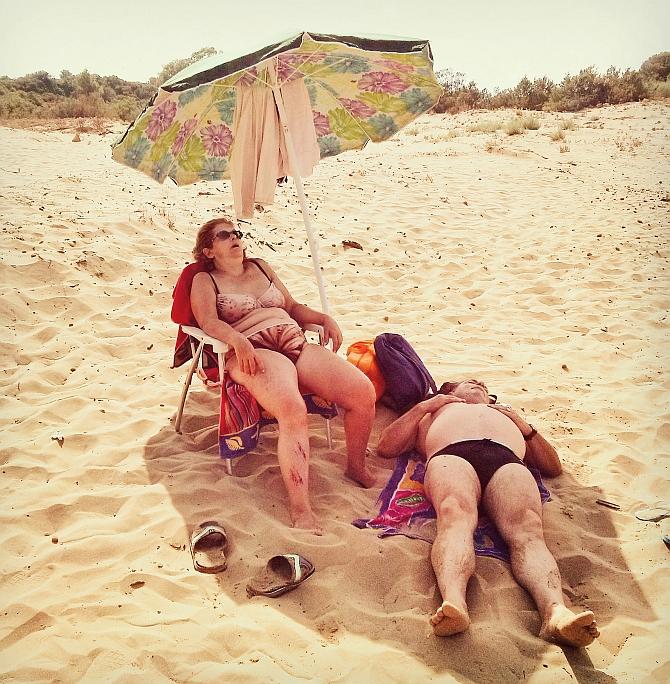 Sony World Photography Awards recently announced the winners of its first-ever mobile phone photography category.
POWER selfies: Top politicos show you how it's done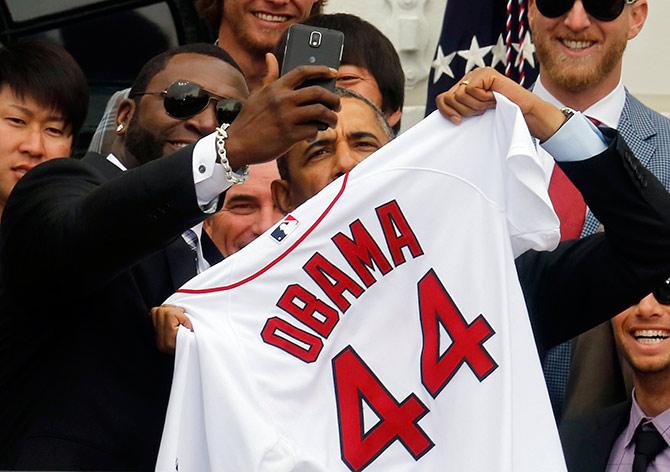 Rediff.com has compiled a few photographs to show you the kind of selfies our world leaders have taken a fancy to. Different strokes for different folks, eh?
April 08, 2015
PHOTOS: Amitabh, Prince Aga Khan receive Padma Vibhushan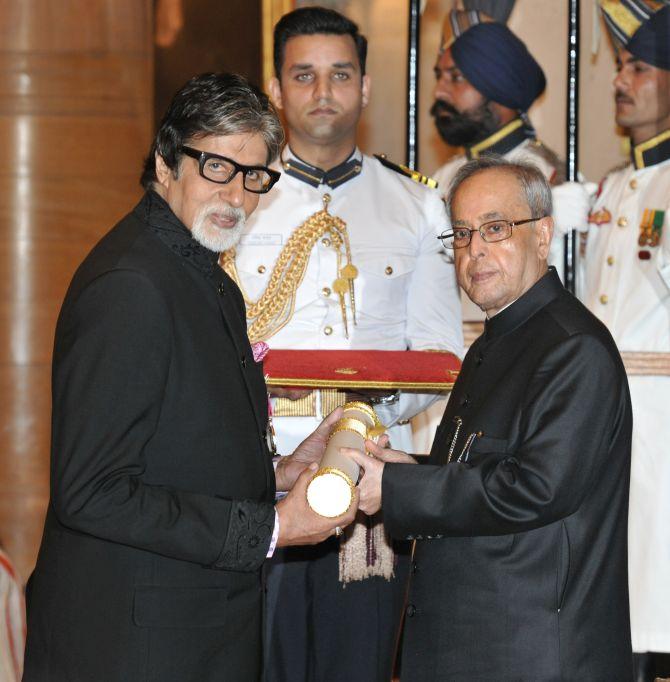 Bollywood megastar Amitabh Bachchan and Prince Karim Aga Khan were among the eminent personalities awarded the Padma Vibhushan, country's second highest civilian honour, by President Pranab Mukherjee in New Delhi on Wednesday.
India to end air evacuation from Yemen on high note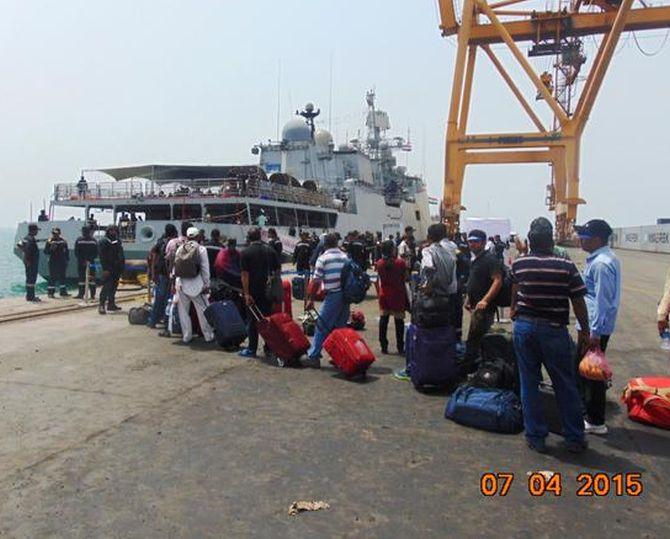 The Indian Navy has done the impossible. Amidst heavy firing and war-like conditions, they have been able to evacuate 4,000 Indians from the strife-stricken country.
April 07, 2015
Heard of these bizarre Indian village myths?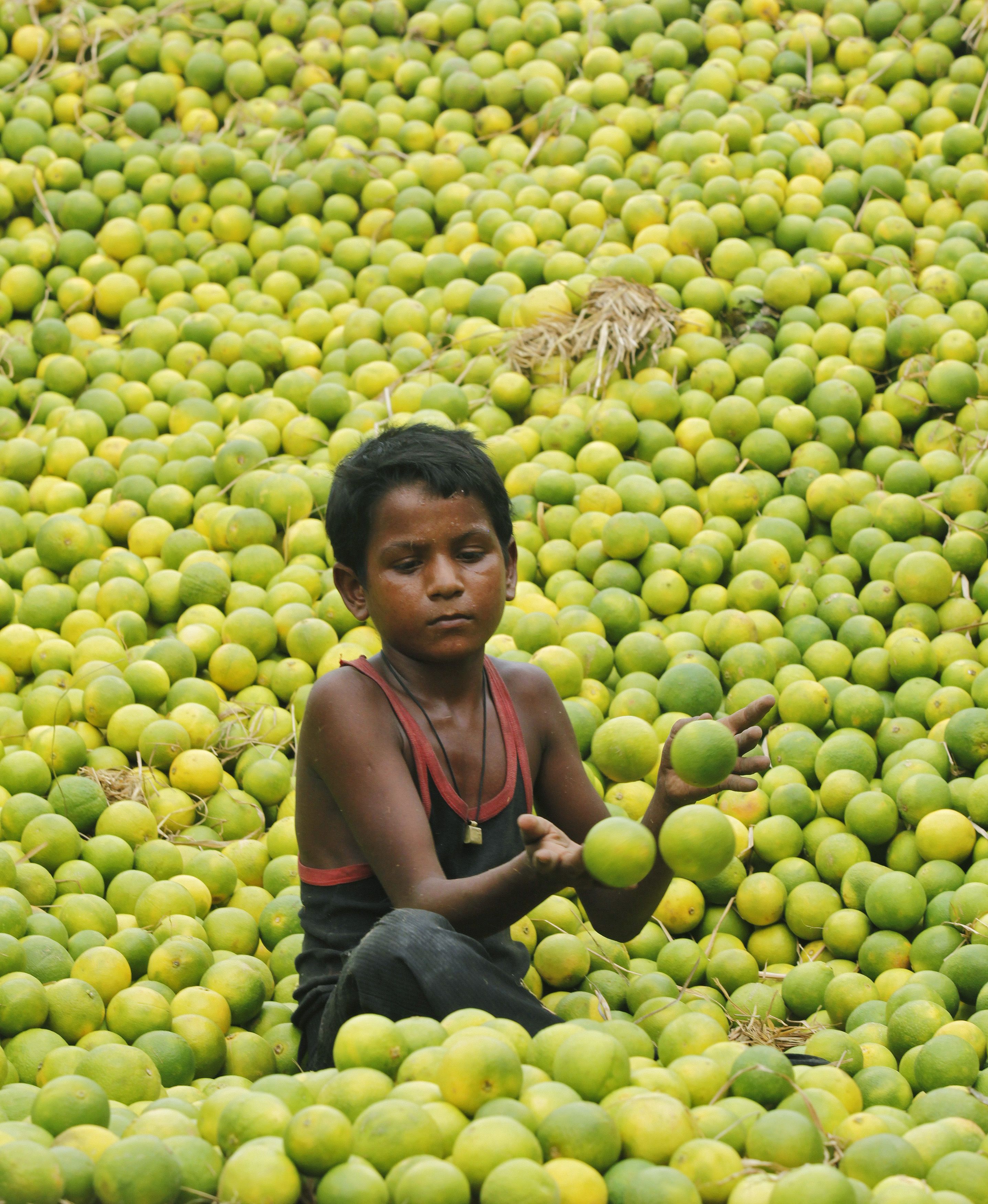 A country as diverse as India has some of the strangest rituals and traditions. From bizarre ways to cure illnesses to an unusual matrimony to please the rain gods...the things people do here must be seen to be believed.
April 06, 2015
BEST moments from the week gone by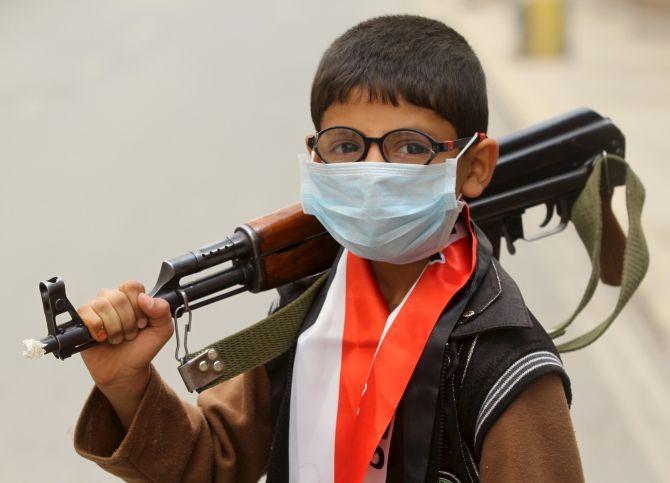 12 images from events that shaped the world in the week that was.
March 31, 2015
Woof! 'Robodog' Brutus learns to walk on artificial limbs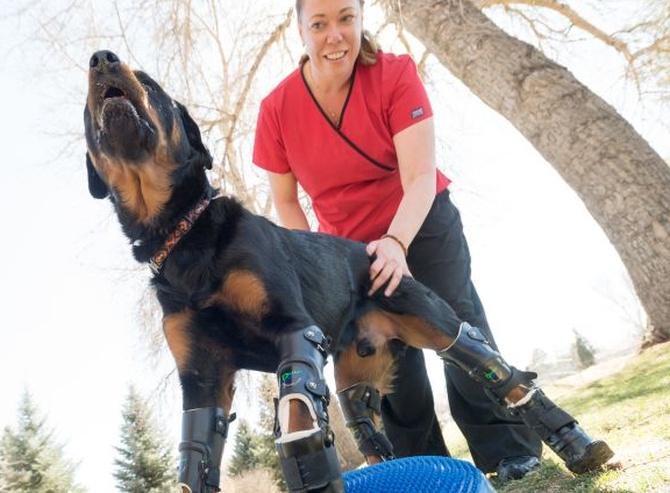 A two-year-old canine quadruple amputee is amazingly back on his feet, becoming only the second dog ever known to have four prosthetic limbs.
The Leaning Tower moves to China!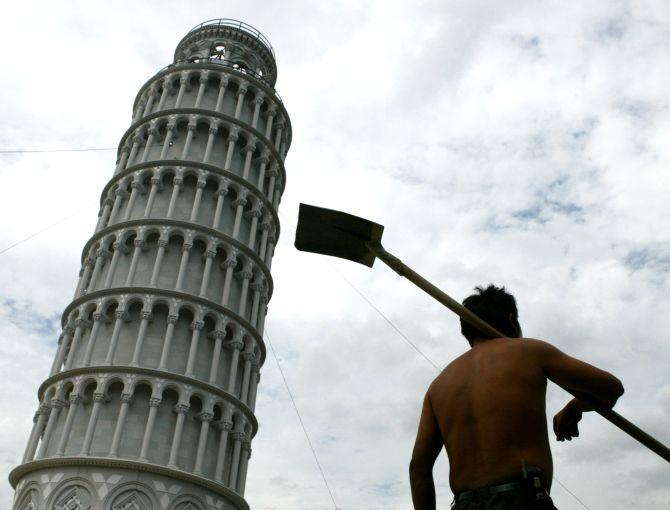 China brings the world to its doorstep with scale replicas of famous tourist destinations from across the world.
March 30, 2015
PHOTOS: The wettest March in 100 years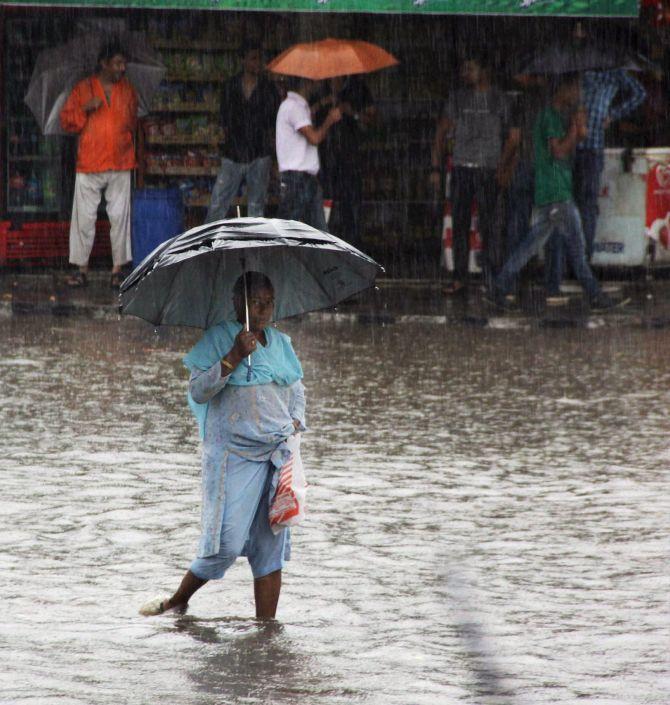 This month has been the "wettest" March in northern and central parts of the country in the past 100 years, the Indian Meteorological Department said on Sunday, and predicted more rains in the coming two weeks.
PHOTOS of the week that was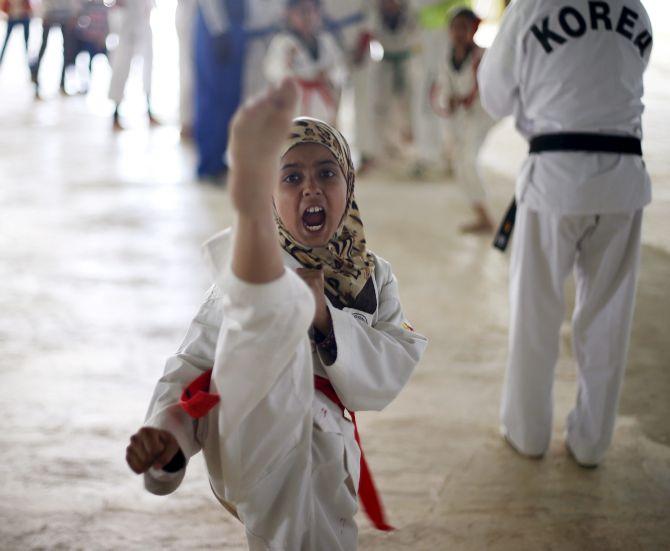 10 stunning moments from the week gone by
'Open the damn door': Germanwings captain's last words before the crash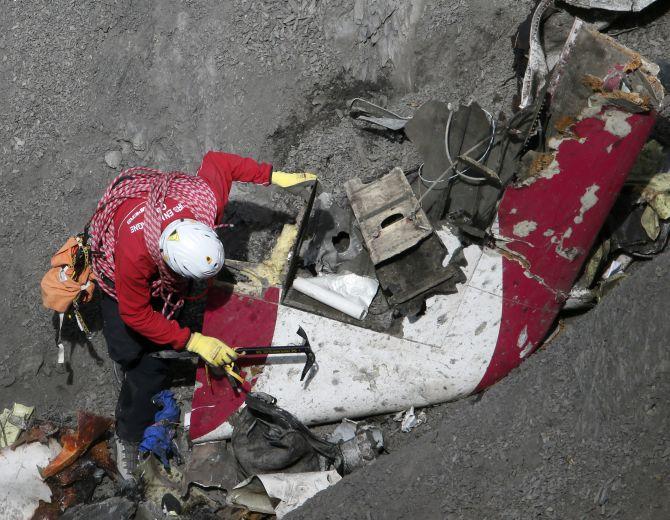 A leaked transcript of Flight 9525's final terrifying minutes reveal Captain Patrick Sondheimer's desperate attempts to stop Andreas Lubitz from apparently sending the plane into a death-dive killing himself and the 149 people aboard.
March 29, 2015
Heavy rains leaves Kashmir reeling, but no flood threat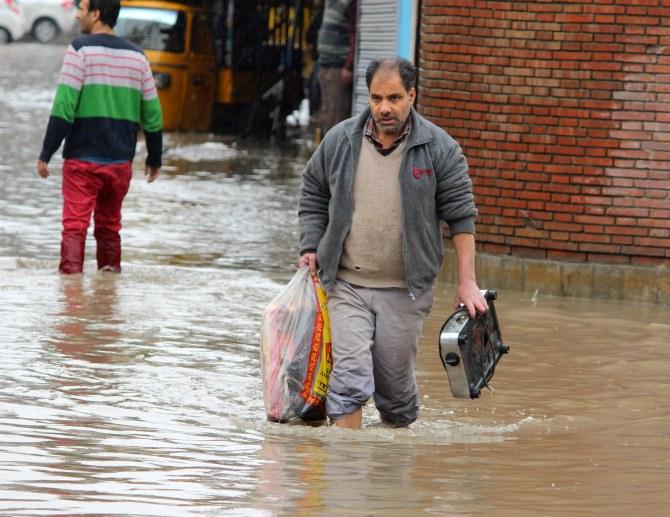 Incessant rains since Saturday evening have triggered panic and fears of fresh floods in Kashmir
March 28, 2015
India set to get a step closer to desi GPS with IRNSS-1D launch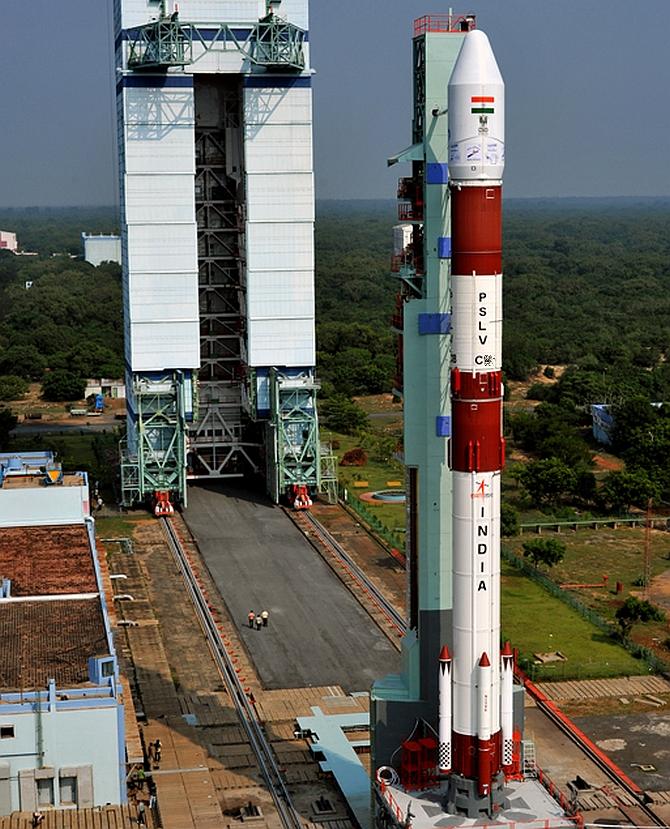 The stage is set for the launch of India's satellite IRNSS-1D on Saturday from Sriharikota onboard workhorse PSLV-C27 that would pave the way for the country's own navigation system on par with the GPS of United States.
March 27, 2015
Achche din: Modi, Satyarthi are 'world's greatest leaders'; Obama not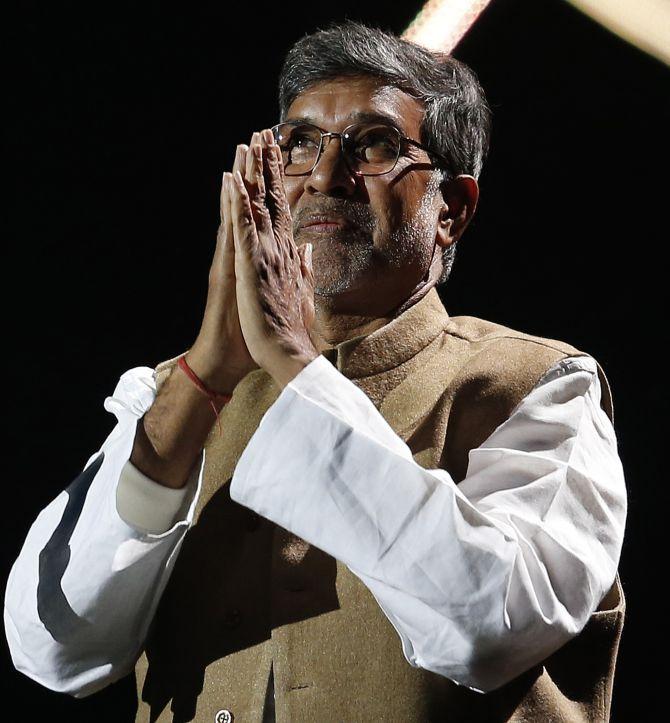 Modi is ranked fifth on the 2015 roster of 'World's Greatest Leaders' with Satyarthi coming in at the 28th spot.
WTF NEWS: It's Weird, True and Funny!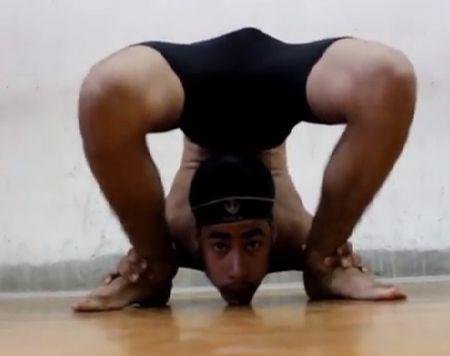 Here's this week of truly crazy and mad stories that will make you laugh.
Did split with girlfriend push Germanwings pilot to crash plane?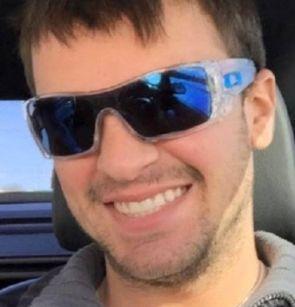 Andreas Lubitz, the co-pilot who deliberately crashed Flight 9525, was once suffering from depression; had confessed to 'burnout'
2 missing, 25 injured in massive explosion in New York building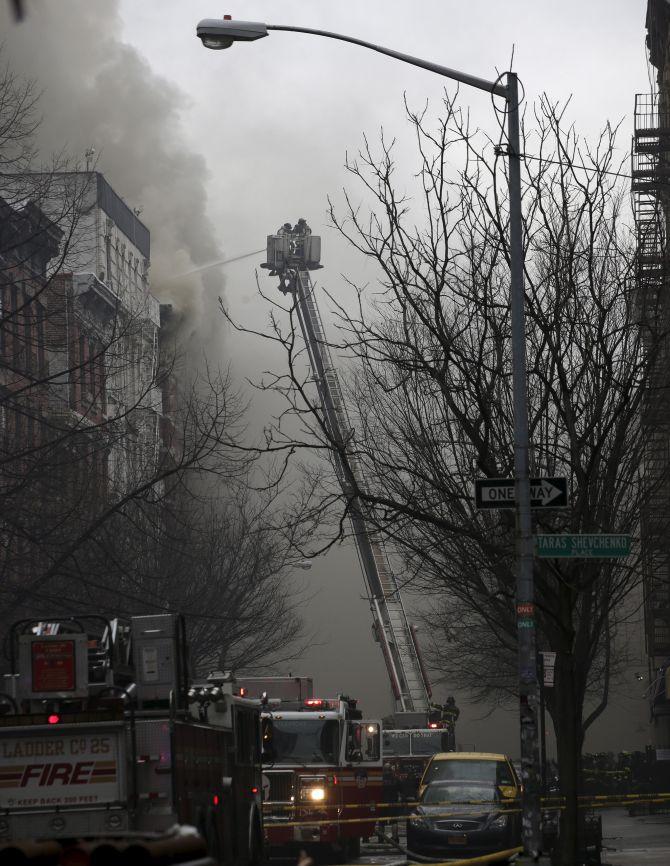 Two persons are still unaccounted for following a massive "gas-related" explosion that razed three buildings to the ground and left 25 injured, four of them critically.
Meet Syria's young soldiers of misfortune
With their childhood reduced to rubble in the ongoing strife, these kids are easy recruits for rebels and ISIS alike.
March 26, 2015
Germanwings pilot locked out of cockpit before crash: Report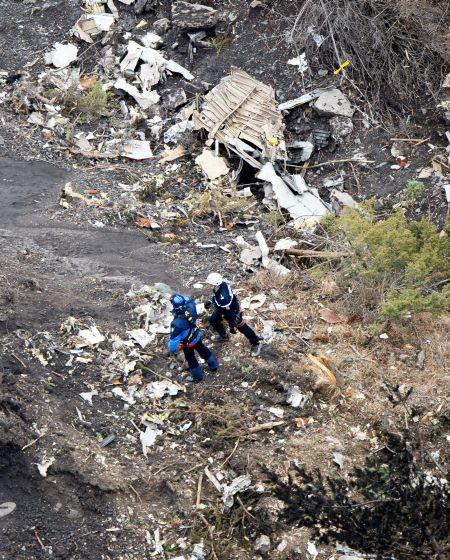 Evidence from a cockpit voice recorder, retrieved from the crash site in the French Alps, indicated that one pilot left the cockpit before the plane's descent and was unable to get back inside, The New York Times reports.
Mystery over Germanwings airbus crash deepens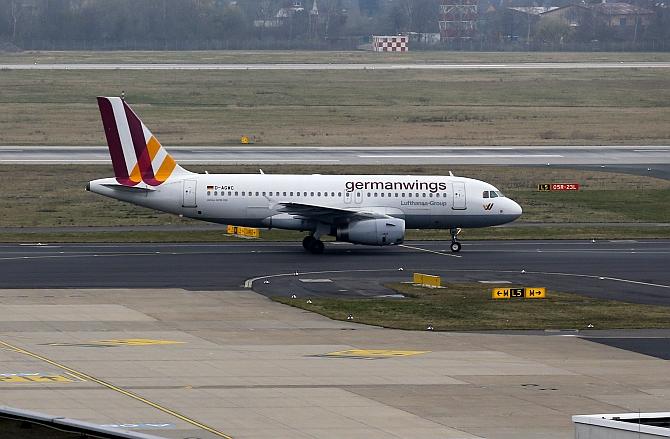 The story behind the horrific crash of the Lufthansa's Germanwings airbus that claimed the lives of 150 people onboard could take some more time to unravel.
March 24, 2015
6 deadliest air crashes in recent times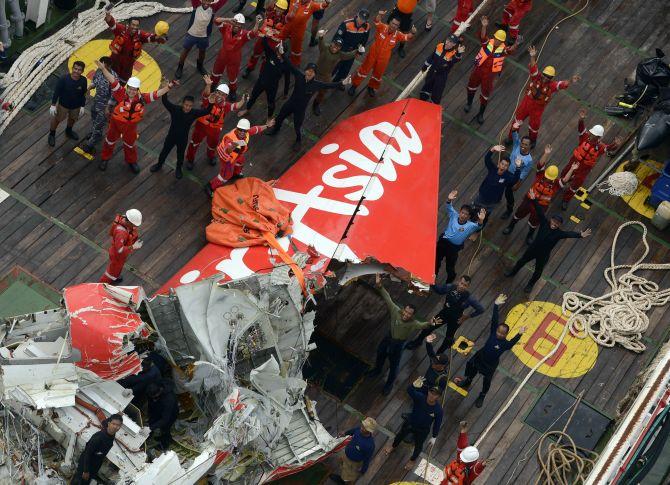 Rediff.com takes a look at the major aviation disasters of recent times.
When IT Act's Sec 66A was used to muzzle free speech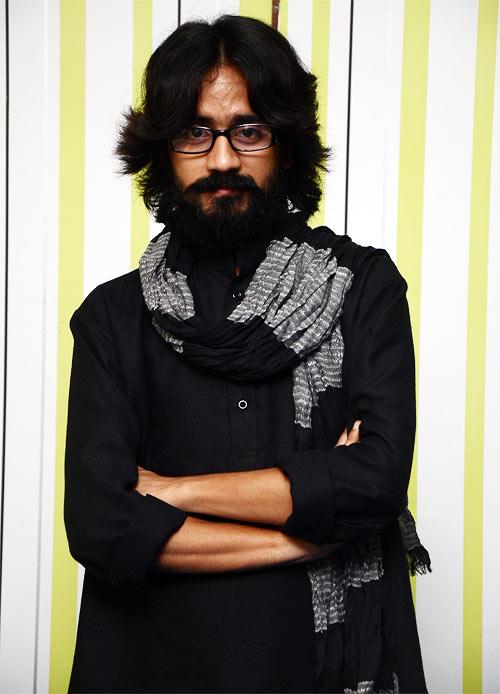 Before the Supreme Court struck down Sec 66A of the IT Act, it was used with devastating effect against anyone posting critical comments online.
This man's best friend is....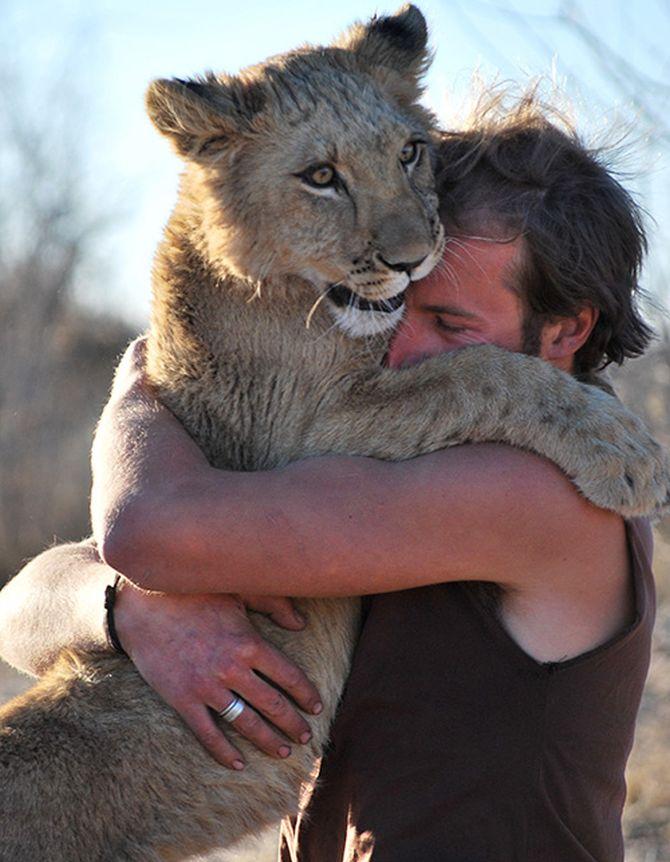 A lion hugging a human is definitely not something you see every day but for Valentin Gruener and Sirga the lion, it's their normal way to greet each other.
#BestPhotos: 15 top shots you will EVER see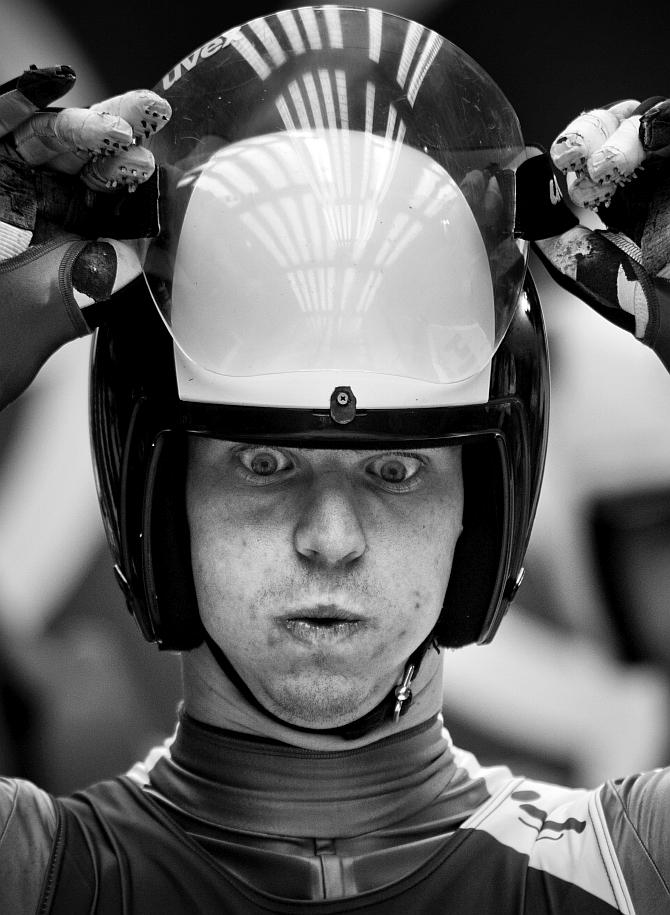 The 2015 edition of the Sony World Photography Awards, the world's biggest photography competition, has announced the shortlists.
March 23, 2015
On Pakistan Day, MoS Singh dines with separatists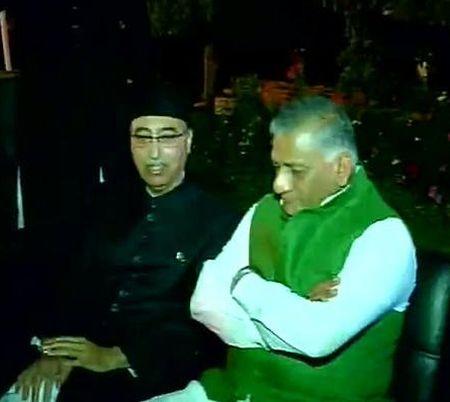 Minister of State for External Affairs Minister V K Singh on Monday represented the government at the Pakistan National Day reception.
Modi's tour de Punjab: PM pays homage to martyrs, visits Golden Temple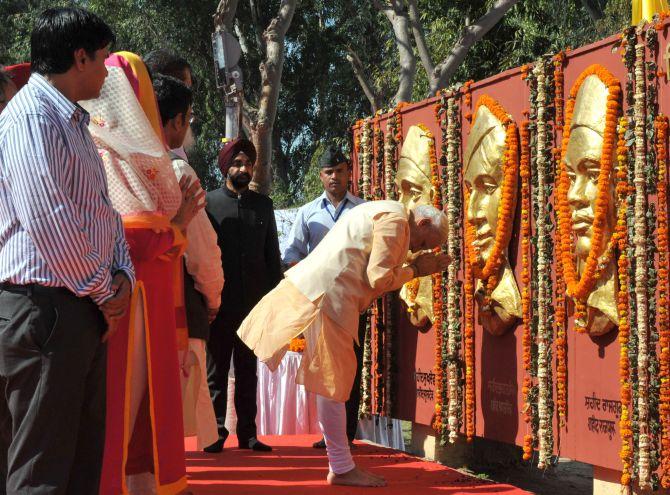 "On martyrdom day, I pay my respects to Bhagat Singh, Sukhdev and Rajguru who sacrificed their life for the nation," PM said in a statement.
The life and legacy of Lee Kuan Yew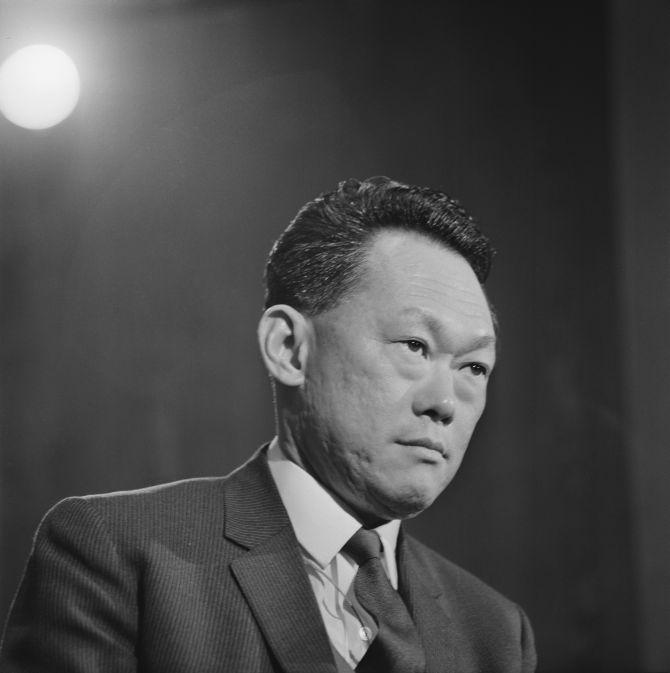 Lee Kuan Yew, Singapore's founding father and first prime minister, passed away on Monday at the age of 91.
Lee Kuan Yew, Singapore's founding father, dies at 91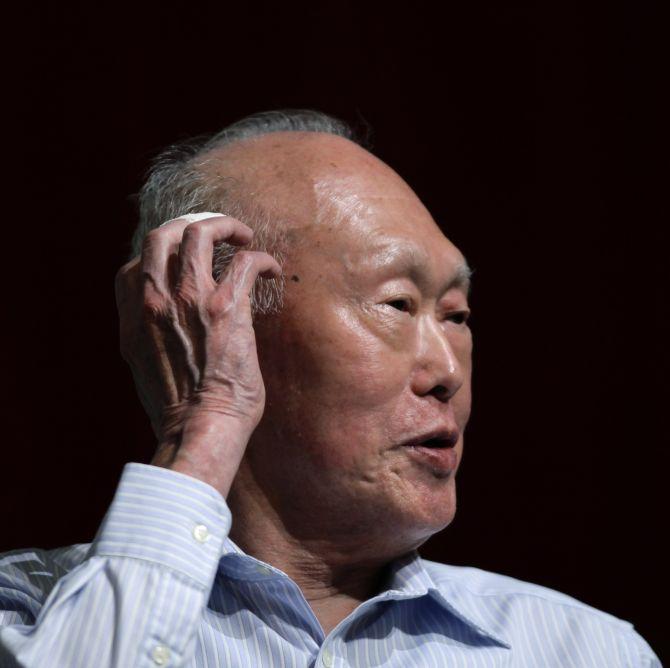 Lee Kuan Yew, Singapore's founding father and first prime minister, died on Monday at the age of 91 of severe pneumonia.
10 INTERESTING photos from the week gone by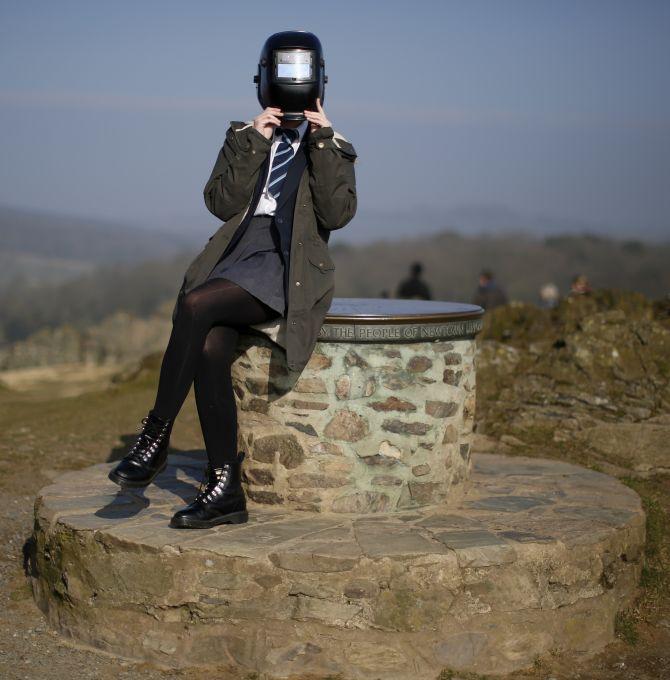 We bring you a collection of some of the best photographs taken this week by ace photographers.
March 22, 2015
PHOTOS: When the 'tide of the century' hit France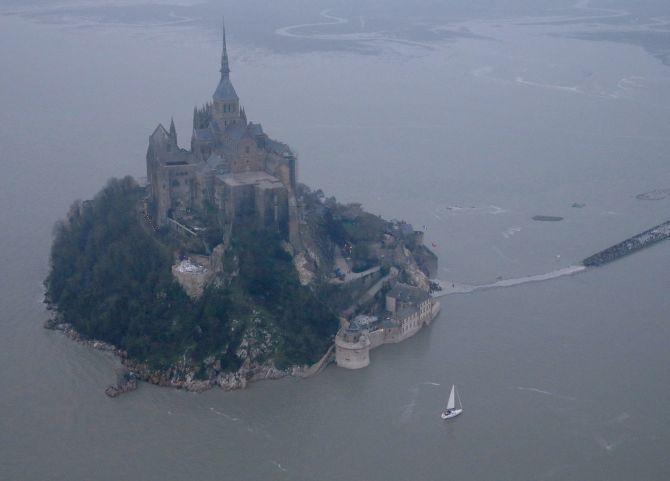 A supertide turned France's famed Mont Saint-Michel into an island and then retreated out of sight, delighting thousands of visitors who came to see the rare phenomenon.
10 fire tenders and 30 mins later, blaze at Parliament under control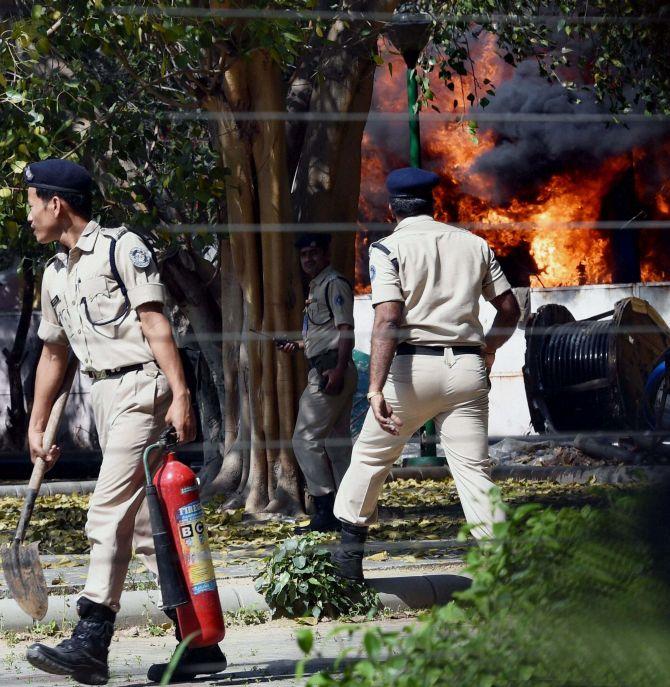 A major fire broke out in the AC plant of the Parliament complex on Sunday afternoon.
March 20, 2015
Stunning PHOTOS of a rare solar eclipse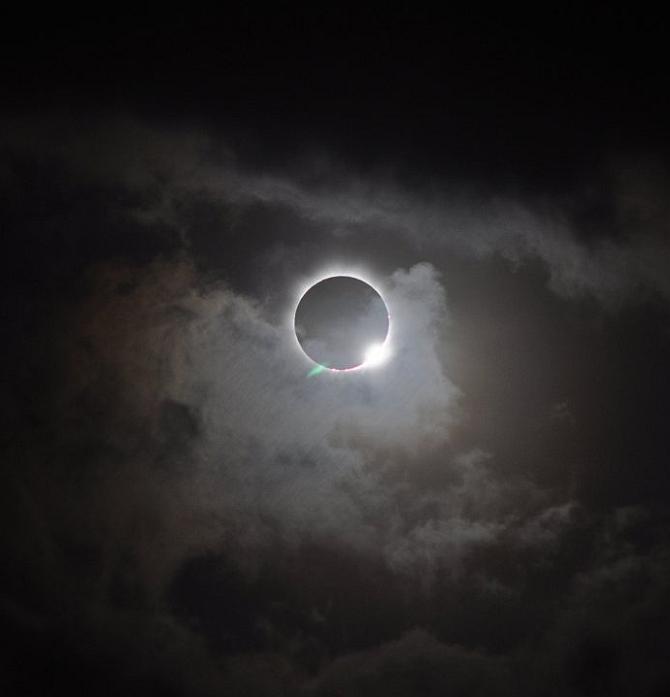 Parts of the world on Friday witnessed a solar eclipse
PHOTOS: Sydney cafe reopens 3 months after deadly siege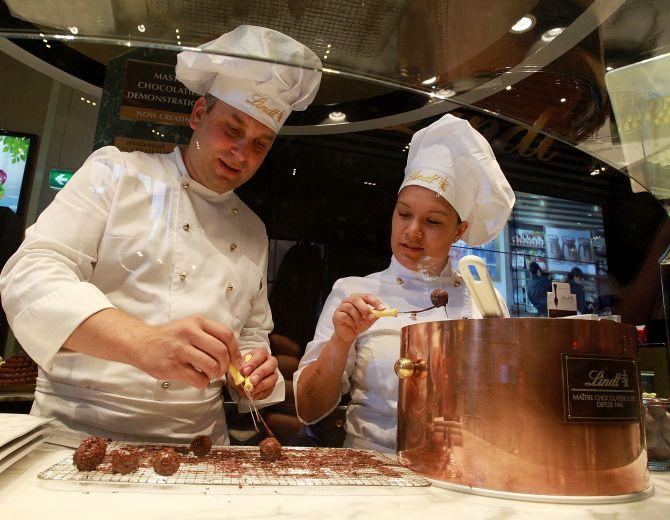 A Sydney cafe that was the scene of a deadly 16-hour siege reopened on Friday, over three months after two hostages died in the terrorist attack staged by a Iran-born gunman inspired by the Islamic State militant group.
March 19, 2015
Rambo of Iraq takes on Islamic State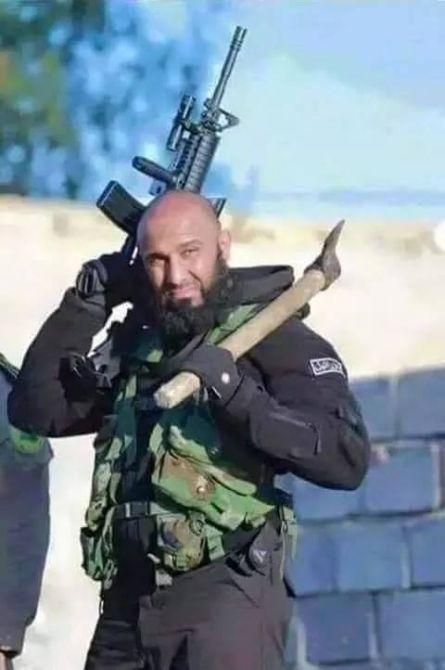 A bearded, axe-wielding warrior known as "Iraq's Rambo" is being feted as the hero of the battle to reclaim Tikrit.
March 18, 2015
Netanyahu celebrates surprise electoral landslide in Israel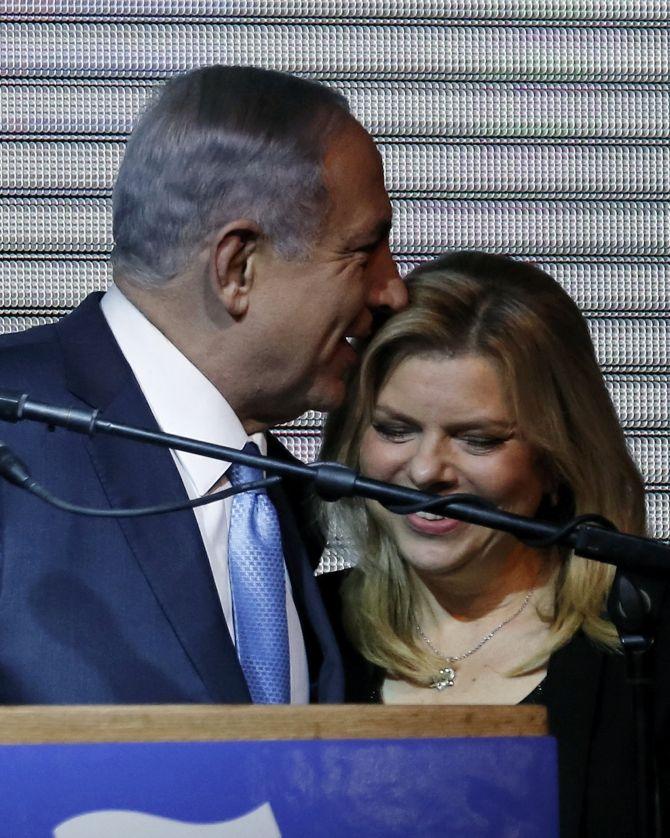 Netanyahu's right-wing Likud party has claimed a stunning victory in the election.
PHOTOS: It's an odd world out there!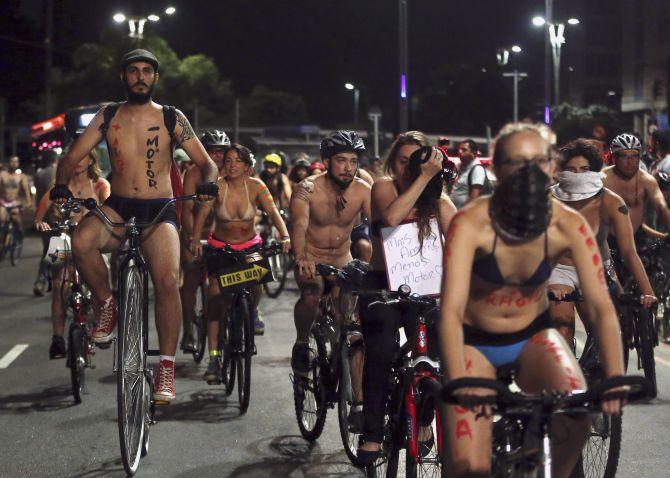 images that show the odd, odd world we live in.
Wacky villages: A look at strange cases of rural life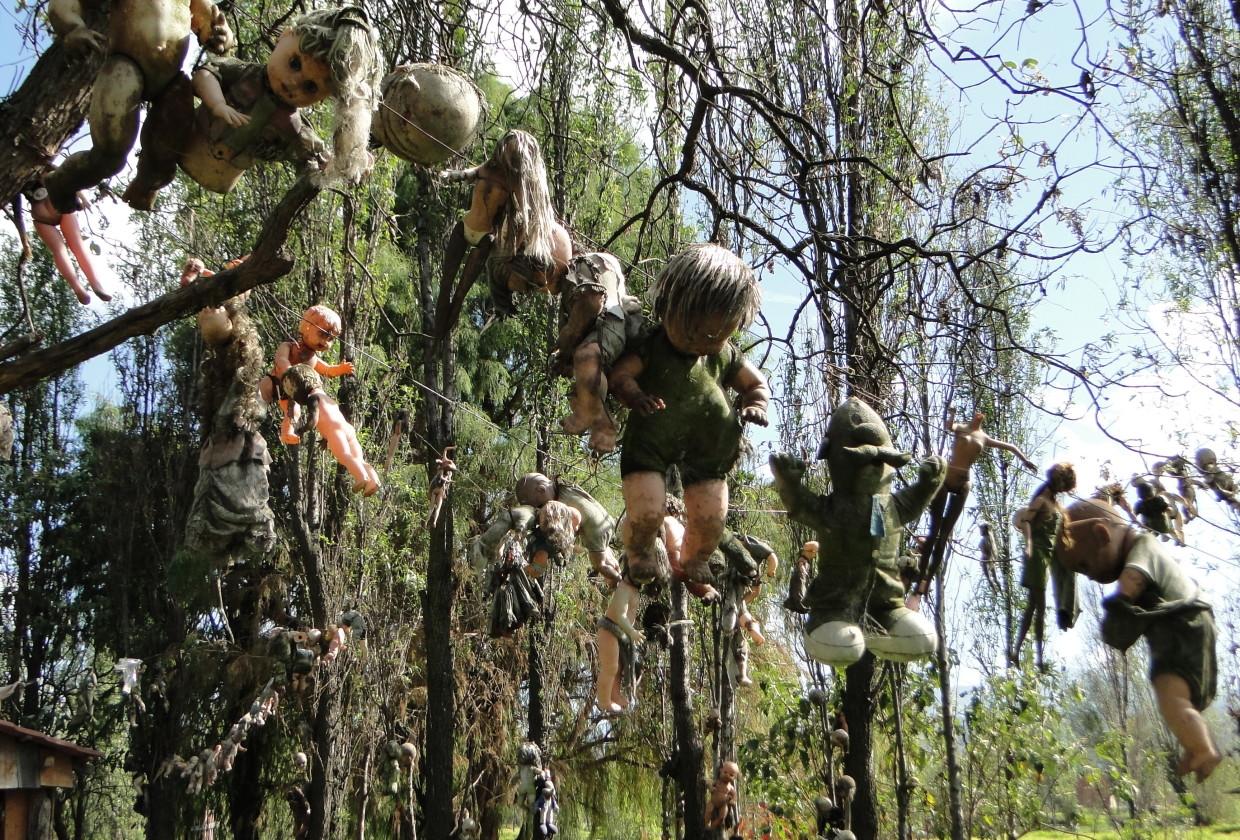 Somewhat weird, these offbeat villages will assuredly put to rest the notion that village life is uninteresting.
March 17, 2015
Groovy Michelle really likes to move it!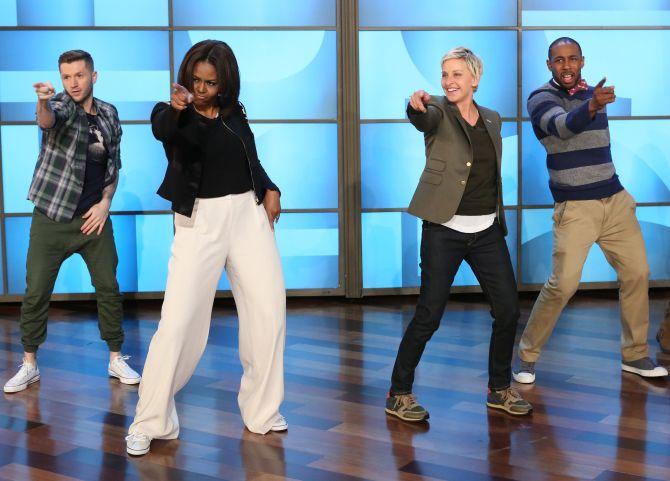 United States First Lady Michelle Obama has rhythm in her veins and she ain't afraid to show it.
March 16, 2015
Is Putin overthrown or he's had a secret baby?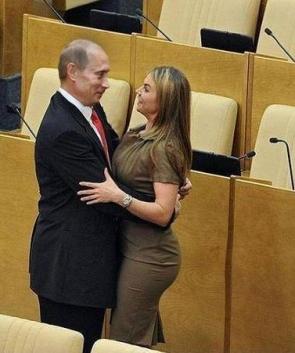 Vladimir Putin is MIA (missing in action) and the Internet is obsessing over it!
PHOTOS: The Week that Was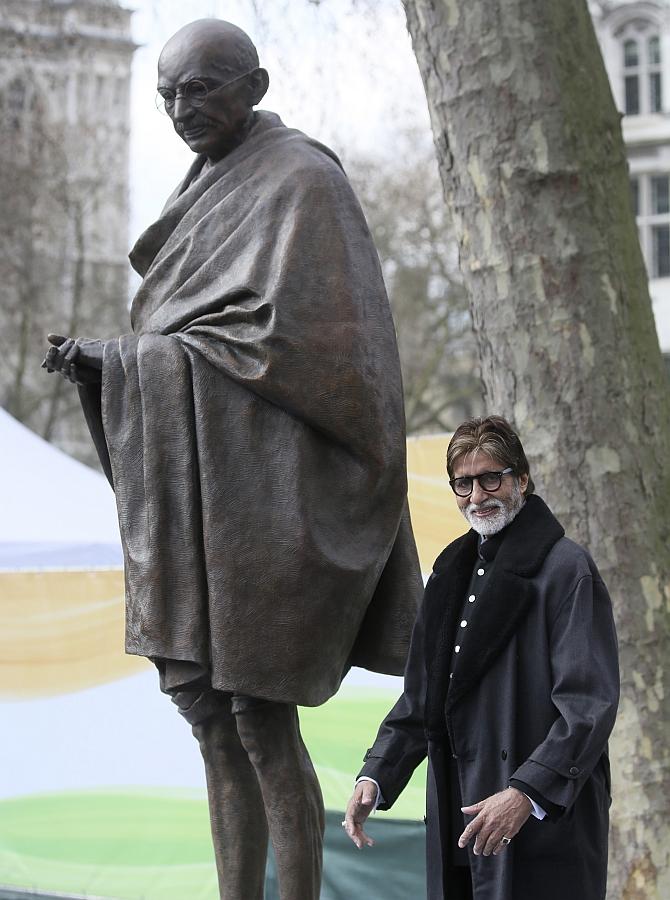 Here's a look at the events that shaped the world last week.
March 14, 2015
Modi showers promise of achche din on Jaffna Tamils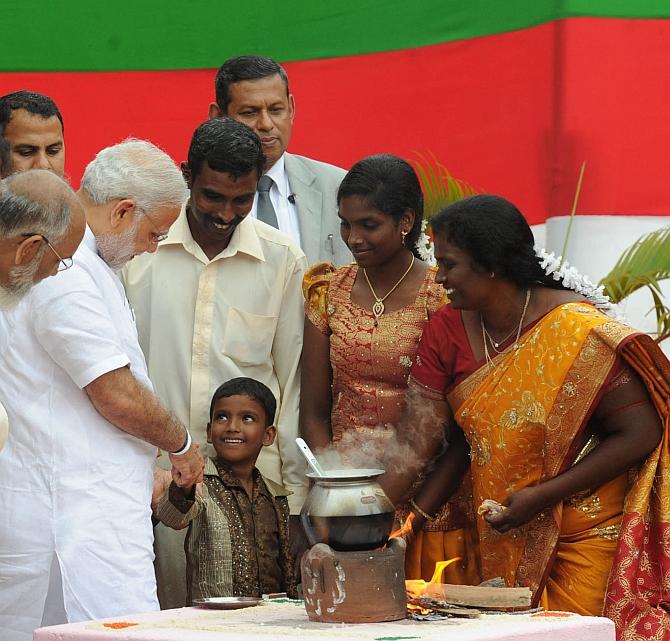 Modi said he was glad that his trip "is one to wipe tears from the eyes of those who suffered".
Prayers, stupas & more: Modi's date with Sri Lankan history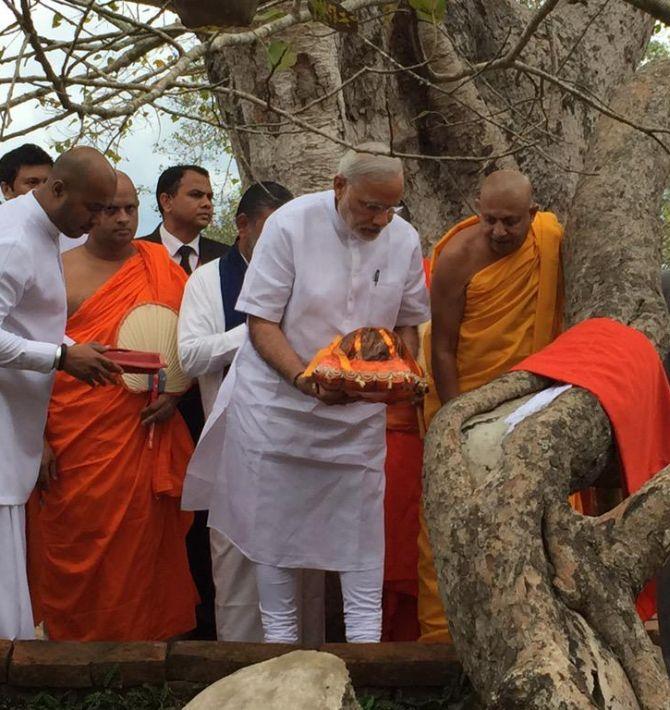 "Looking forward to a wonderful day," Prime Minister Narendra Modi tweets before he leaves Colombo. G Sudhakar Nair/PTI reports from Anuradhapura
March 13, 2015
PHOTOS: When rebel soldiers shed fatigues for high heels and gowns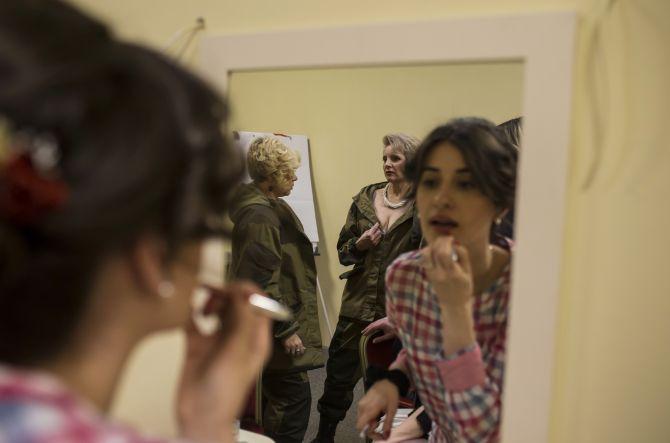 Women from three main rebel battalions showed off their dinner dresses before they changed back to fatigues to receive prizes and roses,
A rare look inside Osama bin Laden's Afghan hideout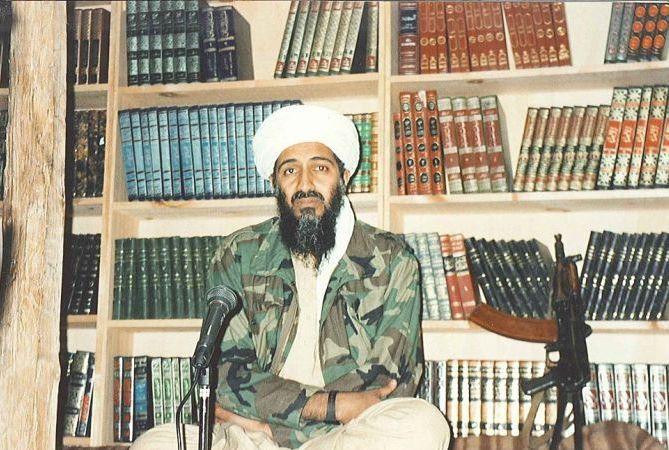 A rare look inside Osama bin Laden's Afghan hideout.
Kerala's fight club: Budget speech delivered as chair, mike thrown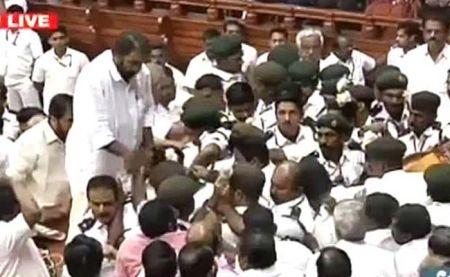 Amid massive protests by the opposition in the Kerala assembly state Finance Minister K M Mani, facing corruption charges in the bar licence issue, presented the budget on Friday morning.
Modi becomes first Indian PM to visit Sri Lanka in 28 years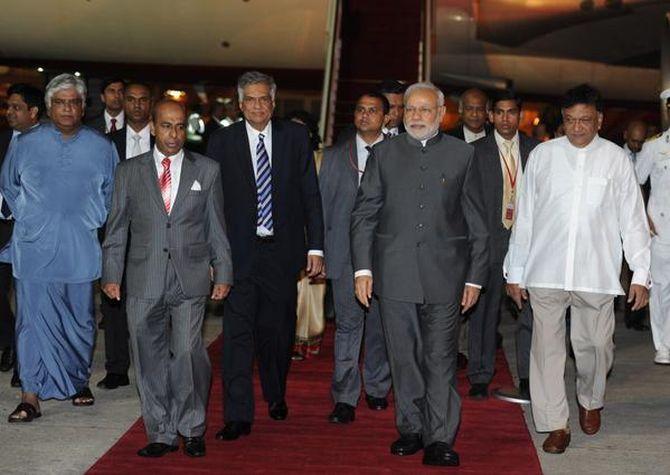 Prime Minister Narendra Modi on Friday flew into Colombo in the early hours for a historic visit during which he is expected to hold talks with the country's top leadership.
Highest paid world leaders: Obama tops, Modi 12th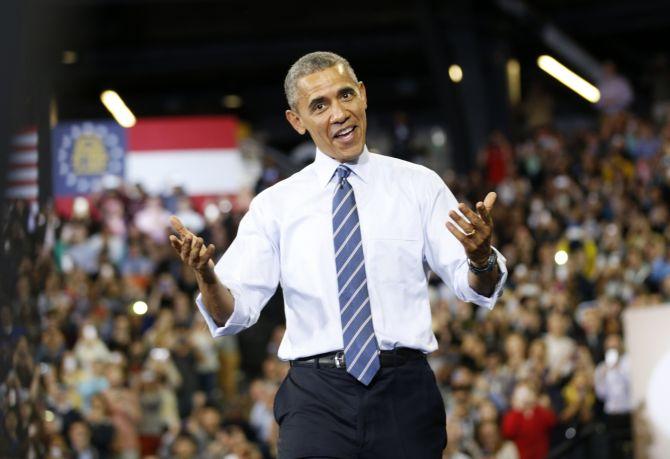 According to recent official data here is how world leaders' salaries stack up.
March 12, 2015
WTF News: It's Weird, True and Funny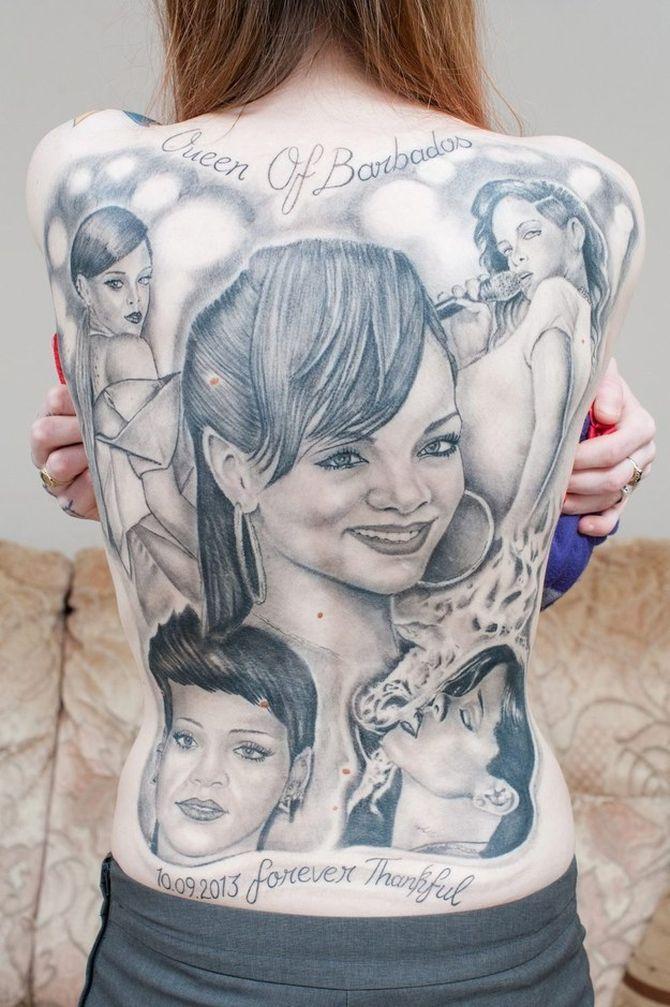 This week's collection of stories that prove we live in a truly mad, mad world.
Sonia and Co rally to defend Manmohan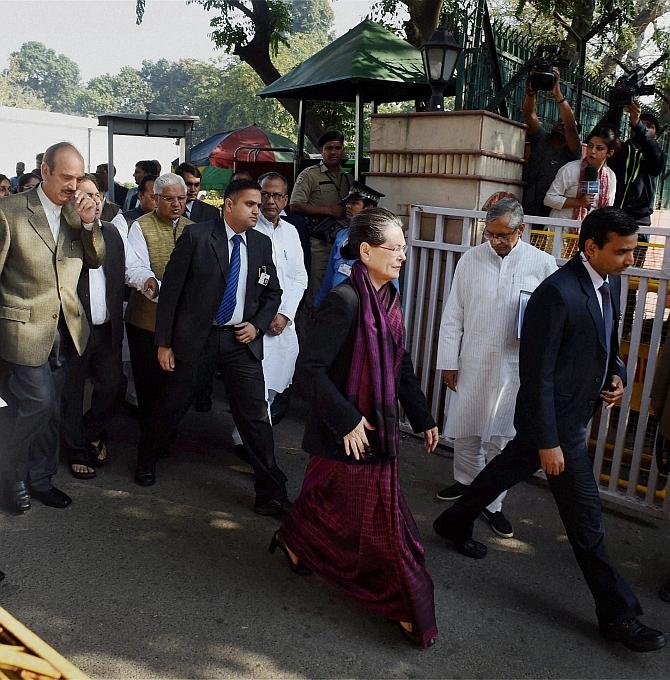 Congress leaders led by Sonia Gandhi marched from the Congress headquarter in New Delhi to the residence of Manmohan Singh to express solidarity with the former prime minister, who has been summoned as accused by a court in a coal scam case.
PHOTOS: Devastating homemade weapons of Syria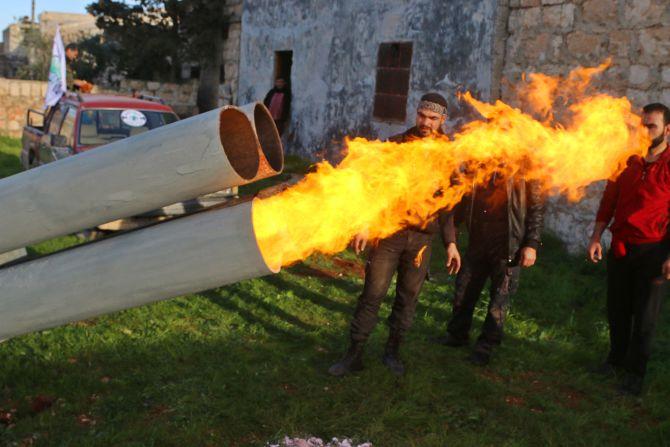 The rebels in Syria, who lack the resources of Assad's government forces, have had to improvise and build their own bombs, missiles and mortar shells.
March 11, 2015
4 years on: Tears and prayers mark Japan's tsunami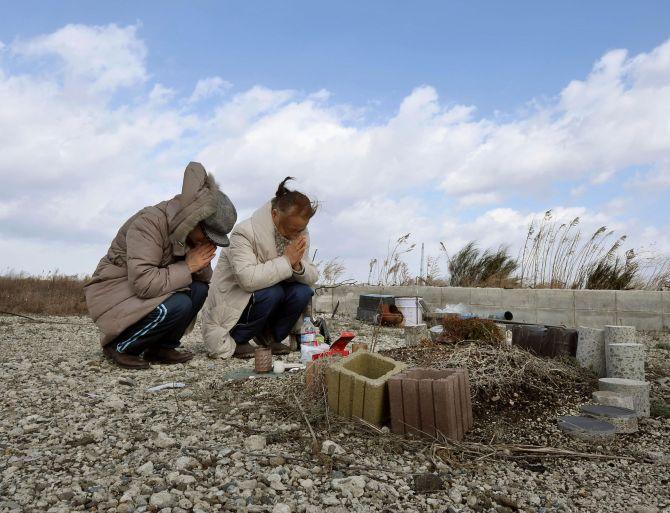 Japan marks the fourth anniversary of a quake-tsunami disaster that swept away thousands of people.
March 10, 2015
Face dark reality of sexual violence: Freida's powerful message to India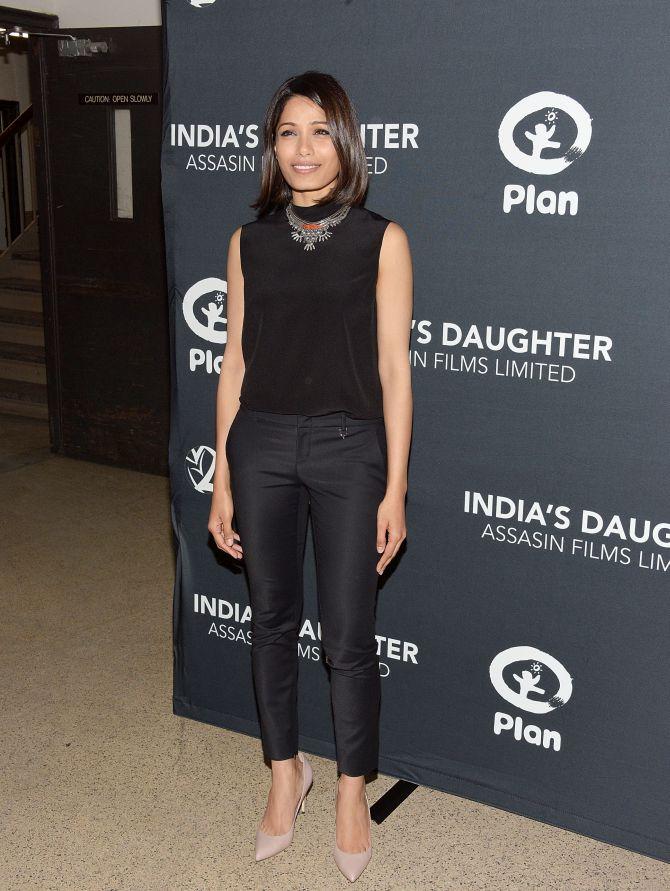 The BBC documentary, depicting the aftermath of the brutal gang rape and murder of Nirbhaya in 2012, has premiered in the United States with Oscar-winning actress Meryl Streep, Frieda Pinto and actor-director Farhan Akhtar in attendance as a show of support for the film banned in India.
Odd PHOTOS from a mad, mad world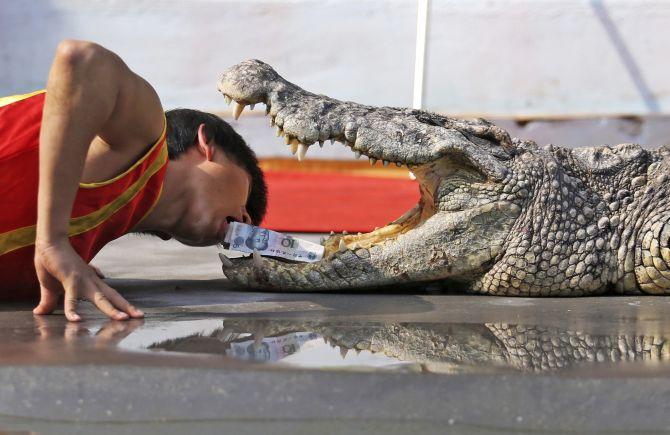 These images from across the globe tell that it is a crazy world out there!
March 09, 2015
PHOTOS: Another manic Monday in Kashmir, courtesy heavy snowfall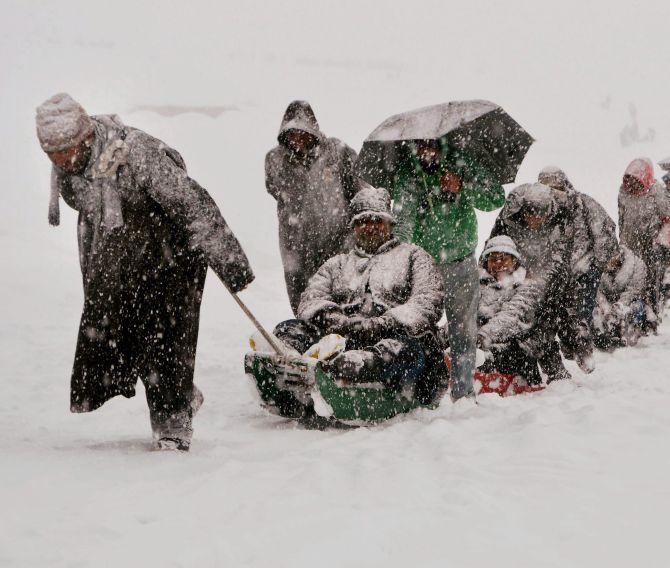 Kashmir witnessed the season's heaviest snowfall.
On Selma anniversary, thousands march to mark 'Bloody Sunday'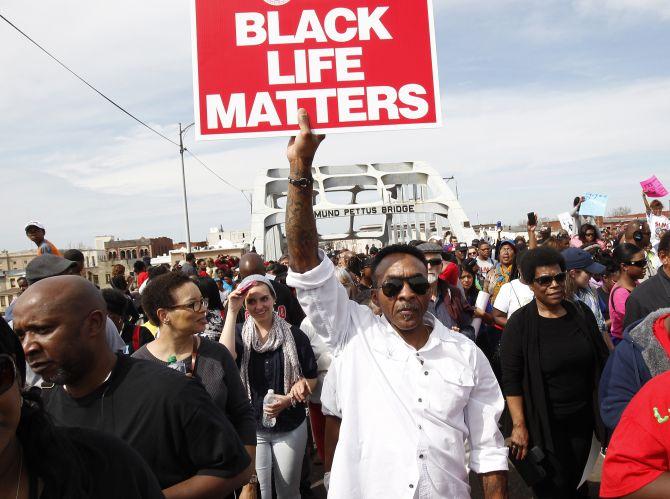 With a nod to ongoing US racial tension and threats to voting rights, President Barack Obama declared the work of the Civil Rights Movement advanced but unfinished on Saturday during a visit to the Alabama Bridge that spawned a landmark voting law.
Stunning photos from the week gone by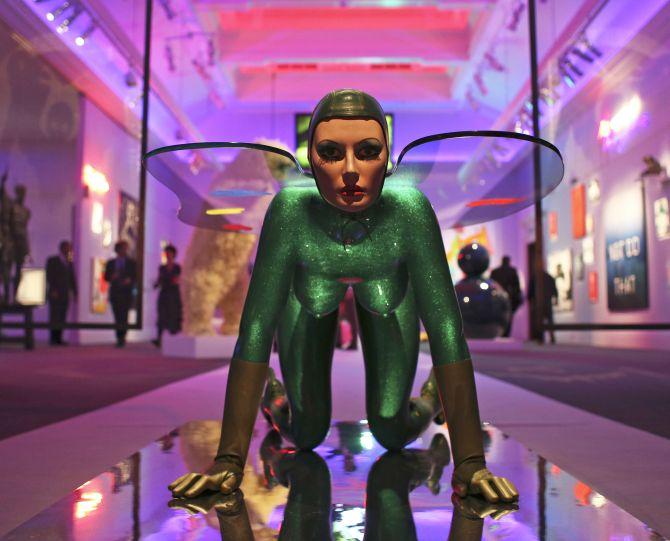 Images of the events that shaped the world last week.
March 08, 2015
Hello ladies, it's your day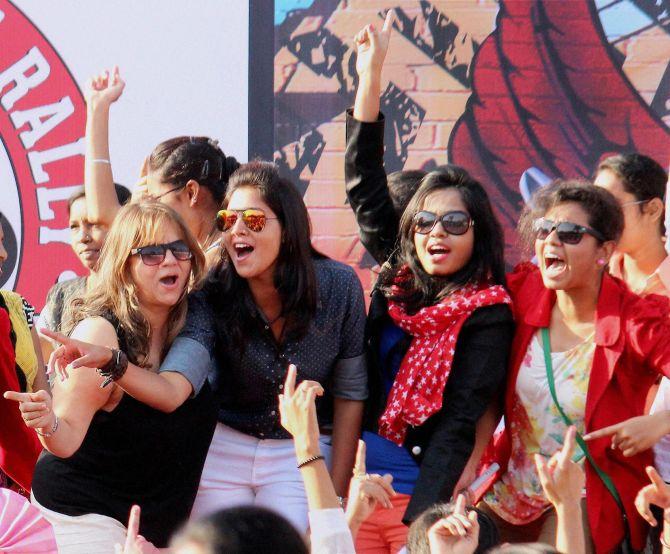 Celebrating the Indian woman.
A year on, where is MH370?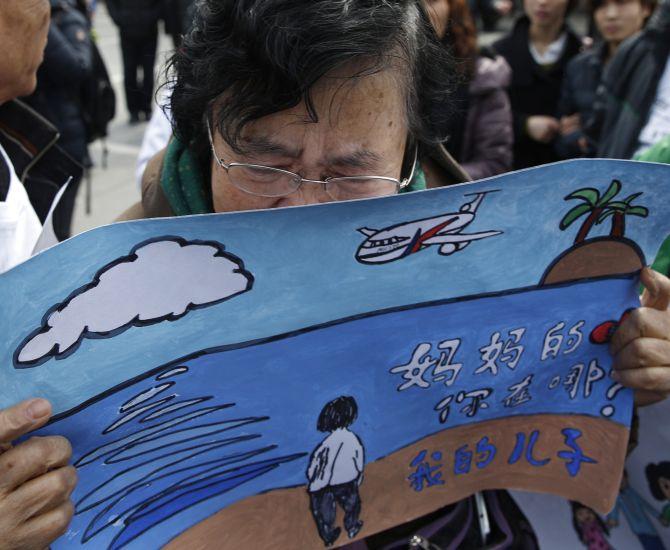 Grieving families of the 239 people on board flight MH370 on Sunday marked the first anniversary of the world's biggest aviation mystery with
March 04, 2015
Skid row shooting: Protesters take to the streets against LAPD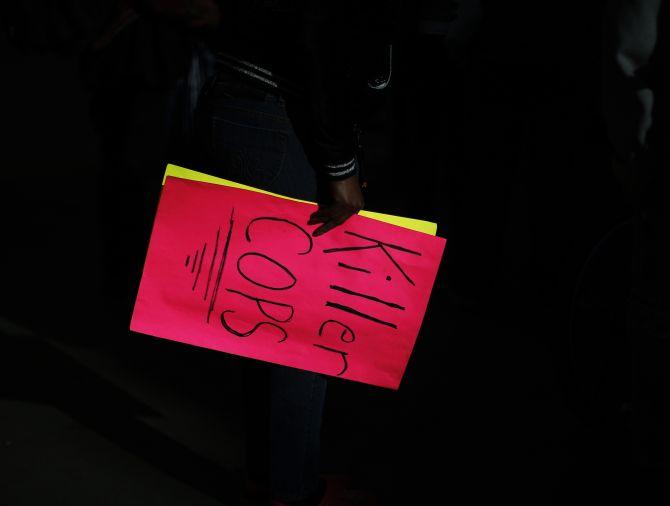 The homeless man who was fatally shot by Los Angeles police on Sunday has outraged civil rights activists and fellow skid row residents.
March 03, 2015
PHOTOS: Holi, Vrindavan style!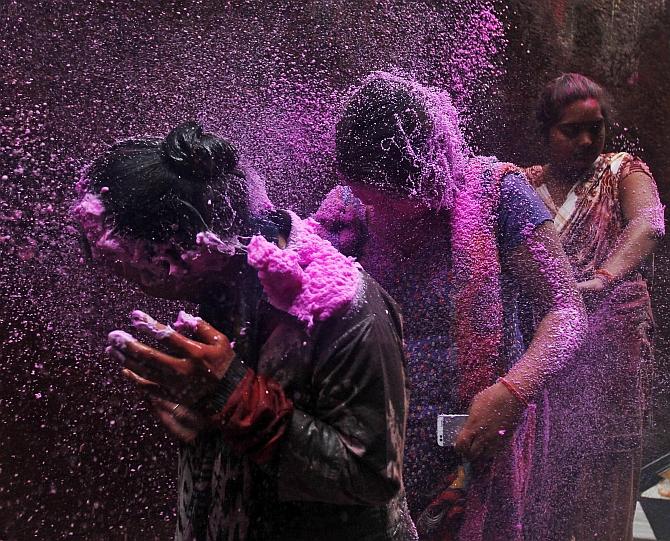 They say if you really need to get a feel of vibrant India, head to Vrindavan during Holi
Mumbai's aquarium back, but it's still fishing for something...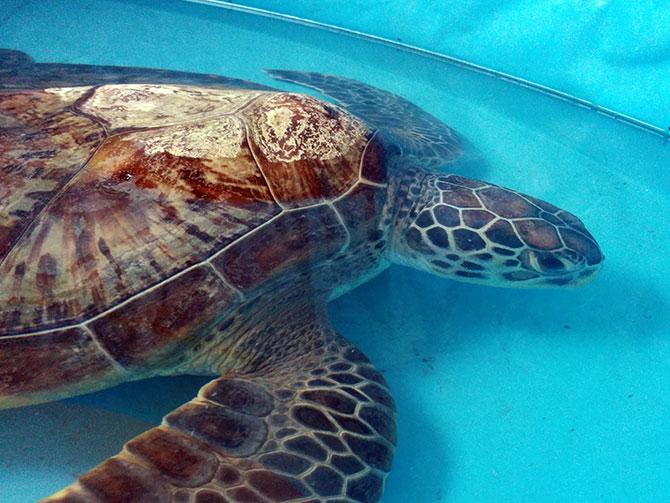 Fish-lover Rajesh Karkera revisits Taraporevala Aquarium V.20 after decades and comes back with mixed feelings. Is this the new-look one the city was promised?
Sony Photo Awards: 12 STUNNING shots!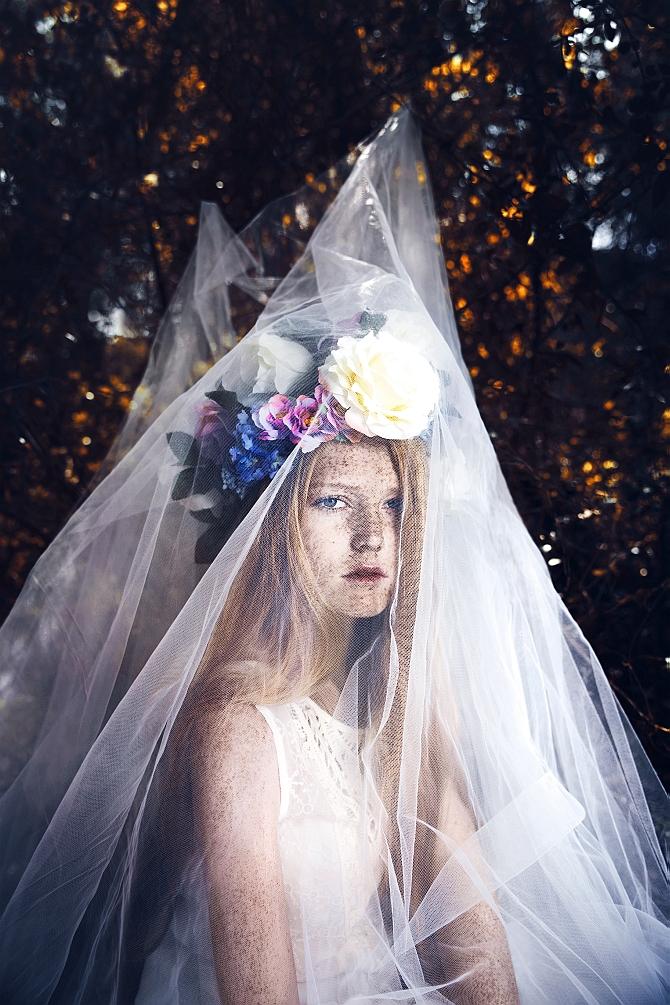 The 2015 edition of the Sony World Photography Awards, the world's biggest photography competition, has announced the shortlists.
March 02, 2015
PHOTOS: Snow, white and the Valley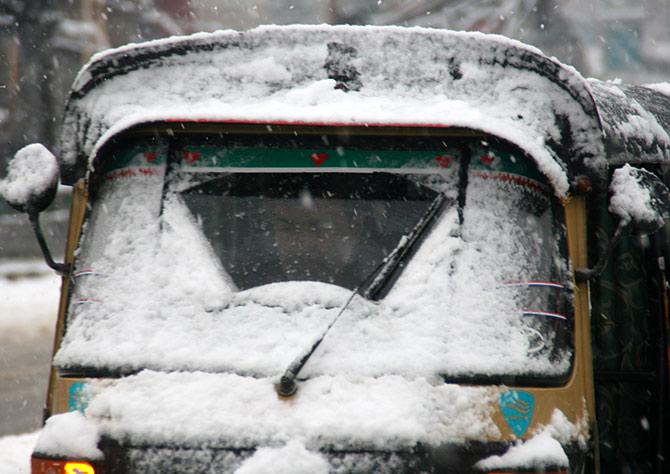 Umar Ganie/Rediff.com captures some wow moments from snow-bound Kashmir
Afghanistan: 'Worst avalanche in 30 years' claims 250 lives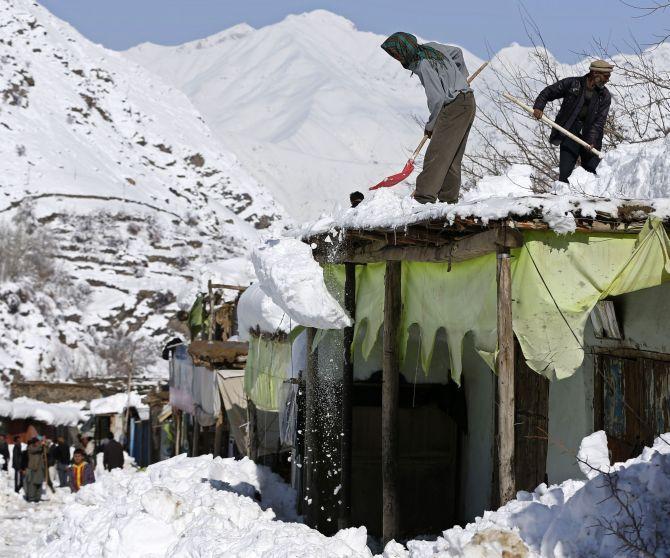 At least 250 people have died amid massive avalanches and flooding in Afghanistan.
Jammu-Srinagar highway closed after heavy snowfall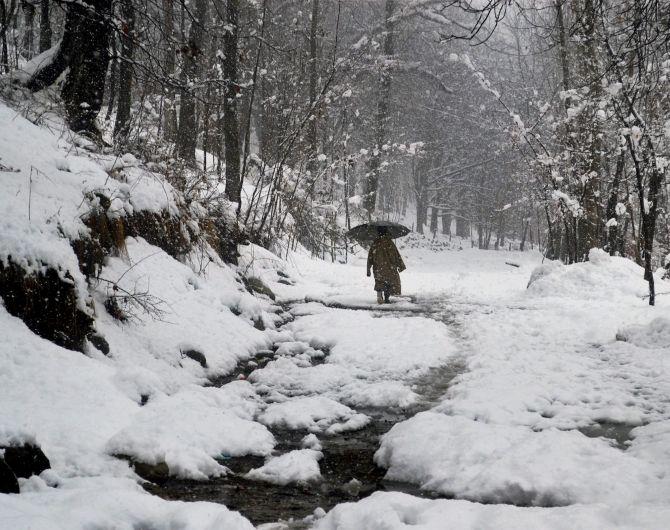 The crucial Jammu-Srinagar highway has been blocked
Awesome photos of the month: February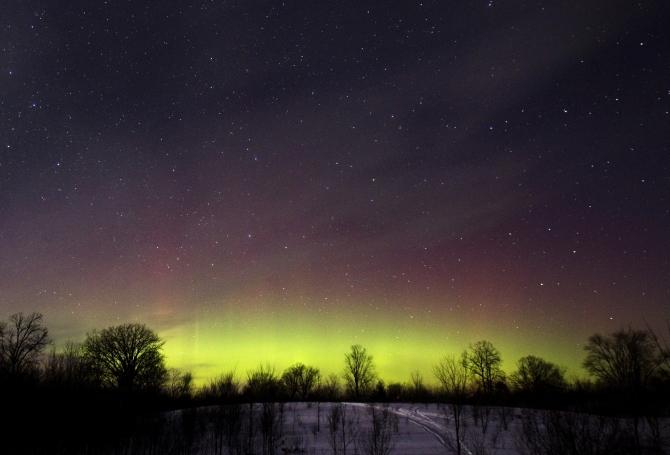 Awesome photos of the month: February Here are some of the best photographs clicked across the globe in the month of February.
Archives
August 2014 - February 2015
|
January - July 2014
|
April 2013 - December 2013
|
January 2013 - March 2013
|
November 2012 - December 2012
|
September 2012 - October 2012
|
August 2012
|
July 2012
|
June 2012
|
May 2012
|
April 2012
|
March 2012
|
February 2012
|
January 2012
|
December 2011
|
November 2011
|
October 2011
|
September 2011
|
August 2011
|
July 2011
|
June 2011
|
May 2011
|
April 2011
|
March 2011
|
February 2011
|
January 2011
|
December 2010
|
November 2010
|
October 2010
|
Sepetember 2010
|
August 2010
|
July 2010
|
Jun 2010
|
May 2010
|
April 2010
|
March 2010
|
February 2010