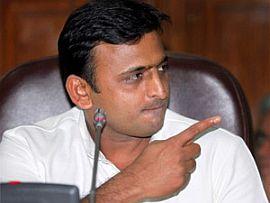 After a year of docility, Uttar Pradesh Chief Minister Akhilesh Yadav seems to be in an assertive mood once again. But will the newfound confidence sustain, wonders Sharat Pradhan

A year ago when Akhilesh Yadav assumed the Uttar Pradesh chief minister's post as its youngest incumbent ever, he brought in a whiff of fresh air and respite from the virtually totalitarian regime of his predecessor and bete noire Bahujan Samaj Party chief Mayawati.
The change was hailed by the state's 20 crore people. But as the months went by, Akhilesh began to emerge as a rather weak chief minister.
Be it his own inexperience or undue interference by his peers, Akhilesh was often seen getting bogged down under pressure both from within and outside the party.

Those who had gone all out to support him because they wanted Mayawati out, were somewhat disillusioned when they failed to see the same spark in him that was visible just before the 2012 state assembly elections when he put his foot down against award of Samajwadi Party ticket to dreaded mafia don D P Yadav.
Evidently, it was his single-handed "no" to the outlaw-turned-politician -- whom his peers had given their green signal -- that propelled a large new crop of voters to give SP the surge that it received at the end of the show.

A whole year has gone by. Akhilesh has failed to display the same grit and determination with which he could thwart D P Yadav's bid to get a SP tag -- with the obvious intent of gaining some kind of immunity from the law.
However, after a year of docility, Akhilesh seems to be in an assertive mood once again.

This was amply demonstrated in the action against yet another outlaw-turned-politician Raghuraj Pratap Singh alias Raja Bhaiya. Insiders claim that but for Akhilesh, the all-powerful feudal lord-turned-minister would have never been shown the door in a Samajwadi dispensation.

"It was Akhilesh who managed to prevail upon his father and uncles to dump Raja Bhaiya after he was named as a key accused in the recent killing of a deputy superintendent of police in the latter's hometown, Kunda in Pratapgarh district.
"We hope he will now maintain that kind of conviction in his actions," observed a young SP leader on the condition of anonymity.
What had led others to be sceptical about him was his inaction on several counts.

Take for instance the February stampede at the Kumbh Mela, which left 36 people dead and scores injured. Prima facie, it was evident that besides the Railways, state officials too had been negligent in handling the exit of the mammoth crowd of nearly 3 crore that had converged on the Mauni Amavasya day for a holy dip as the Sangam. Yet, the chief minister chose not to hold anybody responsible for the avoidable tragedy.
Likewise, when it came to a series of communal violence that broke out in different parts of the state, reluctance was visible on the part of the chief minister to fix responsibility for the official lapses.

Eventually when action became inevitable, Akhilesh preferred to drop the axe only on the smaller fries and not the top district-level officials who would normally be held responsible as team leaders.
The chief minister did much lip-service when it came to the question of taming the lumpen elements in the ruling party. However, no demonstrative action was visible even against those who were in a habit of flaunting their clout by displaying the party flag on their vehicles that entitled them to immunity from all laws.

When his attention was drawn to the continued misuse of party flag and insignia, all he said was, "We are trying to check that menace."
Even as he continued to claim, "There is no question of any compromise on law and order issues and no one would be allowed to get away with defiance of law, no matter howsoever high and mighty he might be", action rarely followed against those enjoying proximity with any prominent SP leader.
However, realization appears to have dawned on the young chief minister all his focus on fulfilment of election promises and on restoration of democratic values was not enough to acquire credibility as an "effective" chief minister.

After all, he had done his bit -- giving away unemployment doles, laptops, Rs 30,000 ex-gratia to all girls passing Class 10th, loan waiver to farmers and high sugarcane price.
But, perhaps it was the persistent criticism from various quarters including his own father and uncle that eventually led the 39-year-old chief minister to get into the governance gear.
His courage of conviction and a new confidence level became clearly visible at the press conference he addressed on completion of one year in office when he was ready to admit his pitfalls along with his achievements. But he has no qualms about admitting his pitfalls about core areas like law and order.
"There is no denying that certain law and order issues are of serious nature and we are quite concerned about those issues," he candidly admitted before media persons, while hastening to add with an air of confidence, " but let me tell you that I will not allow any kind of compromise on matters related to law and order."
He said, "Our emphasis is going to be on large scale improvement in policing, which has surely deteriorated over the years."

While admitting that poor policing was largely responsible for unsatisfactory law and order, he said, "We have prepared plans for ridding the police of corruption and rough behaviour with people."
Will that assertion come to a halt like it did after the snub to D P Yadav or is Akhilesh now actually all set for a transformation? That's the million dollar question.
Considering the high stakes of the Samajwadi Party in the forthcoming Lok Sabha elections -- that are not very far away -- Akhilesh is unlikely to leave any stone unturned to prove that he means business. His father, Mulayam Singh Yadav -- who has often been blamed for doing the back-seat driving with a leash -- also needs to realise that it was high time he gave a free hand to the son.
Evidently, this was Mulayam's last chance to fulfil his long cherished dream of riding on to the prime minister's chair. Sure enough, his son's performance on the hot seat of UP CM would remain crucial in paving way for realization of that dream. And once the father frees all the shackles, the uncles too would have no choice but to follow course.
Sure enough, that would not only make or unmake the young chief minister, but also establish or demolish the Samajwadi Party.