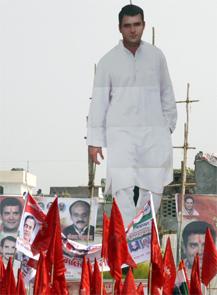 'Rahul Gandhi was not wrong in invoking the 2002 Gujarat riots, but when Arnab Goswami threw the curve ball of judicial clean chit to Modi, he did not know what to say.'
'A better-prepared man would have come back that it was not a question of judicial clean chits, but about owing up moral responsibility, would have even cited Vajpayee's rajdharma plea,' argues Saisuresh Sivaswamy.
As a rule politicians are loath to give answers. As a rule they would rather avoid being asked questions, especially on camera where there can be no mercy shown. But since public life increasingly demands public elaboration of decisions taken in private, most politicians, especially the ones eyeing the top job, choose their interviewers since they know who are the ones who are easy with the questions, can be 'managed' or simply be charmed.
However, Arnab Goswami is not one of them. You don't have to watch his Newshour at 9 pm to know that. This is probably the first lesson one suspects aspiring politicians are taught in kindergarten: Don't mess with the Arnab.
So it has been a matter of immense curiosity as to why Rahul Gandhi made his debut on national television with a grilling session with Arnab Goswami.
It is obvious that Rahul Gandhi is not political enough to be a politician. So was he sold a lemon by his so-called 'well-wishers' among the Congress old guard, led like a lamb to slaughter, after being told by them that all he has to charm the inquisitor is to flash those lovely dimples?
A more political politician would have prepared adequately, known what the opponent is all about, anticipated the questions, and readied the answers well. Instead Rahul came across as someone well-intentioned, but under-prepared for battle -- a persona that is all too familiar to those of us who have been following his political peregrinations of the last ten years.
As image-building exercises go, this was a disaster from start to finish -- unless the purpose behind it was to build up Arnab and his television channel's image.
Having said that, were there no positives to take away from the interview at all?
My mind somehow goes back to the run-up to the 2009 election, when the Bharatiya Janata Party's L K Advani was its Arjun leading the army into battle, with Narendra Modi playing his faithful charioteer. Rediff.com interviewed Modi in Gandhinagar about the election, and as the exercise wound up when I had to pop the inevitable question on the 2002 riots on his watch.
The reaction of the man who pitches to be prime minister today was classic -- perhaps honed by the times he had done it before with other journalists. The interview was abruptly terminated:
If you were to go back in time to the 2002 riots is there anything you will do differently?
OK, let us go, it is time to end the interview, thank you.
Which takes me back to my original point about politicians being loath to face questions they don't want to.
Arnab certainly gave Rahul Gandhi a much tougher time than we had done with the Gujarat chief minister, but to his eternal credit, the Congress vice-president did not take the easy way out despite the discomfiture that was playing on his face.
For that alone, for taking it on the chin square and fair, the first Gandhi-Nehru to be grilled so on national television gets my vote.
Since this is only the first of Rahul's media exposition, we can be sure of more interviews, across various media. But before he embarks on the exercise, here are a few tips for the Congress vice-president.
If you have an image makeover team, sack them immediately for not preparing you well enough. There are some basic ground rules during a television interview. The first being, do not look away or down. Always maintain eye contact with the interviewer/camera. Didn't look like you were briefed about it.
If you have a media advisory team, sack them immediately too. A journalist's questions are not arcane matters -- they pertain to the very topics you are not willing to talk about. The media team should have put Gandhi through the paces, preparing tough questions, reviewing replies, improving them. If this exercise was done, it was not evident on Monday night.
Interviews are not about what you want to talk about, but what the interviewer wants to know. As Arnab rightly said, if it was the former he would listen to your speech at the AICC session. But it is downright cheesy to ask the interviewer for questions beforehand, only failed Bollywood actors do it. So it makes better sense to prepare your answers beforehand.
When you are in public life expect to be asked about everything by an inquisitive media. Usually the Indian media is not intrusive or scandalous, but in Rahul's case they may just cross the line and want to know about his love life etc – only because the Nehru scion has been a media recluse all along. Once the novelty wears away, they won't bother him so much.
Review the tape of the interview with Arnab, pick out all your fumbles and evasions, and practise how you could have answered those questions differently, and better (ideally this should have been done before the interview, but a post-mortem never hurt the dead).
Rahul Gandhi was not wrong in invoking the 2002 Gujarat riots, but when Arnab threw the curve ball of judicial clean chit to Modi he looked like a deer caught in the SUV's headlights and did not know what to say.
A better-prepared man would have come back that it was not a question of judicial clean chits but about owing up moral responsibility, would have even cited Atal Bihari Vajpayee's own rajdharma plea.
That this would have inevitably brought in the 1984 riots under the Congress's watch, is a no-brainer. Even there, Rahul Gandhi had everything to gain by making a clean breast of it, by owing up responsibility on behalf of his party, and promising that communal riots will never happen on his watch.
It was a bad miss on the part of the Congress vice-president to spell out his vision for the party and government under him.
Similarly, he was all at sea when faced with the Congress's Achilles heel, corruption. A more seasoned interviewee would have known that all the high-falutin' talk of transforming the system yada yada yada falls flat when confronted with the cold mirror of specifics (or superficialities, as Rahul chose to dismiss them). Another golden chance lost, to expound his own thinking to the party and address the nation.
By stumbling over 'Ashok Kumar' instead of 'Ashok Chavan' and mentioning 'Gujarat' instead of 'Bihar' when questioned about an alliance with Lalu Yadav, Rahul appeared as if he had come underprepared to wrestle with this issue.
One could go on and list out the entire 75-minute-long exchange that was touted as the interview of the year, but I suspect Priyanka Gandhi-Vadra would have undertaken this exercise already.
In sum, the, while it was refreshing to have the Nehru-Gandhi scion grilled on television, one hopes the experience won't put him off the exercise altogether. And if it doesn't, here's hoping that he comes better prepared for his subsequent outings.
Image: A giant cut-out of Rahul Gandhi at a campaign rally on the outskirts of Allahabad on November 14, 2011. Photograph: Jitendra Prakash/Reuters