United Progressive Alliance's abysmal performance and the Bharatiya Janata Party's claims of good governance are two factors that could change how India votes this year, says Shreekant Sambrani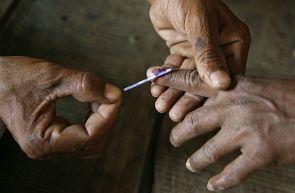 The buzz for the Oscars starts in early December, even before some of the contenders are released and certainly before the nominations. It ends three months later when a parade of stars utters the magic words, "And the Oscar goes to," in various categories.
The coming Indian general election is no less a show business. Speculation about its outcome started after the results of the five state Assembly elections on December 8, 2013, and will continue unabated until May 16, when the results will be known. That is natural. Who doesn't flip to the end of a mystery to know whodunit?
And so opinion polls and surveys try to meet this justifiable curiosity. Questions exist about their reliability, especially in the light of a supposed sting operation. They relate to the often less than transparent methodologies, something the more reputed polling organisations are not guilty of. Small sample sizes and conversion of vote shares into seats are also disputed, particularly by those who find the results unpalatable.

The major problem I see after conducting numerous surveys over three decades lies elsewhere. The golden rule is a sharp focus and limited questions -- keep it short, stupid, is good advice not just for politicians on the stump but pollsters as well.
Respondent fatigue and indifference affect the integrity of replies if too many questions are asked. Unfortunately, almost all the surveys have tried to hit many birds with a single stone. A straight "who would you vote for" poll would doubtless produce a far more representative picture of voter preference than when clubbed with, say, questions on safety in the street and role of women, however valid they may be.

Therefore, it is best to consider the trends common to the five major surveys reported so far, rather than discuss variations among them or their finer nuances. That trend is unmistakably convergent: today's National Democratic Alliance is within striking distance of a majority, with the Bharatiya Janata Party itself headed for over 200 seats. The Congress will probably sink to its lowest tally, most likely below 100.

This is also reflected in the weather vane behaviour of not just politicians and parties busy switching allegiances to be on the winning side or shunning the losing one, but also in the comments of the supposed opinion-makers. These are no longer mere straws in the wind.

The question, then, is whether the current trend will prevail until voting day. Hedging comes naturally in saying "in the absence of unforeseen events." Black Swan events -- the disappearance of Flight MH 370, for one -- do occur, however rare they may be.

But an analysis of reasons for this change will also show that it is stable, and could even strengthen in the run-up to polls. The BJP could improve its total (albeit not enough to cross the Rubicon of 273), and more pre-poll allies could propel the NDA to a near or comfortable majority.

Two factors are involved, one negative and one positive. The negative is the abysmal Congress/United Progressive Alliance performance, especially on the economy, which has been discussed to death. Suffice it to say that a desperate people are ready to embrace an alternative that offers hope. This is where the positive in the form of the NDA's claims of good governance and development in the states it rules appeals. More specifically, the stewardship of the BJP prime ministerial candidate, Narendra Modi, in Gujarat for the last decade holds an irresistible attraction all across the country.

Some aspects of Gujarat's progress are authentic, despite attempts to dispute or minimise them (including the most recent ones of Aam Aadmi Party's Arvind Kejriwal): its overall growth and sectoral development including agriculture, industry and infrastructure power supply; and reduction of administrative roadblocks.
Yet the Gujarat record on many other development parameters is not the best, or among the best, compared to that of the other states, now or ever. On most indices, including health care, Gujarat may be above the national average, but other states, such as Maharashtra and Tamil Nadu have done better, along with the leader Kerala.
The only small factor favouring Gujarat is that its efforts over the last two decades have been heartening, reflected in an improvement of its relative position. But much, much more needs to be done. The common perception of the big picture, however, seems to factor in the reality of most states being deficient on one or the other of these dimensions. This caveat informs comparisons among states.

Kerala has been an outlier on all indices of social development for long: literacy, health, women's and children's care, and now, even on reforming police. It is often compared to Scandinavian countries, and rightly so. Gujarat is likened to China, because of its dominant growth concern, and that, too, is justifiable. But the more apt parallel would be with the US.
America is not on top of any list on any development parameter, except gross domestic product. Its records on education, health care, social inequalities, invasion of privacy have all caused concern, especially recently. Yet there is no doubt as to which is the favourite destination of the whole world's intending immigrants. Despite its not-so-salutary performance on many indicators, the US conjures up an image of the most desirable country to live in.

People perform their own subjective trade-offs and aggregation, and vote with their feet. Gujarat is clearly not the shining example that all of India admires on all counts -- that would be impossible for any one state. But it does seem to enjoy a position similar to the US within India. Immigrants from the north and east carry stories of their relatively decent life in Gujarat back with them. Those who live in Gujarat are often complimented on their good fortune when they travel outside, something that I can vouch for myself. This is not a new phenomenon: it has been happening for over five years, long before Kejriwal's entry into the political or agitational space.

A long-time friend from Mumbai, with whom I often disagree, said after seeing the new bus terminal in Vadodara, "I would like more of it elsewhere in Gujarat and in India."

The motivation for an obviously aspirational India voting in the 2014 election is pithily summarised in a modified old advertising tag line, "residents' pride, neighbours' envy!"
The writer taught at the Indian Institute of Management, Ahmedabad, and helped set up the Institute of Rural Management, Anand
Image: A polling officer applies ink on the finger of a voter at a polling station in Mohan Sarai, UP
Photographs: Reuters