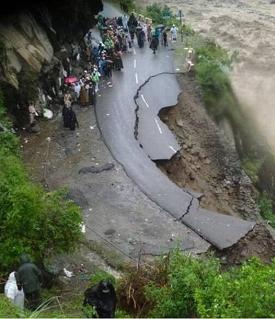 The recent tragedy confirms the view of humanitarian aid as a political weapon
Why is it that three weeks after calamity struck Uttarakhand we have no clear idea of the possible death toll? Figures have veered wildly between 500 and 10,000, but are being challenged and disputed even today.
Uttarakhand Chief Minister Vijay Bahuguna pitches them low ("We will never know the exact number of the dead and the number of people buried or washed away"), but his colleagues from the opposing Congress faction are eager to ramp up the figure. "After seeing piles of bodies and hearing accounts of people coming down from the mountains and those calling up, I feel the death toll could be well over 10,000," announced Assembly Speaker Govind Singh Kunjwal last week, which led to a political quarrel - just one among many.
Uttarakhand's tragedy is as much man-made as natural and confirms the view of humanitarian aid as a political weapon. Dehradun's small airport in recent days has been overrun by a trail of bigwigs from New Delhi and the states (nearly a dozen chief ministers have sent teams), but their fight to commandeer vehicles, housing and security in the state capital has often ended up hampering relief measures. The squabbles have taken an ugly turn to polarise communities, notably by Gujarat Chief Minister Narendra Modi, whose development model now encompasses archaeological authority. His offer of "developing an impressive complex at the flood-ravaged Kedarnath shrine" has raised hackles, with the Congress derisively dismissing him as "Rambo" and the Archaeological Survey dispatching specialists to survey restoration of the temple. It is not for nothing that the Hindu law of karma decrees that the pilgrim's path to the gods is perilous and fraught with danger.
The real Rambos of the hour have been the armed and paramilitary forces, losing lives of their own in a helicopter crash -- but their role, as in any emergency, is temporary. They cannot supplant the civil administration. From the civil authorities, for example, the district magistrates of the three worst affected districts of Rudraprayag, Uttarkashi and Chamoli, there is only a deafening silence. Their lack of preparedness and planning in a region where pilgrimages are an annual event, with the number of visitors swelling every year, is an example of the collapse of power structures in rural areas. How are hundreds of hotels permitted to be built along riverbanks or how do unsafe slum-like structures crowd the hillsides right up the doorstep of the deities? What is the extent of tree felling and encroachments of public land, including road margins? If local tehsildars and patwaris are on the take, is there no authority to book them?
The alphabet of catastrophe management is most visible in an imposing multi-storeyed building in the heart of south Delhi. The huge lettering that announces the National Disaster Management Authority in glowing blue neon could be mistaken for a multiplex. What goes on inside can be ascertained from this organisation's website. Its chapters titled "Floods" and "Landslides & Avalanches" contain pages of bureaucratic fluff. The opening line is not encouraging: "India has a sensational record of catastrophes due to landslides, unique and unparalleled." The essays go downhill from there, bereft of information or insight.
The NDMA was set up in 2005 and is chaired by the prime minister. Its superstructure, as shown in an elaborate chart, is made up of multiple central and state consultative bodies that are mainly a network of committees; many of its members are has-beens or also-rans, a cosy club of superannuated bureaucrats, policemen and politicos. M Shashidhar Reddy, the vice-chairman, a legislator from Andhra Pradesh, was awarded the sinecure to thwart his bid for the chief ministership; V K Duggal, a former army captain and Indian Administrative Service officer, aspired to be Delhi's lieutenant governor but made it to the NDMA; K M Singh, a retired cop, in his CV lists launching a pro-India lobby of over 50 MPs in British Parliament under the banner "Labour Friends of India" among his "most important contributions".
A disastrous CV seems desirable for managing national disasters. Is it any surprise that Uttarakhand has suffered a landslide defeat?

Image: A road damaged due to a landslide following heavy rain in Uttarakhand