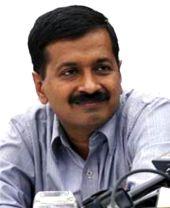 Aam Admi Party National Convenor Arvind Kejriwal has been invited to address the Wharton India Economic Conference in the United States.
He will deliver his address through video-link on March 23, the day on which he will launch his indefinite fast.
An Aam Aadmi Party spokesperson said Kejriwal has got the invitation and will deliver his lecture through video-link.
The conference got into news in India after the organisers of conference decided to cancel Gujarat Chief Minister Narendra Modi's keynote address.
Wharton took this decision in the wake of opposition to Modi -- who has drawn flak for his alleged role in allowing the 2002 post-Godhra riots -- from some of its students and university professors. Modi was to deliver his address on March 22-23 via video-conference.
Three Indian-American professors from the University of Pennsylvania had sent a petition to Wharton signed by about 135 people "furious" against the invitation to Modi.