Live Chat: Kondapalli on India, Washington and Beijing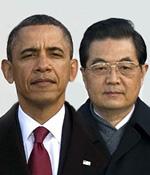 It is a week of major developments on the foreign affairs front for India.

In Washington, DC, an incumbent regime has been voted back to power. While that in itself may not mean major foreign policy reworking on India's part, it would mean some adjustment in focus, perhaps, to ensure that the wrinkles in the bilateral ties are ironed out soon.

There is a sense of urgency about it, as fractious politics in India could make New Delhi take its eyes off the ball. With a new external affairs minister, Salman Khurshid, in place, the need to hit the ground running so far as Indo-US ties are concerned cannot be over-emphasised.

Inscrutable China is another ball game altogether. With a new leadership set to take over the communist nation on Friday, the task before Khurshid assumes an even greater sense of urgency. The need to balance Washington, DC, and Beijing, tricky at the most benign of times, pose a challenge now.

How should India steer the ship of foreign policy between the two giants? Find out on the Rediff Chat where a glittering array of thinkers give their opinion on what President Obama needs to do to regain lost ground.

Yesterday we had Dr Sanjaya Baru giving his take on Obama's re-election and what it means for India. Continuing our series of chats Ambassador M K Bhadrakumar, the former diplomat and columnist, appeared on the Rediff Chat at 12.30 pm IST on November 8, 2012.

In the afternoon of November 8, we had B Raman, strategic thinker and former RAW official.

On Friday, November 9, 2012, we had former foreign secretary Kanwal Sibal on the Rediff Chat at 2.30 pm IST. He is now followed by Srikanth Kondapalli, professor in Chinese studies at the Jawaharlal Nehru University, at 3.30 pm IST.

Join the Rediff Chat on India's challenges: Washington, DC, to Beijing!