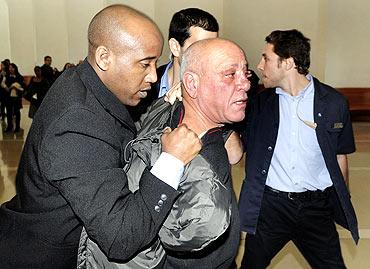 An unidentified man on Wednesday hurled a pair of shoes at Israel's Supreme Court president during a proceeding that hit between the eyes and knocked her off the chair.
67-year-old Dorit Beinisch was hit by a man from the fourth row of the packed courtroom with her nose and forehead taking severe blow and spectacles smashed, Israel Radio reported.
She was immediately taken to a doctor but returned to work an hour after the incident, welcomed with an applause by those present in the courtroom.
"This moves me more than what happened earlier," Beinisch, the first woman to become the President of Israel's Supreme Court said.
Police immediately arrested the shoe thrower.
Court guards told the radio that the man in his fifties with thinning grey hair is a driver and is often seen approaching people unsolicited.
Eyewitnesses said that the man entered the court and pointed at Beinisch trying to confirm her identity.
Once confirmed, he took off his sneakers and threw them at her, yelling 'traitor' and 'you destroyed my life.'
"We were in the middle of deliberations. Suddenly we saw a shoe fly from above heading directly toward the President. She bent forward and we heard a boom. The guards jumped on the man, ramming him in the head."
We were ushered out of the courtroom; it was very chaotic," Lawyer Tal Ron, an eyewitness said.
The incident occurred during a hearing on the use of medical marijuana but it is believed that the shoe thrower was upset about an unrelated case.
President Shimon Peres and Prime Minister Benjamin Netanyahu, who is currently abroad, called Beinisch to share their shock at the incident.
"It's forbidden to attack the courts and unthinkable that someone would harm the President of the Supreme Court," a statement from the PMO quoted Netanyahu as saying.
The best-known similar incident occurred on December 14, 2008, when an Iraqi journalist Muntazer al-Zaidi threw two shoes at then US president George W Bush during his farewell visit to Baghdad. He missed in both cases.
On Monday, a Sudanese man hurled his shoe at President Omar al-Beshir but missed him.
Image: Court security guards detain a man (C) after he threw a shoe at Chief Justice at Israel's Supreme Court building in Jerusalem on Wednesday
Photograph: Ouria Tadmor / Reuters