Home > India > News > First Look


Discuss |
Email |
Print | Get latest news on your desktop


US lawmaker on Obama and the Indian connection

Aziz Haniffa in Washington, DC | January 28, 2009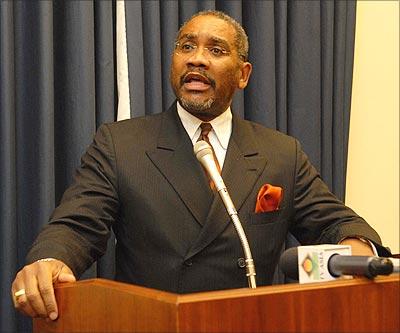 US Congressman Gregory W Meeks, an African American Democratic legislator who represents New York's 6th District, which incorporates parts of the borough of Queens, boasts of the largest constituency of South Asian Americans in any Congressional District in the United States.
On January 27, Meeks, speaking to nearly 150 Indian Americans who had come to Capitol Hill as part of a Task Force to express outrage over the Mumbai terror attacks and to lobby lawmakers to rein in Pakistan and condition the massive American military largesse to Islamabad [Images] on its shutting down the terrorist training camps on its territory, couldn't contain his euphoria over the swearing in of Barack Obama [Images] as the nation's first African American President and the indirect connection to Mahatma Gandhi [Images] that made it possible to be what he is today.
"When I think of Barack Obama, the first thing for me that I have to think of is the passageways that have helped make Barack Obama possible," he said, and added, "we think about the day before his inauguration (on January 20) in the United States when we celebrated the birthday of Dr Martin Luther King Jr, the civil rights icon."
Meeks, said, "When you think of Dr Martin Luther King Jr, you have to think about the man of peace who he said his works were all about -- Mahatma Gandhi."
"And, so if you look at the connection of India, you can say that you helped build the foundation so that the United States of America could have a 44th President by the name of Barack Obama," he said to sustained applause. "And, so I say, we share that heritage and I say, 'Thank you, for that'."
Meeks, a member of the House Foreign Affairs Committee,  said that when he visited India a few years ago, "It was so important to me that I had to take my oldest daughter because I wanted her to see a place that believed in freedom just like we do in the United States."
He told the audience, "You are a democracy, you believe in freedom and you know that injustice anywhere is a threat to justice everywhere."
Then tying it in to the horrific Mumbai terror attacks [Images], Meeks said, "So, you know, that when we look at these horrible events, just as the days of 9/11 are etched in our memories and our stones forever to say, never forget, nor shall we every forget November 26, when these terrorists came ashore via boats and killed hundreds of men, women and children."
"They are our common enemies and now more than ever, we need to stand together to show that those who would give us ill, who means us harm, that we are not going to stand idly by and let them get away with it."
Meeks declared, "We are going to stand together, and we are going to make sure that justice if had."
He argued that "the fight against terrorism, whether it's on the shores of the United States of America, whether it's on the shores of Israel, whether it's taking place in India or Afghanistan or wherever it may be, it is us, the good people of the world, the freedom loving people of the world, that it is incumbent upon us to stand up and not be silent."
"Not stand by and just allow things to be, but it is incumbent for us to come together like never before and say that we are not going to let you take away our freedom, but we are going to bring you to justice."
Meeks said, when these terrorists are brought to justice, "it's going to be an example for all so that we make sure that days like November 26 and September 11, never happens again."
Congressman Jim McDermott, Washington Democrat and co-chair of the Congressional Caucus on India and Indian Americans, said that Meeks had virtually replicated his India Republic Day speech he had delivered in Seattle to his constituency of Indian Americans, where he had drawn the indirect connection between the civil rights struggle in the US led by Martin Luther King, who was inspired by Gandhi, that had ultimately led to the likes of King's 'I Have a Dream,' being realised in the likes of Obama.
McDermott, said he would soon be visiting India again, with Congressman John Lewis, Georgia Democrat, who had marched with Martin Luther King and got his head split open in Selma, Alabama, by the racist white cops that were told to stop the civil rights march.
He said that Lewis would be "leading a delegation to retrace the steps that Martin Luther King made to go and visit Mahatma Gandhi."
"So, the connection, politically and emotionally between out countries are very strong," McDermott said.
He said, "The problem that Barack Obama faces in my view, that is the toughest of all, is to help the United States regain its moral leadership in the world. In the last eight years, we have eroded this by things like Abu Ghraib and Guantanomo and a long list of things that we could spend naming. We have eroded our position and we now have an opportunity for the President to step up and take back the leadership morally for this country."
As he had said in November in Seattle, when he keynoted the 15 biennial convention of the National Federation of Indian American Associations, McDermott said, "I actually suggested to (Obama's Chief of Staff) Rahm Emanuel and to his staff that the first trip the President makes ought to be to India (Obama however had decided that his first overseas trip would be to Canada [Images])."
"Most presidents when they are elected go to Berlin, or London [Images] or Paris or someplace in the world, where the people sort of look like me," he said. "But most of the people in the world don't look like me and the President needs to go out and tell the rest of the world that 'we care what happens to you'."
Image: Gregory Meeks speaking to the Indian American Task Force. Photograph: Paresh Gandhi