Home > India > News > First Look


Discuss |
Email |
Print | Get latest news on your desktop


Violent protests in Mangalore against Ram Sena chief's arrest

Vicky Nanjappa | January 27, 2009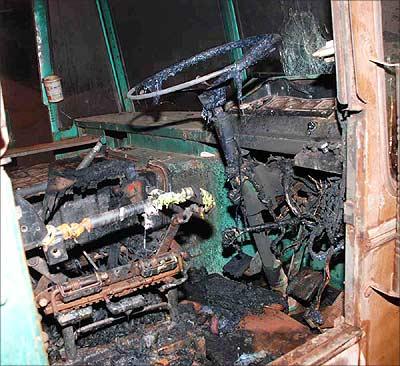 The members of Shri Ram Sena, a Hindu right-wing organisation, went on a rampage in Mangalore on Tuesday morning after the arrest of the group's convenor Prasad Attavar. The mob pelted stones and set ablaze two lorries in the Padeel Alape area of the city.
Attavar was arrested along with Lohith, another member of the Ram Sena, for attacking some girls in a pub on Saturday.
Murugesh, the driver of one of the lorries, said that a mob stopped his vehicle and asked him to get off, before setting the lorry ablaze.
A violent mob attacked a bus at Padeel, while it was on its way back to Kundapur from Chennai. The passengers were unhurt in the attack, but the bus was badly damaged.
The mob also attacked another bus on Padeel Bajal Road.
A case has been registered against the members of the mob, based on the complaint filed by the drivers.
The Karnataka State Reserve Police has been deployed in Mangalore and the situation is under control, according to authorities. The state police chief is scheduled to visit the city today and security has been beefed up.
A students' union and various human rights groups have condemned the attack and demanded action against the Ram Sena.
Image: One of the lorries damaged by the protestors | Photograph: Daya Kukkaje daijiworld