Home > India > News > First Look


Discuss |
Email |
Print | Get latest news on your desktop


Gaza: The pounding continues, toll crosses 1000

January 15, 2009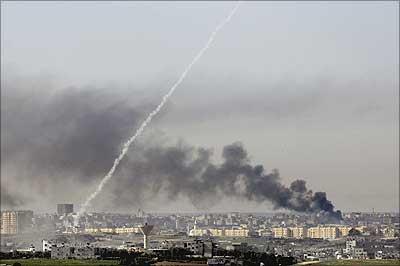 There is no stopping Israel.
The world may browbeat, the United Nations may interfere, the US may keep quiet forever, the Arab world may seethe in anger, Israel is unfazed. The pounding at the Gaza Strip continues, taking the toll to over 1000.   
It is 19 long days since the war -- if that word can be used-- started. Rejecting every offer for truce, Israel kept pounding the Palestine every day.
On Wednesday, the southern areas -- near the Egypt [Images] border-- came under heavy shelling. The accompanying picture is a tell-tale evidence of Israel's brute force. According to reports, 1,010 Palestinians have been killed, which included 315 children and 95 women. 
Even as reports come in, intense fighting is going on in Northern Gaza. When will it end? Only Israel knows!
Photograph: Amir Cohen/Reuters