Home > India > News > First Look


Discuss |
Email |
Print | Get latest news on your desktop


Chidambaram visits blast victims, promises action

January 02, 2009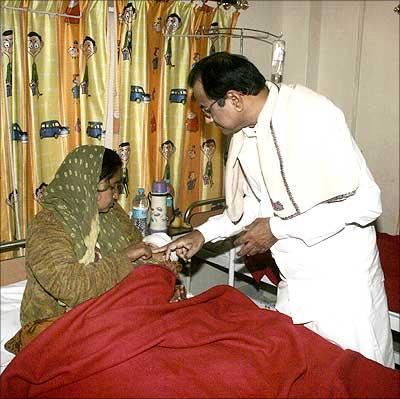 Union Home Minister P Chidambaram [Images] on Friday visited the victims of serial blasts in a hospital in Guwahati and said he would chair a meeting of the unified command in the wake of the explosions, suspected to have been carried out by the banned ULFA killing five people.
"I will be reviewing the law and order situation with Chief Minister Tarun Gogoi and chair a unified command meeting in Guwahati on Friday," Chidambaram said after inaugurating the 11,111th branch of the State Bank of India [Get Quote] at Sonapur in Kamrup district.
Chidambaram, accompanied by Gogoi and his senior cabinet colleagues, visited the Gauhati Medical College Hospital to meet the injured in the serial blasts in the city on Thursday, which left 50 wounded besides five dead.

He spent about 30 minutes in the hospital and directed the doctors to give the best possible medical care to the injured.
Addressing the SBI function, Chidambaram said that the government was determined to overcome all obstacles to bring in development in Assam.
"The Central and Assam governments have given a clear message that whatever the obstacles and the threats, we are determined to bring in development in the state," he said.
"The mantra of the UPA government at the Centre and the Congress government in Assam is development. The chief minister should devote all his energy for overall development of the state," the minister said.
"I am hopeful that Assam, with the immense development taking place here, will be able to overcome the difficult times," he added.
The blasts occurred on the eve of Prime Minister Manmohan Singh's [Images] visit on Friday and as Union Home Minister P Chidambaram arrived in the state on Thursday evening to review law and order situation there.
The prime minister was scheduled to arrive in Assam on Friday en route to inaugurate the Indian Science Congress at Shillong on Sunday.
Three people were killed and 35 hurt when a bomb kept in front of a closed sweet shop exploded near Bhangagarh flyover adjacent to the Big Bazaar retail store on the busy Guwahati-Shillong Road at around 5:45 pm.
A bomb kept in a bicycle went off at Bhootnath market at around 5.30 pm. Two persons were killed and more than 12 others were injured in the explosion.
Earlier, an improvised explosive device kept in a Gauhati Municipal Corporation dustbin exploded at around 3.30 pm injuring three persons in Birubari Tiniali area.
The police suspect the ULFA to be behind the blasts but did not rule out the hand of the NDFB as their ceasefire with the Centre expired on December 31.

Image: Home Minister P Chidambaram interacts with Sunaina Khatoon, one of those injured in the bomb blasts.
Photograph: REUTERS/Utpal Baruah