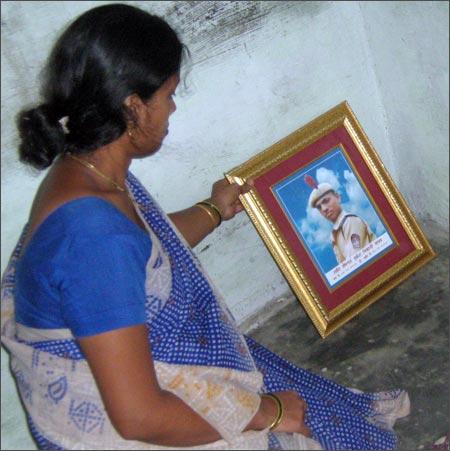 November 26, 2008 will go down as the bloodiest day in the history of Mumbai's [Images] Chhatrapati Shivaji Terminus [Images] that has stood tall for more than hundred years. The bullet holes on the heritage structure, a grim reminder of the night when vulnerable citizens were attacked by a ruthless and merciless enemy.

At around 9.50 pm, two young men clad in jeans and T shirt let loose a barrage of bullets from AK-47 rifles and lobbed grenades at the men, women and children thronging the busy station.

Mukesh Jadhav, 23, a Home Guard constable, was on night duty between the main line and local lines platform when this tragedy struck. His colleague and friend Shambu Ganga Sharma was also with him. On hearing the gunshots, they first mistook them for fire crackers. It must be some boys celebrating India's cricket victory, was their first thought.

But when they saw the passengers running across the platforms, they realised it was a terrorist attack. The men quickly began directing the passengers towards safety.

Realising that some commuters were still inside the concourse, Mukesh ran in to guide them out. Single-mindedly, he directed the passengers to safety, giving scant thought to his own life.

His call of duty cost him his life as he came face to face with a terrorist and was shot in the chest. In spite of being wounded, he walked to the police station between the platforms to inform the police. After a two-hour battle with life, he died at the St George's Hospital that night.

Jhadav earned Rs 2,790 a month and had joined the Home Guard three years ago. Sometimes, his salary would get delayed by a month, sometimes two.

"We had been working together for two years now. When he joined, he used to get Rs 50 a day. Then that was raised to Rs 90 a day. For the last two months we were promised 200 rupees a day but we have not been paid yet," says his colleague Shambhu Sharma.

To supplement his income, Mukesh did temporary jobs and lived with five brothers in a one room hutment in Koliwada, north-central Mumbai. He had come to the city six years ago from his village in Ratnagiri district.
After his death, the government gave his family compensation of Rs 25 lakhs (Rs 2.5 million) that has been invested in a fixed deposit in his father's name.
In the one-room hut that Mukesh shared with his brothers, hangs a pictures of the slain home guard who died doing his duty that paid him Rs 90 a day.
Image: Mukesh Jadhav's sister-in-law Sandhya in front of his photograph in their home in Mumbai. Text, Photograph: A Ganesh [Images] Nadar