Home > India > News > First Look


Discuss |
Email |
Print | Get latest news on your desktop


Valentine's Day subdued in Karnataka

Vicky Nanjappa in Bengaluru | February 14, 2009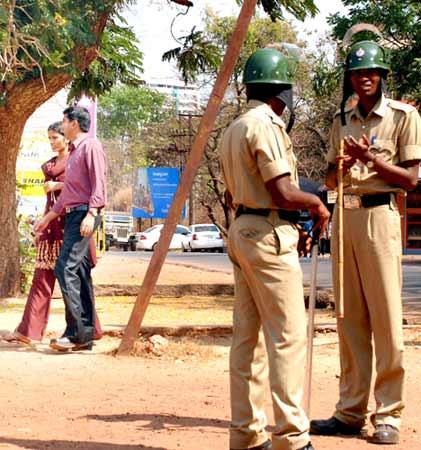 Valentines Day in Karnataka passed off peacefully with no untoward incident being reported thanks to the fact that there were more policemen wandering the streets compared to the lovers. Celebrations were subtle across the state due to the threat by the Shri Ram Sena.
In Bengaluru [Images], four organisations organized a couple of programmes on Brigade road against the dikkat of the Sena. The group members professed their love for each other openly on the streets and stated that there is nothing wrong in celebrating this day. Everyone should have their freedom to do what they want provided they exercise restraint, they also added. Some of the women were dressed in skimpy attire and they said that they did it intentionally to go against Pramod Muthalik [Images] the founder of the Sena. Later these people went to a pub in order to defy another directive by Muthalik who had spoken against pub culture. However none of the organisations could gather any momentum as the issue had died down after the Sena called off its protest.
Lovers in Mangalore, where this entire issue started did not take any chances. The stronghold of the Sena had more policemen on the streets to ensure that the day passes off smoothly.
The pubs, restraints and other joints where young boys and girls usually hang out wore a deserted look. Despite the assurance by the state police that nothing untoward would take place, people decided to stay away from the streets.
Although Muthalik had called off his protest at Bangalore, the police took no chances. Yesterday Muthalik and 136 of his men were arrested as a preventive measure. In all there were 18000 police personnel who were on guard in different parts of the state. Commissioner of police, Shankar Bidari had directed everyone to maintain law and order and also told the young lovers to stay in their limits and asked them not to behave in a provocative manner.
Apart from Bangalore, Sena activists along with some members of the Bajrang Dal patrolled the streets to ensure that none were celebrating Valentines Day. Both these organisations had made it clear that Valentines Day is against the Indian culture and hence none should celebrate it. The organisations had also protested against the growing pub culture in the state of Karnataka.

Image: Police maintain vigil on Valentine's Day in Mangalore.

Photograph: Daya Kukkaje