Home > India > News > First Look


Discuss |
Email |
Print | Get latest news on your desktop


Bangalore citizens join hands against moral policing

Vicky Nanjappa in Bangalore | February 12, 2009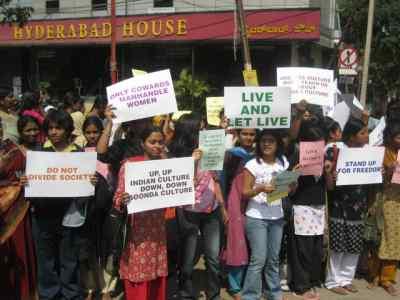 Over 1,500 Bangalore students came out in the streets and formed a human chain on Thursday to protest against the recent bout of moral policing and attacks against women by some right-wing fanatics.
This human chain protest was organised by Dr Rajeev Gowda, a professor at the Indian Institute of Management-Bangalore and a political activist.
The streets near several colleges, including Mount Carmel College and St Joseph's Commerce College, were lined by hundreds of students who enthusiastically joined hands to lodge their protest.
Not only students but even senior citizens and school-going children participated in the human chain at Coles Park.
Image: Students protest against moral policing in Bangalore