Home > India > News > First Look


Discuss |
Email |
Print | Get latest news on your desktop


Rahul Gandhi's 'secret' visit to the Golden Temple

Onkar Singh in New Delhi | September 23, 2008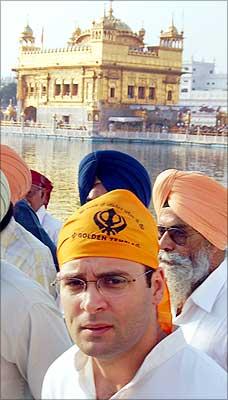 Senior congress officials are still baffled at the early morning dash to Golden Temple [Images] by the Rahul Gandhi [Images] to pay homage to the Holy Guru Granth Sahib on Monday morning
Senior Congress officials of the Punjab unit admitted that the visit of the young Gandhi had been in the offing for sometime. "I would not be able to say if the trip had any political repercussions," said a senior state level leader.
Gandhi hired a Spice Jet aircraft and the details of his visit were kept a closely guarded secret. It just before he was about to land at Raja Sansi Airport that some of the senior officials of the party and district level security were informed about his visit.

Gandhi was accompanied by SPG officials and security officials of the Intelligence bureau.
The entire media landed up at Golden Temple and to get pictures and cover the event.
The  young MP from Amethi was upset with the political questions that were put to him and he chose to ignore most of them.

"This is a bid to get Sikh votes in the coming elections but it would not succeed. The Congress is a divided house and they need to patch up first before thinking to contest against us," a close aide of Punjab Chief minister Parkash Singh Badal said.

Photograph: PTI Photo