Home > India > News > First Look


Discuss |
Email |
Print | Get latest news on your desktop


Real-time Intelligence need of the hour: Prez

September 16, 2008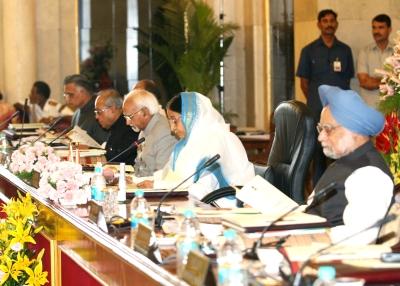 Expressing serious concern over the emerging 'metro terrorism' in the country, President Pratibha Patil [Images] on Tuesday said the Centre and the state governments will have to deal firmly with those who follow the gun culture.
Inaugurating a two-day conference of Governors in New Delhi [Images], which is being held to take stock of the internal security situation in the country, Patil said Saturday's serial blasts in Delhi is still afresh in everyone's mind and the emerging phenomenon of 'metro terrorism' has become a matter of serious concern.
"State and Central governments have to deal firmly with those who follow the path and culture of guns. Both the governments have jointly adopted a multi-pronged conflict- management and conflict-resolution strategy," she said.
The conference is being attended by Vice President Hamid Ansari, Prime Minister Manmohan Singh [Images], External Affairs Minister Pranab Mukherjee, Defence Minister A K Antony, Home Minister Shivraj Patil [Images], Agriculture Minister Sharad Pawar [Images], Rural Development Minister Raghvansh Prasad Singh besides Governors and Lt Governors of states an Union Territories.
Describing the battle against terrorism, Left-wing extremism and insurgency as the big challenges before the country, Patil said outfits with varying goals have been waging a long and enduring war against the state with some forming a mutually supportive grid in this proxy warfare.  

"Intervention by trans-border elements also poses a threat to our security and integrity. Left-wing extremism is fast becoming a vexed problem," she said.
Recalling her visit to Tangdhar in Jammu and Kashmir [Images] where security forces were guarding the border in hostile environment, the President said their operational efficiency needed constant upgrade.
On ways to tackle terrorism, the President said, "We need to modernise our police force with greater investments in cyber and technical intelligence, communication systems and forensic capabilities. There is need for an institutional mechanism to seamlessly share intelligence on real-time basis to foil the attempts of terrorists and Naxalites [Images]."
She said insufficient number of police stations affects police outreach and a healthy police-population ratio needs to be maintained.
"It is for consideration whether the help of ex-servicemen who have experience in handling inimical forces could be enlisted in this effort. Some of the affected states, particularly in the North East, as reported, have a deficit of one-fifth of the sanctioned strength of constabulary," the President said.
Patil said fund allocations for security forces by the states have stagnated or grown only marginally which has a crippling effect on the efficacy of the law and order machinery and asked the Governors to provide the right lead in this direction.
The President termed the Naxalite problem as an expression of neglect, deprivation and disaffection among the downtrodden, saying the solution to it lies largely in the government's ability to deepen the democratic process, usher in good governance and rapid economic development.

"While not showing any leniency to disruptive and separatist elements, we have to sensitise our security personnel to exercise maximum possible restraint and show respect to local sentiments and gender sensitivity in the disturbed areas," she added.

Image: President Pratibha Patil delivers her speech at the Governors' conference.
Text: PTI | Photograph: Rashtrapati Bhavan [Images]