Home > India > News > First Look


Discuss |
Email |
Print | Get latest news on your desktop


Delhi gets back on its feet, cops preparing sketches

September 14, 2008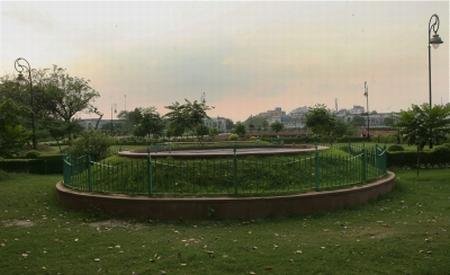 The toll in the serial blasts in New Delhi [Images] rose to 21 on Sunday with a 15-year-old girl succumbing to injuries, but the terror strike failed to dampen the spirit of Delhiites who carried on with their normal life.
Images: Shock and horror in Delhi
Union Home Minister Shivraj Patil [Images] chaired a high-level meeting to assess the security situation even as police worked on eyewitness accounts to prepared sketches of suspected terrorists who planted the bombs.
While people continued with their daily chores and public transport normally plied in the city, an eerie silence prevailed in the blast-hit Karol Bagh and Connaught Place areas a day after the terror attack.
Eyewitness account: Five feet from death
15-year-old girl Puja, who had suffered splinter injuries in the explosion at Gaffar market in Karol Bagh, died in a hospital raising the toll to 21, police said.
After the 90-minute meeting chaired by Patil, Union Home Secretary Madhukar Gupta told media persons in New Delhi, 'We have discussed various measures that may be needed not only in Delhi but other major cities'.
Terrorists have accomplished Operation BAD
Without going into details of what transpired during the discussions, Gupta said the ministry was taking all steps to 'fill up any kind of gap, strengthening the machinery, the system and processes'.
In a word of caution, the Home Secretary said 'neither you (media) nor anybody should say or do anything, which creates unnecessary apprehensions or whips up any kind of panic'.
Indian Mujahideen threat is real
Meanwhile, frenzied relatives thronged several of the city hospital where the victims of last evening's serial blasts lay admitted.
Based on eyewitness descriptions, Delhi Police started preparing sketches of suspects who placed the explosive devices in Connaught Place and Barakhamba Road areas.
The hunt for the Indian Mujahideen's 'al-Arbi'
A teenaged balloon seller was among five eyewitnesses called to police headquarters here to assist in the making of the sketches of the suspects, according to officers probing the blast cases.
In Mumbai, police said 'wireless fidelity' (WiFi) was hacked by suspected terrorists in Chembur, who sent the email to news organisations around the time of the first blast in Delhi.
'It seems terrorists knew how we would react'
The Anti-Terrorism Squad in Mumbai reached this conclusion after extensive questioning of the owner of the flat from whose IP address the terror mail was sent Saturday evening.
"It is similar to the case of (US national) Kenneth Haywood) and after the preliminary questioning of the flat owner K M Kamath, it is believed that his internet connection is not secure and is WiFi-enabled, making it easier to be hacked," Additional Commissioner of Police, ATS, Parambir Singh said.

Image: Central Park at Connaught Place wears a deserted look a day after the serial blasts.
Text & Photograph: PTI