Home > India > News > First Look


Discuss |
Email |
Print | Get latest news on your desktop


Obama tries his hand at comedy

September 12, 2008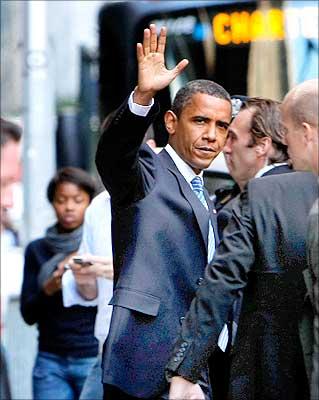 Democratic presidential candidate Barack Obama [Images] will appear on the cult American talk show Saturday Night Live. Obama will tape an appearance for the show's season premiere on Saturday in New York.
His hosts at the comedy show are sure to extract mileage from the recent controversies on the presidential campaign trail.
Obama had on Tuesday said the Republican promise of change was like putting 'lipstick on a pig'.
Republican rival John McCain's [Images] campaign accused Obama of a sexist smear against his running mate and Alaska Governor Sarah Palin [Images].
When asked about the jibe on the Late Show with David Letterman, Obama sadi that he meant that Palin was the 'lipstick' gloss to McCain's 'pig' policies.
Image: Obama after taping for the Letterman show in New York on September 10
Also see:
Sarah Palin slams Obama at Republican convention
It's time to change America, says Obama