Home > India > News > First Look


Discuss |
Email |
Print | Get latest news on your desktop


Most promises have been fulfilled: K'taka CM

Vicky Nanjappa | September 09, 2008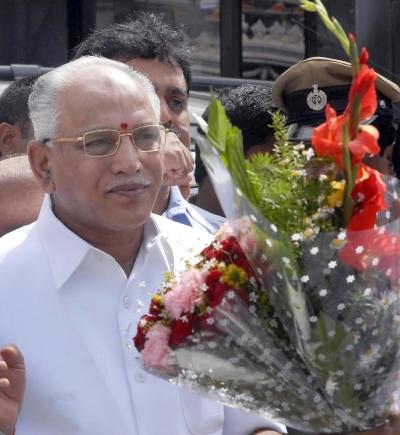 There were festivities across Karnataka on Tuesday with the first-ever BJP government in South India completing 100 days. Programmes were held across the state to mark the occasion.

BJP leaders headed by Chief Minister B S Yeddyurappa spoke about the achievements of the government in the past 100 days, at a function in Bangalore.

The chief minister released a report card in which the achievements of the government were listed out. Yeddyurappa said most promises made to voters had been fulfilled and in the days to come, people could expect more good things from his government.

Yeddyurappa said he has kept his promise of having a separate agenda for Bangalore and the rest of the state. He said development of Bangalore city was his top-most priority, but added that the rest of the state would be given equal priority.

He assured the people of Bangalore that developmental works will be undertaken on a priority basis and also added that a committee had been set up to monitor all projects being undertaken in the city.

He, however, expressed anger over the Bengaluru [Images] International Airport, stating that it was nowhere near international standards.
For the rest of the state, the chief minister said he will take the administration to the doorsteps of the people. The taluk level administration will meet every week with the villagers and have an open interaction with them to redress their grievances, he added.
During the programme, Yeddyurappa issued cheques to some women under the Bhagyalaxmi scheme. Financial assistance was also given to farmers, who had lost their crop.

Meanwhile in the rest of the state, all district and taluk units of the BJP organized programmes. Apart from cultural programmes, volunteers also explained to the people of the districts regarding the achievements of the government.

Image: Karnataka Chief Minister B S Yeddyurappa
Text: Vicky Nanjappa | Photograph: KPN Photo