Home > India > News > First Look


Discuss |
Email |
Print | Get latest news on your desktop


No China factor in Indo-Japanese ties: PM

Sheela Bhatt in Tokyo | October 22, 2008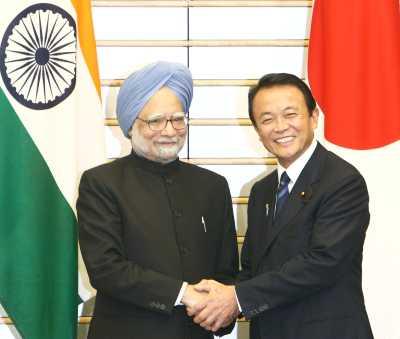 Doing business with Japan [Images] does not mean that India can't have ties with China. That is what Prime Minister Manmohan Singh [Images] tried his best to convey after a meeting with his Japanese counterpart Taro Aso in Tokyo on Wednesday. 
India and Japan on Wednesday signed the Joint Declaration on Security Cooperation -- a path-breaking, comprehensive and novel declaration comprises elaborate elements of co-operation and also the mechanism to implement it.
While addressing the media with Taro Aso in Tokyo, Dr Singh said, "Economic partnership and security co-operation between India and Japan is not at the cost of any third country, least of it China."
The prime minister said, "I have explained on several occasions both, in India and China, and to the world that I sincerely believe that there is no competition between India and China. World offers enormous scope for both countries to realise their developmental ambition.'
Surely, the security agreement, what Foreign Secretary Shiv Shankar Menon termed it "a brand new experience", will be carefully studied in Beijing [Images], Moscow [Images] and many Asian and Gulf countries. It will have far-reaching impact when implemented in the Asia-Pacific region.
When asked pointedly if the security declaration will raise eyebrows in Beijing, Menon said, "We work with everybody who wants to work with us."
He said, 'We don't live in a world where all these relationships are exclusive. Everybody is talking to each other and working with each other.'
While embarking on such security declaration both countries affirmed that they share similar perceptions of the evolving environment in the region and the world at large. The declaration specifically mentions that they recognise both countries commitment to democracy and open society. The security declaration is necessary, also, because 'Japan and India share common interest in the safety of sea lines of communications".
The declaration mentions both nations' commitment to fight terrorism.
Menon said, "The security cooperation also reflects Japan's willingness and posture today to be seen publicly on these issues. Its unique in this context, it's not unique generally, in the Indian foreign policy context."
The compass of the security declaration is wide and flexible. Many of its terms and expectations are similar to what US and India are trying to evolve, bilaterally, under various mechanisms. The critics are expected to point out that the defense framework between Japan and India is evolving in a manner that may find linkages in future with other "friendly" groups. 
One of the major aims of  security co-operation seems to be the joint use of Indian Navy and Japan Maritime Self Defence Force's replenishment activities in the Indian Ocean to undertake counter-terrorism measures.
Security co-operation will include ties in information exchange, defence dialogue, military-to-military, including coast guards, safety of transport, ant-terror fight, transactional crimes, disaster management, ,disarmament and non-proliferation.
Menon said India was trying to put in place a counter-terrorism mechanism not only with Japan. India is already having working groups on counter terrorism with as many as 24 countries.
Menon said that India is working out an action plan to go ahead with the security declaration.
Replying to a specific question on the very nature of such counter-terrorism mechanism being worked out with Japan, Menon said, "Japan provides refuelling for various ships in Gulf and Western Arabian sea which are involved in operations in Afghanistan. They do that kind of logistic support which was quite an issue in Japan last year but, they continue that support."
Menon said Japan was interested in a peaceful and stable Afghanistan.
"So, they are very interested in sharing assessments and see what they can do. They have assistance programme in Afghanistan also they are trying to help government restore normalcy," Menon said,
"Naturally this is something that concerns all of us. That kind of terrorism does not recognize borders."
A Ministry official said that every day around 10 Chinese people are dying outside China on various ongoing projects. Security of their citizens and  assets spread all over world is thus a big issue for China, Japan and many other countries. Japan doesn't have terrorism that India is witnessing, but its assets around the world are facing threats from terrorism.
Asked if cooperation with Japan is anyway linked to India's expanded relation with the United States, Menon  said, "You are making an assumption that if you are friendly with one, somebody else has to lose. Today's India is an India that never existed before. We are different. We are in world different from any world that we were in before. We have better relations with most of the major powers. It's not only about the US and Japan. Look at India's trade with China. It's incredible. You look at ties with France [Images] and Russia [Images]. You are doing things with them that you never did before because you have capability, now. You did Chandrayaan today, it was inconceivable. Does it make you suddenly an ally of  any European Space agency? It's not a zero-sum game. India has the potential and capacity and a situation today that you can do things which you have never done before."
Dramatically, he added, "All boats can rise if the tide rises."
As expected, Japan refused to co-operate in providing India nuclear power plants or its technology. Aso said: "We are not engaged in negotiations on nuclear co-operation.'
However, Singh while thanking Japan for its support in the Nuclear Suppliers Group said, "It is our sincere desire to strengthen and develop our cooperation with Japan and therefore I mentioned to his Excellency, the prime minister, that we will  move at a pace at which the Japanese government and people are comfortable with."
Our Coverage on PM's trip to Japan
Image: Prime Minister Manmohan Singh  with Japanese Prime Minister Taro Aso at the latter's official residence in Tokyo on Wednesday.
Photograph: AFP/Getty Images