Home > India > News > First Look


Discuss |
Email |
Print | Get latest news on your desktop


A race against time to save Sonu

October 10, 2008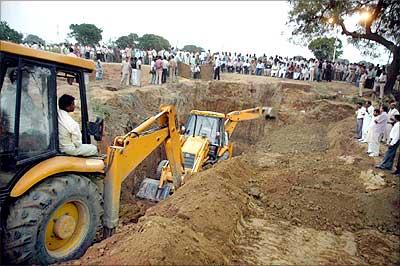 Rescuers were racing against time to save Sonu, the two-year-old boy who fell into a 150 ft deep borewell over 30 hours ago in Lehrakapura village in Agra [Images].
As the borewell was just one foot in diameter, army engineers have dug a parallel 55-ft tunnel to pull out the child, rescuers said.
"It will be extended by 5 ft or so and then a trench will be dug towards the borewell," they added.
However, rescue work hit a road block as the tunnel's depth posed a problem for the heavy machines to operate. Men have now been engaged to dig the rest of the tunnel.
The boy could still be alive although no movement had been noticed or any sound heard from him since two hours after he fell, doctors of the Sarojini Naidu Medical College who were on the site said.
Oxygen was being supplied to the boy through a pipe but rescuers were getting anxious with every passing minute as the water level in the borewell appeared to have reached his neck level.

This is the second such incident in the district within four months. A two-year-old girl Vandana had fallen into a bore well and was rescued after over 26 hours of efforts.
In 2006, a kid named Prince fell into a borewell which was two-and-a-half feet in diameter. He was rescued after over two days of efforts, which were telecast live on almost all television channels.
President Pratibha Patil [Images] too has been anxious about Sonu's fate and has asked authorities to take steps to prevent such incidents which were on a rise.
Image: Earthmovers at work to save two-year-old Sonu.
Text & Photograph: PTI