Home > India > News >


Discuss |
Email |
Print | Get latest news on your desktop

Canine warriors brave bullets to hunt terror

Sumir Kaul in Mumbai | November 29, 2008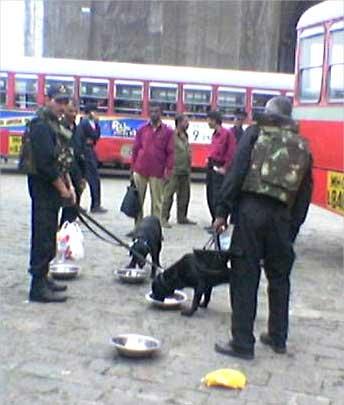 They marched in fearlessly to brave bullets and explosives in a terror-struck building and in the end played no mean role in securing the premises.
The two sniffer dogs of the National Security Guards (NSG) went about their task with diligence for about 15 hours during the encounter in the Nariman House along with their masters -- the commandos-- and are no strangers to life threatening situations.
It was just another day at work for the NSG Labradors who are routinely trained to sniff out unidentified objects and explosives. And they did so in good measure.
Coverage: Terror strikes heart of Mumbai
But the Labradors found the frenzied welcome and the impromptu applause from scores of lensmen and TV cameramen a little too hot to handle when they emerged from the building accompanied by their trainers.
The dogs also showed signs of discomfort from continuing popping of flash bulbs and were reluctant in moving forward. They made sure to stay close to their trainers.
Four hostages and an NSG Major were killed in the Nariman House encounter and the elite commandos killed two terrorists.
NSG commandos also received a rousing welcome from the locals when they came out from the Nariman House after killing two dreaded terrorists.
The happy crowd greeted them with cheers, claps, pats on shoulders and patriotic slogans and tears welled in the eyes of several of them.
Shouts of Bharat Mata ki Jai, Vande Mataram reverberated in the narrow lanes of the area after the commandos emerged out after a gruelling 15-hour-long final assault on the terrorists.
The roofs and balconies were filled with men and women who waited with bated breath for the NSG personnel to come out after completing their mission.
The fatigue compounded by the tragedy of losing two of their men was clearly evident on their faces but the joy of the success of the mission more than neutralised the rigorous of their hard grind.
The NSG men's disciplined drill did not allow them to mix with the ecstatic crowd as they disappeared quickly in army trucks from the scene with their sophisticated weapons and other gear in their hands.
Image: NSG Labradors | Photograph: Vaihayasi Pande Daniel
Email |
Print | Get latest news on your desktop