Home > India > News > First Look


Discuss |
Email |
Print | Get latest news on your desktop


Obama's win will boost Kenya's image: Modi

November 24, 2008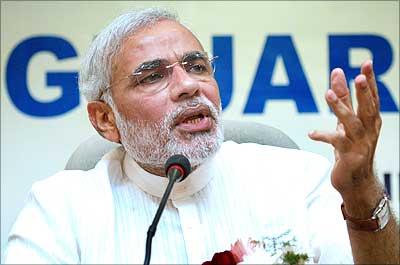 The victory of Democratic nominee Barack Obama [Images] in the the US Presidential elections will have its impact on Kenya, feels Gujarat Chief Minister Narendra Modi [Images].
Modi, who toured Kenya and Uganda from November 17 to 19, said at a meeting: "Each and every Kenyan feels Obama belongs to them. This simple feeling can generate tremendous energy to the Kenya society to work even harder, boost conference services and the country's political image. The feeling of being Kenyan now has a high value and can change the country."
Asserting that Kenya stood to benefit if it "generated these emotions into a powerful force that will provide a breakthrough for development of Kenyan society," the Gujarat chief minister said that the two countries could work together to boost small-scale industries, infrastructure development, energy, Information and Communications Technology and mineral exploration.
Modi observed that Kenya was a safe destination for investment and that Business Processing Outsourcing was one of the areas it could partner with India.

Image: Gujarat Chief Minister Narendra Modi.
Photograph: Sam Pathanky/AFP/Getty Images