Home > India > News > First Look


Discuss |
Email |
Print | Get latest news on your desktop


Raj meets Thackeray, speculation rife

November 23, 2008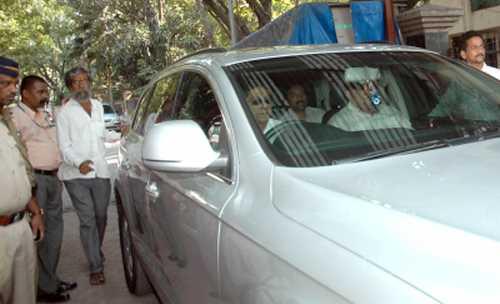 Maharashtra Navnirman Sena (MNS) chief Raj Thackeray [Images], in limelight for 'hijacking' Shiv Sena's 'Marathi pride' agenda, today met his uncle and Sena chief Bal Thackeray [Images], their first meeting since he left the Sena and launched MNS in 2006.
MNS sources maintained that Raj met the octogenarian leader at Matoshree, the latter's residence in suburban Bandra, to enquire about his health but the meeting has fuelled speculations.
"There will be an impact within cadres of Sena and MNS over the uncle-nephew meeting", MNS sources said. Raj, who looks and even speaks like his illustrious uncle, was tipped to succeed him.
However, it is cousin Uddhav who now manages the party.
The last time Raj met the senior Thackeray was on January 23, 2006, the Sena chief's birthday.
"I went to meet him today to return some of his old books I still had with me. We spoke about cartoons old memories," Raj, who like his uncle is a cartoonist of repute, said.
"We spoke on topics other than politics," Raj said.
Uddhav, following differences with whom Raj quit Sena and floated MNS, was present at the meeting.
Raj said he got a call from his uncle in the morning today asking him to send some old books to Matoshree.
"I offered to carry the books and accordingly drove to Matoshree," Raj said. "I am happy at meeting him after such a long gap," Raj said.
Two years ago, Bal Thackeray had publicly admonished Raj in a Sena meeting that he should stop evoking his name and using his photographs.
"You have left Sena. You have no right to use my photo," the Sena chief had told Raj.
The only communication between the uncle and nephew in the last two years has been the occasional phone call and exchange of bouquets on birthdays.
Raj had on December 18, 2005 announced that he was quitting the Sena and formed MNS in 2006. Raj had quit all Sena posts on November 27, 2005 by launching a scathing attack on Uddhav and his cronies, saying a 'coterie of clerks was running the Sena'.
"I had sought dignity but was meted humiliation," Raj had said while elaborating the reasons for quitting the Sena.
ALSO READ:
My good time will come soon, says Raj
I have passed the mantle to Uddhav, says Bal Thackeray
Image: Raj Thackeray drives to Bal Thackeray's residence on Sunday. 
Photograph: Arun Patil