Home > India > News >


Discuss |
Email |
Print | Get latest news on your desktop

Samosa tales

November 20, 2008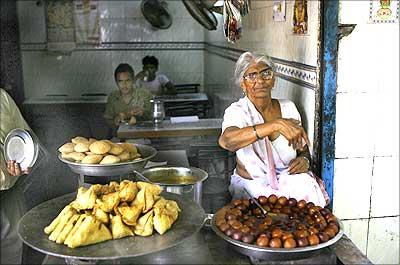 A pair of tourists journeyed to north Bihar to catch the flavour of the famous Sonepur Cattle Mela that is held on Karthik Purnima on the confluence of the Ganga and the Gandak.
But this Dutch couple came away from the fair Rs 10,000 ($200) lighter.
Not because they purchased a pair of fine bulls. Or a lovely camel. But on a plate of four Samosas!
A wily Sonepur samosawallah conned them into paying that whopping amount for a plate of these savouries, saying that they were stuffed with herbs that had aphrodisiac properties. It was only intervention by a policeman, later, that got them their money back.
How much have you ever paid for a Samosa? And where did you have the best Samosas? Any tips?
What ingredient do you like best in your Samosas -- peas, mutton, peanuts, cheese?
Tell us!
Photograph: Manpreet Romana/AFP/Getty Images
Email |
Print | Get latest news on your desktop