Home > India > News > First Look


Discuss |
Email |
Print | Get latest news on your desktop


Come for talks, I'll protect you: Karzai to Taliban

November 17, 2008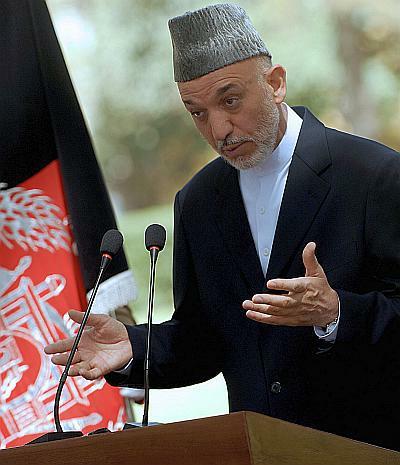 Afghanistan President Hamid Karzai [Images] has offered an olive branch to Taliban [Images] chief Mullah Omar, assuring him security if the latter gave up fighting and came forward for talks.
The notorious Taliban commander, who carries a reward of $10 million on his head and was the head of the government toppled by the US-led invasion in 2001, is believed to be hiding in Pakistan.
Addressing media persons after returning from a three-nation trip, Karzai said, "As an Afghan, I call on Mullah Mohammad Omar Akhund, Mullah Brother and Mullah Abdul Razaq Akhund to give up fighting, return home and play role in reconstruction of Afghanistan."
Assuring protection to Omar, Karzai said, "If I hear from him that he is prepared to come to Afghanistan or negotiate for peace, I, as President of Afghanistan, will go to any length providing protection. If I say I want protection for Mullah Omar, the international community has two choices: remove me, or leave if they disagree."
However, the Afghan President was quick to add, "We would talk to all those Afghans who accept the constitution and are not part of Al Qaeda [Images] and any other terrorist network."
Karzai's remarks come at a time when a resurgent Taliban is making deeper in roads into Afghanistan, baffling coalition troops.
Image: Afghan President Hamid Karzai gestures as he addresses a press conference at the Presidential Palace in Kabul.
Photograph: Massoud Hossaini/AFP/Getty Images

Also Read: Taliban wants an Islamic state in Afghanistan