Home > India > News > First Look


Discuss |
Email |
Print | Get latest news on your desktop


Raj Goyle re-elected to Kansas Legislature

George Joseph in New York | November 05, 2008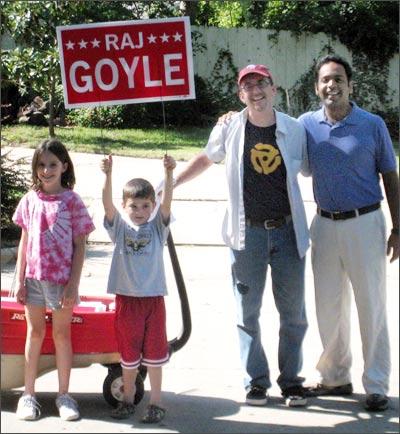 "We did it again! I am honored and deeply grateful that the voters of the 87th District have re-elected me to serve them in Topeka. I am proud to remain the first South Asian American elected in the history of our State and the first Democrat to ever win two consecutive elections in this district," Raj Goyle, who won the 87th District for the Kansas State House for a second time, said.
Goyle trounced his opponent Fred Pinnaire with 71 percent of the votes. Kansas remained a Republican state supporting McCain for president.
The 87th district is in east Wichita where 32-year-old Goyle, a lawyer, left nothing to chance. The last time Goyle trounced three-term Representative Bonnie Huy. Goyle had then secured 56.36 percent of the vote.
"When I began this journey more than two years ago, I campaigned on a message of hope and change and our commitment to fight for better jobs, better schools, and better hospitals for the residents of the 87th District. I am proud to say we kept our promises," his message noted.

"In the 2008 session I worked with Governor Kathleen Sebelius, legislators of both parties, and business leaders in developing landmark economic development legislation. One of our primary objectives was to provide incentives for companies to increase aviation jobs in Wichita," Goyle said.
"After the legislation was passed, Cessna announced it would build the Cessna Columbus (its new and largest airplane) in Wichita. I am proud to say that this contract will add over 1,000 sustainable jobs and nearly $1 billion in investment to the Wichita area, greatly strengthening the economic future of our city," Goyle noted.
Another achievement was passing of the Kansas Funeral Privacy Act, which restricts protests before, during, and after a funeral. The law was needed to prevent protests by some during the funeral of men who died while serving in the Iraq war.
"I made a campaign pledge that I would not take free meals or gifts from lobbyists and I am proud to say I am the only member in the entire House to have this policy, setting a new standard for ethics," Goyle noted.
Education and healthcare continue to be issues important to Goyle, who is also committed to immigration reform.
Goyle's parents operate a medical clinic that provides top-quality care for the community. Goyle is a Harvard Law School graduate and hass worked as an attorney in the past.

Image: Raj Goyle (right) with supporters