Home > India > News > Report


Discuss |
Email |
Print | Get latest news on your desktop

'Obama will unify the American people'

November 04, 2008 14:57 IST



Raj Gupta, 39, self-employed electrical engineer, will vote for Obama.

"Barack Obama [Images] speaks wisdom and reflects my views, and where he doesn't or where he is lacking, I think he will learn more in office and surround himself with a great set of advisors. Unlike many politicians who are ideologues (George W Bush [Images] is an obvious example) and surround themselves by like individuals, Obama represents a candidate who is not afraid of incorporating new knowledge and adjusting accordingly. Mahatama Gandhi was once asked why he changed his mind so often, and he replied, "Because I know better today than I did yesterday." That sort of humility is core to Indian philosophy. I expect Obama to chart a careful, deliberate, cautious and well thought out presidency. In my state of California, a vote for Obama does not mean much towards his election, so I do so for moral support and hope that the weight of the actual (popular) vote sends a message across the country and throughout the world."

Naren Baksh, 65, President; India Community Center, will vote for Obama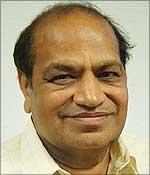 "The country does need significant change in direction and rethinking about many key issues. There is a better chance that it would happen under Obama. The Indian American community must vote. We must do our civic duty if we believe in the power of democracy which is better than any form of governance any society has invented for good governance for the most. Power of the ballot is lot better than power of bullets."
Ramesh Manghirmalani, 53, professor, will vote for Obama
"Unlike John McCain [Images], Obama opposes virtually all of the Bush administration's policies on the war in Iraq, the economy and energy. Obama will unify the American people. His success in reaching out to people of all generations and walks of life is unmatched. He is equipped with a tremendous ability to inspire people all over the world to once again believe in America"
Prarthna Naidu, 27, customer relations manager at an insurance company, will vote for Obama
"This is actually my first time I'm getting the privilege to vote; since I wasn't a citizen in the last election. I think the South Asian community finally realised that because of our apathy towards voting, we deserved a president like Bush for eight years! We finally see it does matter if we vote. I think Obama has got the mind set, personality and the presence of a real 21st century leader. Today due to globalization, no country is isolated anymore especially the US. This was quite obvious during our economic meltdown. So, the leader of the US has to be someone that the whole world can get behind him. Obama is inspiring, intelligent, respectful to the different cultures and doesn't hold that so called American arrogance or ignorance that the rest of the world has so come to despise about us or rather the Bush administration. One thing I was ecstatic to hear is how Obama can actually pronounce Pakistan correctly. He won my heart in just that small care that he took to pronounce it correctly. It's really refreshing to see someone be more respectful of the whole world. So, I'm behind Barack Obama as the world leader!"
Email |
Print | Get latest news on your desktop