Home > India > News > First Look


Discuss |
Email |
Print | Get latest news on your desktop


AP: Brave woman honoured for saving lives

Mohammed Siddique in Hyderabad | November 04, 2008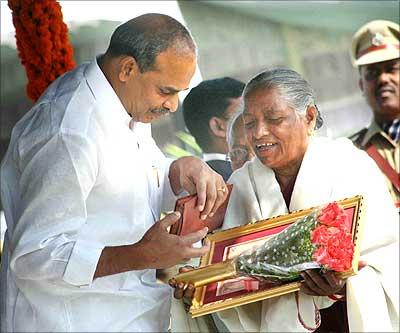 Tulja Bai Thakur, the brave lady in her 60s who saved a Muslim family from getting burnt alive in the recent communal riots in Bhainsa town of Adilabad district, has been honoured by the Andhra Pradesh government.
Chief Minister Y S Rajasekhara Reddy presented (see the image) her with "Sahasa Nari" award, comprising of Rs 25000 cash and a citation to her at an official ceremony in Hyderabad.
Tulja Bai had saved a woman and her four children when the miscreants had set the house of her neighbor Syed Osman by locking the residents inside. Tulja Bai and other members of her family rushed to help and rescued the family. In recognition of her valour, the district administration had recommended her name for award. The citation hailed Tulja Bai for saving the life of others by putting her own life in danger.
While Tulja Bai, her family members and her neighbours are happy that a noble act has been duly recognized, the family rescued by Tulja was still waiting for the compensation for its financial losses.
Syed Mohammed Pash, the brother of Syed Osman told this correspondent over phone that so far he and other victims of the riots have not received any compensation from the government.
"A committee set up by government has completed enumeration of our losses. The local leaders have promised that we will be paid the compensation in a week's time".
Pasha has put the estimate of his loss at Rs 4 lakh as the miscreants had looted cash worth Rs 1.3 lakh and other valuables including 19 Tolas of gold.
"We are all happy that Tulja Bai has been honored and felicitated by the government for what she has done. I appeal to the state government to demonstrate similar since of urgency for the rehabilitation of the victims". As many 69 shops and houses were looted and burnt in the communal riots which broke out on October 10 during the Durga procession.
The state government has, however, handed over the cheque of Rs 5 lakh each to the family of the three persons killed in the communal violence. The cheques were presented to the next of the victims Adbul Samee, Mohammed Afsar and Chotan Bihari. The government has also promised to give a house site and a government job to a member of these families.