Home > India > News > First Look


LTTE chief Prabhakaran's final farewell to deputy

May 23, 2008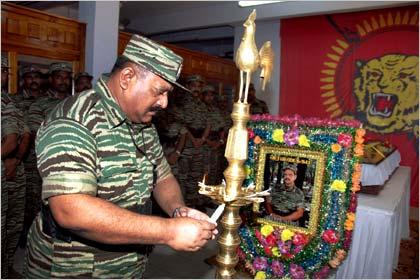 Liberation Tigers of Tamil Eelam chief Velupillai Prabhakaran pays his last respect to senior LTTE strategist Balasegaram Kandiah alias Brigadier Balraj, who died after a cardiac arrest at an undislosed location on Tuesday. The LTTE has announced a three-day mourning for him. It was one of the rare occasions that Prabhakaran's photograph had been released.
An expert on different forms of warfare, Balraj is reported to have deployed varied tactics while planning and conducting operations for the LTTE.
Balraj, who hails from the rebel stronghold of Mullaitivu district, commanded the deadly 'Charles Antony Brigade' till 1997.
Balraj had engaged himself in Mannar and Manalaar fronts in between his medical treatment, the sources said.
Meanwhile, the Island newspaper said 'Balraj was deputy chief of the LTTE and had been involved in almost all the major offensives in the northern theatre.'
The death of Balraj comes as another blow to the rebel organisation after the death of senior leaders like Anton Balasingham and S P Thamilselvan.
The LTTE has been fighting since 1983 for a homeland for the minority Tamils in Sri Lanka [Images]. About 70,000 people have lost their lives in the conflict so far.
Photograph: PTI