Home > India > News > First Look


Jaipur: 3 more sketches released

May 16, 2008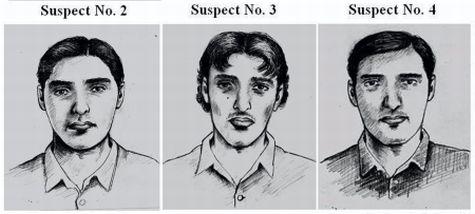 Rajasthan Police has released sketches of three men suspected to be behind the Jaipur serial blasts that claimed 64 lives on Tuesday.
Coverage: Serial blasts rock Jaipur
The sketches had been prepared on the basis of preliminary investigations into the blasts and descriptions given by owners of shops selling bicycles, bags and ball bearings which were used in the explosions, SP (North) R.Suhas told PTI in Jaipur on Thursday night.
He said the sketch of another man was being drawn up.

According to sources, all the four were suspected to have planted the explosives which went off within a span of 12 minutes at several localities in the walled city on the night of Tuesday.
The first sketch of a 25-year-old man with wheatish complexion and Bengali accent, who is believed to be the prime suspect, was released on Wednesday.

Reportage & Photograph: PTI