Home > India > News > First Look


Zero tolerance against terrorism: Shivraj Patil

May 15, 2008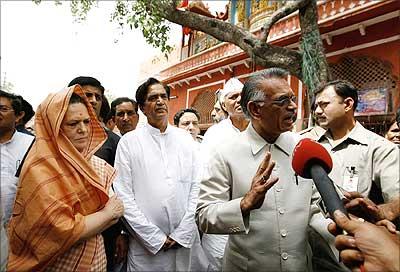 On a visit to Jaipur with Congress chief Sonia Gandhi [Images], Home Minister Shivraj Patil on Thursday said that India would fight terror at all costs and thwart the designs of terrorists to disturb peace and communal harmony in the country.
"The nefarious designs of terrorists will be thwarted boldly and their attempts will be foiled," Patil told reporters after visiting the injured victims at the Sawai Man Singh Hospital, along with Gandhi.
Assuring the Centre's help to Rajasthan in the wake of the terror strike, Patil said, "The Centre would give all possible assistance and help to the state to meet any exigency on the terror front."
Patil, who also went to Tuesday's blast sites in the old city with Gandhi, said, "Whatever action is required, the Centre would do it immediately to enable the state government to face any such challenge".
Patil also appreciated the people of Jaipur for maintaining peace and harmony following the explosions, which claimed 64 lives. Earlier, Gandhi and Patil spent about thirty minutes in the trauma and other wards of the hospital amidst tight security arrangements. Rajasthan Health Minister Narpat Singh Rajvi briefed them at the hospital.
Congress General Secretaries Ashok Gehlot and Mukul Vasnik, Union Minister of State for Forest Namonarayan Meena and Member of Parliament Sachin Pilot could not accompany Gandhi and Patil to the hospital as its gates were closed after their entry.
Image: Congress president Sonia Gandhi and Home Minister Shivraj Patil visit the sites of the serial bomb blasts, which rocked Jaipur.
Photograph: Prakash Singh/AFP/Getty Images