Home > India > News > Interview

The Rediff Interview/

Exclusive: Hillary will make Indo-US ties stronger

May 07, 2008

Terry McAuliffe, chairman of Hillary Clinton's presidential campaign, one of her closest confidantes and the chief coordinator of her fundraising efforts, has predicted that if Indian Americans and the pro-India lobby liked what they saw with President Bill Clinton [Images] in terms of the US-India relationship, you are going to see it again with Hillary Clinton," if she is elected President.

In an exclusive interview with rediff India Abroad Managing Editor Aziz Haniffa, McAuliffe, chairman of the Democratic National Committee from 2001 to 2005 during which time he raised a record $535 million for the party, said, "She's always had a fine relationship with India."

"She has worked very closely with the Indian-American community here in the United States of America to the point as you know, the Obama campaign criticised her, "called her the Senator from Punjab," he added.

In the interview, which was conducted a few days before the Indiana and North Carolina Democratic primaries on May 6, McAuliffe said when all of the primaries are completed on June 4, Clinton would emerge with the most number of popular votes and the nomination because the super delegates would decide that she is the most electable candidate to defeat Republican nominee Senator John McCain.

Why should Indian Americans vote for Hillary?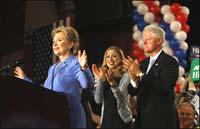 She has a track record working towards great US-India relations. She did as First Lady. She visited India, as you know, several times. Then, her husband went over in March 2000. While she has been in the Senate, she's worked on economic issues to strengthen ties between the two countries. She was in favour of the US-India civilian nuclear agreement.
So, if you liked what you saw with President Clinton, you are going to see it again with Hillary Clinton. And, overall, she is going to take foreign policy in a new direction working to build bilateral relations.
She looks forward to working to build the relationship and make them even stronger.
Young Indian Americans, many of them who were apolitical and apathetic in the past, have gravitated towards Senator Obama. Even some former Clinton administration officials like Preeta Bansal have become key players in the Obama campaign. What's your take on this?
Obviously, Barack Obama in is his mid-40s and so, I think not just Indian Americans, but for young people, he's young. I think that's the most important dynamic. But, I think, people have to go beyond that. It is a dangerous world today. We've got two wars going on, we've got a battered economy. Young Indian Americans got to sit down and think. 'How do we make the strongest relationship, economic relationships between the two countries? How do you combat terrorism? How do you foster and build a stable and democratic Pakistan advance democratic values? You know, deal with all the human rights issues around the world, deal with global warming. Who is best to do that?'
I would argue that it's Hillary Clinton who has 35 years of experience going back to her days in education as First Lady of Arkansas, First Lady of the United States traveling the world, twice to India, and then obviously as United States Senator. She is ready to become Commander-in-Chief from Day One.
There is no learning curve needed and of all the candidates, she is the most experienced. She's strong, she's tough, she's smart, we need her. And, so, people got to think, while it's great to hear these great speeches with great words, who is the one out there with the specifics, out there on health care, on job creation, on the debt crisis? It's Hillary Clinton who's out there with the specifics and for the young Indian-American community as well as all young people, this is about their future. And the next president is going to have a big determinant on how they lead their lives.
I know you spoke to Hillary's track record vis-a-vis India, vis-a-vis South Asia, and yes, she's been to the region a couple of times, she's the co-chair of the Senate Friends of India Caucus,etc. But on the US-India nuclear deal, she had to virtually sort of be brought kicking and screaming to support the deal.
During the run-up to the vote on the enabling legislation, despite being the co-chair of the Senate India Caucus, she never spoke in support of the deal, never lobbied her fellow Senators to vote for the deal, although she did ultimately vote in favour of the deal.
Why was she having second thoughts about the deal which was clearly the perception that was prevalent among the Indian-American community and the pro-India lobby at the time?
I don't think she had second thoughts. She took her time to make a decision. Hillary is very thoughtful. She looked at the issue and did not make comments on it publicly before that. (But) When she made up her mind, she decided to vote in favour of the nuclear deal and was a supporter of it. But, she came about it at her own time table and that's what she will be as president. But, you know, at the end of the day, she voted for it and that's what matters.
On issues like outsourcing, in fact, what manifested in a sense the Democrat from Punjab comment from the Obama campaign, was that she was initially in favour of outsourcing, but now some would argue that Hillary is pandering to the labour unions, the anti-outsourcing lobby by saying how she would strongly fight outsourcing, which is quite a contrast to her earlier policy.
The Indians get concerned about this because India has sort of always been the whipping boy when the decibel level on this controversy, especially at election time, gets louder.
First of all, what Hillary has said, and her primary language has been directed towards China. Obviously, she talks about China all the time. I've never heard her in fairness, talk about (outsourcing) in the context of India. What she has said, is she will negotiate, she wants trade deals, she thinks they are important to build bilateral economic relationships. She will negotiate fair, but tough trade deals. She is a full believer that we've got to build jobs here, in this country.
We've got to be competitive, but if people can come in or people that can bring products in and if it's a better product at a better price, then we have to be competitive, and that's not the fault of the country that's bringing it in. But with Hillary, like you saw with her husband, you'll see trade around the world increase, but in fairness, we've got to make sure the trade deals that are being negotiated are fair here in America.
Given that it can be argued that it was President Clinton, who in a sense, transformed the US-India relationship with his historic and memorable March 2000 visit to India, how would Hillary as president make these ties even stronger when she's obviously going to be faced with hiccups over issues like Iran where India is not going to toe the US line?
We are going to have disagreements with nations all the time and this happens. I have disagreements with my best friends all the time and you don't always agree on everything. But what you will have with Hillary Clinton is you will have an open relationship, you will have a honest relationship, unlike President Bush, who will go down as one of the worst foreign policy presidents in our nation's history.
There was this attitude of his that it's either my way or the highway and he did not build, didn't foster relationships with other nations.
Hillary as president will go in to build relationships between countries and it will be an open dialogue. And, you are not always going to agree. No one expects to always agree. But, as long as those negotiations are open and honest with one another and the goal is that both nations when you negotiate can move forward, that a deal needs to be in the best interests of both countries, that's what Hillary will do.
Photograph: Getty Images
The Rediff Interviews