Home > India > News > First Look


Girl, rescued from 45-foot-deep borewell, is well

March 27, 2008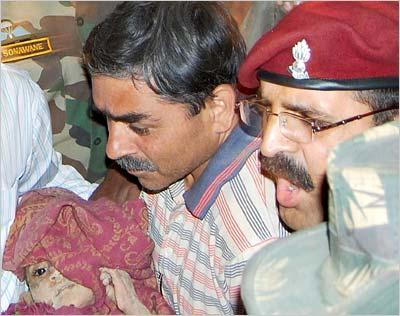 The condition of a little girl, who survived a 27-hour ordeal before being pulled out of 45-foot-deep borewell on Wednesday night in a major rescue operation, has "improved" and is "stable" but she is expected to be in hospital for four to five days, doctors said on Thursday.
Three-year-old Vandana, who was brought out from the well in the operation by the Army and the district authorities, was "hungry and was given milk and biscuits," N C Prajapati, one of the doctors attending on her at S N Medical College, said.
The X-ray reports of the girl, who had fallen into the pit while playing with her father in Hulaspura village in Agra [Images] district on Tuesday evening, were "normal".
"Vandana's condition has improved since last night. She is suffering from exhaustion but she is otherwise alright. She was tired and slept for around four hours....Vandana has few cuts and bruises. Her left ankle is swollen. She had high fever last night," the doctor said, adding that the child would be in hospital for four to five days.
Agra district magistrate Mukesh Kumar Meshram said an inquiry would be instituted into how the unused borewell was left unfilled.
Personnel from the 509 army base workshop here had worked for 20 hours to bring out the girl after the district authorities did not succeed in pulling her out. After being rescued, she was rushed to the hospital in an ambulance, parked at the site.
Image: Two and a half year old Vandana, who fell into borewell yesterday in Tehra Village  here, being taken out by army personnel, ending  her 27 hour long ordeal,  on Wednesday night.
Photograph: PTI