Home > India > News > First Look


Maharashtra election chief sent to jail!

March 27, 2008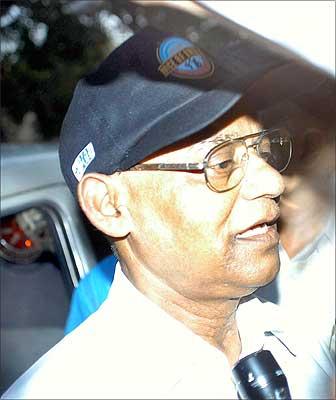 The Maharashtra assembly and state's Chief Electoral Officer Nand Lal were on a collision course on Thursday when the House sentenced him to two-day custody for alleged breach of privilege, a decision he said was born out of 'political vendetta'.
The assembly unanimously approved the report of the privilege committee, headed by Chandrakant Chhajed (Congress), which was set up in 2006 in the backdrop of the senior IAS official's belligerent stance against Chief Minister Vilasrao Deshmukh on the issue of delimitation of Latur assembly constituency.
Deshmukh hails from Latur and in the delimitation exercise Latur Lok Sabha seat has been declared a reserved seat.

The committee warned Nand Lal of 'even stringent action' if he failed to cooperate with it in future.
The committee was set up after Janardhan Chandurkar (Congress) moved a breach of privilege motion against Nand Lal who has been at loggerheads with Deshmukh.
"By refusing to depose before the committee and also by refusing to submit a signed clarification, Nand Lal has obstructed the constitutional and legislative functions of the committee," the committee said.
Although the stated objective of Chandurkar for the motion was the 'breach of privilege' of the House by Nand Lal in the matter of orders issued by the State Election Commissioner on elections to posts of local self-government bodies, there was speculation that Chandurkar, a Deshmukh loyalist, was targeting state CEO over his anti-Deshmukh stance.
Lal alleged there was 'political vendetta' behind the assembly's decision to send him to two-day civil custody.
"This has been done to me just because I did not pay heed to the chief minister's pressure over delimitation of Latur constituency," he claimed.


The privilege committee met on June 15, 2006 for the first time and sought Nand Lal's written clarification on the issue of local self-government bodies elections.
The committee, on September 8, 2006 received a letter from section officer of the State Election Commission, which pointed to the constitutional status of the Commission, Chhajed later told media persons.
"The orders were issued by Nand Lal not in his personal capacity, but as head of the office and as such, it is not necessary that he submit a personal reply," the letter said.
"One has to proceed as per section 124 (4) of the Constitution to remove Supreme Court judges, High Court judges Comptroller and Auditor General of India, Chief Election Commissioner and State Election Commissioner," the letter said.
The committee later asked Nand Lal to appear before the committee, but he failed to do so, Chhajed said.

Photograph: Arun Patil