Home > India > News > First Look


Advani, Vajpayee celebrate Holi

March 22, 2008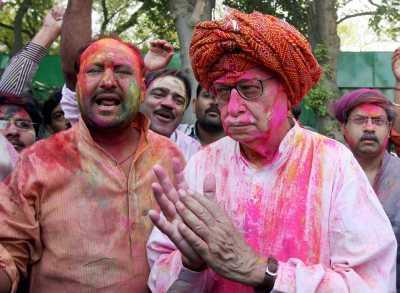 Former prime minister Atal Bihari Vajpayee on Saturday made his first public appearance in recent months on Holi, but chose not to make any comments before the media.
The 83-year-old leader, looking hale and cheerful, accepted greetings and was also seen making brief responses to the guests during his hour-long appearance at his residence.
Advani, the saffron party's prime ministerial face, and party chief Rajnath Singh were among the first to greet Vajpayee.
Advani, after arriving, sought Vajpayee's blessings and applied colour on him. Singh, who was standing nearby, then sought Advani's blessings, which prompted some guests to term it as a "succession saga".
"He (Vajpayee) is recognising everyone and also enquiring about each one as he accepted wishes," a family member said.
The festivities at Advani's residence were at a high with top Central and state leaders gathering to extend their wishes to the party's Prime Ministerial candidate. Advani and his family members danced to songs as journalists joined them.
Rajnath Singh had hosted a cultural programme of Bhojpuri dance and songs at his official residence.
Image: Advani celebrates Holi with party workers. Photo: AFP/Getty Images.