Home > India > News > Report

Goa murder: Main witness seeks protection

Vicky Nanjappa | March 12, 2008 12:08 IST
Last Updated: March 12, 2008 13:38 IST



The Goa [Images] police have zeroed down on their main witness in the Scarlette Keeling murder case. Mike Masala claims to have details about the case has now approached the British High Commission in Mumbai seeking security if he had to testify.

The Goa police say that he was popularly known as Masala and he claims to have a lot of information on the entire case.

Masala, a British national, claims that he had seen Scarlette before she died at the Anjuna beach.

He also said that she had fallen down on the beach and was later helped back into the Luis hotel, which is on the beach itself.

Later, she was taken to the back of the hotel where he saw a man lying on top of her, thus indicating that she was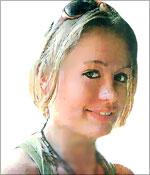 sexually abused.
Masala said that he feared for his life and hence, he needed security if he had to testify before both the police and the court.
The Goa police, on learning that this man had information regarding the case, issued a search order.
Initially, there were reports suggesting that the man had fled for the UK. However, the Goa cops now say that he is very much in India and they are trying to bring him to Goa to testify.
Even as the Goa police is doing everything in its capacity to secure its main witness, investigations continue into the case.
The viscera has been sent to the Forensic Sciences Laboratory in Mumbai. Inspector General of Police Kishen Kumar says that they had requested the FSL to submit the report as early as possible.
He also said that the ossification process would be undertaken as it is important for investigation purpose.
Moreover, the case would be substantiated once this process is undertaken, he said.
The statement by the inspector general of police comes in the wake of Scarlette's mother Fiona protesting that this procedure is unnecessary considering the fact that her daughter's passport mentions the age.