Home > India > News > First Look


Images: LTTE chief Prabhakaran's public appearance

March 09, 2008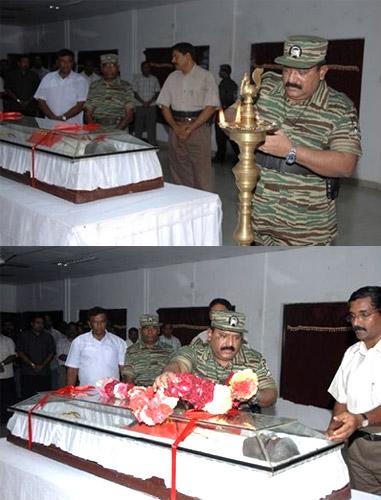 Making his first public appearance after claims of injuries he sustained surfaced over three months ago, Liberation Tigers of Tamil Eelam leader V Prabhakaran paid homage to a slain pro-LTTE lawmaker in the rebel-held Wanni area in northern Sri Lanka [Images].

Attired in combat fatigues with a Tiger emblem on his cap and sporting a steel wrist watch, the well-built 54-year-old Prabhakaran offered floral tributes to K Sivanesan, a Tamil National Alliance MP who was killed in a roadside bomb attack, on Saturday, according to photographs released by the LTTE, and reproduced alongside.

In one of the photographs, a small group of people around Prabhakaran stand in rapt attention with hands crossed in respect during the ceremony at an undisclosed location in Wanni.

Earlier, in a statement, Prabhakaran conferred the honour of Mamanitan (Great Man) on Sivanesan while alleging that the TNA MP was killed in an explosion carried out by Sri Lankan security forces.

While some reports during the last few months suggested the LTTE chief may not be alive, officials believed he could have suffered injuries in a late November raid by the Sri Lankan air force on one of his bases.

Military officials feel Prabhakaran made an appearance to pay homage to Sivanesan to assure Tamils in northern Sri Lanka that the LTTE was not involved in the parliamentarian's killing.

'When the attack took place in the LTTE-held area, how can the Sri Lankan (army's) Deep Penetration Units be blamed for Sivanesan's killing?' asked Sri Lankan military spokesman Udaya Nanayakhara.