Home > India > News > First Look


Putin's protege is new Russian President

March 03, 2008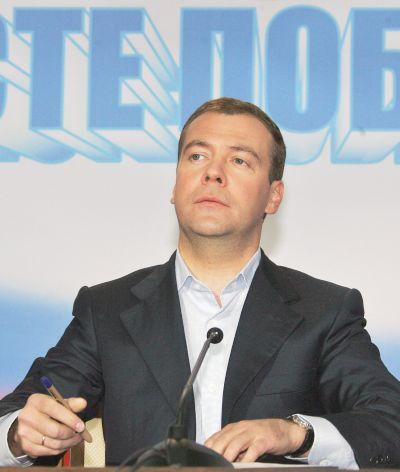 Vladimir Putin's chosen successor Dmitry Medvedev is the new President of post-Communist Russia [Images].
Results after counting of 90 per cent of the votes showed Medvedev had polled 70.03 per cent, election authorities said.
 
His closest Communist rival Gennady Zyuganov polled 17.9 per cent votes, followed by Vladimir Zhirinovsky and Andrei Bogdanov with 9.4 and 1.2 per cent, respectively, according to the Central Election Commission.
Medvedev, a law graduate of St Petersburg-based Leningrad State University, has been closely associated with his mentor for last 17 years.
The 42-year-old, currently first deputy premier and head of state-run gas monopoly Gazprom, has vowed to carry forward Putin's course and pursue innovative economic development for the modernisation of Russia.
Medvedev, who will be the youngest elected Head of the nation in Russian history, is expected to continue the policy of developing strategic ties with India with focus shifting to economy.

Widely regarded as a liberal in contrast with Putin, Medvedev has no connection with the former Soviet KGB.
Medvedev represents a new generation of post-Soviet politicians, but his election ensures that Putin, who is not eligible to return to office after serving two successive terms as president, continues to wield power in the Kremlin.

Putin, the ex-KGB man who gradually rose to power after being appointed as acting premier in August 1999 by President Boris Yeltsin, will hold the post of prime minister under a revamped government.
Figures from the Central Election Commission showed 67.7 per cent participation among the 109 million eligible voters in Sunday's elections, which were declared a 'farce' by the opposition and derided by western observers.
The opposition alleged that authorities spared no effort to ensure citizens come out to vote to give a greater legitimacy to Putin's successor. Regional and municipal officials had roped in businesses to lure voters by distributing discount coupons of shopping malls, organising lotteries and gifts, liberal opposition leaders said.
In Medvedev's hometown of St Petersburg [Images], popular artists and performers distributed their autographed CDs and books to the young voters after they cast their vote. The anti-Kremlin coalition, The Other Russia, has threatened post-election protest marches cross the country, despite an official ban in the capital.
Its leader and former chess champion Garry Kasparov [Images] has urged world leaders not to recognise Medvedev as the new Russian president as the elections were a 'farce'. Only 300 international election observers monitored the 96,000 voting stations across the country.

The main European election monitoring body, the Organisation of Security and Cooperation in Europe and its democracy monitoring institute -- Office of Democratic Institutions and Human Rights -- refused to send observers due to spat over the curbs imposed by Moscow [Images].
Communist Party chief Gennady Zyuganov, who, according to early results issued by the election commission polled 20 per cent of the votes, said the poll is marred by violations and slammed it as 'cynical'. Russian news agencies quoted Zyuganov on Sunday night as saying that he has a list of 200 alleged vote violations. Meanwhile, ultranationalist Vladimir Zhirinovsky said he will challenge the official vote results in court.
Image: Medvedev at a press conference in Moscow early on March 3.
Photograph: Alexander Nemenov/AFP/Getty Images