Home > India > News > First Look


Bengal flood situation grim; toll mounts

June 20, 2008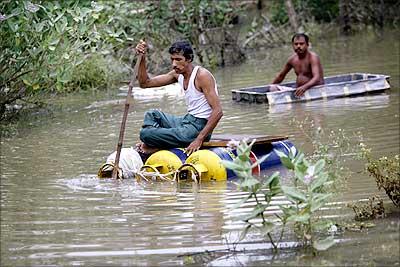 The flood situation in West Bengal's West and East Midnapore districts remained grim on Friday with the death toll mounting to 25 as nearly 22 lakh people were hit.
With rivers in the two districts receding with discharge from Subarnarekha and other reservoirs reduced, four army teams were engaged in rescue operations in the worst-hit areas as Indian Air Force helicopters made sorties to air-drop food packets, water pouches and medicines.
The army rescued 280 people and the Air Force 307, while 17 tonne of food was air dropped, defence officials said.
Finance Minister Asim Dasgupta said 54 speedboats of the civil defence department, in addition to nine of the army and 150 country boats were engaged in rescue and relief work.
Chief Minister Buddhadeb Bhattacharjee, who held a review meeting at Kolaghat in East Midnapore district, described the situation as 'very bad'.
While 17 blocks were flooded in West Midnapore, 15 were affected in East Midnapore, of which six were in very bad shape, Bhattacharjee said.
Of the 22 lakh people affected, 16 lakh were from West Midnapore and the rest from East Midnapore, he said.

"In West Midnapore, the worst affected areas are Sabang and Narayangarh. At least two lakh people are in 822 relief camps," he said, adding that crops worth crores and 16,000 houses have been destroyed.
In East Midnapore, Patashpur, Bhagabanpur I and II blocks and Egra were the worst affected with 2.5 lakh people taking shelter in 60 relief camps.
Dasgupta said 2,700 tonne of rice and 1.50 lakh pieces of tarpaulin had been despatched to the affected areas.
The state irrigation department has been asked to monitor the embankment for breaches, he said.
Dasgupta said the two district magistrates have been asked to make a list of the victims and form relief and reconstruction committees to ensure there was no discrimination in distribution of relief.
Medical teams have been rushed to the flood-affected areas and a central medical team would arrive soon.

Meanwhile, South Eastern Railway sources said initial restoration of the snapped East Coast rail link connecting Kolkata with southern India would take at least 15 days because of the severity of the damage to a bridge by flood waters in West Midnapore district.
"Initial restoration of one line will take at least 15 days. Even after that, the traffic on the line would be a trickle," a source told PTI.
The rail link was snapped on Tuesday after flood waters of the Keleghai washed away the girder and damaged the pier of bridge number 168 between Narayangarh and Bakhrabad stations.

Image: People use a raft made of gas cylinders to navigate a flooded village of Midnapore, some 150 Km south of Kolkata.
Reportage: PTI | Photograph: Deshkalyan Chowdhury/AFP/Getty Images