Home > India > News > First Look


Gorkhaland: Bandh hits life in Darjeeling

June 18, 2008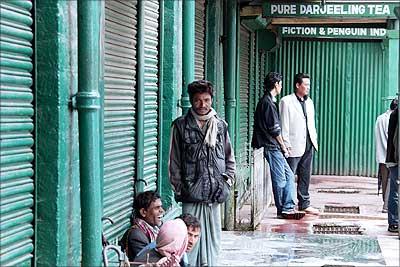 Normal life in Darjeeling Hills was paralysed for the second day today due to the indefinite bandh called by the Gorkha Janamukti Morcha (GJM) in support of their demand for a separate Gorkhaland.
The situation in the hills, where the bandh began from 6 p m on Monday, was totally under control, Inspector General of Police (North Bengal) K L Tamta said.
There was no report of any untoward incident till this morning and the situation was peaceful though bandh supporters despite incessant rains continued to block the arterial NH31 A which links Siliguri to Sikkim via Kalimpong, Darjeeling Superintendent of Police Rahul Srivastav said.
As a result Sikkim was cut off from the rest of  the country. However, vehicles of schools, the army and the police are being allowed to ply on the highway by the GJM supporters, he said.
Six hundred CRPF personnel requisitioned for deployment in the hills were kept in reserve here, official sources said.
GJM press secretary Benay Tamang said it had exempted educational institutions from the purview of the bandh.            
Image: Most shops downed shutters in Darjeeling; Photograph: PTI