Home > India > News > First Look


Syrian President arrives, two pacts to be signed

June 17, 2008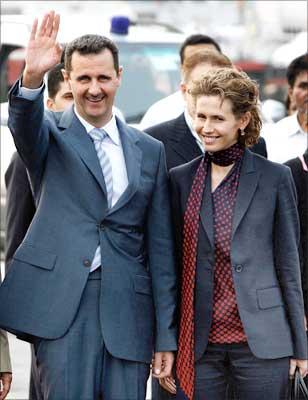 Syrian President Bashar al-Assad arrived in New Delhi on Tuesday on his first visit to India during which the two countries will discuss ways to enhance ties and sign two agreements, including one on avoidance of double taxation.
Al-Assad, who is accompanied on his five-day visit by his wife Asma and a high-level delegation, was received at the Indira Gandhi [Images] International Airport by Minister of State for External Affairs E Ahamed.
The Syrian President will hold talks with Prime Minister Manmohan Singh [Images] on Wednesday on a wide range of issues aimed at enhancing bilateral ties, particularly in the fields of economic, trade and energy.
The two leaders are also expected to discuss the situation in Arab world, including Iran and Iraq.
After the talks, the two sides are expected to sign an agreement on Double Taxation Avoidance Treaty (DTAA) and a pact on prevention of fiscal evasion on taxes on income.
Al-Assad will also meet President Pratibha Patil [Images], Vice President Hamid Ansari, External Affairs Minister Pranab Mukherjee, Congress president Sonia Gandhi [Images] and Leader of Opposition L K Advani.
The Syrian president will visit the headquarters of government-owned National Informatics Centre here to see the functioning of the premier computer service provider. He will also travel to Bangalore and visit tour information technology and biotechnology establishments as well as the Indian Space Research Organisation.
The Syrian first couple will also visit the Taj Mahal [Images]. "We hope the visit is going to give a very good impetus to Syria-India relations," Syrian Expatriates Minister Bouthaina Shaaban said.
Image: Bashar al-Assad and his wife Asma on their arrival at the New Delhi airport on Tuesday; Photograph: AFP/Getty Images.