Home > India > News > Specials

The Rediff Special/ Mohammed Hanif

'I was the one who got away'

June 06, 2008

Concluding the exclusive excerpt from Mohammed Hanif's fascinating new book, A Case of Exploding Mangoes, which Random House India will publish today:

Part I of the excerpt from A Case of Exploding Mangoes

The generals' families will get full compensation and receive flag-draped coffins with strict instructions not to open them. The pilots' families will be picked up and thrown into cells with blood-splattered ceilings for a few days and then let go. The US Ambassador's body will be taken back to Arlington Cemetery and his tombstone would be adorned with a half-elegant cliche. There will be no autopsies, the leads will run dry, investigations will be blocked, there will be cover-ups to cover cover-ups. Third World dictators are always blowing up in strange circumstances but if the brightest star in the US diplomatic service (and that's what was said about Arnold Raphel at the funeral service in Arlington Cemetery) goes down with eight Pakistani generals, somebody would be expected to kick ass. Vanity Fair will commission an investigative piece, the New York Times will write two editorials, sons of the deceased will file petitions to the court and then settle for lucrative cabinet posts. It would be said that this was the biggest over-up in aviation history since the last biggest cover-up.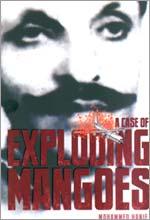 The only witness to that televised walk, the only one to have walked that walk, would be completely ignored.
Because if you missed that clip, you probably missed me. Like history itself. I was the one who got away.
What they found in the wreckage of the plane were not bodies, not serene-faced martyrs, as the army claimed, not the slightly damaged, disfigured men not photogenic enough to be shown to the TV cameras or to their families. Remains. They found remains. Bits of flesh splattered on the broken aeroplane parts, charred bones sticking to mangled metal, severed limbs and faces melted into blobs of pink meat. Nobody can ever say that the coffin that was buried in Arlington Cemetery didn't carry bits of General Zia's remains and what lies buried in Shah Faisal mosque in Islamabad are not some of the remains of the State Department's brightest star. The only thing that can be said with certainty is that my remains weren't in either of those coffins.
Yes, sir, I was the one who got away.
The name Shigri didn't figure in the terms of reference, the investigators from the FBI ignored me and I never had to sit under a naked bulb and explains the circumstances that led to me being present at the scene of the incident. I didn't even figure in the stories concocted to cover up the truth. Even the conspiracy theories which saw un unidentified flying object colliding with the presidential plane, or deranged eyewitnesses who saw a surface-to-air missile being fired from a lone donkey's back didn't bother to spin any yarns about the boy in uniform with one hand on the scabbard of his sword, stepping forward, saluting, then smiling and walking away. I was the only one who boarded that plane and survived.
Even got a lift back home.
If you did see the clip you might have wondered what this boy with mountain features is doing in the desert, why he is surrounded by four-star generals, why he is smiling. It's because I have had my punishment. As Obaid would have said, there is poetry in committing a crime after you have served your sentence. I do not have much interest in poetry but punishment before a crime does have a certain sing-song quality to it. The guilty commit the crime, the innocent are punished. That's the world we live in.
My punishment had started exactly two months and seventeen days before the crash when I woke up at reveille and without opening my eyes reached out to pull back Obaid's blanket, a habit picked up from four years of sharing the same room with him. It was the only way to wake him up. My hand caressed an empty bed. I rubbed my eyes. The bed was freshly made, a starched white sheet tucked over a grey wool blanket, like a Hindu widow in mourning. Obaid was gone and the buggers would obviously suspect me.
You can blame our men in uniform for anything, but you can never blame them for being imaginative.
Excerpted from A Case of Exploding Mangoes by Mohammed Hanif, with the kind permission of its publishers, Random House India. The book can be ordered directly from www.randomhouse.co.in

The Rediff Specials